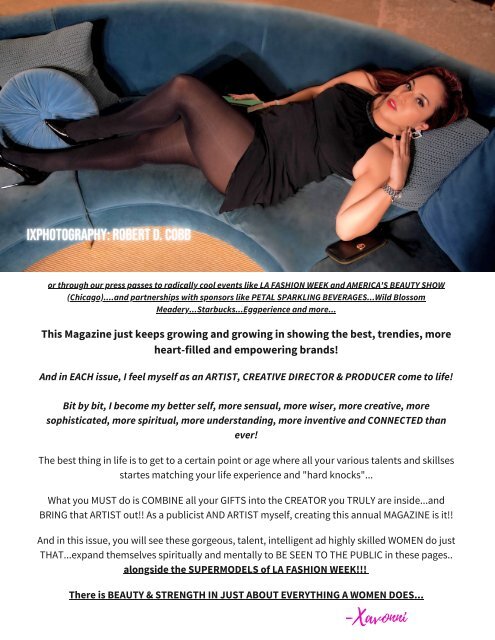 THICKK MAG ISSUE #3 (2022)
3rd times the charm! LA Fashion Week! America Beauty Show! The Ultimate Spark Empress Academy! Chicago's Carnivale! Disco! Love your Body Events LA Red Carpet! Enjoy Issue #3 of our exciting luxury, avante-garde cultural arts publication called THICKK MAGAZINE and show love for ALL the diverse FEMALE Entrepreneurs in this publication. Featuring 1 YEAR of projects from Chicago Creative Director & Event Producer, Life Coach and Publicist, Emily "Xa'vonni" C...is our Women Empowerment Issue! Hear us Roar! Featuring 55 Diverse Power Women in the Spotlight...Women who Model! Women with Careers in Business! CEO's...Female Artists...showing 127 WOMEN overall... "Explore the mind of a Latina Millennial Creative Entrepreneur as she beats the odds and represents the growing DIVINE FEMININE in 2022...will you join by her side ;) " Wish to order a SIGNED Print Issue? Or Book your own spot in our next issue #4 of THICKK Magazine? Contact us at PR@innovaXarts.com for more info. - Cover Photography: Jerry Alt IG @altimagery - MUA: Branden Melear (https://www.facebook.com/branden.melear) - Editorial Photography: Robert D. Cobb IG @robcobb_insc
3rd times the charm! LA Fashion Week! America Beauty Show! The Ultimate Spark Empress Academy! Chicago's Carnivale! Disco! Love your Body Events LA Red Carpet!

Enjoy Issue #3 of our exciting luxury, avante-garde cultural arts publication called THICKK MAGAZINE and show love for ALL the diverse FEMALE Entrepreneurs in this publication.

Featuring 1 YEAR of projects from Chicago Creative Director & Event Producer, Life Coach and Publicist, Emily "Xa'vonni" C...is our Women Empowerment Issue! Hear us Roar!

Featuring 55 Diverse Power Women in the Spotlight...Women who Model! Women with Careers in Business! CEO's...Female Artists...showing 127 WOMEN overall...

"Explore the mind of a Latina Millennial Creative Entrepreneur as she beats the odds and represents the growing DIVINE FEMININE in 2022...will you join by her side ;) "

Wish to order a SIGNED Print Issue? Or Book your own spot in our next issue #4 of THICKK Magazine? Contact us at PR@innovaXarts.com for more info.

- Cover Photography: Jerry Alt IG @altimagery

- MUA: Branden Melear (https://www.facebook.com/branden.melear)

- Editorial Photography: Robert D. Cobb IG @robcobb_insc

SHOW MORE
SHOW LESS
Create successful ePaper yourself
Turn your PDF publications into a flip-book with our unique Google optimized e-Paper software.
or through our press passes to radically cool events like LA FASHION WEEK and AMERICA'S BEAUTY SHOW

(Chicago)....and partnerships with sponsors like PETAL SPARKLING BEVERAGES...Wild Blossom

Meadery...Starbucks...Eggperience and more...

This Magazine just keeps growing and growing in showing the best, trendies, more

heart-filled and empowering brands!

And in EACH issue, I feel myself as an ARTIST, CREATIVE DIRECTOR & PRODUCER come to life!

Bit by bit, I become my better self, more sensual, more wiser, more creative, more

sophisticated, more spiritual, more understanding, more inventive and CONNECTED than

ever!

The best thing in life is to get to a certain point or age where all your various talents and skillses

startes matching your life experience and "hard knocks"...

What you MUST do is COMBINE all your GIFTS into the CREATOR you TRULY are inside...and

BRING that ARTIST out!! As a publicist AND ARTIST myself, creating this annual MAGAZINE is it!!

And in this issue, you will see these gorgeous, talent, intelligent ad highly skilled WOMEN do just

THAT...expand themselves spiritually and mentally to BE SEEN TO THE PUBLIC in these pages..

alongside the SUPERMODELS of LA FASHION WEEK!!!

There is BEAUTY & STRENGTH IN JUST ABOUT EVERYTHING A WOMEN DOES...

-Xavonni