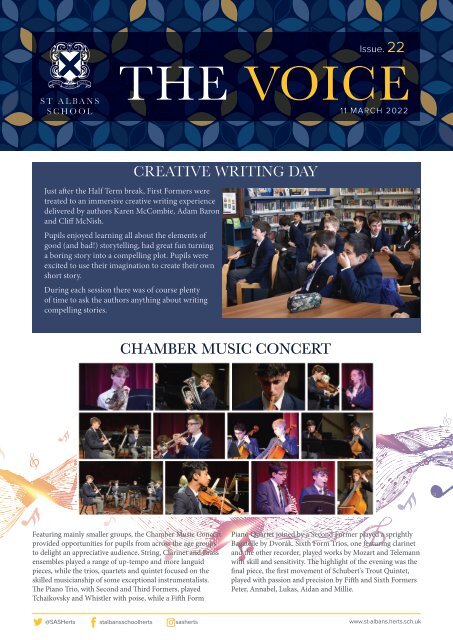 You also want an ePaper? Increase the reach of your titles
YUMPU automatically turns print PDFs into web optimized ePapers that Google loves.
Issue. 22

THE VOICE

11 MARCH 2022

Just after the Half Term break, First Formers were

treated to an immersive creative writing experience

delivered by authors Karen McCombie, Adam Baron

and Cliff McNish.

Pupils enjoyed learning all about the elements of

good (and bad!) storytelling, had great fun turning

a boring story into a compelling plot. Pupils were

excited to use their imagination to create their own

short story.

During each session there was of course plenty

of time to ask the authors anything about writing

compelling stories.

CREATIVE WRITING DAY

CHAMBER MUSIC CONCERT

Featuring mainly smaller groups, the Chamber Music Concert

provided opportunities for pupils from across the age groups

to delight an appreciative audience. String, Clarinet and Brass

ensembles played a range of up-tempo and more languid

pieces, while the trios, quartets and quintet focused on the

skilled musicianship of some exceptional instrumentalists.

The Piano Trio, with Second and Third Formers, played

Tchaikovsky and Whistler with poise, while a Fifth Form

Piano Quartet joined by a Second Former played a sprightly

Bagatelle by Dvorák. Sixth Form Trios, one featuring clarinet

and the other recorder, played works by Mozart and Telemann

with skill and sensitivity. The highlight of the evening was the

final piece, the first movement of Schubert's Trout Quintet,

played with passion and precision by Fifth and Sixth Formers

Peter, Annabel, Lukas, Aidan and Millie.

@SASHerts stalbansschoolherts sasherts

www.st-albans.herts.sch.uk
---
2

THE VOICE

THE PUPIL VOICE

The Voice asked the Lower Sixth Form Marketing Team to write about their

recent experiences at school. They chose to detail a recent Economics summit,

A Level choices and the Enrichment Programme. The team was also invited to

visit The Deli on Verulam by owner, Alex Addison (OA 2005), to sample the

food on offer and find out more about this new independent local business.

THE WARWICK

ECONOMICS SUMMIT

I recently attended the Warwick Economics Summit where

I was privileged to be able to watch a talk on inequality, by

Richard Blundell. This was one of many talks given by high

profile speakers that students were able to watch as part of

the three-day summit. The talk focused on the impact of the

Covid-19 pandemic on inequality, whether this was defined

as income inequality, such as the large disparity in which

workers were laid off, or whether this was social inequality

and identifying the various impacts on mental health. This

was particularly significant as after the talk I was able to gain

a further understanding of just how much of a problem the

Covid-19 pandemic had been on inequality.

I gained valuable insight through watching this talk which

will help me in my studies in Economics, as it related to the

topics covered this year. Furthermore, I found this talk so

interesting that I am considering investigating further for my

EPQ, as I really do want to delve deeper into this problem and

to identify structurally why this inequality is so prevalent in

our society.

I thoroughly enjoyed the talk and thought it was of

tremendous value both to my A Level Economics syllabus as

well as helping me to extend my knowledge of a subject that I

really am enthusiastic about.

Karam - Lower Sixth Form

ENRICHMENT AT ST

ALBANS SCHOOL

Enrichment sessions allow us either to find out more about

subjects that we have chosen to study or to develop skills and

explore different areas of a subject that we wouldn't usually

look at in the classroom. The sessions vary from courses that

develop our creative skills to courses that consider an ethical

aspect of modern living. The skills options include Critical

Thinking, Ballroom Dancing, Filmmaking, Digital and Studio

Photography, Creative Writing and Electronics. The Ethics

courses include Anthropology, Law, Bioethics, Medical Ethics,

Business Ethics, Psychology, Sport Psychology and Ethics of AI.

One of the two Enrichment courses I have chosen is Critical

Thinking. I wanted to improve my critical thinking, which

is a skill that will be transferrable not only into real life but

helps me with my studies in Economics and Politics and in

answering exam questions. The course has helped me identify

arguments and develop my own counterarguments using

chains of reasoning and by providing evidence.

My second Enrichment course is Ethical Issues in Business,

which is helping me develop my studies in Economics and

Geography; there is a big overlap, as the course covers issues

such as Unemployment, Poverty, Environment, Multinational

Companies, and the Financial Crisis. Combining these topics

with ethical frameworks from Philosophy is also helping me

broaden my understanding of the topics I have chosen to

investigate outside the classroom.

Some people will use the ideas from their Enrichment courses

as the starting point for an Extended Project Qualification

(EPQ), an additional qualification based on personal research,

which we will work on intensively after the Easter break.

Bryn - Lower Sixth Form

MY A LEVEL CHOICES

As I am still in the Lower Sixth Form, I am yet to drop a

subject and so am currently taking Maths, Further Maths,

Chemistry and Physics. In the near future, I will be given the

option to drop one of these; however, I am still undecided

on whether I will choose to do so. Although many may see

undertaking four subjects through the majority of Lower

Sixth Form as a daunting and arduous task, I appreciate the

additional choice it gives me. As I originally had no intentions

of carrying on Chemistry at A Level, I have recently gained a

new-found appreciation for the subject and will most likely

take it all the way through.

While some may struggle to choose four subjects to take, as

they have their focus on only one or two, others often have the

opposite problem and may have five or six subjects they could

see themselves taking forward. To those people, I suggest

picking a flexible selection of subjects, allowing access to a

wide range of university courses, as many go through a swift

mindset change through the course of the Sixth Form.

Connor - Lower Sixth Form
---
THE VOICE 3

THE DELI ON VERULAM

Upon entering the deli, we were greeted to its stylish layout

and general warm ambience. We were introduced by Alex

Addison (OA 2005) to the staff who were all very welcoming,

before being afforded the opportunity to pick out a selection

of food to enjoy while conducting the interview. I picked out

a New Yorker sandwich, a variety of bagels, crisps and Reese's

cup cookie, all of which were absolutely delicious.

One of the many pieces of information we got was that a lot

of the time, you will end up doing something that you hadn't

planned for or expected. Opportunities can arise at any time.

Alex has gone through many avenues of work up to now.

From leaving St Albans, he took a gap year and worked at

a suit shop for an OA. From there he went to Durham and

studied Sport Sciences, and after that the "natural progression

was to go into banking in the city". Alex said that working for

a bank in the city helped him to realise that there was more to

life than earning money and working for someone else. Prior

to opening the deli, Alex also worked as a nutritionist as well

as a sports coach in the United States.

The primary reason for the inception of the deli was because

the building was included in the purchase of the building next

door which is under construction and will become The Hub.

The Hub is planned to open in May and will be a restaurant,

members club, screening room, café and also a place to work.

Alex intends to offer healthy food options as well as alcoholfree

drinks and to combine multiple facets of socialising into

one venue. We took a look around the construction site, and

even four months before the finished hub, it is clear that the

result will be amazing and beautiful.

Alex enlightened us about his principles for success. He

explained his role in shaping his business, by focusing on

working with sustainable suppliers and building a reputable

business, rather than creating a business solely to make a

profit. He also fundamentally believes that business should

be an exciting adventure rather than a mundane way of lining

his own pockets, and that is also why he believes heavily in

investing in his products and services.

Overall, we thoroughly enjoyed the experience, and appreciate

Alex giving up his time to share his business journey with us.

Bryn, Connor, Karam and Olly - Lower Sixth Form

LGBTQ+ HISTORY MONTH

To mark LGBTQ+ History Month in February, our

Diversity Prefects, Agnes and Jonathan, delivered a

powerful speech during assembly. They spoke about

using this month as an opportunity to reflect on what

we can do to promote inclusivity inside and outside

of the School community. They also described the

purpose of this month as being a time to celebrate

the diversity of the LGBTQ+ community across

cultures and appreciate what these communities have

been through to get to where we are today.

The Diversity Society also came together for a

thought-provoking presentation and discussion

about five days that changed LGBTQ+ history.
---
SWIMMING

All four of our swim teams competed in the league final

on 1 March. They demonstrated an excellent group

performance to round off the season. Teams were very

strong in the relays with the Senior Boys Freestyle quartet

finishing the final race more than half a length ahead of

the next team!

SPORTS NEWS

4

HOCKEY

THE VOICE

First team played a very competitive fixture with

Haberdashers' Aske's running out 4-2 winners. Our

competitors dominated possession but our team's cutting

edge made the difference in the outcome.

ATHLETICS

A fantastic effort from Fifth Former Will who

ran two personal bests in the 60m and 200m

English Athletics Indoor Championships

clocking 7.44s and 23.38s respectively. Well

done to Will for his hard work and mental

toughness in producing his very best on the

highest stage.

SOCIAL MEDIA

Take a look at what's happening on our social media accounts! Follow us at:

@SASHerts stalbansschoolherts sasherts

IN OTHER NEWS...

Upper Sixth Former Charlie has

been selected to play for England

U18 v Wales at rugby on Sunday

20 March. Well done, Charlie!

The first round of House Chess took place

today with the 1st and 2nd Formers

20

This afternoon we were treated to a

wonderful recital from 5th Former Peter

59

The Hylocomian Society enjoyed 3 symposia tonight on

the structure of the Roman Army, Animal symbolism

in Graeco- Roman culture and musical instruments in

the Classical World 8

NEWS COMING SOON...

16 March Joint Schools' Choral

Society Concert, Abbey

17 March Junior House Drama

Competition, New Place

18-20 March MUN Conference,

Haileybury School

22 March A Jazz Evening, Hall

25 March Sports Tours Dinner,

Woollam Playing Field

28 March Rock Concert, Hall

Keep an eye out for Sports Fixtures on our website