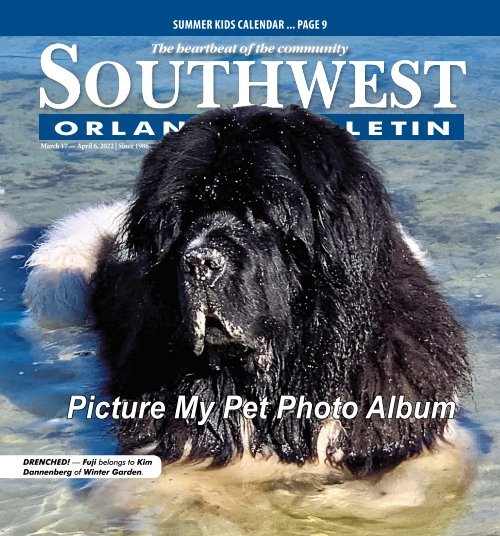 031722 SWB DIGITAL EDITION
Create successful ePaper yourself
Turn your PDF publications into a flip-book with our unique Google optimized e-Paper software.
O

SUMMER KIDS CALENDAR ... PAGE 9

The heartbeat of the community

ORLANDO BULLETIN

March 17 — April 6, 2022 | Since 1986

Picture My Pet Photo Album

DRENCHED! — Fuji belongs to Kim

Dannenberg of Winter Garden.
---
When you want it SOLD

Darrell Nunnelley

407-467-8069

BROKER

SOLD

11015 Clipper Court

Windermere FL 34786

4 bed / 3 bath * Summer Kitchen *

Huge Pool * Boat Dock

Over 96 feet directly on Lake Down with

access to the Butler Chain

For Sale

Lake Butler Blvd

New Construction

6,000 Sq Ft

5 Beds * 6 Baths

3 Car Garage

Pool * Summer Kitchen

Truly Custom so Come Pick

Your Finishes and Build Your

Dream Home

For Sale Lake Butler * 2nd Avenue * 4 Bedroom * 3.5 Bath * Over 4,400 SF

SOLD * 15681 Pelican Cay Winter Garden

501 Main Street – Windermere * Local Office

DarrellSells.com
---
www.SouthwestOrlandoBulletin.com x March 17 — April 6, 2022 x 3
---
4 x March 17 — April 6, 2022 x www.SouthwestOrlandoBulletin.com

We see things

through your eyes.

Accountability is the Schwab way.

At Schwab, we hold ourselves accountable

for your satisfaction. It's why we offer a

Satisfaction Guarantee, which ensures

that if you're ever dissatisfied with us, we'll

refund your fee and work with you to make

things right. You won't find that kind of

promise everywhere, but you will find it here.

TABLE OF CONTENTS

HOW TO .......................................................................................... 5

Introduce a Puppy to Your Pack

COMMUNITY CONTRIBUTION ........................................................... 6

50 Years of Service

SUMMER KIDS CALENDAR ................................................................. 9

SOUTHWEST ORLANDO HOME & REAL ESTATE ................................ 13

Avoiding Forclosure

Updating Windows & Patio Doors

Home Improvements to Transform Your Home

Michael Wytiaz, CFP ®

Branch Leader

4848 S. Apopka Vineland Rd, Suite 204

Orlando, FL 32819

407-909-0485

Get started at schwab.com/windermere

PICTURE MY PET PHOTO ALBUM ...................................................... 17

NEWS & BUSINESS BRIEFS .............................................................. 23

COMMUNITY BULLETIN BOARD ....................................................... 25

If you are not completely satisfied for any reason, at your request Charles Schwab & Co., Inc. ("Schwab"),

Charles Schwab Bank ("Schwab Bank"), or another Schwab affiliate, as applicable, will refund any eligible fee

related to your concern within the required time frames. Schwab reserves the right to change or terminate

the guarantee at any time. Go to schwab.com/satisfaction to learn what's included and how it works.

© 2021 Charles Schwab & Co., Inc. ("Schwab") Member SIPC.

All rights reserved. (1120-0JP6) SCH4761-28 (12/21)

SOUTHWEST SERVICE DIRECTORY ................................................... 26

St. Luke's Summer Camps provide

quality, affordable, Scripture-based

instruction in a nurturing environment!

Extended day options available.

VACATION BIBLE SCHOOL

June 20-24

PRESCHOOL CAMP

June 13-17, July 11-15, July 18-22

ELEMENTARY CAMP

July 11-15, July 18-22

View more information and register at

www.st.lukes.org/camps

March 17, 2022

Volume XXXVI, No. 10

P.O. Box 851

Windermere, FL 34786

407-351-1573

www.southwestorlandobulletin.com

The Southwest Orlando Bulletin is published semimonthly by

Cornerstone Publishing & Multi-Media LLC. No material may be reproduced

without written permission. Subscriptions are available in the U.S. and Puerto

Rico for $25.56 per year and in Canada for $31.80 per year. For foreign

surface mailing, add $20 per year.

Neither the publishers nor the advertisers are responsible or liable for

typographical errors, misinformation, misprints, etc., unintentionally contained

herein. All letters received become the property of Cornerstone Publishing &

Multi-Media LLC and may be reproduced and edited without consent.

©2022/Cornerstone Publishing & Multi-Media LLC

PRESIDENT & PUBLISHER

Rick V. Martin

VICE PRESIDENT

Yvette Martin

MANAGING EDITOR

Lisa Sagers

lisa@kearneypublishing.com

ASSISTANT EDITOR

Lauren Salinero

lauren@kearneypublishing.com

CIRCULATION

Robert Barlow

MARKETING CONSULTANTS

Madeline DeVito

407-351-1573, option 1

mdevito@kearneypublishing.com

Michelle Oakes

321-277-3467

michelle

@cornerstonepublishinggroup.com
---
Bringing home a new puppy is

an exciting, joyful time for any family.

When you already have dogs

at home, it can be even more exciting

to envision how your pups will

bond with each other and become

best friends. However, it's important

to realize that integrating a new

member of your pack isn't always

as seamless as you see on social

media. It can be a delicate process

that requires your diligence,

patience and awareness. Just like

not all people enjoy being around

babies, not all dogs will tolerate

puppy antics. They may see a new

puppy as competition for resources,

whether it is food, toys or your

attention. Even if you get off to a

rocky start, with some tips on introducing

a puppy to your pack, you

can have the happy fur family you

envisioned.

• Keep the introduction short

and positive. Dogs can be territorial

of their homes and yards and

can react negatively to a newcomer

encroaching on what they consider

their turf. It's best to do an initial introduction

off-property in a neutral

location. Allow your dog to sniff

the puppy and keep the interaction

short. You'll want to build positive

experiences, which can mean cutting

it short while things are going

well. If you can do a couple of these

introductions before you take your

puppy home, do so. If not, keep an

eye on your dog's body language

when you bring your puppy home

to ensure all are at ease. A relaxed

dog will wag his tail in a low position,

prick his ears at what interests

him, and will have a loose jaw or

open mouth even while mouthing to

play. Some red flags to look out for

are hair standing up on your dog's

back, a direct and fixed stare, and

a clamped jaw. If you see these

signs, remove the puppy from the

situation, take a break and start

over from the beginning with short

introductions.

• Restrict access. Keep the puppy

separated from other dogs except

for short, supervised interactions.

You can use a leash or gated areas

in your home to limit the puppy's

access to different rooms. You'll

HOW

Mouthing between a puppy and dog is a

healthy form of play.

want to keep him in a smaller area

at first to get him used to his new

home without being overwhelmed.

This also gives your other dogs a

chance to take a break from the

puppy when they need to and gets

them used to the puppy being in the

home. It can take up to a month for

the older dogs to accept the puppy

as a member of the pack and not

an unwanted visitor.

• Create positive associations.

Use positive reinforcement to associate

your puppy with treats,

playtime and walks with the older

dogs. They will begin to look forward

to spending time with their

new little brother or sister if they

know the puppy's presence means

more rewards. Shared activities

such as going on walks are excellent

ways to create bonds.

Removing the dogs from their territory

helps to lower their guard and

makes them more open to making

friends.

• Be aware of healthy play behavior.

Dogs will mouth each other

TO ...

Introduce a Puppy to Your Pack

Set the Foundation for a Happy Fur Family

www.SouthwestOrlandoBulletin.com x March 17 — April 6, 2022 x 5

by Lauren Salinero

during play, which can look scary

since they will often show their

teeth, snarl or even growl. Other

play behaviors can include ear

chewing, mouth licking, wrestling

and pouncing. While it may look

like fighting, this type of play is normal

and good. Keep an eye on the

intensity level of play, and separate

the pups if play becomes a little too

rough, especially while your puppy

is still very young.

• Be aware of triggers. Be wary

of feeding times and resource guarding.

Even if your dogs haven't shown

food aggression toward you or each

other, a new pack member can

make some of those behaviors flare

up. Feed your puppy separately until

you are sure they will be safe eating

with the other dogs. Also be aware

Thank You

to

of other resources like treats, toys

and your attention. Be sure to show

your older dogs some extra love and

attention during this time, as they

may feel anxious and insecure.

• Allow your dog to correct the

puppy to a certain extent. Dogs

will show their teeth, growl or even

snap at a puppy to teach it what is

allowed and what is not. These are

very normal behaviors and to be

expected, even welcomed, as the

dog is teaching your puppy good

manners. However, it's important

to remember that it isn't your dog's

job to train your puppy. That's your

job. If the dog is losing patience, it's

time to separate them and give your

dog a break.

It is very rare for a dog to actually

hurt a puppy, but some dogs may

not welcome the new addition and

will show their resentment by being

aggressive toward the newcomer.

If you observe any truly aggressive

behavior, consider consulting

a trainer or behavioral therapist to

assist with acclimating the puppy to

your pack. ª

all my friends and neighbors for voting me

a Best of Southwest Realtor for the 7th year in a row!

eXp Realty Orlando

Visit our site today to:

• Ask About Our Perfect Home Finder Program;

• Find Out the True Value of Your Home In Today's HOT Market;

• Use the Mortgage Calculator to prepare for monthly expenses;

• Request a Free Buyer or Seller's Guide;

• Learn about the Rent-to-Own Program;

• Stay current with local real estate trends;

• And so much more
---
6 x March 17 — April 6, 2022 x www.SouthwestOrlandoBulletin.com

In February 1905, Chicago attorney

Paul Harris met with three business

associates and held what would

come to be known as the first meeting

of a Rotary club. None of the men

involved could have predicted that

what they started would grow to more

than 35,000 clubs with 1.4 million

members.

Sixty-seven years later marked a

local Rotary milestone. When Walt

Disney World officially opened

in late 1971, Rotary Club of

Windermere members Bill Sims,

Win Pendleton and Les Ginkel

envisioned establishing a Rotary club

at the new resort. Promoting the club's

primary mission as hosting visiting

Rotarians from around the world, the

Windermere team set about securing

Disney approval and attracting

the 15 members needed to form a

new club. The membership goal was

reached, and Disney Senior Vice

President Don Tatum approved the

only service club to be co-located

with WDW. Tatum and WDW's first

employee, attorney Phil Smith, also

approved the club's use of a unique

COMMUNITY

logo, featuring mouse ears atop the

Rotary gear symbol. It was fitting that

Feb. 8, 1972, the Rotary Club of

Lake Buena Vista received its charter

from Rotary International President-

Elect Roy Hickman at Disney's

Contemporary Hotel.

Early on, club members selected

Disney's Polynesian Resort Hotel for

their Thursday 7:30 a.m. breakfast

meetings. Charter member Garth

Walker recalled what a treat it was

to enjoy a delicious buffet breakfast

along with a view of the Magic

Kingdom's Cinderella Castle. He later

reminisced that when Rotary opened

its doors to women members in the

mid-1980s, he sponsored the club's

first female member, Sara Mobley,

who was a Winter Park Memorial

Hospital vice president at the time.

CONTRIBUTION

50 Years of Service

Rotary Club of Lake Buena Vista Stays True to Its Roots

by Augustine Campana

She quickly became a club mainstay

who led the way for other female

Rotarians.

Throughout the club's five decades,

its mission of hosting visiting

Rotarians has lived on. Hundreds of

members from far and wide have enjoyed

a warm Rotary LBV welcome

and brought club banners and pins

to trade. Such visitors often return

each time they travel to Orlando and

WDW.

Rotary LBV has a commitment to do

good in the world. Every member has

traditionally donated at least $100

annually to the Rotary Foundation,

which, since 1978, has had a goal of

ridding the world of polio. Generous

member donations often far exceed

these amounts and are used to serve

causes both locally and across the

globe.

A significant international accomplishment

was the club's use of Rotary

International's global grant program

to fund lifesaving heart-valve surgeries

in Chhattisgarh, India. Another was

in 2021, when the club sent several

shelter boxes, modules of relief materials

and supplies, to disaster areas like

Haiti.

Rotary LBV takes part in Rotary

International youth opportunities that

include exchange programs, where

high schoolers experience life in other

countries; youth leadership academy

camps; and high school and college

programs that develop the next generation

of leaders.

Members are also committed to

"service above self" in the community.

One of the club's first projects

was collecting unused Disney ride

tickets. Members distributed them to

disadvantaged individuals and youth

groups that might not otherwise have

been able to experience the magic

of Disney. Introduction of the WDW

passport ended this program; however,

many other service opportunities

followed. In recent years, club members

assembled meals for Rise Against

Hunger, sorted used soaps for Clean

the World, and packed groceries at

Second Harvest Food Bank of Central

Florida. The club also adopted a portion

of Apopka-Vineland Road near

Disney, where members and spouses

rid the roadsides of trash. In late

2021, LBV Rotarians relocated playground

equipment for the New Image

Youth Center and later served 200

Thanksgiving dinners at the center.

Club funds have supported charities

like National Alliance on Mental Illness;

Shepherd's Hope; Orlando Union

Rescue Mission; Education Foundation

of Osceola County for scholarships;

and WOW Legacy Group, a program

that helps women transitioning through

difficult times to realize their potential

and reach their goals.

In 2016, Rotary LBV established its

own club foundation to better support

such charitable causes as those mentioned

above. Designated a 501(c)

(3), the Rotary LBV Foundation has donated

funds generated by its annual

Charity Golf Challenge and received

from generous members and donors.

The Thursday morning breakfast

meeting tradition continues. For more

than 10 years, the club has met at the

Wyndham Lake Buena Vista Resort

near Disney Springs.

Club President Secily Wilson,

founder of the WOW Legacy Group,

opens each meeting with, "Welcome

to the happiest Rotary club in the most

magical place on earth."

Clearly, she and the other

Rotary LBV members are honored

to celebrate their club's 50th anniversary

along with that of Walt

Disney World. ª
---
www.SouthwestOrlandoBulletin.com x March 17 — April 6, 2022 x 7

FLORIDA PROPERTIES

FLORIDA PROPERTIES

Kristen Jackson

Attorney / Realtor

Charles Jackson

Realtor

FLORIDA PROPERTIES

April Sedlak Little Fish Big Ocean, Inc. 386-984-8204

Laura Jackson

Realtor

John Jackson

Realtor

The annual inflation rate in the United States is

currently around 7.5%, the highest it has been since 1982.

It doesn't matter if you're a cashier, lawyer, plumber, or retiree;

if you spend U.S. dollars, inflation impacts you. Economists

expect the effects of inflation, like a higher cost of goods, to continue.

Luckily, an investment in real estate can ease some of the financial strain.

Here's what you need to know about how an investment in real estate can help

hedge against inflation.

Real estate is one of the best hedges against inflation because owning real

estate does more than protect your wealth; it can actually make you money. For example,

home prices rose nearly 17% from 2020 to 2021, 10% ahead of the 7% inflation that

occurred in the same timeframe. Plus, certain types of real estate investments can help

you generate a stream of passive income. In the past year, property owners didn't just

avoid the erosion of purchasing power caused by inflation; they got ahead.

TYPES OF REAL ESTATE INVESTMENTS

Though there are myriad ways to invest in real estate, there are three basic

investment types that we recommend for beginner and intermediate investors.

Primary Residence

If you own your home, you're already ahead. The advantages of

homeownership become even more apparent in inflationary times. As inflation raises

prices throughout the economy, the value of your home is likely to go up concurrently.

At the same time, you've locked in a set mortgage payment for the next 30 years, so

you'll be immune to rising rental costs.

Can I Hedge Against Inflation With Real Estate?

Long-Term (Traditional) Rentals

A long-term or traditional rental is a dwelling that's

leased out for an extended period. An example of this is a single-family

home where a tenant signs a one-year lease and provides their own furniture.

Short-Term (Vacation) Rentals

Short-term or vacation rentals function more like hotels in that they

offer temporary accommodations. A short-term rental is defined as a residential

dwelling that is rented for 30 days or less. The furniture and other amenities are

provided by the property owner, and today many short-term rentals are listed on

websites like Airbnb and Vrbo.

WE'RE INVESTED IN HELPING YOU

Inflation is a fact of life in the U.S. economy. Luckily, you can prepare

for inflation with a carefully managed investment portfolio that includes real estate.

Owning a primary residence or investing in a short-term or long-term rental will

help you both mitigate the effects of inflation and grow your net worth, which

makes it a strategic move in our current financial environment.

If you're ready to invest in real estate to build wealth and protect yourself

from rising inflation, contact Jackson Florida Properties or Jackson Law PA. Our

team can help you find and protect a primary residence or investment property

that meets your financial goals.

The above references an opinion and is for informational purposes only. It is not intended to be

fi nancial advice. Consult the appropriate professionals for advice regarding your individual needs.

407-298-6153 www.JacksonFloridaProperties.com

Affiliate: Jackson Law PA 407-363-9020

Offices: Orlando, Florida

Credit Cards Accepted
---
8 x March 17 — April 6, 2022 x www.SouthwestOrlandoBulletin.com

Start early June

TOP COACHES

Beginners and High

Performance

Start early June

For all your summer tennis requirements at

For all your summer tennis requirements at

Windermere Prep School and West Orange Country Club.

dermere Prep School and West Orange Country Club.

407 928 6666

(407) 928-6666

OrlandoTennisAcademy.com

info@orlandotennisacademy.com

6189 Winter Garden-Vineland Rd, Windermere

West Orange Country Club

3300 W Orange Country Club Dr, Winter Garden

354455-1

TOP COACHES

Beginners For and High all your summer tennis requirements

Performance at Windermere Prep School and

West Orange Country Club.

Top Coaches on the Courts All Summer

#1 Tennis Facility in Southwest Orlando

Children of All Ages and Abilities

407 928 6666

Nurse Practitioners:

Esther Pelissier, ARPN-BC

Irene Gan, PMHNP

Raykha Crag-Chaderton, PMHNP-BC

Rachael Pittala, ARPN-BC

Therapists:

Michael Kellogg, LMHC, ATR-BC

Randie Morillo, LCSW, ACSW

Amy Singleton, LMHC

Brooke Parker, LMHC

Cristal Daniel, LMHC

Rachael Pittala

Esther Pelissier

2022 SUMMER DANCE CAMP

Jr. Summer Dance Camp (Ages 3-5) | 6.6-6.10

Summer Dance Camp (Ages 6-12) | 6.6-6.17

HARRIETT'S ORLANDO BALLET CENTRE

OrlandoBallet.org

Photo Credit: Zavesco Photography
---
www.SouthwestOrlandoBulletin.com x March 17 — April 6, 2022 x 9

Summer Kids

C a lendar

It's never too early to plan for the summer! If you're seeking kid-friendly

activities to keep your children entertained, active and out of trouble,

then look no further. Southwest Orlando Bulletin's first 2022 Summer Kids

Calendar provides great ideas to get you started!

Lake Cypress

Summer Camp

attendees have a

multitude of activities

to keep them

engaged.

Orlando

Ballet School

offers summer

programs for

age 18 months

and older.

CONTINUED ON PAGE 10

DANCE CAMPS at Orlando Ballet School, orlandoballet.org, are

open for registration. Children from ages 18 months-12 learn to explore dance

through rhythm, music and movement. Its young dancers focus on mental,

physical and social skills, and creative expression through dance by participating

in a fun and age-appropriate dance curriculum. Older dancers continue

to focus on the foundations of ballet as well as introductions to other

forms of dance such as jazz, character and musical theater. Observations

are available during the last ballet class of the camp so friends and family

members can see how their young dancers have grown. For more information,

visit orlandoballet.org.

LAKE CYPRESS SUMMER CAMP at Windermere Preparatory

School, 6189 Winter Garden Vineland Road, Windermere, 407-905-7737,

opt. 7; camp.windermereprep.com, offers a program where campers choose

their own adventure! Each week boasts a different theme and includes oncampus

field trips, lots of specialty camp rooms, swimming, sports, dance,

martial arts, inflatables and more, from June 6-July 29. Choose any weeks

you want! Camp days are 9 a.m.-3 p.m. for $290, or extended day is

7:45 a.m.-5:45 p.m. for $360.
---
10 x March 17 — April 6, 2022 x www.SouthwestOrlandoBulletin.com

CONTINUED FROM PAGE 9

Young actors at the Dr. Phillips Center for the Performing Arts' AdventHealth

School of the Arts perform on a professional stage.

Camp Roar at The First Academy offers all-day and part-time camp opportunities.

SUMMER CAMP at The First Academy, 2667 Bruton Blvd., Orlando,

thefirstacademy.org/academics/camp-roar. Camp Roar at The First Academy

is for students age 2-sixth grade and features all-day and part-time camp opportunities

from June 6-July 29 with engaging offerings, including academics,

sports, the arts and other activities. Camp Roar is open to both TFA students

and non-students.

SUMMER CAMPS AND PRODUCTIONS at Dr. Phillips Center for the

Performing Arts' AdventHealth School of the Arts, 155 E. Anderson

St., Orlando, 407-455-5551, drphillipscenter.org/camps, are open for registration.

Check out seriously fun options for youth ages 6-18 in musical theater and

improv comedy — all including a final performance on a professional stage.

Young actors can even audition for the pre-professional production of Catch Me

If You Can for ages 13-19 or the summer stock production of Chicago for ages

19-25. Plus, stay tuned for new classes each fall and spring.

on sale now for ages 6–19

new summer camps

& youth theater production

musical theater | take it from the top: broadway

improv comedy | catch me if you can production

Camps fill up fast—sign up today.

drphillipscenter.org/camps

scholarships & payment plans available
---
www.SouthwestOrlandoBulletin.com x March 17 — April 6, 2022 x 11

Campers

enjoy a variety

of outdoor

activities at

Gan Israel

Day Camp.

Windermere

Preparatory

School gives its

campers hands-on

tennis experience.

SUMMER CAMPS at Gan Israel Day Camp, 407-354-3660, www.

ilovegi.com, are camps on 27 beautiful acres that are dedicated to enriching

the lives of children from diverse Jewish backgrounds and affiliations through

stimulating camp experiences. Activities include sports, swimming, archery, a

ropes course, watersports, art and specialty fun shops. Camp Gan Israel is

part of the largest, fastest-growing network of day camps, enjoying a reputation

as a trendsetter in Jewish camping, with innovative ideas and creative programs.

CGI is accredited by the American Camp Association. Camp sessions

are June 26-July 22 from 9:30 a.m.-3:30 p.m. Extended care is available.

SUMMER TENNIS CAMPS at The Tennis Academy at Windermere

Preparatory School and its tri-sport tennis/golf/swim at West Orange

Country Club, 3300 West Orange Country Club Drive, Winter Garden, begin

May 30. The program includes fun, games and activities while keeping cool,

as well as a lifeguard-supervised swimming pool cool-off! The cost is $325

per person for five days from 9 a.m.-noon. Lessons/junior programs continue

throughout the summer with the top on-staff tennis professionals. For more

information or electronic registration, visit www.orlandotennisacademy.com

or email info@orlandotennisacademy.com.

CONTINUED ON PAGE 12
---
12 x March 17 — April 6, 2022 x www.SouthwestOrlandoBulletin.com

CONTINUED FROM PAGE 11

Sponsored by

Window World of Central Florida

JUNE 4 - JULY 23

St. Luke's United Methodist Church offers vacation Bible school and summer camps

for youngsters in pre-K through sixth grade.

VACATION BIBLE SCHOOL & SUMMER CAMPS at St. Luke's United

Methodist Church, 4851 S. Apopka-Vineland Road, Orlando, 407-876-

4991, www.st.lukes.org/camps, provide quality, affordable, Scripture-based

instruction in a nurturing environment. Children of all backgrounds and traditions

participate in activities like music, science, art and more. VBS (pre-K-sixth

grade) takes place June 20-24. Summer camps are June 13-17 (pre-K only),

July 11-15 and/or July 18-22 (pre-K-sixth grade). Extended day options are

available.

In-person and virtual

events for kids of all ages

FUN • EDUCATIONAL • FREE

ocls.info/SRP

Orange County Library System hosts both virtual and in-person library events, camps

and classes at all its 15 locations this summer.

VIRTUAL AND IN-PERSON LIBRARY CAMPS AND CLASSES through

the Orange County Library System's Summer Reading Program,

407-835-7323, ocls.info. This year's Summer Reading Program theme is

"Oceans of Possibilities." Give your kids a chance to explore seven seas of

information and inspiration with events and camps, reading challenges, prizes

and more. The website goes live April 1, so you can browse what the library

has in store. The Summer Reading Program takes place June 4-July 23. ª
---
SOUTHWEST ORLANDO

Home & Real Estate

Volume 3, Issue 1 — March 2022

Home

Improvements

to Transform

Your Home

Updating Windows

& Patio Doors

Avoiding

Foreclosure

A Product of the
---
PRESSURE

PAVER SEA

2 | March 2021 | Southwest Orlando Home & Real Estate

Life's unexpected challenges can

mortgage payments as a lump sum

make meeting monthly mortgage payments

difficult. The good news? Help

Freddie Mac Flex Modification, for

Avoiding Foreclosure

or by increasing monthly payments.

is available to avoid foreclosure.

example, provides up to a 20%

Indeed, Freddie Mac has completed

more DECORATI

mortgage payment reduction that

than 255,000 foreclosure

permanently changes one or more

prevention actions in 2021, according

to the Federal Housing Finance

gage, such as the interest rate and

of the original terms of your mort-

Agency. Whether you're currently behind

on payments or foresee trouble

vicer whether this may be an option

mortgage term. Ask your loan ser-

ahead, Freddie Mac representatives

for you.

advise taking the following steps as

• A repayment plan increases

quickly as possible to get back on

mortgage payments for a short

track:

POOL DEC

period to make up for missed payments.

Plans must be longer than

Assess Your Situation

one month but no longer than 12

Whether it's due to unemployment,

months. Consider this option if you

illness, natural disaster or other reasons,

identifying the cause of your fi-

payment, plus a little more, for a

can afford your regular monthly

nancial hardship and anticipating its

short period.

duration PAVER

are important. These factors

• SEA

With partial reinstatement, you

can help determine the best solution

pay a portion of missed mortgage

for you. (A short-term hardship is over

payments as a lump sum. To pay off

within 12 months. A long-term hardship

extends beyond 12 months.) Homeowners struggling to make mortgage payments have many options.

with you to create a repayment

©Ridofranz/iStock via Getty Images Plus

the rest, your loan servicer works

plan.

Contact Your Servicer

— is your best resource throughout options based on your particular • With full reinstatement, you

Your servicer — the company the process. They will provide you situation, which typically begins pay the total owed mortgage payments

as a lump sum, making your

where you send mortgage payments with the available mortgage relief with being placed in a temporary

forbearance program. Remember, mortgage current. This is a good

your servicer is there to help. If choice if you can afford it.

you think you're going to have trouble

paying your mortgage, don't lowers your interest rate or replaces

HOME CLEANING

wait. Call them immediately! And an adjustable-rate mortgage with

• Refinancing your mortgage

EXTERIOR

if you're already behind on your a more affordable fixed-rate mortgage.

This is a good choice if you're

POOL DEC 32

mortgage or currently in a workout

EXTERIOR AND SPECIALTY HOME CLEANING

option, respond to their outreach efforts

to keep an open dialogue goefit

from reduced payments in the fu-

current on payments but would ben-

COATING ing throughout the process.

ture. This year, more than 600,000

AND SPECIALTY SERVICES

homeowners with a Freddie Macbacked

mortgage refinanced into a

PRESSURE No matter where you stand, there more affordable loan.

COATING WASHING

SERVICES

Know Your Options

are solutions. Here are some to • COVID-19 relief is offered by

consider:

many loan servicers to those strug-

DECORATIVE

• Forbearance is an agreement gling due to the pandemic.

DECORATIVE PRESSURE WASHING

SCORED SCORED CONCRETE

CONCRETE

between you and your loan servicer • Of course, if homeownership

PAVER DECORATIVE

Imperial

SEALING

SCORED CONCRETE

that either pauses or reduces monthly

mortgage payments for a limited able, there are options, too. Short

PAVER SEALING

is no longer affordable or desir-

time. Consider forbearance if you're sale and deed-in-lieu, for example,

POOL PAVER DECK SEALING

COATING

currently unable to make payments can help you exit your home with-

POOL DECK COATING

but think you'll be able to resume out facing the costs associated with

soon.

foreclosure.

POOL DECK COATING

• With payment deferral, missed If you're struggling to make mortgage

payments, take action quickly.

end of your loan term, but your Doing so can help you prevent fore-

321-947-2541

mortgage payments move to the

monthly mortgage payment amount closure and stay in your home.

Imperial 321-947-2541 Outdoor Living, LLC

LLC

stays the same. Consider payment For more homeowner resources,

deferral if your hardship is resolved visit myhome.freddiemac.com.

Facebook.com/imperialoutdoorliving

Imperial Outdoor Living, LLC

but you're unable to repay missed

(StatePoint) ª

Facebook.com/imperialoutdoorliving

Facebook.com/imperialoutdoorliving
---
Your home's windows and patio

doors not only let in sunlight and

scenery, they also help protect you

from the elements. That's why it's

important to do your research when

you're updating them. Here's what to

know and look for:

High-Performance Products

High-performance windows and

doors have better energy efficiency,

which can help save you money in

the long run, make your home healthier,

and keep it better protected in

stormy weather.

Energy-efficient windows help reduce

drafts and the transfer of heat,

which can mean lower energy bills.

Energy Star-certified windows and

patio doors from Andersen are a

good example of this. They're also

durable and reduce expenses associated

with maintenance and painting.

Be sure to also seek out products

that have a zero-VOC or low-

VOC certification. For example,

most Andersen products are Indoor

Advantage Gold-certified for low-

VOC emissions. This helps reduce

your household's exposure to volatile

organic compounds, which are gases

that can lead to eye, nose and throat

irritation; headaches and dizziness;

and can even cause organ damage

over time, according to EPA officials.

Finally, if you live in an area prone

to hurricanes and storms, look for

windows and doors that are certified

to perform in high winds and severe

coastal conditions.

Quality Components

Better quality windows and doors

make it less likely that you'll need to

Updating Windows & Patio Doors

Know what to look for when updating your windows and patio

doors.

repair or replace them. One way to

identify quality is to stick with brands

that continually test the durability

and strength of all the components

of their products.

You can also look into products

that use new, low-maintenance materials

like Fibrex material, a composite

that's stronger than vinyl and doesn't

rot, fade, pit or corrode.

Designs That Fit Your Style

Look for the types of windows and

doors that match the look and feel of

your home. This means making sure

they're the right color with the right

type of glass and that they open the

way you want them to.

Southwest Orlando Home & Real Estate l March 2022 I 3

For example, custom

colors can help

bring your design vision

to life. Black interiors

help achieve

a modern look with

contrasting interior

paint colors, while

white interiors help

keep spaces light

and bright. And, if

you're looking to put

a patio door in a

tight space, go with

a gliding patio door

option.

Different types of

glass are also something

to keep in mind,

with some glass being

better suited for

certain climates and

conditions. Understanding terms,

like dual pane windows, low emissivity

(Low-E) coating, decorative and

hurricane-resistant, can also help

you make the right choices.

With so many options, it's often a

good idea to seek the advice of a

certified contractor. They can help

capture your vision and will work

with you to find the right products for

your home.

An Experienced Installer

A window is only as good as its

installation. In fact, many windows

fail due to improper installation.

Help protect the investment you've

made in your home by hiring a certified

contractor or full-service replacement

company like Renewal by

Andersen. Certified contractors are a

safe bet to make sure your windows

and doors are installed properly,

and Andersen products installed by

Andersen-certified contractors come

with a two-year limited installation

warranty.

Keeping all these points in mind

will help you select windows and patio

doors that best fit your home and

can save you money in the long run.

(StatePoint) ª
---
4 | March 2021 | Southwest Orlando Home & Real Estate

Are you ready for a home refresh?

Now is an ideal time to set goals and

optimize your home, whether you're

tackling important maintenance tasks,

adding comforting elements to cozy

up your space, or getting organized.

This year, home improvements that

provide long-term benefits are top of

mind for homeowners. Here are a few

ways to keep your home in tip-top

shape and bring you peace of mind.

Minimize Clutter and Increase Safety

People are multitasking at home

more than ever, which can often lead

to increased clutter. Disorganization

can be more than just an unsightly

mess, it can be a safety hazard.

Thoughtful organization improves

functionality, saves space and keeps

areas clutter-free to reduce the chance

of injury. Spaces where organization

can have a huge impact include closets,

mudrooms, garages, home offices,

pantries and laundry rooms.

"Having a dedicated space to

store and contain your items will help

you stay organized and improve order

and efficiency," said Andrew

Hall, Home Depot interiors program

merchant.

By utilizing high-quality installed organizational

systems, you can reclaim

control of your office, keep things tidy

and efficient in your laundry room,

and easily spot missing ingredients in

your new kitchen pantry. According

to representatives of the National

Association of Home Builders, a walkin

pantry is the most-wanted kitchen

feature, with 81% of homebuyers

identifying a walk-in pantry as an essential/must-have

(34%) or desirable

item (47%).

Home Improvements

to Transform Your Home

Keeping up with your HVAC maintenance is one way to stay ahead of repair and

replacement costs.

Decluttering and organizing your

home can also help to reduce stress

and allow you to streamline daily

tasks. For a custom solution that meets

all your storage needs and maintains

your design aesthetic, consider professional

organization. The Home

Depot's Home Services is available to

help you design and build your own

custom closet or storage solution with

ease and convenience.

Cut Energy Costs

and Your Carbon Footprint

The foundation of home comfort

starts with proper heating and cooling.

HVAC services include anything

related to heating, ventilation and air

conditioning, and are key to feeling

comfortable at home year-round, no

matter the temperature outside.

"Crossing routine maintenance

tasks off your to-do list sooner rather

than later not only enhances comfort,

safety and functionality of your home,

but it can also increase the value of

your home, reduce your energy consumption,

and save you money," said

Viviane Essex, HVAC install merchant

with The Home Depot Home

Services team.

Each spring and fall before you

start using your air conditioner, furnace

or other heating and cooling

systems, you should get a tuneup to

prepare your HVAC system for the

seasons. By investing in a spring AC

tuneup each year, you can save a lot

in energy bills by keeping your system

operating at peak efficiency. You also

can avoid costly repairs by identifying

and fixing minor problems before they

turn into big ones. While some homes

might be due for a new replacement

air conditioner, others may simply

need maintenance to keep everything

operating as it should.

Consult an HVAC service provider

who can evaluate and take

measurements on critical system

components, check the performance

and safety of the system cleanings,

and make necessary repairs. Air circulation

is also important to prevent

temperature fluctuations throughout a

home and save money while reducing

energy costs. Your tuneup technician

can check for duct leakage, which

can cause hot/cold spots and waste

energy — duct sealing can help with

this. In addition, installing ceiling fans

and mounting a programmable thermostat

in place of an older model

can help reduce your utility bills and

keep you feeling more comfortable at

home.

Prepare to Stay

Ahead of Unexpected Expenses

For most people, their home is their

biggest investment. A proactive approach

to maintenance and repairs

helps protect this investment and provides

peace of mind. Consider keeping

a monthly and annual checklist

of maintenance to-do's and schedule

any necessary repairs as soon as

possible.

Common monthly home maintenance

to-do's include checking

pipes for leaks, verifying air flow

and temperature accuracy, changing

filters, checking fire alarms and

carbon monoxide detectors, and

cleaning gutters and walkways of

debris. Annual maintenance should

include HVAC maintenance, checking

window and door seals, verifying

fence and deck integrity, updating

lighting both indoors and out, and

landscape maintenance such as

trimming trees.

The Home Depot Home Services

provides homeowners with free inperson

or virtual consultations depending

on project type and client

needs for 400 home improvement

projects, partnering with top professionals

in your community to help

you make your upgrades and repairs

a reality. If you decide to move forward

with your project, you can feel

confident that Home Depot's certified

service providers are local, licensed,

insured and background checked. For

more information, visit homedepot.

com/licensenumbers.

(BPT) ª
---
www.SouthwestOrlandoBulletin.com x March 17 — April 6, 2022 x 17

Picture

MyPet PH TO

For 21 years, Southwest

Orlando residents have shown

off the modeling talents of their

beloved pets in the annual Picture

My Pet photo album. And for 21

years, the staff of the Southwest

Orlando Bulletin has had the

privilege of reviewing hundreds

of creative — and often funny

— shots, showcasing everything

from dogs in costumes to cuddly

kittens to birds and horses.

This year was no exception.

Residents from all over submitted

photos of their furry and fluffy

friends, creating an adorable display

of the pets that bring joy to

the hearts of their owners across

Southwest Orlando.

We extend big thank-yous to

all the residents and their animal

pals who participated in this

year's album!

GOLDEN GLOW

Kobe belongs to Lisa Drake of Summerport.

DEEP THINKER

Bailey belongs to Lynn and Lou Roeder of

Orange Tree.

18

EVERYTHING'S

COMING UP ROSES

SUMMER 2022

June 27th – July 22nd

Sugar belongs to Rachel, Robin and Rodney Jolley of

Windermere.

PAW-TY TIME

Camp Gan Israel is a summer camp dedicated to enriching the lives of

children from diverse Jewish backgrounds and affiliations, through a

stimulating camping experience. Campers are infused with a deep sense

of pride in their Jewish heritage, and love for the land of Israel. We put

great focus on child safety and program quality. We offer a variety of

"Funshops" to suit each camper's interest and talent.

(L. to r.) Rin, Kiki and Oscar belong to the Cruz family of Windermere.
---
18 x March 17 — April 6, 2022 x www.SouthwestOrlandoBulletin.com

17

POOLSIDE PET

BOWL ME OVER

A HELPING PAW

Olaf belongs to Tom and Norma Kirchner of

Waterford Pointe.

Pitufo belongs to Salvatore Bottiglieri of

Windermere.

Sally belongs to Molly Rose of Windermere.

STATUESQUE

CAMPAIGNING

FOR OFFICE

ELF IN TRAINING

Luke belongs to Tony and Lisa Eli of Bay Hill.

Bentley belongs to Karen Layfield of Vistamere.

Bell belongs to Judy Jones of Turtle Creek.
---
www.SouthwestOrlandoBulletin.com x March 17 — April 6, 2022 x 19

Maverick belongs to Lisa Hinson of Winter Garden.

DASHING DARLING

15 TH ANNUAL

SOUTHWEST

AUTHOR

SERIES

COZY KITTY

FEATURING

JAMES

GRIPPANDO

Riley belongs to Shari Dworkin-Smith of Bay Park.

HAPPY TWO-GETHER

Presented in partnership with

The Rotary Club of Dr. Phillips.

NEA

New York Times bestselling author James

Grippando will speak and sign copies of his books.

Southwest Branch 7255 Della Drive

Friday, April 8

6:30 p.m.

The event is FREE and light refreshments will be served.

Daisy (front) and Penny belong to the Bocken family of

Brookestone.

20
---
20 x March 17 — April 6, 2022 x www.SouthwestOrlandoBulletin.com

19

TOO COOL

TO DROOL

LET'S EAT!

CAT-MISS-TREE

Emily Rose belongs to Destiny Brenton of

Reserve at Belmere.

Bohemian Rhapsody "Bo" belongs to Deborah

Brozovich of Stone Creek.

Biscuit (left) and George belong to the Marcakis

family of South Bay.

31 ST ANNUAL

31 ST ANNUAL BEST MOM IN SOUTHWEST CONTEST.

DEADLINE: APRIL 13, 2022

Email entries to Lauren@kearneypublishing.com;

or mail to P.O. Box 851, Windermere, FL 34786.

For more information, call 407-351-1573, option 4.
---
www.SouthwestOrlandoBulletin.com x March 17 — April 6, 2022 x 21

SCOTTISH PRIDE

TABLE MANNERS

SUNSHADE

Milo belongs to Tina Bruefach of

Lake Crescent Reserve.

Riley belongs to Karen Goldman of Windgrove

Estates.

Frankie belongs to the Shbovsky family of The

Willows.

DAINTY DOGGIE

LAKESIDE

ADVENTURES

SPECIAL DELIVERY

Lucy belongs to Debbie Scraper of Sunset

Lakes.

Lexi-Lu belongs to Greg and LouAnn

White of Turtle Creek.

Kit belongs to Carol Bostick of Sand Lake Point.

ROAD TRIP!

BIG HAIR,

BIG DREAMS

Zeus belongs to Walter Zak of

Glenmuir.

SNUGGLES AND

SNORES

(L. to r.) Trey, Scarlett and Penelope belong

to Melissa Gacek of MetroWest.

Stella (front) and Motley belong to Steve and Neena

Wilson of Stone Crest.

22
---
22 x March 17 — April 6, 2022 x www.SouthwestOrlandoBulletin.com

21

BARKING UP THE

WRONG TREE

PUPPY PERCH

A UNIQUE BLEND

Graci belongs to Jim and Staci Killam of Bay Hill.

Olivia belongs to Karen Ramsay of South Bay.

Rosé belongs to the Schwering

family of Cypress Landing.

THE EYES HAVE IT

BIRTHDAY BOY

PUT ON

A HAPPY FACE

Bailey belongs to Bernie and Bonnie

Bullard of Emerald Forest.

Toshi belongs to John and Hoshi of

Kensington Park.

Bailey belongs to Bill Martini of

Windermere.

COWABUNGA

DUDE!

STUCK TOGETHER

Domino (left) and Gizmo belong to

Lorraine Chen of Westfield Lakes.

Teo belongs to Sharon Billedeau of Winter

Garden.

THIS SEAT'S TAKEN

Sapphire belongs to Michelle Roberts of

Daniels Crossing.

To include as many

pet photos as

possible, In Your

Neighborhood,

School News and

Southwest Sports

do not appear in

this issue. ª
---
n New committee to enhance

trail system

Representatives of the Foundation

for a Healthier West

Orange announced the formation

of a new steering committee, the

Healthy West Orange Trails

Connection (HWOTC). HWOTC

promotes, activates and enhances the

trail system throughout west Orange

County to create opportunities for

physical activity, social engagement,

prosperity and happiness.

The committee is composed of

Oakland, Ocoee, Windermere,

Winter Garden, the Gotha rural

settlement, the West Orange

Healthcare District, and

Foundation for a Healthier West

Orange. Supporting agencies include

Orange County, the Florida

Department of Transportation,

MetroPlan Orlando, Florida

Department of Health — Orange

County, West Orange Chamber

of Commerce, Bike/Walk Central

Florida, and the city of Apopka

among others.

To fund the initiative, the foundation

and HWOTC were entrusted

with $5.5 million from the West

Orange Healthcare District to support

the mission. The committee will

determine the best use of the funds,

accelerating the implementation of

projects that support walking, cycling

and wellness activities within

the communities while improving

multimodal safety. The $5.5 million

grant also serves as seed money to

attract additional investments in the

region's trails and enhance current

and future trail projects.

NEWS & BUSINESS BRIEFS

"The trail system has been a vital

component of our city's health and

wellness," said Jon Williams, city

manager of Winter Garden. "We

are excited to join the other partnering

agencies in activating as well

as expanding the trail system within

Winter Garden and throughout west

Orange County."

n Kids Beating Cancer annual

fundraiser takes place April 8

Kids Beating Cancer will

present its third Hats & Roses

Kids Beating Cancer's Rose Society

founder and chair, Francelis Gonzalez,

M.D. (left), of Turtle Creek and chair-elect

Donna Boyer of Palm Lake, volunteer

to plan KBC's Hats and Roses luncheon and

fashion show.

www.SouthwestOrlandoBulletin.com x March 17 — April 6, 2022 x 23

compiled by Lauren Salinero

luncheon and fashion show, themed

"Springtime in Paris," on April 8

(L. to r.) Jon Williams,

Winter Garden city manager;

Commissioner Mark Maciel,

District 3; Commissioner and Mayor

pro-tem Colin Sharman, District

4; Mayor John Rees, citywide

District 5; Lesa Boettcher,

FHWO chief operating officer

and HWOTC executive committee

member; Barbara Giles, program

manager of Bike/Walk Central

Florida; Attorney Kurt Ardaman,

HWOTC executive committee

member; and Commissioner Ronald

Mueller, District 2, comprise the

Healthy West Orange Trails

Connection.

from 11 a.m.-2 p.m. at Four Seasons

Resort Orlando at Walt Disney

World. The event is being planned

by KBC's volunteer committee, the

Rose Society, which was newly

founded by Francelis Gonzalez,

M.D., of Turtle Creek, serving

as chair. Donna Boyer of Palm

Lake is serving as chair-elect.

Attendees will enjoy a gourmet,

French-inspired, three-course luncheon

with French cocktails, Champagne

and wine; complimentary valet parking;

a couture fashion show; and shopping

from a selection of vendors. Ticket

prices start at $175, and proceeds

support the nonprofit, which provides

access to lifesaving treatments for children

suffering from a cancer diagnosis

and advances research while supporting

children and their families during

their journeys. Last year's event raised

almost $200,000.

For more information or to purchase

tickets, visit kidsbeatingcancer.com/

hatsandroses.

n Bank donation will feed

local families

Bank of America officials announced

a $45,000 donation worth

180,000 meals to Second Harvest

Food Bank of Central Florida

CONTINUED ON PAGE 24
---
24 x March 17 — April 6, 2022 x www.SouthwestOrlandoBulletin.com

CONTINUED FROM PAGE 23

to address food insecurity in the

region. In Central Florida, Feeding

America projects that 13.8%, 1

in 7 people, and 20.1%, 1 in 5

individuals and families throughout

Central Florida. The bank is a longtime

partner of Second Harvest,

with donations to the organization

totaling more than $1 million to

date.

"The goal of this study is to get our

most vulnerable residents the mental

health treatment they need," Demings

said. "As a former law enforcement

leader, I saw far too many mentally

ill people wind up in jail, which is

West Orange Chamber of

Commerce ambassadors held a

We Noticed event for Foundation

Academy in Winter Garden,

which opened a new arts and

academics classroom building at

their Tilden Road campus. WOCC

builds partnerships, strong businesses

and commitment to the

community by serving as the leading

business advocate in Central

Florida, facilitating opportunity to

nearly 1,000 member businesses.

For more information about

WOCC, call 407-656-1304 or visit

wochamber.com.

Bank of America donates $45,000 to Second Harvest Food Bank of Central Florida.

children, lived in households that

were potentially food insecure in

2021. As the pandemic continues,

hunger relief organizations in

Orlando and across the country are

facing ongoing challenges such as

increased demand for their services

and rising food prices.

Second Harvest Food Bank is

continuing to distribute enough

food for 250,000 meals each day

through its network of 550 community

feeding partners. An estimated

1 in 7 Central Floridians is at risk of

going to bed hungry on any given

night. For every $10 donated to

Second Harvest, the organization

can provide 40 meals to the community.

With help from the bank's

donation, Second Harvest will be

able to provide 180,000 meals to

n Orange County mental

health system analysis

completed

The results of the Orange County

Mental & Behavioral Health System

of Care Community Analysis

were presented to the Board of

County Commissioners last month.

The report was commissioned by

Southwest resident and Orange

County Mayor Jerry L. Demings

through Heart of Florida United

Way. The research project was

built upon issues found in a 2020

analysis by the Mental Health

and Homeless Division of Orange

County Government, which ranked

Florida 49th out of the 50 states

when it comes to access to mental

health services.

Get Social With Us!

the last place they should be. It is my

hope the recommendations in this report

will help break that cycle."

To view the entire report and

recommendation explanations in

English and Spanish, visit www.

hfuw.org/mentalhealthreport.

BUSINESS BRIEFS

James Grippando, the 2017

winner of the Harper Lee Prize for

legal fiction and a New York Times

bestselling author of 27 suspense novels,

will speak at Orange County

Library System's Southwest

Library at Dr. Phillips on April 8.

He will talk about his work and sign

copies of his books, including his

newest novel, Twenty. Sponsored by

the Rotary Club of Dr. Phillips,

the event is free and begins at 6:30

p.m. For more information, visit

ocls.info/15th-annual-southwest

-author-series.

www.southwestorlandobulletin.com

photo courtesy of WOCC

West Orange Chamber of Commerce ambassadors and Foundation Academy

representatives celebrate FA's new classroom. Pictured are (l. to r.) Frank Adam; Joan

Bailey; Cyndi Gustafson; Luanne Lumpkins, director of cultural development; Carol

Grosshans, vice president of education; Dave Buckles, FA president; Sarah Reynolds,

FA Tilden Road campus principal; Christina Haak, development specialist; the Rev. Tom

Rutherford; Denise Fisher and Stina D'Uva, WOCC president. ª
---
n Charities/Fundraisers

March 25 — Drive Our Future Golf

Classic

Drive Shack in Lake Nona, 7285 Corner

Drive, Orlando, hosts Junior Achievement

of Central Florida's fourth annual Drive Our

Future Golf Classic, including three hours of

golf play, networking, food and drinks. All

skill levels are encouraged. Space is limited.

Time: 2-5 p.m. Cost: $150, with proceeds

supporting students and programs at the JA

Academy and 3DE by Junior Achievement.

Sponsorships are available. For more information

or to register, call 407-270-4974 or email

lbourne@jacentralfl.org.

April 23 — Nehrling Gardens Art &

Stroll

Nehrling Gardens, 2267 Hempel Ave.,

Gotha, hosts Caladiums, Canvases & Coffee

— Nehrling Gardens Art & Stroll — including

coffee and morning cocktails, brunch bites,

live music, an online art auction, interaction

with artists and caladium bulbs for sale. Time:

9 a.m.-noon. Cost: $25 in advance, $35 the

day of the event, with proceeds benefiting

Nehrling Gardens. For more information,

visit nehrlinggardens.org.

COMMUNITY BULLETIN BOARD

n Children's Program

March 23 — Art Program

The Southwest Library at Dr. Phillips, 7255

Della Drive, Orlando, hosts A World of Color

for children 9-12. Participants create abstract

art using vivid colors inspired by the work

of Disney artist Mary Blair. The program

includes a story, a presentation and an art

project. Time: 3-3:30 p.m. To register, visit

attend.ocls.info/event/6043986.

n Events/Performances

April 23 — Autism Awareness Car &

Truck Show

Promenade at Sunset Walk, 3251 Margaritaville

Blvd., Kissimmee, hosts the Autism Awareness

Car & Truck Show, including a 50/50 raffle and

many other prize giveaways. All makes and models

of cars are welcome. Time: 4 p.m. Cost: $30,

VIP parking; $20, show car lot parking. Free

admission for spectators, friends and family members.

For more information, visit sunsetwalk.com.

www.SouthwestOrlandoBulletin.com x March 17 — April 6, 2022 x 25

April 28-May 1 — The Great Gatsby

Performances

Orlando Ballet presents performances of The

Great Gatsby with live music in the Walt Disney

Theater of the Dr. Phillips Center of the Performing

Arts, 445 S. Magnolia Ave., Orlando. Showtimes

and ticket prices vary. For more information, visit

orlandoballet.org.

n Miscellaneous

compiled by Lisa Sagers

March 24 & April 28 — MetroWest Food

Truck Connections

MetroWest Golf Club, 2100 S. Hiawassee

Road, Orlando, hosts MetroWest Food Truck

Connections, including food, fun and music.

Social-distancing guidelines are observed.

Time: fourth Thursday of every month from

5:30-9 p.m. For more information, visit

www.metrowestcommunity.com.

March 26 — Health Care Hiring Event

Community Health Centers Inc., 13275 W.

Colonial Drive, Winter Garden, hosts a hiring

event for various positions in the health care field,

including family physician, pediatrician, optometrist,

OB-GYN, dentist, psychiatrist, nurse practitioner,

licensed practical nurse, licensed clinical

social worker, certified nursing assistant, front desk

specialist and many more. Positions are located

throughout Central Florida. Time: 9 a.m.-1 p.m. For

a list of open positions, visit www.chcfl.org/jobs.

n Networking/Clubs

Ongoing — Members Wanted

The West Orange Women seeks women of all

ages to join its group for fun, friendship and

philanthropy. Annual dues are $20. For more

information, call Mary Borgan, 407-929-3030;

or visit www.westorangewomen.com.

March 22, 29, April 5, 12, 19 & 26 —

Virtual Toastmasters Meetings

Windermere Toastmasters Club No. 4662754

holds Zoom meetings. Attendees learn to develop

their oral communication and leadership skills in

a supportive and positive learning environment.

Time: Tuesdays from 7-8:30 p.m. For more information

or to request online Zoom meeting details,

visit www.4662754.toastmastersclubs.org and

click "Contact Us."

CONTINUED ON PAGE 26
---
26 x March 17 — April 6, 2022 x www.SouthwestOrlandoBulletin.com

CONTINUED FROM PAGE 25

March 23, 30, April 6, 13, 20 & 27 —

Virtual Toastmasters Meetings

The Turnpike Toastmasters Club holds Zoom meetings.

Time: Wednesdays from noon-1 p.m. For

more information or to register for a virtual meeting,

visit 2362.toastmastersclubs.org and click

"Contact Us" at least one day before the event.

March 24, 31, April 7, 14, 21 & 28 —

Virtual Toastmasters Meetings

The Vista Toastmasters Club holds Zoom meetings.

Time: Thursdays from 7-8:30 p.m. For more

information, email vistatoastmasters.zoom@gmail.

com or visit www.vistatoastmasters.org.

March 24, April 14 & 28 — Thursday

Networking Group Meetings

West Orange Chamber of Commerce's Thursday

Networking Group meets at the Dr. P. Phillips YMCA

Family Center, 7000 Dr. Phillips Blvd., Orlando.

Time: second and fourth Thursday of each month

from 8:30-9:30 a.m. For more information, email

Jim Zeitschel, jim.zetishel@primelending.com.

April 7 — Retired Educators Meeting

College Park United Methodist Church, 644 W.

Princeton St., Orlando, hosts a meeting of the

Orange County Retired Educators Association.

The guest speaker is Dave Woods, who will give

a presentation about the Central Florida Inventors

Council. Anyone who has worked in education is

invited to attend. Masks are required, and food

and drinks are not allowed. Time: 10:30 a.m.

For more information, call 407-843-6909 or visit

www.ocreafl.org.

n Volunteer Opportunities

Ongoing — Virtual Volunteers Needed

RSVP seeks volunteers to help make masks for

Cornerstone Hospice & Palliative Care. For more

information or if interested, call Tyler VanBuren,

630-335-3084; or email tvanburen@vcifl.org.

Ongoing — Volunteers Needed

The Foster Grandparent Program seeks limitedincome

volunteers 55-older to join in helping

children in schools all around Central Florida.

For more information, call 407-298-4180 or visit

volunteersforcommunityimpact.org/wp-content/

uploads/2020/01/FGP-Info-Flyer-1-13-20.pdf.

Ongoing — Pet Foster Homes Needed

As part of its Pet Peace of Mind program,

Cornerstone Hospice seeks foster homes for pets

left behind after their owners pass away. For

more information or to receive an application

to foster, email ppom@cshospice.org. For more

information about hospice volunteer opportunities,

call Sharon Smith, 404-290-1583; or email

ssmith@vcifl.org.

Ongoing — Volunteers/Docents Needed

Oakland Nature Preserve, 747 Machete Trail,

Oakland, seeks adults interested in learning

about the history, wildlife, plants and restoration

efforts at ONP to volunteer at the preserve to

greet visitors, help answer questions and lead a

tour from time to time. Workdays are Mondays

and/or Saturdays. For more information, email

outreach@oaklandnaturepreserve.org or visit

www.oaklandnaturepreserve.org/guide. To register

online, visit oaklandnaturepreserve.org.

Ongoing — Volunteer Veterans Needed

Cornerstone Hospice seeks volunteers who are

veterans of America's armed forces to honor

patients who are veterans by visiting them in

their homes, a facility or a hospital. Cornerstone

Hospice is a four-star level member of the We

Honor Veterans program, a national initiative to

provide veterans in hospice care with specialized

services. All volunteers must participate in mandatory

training that includes an overview of what is

hospice care and how volunteers play an important

role in caring for patients. For more information,

call Olivia Davidson, 407-206-5060; or

email odavidso@cshospice.org.

Ongoing — Volunteers Needed

The Mustard Seed of Central Florida, 12 Mustard

Seed Lane, Orlando, seeks volunteers who can

help with donation sorting, mattress recycling,

warehouse maintenance, administrative work,

special events or general maintenance. For more

information, call 407-875-2040, ext. 110; or

email jessi@mustardseedfla.org.

Ongoing — Volunteers Needed

The town of Oakland seeks volunteers to assist in

various fun and fulfilling roles at The Healthy West

Orange Arts and Heritage Center. Applicants

must consent to a criminal background check. For

more information, call Pamela Stewart, 407-656-

1117, ext. 2112; email arts&heritage@oaklandfl.

gov; or visit bit.ly/artsandheritagecenter.

Ongoing — Volunteers Needed

My Brother's Keeper seeks volunteers — especially

adult men (18-older) of color — who can

serve as positive role models and mentor boys

and young men of color. For more information,

email Grace, gdearden@vcifl.org, at Volunteers

for Community Impact.

Contributions to Community Bulletin Board are welcome. Please

send information six weeks before the event to P.O. Box 851,

Windermere, FL 34787; call 407-351-1573, option 5; or email

Lisa@kearneypublishing.com. ª

Seniors Way, Inc.

Companion / Homemaker Services

407-340-4120

carmen@seniorswayinc.com

Locally Owned & Operated

License number 236778

Free in Home Consultation

★★★★★★★★★★★★★★★★★★★★★★★★★

★★★★★★★★★★★★★★★★★★★★★★★★★★★★★★★★★★★★★★★★★★★★★★★★★★

Ken

PROFESSIONAL HANDYMAN

Interior & Exterior Painting

All Flooring • Pressure & Chemical Cleaning • Screen Repair

Drywall • Texture • Popcorn Removal • Kitchen & Bath Remodeling

407-769-1348

All Repairs, Improvements & Odd Jobs, Large or Small

★★★★★★★★★★★★★★★★★★★★★★★★★★★★★★★★★★★★★★★★★★★★★★★★★★

★★★★★★★★★★★★★★★★★★★★★★★★★

The West Orange Chamber of Commerce

FACILITATING OPPORTUNITY FOR OVER 45 YEARS

Dr. Phillips | Gotha | Horizon West | Lake Avalon | MetroWest | Oakland

Ocoee | Orlo Vista | Pine Hills | Windermere | Winter Garden

wochamber.com

(407) 656-1304

Networking

Marketing

Education

Advocacy

Live and in Person.

Your Message Targeted.

Sharpen Your Saw.

Stay "In The Know"

Over 30 years and still #1

Mention

this ad and

get 10% off

any service.

Universal Service Center

YOUR ONE-STOP, ON-THE-SPOT SERVICE CENTER.

• ASE Certified Techs

• Import Service

• Precise Diagnostics

• Tires

• Towing

• Oil Change

ALL GENERAL REPAIRS.

• Batteries

• A/C Repairs

• Brakes

5989 Turkey Lake Road • 407-345-4860

Hours of operation:

M-F 7:00 a.m. - 6:00 p.m.

Sat 7:00 a.m. - 5:00 p.m.

Sun Closed
---
PRESENTED BY:

&

Residences

AUTISM AWARENESS

CAR & TRUCK SHOW

SATURDAY APRIL 23 RD - 4PM

All Makes & Models Welcome

Entry Fee - $30.00 VIP Parking / $20.00 Show Car Lot Parking

TOP 11 TROPHY AWARDS • 50 / 50 RAFFLE

PLUS, MANY OTHER PRIZE GIVEAWAYS

TROPHY CATEGORIES:

BEST OF SHOW • BEST MOPAR • BEST FORD • BEST IMPORT • BEST TRUCK • BEST HOT ROD

BEST CHEVROLET • BEST EXOTIC • BEST MODERN • BEST CLASSIC

SPECTATORS, FRIENDS & FAMILY FREE ADMISSION

3251 Margaritaville Boulevard, Kissimmee, FL 34747 • Sunsetwalk.com
---
P.O. Box 851

Windermere, FL 34786