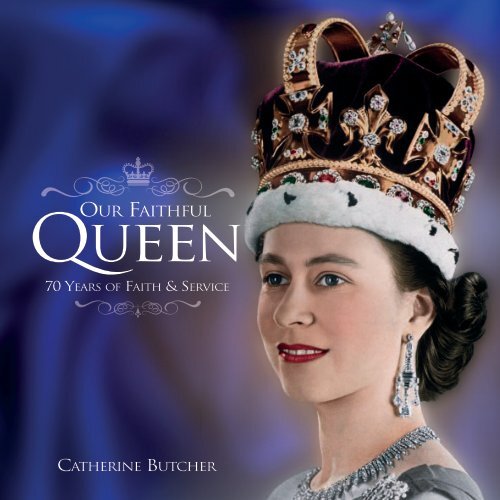 Create successful ePaper yourself
Turn your PDF publications into a flip-book with our unique Google optimized e-Paper software.
our faithful

Queen

70 Years of faith & serviCe

Catherine ButCher
---
2
---
our faithful

Queen

70 Years of faith & serviCe

introDuCtion 2

1. a Personal JourneY 7

2. PuBliC ProMises 15

3. What has Most value? 23

4. the hiDDen CereMonY 31

5. a CroWn of thorns 39

6. a sourCe of strenGth 47

7. the PeaCe of GoD 55

3
---
2
---
introDuCtion

On 6 February 1952,

Our Faithful Queen, includes some

Elizabeth Alexandra

of the prayers, Bible readings and

Mary Windsor became

devotional thoughts that were

Queen. Arrangements began almost

included in that slim, black, leatherbound

volume. Some of the language

immediately for her Coronation.

There were new coins to be minted;

of the Devotions has been made more

new stamps to print; and new

accessible to modern readers, but the

Coronation robes to be made.

meaning is the same.

The young Queen also needed to prepare spiritually

and emotionally. Her spiritual preparation was

overseen by the then Archbishop of Canterbury,

Geoffrey Fisher. To help her prepare for her new role,

he wrote A Little Book of Private Devotions – short,

daily meditations with Bible readings and prayers,

which he gave to the Queen to use from 1 May 1953 to

the day of her Coronation. These 33 days of Devotions

give us an insight into the personal preparations the

Queen made for her role as Sovereign.

Fewer than a dozen copies of the Little Book

of Private Devotions were printed. This new book,

Coronation

The focus of the Devotions is the deep symbolism

of the Coronation ceremony, rooted in the Bible

– the best-selling book of all time. The Archbishop

highlighted the different stages in the ceremony: the

approach and procession into Westminster Abbey;

the oaths; the giving of the Bible; the Communion

service; the anointing; the blessing and clothing with

the royal robes; the presentation of the symbols of

royalty including the orb, sceptre and crown, then

the blessing of the Duke of Edinburgh and prayers

for the Church.

3
---
At the heart of the Coronation,

there was a hidden ceremony,

screened from view under a

canopy so the television cameras

could not film it. At this most

sacred moment, the Queen was

anointed with oil.

Anointing symbolically sets

people apart for service and pours out the life and

power of God. As the Devotions explain, 'a new

relationship is established between God and his

servants'. God's anointing makes the difference

between an ordinary human life and a life empowered

by God's Holy Spirit.

PraYers

Seventy years after her

Coronation, this new book aims

to show that, through her

anointing and in answer to the

prayers of her people, God

equipped the Queen for her

extraordinary role.

The words of the National

Anthem, 'God save our gracious

Queen; long live our noble

Queen…' are a prayer many of

us have sung, perhaps without

even realising it is a prayer.

Queen Elizabeth II is now one

of the world's longest serving

monarchs. In the year she became Queen she asked

people around the Commonwealth to pray for her

'that I may faithfully serve him [God] and you,

all the days of my life'.

These are prayers God has answered.

Just as God has equipped the

Queen for her role as Sovereign

over the past 70 years and

answered her prayers, Christians

believe that God wants to equip

each of us for our roles in life and

invites us to talk to him in prayer

so he can answer our prayers too.

Top: leaving Westminster Abbey after the

Coronation, 1953.

Bottom: receiving the Spurs of Chivalry from the

Lord Great Chamberlain during the Coronation.

Right: at the State Opening of Parliament, 2006.

4
---
5
---
6

The Duke and Duchess of York with Princess Elizabeth, 1928.
---
70

1

oUR fAITHFUL QUEEN

YEARS OF

FAITH &

SERVICE

a Personal JourneY of

faith

E

lizabeth II was not born to be Queen.

Her father, the Duke of York, was the

second son of King George V, so the young

Elizabeth had little expectation of

becoming the Sovereign.

She began 1936 as a 9-year-old who loved horses and

dogs, and was being prepared for life as a country

gentlewoman. But by the end of the year she was

next in line to the throne. Her uncle, Edward VIII,

had abdicated and immediately her father had

become King George VI.

Even then, she might have expected to be middleaged

before becoming Queen, but her father was just

56 when he died. By her 27th birthday, the stage was

set for this young wife and mother of two to be

crowned. Her formal titles were 'Elizabeth the

Second, by the Grace of God, of the United Kingdom

of Great Britain and Northern Ireland and of her

other Realms and Territories Queen, Head of the

Commonwealth, Defender of the Faith'.

Grace is the unearned favour of God. She did not

take the 'Grace of God' for granted.

7
---
Top left: Princess Elizabeth at

a Coronation Concert, 1937.

CalleD BY GoD

The first words Archbishop Fisher

gave the Queen to consider in the

Devotions were a prayer from the

Bible: 'Show me your ways, Lord,

teach me your paths. Guide me in

your truth and teach me, for you

are God my Saviour, and my hope is in you all day

long...'. Then he added these words for her to say

as she prepared herself for her Coronation:

The whole of life is a journey to God. In its course

are many lesser journeys taken for many different

purposes. Sometimes the Bible records special

journeys undertaken for

special purposes in answer

to a call from God…

Such will be my journey

to Westminster. It will be

undertaken in obedience

to a call from God.

I have not chosen this office for

myself: he has appointed me to it,

and I go to be consecrated to it by

him. My prayer must echo that of

the Virgin Mary, and that of our

Lord himself: 'Be it unto me

according to thy will'; 'Not what

I will, but what thou wilt'. And because he leads,

I may follow in complete trust.

By accepting her role, the Queen sacrificed her

personal preferences and private life to adopt a life

of duty and service in obedience to God's call,

trusting him to lead her.

I have not chosen

this office for myself;

he has appointed me

to it… because he

leads, I may follow

in complete trust

8

Bottom left: Princess Elizabeth at the Royal

Naval College in Dartmouth in 1939,

where her future husband was training.

Right: with the Archbishop of Canterbury

Geoffrey Fisher, 1947.
---
9
---
10
---
DeDiCateD to serve

She knew it was not a role she could undertake alone.

On her 21st birthday, Princess Elizabeth asked for her

people's support and God's help:

I declare before you all that my whole life whether

it be long or short shall be devoted to your service

and the service of our great imperial family to

which we all belong. But I shall not have strength

to carry out this resolution alone unless you join in

it with me, as I now invite you to do: I know that

your support will be unfailingly given. God help me

to make good my vow, and God bless all of you

who are willing to share in it.

In her first Christmas broadcast as Queen in 1952,

she re-emphasised her dedication:

At my Coronation next June, I shall dedicate

myself anew to your service. I shall do so in the

presence of a great congregation, drawn from

every part of the Commonwealth and Empire,

while millions outside Westminster Abbey will

hear the promises and the prayers being offered

up within its walls, and see much of the ancient

ceremony in which kings and queens before me

have taken part through century upon century.

And she asked for prayer:

Pray that God may give me wisdom and strength

to carry out the solemn promises I shall be

making, and that I may faithfully serve him

and you, all the days of my life.

It is a prayer God has answered.

Top right: on her 21st birthday.

Bottom right: with her father King George VI.

Left: the Queen's first Christmas day broadcast, December 1952.

11
---
trustinG

PraYers

By 1 May 1953, as the countdown

to her Coronation began, the

prayer she was invited to pray

using the thees and thous

language of the day, was based on

the words of Jesus. He said: 'I am

the way and the truth and the life'

– words which give all Christians,

including queens and kings,

confidence that they do not need

to take the journey through life alone. The prayer

could be translated into contemporary language as:

Lord Jesus Christ, you are the way, the truth and

the life: Keep me from wandering from your ways.

Help me to trust you, the truth, and to be filled

with your life. May your Holy Spirit teach me to

live the right way, to be truthful, and to be filled

with your life, living to please

you. Amen.

Looking ahead to the moment

when she would kneel in private

prayer in front of Westminster

Abbey's altar as the ceremony

began, the Devotions invited her

Publicly and privately

the Queen put her

trust in God and

drew strength

from him

to use: 'the simplest words of

trust in God and of trusting

oneself to God' – again words

from the Bible:

'In quietness and trust

is your strength…'

written by the 8th-century BC Israelite

prophet Isaiah – Isaiah chapter 30 verse 15

'Do not let your hearts be troubled.

You believe in God; believe also in me.'

Jesus' words recorded by John, in his eye-witness account

of Jesus' life, John's Gospel chapter 14 verse 1

Although life's journey had taken an unexpected

turn, publicly and privately the

Queen put her trust in God

and drew strength from him

for the task ahead.

12

Top left: Princess Elizabeth in her Auxiliary

Territorial Service (ATS) uniform, 1945.

Bottom left: with Princess Anne, the Welsh pony,

Greensleeves, and the corgis, Whisky and Sugar.

Right: with the Duke of Edinburgh and their

children Charles and Anne, 1951.
---
13
---
14
---
70

2

oUR fAITHFUL QUEEN

YEARS OF

FAITH &

SERVICE

PuBliC

ProMises

ueen Elizabeth II was crowned

on 2 June 1953 in Westminster

Abbey, the setting for every Coronation

since 1066, using words which descend

directly from those used at the

Coronation of King Edgar in 973.

In preparation, the Devotions highlighted Psalm 122;

words from the Bible, written by the Hebrew King

David, which were sung as she walked into the Abbey.

I was glad when they said unto me, Let us go into

the house of the Lord…

As the Queen's Devotions observed:

This building through which I proceed…is above all

the House of God…It is that I may serve the unity

and peace of my peoples, that I come now into

God's house and into his presence.

There were 8,251 guests waiting to welcome her into

the Abbey, representing 129 nations and territories.

A further 27 million people in the UK watched the

ceremony on television and 11 million listened on the

radio. But the most spiritual and significant parts

of the three-hour service were not televised.

No one could see into the heart of the young woman

who knelt to pray as she dedicated herself to a life

of service and duty.

15
---
unitY

& PeaCe

Using the Devotions

for her prayers of

preparation, the Queen

thanked God for:

'…the rich treasures of unity and peace which thou

hast given to this country and Commonwealth'.

And she prayed:

Lord Jesus, let the love of all who will be present

in the Abbey to witness my Coronation and of

all who will hear the service or see it from afar

surround me and uphold me, that they and

I together may dedicate ourselves, our souls

and bodies, to that true and reasonable service

which shall be acceptable unto thee. Amen.

Solemn promises were a key part of the Coronation;

the first showed the restrictions of her role and her

respect for the people of

the Commonwealth:

LORD JESUS, LET THE LOVE

OF ALL WHO WILL BE

PRESENT IN THE ABBEY…

UPHOLD ME

16
---
It must be my

constant prayer that

true brotherhood

and partnership may

…I promise to govern

be achieved

the peoples in all Realms

throughout the

and Territories of the

Commonwealth

Commonwealth

according to their

respective laws and customs. Their will must prevail

and I must accept it: for the Crown is the final

constitutional power and must ratify their will.

And in her Devotions she added:

…it must be my constant prayer that true

brotherhood and partnership may be achieved

throughout the Commonwealth between

peoples of many different races and cultures

and religious faiths.

That 'constant prayer' has been answered in many

ways as the Commonwealth has developed as a

friendly, voluntary association of 54 independent and

equal countries, almost

all of which were

formerly under British

rule, and which include

about one-third of the

world's population.

17
---
JustiCe & MerCY

The Coronation Oath also required

the Queen to promise to 'cause

Law and Justice, in Mercy, to be

executed in all your judgements'.

As a teenager Princess Elizabeth learned early lessons

about justice and mercy.

When she was just 15, her father the King made her

Colonel of the Grenadier Guards. Her governess

Marion Crawford later wrote: 'Lilibet [the Queen's

nickname] took to her duties with immense

seriousness and zeal…Like all young people, in her

enthusiasm she almost overdid it. After one

inspection, at which Lilibet had made some rather

pointed criticisms in her ringing voice, one of the

majors said to me, laughing: "Crawfie, you should

tell the Princess quietly that the

first requisite of a really good

officer is to be able to temper

justice with mercy."'

As she prepared to promise to

'execute justice with mercy' as

Queen, she was invited in her

Devotions to reflect on God's

character:

Both Justice and Mercy reveal spiritual strength

and are parts of God's character: he is all-holy…

and he is all-loving and merciful too. But for us it

is terribly hard to hold together justice and mercy.

To learn painfully to do so by the mind of Christ in

small daily judgements and opinions is one of the

most important things a Christian has to do…

And so she prayed:

Lord, give us grace never to betray thy truth

and never to deny thy love, but by thy guidance in

every dealing with our neighbours

to speak and do the truth in love

to the restraint of evil and the

reconciling of men to thee, through

Jesus Christ our Lord. Amen.

Top: inspecting the Girls' Training Corps, 1945.

Bottom: with the King, at her first Trooping

of the Colour.

Right: at Sandhurst inspecting the troops,

including Prince William, 2006.

18
---
19
---
forGiveness & love

Throughout her 70 years on the throne, this prayer

for grace, truth and love in her dealings with people

has been put to the test many times.

In her 2011 Christmas broadcast she said:

Forgiveness lies at the heart of the Christian faith.

It can heal broken families, it can restore

friendships and it can reconcile divided

communities. It is in forgiveness that we feel

the power of God's love.

A few months later, in an extraordinary gesture,

she put grace and forgiveness into practice when

she visited Northern Ireland and shook hands with

Martin McGuinness, who had been a commander of

the Provisional Irish Republican Army until 1975, just

four years before the Queen's second cousin Lord

Louis Mountbatten was blown up by an IRA bomb.

At Christmas in 2014, she explained what inspired

her to forgive:

Top: at a Golden Jubilee picnic in London, 2002.

Bottom: dancing with Ghana's president Kwame

Nkrumah, 1961.

For me, the life of Jesus Christ, the Prince of Peace,

whose birth we celebrate today, is an inspiration

and an anchor in my life. A role-model of

reconciliation and forgiveness, he stretched out

his hands in love, acceptance and healing. Christ's

example has taught me to seek to respect and

value all people of whatever faith or none.

20
---
FOR ME, THE LIFE OF

JESUS CHRIST…IS AN

INSPIRATION AND AN

ANCHOR IN MY LIFE

During her 70

years of keeping very public promises, the Queen

has put duty before personal preference, showing

remarkable restraint and self-sacrifice, which

suggests that in private she has sought to make

those 'small daily judgements' mentioned in her

Devotions, which reflect the justice and mercy

of God.

Her example is Jesus Christ, the founder of

Christianity, as she said in 2016:

Jesus Christ lived obscurely for most of his life,

and never travelled far. He was maligned and

rejected by many, though he had done no

wrong. And yet, billions of people now follow

his teaching and find in him the guiding light

for their lives. I am one of them because Christ's

example helps me see the value of doing small

things with great love, whoever does them and

whatever they themselves believe.

Top: visiting Sierra Leone, 1961.

Bottom: shaking hands with Northern Ireland's deputy first

minister Martin McGuinness in Belfast, 2012.

21
---
22
---
70

3

oUR fAITHFUL QUEEN

YEARS OF

FAITH &

SERVICE

value?

What has Most

A

t her Coronation the

Queen also promised to

'maintain the Church of

England', the 'Laws of God'

and the 'true profession

of the Gospel'.

During the ceremony the Queen was

presented with many symbols of

monarchy, most encrusted with jewels,

including one of the world's most

valuable diamonds. But the first item

presented was a Bible, described as

'the most valuable thing this world

affords' because 'it reveals God to

the world' as Archbishop Fisher said.

He added the Christian belief that the

Bible is:

…'the Word of God' because

it is the record, made by inspired

men, of the Word which has

been spoken by God to man first

through his people Israel, then

through Jesus Christ the Son

of God, 'the Word made flesh',

and up to this day through the

Holy Spirit in the Church.

23

Top: hand tooling the cover of the Coronation Bible.

Bottom: an open Bible at the Coronation Bible Exhibition, 1953.

Left: at Sandringham after making her Christmas Day broadcast

to the nation; the annual message was first shown on television

in 1957.
---
Top: Princess Elizabeth with her mother,

then the Duchess of York, 1932.

Bottom: with her mother and sister

Princess Margaret, 1936.

DailY haBits

A love of the Bible goes back for

generations in the royal family.

The Queen's maternal

grandmother, Lady Strathearn,

spent an hour a day reading the

Bible with her children, including

the Queen Mother. In turn, the

Queen Mother subscribed to

daily devotional Bible reading notes. She regularly

read Bible stories to the young princesses Elizabeth

and Margaret and taught them to pray. Both girls

started their weekly school lessons with half an

hour of Bible reading under the

guidance of their governess, and

weekly church attendance has

been a lifelong pattern for the

Queen who is said to keep a

well-read Bible by her bedside.

In his autobiography, Just As I Am,

the evangelist Dr Billy Graham

described meeting the Queen

on several occasions. He said,

'I always found her very interested

in the Bible and its message.'

Showing more than a passing

interest in the Bible, in her

Christmas broadcasts the Queen

has referred several times to the

Bible story of the good Samaritan

and the importance of being

good neighbours. She made her

2020 December broadcast from

Windsor Castle, where she had

been isolating with Prince Philip since March and

said 'The teachings of Christ have served as my inner

light…'. She also summed up Jesus' story about a good

Samaritan who helped the victim of a robbery:

The man who is robbed and left at

the roadside is saved by someone

who did not share his religion or

culture. This wonderful story of

kindness is still as relevant today.

Good Samaritans have emerged

across society showing care and

respect for all, regardless of

gender, race or background,

reminding us that each one of

us is special and equal in the

eyes of God.

24

Right: with American evangelist Billy Graham

(second left) when he preached at Sandringham,

pictured together with his wife Ruth,

Prince Philip, the Queen Mother, and the Rector

of Sandringham, Rev Gerry Murphy, 1984.
---
25
---
26
---
true Witness

This emphasis on serving others

was highlighted in her Devotions

with Jesus' words from the Bible:

For whoever wants to save

their life will lose it, but

whoever loses their life

for me and for the gospel

will save it.

Mark's Gospel chapter 8 verse 35

She also used these words to describe the Christian

Gospel, which she promised to maintain:

In the Gospel of Christ is Light out of darkness,

Freedom out of bondage, Life out of death, that

we may walk in the Power of God as his servants

and witnesses. It belongs to my care that the

true profession of this Gospel shall be strong

amongst my people and throughout the world.

Wherefore I must seek by God's grace to be

a true and faithful witness unto the Lord.

When the Queen writes her Christmas broadcasts,

speeches she writes herself, she often talks about

Jesus Christ as the reason for the seasonal

celebrations. She identifies herself as one of Jesus

followers; a 'faithful witness' to Jesus.

Archbishop Fisher reminded her

that she was not alone in this

task. He quoted the Bible book of

Acts where Luke, a first century

doctor, wrote:

You will receive power when the

Holy Spirit comes on you; and you

will be my witnesses in Jerusalem,

and in all Judea and Samaria, and

to the ends of the earth.

These words, spoken to Jesus' first century followers,

echo through the ages to promise God's power and

presence to his followers today.

After considering this verse, the Queen was invited

to pray:

Almighty God…grant that the light of thy Gospel

may shine forth bright and clear to all mankind,

and may bring all men to a true faith in thee;

through the same Jesus Christ our Lord. Amen.

She also prayed for the Church:

Lord Jesus, grant me grace to defend the Faith of

thy Church, in my own heart and life; and with the

whole company of the faithful to promote the

work of the Church for the good of this people

and the growth of thy Kingdom. Amen.

Top: leaving a Sunday morning church service, 2020.

Left: talking to her great grandson, Prince George, after

Princess Charlotte's christening in Sandringham, 2015.

27
---
JoYful faith

The Christmas broadcasts to

the Commonwealth show one

way in which these prayers

about defending the Christian

faith have been answered. The

Queen invariably mentions her

faith in Jesus Christ. Also, many of the hundreds

of charities of which the Queen is patron actively

'promote the work of the Church' and encourage Bible

reading alongside practical, joyful, serving faith. Some

report receiving personal cheques from the Queen;

donations which demonstrate her private support

for their work.

More than half a century after her Coronation, at the

2010 inauguration of the General Synod of the Church

of England, she emphasised to the gathering of

church leaders and representatives from churches

throughout England:

What matters is holding firmly to the need to

communicate the gospel with joy and conviction

in our society.

Pointing to Jesus Christ as the example, she added:

At the heart of our faith stand not a preoccupation

with our own welfare and comfort but the concepts

of service and of sacrifice as shown in the life and

teachings of the one who made himself nothing,

taking the very form of a servant.

THE QUEEN'S CHRISTMAS

BROADCASTS

DEMONSTRATE HER

LIVELY, PRACTICAL FAITH

AND HER PERSONAL

COMMITMENT TO

SERVICE AND SACRIFICE

The Queen's life has demonstrated the themes

of joyful faith, service and sacrifice, which she

highlighted at that gathering. Her Christmas

broadcasts demonstrate her lively, practical faith

and her personal commitment to service and

sacrifice as she follows in Jesus' footsteps.

Her challenge to the Church of England, in a speech

read for her by Prince Edward at the opening of the

2021 General Synod, was 'to bring the people of this

country to the knowledge and the love of God'. She

acknowledged the country's 'richly diverse modern

society' and recognised 'the well-being of the nation

depends on the contribution of people of all faiths,

and of none'. But she remains true to her promise

as Defender of the Faith:

…to forward, as much as in me lies, the Church of

England in its work of preaching the Gospel and

building the Church, which is the Body of Christ.

28

Top: visiting the Commonwealth Games Village in Glasgow, 2014.

Right: leaving a service of celebration to mark the 400th

anniversary of the King James Bible at Westminster Abbey, 2011.
---
29
---
30
---
70

4

oUR fAITHFUL QUEEN

YEARS OF

FAITH &

SERVICE

the hiDDen

CereMonY

he most sacred part of the

T

Coronation was the anointing.

Hidden from view by a canopy, the

Queen's regal robes were removed,

leaving her wearing a simple white dress,

as the Devotions reminded her:

…stripped of all royal dignity, to offer myself

in my own person for his work.

Symbolically she was coming to God as an ordinary

woman like any other Christian without any special

status. She was asking God to send his Holy Spirit to

enable her to take on her royal role. In her Devotions

she anticipated this significant moment:

By the anointing God makes, blesses, and

consecrates me Queen: and I am till my dying

day 'his anointed servant'. In the anointing God

creates a new relationship between himself and

me, giving me for my use in this office just those

resources of his divine grace which I need to

dispose hands and heart and mind to do his will.

In answer to his call and consecration, I dare

to breathe the Virgin Mary's words: 'Behold the

handmaid of the Lord: be it unto me according

to thy word.'

Left: dressed simply in white in preparation for the anointing, 1953.

31
---
anointeD

At this point in the ceremony the

Archbishop anointed her hands,

chest and head with oil. In the

Devotions, to explain the

significance of the anointing,

Archbishop Fisher pointed to

Jesus and his baptism at the start

of his public ministry. The first

century eye-witnesses reported that the Holy Spirit

descended on Jesus like a dove and God's voice was

heard from heaven, saying: 'You are my Son, whom

I love; with you I am well pleased.'

The word 'Christ' means

'anointed one' and the Christian

journey begins with baptism

in water and the Holy Spirit,

symbolised by the anointing oil.

GOD'S VOICE WAS HEARD

FROM HEAVEN SAYING:

'YOU ARE MY SON,

WHOM I LOVE ...'

In preparation for her anointing,

the Queen was invited to pray:

…that my heart may be ready

to receive him in humility

and godly fear.

Come Holy Spirit, and daily increase in all of us,

and in me thy humble servant, thy manifold gifts

of grace; the spirit of wisdom

and understanding; the spirit

of counsel and ghostly strength;

the spirit of knowledge and true

godliness, and fill us, O Lord,

with the spirit of thy holy fear,

now and for ever. Amen.

Top: the Ampulla, which holds the anointing oil,

and the Coronation Spoon.

Bottom: St Edward's Crown, only used for Coronations.

Right: the crowning.

32
---
33
---
34
---
BlesseD

The purpose of this anointing was

clear. It was an anointing for service

to others. Again the Devotions

reminded the Queen of Jesus'

words:

…the greatest among you

should be like the youngest,

and the one who rules like the

one who serves.

Luke's Gospel chapter 22 verse 26

After the anointing, the Queen knelt for a blessing. In

the Devotions she was invited to look ahead to that

moment:

For a brief moment I can be quiet and still,

motionless in spirit, at rest before the Lord,

while the words of blessing flow

round me. As I look forward to

that moment, let me renew in

my heart the joy which is one of

the fruits of the Spirit.

The joy of the Christian does not spring

from external circumstances which are

often perplexing and painful; but from

our experience of the love and

goodness of God, of his presence with us, of his call

to us to share his work and shew forth his praise, and

from the knowledge that our labour is not vain in the

Lord but is for the increase of his Kingdom.

In preparation, she prayed:

O Christ Our God

…fill my heart always

with the joy of

faithful service…

O Christ Our God …fill my heart always with the

joy of faithful service…

Joy – one of the gifts God's Holy Spirit gives – is

evidently an aspect of the Queen's

faith which she expects and

experiences as she serves her

people. In 2013, when remembering

Prince George's christening earlier

that year, she said, 'As with all who

are christened, George was

baptised into a joyful faith of

Christian duty and service.'

35
---
servinG

After the anointing,

the Queen was clothed

in the linen robe and

the supertunica which

correspond to priestly

robes, described in her

Devotions as 'robes of innocence and of humble

service'.

Her prayer of preparation was based on Jesus'

commandment to love others as God loves us

and to love our neighbours by serving them.

Publicly, neighbourliness is a recurring theme in

the Queen's Christmas broadcasts. In 2000, she

emphasised:

Jesus' simple but powerful teaching: love God and

love thy neighbour as thyself - in other words,

treat others as you would like them to treat you.

JESUS' SIMPLE BUT

POWERFUL TEACHING:

TREAT OTHERS AS YOU

WOULD LIKE THEM

TO TREAT YOU

36
---
SMALL PRIVATE ACTS

OF SERVICE TO OTHERS

ARE AN EXPRESSION OF

OBEDIENCE AND LOVE Privately the Queen

FOR GOD

is also known to be a

good neighbour, taking

a personal interest in the lives of those who live near

her homes and the other people she meets. On one

occasion, when she heard that a journalist in the royal

press pack was going to miss the birth of his child, she

offered him a seat on the royal plane to enable him

to get home in time.

These small private acts of service to others are an

expression of obedience and love for God in answer

to the Queen's prayer for grace, humility and love.

37

Left: the procession leaving the Abbey. The 7.2 km route

to Buckingham Palace took two hours, so it could be

seen by as many people as possible.
---
38
---
70

5

oUR fAITHFUL QUEEN

YEARS OF

FAITH &

SERVICE

a CroWn of

thorns

t would seem that the Queen is happier

wearing a headscarf than a crown, a cardigan

I

rather than royal robes. She is one of the

world's richest women, but who would have

have her job? Her role as constitutional monarch

comes with little power and heavy responsibilities.

Archbishop Fisher reminded her of Jesus' promise

to his followers:

In this world you will have trouble. But take heart!

I have overcome the world.

John's Gospel chapter 16 verse 33

In her Devotions she reflected on the anointing as

'inward' and 'spiritual' and the crowning as 'outward'

and 'secular', but both were 'aspects of my dedication

to God's service in this office to which he has called

me and of his consecration of me to it'.

Although she was preparing to wear a priceless,

jewelled crown, the Archbishop pointed her to Jesus'

crucifixion and his 'crown of thorns':

There is another crown, the crown of thorns:

its wearer wore it for an unworthy people and,

by wearing it, made a way for their return to God.

39
---
sorroW

The Archbishop encouraged the Queen to consider

that her earthly crown derived its significance from

the greatness of the people God was appointing

her to represent. But she recognised:

And so she prayed:

Lord, give me grace so to wear this crown of glory

that I may worthily lead this people to glorify

thee: Give me grace so to wear this crown of

thorns as thereby to manifest thy love to all men;

that, being kept faithful in all things, I may in thy

mercy receive with all faithful people the crown of

glory that fadeth not away: through Jesus Christ

our Lord. Amen.

She asked God to help her to love him for himself

rather for the gifts he gives:

and so, loving thee, to endure temptation and

finish our course with joy.

It brings also its weight of thorns: no one may be

set to represent others, without having to bear the

burden of his [or her] own labours, of his [or her]

own failings, and of the contradictions of evil in

others.

During her 70 year reign, the Queen has known her own

burden of sorrow, bereavement, failings and betrayal.

She has taken the responsibilities of the crown to

heart, working long hours dealing with the red box of

government papers every day, except Christmas Day

and Easter Sunday, well into her nineties.

On the whole, her closest friends and staff have been

loyal and discreet. But she has been criticised, with

her usefulness and cost to the nation called into

question. Yet she has not given up on her promise

to serve, and has shown willingness to adapt and

change. In these ways she has proven to be a worthy

wearer of her earthly crown.

40

Left: visiting the village of Aberfan, South Wales, after coal waste

had engulfed the school, killing 116 children and 28 adults, 1966.

Right: outside Buckingham Palace, viewing the tributes left in

memory of Diana, Princess of Wales, 1997.
---
41
---
DiffiCultY

The Crown Jewels are kept under guard in the Jewel

House at the Tower of London. Viewing them together

in all their dazzling beauty, it is striking to note how

many are surmounted by a cross.

Archbishop Fisher explained why:

The whole world is subject to the Power and

Empire of Christ our Redeemer but the Cross was

the price which our Saviour paid for the liberty he

has won for us: the Cross is the sign of his Victory,

and his Kingship, and his eternal Kingdom…

The Christian lives in two worlds at once;

the world of Christ's completed kingdom…

and the world of continued conflict against

the powers of evil…

Conflict and difficulties are a part of all our lives,

including the Queen's life. As she prepared to receive

the crown, the Queen was invited to meditate on

words based on Psalm 23, which reminded her of

God's faithful love and care in all circumstances:

Only by God's faithfulness and justice and mercy

can I stand before him and trust him, and say:

'I will fear no evil: for thou art with me; thy rod

and thy staff comfort me; thy loving kindness

and mercy shall follow me all the days of my life.'

42
---
IN 1992, A YEAR WHICH

THE QUEEN DESCRIBED

On the fortieth

AS AN ANNUS HORRIBILIS,

anniversary of her

SHE ACKNOWLEDGED

accession in 1992,

THAT PRAYERS 'HAVE

a year which the

SUSTAINED ME THROUGH

Queen described as

ALL THESE YEARS'.

an annus horribilis,

she acknowledged that

prayers 'have sustained me through all these years'.

Four days before she gave that speech, Windsor Castle

had been badly damaged by fire. In that year the

marriages of three of her four children had broken

down. Any mother would have been saddened by such

a year, but the Queen had to endure it in the full glare

of the scandal-hungry media.

That year, and every year; that week and almost every

week of her life, the Queen would be found joining

millions of others in churches around the world,

asking God for wisdom.

Yes, she was crowned with a priceless, bejewelled

crown of gold. But she has also worn her

metaphorical 'crown of thorns' with the grace and

faithfulness for which she prayed:

For myself, O Lord, and for my peoples I pray

that thou wilt make our minds to be wise, our

hearts sound, and our wills righteous, according

to thy will and unto thy glory: through Jesus

Christ our Lord. Amen.

43

Left: Windsor Castle after the fire in November 1992.
---
huMilitY

When thinking about taking her seat on the ancient

Coronation chair in Westminster Abbey, the Queen

was encouraged to reflect on verses, which

Christians believe were written about Jesus:

Of the greatness of his government

and peace there will be no end.

He will reign on David's throne and over

his kingdom, establishing and upholding it

with justice and righteousness from that

time on and for ever.

Isaiah chapter 9 verse 7

Outwardly, the Queen was to take her place on the

throne; in her heart, she was being invited to

recognise Christ's greatness and to respond in

humility.

As part of the Communion service that was integral

to the Coronation, the Queen was invited to offer

gifts of bread and wine. In a prayer of dedication and

preparation, she prayed:

Top: kneeling in prayer at the Westminster Abbey Silver Jubilee

celebration, 1977.

Bottom: attending a Sunday morning service in Sandringham, 2018.

Right: alone at the funeral of her husband, the Duke of Edinburgh,

in St George's Chapel, Windsor Castle, 2021.

44

Take, O Lord, and receive all my liberty, my

memory, my understanding, and all my will,

all I have and possess.

Thou hast given all this to me: to thee, O Lord,

I restore it; all is thine, dispose of it entirely

according to thy will.

Give me thy love and grace, for this is enough

for me.

With that prayer she offered herself to God in humble

and obedient service.
---
45
---
46

On honeymoon at Broadlands, Hampshire, 1947.
---
70

6

oUR fAITHFUL QUEEN

YEARS OF

FAITH &

SERVICE

a sourCe of

strenGth

y friendship I mean the

B '

greatest love and the greatest

usefulness, and the most open

communication and the noblest

sacrifice, and the most exemplary

faithfulness and the severest truth, and

the heartiest counsel and the greatest union of

mind, of which brave men and women are capable.'

These words by the 17th century clergyman Jeremy

Taylor were included in the Devotions as the Queen

was invited to pray for her family and for her husband in

particular. Taylor's words describe the loving friendship

to which any husband and wife would aspire.

While celebrating their 50th wedding anniversary,

the Queen acknowledged the support Prince Philip

had given her.

'He is someone who doesn't take easily to

compliments, but he has quite simply been

my strength and stay all these years,' she said,

'and I...owe him a debt greater than he would

ever claim.'

As newly-weds, Elizabeth and Philip enjoyed a brief

near-normal life in Malta while Philip served on HMS

Chequers with the Mediterranean Fleet. Returning

in 2015, the Queen said:

'Visiting Malta is always very special for me.

I remember happy days here with Prince Philip

when we were first married.'

But family life had to take a back seat when she took

on the role of Sovereign.

47
---
LORD, BE MY STRENGTH,

AND MY HUSBAND'S,

AND LET US…FULFIL THE

CEASELESS DUTIES OF

OUR CALLING,

DutY

FAITHFULLY AND WELL

She had seen the price

her father had paid in

accepting the duties of kingship. In preparing for her

Coronation, when life would change forever for the

couple, the Queen gave thanks to God for her family,

for the memory of her father, for her mother and

sister, for her husband, her children and her home.

And she prayed:

Lord, be thou my strength, and my husband's,

and let us, united in thy faith and fear, help one

another to fulfil the ceaseless duties of our calling,

faithfully and well.

The duties of the Queen have indeed been ceaseless.

Even when she takes time out in Balmoral or

Sandringham, the Government's red boxes are still a

daily responsibility. She has needed God's refreshment

and grace, as she prayed:

Lord, help us to find in our home and children

a constant refreshment of spirit and renewal

of grace.

And she prayed for their work as a royal family:

Into thy hands, O Lord, we commend ourselves.

Be with us in our going out and our coming in.

Strengthen us for the work that thou hast given

us to do. Defend us with thy heavenly grace, that

we may continue thine for ever and daily increase

in thy Holy Spirit more and more, until we come to

thy everlasting Kingdom; through Jesus Christ our

Lord. Amen.

48

At work in Buckingham Palace reading daily correspondence

from her red box of official papers. Top: in 1959. Bottom: in 2015.

Right: three generations of royals during the G7 summit in Cornwall, 2021.
---
49
---
50

The Queen and Prince Philip with their children, 1969.
---
faMilY

Although

normal family

life has hardly

been possible

THE IMMEDIATE FAMILY

OF GRANDPARENTS,

PARENTS AND CHILDREN

…IS STILL THE CORE

OF A THRIVING

COMMUNITY

for the Queen, she places a high value on family as

'the core of a thriving community'.

At Christmas 2007, the year she and Prince Philip

celebrated their Diamond Wedding, she said:

In my experience, the positive value of a happy

family is one of the factors of human existence

that has not changed. The immediate family

of grandparents, parents and children, together

with their extended family, is still the core

of a thriving community.

She then reflected on the life of Jesus and his

earthly family:

…a family in very distressed circumstances.

Mary and Joseph found no room at the inn; they

had to make do in a stable, and the new-born

Jesus had to be laid in a manger. This was a

family which had been shut out. Perhaps it was

because of this early experience that, throughout

his ministry, Jesus of Nazareth reached out

and made friends with people whom others

ignored or despised. It was in this way that

he proclaimed his belief that, in the end, we are

all brothers and sisters in one human family.

Top: with Prince Charles and Princess Anne at the Royal Windsor

Horse Show, 1956.

Bottom: Queen Elizabeth the Queen Mother on her 80th birthday

with her daughters.

51
---
eXaMPle

The inspiration gained from Jesus is something the

Queen wishes for her own family, as she said in 1978:

Christians have the compelling example of the life

and teaching of Christ and, for myself, I would like

nothing more than that my grandchildren should

hold dear his ideals which have helped and

inspired so many previous generations.

As she said in 2018:

Through the many changes I have seen over the

years, faith, family and friendship have been not

only a constant for me but a source of personal

comfort and reassurance.

52

Top: The royal family on Buckingham Palace balcony, 2018.

Bottom: with Princess Anne and daughter-in-law Sophie, Countess

of Wessex, at the Centenary of the Women's Institute, 2015.
---
53

With Prince Philip in 2007 on their Diamond Wedding anniversary

revisiting Broadlands where they spent their wedding night.
---
54
---
70

7

oUR fAITHFUL QUEEN

YEARS OF

FAITH &

SERVICE

the PeaCe of

GoD

O

n the day before her Coronation,

the Queen was invited to focus on

God's gift of peace with these words:

The peace of God, which transcends all

understanding, will guard your hearts and your

minds in Christ Jesus.

Paul's letter to the Philippians chapter 4 verse 7

The Devotions reminded her:

The Peace of God will be the last word of the great

service, and draws to an end this preparation for it.

I may be carried to the heights above of exaltation

or the depths of difficulty and depression: but the

Peace of God will never leave me.

All that has been good in my life and helped to

build me into the Peace of God – all people and

places that have influenced me and made me for

this hour, the glorious example of those who have

gone before me, the stedfast [sic] love of those

my dearest who surround me; the generous trust

and affection of my peoples, the goodness of so

many to me.

But above all God has taken me into his peace

and I praise him for his being what he is, for his

goodness, his enabling power, the certainty

of his unfailing love.

Left: 'The Coronation Theatre' painted by Ralph Heimans

in 2012 portraying Her Majesty in Westminster Abbey.

55
---
toleranCe

She was invited to pray:

Lord, may nothing ever separate me from thy

peace; neither the extremes of joy nor the depths

of sorrow, neither the acclamation of my people

nor my own fatigue or secret anxieties, neither the

demands of my sovereignty nor the claims of my

family life; neither health nor sickness, national

trials nor personal loss, times of tribulation nor

times of wealth. In all things, Lord, keep me

in thy love and peace.

Have her prayers been answered? Peace is one of

the qualities God's Holy Spirit grows in the lives

of Christians along with other evidence of God's

Holy Spirit.

Those who have seen the Queen's life behind closed

doors are the most qualified to comment on which

qualities are evident in her life.

Top: with Catherine, Duchess of Cambridge,

during a visit to Nottingham, 2012.

Bottom: with the Prince of Wales at the Braemar

Highland Games, Aberdeenshire, 2006.

During a toast to the Queen at a lunch celebrating

their golden wedding anniversary, the Duke of

Edinburgh said: 'Tolerance is the one essential

ingredient in any happy marriage.... You can take

it from me, the Queen has the quality of tolerance

in abundance.'

56
---
57

The Queen with the Duke of Edinburgh, waving to crowds in Manchester, 2020.
---
58

Honouring the fallen at the grave of the Unknown Warrior in

London's Westminster Abbey, November 2020.
---
CuriositY

How does the Queen cope with the endless rounds of

official duties? Princess Beatrice said in 2017, 'I find my

grandmother inspiring every day because her

overwhelming sense of duty is linked with an

overwhelming curiosity. Every day she's curious to

learn something new, to do something new…she goes

out into the community with a genuine curiosity as

to how she can be a force for good in the world.'

Although the Queen mixes easily with statesmen,

celebrities and dignitaries, and has been celebrated,

honoured and respected around the world for more

than 70 years, she has always appreciated the value and

contribution of ordinary citizens. At Christmas in 1954,

she sent a special message of encouragement to those

people whose names 'will never be household words':

May you be proud to remember – as I am myself –

how much depends on you … what you do is always

of real value and importance to your fellow men.

In 2020 she talked about the sacrifices made in the

Covid pandemic and compared the selfless duty of

so many with the sacrifices made by combatants in

the First World War. Reflecting on the tomb of the

Unknown Warrior in Westminster Abbey, she said:

The Unknown Warrior was not exceptional. That's

the point. He represents millions like him who

throughout our history have put the lives of others

above their own, and will be doing so today. For

me, this is a source of enduring hope in difficult

and unpredictable times.

THE UNKNOWN

WARRIOR REPRESENTS

MILLIONS LIKE HIM

staBilitY

WHO HAVE PUT THE

In that year when

LIVES OF OTHERS

Covid-19 had forced

ABOVE THEIR OWN

so many people –

including the Queen

– into isolation, she promised her prayerful support:

Of course, for many, this time of year will be

tinged with sadness: some mourning the loss of

those dear to them, and others missing friends

and family members distanced for safety, when

all they'd really want for Christmas is a simple hug

or a squeeze of the hand. If you are among them,

you are not alone, and let me assure you of my

thoughts and prayers.

Her words and example brought comfort and

encouragement to many.

What has been the source of her stability and peace?

As she said at Christmas in 2002:

I know just how much I rely on my own faith to

guide me through the good times and the bad.

Each day is a new beginning, I know that the only

way to live my life is to try to do what is right, to

take the long view, to give of my best in all that

the day brings, and to put my trust in God. Like

others of you who draw inspiration from your own

faith, I draw strength from the message of hope

in the Christian gospel.

58
---
last WorDs

As her Coronation ended, the Queen left Westminster

Abbey to the sound of the national anthem:

'…long live our noble queen, God save the Queen'.

Seventy years later, after one of the longest reigns in

history, the prayers of that song have been answered.

As the Devotions came to an end on the evening of her

Coronation Day, the prayer she was invited to say was

once again a prayer of commitment to God:

Lord, this day thou hast been gracious unto thy

servant. Thou hast filled my cup with thy goodness

to overflowing. With a humble spirit and a

thankful heart, I commit myself to thy care and

will lay me down in peace and take my rest. Amen.

And finally, the last prayer in the Devotions…

a prayer for each of us, for all of our lives:

God be in my head,

and in my understanding.

God be in mine eyes,

and in my looking.

God be in my mouth,

and in my speaking.

God be in my heart,

and in my thinking.

God be at my end,

and my departing.

Right: crowds on The Mall, London, celebrating

the Queen's Diamond Jubilee, 2012.

60
---
HOPE Together gathers Christians

to make Jesus known, helping to

change lives and transform

communities through everyone,

everywhere knowing Jesus. Find

out more at hopetogether.org.uk

Author: Catherine Butcher

Design: Darren Southworth

S2.Design

Photos: Alamy, BBC/Bob Cosford,

CMS, Getty Images, Ralph

Heimans, iStock, Lambeth Palace

Library, Shutterstock, Wikipedia

Printed: Belmont Press Ltd

Biblica, the International Bible

Society, provides God's Word to

people through Bible translation

and Bible publishing around the

world. Through its worldwide

reach, Biblica engages people with

God's Word so that their lives are

transformed through a relationship

with Jesus Christ. biblica.com

The Queen frequently refers to

Jesus in her Christmas broadcasts.

Use this QR code to start reading

Luke's Gospel, one

of four accounts

of Jesus' life in

the Bible.

Bible verses are from the Holy Bible, New

International Version® (Anglicised),

NIVTM Copyright © 1979, 1984, 2011 by

Biblica, Inc. All rights reserved worldwide.

Copyright © 2022 HOPE Together

Published by HOPE Together

HOPE Together

8A Market Place

Rugby

Warwickshire

CV21 3DU

hopetogether.org.uk

All rights reserved. No part of this

publication may be reproduced or

transmitted in any form or by any means,

electronic or mechanical, including

photocopy, recording or any information

storage and retrieval system, without

permission in writing from the publisher.

61
---
As the Queen approached the day of her

Coronation, she was given a slim volume of

daily Bible readings and prayers to use as she

prepared for that powerful Westminster

Abbey service. This new book draws on those

prayers, Bible verses and her speeches to

show how the Queen's Christian faith

enabled her to get ready to reign, and how

that faith has sustained her in the life that

would follow.

The whole of life is a journey to God…I have

not chosen this office for myself: he has

appointed me to it, and I go to be consecrated

to it by him…And because he leads, I may

follow in complete trust.

Not for resale.

For bulk orders, visit

hopetogether.org.uk