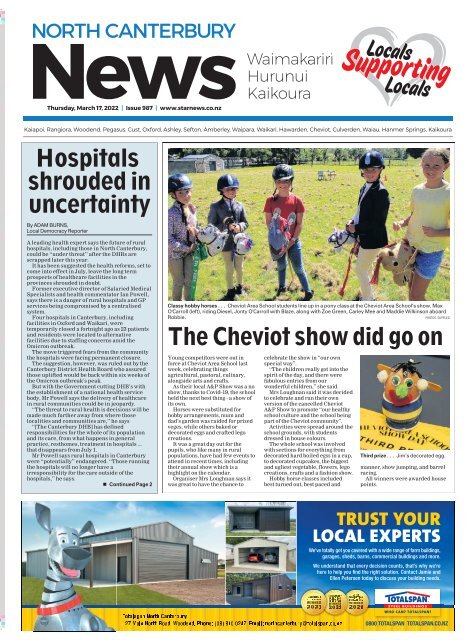 North Canterbury News: March 17, 2022
Create successful ePaper yourself
Turn your PDF publications into a flip-book with our unique Google optimized e-Paper software.
Locals

Supporting

Locals

Thursday,March 17,2022 | Issue987 | www.starnews.co.nz

Hospitals

shrouded in

uncertainty

By ADAM BURNS,

Local Democracy Reporter

Aleading health expert says the future of rural

hospitals, including those in North Canterbury,

could be ''under threat'' after the DHBs are

scrapped later this year.

It has been suggested the health reforms, set to

come into effect in July, leave the long term

prospects of healthcare facilities in the

provinces shrouded in doubt.

Former executive director of Salaried Medical

Specialists and health commentator Ian Powell,

says there is adanger of rural hospitals and GP

services being compromised by acentralised

system.

Four hospitals in Canterbury, including

facilities in Oxford and Waikari, were

temporarily closed afortnight ago as 23 patients

and residents were located to alternative

facilities due to staffing concerns amid the

Omicron outbreak.

The move triggered fears from the community

the hospitals were facing permanent closure.

The suggestion, however, was ruled out by the

Canterbury District Health Board who assured

those uplifted would be back within six weeks of

the Omicron outbreak's peak.

But with the Government cutting DHB's with

the establishment of anational health service

body, Mr Powell says the delivery of healthcare

in rural communities could be in jeopardy.

''The threat to rural health is decisions will be

made much further away from where those

localities and communities are,'' he says

''[The Canterbury DHB] has defined

responsibilities for the whole of its population

and its care, from what happens in general

practice, resthomes, treatment in hospitals ...

that disappears from July 1.

Mr Powell says rural hospitals in Canterbury

were ''potentially'' endangered. ''Those running

the hospitals will no longer have a

irresponsibility for the care outside of the

hospitals,'' he says.

Continued Page 2

Classy hobby horses ... Cheviot Area School students line up in apony class at the Cheviot Area School's show. Max

O'Carroll (left), riding Diesel, Jonty O'Carroll with Blaze, along with Zoe Green, Carley Mee and Maddie Wilkinson aboard

Robbie.

PHOTOS: SUPPLIED

The Cheviot show did go on

Young competitors were out in

force at Cheviot Area Schoollast

week, celebratingthings

agricultural,pastoral, culinary,

alongsideartsand crafts.

As their local A&P Showwas ano

show, thankstoCovid­19, theschool

heldthe nextbestthing ­ashowof

its own.

Horsesweresubstituted for

hobby arrangements, mumand

dad's gardenwas raided for prized

veges, whileothersbaked or

decoratedeggsand crafted lego

creations.

It was agreatday outfor the

pupils,who likemany in rural

populations, havehad fewevents to

attend in recent times, including

their annualshowwhichisa

highlightonthe calendar.

OrganiserMrs Loughnan saysit

was great to havethe chance to

celebrate theshow in ''our own

specialway''.

''The childrenreally got into the

spiritofthe day,and therewere

fabulous entries from our

wonderful children,'' she said.

Mrs Loughnan saiditwas decided

to celebrate andrun their own

versionofthe cancelledCheviot

A&P Showtopromote''our healthy

schoolculture andthe schoolbeing

partofthe Cheviot community''.

Activities were spreadaround the

schoolgrounds,withstudents

dressedinhouse colours.

The wholeschoolwas involved

withsections for everythingfrom

decorated hardboiledegss in acup,

to decorated cupcakes, thebiggest

and ugliest vegetable,flowers,lego

creations,crafts and afashion show.

Hobby horseclasses included

bestturned out, bestpaced and

Third prize ... Jim's decorated egg.

manner, showjumping, andbarrel

racing.

Allwinnerswere awardedhouse

points.

TRUST YOUR

LOCAL EXPERTS

We'vetotally got youcovered with awide rangeoffarm buildings,

garages, sheds, barns, commercial buildings and more.

We understand that every decision counts, that'swhy we're

here tohelp you find the right solution. Contact Jamie and

Ellen Petersentoday to discuss your building needs.

FRANCHISEE

OF THE YEAR

2021

LOCAL

MARKETING

EXCELLENCE

2021

Totalspan North Canterbury

127 Main North Road, Woodend. Phone: (03) 310 0247 Email: northcanterbury@totalspan.co.nz 0800 TOTALSPAN TOTALSPAN.CO.NZ

COMMUNITY

BUILDING

OF THE YEAR

2021
---
NEWS

2 North Canterbury News, March 17, 2022

Grow

customers,

salesand

profits

with North

Canterbury's

bestread

newspaper

Readership: 51,000 weekly

Circulation: 30,150copiesdelivered

to EVERY farm, RD, lifestyle block

and home inWaimakariri, Hurunui

&Kaikoura every Thursday.

news

Robyn Bristow

Managing Editor

027 312 1581

robyn.bristow

@ncnews.co.nz

Reporters

David Hill, Shelley Topp.

advertising

DaynaBurton

Sales Manager

027 312 0089

dayna.burton

@ncnews.co.nz

AmandaKeys

Advertising

027 536 6224

amanda.keys

@ncnews.co.nz

JillianDickie

Advertising

022 024 3092

jillian.dickie

@ncnews.co.nz

getintouch

Editorial

info@ncnews.co.nz

Advertising

sales@ncnews.co.nz

Graphic Design

heather.hood@ncnews.co.nz

Distribution/Deliveries

03 314 8335

Rangiora: 03 313 2840 /03314 8335

14 Ashley St, Rangiora

Christchurch: 03 364 7460

www.starnews.co.nz

Proposed rate increase too steep

By ADAM BURNS

Local Democracy Reporter

EnvironmentCanterburyisproposing

an average rate increase of 24.1

percent whichhas been described by

onecouncilloras''ridiculous''

Claire McKay,aNorthCanterbury

constituentcouncillor saysthe

increase is far too steep for ratepayers

amid extensivecostofliving concerns.

An average rates increase of 24.1 %

forratepayers is beingrecommended

by the regionalcouncilinabid to

tacklethe ''impacts of climate change''.

It is partofaproposed $264 million

worthofactivitiesfor the upcoming

financial year.

ECan openedupits draft annual plan

forconsultation afortnight ago with

options on atwo­year trial of free, or

reduced bus fares,recovery from the

May2021 Canterbury floods and

redistribution of floodprotection rates

in the Ashburtondistrict.

Afuture levy to fund action in

response to climatechange is another

mattercouncilwas seekingfeedback

on.

''It's ridiculous...ifitwas 12 %you

couldjustify it in thecurrent

circumstances,''she says.

''What doesconcernmeissince that

draft (plan)has been puttogether,we

know we're looking at ahigher

inflation figureinthe nextquarter and

probably the middle quarter before

2440277

Claire McKay

RVCentral

Rangiora

we've even got started.''

She was one of two members,

alongsideMegan Hands,tovote against

the documentgoing out for

consultation,there was someconcern

elsewherearound thetableabout the

sizeofthe increase.

In North Canterbury, residents are

facing increases of between 18 to 26 %,

including an average increase of 21.5%

in theWaimakariri,23%inthe

Hurunui and18.5%inthe Kaikoura

districts.

General servicing

Supply and fitting of:

• Solar panels

• Satellite dishes

• TVs

• Awnings

• Motor movers

• Diesel heaters

• Self containment

Tony Parish

Caravan and motorhome 027 288 9915

sales and service

rvcentralnz@gmail.com

Rural communities in North

Canterbury are set for an overall

average 19 %increase, compared to

23.25 %for urban ratepayers.

North CanterburyECAN councillor

Grant Edgebelieved it was an

investment whichneeded to be made.

''The worldhas to reduceits carbon

emissions and thebiggestemitters are

transport,'' he says.

''The groupswe'retargeting for the

free[bus] fares,they're disadvantaged

lower incomegroups of people.

''Ifwedon't start doing things now,

it'sonlygoing to get worse.''

He urged people to start thinking

moreaboutpublic transportrather

thancars.

Cr McKayagreed morepeople

neededtoutilise public transportbut

saysthere hasbeen anotableabsence

of central government supportfor a

proposed targeted farestructure,

''despiteits message public transport

was akey tool forreducing emissions''.

''I challengethis[council]table to

pause, reflect and consider this huge

impact,inthe faceofthe real­world

challenges, including economic signals

thatour communities are already

being significantlyimpacted and

stressed,'' she said, at the February 24

meeting.

''This is noteven remotelyaffordable

for our ratepayers and communities.''

Consultationonthe draftplan closes

April 3.

Four-wheel tour over NC high country

Afour­wheel drive tour over some of

North Canterbury'sspectacularhigh

country, will be held by the Amuri and

Hawarden­Waikari Lions Clubs on

Sunday, April 3.

Participants can enjoy views of the

Waipara Gorge, the Amuri Basin, Greta

Valley and the distant Port Hills.

The tour runs through the farming

propertiesofRed Oaks, Three Deans,

Rural hospitals are important to communities

From Page 1

''Thefurther away decision­makers

are from understanding what smaller

hospitals do, the lessthey know their

importance.

''There'sagreaterrisk of the wrong

decisions being madebecausethe

nature of rural healthmay not fully be

understood.''

Friends of Oxford Hospital

president Linda Huriasays a

temporary closure of Oxford wouldbe

''very devastating''.

''It's afocalpointofthe community...

the communitywould fight forit.''

Broxtonand the Pyramids, finishing at the

Pyramid Valley Moa swamp.Adisplayof

moa bones and an informativetalk will be

held at the site.

Participants will meet at the Red Oaks

Woolshed at 9.30am 32 Fergusons Road,

Waikari(follow the Weka Pass Loop Road

to Fergusons Road).Vehicles move off at

10am.

Avaccinepass and masks are required

The Future of Health websitesays

Health NZ'slocalitymodel willenable

muchgreater community

consultation, involvement, and

representation on how health care is

designed and delivered, an assertion

echoedbyHealthMinisterAndrew

Little,asreportedbythe NZ Herald

lastweek.

Mr Powell rubbished the remarks,

saying it was nothing more than a

rhetorical soundbite.

''They haven't worked it out...they

havenoidea.''

The temporary closures of Oxford,

when outside of vehicles. No dogs are

allowed as vehicles travelover working

farms. The drive is for 4x4 vehicles with

suitable tyres,high clearance and four

wheeldrive.Right of refusal for

unsuitablevehicles. Take your ownlunch.

To enter go to the Amuri Lions Club

Facebook page for onlineregistration.

It will cost $85 per vehicle. The

postponement date is April 10.

Waikari, Darfieldand Ellesmere

hospitalswere touched on by the

healthselect committee duringlast

week'sCanterbury DHB annual

review.

DHB chair Sir John Hansentold

Waimakariri MP Matt Doocey long

term decisions around thehospitals

were out of the board'shands.

''I'vemadeitvery plain thatitisnot

up to this boardtomakeany longer

term decisions around those rural

hospitalsgiventhe reforms that are

comingalong,''hesays. ''It is a

decision for Health NZ and others.''
---
Demolition of hospital begins

By SHELLEY TOPP

NEWS

North Canterbury News, March 17, 2022

3

Work hasbegun demolishing the old

Rangiora Hospital to make way for

NorthCanterbury's new health centre.

It is expected to take four to five

months.

The new facility will be part of the

Canterbury District Health Board's

(CDHB) Rangiora Health Hub,which

will sitalongsidethe board's

MaternityUnit andCommunity

ServicesCentre.

CDHB infrastructure executive

director Dr Rob Ojala saysthe work

will include redevelopment workat

the Ashley Street entrance, and

gravelling the formerRangiora

Hospital site.

''`SouthLink Health Services Group

is working througharesource consent

process, and hopestobe able to

progress theirplans to buildand

operate the new family health and

urgent care centre on the site,'' he

says.

The new facility will include the

existingRangiora general

practitioner centres of Good Street

Medical Corner and Rangiora Family

Doctors, and willbeopen for extended

hoursbetween 8am and 10pm, sevendays­a­week.

The old hospital building was

opened in 1924,and is being

demolishedbecause it is no longer fit

for purpose. Rangiora's Taggart

Earthmoving began demolition on

February 21. Asbestos was removed

from the building lastOctoberby

ScopeGroup Ltd.

MASTER BUILDER

LocaltoNorth Canterbury.

CALL ARTHUR 027 2451601

arthur@robertsonbuilding.co.nz

www.robertsonbuilding.co.nz

BARNS/FARM BULDINGS•RIB RAFT FLOOR SYSTEM INSTALLATION

PROJECTMANAGEMENT•ADDITIONS•NEW HOMES

HOME MAINTENANCE•EQC REPAIRS•ALTERATIONS

FREE QUOTES

Read us wherever yougo!

Viewour digital edition at

www.ncnews.co.nz

or catchthe latest stories at

www.starnews.co.nz

2021055

Demolition under way ... Work has begun knocking down the old Rangiora Hospital after

work was completed to remove asbestos from the building .

PHOTO: SHELLEY TOPP

Waimakariri housing issues spark concern

ADAM BURNS,

LOCAL DEMOCRACY REPORTER

Ongoing work by aworking group

enlisted to tackle housing issues in the

Waimakariri district has sparked

concerns about the council

unnecessarily burdening its ratepayers.

Waimakariri District Councillor

Kirstyn Barnett has suggested the aims

of the council­led housing working

group are too vast, and believes there

needs to be greater clarity on council's

role in addressing issues which were

ultimately central government's

responsibility.

The committee —first established in

May 2021 to assess ''short and long term''

housing needs in the district —

presented an interim report to council a

fortnight ago around its progress.

However councillor Barnett has

doubts as to how much onus council was

putting on itself around what was a

''critical'' national issue.

''Should it come from taxes or rates,''

she says.

''I've always had aphilosophical

problem with taking initiatives for

housing out of rates.''

''The scope of this working party...I

was alittle concerned it was expending

too far, and that's in response to a

growing need in this district,

particularly around elderly housing.''

The Ministry of Social Development's

(MSD) waiting list for those requiring

housing assistance sat at 90 in the

Waimakariri as of December 2021, more

than half of available housing stock with

Kainga Ora in the district.

The rapidly increasing number of

elderly persons on limited incomes, and

''uncertainty about how they will be

adequately housed in the future'' has

also been recorded as akey concern by

the group.

Council is determining how $2.5

million can be reinvested after it sold off

seven community housing units which

were not meeting strategic objectives.

It agreed to advance $35,000 for

additional resourcing to support its

housing, acquisitions and disposals

working groups, although councillor

Barnett voted against this

recommendation at the March 1

meeting.

Although supportive of the group, she

says there needed to be more robust

discussions with the wider community

to determine whether there was an

appetite for rates to be expended on

housing.

''In terms of consenting, land

provision and zoning...I think that's

definitely council's role in terms of

infrastructure,'' she says.

''But I'm not entirely sure we should

be moving any further into the arena of

social housing.''

Waimakariri Mayor Dan Gordon says

councils and local government could

have ''more influence'' in the area of

social housing in the future.

''We have agood record with social

housing in this district, but we could be

do so much more.''

INTRODUCING THE NEW WOODSMAN KANAKU

The NEW Kanaku is

Woodsman's latest edition

to their ULEB(ultra low

emission burner) range.

Suitable for smalltomedium areas

Suitable for small to medium areas

Only $1799 (Fire only)

See us nowto arrange you FREE,

NO OBLIGATION quote to have your log fire

fully installed. We manage the whole job,

including the council consent.

360Flaxton Road, Rangiora

Ph 03 313 5563

www.kingsmowersheating.co.nz

2455057

2459209

2310682

Latest styles for

Autumn havearrived

arrived

Kyro

Milan, Black

L 37 – 41

$169

Kaiapoi Mill, Ranfurly Street, Kaiapoi

Monday –Friday 9am –5pm

Saturday 10am –1pm

Closed on Public Holidays

&Long Weekends

Ph 03 327 0576

HOUSE

WASHING

Experts!

AFTER

Services Include:

0800101216

washrite.co.nz

BEFORE

• House washing

• Roof Washing

• Moss and Mould Removal

• Driveway &Concrete

Cleaning

• Deck &Fence Cleaning

• Gutter Cleaning

• Spider proofing

FreeQuotes
---
NEWS

4 North Canterbury News, March 17, 2022

Sleep very important

By SHELLEY TOPP

Sentimental value ... The theft of avase prompted Ken Marsh to place asign outside his

home to alert others to the theft.

PHOTO:ROBYN BRISTOW

Metre high urn stolen

By ROBYN BRISTOW

Ken Marshisangry, and sad.

Ametre­highurn­shapedvase, which

has huge sentimentalvalue, has been

stolen from his Rangioraproperty.

It was given to him by his late wife, and

stoodbeside the garagedoor of his

Collingwood Avenuehome.

Mr Marsh polished it every couple of

weeks.

He has reported the thefttothe police,

and desperately wantsitback.

''It's been thereeight years.Ithas

sentimental value,otherwiseIwouldn'tbe

bothered about it,'' he says.

''It wassimply ornamental.Itwas lovely

and bright.''

He wrote asignonplywood, and placed

it against his mailbox, alerting people to

the theft, appealingfor information, and

sayingthe policewere looking for it.

Alot of peoplehad read the signsince

the vasewas stolen, Mr Marshsays. He has

now taken it inside. ''The main reason Iput

the signout was so everyone around here

knows someone is pokingaround,''hesays.

Mr Marshsays it was pretty heavy and

would have needed agood strong person,

or acouple of people, to lift it.

If Kaiapoi author and public speaker

MichaelHempseed was runningfor

publicoffice hissloganwould be: ''Make

New Zealand Sleep Again''.

``Sleepisthatimportant,''the authorof

Being ATrue Hero: Understanding and

Preventing Suicide in Your Community,

toldthe audienceattending hispublictalk

heldinKaiapoi on Wednesday lastweek.

Michaelisaprofessionalspeaker on

topics suchasunderstanding and

preventing mentalillness, suicide

prevention andovercomingfailure.

His freeKaiapoi talk, TheArt of

Resilience: How to cope in these tough

times,was thefirstinthe PersonTo

PersonHelpTrust's Cafe Connection

seriesbeingheldinthe Rivertown Cafe.

Research showed thatmorethan

anythinglackofsleepwas aleading

contributor to depression and anxiety,

Michaelsaid.

''Ifyou wanttocopebetter with anxiety

and depressionyou need to get good

sleep.''

To do this peopleshouldnot sleepwith

their mobile phones nearby, because

brokenorinterruptedsleep was worse

thannosleep, he said

''Ifpeople reallybelievetheirarmswill

falloff without theirphones on the

bedside table,theyshould at least switch

it offorontoflight mode to avoid

interruptedsleep.''

''Racing thoughts,'' where intrusive,

often negative or depressing scenarios

bombarded the brain werealsoacommon

cause of sleeplessness, which could

sometimeseven lead to suicidal thoughts.

The best waytodeal withthiskindof

sleep interruption wastoget up andwrite

those thoughts down,Michaelsaid.

Thishelped to slowthe brain down and

Sleep advocate ... Kaiapoi author and

public speaker, Michael Hempseed.

PHOTO:SHELLEY TOPP

enablesleeptoreturn.

Low resiliencewas alsoakeyfactor

contributing to anxiety anddepression,

and overcoming afearoffailure wasa

goodway to developbetterresilience, he

said.

People withlow resilience were often

overwhelmed when things wentwrong.

Those withhigher resilienceexpected

thingscould go wrong and were ableto

copewith adversitybetter.

Michaelsaid therewere fourkey factors

which contributed to highresilience.

Being part of afamily,travelling,

challenging yourself to do new things and

volunteering.

The Person To PersonHelp Trust's

community co­ordinator, Audrey

Dragovich,said theyare pleasedwithhow

the event went.

The next talkisoncrime prevention,on

Wednesday, April 6.

New outdoor market starts up in Rangiora at showgrounds

By SHELLEY TOPP

Anew outdoormarkethas been

established in Rangiora by agroup of

volunteers wanting to provide an

event for people to enjoy.

The inauguralRangiora Welcome

Market washeld at the Rangiora A&P

Showgrounds on Thursday,March 10,

from3pm to 7pm with around 50

stallholders taking part and agoodsized

crowdattending.

Its plannedtohold the market every

Thursday with reduced hours of 3pm­

6pm during the winter.

One of the booking agents forthe

market, Donald Tappin, said it was

organised for the community because

of the lack of eventsinrecent times

due to Covid­19 isolation restrictions.

''It has worked, look at how many

peopleare here.Itisagreat turnout

for the first night.''

Another volunteer said the idea for

the market ''just sort of gre''' from a

group of community­mindedpeople

who wanted to createsomething in

Rangiora for peopletoget together

duringdifficult circumstances.

''We didn'twant to callitthe

Freedom Market,because that is

divisive,and we are not quitea

farmers' market either.

''It is about being welcoming,'' he

said.

The Rangiora WelcomeMarketwas

seen as agood option.

More information about the market

can be foundat

rangiorawelcomemarket.nz

Music man ... John Forster, aretired school teacher from Pegasus, busking at the

market.

PHOTO: SHELLEY TOPP
---
Longer hospital stays

wanted for new mums

By SHELLEY TOPP

Audrey Dragovich spent International

Women'sDay much like any other, being

involved in the Kaiapoi community.

It began by joiningmums and adad at

Waka iti Playgroup, apreschool ministry

organised by the PersonToPersonHelp

Trust.

In the afternoon Audreydid avolunteer

shiftatRivertown Options,another trustrun

ministry whichoffers good

secondhand clothing for families where

she chatswith acrosssectionofpeople.

Audrey, who livesinMandeville and is

community co­ordinatorfor the Person To

Person Help Trust, and also amember of

GLOW (Global Locals of Waimakariri),

beganvolunteering in 2004when she

worked alongside others to run aMothers

of Preschoolers community group aptly

name MOPS.

''This drew out my passion for working

with preschoolmums and sensinghow

important it is to allow mums the

opportunity for timeout and build

resilience,supporting mental health,'' she

says.

``Followingthat Ihave beenapart of

otherpreschool ministries like

playgroups, playcentresand Mainly

Music.''

Audrey says she feels blessed to be living

and working in North Canterbury and

seeing more and more collaboration

occurring.

''This is great, but Ialso sense the need

to build on connectivenessbyidentifying

talents, and skills so everyone has asense

of belonging,''she says.

Her greatest concern for women's

welfare is how new mumsare discharged

from hospitals almostimmediately after

Community minded ... Person To Person

Help Trust's community co­ordinator,

Audrey Dragovich.

PHOTO: SHELLEYTOPP.

givingbirth.

''`It is so, so wrongtome. We set mothers

up for failure from the outset,'' she says.

''Midwivesand Plunket are great in New

Zealand but there is alot of alone­time for

mothers and even more so todayfor many

who don'thave family support. Not only

immigrant mums, but manyKiwi mums

from brokenfamilyrelationships.''

InternationalWomen's Day is held every

year on March 8tomark the economic,

political and social achievements of

women.

NEWS

North Canterbury News, March 17, 2022

5

Head students

DearEditor,

Ihavebeen startledafter movingtoNorth Canterbury, andstartingtolookat schools

forouryoungchildren, to findthat thelocal area school hasanevident lack of

commitment to gender equality.

Irefer to the'headstudents' (no more boys and girls, apparently) of Oxford Area

School, all of whomare young women.

The situation appears to be the same at Hurunui College. Iamsure theseyoung

women are well qualified for theirposts, and congratulate them on their

achievements.

But are we to believe that there is not asingle male student in Oxford or Hurunui

who can be trusted in aleadership position?

If this is so –anditisveryconcerning –Iinvitethe principals to explain what they,

and their staff, havebeendoingfor thepastthirteen years to prepare alloftheir

students to become theleaders that oursociety needs. At present, it appearsthat

theyare leavinghalfof thembehind.

Yours,

BenKingsbury,

Burnt Hill.

Hurunui CollegePrincipalStephen Beck replies:

Thefundamental definition of gender equality is thestate in whichaccesstorights

or opportunitiesisunaffected by gender. Hurunui College reinstated the concept of

head students nine years ago and intentionally did not introducethe ideaof head

boys andheadgirls.Itwas importanttousthatthe rightpeoplewith the right

abilitiesand attitudesare given theopportunityto be head students. In that time

we have had head students that have been all males, all females and amixtureof

both.Studentshave movedonfromthetraditional concept that school student

leaders need to be divided intomales andfemales and arecomfortable withthe idea

thatit's the right personfor thejob thatcounts. It may just takesomeofusalittle

longer to cometo termswiththis, butI'm surewe'll getthere.

Oxford Area School Principal, Mike Hart replies:

Formany years Oxford Area School has assembled ateamofstudentleaders

based on the bestfit forthe role,neithergender nor number of students

predetermined. Some years there may be more boys thangirls, others where gender

is even (for example in 2021 three boys and three girls).

We have awell­thought­outprocessthat starts with anomination, collected voice

from theirpeers,our staff, andeach nominated student is interviewed to

understand more closely how they see themselves fit the role. Aside fromour

student leadershipteam, we havemanyleadership opportunities available

throughout our school.

More Letters to

the Editor page 6.

My favourite

knock

the door! at

Online shopping

nowavailableat

Ravenswood
---
OPINION

6 North Canterbury News, March 17, 2022

Acomplex time and

now time to pause

It's time Canterbury website provides

comprehensive insights from the Climate

change working group under the

Canterbury MayoralForum.

The website provides detailed

information on what the Hurunui District

is doing, alongside otherterritorial

authorities across the region.

Climate change affects communities

now, but its full impact will be felt across

generations.

The specific impactswill be felt

differently, in different places,with the

risks and opportunities also differing from

place to place.

As amember of the Canterbury Mayoral

Forum Climate change working group, I

am pleased to signify the progressweare

making although Iammindful that there is

much more to do.

Following the announcementinOctober

2021 to legislate to establish four new

publicly owned water services entities,

many within local government and the

communityraised concernsabout public

ownership, the risk of privatisation and

loss of local voice.

Aministerial working group was

established headed by an independent

chair and equalnumber of local

government and iwi leaders.

The working group heard arange of

views, considered people's frustrations,

and have formed arange of 47

recommendations, whichmay be found on

www.threewatersreform.co.nz.

One recommendation includesthe need

to rethinkhow to recover confidence lost

by the earlier media campaign.

Communities4local Democracy now

has growing membership, and is

representative of 32 councils and believes

McALPINES MITRE 10 MEGA RANGIORA -OCEAN WATCH

This

Week

Sun

Fishing

Guide

Moon

Wind

Good

Thursday Friday Saturday Sunday Monday Tuesday Wednesday

Mar 17 Mar 18 Mar 19 Mar 20 Mar 21 Mar 22 Mar 23

Rise 7:27am

Set 7:46pm

Best 12:21am

Times 12:45pm

Set 5:37am

Rise 7:39pm

Gentle SE

Good

Rise 7:28am

Set 7:45pm

Best

Times

1:08am

1:31pm

Set 6:47am

Rise 8:02pm

Gentle SE becoming

moderate E

there is abetter option than the ''one size

fits all" being proposed. Local

responsibilityand accountability,

meaningful mana whenuarepresentation,

and local infrastructure in direct

ownership of local communities, with real

protectionagainstprivatisation, are key

elements to be addressed at aplanned

meetingthe Minister in Wellington on

Wednesday, March 16.

The raft of legislative change, the speed

of delivery, and the apparentpoorly

constructed policy is having adetrimental

impact on rural businesses. Our

community feels like it has lost its voice

over awide range of issues, and I

encourage the government to engage –stop

and have aconversation, listentothose

who are doing the hard mahiand let's work

together so thatNew Zealand INC gets the

outcomes it needs and deserves.

Rushing to deliver inside this

parliamentary term will not necessarily

deliveroptimum results.

Covid­19 continues to have apresence in

our district with many families being

either confirmed or aclose contact.Iurge

you to initially reach to your health centre

for advice, and if welfaresupport is

required, the Community Partnership

team at council can supportthrough the

MSD funded NextStep facilitator.

Our grandold hospital at Waikari is

having to take atemporary closureduring

this time of Covid­19.Asacommunitywe

will work together to ensure awelcome

return to strong occupancy. Along with the

qualitycare it is known for, this hospital

providesacriticallink to health care for

our district.

So much is happening in the world,lets

be safe out there. Kia Kaha

Clarification of expenditure

The North CanterburyNews published

astoryonMarch 3onthe Kaikoura

District Council'sroadingexpenditure,

whichsuggested storm­damagedroads

was the primaryfactor in the council's

high expenditure over thesummer

period. The bulk of the $1.7million

expenditure betweenNovember 2021

and January was planned capital

expenditure in terms of the council's

roading resealand North Canterbury

TransportInfrastructure Recovery

(NCTIR) haul routesprogramme.

Weather­related costsamountedto

between $50,000­$60,000over this

period. Councilsays generally its

roading network "performed very well

during the recent heavyrain periods".

Ok

Rise 7:29am

Set 7:43pm

Best

Times

1:54am

2:17pm

Set 7:57am

Rise 8:24pm

Gentle SE becoming

moderate E

Ok

Rise 7:30am

Set 7:41pm

Best

Times

2:40am

3:04pm

Set 9:09am

Rise 8:47pm

Gentle SE becoming

moderate E

Ok

Future of hospitals

DearEditor,

Perhaps it is unfair of me to suggestthat the CDHB's assurance that the Oxford,

Waikari, Darfield and Ellesmere hospitalswill again be acceptingresidents

''within six weeks of theOmicron peak'', whenever that mightbe, cannot be

relied on (NC News10March).

The reasonIsuggest thisisthat as fromJuly 1, 2022the CDHB will no longer

exist,andwillnot be in aposition to makeany decisions about the long­term

future of these hospitals. Instead, HealthNew Zealand and the Maori Health

Authority will be makingdecisionsaboutpublic healthcare in North

Canterbury, once the new ''localities'' havebeen establishedthroughoutNew

Zealand.

The Mayorsshould instead be focussingtheir efforts solely on the Minister of

Health aboutthese hospitalsinthe newera,assuggested in thearticle about

their concernsfor thepotential future plansfor these facilities.

So far, while Nationalhas threatened thatifelected theywill repealthe Three

Waters legislation, they have not indicatedtheir intentions to do the same with

the Pae Ora Healthy Futures Bill, soon to be an Act, which will disestablish the

20 DHBs.

Yours,

Dr Michael Gousmett, FGNZ PhDBCom(Hons) BBS Dip CM DipTchg.

Rise 7:31am

Set 7:39pm

Best

Times

Covid leadership

DearEditor,

In reply to MWatson'sletter (NorthCanterbury News, March 3), my husband and

Iheartily endorsewhat she stated.

We are both pensioners andare so pleased thatsofar none of our family has

contracted Covidthanks to the leadership of Jacinda Ardernand her

Government.

Yours, LExeter, Rangiora.

Three waters

DearEditor,

Waimakariri ratepayersclearly won't be fooledby Labour's working groups or

any other proposed amendmentstotheirfailing Three Waters reforms.

The realityis thereistoo muchbad faithalreadywith this assetgrab. The

government's approach of forcing this on localcommunities hasbackfired.

Any changesthey propose nowwon'tbe enoughtoconvince people, and any

proposed changeswon't fix the fundamentalflaws in the government's reforms.

Waimakariri ratepayers whohave workedhardtopay for local waterassets

willstill have no localcontrol.

They don't need the governmentinsultingtheir intelligence by proposing

amendments fromahand­picked working group, including former Labour

ministers.

I'm encouragedbythe manyresidents who have reachedout to me to offer

their fence for my opposing ThreeWaters billboard campaign.

I'm not convinced the reformscould achievethe efficienciespromised by the

government, andneither are the Waimakariri ratepayers.

The government, however, appearsnot to be listening.

Once again, they've made up their mind, and thinktheyknowbestfor all of us.

Iintend to fight, along with my Nationalcolleagues, to keepthe 'local'inlocal

government by encouraging councils to collaborate, contract or formCCOs, and

letting communities decidewhat's rightfor them–not bureaucrats in

Wellington. (Abridged. Editor).

Yours, Waimakariri MP,

Matt Doocey.

3:28am

3:53pm

Set 10:23am

Rise 9:12pm

Gentle Sbecoming

moderate E

Lost and found property

The following property has been reportedtothe police as lost in North

Canterbury –have you seen it? Ablack purse; aSamsung A50 phone in ablue

case.

ABauer Razor bike was found in Pegasus.

Ok

Rise 7:33am

Set 7:37pm

Best

Times

4:18am

4:45pm

Set 11:38am

Rise 9:42pm

Gentle SW becoming

moderate E

Ok

Rise 7:34am

Set 7:36pm

Best

Times

5:12am

5:40pm

Set 12:55pm

Rise 10:18pm

Moderate Sturning

E

Swell

Pegasus Bay

Tide Chart

3

2

SE 1.2 m SE 0.8 m E0.8 m E1.1 m E1.4 m E1.4 m E1.2 m

3 6 9 NOON 3 6 9 3 6 9 NOON 3 6 9 3 6 9 NOON 3 6 9 3 6 9 NOON 3 6 9 3 6 9 NOON 3 6 9 3 6 9 NOON 3 6 9 3 6 9 NOON 3 6 9

1

0

Highs Lows Highs Lows Highs Lows Highs Lows Highs Lows Highs Lows Highs Lows

Waimakariri 4:47am 2.3 11:01am 0.7 5:29am 2.3 11:44am 0.6 6:12am 2.3 12:07am 0.6 6:59am 2.4 12:53am 0.5 7:48am 2.4 1:41am 0.5 8:41am 2.3 2:31am 0.5 9:37am 2.3 3:23am 0.5

Mouth

5:07pm 2.2 11:21pm 0.6 5:51pm 2.3

6:37pm 2.3 12:28pm 0.6 7:26pm 2.4 1:15pm 0.5 8:17pm 2.4 2:03pm 0.5 9:10pm 2.4 2:53pm 0.5 10:05pm 2.4 3:47pm 0.5

Amberley 4:47am 2.3 11:01am 0.7 5:29am 2.3 11:44am 0.6 6:12am 2.3 12:07am 0.6 6:59am 2.4 12:53am 0.5 7:48am 2.4 1:41am 0.5 8:41am 2.3 2:31am 0.5 9:37am 2.3 3:23am 0.5

Beach

5:07pm 2.2 11:21pm 0.6 5:51pm 2.3

6:37pm 2.3 12:28pm 0.6 7:26pm 2.4 1:15pm 0.5 8:17pm 2.4 2:03pm 0.5 9:10pm 2.4 2:53pm 0.5 10:05pm 2.4 3:47pm 0.5

4:56am 2.3 11:10am 0.7 5:38am 2.3 11:53am 0.6 6:21am 2.3 12:16am 0.6 7:08am 2.4 1:02am 0.5 7:57am 2.4 1:50am 0.5 8:50am 2.3 2:40am 0.5 9:46am 2.3 3:32am 0.5

Motunau 5:16pm 2.2 11:30pm 0.6 6:00pm 2.3

6:46pm 2.3 12:37pm 0.6 7:35pm 2.4 1:24pm 0.5 8:26pm 2.4 2:12pm 0.5 9:19pm 2.4 3:02pm 0.5 10:14pm 2.4 3:56pm 0.5

4:58am 2.3 11:12am 0.7 5:40am 2.3 11:55am 0.6 6:23am 2.3 12:18am 0.6 7:10am 2.4 1:04am 0.5 7:59am 2.4 1:52am 0.5 8:52am 2.3 2:42am 0.5 9:48am 2.3 3:34am 0.5

Gore Bay 5:18pm 2.2 11:32pm 0.6 6:02pm 2.3

6:48pm 2.3 12:39pm 0.6 7:37pm 2.4 1:26pm 0.5 8:28pm 2.4 2:14pm 0.5 9:21pm 2.4 3:04pm 0.5 10:16pm 2.4 3:58pm 0.5

4:50am 1.7 11:03am 0.5 5:33am 1.8 11:46am 0.5 6:18am 1.8 12:06am 0.4 7:06am 1.8 12:53am 0.4 7:56am 1.8 1:43am 0.4 8:48am 1.8 2:36am 0.4 9:43am 1.8 3:31am 0.4

Kaikoura 5:11pm 1.6 11:20pm 0.5 5:55pm 1.7

6:42pm 1.7 12:30pm 0.5 7:30pm 1.8 1:18pm 0.5 8:21pm 1.8 2:07pm 0.4 9:13pm 1.8 2:59pm 0.4 10:08pm 1.8 3:52pm 0.4

*Not for navigational purposes. Wind and swell are based on apoint off Gore Bay. Maori Fishing Guide by Bill Hohepa. www.ofu.co.nz www.tidespy.com Graphic supplied by OceanFun Publishing Ltd.

2118223
---
STYLE & QUALITY

FOR LESS

NO WAIT -STOCK READY TO GO

Manatee Corner

Recliner Suite

STOCKTAKE

SALE

York Corner Suite 5Piece

WAS $2299

$

1999

ExtraSection Available $299

Storage Cup Holder

WAS $2399

$

1999

Flexible Modular Design, 5Separate Sections

STOCKTAKE

SALE

— S TOREWIDE —

STOCKTAKE

Sale

STOCKTAKE

SALE

Athena

3Seater $1199 $799

2Seater $959 $599

1Seater $529 $379

NOW ON

WAS $799

$

699

Astana

Chair

Availablein

Green, Grey,

Red and Royal.

STOCKTAKE

SALE STOCKTAKE

SALE

Nico

Collection

Maui

Recliner

Grey PU

Beige PU

Black PU

WAS $1279

Bedsides From $389 $319

$

1119 $

799

3Colour available

WAS $909

Marlow Chair

& Stool

6drawchest $1059 $959

Dresser $1279 $1409

Queen Bed $1269 $1149

Under bed storage $209 $189

STOCKTAKE

SALE

Royal Queen Bed

12

3Year Warranty

Comet Mattress

Single $289 $269

King Single $339 $309

Double $389 $349

Queen $369 $349

FROM

$

269

WAS $949

$

799

Lending criteria,$50 Annual Account Fee, fees, Ts&Cs apply. Standard Interest Rate

(currently 25.99%p.a.) applies toany outstanding balance at end of interest free period.

Offer ends 31 December 2023. Min spendand exclusions may apply,

$55Establishment Feeor$35 Advance Feeapplies to Long Term Finance Purchases*.

FROM

$

559

5Year Warranty

Chateau Mattress

Single $609 $559

King Single $719 $669

Double $859 $799

Queen $929 $859

King $1019 $939

California King $1229 $1139

FREE

CARPARKING

SOUTHCITY

BATH ST

WE ARE

HERE

255MOORHOUSE AVE

REBEL SPORT

COLOMBOST

WWW.AFFORDABLEFURNITURE.NZ

MON-FRI 9:30AM–5:30PM

SAT-SUN10AM–5:30PM

0800 268 264
---
2456067v1

Motoring Guide

Apassion for vehicles from days gone by

Tyre General in Courage Road,

Amberley, is aone­stop shop for all your

tyre needs.

It can help out with everything from

new tyres, tyre safety checks and

puncture repairs, to wheel rotation,

wheel alignment, 4x4 tyres, and mag

wheels.

It services tyres on everything from

wheelbarrows to dump trucks, and

offers a24/7 call out service, with a

technician from Tyre General always

ready to help.

Wayne Giddens, awheel alignment

technician, has recently joined the team

after living and working for 17 years

north of Brisbane, Australia, where he

earned huge respect for his ability to

work on older model cars,

understanding all their nuances, and

taking care of people's pride and joy.

Wayne, has 30 years experience in

wheel alignment, having been in the tyre

industry for 40 years.

He specialises in classics, vintage,

muscle and rally cars to name afew.

''I treat all the cars with respect. It is

fun for me. Idon't care if it's mini or a

Mustang.

''They are someone's pride and joy,

and it is apleasure to work on them,''

says Wayne.

He says many alignment technicians

are too young to have developed the

special skills required for some older

vehicles, and treasures people have

Best Brands

-Best Prices

5Star Service

ROTATION /BALANCE

AND WHEEL ALIGNMENTS

FREE

Pressure check on

Cars, Utes, 4WD &

Trailers

FROM $89

Bookings recommended, ts&cs apply.

12 Courage Rd, Amberley

Mon-Fri 7.30am-5.30pm |Sat 9am -12pm

027 555 5577

24/7 support available

Specialists in servicing &repairs to

all makes &models of Land Rovers

Providing the highest quality service

and WOFrequirements.

Stockists of Newand Second hand parts

Phone 03 928 3250

Email service@canterburylandrover.co.nz

Come and see us 62 KennedysHill

Road, Springbank, North Canterbury

218 Hazeldean Road

Addington, Christchurch

2465938v1

tucked up in their garages.

''It is adying art.

''There are different adjustments

needed for older models, compared to

today's modern vehicles,'' Wayne says.

However, he is happy to work on any

vehicle people want to bring in to Tyre

General in Amberley.

''It is great for people in North

Canterbury to be able to come

somewhere local, and get the job done,

and done properly.''

Tyre General has been in Amberley

for seven years, moving to Courage Road

in 2020, starting with just two bays.

Today it has grown to afive­bay

operation and has ateam of six. It is

open 7am to 5pm Monday to Friday, and

Saturday from 9am to 12 noon.

Care and respect ... Alignment

technician Wayne Giddens has apassion

for older model vehicles, which he treats

with care and respect.

PHOTO: SUPPLIED

COLLISION REPAIRS RANGIORA

Support Local

Businesses

Visitusfor your Panel &PaintRepairs

Make an insurance claim and choose

North Canterbury Collision Repairs Rangiora

as your repairer.

Your Car,Your Choice!!!

Vehiclerepairs toallmakes andmodelsincluding

commercialand fleetrepairs as wellas trucks,

campervans, caravans and boats

The Right choice in

Collisi sion Repair

Loan vehicles available

Contact the team on 03 313 6966

639 Lineside Road,Southbrook

www.nccrc.co.nz

Petrol &Diesel

Use your SuperGold card or

supermarket docket for 12

cents off Petrol &Diesel only

COMPLETE AUTO REPAIR SERVICE

WOF

Light Engineering

Tune-ups

Repairs

Lube-Oil changes Ride-on Mowers

Full Diesel Service Pick up &Delivery

Brakes &Clutches

Sell &Sharpen

Motor Work

Horse Clippers &

Warranty Work

Sheep Shears

Oils &Automotive Accessories, Postal

Services, Hot Pies, Sandwiches, Rolls,

Groceries and Sweet Treats

For your convenience

Sefton Garage

571 Upper SeftonRoad, Sefton

NorthCanterbury.Ph03 312-9713

2463086v1

FOR ALL YOUR LIGHT

AND HEAVY

TRANSPORT REPAIRS

Breakdown &

After Hours

Service

Available

Vacancies Available

2Full time Mechanics wanted

Phone 03 313 6361

0275 200 711

307 Flaxton Road, RANGIORA

brooktrucks@xtra.co.nz

We Do It All!

Your One Stop Mechanical Shop

One Stop WOF Shop

All MechanicalRepairs and Servicing, Tyres,

Exhausts, AutomaticTransmissionService

Burbidge Automotive

325 Flaxton Rd

Ph 03 313 3344

Ample carparking!

Courtesy Cars, Van,

AutomaticsAvailable

2388559v4

2460568v1

2387322v7

2465925v1

WE ARE THE

SERVICINGEXPERTS!

No Need To Commute To Christchurch

-WeCan Do It All! We can use genuine parts, so

yourvehicleisstill covered under warranty.

We have the latest DiagnosticComputerSystems

that are compatible withmost vehicles.

Wheelalignments&tyresatverycompetitive prices.

CALL US NOW TO BOOK YOUR SERVICE

Discounts to Superannuates

77 IvoryStreet, Rangiora Ph 313-5802

Monday -Friday 8am-5.30pm

Servicing

$299 service for all makes

and models out of warranty

Findusat:

2Kingsford Smith Drive, Rangiora

service@rangiorahyundai.co.nz

03 928 3283

Monday-Friday

8am-5:30pm

Rangiora

Saturday*Sales Only

8am-4pm

Sunday

Closed
---
Motoring Guide

Experienced team can enhance performance

The Rangiora Exhaust and Towbar

Centre is under new management.

Travis Muir, who has extensive

experience in automotive modifications

and astrong engineering background,

heads ateam which has been working in

the fabrication, engineering and

welding industry for many years.

If you are having problems with your

exhaust and it needs repairing or

replacing, or you simply want to

enhance the performance of your

vehicle, Travis and the team are able to

help.

''We focus on providing high­quality

exhaust maintenance and repair

services for both petrol and diesel

vehicles.

''Whether the vehicle is your daily

commuter, pride and joy weekend

cruiser or 4x 4off road machine, we

have asolution for your exhaust system

that suits your needs."

At Rangiora Exhaust and Towbar

Centre, they can diagnose any problems

your exhaust may have.

The centre's areas of expertise

includes custom­made race car systems,

OEM muffler replacements, pipe work,

extractors, big bore /performance

systems, stainless steel mufflers, light

engineering services, sheet metal work,

tube bending, and TIG welding (both

alloy and stainless).

The team knows what to do to make

your car look, and sound, exactly how

you want it to, and work with you to fully

customise your ride

The team at Rangiora Exhaust and

Towbar Centre are agents for Ironman 4

x4products which includes bull bars,

snorkels, sidesteps, lift kits, suspension

upgrades, rooftop tents and camping

gear.

If you are needing atowbar we are

agents and installers of Lockon

Towbars. We can also custom build

towbars for trucks and motorhomes etc.

If you need trailer repairs or parts we

can help with that as well.

''We are aone stop shop, and can

tackle most projects that walk through

the door,'' says Travis, who invites

people to drop in and chat about what

they want for their vehicle.

For all your needs, call in to 9Grant

Place, in central Rangiora, and talk to

Travis and the team who are your local

experts.

Travis Muir ... Rangiora Exhaust and

Towbar Centre's new manager. PHOTO:SUPPLIED

• Towbars

• Exhaust Fit &

Performance

• Ironman 4x4

• 4WD Upgrades

• Suspension

• Custom Bar Work

• Trailer Repairs

RangioraR n i r ExhaustE h t

&Towbarw

Centre

2465908v1

03 313 7979

9 Grant Place, Rangiora

retc@outlook.co.nz

• Qualified, experienced mechanic

• All dirt bikes, farmbikes, ATV's &

UTV's, also ride-on lawnmowers

• High standard of workmanship and

service

• Pick up &Drop off options available

• Servicing Canterbury, Marlborough,

and the West Coast

313 Amberley Beach Road, Amberley

Phone 027 723 2995

Open Mon-Fri 8.30am –5.00pm

2466160v1

EYREWELL FOREST

MOTOR COMPANY

British and European

Performance Vehicles

2014 Porsche Macan -3.0 Litre V6 Petrol

-Black leather interior

-4WD Twin Turbo

-Sports exhaust

-Apple CarPlay

-Android Auto

-Travelled 77,500kms

Only $69,990!

2016 Mercedes E200

-2.0 Litre Turbo

-Black leather interior

-Auto Pilot

-NZ Maps

-Two keys

-Ambient light package

-Travelled 57,500kms

Only $49,990!

Ph Andrew 027 576 5576 or 312 5132

www.efmc.co.nz andrew@efmc.co.nz

Trade-ins welcome Finance Available Warranties Available

BIG

BRAND

STOCKTAKE SALE

25% OFF

selected sets of car, 4x4, suv and van tyres

ARTHUR BURKE LTD

2Markham St, Amberley.

Ph 03 314 0137

*Selected tyres only. Offers end 31-03-2022.

Conditions apply.

KEEP OUR COMMUNITY SAFE

DRIVE PHONE FREE

Drivers texting on amobile phone are

23 times more likely to be involved in a

crash than drivers focused on the road.

It takes 4.6 seconds to send or read atext.

At 90km thats like driving the length of a

rugby field blindfolded.

Find out more about road safety in your community

waimakariri.govt.nz/roadsafety

It's ateam effort to reach zero deaths on our roads.

As aCouncil we are committed to creating safer roads in our District.
---
THIS

WEEK'S

SPECIALS

PAMS FRESH

BABY SPINACH

120g Prepack

Product of NewZealand

3 99 ea 12 99 kg

FRESH NZ SKINLESS

CHICKEN BREAST

FILLETS

Product ofNew Zealand

NEWS

10 North Canterbury News, March 17, 2022

CAB focus on renters' rights

By DAVID HILL

''Renters' rights'' is set to be the focus of

CAB Awareness Week next week.

Renting issues are among the most

common enquiries clients ask about

when contacting Citizens' Advice Bureau

North Canterbury, co­ordinator Theresa

Evans says.

CAB Awareness Week runs from March

14 to 20.

Regular enquiries CAB North

Canterbury responds to include

questions about rent payments, bond

refunds, disputes over damage, property

inspections and problems with mouldy,

damp housing.

Ms Evans says renting problems often

occur because people don't know their

rights and responsibilities, whether as

tenants or as landlords.

''There are afew key things to

remember when you are renting,'' she

says.

''One of the most important, is that it's

alegal requirement to have awritten

tenancy agreement.

''The agreement is your 'go­to' if you

have any disputes. It sets out the terms

that you agreed to with your landlord.''

Both parties need to keep arecord of

any changes to the agreement, such as

adding or removing any co­tenants.

''If you have any problems, the best

thing to do is raise them with your

landlord as soon as possible,'' Ms Evans

says.

''It's good to put any issues in writing,

so that you have arecord of this

communication.''

Talking to the landlord (or tenant) as

soon as possible can help resolve

difficulties sooner, but if aresolution

cannot be reached or the landlord does

not take action in atimely manner there

are some other options available.

''A polite follow­up discussion or email

can sometimes result in action, but if this

doesn't work the tenant can send the

landlord a14­day notice to remedy,'' Ms

Evans says.

This letter gives the landlord 14 days to

fix the problem.

If the matter is not resolved an

application can be made to the Tenancy

Tribunal.

The cost is $20.44 to apply to the

Tenancy Tribunal and it can be done

online.

For more information about renting

rights, whether as atenant or alandlord,

go to cab.org.nz, phone CAB North

Canterbury on (03) 3138822 or email

northcanterbury@cab.org.nz.

PUHOI VALLEY

YOGHURT 450g

5 19 ea

STONELEIGH

750ml excludes

Wild Valley, Latitude,

Organic &Rapaura

13 99 ea

JUSTJUICE

FRUIT JUICE

2.4L

4 79 ea

SPEIGHT'S GOLD

MEDAL ALE 12 Pack

330ml Bottles or Cans20 99 ea

The BusyVegetarian, by Sophia Young

With chaptersfor quick weeknight dinners,

easy vegie meal prep,and fruit­filled desserts,

there's great vegetarian recipesperfectfor the

beginner cooktothe seasoned professional.

Ethel Rosenberg: aCold War Tragedy, by Anne

Sebba

On June 19, 1953 Ethel Rosenberg became the

firstwoman in the United Statestobeexecuted

for acrime

otherthan

murder. She

was 37­yearsold

and the

mother of two

smallchildren.

Mana

Whakatipu,by

Mark Solomon

In thismemoir,

Tā Mark

reflects on his life, on the people who

influencedhim, on what it meanstolead, and

on the future for both NgāiTahu and Aotearoa

New Zealand.

These titles are available in both

Waimakaririand Hurunui libraries. Find out

more aboutrecent additions to the library

collection by going to the library catalogue at

waimakariri.kotui.org.nz or hurunui.kotui.org.

nz or contactyour local library.

YOUR CHOICEFOR

CHOICEPRODUCTS

FOURSQUARE.CO.NZ

facebook.com/FourSquareNZ

Specials availableSouth Island onlyfromMonday14thMarch

untilSunday27thMarch 2022 or whilestockslast.Wineand beer

available at stores with an off licence. Wine andbeer purchases

restricted to persons aged 18 yearsold andover.
---
RANGIORA

Doing it

yourself?

Getall thehelp youneedat

mitre10.co.nz/easyas

100% LOCALLY

OWNED &OPERATED.

RANGIORA
---
RANGIORA

BATHROOM

RENO?

SORTED.

24

MONTHS

INTEREST FREE

on purchases$799 &over

FINANCE OPTIONS

AVAILABLE

20% deposit

Paycash price only

No booking or insurancecharge

or 12 MONTHS INTEREST FREE on purchases $299 -$798

Terms,Conditions &Credit Criteria apply
---
PREPARING

FOR COOLER

WEATHER?

HAVE ACHAT

TO US ABOUT A

SOLUTION FOR

YOUR HOME.

100% LOCALLY

OWNED &OPERATED.

RANGIORA
---
Full service Denture

Clinic and Laboratory

No obligation -FreeConsultation

CaldentDentureCleaner

• General Dentistry

• Family Dentistry

• Funded Dental Care

0-18 *

• Dental Therapy

• Hygienist -weekend

appointments

available at new

location

2450356

123 WilliamsStreet,Kaiapoi

Phone03327 0077

396 Innes Road,StAlbans

Phone 03 3855517

admin@denturespluss.co.nz

denturesplus.co.nz

Open Monday to Friday 8.30 to 5.30 |www.pagdental.com

LATE NIGHT TUESDAY

*Conditions Apply

PAGPegasus Dental

54 Pegasus Main St Pegasus

03 920 4003

pagpegasusdental@gmail.com

Renew Your

Membership

by 31 st March

2022

$30 per

person,

per year

and go in

the Draw

to win one of

two 58" TV's

• Teeth Whitening

• Minor Oral Surgery

• Sedation

• Facial Pain

• Surgical Extractions

• Oral Medicine

Specialist

• Finance Options

Available

•Ample parking,

easy access

•Clinicians all New

Zealand trained

•Super Gold and

Community Services

Card Discounts

PAGSilverstream Dental

4/42 Silverstream Boulevard Silverstream

03 925 8003

pagsilverstreamdental@gmail.com

Drawn Friday 1 st April

Between 6and 7pm

Youmust be at the Club towin

2466181

JOIN NOW TO WIN!

OUR TOWN KAIAPOI

14 North Canterbury News, March 17, 2022

Stormwater work under way

By DAVID HILL

Physical worksare finally under way in

the Kaiapoistormwaterand flooding

improvements''shovelready'' project.

The first major stage of construction

workiswell underway, with works being

carried out on Otaki Street,Porters Place,

ChapmanPlaceand AshleyPlace.

DeputyMayorCrNevilleAtkinson is

thrilled to see workfinally happening.

''It'sfantasticthat it'shappening. It's

reallygood news. We'vetalkedabout it for

along, longtime, so to be abletohaveit

acceleratedand to be abletomoveonitis

wonderful.

''Ifall the calculationsare right,

hopefullythis floodingwill disappear or at

least be alot less.''

The projectisbeingjointly fundedby

the WaimakaririDistrictCouncil andthe

Government, which is contributing$9

million as aCovid­19 ''shovelready''

project.

The upgrade works willimprovethe

stormwaternetwork across Kaiapoiand

reducethe likelihood of flooding in major

storm events.

The workincludes theOtakiStreet

pumpingstation,BeachRoadpumping

station, McIntosh Drain pumping station,

Parnhams Drain accessway, the Sneyd

Streetand Beach Road culvertworksas

wellasthe mains replacementsand other

infrastructure as required.

The council's initialcontributionwas $9

million, committed to in last year's2021/31

LongTerm Plan.

While initialassessments for the project

werecostedat$18 million, the projectis

now expectedtocost $22.3 million.

Aconditionofshovel ready is that the

project needs to be completed during this

year, so thecouncilisseekingan

additional $4.3 million from this year's

annual plan.

Cr Atkinson saysthe budgetblowout is

due to an underestimationofthe total

costs, resultingfrom the risinginflationof

construction material costs.

''It'sasignofthe times,''hesays.

''Beingable to tenderand get apriceis

apretty good achievementatthe moment.''

The extrafunds wouldbesourced

throughanincrease in development

contributionsinthe north eastKaiapoi

areaand an increase in thedistrict

drainagerate.

Construction willstartsoon on the

second major stageofthe project, which

includes installing an underground

stormwaterpumpingstation on thesouth

sideofBeachRoad in the paddockeastof

FeldwickDrain.

Stage twoisexpectedtotake around six

monthstocomplete.

School playground opens

The childrenofStPatrick's Catholic School

in Kaiapoi were excitedtoopen abrand

new junior playground last week.

Due to red lightrestrictions, there was no

officialopening,but that did not dampen

their spirits, principal TrishMcKendry

says.

''Weare so lucky. We havesucha

supportive and generous community who

madethis wonderfulplayground happen

for our younger children,'' she says.

The fundraising effort lasted ayear and

raised close to $65,000, showing

''tremendouscommunity spirit''and the joy

was reflected on the faces of the children as

theyraced forwards for theirfirst play on

the playground, Ms McKendry says.

''This is the best day of my life,'' declared

one 5­year­old, as the childrenclambered

up the steps to try out the slides.

New surroundings ... Children at St

Patrick's School in Kaiapoi got to enjoy their

new junior playground last week. PHOTO: SUPPLIED

Wow! This Food is Amazing!

Delicious Snack Menu, Starters, Kids Meals, Light Meals,

Mains, Extras, Desserts

Come along and enjoy

playing Housie and Quiz

113 Raven Quay, Kaiapoi | Ph: 03 327 7884

www.kaiapoiclub.co.nz |info@kaiapoiclub.co.nz

The Entertainment Hub of The North!

NEW BISTRO HOURS

Wednesday, Thursday, Sunday

12noon – 2pm and 4.30pm – 7.30pm

Friday & Saturday

12noon – 2pm | 4pm – 8pm

Bistro closed Monday & Tuesday

2457579v3
---
OUR TOWN KAIAPOI

North Canterbury News, March 17, 2022

Kaiapoi businesses resilient

By DAVID HILL

Kaiapoi businesses remain

resilient as the impact of Covid­

19 beginstobite.

The town's retailers have

survived natural disasters and

bounced back aftertwo Covid­

19 lockdowns, but ''dark clouds''

are loomingonthe horizon.

Waimakariri district

councillor Philip Redmond says

while recent economic datahas

been positive, the outlook is

looking increasingly

challenging with the

combinationofCovid

uncertainty, risinginflationand

the war in the Ukraine all

takingatoll.

''Up untilnow the retailers

have been pretty resilient, but I

think theycould find it tough

over the next few months.

''People couldchoose to avoid

going out and doingthe things

they normally do, and with the

price of fuel and inflation

higherthan it has been in

recentmemory we could be in

for ahit.''

But Cr Redmondsays there is

plentytobepositive about in

Kaiapoi with the success of the

Kaikanui AqualandNZaqua

play park thissummer and

plentyofexcitingprojectsinthe

pipeline.

Work is under way on the

Kaiapoi stormwater ''shovel

ready'' project, the councilis

consulting on theproposed

Kaiapoi Community Hub, the

Canterbury Motorhome

Association is developing a

caravan site in the town and

there are several major projects

under going feasibility studies.

''It'snot all doom and gloom,''

Mr Redmond says.

''But there are some dark

cloudslooming and hopefully

they willpass quite quickly.

''Another positive is that it's

election yearand councillors

will comeupfor ajob review

later in the year.''

Tech Medicsowner Aaron

Lovelace saysoverallthe town

seems to be OK, but the town is

reeling from the loss of events

and businesses are dealing as

best they can with staffbeing

forcedinto isolation.

''Things are up and down.We

are hearing of businesseswith

staff gettingCovid, so it's

definitely having an impact.

''It'sapity the events have

been cancelled, but no­one

wants to responsible for having

asuper­spreader event.''

Mr Lovelacesays the

combinationofuncertainty and

risinginflation meansbusiness

ownersare ''holding their cards

close to theirchest''.

While therehas been strong

demand for IT services, with

more peopleworking from

home, Mr Lovelace says

sourcing supplies is proving to

be aheadachewith asix to eight

week delay.

All Together Kaiapoi (ATK)

co­ordinator Linda Dunbar says

all eventsare on hold for now.

''Hopefully it won'tbetoo

long before somenormality can

resume.''

Among the Kaiapoi events

impacted are the annual

15

River town ... Popular Kaiapoi events such as the Waitangi Day

family celebration (above) and Children's Day (below) have been

casualties of Covid­19.

PHOTOS: FILE

WaitangiDay family

celebration and the Kaiapoi

FunRun, runbyATK, and the

Reflections Community Trust's

Children's Day,which have

been cancelled.

TheKaiapoi Promotion

Association's efforts to bring

back the Kaiapoi River Carnival

have beenput on hold.

PLASTERER

Matt Smith

PAINT FINISH • CORNICE

• GIB COVE

New Homes, Renovations

and Extensions

FREE QUOTES

Ph 027 436 1112

www.mattsmithplastering.co.nz

2324007

UPHOLSTERY

SPECIALISTS

•All furniture Recoveries &Repairs

•Squabs, Cushions &Fabric Sales

•Antique and Loose Covers

•Cars, Boats, Caravans, Motor Homes

•Custom-made Bed Heads &Ottomans

2321966

FREE QUOTES, PICK UP AND

DELIVERY

32 years experience

Thursday,August 2, 2018 | Issue808 | www.ncnews.co.nz

03 327-0266

0274 840 159

72 Otaki St, Kaiapoi

recoveries@xtra.co.nz

HAVE YOU BEEN TO

OUR WEBSITE LATELY?

www.ncnews.co.nz

Visit now toview the paper online &more!

North

Canterbury's

own

department

store...

right here in

Kaiapoi!

2450681v3

Cnr.

Williams Street & Raven Quay, Kaiapoi

Open

7Days

Phone: 03 327 8029

www.blackwellsdeptstore.co.nz
---
OUR TOWN KAIAPOI

16 North Canterbury News, March 17, 2022

PAINTERS

RegTradesman • Interior,exterior.

North Canterbury Painters

specialising in decorating for

over 65.

Discounts

for Seniors

Free quotes.

Covering North Canty,Oxford,

Kaiapoi, Rangiora, Amberley.

Ph Rob 03327 7899

or 027 432 3520

2423683

More hub feedback sought

By DAVIDHILL

Communityviews are againbeing sought

on the proposed multi­million dollar

Kaiapoi CommunityHub.

The community hub is being developed

as apartnershipmodelinthe Kaiapoi

south regeneration areaand is expected to

cost around $3.9 milliontobuild.

The Waimakariri District Council

committedtoacontribution of $618,000in

last year's 2021/31Long Term Plan and is

proposing to increase that to $1.22 million.

It is seeking feedback as part of this

year'sannual plan consultation.

The Kaiapoi Community Hub,which

would be built on red zone, is similar to the

communityfacility at Northbrook Studios

in Rangiora, with the council providing the

land and infrastructureand community

groupsestablishing their own buildings.

DeputyMayor Cr Neville Atkinsonsays

he looksforward to seeing the community

hub develop.

''I thinkit's going to be hugely beneficial

for the town and it probably can't come fast

enoughfor some of the groups involved.

''It willgive them some certainty in

havingapermanent base so they can look

to future and continue supporting the

community.''

The Kaiapoi Croquet Club, the Kaiapoi

Menz Shedand Food SecureNorth

Canterbury have alreadyexpressedan

interest in being located at the huband will

provide the balance of the funding needing

to establish the hub.

The groups are seeking support, with

help from the council, from other funding

organisations, through sponsorship and

other in­kind grants to establish buildings

on­site.

Atrust is being established between the

three groups and the council to manage the

hub.

Cr Atkinson says the previous

consultationhas gonewell and believes the

work of council staff to respond to the

Community hub ... The Kaiapoi

Community Hub concept plan was released

last year.

PHOTO: FILE

feedback will havegonealong way towards

easingcommunity fears.

''Frommydiscussionsthe aqua play park

has gone extremely welland people are

enjoying it and the worriespeoplehad

have not eventuatedand Ibelieve it's the

same with the communityhub.''

Aproposedconcept design has been

developedafter extensive community

engagement.

But the cost of infrastructure needed on

site has increased significantly over the last

three years.

Council staff havealso made design

changes based on community feedback,

including changestocar parking,

landscaping and site establishmentwhich

all require additional funding.

Changes for

kahui ako

School principals in the Kaiapoi learning

cluster are facing ayear of change.

As the principals of the nineschools in

the Katote Kahui Ako (learning cluster)

navigatethe challengesofthe Covid­19 red

trafficlight framework, they are preparing

to farewell lead principal Bruce Kearney.

Mr Kearney will be moving on from

Kaiapoi High School at the end of this term,

before taking up the reins at Rangiora High

School in term two.

TuahiwiSchool principal Mel Taite­

Pitama has been sharing the lead principal

role and is set take over.

''Whilewewill miss Bruce, Ilook forward

to stepping up and leading Katote,''she

says.

''Bruceand Ihave developed aclose

friendship, so I'msure there will alwaysbe

aplace for me in Bruce's office.

Ms Taite­Pitama says the role of school

principalcan be alonely one, so the Kahui

Ako plays an important role, with

principals supportingeach other.

''We have an amazing team of principals,

who are not only colleagues, but are also

friends.

''We are in contact every second day

making sure everyone is OK. We are very

strong in our network.

''I guess we become mentors for one

another. Being aprincipal is lonely

because there'ssomuch that's confidential,

so we do look for and seek support from our

colleagues.''

Mr Kearney has been principal at

Kaiapoi HighSchool for 10 years. Board of

Trustees chairperson BelindaSmith says

the board is working through aprocess as it

looks to find anew principal.

''Whileweare sad to be losingBruce, it is

certainlyanexciting time ahead for

Kaiapoi High School.''

Deputyprincipal GeraldineEnersen has

been appointed as actingprincipal.

Easter Bunny has arrived

Largeselection of EasterEggs, EasterBunstreats

foreveryone

Having aBBQ? SocialGathering?

We're here to assist you will allofyouressential needs

Fresh QualityProduceand Meatfor your BBQS, Bulk

purchases of Wine and Beer

Increased range of Gluten Free Products

Ecostore Refill Stationnow in store

Online shopping also available.Visit www.newworld.co.nz/shop/signup

2438240v3

RATTests now available from our customerservicedesklimit of 2per customer

52 Charles Street, Kaiapoi

Proudly 100% locally owned&operated

Phone: 03 3755180

Kaiapoi@newworld-si.co.nz
---
See the Good Sports.

$319.39

PER WEEK

$124.96

PER WEEK

$182.26

PER WEEK

$99.00

PER WEEK

Balance of

New Car

Warranty!

2017 Volvo XC60 T6 AWD2.0P

RDESIGN Luxury SUV with high levels of

refinement &performance. Adaptive Cruise, Lane

Keep, Pre Crash Safety, Blind Spot Monitoring,

7Airbags, Bucket Seats,

360 °Camera, Sat Nav,

Bluetooth, Heated Seats.

$64,990

2018 Nissan Qashqai ST-L 2.0

Smooth driving &luxurious. Fitted with the latest in

car technology. Everyday practicality &durability.

6Airbags, Hill Hold Assist, Daytime LEDs, Half

Leather, 360° Camera,

Cruise, Bluetooth, Privacy

Glass, Alloy Wheels &more!

$24,990

2019 Toyota RAV4 GX 2.0

Most popular SUV in the market today. Full of

innovative tech &amazing features making your

everyday motoring abreeze. 17" Alloys, Bluetooth,

Blind Spot Monitoring,

Cruise, Lane Departure

Warning,R/Camera, Sensors.

$36,990

2018 Toyota Corolla GX 1.8

Reliable, economical and most popular NZnew hatch.

5Star ANCAP Safety Rating keeps all occupants

safe &secure with 7Airbags, ESC, Lane Departure

Warning, Frontal Collision

Mitigation,Cruise,Bluetooth,

Reverse Camera &more!

$19,990

$338.98

PER WEEK

$128.39

PER WEEK

$108.80

PER WEEK

$147.98

PER WEEK

2019 Land Rover Discovery Sport

SI4 (177KW) SE 2.0 Luxury quality 4WD,

with all the latest comforts. Lane Keeping Assist,

Cruise, Daytime LEDs, Roll Stability System, 9Airbags,

Leather, Heated Front Seats,

GPS Sat Nav, Bluetooth,

5Seats, Paddleshift &more!

$68,990

2018 Toyota Corolla GX 2.0

New shape, NZ New popular economical hatch!

7Airbags, Lane Departure Warning, Frontal/

Reversing Collision Mitigation, Cruise Control,

Bluetooth &GPS Sat Nav,

Rev.Camera, Tiptronic

Sports Mode &more! $25,990

2016 Holden Captiva LS2.4

Popular &excellent family sized SUV, showcasing

modern looks, fitted with the latest in car

technology. 8Airbags, Keyless Entry, Reverse

Camera, Bluetooth, Auto

Headlights, Tinted Glass

Tiptronic &more!

$21,990

Balance of

New Car

Warranty!

2019 Mitsubishi Eclipse Cross

VRX 1.5 High-performance, stylishly designed

with sporty angles. 7Airbags including Drivers Knee,

Stability Control, Frontal Collision Mitigation, Lane

Departure Warning, Blind

Spot Monitoring, Bluetooth,

Reverse Camera.

$29,990

$128.39

PER WEEK

$294.90

PER WEEK

$231.23

PER WEEK

$50.03

PER WEEK

2017 Kia SportageURBAN EX

Versatile SUV that's stylish &classy inside. Fitted with

the latest in car technology. 5Star ANCAP Safety

Rating, 8Airbags, Lane Keep Assist, Reversing

Collision Avoidance, Cruise,

Bluetooth, Tiptronic Sports

Mode &more! $25,990

2018 Hyundai SantaFeTMELITE

2.2D NZ New, Facelift Elite AWD, in standout

condition,Turbo Diesel, updated8speed tiptronicauto,

plenty of power to towthe boat or caravan, 7Airbags,

Cruise, 7Seats, Leather,Front

Heated Seats, Bluetooth,

Android Auto/Apple CarPlay.

$59,990

Balance of

New Car

Warranty!

2021 Jeep Compass Trailhawk

2.4 Near new, well packaged crossover SUV.

Selectable Terrain 4WD, go anywhere instyle!

Apple CarPlay/Android Auto, 9Airbags, Blind Spot

Monitoring, Lane Departure,

NZ GPS Sat Nav, Leather

Heated Seats, Rev. Camera.

$46,990

2009 Mazda 2

NZ New, economical 1.5 litre chain driven engine,

very hard toget 5Speed Manual, great fuel

economy, Multi Airbags, Child Seat Anchor

Points, Remote Central

Locking, Air Con, CD Player

and AUX plus more!

$9,990

$90.68

PER WEEK

$79.41

PER WEEK

$75.98

PER WEEK

$79.41

PER WEEK

2013 Mazda Atenza 20S

Excellent value! Room for the family &dog, 2.0 litre

chain driven engine, Mazda's SkyActiv technology,

amazing 4.5 Star Fuel Rating, 6Airbags, Smart Key,

Auto HID Headlights, Cruise,

Paddleshift, Dual Zone

Climate Control, ISOFIX.

$17,990

2008 Suzuki Escudo Salomon

Ltd Popular, dependable mid sized SUV; the

ultimate lifestyle vehicle, 2.0 litre, Hi/Lo Ratio 4WD,

will do anything, go anywhere! Versatile and durable,

Sports Interior Trim, Heated

Front Seats, Auto Sunroof,

Fog Lights, Aero Body Kit.

$15,990

2013 Subaru Impreza G42.0i

Stylish, fuel efficient, great value, High Grade 4.5

with low mileage. New generation 2.0 Litre Chain

Driven Boxer Engine, IdlingStop, Dual Zone Climate

Air Con, Cruise, CD Player,

Trip Computer, ISOFIX,

Alloy Wheels and more! $14,990

2016 Holden Trax LTZ

1.4 Turbo, Auto, stylish, well optioned compact SUV,

with asleek design, functional interior, with all the

latest tech, Chain Driven, 6Airbags, Sportec Trim,

Heated Front Seats, Rear

Park Assist, Rear View

Camera, Cruise and more!

$15,990

Stadium Cars Rangiora 03 310 7940 | stadiumcars.co.nz

609 Lineside Road, Waimakariri, Rangiora OPEN 6DAYS

*Conditions apply. Not available with any other offer. Finance offer subject to credit and lending criteria.

Finance calculation based on 60 month term. No deposit with an annual fixed interest rate of9.95%,

includes an establishment fee of$225. See our website for full disclosure.

*On road costs may apply to some vehicles
---
2021

MG

Style

Value

&Fun

ForJust

$17,990

ForJust

$19,990

ForJust

$37,990

$89.21 per week!

$99.00 per week!

$187.16 per week!

2021 MG 3 Core Hatch 2021 MG 3 Excite Hatch 2021 MG Hs Essence SUV

•NZNew •1.5 Litre Tiptronic •6Airbags •Alloy Wheels •Apple CarPlay

•Reverse Camera •Bluetooth •USB Input •Touch Screen Media Interface

•ISOFIX •Cruise Control •Daytime Running LEDs •ESC •Traction Control

PLUS... Balance of NewCar Warranty!

Be Quick!

ADDS: •Turbo •Lane Keep Assist

•Blind Spot Monitoring •Hill Hold Assist

•Reversing Collision Avoidance

•NZSat Nav •Adaptive Cruise Control

•Apple CarPlay/Android Auto

2014 Holden Commodore VF

CALAIS-V V6Luxurious, comfortable large

sized family sedan. Packed with features, loads of

space, 6Airbags, Full Leather, Dual Zone Climate

Air Con, Holden MyLink with

CD/AUX/USB &Bluetooth,

Rev. Camera, Towbar.

$138.18

PER WEEK

$27,990

$285.11

PER WEEK

$192.06

PER WEEK

$169.04

PER WEEK

$80.88

PER WEEK

Balance of

New Car

Warranty!

2020 Toyota Highlander GXL

3.5P/4WD Facelift, NZ New, luxurious

modern day family SUV, 9Airbags, Lane Keep Assist,

Full Leather Trim with Heated Front Seats, Cruise,

Rev. Camera, GPS Sat Nav,

Parking Sensors,Smart Key,

Privacy Glass &more!

$57,990

2003FordFalcon UteBAXR8

RARE 5Speed Manual, Boss V8, Herrod Motorsport

Upgrades making 285kw, Front Bucket Seats, A/C,

CD, Dual Airbags, Traction Control, Aero Body Kit,

Fog Lights, Multi Function

Steering Wheel, Cruise.

This is one mean machine!

$38,990

2021 Nissan NV350 CARAVAN

DX 2000cc, Genuine low delivery kms, 6Seater,

Petrol so no RUC charges to keep costs down, Twin

Sliders, Electric Windows, Free 6Month Warranty,

Plenty of Power, ABS,

Remote Central Locking,

Spare Key, Air Con.

$33,990

2012 Nissan Juke 16GT TYPE V

Perfect lifestyle vehicle ifyou're looking for a

funky mix between 5door hatch and high riding SUV

with asporting twist. 1.6 litre Turbocharged Engine,

Tiptronic Auto and 3Setting

Drive Mode, asmooth ride

with amazing performance.

$15,990

$66.19

PER WEEK

$162.67

PER WEEK

$133.29

PER WEEK

$216.54

PER WEEK

2013 Mazda Axela 15S

Sporty facelift model. Excellent driving, economical

&reliable 5door hatch, 1.5 litre DOHC Chain Driven

engine, 4.5 Star Fuel Rating, Smart Key, Dual Zone

Air Con, ISOFIX, Aero Body

Kit, CD Player, Fog Lights,

Privacy Glass, Rear Spoiler.

$12,990

2018 Toyota Corolla ZR 2.0

Safe, economical &superb to drive. Excellent town

runabout or long range commuter. 7Airbags, Lane

Departure Warning, Frontal/Rev Collision Mitigation,

Adaptive Cruise, Bluetooth,

GPS Sat Nav,Wireless Phone

Charging, Half Leather.

$32,990

2017 Hyundai Tucson MPI 2.0

Luxurious, safe compact SUV, latest technology &

safety equipment with 5Star Safety Rating, this is

one superb SUV to own. NZ New, 2.0 litre engine,

excellent power &agreat

torque band whilst exuding

a4Star fuel consumption.

$26,990

2019 Ford EnduraST-LINE 2.0D

Excellent performance, latest tech. 7Airbags, Lane

Keep Assist, Adaptive Cruise, Pedestrian Detection,

Pre Crash Safety System, Heated/Cooled Front

Seats, GPS Sat Nav, Speed

Sign Recognition, Apple

CarPlay/ Android Auto.

$43,990

$143.08

PER WEEK

$147.98

PER WEEK

$343.88

PER WEEK

$196.95

PER WEEK

2013 Nissan Pathfinder Ti 4WD

3498cc, eeal full sized 7seater 4WD SUV that

exudes luxury &sophistication. Full Leather Trim

with Heated &Electric Front Seats, Dual Zone

Climate Control, Smart Key

with Push Button Start, Rev.

Camera &Sensors, TowBar.

$28,990

2016 SkodaOctavia RSTTSI

162kw Exceptional sports sedan with European

style, safety and apunchy 2.0 litre Turbocharged

Engine. 7Airbags, Sports Interior with Front

Bucket Seats, Paddleshift

Sports Mode, Bluetooth,

2016 Holden Commodore VF2

SS 6.2P V8 power, super car looks, this is one

serious vehicle. Performs, looks &sounds like aV8

should. 6Airbags, Dual Zone Climate Air Con,

6CDStacker, Tiptronic &

Paddleshift Sports Mode,

Auto, 2X USB &Bluetooth

USB Input &more! $29,990 $69,990

$39,990

R/ Camera, Cruise &more!

Balance of

New Car

Warranty!

2020 Mitsubishi Triton DC GLXR

6MT 2.4D NZ New, New Shape, excellent

all round 4door utility. Multi Airbags, Cruise,

Multi-Function Steering Wheel, Touch Screen Media,

Apple CarPlay, Android

Reverse Camera &more.

$138.18

PER WEEK

$56.39

PER WEEK

$285.11

PER WEEK

$99.00

PER WEEK

Balance of

New Car

Warranty!

2014 Ford Territory Titanium

2720cc, AWD, roomy, versatile, practical 7seater

SUV. Suitable for the active person &larger family.

6Airbags, Leather, Rev. Camera, Factory Alarm/

Immobiliser, Rear Parking

Sensors, CD/AUX Port

with Bluetooth Audio.

$27,990

2011 Mazda Premacy 20S

Great looking, versatile 7seater wagon, perfect for

those who want to carry the whole family, Chain

Driven, Idlingstop tech, great fuel consumption but

with plenty of get up &go.

Electric Sliding Doors (Dual),

Tiptronic Sports Mode.

$10,990

2020 Mercedes Benz X-Class

X250 Power 4WD Exceptional example,

rugged for the tradesman but luxurious enough

as everyday vehicle. Centre Diff Lock, Cruise,

GPS Sat Nav, Rev. Camera,

Bluetooth, Leather, Roof

Rails, Side Running Boards. $57,990

2018 Holden Trax LTZ1.4 Turbo

1364cc, stylish, well optioned compact SUV, with all

the latest tech. Apple CarPlay/Android Auto, Push

Button Start, Bluetooth, 6Airbags, Rear Park Assist,

Auto Wipers, Heated Seats,

Rear View Camera, Cruise,

Two-Way Electric Sunroof.

$19,990

Stadium Cars Rangiora 03 310 7940 | stadiumcars.co.nz

609 Lineside Road, Waimakariri, Rangiora OPEN 6DAYS

*Conditions apply. Not available with any other offer. Finance offer subject to credit and lending criteria.

Finance calculation based on 60 month term. No deposit with an annual fixed interest rate of9.95%,

includes an establishment fee of$225. See our website for full disclosure.

*On road costs may apply to some vehicles
---
FARM VEHICLES &MACHINERY

20 North Canterbury News, March 17, 2022

Farm machinery in demand amid Covid

Large deliveries of tractors and

equipment towards the end of last year

reflect strong demand throughout the

country on the back of strengthening

commodity prices, according to the

Tractor and Machinery Association

(TAMA).

TAMA president Kyle Baxter says the

second half of last year continued the

exceptionally strong sales growth of the

first half, compared with 2020.

Overall tractor deliveries to the end of

November reflected an average increase

in demand of 27 percent.

''There has been significant growth

across the traditional lifestyle 0­60hp

segment, which increased by more than

35%, while the 60­100hp horticulture,

orchard, viticulture segment was up 20%

and the 100­120hp dairy sector up 9%.''

The biggest increase was in the

120­250hp mainly arable and drystock

farming sector, which increased 42%

compared with 2020.

The big agriculture outlays of 250hpplus

increased almost 36%, he says.

''Tractor sales are only one

measurement of the state of the industry

and we're also seeing increased

equipment demand,'' Mr Baxter says.

''Both locally manufactured and

imported equipment are all reporting

strong demand.''

While New Zealand was experiencing

growth in tractor and equipment

deliveries, so were other countries as

commodity prices remained favourable,

he says.

''Many local and overseas suppliers are

stating that production for 2022 is

already nearing maximum capacity on

large, specialised equipment.

''There is limited capacity to

accommodate new orders that haven't

Kyle Baxter

already been forecasted or placed with

the manufacturer.

''Quarter 1and 22023 delivery time is

becoming very much areality for alot of

this type of product.''

This level of global demand plus the

inflation of shipping costs and extended

ocean shipping timetables all added to

the challenge of ensuring equipment

deliveries to local customers, Mr Baxter

says.

''TAMA is encouraging its members to

discuss equipment requirements for

spring­summer 2022 and autumn 2023

with their customers as soon as

possible.''

Record­low unemployment levels and

international border restrictions

continued to add further challenges

across the sector due to the shortage of

skilled technical staff.

TAMA members were reiterating the

same messages as many other New

Zealand businesses, that Covid

restrictions and compliance with Covid

In demand ... Farm machinery sales have been strong despite the challenges of Covid­

19. PHOTO: FILE

requirements were adding to the

reduced efficiencies across many areas

of their businesses, further increasing

the challenges presented each day.

On apositive note, TAMA dealership

members reported astrong uptake of

apprentices this season.

This is helping to future proof the

technician support side of the sector, and

the recruitment of apprentices is set to

remain akey factor for the years ahead

across TAMA members, Mr Baxter says.

275 Flaxton Road, Rangiora |03313 8224 |www.brandmowers.co.nz

2459220
---
FARM VEHICLES &MACHINERY

North Canterbury News, March 17, 2022

Industry steps up to train machinery operators

21

Ruralcontractors are taking the

initiativetofill the shortageof

agricultural machinery operators.

Agroup of rural contractors and

educators has been brought together to

drivethe establishment of aNational

Training Council for the rural

contracting sector.

RuralContracting New Zealand

(RCNZ) chief executive Andrew Olsen

will actaschair of the foundation

group.

Ruralcontractors werestrugglingto

get enough people trained up to

operate big agriculturalmachinery

even before Covid struck.

Border closures have meant many

contractors have not beenable to fill

staffing gapswith skilledmachinery

operatorsfrom overseas.

''Recognising this, RCNZstepped up

big timein2020 to increasetraining by

working with the Telford andTaratahi

agricultural campuses,'' Mr Olsen says.

''There was also an upswinginsome

of the private sector training but amid

apandemic and increasing labour

shortages, we wereall pushingit

uphill.''

Conversations with industry and

trainers as well as Government

officials, notably the Ministry for

Primary Industries, began to see some

common threads emerge.

''Rural contractors areactually

natural trainersbecause every

machine and taskisdifferent,''Mr

Olsensays.

RuralContractors NZ and MPI have

supported atraininginitiative by

Nelson­based HanzonJobs, which sees

trainees record all their work activities

on an app.

Around 100 peopleare now working

for rural contractors usingthe

HanzonJobs app, giving them and their

employers the benefit of arecord of

work and experience, Mr Olsen says.

''That's agreat tool but it's only part

of the journey.

''Traineesneed somethingwhich

formally recognises their developing

skills –and plugs into aqualification.''

February'sRuralContractors NZ

boardmeeting approvedMrOlsen's

proposaltoestablishaNational

Training Councilfor the sector.

Mr Olsen will be joinedonthe

council by Richard Houston,of

HanzonJobs,Gareth Evans, from Rural

Training Solutions, former Rural

Contractors NZ president John

Hughes, Bob Stewart, from Universal

College of Learning, and Rural

Contractors NZ president Helen

Slattery.

''We will get things started and part

of that is seeking agroupof

experienced,pragmaticand practical

contractors large and small who can

bringthe voiceofour industry and our

trainees to the council,'' Mr Olsen says.

Amberley 03 314 9055

Ashburton 03 307 8027

Leeston 03 324 3791

Timaru 03 688 2179

Afamilyownedand operated agricultural machinery

business, Cochranes have been providing excellent

customer service and supporttoSouthIsland farmers

and contractorsfor over 65 years.

Likeuson

Facebook

Future planning ... ANational Training Council has been formed to oversee the training

of agricultural machinery operators.

PHOTO: FILE

342 Oxford Road

Fernside

NEW Mobile

Air Conditioning

Service

• CF Moto ATV and UTV

Sales and Service

• ATV and UTV Servicing

• Ride On Mower Service

• Tractor Sales /Service

• Tractors sell on behalf of

• Implement Sales and

Service

• Parts and Distribution

• Tools

• Morris Oils and

Lubricants

• Batteries

• PTO and Hydraulic

repairs

• Super mini Booster

Jump Start Pack

• NZ Couriers agency

Introducing the Workshop Team

From left: Darryl Price, Mike Todd, Brodie Wade

More Photos &Information at

www.vallance.co.nz

Facebook Vallance Machinery LTD

Give us acall 03 313 6465

03 313 6465

parts@vallance.co.nz

sales@vallance.co.nz

Sales Craig Mcallister

027 432 3031

Workshop Darryl Price

027 432 3022

Book now for

your Autumn -

Winter servicing

Stockists of quality,

American-made

'Grasshopper'

mowers.

Book now

for your Tractor,

Baler &Mower

Servicing

Will save you time and

money, and prevent

mechanical failures in

the busy Season

Great service

guaranteed

Book in now

Vallance Machinery is your one stop shop for Agricultural and Lifestyle Parts, Sales &Servicing.

We have 3mobile Servicing trucks onthe road to keep you going this Season

2465230
---
STOREWIDE

STOCKTAKE

SALE

HEAPSof HOTDEALS!

Every single piece of furniture is on sale! Ends 21.03.22

ALL LOUNGE, DINING, BEDROOM, OUTDOOR ONSALE!

SCANQRTOSHOP

Riva 3Seater Electronic Recliner

WAS $

2699

NOW

$

1999

Montaro 6 Piece Outdoor

Lounge/Low Dining Set

WAS $

3749

NOW

$

2498

Riva Electronic Recliner

WAS $

1299 NOW

$

899

CAPRI OUTDOOR RANGE

ON SALE

Capri Modular Outdoor Lounge Suite

WAS $ 4768

NOW

$

3499

Keter Go Bar

NOW $

97

ALL MATTRESSES

ON SALE

Bahamas

King Single Mattress

NOW $

199

Queen Mattress

NOW $

249

Capri GRC Coffee

Table – White

NOW $

499

alLbedbaseSon

saletoO!

Carson Side Table

WAS $ 249

Jamie Single/Single Bunk Bed

–Black

WAS $

699

NOW

$

599

Antoni 7Piece Outdoor Dining

Set –W160

WAS $ 1599

NOW

$

1069

Burano Queen Bed

WAS $

999

NOW

$

799

NOW $

74

Scantofindstore

250 Moorhouse Ave, Christchurch

0800 TARGET (0800 827438)

targetfurniture.co.nz

Offers and product prices advertised here expire

21/03/22. Sale Excludes Accessories.
---
RURAL LIFE

North Canterbury News, March 17, 2022

Challenging year for student president

By DAVID HILL

JeremyKilgour has abusy year in

store.

The Oxfordstudent was elected

president of the Lincoln University

Students' Association at the end of last

year and is continuing to study part

time as he looks to complete his

agricultural sciencehonours degree.

''It'svery interesting times, but it

makes life interesting,'' Jeremy saysof

overseeingthe students' associationas

it navigates through Covid­19.

''I started my role in December,soit

was pretty cruisy withnostudents

around, butnow it's full on with

meetings andcatching up with

students'concerns.''

In the Covid environment, some

students feelmore comfortable

studyingathome, or are havingto

isolate, but there'sstill plenty of

students on campus each day, he says.

The university has set up for online

learning so students can keepupwith

their studies, evenifthey're unable to

attendclasses, but beingoncampus is

still preferred.

Jeremyadmits it has been afast

learning curve as he was elected

straight in as president, without having

servedonthe student executive

previously.

''It was abit of ashock to the system.

'' Ididn'treally know whatIwas

getting myself into.

''I had afew goalsinmind which I

could see fromthe outside looking in

and what IthoughtIcould bring to the

table.''

He now chairsastudent executive of

nine elected members and oversees an

organisationwithsix staff,including a

generalmanager.

The student executive also hastwo

advisory members.

During his tenure, Jeremy hopes to

make studentsmore aware of the role

their students' association plays.

''I think alot of studentsthink we are

here to provide free foodand run

events,soit's about how do we get that

messageout there so they knowthere's

awhole lot of thingswecan helpthem

with.''

All students pay astudent services

fee as part of their tuition fees, which

goes towards the recreation centre,

studenthealth, acareers advisory

service, general student services and to

thestudents'association.

Jeremy says, while the association

does run events and sometimes gives

away free food, it also supports clubs,

andprovides financial servicesand

advocacy.

It can evenhelp students whoare

struggling to pay the rent.

Students at Lincolnand Canterbury

universities pay on average $145 to

$165 aweek on rent, while students in

Wellington and Auckland can pay up to

$300 aweek,hesays.

Jeremy was bornand bred near

Oxford.

Hisparents run apig farm with 200

sows and Jeremy stillenjoys coming

home to help out in the weekendswhen

he's able to.

After finishingschool,Jeremy had

twogap yearswhich includedsome

overseas travel, studying for a

semester and playing soccer in the

United States, and workingonfarms.

He has been active in New Zealand

Young Farmers, serving as

chairpersononthe Lincoln Young

Farmers' Clublast year and competing

in the 2021 YoungFarmer of theYear

Tasman regionalfinal.

When he completes his degree,

Jeremy hopes to do some more

overseas travel and to get into afarm

Student leader ... Oxford's Jeremy

Kilgour is this year's Lincoln University

Students' Association president. PHOTO: SUPPLIED

advisoryrole.

Serving as student president could

even lead to moregovernance roles,

such as Federated Farmers,hesays.

''Goingback to the family farm would

be pretty cool,too.

''I'm opentoopportunities,''Jeremy

says.

2410273

23

ONLINE MEAT SALES

MEAT2U.NZ

HOME KILL

&WILD GAME

MEAT PROCESSING

313 0022

Big picture solutions to

match big

Innovation isatthe root of everything we do. Talk to your local Zimmatic ZIMMATIC dealer today

www.zimmaticanz.com Built for today to

Talk to your local Zimmatic irrigation dealer today to find

keep pace with tomorrow.

out how they can help make every drop count.

Zimmatic ® is aregistered trademark ofthe Lindsay Corporation. ©2021 Lindsay. All Rights Reserved

www.lindsay.com/irrigateanz
---
RANGIORA MOTOR GROUP

29 Southbrook Road, Rangiora. With full workshop

facilities, SERVICING&WoFforanymakeormodel.

FROM

GLXR

$39,990 +ORC

• Side Steps

• 7" Touch Screen Smartphone

Link Display

•18inchAlloyWheels

2WD VRX

$44,990 +ORC

• Factory-fitted black body kit

• Black 18 inch Alloy Wheels

• Leather-Appointed Interior

RUN OUT

$33,990 SPECIAL

DRIVE AWAY PRICE

• 2.4L Petrol

• 18 inch Alloy Wheels

• 7 Seats

$48,990 +ORC

• Factory-fitted black body kit

• Black 18 inch Alloy Wheels

• Front and rear parking sensors

*Prices listed are for Triton 2WD GLXR double cab, Triton 4wd GLSB double caband Triton 2WD VRX double cab.

Prices exclude on road costs which includes WoF,registration, 1,000km road user charges and a full tank of fuel.

RANGIORA MITSUBISHI

29 Southbrook Road, Rangiora | 03941 3175 | rangioramitsubishi.co.nz

10 year /160,000kmPowertrain Warranty(whichevercomes

first) (non transferable). 5year /130,000kmNew Vehicle

Warranty(whichevercomes first) (non transferable).

BEAT

THE TAX

From 1 st April the Clean Car Scheme comes into effect,

Rangiora Nissan has these vehicles in stock ready to deliver.

2

ONLY

1

ONLY

5

ONLY

1

ONLY

SAVE $1,323 in Tax*

ST-L 4WD [rrp $49,390]

SPECIAL PRICE $45,990

NISSAN

SAVE $1,310 in Tax*

Ti 2.0L -$46,590

150,000 KM'S

FACTORY

5YR WARRANTY

RANGIORA NISSAN, 29 Southbrook Road,Rangiora

Ph: 03 941 3175

www.rangioranissan.co.nz

SAVE $3,048 in Tax*

SL 4WD Auto [rrp $58,490]

SPECIAL PRICE $49,990

ST 4WD Auto -$62,990

ST-X 4WD Auto -$67,490

SAVE $5,175 in Tax*

Ti-L 4WD -$107,650

*IndicativeClean Car Scheme charges shown as supplied by Nissan New Zealand,payable at the time of vehicle registration.

Prices shown excluding On Road Costs. Numbers and models listedavailable correct attime of print,subject tochange if sold.

rangioranissan.co.nz
---
Environmental work recognised

North Canterburyfarmers

Geoff and Rochelle Spark are

among four farming families

in linefor in this year's

Canterbury Ballance Farm

Environment Award.

The Oxford dairy farmers

will be judged alongside

Ashburton dairy farmers

Phillip, Jocelyn and Paul

Everestand Sarah Hayman,

North Otagosheep and beef

farmersJoand Lachie

McKenzie, and South

Canterbury sheepand beef

farmersMatt and Claire

Smith and their farm

managerBoyd Macdonald

This year's regionalawards

events havebeen postponed

until Juneand July due to

Covid­19.

''We are determinedtorun

in­person functions to

celebrate the entrants, but

will do this when it can be

done more safely,'' New

ZealandFarm Environment

Trust chairperson Joannevan

Polanensays.

The Sparks run Torlesse

Farm, which is adairyand

beef operation.

They haveastrong family

connectiontothe land and

are on ajourney of

continuous improvementso

the farm can thriveasa

sustainable, profitable

business.

They run about 1700dairy

cows across 450 hectares,

with afurther400ha split

fairly evenly betweendairy

supportand beef.

Around 80 primecattle are

sold eachyear and the Sparks

have diversified the business

to include grazing and grass

sales, and operate a

commercialweighbridge.

Their positive solutionsfocusedapproach

has

resulted in production

returning to normallevels

after sustaining ahit from

Mycoplasma bovis in 2017.

Good infrastructure and

managementprovide the

foundationfor sustainability,

enhanced with activities such

as regenerating native bush

by trappingpossums and

fencingoff feral deerontheir

hill country beeffarm.

Their 5.5hairrigation

storagelake is continually

enhanced with nativeplants

and hosts hundredsofpeople

for community events

including triathlons,charity

groups and social occasions,

including the Oxman

triathlon.

Finalist ... Geoff Spark is afinalist in the Canterbury Ballance Farm

Environment Award.

PHOTO:FILE

Consultation on new carbon farming rules

Anew proposaltobetter manage

carbon farming could see future

permanent plantings of exotic forests,

like radiata pine, excluded fromthe

Emissions TradingScheme (ETS).

Forestry Minister Stuart Nash and

Climate ChangeMinister James Shaw

have released apublic discussion

documentthat seeks feedback on ideas

to better manageafforestation.

''Climatechange is achallengewe

cannot postpone,''MrNash says.

''Thegovernmentwantstoencourage

afforestation to help meet our climate

change targets,offsetcarbon

emissions,and alsohelp farmers,

landownersand investorsdiversify

theirincome stream.

''We want to balancethe risks

created by new permanent exotic

forests whichare not intended for

harvest.

''We have awindow to build

safeguardsinto the system, prior to a

new ETS framework coming intoforce

on January 1, 2023.''

From 2023, under the existing rules,

anew permanent forestcategoryofthe

ETS would allow both exoticand

indigenousforests to be registered in

the ETS,and earn New Zealand Units

(NZU).

The new proposed rules would

exclude exoticspecies from the

permanent forestcategory.

''We want to encourage the righttree,

in the right place, for the right reason,''

Mr Nash says.

''We intend to balance the need for

afforestation with wider needsoflocal

communities, regional economiesand

the environment.''

Climate ChangeMinister James

Shaw says planting moretrees can help

to meet climate goals,but it is

important to make sure all types of

afforestation are well­managed

throughthe ETS and the planning

process.

''Aotearoawas once blanketed with

native forests, home to indigenous

birds, insects and other wildlife,'' Mr

Shaw says.

''Today much of those ancient forests

are gone,but what remainsisstill a

vitalcarbon sink.''

In its advice to Government,the

Climate ChangeCommission advised

therewas aneed to increase both

indigenous and exotictree planting to

meet emissions targets.

But it also warned of the need to

reduce the relianceonforestry offsets

and to better managethe impacts of

afforestation.

''A proliferation of permanent exotic

forestry could result in lower long­term

carbonpricesand potentially limit

investment in low­carbon

technologies,'' Mr Shaw says.

''At the sametime, an increase in

nativeforestry willrequire additional

management effortstoeliminatepests

that feedonnative trees.

''The decisions we takenow will be

felt decades into the future, so it's

reallyimportant we get this right.''

Publicsubmissions close in April 22.

For more informationgoto mpi.govt.

nz/consultations/managing­exoticafforestation­incentives.

RURAL LIFE

North Canterbury News, March 17, 2022

25

WANTED TOBUY

Ready to harvest forestry

blocks in Canterbury

Trees and land, or trees only

FARMBIKE SPECIALISTS

Servicing North Canterbury for over 25yrs!

•Sales, Servicing &

Parts

•All Makes &Models

•Qualified Motorcycle

Engineers

(NCME, TRADECERT)

•Electrical &Mechanical

fault testing

•Quality 2nd Hand Bikes

&UTV's

•Repairs &Dismantling

•Insurance Repairs

2177981

Contact Terry Fahey

Fahey Logging Ltd

027 302 3884

faheylogging@gmail.com

QUALITY FENCING

BUILT TOYOUR BUDGET!

All types of fencing for Deer,Cattle, Sheep, Horses,

Dogs. Also Arenas, Stock Yards, Sheds, Gates

Complete Farm and Lifestyle Block Setups

Built to last, adding value to your asset!

Ashley 0274 364 776

a.duckworth@xtra.co.nz

www.duckworthfencing.co.nz

163 Stokes Road, Balcairn

Ph (03) 312 9844 or 027 205 5724 (AH)

farmbikesnc@orcon.net.nz

www.farmbikeservices.co.nz

2462726

2458858

THE FARMALL

Lifestyle

RANGE

BIG PERFORMANCE IN ASMALLPACKAGETheCaseIHFarmallBcompact Case tractor range is

perfectly suited to lifestyleblocks, smallfarms, landscaping, equine,municipal and hirecentres.

50% DEPOSIT OVER 2YEARS

25B hydro

$19,100

+gst

35B hydro

$26,500

+gst

50B hydro

$32,500

+gst

LOADERINCLUDED

$23,100+GST

LOADERINCLUDED

$32,500+GST

LOADERINCLUDED

$39,000+GST

AMBERLEY 03314 9055 |LEESTON 03 324 3791 |ASHBURTON 03 307 8027 |TIMARU 03 688 2179 |OAMARU 03 688 2179 |WEST COAST 022 0960 088 |www.cochranes.co.nz
---
Four Seasons Realty

Four Seasons Realty

AUCTION

THE SIGN YOUWANT

THE AGENT YOUCAN

MY FEBRUARY Results

AVERAGESALEPRICE OF

74.4%ABOVE RV

AVERAGEOF45GROUPS

VIEWINGPER PROPERTY

100% SOLD

Rely on!

WHATMYCLIENTSARE SAYING

"Wecan honestly say that withall thehouses we have bought not onerealestate person hasworkedsohard, made theprocess

so easy and themostimportant thingisthatyou were trulyhappy forusand it wasn't just about the money. This is abittersweet

timewith leavingthe housewehad so manyhappytimes. Youhavehelped us move forwardtoadifferent life withsensitivity,

caring and asometimesstressful situation wasavery happyone with lotsoflaughs along theway."-Wendy andRichard

We arestill seeing verystrong numbers throughopens homesand I'machieving incredible results

formyclients. Ifyouare consideringselling,nowis agreattime!

Call foryour free no obligation market appraisal.

Four Seasons Realty

Four Seasons Realty 2017 Ltd|Licensed AgentREAA 2008

KarenWARD

Real

2013-2021

Estate Agencies

021 221 7027 |03313 6158

karen.ward@harcourts.co.nz
---
North Canterbury

Rangiora 35 Johns Road

Gardener's Delight

Discover an amazing garden on ahuge1130sqm section brimming with fruit, flowers and vegetables in theheart of Rangiora.

This 1960s permanent materials 3bedroom 2bathroomhome hasroomforall the family with spaciousbedrooms, formal

lounge, office, separate laundry and toiletand double garage. The new log burner keepsyou warm, with alarge heat pump

and ceiling fans also coolingthe home in summer. However it is thegardens that really captivate the imagination. Vegebeds,

agreenhouse, historic birdhouse and woodstore provide so muchscope and there is excellent off street parking for the boat

or caravan.Located handytobuses,shops,schools and parks, thiswonderful home isjust waiting for youtoadd your own

style.Come and smell the roses!

3 2 2 2

Auction 1.00pm, Thu 24thMar, 2022,(unless sold prior)

View Sun 20 Mar 1.00 -1.45pm

Web pb.co.nz/RU100972

Dayan Muntz

M 021 432 926

E dayan.muntz@pb.co.nz

Kirstyn Barnett

M 021 312 230

E kirstyn.barnett@pb.co.nz

Doublethe

dedication when

selling your home!

Forafriendly chat about your

real estate needs, call Kirstyn

or Dayantoday.

Kirstyn Barnett &Dayan Muntz

Residential/LifestyleSales Consultants

M 021 312 230 E kirstyn.barnett@pb.co.nz

M 021 432 926 E dayan.muntz@pb.co.nz

Property Brokers Ltd Licensed REAA 2008 |pb.co.nz

Proudtobehere
---
What's happening in your

community…

All Redinfo traffic onchanges light restrictions to Council are services in placeand -visit facilities waimakariri.govt.nz can be found atfor waimakariri.govt.nz/covid19

further info.

Services Impacted by Staff Shortages

As Covid-19 cases continue torise throughout the

District and beyond, Council services are beginning

to feel the impact of staff shortages as our team

members need to isolate.

Waimakariri's kerbside bin collection service is

currently being affected by driver shortages.

While thereare processes in place to keep the

kerbside collection running through the peak of the

Omicron outbreak,collectionsmay be laterthan usual.

Ourcontractor mayend uphavingtocollect bins

aer 6pm on weekdays andonSaturdays,and if

that happensplease leave your binskerbside. Our

contractor will get to your bins as soonastheycan,

which may be thefollowing day.Other operational

changes, such as temporarily movingtoafortnightly

organics collection, mightalsoberequired.

We will advise you ifwemove to this situation.

If your bin is not full and you can hold off until the

next collection cycle without having tooverload it,

please consider not putting your bin out.

"If there are fewer bins to empty, itwill help drivers

complete their routes within normal operating

hours –and they may be able to help with other

Council collections as well," says Council's Solid

Waste Asset Manager Kitty Waghorn.

Similar service interruptions are being felt at our

pools where temporary changes need to be made

to better support our staff's wellbeing and ensure

we minimise the overall impact on customers.

Forthe next eight weeks, KaiapoiAquatic Centre will

be closingatthe earliertimeof 3pmonweekends.

At thecurrentRED light setting, between 9amand

12 noonwerun ourWaiSwim learntoswimlessons

with no public swimming during thistime. This is to

help us manage space, facility capacity anddistancing

within the facility.From midday thefacility will be

openfor recreation swimminguntil3pm.

This may also affect our Dudley Park Centre and

any updates or changes will be communicated via

our website, social media and on 0800 Waiswim.

The Council is Keen to get your Feedback

on Three Different Topics.

Dra Annual Plan

The Dra Annual Plan 2022/23, Council's yearly

strategic document which prioritises plans, projects

and sets the budget, is out for feedback until 4April.

The plan includes aproposed 4.3% rates rise which

is only 0.1% higher than predicted –and allows

the Council to continue todeliver services at a

high level despite lower than expected central

funding contributions.

We have some key issues requiring further funding

which include:

• Funding required to complete the Kaiapoi

Community Hub

• Kaiapoi Stormwater and Flooding Improvements

• Service Level Changes to our Road Network.

E-scooter Trial

We approvedasix-monthtrial of e-scootersinthe

Waimakariri District. From November 2021until

April 2022,upto400 Flamingo e-scootershavebeen

available forhireacross Rangiora, Kaiapoi, Woodend

andPegasus. We arecoming to theendofthe trial

andwewouldbethrilled to hearyour feedback.

Migrant Experiences

The Council's Community Team work to support

migrants and have developed programmes to do

this. Your feedback through this survey will help

make sure what the team provide is relevant and

responds towhat migrants need to feel settled

and part of the community.

If you're amigrant or an agency, employer and

stakeholder supporting migrants –please take a

few minutes to complete our confidential survey.

Youcanfind outmore about each of these and let us

know what youthinkatwaimakariri.govt.nz/letstalk

Free Digital

Skills Classes

SmartPhones

Pegasus Community Centre

Wednesday 23March • 10am -12pm

OxfordLibrary

Monday 28March • 10am -12pm

Kaiapoi Library

Thursday 31March • 10am -12pm

RangioraLibrary

Friday 1April • 10am -12pm

Bookings essential

steppingup.nz

03 311 8901

Does Your Pool

Fence Comply?

Summer is here and it's important pool barriers

and fencing comply with the Building Act.

From November to Marcheachyear we'll be visiting

properties to checkifapool is still present, the type

and if the pool fence complies.

We'll leave anotice inthe letterbox aer the check, and

note any items that may need to be addressed.

Why we're doing this:

The Building Act requires us to inspect pool barriers

regularly for compliance to the Building Code.

Call us on 03 311 8906 if you have any questions.

Register your pool at waimakariri.govt.nz -

keyword search Swimming Pool Registration

All lids and

tops belong

in the bin.

Even if it's a

plastic type 1, 2

or 5, please don't

put them in the

recycling bin.

rethinkrubbish.co.nz
---
Cheviot makes semis

CRICKET

An unbeaten century by

Harrison Darling gave Cheviot

an inspired must­win over

Weedons at the weekend to

secure aspot in the country

cricket semi­finals.

Thisweekend's semi­finalists

are now locked in for the

45­overCRV AmbreedCountry

Premier One Day competition,

with Darfield hosting Cheviot,

and Leeston­Southbridge taking

on Sefton at Leeston Park.

In the plate section, Ohoka

will play Lincoln at Mandeville

and Oxford­Rangiora will host

Weedons at Pearson Park.

At Weedons Domainon

Saturday, the homeside elected

to make first use of the

conditions,with Canterburyrep

Blake Coburngetting Weedons

off to aflying start, smashing 32

runs off 27 balls.

Weedons got handy

contributionsthroughout its

battingorder, led by top­scorer

JamesWatson (56 off 75), and

headedinto the change of

inningsconfident they could

defend224.

Andwhen Cheviot was left

reelingat47/3, the home side

appeared to havethe game

under control.

Butenter Darling. The

Magpies batter has had a

breakout season, and teaming

up with Angus Sidey (55 off 65),

ruthlessly put the game beyond

reach.

He raised his bat for an

unbeaten 100 and led his team

off for afine six wicket win,

securing aspot in the semis.

SPORTS RESULTS

Rangiora Bridge Club

Thomas Pairs: North/

South: ColleenAdam/Dawn

Simpson1,JudyBruerton/

Joyce Gray 2, Pauline

Miller/Veronica Hall3.

East/West:Margaret

Pickering/JanicePickering

1, Andrea Dempsey/Nita

Sheasby 2, Warwick Wyatt/

Robyn Dawson 3.

AutumnPairs: N/S: Robin

Hassall/Linda Hanham 1,

Stephanie Galbraith/Judy

Bruerton 2, Moody Shokry/

Tricia Riddolls 3.

E/W: PaulineMiller/

Bunty Marshall 1, Gaynor

Hurford/Liz Duke2,Liz

Partridge/David Rainey3.

Junior Evening: N/S:

Kerryn Lange/Karen

Manson1,Annette

Caldwell/Gail Dunlop 2,

Diane Graham/Trish

Warnes3.

E/W: SueJones/Lynne

Johns 1, Desley Simpson/

Judith Robinson 2, Marilyn

Eliet AlisonHowe 3.

Plate Pairs:N/S: Pauline

Miller/Linda Hanhan 1,

Phillipa Watkins/David

McRae2,RichardLuisetti/

Liz Duke 3.

E/W: LizPartridge/Kevin

Kuch 1, GaynorHurford/

RobinHassall 2, Tony

Biddington/Dave Tocker3.

WaimakaririGorge

Women's Golf

LGU &Putting, 18 Holes:

Silver:JCollins +4.3, N

At Sefton Park, the Sefton

Seals made short work of

visiting Lincoln, knocking off an

easy seven­wicket win.

Right­arm pace bowler Micah

Campbell knockedthe top off

Lincoln's batting,snaring four

wickets.

Canterburyfirst­class seamer

Fraser Sheatthen mopped up

the tail.

Chasing just 114 runs to win,

recruit of the season, Amandep

Arora, smacked another

brilliant half­century,ending up

with 63 off just 34 balls. Oxford­

Rangiorawas decimated by

Covid­19and was forcedto

default against Leeston­

Southbridge on Saturday.

But it was even worse news

for Southbrook.

The 2011/12champion has

struggledfor numbers for the

past few seasons,and has now

pulled out of this year's

competition.

Southbrook defaulted the

match against Ohoka and the

stalwart club now faces areal

struggle to survivein

Canterbury Country's top flight

of club cricketnext season.

Darfield had the bye.

Shortscorecard:

Weedons 224/10 (J Watson 56,

CRobson 35, SClarke35, B

Coburn 32; CCameron 2/27, T

Fitzpatrick 2/33, WAnderson

2/44, WSmith 2/46)lost to

Cheviot 226/4 (H Darling 100no,

ASidey 55; CRobson2/39).

Lincoln 113/10 (J Eggleston 27,

BMoore 24; MCampbell 4/33, F

Sheat 2/13,JJones2/31) lost to

Sefton 116/3(AArora 63, L

Taylor 23; BMoore 2/31).

Weavers +4.3.Bronze I: L

Smith +1.3,KBattersby

+6.3. Bronze II: RPilbrow

+1.3, TCraig+3.3,NViney

+5.3,SGillespie+10.3.

Putting: RPilbrow 26.

Nine holes: C. McDonald

+2.9. VMcKenzie +3.1.

Putting: JJenkins 12. Two's:

SFarrar.

AmberleyGolf

March12men: WVan

Zuylen 70, NRhynd 71, R

Clifton 71. Women: J

Cumming 66, JLucas 67,S

Platt 68.

ExcelDesign Longest

Putt. IHolding.

Midweek men:B

Balderstone 38, MIrving 38,

KRayner 37,NFindley37,

MCarson 36, WElder 36,T

Morgan36. Twos: K

Gussette,RKeith, MIrving.

MidWeekWomen: BScott

70, BPettigrew 73, JRouse

73, KPercy73. Longest Putt:

JMorgan.

Nine Holers:LGU:L

Edwards 34, LDenby 37,V

Crooks 37.

Men. DPercy 36, P

Neumann39.

RangioraGolf Club

Nine Hole Stroke

competition:Women:

Coleen White 29, Catherine

Boddy 36 c/b,Pat Benny 36,

Sarah Rutherford37c/b.

Men: Robert Madden 34

c/b, Dennis Brook 34, John

Walker36c/b,Hudson

Deane 36.

OXFORD WORKING

MEN'S CLUB &

MSA

Nominations for

Officers of the

Oxford Club

now open

President

Vice President

Committee

Close 8pm Friday

25 th March

ELECTIONS

Friday 8th April

Vote from

4pm -8pm

ANNUAL GENERAL

MEETING

Thursday

31 st March 7.30pm

In the function room

All Financial

Members are invited

to attend

2466657

Wanted To Rent

RANGIORA AREA

wanted to rent by 2Adults,

prefer 3 bedrooms, very

tidy, excellent gardens.

Phone 021 048 5923.

TWO ADULTS, 1retired

midwife pensioner & her

professional IT employed

son, working in Christchurch

or from home. We

are looking for ahouse in

the country within 30 -60

minutes commute to Chch

Airport. Must allow

kenneled dogs and prefer

lifestyle property without

city type close houses. Rent

$400 to $650 weekly

depending on condition of

property. Willing to accept

older share milkers house

or cottage not up to tenancy

standards regarding insulation

&heating as long as

there is ongrid power &

water. Financially stable

with good references.

Looking to move within the

next month or so April 1st

or May 1st. Please call

Luke 021 915 795 or

Marilyn 021 919 861 if you

would be able to house our

family with dogs.

Wanted To Buy

CASH PAID: Antiques

and Collectables, Estate

Lots, collections of Old

Tools; pay up to $200 for

Brass and Metal Planes,

Wood Braces, Levels,

Rulers, Scribes, Drills,

Saws; pay $3,000 for Gold

Nuggets, Gold Bars, Pocket

Watches, Chains, Gold

Jewellery, Diamond Rings,

Brooches, Damaged Jewellery,

Old Jewellers Tools;

pay up to $10,000 for Petrol

Pumps, EnamelSigns, Juke

Boxes, up to $500 for

Money Boxes, up to $1,000

for Mechanical Poker

Machines, Arcade Penny

Slot Machines; also wanting

old Windup Toys, Fun-

Ho, Triang, Tonka and

Minic, Hornby Train Sets,

Matchbox, Motor Bikes, to

collections of Toys, Display

Cabinets. —Ph. 021-441-400.

CLOTHING WANTED.

Retro Clothing wanted for a

dress up 70's party. Would

love asafari suit but anything

considered. Phone or

txt 021 861 732.

CommunityServiceAwards

nominations open

The Community Service Awards recognise long periods

of exceptional service to the community by residents of

the district.

Hurunui District Council is calling for nominations from

community members for who they believe are worthy

recipients.

Amaximum of six nominees may beselected –one

from each community i.e. Cheviot, Glenmark, Hanmer

Springs,Amuri,Hurunui andAmberley.

More information and nomination forms, head to

the Council website at hurunui.govt.nz/community -

Community ServiceAwards.

Forms can also be collected from Council offices in

Amberley or service centres / libraries inAmberley,

Culverden,Cheviot, Hawardenand Hanmer Springs.

Completed formsshould be sent to:

MareeHare,maree.hare@hurunui.govt.nz,

or Hurunui District Council.POBox 13, Amberley 7441,

by 5.00pmMonday 2May 2022.

2466498

PUBLIC NOTICE OF

APPLICATION FOR

OFF-LICENCE

SECTION 101, SALE

AND SUPPLY OF

ALCOHOL ACT 2012

Lost Cafes Ltd has made

application to the District

Licensing Committee at

Rangiora for the renewal of

an Off-Licence in respect

of the premises situated

at 398 High St, Rangiora

known as Thirsty Liquor

Rangiora.

The general nature of the

business conducted (or to

be conducted) under the

licence is bottle store.

The days on which and the

hours during which alcohol

is (or is intended to be)

sold under the licence are

Monday -Sunday 9am to

10pm.

The application may be

inspected during ordinary

office hours at the office

of the Waimakariri District

Licensing Committee at

215 High Street, Rangiora.

Any person who is entitled

to object and who wishes

to object to the issue of

the licence may, not later

than 15 working days after

the date of the publication

of this notice, file anotice

in writing ofthe objection

with the Secretary of

the Waimakariri District

Licensing Committee

at Private Bag 1005,

Rangiora.

No objection to the renewal

of alicence may be made

in relation to amatter other

than amatter specified in

section 131 of the Sale and

Supply of Alcohol Act 2012.

This is the first publication

of this notice.

2465549v1

Wanted To Buy

HAY MOWER, UFO type

or similar. Going or not,

anything considered.Please

ph 021 129 2256.

$$$

Amalgamated Scrap Metal

Ltd. Specialists in farm

machineryand farm clean

ups, old vehicles etc.

100% locally owned.

Ph 0800 030 712 or

027 695 0480.

2312759

Public Notices

PUBLIC NOTICE OF

APPLICATION FOR

ON-LICENCE

SECTION 101, SALE

AND SUPPLY OF

ALCOHOL ACT 2012

Lost Cafes Ltd has made

application to the District

Licensing Committee at

Rangiora for the renewal of

an On-Licence in respect

of the premises situated

at 398 High St, Rangiora

known as The Plough

Hotel.

The general nature of the

business conducted (or

to be conducted) under

the licence is Tavern &

Restaurant.

The days on which and the

hours during which alcohol

is (or is intended to be)

sold under the licence are

Sunday - Thursday 8am

to 11pm. Friday -Saturday

8am - 1am the following

day.

The application may be

inspected during ordinary

office hours at the office

of the Waimakariri District

Licensing Committee at

215 High Street, Rangiora.

Any person who is entitled

to object and who wishes

to object to the issue of

the licence may, not later

than 15working days after

the date of the publication

of this notice, file anotice

in writing of the objection

with the Secretary of

the Waimakariri District

Licensing Committee

at Private Bag 1005,

Rangiora.

No objection to the renewal

of alicence may be made

in relation to amatterother

than amatter specified in

section 131 of the Sale and

Supply of Alcohol Act 2012.

This is the first publication

of this notice.

2466237v1

For Sale

MEADOW HAY, conventional

bales $15 each. Dry

and barn stored. Ph Deb

021 289 9256.

TRAILER, 6X4 home

built with crate. Unregistered

and unwarranted.

$400 ono, please phone 03

327 3777.

SPORT &CLASSIFIED

North Canterbury News, March 17, 2022

29

MILITARYEXERCISE

Army Training (Blank Firing)

Thegeneral public is to be advised

thataNew Zealand Army Exercise will

be conductedinthe Oxford Forest

over the period 25-27 Mar22.

Theexercise will involveupto40

personnel of 2/4 RoyalNew Zealand

InfantryRegimentfromBurnham

MilitaryCamp.

Training will involvesoldiersfiring

blank ammunition and pyrotechnics

TheNew Zealand Army takes fire

risk seriously and will ensurefire

mitigation is present.

Formoreinformation please contact:

SSgt Heather,Mob: 02108476053 or

0212411150

Road Stopping

Portion of the unnamed unformed legalroad adjoining

Ashworth Bush Road to the south and the unnamed

unformed legal roadtothe north in Balcairn, Hurunui

District.

Public Notice is herby given that, pursuant toSection

319(h) and 342(a) of the Local Government Act 1974,

the Hurunui District Councilproposestostop partofthe

road described in theschedule hereto:

SCHEDULE

Area(m2) Shownonthe plan as Plan

15050 Road to be stopped Bruce Alexander

(proposed) Surveyors

–Copyofthe Plan–

14 December 2021

PURPOSE

The portion of roadwhenstoppedshallbeamalgamated

pursuanttoSection 345(1)(a) of the Localgovernment

Act 1974withadjoining landasfollows:

Area(m2) Shown

Land to be amalgamated with

15050 Road to be Road to be stopped(proposed)

stopped is to be amalgamated with

(proposed) Lot 3DP305915

The above-mentioned plan may be viewed at the

Hurunui District Library orthe Hurunui District Council

Offices at66Carters Road, Amberley during normal

office hours oronthe Councils website www.hurunui.

govt.nzunder Have yoursay –Consultations.

If you would like toobject to this proposal you must

lodge your objection in writing to the Hurunui District

Council Attn: Cameron Ashworth either in person to

66 Carters Road, Amberley, orposted to PO Box 13,

Amberley 7441 or email Cameron.ashworth@hurunui.

govt.nztoarrivenolater than5:00pm25March 2022.

DatedatHurunuiDistrict Council,Amberleythis13day

of January 2022.

Thisisthe second publication of thisnotice.

HDobbie

Chief ExecutiveOfficer

Livestock

FOR HIRE portable cattle

yards & ramp, Loburn.

Phone 027 540 0027.

STOCK WANTED

Old /Injured or Unwanted

(Cattle &Horses)

MEAT2U.NZ

313 0022

2457344

Pets

2466662

Garage Sales

SATURDAY 19TH

March, 8am onwards, 23

Wales Street, Rangiora.

Tools, furniture, aluminium

BBQ, compressor.

Grazing

GRAZING available in

Flaxton for sheep &young

cattle, 5acres, 6paddocks,

short or long term. Text /

Phone 021 373 512.

BICHON HOMESTAY SHEEP GRAZING,

for smaller dogs. We look approx 7acres, well fenced

after your dog in our home. & watered, Mandeville

"No kennels". Phone today

03 314 6110.

area, $65 per week. Ph 021

129 2256.
---
CLASSIFIED

30 North Canterbury News, March 17, 2022

We need you !

Situations Vacant

We are seeking applications from outgoing, friendly and enthusiastic people to join our team and have the following

Fixed Term positions available:

Inwards Goods /StorePerson

• Mon –Fri up to 40 hours

• Mustbephysicallyfitand strong

• Will be required to lift and carry heavy products

all day

• Work as part of ateam

• Beable to think proactively

• Work hard and smart

• Mustbecustomer focused

• Forklift licencewould help

• Musthavea"Can Do" attitude

Retail Assistants

• Weekend work required, up to 40 hours

• Working inside and outside

• Mustbephysicallyfitand strong

• Required to climb ladders and use lifting equipment

• Required to pick, carry,assemble products

• Work as part of ateam

• Beable to think proactively

• Work hard and smart

• Customer focused

• Familiarity ineither Power tools, Power garden or

Bathroom products preferred

McAlpines have an active drug &alcoholpolicy in place, apre-employment drug test and medical will be required.

If any of these positions sound like you, send your application and CV to:

Fixed Term Roles

McAlpines Mitre 10 Mega

PO Box 1003

Rangiora 7440

Or email applications@mcalpines.co.nz

PLEASE SPECIFY WHICH POSITION YOU ARE APPLYINGFOR

Entertainment

BALCAIRN HALL welcomes

the Alpaca Social

Club with special guest

Cousin Alice an Arts On

Tour NZ event, 7.30pm,

Saturday 26th March 2022,

free supper, alcohol free

event, raffles, CD sales.

Tickets $25 from Sally

Macs, Amberley, Stan's 7

Day Pharmacy Rangiora,

Sefton Garage and

via www.balcairnhall.com -

Covid guidelines will apply

Educational

TUITION available. Primary

and secondary up to

NCEA level 3. In centre

(Rangiora) or interactive

online from your home.

Each student on an individually

tailored programme.

Kip McGrath Rangiora has

been serving the local community

for 30 +years. Give

us acall (03 313 3638) or

book your free assessment

online https://www.kipmcgrath.

co.nz/rangiora

Public Notices

Inwards Goods Forklift Driver

• Monday–Friday

• Forklift licenceand OSH cert

• Experience in abusyenvironment

• Musthavea"Can Do" attitude

• Ability to get the job done

• Reliable, flexible and disciplined

• Able to think and act on the go

• Beagoodteamplayer

• Show an eye for detail and proactive planning

• Have great communication skills

Garden Products Team Member

• Garden plant and product knowledge critical

• Weekend work required

• Upto40hours

• Mustbecustomer focused

• Working inside and outside

• Mustbephysically fit and strong

• Will be required to climb ladders and use lifting

equipment

• Work as part of ateam

• Beable to think proactively

• Work hard and smart

• Must be customer focused

Personal

A SEXY BLONDE, talk

live or listen. Ph 0900 44

666. $3.99 +GST pm. R18.

Gardening

A+ GARDEN hedges cut

to perfection. Tree &arbor

work. For a quote, phone

021 111 4322.

LAWN MOWING, Waimakariri

area. Please ph

027 933 6523.

Minor amendment to the enrolment scheme

of Rangiora Borough School

The Ministry of Education is proposing aminor amendment tothe

enrolment scheme ofRangiora Borough School. This is to add

their Te Reo Māori special programme, Ngā Rākau eRua, to

their enrolment scheme.

Students who meet the criteria for enrolment and live within the

home zone must be enrolled ahead of out ofzone students. Out

of zone students who meet the criteria for enrolment in the

special programme have priority in enrolment above all other out

of zone students while special programme places are available.

The enrolment of out of zone students is governed by the

provisions of the Education and Training Act 2020.

Acopy of the proposed enrolment scheme is available at

https://consultation.education.govt.nz/education/rangioraborough-school-special-programme

Comments can be made to

Canterbury.EnrolmentSchemes@education.govt.nz by 14 April

2022.

2466714

2464774

Rangiora High

School

Casual

Cleaners

Rangiora High School

is proud to be acaring,

community-based

environment inspiring

life-long learning.

Students are at the

centre of our work.

We are seeking to

expand our pool of oncall/casual

cleaners for

both afternoon and/or

evening shifts.

Please email your

CV and a covering

letter to: vacancies@

rangiorahigh.school.nz

2466239

SUPERIOR PERSON-

NEL jobs, we have forklift,

labouring, factory, traffic

control, seasonal, poultry,

perm and temp roles. North

Cant and Christchurch. Get

in quick. Phone us on 03

313 6180. See

www.superiorpersonnel.co.nz

FACTORY, Poultry, Traffic

Control, Sawmill. Short

and long term roles available,

immediate starts.

Contact Daphne or PJ at

Superior Personnel. 03 313

6180. For other roles see

our website

www.superiorpersonnel.co.nz

Drum Tutor

Malvern School of

Music Inc, based in

Darfield, requires a

suitably qualified

person to teach drums

after school hours.

For all inquiries contact

h.langen.nz@gmail.com

FALCONS &

COMMODORES

WANTED

Suitable for

dismantling or repairs

Ph 313 7216

2412522

CASH 4CARS

and 4WD'S

Phone

Automotive

Parts

03 313 7216

WANTED to buy Ford,

Holden, Chrysler or

Chev's, Classic cars. Any

other types considered, any

condition. Please phone

Tony 027 313 5000.

CARS, vans, 4WD's

wanted for dismantling or

repair. Phone 027 258

8366.

Cars Wanted

ANY old cars, anything pre

1990, unfinished Hot Rods,

Classic Cars. Please call

027 258 8366.

Automotive Services

CARAVANS &

MOTORHOMES.

Interior &exterior repairs,

maintenance & upgrades,

based in North Canterbury.

Solar, satellite, awning

installations. Sheetmetal,

light engineering &welding

services. Professional

coach builder specializing

in the RV industry 25 years.

Call Darryl @ Advanced

Auto Homes 027 220 6566.

Motorcycles

WOF your motorcycle or

light trailer at South Pacific

Motorcycle Services, Mandeville.

Ph 03 312 0066

office@motorbiketours.co.nz.

FARMER/TRACTOR/

MAINTENANCE

Farming job available. Stock

experience required along

with full range of tractor

and general maintenance

experience. This is a job

full of variety 10-20 min

commute from Rangiora/

Oxford. Accommodation

required if needed.

Call 027 236 7577 for

further details. Excellent

references essential.

2465017

Firewood

SPILT old man pine, 3.7

$280, 3.7 Macrocarpa

$400. Ph 021 993 497.

Trade&Services

A PAINTER WITH

PASSION! Local painter

with 30 years of quality and

integrity in all aspects of

painting. Phone Mike on

021 0903 8546.

ABEL &Prestige Chimney

Cleaning. Nth Cant owned

& operated. Covering all

areas from Waimak to Hanmer.

Professional, guaranteed,

service. Firebox

repairs, carry most parts. Ph

0800 661 244.

ALL TREE SERVICES,

arbour work, pruning, tree

removal. Affordable &

friendly service. Telephone

021 111 4322.

ARBORIST qualified.

Copper Beech Tree

Services. Tree removal,

pruning, height reduction,

hedge trimming, shaping,

tree planting, firewood.

Free quotes. Contact Angus

Edwards 027 259 6741

copperbeechtreeservices@gmail.com

BRIAN'S Tree Services.

Tree felling, topping,

shaping, firewood cut, rubbish

removed, stump grinding,

branch chipping.

Affordable rates. Phone 03

327 5505 or 021 124 4894.

CHIMNEY SWEEPS.

Time to service your fire.

Accumulation of soot seriously

affects performance.

Latest rotary brush technology.

Free moisture check

on wood. Safety inspection.

All work insured and guaranteed.

From $80 single

story. 0800 SWEEPME or

www.sweepnz.co.nz.

DIESEL

Infrared radiant & fan

forced workshop heaters.

027 262 2266

www.BLAX.nz.

DIRTY TILES &Grout?

Professional tile cleaning,

tiled shower restoration,

mouldy silcone, shower

glass & we can even

recolour your old grout!

For all your tile and grout

issues call Grout Pro for a

free, no obligation quote.

Ph Darryl 0800 882 772.

DRESSMAKING Bev's

Sew Good Services. For all

your alterations, repairs,

dressmaking, curtains.

Phone 327 5535.

FIRE GUARDS Custom

made with safety latch.

Phone 021 169 9066. E:

pjfabricators123@gmail.com.

HOMEKILL & Wild

Game meat processing. Ph

313 0022. www.meat2u.nz.

KITCHEN, bathroom,

renovations, decking,

pergolas, fencing. Honest

reliable licenced builders.

Ph Don 027 727 9162.

METAL WORX. Flashing,

Sheetmetal Fabrication,

Wrought Iron,

Welding, Custom Trailers,

General Metalwork. No job

too big or too small. Ph 021

265 5428 or 03 314 6908.

Find us on facebook/

Glenmark Metal Worx.

glenmarkmetalworx.ltd@gmail.com.

LOGSPLITTERS Honda

or Rato powered, plus parts

& accessories. Telephone

027 262 2266 www.BLAX.nz.

ANTHONY SYMONDS

Forall your painting &

plastering requirements

Local with 30 years

experience

All workmanship

Guaranteed.

Phone 021 344 023

2220615

Log Fires

Pellet Fires

Heat Pumps

Sales

Service

Installations

Free Quotes

03 343 1651

472 Blenheim Rd

www.heatstore.co.nz

PAINT & wallpaper

services. Wayne Bryant,

exterior, interior. Qualified

tradesman. Free quotes. Ph

313 5337 or 027 654 4568.

PAINTER & Decorator.

25 + years experience.

Interior /exterior, roofs &

waterblasting. For a free

quote, please ph Steve 03

314 4620 or 027 477 1930.

PAINTER. Qualified local

professional, Int / Ext,

roofs, wallpaper. Call or

text Corban 027 846 5035.

Pride &Quality Painting

&Decorating Services

20 yrs exp, fast and friendly

service. For all your painting

needs, phone: Martin 310

6187 or 021 128 9867

POWER TOOLS repairs,

parts &sales for over 40

years. All main brands serviced.

Grossman Trade

Tools, 23 Watts Road,

Christchurch. Ph 389 9230.

ROOFER. All roof repairs,

roof painting, water blasting,

moss treatment,

repointing, gutter cleans &

snow straps, and more. Free

quotes. Please ph Nathan

027 516 6609.

Trade &Services

HEATERS RANGIORA Rubbish

Removal and RRR skips.

Wheelie bins any frequency

and skips from 1.5 cube to

9cube. Skips and wheelie

bins for any use, rubbish,

greenwaste, building sites

or just cleanups. Give us a

phone call 313 6957 or for

skips 021 313 255.

REMOVALISTS

Movemen Ltd

2Men &agood sized truck.

From $150 plus GST per hour.

Kaiapoi based.

Call Gerard

027 668 3636

movemen.co.nz

2401953

SEPTIC TANK

CLEANING

Bill's Liquid

Waste

Blair Tavendale

Ph 03 314 9371

0275 379-694

2362002

You dump it...

Blair pumps it...

027 216 0000

SCREEN PRINTING.

For all your printing

requirements. T-shirts,

Hoodies, Hi-Vis vests and

polos, Overalls, Caps etc.

Please phone Heather 03

313 0261 or email heather.

norstar@gmail.com.

SHEARER. Hap's Farm &

Lifestyle Services. Shearing,

crutching, drenching,

tailing, feet trimming &

health check. — Ph. 03-

423-3713 or 021-267-4025.

SHEEP SHEARING,

drenching, feet trimming.

For Lifestyle blocks. Call

Stu 027 315 6916.

STUMP GRINDING:

Stumpclear is here for

stump grinding at your

home or lifestyle block in the

Waimakariri District. —Ph.

027-242-3522.

2225862

CRAIGS Trees

(03) 327-4190

TREE REMOVALS

THINNING &PRUNING

STUMPGRINDING

FELLING &TOPPING

FULLYINSURED

QUALIFIED ARBORIST

Free Quotes

027 2299 454

craigstrees@xtra.co.nz

2434390

TRUCK WASH. Mobile

touchless on-farm foam

wash solutions. Telephone

027 262 2266

www.CLEANFLEET.nz.

VALUATION -

Specialising in North Canterbury.

Contact Geoff at

Maxwell Valuation. Phone

03 310 8541 or email

geoff@maxval.co.nz.

WATERBLASTERS Hot

or cold electric, 3phase or

petrol. Tel 027 262 2266.

wwwBLAX.nz.

WINDOW TINTING

tintawindow

advanced film solutions

99% uv block

fade protection

heat control

reduce glare

25 Years Experience

privacy films

frosting designs

non-darkening films

Workmanship Guaranteed

Lifetime Warranties on Most Films

UV

block

Free Quotes Canterbury and Districts

03 365 3653 0800 368 468
---
Trusted Trades &

Professional Services

Guide

To book your spaceinthis guide,phoneAmanda Keys 313 2840 or email amanda.keys@ncnews.co.nz

2434425

Air Conditioning

Stay cool this summer

Call us now for your free quote

03 310 6087

18 Albert Street, Rangiora

Design |Installation |Servicing

Appliance Repairs

•REGISTERED TECHNICIAN

•AUTHORISEDLOCAL SERVICE

F&P, Bosch, Smeg,

Ariston, LG, Classique,Haier,

Samsung andmore....

"Forbestresults be sure to useauthorised service"

NORTHCANTERBURY APPLIANCE SERVICES

Rangiora: 03 313 4420 Kaiapoi: 03 327 3810

2332343v2

Butchery

OxfordButchery

Shane and Leanne Frahm

We cankill&process yourstock

FourGenerations of Frahms

since 1957

Ph 312 4205

Oxford

Number one

old-fashioned bacon

&ham curing.

A/H 312 4709

WE ARE OPEN, WEARE AESSENTIAL SERVICE

2227889v2

Computer Repairs

Bruce Evans

131 Ohoka Road

Kaiapoi

03 327 3111

021 293 6331

compucare@xtra.co.nz

www.compucare.co.nz

Computer Repairs &upgrades

Prompt professional services

2276525v2

Virus &malware removal

New &UsedPC's4Sale

Construction &Concrete

All Construction & Concrete Work

•Driveways, patios &paths

•Bridges and Culverts

•Floors, foundations

•Sheds and buildings

•Dairy Sheds, Herd homes

•Silage pits, effluent ponds

•Excavation and cartage

•Precast concrete

•Insulated panels

Daryl Power

027 230 9401

concretepower@scorch.co.nz

www.concretepower.co.nz

Glass &Windscreens

2273277

YOU

COULD

BE

HERE

Advertise

your business

in our Trades

and Services

Electrician

AARON HARRIS

ELECTRICAL LTD

• NEW HOUSES • ALTERATIONS

• ELECTRICAL INSPECTIONS

• SMART WIRING

• SOLAR PV INSTALLATIONS

FROM $6000 PLUS GST

Phone 03 313 7144

027 432 1534

Fax 03 313 2144

rgrantelectrical@gmail.com

PO Box 69, Rangiora

Electrician

Allan Pethig

For all your electrical needs. Residential &Commercial

Engineering

2397712v5

pet doors installed

from only $165

Phone

Amanda Keys

on

03 313 2840

2420841

▪ Painting ▪ Gardening

▪ Fencing ▪ Lawn mowing

▪ All General Maintenance

Performed to the highest

standard by a straight up,

honest, Handy Guy

No job too small!

Flat hourly rate, no hidden surprises!

THE

HANDY

GUY!

Handyman

Call Guy "The Handy Guy" Now

0275 040 658

If it stands still

long enough we

will paint it

•17metre spray

booth

•FullPaint &Panel

Service

M: 0275 543 958

E: aaron@ahel.co.nz

Panel Beater

2269236

For your Engineering needs

187d Ohoka Road, Kaiapoi

Phone 03 327 5246 |027 495 2821

toppeng@xtra.co.nz

Landscaping

STEWART CONTRACTING

Landscaping -Fencing

& Earthworks

ENJOYABLE STRESS FREE LANDSCAPING

03 313 9375 •027 369 3974

www.stewartcontracting.co.nz

contact@stewartcontracting.co.nz

2136148

Landscaping

For all your landscaping needs

All Landscaping, Retaining Walls (Engineered and

Non-Engineered), Timber Fences, Landscape Structures

and more...Lifestyle Block, Rural and Residential.

Phone Jeremy 021 169 9394

www.blackhill.co.nz

www.facebook.com/blackhillltd

2372616v2

Scrap Metal

CASH PAID FOR SCRAP

•Car Bodies •Scrap Steel•Specialists in Farm

Machinery•All non Ferrous

MAINLAND

METALS LTD

Ph (03)338 7000

Mike0274 818544 •Robbie 0274 818 027

Locally owned and operated

1902273

CAP 65

CAP 40

CAP 20

Shingle

SHINGLE SUPPLIES

Quarry Prices

DRAINAGE CHIP

from $40 per cube

from $23 per cube

from $25 per cube

from $30 per cube

all +gst

Plus all excavation and truck hire

house excavations, driveways, subdivisions

CONTRACTING

Ph: KEN 027 201 3302

Email: stress@xtra.co.nz

2009594

Now moved to 8Seven Mile Drive, Belfast

Phone (03) 323 4115

www.autobodyrepairs.co.nz

Tools &Equipment

SALES

PARTS

SERVICE

ACCESSORIES

ON-FARM VISITS

Water Blasters, Log Splitters, Generators,

Air Compressors, Water Pumps, Air Tools, Spray

Equipment, Replacement Ag Seats, Small Motors.

Free local machinerydelivery.

Richard Black www.BLAX.nz

North Canterburyowned &operated

2435547v2

•Insurance Work

•Fullcoachbuildingservice, fabricating

doors,lockers, windows, tanks

•PaintingMotorhomes, Caravans, Boats,

Trucks,Tractors&Cars

2354024

Quarry Supplies

QUARRY SUPPLIES

2426159

●CAP 65 ● CAP 40

●CAP 20 ● Pit Run

●Large Soakpit Boulders

●Crusher Dust

●Screened Sand

●Horse Arena Sand

Dean Hurley0274 336 993

hurleyexcavation@xtra.co.nz

2064 Tram Road

Windows & Doors

WINDOW MARKET PLACE

• New & Used

• Timber & Aluminium

• Windows & Doors

8am-5pm Weekdays

8am-2pm Saturday

215 Waltham Rd, Sydenham

Ph (03) 379 6159 info@windowmarket.co.nz

Fax (03) 962 1012 www.windowmarket.co.nz

ncn1242200aa

To book your spaceinthis guide,phone Amanda Keys 313 2840 or email amanda.keys@ncnews.co.nz
---
RangioraToyota

PASSENGER

Signature

CLASS

2007 Toyota BladeHatch

•2.4LPetrolAuto, 7-Airbags

•Camera, Alloys, Half Leather

•80,300kms

$

12,995

2017 Toyota Corolla GX

Hatch

•1.8L PetrolAuto, Camera

•Bluetooth, 7-Airbags

•Only 39,800kms

$

22,995

Signature

CLASS

2019 CorollaGXHatch

•2.0L Petrol, Auto,Camera, Bluetooth

•5-Star Safety

•Only 25,300km

$

26,995

2013Daihatsu Sirion

•1.3LPetrolAuto

•5-door,NZNew

•Only 42,936km

WAS$10,995

$ NOW 9,995

2011 Toyota Avensis

Wagon

•2.0L PetrolAuto, Alloys,

•Camera, Bluetooth

•Keyless

SUV

NOW

WAS$14,995

$

11,995

Signature

CLASS

2014 CamryGLSedan

•2.5LPetrolAuto

•Cruise Control, Bluetooth

•7Airbags

$

12,995

Signature

CLASS

2017 CorollaGLXHatch

•1.8L PetrolAuto, Alloys,

•Camera, FogLights

•Only 47,700km

$

23,995

2015Toyota Ractis

•1.3LPetrolAuto, 45,550km

•CD/AUX/USB

Connectivity

WAS$14,995

$ NOW 13,995

2010 Mitsubishi Lancer

VRX

•2.4LPetrolAuto, Alloys

•Leather

•80,750kms

WAS$11,995

$ NOW 10,995

2018 Toyota HighlanderGXL

•3.5LPetrol

•Leather 7-seater,SAT/NAV

•Camera, only29,300km

$

53,995

2018 Rav4 GXL

•2.5LPetrolAWD

•Alloys, Camera, Satnav

•Keyless,DualZone Climate

$

29,995

2018 Toyota HighlanderGX

•3.5LPetrol, 8-Speed Auto

•7-Seater,Camera, Bluetooth

•84,700km

$

43,995

2020 Toyota RaizeZ2WD

•1.0L TurboPetrol, 5-door

•Keyless,Parking Sensors

•Only 44,400km

$

36,995 33,995

2019 Toyota Rav4 GX

•2.0L PetrolAuto2WD

•Alloys, Satnav, Camera

•Only 18,250kms

COMMERCIAL

$

39,995

2014 Toyota Highlander

GXL

•3.5LV6Petrol, 7-Seater Leather

•Camera, Towbar

•Bluetooth

$

27,995

2016 Rav4 GXL

•2.5LPetrolAWD,Camera

•Keyless,Towbar,Bluetooh

•88,900km

2014 Toyota Highlander GX

•3.5Lpetrol, 7- Seater

•Camera, Bluetooth

•Towbar

$

31,995 $

31,995

2019 Toyota Highlander

GXL

•3.5LPetrolAuto, Leather

•7-Seater, Satnav

•Only18,500kms

$

55,995

2021 Daihatsu Hi Jet

•Petrol, 5-Speed Manual, 4WD

•AutoTipping Deck,Due Mid-March

•Only 150kms

$

24,995

2017 LandCruiserPrado TX

•2.8L Turbo Diesel, 7-Seater, Keyless

•Camera, Leather

•Only 37,150kms

$

63,995

2016 HoldenTrailblazer

Colorado 7

•2.8L Turbo Diesel 4WD

•Leather,7-seater

•63,800km

WAS$44,995

NOW $ 41,995

2015Ford RangerXLT

•3.2LTurbo Diesel Auto, 2WD

•Alloys, Bluetooth, Tonneau

•Rear Sensors

$

29,995

2018 Landcruiser 200 VX

2016 HiluxSR5 Limited 2018 Hilux SR5 Cruiser 2WD 2018 Toyota HiaceMinibus 2011 HiluxSR5 4WD

2WD

•2.8L Turbo Diesel Auto

•3.0L TurboDiesel Auto, 12-Seater •3.0L TurboDiesel Auto,

•2.8L Turbo Diesel, Leather,18"Alloys •Leather,Satnav, Alloys, Hard-Lid

•Camera, Bluetooth

•Bluetooth, USBConnect

$

•SportsBar

•64,118km

•Only 55,250kms

•Flatdeck, Cruise Control

•Tonneau.

124,995

$

42,995

$

49,995

$

49,995

$

29,995

Percival Street,Rangiora • Ph (03) 313-8186 any time • www.rangiora.toyota.co.nz

•4.5lTwin Turbo v8 Diesel

•Leather 8Seater

•Satnav,360 Camera

•Only63,550kms

Signature

CLASS

2459213

FINANCE &INSURANCE AVAILABLE