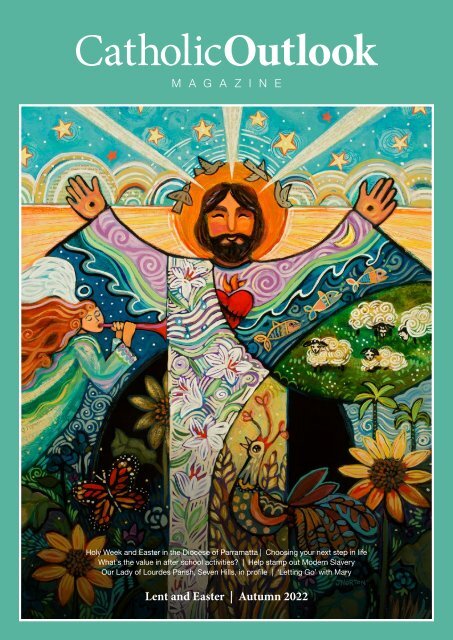 Catholic Outlook Magazine Lent & Easter Edition 2022
The official publication of the Diocese of Parramatta
The official publication of the Diocese of Parramatta
SHOW MORE
SHOW LESS
You also want an ePaper? Increase the reach of your titles
YUMPU automatically turns print PDFs into web optimized ePapers that Google loves.
M A G A Z I N E

Holy Week and Easter in the Diocese of Parramatta | Choosing your next step in life

What's the value in after school activities? | Help stamp out Modern Slavery

Our Lady of Lourdes Parish, Seven Hills, in profile | 'Letting Go' with Mary

Lent and Easter | Autumn 2022
---
The official publication of the Diocese

of Parramatta

Imprimatur and Publisher:

Bishop Vincent Long OFM Conv

Bishop of Parramatta

(02) 8838 3400

PO Box 3066,

North Parramatta, NSW, 1750

bishop@parracatholic.org

www.catholicoutlook.org

Editor & Vicar for Communications:

Br Mark O'Connor FMS

(02) 8838 3400

PO Box 3066,

North Parramatta, NSW, 1750

comms@parracatholic.org

Communications Manager:

Christina Gretton

Communications Officers:

Mary Brazell

Sr Sophie Boffa csfn

Nihil Obstat:

Fr Wim Hoekstra

Accounts:

Alfie Ramirez

(02) 8838 3437

alfie.ramirez@parracatholic.org

Printing:

IVE Group Australia Pty Ltd

All material in this publication is copyright and

may not be reproduced without permission of

the publisher. 43,500 copies are printed and

distributed to 47 parishes and more than 80

schools, after-school care centres and early

learning centres in Western Sydney and the

Blue Mountains.

Catholic Outlook is a member of the

Australasian Catholic Press Association.

© Diocese of Parramatta 2022

In the spirit of reconciliation, we acknowledge the traditional

custodians of the lands in which our Diocese sits, the land of the

Darug and the Gundungurra people.

We would like to pay our respects to the Aboriginal Elders past,

present and future, for they hold the traditions, memories and

wisdom of Mother Earth on which we place our feet upon today.

Pictured: Station 4, Jesus meets his mother.

The artist John Dunn is a member of the Stolen Generations. These

Stations of the Cross are an exploration of his own journey and they

illustrate beautifully how Aboriginal people resonate with the sufferings

of Jesus. The set of Aboriginal Stations of the Cross Prayer cards can

be purchased from Aboriginal Catholic Ministry, Victoria. For information

contact Odette Lo Castro at Odette.LoCastro@cam.org.au.

The Diocese of Parramatta reaffirms the

wise axiom attributed to Saint Augustine of

Hippo, "In essentials, unity; in non-essentials,

freedom; in all things, charity." In this spirit,

Catholic Outlook publishes a variety of

Catholic viewpoints. They are not necessarily

the official views of the Diocese of Parramatta.

Cover Image: All Creation Sings His Praise by Jen Norton.
---
From Bishop Vincent

Dear Sisters and Brothers,

We will soon celebrate, once again, the great feast

of Easter and begin a season of joy.

For two years now, our liturgical celebrations have

been muted by the pandemic. Over the past years,

we have witnessed serious illness and death,

social unrest and the economic hardships faced by

individuals, families, and communities here at home

and throughout the world.

Many people in Australia and beyond are still

suffering the loss of loved ones, unemployment,

and fear and anxiety. We grieve that so many people

in poorer countries have not been given access to

vaccines. This global injustice is folly, as it not only

damages the lives of so many children of God but

makes more likely the rise of even more dangerous

COVID variants.

Yet, there is hope. Christ is risen! He has liberated us

and made a lasting peace and joy possible for our

chaotic and troubled world.

Pope Francis often speaks of joy. With characteristic

humour, the Pope says that Christians should not

look like 'sourpusses' (literally "vinegar faces" in the

original Spanish). We should rejoice in our freedom

and remain confident in God's love for us. The joy of

Easter springs from our deep gratitude to God for his

gentle and compassionate presence in our lives.

"

As my fellow Franciscan, the medieval friar, Giovanni

Giocondo, once put it:

The gloom of the world is

but a shadow. Behind it, yet

within our reach, is joy. There

is radiance and glory in the

darkness could we but see – and

to see we have only to look!

"

May this season of grace bring us such lasting

joy. Please share this joy generously with others,

especially those in the 'shadows' and on the margins

of our society, during this blessed time and always!

Alleluia! Christ is risen!

Recently we have seen natural disasters like the

destructive floods in NSW and Queensland, the

volcanic eruption in Tonga, and tragedies such as the

pandemic and invasion of Ukraine. While these and

other hardships persist, Easter celebrates what Pope

Francis says so powerfully:

"

We are not loved after we

are forgiven, we are forgiven

because we are loved.

"

Bishop Vincent Long OFM Conv

Bishop of Parramatta
---
26

16

42

On the Inside

Lent and Easter / Autumn 2022

Get instant updates on Catholic

Outlook stories and news from

our Diocese - follow the Diocese

of Parramatta Facebook page

facebook.com/parracatholic.

Subscribe to Catholic Outlook

online at catholicoutlook.org

to get Catholic news, opinions

and worship resources delivered

straight to your inbox totally free

of charge every week.

4 OutlookLooks

8 Short & Sweet

9 A Prayer For Our Earth

10 Holy Week: a family affair

in the Diocese

14 St Bakhita's example empowering

a challenge to slavery today

16 Making time for our mothers

18 Should I love my job?

20 Faith and a flourishing career

22 Letting the love of a marriage

spill over

24 Mastering decision-making

26 Continuing learning outside

the school day

28 Lenten reflections from

a new school leader

30 News from the Catholic

Education Diocese of

Parramatta Mission Team

33 Looking deeper

34 Mary: Exemplar of Faith

36 Mary pondered all these

things in her heart

38 Letting go with Mary

40 Mary's visit to Elizabeth

42 A cuppa with the priest:

Fr Henry Huu Duc Tran

Our Lady of Lourdes, Seven Hills

44 Our Lady of Lourdes Parish,

Seven Hills

47 Pope Francis' Prayer for Peace

48 Love your neighbours

as God loves you

50 Listen, Watch, Read, Think

52 Bringing wonder to Holy Week

and Easter for students

in public schools

54 Easter egg hunt

56 Directory of services

57 Latest appointments

57 Voice of the people
---
OutlookLooks

Our Easter Traditions

It's time to commemorate Holy Week.

You can find the times for the many

different Masses in the Diocese at

catholicoutlook.org/holyweek2022

starting with Palm Sunday on 10 April

through to Holy Thursday, Good Friday,

the Easter Vigil and Easter Sunday.

Other services include Tenebrae on 11 April,

a beautiful liturgy, using music, words, light

and darkness commemorating the death of

Jesus at St Patrick's Cathedral, Parramatta.

The Chrism Mass on 13 April brings all

the priests of the Diocese together at St

Patrick's Cathedral to renew their priestly

promises. At this Mass the holy oils used

throughout the year are blessed.

Fr Vincent Savarimuthu washes parishioners' feet at

Holy Thursday Mass 2021, at St Madeleine Sophie

Barat Parish Kenthurst.

Image: Diocese of Parramatta

Giving this season

Lent is a time of sacrifice and thinking of others.

Help fight poverty overseas and donate to Project

Compassion, the major fundraising event for Caritas

Australia. Donate at caritas.org.au

Image: Diocese of Parramatta

Closer to home our Good Samaritan Appeal is raising

funds for Catholic Care's drop-in centres which have

provided support for vulnerable people in the

community, such as those traumatised by bushfires.

You can donate at yourcatholicfoundation.org.au/

appeal-neighbours

Decision time

Around this time of year, many people are making

decisions about their future working life. They may be

choosing subjects or courses, or maybe considering

whether they are happy in their job. Last year marked 40

years since Pope St John Paul II released his letter on the

importance of work as part of our humanity. In this edition

we look at the role faith can play in making decisions

on our future, and how to look for the clues that God is

providing. You might be surprised.

Image: Pexels

4
---
Choose slavery-free

chocolate this Easter

Last month the Church held a day of prayer,

reflection and action against human trafficking

on the feast day of St Josephine Bakhita, the

patron saint of human trafficking survivors.

Modern slavery is a very real problem in our

world. Our article on page 14 explains how you

can play a part in eradicating modern slavery

and slave-like practices.

You can start this Easter by purchasing

slavery-free chocolate!

Look for the following symbols on the

products you buy.

Seminarian David Sebastian and his mother Sophia. David joins

others in reflecting on mothers and Mother's Day on page 16.

Image: Diocese of Parramatta

Mother's Day

May is all about mothers including Mary. On

Mother's Day we give thanks to our own mothers

and grandmothers for the selflessness they shower

us with, day after day. The centuries-old tradition

means May is also a time to honour and connect

with our spiritual mother Mary, who prays for us

and with us.

New ways to

pray the Rosary

May, being the month of Mary,

we are encouraged to say the

Rosary each day. You may

find your parish has a daily

Rosary recitation. Alternatively,

the Pope's Prayer Network and

the The Vatican's Dicastery

for Laity, Family and Life have

created a beautiful ebook to

help your family pray together.

They have also created a free app

which personalises your Rosary

experience.

The Click to Pray eRosary app

provides a range of background

music, and the mysteries of the Rosary

and the Gospels read aloud.

An interactive dashboard keeps track.

Image: Unsplash

5

Find details

catholicoutlook.info/erosary

Image:

Click to pray the eRosary.
---
OutlookLooks

Invite a friend to Mass

Recent research has found that that

two-thirds of Australians would attend

a church service online (64%) or in

person (67%) if personally invited.

So don't be afraid to offer to take

someone you know to Mass with you.

There's a good chance they want to

be asked, and Easter is the perfect

time to invite them.

Image: Shutterstock

Purposeful prayer

Pope Francis asks us to have purpose through

a specific intention each month. Find videos and

social media posts you can download and share

at popesprayer.va.

MARCH | For a Christian response to bioethical

challenges

We pray for Christians facing new bioethical

challenges; may they continue to defend the dignity

of all human life with prayer and action.

APRIL | For health care workers

We pray for health care workers who serve the sick

and the elderly, especially in the poorest countries;

may they be adequately supported by governments

and local communities.

MAY | For faith-filled young people

We pray for all young people, called to live life to the

fullest; may they see in Mary's life the way to listen,

the depth of discernment, the courage that faith

generates, and the dedication to service.

Image: Shutterstock

6
---
What's On in the Diocese?

6 to 7 APRIL

Sydney Alliance Foundations Training – all welcome.

Details at bit.ly/sydalliance

10 APRIL

Natural Fertility Session. Details at parralmf.org.au

10 APRIL

Palm Sunday starts Holy Week.

Check Mass and liturgy times at

catholicoutlook.org/holyweek2022

11 APRIL

Tenebrae – St Patrick's Cathedral, Parramatta

13 APRIL

Chrism Mass – St Patrick's Cathedral, Parramatta

2 MAY

Formation for Ministers at the Altar Course.

Details: anne.stanton@parracatholic.org

or (02) 8838 3456.

11 MAY

Peace Justice Ecology Sharing Online – all welcome.

Details at parracatholic.org/socialjustice

13 MAY

Theology Hour for young adults 18 to 25.

ACU St Josephine Bakhita Campus, Blacktown.

Details @catholicyouthparra

20 MAY

LIFTED Live Unplugged – a night of praise and

worship for young people.

Details @catholicyouthparra

1 to 3 JULY

LIFTED Retreat - a weekend of friendship, prayer,

community, reflection for young adults over 18 years.

Details @catholicyouthparra

EACH MONTH

Pre- marriage education courses.

Details at parralmf.org.au
---
Do not let the devil tell you, as he tried to tell

Jesus, that the hard things of life are a sign that

the Father has abandoned you. It's a lie. When

it's darkest, God is closest.

Short & Sweet

Mother Hilda Scott OSB

reflection for Palm Sunday from

the Diocese of Wollongong's

Remember Lenten program.

In Jesus, we worship a God who was not content to

look down upon us from some safe haven, light years

away. We follow a saviour who gets down, right down

on the same plain with those in the deepest pain, with

those who have nothing left.

Bishop Vincent Long OFM Conv

Bishop of Parramatta.

Homily for 13 February 2022

Jesus Christ is being raised up on the cross before us,

and we are able to say that, not only did he give up his

life for those who actually stood at the foot of the cross

some 2,000 years ago, but we are able to say that this

is what Christ did for me—this is what Jesus is doing

for me during the celebration of Mass.

Fr Anthony Jukes

reflection for Palm Sunday from

the Diocese of Wollongong's

Remember Lenten program.

Visiting the sick is an invitation that Christ addresses

to all his disciples. How many sick and elderly people

are living at home and waiting for a visit! The ministry of

consolation is a task for every baptised person, mindful

of the word of Jesus: "I was sick and you visited me."

Pope Francis

30th World Day of the Sick

Though the types of modern-day slavery may

differ from that of Roman times, all slavery is itself

the exploitation of the weak and vulnerable. It is

the power of the strong over the weak.

Bishop Vincent Long OFM Conv

Bishop of Parramatta.

Diocese of Parramatta's

Modern Slavery Statement

Connect with the Mission Enhancement

Team in the Diocese of Parramatta

Pastoral

Formation

Catholic Youth

Parramatta

Peace, Justice,

Ecology

Worship

Marriage, Family

and Natural Fertility

pfparra.org.au

parracatholic.org/cyp

parracatholic.org/socialjustice

officeforworship.org.au

parralmf.org.au
---
A PRAYER FOR

Our Earth

All powerful God, you are present in the whole

universe and in the smallest of your creatures.

You embrace with your tenderness all that exists.

Pour out upon us the power of your love,

that we may protect life and beauty.

Fill us with peace,

that we may live as brothers and sisters, harming no one.

O God of the poor,

help us to rescue the abandoned and forgotten of this earth,

so precious in your eyes.

Bring healing to our lives,

that we may protect the world and not prey on it,

that we may sow beauty,

not pollution and destruction.

Touch the hearts of those who look only for gain

at the expense of the poor and the earth.

Teach us to discover the worth of each thing,

to be filled with awe and contemplation,

to recognise that we are profoundly united with every

creature as we journey towards your infinite light.

We thank you for being with us each day.

Encourage us, we pray,

in our struggle for justice, love and peace.

Pope Francis

Laudato Si': On Care for our Common Home, 2015.

Image: Shutterstock

9
---
Holy Week:

a family affair in

the Diocese

BY MARY BRAZELL

Holy Week

begins on

10 April this year.

How will your

family mark this

significant time?

Members of the St Patrick's Cathedral

Choir participate in the Tenebrae

service at St Patrick's Cathedral,

Parramatta, during Holy Week 2021.

Image: Diocese of Parramatta.

Since March 2021, the Catholic Church has

been highlighting the role of families in our faith

with Pope Francis launching "Amoris Laetitia

Family" Year.

Now our churches are once again open to all, we've

asked families and those in faith communities from

our Diocese how they prepare for Holy Week, the

traditions they follow and the values they share.

It's all about family during Lent

Gianna Tabone, aged 11, is the youngest of five

children in a family belonging to Mary, Queen of the

Family Parish, Blacktown.

Despite Gianna's youth, she recognises the value

in bringing the family together to celebrate the

traditions of Lent and Holy Week. She explains

how prayer and fasting together slows down and

connects the family when the rest of life is so busy.

"The family that prays together, stays together," she

reminds us.

Lent is a particularly important time in the household,

with the family marking the Stations of the Cross

each Friday and each one giving up a food they

particularly enjoy. To her credit, her mother still

manages to cater to each member and create a great

meal. "Mum always finds a way to 'cook around'

what everyone has given up," says Gianna.

10
---
Palm Sunday

Palm Sunday Mass in the culturally diverse parish of

Holy Family Parish, Emerton, is always full of music.

A well as uplifting music, the Masses also feature

the blessing of the palms and olive branches at the

large white cross at the front of the property, and a

procession through to the church.

In particular, the Tenebrae service, this year held

on 11 April at St Patrick's Cathedral, Parramatta,

enhances his experience of Holy Week. The sombre

but beautiful service features 15 candles which are

gradually extinguished in between psalms, readings,

lamentations and motets. The Cathedral ends up

completely dark, until the 'Christ' candle is brought in.

"It draws me more to the weight and gravity of

the mysteries of Our Lord's Passion, Death and

Resurrection and ultimately His love for me and His

people the Church," says Samuel. "Tenebrae helps

me in prayer and contemplation for the rest of the

Holy Week liturgies."

Young people lead parish in prayer

on Good Friday

Lesina Vete, parishioner of Holy Family Parish, Mt Druitt,

with her family. Image: Supplied.

Lesina Vete, a mother of four from the parish, and her

extended family form one of the multicultural choirs

which will sing during Holy Week this year. Although

it may be exhausting preparing all the music, she

says it is wonderful.

For 30 years, St Bernadette's Parish, Castle Hill, has

been re-enacting the Passion of Christ on the morning

of Good Friday. For Laura Burton, the parish's Youth

Coordinator and Sacramental Coordinator, allowing the

young people and young adults to participate in the

Stations gives them an opportunity to reflect on what it

would have been like to be at Christ's crucifixion.

After Easter Sunday Mass at the parish, the joy of the

Resurrection continues as Lesina and her extended

family come together at her parent's house for a feast

on Easter Sunday with plenty of food and more singing.

Catholic teachers acting as

role models during Lent

At St John Paul II Catholic College, Schofields,

Religious Education and Music teacher Len Lara

ensures that his students are aware of the significance

of each element of Lent and Easter. "I try to model

being more reverent during this season and hope to

inspire the students to do the same too," he says.

Young people and young adults re-enact the Stations of the

Cross on Good Friday at St Bernadette's Parish, Castle Hill.

Image: Supplied.

Year 12 student Maddison Cauchi explains that the

school celebrates a Holy Week liturgy, which focusses

on lighting a candle each day and participating in the

Stations of the Cross. "Easter is a time to glorify, thank,

and worship God for all his sacrifices," she says.

Sorrow leads to joy

In addition to singing spectacular music during Holy Week,

St Patrick's Cathedral Choir Librarian Samuel Verceluz

is honoured to be able to give his gifts and talents back

to Christ during Holy Week by aiding and enhancing the

worship and contemplation of the faithful.

"The Stations are such an impactful moment of prayer

for the parish," she says.

"

The reflections and prayers

between each station help us to

consider our own lives and the

way we show God our love and

faith in

"

Him.

11
---
CATHOLIC EDUCATION

DIOCESE OF PARRAMATTA

Enrolling now

for 2023

Belong.

BE WELCOMED | BE VALUED | BE CONFIDENT

Visit www.parra.catholic.edu.au today to find your local Catholic school and join one of our

caring, faith-filled communities.
---
Laura is particularly moved by Station 4 - When Jesus

meets his mother.

"When Mary walks up to Jesus, pushing her way past

the soldiers, to be with her son in his time of pain, this

really helped put me into the perspective of Mary. How

brave and strong, and trusting in God she would have

had to have been to stand firm in front of her son as he

was in absolute agony, to provide him with a moment of

comfort," she said.

Sisters of Holy Family of Nazareth journeying

alongside Christ

The święconka ("blessings"), or Easter basket, that

is blessed during Holy Saturday at the Our Lady of

Częstochowa Polish War Memorial Chapel in Marayong.

Image: Supplied.

"Easter is the reason for our faith"

Maria and Mick Pastoors from the Parish of Richmond

have three children and during the Lenten season, they

will be welcoming their fourth child.

Maria and Mick try to make Easter as important to

the children as Christmas. The family learn about how

Easter eggs and the Easter bunny symbolise Jesus'

new life through the Resurrection. They read and watch

kid-friendly versions of the Easter story and have a

calendar that counts down the 40 days of Lent with

family prayers.

"

Without Easter, there's no

Mass, there's no faith, no belief

in Christ, which makes us

Christian," Maria says. "Easter,

to me, is the reason for our

"

faith.

At Our Lady of Częstochowa Polish War Memorial Chapel

in Marayong in the days leading to Easter, the decorations,

atmosphere, times of prayer, and cultural traditions are

designed to lead you, with Jesus, from the humiliation of

Holy Thursday to the triumph of Easter Sunday.

Holy Saturday brings crowds of people to the chapel for

the traditional blessing of the święconka ("blessings"),

or Easter basket. The basket contains specific foods

with meaningful symbolism, including a lamb cake for

Jesus as the Lamb of God, eggs for new life, meat

for God's mercy, and cheese as a sign of moderation.

Once the food is blessed in a short prayer service,

families take it home to enjoy on Easter Sunday.

Mick and Maria Pastors from the Parish of Richmond with

their three children. Image: Diocese of Parramatta.

This Easter, like Easter 2021, is a time to reinvigorate

and re-energise our faith, particularly coming after a

long period of restrictions. As of the time of writing,

our Churches are open to all, and parish communities

are preparing a warm welcome to those wishing to

participate in our Easter traditions.

For details on Holy Week services

in the Diocese of Parramatta, go to

catholicoutlook.org/holyweek2022

Parish Priest Fr Ephraim Lam consecrates the Eucharist during

the Easter Vigil for the Chinese Chaplaincy at St Monica's

Parish, North Parramatta. Image: Diocese of Parramatta.

13
---
"Modern slavery exists in our world,

including Australia. This Easter you

can take action.

"

St Bakhita's example

empowering a challenge to

slavery today

STORY SR SOPHIE BOFFA CSFN

The year is 1877. Arab slave traders invade the

Sudanese village of Olgossa. Their practice of

abducting children and forcing them into slavery is

feared. Among the children they seize is a young

eight-year-old girl. The daughter of a respected

village leader, she has lived a carefree life in a loving

family. Her captors force her to walk 950 kilometres

barefoot. She is sold several times along the way and

endures unimaginable punishments and torture. Over

time, she forgets her own name, adopting the name

the slavers call her: Bakhita, or "lucky".

Through the kindness of the prosperous Italian

family to whom she was eventually given, Bakhita

learnt about God and Christianity. She converted

to Catholicism, and entered the convent of the

Canossian Daughters of Charity as Sr Josephine

Bakhita. Bakhita was canonised in 2000. She has

been declared patron saint of South Sudan and

Sudan and of victims of modern slavery and human

trafficking. Her feast day, which is celebrated on 8

February, is also the World Day of Prayer, Reflection

and Action Against Human Trafficking.

Slavery may seem like an archaic or old-fashioned

practice, but it is still a reality for many people

around the world. Deacon John Cinya, who serves

the community of Mary, Queen of the Family Parish,

Blacktown, and who came to Australia as a refugee

from South Sudan, says St Josephine Bakhita's

experience of captivity and slavery is felt by many

in South Sudan. "Children are still forcefully taken

from South Sudan by Arab slave traders, mistreated,

converted to Islam and sold in the north of Sudan,

and their parents and relatives cannot even trace

their location. People work with no pay, are abused,

or are smuggled with the false promise of a good

wage and a good life," he says.

Human trafficking and slavery even touch the

lives of those in Australia. Deacon John identifies

exploitation and slave labour as realities which can

easily go unnoticed. "Some people are paid only

minimal wages, some work cash in hand with no

employment contract, some have no work cover if

they are injured, and young girls are made to work in

the sex industry. This is slavery," he says.

14
---
The International Labour Organisation has

found that almost one in ten children are

involved in child labour worldwide.

Image: Shutterstock.

How can you join the fight

against modern slavery:

Buy slavery-free

chocolate this Easter

It is estimated that there are more than two

million children, many of whom have been

enslaved or are being exploited, working in

the cocoa sector in West Africa where about

70% of the world's cocoa is produced.

This Easter buy chocolates carrying the

labels Fairtrade, Rainforest Alliance or UTZ.

Learn more at acrath.org.au/take-action/

slavery-free-easter/

Visit

the ACRATH website with resources on topics such as

modern slavery, human trafficking, forced marriage,

and domestic servitude at acrath.org.au

Read

the Diocese of Parramatta's own Modern

Slavery Statement at catholicoutlook.info/

DoPModernSlavery .

Listen

to speakers such as those you can

find through ACRATH.

Ask

questions like "Who is making my clothes?" and read

the Ethical Fashion Guide at bit.ly/Ethicalguide .

Pray

to end all modern slavery and human trafficking.

15
---
MAKING TIME

for our mothers

BY CHRISTINA GRETTON

What are your plans for celebrating Mother's Day? Perhaps, as well as gifts

or flowers, it is a chance for reflection on the role of our mothers, including

our spiritual mother, Mary.

David and his mother Sophia. Image: Diocese of Parramatta.

As Mother's Day approaches, we asked two of our

seminarians at Holy Spirit Seminary, Victor Atuhura,

and David Sebastian, and Fr Shinto Francis,

Assistant Priest of St Thomas Aquinas Parish

Springwood, about their mothers and the role that

their spiritual mother, Mary has played in their lives.

Friendship

All three count their mother as a friend.

"The greatest friend," says Victor. "My dearest

friend," says Fr Shinto. They talk about the long

conversations they find themselves having with

their mothers. "We speak for hours," says Victor.

Our first teachers

It's true that our parents are our first teachers, even

before words are said. "Seeing Mum working hard,

being a leader in her field, being attentive to her work

plus my father, sister, and I, which is no easy feat,

mind you, gave me a visual model which I have tried

to embody in my own life," explains David.

Victor's mother used to be a medical nurse in his

home in Uganda where he grew up. When he went to

social events with her as a child, he noticed people

handing her money. One day he asked what the

money was for, and she replied, "Victor, I treat them

in my Clinic on debit. For most of these people it's

on the condition that when they obtain money, they

would pay. Some take months or even years to pay,

but it's not an issue - they pay slowly by slowly. We

are here to serve each other."

"To me, this was the most important love lesson I'd

ever learn," says Victor, "and if I had to define love,

Mom would be it."

16
---
Faith journeys

Their mothers have played an important role

in their journey to priesthood. "I owe my faith

to my mum," says Fr Shinto, explaining that

as well as handling the logistics of getting him

and his three brothers to altar service, she also

prays for their faith.

"It wasn't the externals alone that supported

my faith journey, like taking me to Mass and

confession, altar-serving practices, even carrosaries,"

says David. "It was her hospitality,

welcoming friends and strangers alike into our

home. That showed me the faith in action."

Victor's mother is Anglican (his father is

Catholic), and is his biggest, and at one time

sole, supporter for becoming a Catholic priest.

When the rest of the family were trying to

convince Victor to look at other life careers, his

mother stood by him. "My son, there is nothing

you can offer to God than to lay down your life

for Him and His people. Go for it, if that is what

your heart wants," she told him.

Mary

May is also the time we particularly think about

Mary. All three explain the significant role she

has played in their lives.

"Mary has played such a big role in my own

personal faith journey because she leads me to

her Son," says David. "In moments of hardship

and temptation, the rosary has brought me such

great peace. Totus Tuus." David continues,

"So often our society promotes getting a name

for yourself, pursuing power and status, and

yet Our Lady shows me the humble way, 'be it

done unto me according to thy word'. Mary's

life shows me that none of this is up to me, that

in everything my life should witness to Jesus."

Fr Shinto at his ordination at St Patrick's Cathedral in 2017.

His mother, Alice Francis is on the far left.

Image: Diocese of Parramatta.

Showing our appreciation

What do the seminarians and Fr Shinto

recommend as a great way to show our

appreciation to our mothers this Mother's Day?

All three agree, that while a gift is nice,

nothing is better than spending time with

your mother, showing how you appreciate

everything she does for you, and telling her

how much you love her.

Fr Shinto admitted that he turned to Mary when

feeling anxious about his future. "The statue

of Our Lady of Grace in the (Holy Spirit, Harris

Park) Seminary chapel became a lovely place

for me to pray through her intercession. Mary's

intercession has worked miracles in my life on

multiple occasions."

"Out of all the many qualities of Our Lady, I

admire her perseverance in following God's

will the most. Despite being full of grace, her

journey passed through both 'storms' and

'calms'," he reflects.

Above image: Victor.

Victor's mother Sally.

Image: Supplied.

17
---
"

Choosing your future direction in life is a

big decision. Fr Jack Green reminds us that

we're not alone when deciding our future

and God gives us clues to help us flourish

through our work.

" Should I love my job?

STORY CHRISTINA GRETTON

Fr Jack Green, who until last year was a priest at

Mary, Queen of the Parish, Blacktown, and currently

on study leave, understands making decisions

around your future can be stressful. Plus, he half

jokes, young people right now generally seem

more resistant to locking themselves into long-term

pathways than generations before.

That's not necessarily a bad thing, he says, but if it

creates stress and uncertainty or holds up progress,

it needs to be addressed.

"It's scary, but the reality of life is that to get on in

your life, you have to make some decisions and stick

to them," he says.

"When it's a decision that has a long-term impact,

like your work, there's a lot to think about. Having

some stress indicates how important the decision is.

The good news is that there's a way to deliberately

and intentionally consider your choice. It gives you a

sense of control and can help you feel calmer."

While making decisions usually involves a number of

factors, Fr Jack says the key is to be methodical, and

to remember God's wisdom and love is there for us.

"If we are paying attention, God gives us clues to

what work is suited to each of us, and what He

would like us to do," he says.

"Something I have learned, is that God is not asking

us to play a guessing game," says Fr Jack. "God is

not like that. Instead, He has given us the tools to

make good decisions."

To start with, we need to pay close attention to

the desires that we are drawn to, and to what is

happening around us, he explains. It's a way of

thinking that has been a part of the Catholic Church

since the time of St Augustine, but Fr Jack finds

many Catholics aren't aware of this.

"We need to learn how to listen closely to ourselves

and think about what our desires are telling us about

what we want," he says. "This can be a way of God

guiding us."

Sometimes you may still end up with a number of

conflicting emotions. This is when Fr Jack recommends

tapping into the wisdom we have around us, through

people who have more experience, and who can help

us rank what's most important.

The gift of dignity in work

The great news, says Fr Jack, is that we can have

confidence that God wants us to have work that

enables us to flourish as human beings. And He

wants each of us to find what that is.

"God wants us to work," he says. "Right from

Genesis, we are told about His work creating the

world, and the work He gave Adam and Eve in the

Garden of Eden.

"In this sense, work brings us closer to God. It's part

of the human experience. We find references about

working supporting human dignity, documented

in the scriptures. Popes have also written about it

such as Laboris Exercens, released 40 years ago in

September last year by Pope St John Paul II."

He reassures young people making their first real

decisions about their future careers, that as time

goes by, the decisions made at age 15, 16 or 17

won't determine their whole life.

"The main thing," says Fr Jack, "is to trust that God

is guiding you. Be open to what he is saying."

18
---
Things to remember

• God is with you, and your work is His gift.

When you hand over to God in this way, you

might find new joy in an aspect of your work

you didn't like before.

• Sometimes a job you don't always enjoy

might also be preparing you for your

next step. Be patient.

Fr Jack Green.

Image: Diocese of Parramatta

• You can be a witness to God in

whatever field you work in. How you

carry out your job can demonstrate

your faith when you act with integrity,

kindness and compassion.

• If you really don't know what you

want to do, or what you want seems

unattainable, trust that God has given

you the ability to work it out. Pray. Then

be open to the opportunities you may

start to see.

Image: Unsplash
---
"

Faith and a

flourishing career

If the pandemic has caused you to decide to take action

on your career, there are a few things to consider, says

Linda Reardon, Careers Advisor with Australian

Catholic University.

"

Image: Shutterstock

Linda Reardon, Careers Advisor with ACU, provides

career guidance and support to students on their

career development learning journey.

Linda has worked in higher education for many years.

She enjoys her work and feels a perfect fit at ACU's

campuses at Blacktown and Strathfield. "I was raised a

Catholic and had an opportunity for a short stint at ACU

when I quickly realised I felt at home," she says.

She feels faith can positively impact your relationship

with your work.

"If you have a faith in the overarching forces at

play and feel intuitive that the positive is at play,

it can make a difference to your attitude. I feel

that kind of faith can play a special role in your

work and can help to make things flow with ease.

Having this kind of backup at work can give you an

unwavering confidence and can allow you to be the

best person you can be at work."

20
---
Linda stresses the importance of three things when

choosing a career: having self-awareness, exploring

specific avenues you feel you would be good at through

networks and connections, and being open to exploring

much wider options that may not seem obvious.

Writing down the pros and cons and the reality as to

whether these might be a fit for you is a good starting

point. Working part-time or volunteering in your planned

career also helps you discover what you enjoy and what

you don't. Talking to others helps enormously.

She encourages people to think about where to find

networks, especially through social platforms such as

LinkedIn. "Networking is very important, particularly

because there exists what we refer to as the 'hidden

job market' where around 80 per cent of jobs are

not simply advertised, but rather they are filled when

people are recommended by someone they know or

have worked with," she says.

Networking is more than just knowing people, says Linda.

"We advise our students to form genuine and

thoughtful connections with people and when they

do connect, they should think about it from the

mindset of 'how can I help this person?', rather than

'what can this person do for me?'."

The benefits of finding the right job extend beyond

satisfaction, to boosting your success and those

around you.

"When someone is flourishing in their role, things

will seem to flow more easily," says Linda. "With

less stress to contend with, people are able to apply

creativity and thoughtful consideration to their work."

"People who are flourishing in their role will also

usually have the confidence and drive to go the extra

mile to help someone else within the team or to bring

in new ideas for the team to explore."

Will you

love your

neighbours

as God

loves

you?

Your compassionate gift will enable Catholic Care

" to provide welcoming places for everyone in our

community to come for support, information,

acceptance, or to connect with others and feel loved.

Bishop Vincent Long OFM Conv, Bishop of Parramatta

Please give generously to the

Bishop's Good Samaritan Appeal

yourcatholicfoundation.org.au/appeal-outlook
---
Image: Unsplash

Letting the love of

a marriage spill over

STORY DEBRA VERMEER

22
---
By looking at marriage as something that God

wants for us, we're opening ourselves to new

possibilities of love for ourselves and for others.

"We talk about grace and the opportunity to have

children and grow your family."

When a bride and groom join together in Christian

marriage, they're embarking on more than a pathway

to personal happiness. A loving marriage with God at

the centre will 'spill over' into their family, their friends

and their community.

Looking at it this way, marriage is a way of living

out the love God wants for us. Basing our marriage

on love for others draws us closer to Him, and by

sharing that love, bring others closer as well.

Many people may not see marriage in terms of

being what the Catholic Church calls a 'vocation',

but long-time marriage educators in the Diocese

of Parramatta, Rowena and Angel Penano, say the

word hints at what marriage is all about.

" "

"

It's called a vocation

because it is something you

do not just for yourself, but

for others, out of love,

says Rowena.

"And that is a mirroring of God's love for the world.

It's a thing that helps others."

Joan and Declan Sally are also pre-marriage

educators in the Diocese of Parramatta and say a

healthy marriage is always "evolving and growing".

"The feedback we get is that people love the premarriage

course because it's a chance to talk about

things they might not have heard before, like the

meaning behind the Church's vows and the notion of

entering into marriage freely and wholly – two single

people coming together to form one unity," says Joan.

When a couple in a marriage see themselves in

partnership with God, they can also call on grace

when times get tough, say the marriage educators. It's

something Rowena and Angel found out themselves

and remind new couples of, for when they experience

the inevitable bumpy times in a relationship.

"Our issue came down to different ideas about

finances, which came from different ways of looking at

money in our families of origin. In the end, it was grace

which helped us through, and to remember that we

loved each other. We were able to call on the grace of

the sacrament to strengthen us," says Rowena.

We say that grace is one

of the 'superpowers' of

Catholic marriage,

"

she says.

The educators say it's important for couples to

discuss difficult topics and to have strategies to

deal with and resolve the conflicts that will arise

in any marriage.

"We talk about marriage being a circle of connection,"

says Joan. "It's not only about ourselves, but about

God and others. It's bigger than us."

Marriage preparation courses are held

face-to-face or online throughout the year.

For more information and bookings go to

www.parracatholic.org/pmp or call the MET

Marriage Team on (02) 8838 3460.

Debra Vermeer is a freelance writer.

Keeping the 'we' in marriage

• Stay connected. Find regular time to connect with

each other. It can be as simple as morning and

evening hugs or a phone call through the day.

• Make regular deposits in your marriage account. If

you build up deposits of fondness and admiration, it

will provide a buffer in the hard times.

• Be gentle with each other. Be aware of the language

you use and always try to speak gently and with

respect, especially during an argument.

• Remember the love that brought you together. Your

spouse is your best friend, the person you love. It's very

hard to stay angry when you operate in this mindset.

• Be forward-thinking. Try to understand each other

and identify the pressures that might arise and

positive strategies to respond.

• Live your vocation in your Domestic Church. Allow

your faith practices to enhance your marriage and

support your journey together to eternal life.

23
---
"

Mastering

decision-making

"

Do your children struggle with making good decisions?

When you think about it, it's not easy but there are things

parents can do to build their skills and confidence.

Helen explains, we must allow children to make

wrong choices in order to learn.

"Afterward we might ask them if that was the right

choice? What else could they have done? How they

respond depends on their language skills, maturity

and age."

Learning to make decisions as a preschooler is very

important, say Helen, because once children get to

school, if they're unable to make good choices, it can

lead to genuine struggles and frustration for the child

and their parents. "When they get to school, they

could struggle and fall behind," Helen says.

Helen Camilleri. Image: Diocese of Parramatta.

Helen Camilleri, Early Childhood teacher and

Educational Leader at Ambrose Catholic Early Learning

Centre (CELC) Emerton knows decision-making is

something children learn. "We find some children come

to us still learning to make decisions for themselves and

we assist them to learn how to make decisions. Maybe

they have limited opportunities to do so at home or they

simply aren't confident. We give children guidance in

learning how to make decisions through role modelling.

We also discuss choices, and help children narrow

down their options.

"Decision-making can be overwhelming. Some

children shut down, simply refusing to choose

anything or to engage. We also see some children

who have had limited play-based experiences and

go through the centre like a hurricane, overwhelmed

by too many choices but not wanting to miss out on

any opportunities. I encourage them to sit with me

and role model how each activity works, teach them

how to play and guide them. Then I step back and

encourage them to choose which activity they want

for themselves."

"They need to learn to choose to listen, to take turns,

to participate constructively with their peers before

they reach school. Otherwise, we find they struggle in

a classroom setting, or with making friends, because

they might not share well or make poor choices that

make them harder to play with."

Helen acknowledges parents are busy, and it's often

easier to limit choices for children at home, but home

is the perfect place for children to practise their

decision making.

"An example is when we do a pancake breakfast

every year. The children can choose to have it served

with one of two toppings or plain. That's plenty of

choice for a young child. Something easily replicated

at home."

There are six Catholic Early Learning Centres

operated by Ambrose, an enterprise of

Catholic Diocese of Parramatta Services

Limited supporting families through early years

education as well as 41 school-age out-of-hours

care services in Western Sydney and the Blue

Mountains. Find out more at ambrose.org.au

24
---
Decisions can be overwhelming

for some children.

Image: Diocese of Parramatta.

The Union of Frenchspeaking Africa are blessed with many young men answering the

call to become priests. With ongoing training, they will build the church of the future.

• Over 50 seminarians at various stages

of formation; Pre-Novitiate in Dakar

(Senegal), Pre-Novitiate in Righini (DR

Congo), Novitiate in Kimwenza (DR

Congo), Post-Novitiate in Nkolbisson

(Cameroon)

• Many of the buildings require

maintenance

• Students need money for fares,

accommodation, seminary fees, food,

medicines, books

• Funding from the home Provinces

of the MSC in France and Belgium

is decreasing as church numbers in

Europe diminish

• The African Union does not have the

resources to fully fund formation as

people are still poor.

Faith with a FUTURE in Africa

Enclosed is my gift for Africa

Formation

Cardholder's signature: Card Expiry /

$

Cheque Cash Card

Mr/Mrs/Miss/Dr/Fr/Sr/Br:

Address:

Email:

Postcode:

Phone:

Send to: PO Box 177, Kensington, NSW 1465

www.mscmission.org.au
---
Children at Ambrose Activities at

Santa Sophia Catholic College.

Image: Diocese of Parramatta.

Continuing

learning outside

the school day

STORY CHRISTINA GRETTON

Mabel Osei. Image: Diocese of Parramatta

Ever wondered about the real value of your

children's after-school activities? The new

team behind Ambrose Activities explains what

they add to a child's development.

Raine is in Year One at the recently-opened Santa

Sophia Catholic College, Box Hill. She is putting the

finishing touches to the picture she has just drawn

in her first art class at Ambrose Activities. She tells

me that before the classes, she didn't know she was

good at art. Her class is held in the school's spacious

art rooms and the art of the senior students is hung

on the walls. She looks at their paintings and asks,

"Who did that?" When I tell her it was done by the

older students at her school she declares: "I want to

paint like that too."

Being inspired by others is only one of the benefits

that the team behind Ambrose Activities points

to when discussing the value of extra-curricular

activities for children's development. Currently, three

Ambrose Activities centres operate 'masterclasses'

like basketball, art and cooking classes as part

of their after-school care programs at schools

in the Diocese of Parramatta. Masterclasses are

schoolteacher-led activities extending the traditional

after-school care program in Ambrose services.

Mabel Osei is the Senior Manager of school-age care

at Ambrose. "Extra-curricular activities encourage

children to develop passion and interests for things

they wouldn't normally do," she says. She finds

children are often in tune with what they are good

26
---
at, sometimes more than parents may realise. Being

able to do something they want to do and enjoy can

build a child's self-esteem, says Mabel.

At Ambrose Activities, the ideas for the programs

comes from the children themselves.

"Giving children a voice in what they want to learn

builds their confidence. It's something they can take

with them to high school and university,"

Mabel says.

She has seen very quiet children start to talk more,

once they realise their opinions are heard and valued.

Children develop other social skills from masterclass

activities as well. "There are a lot of studies that show

children who engage in after-school activities have

higher levels of social skills," explains Mabel. She gives

the example of sport. Not only does it teach hand-eye

coordination, but also provides the setting to learn

about winning and losing. Mabel has found some

children really struggle with this important concept at

first, but over time learn to cope with their feelings.

Being in a group of mixed ages, which is common

in extra-curricular activities, also develops a child's

social skills and, like Raine and her artistic ambitions,

can give them a goal to aim for. "Older children can

take on a mentoring role with younger children too,"

says Mabel.

"

Older children can take on a

mentoring role with younger

children

"

too

Ambrose is a social enterprise of the Diocese, and

operates six early learning and 41 out-of-hours

primary school centres as part of Catholic Diocese

of Parramatta Services Limited. Ambrose Activities

currently operates at St Luke's Catholic College,

Marsden Park, Santa Sophia Catholic College, Box

Hill and St Madeleine's Primary School, Kenthurst.

For more information about Ambrose, go to

ambrose.org.au

Raine. Image Diocese of Parramatta.

Choosing extra-curricular activities

Raine (right) and Penelope show their art.

Image: Diocese of Parramatta.

• Listen to what your child says they would

like to do. This is their chance to be heard

and make choices.

• If your child seems to enjoy or be skilled

in a particular area, consider what

activities they might enjoy and may help

grow their confidence and self-esteem

• Think about the social skills your child

may need to develop. Perhaps they might

need to make new friends outside of

school, or get more practice in winning

and losing.

• Ensure it's fun!

27
---
Gavin Hays (right) with Marian Catholic

College school captains Ryan Muscat

and Olivia Tesoriero.

Image: CEDP.

Lenten reflections

from a new school leader

BY DR GAVIN HAYS PHD

28
---
Lent provides an opportunity for reflection

and preparation, leading us to gain insight and

perspective in our lives. Ash Wednesday marked my

first 40 days as the new Principal at Marian Catholic

College Kenthurst, giving a unique opportunity to

reflect on what has transpired so far.

In 40 days, I have needed to navigate a frequently

changing landscape in response to COVID, provide

guidance and support to my community impacted by

the recent floods and respond innovatively to current

workforce shortages facing the teaching profession.

Yet the opportunity to reflect has highlighted the

honour and privilege it is to be a school Principal.

Previous leadership experience and completing a

PhD as the father of four young children provided

some insight into the complexities of such a key role

in a community. Yet I have found myself schooled by

the realities of the role and the lessons I take from

this each day.

To be welcomed into the life of my community and

have the opportunity to inspire students to recognise

their talents and empower them to continually strive

to be the best people they can be is a gift. The key

messages to my students so far have been of grit,

perseverance and resilience in facing adversity.

Now I realise I am practising

what I preach!

As I reflect on my journey there have been three key

areas that have helped me build connection and

respond to these extraordinary times: presence,

principles and partnerships.

Presence

Critical in the first 40 days of leadership has been

establishing a visible presence. This not only lets

students know who you are, but also allows you to

understand all the intricacies of your community. I

have always been a leader who rolls up my sleeves

and leads by example.

However, the opportunity to be present in the

classroom or playground and talk to students and

staff has allowed me to ask genuine questions

of why we do things and gain a valuable insight

into our school culture. Without realising, I have

accelerated my understanding of the school

community, and this allowed me to respond

appropriately to the challenges faced so far.

Principles

The opportunity to think about and communicate your

key messages through communications across social

media, letters to the community, assemblies and in

professional learning have been a crucial component of

making a positive start to the first 40 days.

The constant articulation of the values that underpin

my vision have also supported my decision-making

as a leader and fostered greater collective buy-in

from staff, students and parents. I have found the

use of stories a significant asset in helping people

share the vision and then make connections to their

lives and how they can be agents for change.

Partnerships

In faith, we are never alone – I feel truly blessed in the

support of our Catholic community. Whether through

the pastoral leadership of our Parish Priest Fr Vincent

Savarimuthu or walking with parents and carers, this

companionship makes for a better journey.

The passionate and inspiring staff that I work with each

day who are responsible for supporting the growth

of all students are a source of constant support and

partnership. I am constantly amazed at their dedication,

professionalism and community spirit.

I am always amazed at the generosity of my fellow

Principals in providing time, support and advice.

In the midst of responding to their own complex

environments and facing the same challenges in their

communities they are always willing to reach out,

connect and ensure that I feel supported.

As people of faith, we live in hope. Hope is a powerful

force that keeps us striving for each other and

ourselves. It is the notion that what we experience in

the now, even how overwhelming, always leads to a

better tomorrow.

Dr Gavin Hays PhD is the Principal of Marian

Catholic College, Kenthurst. Prior to commencing

in this role, Gavin previously worked as Head of

Contemporary Learning and Research at Catholic

Education Diocese of Parramatta and served as

Assistant Principal at Parramatta Marist High.

29
---
"

News

Human fraternity, compassion

and community.

"

from the Catholic

Education Diocese of

Parramatta Mission Team

STORY CATHOLIC EDUCATION DIOCESE OF PARRAMATTA

With 80 schools across Western Sydney and the

Blue Mountains, Catholic Education Diocese of

Parramatta nurtures more than 43,000 children and

young people to grow in learning and faith each year.

A dedicated faith-filled group of educators work

together as a Mission Team to develop partnerships

with school communities and diocesan agencies at

every level; listening and learning from each other.

In 2022, the CEDP Mission Team has an exciting

new model of working which has been created

to develop a synodal approach to their work.

"The time has come for us to implement decisively

[a] participatory, inclusive and collaborative

model in our diocesan and parish structures....

a new culture of humility, accountability and

service. It is not a top-down and centralised

approach … Rather, it is a synodal church at

every level, with everyone listening to each

other, learning from each other and taking

responsibility for proclaiming the Gospel."

Most Reverend Vincent Long Van Nguyen OFM Conv

Picture: Members of the Catholic Education Diocese of

Parramatta Mission Team (front row L-R) Amanda Bentley,

Monica Officer, Tania Melki and Lyn Taye and (back row

L-R) Mark Smith, Daniel Petrie, Nehme Khattar and Andrew

Wilson. Image: Diocese of Parramatta

Through humility, accountability and service,

in 2022 the Mission Team aims to grow in their

accompaniment of others for the work of Mission

within the Diocese of Parramatta.

Supporting the vision of Bishop Vincent Long for

Catholic education in the Diocese of Parramatta, the

Mission Team focuses on accompanying students,

schools and staff. This includes opportunities for

Professional Learning in Scripture, pedagogy,

curriculum and theology; formation for school and

office staff; religious leadership and Catholic identity.

As the community would expect, there is also a

strong focus on providing meaningful social justice

opportunities including through support of the work

of Catholic Mission, the St Vincent de Paul Society,

Caritas Australia and other Catholic agencies and

organisations with a strong local presence such as

Jesuit Refugee Services and the House of Welcome.

Quality professional learning and resource development

is a vital component of ensuring the ongoing high

standard of Religious Education in local Schools. To

create professional learning opportunities for staff, the

Mission Team will continue to develop partnerships with

academic experts and institutions.

30
---
Director of Mission Monica Officer is passionate

about providing her colleagues with opportunities to

develop both spiritually and academically.

"We want every child and

every colleague to grow in

understanding of the Catholic

faith through belonging to our

communities," Monica said.

"Opportunities for spiritual development are also

an important aspect of the way that we accompany

students and staff in their journey of flourishing by

providing high quality resources and programs for

staff that promote encounter with the Holy Spirit

and enable deep listening with the ears of the heart."

The CEDP Mission Team is committed to developing

Religious Leadership in local schools through

engagement with staff at all stages of their service

from beginning teachers to Principals. Religious

Education Coordinators have a special role to play in

supporting the faith lives of their communities.

In 2022, the Mission Team will aim to continue

to help build the Catholic identity of our learning

communities across Western Sydney and the Blue

Mountains through ongoing encounters and dialogue

with their rich traditions and diversity.

It is the purpose of the 2022 Mission Team to support

the vision of Bishop Vincent, that all students will

come to know Jesus, to love his teachings and to

follow in his footsteps. They will seek opportunities

to engage with Diocesan agencies and parish

communities in supporting students across Western

Sydney and the Blue Mountains to grow in faith,

learning and flourish.

Members of the Catholic Education Diocese of Parramatta Mission Team Daniel Petrie

and Amanda Bentley set up a sacred space. Image: Diocese of Parramatta

31
---
Sunset view of boat on Sea of Galilee. Image: Shutterstock.
---
Looking Deeper

Looking deeper

The following articles encourage deeper reflection,

prayer and personal learning.
---
Looking Deeper

Mary:

Exemplar of Faith

BY DR DEBRA A SNODDY

Mary's responsive faith and active faithfulness to the

Word exemplify a theology of discipleship. It is the

appropriate response to the Word of God, revealed

in Jesus. The phrases "responsive faith" and "active

faithfulness" are from the work of Yves Congar, one of

the Fathers of the Second Vatican Council. But what

do "responsive faith" and "active faithfulness" mean?

The answer to this question is rooted in the Bible.

The Bible is God's Word, God's dialogue with

humanity. However, the Word must be received

and welcomed (2 Cor 9:3), so that, "the Word of

God serves to create a relationship: the religious

relationship which takes root in us through faith"

(Congar).

Our deepest encounter with Mary, happens in the

work of the evangelist Luke. In his Gospel, Mary

hears and listens to God's messenger, Gabriel.

She responds fully and authentically and is open to

participate in the miracle of the Incarnation. At first

afraid, she overcomes her fear to respond, "'Here am

I, the servant of the Lord; let it be with me according

to your word'" (NRSV: Luke 1:38). In the poverty of her

position and the humility of her response, she faithfully

hands everything she is over to God. By so doing,

by saying "yes" to God's invitation, she becomes the

mother of the Christ of God and begins the process of

bringing God's reign to earth.

The Magnificat (Luke 1:46-55) further

demonstrates her ongoing dialogue with God and

the scriptures. What she had said to Gabriel at the

Annunciation is unfolded in greater detail here.

For now, we will focus on only one aspect of this

marvellous hymn of praise, Mary as the voice of the

anawim, meaning "poor ones".

In her world, poverty and the oppression of the anawim

were the daily lot of the poor in Galilee. The threat of

starvation was never far from their door. A Nazarene

herself, betrothed to an artisan, but now pregnant

before they come to live together, her situation is one

of great peril. She would have fully understood this,

but instead of hiding away, she voices her confidence

in God her Saviour for the things God has done for her,

and through her for all humanity.

Her faith in God and the power of God's Word

has transformed her experience of reality. The

threats of poverty and oppression have not

magically disappeared, but for her they have been

transformed. She sings of the confidence she has

that her Son will bring about the Kingdom of God,

offering hope and redemption to God's anawim.

It seems then, that the discipleship embodied

by Mary asks those of us who follow after her,

to do as she did. We must overcome our fears,

our hesitations and say yes to God's invitation

to participate in the continuing work to make the

reign of God real in our time and place, to help the

anawim of our world.

In Luke 2:19 we hear that, "… Mary treasured

all these words and pondered them in her heart".

May we too, find room in our hearts to ponder the

treasure of our Mother Mary.

Dr Debra A Snoddy is a Lecturer in

Biblical Studies at the Catholic Institute of Sydney.

34
---
Image: Magnificat Br Michael O'Neill McGrath, OSFS
---
Mary pondered all

these things in her heart

(Luke 2:19)

BY DR LAURIE WOODS

Image: Annunciation by Ivanka Demchuk

Luke follows his description of the unexpected visit

of the Bethlehem shepherds to the newborn Jesus

with the words, "Mary pondered all these things

in her heart." The Greek word that Luke chose for

'ponder' means to toss things around and compare

them in order to put the pieces together and arrive

at a satisfactory interpretation. In the culture of

ancient Israel, the heart was seen as the centre of

thought, mind and intellect. Thoughts, emotions and

impressions are carefully weighed and frequently

revisited in the process of pondering.

In the wisdom tradition of Israel, it was the wise who

stored up events, words and experiences in their

heart to reflect on them so they might learn from

them and continue to walk in the way of wisdom.

Is there a mother who does not think her baby

is special? In this case, Mary had experienced a

revelation outside herself and her own imagination

that her child was unique and in some mysterious

way the 'Son of the Most High'. She has to take this

in and process it along with all the things that had

happened to her since she conceived. And just now

she had been visited by some shepherds who were

also acting on a revelation that this baby was to grow

and become a saviour to Israel. How could these

lowly rough diamonds be aware of her baby boy?

The unexpected arrival of the shepherds, the witness

they bore of their spiritual experience and the

testimony of their homage had a profound impact on

this young mother as her heart and mind opened to

36
---
Looking Deeper

the poetry of faith and deep trust laid out before her

– another sign of the faithful hand of God. Struck with

the reality of the glory of the Lord, she saw in these

shepherds a living example of how the poor and

lowly have the good news brought to them.

Night falls and she lays her baby down to sleep and

then settles down herself in the dark beside Joseph to

drift into sleep. But she cannot help going over all these

events in her own quiet time and pondering them in her

inner self. One day the pieces may fit. For now, there is

only letting go to trust in the Divine Presence.

Luke presents Mary as a model of mindfulness,

carefully taking time to engage in deep listening so

she can discern with wisdom and arrive at some

understanding of the life-changing experiences

associated with giving birth and nurturing a newborn.

She is unaware of the storms she will be asked to

walk through, but her muted pondering will shape the

course of her ongoing trust and endurance.

We are witnessing a young woman of maturity whose

inner silence is at peace with all she has felt and

witnessed. She knows she is not alone. With the

support and loving companionship of Joseph, she is

confident that the next phase of her life will unfold in

its own time, in keeping with the divine plan.

Mary exemplifies the level of awareness and

reflection that promotes sound mental health. She

is engaged in deep listening, which her adult son

referred to as bringing rest for the soul or, to copy his

Aramaic phrase more accurately, profound calm in

one's inmost being, where there is no hint of anxiety

or psychic restlessness.

Like Mary, we can choose to abandon perfectionism

and the need for control, and practise letting go. Going

calmly with acceptance and trust is a matter of choice.

Dr Laurie Woods is a retired senior lecturer in Biblical

Studies from the Australian Catholic University and

currently conducts teacher inservice sessions and

parish reflection days. He lives in the Diocese of

Parramatta and is a member of Our Lady of the Nativity

Parish, Lawson.
---
Looking Deeper

Letting go with Mary

"

It's good to remind ourselves that Mary, the first

disciple, played such a crucial role in setting

Jesus "'free'.

BY BR MARK O'CONNOR FMS

Our vocation, as Christians, is also to set people

free in the way of Mary.

Mary had to constantly 'let go' in her life of faith and

surrender to the surprising paths where the Spirit

took her.

So do we, for our entire lives are likewise all about

learning to 'let go' and allowing the Spirit lead us to

'places' where we sometimes would prefer not to go.

As we journey through life, we hopefully learn as

Gabriel Daly OSA observes "that the world is not

simply there for our convenience and that, although

we are stars in our own drama, we have mere walkon

parts in the dramas of others. We go through the

alienating experience of adolescence, the leaving

of home, the loss of friends. And so it goes on, with

each crisis inflicting lacerations and bruises which

combine to make an average life both an exercise in

survival and an adventure story."

If, however, we can't surrender and 'let go' as

Gabriel Daly suggests, then the risk is that we

become people who try to control others. Often, we

can end up suffocating those we love with what we

think is best for them!

Nothing is more destructive of the Gospel than that!

For so many people are alienated in our Church and

families when the 'control freak' part of each of us

forgets Pope Francis's wise advice:

"we are called to form consciences,

not replace them."

We all know that when we experience

possessiveness in any relationship, it is a sign that

our 'needs' are predominating and not the authentic

good of the other.

38
---
How different must have been the relationship

between Jesus and Mary! As John Haughey SJ

points out in his study, The Conspiracy of God,

Mary must have played an enormously important

role in forming Jesus to become the free human

person he was.

Fr Haughey argues that the significance of the

virginity of Mary may pale in importance by

comparison with her ability to accept the complete

otherness of her Son, Jesus, without erasing any of

His uniqueness that she could not fully understand.

Luke, the Evangelist, speaks of Mary's capacity for

pondering events and others' words. She makes

room in her heart for the words of others, especially

angels who speak of unexpected things. She

receives them in their otherness.

Having made room in her heart and mind for

that which is other, she accepts that which is

incomprehensible to her, and the Word of God

becomes incarnate in her womb.

So, even before the full presence of God as 'Abba'

could be experienced by the earthly Jesus, there

had to be a capacity in Jesus for relationship, if He

was truly a full human being.

Surely, it was Mary's freeing non-possessive love that

gave Jesus the relational space to grow and be fully

present to others in their deep need and suffering.

Jesus, as the 'fruit of the womb' of Mary, was able

to fully love others with such compassion precisely

because His sacred heart was set free by Mary.

No wonder Jesus urged His disciples to "love one

another." For without such love, we can miss the

point. This is the mission of the Church—to form

people as Mary did Jesus, in a love that liberates

the heart rather than imprisons it.

In a certain sense, to follow the example of Mary in

'letting go' is to disappear whenever appropriate. In

the Christian idiom, 'disappearance' does not mean

failure or proof that something must have gone

wrong. It has always been necessary so that the

Spirit may come.

Unless our discipleship of Jesus is grounded in a

love that is non-possessive like Mary's, it will not

bring new life to others.

With the poet Cecil Day Lewis, reflecting on his

relationship with his adolescent son, such a Marial

love discovers that:

Nuestra Señora de las Sandias by William Hart McNichols

frbillmcnichols-sacredimages.com

Mary, pray for us and help us to

"

let go and

let God.

"

"Selfhood begins with a walking away, and love is

proved in the letting go."

Br Mark O'Connor FMS is the Vicar for Communications

in the Diocese of Parramatta.

39
---
Mary's visit to Elizabeth

An inspiration to those

who care

BY MARY BRAZELL

"There have been times where, because family

members aren't able to visit patients, patients will

want to cling to you and ask you to stay a bit longer,

because they have no one to talk to and no one to

see them," Sr Rita says.

"We try and do as much as we can to support them

emotionally and spiritually, as well as reassuring

their families that their loved ones are cared for.

"This is what we are called to do as chaplains. We

are called to journey with people, meet them where

they are and be Christ for that person."

Mary visited her pregnant cousin Elizabeth

without hesitation, despite being pregnant

herself. Chaplain Sr Rita Apura draws on the

example of this selfless act in her own work

with the ill at Blacktown Hospital.

Sr Rita Apura from the Congregation of the Sisters

of the Holy Family of Nazareth is a chaplain for

Catholic Care Western Sydney and the Blue

Mountains, who has been in pastoral care ministry

for over seven years. She is currently based at

Blacktown Hospital.

Windsock Visitation by Br Mickey McGrath, OSFS.

© Michael O'Neill McGrath, OSFS www.bromickeymcgrath.com

Sr Rita credits Mary as a model for her own

visits to patients.

"Mother Mary was always there, through the joys

and struggles of life," she says.

"When Mary heard that her cousin Elizabeth was

pregnant, even though she was pregnant herself,

she went to visit her. She didn't wait to be asked

and stayed there for months.

"Most of the patients I visit are a bit like Elizabeth

who were surprised and overjoyed at the visitation

of Mary. The visits are often unique. They tell me

how lucky they feel to be visited.

40
---
"Some people may not understand what a

chaplain is or what they do, but I hope that

my visits broaden their faith experience,

even if it's just being still and present with

the patient and to listen to them as much

as possible.

"

I also gain comfort in

reading the Scriptures,

especially stories of women

in Scripture and how God

gives them support. It

really shows me that I am

not alone.

"

Sr Rita Apura csfn. Image: Diocese of Parramatta

Have you been considering

broadening your faith

understanding?

Wondering where to next in your pastoral activities?

What paths study may lead to?

• Many tertiary theological degrees to choose from

• Small class sizes and quality of lecturers ensure a personalised learning experience

• Classes can be audited (attended without completing assessment)

• Government assistance for tuition fees is available to eligible students

For more information contact us on:

T: 02 9752 9500 I e: registrar@cis.catholic.edu.au

or visit our website: www.cis.catholic.edu.au

CIS is a Partner Institution of the University of Notre Dame, Australia

99 Albert Road, Strathfield NSW 2135
---
Images: Diocese of Parramatta

A cuppa with the priest

Fr Henry Huu Duc Tran

Our Lady of Lourdes, Seven Hills

STORY CHRISTINA GRETTON

While pandemic restrictions replaced a 'cuppa' with

a chat over the phone, Fr Henry Huu Duc Tran, Parish

Priest of Our Lady of Lourdes, Seven Hills, revealed

that Mary has walked beside him throughout his life.

Now, he rejoices in seeing the impact faith in Mary

can have on the lives of others.

As a young boy in Vietnam, as a prisoner in

Cambodia for running away from the Communist

Vietnam, or as a refugee in a Thai refugee camp, Fr

Henry could never have imagined that he would

one day be a parish priest in Australia.

He started life on an island village in Vietnam. His

first memories are of the simple routines of village

life, including prayers at the village shrine to Mary

each morning and evening. Even the Buddhists of

the village would pray to Mary alongside the Catholic

families. "They believe she is a powerful intercessor,

generous and good," he says.

Mary is special to Vietnamese people, explains

Fr Henry. In 1798, a group of Vietnamese Catholics

who were fleeing persecution in the forests of La

Vang, saw an apparition of Our Lady. Catholicism

had come to Vietnam in the 1600s, but Vietnamese

Catholics over the following centuries endured

42
---
vicious persecution by their rulers. Those who saw

her in the forest that day said Mary reassured them

their prayers were being heard. Since then, Our

Lady of La Vang has been an important figure in the

Vietnamese Catholic Church.

"

Over two hundred years later, 12-year-old Henry was

encouraged by the priests and nuns of his village

to attend a seminary school on the mainland. He

remembers the sadness each time he had to say

goodbye to his mother as she saw him off on the

boat that would take him back to school. "I would

imagine her going to the markets after she dropped

me off," he says, comforting himself with familiar

memories of her until he would see her again.

"

Mary is special to Vietnamese

people, explains Fr Henry

Parish Priest Fr Henry Tran (front row second left) poses

with members of the parish's Lourdes Young Adults group.

Image: Supplied.

imprisoned. Alone, in prison, removed from those he

loved, and thinking this was possibly the end of his

life, he remembers that all he could do was put his

faith in God. After a lucky escape on a boat out of

Cambodia (which he is eternally grateful to a good

friend for) he ended up in a refugee camp in Thailand,

then finally Australia where he returned to his studies

to become a priest.

In the mid-2000s, he was Assistant Priest at Holy Trinity

Parish, Granville, before becoming Administrator at Our

Lady of Lourdes (OLOL), Seven Hills. When Monsignor

John Boyle, then Parish Priest at OLOL, was appointed

to St Bernadette's in Castle Hill, Bishop Manning

appointed Fr Henry as Parish Priest in 2006.

He thrived at the seminary school. "Study is

something I longed for my whole life," he explains.

Sadly, within a few years, his training for the

priesthood was interrupted by the political unrest

in Vietnam and the war between the Khmer Rouge

and the Vietnamese Communists. The seminary

was closed, and the seminarians forced to work

as manual laborers. Those who could, including

Fr Henry, secretly studied at night, again, like

their predecessors in past centuries, in fear of

persecution. He acknowledges how tough this

was. Today, he is grateful for the experience. "It

built my character and made me stronger and more

determined," he says.

Fr Henry was unwillingly recruited to fight the

war with the Khmer Rouge by the Communists.

He escaped to Cambodia and at one point was

"I couldn't believe it," says Fr Henry, still in the role

16 years later, amazed at how his life has played

out and seemingly come full circle. "Our Lady of

Lourdes always reminds me of the grotto in my

village where my family used to pray."

Today, he urges parishioners to consider how the

Gospel translates to contemporary life. He writes

excerpts from his own experience in the OLOL Parish

Bulletin. "We need to reflect on scriptures from our

own personal experience, and how our story is a

living witness to God's providence," he explains.

Today, several families are blessed with children after

praying for the intercession of Mary at the Church.

"Mary is generous, a good mother and really answers

people's prayers," he adds, although clarifying: "Our

Lady doesn't really care about where we pray, as

long as she has a place in people's hearts."

43
---
Our Lady of Lourdes Parish,

Seven Hills

" "

Inspired both by the humility of their parish priest and by their

patron saint, Our Lady of Lourdes

STORY MARY BRAZELL

Our Lady of Lourdes Parish, Seven Hills has

a thriving community across all age groups.

Support for each other is at the core of what

they do, inspired both by the humility of their

parish priest and by their patron saint, Our

Lady of Lourdes.

Laura Bellissimo has attended Our Lady of Lourdes

Parish (OLOL), Seven Hills, since she was a child.

She attended the local primary school and was an

altar server at her Year 6 Graduation Mass.

Then, as a young adult, she moved out of the local area

with her family but returns each week to the parish.

What makes her drive down the highway to Seven

Hills each week?

"It's my home and they're my second family,"

she says.

"Our parish has this feeling that you belong. It's lovely

that parishioners will recognise if you weren't at Mass.

They'll ask if you're doing ok. There's genuine concern

and consideration for one another."

44
---
'Still a wonderful place to pray and stay'

The Lourdes Over-50's group celebrated its 24th

year in August 2021 but were unable to meet in

person during lockdown. Long-term parishioners

John and Mary Jordan helped to form the group as

an opportunity for older parishioners to get together.

"It was a way to gather our friends in the one spot,

because if you went from house to house, you'd

never be at home," they explain.

They kept in touch, ready to meet again when

restrictions eased because, "it's important to be

able to get together again," says John.

He was also involved with introducing the ministry

of welcomers to the parish, which he says has made

a huge difference as he gets to know new people.

"During lockdown, it was quite lovely to still keep

in touch with parishioners through emails and

phone calls. It's such a nice feeling to belong to

the community."

Fr Henry 'makes us better humans'

The parishioners feel lucky to have had Fr Henry

Huu Duc Tran as their parish priest for 16 years.

"Fr Henry is very giving with his time and energy,"

Youth Coordinator Sarah Lenthall says. "You can tell

he loves his parishioners and this community."

Laura says, "Like Jesus, Fr Henry likes to be among

the community, among the people. He has a great

connection with everybody in the community,

from the school to the young adults and the older

parishioners. He's very humble and very authentic."

Ian adds, "Fr Henry is an inspiration on how to live

our lives through his lived experiences and his story

as a refugee coming to Australia. He has inspired

and supported the faith journeys of so many of our

young people."

Marian presence 'omnipresent' in

parish community

The parishioners have a strong sense of Mary

being present in their parish, both with organised

Marian-themed liturgy and prayer groups, but also

through the active and purposeful involvement of

the parishioners.

Members of the Our Lady of Lourdes Parish team (L-R)

Sacramental Coordinator Artelle Lenthall, Parish Secretary

Alison Lette, Youth Coordinator Sarah Lenthall, Parish

Secretary Erika Hien, Parish Priest Fr Henry Tran and

Accounts Officer Kim Dang. Image: Supplied.

The Lourdes Young Adult group, which meets every

second Friday of the month, gathers young people

from the local area and beyond. After sharing a

meal together, the group will then delve into topics

ranging from mental health, climate change and

interfaith dialogue from a faith-based perspective.

The young adults in the community have a passion

for social justice, which is showcased in their

involvement in the St Vincent de Paul Society's

Community Sleepout, as well as hosting a food

drive with their Islamic neighbours during Ramadan.

"The whole parish is united in social justice

activities," youth team member Ian Epondulan

explains. "It's a witness to their faith that a lot of our

parish is very passionate about social justice."

Parish Secretary Alison Lette describes the strong

teamwork in the parish. "Everyone is willing to help

out one another at any time," she says.

Says Laura, "I feel that seeing so many women

volunteering in our church, as well as those

who work for the church, somehow reflects her

presence. Like Mary, they too have said 'yes' to this

calling of ministry.

"Mother Mary and Our Lady of Lourdes has

definitely worked wonders in the women and the

young girls in our community."

CatholicOutlook Magazine

congratulates Our Lady of

Lourdes Parish for celebrating

their 60th Diamond Jubilee on

13 February 2022. We pray that

Our Lady of Lourdes continues

to fill the parish with grace.

45
---
Classifieds

To place your ad in Catholic Outlook and reach over 43,000

families in Western Sydney and the Blue Mountains contact

Christina Gretton at comms@parracatholic.org
---
Appearance of Christ by Ukrainian

artist Ivanka Demchuk.

POPE FRANCIS'

Prayer for Peace

Lord God of peace, hear our prayer!

We have tried so many times and over so many years to resolve our conflicts by our own powers

and by the force of our arms. How many moments of hostility and darkness have we experienced;

how much blood has been shed; how many lives have been shattered; how many hopes have been

buried… But our efforts have been in vain.

Now, Lord, come to our aid! Grant us peace, teach us peace; guide our steps in the way of peace.

Open our eyes and our hearts, and give us the courage to say: 'Never again war!'; 'With war

everything is lost'. Instill in our hearts the courage to take concrete steps to achieve peace.

Amen.

47
---
Love your neighbours

as God loves you

BY PARRAMATTA CATHOLIC FOUNDATION

Blue Mountains residents and Catholic Care

clients Robyn and Peter Lewis.

Image: Diocese of Parramatta
---
Peter and Robyn Lewis first turned to Catholic Care

Western Sydney and the Blue Mountains in 2014, in

desperate need of support and community.

"In 2013 I was very unwell," recalls Peter.

"I continued to work even though I was ill but when

the bushfires came to the Blue Mountains everything

we owned was destroyed, and it escalated the

problems with my health.

"I was lucky and 12 months later I received a double

lung transplant, but by the time I came out of hospital,

we were effectively homeless while our house was

being rebuilt. Throughout the process of trying to get

our lives back together and dealing with the trauma of

my donor family, I had become very anxious and was

not coping well. I realised I needed help."

While trying to recover from his surgery, Peter and

Robyn were forced to leave their neighbourhood while

their house was rebuilt. Community means so much

to them, and now they'd lost their neighbours and the

stability of their town as well as their beloved home.

Around this time, Catholic Care set up a drop-in

centre in Springwood to support the community and

families who were impacted by the devastating fires,

and Peter started talking with a counsellor there.

"I was seeing Michelle and she helped

tremendously. She gave me tools to use when I get

stressed and experience anxiety. I apply them as

best I can, and they help me a lot."

When bushfires again impacted the Blue Mountains

in 2019, fortunately, Peter and Robyn's rebuilt

home was left intact. However, Peter experienced

numerous flashbacks after weeks of watching the

fire front approach. Thanks to the support of our

counsellors, he was once again able to manage his

anxiety attacks and reduce his stress levels.

"I'm very appreciative of what Catholic Care has

done for me. They helped me cope better with my

life and I can always go in or call there to talk to

somebody if I need to."

While many social services have moved online due to

the pandemic, Catholic Care is continuing to expand

their community activities to give people more

opportunities to safely gather face-to-face for vital

social interaction.

Manager of Community Engagement, Celia Vagg,

explains the importance of this approach.

"Catholic Care's community centres are a lifeline for

a lot of people, particularly those who are lonely and

isolated, or find it hard to connect with others. They're

safe places where people can come to and connect

with us and our volunteers, over time, at their own

pace. Our overarching organisational value is

" "

we embrace every journey

with gratitude and love

God calls us to show unconditional love to our

neighbours with acts of Christian compassion, just

as the Good Samaritan in Jesus' parable stopped to

help a man who'd been robbed, beaten and ignored

by other passers-by, who simply kept walking,

refusing to help.

As Christians, we affirm our beliefs through our

actions in our daily lives. With a compassionate gift

today, you can help Catholic Care to continue the

vital support given to people like Peter and Robyn,

whenever they need it, across Western Sydney and

the Blue Mountains.

Drop-in to Catholic Care

www.ccss.org.au

or call (02) 8843 2500

To donate, please call

(02) 8838 3482 or visit

yourcatholicfoundation.org.

au/appeal-neighbours

49
---
Read it

Gospel Reflections:

Becoming More

Fully Human

Listen, Watch,

Read, Think

Music, movies, books

and podcasts for the

coming months.

During the extended

COVID-19 lockdown

that gripped NSW

in 2021, Monsignor

Tony Doherty delivered a series of podcasts on the

Sunday Gospels for the parishioners of St Joseph's,

Neutral Bay. This book offers these podcasts in written

form, accompanied by the relevant Gospel readings, a

simple guide on reading the Gospels, some fascinating

information about the Gospel writers themselves, and

intriguing references for further reading. You will find each

reflection listed under its own heading, such as "The

Stories which Shape Us", "Why am I still a Catholic?", and

"The Plenary Council". The reflections are exceptional; in

his usual way, Tony has combined powerful depth with

simplicity and relevance, aligning the Gospel messages

with our current reality.

The book is available for $25 by contacting

tdoherty.magdalene@bigpond.com.

All proceeds from book sales go to the Brigidine Asylum

Seekers Centre in Melbourne, which provides hospitality,

friendship, and practical sustenance to people seeking

asylum in Australia.

Melbourne Catholic singer-songwriter Alyssa Agius.

Image: Diocese of Parramatta.
---
A scene from Belfast.

Image: Universal Pictures International Australasia.

Watch it

Belfast

Award-winning, and nominated for an Oscar, Belfast

is the story of a protestant family in Northern Ireland

in 1969. It's the year the 'Troubles' started: a period

of intense tension and violence between Catholics

and Protestants. The movie is made from the point

of view of nine-year-old Buddy, based on writer and

director Kenneth Branagh's own experience as a child

growing up in Belfast. As reviewed by Catholic News

Service, Belfast is a "sensitive exploration of the plight

of decent people surrounded by malignant bigotry". It

also explores and highlights the importance of family

and doing the right thing, courage and compassion.

Rated M. If you missed it at the cinema watch out

for it on Amazon Prime or Apple+TV.

Tune it

Check out these songs as recommended by the

Good Shepherd Youth Choir who hail from the Good

Shepherd Parish, Plumpton.

- Hail Mary, Gentle Woman – Carey Landry

- All in His Plan – PJ Morton feat. Le'Andria

Johnson and Mary Mary

- Tomorrow – Damian K

- Known – Tauren Wells

Listen in (Podcasts)

UMD Newman Catholic University Campus –

Father Mike Schmitz

Every week Father Mike draws out powerful, relevant

reflections based on the Sunday Mass scripture

readings that will leave you motivated to apply them

to daily life's blessings and challenges!

Available on Apple Podcasts.

Everything Happens with Kate Bowler

Kate Bowler is a Christian, a wife, mother, writer and

professor who, at age 35, was suddenly diagnosed

with Stage IV cancer. Her weekly podcasts include

warm, insightful, and often funny conversations with

many different people about what they've learned in

difficult times. Her podcast was inspired by her book

based on her experience, Everything Happens for a

Reason (And Other Lies I've Loved).

Available on Podbean and Spotify.

Catholic Stuff You Should Know

This weekly podcast was recorded and contributed

to by four priests, Fr Nathan Goebel, Fr John Nepil,

Fr Michael O'Loughlin and Fr Mike Rapp, and offers

a lighthearted exploration of Catholic topics both

prominent and obscure. The producers are currently

taking a break from the podcast, but there are

numerous episodes available for streaming.

Available on Spotify and at Player FM

- Internet Radio Done Right.

Living Fullness Podcast

Aimed at youth and young adults, Stina Constantine

sits down with her long-standing friend Fr Sean

Byrnes to talk about the joys and challenges of

friendship, especially between men and women.

Available on Apple Podcasts.

- Give Thanks – India-Arie

- Fearless – The SAGA

- Make It Out Alive – Alyssa Agius

51
---
Bringing wonder to Holy Week

and Easter for students

in public schools

" "

Catechists have returned to public schools,

just in time to share the story of Easter in meaningful ways.

STORY CECILIA ZAMMIT

Catechists are thrilled to be back in public schools

in our Diocese after the disruption of Special

Religious Education classes in 2021. Right now,

they are using a technique to keep the 'wonder' in

the young students as they share the stories and

importance of Lent, Holy Week and Easter.

While telling the stories of the Passion, Death and

Resurrection of Jesus from the scriptures, the

students are asked to ponder questions and bring

the stories to life.

How would you answer these questions?

We've given a selection of primary-aged students'

answers below

I wonder why Palm Sunday is called

'Palm Sunday'?

People waited for Jesus and waved palm branches

to welcome Him.

I wonder what people were feeling when

Jesus rode into Jerusalem?

Excited; happy to see Jesus.

What would you have said to Jesus?

Welcome Jesus, I'm happy that you are here.

Who was invited to join in this meal?

Jesus' friends, His apostles.

I wonder why Jesus washed the feet of

His disciples?

He cared about His friends; He wanted to show them

how to look after other people.

Why do we say 'Good Friday'?

Because it is good for us; Jesus dying on the cross is

sad, but He did it because He loves us.

Who rolled back the stone from Jesus' tomb?

Not sure. The angels, the men in white?

How you celebrate Jesus' Resurrection?

Not sure, is it with Easter eggs?

Cecilia Zammit is the Director of Confraternity

of Christian Doctrine (CCD) in the Diocese of

Parramatta. CCD welcomes new volunteers to

this ministry. Contact your parish office or Maree

in the CCD office maree.collis@parracatholic.org

I wonder why we call Jesus' special meal His

'Last Supper'?

It was the last time Jesus had a meal before he died.

How would Jesus have felt on the night of the

Last Supper?

Maybe happy to be with His friends; sad because He

knew what was going to happen next.

52
---
Some of our catechists have been unable to continue this year so some parishes are calling

for more volunteers. COVID-Smart practices are in place in public schools, and I invite you

to think about getting involved in this wonderful ministry. All resources and training will be

provided when you join this very important faith-sharing arm of the Church. Contact your

parish office or Maree in the CCD office maree.collis@parracatholic.org

Happy Easter

Cecilia

WE NEED YOUR HELP THIS LENT

"Ashes to ashes, dust to dust." This is the message

from Ash Wednesday throughout Lent. Our life is not

for very long, not for ourselves and now is the time to

change. We are given this time to look at our life, to

make the changes necessary and live more for others.

To change in this sense means to 'turn around', to

turn back, to turn in another direction. Jesus went

into the desert, experienced a change to set a new

direction in life. He turned in a new direction.

Our turning in a new direction is in sharing our

material goods and giving our time tending to people

in need. This Lenten period please consider a gift to

the MSC Mission Office

We help the poor and needy

with a hand up through

freshwater Projects (tanks and

bores); programs for

disadvantaged youth; supporting

priests and seminarians; health

projects (Covid PPE in PNG, HIV/Aids) and local

projects such as bushfire relief, assisting Afghan

refugees and a prisoner release program.

HOW to GIVE

Make a tax-deductible donation to the MSC

Mission Office at our website, by mail or phone

our office. Your gift of any amount will be put to

work as soon as possible.

Fr Roger Purcell MSC, Director

MSC Mission Office

Phone 9697 0983

PO Box 177, Kensington NSW 1465

Email mscmisio@mscmission.org

www.mscmission.org.au
---
Easter egg hunt

WITH THE RESURRECTION STORY

Kids love Easter egg hunts! This year change up this annual Easter

activity and involve the whole family in combining outdoor recreation

and the Resurrection story.

STEP 1

Cut out these beautiful eggs and place them visibly along a walking

track or wherever else you can conduct a hunt – don't make them too

easy to find!

STEP 2

Take the whole family out for a walk to find the eggs. HINT take a bible

with you.

STEP 3

As you find the eggs, invite a different member of the family to read the

bible verse written on each egg. Encourage questions and discussion

on Jesus' story. Remember, it's about sharing and learning together

rather than always having the answers. Your parish priest or teacher

might be able to help with the tough questions.

Happy Easter to you and all your loved ones! May it be a blessed time

knowing that Christ is risen!

54
---
55
---
Directory of services

(02) 8843 2500 or visit ccss.org.au

Ageing Well

Chancery Office

www.parracatholic.org

(02) 8838 3400

diocese@parracatholic.org

Bishop Vincent Long OFM Conv

(02) 8838 3400

bishop@parracatholic.org

Catholic Education

Diocese of Parramatta

parra.catholic.edu.au

(02) 9840 5600

communityliaison@parra.catholic.edu.au

Catholic Diocese of Parramatta

Services Limited

(02) 9407 7044

enquiries@cdpsl.org.au

Ambrose Early Years Education

and School Age Care

(02) 9407 7044

ambrose.org.au

CatholicCare Western Sydney

and the Blue Mountains

(02) 8843 2500

Mission Enhancement Team

(MET Parramatta)

Catholic Youth Parramatta

Marriage, Family and Natural Fertility

Pastoral Formation

Peace, Justice and Ecology

Worship

met@parracatholic.org

Confraternity of Christian Doctrine

(02) 8838 3486

ccd@parracatholic.org

Tribunal Office

(02) 8838 3480

tribunal@parracatholic.org

Vocations

(02) 8838 3460

vocations@parracatholic.org

Parramatta Catholic Foundation

(02) 8838 3482

yourfoundation@parracatholic.org

Diocesan Development Fund

(02) 8839 4500

enquiries@parraddf.org.au

Holy Spirit Seminary

(02) 9296 6300

Office for Safeguarding

(02) 8838 3419

safeguarding@parracatholic.org

Whatever your age, you will never be invisible to the people at Catholic Care. Our range

of supports aim to keep you living independently in your own home for as long as

possible, while staying connected with your friends and community.

Our Commonwealth Home Support Program support elderly people to stay living

independently at home, while our Community Visitor's Scheme aims to reduce loneliness

and enrich people's lives through fortnightly visits to residents at aged-care facilities.

Bringing a baby into the world

There are few things more important than caring for a newborn child. Our programs have

helped many young women who are feeling lost or have been excluded from their community

and are at risk of homelessness, to get the support they need. Our parenting support program

supports new parents finding the challenges of a newborn overwhelming.

Chaplaincy

Our chaplains provide spiritual and emotional support for patients and inmates, their

families and staff in the seven hospitals and three correctional centres throughout the

Diocese of Parramatta. An inclusive ministry available to all faiths, our 15 chaplains work

alongside others involved in the care of patients and inmates.

Children

Catholic Care offers a range of support services to ensure children are taken care of in any

situation. It starts with early years learning and childcare — our home-based early learning

and parenting program for families with young children helps them and their parents develop

skills, and our family day care helps kids get a good start with their education. Our creche is a

thriving early learning centre, providing care for children of Sudanese refugee women enrolled

in English classes offered on the grounds of Catholic Care.

Connecting with my Community

Our drop-in centres provide a safe place for people to belong and connect with others.

They are a place to be, a place to get information, join a group, and be accepted.

In Emerton, Aboriginal Catholic Services is a drop-in centre led by Aboriginal people for

Aboriginal people. In Blacktown, culturally and linguistically diverse families are accessing

support to settle into life in Australia by the team at All Saints of Africa. And at our

Springwood Drop-in Centre, established to support the community after the 2014 bushfires,

clients stop by for a chat, join a reading group or seek support with their mental health.

Living well with Disability

We all need a support network to live our lives to the fullest. Our disability support team, can

help you with living, learning and overcoming obstacles on your journey, whatever they may

look like. We can help you set goals, and achieve them, and help you build a brighter future.

As a registered National Disability Insurance Scheme (NDIS) provider, we support clients

at home and in the community, whether you want to learn how to cook, need support with

personal care, or want to play sport.

Support for my Family

When life gets tough for our families, the people we care about most can suffer. Our range

of family support services can support you to better relate to your spouse and understand

their behaviour, to deal with dependence or gambling problems, single parenting, or just

connecting with your kids.

We support families who are going through the most difficult of times to cope through

separation, and with grief and loss. We help parents deal with all the stresses that can impact

your family, from anxiety and depression to money worries, gambling—we have the people,

the resources and the support to help you make it through.

56
---
Latest appointments

Most Rev Vincent Long OFM Conv, Bishop of

Parramatta, has confirmed these appointments

in the Diocese of Parramatta:

Rev John Paul Escarlan

Administrator of St Bernadette's Parish,

Lalor Park from 1 January 2022.

Very Rev Paul Marshall

Member of the Council of Priests and Member

of the College of Consultors from 1 January 2022.

Rev John Frauenfelder

Vice Rector of the Holy Spirit Seminary, Harris Park,

for three years from 1 January 2022.

Rev Christopher Del Rosario

Director of Vocations for three years

from 1 February 2022.

Rev Mr Adam Carlow

Deacon Assisting at St Patrick's Parish, Guildford,

from 1 February 2022.

Rev Mr Matthew Dimian

Deacon Assisting at St Patrick's Cathedral Parish,

Parramatta, from 7 February 2022.

"

"The resurrection of Christ is what sets us apart,

what makes us the Church. Without the pain and

suffering Jesus went through, and then the joy of His

Resurrection, we wouldn't have the relationship with

God, or the opportunity for eternal life."

Voice of the people

"

"Jesus Christ's Resurrection is a real source of joy

and hope for He has conquered death, sin and

darkness. It is the triumph of life in the midst of

violence and death. His resurrection brings lively

hope to my spiritual journey as a Christian and

priest."

How important is the joy of Easter and the

Resurrection of Christ to you?

Laura Burton

Youth Coordinator and

Sacramental Coordinator, St

Bernadette's Parish, Castle Hill.

Image: Supplied.

Fr Kevin Madilo SM

parish priest of St Andrew the

Apostle Parish, Marayong.

Image: Diocese of Parramatta.

"It's important to be reminded of Christ's love for us

all, that He would sacrifice Himself for our salvation.

How lucky we are. Christ is alive! There's always

hope in Christ."

Lesina Vete

mother of four and parishioner at

Holy Family Parish, Mt Druitt.

Image: Supplied.

"Easter pushes me, through my actions and words,

to proclaim Alleluia and the Good News of Our Lord

and His Resurrection to all who don't know about it,

driven by the graces and the Spirit attained through

the Sacraments He provides."

Samuel Verceluz

Chorister and Choir Librarian at St

Patrick's Cathedral, Parramatta.

Image: Diocese of Parramatta.
---
Grow your money in the Diocesan Development

Fund and invest in our Church and its people

"These renovations will be a game changer for our parish"

Fr Alejandro Lopez OFM Conv, Parish Priest, Our Lady of the Rosary Parish, Kellyville

The parish community of Our Lady of the Rosary, Kellyville, are in the final stages of a church renovation. The new

building will feature a new sacristy and twin confessionals, an expanded piety store, a refurbished baptistry and

accessible entrances for the elderly and differently-abled alongside the lovingly refurbished pews. The parish hopes it

will draw others as they build up the Church for the glory of God.

Alongside the generosity of parishioners, the parish reached out to the Diocesan Development Fund, who gave them

advice on applying and taking out the loan and how to pay it back.

The Diocesan Development Fund

The Diocesan Development Fund (DDF) was established in 1989 by the late Bishop Bede Heather to help parishes,

schools, aged care facilities, religious congregations and other Catholic Church related organisations effectively

manage their financial resources to better promote the Mission of the Church. The DDF provides finance for capital

projects and investment services, along with financial services to diocesan agencies, ministries, parishes and schools.

Since inception, the DDF has provided over $476 million in loans to finance facilities for worship, education, and other

needs of the Church.

The DDF earns a surplus that is distributed annually to the Diocesan Chancery to finance the Bishop's pastoral priorities

and his ministry programmes.

To contact the DDF please phone (02) 8839 4500 or email enquiries@parraddf.org.au

Visit the DDF website at www.parracatholic.org.au/ddf

Disclosure Statement

The Diocesan Development Fund Catholic Diocese of Parramatta (DDF) (the Fund) is required by law to make the following disclosure. The Fund is not prudentially supervised by the Australian Prudential

Regulation Authority nor has it been examined or approved by the Australian Securities and Investments Commission. An investor in the Fund will not receive the benefit of the financial claims scheme or the

depositor protection provisions in the Banking Act 1959 (Cth). Investments in the Fund are intended to be a means for investors to support the charitable, religious and educational works of the Catholic Diocese

of Parramatta and for whom the consideration of profit are not of primary relevance in the investment decision. The investments that the Fund offers are not subject to the usual protections for investors under

the Corporations Act (Cth) or regulation by Australian Securities and Investments Commission. Investors may be unable to get some or all of their money back when the investor expects or at all and any

investment of the Fund are not comparable to investments with banks, finance companies or fund managers. The Fund's identification statement may be viewed at https://parracatholic.org or by contacting the

Fund. The Fund does not hold an Australian Financial Services Licence.