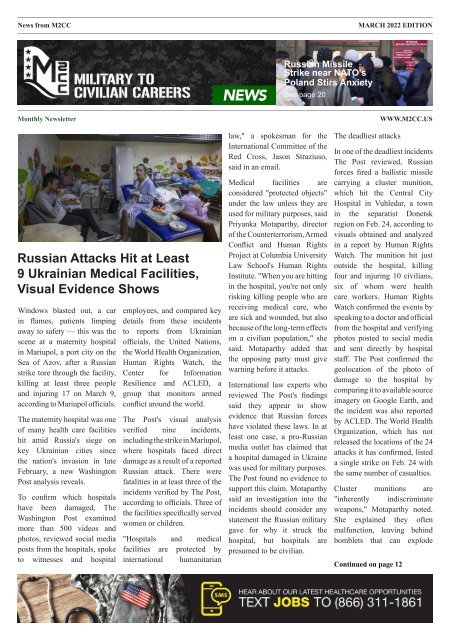 March 2022 — M2CC Newsletter
You also want an ePaper? Increase the reach of your titles
YUMPU automatically turns print PDFs into web optimized ePapers that Google loves.
News from M2CC

MARCH 2022 EDITION

Russian Missile

Strike near NATO's

Poland Stirs Anxiety

See page 20

Monthly Newsletter

Russian Attacks Hit at Least

9 Ukrainian Medical Facilities,

Visual Evidence Shows

Windows blasted out, a car

in flames, patients limping

away to safety — this was the

scene at a maternity hospital

in Mariupol, a port city on the

Sea of Azov, after a Russian

strike tore through the facility,

killing at least three people

and injuring 17 on March 9,

according to Mariupol officials.

The maternity hospital was one

of many health care facilities

hit amid Russia's siege on

key Ukrainian cities since

the nation's invasion in late

February, a new Washington

Post analysis reveals.

To confirm which hospitals

have been damaged, The

Washington Post examined

more than 500 videos and

photos, reviewed social media

posts from the hospitals, spoke

to witnesses and hospital

employees, and compared key

details from these incidents

to reports from Ukrainian

officials, the United Nations,

the World Health Organization,

Human Rights Watch, the

Center for Information

Resilience and ACLED, a

group that monitors armed

conflict around the world.

The Post's visual analysis

verified nine incidents,

including the strike in Mariupol,

where hospitals faced direct

damage as a result of a reported

Russian attack. There were

fatalities in at least three of the

incidents verified by The Post,

according to officials. Three of

the facilities specifically served

women or children.

"Hospitals and medical

facilities are protected by

international humanitarian

law," a spokesman for the

International Committee of the

Red Cross, Jason Straziuso,

said in an email.

Medical facilities are

considered "protected objects"

under the law unless they are

used for military purposes, said

Priyanka Motaparthy, director

of the Counterterrorism, Armed

Conflict and Human Rights

Project at Columbia University

Law School's Human Rights

Institute. "When you are hitting

in the hospital, you're not only

risking killing people who are

receiving medical care, who

are sick and wounded, but also

because of the long-term effects

on a civilian population," she

said. Motaparthy added that

the opposing party must give

warning before it attacks.

International law experts who

reviewed The Post's findings

said they appear to show

evidence that Russian forces

have violated these laws. In at

least one case, a pro-Russian

media outlet has claimed that

a hospital damaged in Ukraine

was used for military purposes.

The Post found no evidence to

support this claim. Motaparthy

said an investigation into the

incidents should consider any

statement the Russian military

gave for why it struck the

hospital, but hospitals are

presumed to be civilian.

The deadliest attacks

Continued on page 12

WWW.M2CC.US

In one of the deadliest incidents

The Post reviewed, Russian

forces fired a ballistic missile

carrying a cluster munition,

which hit the Central City

Hospital in Vuhledar, a town

in the separatist Donetsk

region on Feb. 24, according to

visuals obtained and analyzed

in a report by Human Rights

Watch. The munition hit just

outside the hospital, killing

four and injuring 10 civilians,

six of whom were health

care workers. Human Rights

Watch confirmed the events by

speaking to a doctor and official

from the hospital and verifying

photos posted to social media

and sent directly by hospital

staff. The Post confirmed the

geolocation of the photo of

damage to the hospital by

comparing it to available source

imagery on Google Earth, and

the incident was also reported

by ACLED. The World Health

Organization, which has not

released the locations of the 24

attacks it has confirmed, listed

a single strike on Feb. 24 with

the same number of casualties.

Cluster munitions are

"inherently indiscriminate

weapons," Motaparthy noted.

She explained they often

malfunction, leaving behind

bomblets that can explode
---
2 | M2CC - News www.m2cc.us MARCH 2022 EDITION
---
WWW.M2CC.US Monthly Newsletter | 3
---
4 | M2CC - News www.m2cc.us MARCH 2022 EDITION
---
WWW.M2CC.US Monthly Newsletter | 5

Focus on Oversight a Key for Success at

CoreCivic

In the corrections industry, maintaining high standards of

operation is imperative to meeting the needs of the individuals

in our care. That's why CoreCivic adheres to a stringent set of

guidelines set forth by our own standards, as well as those of our

government partners and the American Correctional Association

(ACA).

Founded in 1870, the ACA is considered the national benchmark

for the effective operation of correctional systems throughout

the United States. To become accredited, a facility must achieve

compliance with ACA mandatory standards and a minimum of

90 percent non-mandatory standards. CoreCivic facilities adhere

to ACA standards, and in 2020, CoreCivic earned an average

ACA audit score of 99.6 percent across all facilities.

Key ACA audit areas include facility personnel, resident reentry

programs, resident safety, health care, and more.

holds our facilities and staff to a high standard. To be able to

represent our facility and receive reaccreditation in person is an

honor."

Adhering to ACA standards is only one part of CoreCivic's

commitment to robust oversight. When government partners

utilize CoreCivic's services, we are held not only to our own

high standards and those of the ACA, but we are often held to

the same or higher accountability of our public counterparts

through stringent government contracts, unfettered access to

our facilities for our partners, and hundreds of on-site quality

assurance monitors.

We provide access to our government partners, with most of

our facilities having government agency employees known as

contract monitors who are physically on-site to ensure we are

operating in line with partner guidelines.

Recently, the ACA held in Nashville, Tennessee, its 151st

Congress of Corrections, an annual convention that brings

together corrections professionals from across the country. In

addition to various workshops and events at the convention, the

ACA Commission on Accreditation also held panel hearings to

award accreditation to correctional facilities that meet the ACA's

rigorous requirements. Listed below are the seven CoreCivic

facilities that earned reaccreditation this year, with mandatory/

non-mandatory scores:

• Bent County Correctional Facility - 100/99.0

• Citrus County Detention Facility - 100/100

• Eloy Detention Center - 100/100

• Lake Erie Correctional Institution - 100/99.3

• Saguaro Correctional Center - 100/99.8

• Stewart Detention Center - 100/100

• Tallahatchie County Correctional Facility - 100/100

"The accreditation process is very important," said Warden

Fred Figueroa from Eloy Detention Center, one of the seven

CoreCivic facilities that was awarded reaccreditation. "ACA

To maintain our own high standards, annual on-site audits covering

all operational areas are administered to ensure compliance with

contractual and regulatory obligations and corporate-mandated

requirements. Each CoreCivic Safety facility is audited by our

internal quality assurance division, which is independent from

our operations division. Facilities are expected to be audit-ready

year-round, maintaining continuous compliance with numerous

applicable standards.

CoreCivic employs 75 staff members dedicated to quality

assurance, including several subject matter experts with extensive

experience from all major disciplines within our institutional

operations.

"A lot of hard work goes into preparing for these audits,"

Figueroa said. "Once they're complete, the staff can see their

accomplishments and feel proud."

Having multiple levels of oversight helps CoreCivic maintain

a safe environment for those in our care. By holding ourselves

accountable to our own high standards, along with our

government partners' and ACA's standards, CoreCivic continues

to be a trusted partner working to better the public good.
---
6 | M2CC - News www.m2cc.us MARCH 2022 EDITION
---
WWW.M2CC.US Monthly Newsletter | 7
---
8 | M2CC - News www.m2cc.us MARCH 2022 EDITION

Fort Stewart-based

soldiers get their

Bavarian breakfast in

Grafenwoehr

GRAFENWOEHR, Germany — Sausages and a big pretzel —

exactly what you'd expect from a traditional Bavarian meal —

awaited Fort Stewart, Ga.-based soldiers on Friday morning,

courtesy of the state's governor.

Bavaria's Markus Soeder joined Army Chief of Staff Gen.

James McConville, and the commander of 7th Army Training

Command, Brig. Gen. Joseph Hilbert, in welcoming the soldiers,

who are deployed to Grafenwoehr Training Area as part of a

mission to reassure NATO allies in the wake of Russia's new

invasion of Ukraine.

"This is a friendship for eternity, we hope," Soeder told hundreds

of soldiers from the 1st Armored Brigade Combat Team, 3rd

Armored Infantry Division. "Bavaria is the largest region for

U.S. (soldiers) in Europe. Grafenwoehr is (an) important place

for the troops."

Information sheets placed on the dining tables provided guidance

about weisswurst, a white sausage considered one of the southern

German state's signature foods.

It's traditionally made from a mixture of finely minced veal and

back bacon. It is usually served with stone-ground mustard, a

large salted pretzel and a Bavarian wheat beer.

Soeder joked that that the generals would never approve the beer

for breakfast.

After the soldiers who first arrived waited about 30 minutes with

their trays, they all were allowed to dig in.

The Bavarian Broadcasting Channel reported that Soeder had

ordered 4,000 of the sausages to be served at rural Grafenwoehr,

which hosts the Army's largest training area in Europe.

The brigade is expected to provide 3,800 of the 7,000 service

members deployed to bolster NATO's defensive posture.

VISIT OUR WEBSITE AT M2CC.US
---
WWW.M2CC.US Monthly Newsletter | 9

TO ADVERTISE

contact Nathan.Stiles@mhce.us

VISIT OUR WEBSITE AT MHCE.US
---
10 | M2CC - News www.m2cc.us MARCH 2022 EDITION
---
WWW.M2CC.US Monthly Newsletter | 11

TO ADVERTISE

contact Nathan.Stiles@mhce.us

VISIT OUR

WEBSITE AT M2CC.US
---
12 | M2CC - News www.m2cc.us MARCH 2022 EDITION

months or years after an attack.

They also disperse over a wide

area, making them extremely

dangerous in populated areas.

The U.N. human rights office

has found "credible reports"

that Russian forces have used

cluster munitions several

times since the war began,

and that these attacks "may

amount to war crimes."

In addition to the events in

Vuhledar and Mariupol, three

people died after a strike on

an intensive care hospital

in Vasylivka, according to

officials.

A medical campus in the

southeastern city of Vasylivka

was struck by Russian

rockets on March 1, killing

three people and injuring

four, the Official channel of

the Zaporizhzhia Regional

Military Administration

reported on Telegram. The

Post geolocated video showing

damaged buildings on the

compound by comparing it

to source imagery on Google

Earth.

At least a third of the incidents

verified by The Post included

centers that treated women

or children. The attack in

Mariupol hit a maternity

ward and another damaged

a pediatric dental clinic in

Chernihiv.

In the northern city of

Chernihiv on Feb. 27, visual

evidence shows impact to

a central courtyard, near a

pediatric dental clinic, which

The Post confirmed via

imagery on Google Earth.

The attack left a crater in

the ground, uprooted trees

and blew the windows and

debris from the surrounding

buildings. The facility posted

video of the aftermath to

Facebook, showing blastedout

windows and debris

scattered throughout the

building.

Russian airstrikes hit homes

and a hospital, including

a maternity ward, in the

northwest city of Zhytomyr

on March 1, according to the

Zhytomyr City Council, which

shared video, first verified by

third-party verification service

Storyful and corroborated

by The Post, showing first

responders at the nighttime

scene amid destroyed

buildings and debris. Four

people died in the attacks on

the homes. Only windows

were damaged at the maternity

ward, according to regional

council chairman Vladimir

Fedorenko.

Hospital

damaged

infrastructure

In all of the examples reviewed

by The Post, the hospitals'

buildings were damaged.

Verified images and videos

illustrated the varied extent of

the destruction.

On Feb. 25, an oncology

hospital in the southeastern

city of Melitopol came

under fire. Video, verified by

Storyful and The Post, shows

an explosion at the facility.
---
WWW.M2CC.US Monthly Newsletter | 13

Government officials and

ACLED also confirmed the

event. In the video, there is

loud shelling, followed by

a large boom and a bright

flash emanating from inside

one of the top floors of the

hospital. Ukraine's Minister

of Healthcare Viktor Liashko

said an operating room was

damaged, but no patients were

hurt in the attack.

On Feb. 27, Russian shelled

the ear, nose and throat

department building of a

hospital in Volnovakha, a

small city in the separatist

Donetsk region, according

to a Parliament of Ukraine

Telegram channel. The Post

verified photos posted online

that showed damage to the

outside of the building by

comparing to source imagery

on Google Earth.

The deputy mayor of Izyum,

a city south of Kharkiv, said

the admissions office of a

hospital was hit on March 8.

Volodymyr Matsokin posted

video to Facebook later that

day showing part of the

building destroyed, exposing

part of the roof's internal

structure with the facade caved

inward and debris littering the

area. "Patients climbed out

from under the rubble as they

could," he wrote on Facebook.

Late in the evening of March

11, the head doctor of a cancer

hospital in Mykolaiv posted

photos and video, verified by

The Post, of smashed windows

and debris from an alleged

Russian attack. He said many

patients were being treated in

the hospital at the time it came

under attack, but no one was

killed. The Mykolaiv regional

governor, Vitaliy Kim, wrote

on his Telegram channel that a

Russian attack hit the hospital.

"Assuming Russia does not

take necessary steps - and it

seems highly unlikely that it

will — this evidence will be

relevant to the International

Criminal Court Prosecutor's

investigation of war crimes

and crimes against humanity

in Ukraine," Oona Hathaway,

a professor of international

law at Yale Law School, said

in an email to The Post.

The evidence gathered

by The Post is "powerful

circumstantial evidence" that

would require a more detailed

investigation, Hathaway

explained.

Motaparthy too noted in some

cases it is difficult to parse

from the visual imagery alone

exactly what happened. "What

is the extent of the damage?

Were they targeting a military

object next door or nearby, or

were they targeting the hospital

itself?" However, she noted

that "attacks where there's

clearly extensive damages and

civilians were killed appear to

violate the laws of war, and

that militaries should avoid

damaging hospitals, even

if targeting military targets

nearby."

VISIT OUR

WEBSITE AT

MHCE.US
---
14 | M2CC - News www.m2cc.us MARCH 2022 EDITION

More Russians Find Ways Around Sweeping US

Asylum Limits

SAN DIEGO — Maksim

Derzhko calls it one of the most

terrifying experiences of his life.

A longtime opponent of Russian

President Vladimir Putin, he

flew from Vladivostok to the

Mexican border city of Tijuana

with his 14-year-daughter and

was in a car with seven other

Russians. All that separated them

from claiming asylum in the

United States was a U.S. officer

standing in traffic as vehicles

inched toward inspection booths.

did so during the same period

a year earlier. Nine in 10 used

official border crossings in San

Diego.

Migrants from other former

Soviet republics follow the

same route in lower numbers,

though some authorities are now

anticipating more Ukrainians.

The U.S. admitted a Ukrainian

family of four on humanitarian

grounds Thursday after twice

blocking her.

Russians do not need visas to visit

Mexico, unlike the U.S. Many

fly from Moscow to Cancun,

entering Mexico as tourists, and

go to Tijuana, where they pool

money to squeeze into cars they

buy or rent. Adrenaline rushes as

they approach San Diego's San

Ysidro border crossing, where

about 30,000 cars enter the

United States daily.

Concrete barriers funnel 24 lanes

of traffic to a border marked by

a few rows of yellow reflector

bumps — like the ones that divide

highway lanes — before vehicles

reach inspection booths. A buffer

zone separates the bumps from

the inspection booths.

Migrants just have to reach that

buffer zone to claim asylum

on U.S. soil. But U.S. officers

stationed on the Mexican side

of the border first try to block

them, peering into vehicles,

motioning motorists to flash

The emotions are "hard to put

into words," he says. "It's fear.

The unknown. It's really hard.

We had no choice."

The gamble worked. After

spending a day in custody,

Derzkho was released to seek

asylum with his daughter, joining

thousands of Russians who have

recently taken the same route to

America.

Even before Russia's invasion

of Ukraine led to punishing

sanctions from the U.S. and its

allies, the United States was

already seeing an increase in

Russian asylum-seekers. More

than 8,600 Russians sought

refuge on the U.S. border with

Mexico from August through

January — 35 times the 249 who
---
WWW.M2CC.US Monthly Newsletter | 15

travel documents and stopping

cars they deem suspicious.

"It was a very scary moment for

all of us to experience," Derzhko,

who crossed in August, said in

an interview at his home in Los

Angeles. "The children with us,

everyone was very worried, very

much."

Russians swap travel tips on

social media and messaging

services. One unidentified man

narrated his trip from Moscow's

Red Square to a San Diego hotel

room, with layovers in Cancun

and Mexico City. His YouTube

video shows him confessing to

nerves after buying a used car

in Tijuana, but he says later in

San Diego that everything went

smoothly — despite two days in

U.S. custody — and that others

considering the journey shouldn't

be afraid.

Russians are virtually guaranteed

a shot at asylum if they touch

U.S. soil, even though President

Joe Biden has kept sweeping,

Trump-era asylum restrictions.

Border agents can deny migrants

a chance to seek asylum on the

grounds that it risks spreading

COVID-19. But cost, logistics

and strained diplomatic relations

make it difficult to send people

of some nationalities home.

In one, a 29-year-old Russian

man accelerated after passing the

reflector bumps at San Ysidro on

Dec. 12 and slammed the brakes,

causing a sedan with six Russian

asylum-seekers to hit him from

behind. An officer fired four

shots but no one was injured

by gunfire, according to CBP,

which says the incident is under

investigation.

The SUV driver hit the gas in a

state of excitement when he saw

an opening between lanes, his

lawyer, Martin Molina, told a

judge earlier this month. Eleven

other Russians, including the

man's wife, 5-year-old daughter

and year-old son were in the

SUV. Passengers raised their

hands and yelled, "Asylum!"

"All that he saw were the bright

lights of San Ysidro," Molina

said. "He wanted to get there."

The judge ordered the driver

released after nearly three

months in jail. The Associated

Press is not identifying him

at the request of Molina, who

said his client feared exposure

may jeopardize his safety. The

man, who opposed Russian

intervention in the Chechnya

region, planned to seek asylum

with his family in Brooklyn, N.Y.

Other incidents have raised

security concerns, Plantz said.

Also on Dec. 12, the driver of a

car with migrants from Ukraine

and Tajikistan ignored an officer's

orders to show identification

and struck the officer's hand

with a car door mirror when

accelerating past him, according

to court documents.

"They're probably a little

disoriented themselves, not sure

exactly what they're doing, but

they are failing to yield, hitting

the gas, blowing through," Plantz

said.

A federal judge in San Diego has

ruled it is illegal to block asylumseekers

but has not given specific

instructions, allowing authorities

to continue their practices. Erika

Pinheiro, litigation and policy

director for Al Otro Lado, an

advocacy group that sued over

asylum limits at border crossings,

said U.S. authorities coordinate

with Mexican officials to keep

migrants from reaching the

buffer zone.

Yuliya Pashkova, a San Diego

attorney who represents Russian

asylum-seekers, traces the spike

in arrivals to the imprisonment

of Russian opposition leader

Alexei Navalny last year.

Asylum-seekers include Putin

opponents, gay people, Muslims

and business owners who have

been extorted by authorities.

"When they think of America,

they think of freedom, democracy

and, frankly, a good economic

situation," she said.

TO ADVERTISE

contact

Kyle.Stephens@mhce.us

Russians and others from former

Soviet republics favor driving

through official crossings, rather

than trying to cross illegally

in deserts and mountains.

They generally do not hire

smugglers, but "a facilitator"

may help arrange travel, said

Chad Plantz, special agent in

charge of Homeland Security

Investigations in San Diego.

While Moscow to Cancun is

the most common route, some

Russians fly from Amsterdam or

Paris to Mexico City and then go

to Tijuana, Plantz said.

It has produced some tense

confrontations.
---
16 | M2CC - News www.m2cc.us MARCH 2022 EDITION

TO ADVERTISE

contact Kyle.Stephens@mhce.us
---
WWW.M2CC.US Monthly Newsletter | 17

Bill Would Help

National Guard,

Reserve Members Get

Benefits

CONCORD, N.H. -- U.S. Rep. Chris Pappas of New Hampshire

is part of a group of lawmakers that introduced a bipartisan bill to

help National Guardand Reserve members receive their benefits

upon retirement or completion of service.

VISIT OUR WEBSITE AT MHCE.US

A particular form is frequently required by the Department of

Veterans Affairs, other benefits organizations and private sector

institutions to certify qualifications for benefits after completion

of service. Pappas and other sponsors of the bill said it can be

difficult and confusing for both the VA and service members to

prove all service periods because of the way the form is drafted.

Plus, there is no single form used by the Reserves or the National

Guard that is similar.

The bill would update the main form and provide all service

members with proof of service that will consolidate all service

periods. It would allow them to apply for all entitled benefits

while reducing confusion.

"Providing all those who have served our country the same

record of their service, one of the most valuable documents for

a veteran to possess, is essential to ensuring equitable access to

benefits following their service," Pappas, a Democrat, said in a

statement.

A similar bill has been introduced in the Senate.

The bill is supported by the Veterans of Foreign Wars, Reserve

Organization of America, National Guard Association of the

United States, and the Enlisted Association of the National

Guard of the United States.
---
18 | M2CC - News www.m2cc.us MARCH 2022 EDITION

Join Our Team!

Embark on a new career

with Central New York

Psychiatric Center!

Our Team Promotes

Hope, Resilience and Recovery!

Central New York Psychiatric Center is seeking

candidates to fill the following positions;

Psychiatrists, Psychiatric Nurse Practitioners,

Psychologists, and Registered Nurses.

These positions are available at our Inpatient

Forensic Hospital in Marcy, New York, as

well as our Corrections Based Satellite Units

across the State.

Benefits Include:

TO ADVERTISE

contact Kyle.Stephens@mhce.us

• NYS Pension

• Competitive Salaries

• Comprehensive Health Insurance

• Flexible Spending Accounts for

Healthcare & Dependent Care

• Generous Paid Time Off

Contact Us:

315-765-3375 or by e-mail

CNpersonnel@omh.ny.gov
---
WWW.M2CC.US Monthly Newsletter | 19

VISIT OUR WEBSITE AT MHCE.US
---
20 | M2CC - News www.m2cc.us MARCH 2022 EDITION

Asked if she was afraid because of the

fighting just across Poland's border, she

said "Everybody is a little bit afraid today."

"We all believe that the fact that we are

in NATO will protect us in some way, but

each of us also remembers the history of

World War II and the (failed) alliances of

those times," Winnicka said.

"Things can turn out in different ways. In

Poland people are a bit afraid," she said.

On Sunday, Anna Kwiatkowska, 42, a

mother of two, said a friend working for

a foreign firm had advised the family

to have their passports ready and some

dollars, too.

"So I will apply for passports to be done

for my children," said Kwiatkowska,

whose children, aged 10 and 8, have not

traveled abroad yet.

All this despite the fact that NATO, to

which former Eastern bloc nation Poland

has belonged since 1999, is strengthening

its military presence in eastern Poland,

close to the Ukraine border, and stresses

that the alliance is fulfilling its task of

ensuring Poland's safety.

But Russia's strike Sunday on a Ukrainian

military training center in Yavoriv, less

than 15 miles (25 kilometers) from the

border with Poland, shook the confidence

of Poles living near the border and created

anxiety among others all too aware of

Russian Missile

Strike near

NATO's Poland

Stirs Anxiety

WARSAW, Poland — A Russian missile

attack that killed at least 35 people in

western Ukraine, some 15 miles from

NATO member Poland, has stirred anxiety

and spurred Poles to rush to passport

offices and stockpile essentials amid fears

the war could cut off supplies, or even spill

over into Poland.

A long line of applicants, unseen for

decades, formed Monday outside Warsaw's

main passport office on Krucza Street.

Canned food, bottled water, flashlights and

batteries filled shoppers' baskets. People

in the street talked of the latest news and

their worries for the future.

In the street, outside the passport office,

Justyna Winnicka, 44, was filling out the

passport form for her 16-year-old daughter,

Michalina.

We want to have a passport because the

last one expired and we want to be able

to go on vacation, but also want to be

able to travel abroad in case something

happens here in Poland," Winnicka told

The Associated Press.
---
WWW.M2CC.US Monthly Newsletter | 21

Russia's and the Soviet Union's past

control of Poland's territory. On Monday,

nine people were killed in a morning rocket

attack on a television tower in Antopol,

about 100 miles (160 kilometers) from the

Polish border.

Prime Minister Mateusz Morawiecki

said the attack, close to a refugee route

to Poland, was also intended to "provoke

panic among civilians" fleeing the "horrors

of the war."

Poland has taken in more than 1.8 million

refugees from Ukraine — nearly all

women and children — since Feb. 24,

when Russian troops invaded Ukraine

and then unleashed attacks on hospitals,

schools and residential areas.

Morawiecki said that the Yavoriv attack

and those on civilians are aimed at

"destroying this humanitarian effort ...

of help being offered to innocent people,

women, children."

"We all watch President (Volodymyr)

Zelenskyy. If he doesn't panic, we don't

panic. Come on. There is no panic,"

Trzaskowski told a news conference.

"Of course people ask questions — what

if a rocket goes astray? We also ask what

if there is a chemical attack. But there is

no panic. We feel safe. We have those very

important assurances from President (Joe)

Biden and the secretary general of NATO

and other friends from NATO countries …

who visit us daily," Trzaskowski said.

Meanwhile, some Poles are doing what

they can to try to influence public opinion in

Russia and its ally Belarus. With Ukrainian

blue-and-yellow flags, they block the road

to the Polish border crossing with Belarus,

stopping trucks with Russian or Belarusian

registration plates. They tell the drivers

about the targeting of civilians by Russian

forces in Ukraine, but the drivers either

say they know nothing about it, or are just

minding their own business, according to

Poland's private TNV24.

The Yavoriv attack early Sunday and the

barking of dogs woke up residents of the

small Polish village of Wielkie Oczy, just

over a mile (two kilometers) from Ukraine.

From their balconies they could see the

glow of explosions and the billowing

smoke.

They later flocked to Mass at the local

Roman Catholic church, to share what they

saw and seek the comfort of neighbors.

The whole family was "in shock. We were

afraid," said 56-year-old Lucyna Lesicka.

The Rev. Jozef Florek, the priest at

the Immaculate Conception Church,

expressed their anxiety. "If it's bells not

explosions that are waking us up, then we

are safe. I am not a prophet, but we had

bombs falling not far from us today that

woke us up."

Poland's deputy foreign minister, Marcin

Przydacz, said he does not believe that

Russia, which he asserted "visibly is not

coping in Ukraine," would try an attack on

a NATO country.

Nevertheless, he stressed "one should be

cautious and we are being cautious."

People in the capital, Warsaw, in central

Poland, were all too cognizant of the

potential threat to Eastern bloc nations

that, like Poland, were once under the

control of the Soviet Union, for more than

four decades after World War II.

"We have lived in safety so far; I had

thought the pandemic was the worst I

would experience, but now there is war

just across our border," said 61-year-old

retiree Emilia Gancarz.

"I don't want to experience war, it's the

worst thing in the world," she said, adding

that she is stocking up on candles, dried

food, nuts and canned goods, just in case.

She said some of her friends are buying

small solar panels, in case of power cuts.

Warsaw Mayor Rafal Trzaskowski urged

calm.

Advance Your Nursing Career

Move Beyond

Patient Care

Become a

› Medical Case Manager

› Forensic Nurse

› Legal Nurse Consultant

› Nurse Death Investigator

Earn a Professional Certificate ONLINE

from the prestigious University of California.

Discover how to grow your nursing career

online at www.extension.ucr.edu/nurse

or call (951) 827-5104.
---
22 | M2CC - News www.m2cc.us MARCH 2022 EDITION

Russian missiles

strike key hub in

supplying NATO

weapons to

Ukraine

LVIV, Ukraine — Russian missiles pounded

a military base in western Ukraine on Sunday,

killing 35 people in an attack on a facility

that served as a crucial hub for cooperation

between Ukraine and the NATO countries

supporting its defense. The barrage marked

an escalation of Moscow's offensive and

moved the fighting perilously close to the

Polish border.

The attack so near a NATO member-country

raised the possibility that the alliance could

be drawn into the fight, and was heavy with

symbolism in a conflict that has revived old

Cold War rivalries and threatened to rewrite

the current global security order.

More than 30 Russian cruise missiles targeted

the sprawling facility at Yavoriv, which has

long been used to train Ukrainian soldiers,

often with instructors from the United States

and other countries in the Western alliance.

Poland is also a transit route for Western

military aid to Ukraine, and the strikes

followed Moscow's threats to target those

shipments.

Ukrainian President Volodymyr Zelenskyy

called it a "black day," and again urged NATO

leaders to establish a no-fly zone over the

country, a plea that the West has said could

escalate the war to a nuclear confrontation.

"If you do not close our sky, it is only a matter

of time before Russian missiles fall on your

territory. NATO territory. On the homes of

citizens of NATO countries," Zelenskyy said.
---
WWW.M2CC.US Monthly Newsletter | 23

In addition to the fatalities, the Ukrainian Defense

Ministry said that 134 people were wounded in the attack.

Ina Padi, a 40-year-old Ukrainian who crossed the border

with her family, was taking shelter at a fire station in

Wielkie Oczy, Poland, when she was awakened by blasts

Sunday morning that made the glass in the windows

shake.

"I understood in that moment, even if we are free of it,

(the war) is still coming after us," she said.

Since their invasion more than two weeks ago, Russian

forces have struggled in their advance across Ukraine, in

the face of stiffer than expected resistance, bolstered by

Western weapons support. Instead, Russian forces have

besieged several cities and pummeled them with strikes,

hitting two dozen medical facilities and leading to a series

of humanitarian crises.

The U.N. has recorded at least 596 civilian deaths, though

it believes the true toll is much higher, and Ukraine's

Prosecutor General's office said that at least 85 children

are among them. An American filmmaker and journalist

was also killed Sunday. Millions more people have fled

their homes amid the largest land conflict in Europe since

World War II.

Talks for a broad cease-fire have so far failed, but the

Kremlin's spokesman said another round would take

place on Monday by videolink, according to Russian state

news agency Tass. Meanwhile, U.S. President Joe Biden

is sending his national security adviser to Rome to meet

with a Chinese official. There are worries in Washington

that Beijing is amplifying Russian disinformation and

may help Moscow evade punishing Western economic

sanctions.

Zelenskyy said he will continue negotiating with Russia

and making requests for a meeting with Putin, which, so

far, have gone unanswered by the Kremlin. Daily talks,

Zelenskyy said, were necessary to establish a cease-fire

and add more humanitarian corridors, which saved more

than 130,000 people in six days.

The attacked training base near Yavoriv is less than 25

kilometers (15 miles) from the Polish border and appears

to be the westernmost target struck during Russia's 18-

day invasion.

U.S. Secretary of State Antony Blinken condemned the

attack, tweeting: "The brutality must stop."

The base has hosted NATO drills, and a senior official,

Admiral Rob Bauer, previously hailed it as embodying

"the spirit of military cooperation" between Ukraine and

international forces.

As such, the site is a potent symbol of Russia's

longstanding concerns that the expansion in recent years

of the 30-member Western military alliance to include

former Soviet states threatens its security — something

NATO denies. Still, the perceived threat from NATO

is central to Moscow's justifications for the war, and it
---
24 | M2CC - News www.m2cc.us MARCH 2022 EDITION

VISIT OUR WEBSITE AT MHCE.US
---
WWW.M2CC.US Monthly Newsletter | 25

has demanded Ukraine drop its

ambitions to join the alliance.

Russian fighters also fired at

the airport in the western city

of Ivano-Frankivsk, which is

less than 150 kilometers (94

miles) north of Romania and

250 kilometers (155 miles) from

Hungary, two other NATO allies.

NATO said Sunday that it

currently does not have any

personnel in Ukraine, though the

United States has increased the

number of U.S. troops deployed

to Poland. White House national

security adviser Jake Sullivan

said the West would respond if

Russia's strikes travel outside

Ukraine and hit any NATO

members, even accidentally.

The city of Lviv, in western

Ukraine itself, so far has been

spared the scale of destruction

happening to its east and south.

Its population of 721,000 has

swelled during the war, with

residents escaping bombarded

cities and as a waystation for the

nearly 2.6 million people who

have fled the country.

necessities like food, water and

medicine."

"Dead bodies, of civilians and

combatants, remain trapped

under the rubble or lying in

the open where they fell," the

Geneva-based organization said

in a statement. "Life-changing

injuries and chronic, debilitating

conditions cannot be treated."

The fight for Mariupol is crucial

because its capture could help

Russia establish a land corridor

to Crimea, which it seized from

Ukraine in 2014.

Meanwhile, continued fighting

on multiple fronts caused more

misery in Ukraine on Sunday and

provoked renewed international

outrage.

In the southern Ukrainian city

of Mykolaiv, near the Black

Sea, authorities reported nine

people killed in bombings. They

said Russian airstrikes on a

monastery and a children's resort

in the eastern Donetsk region hit

spots where monks and others

were sheltering, wounding 32

people.

Around the capital, Kyiv, a

major political and strategic

target for the invasion, fighting

also intensified, with overnight

shelling in the northwestern

suburbs and a missile strike

Sunday that destroyed a

warehouse to the east.

Kyiv Region police said

on its official website that

Russian troops opened fire on

a car carrying two American

journalists. The U.S. State

Department said Brent Renaud

died. Juan Arredondo was

wounded.

In the Kyiv suburb of Irpin,

Ukrainian soldier Alexei Lipirdi,

46, said that the Russians

"want to intimidate us so that

we will not be calm," but he

and his unit remain defiant.

As he spoke, smoke billowed

from distant buildings and cars

stood damaged or abandoned.

The city's mayor said only

about 10,000 of its 60,000

residents remain. Many who

stayed behind are the old or

sick and those who are caring

for them.

At a suburban hospital,

doctors said 80% of their

patients are civilians wounded

by shelling. Patient Volodymr

Adamkovych, his abdomen

bandaged, said he was

wounded when his home was

hit. He spent the night in his

basement before he could

reach doctors.

Creating a Culture

Ukrainian and European leaders

have pushed with limited

success for Russia to grant safe

passage to civilians trapped by

fighting. Ukrainian authorities

said more than 10 humanitarian

corridors would open Sunday,

with agreement from Russia,

including from the besieged port

city of Mariupol, where the city

council said 2,187 people have

been killed.

But such promises have

repeatedly crumbled, and there

was no word late Sunday on

whether people were able to use

the evacuation routes. Officials

did say that a convoy carrying

100 tons of aid was expected to

arrive in Mariupol on Monday.

of Caring

Offering master's

and doctoral

degrees for

Registered Nurses

Specialties Offered:

Nurse-Midwife

Family Nurse Practitioner

Women's Health Care NP

Psychiatric-Mental Health NP

The suffering in the port city

is "simply immense," the

International Committee of the

Red Cross said Sunday, noting

that hundreds of thousands of

its residents are "facing extreme

or total shortages of basic

Learn more at frontier.edu/military
---
26 | M2CC - News www.m2cc.us MARCH 2022 EDITION
---
WWW.M2CC.US Monthly Newsletter | 27

TO ADVERTISE

contact Kyle.Stephens@mhce.us
---
28 | M2CC - News www.m2cc.us MARCH 2022 EDITION