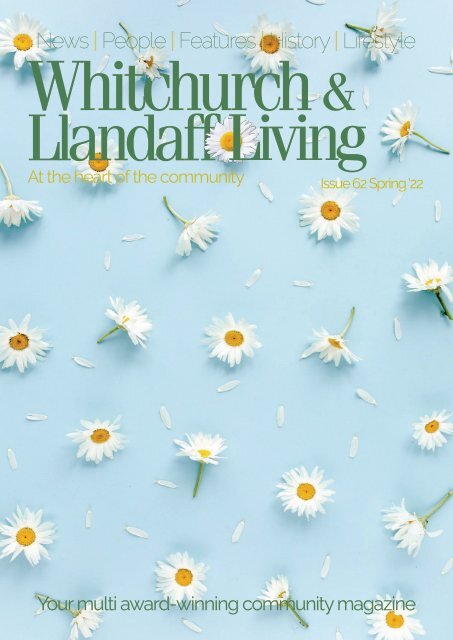 Whitchurch and Llandaff Living Issue 62
Spring 2022 issue of the award-winning Whitchurch and Llandaff Living
Spring 2022 issue of the award-winning Whitchurch and Llandaff Living
SHOW MORE
SHOW LESS
You also want an ePaper? Increase the reach of your titles
YUMPU automatically turns print PDFs into web optimized ePapers that Google loves.
News | People | Features | History | Lifestyle

Whitchurch &

Llandaff Living

At the heart of the community Issue 62 Spring '22

Your multi award-winning community magazine
---
Distribution: 6,000 copies of Whitchurch and

Llandaff Living are distributed to retail outlets and

public places across Whitchurch, Llandaff and

Llandaff North.

2

Inside this issue

Location,

Location

A look at the local

locations used

in TV shows and

films that are

seen throughout

the world

A Calm Home

Creative and

inexpensive ways

to bring peace and

serenity to your

home life

Jack Jones

A look at the

colourful life of

the north Cardiff

author, novelist,

and playwright,

Jack Jones

The Ferret

Read the

fascinating and

mysterious story

that links Cardiff

to an Australian

beach - as well as

hidden treasure!

Early Summer deadline:

28th April 2022

Published late early June 2022

a: 222 Pantbach Road,

Rhiwbina, Cardiff CF14 6AG

t: 07772 081775 / 07974 022920

w: www.livingmags.co.uk

e: editor@livingmags.co.uk or

danielle@livingmags.co.uk

While every effort has been made to

ensure the accuracy of the contents,

the publisher cannot accept any

responsibility for errors or omissions,

or for any matter in any way arising

from the publication of this material.

Every effort has been made to

contact any copyright holders.

Whitchurch and Llandaff Living is an

independent, apolitical publication.

No part of this publication may be

reproduced without the express

written permission of the publishers.

Welcome / Croeso

Spring has finally

arrived and we

welcome warmer

weather with our first

publication of the

year. Time to throw

open the windows

and doors and let

the fresh spring air

revitalise us.

The sunnier climes

invite us to spend

more outdoor time

with our families.

With that in mind,

we've put together a

few ideas for some quality family

fun.

While you're out and about,

you might recognise some of

the locations you visit from the

shows that you've seen on TV.

We've compiled a list of some

of the places that have featured

in big-name shows, including

many that are right here on our

doorstep. If nature is more of

your thing, we've also created

a guide to some of the flowers

you're likely to see at this time

of year. Spring is a truly magical

time!

While rebirth and growth

blooms and flourishes all around

us, now is a great time to devote

some time to growing your own

food. With living costs going

up and up, we give you the

basics on how to create your

own vegetable plot - and which

vegetables to grow.

Our gardens are our own

little spaces away from the

world. Whether you share that

space with friends, family or

even yourself, we'll show you

everything you need to create a

mini sanctuary for yourself.

The same goes for indoors.

After the hectic and upheaval of

the last few years, we'll show you

how you can introduce calmness

and serenity into your home.

Taking a look back in time,

we've got several historical

features that relate to our local

area. Historian John Wake charts

the life of north Cardiff's Jack

Jones, who did so much for the

literary scene in Wales. Born in

Merthyr, Jack's work has been

read, performed, and watched,

all over the world.

John Wake has also contributed

to our story of deception,

fraud and hidden treasure that

contributes to our feature about

the SS Ferret.

The ship sailed from Scotland

to Australia, via Cardiff, and the

story's character list reads like

something you'd find in a movie.

But the story is a true one,

and one which leaves several

questions unanswered.

And while the world currently

wobbles into unknown territory,

we visit relics of worrying times

from the past. Several reminders

of the Cold War are dotted

around north Cardiff - many of

them wouldn't even be noticed

by passers-by.

Finally, we're treated to a short

story from local author, Geraldine

Seymour. It's a tale of suburban

sabotage - one to enjoy with a

cup of tea and ten minutes to

yourself.

Here at Living Magazines, we're

thrilled to be entering our 15th

year of publication. When we first

launched in 2007, we had no idea

about where they would take us.

We've been blessed to receive

wonderful support, both from our

readers, and our advertisers.

Without our advertisers, we

wouldn't be able to provide

you with the publication that

you've got in your hands now

so it's down to us to make sure

that we repay that support.

Without our local businesses,

our communities would suffer

so please shop local where and

when you can.

See you in early summer!

Danielle and Patric

Editors

@WhitchurchandLlandaffLiving

www.facebook.com/

whitchurchandllandaffliving
---
A law to change the speed limit

across Wales is coming next year

news

Pop-up

recycling facility

opens in North

Cardiff

A new law, set to come into force in

2023, will see most 30mph speed

limits in Wales reduced to 20mph.

The Welsh Government is looking

to set the national default speed

limit on residential roads and busy

pedestrian streets to 20mph, in

order to make roads safer for

pedestrians, cyclists, and children.

Plans drawn up by the Welsh

Government show that the new limit

will apply to all roads where street

lights are not more than 200 yards

apart. These are typically found

in residential and built-up areas,

where the current speed limits are

30mph. The plans include some

exceptions, and councils will retain

the power to keep the 30mph limit

on certain roads if required.

Pilot schemes for the new lower

speed limits have been running in

Wales for several months, including

here in north Cardiff. The local

scheme covers the areas of Llandaff

North, Whitchurch and Tongwynlais,

Rhiwbina and Heath wards.

Mark Drakeford told the Senedd

Robbery at

Llandaff North

petrol station

Hooded robbers ransacked a

petrol station in Llandaff North

in early March, making off with

between £4,000 and £5,000

worth of cigarettes.

The robbers spent four minutes

inside the shop at James &

Jenkins, breaking into tills and

loading cigarettes into a bag.

CCTV footage recorded the two

men attempting to prise open

the till, only to find that it was

empty.

in 2019 that the default speed

in Wales should be 20mph. A

taskforce was created to assess

the viability of the scheme, which

presented the Welsh Government

with its recommendations.

Enforcement of the speed limits will

be the responsibility of the police.

Cardiff council's cabinet member

Caro Wilde said:

"As a council, we have been

installing 20mph areas across the

city, south of the A48, for a number

of years now.

"Slowing vehicle speeds in

residential areas is a positive step

forward for our local communities

and is supported by the majority

of residents. Research clearly

shows that reducing vehicle

speeds in residential areas does

reduce the number and severity

of road collisions, provides better

opportunities for residents to

walk and cycle, makes our streets

healthier and improves the

environment for everyone."

Sewage pumping

station outcry

More than 250 residents have

signed a petition objecting to plans

to construct a sewage pumping

station in a popular Llandaff North

park.

A planning application was

registered with Cardiff Council late

last year to construct a sewerage

pumping station and an associated

compound in the park.

The petition raised 250 signatures

in just four days, from locals who

were concerned about the plans

and its possible impact.

A new recycling centre has opened

in the car park of Cardiff's former

tax office in Llanishen.

The first pop-up recycling

facility of its kind opened in early

March. The site had previously

been purchased from HMRC by

Cardiff Council and the Welsh

Government.

Popular items, such as garden

waste, wood, metal, hard plastic,

textiles, batteries, and small

electrical items will be initially

accepted at the facility.

It's located in the car park on

the south side of the site and will

initially open only on Saturdays

from 9am-3pm for eight weeks.

Whitchurch

Fire Station

training tower

demolished

One of Whitchurch's well-known

landmarks has been demolished.

The training tower at Whitchurch

Fire Station was knocked down in

January to make room for a new

training tower.

The original tower was built in

1955, but was razed to the ground

after suffering structural problems.

A new Crofton training tower is

to be built in its place, providing

the Fire Service with a new USAR

(Urban Search and Rescue) base.

It will include three bays for storing

appliances, an office, meeting

spaces and mess facilities.

The planning application for the

demolition of the tower submitted

to Cardiff Council was granted

planning permission in July 2021.

3
---
news

Waun Gron Road

development

given green light

The development of a

sustainable mixed-use

scheme including new

housing, retail and bus

interchange on Waun Gron

Road was granted by Cardiff

Council during the winter,

subject to a call in request

and legal agreement from

the developer on the

conditions that have been

set.

The scheme, on the site of

the former recycling centre

in Llandaff, will deliver 44

new council homes, office

and commercial spaces, as

well as a new access road

designed to integrate the

proposed transport hub with

the residential development.

The new properties, part of

the Council's development

programme to increase the

availability of affordable

homes in the city, will be

highly energy-efficient,

making using of renewable

technologies such as ground

source heat and solar

PVs to achieve significant

improvements on current

energy performance

requirements.

Around half of the one

bed and two bedroom

apartments will be used to

accommodate people on

the city's housing waiting list

while the remaining homes

will be temporary, supported

accommodation for people

who have previously

experienced homelessness

but are ready to move on to

more independent living in

their own tenancy. Low level

support for these tenants will

be provided on site.

4

Replacement cladding work finally

gets underway in Llandaff North

After three years of waiting, work

has finally started on replacing the

cladding on council flats in Llandaff

North.

Flammable cladding was

discovered on Lydstep Flats in

March 2018, following concerns

about fire safety in the building

following the Grenfell Tower fire.

Cardiff Council removed the

cladding in December that year,

leaving residents with poor

insulation from the cold, and mould

growing on the walls.

Contractors have now started to

replace the cladding, and work is

expected to last until summer 2023.

Councillor Lynda Thorne,

cabinet member for housing and

communities, told the press:

"I'm so glad, as I know all the

Lydstep residents are, that

contractors are now on site to begin

replacing the cladding that was

removed because it didn't meet

School strikes

take place

Strikes by staff at Llandaff's Howell's

School took place in March following

a dispute over pensions.

Around 60 teachers at the school

joined other teachers across the UK

following an initial strike in February.

The establishment is part of the Girls'

Day School Trust (GDST), a national

organisation comprising 23 mainly

single-sex independent schools in

Wales and England. The organisation

has proposed to withdraw from the

Teachers Pension Scheme (TPS).

Teachers say that they will lose out on

vital pensions later in their careers if

the proposal is confirmed.

The GDST has said that it wants to

withdraw from the TPS due to rising

costs. The strikes were eventually

called off after a deal was struck from

both sides.

current fire safety standards.

"The cladding we're using to

overclad the three blocks is of the

highest level of fire safety."

All 126 flats will receive new

windows and upgraded balconies

as part of the new work. Residents

in council flats in Butetown

however, are still waiting for

contractors to begin installing their

replacement cladding. No start date

has been announced for their work.

Cardiff Council blamed the delays

for the work on Brexit and the

pandemic, in addition to new rules

surrounding safety testing for the

new cladding. Financial estimates

for the work at Lydstep Flats have

risen from the original £7.4 million to

a revised figure of £15 million.

Cllr Thorne added:

"Progress on this work has been

affected by significant cost rises due

to Brexit and inflationary pressures

in the building industry, as well as

the impact of the extensive testing

and regulation framework for

cladding solutions.

"Throughout this time, we have

been so grateful to the residents

for their patience as we worked

on finding the right solution for

the three blocks, and it's great to

see contractors on site and work

underway."

New play area

re-opens

A play area in Cardiff has recently

reopened for children to play after

the completion of a revamp just in

time for half-term.

The play area at Llandaff Fields

was opened by children from

Llandaff City C.I.W. Primary School.

Works on the play area started in

October 2021 and were completed

on Friday, February 11.

Schools from across Cardiff

were invited by Cardiff Council

Parks department to provide their

thoughts and ideas on how the play

area could be developed.

Children are now able to enjoy

3 large new slides, climbing nets,

climbing ropes, a large sphere,

stepping-stones, new benches,

and paths. Other climbing play

equipment will also be added.
---
letters

Your letters

WE

WANT TO HEAR FROM YOU!

We love to hear what you've been up to

so send us your letters and photos!

We'll do our best to print them all.

editor@livingmags.co.uk

Percy's Dilemma

To raise money for Tŷ Hafan

Children's Hospice in Sully,

Rhiwbina resident Geraldine

Seymour has written and

published a children's book.

The book contains two delightful

stories, with beautiful colour

illustrations. Percy's Dilemma

and The Cosmeston Secret are

both are set in the Penarth area.

The first story is about Percy the

Penarth pigeon and the second,

about the woodland elves in

Cosmeston Lakes Country Park.

The age range is 4 to 7 years,

although older children have

enjoyed the stories.

It is priced at £9.99 with £3 per

copy donated to the charity.

Geraldine has lived in Rhiwbina

for 50 years and has two sons

who attended Llanishen Fach

Primary and Whitchurch High

Schools.

Copies of the book can be

obtained from Phil & Laura at

P.R. Jewellery, 68 Merthyr Rd.

Whitchurch, Cardiff CF14 1DD.

(cash-only sales please), who

are open Thursday to Saturday

10am to 3pm; or from Frank by

emailing: seymour.associates@

virgin.net

Frank Seymour

Rhiwbina

Frozen (Amelia)

A little girl sings "Let it go"

She's hiding feet beneath the

snow.

She smiles and sings

While hearts break

I wonder what will be her fate.

In makeshift shelter

Applauds break out

They hide the thunder

Of shells that hit the ground

Her song drowns out that awful

sound.

The tiny person

Cannot understand

The devastation to her land

Her voice as clear as a bell

Distracts one moment in this hell.

Her future unsafe, unsure

No escape through Russia's door

Food and water in short supply

The city doomed; about to die

Will her song end

I watch, I cry.

Cheryl O'Brien

Cardiff Council

planting trees?

They're chopping

them down

elsewhere!

I have just seen issue 61 of

Whitchurch and Llandaff Living and

two pieces drew my attention.

The first story says that the

Cardiff Council are going to plant a

zillion trees, which they say are 'an

essential component of our urban

ecosystems.'

Great.

But this is barmy because the

Council also intend to chop

down 600 trees in the Northern

Meadows. It beggars belief!

Additionally, in your article about

winter walks, you are quoting

distances in kilometres. I did not

know that the mile had been

discarded. Perhaps it is part of

a subtle propaganda plot to get

revenge for Brexit. Miles please

not km!

Jeffrey Bird

Email

If you have anything you'd like our readers to know about, drop us a line at

editor@livingmags.co.uk or by letter to 222 Pantbach Road, Rhiwbina, Cardiff

CF14 6AG. You can also find us on Facebook and Twitter

5
---
VICTORIA PARK MAZDA

CELEBRATES 40 YEARS OF SALES

SUCCESS IN CARDIFF

Left to right: Gareth Jones, VPM Managing Director, Tony Marshall, VPM Director, Jeremy Thomson, MMUK Managing Director,

Peter Marshall VPM Marketing Director, Laura Brailey, MMUK Head of Retail Operations Sales

• THIS YEAR MARKS THE 40TH ANNIVERSARY FOR

MAZDA'S SECOND LONGEST-RUNNING DEALERSHIP.

• VICTORIA PARK MAZDA WAS NAMED TWICE AS

OVERALL 'DEALER OF THE YEAR' ACROSS THE UK.

• FAMILY-RUN DEALERSHIP PRAISED FOR OUTSTANDING

SALES AND AFTERSALES CUSTOMER EXPERIENCES.

In a year that saw the first Mazda vehicles

roll off the Hofu Plant No.1 production

line, Mazda welcomed Victoria Park Mazda

to its UK dealer network. Now marking its

40th Anniversary, the Welsh dealership has

received a commemorative plaque to celebrate

the significant milestone.

Established as a Mazda dealership since

1982, Victoria Park Mazda is one of Mazda's

longest-serving dealerships across the

UK and has built a reputation for delivering

first-class customer service in Cardiff. Currently

located on Hadfield Road, Cardiff, the

family-run business was named as the UK's

top Mazda dealership as 'Dealer of the Year'

in 1989 and 1992, and has since further cemented

its first-class customer service with

the dealership's five-star Feefo rating, as voted

by real customers.

Presenting the commemorative plaque, Jeremy

Thomson, Managing Director at Mazda

UK, said: "It's an absolute pleasure to be at

Victoria Park Mazda and to recognise the

hard work, dedication and commitment

demonstrated by Tony Marshall and the

team over the last four decades. The industry

has significantly changed in the last 40 years,

but with the focused team at Victoria Park

Mazda combined with the exciting Mazda

vehicles on offer, the dealership has been an

integral part of our success in the UK."

Accepting the award, Peter Marshall, Marketing

Director at Victoria Park Mazda, com-

Victoria Park Mazda, Hadfield Road, Cardiff CF11 8AQ

02920 600269 www.victoriapark-mazda.co.uk
---
mented "Our core principle of providing our

customers with an exceptional customer

experience with transparent communication

throughout the entire customer journey has

always resonated with our customers and

are key values which we still hold true today.

We are very proud to celebrate 40 years of

being part of the Mazda brand and serving

the local community."

Adding, "Having originally opened the dealership

on Cowbridge Road East in the Victoria

Park area in 1982, then later moving to

Bessemer Road and now our current stateof-the-art

dealership on Hadfield Road, we

have witnessed the dealership grow from

strength-to-strength with our expanding volume

of sales, growing servicing facility and

genuine parts centre, but above all, our increasing

loyal customer base. In fact, one of

our most loyal customers has purchased 26

Mazda vehicles since we opened 40 years

ago, which is a true reflection of the consistently

great service customers can expect at

Victoria Park Mazda."

He continued, "Many of our team have

worked at Victoria Park Mazda for a number

of years – I have personally worked full-time

at the dealership for 28 years and Gareth

Jones, our Managing Director has been with

us for the last 33 years, which is a real testament

to our business and the values my

father instilled when building Victoria Park

Mazda 40 years ago. We are proud to be

part of the Mazda family and we are excited

for the arrival of the next major evolution of

Mazda vehicles to come. We look forward to

seeing what the next 40 years holds."

For more information on Mazda's award-winning

range or Victoria Park Mazda, visit the

showroom on Hadfield Road, call on 02920

600 269 or visit www.mazda.co.uk/dealer/

victoria-park-mazda/home/.

Victoria Park Mazda, Hadfield Road, Cardiff CF11 8AQ

02920 600269 www.victoriapark-mazda.co.uk
---
Family

Fun

With the warmer weather

comes the chance to

head outdoors with the

family and have some fun

65 1. BIKE RIDES

A good few hours can be spent on bikes with the

family and if you want to make new memories,

try packing them all up in the car and heading

somewhere new. Plan your trip in advance to make

sure it all goes smoothly.

6 2. HAVE A PICNIC

Sometimes, there's nothing better than taking

some time out for a family picnic. Why not head out

early doors with some croissants, fruit, and coffee

and make it a breakfast affair? There'll be less of

the annoying insects out during at this time of year

too.

5 3. MAKE ICE LOLLIES

Grab yourself a set of ice lolly moulds and clear out some

room in your freezer. Kids will love making ice lollies and

these can easily be made with whole fruit, purées, juice

and yogurt on a warm spring day. As well as the fun and

satisfaction of creating them, they'll also be getting in their

one of their five a day!

6 4. TAKE WILDLIFE SNAPS

You can literally spend hours in the fresh, clean

air, seeking out and taking wildlife photos with the

family. Most of us have cameras on our phones so

it's quite possible that each family member can

have access to a camera and become a sharp

shooter.

Take a packed lunch with you and plenty of water

and compare photos when you get back home.

8
---
kids

5 5. GO STAR SPOTTING

You don't need to be an expert but it might be

worth swotting up on the basics before you head

out so that you know what you're looking at.

Kids love late night adventures and it'll provide

you with the perfect excuse to spend more time

with them. Check out your local dark sky areas for

maximum viewing benefits.

65 6. TREASURE HUNT

The beauty of a treasure hunt is that you can adapt

its difficulty to match your children's skill levels.

Whether it's a simple hunt in the garden, or a more

advanced map-reading task, there will be a great

sense of achievement for completing it.

6 7. GO PADDLING

We are lucky that we live within the reach of our wonderful

coastline. The great expanse of a beach offers the whole

family the chance to give themselves some space, both

physically and emotionally. Paddling allows you and your

kids to connect with nature and the shallow water will give

you considerably less stress than if you were to take the

kids to a public swimming pool.

8 8. FEED THE DUCKS

Contrary to popular belief, bread should not be the

main food you can provide for ducks. It's not particularly

nutritious and can harm their health. Instead, provide them

with sweetcorn, which they love. You can also give them

lettuce, oats or even peas. Scatter the food on the water

to keep the ducks away from possible predators. Always

supervise children when feeding ducks.

65 9. TIDY THE GARDEN

Spend the day together as a family AND get your

garden tidied - all in one go!

Kids love the feeling of being useful and helpful,

especially during the early years so arm them with

a pair of protective gloves and wellies and task

them with small but safe jobs that they can do,

such as easy weeding or raking up dead leaves.

Older children can be trusted to plant bulbs or

even create and tend to their own mini garden.

These projects can last all year round.

6 10. CHALK DRAWINGS

A cheap and cheerful way to spend a few hours outdoors

is to grab some giant chalks and a spare bit of pavement or

driveway (your own preferably). Whether your kids want to

draw pictures, practise writing their names or even working

out some mathematics, you can enjoy your time with

them, safe in the knowledge that it can all be cleaned off

naturally afterwards.

9
---
We'll love your cat

while you're away

Supporting your family with

gentle tailored sleep solutions

" I only wish I'd contacted her sooner"

"Thrilled to be getting more sleep"

- Local bilingual certified infant sleep consultant

- Passionate about working with families to deliver clear,

honest advice to achieve your sleep goals

- Highly experienced in supporting infants and children

up to 7 years old

- Free initial 15 minute consultation with packages

starting from £60

- For more information including testimonials visit:

www.restassuredsleepcoaching.com

restassuredsleepcoaching@gmail.com

@restassuredsleepcoaching

St Fagans Cattery is based in the

notoriously beautiful and peaceful

village of St Fagans.

Situated in immediate proximity to

our own home, we work full-time at

the cattery so we personally get to

know each cat's personality and cater

for them on an individual basis.

The spacious chalets have heated

sleeping areas and covered outdoor

runs, ensuring a wonderful

atmosphere for your cat to enjoy

while you are away.

www.stfaganscattery.co.uk

029 2059 1520

Outstanding School for Girls

and Boys aged 3-18

Primary ● Secondary ● Proven Methods ●

Qualified Teachers ● Personalised Learning Programmes

'Excellent' in all five inspection areas. Estyn

Ignite the spark

Senior Open Morning

Year 7 to Sixth Form

Wednesday 23rd March 2022 09:30-11:00

To book a place, visit www.cathedral-school.co.uk/opendays

029 2083 8504

registrar@cathedral-school.co.uk

www.cathedral-school.co.uk
---
Travel Experiences

at a time to suit

your lifestyle and

requirements.

the

PENARTH

Contact us today for your personal

Travel Planner appointment

02922 802 966

■ Welcome a Swiss student into your

family life

■ Support this local school project

(Year 12 students)

■ Develop friendships that can last a

lifetime

■ Excellent remuneration for the

academic year

www.wellbeing.travel

By appointment

Avon House

19 Stanwell Rd

Penarth

CF64 2EZ

Get more from

your WORLD

and earn extra cash!

(spare room required)

Call Ric 07748 113782

ric@host-families.co.uk

www.host-families.co.uk

10% OFF

all SS22

collection

with this

advert

Step into Spring

Independent Boutique in Rhiwbina

Find us in Rhiwbina village

Park outside the store in Lon Fach Shopping Mews

9-11 Lon Fach

Rhiwbeina

CF14 6DY

www.calonrhiwbeina.com

tel: 07929 239012

email: info@calonrhiwbeina.com
---
feature

Location,

Location

Cardiff has become an international destination for many filmmakers.

We take a look at some of the big screen moments that

have used our city's wonderful locations

A Discovery of Witches

First aired in 2018, A Discovery

of Witches is a fantasy romance

based on novel of the 'All Souls'

trilogy, which was written by

Deborah Harkness.

The show revolves around a

character called Diana Bishop,

a reluctant historian/witch

who discovers a bewitched

manuscript.

In Season 1, Cardiff Market

doubled up as the Oxford food

market where Diana shops for

fresh food. Filming took place in

the early hours of the morning

but several people who weren't

paid Supporting Actors did

wander into shot.

Insole Court in Llandaff was

another filming location and can

be seen in Seasons 1 and 2. Its

dark and brooding disposition

was considered a perfect

backdrop for a vampire's lair.

Much of the production was

filmed at Bad Wolf Studios,

considered the premier filming

facility in Cardiff.

12

Sherlock

This mystery crime drama, based

on the famous detective stories by

Sir Arthur Conan Doyle, started out

life in 2010.

Starring Benedict Cumberbatch

as Sherlock Holmes and Martin

Freeman as Doctor John Watson,

the series is set in the present day,

with the one-off special features

resembling the original Holmes

stories set during Victorian times.

Sherlock has been filmed in many

locations across Cardiff, including

Cardiff University and Cardiff

National Museum. The hallways

inside the Cardiff University main

building are the hallways used to

represent Sherlock's 'mind palace'

in the show.

Cardiff was chosen for filming as

it was less expensive than London.

Cardiff Castle was also used, as

well as some exterior shots at

Cardiff Bay. Charles Street was

decorated with Christmas lights for

one episode and extra filming was

also undertaken at the film studios

at Upper Boat.

Dr Who

When Dr Who first hit British TV

screens in 1963, it became an

overnight success. It was the

show's reboot in 2005 though that

gave it a new lease of life and a

new army of followers.

Cardiff has since become

synonymous with the show, with

many north Cardiff locations used,

including Llandaff Cathedral,

Lydstep Flats, St Fagans, and

even a Christmas special filmed in

the centre of Rhiwbina's Garden

Village.
---
Gavin and Stacey

Synonymous with the seaside

town of Barry, Gavin and Stacey

has gone on to become one

of the most popular sitcoms in

British TV history. A Radio Times

poll in 2019 placed the show as

the 17th-greatest British sitcom.

Cardiff itself was used for

several filming locations,

including the Capitol Shopping

Centre, Manor Parc Hotel, Cardiff

Gate Services, Cardiff Central

train station, Wales Millennium

Centre and Marks and Spencer at

Culverhouse Cross.

Alison Steadman, who played

Pam in the series, recalled that

the cast stayed at the Park Plaza

hotel for each of the three series

that were produced.

"It became a bit of a second

home to us," she said.

His Dark Materials

The BBC's adaptation of the trilogy

of novels by Philip Pullman was first

announced back in 2015, but it wasn't

until November 2019 that we got to

see the show.

Much of the show was filmed at

Wolf Studios at Cardiff Bay but areas

of Plasturton Gardens in Pontcanna

were also used, as well as a digitallyenhanced

Cardiff University.

In My Skin

This British comedy drama television series premiered on BBC Three

in October 2018. The series was initially ordered as a short film for BBC

Wales, but this later acted as the pilot episode after BBC ordered In My

Skin as a full series.

Producers were keen to use Welsh actors in the show to 'bring the

characters to life'. Locations around Cardiff were also used to give the

series authenticity. Gabalfa

featured in the production,

as well as scenes shot in

Rhiwbina's Parc-y-Pentre.

Cardiff High School and

Cardiff Royal Infirmary also

made appearances.

The coming-of-age show

was penned by Cardiff's

Kayleigh Llewellyn. In My

Skin was loosely based

around her upbringing in the

city.

War of the Worlds

The 2019 remake of War of the Worlds was broadcast to over 50 countries

worldwide. The star-studded line-up included Gabriel Byrne and Downton

Abbey star Elizabeth McGovern, and

featured a variety of Cardiff-based

locations.

Permission was given for the Siambr in

the Senedd to be used for two days of

filming in the first series, where actors

wearing military fatigues were spotted

during production. The show was given

the green light for a third series in

August 2021, with filming continuing

around South Wales.

Havoc

This upcoming British-

American action thriller film

was written and directed by

Welsh screenwriter Gareth

Evans and stars Tom Hardy

and Forest Whitaker. It's

due to be screened on

Netflix and Cardiff was used

predominately as a filming

location.

Greyfriars Place (pictured)

is one place to look out for

when the movie is released

later this year.

28 Weeks Later

Way back in 2002, director Danny

Boyle put out the horror film

28 Days Later, based around a

highly-contagious virus breaking

out in the UK.

A sequel was premièred in

2007, in which Robert Carlyle's

character Don tries to protect

himself his family from the

infected.

Scenes intended to be shot at

Wembley Stadium, which were

then undergoing final stages of

construction, were filmed instead

at Cardiff's Millennium Stadium.

The seats and pitch were altered

digitally in post-production to

give it a neglected look.

13
---
Creating

Calm at Home

The last few years have been

incredibly tough. If you're still

reeling, here are a few ideas to

introduce calm into your home

Declutter

In an ideal world, your home should

be your sanctuary, a place to retreat

from the world when things get

tough. Life is busy and before we

know it, we're knee deep in things

that we don't necessarily need in our

lives.

Taking the time to declutter your

home will also help calm your mind.

Even if it's 10-15 minutes a day, the

compound effect will make you

feel like you have more physical

and emotional space. Ask yourself

whether you need, want, or love the

things that you have, and if none of

these fit those categories, remove

them from your house.

14

Keep surfaces clear

In the business of the daily

hustle and bustle, it's so easy

and tempting to use empty

surfaces as temporary, or

sometimes, permanent storage.

This not only makes a mess

of our home but also disrupts

our thinking processes, even if

subconsciously.

Keeping flat surfaces clear is

an instant way to introduce calm

to your home. Keeping on top

of unopened mail is another

way to keep surface clutter to a

minimum and also provide you

with more of a feeling of control.

Clear up any dirty food or

crumbs and only leave out what

you need or enjoy looking at.

Pack the rest away or bin it if it's

not needed.

Create a calm space

If you have the space to do so

in your home, carve out a space

for yourself, free from clutter

and the trappings of day-to-day

life.

Give yourself permission to

create a small sanctuary for

yourself. It should be a place

where you can rest, nap, write,

listen to music or even practise

yoga or meditation.

Make other family members

aware that this is your calm

space, and that it needs to be

respected. Keep a comfortable

blanket there that you can

snuggle into.
---
Make your home work

Decor and furniture work best

for you when it's set up to allow

yourself to live comfortably, and

to make the most of family time,

relaxation, and stillness.

For instance, if you like to listen

to music while you cook, add a

simple radio to the kitchen. If you

like to talk with others while you

cook, take some comfy chairs

into the kitchen so that you can

talk while you cook.

Keep everything as simple as

you can. It will help calm your

mind and leave you feeling less

cluttered and overwhelmed.

Use storage

We all keep 'stuff'; some of us keep more

than we actually need. Our cupboards are

often stored with things that we're never

going to use again and these things take

up valuable storage space that could be

used to store other, more useful things. Just

because it's out of sight and out of mind,

doesn't mean that you'll still need to sort it

one day.

Set aside some dedicated time to clear

your storage areas of things that you are

never going to use again. You can then

utilise this space to clear your surfaces and

store the things that you do actually need

and use.

To successfully move away things so that

they are hidden from view, you can look to

keep coats in a closet, or plates and mugs

in a cupboard instead of open shelving.

home

Embrace space

Creating space at home will make you

feel like you can breathe more easily.

The space may look odd at first and it

can be tempting to fill the space with

something else. But space is needed

as much as anything else. View space

as part of the furniture, as part of the

decor, as part of your home.

If you're able to spend time sitting in

this space, the better. It'll soothe your

busy mind.

Purge bad mojo

A home can collect bad memories as

well as good ones, and hanging onto bad

karma isn't going to make you feel any

better.

Removing all reminders of negative

experiences has a cleansing effect, and

can also help with emotional healing.

Seek out anything that takes you back to

times that weren't so good and bin them

or give them away. If they stay, they'll be

constant reminders, even subconsciously,

ruining the serenity at home that you are

seeking.

Show the things you love

You have the ability to create a home

that reminds you of all the things in

life that you are grateful for. Displaying

pictures of happy memories or loved

ones isn't vain - it's a reminder to

yourself that happy times do exist -

and that you are blessed. Express who

you are through items of homeware,

whether it's a piece of artwork, a

trinket, statement pieces or a larger

piece of accessory.

Doing this in combination with

removing unwanted clutter will make

them stand out and shine.

Add natural elements

There is possibly nothing more

soothing than a touch of nature.

Introducing the calm stillness

of nature into your home not

only makes you feel calmer

emotionally, but it also filters

and cleanses the air that we are

breathing at home.

Most home plants are fairly lowmaintenance

but if even if that's

too much, you could also bring

branches, fresh flowers, leaves,

seashells, rocks, or cones inside

and put them on display for a

calming, natural presence.

15
---
Introducing Our New

Associate Solicitor:

Hannah Thomas

We are pleased to announce

the appointment of our

new Associate Solicitor, Hannah

Thomas. During her first week

at Harding Evans, we spoke

to Hannah about her career,

her favourite elements of their her estate.

role and why she chose to join

Harding Evans.

Can you tell us a bit about

yourself?

My career in law began in 2013

when I started my training contract

at Thomas Simon Solicitors,

qualifying two years later. On

qualifying in 2015, I remained at

the firm, which is now called Ince,

working my way through the ranks

until I left to join Harding Evans.

I have joined the firm as an

properly.

Associate Solicitor within the Wills &

Probate department, helping clients

to put their affairs in order.

Is there a particular area

of Wills & Probate law that

you specialise in?

I can assist clients and deal with

all issues relating to Wills, LPAs,

Probate (taxable and non-taxable),

and Court of Protection applications.

If you would like assistance with preparing

What is your favourite

> your hardingevans.com

Will, please call our

element of your role?

experienced What and advice friendly would team you to find out

>

how

hello@hevans.com

we can help you.

give to people who have

The most enjoyable element of the Call not us on got 02922 a Will 676818 / Lasting

role is being able to get to know Email my us Power at info@hevans.com

of Attorney place?

clients and to make a difference to

Sponsored feature

With recent events making many of us anxious and

uncertain about the future, lawyers have seen a sharp

increase in the number of people wanting to put their

affairs in order over the last few months.

Laura Selby, Head of Wills & Probate at Harding Evans

Solicitors, explains why it is so important to plan for the future

their lives. to I aim avoid to any hopefully unnecessary make complications It is really further important down to the have line. a

a sensitive and emotional process properly drafted and up to date

slightly less distressing.

Will, ensuring your estate is dealt

with in accordance with your latest

Can you tell us why you wishes. It will provide peace of mind

were you attracted to the knowing that the ownership of your

personal and business assets are

role at Harding Evans?

protected. Your Will can include

important decisions such as who

Harding Evans has a very good

should look after your children and

reputation in Newport, an area

their inheritance in the event of your

where I previously lived. At my

death.

previous firm, I was based in a small

office in Rhiwbina and I enjoyed As we can

Without

see from the

a Will,

recent

your

case

estate

of Clitheroe

will

v

Bond [2020] be distributed EWHC 1185 (Ch), according not only is to it the

working in such an environment, a

important intestacy to ensure rules the Will which is validly do executed, not provide but

similar location and environment to

it is also for important cohabitees to prove or you step-relationships.

have full mental

that of Harding Evans's Cardiff office. capacity. In terms of a Lasting Power of

I contacted Harding Evans when I

Attorney, again this is something

was looking for a new role and was In this case, the daughter of the deceased

of paramount importance.

particularly interested in working succeeded in in establishing that two Wills made by

Having an LPA (Lasting Power of

the Whitchurch office as I was used her late mother in 2010 and 2013 were both invalid.

Attorney) allows you to appoint

to working in the area.

The Court found that, following the death of her

other daughter, the people the mother you had trust been the suffering most to from

Furthermore, I was impressed by

a complex make grief disorder important that decisions impaired her on capacity your

the firm's development plans that

to make behalf. a Will. While Having she had an cognitive LPA can function help and to

were comprehensively explained was intellectually

limit suffering

sound, it

for

was

loved

found that

ones

she

if

had

you

during the interview process. experienced "insane delusions" that "poisoned her

become mentally incapacitated

mind" against the daughter she excluded from her

Will, causing

and

her

can

to

avoid

make allegations

them having

for which

to

there

Are you living locally?

was no rational make basis. an application In circumstances to the where Court there

could be of any protection doubt as to a to person's get access mental to capacity, your

I do live locally to the Whitchurch we recommend assets obtaining and finances a medical which report. can be a

office. I know the area well as I have very lengthy and expensive process.

worked in the area prior to my role Most commonly, It is worth when pointing clients show out some that form without of

at Harding Evans.

memory loss, possibly as a result of dementia, this

an LPA, decisions regarding your

makes us consider their capacity and we will give the

care will be left in the hands of

most appropriate advice. The case of Clitheroe v

What do you enjoy doing strangers.

Although it is not a pleasant thing to think about, it

is important to ensure you have a properly

prepared Will in place. Having a professionally

drafted Will in place provides peace of mind that

your estate should be dealt with in accordance with

your wishes and is likely to make the process far

easier for those you leave behind when you die.

Yet, there are reports that surprisingly around

60 per cent of the adult UK population do not

have a Will, which effectively means they will be

allowing ancient laws to determine who receives

Making a Will is often not the long, complicated and

expensive process that people often imagine it to

be. Many people have put it off during lockdown,

thinking it would not be possible while social

distancing. At Harding Evans, in accordance with

Government guidelines, we have been operating

throughout lockdown. Our offices are now open to

the public with measures in place to reduce the risk

of spreading the virus.

If you are currently unable to leave your property,

we also offer telephone appointments, video calls

and witnessing of Wills, even via your front window

if required! There are strict rules regarding the

witnessing of Wills to ensure they are executed

Unfortunately, challenges to Wills appear to be on

the rise, so it is more important than ever to obtain

legal advice when preparing your Will, to avoid

lengthy and costly disputes after your death.

when you're not in work?

When I'm not at work, most of my

time is taken up being a Mum to

my two wonderful children. My

daughter is called Lila and is five

years old, and my son Jude is three.

Bond is a firm reminder that other health conditions

may exist which may not give rise to memory loss

but could still mean that they may be lacking

capacity. It is recommended to keep records of the

will instructions taken; these records may also help

to protect your estate in the event of a challenge.

> 13 Merthyr Rd,

Cardiff CF14 1DA

> 02922 676818
---
Jack Jones

Author Jack Jones CBE is renowned and revered in literary circles.

Historian John Wake takes a look back over the writer's colourful

past - and the legacy that he leaves for readers today

If you happened to be walking

through Rhiwbina village during the

1960s, you may have seen a whitehaired,

elderly gentleman shuffling

from Pen-y-Dre to Beulah Road. He

would have been on his way to the

Butcher's Arms - his local. You may

have shouted to him, 'Hello Jack',

but it is doubtful you would have

got an answer other than an 'umph'.

Jack was known to be a little

'grumpy' in his old age and could

be very acerbic in conversation. He

would be at his most gruff if you had

the gall to sit on his seat by the bar.

One lady recalled that one evening,

she went to the Butcher's Arms with

her husband, who innocently sat in

'the seat' and ordered a couple of

drinks. The place went a little quiet

when Jack arrived. Jack Jones went

up to the man and told him: 'That's

my seat'.

The man, quite shocked, did as he

was told not wanting any altercation

in front of his wife. They left the

snug and carrying their drinks, went

to another bar in the pub.

Jack's achievements were second

to none in literary circles in Wales.

He was the author of sixteen novels,

several plays and the consultant

scriptwriter for surely the greatest of

Paul Robeson movies, Proud Valley.

The most acclaimed of his classic

novels were Rhondda Roundabout,

(1934), Off to Philadelphia in the

18

Morning (1947) and River out of Eden

(1951).

Staunchly Welsh, a patriot and a

fighter for workers' rights, it's easy to

see how his early life's experiences

influenced his life politics.

He was born in 1884 in Merthyr

Tydfil. It was one of the largest

towns in Wales at the time and

the most brutal for the working

classes. Iron Masters dominated

the industrial scene, cruel in their

treatment of workers and their

families.

The mines of the area gave coal

to the world, but little of the profits

went to the men at the coal face;

they endured torturous long days

deep underground, including

children too.

Jack's father was a coal miner so

he understood the hell that was the

life of a coal miner's family during

the latter years of the Victorian 20th

century. At the age of twelve, Jack

joined his father down the mines.

There was a spark though, of what

was to come during those years.

He not only watched theatre, he

acted in it. Local amateurs in the

scene assisted Jack and promoted

his 'little plays'. He did just five years

down the mines with his father

before leaving and joining the army.

Jack's first posting of his regiment,

the Militia Battalion Welsh, was in

South Africa. He hated it so much

that he deserted. The Military Police

got hold of him and he was sent to

India. His life at the front line in the

English Army came to an end and

the much-hardened Jack Jones

returned to Wales and once again,

went to work down the coal mines.

Jack got married in 1908 and had

five children with his wife Laura,

although sadly two of their sons

died at a young age. In 1914, Jack

was sent to the WW1 front lines in

both France and Belgium. He, like

many others, received debilitating

wounds caused by artillery shrapnel

and was invalided home. He took

up employment as a recruitment

officer in Merthyr.

Jack's deep resentment of the

savage 'capitalist' system saw him

start to stand up for his fellows

against the iron and coal owners.

Miners were dying every day;

many families were put out onto

the streets and this made Jack

very angry. He wanted to put his

educational abilities to good use.

He was a master of the English

language and this potent force was

needed within the miner's lodges.

In 1920, Jack joined the

Communist Party, which was at

the time, a real agitator against

injustice and a force for promoting

workers' rights. He attended rallies

in the north of England and spoke

to large crowds in the furtherance
---
communism.

He became the Honorary

Secretary of his local lodge and

it did not stop there. In 1923, he

was appointed full-time secretary

of the Blaengarw branch of the

Miner's Union, moving his wife and

family to live in Bridgend, before

settling in Cardiff after the General

Strike. It was at this time that he

was also active also in play writing

and actually won a Manchester

competition.

His book Black Parade was turned

into a stage play in London but

was postponed, yet the book was

published. It was a hard hitting

look at Merthyr in the 1880s,

portraying the unemployment,

the poverty, the violence, the rich

getting richer and the poor getting

poorer. Merthyr was portrayed in

an inglorious light. The book was

declared an outstanding narrative

and its success was down to Jack's

first hand plight of the working

man - the miners. The book is still

available to purchase to this day.

In October 1936, the BBC

broadcast its version of the play

Black Parade as part of a radio

series, causing caused major

controversy. There were protests

about its content from Merthyr

dignitaries and other establishment

organisations. Jack knew when

to keep quiet and said nothing

about the subject when asked.

Looking at Jack's pedigree, he

would certainly have known life in

the Rhondda and Merthyr as well

as anyone, - perhaps a little better.

The BBC decided to drop the

heading 'Merthyr' and substitute it

with a generalised term, basing the

play in any of the mining areas of

England and Wales. The vociferous

protests did not stop and the play

was pulled from the air. Jack again

said nothing when asked about the

decision. His fame had grown even

more, and one press man said, 'If

silence is golden then Jack Jones is

the gold standard'.

To those who knew him, Jack was

a contrary man. He knew the type of

society he wanted, which brought

him to switch political party loyalties

on several occasions. He had joined

the Labour Party and actually spoke

at a Ramsey McDonald rally in

Aberafon. He then jumped ship to

join the Liberal Party, which fitted

more closely with his political ideals

at the time.

Jack was employed by the Liberal

Party and he travelled the United

Kingdom selling their cause at

major meetings and political

hustings. This employment was

on the advice of their leader at the

time, David Lloyd-George. He had

attended at one of Jack's meetings

and was impressed with his

speeches. Jack stood for the Liberal

Party at the General Election of

1929, in direct opposition to Labour.

He spoke to street gatherings and

hustings and was becoming a huge

thorn in Labour's flesh. He finished

second, with a creditable 28% of the

polling.

During these decades, Jack's

thoughts were well documented

in many of his plays aimed at

the London audiences and his

foes - the rich. His play, Rhondda

Roundabout ran in the Globe

Theatre, London, which made Jack

a famous name in his adopted city

of Cardiff. In fact, Cardiff's Lord

Mayor, in the June of 1939, joined

Jack and others on an official visit to

London to see the play.

The drama was a series of

vignettes of valley life and

extremely disrespectful to the

managing establishment and

highlighting the perseverance,

honesty and dogged stubbornness

of the miners and their quest for

worker's rights. One line from the

show drew wide applause from

the audience when one character

said, 'that in war the capitalists from

London would be glad to re-open

the disused pits as air raid shelters

for themselves'. This was 1930s

London. In 1940, Jack appeared in

the movie The Proud Valley with

Paul Robeson, a movie that Jack

had helped write.

Jack's books were being churned

out at an amazing rate. This

amazing skill took him to the

United States of America on several

occasions, undertaking lecture

tours. He was also to undertake

the same skills to the battlefronts

during WW2.

Unbelievably, Jack once more

changed his political allegiance

to another party. He had tried

Communist, Labour, Liberal but the

next change was surely the most

controversial. Joining and support

for the Oswald Mosley's black shirts

during the 1930s would have been

the strangest twist in any a storyline

but that's exactly what he did. He

stayed within that political family for

many years. In 1945, he supported

the far right candidate Sir James

Grigg at the General Election.

It was his book Land of My Fathers

that really brought him to the

general public's attention. The

'play' version ran in London to great

acclaim.

His classic novel, Off to

people

Philadelphia in the Morning is about

the collier's working life in the

1880s/90s south Wales valleys. The

book intertwines the story of Joseph

Parry, the composer. Parry was a

miner during his early years but

his love of music and his struggle

to succeed finally overcame to

become one of, if not the greatest,

of all Welsh composers. Myfanwy is

perhaps his best known work. The

South African national anthem is

based on Parry's work.

Every Cardiffian should read

River out of Eden. It is a masterful

depiction of the city's growth

from village to city, from the

industrial explosion to WW2. Jack

is supremely ingenious as the

narrative follows just one family

and the generational struggles

from Irish immigrant to richness.

Each follow different paths but

the most seductive reason for

reading this book is to study the

streets and suburbs of Cardiff prior

and during the early half of the

twentieth century. We visit the rich

man's world of expensive shopping

and private clubs, then follow in

the footsteps of pimps and their

prostitutes. It is probably one of the

finest depictions of Cardiff's history

within a novel that there ever has

been, or perhaps ever will be.

When he was observed back in

the 1960s, on his own, shuffling

his way to the Butcher's Arms,

Rhiwbina, young locals watching

had little knowledge of the

incredible life story of Jack Jones.

I remember him well. I was one of

those who shouted 'Hi Jack' as he

walked past me in the village. He

would smile and 'umph'. If only I had

known then what I know now, about

his incredible life, I may have asked

for an autograph, or even a 'snap',

I'd like to think that he would have

agreed to one.

I would also like to think that my

words here have been able to do

this wonderful and complex man

justice.

19
---
ing Magazines_Layout 1 25/02/2022 08:30 Page 1

NINA CONTI

The Dating Show

08.04.22

TOY STORY IN CONCERT

Film with Live Orchestra

18.04.22

CARDIFF PHILHARMONIC ORCHESTRA

Tchaikovsky Night

18.03.22

GIOVANNI PERNICE

This is Me

24.04.22

ZOG AND THE FLYING DOCTORS

11am, 2pm & 4.30pm

11.04.22 & 12.04.22

JOHANNES RADEBE

Freedom

25.04.22

LONDON MOZART PLAYERS

feat. Isata Kanneh-Mason

24.03.22

THE GOOD, THE BAD & THE RUGBY

feat. Special Guest - Scott Quinnell

04.05.22

ED GAMBLE

Electric

15.04.22

BIZET

CARMEN

22.04.22

TEST MATCH SPECIAL

feat. Jonathan Agnew & Phil Tufnell

14.04.22

PUCCINI

TOSCA

21.04.22
---
Skin | Aesthetics | Laser

At our Whitchurch studio, we're dedicated to providing high-quality,

personalised care with the most cutting edge technologies available

10% off your next visit

T&Cs apply. Must bring voucher to redeem

07597 077718

Aestheticsbyellamarie@yahoo.com

Book now for your

complimentary consultation

www.ellamarieaesthetics.co.uk

Serving your

local community

CARDIFF BED &

FURNITURE CENTRE

Your local furniture store

Beds • Sofas • Dining Sets •Home Delivery

We will collect and dispose of replaced items • Half price Yankee Candles

20% off all Silentnight

and Rest Assured

beds, mattresses and

headboards until the

end of March 2022

47 Merthyr Road, Whitchurch, Cardiff CF14 1DB

02920 615719 info@cardiffbedcentre.co.uk

Open Mon-Fri 10am-5pm Sat 10am-4pm

www.cardiffbedcentre.co.uk
---
⬧

161-163 Pantbach Road, Cardiff. CF14 1TZ

• Bright, modern + welcoming clinic

• Road side parking + bus stop outside clinic

• All manufacturers of hearing aids available

• Comprehensive free lifetime aftercare service

⬧

⬧
---
SPRING: AN ANTHOLOGY FOR THE

CHANGING SEASONS

It is a time of awakening. In our fields,

hedgerows and woodlands, our

beaches, cities and parks, an almost

imperceptible shift soon becomes a

riot of sound and colour: winter ends,

and life surges forth once more.

Whether in town or country, we all

share in this natural rhythm, in the joy

and anticipation of the changing year.

In prose and poetry both old and

new, Spring mirrors the unfolding of

the season, inviting us to see what's

around us with new eyes. Featuring

original writing by Rob Cowen,

Miriam Darlington and Stephen Moss,

classic extracts from the work of

George Orwell, Clare Leighton and H.

E. Bates, and fresh new voices from

across the UK, this is an original and

inspiring collection of nature writing

that brings the British springtime to

life in all its vivid glory.

SPRINGbooks

Grab a fresh coffee, take a seat in the

sunshine, and lose yourself in one of our

hand-picked books for spring

books

THIS MUCH IS TRUE

Award-winning actor and creator

of a myriad of memorable

characters, Miriam Margolyes is a

British national treasure.

At the age of 80, she has decided

to tell her extraordinary life story -

and it's far richer and stranger than

any part she's played.

THE FOUR WINDS

Texas, 1934. Elsa Martinelli had finally found

the life she'd yearned for. A family, a home

and a livelihood on a farm on the Great

Plains. But when drought threatens all she

and her community hold dear, Elsa's world is

shattered to the winds.

The Four Winds is a story of love, family,

unbreakable bonds, bravery and hope that's

both powerful and compelling.

AND AWAY...

Bursting with the

unique comic

imagination

that makes him

such a beloved

entertainer,

Bob Mortimer's

memoir recalls

his numerous

misadventures,

yet also reflects

on the death of

his father and his

own diagnosis

with a serious

heart condition.

12 RULES FOR LIFE

In this book, acclaimed

clinical psychologist Jordan

Peterson provides twelve

practical principles for how

to live a meaningful life,

from setting your house

in order before criticising

others to comparing

yourself to who you were

yesterday, not someone

else today. Happiness is a

pointless goal, he shows

us. Instead we must search

for meaning, not for its

own sake, but as a defence

against the suffering that is

intrinsic to our existence.

23
---
Whether you want

to spend time with

friends, loved-ones,

or on your own,

your garden can

become the place

to retreat to

Spring

Sanctuary

Firepit

Very much like an indoor log fire,

a fire pit provides the practical

elements of light and warmth. But

it does so much more than that. It

becomes a focal point that brings

everyone together or if you're on

your own, it provides a evening-long

companion. The sound of a small

crackling fire can help bring calm

to the garden - and it smells pretty

good too!

24

Bean bag

A giant bean bag can be the perfect

place to sit back and watch the

afternoon slowly turn to dusk.

Choose a heavy duty, waterproof

bag that will last you through

until autumn. Some bags are also

available with memory foam fillings.

Hanging Chair

Nothing feels quite as calming as

relaxing in a hanging chair. The

sensation of floating above the

ground is not one that's easily

experienced in day-to-day life.

Most hanging chairs come with a

hanging frame whereas others will

need to be secured to something

solid to take the weight.

Cushions are often included to

make your hanging chair time a

magical one.

Dining set

If you enjoy the company of friends

or family, a dining set is a place to

eat, talk and chill.

Al fresco dining needn't be

expensive either. Even a simple set

of table and chairs will allow you

and yours to enjoy a meal together.

A survey of over 8,000 British

adults found that connecting

with others through social eating

has one of the highest positive

associations with well-being.
---
outdoors

Bar cart

Traditionally the toast of 1970s

drinks parties, the bar trolley has

undergone a bit of a revival in

the last few years. It's the perfect

companion for you and your friends

- the bar cart is a simple trolley that

can hold all your drinks close by.

Safer than carrying trays, you can

load up your cart with everything

you need. Throw in an ice bucket

and you're set up for the day!

Lounger

The quintessential place to relax

and enjoy the calm of the warm

spring sunshine.

Manufacturers have tended to

move away from the flimsy white

plastic of yesteryear. Invest in some

high-quality wooden pieces that will

serve you year on year.

Hammock

Inexpensive, easy to store, and so

relaxing - the simple hammock is

the perfect place to quietly while

away a spring afternoon.

Hammocks vary from the simple

versions that can be tied between

two study places, to those that

come with strong frames that can

be packed away when not in use.

Hammocks keep you off the floor

(and away from creepy crawlies)

and its swaying motion can often

send you to sleep. You can even get

double hammocks if you're in the

mood for sharing.

Wind chimes

The gentle notes of a wind chime

can help tap into your inner calm.

Choose a set that give off delicate

sounds. This will help soothe your

busy mind and won't upset your

neighbours too much either.

Spinners

If you're more of a visual person, a

wind-powered garden spinner can

help catch your eye and gently take

your mind away from your daily

troubles.

These gorgeous kinetic sculptures

catch the lightest of breezes and

spiral around in a mesmerising,

almost hypnotic fashion.

Place them so that they are facing

the prevailing wind head-on. Many

also include solar-powered lights,

that charge throughout the day, and

illuminate at dusk. Pick one that's

weather-resistant and will last all

year round.

25
---
Are you looking after your hearing? We're

here to give you FREE advice and to answer

any questions you may have about hearing

health.

Viney Hearing Care is holding a week of

events to promote Deaf Awareness Week

in the community. Call today to attend any

of our events. Spaces will be limited.

Deaf

Awareness

Week

Monday 2nd May

Speech Mapping Day

Do you wear hearing aids

but still feel that you aren't

hearing the full picture? Is

speech clarity a problem for

you? Speech mapping is the latest revolutionary

way to test the performance of your hearing aids

and to see how well they help you hear. You will

be provided with a print out of your heading aid

results and information on how speech can be

improved for you. Call today as places will be

limited.

Wednesday 4th May

Starkey In The Ear Rechargeable Aids

The new era of 'invisible

hearing'. We work with the

world's leading hearing

instrument manufacturers

to provide the most discreet

instruments with the finest

hearing quality. Instruments

that you can't see and you

can't feel - just excellent

hearing in all walks of life.

Book an appointment for

your FREE hearing screen

and a demonstration of

hidden hearing.

Thursday 5th May

FREE Microsuction

The SAFEST way to

clean your ears. If you

have problems with dull

or itching ears, there

could be wax blocking

your ear canals. Come

and have a FREE

hearing health check

to see if wax is the

problem. If it is, we can remove it with the latest and

SAFEST techniques. Places will be limited (Normal

cost £55).

2nd - 6th May 2022

Limited Spaces Available

Tuesday 3rd May

Tinnitus Day

Tinnitus affects 1 in

10 people in the UK.

It's classed as a noise

that comes from your

head and not the

environment around

you. Tinnitus has many

causes and can severely disrupt people's lives and

that's why it's important to know how to manage it.

If you are curious, distressed, or concerned, we can

help so please call to book your FREE session.

Friday 6th May

Oticon More

Demonstration Day

Do you struggle to hear

in company, watching

TV or on the phone? We

understand that hearing

loss can make these listening situations very difficult.

Allow us to demonstrate how the latest connective

wireless technology can take away the strain of

listening and see how easy it can be to enjoy these

simple pleasures again.

Viney Hearing Centre

66 Merthyr Road, Whitchurch

Cardiff CF14 1DJ

02920 250121

www.vineyhearingcare.co.uk
---
the

Ferret

Deception, fraud - and hidden treasure in a north Cardiff wood.

This is the story of the SS Ferret and its mysterious crew, a story

that has gone down in infamy on both sides of the world

Lying silently in the sands of a South

Australian beach lies the wreck of

the iron screw steamship, the SS

Ferret.

To the locals, it's a well-known

landmark, one that every so often

reveals itself from its veil of shifting

sands. Its rusty remains lie at the

base of the northern end of the

beach, and its silence keeps a

baffling secret - a secret that's

never been explained for over 100

years.

The story begins on a cold

autumnal day in 1880, when a small

group of men approached the office

of the Ferret's owners in Greenock

Dock, Scotland. The men were

looking to charter the Ferret and to

take it on a pleasure cruise in the

Mediterranean. The ship had been

fitted out as a passenger vessel and

seemed perfect for the men's plans.

The owners of the Ferret would

have been pleased with their new

clients - the group's leader was

a man that went by the name of

Smith. He boasted of great financial

credentials, and told the ship's

owners that the cruise was for

his wife, who was unwell. He also

alluded to the fact that he was a

relative of the late First Lord of the

Admiralty. What the owners didn't

know was that Smith was nothing

of the sort. In fact, his name was

Henderson, and he was about to

lead the ship and its crew on one of

maritime's greatest mysteries.

A six-month lease was agreed,

28

and bills for the first month's charter

was paid with notes that were later

found to be worthless. Henderson

had been operating a fraudulent

London shipbroking office named

Henderson & Co. to support the

scam.

Officers and crew were hurriedly

recruited with two men by the

name of Walker and Carlyon

appointed Purser and Chief Officer

respectively. The role of Sailing

Master was given to a man named

Watkins and a man called Griffin

was named Chief Engineer.

Provisions were also loaded onto

the ship - 'stores, plates and coal'

worth £1,400 were loaded, as well

as £500 worth of premium wine.

These were paid with bills that

would later be found to be also

worthless.

The Ferret finally set sail. The

pilot that took the ship out to sea,

reported that the ship was full of

cheer and jollity, which raised the

suspicions of the ship's owners.

It was a steamer of considerable

speed, and after leaving Greenock,

it sailed to Cardiff.

In Cardiff around this time, was

a mysterious man, believed to be

Spanish, who was staying at the

Cardiff Arms Hotel. In the following

days, he became acquainted with

the captain of the Ferret, and when

she left purportedly for Marseilles,

he sailed with her as supercargo, a

representative of the ship's owner

on board the merchant ship, and

responsible for overseeing the

cargo and its sale.

Henderson's wife also boarded

at Cardiff before the Ferret sailed

through Straits of Gibraltar, looking

for all the world like it was heading

for its Mediterranean cruise. That

night, the crew made sure that their

'All Well' lights were seen by the

shore stations.

But that's when the story took an

unusual twist.

At some point during the small

hours, the lights were put out, and

under the cover of darkness, the

ship silently passed back through

the Straits. The aim was to give

the appearance that the ship had

foundered with all hands lost

somewhere in the Mediterranean

Sea.

The ship headed out into the

Atlantic, where Henderson revealed

to his crew that he was a colonel in

the United States Cavalry. He told

them that he needed to destroy all

traces of his identity. He went on to

tell them that he owned the ship

and was entitled to do with it as he

pleased.

He made it clear that he was

incredibly wealthy, and that anyone

who did not cooperate with the

plan would be shot on the spot.

He gave direct instruction for the

ship's appearance to be radically

overhauled. The wheelhouse and

chartroom were dismantled and

rebuilt on the aft-deck; the black

funnel was changed to yellow; the
---
ship's lifeboats were changed from

blue to white; and crucially, the

ship was renamed Bantam, taking

the name of another ship of similar

tonnage on the Lloyd's Register.

Shipping documentation was

forged to support the false name.

Any identifying objects on the ship

were either thrown overboard or

used as fuel in the ship's coal-fired

engines.

He made

it clear that

anyone who did

not cooperate

with the plan

would be shot

on the spot

The crew were instructed to

say that the ship had sailed

from Singapore if questioned by

authorities. The ship next sailed to

the Cape Verde Islands and then to

Santos, Brazil, where it arrived on

Boxing Day 1880.

The crew took on a consignment

cargo of coffee destined for

Marseilles. Henderson then sailed

for Cape Town, where Watkins

disembarked, changing the ship's

name for the second time en route,

this time to the name India. On

arrival at Cape Town, he sold the

coffee for £13,000. He then sailed

for Port Phillip in Victoria, Australia

via Mauritius and Albany, Western

Australia arriving at Victoria in April

1881. Henderson told Australian port

authorities that he had come from

Bermuda.

Back in Scotland, the ship's

owners were becoming

increasingly concerned about the

disappearance of the ship. They

advertised the disappearance, and

sought help locating it.

By chance, an observant wharf

policeman on duty at Queenscliff,

Constable James Davidson, who

had recently arrived from Scotland,

was at his post as the newly-named

India steamed past him.

At the time, he happened to be

reading a copy of The Scotsman

newspaper which included an

article taken from the Glasgow

Evening Citizen and which described

the mysterious disappearance of

the Ferret from the Clyde.

Seeing that the India fitted the

description well, Davidson decided

to take a closer look. He noticed

certain unusual behaviours coming

from the ship, and noted that

it had broken a number of port

regulations.

His suspicions raised, he kept it

under observation and alerted his

superiors. Customs officials seized

the ship, and the faint appearance

of another vessel's name under the

lettering 'India' soon confirmed the

hoax.

Henderson and his accomplices

tried to escape but were soon

apprehended, charged, and

brought to trial by jury in Melbourne

before Justice Williams. Henderson,

and his two main cronies were each

charged with conspiracy on the

high seas, attempt to defraud the

ship's owners, and customs and

other maritime offences, including

changing the name and official

number of a ship. Chief Engineer

Griffin, who had been recruited in

Glasgow, provided much of the

evidence that convicted the three.

Watkins, the Sailing Master, had

left the ship in Cape Town after

which a sailor called Wright had

taken over the sailing duties. The

three defendants fabricated a story

that Watkins had led a Peruvian

arms smuggling racket, and that

he told them to attempt to sell the

ship. The court rejected the story

and found the three men guilty.

But that's not where the story

ends. A long time later, a letter

landed on the desk of Cardiff's

Head Constable. The letter,

apparently written by a prisoner in

Spain, requested the help to find

treasure 'of considerable amount'

that had been buried in Cardiff.

The Head Constable dismissed the

letter as a hoax. The letter was also

shown to a borough magistrate,

who came to a different conclusion.

Correspondence with the

prisoners was initiated, and before

long, the prisoner admitted that

he was at one time the private

secretary of a Spanish nobleman

who entrusted him with property

to a considerable amount to be

conveyed to England. He came

to London with it, but from the

start, he evidently intended to

appropriate the property to his own

use. He left London, went to Bristol,

and stayed for some time at a hotel

there. He then came to Cardiff and

stayed for a still longer period at the

Cardiff Arms Hotel.

During his stay there, his friends

in Madrid informed him that his

employer had discovered his

duplicity, and agents were sent

to England to arrest him. Fearing

SS Ferret in 1910

history

capture, he deposited the valuable

treasure that he had been entrusted

with in a secret place, not far from

Cardiff, and then left in a steamer

bound for Marseilles, but was

landed on the coast of Spain. He

was discovered by the agents of the

nobleman, arrested, and tried at

Madrid for feloniously disposing of

property entrusted to him by his

master, and sentenced to a long

term of imprisonment in one of the

carceras in Madrid.

It was noted during the months

that followed, that three men were

spotted digging in various parts of

a wood in the north of Cardiff. The

men could not speak English well

and were said to be of Spanish

extraction. It is believed nothing was

found at that time.

As for the Ferret, in 1904, it was

called into action to assist with a

stricken Norwegian barque that

went under the name of Ethel.

The Ethel had run onto a South

Australian beach and the Ferret was

the first ship on hand to rescue its

crew and passengers. The beach

was later named Ethel Beach.

As fate would have it, the Ferret

itself was wrecked too in November

1920 after running onto a beach

during a storm. All 21 crew were

rescued after walking 3 miles

overland from where the ship had

foundered - on Ethel Beach.

The treasure, if it exists, has never

been found.

The mystery of the treasure has

been written into a ghost story

centred on Cardiff, by Rhiwbina

author, John F Wake, entitled

'The Madding of Eli McNamara'.

29
---
BEAUTIFUL IS ON THE HORIZON

MAZDA 3

4 Years 4.9% APR*

MAZDA PERSONAL CONTRACT PURCHASE

Book a test drive° today, call us on 02920 347434

Victoria Park Mazda, Hadfield Road, Cardiff CF11 8AQ

02920 347434 www.victoriapark-mazda.co.uk

The official fuel consumption fi gures in mpg (l/100km) for the Mazda3 range: Combined 46.3 (6.1) - 56.5 (5.0). CO 2 emissions

(g/km) 140 - 114. Figures shown are for comparability purposes; only compare fuel consumption and CO 2 figures with other cars tested to the same technical

procedures. These figures may not reflect real-life driving results, which will depend upon a number of factors including the accessories fitted (post-registration), variations

in weather, driving styles and vehicle load. All fi gures quoted are derived from the latest WLTP test cycle. Retail sales only, subject to availability for vehicles registered

between 20.12.21 and 31.03.22 at participating dealers. T&C apply. *4.9% APR Mazda Personal Contract Purchase available on all new Mazda3 models. Finance subject

to status, 18s or over. Guarantee may be required. Mazda Financial Services RH1 1SR. Model shown: Mazda3 186ps GT Sport Tech Edition, OTR from £29,255. Model

shown features optional Soul Red Crystal Metallic paint (£810). OTR price includes VAT, number plates, delivery, 12 months' road fund licence, first registration fee, 3

year or 60,000 mile warranty and 3 years' European roadside assistance. °Test drives subject to applicant status and availability. Details correct at time of going to print.

Not available in conjunction with any other offer unless specified. Victoria Park Motor Company Limited, trading as Victoria Park Mazda is a credit broker not a lender

for this financial promotion. We can introduce you to a limited number of carefully selected finance providers and may receive a commission from them for the

introduction. If you have any questions about commission please speak to the dealer.
---
BEAUTIFUL IS ON THE HORIZON

THE MAZDA SUV RANGE

4 YEARS 4.9% APR*

MAZDA PERSONAL CONTRACT PURCHASE

Book a test drive° today, call us on 02922 744434

Victoria Park Mazda, Hadfield Road, Cardiff CF11 8AQ

02922 744434 www.victoriapark-mazda.co.uk

The official fuel consumption fi gures in mpg (l/100km) for the Mazda CX-30 and Mazda CX-5 ranges: Combined 35.3 (8.0) - 50.4 (5.6). The official

energy consumption fi gures in (kWh/100km) for the all-new Mazda MX-30 range: Combined 19. CO 2 emissions (g/km) 182 – 0. Figures shown are for

comparability purposes; only compare fuel consumption and CO 2 figures with other cars tested to the same technical procedures. These figures may not reflect real-life driving results, which will depend upon a

number of factors including the accessories fitted (post-registration), variations in weather, driving styles and vehicle load. All figures quoted are derived from the latest WLTP test cycle. Retail sales only, subject

to availability for vehicles registered between 20/12/2021 to 31/03/2022 at participating dealers. T&C apply. *4.9% APR Mazda Personal Contract Purchase available on all new Mazda models. Finance subject

to status, 18s or over. Guarantee may be required. Mazda Financial Services RH1 1SR. Models shown: Mazda CX-5 165ps 2WD GT Sport, OTR from £33,645, Mazda CX-30 186ps 2WD GT Sport Tech, OTR from

£31,305 and Mazda MX-30 145ps GT Sport Tech Auto, OTR from £32,945. Mazda CX-5 shown features optional Soul Red Crystal Metallic paint (£820). Mazda CX-30 shown features Sonic Silver Metallic paint

(£580). Mazda MX-30 shown features optional Ceramic Metallic paint with Brilliant Black roof and Grey Metallic side panels (£1,500). OTR price includes VAT, number plates, delivery, 12 months' road fund

licence, first registration fee, 3 year or 60,000 mile warranty and 3 years' European roadside assistance. All-new Mazda MX-30 'On-The-Road' retail price includes Plug-in Vehicle Grant (if applicable). Not

all-new Mazda MX-30 currently qualify for the Office of Zero Emission Vehicles ("OZEV") Plug-In Vehicle Grant (PIVG), which offers £2,500 off the purchase price. OZEV reserve the right to alter or withdraw the

Plug-In Vehicle Grant at any time. Any changes in the Plug-In Vehicle Grant will be reflected in the overall all-new Mazda MX-30 price. All figures are correct at time of publication but may be subject to change.

Plug-In Vehicle Grant is not applicable for Channel Islands and Isle of Man. Car shown Mazda MX-30 145ps GT Sport Tech Auto does not qualify for the grant. °Test drives subject to applicant status and

availability. Details correct at time of going to print. Not available in conjunction with any other offer unless specified. Victoria Park Motor Company Limited, trading as Victoria Park Mazda is a credit

broker not a lender for this financial promotion. We can introduce you to a limited number of carefully selected finance providers and may receive a commission from them for the introduction. If you have

any questions about commission please speak to the dealer.
---
Bunker

Mentality

In a quiet corner of Llandaff, there

sits a small, unassuming structure,

barely noticed by the outside world.

The Llandaff Sub-Control Centre

is a single storey, windowless affair,

that to the untrained eye, looks

like some sort of nondescript utility

building. Yet inside its doors lie

secrets of our nation's role in the

Cold War.

In recognition of this, Cadw has

recently awarded the unusual

building with a Grade II listed

status, acknowledging the site as

a sobering reminder of how close

Wales came to nuclear annihilation

in the twentieth century.

The Sub-Control Centre building

sits on the outer edge of the

beautiful, terraced gardens of

Insole Court. The Victorian mansion

was used during the Second World

War as a hub for the emergency

services responding to the Cardiff

Blitz.

In the years following the war,

tensions mounted between the

former allies and in 1948, the Civil

Defence Corps was revived across

the UK, leading Cardiff County

Borough Council to make plans for

a possible Third World War.

Nuclear weapons had been

invented and used by the USA in

1945 and in 1949, the Soviet Union

produced its first atom bomb,

followed by Britain in 1952.

With these developments,

32

A small, nondescript building in Llandaff was recently awarded

protection status for its role in our nation's history. Here's why.

tensions continued to rise and

during 1953, Cardiff's city surveyor,

EC Roberts, built a Civil Defence

Control Centre on Allensbank Road,

next to what was once a crucial

location for the city's water supply.

He also built two Sub-Control

Centres in the east and west of the

city, at Cyncoed and Llandaff.

The Llandaff Sub-Control Centre

is the only one of these buildings to

have survived. Inside the bunker are

the remains of ventilation systems,

electricity generators and steel

bunk beds in separate rooms for

male and female CDC members.

The large control centre, message

room and liaison officers' room

are linked by messenger hatches

and the officers' room had hidden

emergency escape hatches leading

outside.

Although sturdy, the building is

clearly a product of the early Cold

War and could not have hoped

to withstand a hydrogen bomb

falling on Cardiff. Preparedness for

war was the focus of the CDC but

its members responded to other

emergencies, including floods and

even the Aberfan disaster.

Even after the CDC was disbanded

in 1968, volunteers continued to

look after the building and store

emergency supplies there until the

end of the Cold War in the early

1990s. It was reported in 2013 that

the Llandaff Society group were

looking into turning the Vaughan

Avenue building into a Cold War

museum. Due to ongoing vandalism

and damage from the elements,

this idea never came to fruition.

After the Grade II listing, Dr

Christopher Thomas, Listed Building

Officer at Cadw, said:

"Since 1945 the nuclear threat

has shaped world history — but it

has also been an important part of

Wales's past, as evidenced by the

Llandaff Sub-control Centre. The

building's existence shows how

seriously the people of post-war

Wales took this threat, and how

they planned to survive it.

"We are so pleased to be able to

list this remarkable building, which

is now protected as a rare example

of civil defence planning — built for

a war which was greatly feared but

thankfully never came. Plus, it offers

a poignant monument to the mostly

forgotten volunteers of the Civil

Defence Corps in the Cold War."

The substation joins the ranks

of other hidden reminders of our

past, dotted around north Cardiff.

Up until fairly recently, Coryton

roundabout was home to the Cardiff

War Room, one of 13 Regional

War Rooms built in 1952 to house

the regional administration for

Wales in the event of a devastating

nuclear attack on Whitehall making

central government impossible.

The building was of the standard
---
Regional War Room design with

one floor above ground and one

floor underground.

It remained operational until

approximately 1958 when the

network of Regional War Rooms

were replaced by the Regional

Seats of Government. The old war

room was retained as a training

centre for RSG personnel until 1965

when it was reactivated as the

Cardiff Corporation Main Control

Centre.

With the formation of South

Glamorgan County in 1974, it was

reactivated as the South Glamorgan

County Control and later, the South

Glamorgan Emergency Centre,

remaining in use until the end of the

Cold War in 1991. Following that, the

building was abandoned. Once the

ventilation plant was switched off,

the bunker deteriorated quickly.

A landmark that is still familiar for

most residents of north Cardiff is

the telecommunications mast that

overlooks the area from its position

on Wenallt Hill. Beneath the ground

it stands on is another reminder of

our Cold War past.

The building's

existence shows

how seriously

the people of

post-war wales

took this threat

Originally it was to become a

War Room for Wales, taking over

from Coryton but this idea was

abandoned in the late 1970s.

The former Anti Aircraft Operations

Room instead became the main

BT war headquarters for Wales.

The distinctive curved glass

galleries were stripped out, and

new dormitories, air conditioning,

canteen etc., were installed in the

1970s but the work was abandoned

before completion and the bunker

is now disused although the

adjacent BT radio site remains in

service.

Up until not too long ago, it was

an area for urban exploration as an

interesting site, but the contents

have since been burnt - not by

urban explorers but by the vandals

that frequent the site.

Further afield in Llanishen was the

Llanishen Royal Observatory Corps

(ROC) Post, which opened in 1966

and closed in 1991. The Pentyrch

Royal Observer Corps (ROC) Post,

opened in 1961 and closed in 1968.

Nearer the city centre, few people

realise that within the walls of the

castle are tunnels – tunnels which

came into their own as air-raid

shelters during the Second World

War.

It was estimated that more than

1,800 people could take shelter

within the walls and when the sirens

sounded, people who lived and

worked in the city would rush to the

shelters. Special ramps were built

so that people could gain access

into the walls quickly. Research has

revealed there were dormitories

with bunks, kitchens, toilets and

first aid posts concealed within the

walls.

Shelter use ceased in December

1944 and shortly after the war,

the ramps were removed and the

external wall openings sealed up.

Following the death of the 4th

Marquess in 1947, the castle came

into the hands of the City Council

and was opened to the public,

though the shelters remained

closed until 2011.

The substation sits

in a quiet corner of

Llandaff's Insole Court

What was the

Cold War?

history

The Cold War was a period

of geopolitical tension

between the United States

and the Soviet Union and their

respective allies, the Western

Bloc and the Eastern Bloc.

The period began following

World War II and is generally

considered to have ended in

the 1990s.

There was no large-scale

fighting between the two

superpowers. Instead, they

both took sides in major

regional conflicts and tended

to be based around the

struggle for ideological and

geopolitical struggles.

Nuclear war was a constant

threat, and the 'war'

was played out through

espionage, sporting rivalries,

technological advances and

psychological warfare.

33
---
DOUBLE GLAZING REPAIR SERVICE

* Broken Glass

Replacement

* Misted Glass

Replacement

* Faulty/Broken

Hinges, Locks, Doors,

Handles

* Patio Door Problems

* Draughty/Leaking

Windows, Doors,

Conservatories

* Catflaps, Letterboxes,

New Door Panels

* Stained Glass

Repairs and

Replacements

* Glass/mirrors of all

types cut to size

* uPVC New

Windows/ Doors

Installed

* Upgrades to Locks

and Handles

* Fascias, Guttering,

Cladding

* Shop Fronts

For a free quotation by a reliable,

competitive company, please feel

free to get in touch

UPVC WINDOWS AND

COMPOSITE DOORS

Composite doors are

a great choice if you

are thinking about

replacing the doors

in your home. They

offer excellent energy

efficiency and are

available in a range of

colours and designs to

suit your budget. With

a choice of glazing

options and styles,

we are sure to have

the right door for you.

Our UPVC windows

and doors come in a

range of styles and

colours and conform

to insurance standards.

All new installations

have an insurance

backed guarantee.

Decostains@aol.com

www.doubleglazingrepairscardiff.co.uk

Unit 3 Western Business Centre, Robert St, Ely, Cardiff , CF5 5AS

(formerly of Western Avenue, Llandaff)

02920 566694

Company Registration No: 12246095

COMPLETE BATHROOM & KITCHEN REFURBISHMENTS

Supply & fitting of kitchen units, sanitary ware, tiling,

electrical, plumbing, decorating - the whole package!

• CRB checked • Fully Insured • Free quotations •

• All household maintenance • Plumbing • Painting and decoration •

Wet rooms • Fences • Roof repairs • Ramps • Grab rails •

Mobility home adaptations • Garden paths • Driveways • Gutter clearances

Our aim is to ensure that everyone has a home that is safe, secure and appropriate to their needs

Office number: Rachael Wall 029 2252 0126 Out of hours: Phil Wall 07904 384409

www.wall2wallhomemaintenance.co.uk info@wall2wallhomemaintenance.co.uk
---
The Glassmith Wales are transforming local homes with their stunning splashbacks.

We spoke to owner Dez Foster about how the company is making customers smile

We provide a

library of colours

Having worked installing bespoke

kitchens for twenty years, it became

obvious that there was a gap in

the market for people wanting to

spruce up their kitchens without

having to spend a small fortune on

renewing the whole room. I realised

that glass created a fantastic

feature and could be installed

seamlessly into existing kitchens.

Glass splashbacks are incredibly

versatile, low maintenance (none of

the annoying grout lines associated

with tiles) and simply beautiful

when surveyed and installed

correctly; I knew that I could

help people fall in love with their

kitchens again.

Starting off surveying and installing

myself, I now employ a small team,

all based locally, and my wife also

works alongside us, whilst caring

for our five young children. We

are a family business, taking pride

in customer service, helping our

clients achieve the feature they're

looking for whilst sticking to their

budget and providing an exquisite

finish.

Our glass splashbacks are often

the stand-out feature in a kitchen

and are real conversation starters.

Whether our customers fancy

a flat colour, a tinted mirror, a

textured finish or even an image

printed on the glass, they can let

their imaginations run wild - and

we'll happily run alongside them.

So, whether we're revitalising an

Perfect for kitchens,

utilities & bathrooms

existing kitchen or helping finish off

a kitchen re-fit, we handle both our

glass and our customers with care.

A recent customer commented on

Trustpilot:

"We are so happy with our

mirrored splashback, it has

totally transformed our kitchen

and we have received so many

compliments! We would 100%

recommend, as the service has

been amazing!"

Since founding the business, we

have diversified into installing glass

worktops, bespoke glass shower

enclosures, glass balustrades and

even glass partitioning, so if you're

interested in receiving a quote or

learning more about what we do,

please email us at

enquiries@theglassmithwales.co.uk

or visit our website

www.theglassmithwales.co.uk

Dez

Rated 'excellent' on Trustpilot

get in touch

........................................................................

t: 07791 415772

w: theglassmithwales.co.uk

e: enquiries@theglassmithwales.co.uk

Sponsored feature
---
outdoors

Spring is a time of colour and beauty. Here's a guide to some of the

more common flowers that you'll spot in the wild this spring

Bluebells

Enchanting and iconic, bluebells

are a sure way to know that

spring is here.

They actually spend most of

their time underground as bulbs,

usually breaking the surface and

flowering in great numbers from

April onwards.

The flowers are traditionally

deep violet-blue in colour, the

familiar bell shape comprising

of six petals and up-turned tips.

Some varieties can be white or

pink.

They can be found in

woodland, in fields and also in

hedgerows.

Forget-me-nots

Forget-me-not flowers grows on tall,

hairy stems which can reach up to 2 feet

in height. Its pretty, five-petalled, blue

blooms with yellow centres flourish from

May through to October.

If spotted in the wild, it's most likely to be

the perennial variety that spreads easily,

freely self-seeding to grow and bloom in

the shady spots where the tiny seeds may

fall.

Foxglove

Easily recognisable and wellknown

across the UK, the

foxglove usually comes in shades

of pink but white varieties are

not uncommon. Darker-coloured

spots can be found towards the

lower end of the tubes.

These plants produce a spike

of flowers between June and

September and can grow up

to 2 metres in height. A single

foxglove can produce over a

million seeds.

They can be found in heathland,

woodland edges and gardens

and are a valuable source of

nectar for bees. The species

has evolved to be especially

attractive to long-tongued bees.

The flowers attracts the bee,

while the lower lip of the flower

allows the insect to land before

climbing up the tube, increasing

the chance of pollination.

Wild hyacinth

Found in late spring, wild hyacinths

produce loose spikes of stunning white

and violet-blue, star-shaped flowers on top

of tall stems.

Known for attracting bees, its eyecatching

look also lingers throughout the

spring season due to its durability. They'll

often be found growing in large drifts in

woodlands and areas with long grass.

36
---
What's that flower?

Cowslip

You'll find these gorgeous clusters of drooping

fragrant yellow flowers growing on dry, grassy

banks and in pasture. In fact, its name comes

from the word 'cow-slop', which will give you

some indication of where it likes to thrive and

flourish.

The cowslip is a cousin of the primrose,

displaying egg-yolk-yellow flowers that are

clustered together at the ends of its vertical,

green stems. The plant suffered during the

1930s-1980s, due to farming techniques, but is

now making a welcome comeback.

Common dog violet

The most familiar wild violet, the

common dog-violet can be spotted in

a variety of habitats from woodland to

grassland, hedgerows to pastures.

They have distinctive bluish-purple

petals, leafy stems and heart-shaped

leaves, and unlike the similarlooking

sweet violet, it's unscented.

Its name derives from this lack of

scent - the word 'dog', like the word

'horse', is a common English prefix for

distinguishing an inferior species from

its superior relative

They flower from April through to

June.

Orchids

Wild orchids grow in a range of

habitats and each variety has its

own habitat preference. As such,

they can flower at slightly different

times of the year.

Orchids can be found in damp

grassland, open woods, scrub and

fens as well as spoil-tips, railway

embankments and old quarries.

They tend to start flowering around

April, with May being the busiest

month for flowering.

Red campion

Red campion is fairly tall plant

(they can grow up to 1 metre!)

that flowers distinctive pink-red

in colour. The five petals that are

fused at their base to form a tube

surrounded by a purple-brown

protective cover. The five petals

are deeply notched and almost

divided into two; its leaves and

stems are hairy.

They can be found within

shaded woodland areas, as

well as hedgerows, in fields and

ditches and on roadside verges.

They start to flower just as the

bluebells are fading, providing

another beautiful blanket of

colour in our countryside.

37
---
gardens

Spring Vegetables

In a time when food prices are on the rise, dedicating an area of your

garden to growing your own food could be beneficial. Here are a few

ideas on how to get started, and what vegetables to grow

Don't start too early

Tempting as it may be to get stuck

in, sowing too early could mean that

your crop is at risk of being harmed or

destroyed by frost. Find out the rough

date of when you can expect the last frost

of the year. If you do find yourself caught

out with a sudden temperature drop,

you can always protect your crops with

newspaper, old sheets or frost blankets.

Just remember to remove them the

following day.

Sowing your veg

There's still time to sow vegetables such

as aubergines, tomatoes, sweetcorn,

cucumbers, and courgettes.

You can always give your vegetable

garden a kick start if you feel that you're

too late to sow, by purchasing baby plants.

You'll need to gradually expose these to

outdoor conditions throughout the spring

season.

Spring is a good time if you're planting

in pots or on your windowsill. Lettuce and

tomatoes do particularly well.

Feed, nourish and protect

Your vegetables will be growing quickly during the spring months so

always keep them hydrated, either with a hose or by sitting them in a tray

of water. If you have any plants in pots, these can be fed once a week with

liquid feed.

You'll also want to think about preparing your outside garden spaces

ready for your new plants. Remove any weeds that have started growing

as these could present a problem later in the year when they get too large

and unmanageable.

Harden tender

vegetables

Tender vegetables will need

to be exposed to the great

outdoors if they are to flourish

over the summer. Spring is the

best time to do this as conditions

are, for the most part, gentle and

welcoming.

Start by taking them outside for

just one day a week and leaving

them in a safe, sheltered spot.

Bring them in at night if you feel

that the temperature is dropping

too much, or that frost is forecast.

This toughening up process

will help the plants flourish

and become tough enough to

withstand the rain and wind.

Towards the end of spring, you

can plant them in their final

growing space, where they will

remain for the warmer months.

38
---
Carrots

Carrots are easy enough to grow

from the packet, taking up a

minimal amount of space and

can even be grown in containers.

Carrots are one of our staple

vegetables so growing them

at home can certainly save you

money off your shopping bill.

Sow in small batches from

early spring onwards. They

flourish best in full sun and light,

fertile, well-drained soil. If your soil is shallow,

aim to buy short-rooted types. Usually ready to harvest in 12-16 weeks.

Beetroot

Beetroot has a variety of of great health

benefits and is delicious in soups, stews,

smoothies and even cakes. They're also

ideal for gardening beginners.

Beetroot fares best in fertile, welldrained

soil. You can sow without

protection from about March onwards

and beetroot sown from June onwards

can be stored for use in winter.

They can also be grown in containers

all year round.

Cauliflower

Cauliflower can be sown until late May and do best in fertile soil. The best

results come from sowing in cell trays using a good multi-purpose potting

compost and transplanting to outdoors when the weather is suitable.

Cauliflowers tends to take three to five months from sowing to maturity,

although growth rates can vary according to the variety and weather

conditions. White varieties can turn yellow if left for too long so it's always

best to harvest these before this happens.

Brussels sprouts

Brussels sprouts grow on large

plants so are eventually happiest

outside in a garden where they

will have more space.

If you want to grow them from

seed, you can start them in May

indoors, before moving the

seedlings to the outdoors after

about six weeks. Keep the soil

consistently moist while they are

indoors, and fertilise with a liquid

organic vegetable food every few

weeks.

Once outside, your sprouts

could be susceptible to pests

so it may be worth investing

in a lightweight insect fabric.

Promote healthy growth by

providing ample and continuous

moisture. Feeding them several

times during the growing season,

and topping the plants in early

autumn will mean that they will

be perfect for those autumn

casseroles.

39
---
House Clearances

2nd

time around

2nd Time Around

specialise in

house clearance

We provide a professional and

friendly service for full or part

clearance, attics to cellars.

We also offer the following services:

• Reports for probate purposes

• Valuations & advice on selling at auction

• Auction service

• Cleaning service

• Sympathetic handling of deceased's estates

• Small removals & deliveries, nationwide

• Rubbish removal

• Recycling

We comply with current legislation; we are waste

management registered and have public liability insurance.

House Clearance Specialists

www.houseclearancecardiff.com

Contact: Jan Richards

T: 02920 692704 M: 07715 622406

E: janrichards4@hotmail.co.uk

W: www.houseclearancecardiff.com

Specialist Glaziers with over 35 Years Experience

Repairs & Renewals

Experts in the repair of windows, doors and conservatories

uPVC Products

We offer a full range of quality replacement uPVC products

Mirrors & Processed Glass

Mirrors, glass (standard, safety, greenhouse & picture)

Secondary Glazing

A less costly option to reduce noise & heat loss

Unit 4 St Catherine's Park, Pengam Road, Cardiff CF24 2TY

029 2048 6797

contact@wrightglass.co.uk www.wrightglass.co.uk

4.9

St Mellons Nurseries

Home Delivery Service

We are a local, family-run flower nursery who grow a wide range of spring and summer bedding plants and

hanging baskets on site and supply both residential and local businesses around Newport and Cardiff.

We are again offering our delivery service for our spring and summer bedding, vegetable, pot and perennial

plants. You can also pre-order your summer hanging baskets, hanging flower pouches and ready-filled oak

barrels for delivery from mid-May onwards. Through June we also offer an on site planting service where we

fill and replace any existing pots and containers with summer flowering plants to keep your garden blooming.

You can find out more about our products and services on our facebook page 'St. Mellons Nurseries'.

For our spring and/or summer price lists please email your enquiries to us at Beganfarm@hotmail.com

For those who do not have email access please call Robb on 07532 303531.
---
GEARING UP

YOUR GARDEN

With many of us spending more time at home in the past two years than ever before, we are becoming even

more focused on creating our own perfect environment at home.

TRANSFORM YOUR GARDEN AND YOUR LIFESTYLE

At Eden we are passionate about helping people love their gardens,

to get the most from their outdoor space. A garden room can enhance

your garden in many ways with life-changing benefits, adding essential

space to your home, at a fraction of the cost and time of constructing an

extension or conservatory.

Suitable for year-round use, a garden room can make an ideal

home office or business space, providing a distinct area for work and

productivity away from your home but still with the shortest of commutes.

Alternatively, a garden room can help you dedicate more time to your

hobbies, whatever they may be. A garden room makes an ideal home

gym, personal yoga studio, reading room, music practise room, home

cinema… the list goes on!

With modern designs, combining optimal strength and build quality,

Eden's range of greenhouses include the long-lasting aluminium framed

Vitavia models, a variety of timber-framed styles from Swallow, plus

Hall's sleek and streamlined designs. All are sure to enhance your

outdoor space so you can sit back and relax with friends and family and

admire your work.

GARDEN STORAGE - NOT A 'WANT' BUT A 'NEED'

Whether used as a lawn mower garage, garden toolbox or storage

space for pillows, your garden shed provides the protection you need.

The humble garden shed has undergone several reinventions in recent

years – from the 'She-Shed' or the 'Man Cave', and even the 'Garden

Pub'. A staple garden building, its benefits have stood the test of time

and should not be overlooked.

From standard storage sheds and workshops, to storm-proof metal

sheds, Eden's selection can help you get your garden organised.

Whether it's a place for relaxation, exercise and focus, work or

entertaining, you can create your own space to suit your needs.

GREEN THUMBS BANISH THE BLUES AWAY

Gardening can be one of the most rewarding hobbies; by taking seeds

and watching them bloom, you can enjoy the fruits of your labour –

sometimes even literally!

The routine of tending to

your garden and working

with your hands can be

one of the best stress

relievers. Ensuring the best

environment for your hard

efforts is vital. Greenhouses

help to optimise your

growth and take your

garden the next level.

MEET THE EDEN TEAM

Established twenty years ago, the team at Eden has decades of

experience and has earned a reputation for providing high-quality

landscaping and garden building services.

Whether it's greenhouses, sheds, or even a tailormade garden room that

you're dreaming of, Eden is a one-stop shop, helping you every step of

the journey to creating your perfect garden.

Visit the Eden team at our show site at Pugh's Garden Village,

in Wenvoe, to discuss what your perfect garden looks like or

browse our range online at www.shedscardiff.co.uk.

Contact 029 2059 7365 or accounts@edenlandscapes.ltd.uk

Pugh's Garden Village Wenvoe, Port Road, Wenvoe, Cardiff CF5 6AD
---
Crazy

about

kale

Fish and kale

in tahini sauce

with crispy

shallots

canola oil for frying

3 shallots

3 tbsp olive oil

1kg haddock loins

12 tbsp tahini

115ml lemon juice

3 cloves garlic

42

Kale is a superfood that's been on people's plates since the Roman

times. And for good reason - it's packed full of nutrients, it's versatile -

plus it tastes great. Go green this spring with these delicious recipes

115ml warm water

1 bunch kale stems discarded,

leaves coarsely chopped

toasted pine nuts (optional)

☐ Whisk together the tahini, lemon

juice, garlic and water. Add salt to

taste.

☐ In a deep saucepan, heat

1-2 inches of the canola oil until

shimmering hot. Add the shallots and

cook until they are golden brown,

stirring frequently. Transfer the

shallots to paper towels to drain and

toss immediately with a good pinch

of salt.

☐ Heat 2 tbsp oil in a large skillet

over a high heat until it is shimmering.

Working in batches, brown the fish

on one side until it releases easily

with a spatula. It won't release until

it's browned. Transfer each fish piece

to a plate once both sides of each

piece of fish is browned.

☐ Add another tablespoon of olive

oil to the pan and then add the kale,

stirring until it's wilted.

☐ Stir in sauce then return fish to the

pan and nestle it in, spooning some

sauce over the top. The fish will cook

further during this process.

☐ Cook for a minute or two, until fish

is opaque and flakes easily. Transfer

to warmed plates and top the dish

with the fried shallots and pine nuts,

if desired.

Kale smoothie

2 handfuls kale

½ avocado

½ lime, juice only

large handful frozen pineapple

chunks

medium-sized chunk ginger

1 tbsp cashew nuts

1 banana, optional

chia seeds

☐ ☐ Put all of the ingredients into a

bullet or smoothie maker, add a large

splash of water and blitz. Add more

water until you have the desired

consistency.
---
Kale salad

food

One butternut squash, peeled and

cut into 1-inch pieces

150ml extra-virgin olive oil

1 tsp ground cumin

salt and pepper

150g pumpkin seeds

225ml whole-milk yogurt

2 tbsp fresh lemon juice

1 tbsp almond butter

1 tbsp minced chipotle peppers in

adobo sauce

1 small garlic clove, finely grated

1 teaspoon sweet paprika

425g baby kale

1 small red onion, very thinly sliced

4 ounces blue cheese, crumbled

☐ Preheat the oven to 220°C. On a

large baking sheet, toss the butternut

squash with 110ml oil and the cumin

and season with salt and pepper.

Bake for about 30 minutes.

☐ On another baking sheet, toss the

pumpkin seeds with the remaining

olive oil and toast for about 7 minutes.

☐ In a medium bowl, whisk the yogurt

with the lemon juice, almond butter,

chipotle, garlic and paprika. Season

the dressing with salt and pepper.

Kale and bacon

soup

☐ In a large bowl, toss the kale with

half the dressing and season with

salt and pepper. Fold in the butternut

squash and onion. Top with the

pumpkin seeds and blue cheese and

serve. Use the remaining dressing if

required.

2 tbsp olive oil

1 onion, roughly chopped

2 sweet potatoes, peeled and chopped

2 bags kale (about 320-400g)

900ml vegetable stock

1 tsp freshly ground nutmeg

150ml milk

freshly ground black pepper

200g bacon lardons

40g Parmesan, grated

☐ Heat the oil in a large saucepan. Add the

chopped onion and fry for a few minutes until

slightly golden. Add the sweet potato and cook

for around 5 minutes. If the mixture begins to

stick, add a splash of water.

☐ Remove and dispose of any thick stalks from

the kale. Wash the kale thoroughly and then

place into the pan, along with the vegetable

stock. Bring everything to the boil before

reducing the heat and simmer for 10 minutes,

until the vegetables are soft.

☐ Add the nutmeg and then remove from the

heat. Allow to cool and then blend using a stickblender

(or in a blender or food processor).

☐ Return the soup to a clean pan and warm

over a medium heat. Add the milk and black

pepper. In a separate pan, fry the bacon lardons

and set aside.

☐ Ladle the soup into bowls. Top with the bacon

lardons and grated Parmesan and a grind of

fresh black pepper.

43
---
CUTTING THE COST OF

ARTIFICIAL GRASS

Open 7 days a week

in Caerphilly

Wales' lowest pricesfrom

£7.16 SQ MTR!

Highest quality

Easylawn

Expert fitting and

groundwork

Available in 2, 4 & 5

metre widths

Hundreds of rolls in

stock

FULL GROUNDWORK

AND INSTALLATION

AVAILABLE

Established

1971

Open 7 days a week

Tel: 02920 884951

www.carpetcastlecaerphilly.co.uk

COSTS LESS

Nantgarw Road, Caerphilly
---
Providing full tree, grounds

and estate maintenance and

landscaping services.

We're very proud of what we do for our clients and like most

people who work in nature we spend a lot of time on our

knees in one way or another. This is always humbling.

Now, whether you call it humility or respect or admiration

for nature, if you're looking to work with a company that

cares about these things TR33 could be what you're after.

For a free no obligation quote please contact

0800 298 3686 I info@tr33.co.uk

www.tr33.co.uk

at Brook House, Brook Road

DIRTY DRIVEWAY,

DECK, PATIO OR

PAVING?

Like everything else about the

house, from time to time your

driveway, deck, patio or paving

will benefit from a really good,

professional clean…

You'll

be amazed

at the

difference

After

FREE

NO-OBLIGATION

QUOTATIONS

Before

Visit our website for more information

and customer testimonials

Tel: 02920 700571 / 07767 310618

Email info@valejetclean.co.uk

www.ValeJetClean.co.uk

Multi award winning magazines

and social media for North Cardiff

www.livingmags.co.uk
---
Hydrangeas

Hilda Henrietta Hannah

Hodgekinson hated

hydrangeas. She hated them

with a passion, an all-consuming,

energy draining, soul-destroying

passion.

The hatred she felt for the ghastly

shrub was only equalled by her

hatred for Mitzy, her next-door

neighbour's Persian kitten, who

persistently used her beloved rose

garden for his very own, personal

public convenience.

What provoked such emotion in

her, she couldn't quite fathom. The

shrub seemed innocuous enough

at first glance. It never outgrew

itself like the giant rhododendrons

in the street, leaning dangerously

like drunken giants, laden with

gaudy coloured flowers. Neither

was it one of those terribly irritating

non-descript, namby-pamby type

of plants.

No! At first glance it could be

described as, pleasant enough.

Its perfectly formed flowers in

delicate pastel shades of pink,

blue or white, could hardly be

described by anyone as offensive.

A less discerning person than

herself might even be tempted to

call it pleasantly attractive, bland

perhaps, but certainly never vulgar

or ostentatious.

Nevertheless, they gave her the

heebie-jeebies, the creeps, the

willies or whatever way you like

to describe the creepy crawling

feeling that would totally engulf her,

whenever she caught just one, tiny,

glimpse of the offending shrub. And

as every single garden in her street

had at least one specimen of the

monster, her daily trip to the shops

had become 'A Nightmare in Elm

Street'.

46

"I can't go on like this!" she

grumbled as she scurried along,

head down, both eyes firmly fixed

to the ground. "It's ridiculous, totally

illogical, it's controlling my life!"

"Morning, Miss Hodgekinson!"

the postman greeted her with a

cheerful grin. "Lovely day for it."

He placed his heavy sack on the

ground and started sorting through

some bundles of letters.

"Oh, yes! - I suppose, if you say so,"

she grunted.

"Is everything all right?" he asked

with concern. "Only - if you don't

mind me saying - you haven't been

looking quite - yourself lately -

perhaps a check-up at the surgery

might be an idea. Only a suggestion

you understand, please forgive the

familiarity."

Her eyes rose from the ground

and looked into his, watchful as if

calculating something, then fell

again. "Yes - oh, I'm sorry for being

so rude. You're right I have been

feeling a little below par. Thank you

for your concern - so kind."

Hilda hated doctors almost as

much as she hated hydrangeas! In

her opinion, there was nothing - no

nothing at all, that couldn't be cured

with lots of fresh air and vegetables.

That was why the receptionist was

so startled when she turned up at

the morning surgery.

"Miss Hodgekinson! What a

surprise!" she said, as she peered

over her half rim spectacles. "We

haven't seen you here for quite

some time!" She clicked her

computer. "Look, we've got you

down as an Inactive Patient!"

Hilda decided to ignore the

incivility and took a seat next to a

young mother trying to console a

screaming baby.

"Lots of fresh air and vegetables,

that's all he needs," she said,

peering into the baby's red, bloated

face.

Then, from within her bag, she

produced a pair of pure white

cotton gloves; she nimbly slipped

them on before immersing herself

in a National Geographic.

"Nasty germ-filled place," she

muttered, almost inaudibly.

Dr. Everswell leaned forward in his

chair and rested both elbows on his

desk. He was a tall slim man, with a

fragile and faintly aesthetic air. His

long grey worsted legs stretched

out languidly beneath the desk.

"Come in dear lady, do come in -

and take a seat." His voice was soft,

and his manner courteous as he

gestured towards an empty chair.

"To what do I owe this honour?"

She threw him a disapproving

glare and sat down, very upright,

looking straight ahead, with her

hands folded on her lap.

"I mean," his voice raised a tone.

"How may I be of assistance?"

"Well," she began, shifting about

uncomfortably on her seat. "It's like

this, doctor." She paused to think for

a moment…

"Yes?" he replied, in anticipation.

"Well," she said, placing her

handbag firmly on the floor and

tightly securing the buttons of her

cardigan.

"It's like this, doctor."

"Yes?" he eagerly replied.

"Well!" she said.

"Oh, come on dear lady, out with it.

I do have other patients, you know."

"Well!" she said.

"Yes?" he replied.

"Well, doctor," she paused, took a

deep breath, then began again.
---
"Well, doctor - you see - my skin

tingles and all the hairs stand on

end. Then I feel cold and shivery

and a huge knot forms in my

stomach, which then starts to churn

and makes me feel nauseous."

"I see - please do continue." He

suddenly popped a small wooden

spatula into her mouth. "Say ah!"

"Ah! Aaaaaargh!"

Dr Everswell, gently took her wrist

and read her pulse, then listened to

her chest with his stethoscope. She

sat rigid with tension at the ordeal.

"Have you recently returned from

the tropics?"

"NO!"

"Ah!" he said.

"Any rashes, eruptions or boils?"

"NO!"

"Ah!"

"Any projectile vomiting or

diarrhoea?"

"NO! CERTAINLY NOT!"

"Ah! – I see." Dr Everswell's shrewd

little eyes rested on her face and

moved over it slowly, as though

searching for something. He smiled,

showing pure white teeth.

"Well, dear lady, I'm pleased to

inform you that it doesn't seem to

be anything serious."

"But, what about the hydrangeas?"

Hilda stared hard and long at

Dr Everswell, as if willing him to

administer some form of Divine

Intervention. So uncomfortable did

she make him feel, that he stood up

and walked to the window for some

air.

"Hydrangeas? Ah, yes, quite

wonderful, my own garden is simply

overflowing with the delightful

plant." His eyes glazed over and for

a few minutes, he drifted away to a

place of eternal happiness.

"If you want a few late shrubs to go

with perennials, all the hydrangeas

are good, but the white species

such as Hydrangea Paniculata

and Hydrangea Arborescence

Annabelle are stunning! Pure white

blooms are my personal favourite.

I know one should never have

favourites, but one is only human,

after all!"

Hilda stood up suddenly and

banged the table hard with her

clenched fist. "The HYDRANGEAS!"

she said crossly. "Don't you

understand…it's the HYDRANGEAS

that are making me ill!"

"Well, why on earth didn't you say

so in the beginning?" Dr Everswell

sat down again and stared her

straight in the face.

"This my dear lady, is what in

the medical profession, we call a

psychosomatic illness. There are

no pills I can give you…Medical

Science, I'm afraid, has little to offer

in these circumstances."

"Is it …fatal…doctor?"

"No, no, not at all," he lowered his

voice, "I'm sure that all you need to

do is to remove the irritant! Then

it should be possible to lead a

perfectly normal life."

"Cured?" she pleaded. "One

hundred percent cured? Will I

be totally cured of this dreadful

affliction?"

"ABSOLUTELY!"

"Remove the irritant?"

"Yes!"

"Of course, doctor. Why didn't

I think of that?" Hilda felt as if

an enormous weight had been

lifted from her. She suddenly saw

the light, a technicolor flash of

inspiration, shot through her mind!

She smiled coyly.

"Thank you doctor!" She picked up

her handbag, and half bowed and

half curtseyed as she backed her

way out of the room.

Hilda almost skipped down the

road with joy.

"Why of course!" she told herself.

If she had driven tractors in the war,

then surely it was not beyond her

capability, (even taking into account

her advancing years) to rid herself

of irritants!

Half an hour later, she left her local

hardware store carrying a large

plastic bag. She hummed happily to

herself as she hurried home…

Dr Percival Everswell lopped off the

top of his boiled egg, buttered a

piece of toast and dipped it into the

runny yolk.

"Darling!" his wife Isabella excitedly

said, suddenly dropping her

grapefruit spoon, "Look at this! Who

says nothing exciting ever happens

around here?" She waved the

morning paper dangerously near his

face.

"Careful! My Dearest Love - what is

it, have the terrorists struck again?"

Isabella Everswell cleared her

throat and adjusted her reading

glasses. She shuffled her chair and

leaned closer so as to be more

audible. Then, delivered an Oscar

winning impersonation of Fiona

Bruce on News at Ten.

"Massacre In Elm Street!" she

began…

Pausing, she held her hand to her

mouth and gave a genteel little

cough.

"Police are investigating a

mysterious act of vandalism.

Residents in a quiet residential

suburb of the city awoke this

morning to a scene of 'wanton

destruction and vandalism'.

"The attack is thought to have

taken place in the early hours of

the morning. The mysterious attack

on every hydrangea plant in each

garden has left police mystified.

"Chief Superintendent Wayne

Watts said:

"In all my years in the force, this

was the worst case of vandalism I've

ever seen. Every single hydrangea

plant in the street has been ripped

out of the ground and mercilessly

chopped into tiny pieces."

"Well!" she said taking off her

glasses. "What do you make

of that? There really are some

strange people out there! It's quite

- worrying! Whatever sort of person

would do something like that?

Percival dearest, don't you have

some patients in Elm Street?"

"What's that? My love – yes, I do

believe I do!"

He stood up quickly and walked

over to the French doors. There was

a touch of autumn in the air, but his

garden was still in full bloom.

He cast his eyes across the lawn to

the herbaceous border and saw his

beloved Hydrangea Arborescence

Annabelle glorious in full flower. For

a few minutes he just stood there,

before turning to his wife.

"Quite exceptional blooms this

year…and yes, my dear I agree, there

are some strange people about!"

For several seconds he was lost

in thought. "I wonder," he said

nervously, "I just wonder…!"

Mitzy nonchalantly sashayed his

way across the newly mowed lawn

to Hilda's rose beds, stopping only

to sniff the freshly turned earth. His

tail, erect except for a little curl at

the tip, navigated its way gracefully

away from the thorny branches, as

he wove in and out of the bushes.

Carefully selecting a soft patch

of earth, he dug a neat little hole,

squatted and relieved himself.

A lace curtain twitched in an

upstairs window, drew back fully,

then retracted and was still again.

As if caressing a lover, Hilda's

fingers adoringly stroked the full

length of the blade. It gleamed in

the light, which filtered through the

curtain.

"Hm," she said thoughtfully, "It

seems to be a little blunt, after last

week's gardening. I will need to

sharpen it a little, before removing

the next irritant…"

By Geraldine Seymour

short story

47
---
www.cardiffwindows.com