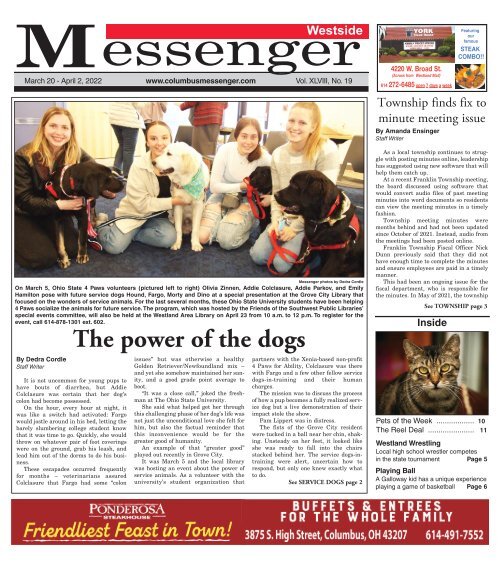 Westside Messenger - March 20th, 2022
You also want an ePaper? Increase the reach of your titles
YUMPU automatically turns print PDFs into web optimized ePapers that Google loves.
Messenger

Westside

March 20 - April 2, 2022 www.columbusmessenger.com Vol. XLVIII, No. 19

4220 W. Broad St.

(Across from Westland Mall)

614 272-6485 open 7 days a week

Featuring

our

famous

STEAK

COMBO!!

Township finds fix to

minute meeting issue

By Amanda Ensinger

Staff Writer

Messenger photos by Dedra Cordle

On March 5, Ohio State 4 Paws volunteers (pictured left to right) Olivia Zinnen, Addie Colclasure, Addie Parkov, and Emily

Hamilton pose with future service dogs Hound, Fargo, Morty and Dino at a special presentation at the Grove City Library that

focused on the wonders of service animals. For the last several months, these Ohio State University students have been helping

4 Paws socialize the animals for future service. The program, which was hosted by the Friends of the Southwest Public Libraries'

special events committee, will also be held at the Westland Area Library on April 23 from 10 a.m. to 12 p.m. To register for the

event, call 614-878-1301 ext. 602.

The power of the dogs

As a local township continues to struggle

with posting minutes online, leadership

has suggested using new software that will

help them catch up.

At a recent Franklin Township meeting,

the board discussed using software that

would convert audio files of past meeting

minutes into word documents so residents

can view the meeting minutes in a timely

fashion.

Township meeting minutes were

months behind and had not been updated

since October of 2021. Instead, audio from

the meetings had been posted online.

Franklin Township Fiscal Officer Nick

Dunn previously said that they did not

have enough time to complete the minutes

and ensure employees are paid in a timely

manner.

This had been an ongoing issue for the

fiscal department, who is responsible for

the minutes. In May of 2021, the township

See TOWNSHIP page 3

Inside

By Dedra Cordle

Staff Writer

It is not uncommon for young pups to

have bouts of diarrhea, but Addie

Colclasure was certain that her dog's

colon had become possessed.

On the hour, every hour at night, it

was like a switch had activated: Fargo

would jostle around in his bed, letting the

barely slumbering college student know

that it was time to go. Quickly, she would

throw on whatever pair of foot coverings

were on the ground, grab his leash, and

lead him out of the dorms to do his business.

These escapades occurred frequently

for months — veterinarians assured

Colclasure that Fargo had some "colon

issues" but was otherwise a healthy

Golden Retriever/Newfoundland mix —

and yet she somehow maintained her sanity,

and a good grade point average to

boot.

"It was a close call," joked the freshman

at The Ohio State University.

She said what helped get her through

this challenging phase of her dog's life was

not just the unconditional love she felt for

him, but also the factual reminder that

this inconvenience would be for the

greater good of humanity.

An example of that "greater good"

played out recently in Grove City.

It was March 5 and the local library

was hosting an event about the power of

service animals. As a volunteer with the

university's student organization that

partners with the Xenia-based non-profit

4 Paws for Ability, Colclasure was there

with Fargo and a few other fellow service

dogs-in-training and their human

charges.

The mission was to discuss the process

of how a pup becomes a fully realized service

dog but a live demonstration of their

impact stole the show.

Pam Lippert was in distress.

The fists of the Grove City resident

were tucked in a ball near her chin, shaking.

Unsteady on her feet, it looked like

she was ready to fall into the chairs

stacked behind her. The service dogs-intraining

were alert, uncertain how to

respond, but only one knew exactly what

to do.

See SERVICE DOGS page 2

Pets of the Week .................. 10

The Reel Deal ...................... 11

Westland Wrestling

Local high school wrestler competes

in the state tournament Page 5

Playing Ball

A Galloway kid has a unique experience

playing a game of basketball Page 6
---
PAGE 2 - WESTSIDE MESSENGER - March 20, 2022

Prepare for unexpected

power outages with a

Generac home standby

generator

REQUEST A FREE QUOTE!

866-643-0438

FREE

7-Year Extended Warranty*

A $695 Value!

Limited Time Offer - Call for Details

Special Financing Available

Subject to Credit Approval

LIST YOUR

PALM SUNDAY, GOOD FRIDAY AND

EASTER WEEK SERVICES

ON OUR EASTER CHURCH PAGE

in The Westside or Grove City Messenger

The page will print in our April 3rd issue

The deadline for the Easter Church Page is

Thurday, March 24th at 5:00 pm.

Call or email Kathy

for More Information

614-272-5422

or

kathy@

columbusmessenger.com

community events

Fish fry at St. Cecilia

St. Cecilia's Knights of Columbus Council 5899 will be hosting

its annual Lenten fish fry at St. Cecilia, 434 Norton Road in

Columbus. The fish fry will be held from 5 to 7:30 p.m. each

Friday through April 8. There will be an eat-in and drive-through

option. The cost is $10 for adults, $5 for children, and $36 for a

family.

The World's Most Advanced

Medical Alert System

Voice-Activated! No Wi-Fi Needed!

$20 OFF Mobile Companion

Offer code: CARE20

CALL NOW

1-855-521-5138

*To qualify, consumers must request a quote, purchase,

install and activate the generator with a participating dealer.

Call for a full list of terms and conditions.

Grace Ministries

464 Rathmell Rd., Columbus, OH 43137

Visit us at www.graceministries.org

Easter Sunday, March 27th

Sunrise Communion Service - 7:00 am

SAMPLE

Easter Service - 10:30 am

Easter Egg Hunt immediately following 10:30 service

with over 5,000 eggs and prizes

Messenger

SERVICE DOGS

Continued from page 1

Molly, a 4-year-old Golden Lab who is normally

quiet and laid-back, immediately got up and rushed to

Pam's side. Her bushy tail wagging furiously, she

chuffed and barked until human assistance arrived.

As Pam sat there in the chair after the episode,

Molly nuzzled her hands, offering comfort as she came

down from this stressful time.

To be clear, Pam was not in any real danger. She

immediately shook off the effects and told Molly what

a good girl she was. She may have even slipped her a

yummy treat or two.

Pam explained to the crowd of impressed onlookers

that this is a game she, her husband Charlie, and their

daughter Katie play with their dog. Should they cease

to do so, it could prove to be deadly.

Since Katie was an infant, she has suffered from

seizures. At first, it was barely noticeable — "it looked

almost like a hiccup," Pam said. "Her shoulders would

go down and her head would drop" — but they got progressively

worse as she aged.

Diagnosed with a rare type of epilepsy called

Lennox-Gastaut Syndrome, the Lippert's tried strict

ketogenic diets and any medication that the doctors

would recommend.

At first, the combination seemed to help but eventually

their effectiveness wore off.

"She would have what we called a "honeymoon

phase," Charlie said. "Katie would respond well to

these medications for a while and then the honeymoon

would wear off."

Not knowing where else to turn, Pam jokingly asked

her hairdresser for advice. She gave them a solid tip:

search for a service dog.

"I had never heard of such a thing before she made

that suggestion," said Pam, "but we were willing to do

just about anything that would help improve Katie's

quality of life."

The Lippert's eventually found 4 Paws for Ability

and proceeded to request that a service dog be specifically

trained to detect Katie's seizures. They sent

Katie's clothing pre and post seizure, filled out

"mounds" of paperwork on their likes, dislikes, daily

activities, and raised some serious funds to offset the

training costs.

In 2002, when Katie was about 11 years old, Cody

came into their lives. Though Katie's seizures had lessened

some — Charlie joked that he was a "seizure prevention

dog rather than a seizure detection dog" —

Cody would monitor her activity and alert her family

to any changes in her behavior or smell.

For nearly six years, he was Katie's dutiful companion,

helping the happy but very shy girl make friends

in and out of school. When Cody died from cancer,

Hudson came into their lives and proceeded to fill the

role of his predecessor. Hudson was there when Katie

graduated from Central Crossing in 2013, Hudson was

there to pull off the covers when Katie had seizures at

night, and he was there to serve as another dutiful

companion.

When he passed of cancer in 2019, the Lippert's

seriously wondered if they should get another service

dog, especially since it appeared that Katie's seizures

were under control.

"We would ask ourselves if it was worth the heartbreak,"

said Charlie. "It is so tough to lose a beloved

animal, especially one that provides such a service to

your daughter. They have made her life exponentially

better, and they have been such a peace of mind for

us."

Pam and Charlie do not know if it was Katie's sadness

at the loss of Hudson but they started to notice an

uptick in the number of her seizures soon thereafter.

www.columbusmessenger.com

Liam Ellcessor, 11, gets a big kiss from Starlet. Joyce

Cassady, Starlet's primary caretaker, said she will be

going in for evaluation at the end of the month.

Should she pass, Starlet will go on to more advanced

training at the 4 Paws facility in Xenia.

Since they had such success with 4 Paws, they

reached out again to apply for a service dog. The local

community helped them fundraise thousands of dollars

to cover most of the cost of the extensive two-year

training process.

In 2020, Molly arrived, much to Katie's delight.

"Spoiled," is how Katie, now 31, describes her. And

loyal.

For the most part, Molly does not like for the spotlight

to be on her. She would much rather focus on her

humans and their well-being.

But she will, on occasion, step in to serve as a role

model for a new generation of potential service dogs,

much like she did at the event at the library. She knew

that all eyes were on her and her family — that is exactly

where she wanted them to be.

Colclasure said hearing stories like theirs and

watching service dogs at work is like an affirmation for

her and her fellow volunteers: it is an affirmation that

the months of basic training and socialization are

worth it, it is an affirmation that what they are doing

will make an impact. It is an affirmation that it will be

okay to let the pups go when they move back to Xenia

for more advanced training, and it is an affirmation

that their charges will go on to better the life of someone

in need.

"There have been times, like when Fargo had diarrhea

for months, where it's just like 'Man, I really don't

want you right now, I want to tap out of this program,'"

she said. "But I love him to death and I would do it all

over again if it meant that he is going to be a great

service dog one day.

"I know in my heart that, when the time comes, he

will be ready."

The Friends of the Southwest Public Libraries' special

events committee hosted the service dog special

event in Grove City on March 5. Chair Carol Rorick

said their objective was for the program to be "educational,

inspirational, and fun for the whole family."

"I think they succeeded," she said, mentioning that

she and her fellow committee members have plans to

go to Xenia to check out the program.

The Westland Area Library will be hosting another

4 Paws for Ability at Ohio State presentation on

Saturday, April 23 from 10 a.m. to 12 p.m. Participants

will learn about both organizations, meet the dogs, do

activities, and likely mull becoming a foster for budding

service animals.

To register for the April 23 presentation, call 614-

878-1301. To inquire about becoming a 4 Paws volunteer,

visit their website at www.4pawsforability.org.
---
www.columbusmessenger.com

By Amanda Ensinger

Staff Writer

Franklin Township will revisit joining a consortium

with the Solid Waste Authority of Central Ohio (SWACO).

"I spoke to SWACO and I'd like to get the lay of the land

on how this consortium works," said Steve Mazer, administrator

for the township at a recent board meeting. "I have

another phone call with SWACO's attorney so hopefully I

will understand how this consortium works and how it

affects the residents of Franklin Township. Then I will

have a full report for the trustees and the residents."

For more than two years, residents have been complaining

to township leadership about the lack of action by the

board related to securing a trash contract as they continue

to see prices increase.

Last year, the township was offered an opportunity to

join SWACO Consortium II. This would have included

Franklin Township, as well as the village of Brice, Clinton,

Pleasant, Sharon and Truro townships and cost residents

$19.99 a month. This fee would have included trash, recycling

and yard waste collection from Local Waste.

Rumpke proposed $21.32 a month for collection, according

to township leadership.

The township had until March 22, 2021 to determine if

they wanted to enter the consortium, but they opted not to

join, upsetting some residents.

"My bill keeps going up," said Janet Ward, township

resident. "If we enter a consortium, we will have set prices

for a while and that would better than the contracts we

currently are getting on our own."

Franklin Township trustee John Fleshman said he has

seen his bill continue to increase and understands why residents

want a consortium. He said recently his bill went up

$9.80 a month.

"If we go into a consortium, I've heard some people like

it because it drives the price down, but how much is it

going to drive it down," Fleshman said. "However, in the

consortium, one of the biggest issues is they had a loophole

where they were allowed to technically raise money

for fuel. So, it would continue to go up, but it will

never come down."

The board agreed to continue to consider the

consortium and discuss next steps at a later meeting.

In other news, the board discussed the police

levy the township is asking taxpayers to approve

and why they are asking for a permanent levy.

"I vowed then that we would build this back,"

Fleshman said. "We have good officers and they

have been leaving because they look at the history

of the township and how many levies have passed

and failed. We lose good people because they have

their own families and homes and they need a job

that they know that they're going to be there."

At a recent meeting, the board approved moving

forward with a 7.3-mill permanent police levy. This

will be the third time the department has asked

March 20, 2022 - WESTSIDE MESSENGER - PAGE 3

Township Focus

Franklin Township considers joining SWACO consortium

TOWNSHIP

Continued from page 1

around the westside

Westgate Park cleanup events

Friends of Westgate Park will host a

spring cleanup day from 9 a.m. to 12 p.m.

March 26 and a park work day from 9 a.m.

to 12 p.m. April 9. Volunteers for both

events can meet at the Westgate park

enclosed shelter house, located at 3271

Wicklow Road in Columbus. Participants

will clean up the flower beds, lay mulch,

plant flowers, and pick up litter.

For more information, visit friendsofwestgatepark.org.

Produce giveaway at YMCA

The Hilltop YMCA hosts a fresh produce

giveaway the third Wednesday of each

month from 4 to 6 p.m. at 2879 Valleyview

Drive in Columbus. For more information,

call the YMCA at 614-276-8224.

was also months behind in posting meeting

minutes, causing residents to question how

transparent the township was being.

At a recent meeting, the fiscal department

said there were plans to update the

minutes, but that they weren't able to get

to them.

"So, we had some plans this week to

work on minutes, but that has not happened,"

Dunn said. "We had plans to get

some stuff caught up this week, but that

has not happened. I'm hoping to be back

next week if all goes well. So, we'll see how

that goes. But that's where everything

stands."

While, Dunn said he knows it is an

issue, he said without working 12 to 16

hours a day there is no way to get them

caught up. However, with the implementation

of this new software, the department

can get the help it needs to update the minutes.

The software would simply translate all

that is said during the board meeting.

While the trustees approved using this

software to catch up on past meeting minutes,

they also wanted to confirm the fiscal

department will not become fully reliant on

this software and will review the minutes

before posting them online.

"We have an hour and a half, sometimes

two-hour meeting and it can take four

hours to listen to the tape and actually

transcribe it," said Franklin Township

trustee John Fleshman. "So, what's ended

up happening is you get behind with other

things. It will transcribe everything and

then basically you go through and make

sure it's all correct as your backup as

you're taking notes. So, what would take

four hours may take an hour. We are finding

a smarter way to do it."

taxpayers for a levy.

In the fall, the township asked taxpayers to approve a

7.1-mill timed police levy, which would have replaced an

existing timed levy that is set to expire at the end of 2022,

as well as added an additional 3-mills to the levy.

That levy was rejected by voters with 56 percent of residents

voting against the levy. In the spring of 2021, voters

also turned down a 7.37-mill levy.
---
PAGE 4 - WESTSIDE MESSENGER - March 20, 2022

www.columbusmessenger.com

County to offer grant funding for businesses

An additional $8 million is now available

through the Columbus-Franklin

County Small Business Recovery Fund to

help central Ohio small businesses continue

to navigate the COVID-19 pandemic.

Grant funding will be prioritized for

businesses that are located in underserved

communities and are minority-, woman- or

veteran-owned.

"Small businesses are the backbone and

job creators of our community," said

Franklin County Commission president

Erica Crawley. "We know that they were

impacted significantly by the pandemic

and their recovery has been slow. We're

here to provide a fund that offers stability

and growth.

Crawley said about 100,000 businesses

closed in the first six months of the pandemic

and an estimated 3.5 million women

lost or left their jobs for a variety of issues,

including lack of childcare.

"Many businesses still struggle and

many childcare centers haven't yet

reopened. That's why this cooperative

County board of

revision filing event

The Franklin County Auditor's Office

effort is so important now," she said.

The program is sponsored by the city of

Columbus and Franklin County, which

provided equal funding. The Ohio Small

Business Development Center at

Columbus State Community College will

provide program management, the Wells

Foundation will act as the fiduciary agent,

and Community Outreach Partners will

provide education, translation services and

guidance to local small business owners.

"Minority- and women-owned businesses

were more likely to miss their chance or

be passed over for Paycheck Protection

Program loans from the federal government,"

said Columbus Mayor Andrew

Ginther. "By putting these business owners

at the front of the line for local funding, we

hope to support business disproportionately

impacted by the pandemic, so they may

continue to keep their employees and customers

safe, and re-hire our residents to

steady, good-paying jobs."

Businesses may apply for one of three

grants:

• $5,000 recovery grants for selfemployed,

single entity, sole proprietors

and sole owner LLCs.

• $10,000 recovery grants for small

businesses with at least one full-time

employee.

• $20,000 job restoration grants for

businesses with at least one full-time that

lost employees due to the COVID-19 pandemic.

Businesses will receive an initial

$10,000 recovery grant and will be eligible

to receive an additional $10,000 for hiring

an additional full-time employee within

two month and maintaining their payroll

four months after receiving initial grant

funding.

"This grant does so much more than

help one business at a time. These grants

also help the Franklin County economy

overall. Small businesses account for more

than 40 percent of the national economy

and they are a critical part of all local

economies," commissioner John O'Grady

said.

around the westside

Board of Revision is accepting challenges

from homeowners who believe their property

values are incorrect. In advance of the

filing deadline on March 31, the office will

hold in-person board of revision filing

events to help homeowners. The westside

event will be held March 22 from 2 to 6

p.m. at the Prairie Township Community

Center, 5955 West Broad St. Residents

may also file a complaint electronically. To

Grants may be used to help small businesses

mitigate financial hardship due to

loss of sales, re-hire previously lost positions,

hire new employees, train and retrain

staff, adopt safer operating procedures

and seek out business growth opportunities.

"We have been using the federal dollars

for a very targeted approach - to help deal

with the costs and losses from COVID-19,

while stressing these are one-time funds

only. However, assistance, even if it's only

given once can make a tremendous difference,"

commissioner Kevin Boyce said.

Business owners interested in applying

for a grant may go to

SBDCColumbus.com/Columbus-Franklin-

County-Recovery-Grant to access and submit

an application. Applications will be

reviewed on a rolling basis, with the first

deadline occurring on March 18. Funding

extends into September.

e-file or for more information, visit

franklincountyauditor.com or call 614-525-

4663.

MEN'S REFINERY

Men's Refinery is a locally owned barbershop in Grove City, Ohio.

We do more than cut hair, we are a one stop shop for all men's grooming needs!

CUT

We have 6 barber chairs

ready for your haircut and

hot lather neck shave. Our

chairs recline all the way

back for precision and

comfort.

GROOM

We offer grey blending

color services, beard

shaping, brow, ear &

nose waxing.

RELAX

We have 4 wash stations

ready for your shampoo,

which includes a steamed

towel and chair massage. We

also offer mini facials and

trigger point therapy.

No appointment needed and

walk-ins are always welcome!

OPEN 7 DAYS A WEEK!

Mon-Fri: 9am-7pm

Saturday: 8am-4pm

Sunday: 9am-3pm

You can check-in online

at www.mensrefinery.com

4036 Parkmead Drive, Grove City, Ohio 43123 | (614) 991-4485
---
www.columbusmessenger.com

Mobile hotspots at library

Southwest Public Libraries (SPL) continues

to connect the community with tools entertainment," says Kacy Cox, assistant

home whether it be for school, work, or

March 20, 2022 - WESTSIDE MESSENGER - PAGE 5

SUMMER BLAST!

for lifelong learning and is now offering director of the Grove City Library. "Now,

mobile hotspot devices with unlimited data thanks to this grant, with just their library

for checkout at both of its locations thanks card, SPL patrons can check out a hotspot

to a federal grant. The 125 hotspots at each and access two weeks of free Wi-Fi while at

location, with data through T-Mobile, are home or on vacation."

available to borrow free of charge by anyone

Devices are not filtered, nor do they

age 18 or older with an SPL card for a store any history or personal information.

period of two weeks.

Parents and guardians are encouraged to

Patrons can connect up to 10 Wi-Fi monitor minors' usage as they see fit.

enabled devices to a single hotspot, including

To borrow a hotspot:

mobile devices, laptops, digital cam-

•Hotspots can be requested at an SPL

eras, and gaming devices for unlimited Customer Service Desk or reserved

high-speed internet access.

through the library's online catalog at

"The ability for patrons to connect to the www.swpl.org by any SPL cardholder age

internet on-the-go or when they cannot 18 or older.

make it to the library is essential," said •Hotspots must be checked out and

Katie Puckett, technology services librarian

returned at the Customer Service Desk of

for SPL. "Hotspots are another exciting an SPL branch.

addition to library services, helping us connect

•There is no fee for borrowing or daily

members of our community with the overdue fines; service will be disabled for

resources they need wherever they need overdue devices.

it."

•Replacement fees of $50 for a long

The lending program is funded through overdue, unreturned device or $5 for a

a grant from the Emergency Connectivity missing charger will be assessed.

VILLA MILANO

Fund (ECF), a $7.17 billion program that is •Contact the Information desk at 614-

1630 Schrock Rd.

part of the American Rescue Plan Act of 875-6716 ext. 503 (Grove City) or 614-878-

2021 and was originally created to help 1301 ext. 603 (Westland) for assistance.

Dinner/Show Tickets $ 58.00

schools and libraries support remote learning

during the COVID-19 emergency. The southwest Franklin county and surround-

Southwest Public Libraries (SPL) serves

Tables of 10 Available

library submitted its grant application last ing areas through its two branches, Grove Tickets by Phone: 614-792-3135 Visa • Mastercard • Discover

year, but due to a backlog of applications, City Library and Westland Area Library.

NO REFUNDS

Still Good Seats Available

received approval and funds only recently. Visit www.swpl.org for more information.

"The pandemic has shown how important

it is to have reliable internet access at

ELVIS

featuring

Mike Albert

and the Big E Band

Saturday

June 11, 2022

Messenger photo by Pat Donahue

Westland Cougar competes at state tourney

Westland High School senior Jacob Hurley was one of the top 16 in the Division I,

165-pound class to take part in the 85th Annual State Wrestling Tournament, held

March 11-13 at the Jerome Schottenstein Center. Hurley qualified for the event for

the third time by finishing second in the district tournament a week earlier. Hurley

is shown here after a 10-2 win over Toledo Whitmer junior Isaiah Schlegel. It was the

only win of the tournament for Hurley who moved up two weight classes after claiming

sixth place last year at 152 pounds.
---
PAGE 6 - WESTSIDE MESSENGER - March 20, 2022

www.columbusmessenger.com

Residents concerned about development in Prairie

By Amanda Ensinger

Staff Writer

At a recent Prairie Township board

24th Annual

"Best Fish Dinner in Town!"

Baked Cod and Fried Perch

ST. MARGARET OF CORTONA CHURCH

Fridays in Lent: March 4th - April 8th, 4:30 - 7:30 PM

Fried Ocean Perch or Baked Cod with choice of two sides:

• Baked Potato • Sweet Potato • Macaroni & Cheese

• French Fries • Cole Slaw • Applesauce

Includes Roll & butter, Homemade Dessert & Free Coffee

ADULTS: $15.00 • SENIORS $14.50;

CHILDREN (10 & UNDER) $7.00 (Free under 3)

Special Family Pricing

1600 N. Hague Ave. INFO: 614-279-1690

WESTGATE UNITED

METHODIST CHURCH

61 S. Powell Ave., Columbus,OH 43204

614-274-4271

Come - Let's Worship Together!

Worship Service 9:00 a.m.

Sunday School 10:00 a.m.

Visit Our Facebook Page for our

Livestream Worship

www.spreaker.com - Kevin Orr Show

or Kevinsreflections.blogspot.com

westgateumc@sbcglobal.net

meeting, residents expressed concern

about residential development, asking

leaders what they are going to do to protect

the environment.

"There are new houses being built on

small lots and trees are being cut down to

build these houses," said Debra Kurtz,

township resident. "This is eliminating

green space. Why did the zoning commission

allow this?"

Kurtz also questioned if the trustees

had oversight of the zoning commission

and if there is a way to stop the board from

issuing variances.

According to Prairie Township

Administrator Dave McAninch, the board

appoints the members of the zoning commission

and board of zoning appeals. The

HOGE MEMORIAL

PRESBYTERIAN CHURCH

2930 W. Broad St., Columbus, Ohio 43204

Sundays at 10:30 a.m.

In Person Worship

Live Streaming Sunday Worship Service

at 10:30 a.m. on Hoge Facebook Page

Worship & Free Meal

Saturdays at 5:00 p.m.

www.hogemempresby.org

trustees do not usually attend those meetings.

"If a piece of land is considered residential,

then the owners have the right to

make changes to their property like cutting

down trees," said Prairie Township trustee

Cathy Schmelzer.

Trustee Rod Pritchard added that it is

inevitable the township will have zoning

variances.

"We need to show up to make sure they

understand the problem behind clearing

the lot," Pritchard said. "Green space is

often required in residential areas, but in

this instance, they can't tell a property

owner to put in green space."

Pritchard also said a lot of developers

are looking for properties to renovate to

resell.

Residents said they are concerned about

future growth and potential gentrification.

"I'm very familiar with gentrification

and have experience in working through

that," Pritchard said.

Residents wanted assurances that the

township would not let local neighborhoods

become overrun with new development.

The trustees listened to the concerns but

did not take formal action.

McAninch however, did ask the board to

approve and sign a letter addressing the

proposed Darby Crossing Project at 6145

West Broad St. in Galloway.

"This proposed project presents several

potential issues for Prairie Township and

its residents," McAninch said. "This

includes the already significant flooding

and storm water drainage issues on Alton

Road, Elnora Drive and Tamara Avenue. It

also presents issues for the fire department

and emergency responders who cannot

access homes properly due to the flooding

issues."

In the letter, the township requested

that Darby Crossing GP, LLC be required

to implement and maintain proper storm

water drainage, as well as proper screening,

buffering and mitigation of lighting to

protect nearby residential properties.

GLENWOOD UM CHURCH

2833 Valleyview Dr.

(Corner of Valleyview & Hague Ave.)

(614) 274-8469

Pastor Leo A. Cunningham

Join us for In-Person

Sunday Worship at 10:45 a.m. or

Join us for Online Worship at

Glenwood UMC YouTube

http://tinyurl.com/GlenwoodUMC

Be a Part of Our Local Worship Guide

Our upcoming Worship Guide is geared toward celebrating faith and helping readers connect with

religious resources in our community. Make sure these readers know how you can help with a presence in

this very special section distributed to more than 25,000 households in the Westside area.

Contact us today to secure your spot in our Worship Guide.

614.272.5422 • kathy@columbusmessenger.com

Messenger

Westside

ST. PAUL LUTHERAN

CHURCH

55 Pasadena Ave, Columbus, OH

Welcomes our new pastor,

Sara Wunsch

Worship Service 10:00 am

Sunday School 9:00 am

Lenten Wed. Potlucks 6:00 pm

Lenten Wed. Services 7:00 pm

Office 614-878-4715

http://stpaulnewrome.com

Dunking on a donkey

Messenger photo by Pat Donahue

London High School hosted a staff-vs.-students donkey basketball game recently

to raise funds to help a local student in his battle with cancer. Players were allowed

to walk, ride, push, pull or beg their donkeys up court. All shooting and passing

had to be done from atop their rides. The competition got more competitive as the

riders became more acquainted with their rides. The game ended in a tie that had

to be settled at the foul line to claim a victory for the teachers. Here, Logan Golde,

5, of Galloway enjoys a ride during intermission with the help of his mom, London

High School science teacher Heather Golde, and London sophomore Alex Homan.
---
www.columbusmessenger.com

March 20, 2022 - WESTSIDE MESSENGER - PAGE 7

Active Lifestyles

A bi-monthly feature celebrating the

wisdom, experience and contributions of our community's senior citizens

PAID ADVERTISING

The time is always

right for social work

March is Social Work Month, a month-long

celebration that shines the spotlight on the positive

impact social workers make in the community.

The National Association of Social Workers, a

professional membership and advocacy organization

for social workers, leads a nationwide awareness

campaign each year that includes a special

theme. This year's theme, "The Time is Always

Right for Social Work," emphasizes that social

work is needed now more than ever to address

health, economic, and societal issues for all populations.

In the spirit of acknowledging social

workers during this special month, Central Ohio

Area Agency on Aging (COAAA) thanks its

social workers and staff for ensuring that older

adults and individuals with disabilities receive the

help they need to live independently.

COAAA case managers, which include

licensed social workers and registered nurses,

arrange and coordinate in-home services – such

as home-delivered meals, homemaking, personal

care, and transportation – to help individuals live

independently at home.

Additionally, COAAA helps family caregivers

navigate long-term care options for their loved

ones and advises caregivers on ways to address

challenging caregiving issues. Join COAAA in

celebrating social workers during March and

throughout the year.

PAID ADVERTISING

Ponderosa Steakhouse

celebrates 53rd anniversary

The Ponderosa Steakhouse at 3875 South

High St. in Columbus, the longest operating one

in existence, just celebrated its 53rd anniversary

this year.

Times have changed from the early years, but

we are still serving delicious steaks, chicken and

seafood entrees as well as our world-famous buffet.

Plus, we have added some new menu items -

BBQ ribs, gourmet burgers and several flavors of

Jumbo Chicken Wings.

Ponderosa truly has something for everyone in

the family – including kids and seniors. We love

supporting our Southern Columbus community

and we pride ourselves in being senior and family

friendly. There are special deals for seniors, the

most popular one being our happy hour buffet

with free beverage every Monday to Friday from

1 to 4 p.m. We also support our local veterans and

military with a free buffet and beverage on their

special day along with a regular daily discount.

We would like to invite everyone to come

visit, whether you are a regular or new to us.

'MEDICARE FOR BEGINNERS'

VIRTUAL WORKSHOPS

Are you new to Medicare?

Do you need help understanding your options?

Central Ohio Area Agency on Aging's (COAAA) FREE 'Medicare for

Beginners' workshops provide unbiased information to help you make

informed decisions. Workshops are only being offered through Zoom at

the present time. Join us for our upcoming workshop:

Wednesday, March 23 at 2:00 p.m.

Registration is required. To register, email Andy Haggard, COAAA

Medicare Outreach Manager, at ahaggard@coaaa.org or call 800-589-7277.

coaaa.org/medicare

Funded in part by:

This project was supported in part by grant number 2101OHMIAA/MIDR-00 from the U.S. Administration for Community Living,

Department of Health and Human Services, Washington D.C. 20201. Subrecipients undertaking a project with government sponsorship

are encouraged to express freely their findings and conclusions. Points of view or opinions do not, therefore, necessarily represent official ACL policy.
---
PAGE 8 - WESTSIDE MESSENGER - March 20, 2022

Antiques, Collectibles,

Jewelry, Vintage,

Home Decor, Militaria

and more!

America'

ica's s Fa

av vorite Treasure e Hunts!

Active Lifestyles

www.columbusmessenger.com

PAID ADVERTISING

America's favorite

Join us at Scott Antique Markets!

With such a large variety from our exhibitors,

there's sure to be something for everyone!

Merchandise may include: rugs, furniture, jewelry,

collectibles, toys, coins, home décor and

much, much more.

There will be around 800 booths with vendors

treasure hunts

ready to help you find whatever you may be looking

for. You never know what you'll find at

"America's favorite treasure hunts!"

You can find us at the Ohio Expo Center in the

Bricker Building on Saturday 9 a.m. - p.m. and

Sunday 10 a.m. - 4 p.m.

PAID ADVERTISING

Be confident in your

Medicare coverage

Dec. 17 & 18

Medicare's Annual Enrollment Period (AEP)

2022 is officially over. But you still can enroll

into a Medicare Advantage Plan that has a 5-star

plan rating.

My name is Terri Curcio, I live in Franklin

County, and have over 15 years' experience in

working with Medicare. You are welcome to contact

me directly at 614-460-0601 or email me at

TERRILCURCIO@GMAIL.COM. We can have

a virtual meeting, a face to face or I'll mail plan

information to your attention for review.

I am not an operator in a call center – you are

welcome to call anytime during the year with

questions. Also, if you qualify, we can complete

the paperwork for Low Income Subsidy (LIS),

which is advertised on the TV as a way to pay for

your monthly premium. I work with the major

insurance carriers in central Ohio, not just one or

two plans. Select the plan that benefits you for the

coming year, lowest possible copays for service

and medications. Some of the plan options

include dental, vision and fitness programs. $0

cost for my consultation and enrollment services.

You need to be confident in the plan you select

for your coverage.
---
www.columbusmessenger.com

Active Lifestyles

WESTSIDE MESSENGER - March 20, 2022 PAGE 9

Franklin County Board of Commissioners: President Kevin L. Boyce • Commissioner John O'Grady, and Commissioner Erica C. Crawley

The Franklin County Board of Commissioners and The Franklin County Office on Aging join with the Messenger Newspaper in providing this update on aging issues in Franklin County.

We are providing HOPE

HOPE, Helping Our residents, and families with Purposeful Engagement,

is a new initiative by the Franklin County Office of Aging to support

senior residents and their families. For the duration of the HOPE campaign,

our agency will be reaching out directly to seniors, families, and

caregivers to check in on their health and inform them about services

available through the Office on Aging.

Each month, we will showcase several agency programs and services that

have assisted senior residents and their families since 1993. This month,

we are highlighting the importance of the COVID-19 vaccine, and providing

information on vaccines, boosters, and transportation. We will also

discuss resources that are available to help caregivers and give an overview

of our Senior Options Program. In April, we will highlight the

Kinship Support Program and the Home Repair Program. Lastly in May,

we will share the significance of our Adult Protective Services department,

and how members of the public can help in ending elder abuse.

Currently in Franklin County, 66.92 percent of the population has received

at least one dose of the vaccine. In reviewing the data and zip codes with

low vaccination rates from the January 12, 2022, Ohio COVID-19

Vaccine Administration by County & ZIP Code Report, our agency recognized

the emergent need to provide opportunities to increase the total

percentage of vaccinated individuals within Franklin County and apply

targeted focus on homebound older adults and their families living in zip

codes that have the lowest vaccination rates. Our agency also saw the need

to provide vaccine access to homebound adults, who otherwise would not

be able to get vaccinated. By working with Equitas Health, Franklin

County Public Health and Columbus Public Health, we have been able to

increase the number of homebound residents who received the vaccine.

Through our agency's Senior Options Program, transportation to medical

appointments, including appointments for the COVID-19 vaccine and

booster shot, is being provided to older Franklin County residents. Not

only does our Senior Options Program assist senior residents in getting

around the county, but they also offer a wide array of services including:

• Adult Day Care

• Emergency Response Systems

• Home-Delivered Meals

• Home Care Services

• Nutritional Supplements, Incontinence Supplies, and Durable Medical

Equipment

Senior Options is not the only department within the Office on Aging that

is providing incredible resources to seniors and their families. Our Caregiver

Support Program provides short term support and services to families

to enhance and restore independence to the resident and the caregiver.

With over 53 million people in the United States in the role of an unpaid

family caregiver, and over 1.5 million of those people living in Ohio, we

have never seen the need higher than we are now. Our agency can provide

caregivers of older adults 60 years and older, who are non-paid, and who

have a demonstrated need for home care assistance, with resources to

help. We can also provide services to non-paid parents or relatives 55

years or older, caring for an adult child who has disabilities and show a

demonstrated need for home care assistance.

Program services include:

• Adult Day Services

• Caregiver Counseling

• Durable Medical Equipment

• Incontinent Supplies

• Institutional Respite Care

One of the many goals of our agency is to provide necessary resources to

our senior residents, and their families, so that they can remain independent,

safe, and together for as long as possible. In the upcoming months,

look out for our agency to continue to share resources including information

on our Kinship Support Program, Home Repair Program, and our

Adult Protective Services department. If you or someone you know needs

the services or programs listed above, and has not yet received a call from

us, please contact the Franklin County Office on Aging at 614-525-5230.
---
PAGE 10 - WESTSIDE MESSENGER - March 20, 2022

Hilltop History & Heritage

This is a photo of

Westmoor Junior High

School in 1974. These pictures

were from The Talon,

the school's yearbook. The

top photo is of the front of

the school, located at 3001

Valleyview Drive. It was

opened in 1958, taking students

from West Broad,

Westgate, and Valleyview

Elementary Schools and

allowed West High School,

which previously had been

a grades 7 to 12 school, to

house only high school

students. The bottom

photo shows faculty member

Mrs. Virginia Franklin,

who was injured in an

automobile accident and

missed working for the

first half of the school year.

The yearbook was dedicated

to Franklin. Westmoor is

now a middle school. If you

have a photo to share, contact

Stacy Berndsen-

Campbell at stacyberndsen12@gmail.com.

Pets of the week

Munch is a 5-yearold

calico whose

owner passed away.

All the volunteers at

Colony Cats are in

love with her as she

is super sweet.

Munch is spayed,

microchipped, and

up to date on vaccines.

If you are interested in adopting Munch,

contact Colony Cats and Dogs.

FYI: colonycats.org

Squirrel has a very

busy, daily schedule

of eat, play, and nap.

She enjoys watching

all the customers

shopping too. This 3-

year-old tabby is

looking for her furever

home. Squirrel is

residing at Pet Supplies Plus 3558 Soldano

Blvd. in Columbus. Come visit her there!.

Squirrel is spayed, microchipped, and up to

date on vaccines.

FYI: colonycats.org

www.columbusmessenger.com

These furry friends are available

for adoption at local

rescues and shelters

May is a 4-year-old

sweetheart of a cat

who is patiently waiting

for her forever

home. She can be a

bit timid at first and is

not a fan of being

picked up and carried

around, though she

loves attention and

scratches on her head. May is good with other

cats with a proper introduction. May walks

with a slight limp that has no medical cause.

Adopt her from Friends for Life Animal Haven.

FYI: fflah.org

Albany is a 2-yearold

gal eager to find

her forever family.

She has a beautiful

smile, a great personality,

and she has no

problem making new

friends. Albany is an

active participant in

playgroup and has

done well with dogs

since arriving at the shelter as a stray. To learn

more about her, contact the Franklin County

Dog Shelter.

FYI: franklincountydogs.com

Messenger

Hilltop Library - 511 S. Hague Ave.

United Dairy Farmers - Hague & Sullivant Ave.

BP Gas Station - Hague & Sullivant Ave.

Alex Carry-Out - Binns & Sullivant Ave.

Shifflet Auto Care - 3374 Sullivant Ave.

Dollar General - Kingsford & Sullivant Ave.

Dollar General - Georgesville & Atlanta

M & S Carryout - Georgesville & Atlanta

United Dairy Farmers - Georgesville & Parkwick by Freeway

Thorton's Gas Station - Georgesville Rd. & Norton Rd.

Shell Gas Station - Georgesville Rd. & Norton Rd.

Kroger - Georgesville Square

Turkey Hill - Georgesville Rd. & Clime Rd.

United Dairy Farmers - Clime & Demorest Rd.

Walgreens - Clime & Demorest Rd.

Messenger

Westside

BEST COMMUNITY NEWSPAPER on the Westside

Pick-Up At These Locations:

Certifed Gas Station - Briggs & Demorest

Kroger - Eakin & Harrisburg Pike

Speedway Gas Station - Eakin & Harrisburg Pike

Heartland Bank - Great Western Shopping Center

BP Gas Station - Wilson Rd. & Lowell

Speedway Gas Station - Wilson Rd. & Lowell

Certified Gas Station - Broad St. & Orel

Walgreens - Hague & Broad St.

Circle K Gas Station - Georgesville Rd. & Industrial Mile Rd.

Marathon Gas Station - Georgesville Rd. & Industrial Mile Rd.

La Plaza Tapatta - Georgesville Rd. & Hollywood

BP Gas Station - Georgesville Rd. & Broad St.

Westland Library - Lincoln Village Plaza

Giant Eagle - Lincoln Village Plaza

Thorton's Gas Station - 4990 W. Broad St.

READ US ONLINE: www.columbusmessenger.com

Walgreens- Broad St. & Galloway Rd.

Kroger - Broad St. & Galloway Rd.

Aldi Store - Broad St. & Westwood

CVS Drug Store - Norton Rd. & Hall Rd.

United Dairy Farmers - Norton Rd. & Hall Rd.

Circle K Gas Station - Norton Rd. & Hall Rd.

Dollar General - Norton Rd. & Hall Rd.

Marathon Gas Station - Broad St. & Murry Hill Rd.

Speedway Gas Station - Broad St. & Murry Hill Rd.

Dollar Tree - Broad St. & Murry Hill Rd.

Speedway Gas Station - Broad St. & Freeway

Sheetz Gas Station - Westland Mall

Speedway Gas Station - Broad St. & Wilson Rd.

Kroger - Consumer Square Shopping Center

Franklin Township Business Office - 2193 Frank Rd.
---
www.columbusmessenger.com

In Entertainment

"e Adam Project" has humor and heart

It is a truth universally acknowledged that we have

all wished we could travel back in time and talk to our

younger selves. For instance, if something really cool

happens — you start a dream job, you fall in love with

someone unexpected, you find a hairstyle that truly

flatters your face shape — there is an impulse to want

to reach back and share this experience with the awkward

husk you left behind, to give them a big hug and

whisper in their ear that (some) things will eventually

turn out to be okay. On the other side of that fantasy,

however, there is an impulse to want to reach back and

fix everything that went wrong, to guide yourself away

from bone-headed people and mistakes, and drastically

alter (some of) the circumstances you find your current

self in.

The desire to revisit and change fixed moments in

time is a complex and deeply human one, which is why

it makes for such an appealing premise within the

entertainment industry. Thousands of books, graphic

novels, movies, and television shows have dedicated to

this action and some can land in such a way that it

feels like an assassin slipped through time and

stabbed you in the heart. Fortunately for those who

hate that sensation, most forms of entertainment do

not leave that kind of emotional impact but that does

not mean they do not carry some form of value. The latest

film to center around this tricky premise offers

something that is largely humorous and adventurous,

but there is enough poignancy within to make it a little

heartwarming too (but not in the stabbing of the organ

kind of way).

In "The Adam Project," Ryan Reynolds plays Adam

Reed, a fighter pilot from the year 2050. Things are not

going well in his timeline — he quips later that it's like

"The Terminator" on a good day — and he is a hunted

man. Because time travel is possible at this point in

the future, he embarks on a solo mission back to the

year 2018 to try to fix the moment it all went so wrong.

Unfortunately for him, things continue to go wrong

because he jumps into the present day where he comes

face-to-face with his 12-year-old self (played with

Reynolds-like charm and wit by newcomer Walker

Scobell). Like so many adults floating about in this

world, Adam hates his younger self because all he sees

is someone weak, someone obnoxious, someone who

definitely deserves all the punches in the stomach he

takes at school.

We, the audience, however, do not see that. Well, to

be fair, he is quite obnoxious, but we also see that he is

still reeling from the sudden death of his father (Mark

South Central

Hilltop Spring Cleanup

The 20th annual South Central Hilltop Spring

Cleanup will be held from 11 a.m. to 1 p.m. April 23.

Volunteers will meet at Burroughs Park, 551 S.

Richardson Ave. For more information, look up the

South Central Hilltop Block Watch group on Facebook.

WNA accepting applications

for annual scholarship

The Westgate Neighbors Association is now accepting

applications for the 2022 Westgate neighborhood

scholarship. The $1,000 scholarship is awarded annually

to a qualified resident of Westgate who contributes

Ruffalo), irritated that his

mother (Jennifer Garner) won't

open up about their mutual loss

and is so desperately lonely.

Though we may have some

mercy on the pre-teen because

of his recent trauma, older

Adam does not, relentlessly

poking at the failures he sees

while deftly deflecting the observations younger Adam

doles back (their relationship is both antagonistic and

loving- kind of like how we can be with ourselves).

With Older Adam stuck in the present as he recuperates

from an injury, the two start to form a quasibond

and then eventually work to save the others' life

(another peril of time travel — having to save your reckless

older/younger self from themselves) when a villain

from the future shows up to put an end to Adam's time

travelling mission to rectify the mistakes of the past.

While there are plenty of neat visuals and concepts,

"The Adam Project" does not reinvent the wheel in

terms of sci-fi action. It borrows much from beloved 80s

films (it owes quite a bit of its spirit to Steve

Spielberg's "E.T. the Extra-Terrestrial," Richard

Donner's "The Goonies," and Robert Zemeckis' "Back

to the Future") but it also has a strength of its own

with the personal stories of the characters and the

sweet poignancy of realizing that your younger self

wasn't as bad as you once thought.

For those who are hesitant to get invested in a timetravelling

story, fear not the scientific convolution as

this film just brushes upon the theories of what makes

it possible in the future. "The Adam Project" is less

interested in that aspect and more interested in pushing

out an adventurous film that is fast paced with lots

of humor and moments of heart-tugging schmaltz. It

surprisingly delivers in that regard.

"The Adam Project" is currently streaming on

Netflix.

Grade: B-

news and notes

The Reel Deal

Dedra Cordle

Dedra Cordle is a Messenger staff writer and columnist.

to the betterment of their community through their

demonstrated service and leadership. To print an

application and for additional information, visit westgateneighbors.org.

Applications are due back to the

WNA by March 31.

Chamber Singers spring concert

The Grove City Chamber Singers will perform their

spring concert "Reflections of America" at 3:30 p.m. on

March 20. A variety of music including folk, bluegrass,

spiritual, pop, Broadway, and the American songbook

will presented. The concert venue is the Grove City

United Methodist Church, 2684 Columbus St. For

more information, visit

gcchambersingers.wixsite.com/gcchambersingers.

WESTSIDE MESSENGER - March 20, 2022 PAGE 11
---
PAGE 12 - WESTSIDE MESSENGER - March 20, 2022

Military News

www.columbusmessenger.com

Franklin Heights graduate honored to serve in Navy

Petty Officer 2nd Class Tyler Beck, a

native of Columbus, serves the U.S. Navy

aboard one of the world's largest warships,

the U.S. Navy aircraft carrier USS Carl

Vinson.

Beck joined the Navy five years ago and

serves as an electrician's mate.

"I joined the military for the educational

benefits offered and for the opportunity to

become a pilot," said Beck.

Growing up in Columbus, Beck attended

Franklin Heights High School and graduated

in 2017. Today, Beck relies upon skills

and values similar to those found in

Columbus to succeed in the military.

"My upbringing in Columbus taught me

the value of hard work," said Beck. "If you

work hard, good things will come."

USS Carl Vinson, like each of the Navy's

aircraft carriers, is designed for a 50-year

service life. When the air wing is

embarked, the ship carries more than 70

attack fighter jets, helicopters and other

aircraft, all of which take off from and land

aboard the carrier at sea. With more than

5,000 sailors serving aboard, Carl Vinson is

a self-contained mobile airport.

Aircraft carriers are often the first

response to a global crisis because of their

ability to operate freely in international

waters anywhere on the world's oceans.

Carrier strike groups have the unique

advantage of mobility, making them far

more strategically advantageous than

fixed-site bases. No other weapon system

can deploy and operate forward with a fullsized,

nuclear-powered aircraft carrier's

speed, endurance, agility, and the combat

capability of its air wing.

The Carl Vinson and its crew recently

returned to San Diego following an eightmonth

deployment to U.S. 3rd and 7th

Fleets areas of operation.

With more than 90 percent of all trade

traveling by sea, and 95 percent of the

world's international phone and internet

traffic carried through fiber optic cables

lying on the ocean floor, Navy officials continue

to emphasize that the prosperity and

security of the United States is directly

linked to a strong and ready Navy.

Beck and the sailors he serves with have

many opportunities to achieve accomplishments

during their military service.

"My greatest accomplishment has been

making rank as a petty officer second

class," said Beck. "My hard work and dedication

has resulted in me being promoted,

which gives me a chance to lead."

As Beck and other sailors continue to

train and perform missions, they take

pride in serving their country in the United

States Navy.

"Serving in the Navy provides a great

sense of camaraderie," said Beck. "I am a

part of a team who has my back, and I have

theirs."

Tyler Beck

INFORMATION

CLASSIFIED ADS

Deadlines: Groveport and West editions, Wednesdays at 5 p.m., • South/Canal Winchester, Grove City, Madison editions, Tuesdays at 5 p.m.

All editions by phone, Tuesdays at 5 p.m. • Service Directory, Tuesdays at 5 p.m.

INFORMATION

xCraft Shows

Spring

Grove City High School

Band Boosters

GIFT & CRAFT BAZAAR

Saturday, March 26, 2022 9AM-5PM

Grove City High School

4665 Hoover Rd.

Homemade Breakfast & Lunch Served, Free Parking!

$5 Admission — Under 12 Free

ADVERTISE

Your Spring Craft Show

Bazaar, or Bake Sale!

Call Kathy

614-272-5422

Craft Shows

GET READY

FOR SPRING!!

Try a New Hairstyle!

Come See Me At

My New Location!

Call Marilyn Weaver

For An Appt.

For a New Haircut/Color

614-348-6670

Relax Wellness

3663 Broadway

Grove City

ASSOCIATION ADS

Update your home with

beautiful new blinds &

shades. Free in-home

estimates make it

convenient to shop from

home. Professional

installation. Top quality -

Made in the USA. Free

consultation: 877-212-

7578. Ask about our

specials!

DISH TV $64.99 FOR 190

Channels + $14.95

High

Speed Internet. Free Installation,

Smart HD DVR

Included, Free Voice Remote.

Some restrictions

apply. Promo expires

1/23/23. 1-855-270-5098

Looking for assisted living,

memory care, or

independent living? A

Place for Mom simplifies

the process of finding

senior living at no cost to

your family. Call 1-833-

386-1995 today!

xPublic Notice

PUBLIC NOTICE

The 2021 Regulatory Cash Basis

Annual Financial Report for

Southwest Public Libraries

is available for public inspection

during business hours in the

Grove City Library, Business Office,

3959 Broadway, Grove City, Ohio 43123

or by contacting Fiscal Officer

Celeste Mosley at 614-875-6716 ext. 120.

Public Notice

ASSOCIATION ADS

The bathroom of your

dreams for as little as

$149/month! BCI Bath &

Shower. Many options

available. Quality

materials & professional

installation. Senior &

Military Discounts

Available. Limited Time

Offer - FREE virtual inhome

consultation now

and SAVE 15%! Call

Today! 1-877-540-2780

ASSOCIATION ADS

DENTAL INSURANCE

from Physicians Mutual

Insurance Company.

Coverage for 350 plus

procedures. Real dental

insurance - NOT just a

discount plan. Do not wait!

Call now! Get your FREE

Dental Information Kit with

all the details! 1-877-553-

1891

www.dental50plus.com/

macnet#6258

xInformation

The unconscious, subconscious or reactive

mind underlies and enslaves Man. It's the

source of your nightmares, unreasonable

fears, upsets and any insecurity.

GET RID OF YOUR REACTIVE MIND.

BUY AND READ

DIANETICS

The Modern Science of Mental Health

by L. Ron Hubbard

CALL 614‐974‐3672

1266 Dublin Road, Columbus, Ohio 43215

Information

ASSOCIATION ADS

Aloe Care Health, medical

alert system. The most

advanced medical alert

product on the market.

Voice-activated! No wi-fi

needed! Special offer

w/code CARE20 for $20

off Mobile Companion. 1-

855-521-5138

ASSOCIATION ADS

Become a Published

Author. We want to Read

Your Book! Dorrance

Publishing - Trusted by

Authors Since 1920

Book manuscript submissions

currently being reviewed.

Comprehensive Services:

Consultation, Production,

Promotion and Distribution. Call

for Your Free Author's Guide 1-

866-482-1576 or visit

http://dorranceinfo.com/macnet
---
www.columbusmessenger.com

March 20, 2022 - WESTSIDE MESSENGER - PAGE 13

CLASSIFIED ADS

Deadlines: Groveport and West editions, Wednesdays at 5 p.m., • South/Canal Winchester, Grove City, Madison editions, Tuesdays at 5 p.m.

All editions by phone, Tuesdays at 5 p.m. • Service Directory, Tuesdays at 5 p.m.

xEmployment

SCHOOL/DISTRICT

OFFICE SECRETARY

The South-Western City School District announces a

competitive exam for SECRETARY. Nature of work and qualifications

include high school diploma or equivalent with one year of experience

or equivalent combination of training and experience; ability to type

on the computer at a minimum of 45 (net) words per minute; and ability to

keep clerical and financial records.

This is an advanced clerical and general office position in an elementary,

intermediate, middle, high school or district office. Works 9 to 12 months

per year, 8 hours per day. Starting salary is $17.96 - $19.18 per hour.

Applicants are required to request a SWCSD-Grove City Civil

Service application by emailing carrie.rausch@swcsd.us

starting March 21, 2022. The fully completed application

must be returned via fax, email or postal mail by April 1, 2022.

A competitive written exam will be given on Saturday, April 9,

2022 at 10:30 a.m.

Full Benefits - Retirement - Good working conditions.

EOE

DO YOU HAVE

A POSITION

TO FILL?

ADVERTISE IT!

Call

Kathy

At The

Columbus

Messenger

For Rates

272-5422

HOME HEALTH AIDES

$13.00-$20.00 per hour

Choose your Schedule and Clients,

Benefits Available: Pay Advances,

Quarterly Bonuses, Paid Vacation,

401K w/matching, Medical/Dental/Legal

One year experience working for an employer

in caregiver role is preferred.

To apply, please visit v-angels.com

or text/call "career" to

614-80-ANGEL (802-6435)

ASSOCIATION ADS

Paying top cash for men's

sportwatches! Rolex,

Breitling, Omega, Patek

Pillippe, Heuer, Daytona,

GMT, Submariner and

Speedmaster. Call 833-

603-3236

Stop worrying! SilverBills

eliminates the stress &

hassle of bill pmts.

Household

bills

guaranteed to be paid on

time as long as

appropriate funds are

available. No computer

necessary. Free trial/

custom quote 1-855-703-

0555

ASSOCIATION ADS

LONG DISTANCE MOVING:

Call Today for a FREE

QUOTE from America's Most

Trusted Interstate Movers.

Let us take the stress out of

moving! Call now to speak to

one of our Quality Relocation

Specialists: 877-541-6320

Replace your roof with the

best lookng and longest

lasting material! Steel

from Erie Metal Roofs!

Three styles and multiple

colors available.

Guaranteed to last a

lifetime! Limited Time

Offer - $500 Discount +

Additional 10% off install

(for military, health

workers & 1st responders)

Call Erie Metal Roofs: 1-

855-338-4807

ASSOCIATION ADS

Don't let the stairs limit

your mobility! Discover

the ideal solution for

anyone who struggles on

the stairs, is concerned

about a fall or wants to

regain access to their

entire home. Call

AmeriGlide today! 1-844-

317-5246

!!OLD GUITARS WANT-

ED!! GIBSON, FENDER,

MARTIN, Etc. 1930's to

1980's. TOP DOLLAR

PAID. CALL TOLL FREE

1-866-433-8277

Put on your TVEars &

hear TV w/unmatched

clarity. TVEars Originaloriginally

$129.95 - now

w/this special offer only

$59.95 w/code MCB59! 1-

833-530-1955

Aloe Care Health, medical

alert system. The most

advanced medical alert

product on the market.

Voice-activated! No wi-fi

needed! Special offer-call

and mention offer code

CARE20 to get $20 off

Mobile Companion. Call

today-1-877-728-4065

ASSOCIATION ADS

Directv Stream - The Best

of Live &On-Demand On

All Your Favorite Screens.

CHOICE Package,

$84.99/mo for 12 months.

Stream on 20 devices at

once in your home. HBO

Max FREE for 1 yr

(w/CHOICE Package or

higher.) Call for more

details today! (some

restrictions apply) Call IVS

1-866-629-6086

Internet &WIFI Starts at

$49 Call us Today to Get

Started. Find High-Speed

Internet with Fiber Optic

Technology No Credit

Check, No SSN Required.

Call us Today 866-396-

0515

Long Distance moving.

Call for a free quote from

America's Most Trusted

Interstate Movers. Let us

take the stress out of

moving! Speak to a

relocation specialist! Call:

888-721-2194

AMERICAN & FOREIGN

CLASSIC CARS AND

MOTORCYCLES

WANTED. $$PAYING

CA$H$$ Corvettes,

Mustangs, Jaguars, Austin

Healeys, Broncos,

Blazers, Ram Chargers,

AMX, and Triumphs

KRMiller1965@yahoo.com

717-577-8206

ASSOCIATION ADS

Stroke & Cardiovascular

disease are leading

causes of death according

the AHA. Screenings can

provide peace of mind or

early detection! Call Life

Line Screening to

schedule a screening.

Special offer 5 screenings

for $149.. 1-833-549-4540

Wesley Financial Group,

LLC Timeshare Cancellation

Experts Over

$50,000,000 in timeshare

debt & fees cancelled in

2019. Get free

informational package &

learn how to get rid of

your timeshare! Free

consultations. Over 450

positive reviews. 888-965-

0363

HughesNet - Finally, superfast

internet no matter

where you live. 25 Mbps

just $59.99/mo! Unlimited

Data is Here. Stream

Video. Bundle TV &

Internet. Free Installation.

Call 866-499-0141

Donate Your Car To

Veterans Today! Help and

Support our Veterans.

Fast - FREE pick up.

100% tax deductible. Call

1-800-245-0398

Employment

CUSTODIAN

The South-Western City School District announces a competitive

exam for CUSTODIAN. Nature of work and qualifications include

high school diploma or equivalent; three months of experience in

custodial work with knowledge of methods, materials, and equipment;

ability to understand, follow, and create necessary written and

oral instructions and reports; and ability to work and cooperate with

adults and children. This is a 12 month position working 40 hours per week.

Position starts at $18.33 per hour.

Applicants are required to request a SWCSD-Grove City Civil

Service application by emailing carrie.rausch@swcsd.us starting

March 21, 2022. The fully completed application must be returned

via fax, email or postal mail by April 1, 2022. A competitive written

exam will be given on Saturday, April 9, 2022 at 8:00 a.m.

Full Benefits - Retirement - Good Working Conditions

EOE
---
PAGE 14 - WESTSIDE MESSENGER - March 20, 2022

www.columbusmessenger.com

xEmployment

Messenger

OPEN INTERVIEWS

ON WEDNESDAYS 10AM-1PM

WAREHOUSE UP TO $ 19.00/HR +

NO MANDATORY OT

$2K SIGN ON BONUS + NO WEEKENDS

ALSO SEEKING

2 ND SHIFT SUPERVISORS /

MAINTENANCE TECHNICIAN

1568 Georgesville Rd. Columbus 43228

APPLY PRIOR @ JOBS.MSCDIRECT.COM

Applicants must sucessfully pass a background check and drug screen.

Equal Opportunity Employer: Minority, female, veteran, individuals with disabilities, sexual orientation/gender identity.

ASSISTANT PAYROLL MANAGER

The South-Western City School District announces a competitive

exam for ASSISTANT PAYROLL MANAGER. Nature and

qualifications include: High School diploma or equivalent, general

knowledge of modern office procedures, Microsoft Office, and

some bookkeeping skills. At least three (3) years experience in

payroll preparation. Data entry is required at a moderate rate of speed with

a high degree of accuracy. General knowledge of payroll procedures related

to data processing. Position starts at $20.13 per hour.

Applicants are required to request a SWCSD-Grove City Civil

Service application by emailing carrie.rausch@swcsd.us

starting March 21, 2022. The fully completed application must

be returned via fax, email or postal mail by April 1, 2022. A

competitive written exam will be given on Saturday, April 9, 2022 at 9:15 AM.

Full benefits - Retirement - Good working conditions.

EOE

ASSOCIATION ADS

Eliminate gutter cleaning

forever! LeafFilter, the

most advanced debrisblocking

gutter protection.

Schedule a FREE LeafFilter

estimate today. 15% off

Entire Purchase. 10% Senior

& Military Discounts.

Call 1-855-791-1626

ASSOCIATION ADS

SELL YOUR ANTIQUE

OR CLASSIC CAR.

Advertise with us. You

choose where you want

to advertise. 800-450-

6631 visit macnetonline.

com for details.

VIAGRA & CIALIS! 60

pills for $99. 100 pills for

$150 FREE shipping.

Money back guaranteed!

1-844-596-4376

ASSOCIATION ADS

Stroke & Cardiovascular

disease are leading

causes of death according

the American Heart

Association. Screenings

can provide peace of mind

or early detection! Call

Life Line Screening to

schedule your screening.

Special offer - 5

screenings for $149. 1-

866-518-8391

WANTED

Host/Hostess • Back-Up Cooks

Grill • Servers • Dishwashers

You Can Work 29+ Hrs. Based on

Your Availability & Performance

Immediate Full/Part-time Openings

We Offer:

• Weekly Pay

• Paid Training

• No Tip Sharing

• Paid Vacation

• Employee Meal Discount

• Position/Salary Advancement Plan

• Discount Purchase Plan

Apply online at crackerbarrel.com/careers for

Hilliard Location 614-878-2027

ASSOCIATION ADS

The Generac PWRcell, a

solar plus battery storage

system. SAVE money,

reduce your reliance on

the grid, prepare for power

outages and power

your home. Full installation

services available. $0

Down Financing Option.

Request a FREE, no obligation,

quote today. Call

1-866-783-0292

Train online to do medical

biling! Become a Medical

Office Professional at CTI!

Get trained & certified to

work in months! 888-572-

6790. The Mission,

Program Information and

Tuition is located at

CareerTechnical.edu/cons

umer-information. (M-F 8-

6 ET.

Directv Now. No Satellite.

$40/mo 65 Channels.

Stream news, live

events, sports & on demand

titles. No contract/

commitment. 1-866-825-

6523

NEED IRS RELIEF

$10K-$125K+ Get Fresh

Start or Forgiveness.

Call 1-844-431-4716

Monday through Friday

7am-5pm PST

Looking for assisted living,

memory care, or

independent living? A

Place for Mom simplifies

the process of finding

senior living at no cost to

your family. Call 1-833-

910-1576 today!

Want Faster & Affordable

Internet? Get internet

service today with

Earthlink. Best internet &

WiFi Plans. Call us Today

to Get Started. Ask

about our specials! 866-

396-0515

New authors wanted!

Page Publishing will help

self-publish your book.

Free author submission

kit! Limited offer! 866-

951-7214

ASSOCIATION ADS

Hero takes stress out of

managing medications.

Hero sorts & dispenses

meds, sends alerts at

dose times & handles

prescription refill &

delivery for you. Starting

at $24.99/month. No

initiation fee. 90-day riskfree

trial! 1-888-684-0280

DISH TV $64.99 190

Channels + $14.95 high

speed internet. FREE installation,

Smart HD DVR

included. Free Voice Remote.

Some Restrictions

apply. Promo Expires

1/21/23. 1-833-872-2545

Donate your car to kids!

Fast free pickup running

or not - 24 hour response.

Maximum tax

donation. Help find missing

kids! 877-831-1448

The Generac PWRcell

solar plus battery storage

system. Save money,

reduce reliance on

grid, prepare for outages

& power your home. Full

installation services. $0

down financing option.

Request free no obligation

quote. Call 1-855-

270-3785

Elminate gutter cleaning

forever! LeafFilter, the most

advanced debris-blocking

gutter protection. Schedule

Free LeafFilter Estimate

today. 15% off Entire

Purchase. 10% Senior &

Military Discounts. Call 1-

855-995-2490

DENTAL INSURANCE-

Physicians Mutual Insurance

Company. Covers

350 procedures. Real

insurance - not a discount

plan. Get your free

dental Info kit! 1-888-

623-3036 . www.dental50plus.com/58

#6258

Employment

NOW HIRING BUS DRIVERS

$19.00 an Hour

CDL Drivers get $2,000 Sign On Bonus

Non-CDL $1,000 Sign On Bonus

Paid Training

Apply @ 4400 Marketing Pl., Groveport (Door 16) or http://careers.nellc.com/

614-836-4962

ASSOCIATION ADS

Life Alert. One press of a

button sends help fast

24/7! At home and on

the go. Mobile Pendant

with GPS. Free first aid

kit (with subscription).

877-537-8817 Free brochure

GENERAC Standby

Generators provide

backup power during

power outages, so your

home & family stay safe &

comfortable. Prepare now.

FREE 7-yr extended

warranty $695 value!

Request a free quote

today. Call for terms &

conditions. 1-844-334-

8353

BATH & SHOWER UP-

DATES in as little as

ONE DAY! Affordable

prices - No payments for

18 months! Lifetime warranty

& professional installs.

Senior & Military

Discounts available. Call

855-761-1725

Protect your home w/home

security monitored by

ADT. Starting at $27.99/

mo. Get free equipment

bundle including keypad,

motion sensor, wireless

door & windows sensors.

833-719-1073

Attention: If you or aloved

one worked around the

pesticide Roundup

(glyphosate) for at least 2

years and has been diagnosed

with non-Hodgkin's

lymphoma, you may be

entitled to compensation.

855-341-5793

AT&T Internet. Starting

at $40/month w/12-mo

agmt. 1 TB of data/mo.

Ask how to bundle &

SAVE! Geo & svc restrictions

apply. 1-888-796-

8850

Wants to purchase minerals

and other oil and gas

interests. Send details to

P.O. Box 13557, Denver,

CO. 80201

ASSOCIATION ADS

VIAGRA and CIALIS

USERS! 50 Generic pills

SPECIAL $99.00. 100%

guaranteed. 24/7 CALL

NOW! 888-445-5928

Hablamos Espanol

Attention oxygen therapy

users! Inogen One G4 is

capable of full 24/7 oxygen

delivery. Only 2.8

pounds. Free info kit.

Call 877-929-9587

READER

ADVISORY

The National Trade Association

we belong to has

purchased the following

classifieds. Determining

the value of their service

or product is advised by

this publication. In order

to avoid misunderstandings,

some advertisers do

not offer "employment"

but rather supply the

readers with manuals, directories

and other materials

designed to help

their clients establish mail

order selling and other

businesses at home. Under

NO circumstance

should you send any

money in advance or give

the client your checking,

license ID or credit card

numbers. Also beware of

ads that claim to guarantee

loans regardless of

credit and note that if a

credit repair company

does business only over

the phone it's illegal to request

any money before

delivering its service. All

funds are based in US

dollars. Toll Free numbers

may or may not

reach Canada. Please

check with the Better

Business Bureau 614-

486-6336 or the Ohio Attorney

General's Consumer

Protection Section

614-466-4986 for more

information on the company

you are seeking to

do business with.

ASSOCIATION ADS

Thinking about installing

a new shower? American

Standard makes it

easy. FREE design consulation.

Enjoy your

shower again! Call 1-

833-769-0995 today to

see how you can save

$1,000 on installation, or

visit www.newshowerdeal.com/mac

IMPORTANT

NOTICE

The following states: CA,

CT, FL, IA, IL, IN, KY,

LA, MD, ME, MI, MN,

NE, NC, NH, OH, OK,

SC, SD, TX, VT and WA

requires seller of certain

business opportunities to

register with each state

before selling. Call to

verify lawful registration

before you buy.

CHILD CARE

OFFERED

Depend. Quality Child care

in loving hm. Exp. Mom, n-

smkr, hot meals, sncks,

playroom, fncd yd. Reas.

rates. Laurie at 853-2472

HELP WANTED

FINANCIAL SECRETARY

$15 per hr, 5 hrs per week

For info contact

Hilltop United

Methodist Church

614-279-8086 or

hilltopumc@sbcglobal.net

FT Barber needed for well

established Barber Shop

in Upper Arlington.

Alfred's Barber Shop.

614-457-5432

Ask for Ronda

BUSINESS

LOANS

BUSINESS LOANS

$5,000 to $25,000

Instant Approval

Same Day Funding

6 Months in Business

614-557-3536
---
www.columbusmessenger.com

xFocus on Rentals

March 20, 2022 - WESTSIDE MESSENGER - PAGE 15

xClassified Services

WEDGEWOOD

VILLAGE

1, 2 and 3 BR Apts.

Rent Based on Income.

Call 614-272-2800 or visit us

at 777 Wedgewood Dr.

TTY/TDD 711

EQUAL HOUSING OPPORTUNITIES

Rentals

xInformation

SCIENTOLOGY CAN HELP YOU

We can give you

1. A higher IQ to handle your problems

2. Higher awareness to get a better job

3. More energy to make more money

4. Better health to breast life

5. Better morale to handle upsets

6. Less despair

7. More life

8. More years to live

Come to our free introductory workshop:

Monday-Friday at 7pm; Saturday & Sunday 2pm.

1266 Dublin Road,Columbus, Ohio 43215

Information

MISCELLANEOUS

FOR SALE

MISC. FOR SALE

614-465-7763

Gas Lawn Mower, working-

$45; Elec. Snow Blower-

$35; New Microwave-$45;

Auto Battery Charger-$30.

WANT TO BUY

WE BUY JUNK CARS

Call anytime 614-774-6797

replace

BUYING VINYL RECORDS.

LPs and 45s - 1950-80s

Rock, Pop, Jazz, Soul.

614-831-0383

We Buy Junk Cars &

Trucks. Highest Prices

Paid. 614-395-8775

ANTIQUES

WANTED

Victrolas, Watches,

Clocks, Bookcases

Antiques, Furn.

Jeff 614-262-0676

or 614-783-2629

WANT TO BUY

WANTS TO Purchase

minerals and other oil &

gas interests. Send details

to: P.O. Box 13557,

Denver, CO 80201

RENTALS

HILLTOP HALF DOUBLE

3 BR Fully Renoated

Rent-$1100/mo, $1100/dep

2 BR Fully Renovated

Rent-$900/mo, $900/dep

Bill Weygand 614-226-6767

Licensed Realtor

Eakin-1 Br Apt, crpt, appls.

No Pets 614-560-3050

1/3/4 BR homes-fncd yd,

bsmt.$600-$1200

614-530-8097

VACATION RENTALS

Englewood, Florida

Palm Manor Resort

Within minutes of white

sand Gulf beaches,

world famous Tarpon

fishing, golf courses, restaurants/shopping,

Bush

Gardens. 2 BR 2 BA

condos with all ammenities,

weekly/monthly, visit

www.palmmanor.com

or call 1-800-848-8141

AUTO/MOTORCYCLE

REPAIR

SOUTHWEST CYCLE

SERVICE

Motorcycle & Power

Sports Service & Repair

Get your Ride

Ready for Spring!

Call Chris 614-580-6605

BLACKTOP

AGM OHIO

ROOFING &

SEALCOATING

Free Estimates

Cell 614-512-1699

CONCRETE

EDDIE MOORE

CONSTRUCTION

Quality Concrete Work

Lt. Hauling & Room Add.,

Block Work & Excavation

Stamp Patios,

Bsmt. Wall Restoration

Over 35 Yrs Exp - Lic & Ins.

Free Ests. 614-871-3834

GALLION

CUSTOM CONCRETE LLC

Specializing in Custom Colors &

Custom Designs of Concrete.

Including Remove & Replace

44 yrs exp & Free Est.

Licensed & Insured

Reputation Built

On Quality

Ronnie

614-875-8364

See Us On Facebook

www.gallioncustom

concrete.com

ALL-CITY CUSTOM

CONCRETE

All Types Concrete Work

New or Tear Out-Replace

40 Yrs. Exp.

(614) 207-5430

Owner is On The Job!

AJ's Concrete,

Masonry

Good Work - Fair Prices

Block Foundations

Driveways • Sidewalks

Epoxy/Overlay Floors

Bonded-Ins. • Free Ests.

614-419-9932

www.hastingsnsons.com

Driveways & Extensions

Patio & Walkways,

Porches & Steps,

Garage/Basement Floors

Hot Tub/Shed Pads,

Stamped/colored concrete

Sealing of new &

existing concrete.

FREE ESTIMATES

Contact Adam

614-756-1754

hastingsandsons.

columbus@gmail.com

4/3 W/SW

2/13 A

LANDSCAPING

(614) 407-5214

www.OnyxLandscapingllc.com

Full Service Lawn Care -

SPRING CLEANUP SPECIAL

Free Estimates - We Match Quotes

Start with trust and you will always be satisfied

FENCING

EAZY FENCE

Chain Link - Wood

No Job Too Big or Small

All Repairs ~ Free Est.

Insured. 614-670-2292

GUTTERS

Bates & Sons

GUTTER CLEANING

5 ★ Google Reviews

614-586-3417

HAULING

DEAN'S HAULING

614-276-1958

Zane's Dumpster Rentals

4 days - $275.00

to drop off & haul away

$25 extra/day over 4 days

Tires - $10.00 each

No Hazardous Materials

Contact Zane Tabor

on Facebook or

Call 614-254-1131

HEATING

HEATING

Complete System Clean & Check

$49.95

Free Carbon

Monoxide Testing

Gas-Oil-Electric Heat/Pumps

All Makes • All Models

45 yrs exp. • Sr. Discount

614-351-9025

IINFORMATION

FOR ONLY

$74.00

You Can Reach

Over 42,000 Homes

In Our

West & Grove City

Areas

For Info Call

272-5422

2/13 A

LANDSCAPING

HOME

IMPROVEMENTS

WHITING COMPANY

HOME IMPROVEMENT

Basements, Walls

Ceilings and Texturing

Free Consultation

Family owned & operated

Contact Timothy

614-376-2701

KLAUSMAN HOME

IMPROVEMENT

Siding-Windows-

Doors-Roofing-Soffit-

Fascia-Gutters-Trim

Earn FREE Seamless

Gutters with Siding Over

1000 Sq. Ft.

FREE Shutters with

Soffit & Trim

EPA Certified

Member of BBB

Financing Available

Over 20 yrs exp. • Free Est.

Licensed-Bonded-Insured

Owner & Operator

James 614-419-7500

C&JHandyman

Services LLC

Minor Plumbing

& Electric

Install Hot Water Tanks,

Dishwashers & Disposals

Also Fencing &

Interior/Exterior Painting

Free Est. ~ 18 Yrs. Exp.

CDC/EPA Approved Guidelines

614-284-2100

SLAGLE

HOME REMODELING

Baths, Kitchen,

Plumbing and Electrical.

All your Handyman needs

No Job too Big or Small

Over 30 Yrs. Exp. Lic.-Bond-Ins.

Jerry

614-332-3320

4/10 A&M

2/27 A

11/7 A

4/10

SW/W

HOME

IMPROVEMENTS

SINCE 1973

Phil Bolon Contr.

Windows & Siding

Decks, Kitchens, Baths

Room Additions,

Flooring, Roofing

Bsmt Waterproofing

Deal With Small Non-Pressure Co.

47 Yrs. Exp. - Refs. Avail.

Lic.-Bond-Ins.

Free Est. - Financing Avail.

Member BBB Of Cent. OH

O.C.I.E.B. ID #24273

614-419-3977

or 614-863-9912

HOME

MAINTENANCE

CALL BOB

THE HANDYMAN

614-736-7911

HOME

REMODELING

Handyman Remodeling

Over 35 yrs exp.

Larry 614-376-7006

LAWN CARE

SOWERS LAWN CARE

Mowing-mulching-trimming

Spring cleanup-614-397-0566

LET US MAINTAIN

YOUR LAWN & GARDEN

FOR YOU

Summer, Spring,

Winter or Fall

WE DO IT ALL!!!!

Lawn Cuts, Edging,

Trees & Shrubs, Garden,

Mulching, Hauling,

Garden Pond &

Home Maint.

Free Ests. Low Rates

$20 & Up

Kevin - 614-905-3117

Classified Services

2/13

A/M

Charlies Handyman

Service

Over 40 yrs. exp.

Hot Water Tanks

Door Locks

Appliances

Rpfomg * Siding

Bathrooms and more!

614-319-6010

blantoncharles894@gmail.com

MANNY'S LANDSCAPE

Free Estimates

Spring Clean-up, Mulching,

Patios, Trees Removed, etc.

Call 614-378-1237

BO KNOWS

LAWN CARE

Commercial & Residential

Services Including:

•Landscape Planning/Execution

•Hedge Trimming/Shaping

•Lawn Mowing/Maintenance

•Mulch Beds

•Spring/Fall Clean-ups

•Tree & Stump Removal

•Skid-steer Services

Free Estimate!

Now Hiring FT/PT Positions.

For more info

614-687-2219

4/10 w/gc

PEST

CONTROL

TERMITE &

PEST CONTROL

614-367-9000

TORCO®

TERMINATES

TERMITES

Locally Owned & Operated. Any Pest. Anytime.

$

50 00 OFF Service

Free Termite Inspection

PAINTING

Painter Over 30 Yrs. Exp.

Free Est. Reas. Rates

Daniel - 614-226-4221

PLASTERING

Plaster & Stucco

NEW AND

REPAIR

Established 1917

Geo. F. Neff & Co.

614-274-5629

DRYW

YWALL &

PLASTER

1/30

A&M

REPAIR

Textured Ceilings

614-551-6963

Residential/Commercial

BIA

INFORMATION

ONLY

$50.00

For This Ad In Our

West & Grove City

For Info Call

272-5422

PLUMBING

CHRIS'

PLUMBING

"Plumbing & Drain Professional

That You Can Count On"

24 Hrs., 7 Days/Week

No Overtime Charges

24 Yrs. Exp. in Plumbing &

Drain Cleaning Field

Call For A Free Phone Estimate

$100.00 For Any Small Drain

614-622-4482

30% OFF with AD

All About Drains & Plumb.

Will snake any sm drain

$145. 614-778-2584

MYERS

PLUMBING

Exp. Expert Plumbing

New Work & Fast Repairs

Lic. - Permit Available

Water • Sewer • Gas

614-633-9694

3/27 A

2/13 A&M

PEST

CONTROL

POWER WASHING

Bates & Sons

Soft Wash & Powerwash

5 ★ Google Reviews

614-586-3417

MRS. POWERWASH

Any house wash $149+tax

Single deck $69+tax

2 Tier deck $99+tax

Best Wash in Town

Over 45,000 washes

Ashley 614-771-3892

ROOFING

RETIRED

ROOFER

BBB "A+" Rating

All Types of Roof Repairs

• New Roof Installation

• Flashing

• Chimneys Rebuilt

• Flat Roof Specialist

• Roof Replacement

avail. upon request

All Work Guaranteed

614-352-7057

Free Estimates

SEWING MACHINE

REPAIR

REPAIR all makes 24 hr.

service. Clean, oil, adjust

in your home. $49.95 all

work gtd. 614-890-5296

TREE SERVICES

BURNS TREE SERVICE

Trimming, Removal &

Stump Grinding.

614-584-2164

Brewer & Sons Tree Service

• Tree Removal

• Tree Trimming 2/13

A&M

• Stump Grinding

• Bucket Truck Services

Best Prices • Same Day Service

614-878-2568

4/10 A&M

3/27 W/SW
---
PAGE 16 - GROVE CITY MESSENGER - March 20, 2022

GAME #4

WHERE IN

WHERE

Messenger

www.columbusmessenger.com

The Messenger is Phil?

Each week Phil's Cartoon will be

hiding in (3) places in the paper.

All you have to do is find him. He

may be hiding in an article or a

picture or an advertisement. Don't

forget to check the classifieds!

Tell us the page number, issue

date and name of paper. Send

your answer by email, fax or mail by

5 PM,Tuesday, March 29th, 2022

and you'll have a chance to win a

$50 GIFT CARD.

Must be 18 or older.

One entry per

household. In a case

of a tie, winners will

be drawn at random.

Judge's decision is

final.

GAME #4

Name:

Address:

Phone:

MESSENGER

The Columbus Messenger

3500 Sullivant Ave.,Columbus, OH 43204

Name

Phil

The Contest Winner from our

March 6th Issue is: JAN VIATOR

email: contest.messenger@gmail.com - fax: (614) 272-0684

PAGE#'s:

PAPER NAME:

ISSUE DATE: