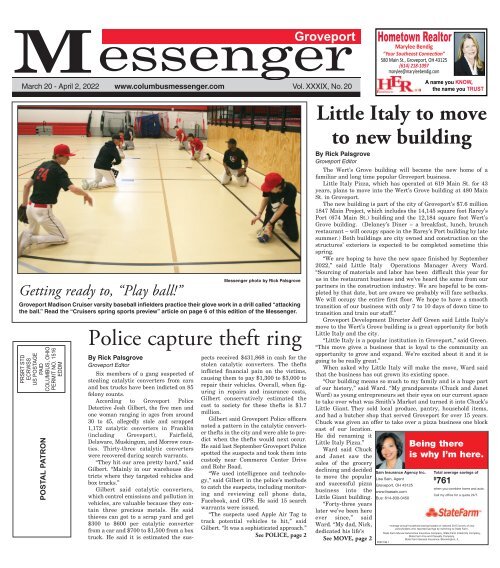 Groveport Messenger - March 20th, 2022
You also want an ePaper? Increase the reach of your titles
YUMPU automatically turns print PDFs into web optimized ePapers that Google loves.
Messenger

Groveport

March 20 - April 2, 2022 www.columbusmessenger.com Vol. XXXIX, No. 20

Getting ready to, "Play ball!"

PRSRT STD

ECRWSS

US POSTAGE

PAID

COLUMBUS, OHIO

PERMIT NO. 1516

EDDM

POSTAL PATRON

Messenger photo by Rick Palsgrove

Groveport Madison Cruiser varsity baseball infielders practice their glove work in a drill called "attacking

the ball." Read the "Cruisers spring sports preview" article on page 6 of this edition of the Messenger.

Police capture theft ring

By Rick Palsgrove

Groveport Editor

Six members of a gang suspected of

stealing catalytic converters from cars

and box trucks have been indicted on 85

felony counts.

According to Groveport Police

Detective Josh Gilbert, the five men and

one woman ranging in ages from around

30 to 45, allegedly stole and scrapped

1,172 catalytic converters in Franklin

(including Groveport), Fairfield,

Delaware, Muskingum, and Morrow counties.

Thirty-three catalytic converters

were recovered during search warrants.

"They hit our area pretty hard," said

Gilbert. "Mainly in our warehouse districts

where they targeted vehicles and

box trucks."

Gilbert said catalytic converters,

which control emissions and pollution in

vehicles, are valuable because they contain

three precious metals. He said

thieves can got to a scrap yard and get

$300 to $600 per catalytic converter

from a car and $700 to $1,500 from a box

truck. He said it is estimated the suspects

received $431,868 in cash for the

stolen catalytic converters. The thefts

inflicted financial pain on the victims,

causing them to pay $1,300 to $3,000 to

repair their vehicles. Overall, when figuring

in repairs and insurance costs,

Gilbert conservatively estimated the

cost to society for these thefts is $1.7

million.

Gilbert said Groveport Police officers

noted a pattern in the catalytic converter

thefts in the city and were able to predict

when the thefts would next occur.

He said last September Groveport Police

spotted the suspects and took them into

custody near Commerce Center Drive

and Rohr Road.

"We used intelligence and technology,"

said Gilbert in the police's methods

to catch the suspects, including monitoring

and reviewing cell phone data,

Facebook, and GPS. He said 15 search

warrants were issued.

"The suspects used Apple Air Tag to

track potential vehicles to hit," said

Gilbert. "It was a sophisticated approach."

See POLICE, page 2

Hometown Realtor

Marylee Bendig

580 Main St., Groveport, OH 43125

(614) 218-1097

marylee@maryleebendig.com

A name you KNOW,

the name you TRUST

Little Italy to move

to new building

By Rick Palsgrove

Groveport Editor

The Wert's Grove building will become the new home of a

familiar and long time popular Groveport business.

Little Italy Pizza, which has operated at 619 Main St. for 43

years, plans to move into the Wert's Grove building at 480 Main

St. in Groveport.

The new building is part of the city of Groveport's $7.6 million

1847 Main Project, which includes the 14,145 square foot Rarey's

Port (674 Main St.) building and the 12,184 square foot Wert's

Grove building. (Delaney's Diner — a breakfast, lunch, brunch

restaurant — will occupy space in the Rarey's Port building by late

summer.) Both buildings are city owned and construction on the

structures' exteriors is expected to be completed sometime this

spring.

"We are hoping to have the new space finished by September

2022," said Little Italy Operations Manager Avery Ward.

"Sourcing of materials and labor has been difficult this year for

us in the restaurant business and we've heard the same from our

partners in the construction industry. We are hopeful to be completed

by that date, but are aware we probably will face setbacks.

We will occupy the entire first floor. We hope to have a smooth

transition of our business with only 7 to 10 days of down time to

transition and train our staff."

Groveport Development Director Jeff Green said Little Italy's

move to the Wert's Grove building is a great opportunity for both

Little Italy and the city.

"Little Italy is a popular institution in Groveport," said Green.

"This move gives a business that is loyal to the community an

opportunity to grow and expand. We're excited about it and it is

going to be really great."

When asked why Little Italy will make the move, Ward said

that the business has out grown its existing space.

"Our building means so much to my family and is a huge part

of our history," said Ward. "My grandparents (Chuck and Janet

Ward) as young entrepreneurs set their eyes on our current space

to take over what was Smith's Market and turned it into Chuck's

Little Giant. They sold local produce, pantry, household items,

and had a butcher shop that served Groveport for over 15 years.

Chuck was given an offer to take over a pizza business one block

east of our location.

He did renaming it

Little Italy Pizza."

Ward said Chuck

and Janet saw the

sales of the grocery

declining and decided

to move the popular

and successful pizza

business into the

Little Giant building.

"Forty-three years

later we've been here

ever since," said

Ward. "My dad, Nick,

dedicated his life's

See MOVE, page 2

Sain Insurance Agency Inc.

Lisa Sain, Agent

Groveport, OH 43125

www.lisasain.com

Bus: 614-830-0450

Being there

is why I'm here.

Total average savings of

$

761

when you combine home and auto.

Call my office for a quote 24/7.

*average annual household savings based on national 2015 survey of new

policyholders who reported savings by switching to State Farm.

State Farm Murual Automotive Insurance Company, State Farm Indemnity Company,

State Farm Fire and Casualty Company,

State Farm General Insurance, Bloomington, IL

P097136.1
---
PAGE 2 - GROVEPORT MESSENGER - March 20, 2022

Groveport Garden Club

The Groveport Garden Club meets the first Tuesday each

month (unless otherwise announced) at Groveport Zion Lutheran

Church, 6014 Groveport Road. Anyone interested in gardening

welcome. Call Marylee Bendig at (614) 218-1097.

www.columbusmessenger.com

Madison Twp. Police and SWAT team up

On March 11, just before 2 p.m., the Madison

Township Police Department was dispatched to the

5300 block of Cullen Drive on a third party report of an

active domestic situation.

According to Madison Township Police Chief Gary

York, shortly after the initial call was aired, it was

upgraded to a physical altercation between a male and

female in the home.

The initial responding officer arrived shortly thereafter

and heard a gunshot coming from an unknown

location.

Franklin County SWAT was contacted and the

scene was treated as a possible barricade situation as

attempts were made to make contact with the involved

parties.

SWAT made entry to the residence with consent of

the homeowner and found no one located within the

house.

"We are thankful for a peaceful resolution to a situation

that could have easily ended in tragedy," said

York. "We are grateful for the swift response from

Franklin County Sheriff's Office and to Madison

Township Fire Department and Columbus Fire

Department for their support."

The World's Most Advanced

Medical Alert System

Voice-Activated! No Wi-Fi Needed!

$20 OFF Mobile Companion

Offer code: CARE20

CALL NOW

1-855-521-5138

Prepare for unexpected

power outages with a

Generac home standby

generator

REQUEST A FREE QUOTE!

866-643-0438

FREE

7-Year Extended Warranty*

A $695 Value!

Limited Time Offer - Call for Details

Special Financing Available

Subject to Credit Approval

LIST YOUR

PALM SUNDAY, GOOD FRIDAY AND

EASTER WEEK SERVICES

ON OUR EASTER CHURCH PAGE

in The Groveport or South/Canal Winchester Messenger

The page will print in our April 3rd issue

The deadline for the Easter Church Page is

Thursday, March 24th at 5:00 pm.

Call or email Kathy

for More Information

614-272-5422

or

kathy@

columbusmessenger.com

*To qualify, consumers must request a quote, purchase,

install and activate the generator with a participating dealer.

Call for a full list of terms and conditions.

Grace Ministries

464 Rathmell Rd., Columbus, OH 43137

Visit us at www.graceministries.org

Easter Sunday, March 27th

Sunrise Communion Service - 7:00 am

SAMPLE

Easter Service - 10:30 am

Easter Egg Hunt immediately following 10:30 service

with over 5,000 eggs and prizes

POLICE

Continued from page 1

The police investigation took nine months and

Groveport Police worked with several other law

enforcement agencies including the Franklin County

Economics Crime Prosecution Division.

Gilbert added, "This was also a combined effort and

teamwork between our Detective Bureau and our

patrol officers to catch the suspects."

Gilbert said three of the six suspects were taken

into custody this month and police are on the hunt for

the remaining three suspects.

MOVE

Continued from page 1

work to this business in this building. From working

alongside his dad through his childhood into his high

school years when he took over the business from his

father after Chuck's death. My dad built a longstanding

relationship with our customer base that remains

strong today. He passed down those core values to me,

getting to know our customers and building a strong

relationship with our community. It's with those values

that I was able to take our business to new heights

in the last four years."

Ward said Little Italy expanded its catering service

with corporate partners in the Rickenbacker and

Central Ohio area, expanded its delivery area, and

offered a faster delivery service with more drivers on

its team.

"We improved our product recipes and practices to

ensure consistency," said Ward. "With that said, we

have grown our reach and have outgrown our space

that we have. Our team works in a very tight kitchen

juggling what we do so it's been long overdue for

expansion. We want to provide a fantastic service to

our customers and that includes speed. At our peak

times this last year we can't meet that goal as it's too

much volume for our little space to handle. This really

expedited the need for expansion."

Ward said negotiations regarding Little Italy's

lease with the city of Groveport for the Wert's Grove

building are ongoing.

"We are still negotiating the finer details of the

terms of the lease," said Ward. "I can say we will be

signing at a minimum a 10 year lease for the space.

Groveport is our home and I have zero intentions of

ever leaving this new space. This is going to become

our new home for what is hopefully the next 43 years."

Green said the city is awaiting the signed lease

before it begins the interior construction work inside

the Wert's Grove building.

Ward said the new space will enable Little Italy to

bring several new things to town.

"Most exciting that we know the community will be

excited about is hand dipped ice cream," said Ward.

"We are exploring expanding our menu selection with

more pasta options and salad selections and of course

"It is an extensive case," said Gilbert, who said

additional indictments are expected as it is thought

the suspects were allegedly involved in other thefts in

Groveport.

"This is one of the longest and one of the most costly

in the amount of thefts to society I have ever worked

on," said Gilbert. "Even if you are not a direct victim,

everyone is affected by crimes like this because it

affects things like insurance rates that everyone pays

for."

with hand dipped ice cream we plan to bring some

great dessert selections to the table. The new space

will also feature a bar and we will introduce a cocktail

and alcohol menu that complements our house made

specialties."

He said the new space in the Wert's Grove building

will be modern, light, and open and will incorporate

the history of Little Italy and the town. He said it will

be a lively, personable experience that welcomes customers,

offers a smooth experience with integrated

technology, and be a place that feels like a connected

community safe haven and organized oasis. The design

will be modern and clean with a nod to local history

coupled with a functional contemporary layout that

appeals to multiple generations.

"We envision this space being a gathering space for

our community," said Ward. "At the intersection in the

center of town we can't wait to see the type of experience

this space brings our guests."

When asked what will happen to the old Little Italy

building at 619 Main St., Ward said, "We are in discussions

with a local couple interested in opening a

coffee house/ bakery/local goods store. We think our

current space will be perfect for this. We will be leasing

out the space to create a new opportunity for someone

looking to bring or open their business in

Groveport. After we move out the new business will

have the opportunity to tailor the existing space for

their needs."

Ward and the Little Italy staff like doing business

in Groveport.

"Groveport is such a tight knit community." said

Ward. "Over the years I have seen so much support for

not only local businesses, but support for one another

in times of needs and hardships. This truly is one of

the best towns to plant your roots in."

Green said the Little Italy move, coupled with other

business development, are creating energy and activity

in downtown Groveport.

"Positive things we wanted to happen in the downtown

are happening," said Green.
---
www.columbusmessenger.com

Refinancing saves district money

Groveport Madison Schools

saving "real money"

By Rick Palsgrove

Groveport Editor

Groveport Madison Treasurer Felicia

Drummey recently told the Groveport

Madison Board of Education on Jan. 26

that the district was able to save money by

refinancing some of its debt.

"It's real money," said Drummey. "It's

real savings."

She said the refinancing lowered the

interest cost on the new high school from

4.1 percent to 2.98 percent, which is an

estimated total cash savings over the

remaining term of bonds of $5.3 million, or

about $206,790 per year starting in 2023.

Additionally, the refinancing of the

administrative District Service Center

building lowered the interest cost from

3.69 percent to 2.26 percent, which is an

estimated total cash savings over the

remaining term of $813,285, or about

$62,000 per year starting in 2023.

"The high school's existing average bond

interest rate is 4.10 percent, and the illustration

as of January reduces the rate to

2.98 percent, including refinancing expenses

(bond counsel, underwriting expenses,

etc," said Drummey. "The refinancing of

the debt saves our taxpayers money, as

fewer taxes would need to be assessed to

repay this debt. Refinancing would result

in a savings of $5.3 million over the life of

the debt (or $206,790 annually) starting in

2023. Since the earliest date to sell at the

market is July 6, 2022, we are subject to

interest rate risk as market conditions will

change with inflation."

Drummey said the financing of the

District Service Center was refunded as a

Direct Placement Forward Rate Lock with

Chase Bank at 2.23 percent, including the

refinancing expenses.

"This is a little lower than the projected

rate because we entered into a rate lock

agreement," said Drummey. "The savings

is $832,829 (or $64,000 annually) starting

in 2023. This savings directly reduces the

district's operating costs, thereby allowing

us to reduce expenses or redirect the savings

on debt toward long-term permanent

improvements."

When asked why was it important to

the community for the district to do this

refinancing, Drummey replied, "It is

always our goal to be business-minded and

be good stewards of

the resources we're

provided. Just like a

homeowner would

refinance their

home to reduce their

monthly mortgage

payment, the school

district can refinance

our debt to

reduce the interest

being paid. This

savings on interest

allows the district to

Marylee I. Bendig

"Your Southeast Connection"

reduce expenses or redirect the savings to

purchase more meaningful, long-lasting

assets or improve our facilities."

Drummey said the refinancing does not

change the existing term by lengthening it

or shortening it. It will expire (be paid off)

as per the original schedule.

"When marketing conditions are favorable

to refinancing debt, it's the most

responsible thing for us to do on behalf of

our taxpayers and the school district," said

Drummey.

When asked if this refinancing will have

any impact on the level of property taxes

residents pay toward the debts, Drummey

said the refinancing of the high school's

bond will be a direct reduction of property

taxes assessed by Franklin County for the

repayment of this debt.

"However, because the amount assessed

is spread among all residents and businesses,

the actual impact on each taxpayer

may go unnoticed," said Drummey.

"Nevertheless, it's the right thing to do, as

it's beneficial to our taxpayers and the

school district."

She said there are no other similar

debts the district has that can be refinanced

at this time.

"Each debt instrument has guidelines

that govern the type of debt issued and

when," said Drummey. "For instance, if a

non-taxable bond has a 'call' feature, then

the earliest we can refinance the debt is

after the first call date. Otherwise, refinancing

before the first call date would

make the debt taxable to the investor,

which is less attractive and translates to

higher interest rates. As a result, we carefully

time the market to wait to refinance

until after the call date but before interest

rates rise."

Drummey said district officials have

worked hard to carefully manage and

account for the resources we've been provided.

"The district is in a stable financial position,

so we believe we are worthy of a credit

rating upgrade from 'Good Quality'

(Moody's A2/A3) to 'High Quality' Moody's

Aa3 or Aa2," said Drummey. "An improved

credit rating is essential. Like an individual's

credit rating, it determines what

interest rate is paid when borrowing

money. We submitted a credit rating application

and we expect to meet with the credit

rating agency in May to present our

financial position and case for an upgrade."

580 Main St.

Groveport, OH 43215

Cell: 614-218-1097

Office: 614-836-2210

Fax: 614-836-2214

marylee@maryleebendig.com

March 20, 2022 - GROVEPORT MESSENGER - PAGE 3
---
PAGE 4 - GROVEPORT MESSENGER - March 20, 2022

Groveport history films

Two documentary films on the history of

Groveport, produced by the Groveport

Heritage Society and Midnet Media, are

now available for viewing online on

YouTube.

The films are: "Groveport: A Town and

Its People" and "The Story of John S.

Rarey and Cruiser."

Groveport Heritage Museum

The Groveport Heritage Museum contains

photographs, artifacts, and documents

about Groveport's history.

The museum is located in Groveport

Town Hall, 648 Main St., and is open during

Groveport Town Hall's operating

hours. Call 614-836-3333.

columbusmessenger.com

southeast

Messenger

(Distribution: 8,000)

Rick Palsgrove ...................................Groveport Editor

southeast@columbusmessenger.com

Published every other Sunday by

The Columbus Messenger Co.

3500 Sullivant Ave., Columbus, Ohio 43204-1887

(614) 272-5422

The Columbus Messenger Co. reserves the right to edit, reject or cancel

any advertisement or editorial copy at any time. The company is not

responsible for checking accuracy of items submitted for publication.

Errors in advertising copy must be called to the attention of the company

after first insertion and prior to a second insertion of the same advertising

copy.

Keep tabs on the latest news in

Groveport & Madison Township

Look for Groveport Messenger on

www.columbusmessenger.com

A look at Groveport from above

Seeing things from a viewpoint high above offers one an interesting

perspective.

At the Groveport

Editor's Notebook

Rick

Palsgrove

Heritage Museum,

648 Main St., we are

lucky to have a large

aerial photo of Groveport from 1952 (see

photo below). I believe the photo was authorized

by Franklin County officials and taken

by a photographer in either a plane or a helicopter.

The photo is wonderful because, from that

aerial viewpoint, it reveals both the layers of

history visible in the Groveport landscape as

well as the then modern changes taking place

in the town 70 years ago.

One can see how transportation systems

shaped Groveport. In the photo, the remnants

of the 19th century era Ohio and Erie

Canal can be seen as its route cuts through

the eastern edge of town from the northeast

to the southwest. The route of the early 20th

century Scioto Valley Traction Line electric interurban railway is

visible coming from the west to Blacklick Street and then east

toward Canal Winchester. The railroad curves into town from the

northwest crossing College and Front streets and then heads east.

Groveport School (now Groveport Elementary) stands out in the

photo because of its sheer size. The school's old oval cinder running

track is plainly visible to the west of the school, but the two small

baseball diamonds in its infield that we know today were not yet

built in 1952 as that ground encircled by the track was still being

used as the high school football field. (However, the large baseball

diamond was there just east of the track.) The current football

field behind Groveport Madison Middle School Central did not yet

exist as it would not be built until the mid to late 1950s. Just east

of Groveport School one can see a newly built free standing gymnasium.

That gym was the first phase of a project that in the mid-

1950s added classrooms and a cafeteria to it to become a new high

school. That school eventually became what is now Middle School

Central.

A striking thing about the aerial photo is how Groveport is surrounded

by open farm land as well as the open areas within the

town limits. Lesleh Avenue looks newly constructed and only one

house was in place on that street. One can see that Cherry and

Canal streets were extended to connect to Lesleh Avenue and

these extensions also did not yet have houses along them.

Further west, the Kessler Addition subdivision looks newly

built encompassing Madison, Kessler, and South streets.

Mohr Avenue, Holton Street, and Clark Court did not yet exist

and that area was open land when the aerial photo was taken.

West Street ended at Canal Street to the south.

Glendening Elementary and Groveport Madison Middle School

South were not there and that area appeared to be farm land.

Large familiar buildings stand out in the photo, such as the

Groveport United Methodist Church and Groveport Town Hall

along Main Street as well as the former Catholic Mission at the

end of Naomi Court.

The Groveport Cemetery was visibly smaller than it is now

because of the presence of more graves in the past 70 years.

Neighboring Heritage Park did not exist and the Palm's Pond area

looked like a wetland.

Along the streets of town there were vacant lots awaiting houses

that would be built in the coming seven decades.

Near the edges of town the houses thinned out and farm fields

began to dominate. The town's agricultural character at the time

is emphasized by the two rows of several grain silos visible on

ground on the northeast corner of South Hamilton Road and

Corbett Road.

Photos capture specific moments in time, but I feel this aerial

photo seems to do even more than that as one can see the past,

present, and future co-existing in one place.

Rick Palsgrove is editor of the Groveport Messenger.

Become a fan!

BIRTHDAY • ENGAGEMENT • WEDDING • ANNIVERSARY

• GRADUATION • RETIREMENT

IN MEMORIUM • ARMED FORCES

Say it with an announcement ad in

the Messenger and spread the word.

You can download the appropriate form from

our Web site or stop by our office

Monday-Thursday, 8:30 a.m.-5 p.m.

Friday, 8:30 a.m.-2 p.m.

Columbus Messenger

3500 Sullivant Ave.

614-272-5422

www.columbusmessenger.com
---
www.columbusmessenger.com

Messenger delivery with

the Sunday Dispatch

As readers know, we contract delivery of

the Messenger in with the Sunday

Dispatch. Recent proposed delivery

changes by the Dispatch, which would

have affected delivery of the Messenger in

with the Sunday Dispatch, have now been

put on hold. Therefore, you will continue to

receive your Messenger in with your

Sunday Dispatch for the foreseeable

future. Thanks for reading the Messenger!

Guns vs. Hoses softball

The Groveport Recreation Department

is planning a charity slow pitch softball

game between the Groveport Police,

Madison Township Police, and the

Join us at Scott Antique Markets!

With such a large variety from our exhibitors,

there's sure to be something for everyone!

Merchandise may include: rugs, furniture, jewelry,

collectibles, toys, coins, home décor and

much, much more.

There will be around 800 booths with vendors

Madison Township Fire Department to be

played in the late spring or early summer

in Groveport Park, 7370 Groveport Road.

More details about the game will be available

soon.

Easter Egg Hunt

The city of Groveport will hold an

Easter Egg Hunt on April 9 from 10 a.m. to

noon in Heritage Park, 551 Wirt Road. The

egg hunt for kids ages 0-4 will start at 10

a.m. at the log house.

The egg hunt for kids ages 5-10 will

start at 10:30 a.m. at Palm's Pond. The

event features kids' crafts, bounce house,

farm animals, and free snacks. Get a photo

with the Easter Bunny at the log house.

For information call 614-836-3333.

Rain date is April 16.

PAID ADVERTISING

America's favorite

treasure hunts

ready to help you find whatever you may be looking

for. You never know what you'll find at

"America's favorite treasure hunts!"

You can find us at the Ohio Expo Center in the

Bricker Building on Saturday 9 a.m. - p.m. and

Sunday 10 a.m. - 4 p.m.

Antiques, Collectibles,

Jewelry, Vintage,

Home Decor, Militaria

and more!

America'

ica's s Fa

av

vorite Treasure e Hunts!

It's tim me for

March 20, 2022 - GROVEPORT MESSENGER - PAGE 5

KINDERGA

ARTEN

REGISTRA

TION

MAR

RCH 1 - APRIL 15, 2022

IS YOUR CHILD READY?

ELIGIBILITY REQUIREMENTS

The parent/guardian must be a resident of Groveport Madison Schools (proof of

residency is required at the time of registration*). The child must be five years

old by August 1, 2022.

THREE EASY STEPS:

1. Go to www.gocruisers.org/enrollment.aspx, click

on "SpeedyStart Online Registration" and answer

the questions.

2. Once online registration has been completed, you will

be able to set up a convenient time to complete the

registration process.

3. Bring your required documents* to your appointment.

Dec. 17 & 18

* A list of required documents is available at www.gocruisers.org/enrollment.aspx.

No computer access from home or work? Visit the Southeast Branch of the

Columbus Metopolitan Library or stop by our office to use one of the computers

at the District's W elcome Center.

WELCOME CENTER

4400 Marketing Place, Suite B

Groveport, OH 43125

(614) 491-8288

gocruisers.org
---
PAGE 6 - GROVEPORT MESSENGER - March 20, 2022

www.columbusmessenger.com

Groveport Madison Cruisers spring sports preview

By Rick Palsgrove

Groveport Editor

Spring is here and that means it's time

for Groveport Madison Cruiser High School

athletes to break out the bats, balls, gloves,

and racquets, and also to hit the track running.

Baseball

The Cruiser varsity baseball team is

looking to have a strong season.

"The strength that I've seen on this

year's team is our pitchers," said Cruiser

head baseball coach Tommy Snyder. "In

the past we have counted on one or two

guys. This year we have six guys who can

start on the mound for us, which will allow

our guys a break."

Snyder mentioned shortstop/pitcher

Kyle Jennings, leftfielder Keller Weston,

rightfielder/pitcher Price Cooper, and centerfielder/pitcher

Ryan Pettay as some of

the team's top players this season.

"Our offense has to come together," said

Snyder. "We have to be able to score runs.

Our hitting needs to improve for us to stay

in the games."

Snyder said every team dreams of winning

the Ohio Capital Conference Buckeye

Division title.

"We are no different," said Snyder. "The

Buckeye Division is loaded with talented

teams. I know Lancaster and Newark will

give us some trouble."

Boys Track

"The strength of this year's boys track

team is how deep we are in the sprints,

jumps, and throws," Cruiser head boys

track coach Ryan Alton. "After scraping by

in 2021 (coming off the lost 2020 season)

with a roster of only 28 boys, we have more

than doubled that with a majority of our

competitors coming over from the football

team. These boys are fast, strong, and

explosive, which should help a great deal in

the aforementioned events. It will be such

a luxury to be able to spread the talent out

so that we don't run guys into the ground

just to field a team or live in that fear of

where to turn if someone goes down with

an injury."

Alton said some of the team's top performers

include returning sprinters senior

Markell Holmes and sophomore Elijah

Simmons, along with hurdlers seniors

Jordan Lisath and Nevin Montgomery.

"These will be the guys I lean on the

most to lead the new participants," said

Alton. "Our distance team will be led by

juniors Ibsa Liben and Clayton Perez. I am

excited to see newcomers junior Thomas

Andrews and sophomores Lucas Reed, Jace

Nincehelser, Marcus Davis and Raishad

King. Young throwers freshman Jaylen

Joyce and sophomore Lane Hanes have the

Mary Lou Bartmess, matriarch of our Bartmess

family, departed on a Saturday, February 19th from

Colorado.

My Mom was born 17 February 1939, so had just reached

83 years. She grew up in Parkersburg, West Virginia and

attended Parkersburg High School as Mary Lou Meyer.

She married Larry Richard Bartmess of Marietta, Ohio

whom she met roller-skating.

My Mom, Mary, is survived by sons, David Alan Bartmess and Michael Craig Bartmess; David's

daughter Denise Elizabeth Seifert and granddaughter Alexa Marie Seifert; Michael's sons Severin

Michael Bartmess, Seann Bradley Bartmess and Calvin Hobbes Bartmess; brothers William (Butch)

Meyer and Richard McHenry; and sister Ellen Smith.

My mom and dad, Mary and Larry, bought their first home in Galion, Ohio where Mary worked

for Bell Telephone and Galion Ironworks. They moved from Galion to Columbus, Ohio and then

to Groveport, where Mary worked last and longest for the Federal Probation Office. Mary and

Larry moved to Colorado after Mary retired from the federal government.

My Mom loved working near the riverfront of downtown Columbus and running the Federal

Probation office activity.

My Mom was a rabid supporter of the Groveport High School band and of high school football

and wrestling during our high school years and upon retirement moved to Colorado to be closer

to her five grandchildren.

She always talked about the times I took her for drives in the Colorado mountains and she talked

incessantly about the dogs in her life that she held in high esteem.

In my youngest years I remember my mom singing while she baked. She had a very sweet and

gentle voice.

My Mom was one of those cooks who mostly never measured ingredients. I can recall no time

when she created something that came out bad. We loved her cooking.

My Mom was frugal and consistent in her beliefs, a middle-class American with duty to family

and friends. She was a constant in our lives, a matriarchal rock. We will think of her when the

cozy remembrances of daily life lift us to be more. We will remember her when we gather for

holiday festivities she took so much to heart. We will remember her whenever family gathers.

We will miss her in our everyday.

We will be holding a memorial when the Spring flowers re-emerges in Colorado. Contact Michael

at 719-238-0791 for more information.

potential to follow in the footsteps

of last year's state qualifier

JaShaun McGraw in the shot

put."

Alton said the OCC Buckeye

Division is loaded with talent.

"It's hard to say which school

will provide the most competition

to us without it feeling like a

slight on the other teams," said

Alton. "Pickerington Central and

Lancaster are historically deep

and strong across the board. I

feel Reynoldsburg typically mirrors

us in the way their strength

comes from their sprints and

jumps. As far as winning a division

title, we really have our

work cut out for us, but that is

always the goal. We're at a good

place with our numbers where

we have the guys to do it. It's on

us as coaches to get them ready

to compete and peak in mid-May

when the title is on the line."

He said the biggest challenge

is going to be taking the team's

new, raw talent and shaping it

into what the team could be.

"We are fairly young and inexperienced,"

said Alton. "In looking at the

underclassmen and down the line at the

middle schoolers coming up, the future of

Groveport Madison track has never been

brighter. For the 2022 season, our challenge

is going to be teaching and getting

these guys up to speed so we can be legitimate

OCC contenders right now."

Girls Track

Cruiser girls track head coach Jason

Brooks is in his 13th year as a head coach,

but his first as a girl's head coach.

"So this year has been a big change,"

said Brooks. "The girls have been so much

fun to work with and we are extremely

young. We have one senior on the team,

Kalista Miln, who is my senior captain and

will be one of my best athletes. She can do

almost anything. She holds our pole vault

record and will continue to smash that this

year. She is also a 5 foot high jumper, a 100

foot discus thrower and can be in multiple

running events as well."

Brooks said the team's strength this

year is in sprints, relays, and jumping

events.

"With Kalista's leadership leading the

way in jumps, my star sprinter is Aniyjah

Bryant," said Brooks. "She is a junior and a

returning letterman who struggled with

injuries last year but has crazy potential.

Running 26.21 at districts hurt in the 200

she can possibly be one of the favorites this

year in this region. Joining Aniyjah will be

Braylan James, junior long jumper and

sprinter, and Nijah Montgomery, junior

sprinter and long jumper."

He said other notable runners include

junior captain and distance runner Alexiz

Golden and sophomore Eva Walton who

Brooks described as "awesome leaders who

Messenger photo by Rick Palsgrove

Cruiser assistant varsity baseball coach Blake

Snyder pitches to Kyle Jennings in the batting cage.

work extremely hard."

Brooks said the team is young and consists

of mostly underclassmen who will be

facing competition in the OCC Buckeye

Division, which is "incredibly tough"

"So this year we will have some individual

success and some team success, but we

are not ready to win our division," said

Brooks. "My biggest challenge this year is

to get our athletes in the best position for

success. To get the runners in events that

they have the best potential for success. We

have to grow as a team. This is always the

toughest challenge for any coach."

Softball

Cruiser head softball coach Chris

Downing said having Kendyll Cahill back on

the pitcher's mound this season is a big plus.

"She had 331 strikeouts last year and

earned second team All-State honors," said

Downing. "Also, with Addison Cothern

returning as the everyday catcher is huge.

Tai Resendes as the leadoff and as centerfielder

is another big plus."

As far as the Cruisers' toughest competition

this season in the OCC Buckeye

Division, Downing said, "Lancaster and

Pickerington Central are always tough, but

Newark has a group of juniors back who

have been playing together since their

ninth freshman year."

He said the Cruisers' biggest challenge

this year is scoring enough runs and staying

healthy.

"We do not have a lot of depth if we want

to compete at the varsity and junior varsity

level," said Downing.

Boys tennis

No reply was received from the boys'

tennis coach.
---
ActiveLifestyles

www.columbusmessenger.com

March 20, 2022 - GROVEPORT MESSENGER - PAGE 7

A bi-monthly feature celebrating our community's senior citizens

PAID ADVERTISING

The time is always right

for social work

March is Social Work Month, a month-long

celebration that shines the spotlight on the positive

impact social workers make in the community.

The National Association of Social Workers, a

professional membership and advocacy organization

for social workers, leads a nationwide awareness

campaign each year that includes a special

theme. This year's theme, "The Time is Always

Right for Social Work," emphasizes that social

work is needed now more than ever to address

health, economic, and societal issues for all populations.

In the spirit of acknowledging social workers

during this special month, Central Ohio Area

Agency on Aging (COAAA) thanks its social

workers and staff for ensuring that older adults

and individuals with disabilities receive the help

they need to live independently.

COAAA case managers, which include

licensed social workers and registered nurses,

arrange and coordinate in-home services – such

as home-delivered meals, homemaking, personal

care, and transportation – to help individuals live

independently at home.

Additionally, COAAA helps family caregivers

navigate long-term care options for their loved

ones and advises caregivers on ways to address

challenging caregiving issues.

For COAAA, the time is always right for

social work. Join COAAA in celebrating social

workers during March and throughout the year.

PAID ADVERTISING

Ponderosa Steakhouse

celebrates 53rd anniversary

The Ponderosa Steakhouse at 3875 South

High St. in Columbus, the longest operating one

in existence, just celebrated its 53rd anniversary

this year.

Times have changed from the early years, but

we are still serving delicious steaks, chicken and

seafood entrees as well as our world-famous buffet.

Plus, we have added some new menu items -

BBQ ribs, gourmet burgers and several flavors of

Jumbo Chicken Wings.

Ponderosa truly has something for everyone in

the family – including kids and seniors. We love

supporting our Southern Columbus community

and we pride ourselves in being senior and family

friendly.

There are special deals for seniors, the most

popular one being our happy hour buffet with free

beverage every Monday to Friday from 1 to 4

p.m.

We also support our local veterans and military

with a free buffet and beverage on their special

day along with a regular daily discount.

We would like to invite everyone to come

visit, whether you are a regular or new to us.

'MEDICARE FOR BEGINNERS'

VIRTUAL WORKSHOPS

Are you new to Medicare?

Do you need help understanding your options?

Central Ohio Area Agency on Aging's (COAAA) FREE 'Medicare for

Beginners' workshops provide unbiased information to help you make

informed decisions. Workshops are only being offered through Zoom at

the present time. Join us for our upcoming workshop:

Wednesday, March 23 at 2:00 p.m.

Registration is required. To register, email Andy Haggard, COAAA

Medicare Outreach Manager, at ahaggard@coaaa.org or call 800-589-7277.

coaaa.org/medicare

Funded in part by:

This project was supported in part by grant number 2101OHMIAA/MIDR-00 from the U.S. Administration for Community Living,

Department of Health and Human Services, Washington D.C. 20201. Subrecipients undertaking a project with government sponsorship

are encouraged to express freely their findings and conclusions. Points of view or opinions do not, therefore, necessarily represent official ACL policy.
---
PAGE 8 - GROVEPORT MESSENGER - March 20, 2022

• Planning Ahead Guide

• Designing Your Funeral

• Funeral & Burial Services

• "Cremation With Confidence Guarantee"

www.spencefuneralhome.com

614-837-7126

650 West Waterloo St.

Canal Winchester, OH 43110

614-837-7126

550 Hill Road N..

Pickerington, OH 43147

Active Lifestyles

Golden Cruiser Club

Medicare's Annual Enrollment Period (AEP)

2022 is officially over. But you still can enroll

into a Medicare Advantage Plan that has a 5-star

plan rating.

My name is Terri Curcio, I live in Franklin

County, and have over 15 years' experience in

working with Medicare. You are welcome to contact

me directly at 614-460-0601 or email me at

TERRILCURCIO@GMAIL.COM. We can have

a virtual meeting, a face to face or I'll mail plan

information to your attention for review.

I am not an operator in a call center – you are

welcome to call anytime during the year with

www.columbusmessenger.com

Groveport Madison Schools invites senior

residents of the district to attend athletic

and performing arts programs showcasing

the talents of its students. The

Golden Cruiser Club is a free program for

residents of the Groveport Madison School

District who are age 60 and older. Club

membership provides free access to all

school and district sponsored athletic contests,

plays, concerts, and other events. To

become a member of the Golden Cruiser

Club, obtain an application at

www.gocruisers.org, at any of the school

offices, or call (614) 492-2520. The requirements

for membership are that applicants

be age 60 or older and be a resident of

Groveport Madison Schools.

We Love Our Veterans

Groveport Town Hall, 648 Main St.,

Groveport, will host the We Love Our

Veterans exhibit through March 25. The

city of Groveport is recognizing honorably

discharged military veterans from all

branches of service who reside in Franklin

County. The exhibit includes items from

Motts Military Museum, the Groveport

Heritage Museum, the Central Ohio

Military Museum, and items from individuals

and families.

PAID ADVERTISING

Be confident in your

Medicare coverage

questions. Also, if you qualify, we can complete

the paperwork for Low Income Subsidy (LIS),

which is advertised on the TV as a way to pay for

your monthly premium. I work with the major

insurance carriers in central Ohio, not just one or

two plans. Select the plan that benefits you for the

coming year, lowest possible copays for service

and medications. Some of the plan options

include dental, vision and fitness programs. $0

cost for my consultation and enrollment services.

You need to be confident in the plan you select

for your coverage.
---
www.columbusmessenger.com

Active Lifestyles

March 20, 2022 - GROVEPORT MESSENGER - PAGE 9

Franklin County Board of Commissioners: President Kevin L. Boyce • Commissioner John O'Grady, and Commissioner Erica C. Crawley

The Franklin County Board of Commissioners and The Franklin County Office on Aging join with the Messenger Newspaper in providing this update on aging issues in Franklin County.

We are providing HOPE

HOPE, Helping Our residents, and families with Purposeful Engagement,

is a new initiative by the Franklin County Office of Aging to support

senior residents and their families. For the duration of the HOPE campaign,

our agency will be reaching out directly to seniors, families, and

caregivers to check in on their health and inform them about services

available through the Office on Aging.

Each month, we will showcase several agency programs and services that

have assisted senior residents and their families since 1993. This month,

we are highlighting the importance of the COVID-19 vaccine, and providing

information on vaccines, boosters, and transportation. We will also

discuss resources that are available to help caregivers and give an overview

of our Senior Options Program. In April, we will highlight the

Kinship Support Program and the Home Repair Program. Lastly in May,

we will share the significance of our Adult Protective Services department,

and how members of the public can help in ending elder abuse.

Currently in Franklin County, 66.92 percent of the population has received

at least one dose of the vaccine. In reviewing the data and zip codes with

low vaccination rates from the January 12, 2022, Ohio COVID-19

Vaccine Administration by County & ZIP Code Report, our agency recognized

the emergent need to provide opportunities to increase the total

percentage of vaccinated individuals within Franklin County and apply

targeted focus on homebound older adults and their families living in zip

codes that have the lowest vaccination rates. Our agency also saw the need

to provide vaccine access to homebound adults, who otherwise would not

be able to get vaccinated. By working with Equitas Health, Franklin

County Public Health and Columbus Public Health, we have been able to

increase the number of homebound residents who received the vaccine.

Through our agency's Senior Options Program, transportation to medical

appointments, including appointments for the COVID-19 vaccine and

booster shot, is being provided to older Franklin County residents. Not

only does our Senior Options Program assist senior residents in getting

around the county, but they also offer a wide array of services including:

• Adult Day Care

• Emergency Response Systems

• Home-Delivered Meals

• Home Care Services

• Nutritional Supplements, Incontinence Supplies, and Durable Medical

Equipment

Senior Options is not the only department within the Office on Aging that

is providing incredible resources to seniors and their families. Our Caregiver

Support Program provides short term support and services to families

to enhance and restore independence to the resident and the caregiver.

With over 53 million people in the United States in the role of an unpaid

family caregiver, and over 1.5 million of those people living in Ohio, we

have never seen the need higher than we are now. Our agency can provide

caregivers of older adults 60 years and older, who are non-paid, and who

have a demonstrated need for home care assistance, with resources to

help. We can also provide services to non-paid parents or relatives 55

years or older, caring for an adult child who has disabilities and show a

demonstrated need for home care assistance.

Program services include:

• Adult Day Services

• Caregiver Counseling

• Durable Medical Equipment

• Incontinent Supplies

• Institutional Respite Care

One of the many goals of our agency is to provide necessary resources to

our senior residents, and their families, so that they can remain independent,

safe, and together for as long as possible. In the upcoming months,

look out for our agency to continue to share resources including information

on our Kinship Support Program, Home Repair Program, and our

Adult Protective Services department. If you or someone you know needs

the services or programs listed above, and has not yet received a call from

us, please contact the Franklin County Office on Aging at 614-525-5230.
---
PAGE 10 - GROVEPORT MESSENGER - March 20, 2022

We are the BEST community newspaper!

Need advertising?

Call 614-272-5422 today.

AUTO HOME

Beplerinsurance.com

614.837.4379

staff@beplerinsurance.com

3246 Noe Bixby Rd., Columbus, Ohio 43232

Madison Township

Police statistics

February crime statistics from the

Madison Township Police: 2 accidents with

injuries, 11 animal complaints, 5 assaults,

81 patrol security checks at Brobst Park, 3

burglary, 2 dog bites, 23 domestic complaints,

1 fight, 5 hit skip accidents, 15

juvenile complaints, 15 larceny/theft, 2

missing persons, 1 narcotic, 40 parking

violations, 10 property damage accidents,

1 rape, 1 sex offense, 1 robbery in progress,

2 shots fired in area, 12 suspicious cars,

16 suspicious persons, 13 suspicious persons/vehicles,

5 threats or harassment, 86

traffic stops, and 4 vandalism.

Website:Expert-hvac.com

Phone:614-946-8461

Experthvacllc@gmail.com

FREE ESTIMATES

on system installs

$100 Preventative Maintenance (tune up)

Expert service - affordable prices - Locally owned from Groveport

Mention this ad and get $20 off a $110 service call.

www.columbusmessenger.com

Program offers insights on coyotes

By Rick Palsgrove

Groveport Editor

Want to learn about coyotes?

Coyote Run, a 900-acre privately owned

farm and conservation project located just

south of Pickerington, will host a free presentation

about coyotes on April 7 at 6:30

p.m. at 9270 Pickerington Road. The presentation

by Marne Titchenell, extension

wildlife program specialist for the Ohio

State University in the College of Food,

Agricultural, and Environmental Science,

will explore the myths and facts about coyotes.

"Coyotes are a part of many communities

in Ohio and living with a large predator

raises many questions," said Titchenell.

"It's important to talk about what coyotes

are doing and why, and address resident

concerns. The end goal is a peaceful coexistence,

which is possible."

David Hague of Coyote Run said a presentation

like this important to the community

because, "Coyotes are often misunderstood.

The lack of understanding contributes

to unnecessary fear. The more

folks know about coyotes, or the natural

world in general, the better chance of

peaceful coexistence."

Hague added, that except for humans,

coyotes are a top predator.

"They help keep the balance between

predator and prey," said Hague.

The April 7 presentation will go into

detail about how people should conduct

themselves around coyotes and how to protect

pets and livestock.

"We know that our behaviors impact

coyotes," said Hague. "We don't want them

to get too comfortable, especially in our

backyards. Harassment can be an effective

strategy to keep coyotes out. It's also

important to eliminate any potential food

that could attract a coyote, such as pet food

left outside or a bird feeder that attracts a

lot of rodents. Keep cats indoors and monitor

small dogs when they are outside alone.

There are a variety of options for keeping

livestock safe, such as fencing, harassment,

and use of guard animals to name a

few. It depends on the situation and the

animals you are trying to protect."

The estimated number of coyotes in the

southeastern Franklin County and northwestern

Fairfield County areas is not

specifically known.

"We know they are there, but do not

know how many," said Hague.

Photo courtesy of ODNR Division of Wildlife

A coyote in its natural habitat.

When asked if coyotes are considered

dangerous, Hague said, "There is risk

involved when coexisting with a top predator.

Conflicts with coyotes do occur, however,

we can influence their behaviors both

good and bad. Research on urban coyotes

has shown us that coexistence is possible."

About Coyote Run

According to Hague the goal of Coyote

Run is to restore its several hundred acre

property to as close to pre-European settlement

as possible and preserve it in perpetuity

for 500 years.

"Last year a portion of the property was

dedicated as the 140th State Nature

Preserve," said Hague.

Public access is through group events

through the Ohio Department of Natural

Resources, The Ohio State University

Extension, Fairfield County Park District,

and various other organizations. Coyote

Run provides outdoor labs for Ohio State

University and the Pickerington Library.

Coyote Run also offers other programs

including bird walks, mushroom forays,

wetlands exploration, night hikes, tree

identification walks, celestial events, dragonfly

walks, wildflower walks, and bio

blitzes.

"We're known for our vernal pools,

which feature salamanders," added Hague.

Nature talks on various topics are

offered throughout the year. Events are

posted on Facebook: Coyote Run Ohio.

DestinationOutlets.com

800-213-9083

8000 Factory Shops Blvd.

Jeffersonville, OH 43128

DOWNLOAD OUR

MEMBERSHIP APP

First ursday

The city of Groveport's First Thursday

summer festival series will be held the first

Thursday of the month in June, July, and

August from 4:30-7:30 p.m. in Cruiser

Park, 4677 Bixby Road. The event features

food trucks, more than 40 vendors, a petting

zoo, kids' craft tent and bounce house,

a dog show in August, and live music. The

music schedule is: June 2 - Lee Gantt; July

7 - Jack Middleton; and Aug. 4 - The

Morning Lumber Co. There will be giveaways

to the first 200 attendees each date.

Giveaways are: June 2 - Groveport tote bag;

July 7 - hand sanitizer; and Aug. 4 - travel

bowl. For information call 614-836-3333.

Groveport city council

Groveport City Council holds its regular

meetings at 6:30 p.m. on the second and

fourth Mondays of the month. Council

holds its committee of the whole meeting

on the third Monday each month at 5:30

p.m. Meetings are held in the municipal

building, 655 Blacklick St., Groveport.
---
www.columbusmessenger.com

March 20, 2022 - GROVEPORT MESSENGER - PAGE 11

Groveport Madison begins to plan for future of its schools

By Rick Palsgrove

Groveport Editor

The Groveport Madison Board of

Education approved contracting with SHP

Architects for facility planning regarding

the potential renovation, expansion, or

replacement of the district's existing elementary

and middle schools.

According to the contract, SHP

Architects will: review and update assessments

of existing schools in the district;

assist with the analysis of enrollment projections;

facilitate advisory team meetings;

research existing site information on properties

owned by the district as well as

potential new building sites; facilitate the

development of the district's Master

Facilities Plan and locally funded facility

plan options; and engage with the community

to share facility and site conditions,

needs and opportunities; participate in formulating

an educational vision to identify

where the district wants to be relative to

trends in education; how the district might

respond to the Ohio Department of

Education's Strategic Plan for Learning;

identify how new or renovated learning

spaces can support the district; and identify

Master Facilities Plan preferences all at

a cost of $77,000.

The board already approved contracting

with Cropper GIS for a demographic and

capacity/utilization study of the district at a

cost of $35,500. That work is now underway.

The board also voted to not accept funding

this year from the Ohio Facilities

Construction Commission.

"This will allow us to have time for proper

facility planning and community

engagement," said Groveport Madison

Superintendent Garilee Ogden.

The reason for postponing acceptance of

OFCC money is that, if the district accepted

the funding now, it would need to have

its Master Facilities Plan completed by

mid-May, which does not give the district

sufficient time to complete its planning,

research, and community engagement.

Ogden previously noted such a short

amount of time does not allow time to figure

out building attendance boundary

realignment and prepare a campaign for

three potential election cycles to try and

pass a bond issue. She added Groveport

Madison is at the top of the OFCC's list for

segmented projects "so it is likely that they

will come to us next January again with

funding even if we say 'no' right now."

Timeline

Now that the SHP Architects contract is

approved, facility analysis, community

engagement, and educational visioning

begins. After that, discussions about facilities

planning, what the new schools could

look like, where buildings would be, what

the community wants, building grade configurations,

and building attendance

boundaries can take place as well as

informing the community about the Master

Facilities Plan. (The building attendance

boundaries do not refer to the entire district's

actual boundary. It refers to the

attendance boundaries within the district

for each individual school building regarding

which school building students attend

based on where they reside.)

District officials indicated a completed

Master Facilities Plan and a board resolution

for the OFCC would be needed by

April 2023 in order to receive funding

approval from the OFCC.

A bond issue for new buildings could

appear on the November 2023, May 2024,

or August 2024 ballot.

Ogden noted the bond issue must pass

by August 2024 or else the district would

have to reapply for OFCC funding.

She also said the district's five year

renewal general operating levy is tentatively

scheduled for the November 2024

ballot as that is latest date it can be

approved for the district to start collecting

money in 2025.

Buildings' capacity and enrollments

As of October 2021, the district had

6,271 students. In comparison, enrollment

was 5,569 in 2015-16.

Warner said overcrowding is the central

issue facing the district, but other factors

to be considered in the facilities planning

process include the age, condition, efficiency,

adaptability, and cost to maintain the

existing elementary and middle schools.

To deal with student overcrowding, the

district has 24 modular classrooms in use,

including a single quad-classroom unit at

Groveport Elementary, two double-classroom

units at Asbury Elementary and

Dunloe Elementary, and six double-classroom

units at Sedalia Elementary.

Here are the capacity and enrollments

(as of December 2021) for Groveport

Madison's elementary and middle schools

(a new 240,000 square foot, 1,500 student

high school opened in 2018):

•Asbury Elementary — Built in 1963

with additions in 1968 and 1969.

Enrollment, 476. Functional capacity, 425.

•Dunloe Elementary — Built in 1967

with additions in 1968 and 1969.

Enrollment, 448. Functional capacity, 425.

•Glendening Elementary — Built in

1968 with addition in 1974. Enrollment,

455. Functional capacity, 425.

•Groveport Elementary — Built in 1923.

Enrollment, 417. Functional capacity, 425.

Placed on the National Register of Historic

Places in 2009.

•Madison Elementary — Built in 1967

with additions in 1968 and 1969.

Enrollment, 354. Functional capacity, 425.

•Sedalia Elementary — Built in 1969

with addition in 1974. Enrollment, 562.

Functional capacity, 446.

•Middle School North — Built in 1975.

Enrollment, 495. Functional capacity, 425.

•Middle School South — Built in 1975.

Enrollment, 466. Functional capacity, 425.

•Middle School Central — Built in stages

as a high school between 1952-56.

Our Family Caring For Yours

Enrollment, 448. Functional capacity, 425.

Placed on the National Register of Historic

Places in 2009.

Since December, Groveport Madison

Communications Director Jeff Warner said

now every building in the district, except

for Madison Elementary, is over capacity.

(Functional capacity is 85 percent of original

design capacity and reflects modern

requirements for classroom space and programming.

Source: Groveport Madison

Schools.)

Dr. Sacheen Garrison

5055 S. Hamilton Road

Groveport, OH 43125 614-836-0500

www.groveportsmiles.com
---
PAGE 12 - GROVEPORT MESSENGER - March 20, 2022

Our Pictorial Past

by Rick Palsgrove

www.columbusmessenger.com

Where's

Phil contest

winner

The winner of

the Where's Phil

contest that

appeared in the

March 6

Groveport

Messenger is

Amber Griffith!

Railroad yard

Photo courtesy of the Groveport Heritage Museum

This photo from 1908 is a view of the Groveport railroad yard looking north from

Front Street. The large, brick warehouse at the right still stands today. At left is the

Groveport railroad depot, which was torn down in the 1960s. When the Ohio and

Erie Canal fell into disuse in the late 19th and early 20th centuries, the railroad

became the hub of shipping and receiving activity for Groveport businesses.

Messenger

Groveport

BEST COMMUNITY NEWSPAPER in Groveport

Pick-Up At These

Locations:

Groveport Senior Village - 5124 Hendron

Madison Township Office - 4575 Madison Lane

Paddock Pub/Groveport Golf Ctr. - 1005 Richardson Rd.

Southeast Library - 3980 S. Hamilton Rd.

Asbury Methodist Church - 4760 Winchester Pike

Groveport Municipal Building - 655 Blacklick St.

Groveport Town Hall - 648 Main St.

Flyers PIzza/Groveport - 296 Main St.

Ace Hardware - 726 Main St.

Little Italy Pizza - 619 Main St.

Huntington Bank/Groveport - 556 Main St.

Groveport Recreation Center - 7370 Groveport Rd.

READ US ONLINE: www.columbusmessenger.com

We are the

BEST

community

newspaper!

To advertise in

the Messenger

to get word out

about your

business and to

support local

journalism,

call 614-272-

5422 today.

Letters

policy

The Groveport

Messenger welcomes

letters to the editor.

Letters cannot be

libelous. Letters that

do not have a signature,

address, and

telephone number, or

are signed with a

pseudonym, will be

rejected.

PLEASE BE BRIEF

AND TO THE POINT.

The Messenger

reserves the right to

edit or refuse publication

of any letter for

any reason. Opinions

expressed in the letters

are not necessarily

the views of the

Messenger. Mail letters

to: Groveport

Messenger, 3500

Sullivant Avenue,

Columbus, OH

43204; or by email to

southeast@columbusmessenger.com.
---
www.columbusmessenger.com

Cleaning up

Messenger photo by Rick Palsgrove

A worker power washes the bricks on the new Rarey's Port building. The city

owned building, along with the new Wert's Grove building, are part of the city of

Groveport's $7.6 million 1847 Main Project. The 14,145 square foot Rarey's Port

building is located at 674 Main St. and the 12,184 square foot Wert's Grove building

is located at 480 Main St. Construction is expected to be completed on the buildings

in the spring of 2022.

Concert in the Park

The city of Groveport's Concert in the

Park summer music series will be held the

last Saturday of the month in June, July,

and August in Heritage Park, 551 Wirt

Road. Bring a picnic dinner, a blanket or

lawn chair, and invite your friends and

family to this free concert series. Food

Trucks will be available to purchase food

and non-alcoholic beverages from 5:30-8

p.m. Bands play from 6-8 p.m. Scheduled

bands are: June 25 - Mama Drama; July 30

- Rob Adam; and Aug. 27 - Willie Nelson

Mande. For information call 614-836-3333.

Princess Party

Groveport Town Hall, 648 Main St., will

host a Princess Party for ages 3-12 on April

23 from 10 a.m. to noon. The party features

singing, finger foods and dessert, crafts,

dancing, nail painting, and a fashion show.

Cost is $5 per person. One adult per

princess. Register and pre-pay by April 18.

For information call 614-836-3333.

Rickenbacker has best year

Rickenbacker International Airport

handled 153,600 metric tons of cargo in

2021, setting new records for both annual

tonnage and widebody all-cargo aircraft

handled.

The airport's international tonnage

handled was up 44 percent year-over-year,

with the export portion of that volume up

March 20, 2022 - GROVEPORT MESSENGER - PAGE 13

122 percent.

Adding to its successful year, it served

as one of the few non-passenger hub airports

to accommodate converted passenger-freighters,

surpassing 1,700 of these

all-cargo flights since the beginning of the

pandemic. The airport also recently welcomed

two new operators, Apex Logistics

and Maestro International Cargo (now

part of Alliance Ground International).

Cruisers on the air

The Groveport Sports Network and Rick

Cooper provides live play-by-play coverage

of Groveport Madison High School athletic

contests. The broadcast includes high definition

video and live audio.

Each broadcast begins 25 minutes prior

to the scheduled start time with the pregame

show.

Tune in after the game for interviews

with players and the head coach. The

broadcasts can be accessed free by anyone

on their computer or handheld device. All

broadcasts are available to view free on

demand.

Go to www.facebook.com/groveportsportsnetwork.

The schedule - softball:

March 26 at 11 a.m. vs. Westerville North;

April 9 at 11 a.m. vs. Gahanna; April 11 at

5:15 p.m. vs. Lancaster; April 15 at 5:15

p.m. vs. Newark; April 30 at 10 a.m. vs.

Canal Winchester; May 2 at 5:15 p.m. vs.

Pickerington Central; May 4 at 5:15 p.m. at

Newark.

CLASSIFIED ADS

Deadlines: Groveport and West editions, Wednesdays at 5 p.m., • South/Canal Winchester, Grove City, Madison editions, Tuesdays at 5 p.m.

All editions by phone, Tuesdays at 5 p.m. • Service Directory, Tuesdays at 5 p.m.

ASSOCIATION ADS

xInformation

SCIENTOLOGY CAN HELP YOU

We can give you

1. A higher IQ to handle your problems

2. Higher awareness to get a better job

3. More energy to make more money

4. Better health to breast life

5. Better morale to handle upsets

6. Less despair

7. More life

8. More years to live

Come to our free introductory workshop:

Monday-Friday at 7pm; Saturday & Sunday 2pm.

1266 Dublin Road,Columbus, Ohio 43215

Information

Donate Your Car To

Veterans Today! Help and

Support our Veterans.

Fast - FREE pick up.

100% tax deductible. Call

1-800-245-0398

Update your home with

beautiful new blinds &

shades. Free in-home

estimates make it

convenient to shop from

home. Professional

installation. Top quality -

Made in the USA. Free

consultation: 877-212-

7578. Ask about our

specials!

Stop worrying! SilverBills

eliminates the stress &

hassle of bill pmts.

Household

bills

guaranteed to be paid on

time as long as

appropriate funds are

available. No computer

necessary. Free trial/

custom quote 1-855-703-

0555

Business Owners.

Eliminate credit card

processing fees 100%,

pass on a legal 4% noncash

charge to the

customer. Chain stores

welcome. 337-849-8083

ASSOCIATION ADS

Looking for assisted living,

memory care, or

independent living? A

Place for Mom simplifies

the process of finding

senior living at no cost to

your family. Call 1-833-

386-1995 today!

Paying top cash for men's

sportwatches! Rolex,

Breitling, Omega, Patek

Pillippe, Heuer, Daytona,

GMT, Submariner and

Speedmaster. Call 833-

603-3236

!!OLD GUITARS WANT-

ED!! GIBSON, FENDER,

MARTIN, Etc. 1930's to

1980's. TOP DOLLAR

PAID. CALL TOLL FREE

1-866-433-8277

Long Distance moving.

Call for a free quote from

America's Most Trusted

Interstate Movers. Let us

take the stress out of

moving! Speak to a

relocation specialist! Call:

888-721-2194

xPublic Notices

NOTICE OF CODIFICATION

You are hereby notified that the City

of Groveport Council will consider

passage of AN ORDINANCE APPROV-

ING THE RECODIFICATION, EDITING AND INCLUSION

OF CERTAIN ORDINANCES AS PARTS OF THE VARIOUS

COMPONENT CODES OF THE CODIFIED ORDINANCES

OF GROVEPORT, OHIO, AND THE DECLARATION OF AN

EMERGENCY on Monday, March 28, 2022 at 6:30 P.M.

in the Council Chambers of the Groveport Municipal

Building, 655 Blacklick Street, Groveport, Ohio.

This Council Meeting is open to the public. The Codified

Ordinances are on file in the office of the Clerk of Council

and posted on the website at www.groveport.org.

Ruthanne Sargus Ross, CMC

Clerk of Council

Public Notices

PLANNING AND

ZONING COMMISSION

***NOTICE OF MEETING***

MONDAY, APRIL 4, 2022 6:00 P.M.

GROVEPORT MUNICIPAL BUILDING

COUNCIL CHAMBERS—2ND FLOOR

#2022-01 A request by Aaron Carroll for a

Rezoning at 325 Main Street, Parcel #185-000443

(tabled from the February 7, 2022 meeting).

#2022-02 A request by Aaron Carroll for a Final

Development Plan at 325 Main Street,

Parcel #185-000443

(tabled from the February 7, 2022 meeting).

The public is invited to attend and participate.
---
PAGE 14 - GROVEPORT MESSENGER - March 20, 2022

www.columbusmessenger.com

CLASSIFIED ADS

Deadlines: Groveport and West editions, Wednesdays at 5 p.m., • South/Canal Winchester, Grove City, Madison editions, Tuesdays at 5 p.m.

All editions by phone, Tuesdays at 5 p.m. • Service Directory, Tuesdays at 5 p.m.

.xEmployment

NOW HIRING BUS DRIVERS

$19.00 an Hour

CDL Drivers get $2,000 Sign On Bonus

Non-CDL $1,000 Sign On Bonus

Paid Training

Apply @ 4400 Marketing Pl., Groveport (Door 16) or http://careers.nellc.com/

614-836-4962

ASSOCIATION ADS

AMERICAN & FOREIGN

CLASSIC CARS AND

MOTORCYCLES

WANTED. $$PAYING

CA$H$$ Corvettes,

Mustangs, Jaguars, Austin

Healeys, Broncos,

Blazers, Ram Chargers,

AMX, and Triumphs

KRMiller1965@yahoo.com

717-577-8206

HughesNet - Finally, superfast

internet no matter

where you live. 25 Mbps

just $59.99/mo! Unlimited

Data is Here. Stream

Video. Bundle TV &

Internet. Free Installation.

Call 866-499-0141

Become a Published

Author. We want to Read

Your Book! Dorrance

Publishing-Trusted by

Authors Since 1920

Book manuscript submissions

currently being reviewed.

Comprehensive Services:

Consultation, Production,

Promotion and Distribution. Call

for Your Free Author's Guide 1-

866-482-1576 or visit

http://dorranceinfo.com/macnet

DENTAL INSURANCE

from Physicians Mutual

Insurance Company.

Coverage for 350 plus

procedures. Real dental

insurance - NOT just a

discount plan. Do not wait!

Call now! Get your FREE

Dental Information Kit with

all the details! 1-877-553-

1891

www.dental50plus.com/

macnet#6258

ASSOCIATION ADS

Wesley Financial Group,

LLC Timeshare Cancellation

Experts Over

$50,000,000 in timeshare

debt & fees cancelled in

2019. Get free

informational package &

learn how to get rid of

your timeshare! Free

consultations. Over 450

positive reviews. 888-965-

0363

Replace your roof with the

best lookng and longest

lasting material! Steel

from Erie Metal Roofs!

Three styles and multiple

colors available.

Guaranteed to last a

lifetime! Limited Time

Offer - $500 Discount +

Additional 10% off install

(for military, health

workers & 1st responders)

Call Erie Metal Roofs: 1-

855-338-4807

Looking for assisted living,

memory care, or

independent living? A

Place for Mom simplifies

the process of finding

senior living at no cost to

your family. Call 1-833-

910-1576 today!

Become a Published

Author. We want to Read

Your Book! Dorrance

Publishing Trusted Since

1920 Consultation,

Production, Promotion and

Distribution. Call for Free

Author's Guide 1-833-719-

3029 or visit

http://dorranceinfo.com/acp

ASSOCIATION ADS

Directv Stream - The Best

of Live &On-Demand On

All Your Favorite Screens.

CHOICE Package,

$84.99/mo for 12 months.

Stream on 20 devices at

once in your home. HBO

Max FREE for 1 yr

(w/CHOICE Package or

higher.) Call for more

details today! (some

restrictions apply) Call IVS

1-866-629-6086

The bathroom of your

dreams for as little as

$149/month! BCI Bath &

Shower. Many options

available. Quality

materials & professional

installation. Senior &

Military Discounts

Available. Limited Time

Offer - FREE virtual inhome

consultation now

and SAVE 15%! Call

Today! 1-877-540-2780

Stroke & Cardiovascular

disease are leading

causes of death according

the AHA. Screenings can

provide peace of mind or

early detection! Call Life

Line Screening to

schedule a screening.

Special offer 5 screenings

for $149.. 1-833-549-4540

LONG DISTANCE MOVING:

Call Today for a FREE

QUOTE from America's Most

Trusted Interstate Movers.

Let us take the stress out of

moving! Call now to speak to

one of our Quality Relocation

Specialists: 877-541-6320

HOME HEALTH AIDES

$13.00-$20.00 per hour

Choose your Schedule and Clients,

Benefits Available: Pay Advances,

Quarterly Bonuses, Paid Vacation,

401K w/matching, Medical/Dental/Legal

One year experience working for an employer

in caregiver role is preferred.

To apply, please visit v-angels.com

or text/call "career" to

614-80-ANGEL (802-6435)

ASSOCIATION ADS

Don't let the stairs limit

your mobility! Discover

the ideal solution for

anyone who struggles on

the stairs, is concerned

about a fall or wants to

regain access to their

entire home. Call

AmeriGlide today! 1-844-

317-5246

SELL YOUR ANTIQUE

OR CLASSIC CAR.

Advertise with us. You

choose where you want

to advertise. 800-450-

6631 visit macnetonline.

com for details.

Hero takes stress out of

managing

medications.

Hero sorts & dispenses

meds, sends alerts at

dose times & handles

prescription refill &

delivery for you. Starting

at $24.99/month. No

initiation fee. 90-day riskfree

trial! 1-888-684-0280

Internet &WIFI Starts at

$49 Call us Today to Get

Started. Find High-Speed

Internet with Fiber Optic

Technology No Credit

Check, No SSN Required.

Call us Today 866-396-

0515

Aloe Care Health, medical

alert system. The most

advanced medical alert

product on the market.

Voice-activated! No wi-fi

needed! Special offer-call

and mention offer code

CARE20 to get $20 off

Mobile Companion. Call

today-1-877-728-4065

Put on your TVEars &

hear TV w/unmatched

clarity. TVEars Originaloriginally

$129.95 - now

w/this special offer only

$59.95 w/code MCB59! 1-

833-530-1955

ASSOCIATION ADS

READER

ADVISORY

The National Trade Association

we belong to has

purchased the following

classifieds. Determining

the value of their service

or product is advised by

this publication. In order

to avoid misunderstandings,

some advertisers do

not offer "employment"

but rather supply the

readers with manuals, directories

and other materials

designed to help

their clients establish mail

order selling and other

businesses at home. Under

NO circumstance

should you send any

money in advance or give

the client your checking,

license ID or credit card

numbers. Also beware of

ads that claim to guarantee

loans regardless of

credit and note that if a

credit repair company

does business only over

the phone it's illegal to request

any money before

delivering its service. All

funds are based in US

dollars. Toll Free numbers

may or may not

reach Canada. Please

check with the Better

Business Bureau 614-

486-6336 or the Ohio Attorney

General's Consumer

Protection Section

614-466-4986 for more

information on the company

you are seeking to

do business with.

Employment

"HELP WANTED"

SIGN

NOT WORKING?

TO ADVER

VERTISE

Call Kathy at

The Columbus Messenger

ASSOCIATION ADS

Train online to do medical

biling! Become a Medical

Office Professional at CTI!

Get trained & certified to

work in months! 888-572-

6790. The Mission,

Program Information and

Tuition is located at

CareerTechnical.edu/cons

umer-information. (M-F 8-

6 ET.

Want Faster & Affordable

Internet? Get internet

service today with

Earthlink. Best internet &

WiFi Plans. Call us Today

to Get Started. Ask

about our specials! 866-

396-0515

AT&T Internet. Starting

at $40/month w/12-mo

agmt. 1 TB of data/mo.

Ask how to bundle &

SAVE! Geo & svc restrictions

apply. 1-888-796-

8850

Elminate gutter cleaning

forever! LeafFilter, the most

advanced debris-blockiing

gutter protection. Schedule

Free LeafFilter Estimate

today. 15% off Entire

Purchase. 10% Senior &

Military Discounts. Call 1-

855-995-2490

DISH TV $64.99 FOR 190

Channels + $14.95 High

Speed Internet. Free Installation,

Smart HD DVR

Included, Free Voice Remote.

Some restrictions

apply. Promo expires

1/23/23. 1-855-270-5098

614-272-5422

F or More Info

ASSOCIATION ADS

Looking for auto insurance?

Find great deals

on the right auto insurance

to suit your needs.

Call today for a free

quote! 866-924-2397

READY TO BUY, SELL

OR RENT YOUR

VACATION HOME OR

HUNTING CAMP?

Advertise it here and in

neighboring publications.

We can help you. Contact

MACnet MEDIA @

800-450-6631 or visit our

site at MACnetOnline.

com

The Generac PWRcell, a

solar plus battery storage

system.

SAVE money,

reduce your reliance on

the grid, prepare for power

outages and power

your home. Full installation

services available. $0

Down Financing Option.

Request a FREE, no obligation,

quote today. Call

1-866-783-0292

Life Alert. One press of a

button sends help fast

24/7! At home and on

the go. Mobile Pendant

with GPS. Free first aid

kit (with subscription).

877-537-8817 Free brochure

ASSOCIATION ADS

Aloe Care Health, medical

alert system. The most

advanced medical alert

product on the market.

Voice-activated! No wi-fi

needed! Special offer

w/code CARE20 for $20

off Mobile Companion. 1-

855-521-5138

Eliminate gutter cleaning

forever! LeafFilter, the

most advanced debrisblocking

gutter protection.

Schedule a FREE LeafFilter

estimate today. 15% off

Entire Purchase. 10% Senior

& Military Discounts.

Call 1-855-791-1626

The Generac PWRcell

solar plus battery storage

system. Save money,

reduce reliance on

grid, prepare for outages

& power your home. Full

installation services. $0

down financing option.

Request free no obligation

quote. Call 1-855-

270-3785

IMPORTANT

NOTICE

The following states: CA,

CT, FL, IA, IL, IN, KY,

LA, MD, ME, MI, MN,

NE, NC, NH, OH, OK,

SC, SD, TX, VT and WA

requires seller of certain

business opportunities to

register with each state

before selling. Call to

verify lawful registration

before you buy.
---
www.columbusmessenger.com

xCome & Get It!

.

COME AND GET IT

Deadlines are Tuesdays by 5 pm.

Call For Publication Schedule 614-272-5422

Need to Get Rid of Something Fast - Advertise It Here For FREE!

FREE Garden Straw for gardens or bedding. Call for appointment for pickup.

Circle S Farms, 9015 London-Groveport Road, Grove City, 43123

Grove City - 614-878-7980

WOOD from two trees that we cut down two years ago. FREE.

Call me and let me know when you canp ick it up.

TH - Canal Winchester - 614-949-8963

Come and Get It! is a bi-weekly column that offers readers an opportunity to pass

along surplus building materials, furniture, electronic equipment, crafts, supplies,

appliances, plants or household goods to anybody who will come and get them - as

long as they're FREE. NO PETS! Just send us a brief note describing what you want to

get rid of, along with your name, address and phone number. Nonprofit organizations

are welcome to submit requests for donations of items.

Send information to The Columbus Messenger, Attention: Come and Get It, 3500

Sullivant Ave., Columbus, OH43204. Deadline is Tuesdays by 5 pm for following

Mondays publication. Messenger Newspapers is not responsible for any

complications that may occur. Please contact us when items are gone. 272-5422

Come & Get It!

xInformation

The unconscious, subconscious or reactive

mind underlies and enslaves Man. It's the

source of your nightmares, unreasonable

fears, upsets and any insecurity.

GET RID OF YOUR REACTIVE MIND.

BUY AND READ

DIANETICS

The Modern Science of Mental Health

by L. Ron Hubbard

CALL 614‐974‐3672

1266 Dublin Road, Columbus, Ohio 43215

Information

ASSOCIATION ADS

Wants to purchase minerals

and other oil and gas

interests. Send details to

P.O. Box 13557, Denver,

CO. 80201

DENTAL INSURANCE-

Physicians Mutual Insurance

Company. Covers

350 procedures. Real

insurance - not a discount

plan. Get your free

dental Info kit! 1-888-

623-3036 . www.dental50plus.com/58

#6258

Attention oxygen therapy

users! Inogen One G4 is

capable of full 24/7 oxygen

delivery. Only 2.8

pounds. Free info kit.

Call 877-929-9587

ASSOCIATION ADS

VIAGRA & CIALIS! 60

pills for $99. 100 pills for

$150 FREE shipping.

Money back guaranteed!

1-844-596-4376

Thinking about installing

a new shower? American

Standard makes it

easy. FREE design consulation.

Enjoy your

shower again! Call 1-

833-769-0995 today to

see how you can save

$1,000 on installation, or

visit www.newshowerdeal.com/mac

NEED IRS RELIEF

$10K-$125K+ Get Fresh

Start or Forgiveness.

Call 1-844-431-4716

Monday through Friday

7am-5pm PST

ASSOCIATION ADS

Attention: If you or aloved

one worked around the

pesticide Roundup

(glyphosate) for at least 2

years and has been diagnosed

with non-Hodgkin's

lymphoma, you may be

entitled to compensation.

855-341-5793

Directv Now. No Satellite.

$40/mo 65 Channels.

Stream news, live

events, sports & on demand

titles. No contract/

commitment. 1-866-825-

6523

Protect your home w/home

security monitored by

ADT. Starting at $27.99/

mo. Get free equipment

bundle including keypad,

motion sensor, wireless

door & windows sensors.

833-719-1073

New authors wanted!

Page Publishing will help

self-publish your book.

Free author submission

kit! Limited offer! 866-

951-7214

BATH & SHOWER UP-

DATES in as little as

ONE DAY! Affordable

prices - No payments for

18 months! Lifetime warranty

& professional installs.

Senior & Military

Discounts available. Call

855-761-1725

GENERAC Standby

Generators provide

backup power during

power outages, so your

home & family stay safe &

comfortable. Prepare now.

FREE 7-yr extended

warranty $695 value!

Request a free quote

today. Call for terms &

conditions. 1-844-334-

8353

VIAGRA and CIALIS

USERS! 50 Generic pills

SPECIAL $99.00. 100%

guaranteed. 24/7 CALL

NOW! 888-445-5928

Hablamos Espanol

ASSOCIATION ADS

DISH TV $64.99 190

Channels + $14.95 high

speed internet. FREE installation,

Smart HD DVR

included. Free Voice Remote.

Some Restrictions

apply. Promo Expires

1/21/23. 1-833-872-2545

Donate your car to kids!

Fast free pickup running

or not - 24 hour response.

Maximum tax

donation. Help find missing

kids! 877-831-1448

GENERAC Standby Generators

provide backup

power during utility power

outages, so your home

and family stay safe and

comfortable. Prepare

now. Free 7-year extended

warranty ($695 value!).

Request a free

quote today! Call for additional

terms and conditions.

1-855-465-7624

HELP WANTED

Licensed Barber Needed

to take over for retiring

barber. Full or Parttime.

located in Great Southern

Shopping Center. Call

Cindy for more info

614-239-1976

FT Barber needed for well

established Barber Shop

in Upper Arlington.

Alfred's Barber Shop.

614-457-5432

Ask for Ronda

BUSINESS

LOANS

BUSINESS LOANS

$5,000 to $25,000

Instant Approval

Same Day Funding

6 Months in Business

614-557-3536

WANT TO BUY

BUYING VINYL RECORDS.

LPs and 45s - 1950-80s

Rock, Pop, Jazz, Soul.

614-831-0383

WE BUY JUNK CARS

Call anytime 614-774-6797

ANTIQUES

WANTED

Victrolas, Watches,

Clocks, Bookcases

Antiques, Furn.

Jeff 614-262-0676

or 614-783-2629

We Buy Junk Cars &

Trucks. Highest Prices

Paid. 614-395-8775

WANTS TO Purchase

minerals and other oil &

gas interests. Send details

to: P.O. Box 13557,

Denver, CO 80201

RENTALS

HILLTOP HALF DOUBLE

3 BR Fully Renoated

Rent-$1100/mo, $1100/dep

2 BR Fully Renovated

Rent-$900/mo, $900/dep

Bill Weygand 614-226-6767

Licensed Realtor

VACATION RENTALS

Englewood, Florida

Palm Manor Resort

Within minutes of white

sand Gulf beaches,

world famous Tarpon

fishing, golf courses, restaurants/shopping,

Bush

Gardens. 2 BR 2 BA

condos with all ammenities,

weekly/monthly, visit

www.palmmanor.com

or call 1-800-848-8141

March 20, 2022 - GROVEPORT MESSENGER - PAGE 15

xClassified Services

BLACKTOP

AGM OHIO

ROOFING &

SEALCOATING

Free Estimates

Cell 614-512-1699

CARPET SALES

CARPET

Gray Saxony

270 sq.ft. w/6 lb Pad

$398.00

Other Carpet AvailableA

Phone or text Ray

740-927-3504

Delivery & Inst. avail.

CLEANING

Looking for Mrs. Clean?

For excellent cleaning serv

at reas. rates w/great refs,

dependable. 10% Seniorr

Disc. Free Est. Also runs

Errands - Gwen 614-226-5229

CONCRETE

AJ's Concrete,

Masonry

Good Work - Fair Prices

Block Foundations

Driveways • Sidewalks

Epoxy/Overlay Floors

Bonded-Ins. • Free Ests.

614-419-9932

ALL-CITY CUSTOM

CONCRETE

All Types Concrete Work

New or Tear Out-Replace

40 Yrs. Exp.

(614) 207-5430

Owner is On The Job!

EDDIE MOORE

CONSTRUCTION

Quality Concrete Work

Lt. Hauling & Room Add.,

Block Work & Excavation

Stamp Patios,

Bsmt. Wall Restoration

35 Yrs Exp - Lic & Ins.

Free Ests. 614-871-3834

www.hastingsnsons.com

Driveways & Extensions

Patio & Walkways,

Porches & Steps,

Garage/Basement Floors

Hot Tub/Shed Pads,

Stamped/colored concrete

Sealing of new &

existing concrete.

FREE ESTIMATES

Contact Adam

614-756-1754

hastingsandsons.

columbus@gmail.com

INFORMATION

4/10 e/se

2/13 A

GUTTERS

Bates & Sons

GUTTER CLEANING

5 ★ Google Reviews

614-586-3417

HEATING

HEATING

Complete System Clean & Check

$49.95

Free Carbon

Monoxide Testing

Gas-Oil-Electric Heat/Pumps

All Makes • All Models

45 yrs exp. • Sr. Discount

614-351-9025

HOME

IMPROVEMENTS

SINCE 1973

Phil Bolon Contr.

Windows & Siding

Decks, Kitchens, Baths

Room Additions,

Flooring, Roofing

Bsmt Waterproofing

Deal With Small Non-Pressure Co.

47 Yrs. Exp. - Refs. Avail.

Lic.-Bond-Ins.

Free Est. - Financing Avail.

Member BBB Of Cent. OH

O.C.I.E.B. ID #24273

614-419-3977

or 614-863-9912

INFORMATION

2/13

A/M

WHITING COMPANY

HOME IMPROVEMENT

Basements, Walls

Ceilings and Texturing

Free Consultation

Family owned & operated

Contact Timothy

614-376-2701

C&JHandyman

Services LLC

Minor Plumbing

& Electric

Install Hot Water Tanks,

Dishwashers & Disposals

Also Fencing &

Interior/Exterior Painting

Free Est. ~ 18 Yrs. Exp.

CDC/EPA Approved Guidelines

614-284-2100

LOOK TO

THE PROFESSIONALS

IN OUR

SERVICE DIRECTORY

For Service

"That Is Out Of This World"

2/13 A

4/10 A&M

11/7 A

PEST

CONTROL

Classified Services

TERMITE &

PEST CONTROL

614-367-9000

TORCO®

TERMINATES

TERMITES

Locally Owned & Operated. Any Pest. Anytime.

$

50 00 OFF Service

Free Termite Inspection

HOME

IMPROVEMENTS

KLAUSMAN HOME

IMPROVEMENT

Siding-Windows-

Doors-Roofing-Soffit-

Fascia-Gutters-Trim

Earn FREE Seamless

Gutters with Siding Over

1000 Sq. Ft.

FREE Shutters with

Soffit & Trim

EPA Certified

Member of BBB

Financing Available

Over 20 yrs exp. • Free Est.

Licensed-Bonded-Insured

Owner & Operator

James 614-419-7500

HOME

REMODELING

Handyman Remodeling

Over 35 yrs exp.

Larry 614-376-7006

LAWN CARE

MANNY'S LANDSCAPE

Free Estimates

Spring Clean-up, Mulching,

Patios, Trees Removed, etc.

Call 614-378-1237

LET US MAINTAIN

YOUR LAWN & GARDEN

FOR YOU

Summer, Spring,

Winter or Fall

WE DO IT ALL!!!!

Lawn Cuts, Edging,

Trees & Shrubs, Garden,

Mulching, Hauling,

Garden Pond &

Home Maint.

Free Ests. Low Rates

$20 & Up

Kevin - 614-905-3117

PAINTING

Painter Over 30 Yrs. Exp.

Free Est. Reas. Rates

Daniel - 614-226-4221

PLASTERING

DRYW

YWALL &

PLASTER

1/30

A&M

REPAIR

Textured Ceilings

614-551-6963

Residential/Commercial

BIA

2/27 A

PEST

CONTROL

PLUMBING

MYERS

PLUMBING

Exp. Expert Plumbing

New Work & Fast Repairs

Lic. - Permit Available

Water • Sewer • Gas

614-633-9694

All About Drains & Plumb.

Will snake any sm drain

$145. 614-778-2584

CHRIS'

PLUMBING

"Plumbing & Drain Professional

That You Can Count On"

24 Hrs., 7 Days/Week

No Overtime Charges

24 Yrs. Exp. in Plumbing &

Drain Cleaning Field

Call For A Free Phone Estimate

$100.00 For Any Small Drain

614-622-4482

30% OFF with AD

POWER WASHING

Bates & Sons

Soft Wash & Powerwash

5 ★ Google Reviews

614-586-3417

MRS. POWERWASH

Any house wash $149+tax

Single deck $69+tax

2 Tier deck $99+tax

Best Wash in Town

Over 45,000 washes

Ashley 614-771-3892

SEWING MACHINE

REPAIR

REPAIR all makes 24 hr.

service. Clean, oil, adjust

in your home. $49.95 all

work gtd. 614-890-5296

TREE SERVICES

Brewer & Sons Tree Service

• Tree Removal

• Tree Trimming 2/13

A&M

• Stump Grinding

• Bucket Truck Services

Best Prices • Same Day Service

614-878-2568

BURNS TREE SERVICE

Trimming, Removal &

Stump Grinding.

614-584-2164

4/10 A&M

2/13 A&M

3/27 A
---
PAGE 16 - GROVEPORT MESSENGER - March 20, 2022

www.columbusmessenger.com

Lockbourne to honor the Tuskegee Airmen

By Linda Dillman

Staff Writer

In 1946, Lockbourne Army Airfield was

home to the Tuskegee Airmen, a group of

Black service members under the leadership

of Colonel Benjamin Davis, Jr., the

first African-American officer to command

an Army Air Force Base.

The village of Lockbourne never forgot

the airmen's dedication and precedent-setting

service to their country and is preparing

to install a memorial in the village's

Veteran's Park in the center of town to the

Tuskegee Airmen and others who served at

the base.

"Lockbourne Air Force Base was named

after the Village of Lockbourne," said

Lockbourne Mayor Christie Ward. "We

believe that it is a part of our history, not

only in the village, but Hamilton Local

Schools and throughout Hamilton

Township. There was so much historical

building and the base history has been

destroyed with the development in and

around Rickenbacker. We want to make

sure that the history is not lost. The memorial

is a great way to preserve the history

for generations to come."

During Lockbourne's Memorial Day

parade and ceremony, the village highlights

the history of Lockbourne Air Force

Base as part of an effort to share all that

"We have built a strong relationship

with the Ohio Memorial

Chapter of Tuskegee Airmen

and are collaborating with them

to tell their story. Lockbourne Air

Force Base was their last home.

The chapter is celebrating Ohio

Tuskegee Airmen Day with a

special event at the National

Veterans Memorial and

Museum on March 29."

- Christie Ward, mayor

Village of Lockbourne

was accomplished at the base.

"We have built a strong relationship

with the Ohio Memorial Chapter of

Tuskegee Airmen and are collaborating

with them to tell their story," said Ward.

"Lockbourne Air Force Base was their last

home. The chapter is celebrating Ohio

Tuskegee Airmen Day with a special event

at the National Veterans Memorial and

Museum on March 29."

The memorial project is spearheaded by

Rediscover Lockbourne, a 501C(3) organization,

which is raising money for the

Greatness just

got even closer.

Messenger photo by Linda Dillman

Lockbourne Mayor Christie Ward is eager to start moving on the village's next historical

endeavor, a wall in Veteran's Park saluting the service at Lockbourne Air

Force Base of the Tuskegee Airmen. Part of the fundraising effort includes sales of

Crossroads of Liberty, a pictorial tribute of the air base written by Robert M. Stroup.

Copies are available at the village office Monday, Wednesday and Friday from 9 a.m.

to noon For information call 614-491-3161.

Stylist

opportunities at talent.rlo

inc.net

GROVEPORT • Grovepor

rt Plaza

6021 Groveport Rd • (Near Kroger)

614-350-8280

Open 7 days/week

ANY

$6

HAIRCUT

99

OFFER EXPIRES: 5/5/22

Not valid with any other offers. Limit one coupon

per customer. No copies. Taxes may apply.

Valid at Groveport Plaza. Masks may be required.

All Great Clips® salons are independently owned and operated by third party franchisees. Franchisees, not Great Clips, Inc. are responsible for all hiring and personnel matters at their individual salons.

$300,000 to $360,000 project through several

fundraising events, including sales of

"Crossroads of Liberty," a hardcover book

by Robert Stroup chronicling the history of

Lockbourne/Rickenbacker Air Force Base.

Black granite panels etched with text

and pictures comprised the memorial,

which forms a wall of 10 to 12 panels along

the east side of the park and features the

history of the base, including the accomplishments

of the Tuskegee Airmen.

Ward is hopeful some of panels are

installed before the Columbus Air Show in

June 2023.

She said this would give air show attendees

an opportunity to get a sneak peak of

the vision of the project.

"Lockbourne, Hamilton Local Schools

and Hamilton Township have a rich military

legacy and Lockbourne/ Rickenbacker

Air Force Base was a major part of that history,"

said Ward. "We want to remember

the Tuskegee Airmen, the Women Air

Service Pilots and all of the rich history at

Lockbourne/Rickenbacker Air Force Base.

Their story is important to tell and we are

in a position to be the voice for them."

Carved out of farm land in southeastern

Franklin County, the base was activated in

1942 and initially provided basic pilot

training and military support as the

Northeastern Training Center for the Army

Air Corps. It was later renamed

Lockbourne Air Force Base and was the

home to bomb and fighter wings.

Lockbourne AFB nearly doubled in size

in the 1950s during the Korean War.

The number of service personnel

reached 18,000 in 1967 during the Vietnam

War. Renamed Rickenbacker Air Force

Base in 1974, the base lost two-thirds of its

jobs four years later when SAC transferred

operations to other bases.

In 1979, parts of the base were transferred

to the civilian Rickenbacker Port

Authority and the Ohio National Guard. In

1994, Rickenbacker Air Force Base officially

closed after all active duty operations

were transferred.

The Ohio Air National Guard and the

Naval Reserve still maintain a presence at

Rickenbacker Airport.