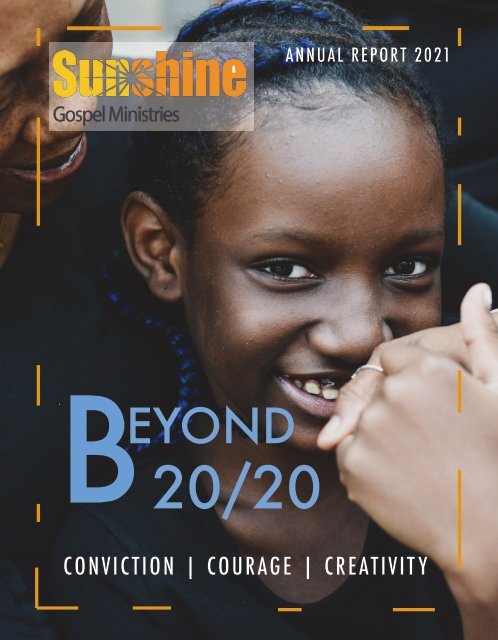 Create successful ePaper yourself
Turn your PDF publications into a flip-book with our unique Google optimized e-Paper software.
ANNUAL REPORT 2021

B EYOND

20/20

CONVICTION | COURAGE | CREATIVITY
---
FROM THE DESK OF OUR

EXECUTIVE DIRECTOR...

Just prior to the start of 2021, I was reminded that new problems

require CREATIVITY, new pressures require CONVICTION, and new possibilities

require COURAGE. This reflection came from Romans 8:37–39, which reminded

me that in all these things we are more than conquerors through Him who

loved us.

Beyond 20/20 – Conviction, Courage and Creativity became my prayer

and our SGM theme for 2021. We were not merely aspiring to move past the

year 2020, but to have 20/20 vision beyond the lingering effects of the pandemic

and the harsh civil and systemic inequities that we faced in the world.

In 2021, we were able to move beyond what had left an imprint, both

emotionally and physically, on society as we've known it. We set a 2021 SGM

team goal of consistent prayer for clarity on how best to move forward in

serving our Woodlawn community and beyond. God answered our prayers.

We used our God-given clarity to cast vision for programs that serve

our youth, families, and guests of Woodlawn. This allowed us to keep our SGM

philosophy forefront-mission, vision, and core values- while renewing our personal and collective covenant to

serve through Sunshine Gospel Ministries and prayer together weekly.

Then, we used our Godly CONVICTION to be COURAGEOUS, even daring, in overcoming obstacles CREATIVELY.

We grew our Familyhood programming, enhanced our Bridge Builder experience with a proprietary Poverty

Simulator, hit the reset button on our Youth Outreach with in-person day camp this summer and continued

in-person youth and family programs safely this fall. We launched a new initiative to address housing insecurities,

and received training and certification for our FCI team in trauma informed practices related to gun

violence intervention. I am pleased to share that our team served with excellence, despite setbacks.

My heartfelt thanks go to our thoughtful, generous donors for being in this work with us! Beyond your

financial resources, your moral support, constant encouragement, and creative ideas spurred and strengthened

our SGM Team. Youth, families, and community still need us. They need our hands-on care when ongoing

distancing is wise counsel, exacerbating already strained, often isolated lives. They need our direct

impact, revealing to the world how to solve the challenge of disinvestment, specifically in African American

communities. They need our programmatic touch to heal such ills as health inequities, educational disparities,

economic disparities including those related to trauma and mental illness, housing insecurity, and unemployment.

They need—we all need—the light of the Gospel, focused on tangible and visible renewal and Shalom.

One final take away from 2021 was our SGM Team's monthly sharing and meditating on "One Another" verses.

The Biblical occurrences of this phrase guided us and had a direct impact on our witness before the world as

image bearers of God. I am grateful to God for what our Sunshine

Team, our donor family, our Woodlawn community, and our

trusted partners have accomplished together through fruitful

collaboration. We all used our Godly CONVICTION to serve COURA-

GEOUSLY with CREATIVITY. My hope, in looking toward 2022 and beyond,

is that we continue to collectively live into Hebrews 10:24:

"And let us consider how we may spur one another on toward

love and good deeds."

KIMBERLY SALLEY

EXECUTIVE DIRECTOR

1
---
TABLE OF CONTENTS

3-6

7-8

9-10

11-12

13-14

15

16

17-18

CONVICTION, COURAGE, AND

CREATIVITY FOR OVER 100 YEARS

YOUTH OUTREACH PROGRAM CREATIVELY

REACHES KIDS AND FAMILIES

FLOURISHING COMMUNITY INITIATIVE

BUILDS TEAM AND SKILL SET

FAMILYHOOD LAUNCHES NEW

INITIATIVES TO REACH FAMILIES

BRIDGEBUILDERS WELCOMES GROUPS TO

LEARN MORE ABOUT FAITH AND JUSTICE

LETTER FROM THE HAMERNICKS

FINANCIALS

LOOKING AHEAD TO 2022 NEW

HOUSING AND BUILDING INITIATIVES

2
---
Read many more inspiring stories of God's faithfulness throughout the decades

by visiting our website. www.sunshinegospel.org/history

OVER 115 YEARS SERVING CHICAGO

FAMILIES WITH CONVICTION,

COURAGE AND CREATIVITY

A group of kids stands outside Sunshine Gospel Mission in the

1930's when it was located at 602 N Clark St.

I

n the 1940s and 50's Sunshine was led by Bill and

Mildred Dillon. Using the CREATIVITY of music and Mildred's

gift for composing music, they led a music

ministry at Sunshine. Mildred would go on to compose

many hymns within her lifetime, the most wellknown

being "Safe Am I".

The story of this hymn began on April 14, 1937 when

a tornado brought a brick chimney (over 18 tons) down on

her while she was playing the piano at the Tabernacle. While

buried in the rubble she was comforted by the knowledge

that she was safe in God's hands. She and her husband became

musical ministers with evangelist Paul Rader. While

traveling by boat to England for ministry, Mildred was

awakened during a terrible storm. The storm reminded her

that when she was injured

in the tornado, she was safe

in God's hands. The music

came to her in the midst of

the ocean storm and she

put together the words and

music to the song, which

has since brought comfort

to many.

Bill and Mildred faithfully

served Sunshine for many

years following in the footsteps

of Bill's father, Michael

Dillon.

3
---
Through Various Seasons and

Chapters in Sunshine's Story God

has Faithfully Led and Provided

S

unshine has always held a deep CONVICTION that each person is created in the image

of God with inherent worth and dignity. This conviction has been put to the test

time and again, but perhaps one of the most notable times was during the 1960's Civil

Rights era. Since 1944 Sunshine had rented a campground in Pembine, WI in order to

provide summer camp ministry and experiences for youth from the city.

As racial tensions grew in the late 1950's and 60's it became increasingly obvious that

our youth were not welcomed in the area. Sunshine made the decision to leave this camp and

purchase a camp in Union, MI. They would go on to run this camp for the next 40+ years. Fighting

for racial equity and justice will always remain a core conviction for Sunshine. We have not

always led perfectly, but we remain steadfast in our desire to work towards justice as a reflection

of God's Kingdom.

A group of Sunshine youth play in the water

at camp in Union, MI in the early 1990's.

Later this camp would be sold in order to

purchase the current Sunshine buildings

in Woodlawn. Though we no longer own a

campground, we still value summer experiences

through sending our youth to Kids

Across America, YoungLife, and running our

own daycamps in the city.

4

A group from Sunshine relaxes by the lake at camp Sun-Chi-Win in Pembine,

WI in 1950.
---
IN THE 1990'S SUNSHINE OPERATED IN THE CABRINI-

GREEN NEIGHBORHOOD UNDER DIRECTOR DANA THOMAS

I

n 1994 Sunshine was struggling with direction,

leadership and finances and had

to decide once again whether to close

its doors or not. The board at that time

decided to give it one more chance by

selling its property on Larrabee St. in order

to have the money to hire an Executive

Director and give him just enough runway to

see if he could keep it going. Dana Thomas had

been volunteering with students in Cabrini with

FCA (Fellowship of Christian Athletes) and was

asked to consider working full time with Cabrini

kids at Sunshine as the Executive Director. The

amount Sunshine was able to pay him was significantly

lower than his current job but both he and

his wife felt the call of God to jump in full time and

to trust Him to provide the difference. One church

asked him what needs he had and he asked them

to pray about his insurance situation. The next

week his former boss let him know that for the

foreseeable future he would be covering Dana's

family's insurance needs in full.

In an act of COURAGE and faith the board decided

to sell the property they had in order to provide

direction for the ministry and that provision was Dana &

Bridgette Thomas! They stepped out in courage believing

that God would not only provide care for the children and

families of Cabrini but also that God would care for the

needs of their own family. Through this decision Dana led

the ministry into a period of growth in the city while still

maintaining the camp property.

5
---
Testimony of Leaders from the

1930's, 1950's, and 1990's all

Proclaim God's Faithfulness

"Lest we Forget"

W

e could recall countless stories of God's provision for us!

Below is an excerpt from a newsletter that staff leader

Lester Wilcox mailed out in the 1950's where he is harkening

back to the 1930's when Director Michael Dillon had a

group praying for God's provision to keep coal in the

furnace of their building.

It's humbling to read of the COURAGE it took for the many executive directors that

came before us (Michael Dillon, Bill Dillon, Dave Brown, Leonard Harris, Lenard Morris, Dick St. Marie,

Terry Shutter, Dana Thomas) to have faith that God would continue to provide. Joel Hamernick

recalls a particular Christmas in 2013 when the bank account had gotten pretty low and

he was agonizing over how to pay all the bills. Once again God showed up. As the mail

was gathered from that week, an unexpected donation for thousands of dollars came in from

the estate of a woman who had passed away that year. Joel recalls sitting at his desk with

tears streaming down his face, thanking God once again for His faithfulness. As Lester Wilcox

reminded us many years ago to remember the many men and women of faith such as Moses

who had courage to trust, "Take heed to thyself, lest thou forget the things which thine eyes

have seen, and lest they depart from thy heart." (Deut. 4:9) Sunshine has seen many different

seasons and iterations of ministry during the past 115+ years. Through it all, God has led and

proven His love for the communities of Chicago we serve. We are excited to watch God lead

into this next chapter of Sunshine's story as we continue to serve in the Woodlawn community!

6
---
"This summer it was good to see the kids enjoy themselves

while also learning how to make new things such

as a walking robot or their own bubbles, and learning

more about the Bible."

-Australia Anderson

Elementary Program Assistant

7
---
SERVING ELEMENTARY, MIDDLE, AND HIGH SCHOOL STUDENTS

8

T

his year our Youth Outreach

ministries have

worked tirelessly to

reach youth as we navigated

the restrictions

of the pandemic, knowing the

toll virtual learning and social

distancing was having on the

emotional health of our youth.

Our staff rallied to come up with

creative and innovative solutions

to continue to meet the needs of

the students in our programs.

Director of Youth Outreach

Programs Taryn Fears shares, "The

first part of 2021 was defined by

CREATIVITY as we were forced to

think outside the box, inventing

new ways to engage and educate

our youth through virtual programming

doing Art and STEM programs

as well as a Virtual College

tour for our High School students."

Once Summer programming began,

we were able to move to inperson

day camps and programs

for youth with safety protocols in

place. Overwhelmingly, students

were so grateful and excited to

be together again! It was a flurry

of activities, field trips, Bible studies,

and running the Work Life program

for teens. "We also saw a lot

of creativity this summer in implementing

our job-placement and

skills-training program for our

teens. We were able to partner

with an Urban Gardening Project

which provided employment and

skills to eight of our students,"

Fears states.

The staff showed tremendous

resilience and COURAGE as

they showed up for students and

their families in doing wellness

checks and helping to connect

them to resources they needed.

Sunshine has been a support system

to many families during an

uncertain time. Our staff is deeply

passionate about supporting the

physical, emotional, and spiritual

growth of our students. As the

pandemic progressed, we realized

more than ever there was a

need for dedicated time set apart

to study the Bible and pray together.

This strong CONVICTION

led to developing a Saturday Bible

study for Middle School students

so they could have additional

time during the week to connect

spiritually.

Our staff is deeply passionate

about supporting the physical,

emotional, and spiritual growth

of our students.

-Taryn Fears, YO Director
---
I

n 2020 Sunshine launched a new initiative to address the multi-faceted

need for a trauma-informed approach to gun violence. The team connected

with other communities who had successfully trained in and

implemented the Health Alliance for Violence Intervention (HAVI) model.

This model lends itself to

FCI providing individual support

and case management

to promote the healing of

our clients. We collaborate to

offer full wrap- around services

with community stakeholders

that provide mental

wellness, education, job assistance,

and relocation. Additionally

we build relationships

with law enforcement

both locally and city-wide to

advocate for more equitable practices.

9
---
T

WE SEEK

TO

SERVE

50-60

FAMILIES

IN 2022

he groundwork laid in 2020 for our Flourishing Community Initiative has begun to

bear fruit in 2021! We completed our training through HAVI and received certification

as Violence Prevention Professionals. Our team was able to hire a new case

manager, Elijah Olige. We formed strong relationships with two local hospitals,

established relationships with local partners, and were welcomed in an advisory

capacity at district and city-wide law enforcement meetings.

Elijah highlighted the work with local neighborhood activists,

"It was so encouraging to see neighbors who have been working

for decades to address these issues continue to fight and

win the small battles."

Intervention Specialist Donnell Williams shared the highlight

of his year was training and networking with other providers

who have been doing the important work of bringing

healing practices to communities affected by gun violence.

Managing Director Arnold Sojourner found great joy in watching

the team grow, collaborate, and share perspectives as they

serve in various ways in the community. "At the inception of FCI

was the deep CONVICTION that trauma causes the survivor

to question the most fundamental aspect of their life, which

is safety, and then leads to a domino effect of being or causing

harm. This often leads to retaliation and must be addressed

with a multi-faceted approach."

The team was

able to listen, learn, and

train from experienced

communities who have

a history of implementing

strategies that have

proven to be effective in

reducing recidivism and

support healing. "We have also been given tremendous

CREATIVITY to think outside the box

as we grow this initiative," Arnold said. FCI has

also been working on data collection in collaboration

with Wheaton College students. Wheaton

grad and Sunshine FCI Coordinator Piper

Graham shared, "Working with the college students

was really encouraging as we watched

"It was so encouraging

to see neighbors who

have been working for

decades to address

these issues continue

to fight and win the

small battles."

-Elijah Olige

Case Manager

them learn and grow in their understanding of the complexity of gun violence. It

was so good to see perspectives begin to shift."

The entire team acknowledges that working in this particular area is a heavy

lift. It takes tremendous COURAGE and resilience to show up each day and walk

alongside people that are in the depths of trauma. Our team prioritizes supporting

one another and providing mental health services to our staff. We are privileged to

continue the work God has called us to through FCI.

10
---
"I am grateful for the connection my family and I have had

with Familyhood. It has been a blessing in so many ways.

A few things that come to mind when I think about

Familyhood are the opportunities for physical,

spiritual and emotional enrichment and the far

reaching capacity it has to impact the whole

family."

-Familyhood parent

11
---
RESTORE FAMILIES RENEW COMMUNITIES

S

unshine's Familyhood Program has had a year of

tremendous growth in 2021! They have piloted 6 new

programs (Taking the Assets Home, Family-Activities-

Meals, Your Money Matters, Building Men, Family Time

and Retreats, and 7 Traits of Effective Parenting) as

well as added 5 new Facilitators leading cohorts. They continued

to gain great participation in the Raising Highly Capable

Kids cohorts as well as their new pilot programs. All together

they have led 12 cohorts with 95 participants throughout the

year. Familyhood has also provided one-on-one support with

207 unique virtual or in-person connections.

An exciting new opportunity began in September with

the launch of a new site, Simpson Academy, a Chicago public

high school for teen mothers. Familyhood

began teaching their Raising

Highly Capable Kids curriculum at this

school.

Familyhood Director Sasha Simmons

reflects on 2021, "This year was

a year of growth that required conviction,

courage, and creativity in so

many ways! CONVICTION was demonstrated

through encouraging facilitators

to share their faith, to be bold

in their faith and lead in a manner

that points people to Christ. It took

tremendous COURAGE for families

to engage and share during such a

vulnerable time (in the middle of the

pandemic). CREATIVITY was an essential

element needed to transition

programs from in-person to solely being

offered virtually without losing the

enthusiasm, authenticity, and ability to

create a space where the foundation

for lifelong connections are formed."

"My experience with the Taking the Assets Home

workshop was very enlightening. I learned a lot about

communicating/ listening and allowing my teenagers

to be heard. I looked forward to our weekly sessions

and learned that as parents we all share similar experiences.

I enjoyed all of the ladies who participated and

learned from their parenting methods."

-Familyhood parent

12
---
I

t may seem that we are becoming more polarized each day as a country. In 2021,

our BridgeBuilders program became more necessary and relevant than ever as we

led many online discussions and book studies surrounding the issues of the day.

As the pandemic slowed we were able to physically welcome guests for in-person

service-learning trips. BridgeBuilders is truly a place to safely process thoughts, feelings,

and questions around race, poverty, and faith. BridgeBuilders Coordinator Piper Graham

shares, "It takes COURAGE to engage in conversations surrounding race, faith, and justice.

For our BridgeBuilders, it takes courage to enter these conversations as it may be the first

time they are talking about the topic of race and faith."

Through our in-person service learning trips, we seek to share the beauty and brokenness

of our community. One of our deep CONVICTIONS is to celebrate beauty. There is

often a single narrative of places like the southside

of Chicago. The narrative is that there is immense

violence and poverty. Sometimes the assumption

can be that God is not moving in these

places. Through BridgeBuilders, participants

learn to see and celebrate the beauty of neighborhoods

like ours. God is moving and we are excited

to share the highlights that lead to bridges

being built between cultures that are politically,

culturally, and socially divided. Celebration creates

a way for reconciliation.

2021 allowed for more CREATIVITY in our curriculum

offering a variety of ways

people can engage. BridgeBuilders Director CW

Allen found joy in the process, "One of the things

that excited me most about joining BridgeBuilders

was the freedom to create. We have recently

implemented a Woodlawn-specific poverty simulation,

Hip Hop parties/concerts, and tee-shirt

designs. We will continue to create new content.

We address a lot of heavy, traumatic topics in

our work so we love finding creative ways to experience

our neighborhood, history, and various

cultures."

13
---
CONTACT OUR

TEAM IF YOU WANT

TO JOIN THE

CONVERSATION!

WE ARE CUR-

RENTLY BOOKING

TRIPS FOR 2022!

OUR TEAM IS ALSO

ABLE TO TRAVEL

TO YOU TO RUN

OUR POVERTY

SIMULATION.

"I'm convinced more than

ever that we need more

BridgeBuilders- people who

are willing to learn, grieve,

and celebrate with each

other. It can be awkward and

painful as we cross cultures,

denominations, and communities.

But if we are truly

going to be one human race

we must learn to love each

other in the midst of our differences."

-CW Allen

BridgeBuilders Director

14
---
A LOVE LETTER TO

OUR SUNSHINE FAMILY

When we took the baton of leadership passed down through the decades from one Director to another,

we had no idea how God would provide nor what was possible. We had so much to learn but all the enthusiasm

of a young couple with nothing to lose. Before passing the full weight of responsibility to Kimberly Salley

and the amazing current

Sunshine staff and board, we thought it would be

important to acknowledge those who have been on

this journey with us and who have helped us carry

the baton. There have been more than 80 staff, 20

board members, and 1100 donors, who have sustained

the work with a lifetime collective total of

tens of millions of dollars supporting upwards of

10,000 children and families just in the last 22 years.

These many people have come to mean so much to

us and without them we could not have imagined

programs that strengthened families, loved on children,

built businesses, redeveloped buildings, and

dreamed of a community that exhibits Shalom: the

world as it ought to be.

The collective impact of passionate staff,

supported by donors with open hearts, all of whom

know and believe in the importance of the work

of the Gospel and the transformation of lives and

communities, cannot be underestimated. The work of Sunshine over the last 22 years has been a together

thing; a family thing. The work of the Gospel is something that has brought rich and poor, black and white,

urban and suburban and even various political and doctrinal persuasions together in an effort that bridges

common human divisions.

We cannot say enough about the staff and families who saw the vision for an urban camp and believed

in us enough to uproot their own lives to join us in the work. The Woods, Rees, Benner, Scott and King

families brought what they had learned about camping at Camp Forest Springs and worked together to build

the coolest urban camp we could envision. The years of sweet fellowship, hard work and creativity amidst

personal hardships while working with such a tight budget was one of the best

adventures of our lives. The Ballenger, Murphy, Clark, Blodgett, Roy, Avery, Allen, Williams, and Daly

families as well as Ann, Tori, Chris, Brittney, Ashley, Andy, Jennifer, Ryan, Sojo to name a few, and of course all the

rest of our current Sunshine Enterprises and Sunshine Gospel staff created a family within the Cabrini and

Woodlawn communities that to this day lives with joy and intention, loving each other well, creating a place

for the children and families to belong. Because of them those same children have known they mattered,

made it through difficult school situations, college, new jobs and now many have families of their own. Their

love, hard-work and creativity have paid huge dividends for eternity. What a joy and privilege it has been to

learn and work alongside you all!

Joel & Paula, Jared, Lauren, Josiah, Caleb, Karissa, Alex, Corban, Caden, and Kaylie

15
---
FINANCIALS

Richard Wilson

Chair

Kim Lodewyk

Vice Chair

Jay Schommer

Treasurer

Wendell Davis

Secretary

Cathy McNeil-Stein

Trustee

BOARD OF DIRECTORS

Tuan Huynh

Trustee

Rebecca Gutwein

Trustee

Peter Kisluk

Trustee

Kimberly Salley

Executive Director

Joel Hamernick

President

16
---
LOOKING AHEAD

HOUSING

EQUITY

INITIATIVE

The homeownership rate

amongst our Woodlawn

neighbors is 20% compared

with the National

rate of 64%. Even worse,

157 of the 20th Ward's

homeowners are in jeopardy of losing

their homes in the November

5th TY2018 tax sale. In response

to this dire situation, Sunshine has

officially launched the Home Equity

Initiative (HEI) to serve our community

in three areas of importance:

home retention, homeownership,

and neighborhood revitalization.

Sunshine has partnered with The

B.L.O.C.K. Movement and the Cook

County Treasurer's Office to pilot

the Tax Sale Benevolence Program

(TSBP) to meet the urgent need of

home retention. We have designated

funds from generous donors for

immediate relief to remove homes

from the tax sale list. In doing so,

we are preventing family and tenant

displacement, securing the

primary asset in most families, and

interceding to stop families from

plummeting into poverty. In 2022

we look forward to supporting

families in building generational

wealth through our two other areas

of focus: home ownership and

neighborhood revitalization.

"We recognize that housing insecurity, high rents, and outstanding

tax bills strain the quality of life for many African American homeowners.

Home ownership is fundamental to family stability, health,

and generational wealth creation, and we are striving with collaborative

efforts to make this a reality."

- Kimberly Salley

Executive Director

17
---
TOWARD 2022....

sunshine Gospel Ministries

and Sunshine

Enterprises have both

been in need of a new

space for several

years; the organizations have

outgrown their current spaces.

It has long been our desire to

have space to expand programming,

as well as space that is

designed for staff, kids, families

and entrepreneurs. This past

year the momentum has built

towards making this vision for

a new facility to come to reality.

Our local elected officials, Alderwoman

Jeanette Taylor and State

Representative Lamont Robinson,

along with some key donors, city

officials, and a first rate design

team, have engaged in an exciting

dialogue to plan to build a

community center capable of

serving not just the two Sunshine

organizations, but other stakeholders

too! We have identified 2

nearby sites and are in the process

of doing due diligence and

community engagement that will

steer our design protocols and

ultimately our capital campaign.

It's an exciting time and we ask

that you pray for Gods guidance

and provision for this exciting

next phase of Sunshine's impact

in Woodlawn!

NEW

BUILDING

INITIATIVE

18

"Ultimately, the goal is to see this building be a catalyst for continued growth and

improvement to the Woodlawn community we are so deeply committed to. With

this vision comes a need to involve a variety of stakeholders, which is why we are

eager to share more with all of you very soon. Make sure to stay tuned to opportunities

in the near future and the ways you can be involved!"

-Trenton Blythe

Director of Developement
---
500 E 61ST ST

CHICAGO, IL 60637

WWW.SUNSHINEGOSPEL.ORG