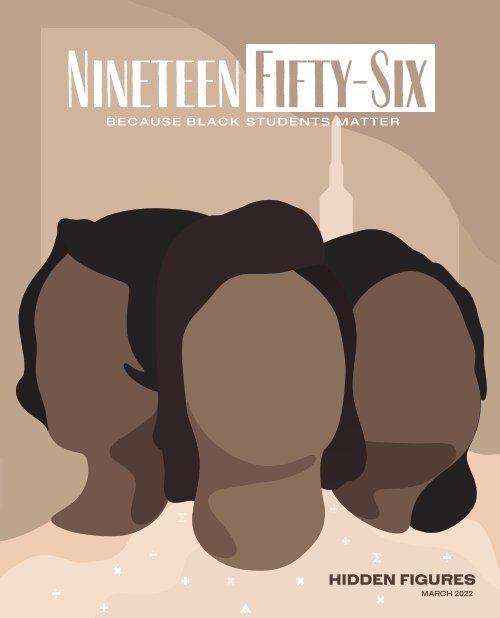 Nineteen Fifty-Six Vol. 2 No. 4, Hidden Figures
The March issue of Nineteen Fifty-Six magazine is themed "Hidden Figures" in honor of National Women's History Month, celebrating the beauty and resilience of trailblazing Black women.
The March issue of Nineteen Fifty-Six magazine is themed "Hidden Figures" in honor of National Women's History Month, celebrating the beauty and resilience of trailblazing Black women.
SHOW MORE
SHOW LESS
You also want an ePaper? Increase the reach of your titles
YUMPU automatically turns print PDFs into web optimized ePapers that Google loves.
HIDDEN FIGURES

MARCH 2022
---
DEAR

BLACK

STUDENTS,

You do matter. The numerous achievements and talents

of Black students deserve to be recognized. As of Fall

2021, 11.16% of students on campus identified as Black or

African American. Black students are disproportionately

underrepresented in various areas on campus. Nineteen

Fifty-Six is a Black student-led magazine that amplifies

the voices within the University of Alabama's Black

community. It also seeks to educate students from all

backgrounds on culturally important issues and topics

in an effort to produce socially-conscious, ethical and

well-rounded citizens.
---
EDITORIAL STAFF

EDITOR IN CHIEF

MANAGING EDITOR

VISUALS & DESIGN EDITOR

PHOTO EDITOR

ENGAGEMENT EDITOR

ASST. ENGAGEMENT EDITOR

FEATURES & EXPERIENCES EDITOR

CULTURE & LIFESTYLE DIRECTOR

Tionna Taite

Nickell Grant

Ashton Jah

Tyler Hogan

Madison Davis

Jolencia Jones

Ashlee Woods

Farrah Sanders

ISSUE CONTRIBUTORS

WRITERS

DESIGNERS

SOCIAL MEDIA & MARKETING

PR SPECIALISTS

Christine Thompson,

Jolencia Jones

Tonya Williams, Lyric

Wisdom

Karris Harmon, Asia

Smith, Christian Thomas,

Jordan Strawter

Danielle S. McAllister,

Farrah Sanders

COPYRIGHT

Nineteen Fifty-Six is published by the Office of Student Media at The University of Alabama. All content and

design are produced by students in consultation with professional staff advisers. All material contained herein,

except advertising or where indicated otherwise, is copyrighted © 2022 by Nineteen Fifty-Six magazine. Material

herein may not be reprinted without the expressed, written permission of Nineteen Fifty-Six magazine. Editorial

and Advertising offices for Nineteen Fifty-Six Magazine are located at 414 Campus Drive East, Tuscaloosa, AL

35487. The mailing address is P.O. Box 870170, Tuscaloosa, AL 35487. Phone: (205) 348-7257.

Cover illustration by Ashton Jah.
---
FROM THE EDITOR:

Judge Ketanji Brown Jackson is making

history as the first Black woman to be

nominated to the United States Supreme

Court. If she is confirmed, she will be

the first Black woman to serve on the US

Supreme Court and only the sixth woman in

US history. As someone who aspires to make

lasting change in the legal profession, I am

inspired by her in more ways than one.

I believe it's important to highlight women

such as Judge Ketanji Brown Jackson.

Trailblazing Black women not only pave the

way for young Black girls and women, but

these women also serve as proof that we are

capable of accomplishing whatever we set

our minds to.

"

There are also women I have

never met but who are recorded

in the pages of history and whose

lives and struggles inspire me

and thousands of other working

women to keep putting one foot

in front of another every day.

"

- Judge Ketanji Brown Jackson

Often, Black women are not properly given

their flowers for the outstanding work

that they have done. Black women have

become used to being overlooked and

underappreciated. However, that should not

be the case. I challenge you to recognize

and educate yourselves on the contributions

of Black women at your university, in your

career field, and other aspects of your life.

Truly, you will realize that many Black

women are 'hidden figures' deserving of

recognition.

I am delighted to present the March

2022 issue of Nineteen Fifty-Six in honor

of Women's History Month. I hope this

magazine issue inspires you and educates

you about the beauty and resilience of

trailblazing Black women.

TIONNA TAITE, EDITOR IN CHIEF

4
---
TABLE OF

TRAILBLAZING BLACK WOMEN OF UA 7

THE DEVIL'S PUNCHBOWL 9

A Q&A WITH COACH JANESE CONSTANTINE 11

ACTIVISM REDEFINED: A PERSONAL NARRATIVE 15

A LETTER OF ADVICE FROM JASMINE HOLLIE 17

SEE MORE OF NINETEEN FIFTY-SIX MAGAZINE

1956magazine.ua.edu

1956magazine

1956magazine

1956magazine
---
JOLENCIA JONES

TRAILBLAZING

BLACK

WOMEN

OF UA

7

Throughout history, Black women are often

overlooked and undervalued despite their

education, status or contributions. The following

examples are some trailblazing Black women who have

set the standards and paved the way at the University of

Alabama.

"Not enough Black students know about great Black

women who have come and done amazing things in

their lives. They are never talked about, and other young

Black women need to know that greatness can come from

anywhere. We need that spark of inspiration and drive

that says we are more than just our stereotypes," said

Pearl Hargray, a junior majoring in accounting.

In 1965, Vivian Malone Jones became the first Black

graduate from the university. Her enrollment with

the university resulted in the infamous stand in the

schoolhouse door from George Wallace. After receiving

her degree she moved to Washington D.C. and joined the

civil rights division of the U.S. Department of Justice

where she worked as a research analyst. In 1977, she

became the executive director of the Voter Education

Project. In 2000, she received the honorary Doctor of

Humane Letters from UA.

Dianne Kirksey-Floyd was an actress, playwright, director

and pioneer that enrolled in 1967. During her time oncampus

she created a legacy that follows her today.

She founded the Black Student Union at UA. She was

the first Black Bama Belle and the first Black woman to

appear on the homecoming court. She was also the first

Black woman to be an officer of the Associated Women's

Students organization.

Lena Prewitt became the first Black professor at the

university in 1970 for the Culverhouse College of Business

before her retirement. She is also responsible for being

the only Black person to work with Wernher von Braun at

NASA for the Saturn V project.

Laci Jordan graduated from the university with two

degrees, one in criminal justice and the other in design.

She has had her art commissioned by various brands such

as Disney, Nike, Ulta Beauty and New York Times to name

a few.

Sonequa Martin-Green is another UA alumna who

received a degree in theatre. Throughout the years she

has appeared in high-profile shows and movies. She has

also been featured in The Walking Dead and Star Trek:

The Discovery. Her appearance in Star Trek made her

the first Black woman to lead the Star Trek cast. She also

voiced a character for the 2021 movie, Space Jam: A New

Legacy.

"I've heard of Sonequa Martin-Green from watching

The Walking Dead and the preview for Star Trek: The

Discovery, but I never knew she was an alumna and I find

that very sad because I admire that woman," said Hargray.

"In a predominantly white institution, it is important to

not just spotlight but also acknowledge Black women's

contributions since many of us are overlooked or have to

work twice as hard in these spaces. This ensures that the

hard work that has been put in is appreciated," said Jayla

Carr, a junior majoring in political science.

It's important that we acknowledge these amazing Black

women so other students will know the lasting impact

they had on the university and in their career fields. The

university uses the phrase "Where Legends are Made"

and these courageous women are proof of that statement.
---
TIONNA TAITE

THE DEVIL'S

PUNCHBOWL

In the foothills of Mississippi, the trees grow heavy

with uneaten peaches. Tales have haunted the grounds

of the Devil's Punchbowl for decades, from pirates to

planes crashing.While the lands may not be filled with

treasure, they are haunted by the history of genocide,

terror, and a past filled with hatred for Black Americans

that cannot be ignored.

The African American registry on December 13, 2020

asserts the Devil's Punchbowl massacre took place in

Natchez, Mississippi in the 1860s. The camp was located

at the bottom of a cavernous pit with trees located on

the bluffs above, in which 20,000 formerly enslaved Black

Americans were placed in a concentration camp, and later

killed. Unfortunately, this story, like so many, has been

drowned beneath a ravine filled with pain and suffering.

The United States has a deep-rooted history of racially

motivated massacres that were frequently denied and

went undocumented by authorities explains USA Today

on June 21, 2021. We must understand America's history of

hiding Black massacres, starting with Mississippi.

We'll uncover the Devil's Punchbowl by examining its

history, current understanding, and implications because

as noted writer and activist James Baldwin said in 1963,

"American history is longer, larger, more various, and

more terrible than anything anyone has ever said about

it."

As formerly enslaved Black Americans made their way

to freedom, the town of Natchez quickly went from a

small town to an overpopulated metropolis. In order to

deal with the population influx, a concentration camp

was established by soldiers that essentially eradicated

the formerly enslaved people. The Natchez Museum of

African American History and Culture on February 17,

2021 explains bleak conditions of being cramped inside

locked walls and forced to work until exhaustion or death.

After visiting the Devil's Punchbowl, James E. Yeatman

of the Western Sanitary Commission in November 1863

wrote an appeal to President Lincoln regarding the

condition of formerly enslaved Black Americans. Yeatman

stated "seventy-five died in a single day… some returned

to their masters on account of their suffering."

The Gilder Lehrman Institute of American History in

July 2019 explains the Devil's Punchbowl was a camp in

Natchez, Mississippi that held as many as 4,000 Black

refugees in the summer of 1863, this number only

growing as years went on. The aforementioned African

American Registry estimates that over 20,000 freedmen

and freedwomen were killed in one year, inside of this

American concentration camp. According to Natchez City

Archives from 2009, Don Estes is a retired Natchez City

Cemetery Director, who conducted extensive research

into individuals buried at the cemetery. Estes said that

during his studies he learned that women and children

9
---
were all but left to die in the three "punch bowls."

"Thousands and thousands died. They were begging to

get out [to go] anywhere but there," said Estes.

The Devil's Punchbowl's lesser-known history as a

mass grave points to the city's ghosting of certain

demographics. The New York Times on April 5, 2019

asserts the city, Natchez, is even more riddled with history

than it is with Old South manors and manners. Without

the relatively recent recovery of the records of these

bodies, their stories would not have been publicized in

the modern age. Tours and guides by the Garden Club,

the historical representative of the Devil's Punchbowl

focus on the period immediately preceding the Civil War

and the long clash between North and South. Natchez,

however, was established in 1716, meaning there are over

100 years of unaccounted history not represented by most

of the Pilgrimage's tours, erasing the Black lives that lived

and died in the area.

The Mississippi Department of Archives and History in

July 2013 documents Lizzy Brown, who in her diary, speaks

of "flimsy structures built with her father's lumber, which

she could see from her plantation home." This Under-the-

Hill area of Natchez was where the camp was located, and

Lizzy saw the horrors of a hastily constructed shack city.

The Heritage Post on December 12, 2020 explains that

today, the bluffs are known for the wild peach grooves,

but the locals will not eat any of the fruit because of the

bodies that fertilized the trees. One researcher noted

that skeletal remains still wash up when the area becomes

flooded by the Mississippi River at the Devil's Punchbowl.

While some of the stories remain told, they're relegated

to legend, not history due to the lack of research in the

area. The Devil's Punchbowl in and of itself is a story to

be told and worth the research to uncover what really

happened.

information about heinous acts such as the Devil's

Punchbowl in Mississippi. However, as was the case with

the Tulsa Race Massacre it often takes years of research

to even bring the stories to light and actually bring some

form of justice to the victims.

The aforementioned Atlantic asserts the inevitable

response of Americans to tragic stories of mass murder,

of extreme destitution, of dangerous injustice, of a raw

attack on democracy within the very borders of the

United States, is 'this is not who we are.' But for white

America, the reality of history should not be ignored.

The Devil's Punchbowl was not the only Black massacre

swept under the rug The 1866 Memphis Massacre left 46

Black Americans killed, 285 injured, and 5 raped yet no

arrests were made. A 2020 report by the aforementioned

Equal Justice Initiative points out the 1866 Memphis

Massacre did not receive a historical marker until May

2016. In a city with multiple Confederate monuments and

a park named for Ku Klux Klan founder Nathan Forrest,

this effort marked the first publicly funded historical

commemoration of the massacre. Now, as other Black

massacres like Lake Lanier in Georgia gain traction,

the time for the reckoning of the Black lives lost is long

overdue, and continues without attention.

After uncovering the history of the Devil's Punchbowl,

with some crucial implications we learned...America's

history of intentionally not documenting events

highlights its racist history. Prominent journalist Ida B.

Wells puts it plainly: "The way to right wrongs is to turn

the light of truth upon them." In short, by uncovering

Black massacres and addressing America's history of

racial violence we can finally begin reconciling with the

past.

It often takes years of extensive research for Black

massacres to properly be brought to light.

The Equal Justice Initiative in 2020 asserts quantitative

documentation of past racial violence remains imprecise

and incomplete. It should not be difficult to find

10
---
ASHLEE WOODS

Q&A

JANESE

CONSTANTINE

ALABAMA WOMEN'S BASKETBALL ASSISTANT COACH

Alabama athletics has its fair share of unsung

heroes. For the Crimson Tide women's basketball

team, that's assistant coach Janese Constantine.

Constantine has been an integral part of the

success of the tem under head coach Kristy Curry.

Features and Experiences Editor Ashlee Woods sat

down with Constantine to talk about her coaching

journey, motherhood and Christianity.

What started your passion for basketball?

Janese Constantine: So I had an older brother, he was

already involved in basketball, baseball, and soccer. Those

were the four things he was involved with. My dad also

plays football. My dad is still coaching right now. So I

grew up in a basketball family. I just was naturally drawn

to playing ball, being rough and being outside. I started

playing around five, so I just had a natural passion for the

game. That's what got me going.

Did you have any players that you looked up

to when you started playing basketball?

I was a huge, huge Lisa Leslie fan. I was actually really tall

for my age. I was always the tallest kid in class, boy or girl.

I'll never forget when I was in fifth grade, my nickname

was baby Shaq. I was taller than all the guys out there.

Then, around seventh or eighth grade is when the guys

started shooting on me. I really just stopped growing,

then. But I was the tallest in class for a long time. So, I

11

Photo courtesy of UA Athletics
---
thought I was going to be a post player. I thought I was

going to be 6'5. But I am not, but growing up I was a huge

Lisa Leslie fan. I still am.

How did you know or when did you know

when you wanted to start to coach?

Probably when I was in high school and college --- more so

college. I went to this thing called Point Guard College. It

was a really cool opportunity for me. It gave me a chance

to see the game in another way, another light. It was more

about talking about the game versus playing the game. It

was in a classroom-like setting, so I really enjoyed that. It

was seeing the doors basketball could open and thinking

about how I can be involved once I got done playing.

That's when it kind of opened my eyes that I could really

do this. Now back then, I didn't really know if I thought I

wanted to be a college coach. But I knew, at some point, I

wanted to be coaching in my future.

You've talked pretty frequently about being

a tough coach when you started out in your

coaching career. Was there a particular

player, experience or even a season

where you realized that maybe this style of

coaching wasn't the way to mentor these

players?

After my third year in coaching. I was at IUPUI at the time,

and we got to the end of the year. I always feel like coaches

get to do evaluations on players, tell them their strengths

and weaknesses. I feel like as coaches, we don't always take

the time to then do that, ourselves. So what I did was I

asked my players, 'Tell me one thing that you think I'm

good at and one thing I can do better.' All of them told

me you bring good energy, but they consistently all said,

'You're too negative.' I was like 'Wow,' and it kind of hurt.

I was really kind of hurt. I had to take a step back and say,

'What do you mean? I'm coaching.' They [the players] said

'Yeah, but it's always with a negative connotation. You

don't pump us up enough.' That was the turning point.

I have to say, I'm not perfect at it. I'm sure I've still been

deemed as negative at times. But, I am conscious of it. I

try to make sure that I am filling their cups. I try to make

sure I'm not nitpicking. I do try to make sure that I look

at their effort, their intent. If they're trying and they're

not getting it, then maybe I need to coach it better. Again,

I'm not perfect. I'm sure I fail at times. I just try to have an

awareness of just being positive.

You've been very open about your faith.

Have you always practiced Christianity? If

not, when did you decide to delve into the

faith a little bit more?

I was fortunate enough that my parents introduced me

to Christ at a young age and He's always been a part of

my life. I grew up going to church and Sunday School. I

was a Sunday School teacher for a while. It's always been a

part of my life and I'm not perfect. There have been times

where I'm like, 'Whoa, I'm kind of triggered right now.

I've got to get back to where my foundation is.' I don't try

to force [my faith] on anyone. I don't try to make you talk

about it. I'm not trying to make my players talk about it.

But if they want you, I'm hoping they aren't afraid. I'm

here for them if they want to have a conversation. I've had

players that want to be saved, but don't know how to do

that. So, I think I've tried in that manner to just be there

for them.

We've seen different players, coaches and

athletes become more open about their

faith. Has that been inspiring to you at all,

seeing that become more mainstream in

sports culture?

I think it's all good. I think it's about whatever you want

to do personally. I love the boldness and the courage. But

I think there are so many other people who may not be

as outwardly and openly about it. It still doesn't mean

you're not as strong and as passionate about it. For me,

I'm one of those nights. I don't wake up every morning

and shout out or I make sure I tweet something spiritual.

But if there is something on my heart, if I'm led to say

something, I'll do it. I'll post it and I'll talk about it. But I

don't feel like I have to always be over the top. But when

I'm led to [share something spiritual], then I'll definitely

12
---
try and put it out there for people because I never know

who I may be encouraging.

Transitioning over to your journey to

Alabama, when did you know that you

possibly wanted to branch out and leave

Indiana?

Well, I actually got here by way of my husband. He got

a football job here before I got the basketball job here.

So when he got the football job here, we decided to leave

Indiana to help to pursue his career. It's hard to say no to

anything Alabama football-related. So, I got down here and

after three weeks, that's when they [women's basketball]

had the opening. That's how I got involved with Alabama

women's basketball so my journey down here was a little

different. I was actually content in Indiana, where I was,

and I was 45 minutes from home, from my parents. All

that was a big plus when I had my first child.

How has being a mother impacted your

coaching style?

It's made me a better coach. I think I'm looking at things

differently. I see things differently. I think it's helped

me relate to kids differently. I think it helps me relate to

their space differently. It helps me be more gracious. It

helps me to be way more forgiving and try to be kinder.

There was a situation where a young lady on a team got

into some trouble on our team. My heart was broken.

Someone said, 'Well, why does that hurt you?' I said,

'Because that's somebody's baby.' They made a mistake

and now their business is kind of out there. I don't think

they did that on purpose. She didn't wake up to try to

make a mistake, but she made it. So I'm saddened that I

know that's somebody's baby, and I know they still raised

them right. I would want someone to have the same grace

and compassion towards my girls. I just think everything

has made me more in touch with the reality of what these

young ladies go through day-to-day and the decisions

that they have to make --- whether right or wrong --- but

the decisions they have to make and how they learn from

them.

athletics at the collegiate level. What does

it feel like to be a part of this new wave of

women's sports mentoring these players

that are being broadcast on ESPN and

ABC?

It definitely feels good because I think you're part of an

evolution of a way that is allowing just more and more

access to them. More access to their personal lives, more

access to how they handle things and do things and the

publicity that they get. I think it's amazing. But, I think

it challenges them of why making good decisions is such

a huge thing now because of the access and now you have

put on and plastered on the front of TVs and posters.

Everything is in the light, everything that they do and

so being a good role model, things of that nature [is

important]. It's fun to be a part of this and it's fun to have

all your games on TV. It's fun to tell your family. 'Hey, we'll

be on this channel!" All that's fun. I think it's a fun, fun

time to be involved with athletics.

What has been the most inspiring part of

your coaching journey?

When I see the ladies that I've coached post-college.

When I see them now with babies, husbands, jobs and

careers and different moves. That is what to me becomes

the most inspiring. For them to tell me, 'Hey, I appreciate

you. You just mean so much to me,' I think that's probably

what brings me the greatest joy knowing that. I tell them

all the time, I pray that one day we can be friends. I pray

that when you get done, we had a strong enough bond

that you didn't mind me pushing you. One of my former

players --- her name is Brenna --- she's done playing now.

One of the things she tells me all the time, 'I appreciate

you every day for never letting me settle. Never letting

me settle for anything less than my best. That, for me, lets

me know to keep going. Keep pushing these young ladies

because they'll be thankful, they'll be grateful. You won't

win them all, you won't. I've had players I've coached that

when they're done, we may never speak again. It's nothing

bad. It's just that maybe we just didn't click. But I still

have way more that still stay in touch, still reach out.

We've seen over the past couple of years

rapid growth and coverage of women's

13
---
SUMMER AND FALL

REGISTRATION OPENS

April 8!

Visit sheltonstate.edu to apply and register!

It is the policy of the Alabama Community College System Board of Trustees and Shelton State Community College, a

postsecondary institution under its control, that no person shall, on the grounds of race, color, national origin, religion,

marital status, disability, gender, age, or any other protected class as defined by federal and state law, be excluded

from participation, denied benefits, or subjected to discrimination under any program, activity, or employment.
---
CHRISTINE THOMPSON

ACTIVISM

A PERSONAL REFLECTION

REDEFINED

15

Introduction

Sorting through the countless files in the Google drive,

I began logging and transcribing each of the audio

files in the folder. It was the first week of my fellowship

with United Women of Color – a nonprofit dedicated to

community-based solutions for racialized violence in my

hometown of Huntsville, Alabama.

UWOC was my latest attempt at identifying the needs in

my community and actively working to supplement the

gaps. Law school was the end goal, and meaningful civic

engagement would allow me to identify the areas of law

I wanted to practice, and prepare for long-term advocacy

in the legal field.

The audio files contained various interviews of Black and

white families sharing their perspective on race-relations

in 2021. My supervisor had given me little information

on the content of the interviews – only that the

transcriptions and summaries would be presented to the

Huntsville City Council in a case against the Huntsville

Police Department. I clicked on the file labeled "Ava 1" and

began typing short descriptions as the audio played:

"Woman says that in everyday life she felt safe when seeing

police officers in the community: she had no reason to be

nervous, never felt like they had any ill will or malice.

Woman describes seeing police officers at a protest heavily

armed like they were about to 'invade.' 'impending doom.'

'It felt scary and it felt like I couldn't trust them-'

Before the minute-long interview could end, a realization

washed over me: The protest "Ava" was recounting, was

the same demonstration I attended a year and a half ago.

Brief Background

The morning of the protest, I told my cousin, a former

parole officer, that I didn't plan on attending. It wasn't

because I didn't believe in the cause – but, rather, I

felt better suited to engage in alternative forms of

activism. That summer, I had edited 12 poignant articles

highlighting the racial justice movement for the limitededition

summer issue of Alice, interned for a New York

politician with projects focused on COVID-19 healthcare

equity, and participated in a Pre-Law Program. Surely,

most of this involvement allowed me a "rain-check"

from this potentially dangerous protest. Yet, there was

a lingering sentiment of guilt that accompanied my

declaration that I was staying home.

My father, born and raised in Monroeville Alabama, to a

farmer and housewife, was 62 years old when I was born.

Throughout his life, he advocated for Black families of

fallen WW2 veterans, served as a magistrate, marched for

civil rights on Bloody Sunday, and eventually, became an

Organic Chemistry professor at Alabama A&M University.

Only a year after his untimely death, the more exciting

stories of his activism contributed to an overwhelming

pressure to advocate for racial justice like he did: loudly

and on the front lines.
---
Moreover, as his sole offspring, I had a responsibility to

continue his legacy. With this in mind, I threw together

a makeshift poster, organized a carpool, and headed

downtown.

Despite being entirely nonviolent, the protest ended in

the brutal tear gassing of several hundred protesters.

Even with 20 years of racialized harassment under my

belt, I always said that the country my father described

was an America I didn't know. The chaos that ensued

on that foggy Wednesday evening served as a terrifying

introduction to that America.

Reflection

My attendance was fueled by a desire to advocate for racial

justice as he did, but criminal justice law was traumatizing

and heavy for me. My undergraduate research featuring

true cases of Black, underage human trafficking survivors

was rewarding, yet horrifyingly memorable.

how academic empowerment can be the biggest blow to

white supremacy.

Conclusion

Like that summer, my fellowship soon came to an end.

However, like parting gifts, I treasured the lessons they

left for me: There are countless ways to advocate for

racial justice - all equally impactful. Racial inequities in

healthcare or family law are equally as important as racial

inequities in policing and incarceration.

Whether it's representing Black entrepreneurs cheated by

predatory legal agreements in contract law, or protecting

Black creators in intellectual property, the legal field I

choose will advance the values my father championed. In

doing so, reminding others of a reality that myself, "Ava",

and countless Black Americans know all too well – the law

is a lived experience.

Post-protest, I reflected on my academic journey up to that

point. On my quest to make a difference, I had – albeit

unintentionally - created a self-imposed monolith about

what it meant to combat racial injustice. One composed

solely of dramatically leading protests and sit-ins, but

excluded creative writing, working for nonprofits in my

community, and shamelessly pursuing a field where I am

drastically underrepresented.

Essentially, I didn't have to protest to join the fight against

anti-blackness. Similarly, I don't have to practice criminal

justice law, to advocate for racial equity in the legal field.

Further, when analyzing my father's history, I had

overlooked his most impactful and lengthy form of

activism: his 40 years as an Organic Chemistry professor.

Throughout my childhood, I perceived the highlights

of his activism to have been the ones recorded in the

history books. Yet, the Black graduates he inspired in his

decades of teaching are living, breathing, examples of

16
---
A LETTER OF ADVICE FROM

JASMINE HOLLIE

Dear Students,

My greatest advice for having a successful and flourishing

undergraduate career is to take advantage of all resources

on campus. Right now, as a student at THE University of

Alabama you are already ahead of the game. There are

countless mentors, programs and organizations available

to help you succeed as a student. Take advantage. You

already have the world at your fingertips, you just have to

grab it. Personally, if I could redo my college experience I

would take advantage of more resources and opportunities

offered at UA.

Another key to success: Internships. Interning has helped

me land my first job in Journalism just one short year

after graduating. Internships will provide you with the

professional experience needed to succeed in your field.

They will also open countless doors for you once you

graduate. I highly recommend researching different

internships that best suit your professional goals. Finally,

but most importantly, prioritize your mental health. Your

mental health is just as important as your education. You

won't be able to perform your best academically if you

are not okay mentally. Get some sleep, stay organized,

practice self-care and take deep breaths. As long as you

work hard and apply yourself, everything will work itself

out.

So remember: Take advantage, intern, and don't forget to

breathe.

Jasmine Hollie

Class of 2020

17
---
#LovetheloftstyleL o v e t h e l o f t s t y l e

c o n t a c t u s t o d a y a b o u t o u r s p e c i a l f o r f a l l 2 0 2 2

1 3 4 5 1 0 t h A v e n u e E . T u s c a l o o s a , A L 3 5 4 0 4 | 2 0 5 . 2 6 7 . 5 9 1 0 | w w w . t h e l o f t s a t c i t y c e n t e r . c o m
---
HIDDEN

FIGURES

1956MAGAZINE