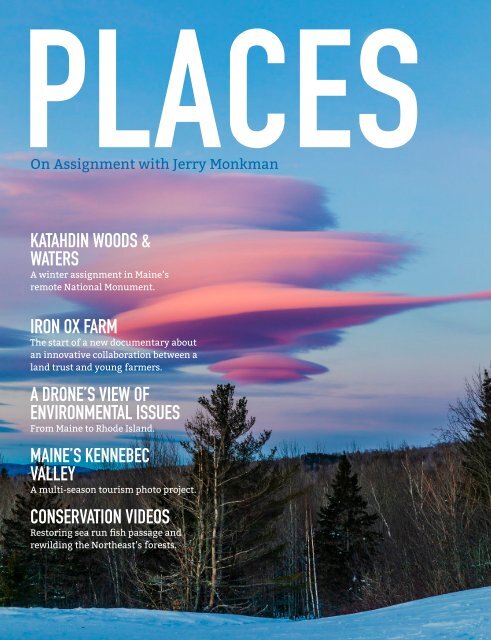 Places, Volume 7: On Assignment with Jerry Monkman. Spring, 2022.
A sampling of Jerry's work from the last year.
A sampling of Jerry's work from the last year.
SHOW MORE
SHOW LESS
Create successful ePaper yourself
Turn your PDF publications into a flip-book with our unique Google optimized e-Paper software.
On Assignment with Jerry Monkman

KATAHDIN WOODS &

WATERS

A winter assignment in Maine's

remote National Monument.

IRON OX FARM

The start of a new documentary about

an innovative collaboration between a

land trust and young farmers.

A DRONE'S VIEW OF

ENVIRONMENTAL ISSUES

From Maine to Rhode Island.

MAINE'S KENNEBEC

VALLEY

A multi-season tourism photo project.

CONSERVATION VIDEOS

Restoring sea run fish passage and

rewilding the Northeast's forests.
---
Snowboarders at Quarry Road Trails in Maine's Kennebec Valley.

2 ECOPHOTOGRAPHY SPRING 2022
---
From Jerry

We've all seen a lot of change around us in the last few years. That's

definitely been the case in my home life as Marcy and I have gone from

sharing our house with two energetic teenagers to being empty-nesters.

We're now staring at a strange, quiet, freedom we haven't enjoyed for

twenty years. I'm not sure how this will impact my photography, but I

expect I'll have a little more space in my head for new creative projects this

year!

On the Cover: Lenticular clouds at

dawn above Maine's Katahdin Woods

and Waters National Monument.

This issue of Places looks at some of the great projects I had the fortune

to work on during the last year. From fun tourism shoots where I got to

work on skis and snowshoes or from boats and snowmobiles, to more

serious endeavors looking at the perils of how we source our energy to

the challenges of restoring habitat for sea run fish, I was challenged by

new shooting situations and learned a ton of new information about our

natural systems.

In this issue, I've added links to the video projects mentioned in the articles,

so if you're reading this on-line, you'll be able to click straight through to

the videos.

Be well, stay safe, and enjoy the outdoors!

-Jerry

Table of Contents

A winter journey to Katahdin Woods and Waters National Monument.............4-9

Shot on assingment for National Parks Magazine.

Iron Ox Farm....................................................................................................... 10-13

See the trailer for the new documentary I'm filming about a land trust's collaboration with young farmers.

A Drone's View of Environmental Issues.......................................................... 14-17

Aerial views of a power corridor, oil tanks, and algae blooms.

Exploring Maine's Kennebec Valley.................................................................. 18-23

Enjoying Maine in all seasons.

Short Films.........................................................................................................24-26

Three short films about dams, fish, and rewilding, shot in Maine for conservation clients.

P.O. Box 59, Portsmouth, New Hampshire 03802

603-498-1140

jerry@ecophotography.com

www.ecophotography.com

SPRING 2022 ECOPHOTOGRAPHY 3
---
Editorial Shoot

MAINE

Katahdin Woods and

Waters in Winter

4 ECOPHOTOGRAPHY SPRING 2022
---
Maine's newest National Monument

offers remote winter adventure.

In August 2016, President Obama

designated the 87,500 acres east

of Maine's Baxter State Park as

Katahdin Woods and Waters National

Monument. The land making up

the monument was gifted to the

government by Roxanne Quimby,

a philanthropist who had spent the

better part of three decades acquiring

this remote, undeveloped land,

primarily from timber management

companies, with the dream of creating

a national park. The land includes the

rugged foothills east of Baxter State

Park and the wild forests bordering

the free-running rapids of the East

Branch of the Penobscot River.

This was my second winter visit to

the park, this time on assignment for

National Parks Magazine. My friend

Steve and I spent four days crosscountry

skiing, snowshoeing, and

snowmobiling in what is truly a wild

winter wonderland. We stayed at

private cabins just outside the park

as the park's cabins were closed due

to Covid-19. We really enjoyed the

skiing along the East Branch, which is

some of the best backcountry nordic

skiing in New England. We also got to

experience most of the weather a New

England winter has to offer, from

bluebird skies to beautiful large-flake

snowfall to 40-below wind chills.

SPRING 2022 ECOPHOTOGRAPHY 5
---
Ice jams on the East Branch of the

Penobscot River.

6 ECOPHOTOGRAPHY SPRING 2022
---
Steve braves minus 40-degree wind chills so I can get the shot.

Snow falls on canoes at Bowlin Camps on the eastern border of the National Monument.

SPRING 2022 ECOPHOTOGRAPHY 7
---
8 ECOPHOTOGRAPHY SPRING 2022
---
SPRING 2022 ECOPHOTOGRAPHY 9

The groomed trails next to the East Branch of the Penobscot River.
---
Documentary

MASSACHUSETTS

IRON OX FARM

10 ECOPHOTOGRAPHY SPRING 2022
---
Conserving a historic farm for

a new generation of farmers.

A young couple loves the food scene and decides they want to start a farm

to provide quality organic food to local residents and restaurants. They also

have a strong bond to their family and want to stay close by, but they happen

to live north of Boston, home to some of the most expensive real estate in the

US. Too expensive to buy and farm at a profit.

Nearby, a land trust acquires a historic farm once owned by General George

Patton with the understanding that the property will remain in farming. But

the land trust isn't in the farming business.

In the late summer of 2021, my colleague Ryan Smith (Rooted in Light Media)

and I began work on filming a documentary for the Essex County Greenbelt

Association, the above-mentioned land trust in Massachusett's Essex

County. Earlier in the year, they had given a 99-year land lease on Green

Meadows Farm to Stacey Apple and Alex Cecchinelli who rechristened the

farm Iron Ox Farm. We're following their story through this year and plan

to release our film in 2023. A sneak peak trailer is available now on Vimeo:

https://vimeo.com/655385832.

SPRING 2022 ECOPHOTOGRAPHY 11
---
Kale and cabbage ready to harvest during Iron Ox Farm's first

year at the former Green Meadows Farm in Hamilton, MA.

12 ECOPHOTOGRAPHY SPRING 2022
---
SPRING 2022 ECOPHOTOGRAPHY 13
---
Drone Views

NEW ENGLAND

Environmental Photo

Projects

14 ECOPHOTOGRAPHY SPRING 2022
---
Construction begins on the CMP corridor in Maine's

Boundary Mountains.

SPRING 2022 ECOPHOTOGRAPHY 15
---
Aerial views of environmental issues across New England

Drones have become an important part of my toolbag in

the last five years or so. The aerial perspective is one I

include on probably three quarters of my projects now

and it is so much less time-consuming and affordable

than shooting from traditional aircraft.

The opening spread of this article shows the beginning

stages of forest clearing for an electricity transmission

line in Maine that was being protested by many

environmental groups in the state. I shot this photo and

video footage as part of a campaign to convince voters

to shut down construction in a ballot initiative (which

passed in November).

Also last year I shot several issues for the Conservation

Law Foundation. I shot petroluem tanks in several

locations where corporations are either running afoul

of clean air and water regulations or failing to take

steps to secure facilities from rising seas and potential

damage from storm surges. I also captured aerial views

of concerning algae blooms caused by pollution in

waterways on Cape Cod.

16 ECOPHOTOGRAPHY SPRING 2022
---
Above left: Petroleum tanks adjacent

to Boston Harbor and a residential

neighborhood in Quincy, MA.

Top and middle right: A hurricane

wall built under the I-195 bridge

protects downtown Providence, RI,

which is particulary vulnerable to

storm surge flooding.

Lower right: Algae mats in Prince

Cove in Marston Mills, MA on Cape

Cod.

SPRING 2022 ECOPHOTOGRAPHY 17
---
Exploring Maine's

Kennebec Valley

Tourism

MAINE

Enjoying Maine in All Seasons

Maine's a big state by New England standards, and I've

been lucky to shoot many corners of the place over the

last 30 years. I've yet to find a spot that isn't a worthy

vacation destination and this project for Thalo Blue

Destination Marketing and Kennebec Valley Tourism

Council definitely kept that streak intact.

For this shoot, our goal was to spend a day or so in each

season photographing people enjoying the cultural

and recreation opportunities in the Kennebec Valley,

which runs north-south from near Maine's border

with Quebec to the coast just beyond the state's capitol

district. We manged to capture camping, fishing, boating,

snowshoeing, cross-country skiing, snowboarding, craftbeer

drinking and more.

I enjoyed most of these activities vicariously through the

lens of my camera, with probably my most fun day being

our winter shoot at Quarry Trails in Waterville where

I wore skis or snowshoes all day. Actually, paddling a

kayak on the Kennebec south of Skowhegan in summer

was pretty great too. And ok, I also really liked climbing a

fire tower with fall views of a distant Mount Washington

followed by sampling the product at Grateful Grain

Brewing Co.

18 ECOPHOTOGRAPHY SPRING 2022
---
Above left: Fat-tire biking at Quarry

Road Trails in Waterville.

Top right: A Maine Guide works with

a young client on the Kennebec River

near Skowhegan.

Middle right: A couple enjoys a flight

of beer at Grateful Grain Brewing Co.

in Monmouth.

Lower right: A young snowshoer at

Quarry Road Trails in Waterville.

SPRING 2022 ECOPHOTOGRAPHY 19
---
Floating on a lazy summer afternoon on the Kennebec River in Skowhegan.

20 ECOPHOTOGRAPHY SPRING 2022
---
It's always fun to find a rope swing on a summer paddling trip. Kennebec River.

Morning fishing from just outside the door of the camper. Skowhegan.

SPRING 2022 ECOPHOTOGRAPHY 21
---
Ending the day in a good way at Quarry Road Trails in Waterville.

22 ECOPHOTOGRAPHY SPRING 2022
---
SPRING 2022 ECOPHOTOGRAPHY 23
---
Short Films

Maine

Restoring Wildlands and

Sea Run Fish

24 ECOPHOTOGRAPHY SPRING 2022
---
A dam in Waterville, Maine, as seen in Free the Kennebec.

(https://vimeo.com/569120983)

Three conservation video projects in Maine

In 2021, I spent almost as much time

pressing record as I did shooting

stills. During the spring and summer,

Ryan Smith and I spent about a week

shooting in the Kennebec River

valley for two separate sea run fish

restoration stories.

The first became Keystone: Voices

for the Little Fish, an 11-minute short

film featuring the volunteers who run

Upstream, an organization working

to restore the river herring run on

Cobbossee Stream in Gardiner. The

film has already screened at three

film festivals this year and filming

introduced us to the incredible site

of seeing thousands of fish trying to

find their way up the streams in the

Kennebec Watershed.

For our second fish story (Free the

Kennebec) we actually shot a series

of videos for the Natural Resources

Council of Maine who are working with

several other organizations to create

fish passage past four dams on the

Kennebec River that are preventing

federally endangered Atlanitc Salmon

from reaching their spawing grounds.

In October, I produced a video for

the Northeast Wilderness Trust that

explains their Wildlands Partnership

program. We shot the video in

Hancock, Maine during peak foliage

and ended with some amazing drone

footage like that seen in the still photo

to the left. You can see the whole video

here: https://vimeo.com/641533062.

SPRING 2022 ECOPHOTOGRAPHY 25
---
River Herring as seen in a frame grab from Keystone: Voices for the Little Fish.

(https://vimeo.com/595600584)

We filmed the Wildnads Partnership video in the Hancock Community Forest.

(https://vimeo.com/641533062)

26 ECOPHOTOGRAPHY SPRING 2022
---
facebook.com/ecophotography

twitter.com/jerrymonkman

linkedin.com/in/jerrymonkman

instagram.com/jerrymonkman

SPRING 2022 ECOPHOTOGRAPHY 27
---
P.O. Box 59

Portsmouth, New Hampshire 03802

603-498-1140

jerry@ecophotography.com

www.ecophotography.com