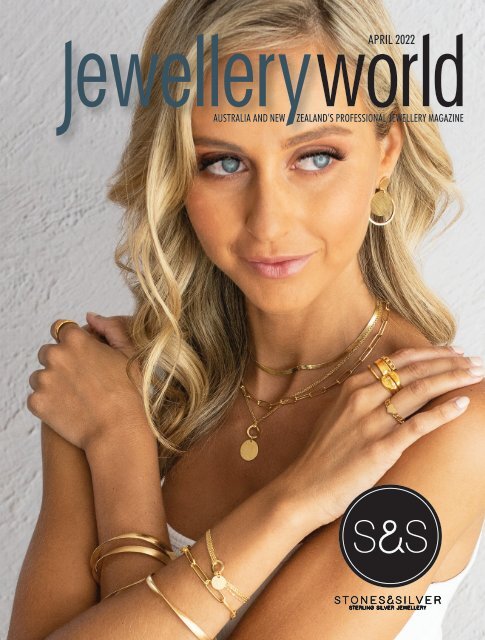 Jewellery World Magazine - April 2022
You also want an ePaper? Increase the reach of your titles
YUMPU automatically turns print PDFs into web optimized ePapers that Google loves.
APRIL 2022

AUSTRALIA AND NEW

ZEALAND'S PROFESSIONAL JEWELLERY MAGAZINE

S&S

STONES& SILVER

STERLING SILVER JEWELLERY
---
Concept to Creation

YOUR JEWELLERY DESIGN BROUGHT TO LIFE

1300 886 108 | AUSTRALIA WIDE

palloys.com
---
Affection Diamonds

Suite 504, Level -5 250 Pitt Street Sydney NSW -2000

Call Us: 02 9264 2211 | Mobile: 0400 60 70 70

Email: affectiondiamonds@gmail.com

www.affectiondiamonds.com.au

YOUR ONE STOP SHOP FOR DIAMONDS

Buy Diamonds With Confidence * Diamond & Jewellery

Wholesaler * Gemstones Available on Order

Gia Certified Diamonds | Argyle Pinks | Natural Fancy Colour

Diamonds | Calibrated Small Diamonds | Old Cut, Single Cut

& Rose Cut Diamonds | Matching Pairs | Black & Salt &

Pepper Diamonds | Treated Colour Diamonds

Follow us on :
---
Jewellery World Magazine

ABN: 82 637 204 454

ISSN: 2207-6751

PO Box 54, Camden NSW 2570

P: 0431 844 903

Subscription: www.jewelleryworld.net.au

Enquiries: info@jewelleryworld.net.au

Web: www.jewelleryworld.net.au

managing director

Jeremy Keight 0431 844 903

jeremy@jewelleryworld.net.au

editor

editor@jewelleryworld.net.au

contributing writers

Kirsten Ehrlich Davies

Stefan Juengling

Cynthia Unninayer

Cheryl D Harty

art

design@jewelleryworld.net.au

advertising sales

sales@jewelleryworld.net.au

REGULARS

6 News

14 Palloy's Points

16 Trade Well with Rami Baron

18 JAA News

40 Birthstone - Emerald

42 Watches

48 New Products

50 Directory

FEATURES

20 Let's get personal

Bespoke and personalised jewellery. What makes

customisation so special?

28 Pearls – from consistency to contrast

All the latest trends in the world

of pearls.

20

28

42

32 Mikimoto and the great pearl disruption

You think lab grown diamonds are making a splash?

Mikimoto messed things up a hundred years ago.

DISCLAIMER:

This publication may not be reproduced

in whole or part without the written

permission of the Publisher.

Articles express the opinions of the

authors and are not necessarily those of the

Publisher or Editor. Mention of a product or

service in this magazine does not indicate the

Publisher's endorsement.

The Publisher excludes all liability for

loss resulting from any inaccuracies or false

or misleading statements that may appear

in this publication.

All information is copyright.

34 Russian diamonds

Russia's invasion of Ukraine has put Russian

diamonds on the nose. Can the industry live

without them?

46 The brooch as diplomatic tool

The late Madeleine Albright wore a diplomatic

arsenal on her shoulder.

AUSTRALIA AND NEW

APRIL 2022

ZEALAND'S PROFESSIONAL JEWELLERY MAGAZINE

S&S

STONES& SILVER

STERLING SILVER JEWELLERY

FRONT COVER

Stones and Silver

www.stonesandsilver.com.au

4

jewellery world - April 2022
---
All Silver is Rhodium Plated

All Silver is Rhodium Plated

• Sydney AGHA Gift Fair - February 21-24, 2020 (Homebush)

• International • Sydney AGHA Jewellery Gift Fair -September - February 21-24, 12-14, 2020 (Homebush)

(Darling Harbour)

• International Jewellery Fair -September 12-14, 2020 (Darling Harbour)

TJDSILVER.COM.AU 0400272365 ADMIN@TJDSILVER.COM.AU

TJDSILVER.COM.AU 0400272365 ADMIN@TJDSILVER.COM.AU
---
News

Two-thirds of Tiffany staff left after takeover

Just over a year since the brand was acquired by LVMH,

only around one third of Tiffany's original staff remain

with the company, said CEO Anthony Ledru in an interview

with WWD in March.

According to LinkedIn, Tiffany & Co has more than 13,000

employees. Two-thirds of these have moved on since

January 2021.

Ledru told WWD that Tiffany particularly looked for

workers in the "wider fashion industry," whom he believed

could "bring a faster pace of thinking."

Rare coin features Argyle pink diamonds

The Perth Mint is offering a limited-edition coin – the Jewelled Koi – that

highlights the exceptional beauty of Australia's coveted Argyle pink diamonds.

Described as one of The Perth Mint's most luxurious coins launched to date, the

Jewelled Koi is part of the group's Masterpieces Series and is the fifth annual

release from a range of diamond-studded coins, namely Jewelled Phoenix,

Dragon, Tiger, and Horse coins – all sought after by enthusiasts all over the

world.

This is also the first time that a Perth Mint coin features pavé set white

diamonds and ultra-rare Argyle Pink Diamonds. There are only eight of these

coins available at AU$262,800 each.

Jane King, acting CEO of The Perth Mint, expects the Jewelled Koi series to sell

out as interest in the organisation's minted offerings continued to soar, adding

that sales of gold minted products in 2021 were the highest in a decade.

Neil Vance, The Perth Mint general manager, Minted Products, said the closure

of Rio Tinto's Argyle diamond mine in 2020 further bolstered demand for pink

diamonds.

"We are living in a fast-moving world, and that's an

important skill set for a lot of people coming from the

fashion world, where there are a lot of drops and you

have to react quickly," he reportedly said. "That's what

you need in hard luxury now."

Alrosa closes US office

Russian diamond producer Alrosa has closed its USA office

after the resignation of Rebecca Foerester.

Rebecca Foerester, the Alrosa USA president until April this

year, resigned her position citing the geopolitical situation.

Only a day after her resignation, US President Joe Biden

banned Russia from importning rough or polished

diamonds into the United States in response to Russia's

invasion of Ukraine.

Alrosa, the world's leading diamond producer by volume,

is one-third owned by the Russian Federation.

"The Jewelled Koi is struck from 10oz of 99.99 per cent pure gold in proof

quality, with no less than 78 pink diamonds from the Argyle mine and 80 fine

white diamonds per unit – making these coins an incredibly attractive keepsake

for premium coin collectors," said Vance.

According to the Perth Mint, the koi is widely considered to be a lucky omen for

marriage, fertility, prosperity and wealth, with just eight coins produced in the

series, as eight is the luckiest number in Chinese culture.

6

jewellery world - April 2022
---
News

India promotes gold and gem exports

India's Union Minister for Commerce and Industry, Piyush

Goyal, has announced his goal to make the country's gold

and gem industry self-reliant, through a focus on export

promotion.

Bulgari and the BAFTAs

High-end jewellery and watch brand Bulgari is now an official

sponsor of the British Academy of Film and Television Arts

(BAFTA) in time for this year's award ceremony.

The brand has a long association with the film industry, with

stars from Ingrid Bergman to Lady Gaga wearing Bulgari

jewellery on-screen. Elizabeth Taylor wore Bulgari jewellery to

the 1967 BAFTAs.

As host of the 2022 BAFTAs in March, Australian actress Rebel

Wilson consolidated the new sponsorship deal by wearing

statement Bulgari earrings. While the stars at the event

showcased a wide range of luxury jewellery brands, Daisy

Ridley, Becky Hill and Ariana DeBose joined Wilson in wearing Bulgari.

Clash between luxury brands

Cartier has filed a complaint against fellow luxury

brand Tiffany & CO, alleging that Tiffany & Co has

attempted to steal trade information by luring

Cartier staff members away.

Goyal predicted that gem and jewellery exports from

India will reach USD 40 billion in the current financial year,

registering a growth of 6.5 percent, which would exceed

the pre-COVID levels. He believes that the government is

supporting the industry's expansion and self-reliance by

reducing import duty on cut and polished diamonds from

7 percent to 5 percent, while extending the Emergency

Credit Line Guarantee Scheme (ECLGS) for MSMEs, which

make up 90 percent of the industry, until March 2023.

Jewellery found, owners still missing

Victoria Police found more than they bargained for when

they searched a suspected stolen car, expecting to find

drugs, but uncovering a mysterious cache of jewellery

with a street value of up to $100,000.

The loot included a diamond and aquamarine ring, a

ruby ring, and stud earrings stored in a Cartier box. The

mystery deepened when police realised that the jewels

did not match up with any reports of stolen jewellery.

Detective Senior Constable Shannon Foden said that the

police have worked hard to identify the legal owners but

they had "hit a bit of a brick wall."

"I have no doubt they're incredibly precious pieces of

jewellery to someone and we are very keen to reunite

them with their owners."

V

One Cartier employee, Megan Marino was

working as a junior manager at Cartier until she

was offered a higher position at Tiffany & Co. In

an affidavit, Marino claimed that Tiffany & Co

were "more interested in hiring me as a source

of information than as a manager."

She is not the only former employer claiming

to be lured away from Cartier to provide

information to Tiffany. The court case continues.

Anyone who recognises the jewellery or has information

about it is urged to contact Crime Stoppers on 1800 333

000.

8

jewellery world - April 2022
---
We know

Brilliance

LOOSE DIAMONDS

DIAMOND & COLOURED

STONE ENGAGEMENT RINGS

COLOURED GEMSTONES

WEDDING & DRESS RINGS

CAD DESIGN

Get to know us too
---
News

SAG Awards

The statement diamond necklace

was the unofficial dress code of the

28th Annual Screen Actors Guild (SAG)

when the stars returned to sparkle at

this year's live event. Necklaces ranged

from vintage to ultra-modern.

Tiffany ambassador Lady Gaga wore a

Tiffany & Co Schlumberger Flowers and

Leaves necklace featuring

a floral arrangement of

diamonds set in 18K yellow gold and

platinum. Selma Gomez went with

something a little edgier than flowers,

wrapping a dazzling emerald-eyed serpent of

diamond pave from Bulgari around her neck. Ariana

DeBose, who won a SAG Award for playing Anita in

West Side Story wore a De Beers diamond necklace

featuring a fringe of pear-shaped diamonds. Reese

Witherspoon wore an intricate Art Deco style Cartier

diamond necklace with an enormous diamond

pendant. Kim Joo-ryoung surprised jewellery

watchers by wearing Swarovski's Harmonia choker,

crafted from a row of large rectangular crystals set in

a fine mixed-metal setting giving the illusion that the

crystals float independently.

UK jewellery industry demonstrates support

for Ukraine

A UK jewellery designer has lashed out at media

suggestions that the jewellery industry is "profiteering"

from the Ukraine crisis. An article in the subscriber-only

platform the Telegraph was headlined "Jewellers accused

of profiteering from Ukraine war" while the article claims

that jewellers have taken advantage of rising gold prices to

pressure young couples into paying higher prices for rings.

Founder and designer of jewellery brand Kimjoux, Trang

Do, responded to the article by saying "This is utterly

unfair!" and demanded that the Telegraph balance the

story by reporting on how many members of the jewellery

industry are raising millions in donations in support of

Ukraine.

"Some people read this type of attention-grabbing headline

and assume all jewellers are like this," Tran Do said. "at

least have the decency to say 'some jewellers', please!"

Members of the British jewellery trade organisation,

Company of Master Jewellers (CMJ) have raised £41,500

towards their goal of £50,000 for Ukraine, through their

Red Cross fundraiser via JustGiving.

At the CMJ's ruby-themed dinner and ball in March,

attendees stood to give a standing ovation to the people of

Ukraine.

Royal jewels

Catherine, Duchess of Cambridge used her jewellery to make a subtle tribute to a

non-Commonwealth country while attending a service at Westminster Abbey to

commemorate Commonwealth Day on March 14. She wore the same pair of sapphire and

diamond earrings with matching necklace that she had worn to meet Ukraine's President

Volodymyr Zelensky and his wife Olena Zelensky at Buckingham Palace. The jewellery

set is believed to have previously belonged to her late mother in law, Diana, Princess of

Wales.

Also sparkling at the service, Princess Alexandra, the Queen's cousin, wore an elegant blue

outfit with a diamond square brooch, pearl and diamond earrings and a pearl necklace.

While the Queen did not attend the Commonwealth Day service, she did have her own

glamorous moment at Windsor Castle the next day, when she presented her Gold Medal

for Poetry to Guyanese poet Grace Nichols.

The Queen wore a cream woollen dress, accessorised with a set of pearl necklaces, pearl

earrings and a gold brooch known as the Singapore Peranakan Diamond Jubilee Brooch.

The brooch was a gift from the President of Singapore for her diamond jubilee, and

features 60 diamonds set in a Bird of Paradise filigree design made of 18k gold.

10

jewellery world - April 2022
---
Emerald - In Stock & Online Now
---
News

Blackpink's Rosé lands another campaign with Tiffany

K-pop star Rosé was first named a brand ambassador for Tiffany & Co. in

2021 and has now signed for another campaign for the brand's HardWear

collection.

"I've worn Tiffany jewellery since I was in high school. To be a part of such

an iconic brand that has been a part of my life for a long time makes it

that much more special to me," the singer said in a statement.

The new Tiffany HardWear styles will be available in July, with new full pave

diamond pieces that will drop later this year in November.

Sydney jewellery

auction saw strong

results

Smith & Singers's March

auction of Important Jewels,

Watches & Objects of Virtu

saw strong bidding in the

room, on the telephones and

online, resulting in a total of

$1,256,236, the highest since 2019.

Items of quality and allure attracted particularly keen

competition, with bidders vying for dazzling jewels of all

variety. Prominent results were achieved for gems by Cartier,

Bulgari and Paspaley, complemented by stunning diamond

and coloured gemstone pieces.

Among the notable results was the spectacular pair of

diamond earrings by Bulgari which sold for $51,545.

Time to buy Australian-made

Ph: (03) 9650 5955 Fax: (03) 6950 5977

Email: sales@millenniumchain.com.au

Web: www.millenniumchain.com.au

6th Floor, 313 Lt. Collins St.

Melbourne 3000 Victoria

Millennium Chain

Finished Top 5 in the category of

Best Selling Gold Jewellery Suppliers in

Australia and NZ, as voted by retailers.

millennium_chain
---
LET'S TALK

WEBINAR SERIES

D i a m o n d s

7pm AEST

Tuesday | April

5

Hear from a number of diamond industry experts as we talk all things diamonds. We'll

bring you local and international trading news - the current impact on supply chains,

through to mining and the pricing of rough, the sustainability to supply and demand. As well

as the growth of laboratory diamonds in the market, their current pricing and value,

understand how these two markets are performing internationally and what the Australian

jewellery industry can do to support local diamond traders and much more!

We will invite questions from registrants and welcome all members of the trade.

REGISTER TODAY | JAA.COM.AU/TALK

Proudly brought to you by the Jewellers Association of Australia, with the support of the Jewellery Industry Network
---
PALLOYS POINTS

Rebecca Hearth

Jeweller

Palloys

JOURNEY TO JEWELLERY:

REBECCA HEARTH

While the journey to becoming a jeweller has radically changed over hundreds of years, the

inherent passion and creativity associated with being a jeweller have transcended time and

context.

This month, we caught up with Rebecca, one

of Palloys' bench jewellers, to further explore

how her path to becoming a jeweller reconciles

with her artistry and vision.

So, first, we'd love to know how

your career in jewellery came

about.

My journey began in 2015 when I started

doing some short, weekend courses in

jewellery, just as a hobby. As I was doing these,

I discovered a real love for the 'hands-on' style

of work and my own creative flair. I'm super

artistic, so I had always wanted to pursue

a career in something creative, so finding

jewellery as an outlet both creatively and

professionally was really thrilling.

Once I had settled on pursuing jewellery, I

enrolled in TAFE to complete a Certificate III

in Jewellery. TAFE gave me the tools to begin

my professional learning journey and was

instrumental in my understanding of the trade

and what fundamental skills are required. I

found that the more I studied and developed

my skills, the greater my passion for jewellery

became; I loved the rush of creating and

honing my skills.

After completing my Certificate III, I continued

to study a Diploma of Gemmology. I was

hoping to start some casual work in the

industry while I studied, which is where I came

across Palloys. I was initially hired as a caster

where I was spruing and de-spruing trees,

working with wax and resizing. Eventually, I

was approached to support the jewellers in

the finishing team, and after a few months, I

was taken on as a full-time jeweller, where I

started fully finishing pieces that came from

casting. Once I settled into this role, I felt like

being a jeweller is where I'm truly meant to

be.

Now as an established jeweller, how

would you describe your working

philosophy?

My philosophy for jewellery is centred around

understanding it as an art form and letting the

creation of a piece be an outlet for emotion

and creativity. As well as that, recognising

and honouring the sentimentality of making

jewellery is integral to how I approach

my work. I love to create my sentimental

14

jewellery world - April 2022
---
jewellery, to measure the changes in my life

through what I was creating at the time. I am

also incredibly passionate about being able to

create other people's sentimental jewellery,

for example if they have a particular gem

they would like refitted into a new design

or the original piece. Loving the emotional

and sentimental aspects of jewellery was

the foundation of my pursuit of jewellery,

and it has since informed both my vision and

philosophy.

My most

important and

sentimental

piece would

have to be my

end-of-year

piece at TAFE.

My design for the piece was so complicated

that all my mentors advised against making

it and suggested I find alternative designs.

However, I persevered in making my original

design: a hairpin in the shape of a lily-ofthe-valley

flower that came apart into three

pieces with a variety of handset precious

stones. It was a very ambitious design, but I

was successful in creating it. I won the Best

Set Gem Award and Overall High Achievement

for TAFE which was a wonderful affirmation

of the skills I have developed and my innate

aptitude for jewellery making, and it helped

give me more confidence to pursue jewellery

professionally.

You mentioned some of your

mentors at TAFE. How important

has mentorship and having strong

role models been in your journey

to becoming a jeweller?

So, so important. I have been incredibly

fortunate in my journey to have had such

amazing and knowledgeable teachers,

mentors and colleagues that have been

paramount to the development of skills and

passion. At TAFE and now at Palloys, I've

had so many people willing to share their

techniques and experience with me. Some of

the people I work with not only have decadesworth

of experience in making jewellery,

but they are also more than willing to share

their knowledge with me and our colleagues.

It can be intimidating, working with such

experienced and skilled jewellers, but there

is such a great exchange of skills between

all the jewellers, which ultimately broadens

everyone's abilities and makes it a really

positive learning environment.

And finally, do you have any advice

for any up-and-coming jewellers

who might be inspired by your

journey?

The best advice I can give is just give it a go.

By showing interest and actively participating

in the jewellery industry via TAFE, trade

fairs, showrooms and work experience and

introducing yourself in these settings, you'll be

able to navigate your way into your own space

in the jewellery world.

Palloys' is always amazed at the sheer talent

and skill that our jewellers show every day in

our Marrickville workshop. Rebecca's journey

shows how passion, ambition and hard work

can lead to a successful career in jewellery. We

are thrilled to have her as a member of the

Palloys family.

April 2022 15
---
RECONNECTING IN DUBAI

I recently returned from a trip to Dubai where numerous diamond events were being held.

Those who know me, appreciate how much I used to travel prior to Covid. This was my first

major overseas trip in over two years, and wow what a trip.

I probably sound like a broken record, but the

value of travelling is incalculable. It's crazy

how much can be gained by meeting and

reconnecting with colleagues from around the

world.

If you ever want to see how to put on a

conference, how to put on an event, how to

make your guests feel special, and how to

showcase your city to the nth degree, make

sure you go to an event, congress or a trade

show in Dubai.

We were incredibly fortunate to have Ahmed

Bin Sulayem, executive chairman of the

DMCC, as our gracious host. Ahmed is also the

president of the Dubai Diamond Exchange,

as well as a passionate coffee aficionado. He

takes great pleasure in bringing his personal

mini stove and coffee grinder to the table, and

prepares his favourite blend to share with you

as you chat.

Very few will ever appreciate the sheer

energy, determination, and breadth of

achievements that Ahmed and his team

are capable of. I was fortunate to witness it

firsthand and I don't know how he has the

energy. Martin Leake, the special advisor for

precious stones of the DMCC, coordinated an

inspiring diamond conference, gala dinner,

world diamond council meeting, International

Diamond Manufacturers Association meeting,

a Diamond Jewellery Trade show and our

own World Federation of Diamond Bourses

Presidents meeting. Everything, and I mean

everything, went off like clockwork, was

beautifully presented and respectfully catered

to everyone's needs. This doesn't even

begin to touch on how interesting the panel

discussions were by key people in the industry

worldwide. A special shout out to Samer for

his amazing support during the events.

I don't think I have previously explained

the role I play in the diamond community,

and I think now is a good time. Apart from

being the president of the Diamond Dealers

Club of Australia, I hold the position of

an executive on the board of the World

Federation of Diamond Bourses as well as

chairman of the Promotions Committee. It

was in the latter capacity that five years ago, I

proposed to the Board that we form a Young

Diamantaires group to communicate with the

next generation, understand what they want,

and ultimately create a platform for them to

communicate and a runway allowing them to

lead the industry. Although I was initially faced

with a bit of resistance, I was left to my own

devices, and I founded this group which today

numbers close to 500 around the world. It is a

vibrant and dynamic group, who have found a

voice in the diamond industry. See www.ydts.

org.

Bruce Cleaver, the CEO of DeBeers, provided

some interesting insights which I would like

to share. We all know what tremendous

growth we have seen in the diamond

industry recently, but the question is can it

be sustained and is there enough momentum

without government stimuluses?

Presidents of the WFDB, Dubai

The current research shows that consumers

believe and feel strongly about natural

diamonds. Interestingly, the female selfpurchase

is the biggest growth category.

The rough diamond that the 15ct intense vivid Blue

IF Diamond opposite was cut from.

There is a need for more collaborative

marketing. There was an enormous amount

discussion about the key drivers, and for me

the most interesting comments, which will

challenge each one of us to think about are as

follows:

What motivates someone to do something?

When I give a diamond to someone, what is

the question? Is it something that I want to

say to the person that I gave it to, or is it what

the diamond says about me?

These are very powerful questions. Although

I have written about this previously, the

wording by Bruce was so much more

poignant. A consumer is often pressured

(not everyone, and it's all about choice and

personal belief systems) to give their partner a

diamond ring which, to some extent, reflects

their financial circumstance. You may disagree

and I'm sure you could give me examples to

back this up, however if a person is a lawyer

and is earning $250,000 a year, will they really

give their partner a 1/2ct diamond ring? I'll

leave that to you.

I liked the statement that Bruce said - "brand is

a proxy for trust".

Climate change, gender diversity and

sustainability – the world will view brands

against these three topics.

16

jewellery world - April 2022
---
DDCA NEWS

Rami Baron

President, Diamond Dealers Club of Australia

rami@ddca.org.au

Here is an interesting little fact.

Did you know that the cost of recovering

a 1 carat diamond in mining operations is

subsidised with all the smaller diamonds that

are mined?

There is no doubt that the focus of this

conference was the clash between Lab grown

and Natural. One of the biggest retailers

in America quoted a number which was

unfathomable. They stated that they were

selling 50 lab grown to 1 natural. Perhaps a bit

of an exaggeration, but even if it was 5 to 1, it

tells the story.

So, the question is poised, is there enough

tangible differentiation between lab grown

and natural?

Young Diamantaires gala dinner.

According to De Beers there is. They are of

the view that as the natural is more costly, it is

more valuable.

Fundamentally this may make sense, but let's

take a step back and look at the whole story,

the very essence of an engagement ring and

the symbolism it represents. The diamond

ring is just one component. The value is a

commitment of two people, and as beautiful

as the ring is (and hopefully the receiver will

get amazing compliments over the years),

I ask myself "will the perceived rarity of a

natural diamond transcend time?" or will it

be about the ring itself, the craftsmanship and

the design?

If that is the case, then just because the

price of lab grown will drop over time, will

it in fact lose its cache as the preference or

viable alternative for the centre stone of an

engagement ring? Lots to think about, huh?

Stephen Lussier, the executive vice president

of brands for De Beers, uses the watch story

and how his kids all covet his Rolex watches

as the perfect example. His kids know and

understand the value of these watches, but I

don't believe it's a fair comparison. I think the

top watch brands did what De Beers failed to

do: they didn't stop building brand awareness

and appreciation for fine timepieces for a

decade, and they definitely didn't go into the

business of manufacturing fake watches.

Beryl Raff, chair and CEO of Helzberg

Diamonds, stated very pointedly "it is not a

positive thing when the retailer has to speak

up for the category." The retailer is not the

one that has to speak up for natural diamonds.

The retailer offers the consumer choices and

provides information with full transparency.

The consumer chooses what suits them. Using

the argument that a lab grown diamond is

worthless in the resale is a poor reason as to

why someone shouldn't buy it.

I have seen the good that mining has provided

to communities in Africa, but this is just one

component of why someone may purchase

a natural diamond. The purchase of the

diamond engagement ring will often come

down to what that consumer sees on the

web or physically in front of them, the price

comparison and where the retailer can make

the most margin.

A very interesting story that has emerged in

our diamond world and reared its ugly head

is that of the theft of intellectual property.

When diamond manufacturers cut and polish

diamonds, we expect them to do so in an

A diamond priced at USD $50 million to be auctioned

by Sotheby's was placed in my hands.

ethical manner. I'm not talking about where

the stones came from, I'm talking about the

very machines that they use to evaluate every

crystal before, during and after they are cut

and polished.

The company which we all know well, Sarine,

has spent tens of millions of dollars developing

the sophisticated technology to help the

industry maximise the yield and improve the

cutting and polishing diamonds worldwide. In

the last few years, several criminals in India,

with the direct involvement of some major

manufacturers of diamonds, hacked into

machines that they purchased from Sarine,

reversed engineered the software and set up

competition to them.

The matter is before the courts. One of

these companies is already employing 1,500

people so it tells you that this will not be

an easy battle to say the least. The largest

jewellery retail group in the world, Signet,

appreciated the seriousness of this matter to

the extent that they have sent a letter to all

their diamond suppliers to confirm in writing

that they are not party to utilising the theft of

Sarine's intellectual property, and if they find

out that they are, they will cut them off as

suppliers. Imagine someone hacks into your

computer, steals all of your designs, all your

customer data, goes to your jewellers with

bags of money and looks to bribe them for all

the information about your business so they

can now blow you out of the water, or at least

attempt to. I had this happen to me to a lesser

extent. I can tell you, you get pretty pissed.

Let's end on a positive note. The Young

Diamantaires were truly showcased during

this week, and that 70 attended from around

the world says a lot. We were incredibly spoilt,

with a special dinner put on generously by

the Dhamani family, we were invited for tours

through the wonderful World Expo highlighted

by Dubai, and in some cases, personally

escorted by none other than Ahmed himself.

In the 75 years that the WFDB has existed, it

was the first time that two youngsters, who

are part of the Young Diamantaires organising

committee, were invited to have two seats at

the executive table of the World Federation of

Diamond Bourses and see how meetings are

conducted with presidents from around the

world. This was truly a landmark occasion and

one which I am personally very proud of.

Trade well,,, Rami Baron.

April 2022 17
---
PRESIDENT'S

MESSAGE

Karen Denaro

Over 17-18 March 2022, I have had the pleasure of sitting amongst esteemed industry

professionals and peers from all over the globe, as a panellist for CIBJO (The World Jewellery

Confederation) assembly, a hybrid international event, held in conjunction with Vicenza Oro.

There is much discussion of the current

state of political affairs, sustainability, ethics,

integrity, intention, and alignment. It is a time

of reckoning for all of us. With this comes

the knowledge that nothing will ever go back

to the way it once was and the jewellery

industry, right across the supply chain, from

every corner of the world, has the golden

opportunity (pun intended), to use these

challenges to do things differently – good

simply is not good enough.

In an ever evolving and changing industry, the

last ten years in the international jewellery

industry are referred to as a pivotal decade.

Living our new normal no longer applies solely

to the pandemic. It also pertains to accepting

the fact that, globally, we are living through

constant crisis. Variable circumstances are

perpetually evolving. As I sit to write this, I

realise that there will be continued change by

the time this message is actualised in print.

The current conflict in Eastern Europe impacts

us all – as human beings and as business

owners alike, regardless of where we reside

and operate from in the world. Some of us

impacted on a far greater scale than others.

Belonging to a trade association has never

been more poignant to the Australian

jewellery industry.

In alignment with industry associations, both

locally and internationally, the Jewellers

Association of Australia (JAA) is responsible

to our members and the industry at large.

The JAA provides protection, guidance,

governance and integrity for every branch and

sector of the Australian jewellery industry,

right across our supply chain. We are here

to make a difference and to support you in

your business. We are up to date with the

latest international industry news and we will

continue to keep our members informed. The

JAA is here to assess, mitigate and eliminate

risk, ensuring in the protection of our local

industry.

As an association we support and govern

industry responsibilities, conduct, ethics and

our dealings with one another, which are of

paramount importance.

With more than 90 percent of their diamonds

mined and sold via state-owned Alrosa, Russia

is one of the worlds' largest producers of

diamond rough. The current political crisis and

subsequent sanctions have seen a USD $79

billion dent to the global diamond industry.

This is likely to have significant ramifications

on how we trade in diamonds in Australia.

Lab grown diamond sales are currently skyrocketing

and rough is up approximately 30

percent, with further expected increases over

the coming weeks.

Diamond sales from China and India are at an

all-time high.

With a sharp decrease in raw goods,

particularly diamond rough, from Russia and

Russian owned companies, we need to look

at local industry suppliers and their sources

to ensure we provide responsible, ethical,

and informed sustained support, to be of the

greatest service to one another.

Adaptability and unity are key to how we

move forward, both within our individual

businesses and as an industry.

I strongly believe the current global challenges

provide an opportunity for us to look at how

we operate and to pivot our businesses to

operate differently and effectively. Change is

not always comfortable, however it necessary

for sustained growth and our industry is

certainly no exception.

The JAA hopes for a peaceful resolution.

18

jewellery world - April 2022
---
YOU ARE

MY

ROCK.

Becoming a member of the Jewellers

Association of Australia has a comprehensive

range of benefits.

We are here to help support, protect, guide

and grow your business, whilst being a voice

for the Australian Jewellery Industry.

The 2022 Member Prospectus details the

benefits available to members and we

welcome you to contact us with any questions

or feedback you may have about the JAA.

INSPIRING CONFIDENCE. SINCE 1931.

view the

MEMBER

BENEFITS

jaa.com.au/benefits
---
By Stefan Juengling

LET'S GET PERSONAL:

The modern custom-made and

personalised jewellery scene

Daniel Bentley

With changes in customer segments over the last decade, and to weather the

pandemic-induced economic storm, jewellery brands have been offering

custom-made and personalised jewellery to keep their prestige and engage

a larger audience.

Here with input from three prominent Australian jewellery brands and one

South African jewellery brand, we explore the state of, and trends within the

Australian personalised and custom-made jewellery industry.

For many modern jewellery consumers,

an item of jewellery isn't just a fashion

accessory, but an extension of one's own

personality. Thus, if one wants to showcase

their personality through their jewellery, the

ability to personalise and customise jewellery

becomes important. In the personalised and

custom-made jewellery industry, the piece's

sophistication and the brand's reputation

play fundamental roles for the consumer. Our

contributors understand this all too well.

Sophisticated brands, personalised

designs and custom creations

When asked about personalised and

customised jewellery's importance to her

brand,founder of Sydney-based personalised

jewellery brand Belle Fever Sarah Saputra said

that her jewellery is more than just a design.

"Inscriptions, symbols, and images add a

personal touch," she said.

"Our jewellery is created to tell the story

of the customer…the pieces we create are

carefully selected by each customer to

ensure they will love each one and hold that

sentimental value."

Justin Blake is managing director of South

African personalised sterling silver brand

Silvery (with a registered Australian office and

division), and he said the personalised pieces

they offer can be either laser engraved or

hand stamped by their jewellers.

"We also offer a selection of items with

birthstones as well as complete custom jobs,"

he said.

"Through our customisation page customers

can let our jewellers know what they would

like by uploading images or written ideas."

Silvery

He said depending on the customer's budget,

design and

preference,

the piece

will be either

handcrafted, or

3D-printed and cast.

Queensland-based bespoke jeweller Daniel

Bentley who heads up his eponymous

jewellery brand said bespoke-designed

jewellery has a special place in his business,

because it allows a pure one-to-one creative

process directly with the client.

"It becomes truly personal as each design we

create is an expression of the client's own

desires and our style," he said.

"This is an important contrast to how we

design for our brand."

He also spoke about Daniel Bentley's bespoke

jewellery

process, which

he said takes

an old school

approach:

sketching while

talking about

the design with

Daniel Bentley

20

jewellery world - April 2022
---
One Sixteenth

the client and listening to their often-long list

of desires.

"From there, we have one or two follow up

consultations, before we commence work.

He said the most important attribute when

helping a client produce their perfect bespoke

piece of jewellery is trust.

One Sixteenth Designs is an ethical jewellery

brand from Cabarita, NSW, and founder/

jeweller Amy O'Shea said that her custom

work has been gaining huge traction for

her business over the past couple of years,

especially as she moves towards "closed loop

jewellery production."

"This means I'm focussing on using jewellery

already in the loop, i.e. already mined and

in circulation rather than purging the earth

further for materials," she said.

"My customers adore the low impact this has

on our planet and also that they are able to

continue to wear 'Grandma's ring' but in a

Silvery

more updated way."

She said this method also helps keeps the

costs down.

Which personalised pieces are

proving popular?

As for the types of jewellery that are popular

among personalised jewellery consumers,

Justin said name necklaces have always been

a popular option, however Silvery's couples

rings are quickly becoming the most popular

piece on their website.

"I think it's because we offer each ring in every

ring size as we make each one to order," he

said.

In the lead up to Mother's Day, Belle Fever is

selling a lot of family tree pendants, bangles

and bracelets. Sarah said each design's metal

tone, crystal type, image and shape can be

customised to match each customer's taste.

At One Sixteenth Designs, Amy said she's

noticing a move towards rings and pendants.

Weathering the pandemic and

coming out stronger

In her Master's thesis "Personalization of

jewellery products: an added value or loss in

recognition for luxury brands?", author Anna

Pozzobon discussed the way the pandemic

impacted the personal luxury goods industry,

which experienced a decline of -23 percent

over the past two years. She went on to

outline the need for businesses to adapt to

new customer

segments and

their needs in

order to ensure

the business'

long-term

survival.

Justin and his

team addressed

their customers'

needs by

analysing Google

Belle Fever

search trends, and quickly adapting the ranges

on offer at Silvery based on the findings.

"As we manufacture our own jewellery, we

hold very little inventory so it's relatively easy

for us to create samples and have an idea to

market within one to two weeks," he said.

Amy detailed the way she adapted to the

industry slump: by running more jewellery

workshops over the past two years.

"Groups of remarkable souls come to the

studio and we create rings, bangles, earrings

and necklaces together," she said.

"I think this pandemic has made us all

recognise we've been caught on the treadmill

for so long and need connection and

experience over consumables."

She said a jewellery workshop is a perfect mix

of all three.

As a result of the pandemic, Sarah said that

Belle Fever's designs, customer journey,

marketing and operations had to be flexible

and pivot accordingly.

April 2022 21
---
Belle Fever

Personalised jewellery +

personalised experiences = lifelong

connections

Jewellery is an incredibly personal purchase,

and being given the ability to personalise a

piece or have it custom-made makes it even

more precious and sentimental. This is a view

that strongly resonated with Daniel.

"Jewellery doesn't get more unique than a

piece that is specifically designed for a client;

it's one of the only ways that anyone can

show off to the world a ring or necklace that

is theirs alone and tied to the person or event

that the piece of jewellery represents,

Daniel Bentley

22

jewellery world - April 2022

"Only jewellery can do that, as it has for

thousands of years."

Silvery

In addition, jewellers have the ability to give

customers life-long experiences such that

buying jewellery from the brand turns into a

fond memory. Sarah said her customers have

shared how their shopping experience at Belle

Fever was unlike any other.

"There are a lot of online businesses that lack

that personal touch, and customers want to

still feel that personal touch even if it is not in

person," she said.

"They also desire to be treated like individuals

and not as numbers, so they expect to be

assisted when and how they are able."

To this end, she said Belle Fever customer

service representatives are always in constant

communication with their customers and

provide them with updates as needed.

Amy said there is always a beautiful

relationship between creator and customer in

the handmade realm, but when it happens in

a small town it becomes a magnificent union.

"My customers adore being able to come in

during the creative process and see how their

piece is made," she said.
---
Daniel Bentley

"Sometimes they even

come in and make it

themselves!"

Justin said there are four primary

qualities at Silvery that wins them

repeat business: their communication,

speed, quality and range. Their high standard

of communication ensures that once

customers have placed their order, they will

get around five progress SMS texts and emails.

Their speedy service means that orders are

crafted between one to three days, and

delivered from South Africa to Australia within

6-11 working days (including crafting time).

Remarking on their quality, Justin said their

focus is on quality over profits.

"Most online stores will use plate between

0.8mm – 1mm, (but) we use 1.5 – 2mm plate

for name necklaces and bars.

"We solder all our jump rings closed, and

hand polish each piece."

Finally, he said Silvery's range means they

are able to accommodate/capture many

occasions in life.

…and if YOU want to get personal

Amy recommends those wanting to take the

leap into custom-made and personalised

jewellery should maintain their unique

authenticity by sticking to their style.

"You can get very bogged down if (you're) only

creating custom jewellery for others," she said.

"Make sure you say "yes" to the jobs you want

to and intersperse each custom job with your

own creations!"

Reflecting similar sentiments, Sarah

recommends those new to personalised

jewellery to find their niche and focus on

perfecting the customer's journey for that

niche as much as possible.

"Being everything to everyone will make you

lose focus and

cause you to

be disorganised

and all over the

place," she said.

Being

organised is

the burgeoning

custom-made

jeweller's state

of play from

Justin's point of

view, remarking

that businesses

who want to

break into this

market ought to

be ready for it.

"With

customisation

comes many

inquiries from

customers, so

you will find that

you will need to

employ more

customer service assistants," he said.

One Sixteenth

Finally, Daniel's advice is that businesses

should listen to their clients, guide and inspire

them.

"…and then design something that embraces

their ideas, and practice with hand drawing,"

he said.

Silvery

Silvery

Silvery

April 2022 23
---
ELLENDALE TO BE

MINING THIS YEAR

Burgundy Diamonds Mines is one step closer to re-opening the Ellendale diamond

mines in Western Australia's Kimberley region.

Burgundy Diamond Mines has made its

second payment as part of an option

agreement it had signed to secure full

ownership of the mine from Gibb River

Diamonds in WA. A final payment is due in

2023. Burgundy bought the mine in March

2021 from Gibb River Diamonds for $6.7

million in cash, 16 million Burgundy shares

and 1.5 per cent revenue royalty.

The company is readying the mine to resume

operations after it had been moth-balled

by its previous owners. Burgundy will be

exploring the alluvial deposits at the Blina

and Ellendale locations and developing the

stockpiles and coarse rejects and remnant pit

material with plans to be fully operational by

the end of this year.

Past production at the Ellendale mine

produced 50 percent of the world's fancy

yellow diamonds.

Burgundy believes there is significant

potential for the new Ellendale leases

to deliver a profitable diamond mining

operation, with the intention of becoming

Australia's next diamond producer within

the next 24 months. The project ticks many

strategic boxes for Burgundy in terms of

location, high-end product and cash-flow

timeline.

With the Blina Alluvials fully permitted for

mining, this will be a priority target for

Burgundy, with plans for additional geological

assessment followed by targeted bulk

sampling and trial mining.

Resource

assessment

of the other

Ellendale

prospects

and former

mining

operations

is already

underway,

in addition

to the

fabrication

of a stateof-the-art

processing

plant expected to be up and running by the

year end.

Burgundy is currently operating its Perth

facilities at high capacity, cutting and polishing

third-party rough diamonds bought in 2021

and is pursuing options to make further

purchases over the remainder of 2022.

Burgundy Managing Director Peter

Ravenscroft is excited by the retail aspect of

the company's operations.

"We are thrilled to be preparing the launch

of our ultra-luxury diamond brand in Paris in

July," he said, "and will soon be announcing

24

jewellery world - April 2022
---
the engagement of a great creative agency to manage this process."

French jeweller Bäumer Vendôme will be collaborating with Burgundy

on a branded collections using coloured diamonds from Ellendale, along

with other gems from third-party retailers.

"Building a new luxury brand and partnering with select jewellery

retailers offers a unique concept to the market [which] customers

will enjoy a true end-to-end experience while we can deliver the best

returns for our partners, shareholders and the communities in which we

operate," added Ravenscroft.

Argyle closure and Russian aggression leaves a gap

The race to kickstart the Kimberley's diamond industry heated up last

year following the closure of Australia's

only operational diamond

mine at Argyle. Now, the

ongoing invasion of Ukraine

by Russia presents

another opportunity

for Australian diamond

miners as Russian

gems leave an

irresponsible flavour

in the mouths of

ethically minded

consumers.

Another miner in the

Kimberley region, Lucapa

Diamond Company, recently

identified three new prospective

Bäumer Vendôme

targets only 50 kilometres from

Ellendale. The exploratory team recovered more than a thousand

diamonds from a single drill hole on the site.

Coloured mined diamonds remain in high demand with the prices of

high-quality yellow stones increasing as much as 30 percent in the

recent years.
---
Proud to be the global pioneer of the

Green Bullion

concept

Ethical sourcing has become increasingly important for both the consumer and

associated industries concerned with responsible supply chain management.

For this reason, Oakley Mint is proud to provide its Green Bullion® product alternative,

with precious metals refined exclusively from recycled materials including distressed

jewellery products, dental gold and technology such as e-waste.

Our capability and product quality are quantified by our

NATA accreditation and an attention to detail that ensures

that our customers receive the highest quality and

purity bullion guaranteed.

Visit www.greenbullion.com or contact us at info@greenbullion.com to learn

more about our products and our passion for environmental sustainability.

"Environmentally Friendly Precious Metals"
---
Discernable by their unique hallmark and serial

number sequencing, every Green Bullion® product

is accompanied by a certificate, guaranteeing the

recycled origins of its content and its purity.

www.greenbullion.com

A division of the CPG Group of companies
---
By Kirsten Ehrlich Davies

PEARLS – FROM CONSISTENCY

TO CONTRAST

The classic string of perfectly matched pearls has always been the ultimate

fashion accessory. Yet today, there is a growing demand for baroque pearls of

all varieties due to their creative potential and individuality.

During the 20th century, a strand of

round, evenly matched pearls was the

ultimate symbol of elegance, with the

versatility to match any outfit and available

any price point. The simple yet elegant style

was popularized by iconic figures like Grace

Kelly, Audrey Hepburn and Jackie Onassis.

Today,the classic symmetry and consistency of

a perfectly matched string of pearls still retains

a place in the market, yet baroque pearls

are enjoying a new renaissance in response

to a more individualistic market. Jewellery

designers are working with baroque pearls

of all kinds, inspired by the contrast in shape

and colour – not just in comparison to classic

round pearls, but also in the contrast with

different metals and gemstones worked into a

design, to highlight the unique organic beauty

of each pearl.

"Designing

jewellery to suit

baroque pearls

can sometimes be

challenging but

also extremely

Ikecho

rewarding, when

the two elements blend harmoniously into

a statement piece of jewellery," said Lindsay

Youd of Allure South Sea Pearls.

Cheryle of Stones and Silver says that while

pearl jewellery has always been timeless and

classic, it was time to "incorporate a modern

twist" to appeal to younger generations.

"The design of the piece really drives its

popularity whether it be a classic style or

a design that is currently on trend," said

Cheryle.

The Perfection of Imperfection

A baroque pearl is defined as any pearl that

is not a perfect sphere. The word "baroque"

comes from the Portuguese word "barocco"

which means "imperfect", and since the 17th

century, this word has been used to describe

any pearl that is not perfectly round. They can

be dented, pear-shaped, lumpy, coin-shaped

or tear drops, and can take on a wide range of

colours.

Devino

While most

contemporary baroque

pearls are a happy

accident of the cultured

pearl trade, natural baroque

pearls have been prized

since the Renaissance

era. From the 16th

century jewels and

enamel were used to

complement the pearl's

natural shape,transforming

it into an animal, flower and

even a human figure, such as the 16th century

Swan Pendant or the 19th century Canning

Jewel which features a jewelled merman

brandishing a sword and shield. This design

strategy of using the pearl as a central feature

of an object is still used today, with examples

like Allure South Sea Pearl's whimsical bumble

bee pendant, featuring a gold bee with a

pearl body; or Ikecho's sterling silver pink

freshwater pearl necklace, featuring a delicate

diamond leaf balanced with a teardrop pearl.

The most illustrious natural tear-drop pearl is

the aptly named La Peregrina (The Wanderer)

which was passed around the royal families

of Spain, England, France and Russia for 400

years before being purchased in Geneva

by Elizabeth Taylor. Marie Antoinette had a

Ikecho

28

jewellery world - April 2022
---
Stones and Silver

Stones and Silver

diamond pendant featuring a tear-drop

pearl and another tear-drop pearl

was immortalised in Vermeer's iconic

painting The Girl with a Pearl Earring.

The Hope Pearl, currently the fifth

largest pearl in the world, became

part of Henry Philip Hope's legendary

jewellery collection in the early

1800s. It is an enormous pear-shaped

blister pearl of Asian provenance,

weighing 1800 grains or 90 grams, with

dimensions of 5.08 cm in length, and

a circumference ranging from 11.43

cm to 8.26 cm. The broader end of

the pearl has a greenish bronze sheen,

which fades to a silvery white lustre at

the narrow end.

Unique compatibility

Every pearl is a unique surprise – there is no

way of predicting what will emerge from

the oyster. Finding compatible pearls for

a piece of jewellery is always challenging,

although it can be more time-consuming

to gather enough round and evenlyshaped

perfect pearls for a strand than to

find inspiration for a design featuring a

series of baroque pearls. Irregularity and

LUXURY pearl AND opal JEWELLERY

Ikecho

Tel: (02) 9266 0636 | enquiries@ikecho.com.au

www.ikecho.com.au
---
contrast are the key

points of the design, and

from here, the designer

can create other points of

contrast – setting the pearl

against precious metals or other

gemstones, presenting a variation

of the classic pearl necklace or earrings

with pearls of irregular shape,using pearls

of different colours or creating a structural

contrast through an edgy modern setting.

Lindsay Youd, co-founder of Allure South Sea

Pearls says that clients are drawn to colour

and shape variations, such as the company's

strands featuring a mixture of Tahitian, golden

and with South Sea pearls that are compatible

with lighter and darker coloured clothing.

"Sunbeam gold baroque earrings reflecting

Devino

the classic setting while working in harmony

with the freeform shape of the baroque pearl,

giving a modern edge to a classic design."

Caroline Zingg of Devino says that while there

is still a strong market for classic styles, it is

still important to create bold and beautiful

pieces as a fresh and fun way to wear pearls.

"Devino matches pearls with complementary

colours and sizes and in different lengths to

appeal to different personalities and styles,"

Caroline said.

"The key is to maintain an excellent lustre to

help the pieces stand out."

"There will always

be a demand for

the classic strand,

although we have

seen a client's desire to

be able to buy wearable

pieces, items that can be

worn every day," Lindsay said.

"Our Sea Grass Strand is an

example of this – mixing gold with the

pearls makes this a wearable modern piece

of high jewellery to elevate your day look and

make for a stunning evening statement piece."

The designers at Allure South Sea Pearl are

committed to maintaining a classic element in

their modern designs, while staying attuned to

current customer demand.

Cheryle from Stones and Silver says the

current evolution of design means that pearl

jewellery has greater versatility for the wearer.

"Once upon a time, pearls were only worn for

special occasions, but now pearl jewellery has

evolved to a point where designs can be worn

during the day and then dressed up at night,

so they are such versatile pieces to have in

your own collection."

Devino

Versatility in Variation

Lindsay Youd says that one of the advantages

of expanding the range of pearl designs is that

customers can now wear pearls more often at

different events.

Ikecho

30

jewellery world - April 2022
---
Devino

Keeping up with demand

Erica Miller of Ikecho says that baroque

and Keshi pearls are very much in demand

right now. Keshi pearls are a by-product of

the cultured pearl industry: the host oyster

rejects the implanted nucleus, and starts

secreting nacre to protect itself from the

foreign object. The result is a small bubblelike

indented pearl which is all nacre, with no

nucleus, and can be any shape from round,

oval, tear-drop or button, with a wide range

of colours available. Ikecho has a range of

keshi earrings available, with the variation

in natural shape contrasting beautifully with

the classic design. However, Keshi pearls are

Stones and Silver

currently quite rare so it is a challenge to keep up with demand.

Fortunately, there is no question that the traditional symmetrical

strand of perfectly round pearls, although the rarer baroque

variations will still have their place in the market.

DISCOVER THE

WORLD OF PEARLS

Stones and Silver

A: 1202/115 PITT STREET, SYDNEY NSW 2000

T: 02 9261 3555 | E: DEVINO@DEVINO.COM | W: DEVINO.COM
---
MIKIMOTO AND THE GREAT

PEARL DISRUPTION

Disruption is the word for our era. When we think of disruption in the jewellery

industry, most minds would probably turn to the mined vs lab grown diamonds

issue. But history shows us one of our industry's biggest disruptions came over

a hundred years ago – at the hands of an unknown, amateur pearl farmer.

When Mikimoto Kokichi was born

in Toba, Japan, in 1858 there was

no such thing as a pearl farm. All

pearls were grown 'naturally' and harvested

by divers. Mikimoto's town of Ise was a base

for pearl divers who unloaded their treasures

at the docks and fuelled his childhood

imagination. When Mikimoto's father, an udon

shop owner, fell ill, young Kokichi was obliged

to leave school at the age of 13 and sell

vegetables to support his family.

By the age of 20 and witnessing the overharvesting

and degradation of the natural

pearl stocks, Mikimoto embarked on his life's

greatest journey.

With demand for

pearls severely

outweighing supply

and aware of various

research effort

around the world,

Mikimoto saw a

golden opportunity.

His plan to 'develop'

rather than allow nature to produce the

perfect pearl, was born. Natural Ise pearls

were Toba's most famous local product, but

were becoming increasingly scarce due to

aggressive harvesting of the oyster beds. This

gave Mikimoto the idea to culture his own.

It took another ten

years before Mikimoto

was able to obtain a

loan to start his first

pearl oyster farm at Ago

Bay with his wife and

partner, Ume. Mikimoto

experimented with

inserting a mother

of pearl nucleus into

an oyster shell. He

took a trial-and-error

approach that was

considered strange by others in the industry

and early results were less than successful

but, after 13 years, repeated damage from

red algae, oyster-eating octopuses and

near bankruptcy, Mikimoto was finally able

to create a

hemispherical

cultured pearl.

But was

cultured real?

The public were

confused. Was it a

'real' pearl or not? To

encourage sales, Mikimoto

opened a jewellery boutique in Ginza –

equally outrageously the building was in the

western style – and he employed salespeople

to education the consumer on the nature

of cultured pearls. From the very beginning

the store's interior was unusually modern

with electric fans in summer and heaters in

winter to encourage customers to linger. An

anteroom on the second floor for invited

guests was a precursor to today's VIP rooms.

Other scientists and entrepreneurs,

particularly in Australia, were working on

culturing pearls at the time but Mikimoto

bought the patents from the work of other

32

jewellery world - April 2022
---
scientists. By the early 1900s he was able to

culture a spherical pearl. And things really

took off from there.

You have to picture the era: Up until now,

pearls were extremely rare. A natural pearl

was a pearl spontaneously – and only –

produced by nature. (Sound familiar?)

Remember The Great Gatsby? F. Scott

Fitzgerald wrote that Tom gave Daisy "a string

of pearls worth valued at three hundred and

fifty thousand dollars." That was 1919 and

those were 'natural' pearls. In today's money,

that was a $5 million necklace. And now

Mikimoto had a farm of obedient oysters that

produced the gems on demand? What was

the world coming to?!

Expert marketers

Mikimoto and

Ume were

also fabulous

marketers.

In 1910, a

traditional

Japanese

fan and

screen with Mikimoto pearls

was featured at the Anglo-Japanese Fair

in London. In 1927, Mikimoto met fellow

inventor, Thomas Edison, at his home in

New Jersey. After admiring Mikimoto's work,

Edison remarked, "There are two things which

couldn't be made in my laboratory – diamonds

and pearls." (Should we tell him?)

"This isn't a cultured pearl, it's a real pearl,"

Edison went on. "It's one of the wonders

of the world that you were able to culture

pearls. It is something which is supposed to

be biologically impossible!" Their meeting was

reported in the New York Times and Mikimoto

and his pearls became a household name

overnight.

His reach stretched even farther during the

1939 New York World's Fair, which featured

the Philadelphia Liberty Bell studded with

12,250 pearls and 366 diamonds and was

nicknamed "the Million Dollar Bell". The bell is

now on display at the Mikimoto Pearl Museum

in Japan.

The natural pearl

market had been

decimated. By

1935, there

were 350 pearl

farms in Japan

producing 10

million cultured

pearls annually.

In a frankly appalling stunt in 1932, Mikimoto

sent a message to other pearl dealers by

shovelling inferior pearls into a fire in front

of the Kobe Chamber of Commerce. Foreign

journalists reported this message around the

world. Mikimoto's cultured pearls were more

beautiful, consistently round, easier to extract

and cheaper to produce. He had changed the

world.

Labels matter

The old guard put up a decent fight. They took

him to court and sued him for advertising his

pearls as 'natural pearls.' The lawsuit led to

the creation of the term 'cultured pearl' to

help differentiate his pearls from the other

dealer's product.

Ironically, now, when someone asks "Are those

cultured pearls?" they are really asking, "Are

they real?" Originally, the term was meant to

denote Mikimoto pearls as not natural (and

thus not as prestigious) but the definition has

changed over time due to the overwhelming

number of fraudulent pearls on the market.

Mikimoto had to constantly fight allegations

that his pearls were only imitations of real

pearls, despite scientific reports to the

contrary. After World War II, he opened

stores in Paris, New York City, Chicago,

Boston, Los Angeles, San Francisco, Shanghai,

and Bombay, and was thus one of the first

Japanese brands to attain an international

presence and recognition.

Despite great fame and fortune during his

lifetime (Mikimoto died in September 1954),

he remained humble and unaffected. His

philosophy for general

well-being was 'three

bowls of rice for

breakfast, two for lunch

and one for supper, and

to sleep well, together

with a sleeping stomach.'

He liked fresh seafood,

root vegetables and

never missed listening to

the news.

In the Mikimoto

Museum, on Pearl

Island, where the first ever cultured pearl was

found, is the original Mikimoto single strand

pearl necklace. Known as Taisho-ren or the

'Boss's Necklace' it is made up of 49 large,

supremely lustrous, perfectly matched pearls,

the centre one being 14mm in diametre. All

were hand chosen by

Mikimoto himself over a

period of 10 years, and

it remains the template

for all classic Mikimoto

pearl strands.

The Mikimoto company

no longer farms pearls.

Having changed the

industry forever, they

now merely buy the best from pearl farmers

around the world.

April 2022 33
---
Alrosa

RUSSIAN DIAMONDS

Is the jewellery industry doing enough?

As Russia's devastating war on Ukraine drags on, the question of Russian diamonds

becomes a legal and moral quandary for everyone in the supply chain.

Almost all Russian diamonds come from

Alrosa. The company produces the majority of

the world's rough diamond and 90 percent of

Russia's rough. It is responsible for 28 percent

of global supply. The miner is one-third owned

by the Russian Federation. Another third is

controlled by regional governments such as

the Russian republic of Yakutia where many of

its mines are located.

Alrosa's corporate leadership has close ties

to the Kremlin. The company and its chief

executive, Sergei Ivanov, were personally

targeted by US sanctions. Ivanov's father,

Sergei Borisovich Ivanov, is one of Russian

president Vladimir Putin's closest allies and

was formerly a KGB colonel general, a Russian

minister of defence and a Putin chief of

staff. Alrosa is a major source of income for

its state-owned shareholder. The company

reported sales of $4.16 billion in 2021 with

Alrosa CEO Sergei Ivanov

a net profit of 91 billion rubles (AUD $1.2

billion).

Blood diamonds

And literally overnight, the Russian gems have

become conflict diamonds.

Christine Villegas,

director of the

Mines to Markets

program at Pact, a

development NGO,

says that Russian

diamonds do not

fit the narrowest

industry definition

Alrosa

of 'conflict diamond' and worries that some

players in governments and the industry will

continue to trade based on this 'loophole'.

The Kimberley Process (KP) says the phrase

refers to diamonds which are used to fund

rebel groups — not, specifically, nations that

invade other sovereign nations — but they

clearly fit the spirit of the term, says Villegas.

"They're funding an armed conflict against

a peaceful neighbour, by a state actor," she

said. "These things take time to settle on new

definitions. But the silence is striking – and it's

hard not to presume it's because much of the

industry is hoping that this goes away or it's

forgotten."

Many major industry groups have not yet

issued statements on whether responsible

buyers should continue buying Russian

diamonds.

Sanctions

On 11 March, US president Joe Biden issued

an executive order restricting the import of

Russian diamonds into the US. A day later, a

clarification was issued. The ban was limited to

the US importation of Russian rough diamonds

and diamonds polished in Russia. The order

placed no restrictions on the US importation

of polished diamonds sourced from Russian

rough but polished outside Russia.

Key industry figures, such as Martin Rapaport,

founder of RapNet, believe this will do nothing

to halt the flow of Russian gems.

"The sanctions – unless they deepen – are

not going to affect the normal business," he

said, in a presentation to the industry. This is

because the vast majority of Russian stones

are exported rough. Most will then progress

through the system to India, which cuts and

34

jewellery world - April 2022
---
S&S

STONES& SILVER

STERLING SILVER JEWELLERY

Ph: +61 3 9587 1215

stonesandsilver.com.au
---
polishes 90 percent of the world's diamonds,

meaning polished diamonds can be imported

to the US as an Indian product, not a Russian

one.

Government officials in India have received

promises from Russia that the sanctions

will not affect the flow of rough. Colin Shah,

chairman of the Indian government's Gem and

Jewellery Export Promotion Council, told the

India's Economic Times that "Alrosa has assured

us that they are running their business as usual

... They will be fulfilling all their obligations to

their clients in any part of the world," he said.

As for other governments around the world,

the EU and the G7 (US, UK, France, Canada,

Italy, Japan and Germany) have all indicated

that tougher sanctions would be imposed on

Russia, including the prohibition of jewellery

and diamonds.

Australia has also announced sanctions which

will affect Russian mining companies and the

dealings of 33 Russian oligarchs and prominent

businesses. The Australian ban focuses mainly

on fuel and energy products and makes no

mention of diamonds.

But will they be enough?

The various sanctions do not prevent Russia

from selling its diamonds. In fact, a report on

the Rapaport website confirmed that an Alrosa

auction took place in mid-March and, despite

the Russian banking system being excluded

from the international money transfer system

Swift, the diamonds were paid for via banks in

the United Arab Emirates and Italy.

The Russian state,

independently

of the company

Alrosa, has

an enormous

stockpile of

diamonds known

as the Gokhran.

Historically,

Russia has used

the Gokhran

to regulate the

market, buying up

excess and selling during shortages.

"They have, since the 1990s, been purchasing

diamonds in order to manage the pricing,"

says Dr Hans Merket, a conflict diamonds

researcher at Belgium institute IPIS.

The Russian government holds periodic

diamond auctions from the state stockpile with

six such auctions occurring in the first half of

2021. Industry watchers have estimated that

revenue from just one of those sales reached

$140 million.

"It's a state secret, how much diamond is in

that stock," Merket says. "If they would start

selling those diamonds, that could be an

important source of revenue."

So, even sanctions targeted at Alrosa will do

little to regulate the flow of Russian stones.

Letting business and the market

decide

With governments declining to draw the legal

and moral lines against Russian diamonds,

the issue will be left to individual companies,

industry bodies to decide. And, perhaps,

pressure from the general public. But Alrosa

remains a key source of diamonds for many of

the world's largest jewellers.

In the week after Russia's invasion of Ukraine,

Alrosa deleted its list of customers — usually

proudly and prominently displayed — from its

website. Archived versions of the list show over

50 companies with long-term contracts with

Alrosa including US giants Signet Jewellers,

Tiffany & Co. as well as Chow Tai Fook, Chow

Sang Sang, KGK and many companies from

India, Belgium and Israel.

At time of writing, only Signet Jewellers had

issued a clear indication on its position on

Russian diamonds. In a memo to suppliers the

company stated that it had "halted all trade in

precious metals and diamonds that originate

from such sanctioned Russian sources, and

you are therefore requested to stop supplying

the same to Signet even though the country(s)

in which you operate may not have imposed

sanctions on Russian precious metals and

diamonds".

Luxury jeweller Tiffany & Co. faces a moral

decision after it recently began disclosing the

country of origin for its engagement rings,

citing the importance of responsible sourcing.

Its manufacturing arm currently buys stones

36

jewellery world - April 2022
---
Images from Alrosa's Mirny mine, by Stephanov Slava

from five countries — Russia, Canada, South Africa, Namibia and

Botswana. In other words: Alrosa and De Beers. Tiffany & Co's

parent company, LVMH, has closed its retail operations in Russia.

The brands are caught between a diamond and a hard place.

Russian gems are an integral part of their supply. They've all

invested heavily in customer ideals of environmental and social

responsibility. As the war continues, they will inevitably face

backlash if they make any attempt to white-wash Russian diamonds.

If they stay silent, the modern savvy consumer will see through that

too.

Just as consumers are

beginning to see the Russian

influence on energy prices

and fuel tariffs as good

reasons to invest more

heavily in renewables and

electric vehicles, there's a

strong chance the Russian

conflict diamond issue will drive consumers more strongly toward

lab grown diamonds.

Villegas say the big industry players' silence on the matter of Russian

diamonds could affect the industry in significant ways for years to

come.

"All the work that has been done over the years to try to turn the

industry reputation around, and show meaningful progress towards

diamonds that do

good [could] be

undermined," she

told The Guardian.

"There's been a

deafening silence."

PASSION

COLOUR

EXPERIENCE

Suite 5, Level 1, 428 George Street SYDNEY NSW 2000

P +61 2 8065 8533 E info@sovereigngems.com

@sovereigngems
---
KGK Group Chairman awarded

Lifetime Achievement Award at

Jewellery World Awards

The Jewellery World Awards (JWA) awarded

KGK Group chair Navrattan Kothari with the

Jewellery World Awards' highest honour, the

Lifetime Achievement Award, for the year

2021 on 21 February in Dubai in the presence

of industry stalwarts.

Mr. Kothari has been working persistently in

the industry since the 1960s, not only to raise

the KGK Group but also to inspire excellence

in the jewellery and gemstone sector. He is

a pioneer in the sector, and his experience

and knowledge have made a significant

contribution.

The KGK Group was founded in Jaipur, India,

in 1905, with the aim of trading gemstones

between India and Burma. With a global

presence across 17 countries today, the group

has evolved into one of the most preferred

brands in the gems and jewellery realm. KGK

has emerged as one of the few conglomerates

covering the entire spectrum of mining,

sourcing, manufacturing, and distributing

coloured stones, diamonds, and jewellery for

over a century.

Mr. Kothari has been the driving force behind

the expansion of his family's gemstone trading

company into a worldwide conglomerate. KGK

Group is also actively engaged in numerous

philanthropic endeavours, assisting those in

need in the community and helping uplift

society. He is a firm believer in the power of

morals and always stands by the same.

He adapted the same as his way of life. Mr.

Kothari donates and contributes to social

causes as he believes that "It's difficult to be

born as a human being. If you are not able

to help others, it's a sheer wastage of life."

He also started Bhagwan Mahaveer Cancer

Hospital and Research Centre in Jaipur in 1996

as it was his lifelong mission to help as many

people as possible.

The excitement doubled when, at the

same ceremony, KGK Group also received

Manufacturer of the Year Award for

its diamond operations. KGK's growth

strategies in the diamond sector have always

emphasised inclusive growth, paving a success

path for many.

"We constantly evolved ourselves and our

business to

transform the

system in which

business itself

is conducted,"

said Mr Kothari.

"Receiving

recognition

from JWA will

surely be an

actuator to

move forward

with greater

determination

and

momentum, keeping the identified philosophy

and goals in view. It further encourages us to

remain conveners for progressive discussion

and collaborators for winning partnerships,

resulting in positive business as well as social

and environmental impact at scale."

The award ceremony held at JGT Dubai

(Jewellery Gem Technology Dubai) was

followed by a gala dinner which was attended

by the leaders of the industry.

The KGK Group has operations and offices

active in Asia, Australia, North and South

America, Europe, and Africa. With years of

hard work and fore vision, it has achieved the

vertically integrated standing of mines-tobrands

in the gems and jewellery industry.

For him, giving back to society is dharma.

From left – Mr. David Bondi, senior vice president, Informa Markets; Mr. Navrattan Kothari, KGK Group;

Mr. Ahmed Sultan Bin Sulayem, executive chairman, DMCC

38

jewellery world - April 2022
---
According to legend and lore, the idea of a birthstone chart goes back to Biblical times and the

Breastplate of Aaron, which was set with twelve gemstones. A writer in the first century postulated

that these gems directly correlated with the twelve astrological signs of the Zodiac and that these

stones were beneficial to the health of the wearer. While the perception of the 12-stone birthstone

chart has changed over the centuries, it still implies "to each her stone."

THE ENCHANTING EMERALD

The Birthstone of May

For more than four thousand years, the green

gem has fascinated humankind, from the emerald

adorned palace of Cleopatra to the fabled mines of

the Incas to the imaginary Emerald City of Oz.

By Cynthia Unninayar

Worn as talismans in ancient times, emerald has been

associated with love and new beginnings. The green

stone was also thought to confer riches and power, and

to predict the future. A member of the beryl family, the first known

emerald mines date back to 330 BCE in Egypt, although the gems

were used much earlier in the Middle East and South America.

Today, emeralds are found in many countries around the world, with

most production coming from Colombia, Zambia and Brazil, with

high-quality stones also found in Ethiopia, Pakistan, Afghanistan,

Madagascar, and Australia.

Perhaps the most famous emeralds come from Colombia and date

back to the times of the Incas, who treasured the green stones. Today,

the nation supplies about 20 to 25 percent of world production.

Because they are so prized, Colombian emeralds demand a premium,

and thus account for about 50 percent of world supply by value.

The main deposits are found in two areas in central Colombia, each

created during a different period in geological history. "Consequently,

gems from each zone exhibit different mineralization types and

slightly different colours," explains Guillermo Galvis, President of the

Colombian Exporters Association.

A more recent source of fine emeralds is Zambia, which is today the

world's largest producer. Although the stones were discovered in 1928

in the Kafubu area, they arrived on the world stage in a big way in

2008, when industrial miner Gemfields bought 75 percent of Kagem

Mining (the other 25 percent is owned by the Zambian government).

While the Kagem Mine is the largest operation, there are many smallscale

artisanal mines (ASM) in Zambia, which sell through a variety

of channels, including Virtu Gem, a not-for-profit platform that helps

artisanal miners to obtain fair prices for their gems mined not only in

Zambia, but also in Malawi and Kenya.

One of the more rare and

unusual emerald varieties is

the "Trapiche" emerald, found

almost exclusively in Colombia.

This 2.02-ct Trapiche is from

True Blue Opals and Gems.

(Photo: True Blue Opals

and Gems)

Above: Heart-shaped emerald from

Zambia by Hamid Bros.

Left: Oval cut 1.94-ct Zambian

emerald, 9.3 x 7.1 mm by Hamid

Bros. (Photos: Hamid Bros.)

Round 1.26-ct emerald from

Brazil by Sovereign Gems.

(Photo: Sovereign Gems)

While most facetted emeralds are destined to be used in jewellery,

others are carved into intricate designs, while still others are kept in

their natural mineral state, highly sought after by collectors.

40

jewellery world - April 2022
---
Emerald-cut Afghan emeralds

(0.16-ct and 0.17-ct) from

Sovereign Gems.

(Photo: Sovereign Gems)

"Although fine quality emerald is in a higher price range than many

other coloured gemstones," says Grant Hamid, owner of Melbournebased

Hamid Bros Pty Ltd, "it is one of the most popular. Its vibrant

green colour is very attractive and suits many skin tones." Hamid

sources mostly from Zambia because he finds these stones "to be very

consistent in quality, price and availability of various shapes and sizes,"

noting however that the finest quality is challenging to source from

anywhere.

Susie Robson, director of Sydney-based Sovereign Gems, agrees that

"emeralds have always been popular. I think people are attracted

to emeralds because of the glowing green that the trace

element of chromium provides." She adds that while

"traditionally, the most desired emeralds have come

from Colombia, these days, we see good material

from Zambia with gems also coming from Brazil and

Afghanistan."

Emerald-cut emerald from Zambia

weighing 3.05 cts by oagems.

(Photo: oagems)

Round emerald set with diamonds

in a white gold ring by True Blue

Opals and Gems.

(Photo: True Blue Opals and Gems)

Brendan McCreesh, of oagems, comments, "Emeralds

have a tremendous beauty, mystique and cultural history that is

deeply evocative." He also notes a recent increase in demand for these

green gems, "especially 1.5-ct-plus emerald cuts." Not only is emerald

May's birthstone, he adds, but it is also the gem for the 20th and 35th

wedding anniversaries, "so it will always remain a top seller." While

oagems sells mostly Zambian emeralds, the company also carries

stones from Colombia and Brazil. "Colombian emeralds command a

higher price—up to 30 percent—per carat than comparable quality

Zambian stones," he explains, noting that, in recent years, "buyers

have learned that many Zambian stones are often indistinguishable

from their South American cousins. With the increase in world prices

for emeralds, there is little wonder why Zambian stones currently

dominate the Australian market."

Among the many emerald decorations are

carvings such as this 7.26-ct carved flower from

oagems. (Photo: oagems)

Emeralds in their mineral state are highly sought after by collectors. Shown

here is a 756-ct mineral specimen from the Curlew Emerald Mine, Shaw

River District, East Pilbara Shire, Western Australia. Mined by Scott Smith, it

is offered for sale by True Blue Opals and Gems.

(Photo: True Blue Opals and Gems)

And, let's not forget the beautiful emeralds from Australia.

"Emeralds were discovered in Australia in 1912 near Poona,"

explains Salma Patel, owner of Queensland-based True Blue Opals

and Gems, who deals in spectacular mineral specimens. "While

most production is from Poona, emerald deposits are also found

Emmaville in NSW and in Western Australia, namely in the Pilbara

region, south of Port Hedland, and at Menzies."

With its symbolism and beauty, emerald is the perfect birthstone for

May, representing growth and rebirth, whether in its natural mineral

state, as a faceted gem, an evocative carving, or set into myriad

types of exquisite jewellery. ■

April 2022 41
---
AFFORDABLE LUXURY IGNITED

Female watchmaker launches mechanical watch

collection Loimu inspired by the Northern Lights

Galvin Watch Company's second collection combines high-quality

Japanese Miyota movement with guilloché dials honouring the

blazing Aurelia Borealis in six magnificent colours

Galvin Watch Company (GWC), the first

female-founded micro watch company

in Australia, returned for its second

round of crowdfunding to launch GWC's next

collection of meticulously crafted mechanical

watches with luminous detailing powered by

Japanese movement.

The Kickstarter campaign began on 5 March

2022 to bring the Loimu Collection to watch

enthusiasts at a price of AU$679 later this year

– with major discounts for early bird orders.

During the first day of the month-long

campaign, GWC raised over $42,000 with the

help of 110 backers around the world. The

Loimu Collection reached its funding goal in

six minutes.

Galvin Watch Company is a family-owned

business, managed by watchmaker Susan

Galvin in Sydney, Australia, who went from

a watchmaker to watch entrepreneur and

a mother of two in two years – all during

the pandemic and within a male dominated

sector. Her Finnish

heritage is intrinsic to

the brand, combining

Nordic minimalist

design with the

vividness of the

landscapes in which

she was raised.

Loimu: Carry the

blaze of the Northern Lights

Every carefully designed detail of the Loimu

Collection comes together to achieve a

beautifully versatile mechanical watch suited

for any occasion, inspired by one of nature's

greatest masterpieces, Aurelia Borealis.

The Loimu Collection comes in six uniquely

glistening colours named after the spectrum

of colours the Northern Lights are famed for.

The guilloché pattern, an artistic craft dating

back to the 18th century, creates a vibrantly

engraved surface to make the Loimu dial come

alive.

Loimu watches come with an adjustable,

interchangeable stainless-steel bracelet. For

GWC fans who own the original Alku watch, its

leather straps are

compatible with

the Loimu range.

The case diameter

is 38mm, a subtle

size for both

genders. GWC

watches are not

gender specific,

designed to suit

everyone's wrist.

For advanced

durability in most

conditions, Loimu

watches are

water-resistant

to a depth of 100

meters (10ATM)

with a screwed

down crown.

42

jewellery world - April 2022
---
Watchmaker's promise:

Personal quality checks

with two-year warranty

Galvin Watch Company

offers a two-year

international warranty for

the Loimu Collection and

each watch is regulated

and quality control tested

by the founder.

As a professional

watchmaker with ten

years' experience at

the world's most prestigious watch brands,

Susan Galvin takes great pride in personally

guaranteeing the quality of every GWC watch.

"Having a watchmaker as the brand owner

cuts out the middle person between the

customer and potential repair work. I

perform all watch repairs for Australia and

the US myself. For the remaining countries,

any repairs are completed by reputable

watchmakers I have either worked or studied

with," Galvin confirms.

"As I check every time piece personally before

sending it to the customer, the quality is

ensured from the start."

Design excellence that doesn't miss

a tick

A long career at prestigious watch companies

in the UK and Australia has given Susan Galvin

the expertise to understand how the fine

details of a mechanical watch culminate into a

unique timepiece.

"Years repairing and enhancing all types of

watch brands taught me how to combine

design with machinery to create a watch

that catches the eye but is comfortable

and durable enough for everyday use," the

founder notes.

The combination of meticulous design with

affordable quality brought GWC global success

with the Alku Collection, with 261 backers

around the world raising more than $120,000

in total. Running a global watch company since

then has offered Susan Galvin many lessons to

bring into her new line.

"In most aspects the Loimu watches are more

complex than my first collection. I have chosen

more and bolder colours alongside intricate

design elements to create a unique collection

I am so thrilled to bring to watch enthusiasts

all over the world. Loimu feels like a true

evolution.

"Although I've introduced new features, such

as the guilloché finish and date window in the

dial, some aspects I've kept. I'm using Miyota's

premium range of movement again, as I was

very pleased with how it has lasted the test of

time with next to zero under warranty repairs

since the launch of Alku in 2020.

"The 'Loimu' name translates to 'blaze' in

Finnish, paying homage to my heritage. My

childhood was spent in Northern Finland,

world-famous for its displays of remarkable

colour in its night skies. Being away from

home during the pandemic made me miss the

uniquely beautiful and bare nature of Finland,

something I wanted to bring into my next

watch design."

April 2022 43
---
THE PROSPEX SPEEDTIMER

Showcasing the very best of Seiko's chronograph

watchmaking

In recognition of Seiko's support to World Athletics, the name Seiko Prospex will be

displayed on the perimeter boards at the World Athletics Championships in July.

Seiko's tradition as a pioneer in sports timing began in the 1960's

when the company introduced to the world's sporting stage

a range of timing devices that set a new global standard of

precision. This tradition has continued and, since 1985, Seiko has been

the timekeeper of choice of World Athletics.

In 2022, for the 17th consecutive time,

Seiko will deliver its state-of-the-art

timing services to the World Athletics

Championships which will take place in

Eugene, Oregon, the spiritual home of

the sport in the USA. This new Prospex

Speedtimer Limited Edition Chronograph

celebrates the sporting heritage of

both Seiko and this hallowed venue

and honours the performances of the

approximately 1,800 athletes who will

take part in the championships.

The new Speedtimer chronograph will be available as a limited edition

of 400 from June 2022 at the Seiko Boutiques and selected retail

partners worldwide.

History, heritage and high precision

Just as Seiko's 1960's suite of sports timers brought important

innovation to the global sports arena, so the creation of the Seiko

Speedtimer in 1969 was a crucial landmark in the history of the

chronograph. Thanks to its vertical clutch and column wheel, it made

the measurement of elapsed time more precise and error-free than

ever before.

Hand assembled by Seiko's skilled watchmakers, this new Speedtimer

is powered by Calibre 8R46, which, like the Calibre 6139 used in the

original 1969 Speedtimer, incorporates vertical clutch and column

wheel mechanisms to ensure the highest possible levels of precision

and durability. The escapement is light-weight and strong, thanks

to the use of MEMS technology which enhances the stability of the

watch's precision. The pushers are prominent and have a wide and flat

upper surface area to facilitate accurate operability. With the push of

the reset button, the hands return back to zero instantly and in perfect

synchronisation, ready for the next race.

Designed to celebrate sport at the highest

international level

Every detail of the new Speedtimer reflects the high performance and

reliability of Seiko's sports timekeeping and captures the spirit of World

Athletics. The sand patterned dial evokes the texture of the running

track and the chronograph second hand as

well as the 30-minute counter at 9 o'clock

are in yellow, the colour of all Seiko's timing

and measurement devices. The second hand

is gently curved down towards the markers

and its tip extends right to the edge of the

dial so that the elapsed time can be

read accurately at a glance. The hour

and minute hands are generously

coated with Lumibrite to enhance

readability in the dark.

The hands and strap stitching

echo the yellow of Seiko's timing

equipment and the back of the

watch features the event emblem.

The watch is presented on a stainless steel bracelet that is specially

designed and constructed for this series. Its thickness and weight

combined with the low centre of gravity of the case ensure stability

and a high level of comfort on the wrist. If the wearer chooses, the

bracelet can be replaced with the black leather strap that is also

included and whose stitching is designed to increase the durability of

the strap.

44

jewellery world - April 2022
---
ADINA CREATES

2022 RIDEWEST

BESPOKE WATCH

Over the last 12 years, RideWest has raised

over $1,400,000 for the Royal Flying Doctor

Service for mental health support programs for

regional Queenslanders.

This year Adina Watches celebrates their

inaugural involvement in the 2022

RideWest Charity's event by creating

an extremely limited edition of 100 bespoke

watches. For each watch sold, Adina Watches

will donate $100 to the RFDS, to support their

ongoing valuable work in the Wellbeing Out

West program.

Adina's involvement runs deeper than just

making a watch. Their general manager, Grant

Menzies, is putting on the lycra to complete

the eight day, gruelling 1311 kilometres from

Brisbane to Longreach. Grant has been a keen

bike rider since his late teens and has taken

on many cycling challenges. Either alone or

with his family (known as Cycling Menzies),

Grant has cycled through over 20 countries

around the world. Cycling Menzies carry

everything with them as they pedal. Grant is

the first to admit cycling the world with kids is

a little bit crazy – but hugely rewarding.

Grant says the motivation to tackle a journey

across a country in this fashion comes in part

from the incredible scenery and in part from

always enjoying the physicality of the day's

ride. "There's also the feeling of achievement

on reaching the daily goal no matter what

Mother Nature has served up. And, of course,

the obvious euphoria on reaching the overall

destination at the end of a trip.

"For the most part however, it is the ability to

immerse oneself into a country and enjoy all

its subtle nuances in its people, food, language

and culture that are so often missed by the

regular tourist. On a bicycle you are forced to

stop regularly for food, water, directions, even

a rest – all opening the opportunity to further

interact with a country and its people."

However, the motivation for something like

RideWest is very different. It is not about the

people doing it, it is about the cause. When a

group of motivated individuals come together

they can make a huge impact. Each of the

riders, Grant included, will rely upon the

generosity of many.

Every donation, no matter the amount, adds

up.

Grant hopes his riding for charity will inspire

his children to embrace what a selfless act

charity is and create a legacy of kindness.

Come April, 30 riders will RideWest. Please get

behind them.

www.adinawatches.com.au

www.ridewest.com.au

Sponsor Grant's ride at ride-west.raisely.com/

grant-menzies

April 2022 45
---
THE BROOCH AS

DIPLOMATIC TOOL

Madeleine Albright, the first female US Secretary of State, was famed for her fierce and

uncompromising negotiating skill, her love of brooches and for combining the two. She

passed away in late March aged 84.

Albright ran the US Department of State from

1996 to 2001. Just like Queen Elizabeth, who

has a fondness for choosing her jewellery

to make a political point, Albright wore her

brooches as "diplomatic tools".

She once told a GIA symposium that she

owned hundreds of them and that she

preferred to call them "her pins."

It began in 1997 when, as US Ambassador

to the United Nations, Albright was highly

critical of Saddam Hussein. Hussein's poetin-residence

called her "an unparalleled

serpent." At her next encounter with Iraqi

officials and with every meeting thereafter,

Albright wore a snake brooch, even though,

as she explained at the time, she did not like

snakes. After Hussein fell, she wore a snake

brooch with a dagger through it.

Vladimir Putin confided to Bill Clinton that

Russian diplomats routinely checked to see

which brooch Albright was wearing. On the

first day of difficult discussions involving

nuclear arms, Foreign Minister Igor Ivanov

looked at her arrow-like pin for the day and

inquired, "Is that one of your interceptor

missiles?" She replied, "Yes, and as you can

see, we know how to

make them very small.

So you'd better be

ready to negotiate."

During a meeting

about the Middle East,

she wore a dove pin

given to her by Leah

Rabin, the widow of

Israeli Prime Minister

Yitzhak Rabin, who was

assassinated in 1995.

After Cuban fighter pilots shot down two

unarmed civilian aircraft, Albright wore a blue

bird pin with its head pointing down, a symbol

of mourning for the four Cuban-Americans

who were killed.

Albright chose her jewellery as a reflection of

her mood, and readily admitted most of her

pieces were costume jewellery.

"I have

bought

jewellery

everywhere,"

she said,

speaking

to the

Smithsonian

Institution

which

arranged

an exhibit of her pins. "On good days, I wore

flowers and butterflies and balloons, and on

bad days, all sorts of insects and carnivorous

animals. When people said, on the [United

Nations] Security Council, 'What are we going

to do today?' I said, 'Read my pins.' "

As she matured and pins became part of

her diplomatic persona, Albright grew to

like larger and bolder, even crazier, pieces.

Diplomats from around the world gifted her

with brooches to celebrate their negotiations.

As a longtime fan of Star Trek, Albright had

space themed pins and brooches that she said

signified hope. As a jazz fan, she had enough

musical instrument pins to assemble a jazz

ensemble on her shoulder.

She became so

renowned for

her brooches,

she wrote a

book entitled

Read My Pins.

Albright

received the

Presidential

Medal of

Freedom, America's highest civilian honour,

from President Barack Obama on May 29,

2012. She served as the US's permanent

representative to the United Nations from

1993 to 1997. Prior to 1992 was a member

of president Jimmy Carter's National Security

Council and White House staff. In 2021 she

was appointed Chair of the Defence Policy

Board, a group tasked with providing the

Secretary of Defence with independent,

informed advice and opinion concerning

matters of defence policy.

46

jewellery world - April 2022
---
Calling all Retailers

Calling all Retailers

Calling all Retailers
---
NEW PRODUCTS

Ellani Collections | +61 2 9899 1525

Another beautiful addition from the new Ellani Collections

AW22 release.

www.ellanicollections.com.au

Bianc | +61 413 872 810

Bianc introduces some beautiful new additions to the Sirène

Collection, featuring contemporary chokers and bold baroque pearls.

All pearls are freshwater. These stunning pieces range from

RRP$99-$359.

info@bianc.com.au | @bianc_jewellery | www.bianc.com.au

Jewellery Centre | +61 7 3221 3838

Sterling silver long oval freshwater cultured pearl with 4-claw 5mm

natural stone earwires

Available in 3 colours:

Natural Amethyst

White CZ

Natural Blue Topaz

www.jewellerycentreaustralia.com

Ellendale Diamonds Australia | Desert Rose

Jewellery | +61 8 6180 1562

Be seduced by the charms of this delightful solitaire ring in 18K

white/rose gold. Featuring a round diamond D SI1 0.50ct and

6 round Argyle pink diamonds 6/7PP SIAV 0.087ct. 16 tapering

round diamonds G+ SI 0.21 ct.

www.ellendalediamonds.com.au

48

jewellery world - April 2022
---
Stones and Silver | +61 3 9587 1215

New .925 sterling silver unisex ID bracelest featuring

a curb chain.

Available in a 21cm bracelet with the engraving plate

6mm x 38mm or the larger size of 8mm x 40mm.

stonesandsilver.com.au

Ellendale Diamonds Australia | Desert Rose

Jewellery | +61 8 6180 1562

Anscintillating grain set double halo ring in 18K white/rose

gold. Featuring a round diamond D SI1 0.50ct. 24 round

Argyle pink diamonds 6/7 PP SIAV 0.24ct. A secondary halo

of 16 round diamonds G+ SI 0.16ct and shoulders set with 12

tapering round diamonds G+ SI 0.24ct.

www.ellendalediamonds.com.au

Zahar | +61 413 872 810

Introducing the Sienna Collection.

This new collection features edgy new designs, elegantly

encrusted with pavè stones, making for a truly luxurious aesthetic.

The collection range between RRP$69-$89. Featuring CZ stones.

Everything is available now and ready for order

info@zahar.com.au

@zahar.collection

www.zahar.com.au

Allucia | +61 (0) 408 598 909

Rhodium plated 925 sterling silver set with natural lemon quartz.

Also available with natural rose quartz, rainbow moonstone,

amethyst and green amethyst.

View our range at www.alluciajewellery.com.au

info@allucia.com.au

April 2022 49
---
chain

services

services

AUSTRALIAN

JEWELLERY TOOLS

WHOLESALER

SPECIALISING IN QUALITY

JEWELLERY TOOLS & EQUIPMENT

WITH EXCEPTIONAL SERVICE

Chris O'Neill

Piecemaker

2015 YJG Bench Challenge

Hand Engraving Champion.

Also specialising in quality

Handmakes, Repairs and

Antique restorations in the

Sydney CBD.

0405 689 834

MILN & CO. Pty Ltd

Ph: 02 4655 7707 M: 0412 702 834

E:stuart.miln@milnco.com.au

Lancier Watch Bands - Leather, metal, sports.

Watchglasses. Seals. Batteries. Quartz Movements.

Pins/tools. Jewellery findings. J C Hurst Bangles.

Fischer Barometers and Tide Clocks

for sale

PO Box 112

Toronto NSW 2283

P: 02 9380 4742 ∙ F: 02 8580 6168

E: sales@adelaimports.com

Adela Imports offer over 180

designs of sterling silver chain,

with up to 20 lengths available

in each from stock.

Also offering a range of

uniquely designed silver

jewellery.

Catalogue available.

www.adelaimports.com

(07) 3876 7481

sales@labanda.com.au

FAX: (07) 3368 3100

ADELAIDE (08) 7221 2202

MELBOURNE (03) 9038 8545

PERTH (08) 6363 5517

SYDNEY (02) 8004 1626

www.labanda.com.au

diamonds and coloured stones

Glues

for sale

Retail Jewellery Business for Sale

Established 35 years ago in

busy Gold Coast street location.

Includes retail fit out, fully

equipped jewellery, valuation and

watchmaking workshops. Would

suit a manufacturing jeweller

specialising in design and makes

and/or watchmaker.

Owners seeking to retire

$75,000 plus stock at cost.

Contact Norm on 0450 703 325.

Fantastic Sea Change Opportunity

Jewellery and Giftware Business in Nelson Bay, NSW

Established 21 years ago in coastal area of Port Stephens.

Only 2.5 hours drive north of Sydney. Only one other manufacturing competitor.

Swim software for POS and Stock management, including price tickets. Retail has large

Chubb safe and alarm systems in both locations. Great retail location in Main Street and

workshop located separately 85 meters away in arcade.

Low rent $42K annual for both shops. Both leases negotiable. Large marketable client list.

W.I.W.O $450,000 ONO [Current stock $178K at cost ($501K retail), fittings and equipment

$61K]. Workshop includes display windows, 2 x work benches, Ratner safe and office

fittings only, not tools. Take without stock at $275,000.

Contact Roger 0414 821 931

Relaxing ...

Modern dating: Buy her jewellery,

ADVERTISE HERE

The classifieds section is an excellent place for suppliers and

manufacturers to advertise products and services in a longrunning,

low cost way.

All size ads are available and may include product

photos. Visit our website to download our media

for prices.

www.jewelleryworld.net.au

pack

and take her someplace expensive.
---
Calling all Suppliers

Calling all Suppliers

Calling all Suppliers
---
SPECIALISING IN ITALIAN MADE

TENNIS MOUNTS AND GOLD CHAINS