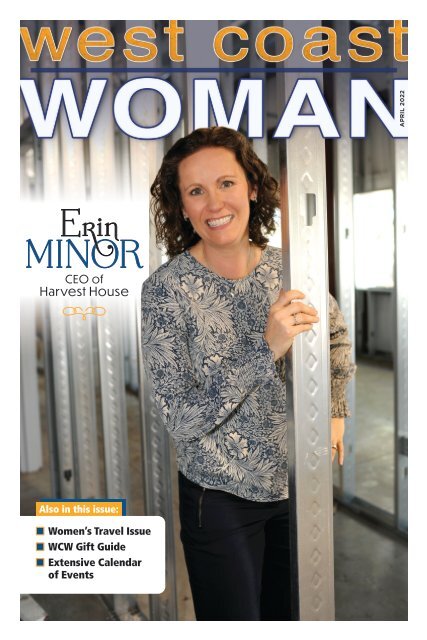 wcw APRIL 2022
Concerned about homelessness in our community? Good news there is Harvest House and we have their CEO, Erin Minor in our latest issue. They're doing great things so it's an informative and uplifting feature. It's also our Women's Travel issue, Part 1. Ready to hit the road? Check out the informative articles in this issue and look for more in May. Also, the Sarasota Film Festival runs April 1-10 and we have a look at what's coming up there as well. Check out our calendars this month - there's a lot going on!
Concerned about homelessness in our community? Good news there is Harvest House and we have their CEO, Erin Minor in our latest issue. They're doing great things so it's an informative and uplifting feature. It's also our Women's Travel issue, Part 1. Ready to hit the road? Check out the informative articles in this issue and look for more in May. Also, the Sarasota Film Festival runs April 1-10 and we have a look at what's coming up there as well. Check out our calendars this month - there's a lot going on!

SHOW MORE
SHOW LESS
You also want an ePaper? Increase the reach of your titles
YUMPU automatically turns print PDFs into web optimized ePapers that Google loves.
APRIL 2022

Erin

MINOR

CEO of

Harvest House

L

Also in this issue:

■ Women's Travel Issue

■ WCW Gift Guide

■ Extensive Calendar

of Events
---
2 WEST COAST WOMAN APRIL 2022
---
APRIL 2022

contents

Editor and Publisher

Louise M. Bruderle

Email: westcoastwoman@comcast.net

Contributing Writer

Carol Darling

Contributing Photographer

Evelyn England

Art Director/Graphic Designer

Kimberly Carmell

happening this month

The Sarasota Film Festival

(www.sarasotafilmfestival.com/) is back

and runs April 1-10. Check out our

preview and highlights on

p24

Assistant to the Publisher

Mimi Gato

West Coast Woman is published

monthly (12 times annually) by

LMB Media, Inc., Louise Bruderle,

President. All contents of this

publication are copyrighted and

may not be reproduced. No part

may be reproduced without the

written permission of the publisher.

Unsolicited manuscripts, photographs

and artwork are welcome, but return

cannot be guaranteed.

HOW TO REACH US:

Email: westcoastwoman@comcast.net

Here are our columns:

n Out & About: includes

fundraisers, concerts, art exhibits,

lectures, dance, poetry, shows &

performances, theatre, film,

seasonal events and more.

n You're News: job announcements,

appointments and promotions,

board news, business news and

real estate news.

FOLLOW US AT:

Facebook: https://www.facebook.com/

WCWmedia

WCW

34

YEARS

WCW Mailing Address:

P.O. Box 819

Sarasota, FL 34230

email:

westcoastwoman@comcast.net

website:

www.westcoastwoman.com

west coast

WOMAN

departments

4 editor's letter

7 Out & About: listings for things

to do live and/or online

9 healthier you: The Benefits of

Quitting Tobacco

11 saluting unsung heroes:

Women in Power Luncheon

15 focus on the arts:

Artist Series Concerts

women's travel feature:

tips for women

If you've ever dreamed of solo travel,

here are a few reasons to blaze your

own trail and stay safe doing it.

p20

wcw shopper

Always an eclectic array

of new products and a

new book. All on

p27

16 west coast woman:

Erin Minor, Executive Director

of Harvest House

18 women's travel issue:

Visiting our National Parks

20 women's travel issue:

Tips for the Female Traveler

21 women's travel issue:

Money Saving Travel Tips

women's travel feature:

national parks

National Parks were heavily visited during

the pandemic and this summer they'll be

even busier. We have some tips on how to

manage your trip and still enjoy the view.

p18

22 you're news

24 focus on the arts:

The Sarasota Film Festival is Back!

27 healthier you: Discover Craniosacral

Therapy

29 women's travel issue: Travel News

30 wcw shopper

on the cover: WCW photo of West Coast Woman Erin Minor, Executive Director of Harvest House. ■ Photo by Evelyn England.

APRIL 2022 WEST COAST WOMAN 3
---
just some

thoughts

Louise Bruderle

Editor and Publisher

West Coast Woman Erin Minor

CEO Harvest House

Sarasota has a homeless problem and it goes

deeper and wider than just those people

walking around on Main Street. Veterans,

young adults, families, single moms with

kids, those needing emergency shelter and

those coming out of jail or prison and dealing

with substance abuse issues, are the diverse

homeless populations that one-size-fits-all

solutions don't help.

Erin Minor

And those diverse populations are a tall order

Photo by Evelyn England

for any community let alone one nonprofit, but

that's what Harvest House, a nonprofit, has been taking on - very capably

so - for 30 years. Haven't heard of them? Well, I admit I didn't know of

them either, but two nonprofit CEOs told me of the great work they do.

Thank goodness for having a network…!

Erin Minor is the CEO at Harvest House and, as you'll read in this

issue, she is very busy with managing their nine supportive housing

campuses around Sarasota. They don't call them shelters because they

do so much more than provide a bed. Harvest House also does such a

thorough job offering counseling, classes, and a multitude of things

like a food pantry.

Homeless rates are rising and a sad new wave of homelessness is

taking place with families being edged out by dramatically escalating

rent increases. Where do you go if your pay stays the same and your

rent goes up 20-40% in one year? Erin and her team at Harvest House

are preparing to answer that question with the addition of their 11,000

square foot, life-enrichment campus taking shape off North Beneva

Road in Sarasota which will provide more classrooms, daycare and

office space that will free up space at their current location.

If you're interested in helping Harvest House, consider going to Art

Center Sarasota and view photographer Susan Sidebottom's exhibit

"A Place in The Sun" which portrays homelessness in our community

and where 20 per cent of the sales of her work will go to Harvest House.

https://www.artsarasota.org/onview.

The Road Ahead

We're seeing words like "after a two-year hiatus" or

"that was previously canceled" or simply "finally"

in the slew of events coming in that WCW hasn't

seen in well, over two years. April is typically a

transition month, yet our calendars are full! And

while it is much more than an event, Earth Day

is April 22.

And speaking of beautiful planet Earth, Choral

Artists has "Listen to the Earth" on Sunday, April

24, at 5 p.m. at Sarasota Opera House. Choral Artists

has a world premiere of a new work by James Grant,

featuring baritone soloist Marcus DeLoach, The Women's Ensemble

from Parrish Community High School and the Choral Artists singers

with a full orchestra.

The program also includes a setting by Ola Ojeilo of Walt Whitman's

poem, Song of the Universal and a stunning instrumental work by

Ralph Vaughan Williams, The Lark Ascending with violinist Daniel

Jordan, concertmaster of the Sarasota Orchestra.

For more information, visit www.ChoralArtistsSarasota.org.

Travel,

anyone?

This is part one

of our two-part

Women's Travel

Issues which is a

daunting task to create, but also fun to edit. There's so much pent-up

energy for travel and hotels, resorts, and events of all kinds and airlines

have answered with exciting new options. No surprise that Sarasota

Airport is going to have a major expansion coming.

We had so much travel content that we've added a second Women's

Travel to May's issue.

Sarasota Film Festival

One event that was here last year is the Sarasota Film

Festival which returns April 1-10 but in full bloom

with films in person and virtual which seems to be the

standard for most events in our area. West Coast Woman

is once again a proud sponsor. Look for our logo "on the

big screen" which sounds very cool to say.

WCW updates:

On March 2, Resilient Retreat reached another milestone with the

completion of the James P. Roque Community Center with a formal topping

off celebration. This new center adds 5000 square feet to Resilient

Retreat's campus, which is slated for a grand opening

this fall. This space will serve as the gathering hub for

classes, lectures, treatments, exercise classes, workshops,

luncheons, mingling, and more.

Resilient Retreat is situated on 84 acres of conservation

land: a nature-centered backdrop that is key to Resilient

Retreat's mind/body/spirit approach to healing.

Once the new facilities open, Resilient Retreat will

provide expanded services for survivors of abuse,

first responders, and helping professionals to heal the

impacts of trauma on the mind, body, and spirit.

Congratulations to Dr. Sidney Turner, Resilient

Retreat's founder and chair of their board of directors.

For more information about Resilient Retreat, visit

www.ResilientRetreat.org.

Join us in welcoming the new

Executive Director of the Sarasota

Farmers Market, Amber Rusch.

Amber was born in Colorado

Springs and is a new resident of

Sarasota. From arranging Pride

events to working in property management

to running a childcare

facility, she has experience working

with people from all walks of life.

She left Colorado (and a Corporate

Management job) in search of

a more fulfilling opportunity for

her family in Florida. Stop by the

Market's booth and say hi the next

time you're there on Saturday.

Amber Rusch

Dr. Sidney Turner

Photo by Evelyn England

Louise Bruderle | Editor and Publisher |

westcoastwoman@comcast.net

We welcome your thoughts and comments on this column and on other columns and features in this issue.

You can reach us at westcoastwoman@comcast.net. We're on the web at www.WestCoastWoman.com.

4 WEST COAST WOMAN APRIL 2022
---
Tummy Tucks — Breast Lift —

Breast Augmentation — Liposuction

OPTIMIZE

YOUR

RESULTS

Arm & Thigh Lifts — Fat Grafting —

Coolsculpting — Body Sculpting

Sovereign Plastic Surgery

Alissa M. Shulman, M.D., F.A.C.S.

Board Certified Plastic Surgeon

1950 Arlington Street • Suite 112 • Sarasota

941- 366-LIPO (5476)

www.sovereignps.com

941-373-6300

Sarasota Downtown

1727 2nd Street, Suite 1,

Sarasota

941-739-2400

Lakewood Ranch

8614 St. Rd 70E, Suite 102,

Bradenton

TimeSaverFitness.com

Offering a super-slow high intensity

strength training program twice a week,

20 minutes, amazing results!

Schedule your Complimentary

Introduction Session TODAY!

KEEP YOUR BODY FIT & STRONG

Eunice Okun

"93 Years Young and Feeling My Best"

"Within a few months of starting my two weekly twenty-minute

workouts, I could feel the difference. Each session gave me

a sense of true accomplishment. And, my trainers are always

encouraging, answering my questions and addressing areas of

concern. After three years at Time Saver Fitness, I've regained

strength, increased my coordination and am more toned than

I have been in years. And, now, at the age of 93, I'm enjoying a

healthy, active, independent lifestyle!"

— Eunice Okun

APRIL 2022 WEST COAST WOMAN 5
---
Cosmetic • Regenerative

Cosmetic Regenerative

& Restorative Gynecology

Restorative Gynecology

Painless In-Office Labiaplasty

BioTe® Painless Hormone In-Office Pellet Labiaplasty Therapy

BioTe® O-Shot® Hormone & Ouchless Pellet Therapy PRP

Laser O-Shot® Vaginal & Ouchless Rejuvenation® PRP

Laser Clitoral Vaginal Hood Rejuvenation®

Reduction

Clitoral Majora Hood Lift | Mons Reduction Lipo

ThermiVa® Majora (non-surgical Lift | Mons rejuvenation) Lipo

ThermiVa® (non-surgical rejuvenation)

Effective treatments for:

Effective Low treatments Libido for:

Menopause Low Libido Symptoms

Menopause Lichen Sclerosus Symptoms

Urinary Lichen Incontinence

Sclerosus

Urinary Incontinence

Personalized GYN Care

Personalized GYN Care

Treat YOUR Flower to Special Care

Treat YOUR Flower to Special Care

See Our Transformation Gallery at VisionaryCentreForWomen.com

See Our Transformation Gallery at VisionaryCentreForWomen.com

Dr. Jennifer S. Hayes, DO, FACOOG

Dr. Board Jennifer Certified S. | Hayes, Specializing DO, FACOOG in Cosmetic Gynecology

25+ Board years Certified vaginal | Specializing surgery in experience

Cosmetic Gynecology

25+ Beverly years Hills vaginal trademarked surgery experience

techniques

Beverly Hills trademarked techniques

727.403.0573

727.403.0573

info@drjenniferhayes.com

info@drjenniferhayes.com

Trust our

Technology

elōs Plus

Vbeam

IPL

Schedule a skin analysis, we can:

Reduce redness Tighten wrinkles

Lighten pigment Brighten your look

Remove hair

Stars on the Rise

Building on our Legacy

941-306-1202

ArtistSeriesConcerts.org

NATALIE HELM, cello | JESSE MARTINS, piano

April 17, 3 pm • April 18, 7 pm

Fischer/Weisenborne Residence

For these two performers, the exploration of non-standard repertoire from

familiar composers and uncharted genre-crossing territory were highlights

of the creative period we called "quarantine." Hear their quarantine

creations and learn how the virtual world influenced and inspired their work.

Benefit from our Technician

Gwen DeBergalis

Call today for

your appointment!

Dermatology of Coastal Sarasota

5310 Clark Rd., Suite 201, Sarasota

941.925.3627

DOCSofSarasota.com

KENDRA COLTON, soprano | KAYO IWAMA, piano

April 20 • 6 pm performance followed by dinner

Plantation Golf & Country Club

Kendra Colton last appeared with Artist Series Concerts in 1997

as part of our very first season! Joining her in this musical "homecoming"

is the distinguished pianist and Colton's frequent collaborator, Kayo Iwama.

This project is sponsored in part by the State of Florida, Department of State, Division of Arts and Culture and the Florida Council on Arts and Culture (Section 286.25, Florida Statutes).

6 WEST COAST WOMAN APRIL 2022
---
out &about

Special Events

The Sarasota County Democratic

Party has its annual Kennedy-King

Dinner on Sunday, April 3. U.S. Congresswoman

Val Demings will be the

keynote speaker and will also receive

the Champion Award for her efforts to

improve public safety and civil rights

for all Americans. Also addressing

attendees will be the three Democratic

gubernatorial candidates: U.S.

Congressman Charlie Crist, Florida's

Commissioner of Agriculture and

Consumer Services Nikki Fried and

State Senator Annette Taddeo.

The Kennedy-King Dinner will

be held at the Hyatt Regency Hotel in

Sarasota, 5:30-9 p.m. Cost is $150. To

register, call the Sarasota County Democratic

Party headquarters at 941-320-

8825 or go to www.sarasotadems.org .

t

SPARCCle on the Links golf tournament

will once again take place at

Plantation Golf and Country Club in

Venice on April 21. The event offers

lots of prizes and all proceeds support

the free and confidential programs

and services that Safe Place

and Rape Crisis Center (SPARCC)

offers to survivors of domestic and

sexual violence.

Players can also participate in a hole

in one, longest drive, closest to pin,

putting contest, cannon launcher and

a gift auction. Registration begins at

11.00 am with a shotgun start at 12:30

p.m. Golfers will have a box lunch and

snacks. Cash prizes will be awarded at

the end of the tournament.

For more information, visit www.

sparcc.net/events or call 941-365-

0208 ext. 124.

t

Make a difference in the life of

someone with dementia when you

support ArtCenter Manatee's biennial

fundraising event: Snatch It, art and

more for grabs. On April 9 from 6-10

p.m., join ArtCenter Manatee in Downtown

Bradenton for its biggest fundraiser

of the year. It's your chance to

grab a prize with a value of at least $250

all while supporting children's art education

programs and Arts & Healing for

adults with dementia.

Prizes include original art, jewelry,

golf packages, gourmet dinners,

sports tickets and lots more. Don't

miss the fun and your chance to win

big. Food, music, open bar, and a

great prize, all for $125.

Or watch the fun and help build

the excitement for $45 as a "Cheerer"

while you enjoy food, music and

the open bar. Deanne King, a news

channel 8 reporter, is the emcee.

Get tickets by calling 941-746-2862

or at https://artcentermanatee.org/

snatch-it-art-more-for-grabs/

t

After a two-year hiatus, the Hats &

Heels & Bow Ties Luncheon, benefiting

Turning Points, is back.

Hats & Heels & Bow Ties is on

May 20, 11:30am-1:30pm at GROVE

Restaurant, Patio and Ballroom. This

annual event was canceled in 2020 and

2021 due to the coronavirus pandemic.

Hats & Heels & Bow Ties centers

around a friendly interactive competition

between the guests. Celebrity

judges score the guests on several categories

regarding the guests' hats or

fascinator, and/or heels or flats and/or

bow ties. Guests attend the luncheon

wearing a hat or fascinator of their

creation or purchased. They can also

wear special or unique heels or flats.

t

And lastly they can

also wear a special

or unique bow tie.

Prizes are awarded

to the winners.

Tickets are $60

and included is a

glass of prosecco/

champagne, a

sit down lunch,

dessert and photo

booth pictures.

Guests arrive

early to enjoy and

shop all of the raffle

prizes. Go to

https://tpmanatee.org/events/

for more information

and to purchase

tickets.

The Sarasota

Cuban Ballet

School is celebrating

its

10th Anniversary

with two

events. Join them

on April 12 for

the Sarasota

Cuban Ballet

School's 10th Anniversary Gala

Performance featuring guest artists

from the Washington Ballet and their

award-winning pre-professional

dancers. The program includes highlights

from Swan Lake Acts 2 and 3,

plus other classical and contemporary

works. The gala performance will

take place at 7:30 pm at the Manatee

Performing Arts Center, 502 Third

Avenue West, Bradenton.

They'll continue the 10th Anniversary

Celebration at an open house on

April 16 from 2-4 p.m. at their new

home at 4740 Cattlemen Road in

Sarasota. All are invited to tour the

space and enjoy light refreshments and

informal performances by the students.

https://tickets.flculturalgroup.org/

TheatreManager/1/tmEvent/tmEvent1152.html

t

Founders Day Luncheon, Sarasota-Manatee

Alumnae Chapter of

Sigma Sigma Sigma, is a national

sorority and all Tri Sigma sisters are

welcome to attend on April 9 at Tara

Golf and Country Club, Bradenton,

11:30 a.m.-2:30 p.m. They're celebrating

their 25th anniversary as a

local chapter. For more info and to

RSVP, go to http://sarasotamanatee.

trisigma.org/founders-da.

t

The Sarasota Tiger Bay Club will

welcome David Brooks, Author, The

Second Mountain, The Road to Character

and The Social Animal, New

York Times Columnist and major

political and social analyst to the

May 5 luncheon at Michael's On East.

Brooks holds several positions as a

commentator: Bi-weekly Op-Ed columnist

for the New York Times, Regular

analyst on PBS NewsHour and

NPR's All Things Considered.

For ticket information, go to www.

sarasotatigerbay.com. Doors open at

11:30. Program runs noon to 1 p.m.

with book signing until 1:30. Info:

941-925-2970 or email SarasotaTiger-

BayClub@gmail.com.

t

At Mote

t

Art Uptown Gallery will feature the work of Sarasota painter Evelyn McCorristin

Peters in an exhibit entitled "The Art of Losing."

Mote Aquarium has a new exhibit

from National Geographic. SHARKS:

On Assignment with Brian Skerry

includes large-scale images that

highlight the work of National Geographic

Explorer and award-winning

photojournalist, Brian Skerry.

The exhibit runs through Aug. 7,

2022. The exhibition strives to raise

awareness about the status of sharks

around the world. Visitors can dive

into the ocean depths to swim alongside

tiger sharks, great whites, oceanic

whitetips and shortfin makos while

learning about each species' habitat

and threats they face. Additionally,

they'll get a glimpse into National Geographic's

ocean conservation efforts.

National Geographic Explorer and

award-winning photojournalist Brian

Skerry has spent more than 10,000

hours underwater exploring the

world's oceans with a camera to show

why sharks need to be protected

and appreciated as integral species

within the ecosystem. The exhibition

will include large-scale images and

videos—all highlighting Skerry's passion,

skill and life-long commitment

to conservation of the world's oceans.

Musica Sacra

of Sarasota, Inc

Ludwig van Beethoven composed

the Mass in C major, Op. 86,

to a commission from Prince Nikolaus

Esterházy II in 1807. The mass,

scored for four vocal soloists, choir

and orchestra, was premiered that

year by the Prince's musical forces in

Eisenstadt.

Although overshadowed by Beethoven's

immense Missa Solemnis,

it has an emotional impact and directness

that the latter work lacks.

It will be performed on April 25 at

7 p.m. at First Presbyterian Church

Sarasota.For information, call (941)

374-0940 or visit https://www.musicasacrasarasota.org/beethovenmass-in-c-major.

t

Choral Artists

t

Listen to the Earth is on Sunday,

April 24 at 5 p.m. at Sarasota Opera

House. The Earth is speaking loud and

clear. Choral Artists celebrates Earth

Day with a world premiere of a spectacular

new work by James Grant, featuring

baritone

soloist Marcus

DeLoach, The

Women's Ensemble

from Parrish

Community High

School and the

Choral Artists

singers with a full

orchestra.

The program

also includes a

setting by Ola

Ojeilo of Walt

Whitman's

poem, Song

of the Universal

and a stunning

instrumental

work by

Ralph Vaughan

Williams, The

Lark Ascending

with violinist

Daniel Jordan,

concertmaster of

the Sarasota Orchestra.

Program:

• James

Grant Earth –

Poem of Thanks

to Our Common Home

• Ralph Vaughan Williams The Lark

Ascending – Daniel Jordan, violin

soloist

• Ola Ojeilo Song of the Universal

• James Grant Listen to the Earth

– World premiere

For more information, visit www.

ChoralArtistsSarasota.org.

At The Van Wezel

Coming up:

• An Officer and a Gentleman (April 6-7)

• Terry Fator: Who's The Dummy

Now? (April 10)

• Mansion Of Dreams Starring Illusionist

Rick Thomas (April 11)

• Johnny Mathis: The Voice of Romance

Tour (April 12)

• South Pacific (April 14-15)

• Fiddler on the Roof (April 19-21)

• Il Divo: Greatest Hits Tour (April 22)

• Diana Krall (April 23)

• Motown with a Twist (April 26)

• Boz Scaggs: Out of the Blues Tour

2022 (May 4)

• One Night of Queen starring Gary

Mullen and the Works (May 7)

Tickets can be purchased at www.

VanWezel.org, by calling the box office

at 941-263-6799.

t

Lots of Fun

Outdoor Events

The Palm Avenue First Friday

Walks in downtown Sarasota gives

art lovers a backdoor peek without

the hustle and bustle of the crowds

but with the cool breeze and moonlight

sky the evening brings. The

event is held the first Friday of every

month, running 6-9 p.m. The next

ones are on April 1and May 6. Info:

https://palmave.com/

t

Start your Saturday with a sunrise

stretch at The Sarasota Farmers Market.

They've partnered with Pineapple

Yoga Studio to bring free, weekly

sunrise yoga to downtown Sarasota.

Participants meet at the Mermaid

Fountain in Paul Thorpe Park, near

the Intersection of Pineapple and

Lemon Avenues. Starting at 7 am,

participants will enjoy a gentle yoga

flow suitable for all ages and levels.

t

The weekly 45-minute yoga practice

will focus on movements that foster

inner and outer balance.

The practice is led by Claudia Baeza,

a Kripalu trained yoga instructor and

the owner of Pineapple Yoga + Cycling

Studio, located nearby in Burns

Court. For information, call 941-225-

9256 or visit sarasotafarmersmarket.

org/yoga

Morning Paddles with Mote—Start

your day off right with a guided kayak

tour of Sarasota Bay. Paddle across

shallow seagrass beds and take in the

wildlife that depends on this ecosystem.

Soak up some sun as you look for

dolphins, manatees, birds and more.

Offered on April 3, 17 and May 1.

More info at: https://mote.org/experiences/details/kayaking-with-mote.

t

On the Lawn: Bay Park Yoga is

held every Saturday morning 9-10

a.m. on the lawn outside of the Van

Wezel. Relax, stretch and enjoy a

fulfilling yoga session on the Sarasota's

scenic bayfront while instructor

Erin Hurter guides you. Participants

should bring their own yoga mat.

t

Nia is a body-mind-spirit fitness

program for any age. Practiced barefoot

to music, Nia combines martial

arts, healing arts and dance to create

a workout that is whole body conditioning.

Classes available Tuesdays

and Thursdays at 9:30am on Siesta

Key Public Beach near the yellow lifeguard

chair, 948 Beach Rd, Sarasota.

Bring towel for final stretch and

water to hydrate. This is a donation-based

class; $5 suggested donation

or class cards 10/$120. https://

kathyoravec.com/nia/

t

Arts Advocates has walking tours.

Here's their schedule:

• April 7, 10:30 - noon: Downtown

Cocoanut Avenue Area Walking Tour

• April 14, 10:30 am -noon: Sarasota

City Hall Area Walking Tour

• April 21, 11 a.m.-noon: The Architecture

of Mote's New Aquarium

• May 11, 11 am -noon: Manatee Performing

Arts Center Backstage Tour

The Arts Advocates walking tours,

organized and led by art lovers and

docents Judy Levine, Stephenie Frasher

and Nanette Crist, offer participants

an opportunity to learn about Sarasota's

public art legacy, individual works,

and the artists who created them.

Reservations required: $28 per tour

for Arts Advocates members, $30 per

tour for non-members. To register for

a tour, learn more about Arts Advocates,

visit ArtsAdvocates.org.

t

Marie Selby

Botanical Gardens

Robert Mapplethorpe and

Patti Smith: Flowers, Poetry, and

Light presents the creative work

of two contemporary icons in dialogue

with nature throughout Selby

Gardens' Downtown Sarasota campus.

The immersive, multi-sensory

exhibition includes original photographs

of flowers by Mapplethorpe,

excerpts of poetry, lyrics, and music

by Smith, and new horticultural displays

inspired by their work. It marks

the sixth annual Goldstein Exhibition,

which examines major artists

through the lens of their connection

to nature. The exhibit runs to June

26 at Marie Selby Botanical Gardens,

t

continued on page 8

APRIL 2022 WEST COAST WOMAN 7
---
out and about continued

1534 Mound Street, Sarasota.

Marie Selby Botanical Gardens

is one of 12 participating gardens

across 6 countries offering "Seeing

the Invisible" which features works

by more than a dozen international

artists such as Ai Weiwei, Refik

Anadol, El Anatsui, Isaac Julien CBE,

Mohammed Kazem, Sigalit Landau,

Sarah Meyohas, Pamela Rosenkranz,

and Timur Si-Qin—including several

artists' first work in AR.

Visitors will engage with "Seeing

the Invisible" via an app designed

for the exhibition downloadable to

smartphones and tablets. The exhibition

fosters collaboration between

institutions, artists, and audiences,

highlighting the power of art to connect

people around the world. "Seeing

the Invisible" runs to August 31

at the Historic Spanish Point campus.

Information: www.selby.org.

Live Music

ensembleNewSRQ (enSRQ), the

innovative chamber music ensemble

has WAVES which features this

season's final co-commission by

Sebastian Currier (a Hermitage Artist

Retreat fellow). Based on the eponymous

novel, The Waves, by Virginia

Woolf, this work for soprano, small

ensemble, and electronics, reflects

the thoughts of different women

and girls—from a young child to

an 80-year-old woman—ultimately

representing just one woman's life

unfolding over a single day.

"WAVES" is paired with Anna Thorvaldsdottir's

"Entropic Arrows," and

"firn," the second work of enSRQ's

season exploration of Yaz Lancaster's

music. Held on April 18, 8 p.m. at

First Congregational Church 1031 S.

Euclid Ave., Sarasota. More information

and tickets at www.ensrq.org.

t

Aviva Senior Living is continuing

its Amicus Classical Concert Series.

The concerts are free and open to the

public as well as residents of Aviva.

April's concert will be on April 12

at 1:30 p.m. and will feature Huffang

Chen, violinist and Tao Lin, Steinway

pianist. They will be welcoming spring

with a violin/piano recital titled "Joy

of Spring." The program will feature

the most popular sonata for violin and

piano by Beethoven, The Spring Sonata,

along with other classics.

Each concert will be held at Aviva's

Kretzmer Center, 1951 N. Honore

Ave., Sarasota. To RSVP, call Melinda

Haney at 941-702-2597 or at mhaney@

avivaseniorlife.org.

t

Art Exhibits

Creative Liberties has their Collaboration

Project - an exhibition of

collaborative works by the Creative

Liberties studio artists. The event is

on April 7, 5:30-7:30 p.m. Featuring

the artwork of Donna Bergman,

Jenny Berry, Lisa DiFranza, Barbara

Gerdeman, Elizabeth Goodwill,

Traci Kegerreis, Sandy Koolkin, Judy

Levine and Jay Li.

■ Creative Liberties Artists Studios

are located at 901B Apricot Ave.,

Sarasota. Info: 941-799-6634. Visit

www.creativeliberties.net.

t

Sarasota Art Museum has Danner

Washburn: Effigy through May

8, 2022. Effigy : Hemric envisions a

parallel existence for a living tobacco

farmer in the Yadkin Valley of

t

The Van Wezel has Diana Krall on April 23. Tickets: www.VanWezel.

org, or call the box office at 941-263-6799.

North Carolina. This

region, where tobacco

growth, production,

and sales once thrived,

was fractured by the

deregulation of the

market, leaving many

of its farmers destitute.

This devastating reality,

experienced by the

region as a whole, led

Danner Washburn (b.

1994, North Carolina)

to investigate the lives

of various tobacco

farmers that endured

this "apocalypse."

Rather than signifying

the end of something,

here, "apocalypse"

represents a shift

in existence. Washburn

became interested in

what elements and psychologies

of the culture

remained and changed

as a result of this undoing.

While some

farmers abandoned

the trade, others, such

as Hemric, adjusted

and now sustain their

practice through the

support of government

payments. The farmers

adapted mentally, as

well. In efforts of survival,

certain attitudes

were fortified within the Yadkin Valley,

such as the distrust of outsiders.

This notion of hiding, or insularity,

still pervades the region, camouflaging

the impact actually withstood.

Washburn's immersive installation,

Effigy: Hemric, uncovers these

hidden realities by imagining how

this particular farmer's lived experiences,

traumas, beliefs, and traditions

would manifest in a physical

space. To construct this domestic

shelter, Washburn scavenged the

local landscape—its roadside piles,

woods, and second-hand stores—

for items that recall the culture and

familiarities of the Yadkin Valley

region. These objects, both natural

and manufactured, were then transformed

by the artist to recreate the

intimate spaces of Hemric's home.

Also at the Museum, Felix Gonzalez-Torres

runs through May 15, 2022.

Gonzalez-Torres (1957-1996, Cuba)

used everyday materials, such as lightbulbs,

paper, and candy, to engage

viewers in deeper consideration of intrapersonal

and cultural issues. After

moving to New York City in the early

1980s, Gonzalez-Torres joined Group

Material, a community-based artist

collaborative that repositioned the relationship

between artist, artwork, and

viewer through direct involvement and

education. Gonzalez-Torres conveyed

this intention in his own practice

through works that challenged the notion

of what defines art and how people

should experience it.

"Untitled" (L.A.) is one of the artist's

candy spill works that employs

the familiar and alluring material of

candy—its eye-catching reflective

wrappers, irresistible sweetness, and

comforting nostalgia. The artist invites

us to activate our senses to foster

a profound, corporal relationship

with the art object. Gonzalez-Torres

insisted there be trust between artist

and viewer, whereby the artwork

serves as the neutral ground between

the two. He also trusted in the power

of the artwork itself. Rather than

dictating a single narrative, Gonzalez-Torres

left his work untitled,

allowing viewers the space to see,

think, and feel what is true to their

own experience.

■ Sarasota Art Museum is at the Ringling

College Museum Campus, 1001

South Tamiami Trail, Sarasota. https://

www.sarasotaartmuseum.org/visit/

Art Uptown Gallery will feature

the work of Sarasota painter Evelyn

McCorristin Peters in an exhibit entitled

"The Art of Losing." Evelyn shares,

"I am an artist being challenged by our

recent times and personal challenges. I

had fallen into a time of confusion and

hesitation. New ideas and visions come

from a place of genuine breathing

room, yet we often attempt to muscle

ourselves around our own sense of

perfection. I had feared I would fall

behind. This work represents my ongoing

journey back to a new definition of

creativity. I have stepped into a time of

no judgment and rest. The world will

still know I am here."

■ The Art of Losing exhibit runs

through April 29. Art Uptown Gallery

is located at 1367 Main Street,

Sarasota. Call 941-966-5409 or

visit www.artuptown.com.

t

t

Arts Advocates has special exhibits

of members' works through

April. These pop-up shows run in

conjunction with the main Sarasota

Art Colony artists exhibit and can be

viewed Saturdays from 2-5 pm.

Tony Reinemann's exhibit runs

through April 16. Fine arts painter

Reinemann's oil paintings have been

described as a blend of social and

magic realism that evoke a highly exaggerated

Edward Hopper in a Hitchcock

film. With multiple themes running

throughout his works, his sharply

defined visuals tell stories limited

only by the viewer's imagination.

■ Arts Advocates Gallery is located

in The Crossings

at Siesta Key, 3501 S.

Tamiami Trail,

in Sarasota. To learn

more, visit ArtsAdvocates.org.

The Harmony Gallery

features local artists

showcasing their

work in solo exhibitions

throughout the

Orchestra's season.

The next artist is Tony

Reinemann. His

exhibition is called

Night Gallery and is

inspired by Hopper,

Renaissance Perspective

and Film Noir.

Reinemann has created

vivid, eccentric,

nighttime portraits of

his hometown NYC for

more than 35 years. A

graduate of the School

of Visual Arts where he

received the Rhodes

Family Award for Excellence

in Arts. Tony's

works have been

shown at the National

Academy of Design,

the Whitney Museum

of American Art and in

a variety of galleries.

Additionally, Tony has

worked extensively in

the field of illustration and digital imagery.

His creativity has been displayed

in advertising campaigns for global

consumer products.

■ The Harmony Gallery is in the

atrium of the Beatrice Friedman

Symphony Center at 709 North

Tamiami Trail, Sarasota. The exhibitions

are free and open to the public.

Runs through May 27. For more

information, visit https://www.sarasotaorchestra.org/about/community/harmony-gallery.

t

t

M A R A Art Studio + Gallery presents

"About Face... From Portraiture

to Abstract" a solo exhibit by

Craig Palmer. Palmer is a classically

trained artist who spent over 30 years

specializing in traditional oil portraits.

After decades of soul searching,

he began to explore the integration

of realism and abstraction

by taking the skills and knowledge

he learned as a realistic artist and

applying them to abstract painting.

Craig is a full-time artist who creates

paintings that reflect his love for the

environment by utilizing the colors,

shapes and textures found in nature.

■ 1421 5th St Suite A, Sarasota. Info:

https://www.marastudiogallery.com/

t

Art Center Sarasota's new exhibitions

through April 30:

• Osa Atoe: "The Sea is Alive in Me"

is a collection of wheel-thrown

functional and decorative ceramic

vessels inspired by the Gulf of Mexico

and historical water storage pots.

• Philomena Marano: "Signs & Wonders"

Featuring works created from

a cut paper process that straddles

painting and graphic design. These

vibrant compositions evoke the visual

poetry and exhilaration of Coney

Island and the thrills of the circus.

• Susan Sidebottom: "A Place In

The Sun" Sidebottom's photography

explores humanity, offering a

deeper understanding of the connection

between people and their

circumstances.

• Juried Exhibition: Annual Members

show juried by Barbara Banks

and Katherine Bzura.

■ Art Center Sarasota, 707 N. Tamiami

Trail, Sarasota. For information,

visit www.artsarasota.org or call 941-

365-2032.

SPAACES Foundation has these

exhibit:

April: "The Queue: Beyond The Surface,"

a solo exhibit by Nneka Jones .

Opening reception: April 15, 6-8 p.m.

Exhibition dates: April 16- May 7. By

appointment only.

The SPAACES Foundation is a notfor-profit,

with an evening of food,

music, art and more. The Princeton

street corridor is a growing community

of warehouses converted to

working art studios. Anchored by

the SPAACES foundation, this little

neighborhood has evolved into a premier

location for contemporary and

conceptual artists.

■ Contact marianne@spaaces.art or

at 941-374-3492.

t

Island Gallery West's Artist for

April is Pat O'Neill. Hi exhibition is

entitled "Art from the Heart" and

runs April 1-30. O'Neill is a selftaught

artist from Dora, Alabama

who has lived in Bradenton since

2005. His medium of choice is acrylic

paintings. He also specializes in custom

wall murals.

He draws his inspiration to paint

from a wide variety of subjects—from

ocean and beach scenes to wildlife,

people and western scenes.

Join them for a Holmes Beach Art

Walk reception on April 8, 5:30-7:30

pm. Have a chat with Pat and view

his exhibit as well as all Island Gallery

West members' work. Enjoy

drinks and bites, and live music by

Chip Ragsdale.

■ Island West Gallery is located at

5368 Gulf Drive in Holmes Beach,

Trolley Stop 15, on Anna Maria

Island.Visit www.islandgallerywest.

com or call 941-778-6648.

t

Artist Series

Concerts of

Sarasota

Here's what's coming up:

• April 7, 11 am performance; 12:15

pm luncheon at Bird Key Yacht

Club, Sarasota. Max Tan, violin

with Joseph Holt, piano: Taiwanese-American

violinist Max Tan is a

past winner at Artist Series Concerts

National String Competition, an

alumnus of the Perlman Music Program

and a member of the Sarasota

Orchestra.

• April 17, 3 pm; Monday, April 18, 7

pm at the Fischer-Weisenborne residence.

John Kaneklides, tenor with

Joseph Holt, piano. Kaneklides is an

award-winning young tenor who has

made numerous appearances with

Opera Tampa, the St. Petersburg

Opera Company and Choral Artists

of Sarasota, among others. He made

his Carnegie Hall debut in April 2019

performing in Georgia Shreve's Don

Quixote. Refreshments will be served.

• April 20, 6 pm dinner followed by

the performance at Plantation Golf

& Country Club, 500 Rockley Boulevard,

Venice. Kendra Colton, soprano

with Kayo Iwama, piano. Colton last

continued on page 10

8 WEST COAST WOMAN APRIL 2022
---
healthier you

Psychological Benefits of

Quitting Tobacco

It's the single most important thing you can

do to improve your health

COMPOUNDING PHARMACY & WELLNESS CENTER

Transfer to Sarasota's

Most Trusted

Compounding Pharmacy!

We create custom dosages in unique modalities based

on patient needs and doctor recommendations

Pain Management • Wound Care • Adrenal/Thyroid

Podiatry • Dermatology • Dentistry • Pediatrics • Veterinary

Join Our

Compounding

Family!

$25 OFF

Your First Rx Transfer

Mention ad for offer

Ask us about creating a customized medication for you!

Gummies • Lollipops • Topical Creams

Sublingual Drops • Pet Treats • and more!

Specializing in Bio-Identical Hormone Replacement Therapy

FREE

SHIPPING

Serving Sarasota for over 40 years!

2075 Siesta Drive • M-F 9:30am - 5:30pm

941.366.0880 www.sarasotarx.com

Gerry Letendre RPh, MBA, CHt

According to the British Medical Journal, smoking cessation is associated

with reduced depression, anxiety, and stress and improved positive

mood and quality of life compared with continuing to smoke. 1 There may

be some initial feelings of stress and anxiety as an individual adjusts to

a tobacco free life, however, research supports that those feelings are

a temporary result of changing habits and adjusting to new behaviors.

Q

uitting tobacco is the single

most important thing

you can do to improve

your health. 4 As soon as

an individual quits, the

body begins to heal 3 however, the benefits

of quitting are not limited to improvements

in physical health – there are

numerous psychological benefits as well.

According to the British Medical Journal,

smoking cessation is associated with

reduced depression, anxiety, and stress

and improved positive mood and quality

of life compared with continuing to

smoke. 1 There may be some initial feelings

of stress and anxiety as an individual

adjusts to a tobacco free life, however,

research supports that those feelings are

a temporary result of changing habits

and adjusting to new behaviors.

Tobacco cessation services provided

during addictions treatment enhances

rather than compromises long-term sobriety.

In fact, participation in smoking

cessation efforts while engaged in other

substance abuse treatment has been associated

with a 25% greater likelihood

of long-term abstinence from alcohol

and other drugs. 2

Smoking is associated with suicide

risk, and the heaviest smokers have

the highest risk. Quitting smoking improves

overall quality of life which positively

impacts mental health, including

suicide risk. 5

In addition to improvements in mental

health, there are numerous benefits to

physical health that accompany quitting

tobacco. Quit tobacco today and join

many other ex-tobacco users as they

savor these benefits for years to come!

Help quitting tobacco is free!

Gulfcoast South Area Health Education

Center (GSAHEC), as part of the

Group Quit option of Tobacco Free Florida's

Quit Your Way program—offers free

group quit sessions to help someone

quit all forms of tobacco. These group

sessions held virtually and in-person,

provide information about the benefits

of quitting, managing stress and triggers,

and will assist you with developing

your own customized quit plan.

Free nicotine replacement therapy in

the form of patches, gum, or lozenges

(if medically appropriate and while supplies

last) is provided with the session.

Attendees will also receive a participant

workbook, quit kit materials, and follow

up support from a trained tobacco

treatment specialist. Contact us today at

866-534-7909 or visit www.tobacco

freeflorida.com/groupquitcalendar

to schedule a class or learn more

about the program!

Reference:

1 Change in mental health after smoking cessation:

systematic review and meta-analysis, Taylor et al.

https://www.bmj.com/content/348/bmj.g1151.

2 Catherine Theresa Baca, M.D., Carolina E. Yahne,

Ph.D. Smoking cessation during substance abuse

treatment: What you need to know, Journal of

Substance Abuse Treatment, 36 (2009) 205–219

3 https://www.cancer.org/healthy/stay-awayfrom-tobacco/benefits-of-quitting-smokingover-time.html#

4 https://www.cdc.gov/tobacco/features/surgeongenerals-report/quit-smoking-for-better-health/

index.html

5 Tools to Quit: Area Health Education Center

(AHEC) Cessation Program Participant Toolkit.

Area Health Education Centers. 2018.

PAID ADVERTORIAL

APRIL 2022 WEST COAST WOMAN 9
---
out and about continued

appeared with Artist Series Concerts

in 1997 as part of the organization's

very first season. Joining her in this

musical 'homecoming' is the distinguished

pianist and Colton's frequent

collaborator, Kayo Iwama. A versatile

singer who performs repertoire from

Baroque opera and oratorio to contemporary

music, Colton's program

will feature English and American

Art Song from the 20th Century.

• April 30, 7 pm at State College of

Florida Studio for the Performing

Arts, 5840 26th Street W., Bradenton.

Antonio Chen Guang, piano. Winner

of the first Olga Kern International

Piano Competition, the Scriabin

Prize and the Rome Prize amongst

other international awards, pianist

Antonio Chen Guang combines

extraordinary technique, a precociously

mature musical sensibility

and exceptional onstage charisma.

Chen Guang is the first of three Artist

Series Concerts season artists to take

part in State College of Florida's "Pianopalooza!"

– their piano festival running

April 30-May 8. Most festival concerts

will be held in the recital hall of SCF's

new Studio for the Performing Arts.

• May 4, 4 pm at Sarasota Opera

House. Lin Ye, piano with Daniel

Jordan and Samantha Bennett, violin;

Rachel Halvorson, viola; Natalie

Helm, cello; John Miller, double

bass. Artist Series Concerts welcomes

the return of pianist Lin Ye, a

former winner of the organization's

2017 National Piano Competition.

Ye dazzled two sold-out pre-pandemic

audiences in Sarasota last

year with an all-Beethoven program.

This time, Ye performs piano

concerti by Bach, Mozart and Chopin

with principal string players

from the Sarasota Orchestra. Ye's

performance is part of State College

of Florida's Pianopalooza festival,

taking place April 30-May 8.

For more information, visit www.

ArtistSeriesConcerts.org

Venice Symphony

Venice Symphony has Fantasy,

Firebird, and Fabiola on April 22-23.

Hailed by the New York Times as

"playing with extraordinary precision

and luminosity," violinist Fabiola

Kim solos on Ralph Vaughan

Williams' The Lark Ascending. Wagner's

Ride of the Valkyries and music

from Chariots of Fire and How to

Train Your Dragon lead to our season's

scorching finale, Igor Stravinsky's

The Firebird Suite.

Rescheduled from 2020 at the VPAC,

and not part of the subscription series

is Songs from the Screen and Stage

with Linda Eder May 6-7. Broadway

and recording star Linda Eder joins

The Venice Symphony for an unforgettable

concert of classics from Broadway

and Hollywood. Eder has been

called "one of the greatest voices of our

time" and routinely sells out performances

all over the Country.

Location: Venice Performing Arts

Center, 1 Indian Ave, Venice. Tickets:

https://www.thevenicesymphony.org/

t

Sarasota Orchestra

Pops 3: Unforgettable: The American

Songbook

April 8, 7:30 pm, April 9, 2:30 pm

and 7:30 p.m. at the Van Wezel

Sean O'Loughlin, conductor with

Nick Ziobro & Julia Goodwin, vocalists.

Ziobro and Goodwin serenade

t

with the tunes Nat King

Cole was talking about

when he crooned "Unforgettable."

Pops conductor

Sean O'Loughlin leads

this program of romantic

anthems and cherished

jazz standards from the

early 20th century, including

Frank Sinatra's "Come

Fly with Me" and Etta

James' "At Last."

• Chamber Soirée 8:

Quintessential Clarinet

April 10, 4 p.m. at Holley

Hall. Inspired by the poem

"A Psalm of Life" by Henry

Wadsworth Longfellow.

Program: Coleridge-Taylor

– Clarinet Quintet; Brahms

– Clarinet Quintet

Sarasota Orchestra Principal

Clarinetist Bharat

Chandra champions his

versatile instrument in a

program of paired quintets,

buoyed by Henry

Wadsworth Longfellow's

"A Psalm of Life." Black

British composer Samuel

Coleridge-Taylor was inspired

to write his own clarinet

quintet after hearing

Brahms' masterful work for

the same instrumentation.

Although Brahms had announced

his "retirement" from composing

in 1890, hearing a performance

by the phenomenal clarinetist Richard

Mühlfeld led him to believe that

perhaps he had more to say after all.

Many consider the resulting chamber

work to be Brahms' most profound.

Sad and wistful at its core, Brahms'

Clarinet Quintet is an exquisite gift

from a mature artist near the end of

his life to generations of clarinetists

(and listeners).

• Great Escapes 6: Saddles of the Silver

Screen

April 20-23 at Holley Hall with Enrico

Lopez-Yañez, conductor. Grab

your cowboy boots and hat for a ride

through the soundtracks of beloved

TV and movie Westerns. Enrico Lopez-Yañez

leads the musical caravan of

selections from The Lone Ranger, Annie

Get Your Gun, Silverado, and more.

• Outdoor Pops: Iconic Songs of the '70s

May 6-7, 8 p.m. at Ed Smith Stadium

with Christopher Confessore, conductor

and Swearingen & Kelli, vocalists.

Grab your bell bottoms and come

out to the Orioles' Ed Smith Stadium

for a night of music from a time when

"catch you on the flip side" referred to

vinyl records.

Sarasota Orchestra backs the vocals

of Nashville-based duo Swearingen

& Kelli, who recreate the magic of

'70s singer-songwriters such as James

Taylor, Carole King, Neil Diamond,

Joni Mitchell, and more. Get yourself

some ballpark fare, kick back in the

stands, and enjoy the Orchestra performing

from the field. A spectacular

fireworks display closes out an evening

of hits and home runs.

Tickets available now at the Orioles'

Box Office, by phone at 941-893-

6312, or at Orioles.com/arts.

For the other concerts, www.SarasotaOrchestra.org

La Musica International Chamber Music Festival has

events through April 13. The season kick-off event, and the

first concert with special guest pianist Wu Han, will celebrate

the legacy of co-founder and associate artistic director Derek

Han, who passed away in April of 2021.

Photo By Lisa-Marie Mazzucco

At Fogartyville

Coming up;

• Denise King "Falling In Love With

You" South Arts Jazz Road Southeastern

Tour is on April 24. Influenced

by Sarah Vaughan, Nancy

Wilson, Frank Sinatra, and Aretha

Franklin, Denise King is an expressive,

big-voiced vocalist that combines

jazz with elements of R&B,

Blues and Gospel.

Tickets: https://wslr.org/event/

denise-king-falling-in-love-withyou-south-arts-jazz-road-southeastern-tour/

• Poets Unplugged #3: An Evening

of Spoken Word and Music is on

April 9. Local poets are invited to

participate in the Open Mic prior to

the featured poet performance. Featured

performers will be the

members of Black on Black Rhyme

Tampa Chapter. Doors open at 7

p.m.; open mic at 8 p.m.; featured

performer at 9 p.m.

Tickets: https://wslr.org/event/

poets-unplugged-an-evening-of-spoken-word-music/

• Lily Topples The World Documentary

Film Screening on April

26 follows 20-year old sensation

Lily Hevesh – the world's most acclaimed

domino toppler and the

only girl in her field – as she rises

as an artist, role model, and young

woman. Filmed for over 3 years

across countless cities and featuring

appearances by Jimmy Fallon, Katy

Perry, Will Smith, YouTuber Casey

Neistat, and a steady stream of Gen-Z

creators, this is a coming-of-age story

cloaked within a unique portrait of

an artist, a story of how passion and

creativity can make dreams come

true, and an unlikely American tale

of a quiet Chinese adoptee.

Tickets: https://wslr.org/event/lilytopples-the-world/

Fogartyville Community Media and

Arts Center, Kumquat Ct. Sarasota.

Perlman Music

Suncoast

The Perlman Music Program

Suncoast presents PMP Alumni:

t

Around Town featuring

the Ariel Quartet

on April 9 at 7

pm at Temple Sinai, 4631

S. Lockwood Ridge Rd,

Sarasota.

Distinguished by its

virtuosity, musical insight,

and impassioned

performances, the Ariel

Quartet has garnered

critical praise worldwide

for more than twenty

years. Its members first

met in Israel in 1998 and

in 2000, officially formed

as a quartet in Jerusalem

as part of a chamber music

class at the Jerusalem

Academy Middle School

for Music and Dance.

The Ariel Quartet first

visited the Suncoast in

2009 to present education

outreach programs

in Sarasota and Manatee

schools. During the 2013-

2014 season, the Quartet

- its members not even 30

years old - delighted audiences

with a performance

of the complete cycle of

Beethoven String Quartets,

presented in six concerts

over three months. They

returned for a concert at

the Sarasota Opera House in 2015 and

their last live performance in the area

was at the Venice Performing Arts Center

in 2016. In 2021, Perlman Suncoast

presented a virtual recital featuring the

Quartet as part of our PMP Alumni: At

Home series.

Repertoire for the evening will include

Ludwig van Beethoven's String

Quartet No. 10 in E-flat major, Op.

74, ("Harp") and Béla Bartók's String

Quartet No. 5. A Q&A with the artists

will follow the performance. Tickets:

$40 (plus a $2 service charge).

The Perlman Music Program Suncoast

also presents "Strings in the

Garden" – A Special Evening with

the Ariel Quartet on April 7 at 6:30

p.m. at Michael's on the Bay at Marie

Selby Botanical Gardens. Tickets are

$125 and may be purchased at PerlmanSuncoast.org/Strings

.

To celebrate the patronage and

generous support it receives from

the community, Perlman Suncoast

invites the public to this springtime

special event featuring the world-renowned

Ariel Quartet. "Strings in the

Garden," at Michael's on the Bay, begins

at 6:30pm with wine, champagne

and hors d'oeuvres served on the outdoor

terrace and on the patio below,

with unobstructed views of Selby's

gardens and the sun setting over the

bay. Guests will then be seated in the

ballroom for a private performance

by the Ariel Quartet at 7:30pm. A dessert

reception will follow the concert,

where guests may meet with the artists

and with each other.

Repertoire for the evening will include

Hugo Wolf's Italian Serenade for

String Quartet, and selections from

Beethoven, Bartok and Dvorak string

quartets. Tickets: $125 sold at PerlmanSuncoast.org/Strings

At The Ringling

On exhibit is "As long as there is

sun, as long as there is light." Selections

from the Bring Gift and The

Ringling Collection of Modern and

Contemporary Art. The exhibition

t

runs through Aug. 13, 2023, in the

museum's Searing Wing.

Highlights include an important

minimalist work by Anne Truitt and

a monumental work on canvas by

Gene Davis, both artists affiliated

with the Washington Color School,

an art movement during the 1950s to

1970s in Washington D.C., made up of

abstract expressionist artists.

Additional work represent a generation

of prominent artists who

work, or have worked, in abstraction,

including Clement Meadmore, Jules

Olitski, Beverly Pepper, Rebecca Salter,

Kenneth Snelson, and Yuriko Yamaguchi,

among others. Also on view

are sculptures and paintings by African

American and Latin American

artists from The Ringling collection,

including William Edmondson, Eduardo

Mac Entyre, Omar Rayo, Baruj

Salinas, and Joyce de Guatemala.

The Ringling has Haitian-Canadian

artist Rhodnie Désir for the world

premiere of her first gallery installation,

Rhodnie Désir: Conversations

in the Ringling's Monda Gallery. In

her multidimensional choreographic

career, dancer/choreographer Rhodnie

Désir created BOW'T TRAIL, a

choreographic-documentary journey

in which she has conducted research

throughout the Americas since 2015.

Her work included visits to countries

such as Martinique, Brazil, Haïti,

Canada, Mexico, and the United States

to immerse herself within the African

and afro descendant cultures and

rhythms generated from the ingenuity

of her ancestors since the Slave Trade.

The John and Mable Ringling Museum

of Art also has Eleanor Merritt:

Remembrance, running through

Aug. 21. The exhibition celebrates the

life and artwork of Merritt who was

a volunteer at The Ringling for many

years as a docent and board member.

She also served as president of the

Venice Art Center and was active in

other arts organizations as well. Eleanor

died in 2019 leaving a legacy of

art and public service.

This exhibition is dedicated to her

spirit and creativity and represents a

small sample of a significant body of

work the artist created over her long career.

The exhibition highlights her creative

use of materials, movement between

figuration and abstraction, and

her commitment to women's rights.

Arriving in Sarasota in the 1980s,

Eleanor exhibited widely in Florida.

Her final exhibition in 2017 at the

Arts & Cultural Alliance celebrated

her 60 years of painting. In 2013, she

received national recognition with an

exhibition at the Houston Museum of

African American Culture.

The John and Mable Ringling

Museum of Art, 5401 Bay Shore Rd.,

Sarasota. Info: www.ringling.org.

Theatre

Asolo Rep has the world premiere

of Knoxville (April 15-May 11). This

moving and innovative musical features

lyrics by Lynn Ahrens, music

by Stephen Flaherty (songwriting

team behind Anastasia and Once

on this Island) and is adapted and

directed by Frank Galati, reuniting

the Tony Award-winning creative

team behind the musical Ragtime.

Knoxville is based on James

Agee's Pulitzer Prize-winning autobiographical

novel A Death in the Family

and based, in part, on the play All

The Way Home by Tad Mosel.

t

continued on page 13

10 WEST COAST WOMAN APRIL 2022
---
Saluting Unsung Heroes

40th Women in

Power Event

A celebration of women who have made

a positive impact on the lives of others in

Sarasota and Manatee Counties

O

n May 4, National

Council of Jewish

Women (NCJW)

Sarasota Manatee

Section will honor the

"Unsung Heroines" who kept us

going through the Covid-19 Pandemic.

These women have given

their time, energy and skills to

help others by providing childcare,

teaching, preparing and distributing

food, caring for the home

bound, and addressing the medical

needs of many underserved communities,

and more.

Team (a coalition of nonprofits in

Sarasota and Manatee counties)

represented by Jo-oni Jones and

Odessa Ammons, Multi Health

Institute, Annaliese Camino-

Klingener, Unidos Now, Rebecca

Forero, Gulf Coach Latin Chamber

of Commerce, Evelyn Almodovar,

Manatee Healthy Teens Coalition,

Stacey Campo, New College,

Lavergne Green, the Links Janice

Booher from Resilient American

Communities and Michelle Jones,

the Howard Club.

We follow #SafeArtsSarasota

health and safety protocols

Adriana Perez

Angela Perez-Garcia

Elyse Gordon

Katressa Wilson

Maria Somera

Teresa Martin

The Women In Power Luncheon

is scheduled for Wednesday, May

4 at 11:30 a.m. at Michael's on East,

in Sarasota. The event will mark

NCJW's 40th annual celebration of

women who have made a positive

impact on the lives of others in

Sarasota and Manatee Counties.

Honorees include: Adriana

Perez, Unidos Now, Angela Perez-

Garcia, Bay Shore Elementary

School in Bradenton, Katressa

Wilson and Maria Somera,

Children First, Teresa Martin

and Elyse Gordon, Aviva Senior

Living, Multicultural Action

National Council of Jewish

Women strives for social justice

by improving the quality of life for

women, children, and families.

For more information, to purchase

tickets and/or to become a sponsor,

call (941)342-1855 or go to

ncjwsarasota-manatee.org.

The deadline for reservations is

Monday, April 25.

APRIL 2022 WEST COAST WOMAN 11
---
Be ready for spring with a beautiful new dress and handbag.

We have a delightful collection of flowing dresses and breezy resort

wear that is perfect for warmer weather. Shop now to view our new

and consigned fashions for spring.

April 8, 7:30pm • FIRST PRESBYTERIAN CHURCH

April 9, 4pm • ST. BONIFACE EPISCOPAL CHURCH

April 10, 4pm • VENICE PRESBYTERIAN CHURCH

A genre-bending fusion of Bluegrass and folk meets choral music!

Featuring the tight vocal harmonies and virtuosic playing of The Lubben Brothers –

the brothers specialize in sublime vocals as well as a unique blend of folk instruments

including banjo, mandolin, tin whistle, accordion, hammered dulcimer, and fiddle.

DESIGNING WOMEN

BOUTIQUE

DesigningWomenSRQ.org

1226 North Tamiami Trail, Sarasota • 941.366.5293

A 501c3 Benefiting Local Arts & Human Services Organizations

Purchase your tickets today at:

KeyChorale.org

941.552.8768

12 WEST COAST WOMAN APRIL 2022
---
out and about continued

Tickets: asolorep.org or call the Box

Office at 941-351-8000.

Florida Studio Theatre has

The Legend of Georgia McBridee's

young, he's broke, his landlord's

knocking at the door, and he's just

found out his wife is going to have

a baby. To make matters even more

desperate, Casey is struggling with

his gig as an Elvis impersonator in

a run-down, small-town Florida

bar. When the bar owner brings in

a B-level drag show to replace his

act, Casey finds that he has a whole

lot to learn about show business—

and himself. Starts April 6 in FST's

Gompertz Theatre.

Tickets: FloridaStudioTheatre.org or

call the Box Office at (941) 366-9000.

t

t

At Venice Theatre:

• Alter Eagles—April 24 at 7:30 p.m.

and April 25 at 2 and 7:30 p.m.

This tribute to The Eagles includes

all their greatest songs, from their

earliest classics like "Take It Easy,"

"Desperado," and "One of These

Nights" to huge hits like "Heartache

Tonight" and "Hotel California."

• Simply Streisand—May 1 at 7:30

p.m. and May 2 at 2 & 7:30 p.m.

Multiple award winning Tribute

Artist, Carla Del Villaggio, has entertained

across the country from

Miami to Las Vegas to New York

City. She has the look and sound of

the incomparable Barbra Streisand.

From the hair down to the trademark

nails, and wearing meticulously

detailed replicas of iconic

concert gowns, she is "Simply Streisand"

in every way.

Tickets: https://venicetheatre.org/

They're located at 140 Tampa Ave.,

Venice.

Manatee Performing Arts

Center has:

• Tim Boyd Comedy Show on April

9 at 7:30 p.m. Tim has lived in

Bradenton for eight years, but was

born and raised on the prairies of

South Dakota. His squeaky clean

humor comes from real life. He just

wrapped up a Midwest tour though

South Dakota, Nebraska, and Iowa.

• TITANIC-The Musical (Musical)

opens April 28.

• Murder at the Juice Joint presented

by DraMature (Interactive Theater)

is on May 4 at 5 p.m.

Manatee Performing Arts Center,

502 Third Avenue West, Bradenton.

Ticket/Box Office: 941-748-5875.

t

Westcoast Black Theatre Troupe

(WBTT) is honoring the significant

contributions of African Americans

over the years on the "Great White

Way" with "Broadway in Black."

WBTT salutes that genre with an

original revue by Nate Jacobs that

was first presented in the summer of

2017. Sing along with your favorite

songs from award-winning shows

and breakthrough roles that helped

launch the careers of such African-American

artists as Melba Moore

in "Purlie," Ben Vereen in "Pippin,"

Jennifer Holliday in "Dreamgirls,"

and Nell Carter in "Ain't Misbehavin."

Jacobs will direct; resident

choreographer Donald Frison will

take the production to the next level

with thrilling new choreography.

Show runs through April 24. Call

the Box Office at 941-366-1505 or

visit westcoastblacktheatre.org.

t

At Urbanite Theatre:

A Skeptic and a Bruja

by Rosa Fernandez

and directed by Patrice

Amon running April

1 – May 1. A World Premiere

produced in collaboration

with freeFall

Theatre. Priscilla buys

a home in the middle

of nowhere with the

hopes of turning it into

a lucrative bed and

breakfast. When she

starts having paranormal

experiences, she

calls Sam and Jess from

the hit ghost-hunting

show "A Skeptic and a

Bruja" to help her. None

of the women are prepared

for the haunting

they encounter next.

t

La Musica

International

Chamber

Music

Festival

La Musica International

Chamber Music Festival has

events through April 13. Four concerts

will be held at the Sarasota Opera

House. The season kick-off event, and

the first concert with special guest pianist

Wu Han, will celebrate the legacy

of co-founder and associate artistic

director Derek Han, who passed away

in April of 2021.

The Concerts:

• April 3 - Derek Han Memorial

Concert. Celebrate the legacy of

La Musica's co-founder and associate

artistic director Derek

Han. His friends and colleagues,

including special guest pianist Wu

Han, perform the music he loved.

• April 6 - Innocence and Illicit Passion.

The 15-year-old Mozart celebrated

completion of his second set

of string quartets by composing his

sunny first viola quintet. One hundred

years later, Franck created his

piano quintet, secretly dedicated to

his young lover. Is passion audible?

• April 10 - Strut and Fret. Grammy

Award-winning guitarist Jason

Vieaux returns to perform in contemporary

and Classical quintets,

contrasted with the lush Dvořák

quintet for piano and strings.

• April 13 - From Darkness Into

Light. Mozart's dark and stormy

piano quartet may have deterred

its publisher, but it showed the way

from the Classical to the Romantic

– so Tchaikovsky owes Mozart

(and Florence) for his inspiration.

This souvenir is beyond festive –

think 1812 without the cannons.

For the safety of guests and La

Musica musicians, the venue for the

Musical Chefs Dinner on April 11

has been changed from Michael's

Wine Cellar to the outdoor atrium at

Michael's On East.

Due to scheduling conflicts, open

rehearsals will now be held at both

the Bayfront Community Center at

the Sarasota Municipal Auditorium

and at the Sarasota Opera House.

Festival rehearsal passes are valid at

both locations. Rehearsal schedule

can be found at LaMusicaFestival.org

For more information: LaMusica

Festival.org

t

Venice Symphony has Songs from the Screen and Stage with

Linda Eder May 6-7 at Venice Performing Arts Center. Tickets:

https://www.thevenicesymphony.org/

Sarasota

Contemporary

Dance

Next up is Cuban Project running

April 28-May 1, "Mi Historia, Tu Historia,

y Nuestra Historia" (My Story,

Your Story, Our Story). It was shortly

after 1959 when Fidel Castro began

nationalizing industries, closing

churches, and sending children to

study on collective farms in the Soviet

Union. Desperate parents, much

like my own maternal and paternal

grandparents, sent their unaccompanied

children to the United States

with the hope to protect them and

eventually reconnect in the near

future. Through movement and live

music, this production explores personal

stories, decision-making, displacement,

and the Cuban-American

experience. https://www.sarasotacontemporarydance.org/

t

Sarasota Ballet

Program 7, "Serendipitous Movement"

will be performed April 29 –

30 at the Sarasota Opera House.

Program: Serenade—Choreography

by George Balanchine with music

by Pyotr Ilyich Tchaikovsky; The

Letter V (Company Premiere) with

Choreography by Mark Morris; music

by Joseph Haydn

And Elite Syncopations with Choreography

by Sir Kenneth MacMillan;

music by Scott Joplin et al.

Info at www.SarasotaBallet.org or

call 941-359-0099.

t

Bookstore1Sarasota

On April 22 they'll have Jarred

McGinnis, one of the UK's 10 best

emerging writers, who will chat about

and sign his new novel The Coward.

McGinnis grew up on Siesta Key

and graduated from Riverview High

School. He currently lives in Marseille,

France. This in-person event is

at their new store at The Mark, 117 S.

Pineapple. Tickets are $8.

The Coward is a startling and intimate

debut novel which explores

t

disability, masculinity,

family and love as

an estranged father

and son struggle to

reconcile.

More event info

at https://www.sarasotabooks.com/events

or

941-365-7900. More

info: 941-365-7900.

Book Banning to be

focus of Poetry

Life 2022 featuring

poets Carolyn Forché

and Pádraig Ó Tuama

with journalist Charlayne

Hunter-Gault.

Book banning and state

directives over what

materials teachers may

bring into the classroom

and what books

librarians may place

on the shelves is a fact

of life now in Florida,

Tennessee and Texas.

PoetryLife 2022

goes online at 8 pm on

April 21. Usually held

in front of in-person

audiences in Sarasota,

PoetryLife will be held

on Zoom this year in

order to open up the discussion to

the entire country.

The event is free. The Zoom link will

be sent to those who RSVP at https://

poetrylife2022.eventbrite.com

Meetings

The Venice Area Women's College

Club invites you to a lunch/

speaker on April 12, 11:30 a.m. at

the Plantation Golf & Country Club,

500 Rockley Blvd, Venice. The speakers

are Cheryl Mendelson, CEO and

Sasha Housman of the Van Wezel

Foundation. They will give updates

on the new Performing Arts Center

on the Bayfront.

The club supports two college educational

scholarships and gives

non-perishable food to the South

County Food Pantry. To inquire

about club membership and/or lunch

reservations ($25), call 309-635-3058.

t

Lectures

New College Foundation's next

New Topics lecture is "The Many

Angles of Shark Conservation" and

will be on April 21 via Zoom. New

College professor Dr. Jayne Gardiner

and alum Melissa Cristina Márquez

explore how both research and outreach

are vital when determining

the fate of one of our planet's oldest

predators: sharks. Gardiner and her

students use advanced tagging techniques

to identify local nursery areas

and study how young sharks use

these habitats, which are thought to

be critically important for management

and conservation, especially for

threatened and endangered species.

This work informs the selection of

future marine preserves and protected

areas for imperiled species. Across

the world in Australia, PhD candidate

Márquez also uses marine technology

to understand shark habitat

use (such as underwater video cameras

and drones). Once she pinpoints

the most critical environments for

sharks here, she figures out how the

local community feels about sharks

by analyzing ongoing media coverage

and how their attitude can lead to

t

conservation success or failure in the

area. Is there hope for these rapidly

disappearing animals?

Tickets are $10. Registration required

and can be made at ncf.edu/

new-topics or by calling 941-487-4888.

Reservations must be made at least 48

hours in advance to allow for processing

and receipt email for Zoom link.

Farmer's Markets

The Sarasota Farmers Market

is open on Saturdays with normal

hours of 7 am-1 pm, rain or shine.

http://www.sarasotafarmersmarket.

org/ (941) 225-9256

t

Venice Farmers Market has more

than 40 vendors on Saturdays, many

based during the week in Venice,

Englewood and other areas of Sarasota

County. Held at Venice City Hall, 401

W. Venice Avenue, Venice. Call (941)

445-9209 or visit https://www.thevenicefarmersmarket.org/site/

t

The Newtown Farmer's Market is

open from 10 a.m. to 5 p.m. every Friday

and Saturday. The market is located

at Dr. Martin Luther King Jr. Park,

at the corner of Cocoanut Avenue and

Dr. Martin Luther King Jr. Way.

t

Bradenton Farmer's Market

offers fresh produce, local art, music,

demos by local chefs, and family

activities. Parking is free on weekends,

and dogs on leashes are welcome.

Held every Saturday through

May, from 9am – 2pm, on Old Main

Street in downtown Bradenton, 400

12th St. W. Bradenton. Old Main

Street is a tree-lined retail district of

cafes and restaurants running three

blocks north from Manatee Avenue to

the Manatee River, where it meets the

Bradenton Riverwalk.

t

The Phillippi Farmhouse Market

is Sarasota's mid-week farmers

market. The Farmhouse Market is

open from 9-2 every Wednesday

through April at Phillippi Estate Park,

just a little south of Sarasota on 41.

Over 50 vendors offer produce

and plants from local growers and

producers, as well as prepared

foods, specialty and sustainable

items, and Florida agriculturally-related

products. Food and

produce vendors at the Phillippi

Farmhouse Market are required to

be growers to support the market's

mission of promoting local agriculture.

The market is easily accessible

from US 41 and has plenty of free

parking and live entertainment.

t

The Farmers Market at Lakewood

Ranch is now at Waterside

Place. Their Farmers Market currently

has about 60 vendors and

went this past summer from a

seasonal market to a year-round

event.When the market transfers to

Waterside Place, taking up space

all along Lakefront Boulevard and

Kingfisher Lake, more than 80 vendors

will line the street.The Farmers

Market will stick to a 10 a.m. to 2

p.m. time slot on Sundays. Update

t

Note:

Be sure to send season

schedules for 2022 to

westcoastwoman@comcast.net

t

APRIL 2022 WEST COAST WOMAN 13
---
The suncoast's ONLY

BBQ restaurant with

CATERING in our DNA.

Lori Sax Photography

F

Olks stIll ask, "Do you cater?"

that's how I launched Nancy's

Bar-B-Q in 2004. today, we are

the number one independent BBQ

caterer across the suncoast.

Our menu showcases fresh smoked meats and fillet of salmon,

plus many vegetarian, gluten friendly and vegan choices to

accommodate all your guests.

From an intimate dinner for twelve to a church picnic for 700:

Our 18 years of experience assures your peace of mind and

a delicious and memorable occasion. In short, we are the

catering choice requiring no explanation.

YOU WIll RECEIVE MY PERsONal attENtION from initial

contact through pick up or delivery. It will be my pleasure

to talk with you! Call me at 941-955-3400, or email me at

NancysBarBQ@verizon.net.

nancy's

BAR-B-QTM

#1 Local Genuine BBQ since 2004

SM

Lakewood Ranch at Lorraine Corners

14475 SR 70 E at Lorraine Rd 34202

4 miles east of I-75 exit 217

941-999-2390

FULL BAR HAPPY HOUR 11AM-7PM MON-FRI

LIVE MUSIC FRI-SAT 6:30-9:30PM + 1st & 3rd SUNDAYS 3PM-7PM

OPEN 11AM 7 DAYS

CLOSE 9PM MON-THURS 10PM FRI-SAT 8PM SUN

LUNCH • DINNER • TAkE OUT • CURBSIDE PICk UP • CATERING

Go to NancysBarBQ.com for CATERING & DINING MENUS

Voted

BEST BBQ

10th

Consecutive

Year

14 WEST COAST WOMAN APRIL 2022
---
focus on the arts

W

ho

TRIPLE CROWN

Artist Series Concerts presents three pianists as part of

PIANOPALOOZA Festival

❰❰ Antonio Chen Guang

among

us can

resist a

piano?

Even if you have never had

a single lesson, it can be

almost impossible to resist

the urge to plunk out a few

notes as you pass by an

instrument, whether it be

in a living room, a practice

room, or on a street corner.

If you count yourself among

the universe of music lovers

who have an affection for

the king of all instruments,

and those who can bring it

to life, you will not want to

miss the inaugural Pianopalooza

Festival, offering

six days dedicated to pianos,

pianists and the magic

that can be coaxed from

those 88 keys.

Headquartered at the

newly opened Studio for Performing

Arts located on State

College of Florida's Bradenton

campus, Pianopalooza was the

brainchild of pianist and composer

Don Bryn, adjunct professor

of music theory at SCF, in

conjunction with Artist Series

Concerts and Sarasota Music

Conservatory. The goal was to

provide a festival where pianists

of all ages and abilities could

gather, listen, learn and share

their love of the instrument.

Whether you are a high school

student wanting to perform in a

masterclass with a world class

concert pianist or compete for

cash prizes, a retiree looking

for like-minded piano lovers to

play and bond with, or simply a

music lover wanting to take in

performances by gifted professionals,

the six days of events

between April 30-May 8 offer something

for everyone.

Artist Series Concerts will sponsor

performances and masterclasses by three

world class pianists during the festival, beginning

on Saturday, April 30 with a 7 pm

recital by Antonio Chen Guang. Hailed

by Russian virtuoso Vladimir Ashkenazy

as "an excellent pianist and a very intense

musician," Guang has been a winner of numerous

international piano competitions,

including the first Olga Kern International

Piano Competition, the Scriabin Prize

and the Rome Prize. He has performed in

many of the world's most prestigious concert

halls, in recital and with orchestras

worldwide. His performance at the SCF

Studio for Performing Arts will include

music by Beethoven, Liszt, Chopin and

Schumann. The following day, May 1 at

1:30 pm, Guang will teach a masterclass

for area piano students. Local piano teachers

can submit requests for their students

to perform in the masterclass, and Guang

will choose the performers, based upon

repertoire.

Church of the Palms will be the venue

for a performance by Ying Li, the second

of Artist Series Concerts' guest artists,

on Thursday, May 5 at 4 pm. Winner of

the 2021 Young Concert Artists Susan

April 30-May 8

❰❰

Ying Li ❱❱

Vieness Piano Duo:

Eva Schaumkell and

Vijay Venkatesh

PAID ADVERTORIAL

Wadsworth International Auditions and

the inaugural Antonio Mormone International

Prize in Italy, 23-year-old Ying

Li has received top awards in numerous

national and international competitions,

including first prizes at the Artist Series

Concerts' National Piano Competition,

Brevard Music Festival solo and concerto

competitions and the International Liszt

Piano Competition for Young Pianists. On

May 4 she will perform a program that

includes Mozart's famous Piano Concerto

#23 in A Major and Dvořák's Piano Quintet

#2, alongside principal string players of

Sarasota Orchestra. The following day

she will also offer a masterclass for local

students.

As if 88 keys were

not sufficient, the

closing recital on

May 8 at 3:00 pm will

offer 176 of them!

The SCF Performing

Arts Studio will again

be the venue for the

final recital program

featuring the Vieness

Piano Duo. Pianists

Eva Schaumkell and

Vijay Venkatesh, both

gifted, award-winning

performers in their

own rights, have combined

forces to bring

to the stage some of

the extraordinary repertoire

for two pianos.

Their Pianopalooza

concert will include

Brahms' Hungarian

Dances and Saint-

Saëns' Carnival of the

Animals, narrated by Robyn

Bell, SCF's Director of Instrumental

Studies. The recital

will be preceded on May 7 by a

masterclass, this time featuring

student piano duos.

In addition to these three recital

programs and masterclass

opportunities, Pianopalooza

offers piano lovers of all ages

and abilities the chance to

attend seminars on various

piano-centric topics, and bond

with other amateur pianists in

"mini-salons." Young performers

can compete in Sarasota Music

Conservatory's piano competition

on April 30th. Local music

teachers can attend an educator

reception on May 7 at 5:30 pm,

followed by a performance featuring

the winners of the piano

competition at 7:00 pm.

TICKETS for individual concerts are

$40, and other event tickets are $15. A full

festival pass can be purchased for $200.

Whether you are a seasoned professional

performer, music educator, student, enthusiastic

amateur or dedicated music lover,

you will find an abundance of both information

and inspiration at Pianopalooza!

For more information, visit: scfmusic.info/

pianopalooza or artistseriesconcerts.org.

APRIL 2022 WEST COAST WOMAN 15
---
Erin

MINOR

CEO of

Harvest House

L

T

The nonprofit that she

leads sees diverse

populations such

as veterans, young

adults 16-24, families,

single moms, adults

with a history of

incarceration and

substance abuse and

more—all needing a

place to stay, a place

to learn new skills,

a place to start over

or simply, to receive

compassion. This year

they'll open a lifeenrichment

campus

to add to their 9

supportive housing

campuses and 25

affordable rentals.

16 WEST COAST WOMAN APRIL 2022
---
It's time to find a financial advisor.

Call Amanda

941-914-1560

to schedule a

consultation.

Amanda E. Stiff, MBA, Financial Advisor

I

It's one of our area's thorniest human

services issues, but also one of its

most visible and sometimes results

in polarizing opinions ranging from

contempt to compassion with a lot in

between. But that homeless individual

walking downtown, while in need, is

just a small representation of what it means to

be homeless in Sarasota County and beyond.

There's an excellent source for understanding

the full picture in Erin Minor, the CEO of

Harvest House in Sarasota. The nonprofit that

she leads sees diverse populations such as

veterans, young adults 16-24, families, single

moms, adults with a history of incarceration

and substance abuse and more—all needing a

place to stay, a place to learn new skills, a place

to start over or simply, receive compassion.

And it's understandable that the true depth

of the homeless problem is not readily visible.

Many seeking Harvest House's services want

their privacy or simply, they're busy trying to

make ends meet or reboot their lives.

I was curious about young adults and their

situations. It was eye-opening to learn that

many are aging out of foster care and have no

place to stay. Others are leaving dysfunctional

families. Some are LGBTQ and are not welcome

at home. Others are told you're 18 and

(paraphrasing) leave and go support yourself.

The phrase "couch-surfing" at friends' places

is one I hadn't heard before, but they'll do it

to survive until they can find housing of some

sort. For young adults Harvest House offers

outreach, a drop-in center, case management,

and emergency and supportive housing, according

to their website

You may not have heard of Harvest House

perhaps because they're just so busy doing

what they do best — helping people. They have

nine campuses - places where specific groups

of people stay, but also receive what Erin calls

"wrap-around" services such as counseling,

training and a lot more. Their words for it are

"service-enriched housing."

"Over the past decade we've gone from 100 to

380 beds," she explains, and they've seen over

1,000 annually come through their doors and

in 2021, they provided 11,6781 "bed nights."

This year they'll open a life-enrichment

campus to add to their 9 supportive housing

campuses and 25 affordable rentals. According

to their website, "The Life Enrichment

Campus will be a highly visible pillar of

strength for people who are looking for purpose,

home, health, and community. This

building development will be the first infrastructure

expansion that is exclusively

focused on the wrap-around support services

that are so crucial to client success."

So, I conclude they're kind of like Salvation

Army, kind of like SPARCC, kind of like the

Food Bank, First Step and many other agencies.

The key difference is Harvest House does it all.

"Collaboration is big," Erin explains, "We

have our own affordable housing stock, but

we're only one agency and our rentals are

full." She explains that she and other agencies

have weekly "triage" calls where they discuss

specific families and where they can go and

who has space for them.

If that's not enough, they contract with

the Florida Department of Corrections and

the Sarasota County jail offering residential

recovery and housing — things that are almost

impossible to get if you're leaving jail or

prison. Some with substance abuse challenges

work during the day and live at Harvest House

because it gives them continuity and someone

to support them in their recovery.

You could call Harvest House the "family

business" if the business deals in caring for

humanity, that is. Her parents, Jim and Peggy

Minor, founded Harvest House in 1992.

They started by offering a food pantry at their

church (which is called simply "Harvest")

where they're both pastors. Quickly thereafter

they were offering six beds for men in recovery

from substance abuse. They believed that a

church, as Erin tells it, "should be a solution,

not a problem."

Erin oversees a staff of 26 who are kept very

busy by the most labor intensive part of what

Harvest House does: supportive housing. And

speaking of housing, the current local spike in

rent has brought more people to them. "Our

calls are up 52% in the last three months. Unfortunately,

we don't have a lot of answers."

And that's because Harvest House is usually

full "with over 100 applications waiting, which

causes others not to apply," she explains.

She's spoken to Sarasota County Commissioners

about the problem and is hoping that

part of the upcoming $25 million coming from

the American Rescue Plan Act (ARPA) will be

used for affordable housing. Some think $20

an hour is decent pay — at first — "but when

60% of that pay goes to housing, it's not so

great," she explains.

Erin feels service is in her family DNA. On

Saturdays, her parents would have Erin and

her siblings get up early and go collect peppers

at Hunsader Farms for their food pantry or

else they'd help clean the church. "We knew

we'd enter the service field," she explains.

In college Erin had a passion for fine art

photography then psychology. She worked at

Coastal Recovery while in college and found

the experience to be "an eye-opener." Her dad

needed a secretary at Harvest House, but that

didn't work out she says with a laugh, "because

we're very similar." Instead, she worked

at Harvest House's Women's Recovery Program

"and 15 years later, here I am," she states.

You can tell Erin is high energy by the

brightness in her eyes, her engaging way of

speaking and self-deprecating laugh. She's

learned to pace herself and has brought yoga

instructors to Harvest House for staff to experience

and to also help them with their stress.

As their website states, "Our programs are

not a handout. Instead, they offer a hand-up

to those willing to engage and work towards

independence. We believe that personal responsibility

is a key component of success for

the families, youth, veterans, and individuals

we serve." As a sign of their growth, Harvest

House has added two full-time staffers to create

a development and marketing component.

Erin credits foundations like Gulf Coast

Community Foundation, Community Foundation

of Sarasota County and the Barancik

Foundation for their invaluable support plus

donations from private donors and community

members who believe in their work.

When the new building opens this fall, it

will be about case management, not housing,

but as Erin explains it's more about "the intangibles

- that people feel loved and respected.

So often we see ourselves as the 'hospital' for

the emotions of humanity." Erin wants Harvest

House to be where "the love is louder and

the light is brighter."

There's a great line from their website that

sums Harvest House up, "We want to be the

last transitional center an individual or family

enters." You could also add and a place where

they leave feeling loved.

Erin stresses that the best way to learn about

what they do at Harvest House is to take a tour.

For more about Harvest House and to schedule

a tour, visit https://harvesthousecenters.org/

Exhibit at Art Center Sarasota

Be sure to view the exhibit on homelessness in

Sarasota at Art Center Sarasota. Photographer

Susan Sidebottom's photo exhibit illustrates

people working hard, but "being left behind in

terms of affordable housing," she said.

With her exhibit "A Place in the Sun," Sidebottom

shows humanity - not victims - in her

sensitive photos. A portion of the proceeds

from the exhibit will go to Harvest House.

Shaelina Holmes, Harvest House's chief operating

officer, assisted with the project.

The exhibit runs to April 30. Art Center

Sarasota is located at 707 N. Tamiami Trail,

Sarasota. Visit https://www.artsarasota.org/

onview.

STORY:

IMAGES:

Louise Bruderle

Evelyn England

FREE LIVING WILL

WITH EVERY ESTATE PLAN

Simple Will ................................... $ 110

Revocable Living Trust:

Single ....................... $ 595

Married ................. $ 1,050

Power of Attorney ........................ $ 95

Health Care Surrogate .................. $ 85

No additional costs required other than filing fees if applicable.

www.gerlinglawgroup.com

1800 Second Street Suite 895 Sarasota, FL 34236

1305 Langhorne Road Lynchburg, VA 24503

AccessAdvisorsLLC.com 941 914 1560

Astiff@AccessAdvisorsLLC.com

Securities are offered through Level Four Financial, LLC a registered broker dealer and member of FINRA/SIPC. Advisory Services are offered

through Level Four Advisory Services, LLC, an SEC-registered investment advisor. Level Four Financial, LLC, Level Four Advisory Services, LLC

and Access Advisors, LLC are independent entities. Neither Level Four Financial, LLC, Level Four Advisory Services, LLC nor Access Advisors,

LLC offer tax or legal advice.

Dana Laganella

Gerling, Esq.

Offices: Bradenton/

Lakewood Ranch

756-6600

The hiring of a lawyer is an important decision that should not be based solely upon advertisements. Before you decide,

ask us to send you free written information about our qualifications and experience.

APRIL 2022 WEST COAST WOMAN 17
---
W

hile some of the most

We Are Crazy About Our

NATIONAL PARKS

well-known national parks

again had record visitation

in 2021, numbers across the

entire National Park System remained

below pre-pandemic totals according to

their visitation statistics.

Of 423 parks in the National Park

System, just 25 received more than 50

percent of the system's total 297.1 million

recreation visits in 2021. Last year's visitation

increased by 60 million over 2020

when COVID-19 shuttered facilities in

most parks for at least part of the year.

Numbers (and visitors) however, are

expected to take off this summer and

fall as the country moves more to a

post-pandemic world.

As you plan your travel, take advantage

of the search feature on the NPS website to

search by state, activity and topic– to

discover a hidden gem or two but also how

busy the park is and if you can make reservations

or purchase passes in advance.

Also be sure to download the NPS

App from the iOS App Store or Google

Play Store to find up-to-date information

about all 423 national parks. The NPS

site provides info on things like road

closures and even cell phone reception.

Park Facts

• Forty-four parks set a record for recreation

visits in 2021

• Six parks broke a visitation record they

set in 2020

• Blue Ridge Parkway remained the

most-visited park in the National Park

System.

• Great Smoky Mountains National Park

set a visitation record in 2021 and

passed 14 million recreation visits for

the first time.

In 2021, three parks had more than 10

million recreation visits – Blue Ridge

Parkway, Great Smoky Mountains National

Park, and Golden Gate National

Recreation Area.

10 Most Visited Parks in

the National Park System

• Blue Ridge Parkway: 15.9 million

• Great Smoky Mountains National Park:

14.1 million

• Golden Gate National Recreation Area:

13.7 million

• Gateway National Recreation Area:

9.1 million

• Lake Mead National Recreation Area:

7.6 million

• George Washington Memorial Parkway:

6.8 million

• Natchez Trace Parkway: 6.4 million

• Lincoln Memorial: 5.8 million

• Gulf Islands National Seashore: 5.5 million

• Zion National Park: 5 million

Too Much of a Good Thing?

Due to overcrowding and too much love

from the public, many national parks

are having to limit entry and trail access

through new reservation policies,

permits and user limits.

In Utah alone, Deseret Media reports,

Blue Ridge Parkway

Gulf Islands National Seashore

"all-time visitation records were broken

at four of the state's "Mighty Five"

national parks in 2021." Totals reached

more than 11 million visitors, far exceeding

the 7.7 million recorded in 2020, the

year when visitation plummeted as a

result of the pandemic. As a result, long

lines formed at entrance gates, tailhead

parking filled quickly, roads and trails

were over-populated and some visitors

were turned away altogether.

Experts are predicting more of the

same, if not worse conditions for 2022

and beyond. So how does one truly enjoy

the serenity and wild beauty of the

backcountry without having to share it

with too many fellow travelers? "This

is the year to leave the masses behind

and experience the benefits of joining a

small group, professionally guided tour,"

says Karen Johnson of Holiday River

Expeditions, based in Salt Lake City.

Offering a variety of whitewater rafting

and mountain biking adventures from

two days to over a week long, trips are

limited in number of participants and

have real covid-wise appeal; from the

small trip sizes, to low ratios of guests

to guides on a boat, not to mention the

canyon breeze making contagions float

farther away than any indoor excursions.

By coordinating with other companies

and scheduling launches and camps

for maximum privacy while limiting

the numbers and size of groups, guests

won't have to share their wilderness river

or trail experience with unregulated

crowds flocking to similar unpermitted,

front country experiences nearby.

"What we are offering with our trips is

an escape into the backcountry without

the crowds," explains Johnson. "You can

experience Canyonlands National Park

and not have to wait in a line or worry

about getting a campsite. Our backcountry

trips require federal permits - which

regulates the number of people able to

access certain areas at any given time,

so no unpleasant surprises."

Tours are a great way to get out and

Acadia National Park

Kenai Fjords National Park

Joshua Tree National Park

enjoy the outdoors without the hassles

and crowds with guides and staff

performing all the work and heavy

lifting. Better than a single short interaction

with a park ranger or curator.

and guides who have worked in these

places for years. Better than a single short

interaction with a park ranger or curator.

For more information, visit http://

www.bikeraft.com/.

With Visitation at All-Time

Highs, Guided Trips Can Help

Americans regularly take professionally

guided tours when touring distant lands.

So why opt for a guided trip that visits

your own country's National Parks?

North American small group tour

operator Austin Adventures also offers

guided tours featuring many of America's

National Parks. "Even the die-hard

do-it-yourselfer gets it that vacationing

in a National Park these days may result

in many frustrations that could lead to

a disappointing experience. Enormous

entrance lines, crowded parking lots,

limited access to certain trails, congestion

at concessions and, literally, no

room at the inn or in the dining rooms

are just a few of many challenges," said

Dan Austin, founder of Austin Adventures.

"The pandemic has released a

pent-up demand for experiencing the

wide-open spaces that make our Parks

so attractive and healing."

Acadia, Arches, Glacier, Grand Teton,

Great Smoky Mountains and Yellowstone

National Parks all set visitor

records for attendance last year. Experts

predict the 2022 season will break these

numbers. As a response to the deluge,

eight U.S. National Parks/Monuments

will require prior reservations to enter

in 2022, and many others are seeing limited

space and competition for access.

"The best way to enjoy the Parks to

their fullest is to sit back and let the pros

do the planning, logistics and guiding. On

paper, it can seem like going guided costs

more than a do-it-yourself visit, but an

important item to factor in is your time,"

Austin adds. "When going guided, your

time is not being wasted on hours of

planning or in long lines searching for

parking, lodging or dinner reservations."

When these privileged swaths of

wilderness are seemingly overrun with

visitors, Austin Adventures' guests

experience lesser-populated trails and

vistas, and they are tucked into preferred

lodges and restaurants and kept

away from the daytime hordes that can

tarnish the backcountry experience.

Kasey Austin Morrissey, Director of Operations

& President, USA, has identified

the challenges and can't-miss experiences

in several of the nation's most beloved

National Parks and often compares the

pros and cons of do-it-yourself-planning

vs. professionally guided tours.

When vacation planning, a common

experience is getting too bogged down in

the vast amounts of information online.

About Yellowstone she writes: "The immense

hours of research and time that it

takes to curate the perfect itinerary can

be daunting and often leave you feeling

more lost than when you first started

clicking away. Google can give great guidance,

but it can't engage back with you to

uncover your exact needs, and offer the

perfect trip based on your desires."

According to Morrissey, most travelers

miss out on a huge aspect of Grand

Canyon National Park's allure. With only

1% of visitors hiking below the rim, there's

a world of opportunity for those who

choose to go guided. She states, "a guided

tour can take you and your small party

from exploring the glorious underbelly of

the canyon … to spotting prolific wildlife

roaming the grasslands and mesas above."

While do-it-yourself trip planning

could cost less money, you risk overlooking

stand-out features of a destination.

The right tour is more inclusive

than most people realize. This means

that out-of-pocket expenses can be

limited to just bar tabs, guide gratuities

and souvenirs.

Anticipating a strong surge of interest

in National Parks, Austin Adventures has

expanded the number of National Parks

its guides will navigate in 2022 to 14.

Most offer both "Adult-Only" and "Family

Focused" itineraries and departures:

• Acadia National Park, Maine

• Arches National Park, Utah

• Bryce Canyon National Park, Utah

• Canyonlands National Park, Utah

• Capitol Reef National Park, Utah

• Death Valley National Park, California

• Glacier National Park, Montana

• Grand Canyon National Park, Arizona

• Grand Teton National Park, Wyoming

• Joshua Tree National Park, California

• Kenai Fjords National Park, Alaska

• Yellowstone National Park, Wyoming/

Montana

• Yosemite National Park, California

• Zion National Park, Utah

For more info, visit https://www.austinadventures.com/

18 WEST COAST WOMAN APRIL 2022
---
APRIL 2022 WEST COAST WOMAN 19
---
TRY A THERAPY

THAT WORKS!

Immediate Relief Beginning

with the First Session:

Chronic Pain: Sciatic, Back, Neck and TMJ

Migraines, Foggy Brain and

Lack of Concentration

Sight and Eye Problems

Asthma, Bronchitis, COPD, Shallow Breathing

Digestive and Constipation Issues

Leaky gut and Autoimmune problems

Chronic Fatigue, Fibromyalgia and Depression

Concussions, Brain and Spinal Cord Health

Mobility and Energy Issues for Seniors

T. Grywinski specializes in difficult issues with great success

How Craniosacral Therapy Can Be Life Changing

"Doctors, physical therapists, massage therapists and chiros

gave me little relief. Terry relieved my pain, after all these years!

He has also helped four of my other friends. The man is an angel,

with a gift from God....thank you Terry!!"

"After 3 sessions, I had more range of motion and mobility in my

neck, shoulders and hips. I was getting to the point where walking

and moving was difficult. It feels like a weight has been lifted off my

shoulders, my voice is stronger and my energy is greatly increased.

I feel much calmer and more grounded!!"

"I no longer feel physically sick each morning. No gastroenterologist

or physician has ever properly diagnosed my mucus build up until

now. As well as bringing about healing in my gut, he released an

incredible amount of tension in my upper body."

"The question is where has he been all my life? Terry is a true healer

and if you are serious about being well, you are in luck.

He is effective and lovely."

advanced craniosacral therapy

Terrence B. Grywinski

B.A., B.Ed., LMT MA6049

25 Years of Experience

advcst.com

See full page explanation of Craniosacral Therapy and

how it can help you in another section of this issue

Downtown Sarasota • 941-321-8757

Google "Advanced Craniosacral Therapy Sarasota" for more info

Solo Female Travel

Benefits and Tips

I

f you've ever dreamed of solo

travel, here are a few reasons to blaze

your own trail and stay safe doing it.

The benefits of solo female travel

1. You'll experience unfettered

freedom

Without a travel partner to accommodate,

as a solo female traveler, you'll have

full control over what you do, where you

eat, go and stay. Everything is done on

your schedule. Sleeping in until 11 am

one day and waking up at 5 am the next?

Why not? With only your itinerary to

answer to, you'll feel a sense of freedom

hard to find elsewhere.

2. You'll make friends

It's a misconception that solo travel is

synonymous with loneliness. In fact,

it's often easier to make friends as a

solo traveler than traveling with others.

Solo travelers tend to find one another

and are often seen as more approachable

than couples, families or groups.

Traveling alone forces you to strike up

conversations with new people, translating

in new friendships, connections and

skills you can take home at the end of

your trip.

3. You'll learn to trust yourself

Embarking on a solo travel trip means

that you have to rely on your intuition

and problem-solving skills to figure out

the logistics of travel. After a few days

sorting out snags on your own you'll

develop confidence in your abilities to

adapt to changing situations.

4. You'll find clarity

When you travel alone, you're more

likely to have the ability to experience

solitude without the pressure of work or

relationship obligations. You can let your

mind wander as you hike the Tongariro

Trail, stand before the Taj Mahal or gaze

into the Grand Canyon.

5. You'll travel more

If travel is your passion, solo travel unlocks

endless possibilities. Without limiting

your travel experiences to the budget

and schedule of others, you'll be able to

travel as often as your lifestyle allows.

6. Is travel safe for solo travelers?

Plan your first trip to one of the best

countries for solo female travel. While

you can travel wherever you want to,

these are a few countries that have top

safety ratings when it comes to solo

female travelers:

• Singapore

• Finland

• Canada

• Japan

• Iceland

• Costa Rica

2. Dress to fit in

Standing out as a tourist can make you

a target of unwanted attention. In more

conservative countries, it makes sense to

dress as the locals do – especially if it involves

covering arms, legs and shoulders.

A lightweight sarong can quickly double

as a shawl, skirt or headscarf in a pinch.

3. Follow official government advice

Research the destination before you depart,

including safety recommendations.

The State Department site is an excellent

resource for specific information about

your destination including, local customs

and laws, medical access, entry requirements

and possible risks. Research the

neighborhood you want to stay in and

check out recommendations on social

media by other seasoned female travelers.

Register with the government's Smart

Traveler Enrollment Program (STEP).

This free service sends out safety alerts

for your destination and allows you to

stay in contact with government officials

and family in case of an emergency.

4. Keep in touch

Buy a phone plan with data as soon as

you arrive at a new destination. With a

working phone and power bank, you can

find your way around, download local

transport and information apps, stay in

touch with others, and call a hotel, taxi, or

emergency service if needed. Consider informing

hotel staff of your whereabouts

as well as the time you expect to return.

5. Keep your valuables on you

when you're on the move

A hidden passport holder or crossbody

bag with a zipper is your best

friend. Don't keep anything precious in

your backpack while in transit, as transit

times are when theft is most likely to

occur. When you're out for the day, only

take what you need; that way, if you lose

your wallet or it gets stolen, you're not

going to be out by too much.

6. Copy your important documents

Store copies of your documents on paper

and/or online. If your passport is lost,

stolen or damaged, you may need that

copy to secure a new passport from your

embassy. You'll also want a copy of any

relevant vaccine cards, travel insurance,

and potentially a secondary form of

identification.

7. Don't skimp on travel insurance

When picking a travel insurance policy,

read the fine print. Double-check that it

covers the destination and all activities

you'll be doing, as well as medical coverage

in the worst-case scenario.

SOURCE: Skyscanner

20 WEST COAST WOMAN APRIL 2022
---
10 money-saving travel

tips that actually work

G

et more bang for your buck

on your next trip with these

money-saving travel tips:

1

. Travel in low season

Prices jump up considerably during

school holidays. And it's not just the

summer – don't forget that Easter, fall

break, Thanksgiving and Christmastime

are also more expensive. Traveling out

of season could mean cheaper flights

and less-busy destinations.

2

. Broaden your travel horizons

Booking the right destination can

be the difference between an expensive

vacation and an affordable one. So, if

you want to go on a European ski trip,

avoid the glitzy slopes of France and

Italy and try out lesser-known resorts in

Bulgaria or Slovenia, which both offer

great skiing at a fraction of the price.

Do some research into destinations

where your home currency goes further.

Backpacker favorites like Mexico,

Thailand and Vietnam offer a good

exchange rate that enables you to feel

more relaxed while you're there.

3

. Be flexible

The price of flights can vary considerably

depending on the month, day

and time you travel, so do your research

and be flexible. Skyscanner lets you

compare flight prices across a whole

month so you can see the cheapest days

to fly. Weekends tend to be more pricey,

so book your annual leave wisely.

Since COVID, many airlines are

offering travelers fee-free flight changes

or cancellations. Search for flexible

flights to make sure you book a flight

that can be switched if travel restrictions

change unexpectedly.

4

. Consider the long way around

If you're not in a rush to reach your

destination, consider a flight with a

stopover, as indirect routes are often less

expensive. It's also worth checking the

various airports in your region, as one

might offer a cheaper fare.

5

. Pre-book airport parking

If you need to leave your car at

the airport, book your parking well in

advance. And check out all your options

– valet parking might sound like an expensive

choice, but could actually work

out cheaper than a short-stay parking

garage, especially if booked in advance.

6

. Beat the

baggage fees

Traveling light is a great

way to avoid baggage fees. No

matter where you're traveling,

you only need enough items

to see you through a week.

Consider weighing your luggage

before you leave home.

. Stay in local

7 neighborhoods

If your hotel room has

a view of the Eiffel Tower,

chances are it's going to be overpriced.

Instead, opt for a hotel outside

the typical tourist enclaves. This means

you can still enjoy all the famous attractions

during the day, but retreat to the

local haunts in the evening. Not only is

booking this way usually more affordable,

but it'll give you the chance to have

an authentic experience.

8

. Dine like a local

Not only is experiencing new

cuisines part of the joy of traveling,

but you're likely to eat far better, as

well as save money, when you eat like a

local. How? Usually it means avoiding

any restaurants with a view of a major

attraction. Side streets are your friend,

try the street food, and a little internet

research goes a long way in finding that

amazing bowl of grub for $1 that you'll

talk about for the next 10 years.

9

. Your phone is an amazing

travel tool

Your smartphone can make travel

cheaper and easier. If your network

provider doesn't give you data while

you're abroad, consider purchasing a

local SIM. Some destinations (like cities

in Japan, Croatia, and Portugal) offer

free portable WiFi or public hot spots

throughout town that you can connect

to while you're out for the day. Often,

there are local ride-sharing apps unique

to particular destinations, great for

when you need a taxi as you can save a

lot of money using the local service or

being able to price-compare.

. Save on foreign currency

10 exchange

Between ATM charges, foreign transaction

fees, and bad exchange rates, it can

cost a lot of extra money just to make

a purchase when you're abroad. When

paying by plastic, use a credit card that

doesn't charge a foreign transaction

fee. Three percent on every purchase

can add up.

For the times when you need to have

cash, withdraw from a bank-owned

ATM. There are privately owned ATMs

around the world that charge high fees

in addition to offering a poor exchange

rate. Those who travel often should keep

spending money in a bank account that

offers worldwide ATM fee reimbursements

when using your debit card.

SOURCE: Skyscanner

A Week-Long

Culinary Celebration

MAY 9-15, 2022

FOOD & WINE EXPERIENCES

A week of wine and food festivity thoughtfully presented by

our Member Restaurants! These limited-time special events will

include wine dinners, unique food-and-wine pairings, special

menus, bottle discounts, cooking classes, tasting experiences

and more throughout our Gulf Coast communities.

UNIVERSITY MASTER CLASSES

Led by a panel of world-renowned wine industry professionals,

these engaging wine seminars are always a festival highlight.

Designed for those who want an educational experience and

tastings, this year's classes will again present a rare opportunity

to learn about wines by those instrumental in crafting them.

ONLINE FOOD & WINE AUCTION

Our Virtual Paddle Raise once again promises a swank collection

of lots featuring rare and exquisite wines, international and

domestic travel, and special dining and party experiences

made possible by generous donations from friends of Sarasota-

Manatee Originals. The auction will open for preview on May 5

with real-time bidding from May 9 at 8AM to May 15 at 7PM.

Visit eatlikealocal.com

or scan the QR code

to learn more!

APRIL 2022 WEST COAST WOMAN 21
---
you're news

Accolades

■ The Van Wezel Foundation

announced Maria Schardler-Luera

as the winner of the Appleton Arts

Integration Award at its 20th annual

Inspiration Gala back in January.

The Appleton Arts Integration

Award, given annually, honors a

local teacher or educator who best

incorporated arts integration techniques

in their approach to better

the community.

Schaedler-Luera is a Brazilian-born

educator and artist with

extensive work experience and

knowledge in theater, music, arts

and literacy, and cross-cultural

engagement. In the past year, she

has facilitated and piloted drama,

mental health, mindfulness and

professional development workshops

and programs throughout

the community. Schaedler-Luera

also had the opportunity to present

her culturally relevant work at the

John F. Kennedy Center conference.

The Foundation also named

Jillianne Abbott and Talia Casey as

recipients of the Van Wezel Foundation

Merit Scholarships. They'll

receive scholarships to attend an

approved national conference in

arts integration or a local or virtual

conference, respectively.

Appointments

■ The law firm of Porges, Hamlin,

Knowles & Hawk, P.A. (PHKH) has

promoted Bryony G. Swift, Esq.,

to principal and shareholder. In

addition, the firm recently hired

Micaela Cleall, Esq., as an associate

attorney.

Swift has been with PHKH since

2013. She

joined the

firm after

earning her

Juris Doctorate

and a

Certificate

of Advocacy

from Stetson

University

Bryony Swift College

of Law. Swift specializes in condominium

and homeowners'

association law, real property litigation,

civil and business law and

litigation, landlord/tenant law and

related matters.

Cleall joined the firm as an

associate

attorney in

December

2021. She

holds a bachelor's

degree

in Business

Administration

and

Management

Micaela Cleall from Auburn

University and a Juris Doctorate

from Barry University School of Law

and was admitted to the Florida Bar

in 2021. She will assist all attorneys

at PHKH in many practice areas,

with specialization in real estate

transactions, real property law,

estate planning and probate.

Located in downtown Bradenton,

Porges, Hamlin, Knowles, & Hawk,

P.A. firm celebrated its 50th anniversary

in April, 2020.

■ Gulf Coast Community

Foundation has promoted Kelly

Carlstein to Vice President of Brand

Strategy.

Carlstein previously

served

as the Director

of Strategic

Marketing

and Public

Relations for

over three

years, and

Kelly Carlstein launched Gulf

Coast's 25th anniversary campaign

and brand. She will lead the public

relations and communications efforts

that enhance and position the

Gulf Coast brand across the region.

Before joining Gulf Coast, Carlstein

served at Healthcare Corporation

of America's (HCA) Blake

Medical Center where she worked

on the marketing and public

relations team and was involved

in marketing strategy, campaign

launches, events, and community

sponsorship and engagement.

Learn more at GulfCoastCF.org.

■ The law firm of Icard, Merrill,

Cullis, Timm, Furen, and

Ginsburg, P.A., has announced

that associates Bianca N. Manos,

Nicole M. Price, and Patrick C.

Seidensticker have been promoted

to the position of member.

Manos has a diverse practice

working in the areas of family law

and civil litigation, with a particular

focus on matters involving breach

of contract, dissolution of marriage,

child custody disputes, alimony,

paternity, prenuptial and postnuptial

agreements, and child support.

She earned her J.D. from the

University of Florida Levin College

of Law. In 2020, she was recognized

for providing 100+ hours of pro

bono work and was listed a Florida

Super Lawyers Rising Star.

Price's law practice focuses on

community association law and

general civil litigation, with additional

experience in construction

litigation, personal injury litigation,

and family law matters. She

received her J.D. from the University

of Florida Levin College of Law.

Price coordinates Icard Merrill's pro

bono program and was recognized

in 2020 for contributing 100+ hours

of pro bono work.

Seidensticker's law practice is

concentrated in the areas of commercial

real estate, land use, and property

valuation. He received his J.D. from

Stetson University College of Law. In

addition, he is co-founder of Tableseide

Restaurant Group in Sarasota.

■ The Van Wezel Foundation

has added an executive director

of education and lifelong learning

to its team as the result of a

grant awarded by the Charles &

Margery Barancik Foundation.

Kelli Maldonado, an educator and

leader in the

local, regional

and national

arts community,

will lead the

effort to prioritize

lifelong

learning at the

new Sarasota

Performing

Kelli Maldonado Arts Center.

Most recently, Maldonado

served as the director of education

and community engagement at

the Van Wezel. Prior, she held arts

and education positions at Asolo

Repertory Theatre here in Sarasota

and Manhattan Theatre Club and

New Amsterdam Theatre in New

York City.

Maldonado will continue the

Foundation's 30-year partnership

with the Van Wezel and continue to

underwrite popular, philanthropic

educational programming that

serves more than 50,000 students,

teachers and families annually,

while creating a lifelong learning

program for the new Sarasota Performing

Arts Center.

■ Beloved philanthropist Jean

Weiller continues her legacy with

a recent gift of $1 million to Boys

& Girls Clubs of Sarasota and

DeSoto Counties. Jean has been a

volunteer, a teacher, an advocate,

and a leader.

This gift is designated to build

and furnish the new Art Room and

Technology & Robotics Lab at the

soon-to-be-renovated Roy McBean

Club on the Irving and Marilyn

Naiditch Campus, renovation of the

Lee Wetherington Club's Art Room,

and the renovation and expansion

of the administrative building.

This gift, supported by

Jean Weiller with the Boys & Girls Club

discretionary funding from the

Community Foundation, will lead

to increased capacity with the

creation of state-of-the-art learning

spaces for club members and

capacity-building space for staff.

In 2016, Jean and her family

committed to give the organization

$500,000 in the form of a Matching

Challenge if they raised $1 million

in new or increased funds by 2020

which they did.

The Matching Challenge has

allowed Boys & Girls Clubs of

Sarasota and DeSoto Counties to

continue to enhance their quality

of programming for the youth they

serve. One million dollars of her

Matching Challenge gift was allocated

towards their endowment fund

and $500,000 was used to support

Club operations and new initiatives,

such as their teen program and

state-of-the-art Tom and Debbie

Shapiro Career Resource Center.

For more information, visit www.

bgcsdc.org or call 941-366-3911.

■ The Greater Sarasota Chamber

of Commerce welcomes Catherine

Roper as Vice President, following

a decade with the Ballston

Business Improvement District as

Chief Marketing Officer located in

Arlington, VA. She'll be responsible

for membership experience to connect,

promote and support 1,200

member businesses in the Sarasota

Chamber community.

Catherine brings over 25 years

of experience serving the business

community and commercial real

estate industry in the Washington,

DC, metropolitan area. In addition,

she has an extensive background in

non-profit management, marketing,

communications, event management,

and operations.

During her tenure, the Ballston

Business Improvement District was

recognized for excellence in marketing

and strategic public relations,

winning several Communicator and

MarCom awards. In 2017 she was

honored with a SmartCEO Brava

award. In her role, Catherine facilitated

two re-branding initiatives.

■ Sunshine from Darkness – a

subsidiary of the Lee and Bob

Peterson Foundation –

has hired its first-ever

full-time executive

director, longtime

nonprofit professional

Marlene Hauck.

In this role, she will

serve as the primary

spokesperson for the

cause, oversee strategic

planning and implementation,

planning

and budgeting, and

areas including fundraising,

marketing and

communications, event

oversight, and board

engagement

and relations.

The mission

of Sunshine

from Darkness

is to raise

awareness of

mental health

and addiction

disorders,

Marlene Hauck and erase the

stigma of both.

Hauck has 30 years' experience

in fundraising, donor and community

relations, client and vendor

relations. She has worked in the

nonprofit realm for more than 25

years, with 10 years of leadership

experience for two nonprofits. She

served on the board of directors of

Coastal Behavioral Healthcare and

made the transition to director of

marketing and development for

First Step of Sarasota when Coastal

and First Step merged in 2020. Other

organizations Hauck has worked

for include the Longboat Key

Center for the Arts and Suncoast

Children's Charities.

Hauck has served on the

planning committee and as event

coordinator – on a volunteer basis

– for Sunshine from Darkness since

2019, when Jeffrey Peterson, the son

of Lee and Bob Peterson and president

of their namesake foundation,

reinvigorated the Inspiring Hope

Dinner and Journey to Wellness

Symposium, events first conceived

and presented by his parents. Over

the course of 13 years, through Sunshine

from Darkness, the Petersons

raised over $5 million and served as

champions for research, treatment,

education and efforts to erase the

stigma of living with mental illness.

In November of 2021, the Inspiring

Hope Dinner raised more

than $170,000 benefiting the local

mental health and addiction programs

and services of First Step of

Sarasota, and cutting-edge research

funded by The Brain & Behavior

Research Foundation.

Sunshine from Darkness was

founded as a subsidiary of and is

underwritten by the Lee and Bob

Peterson Foundation. To learn more,

visit sunshinefromdarkness.org.

Send us your news!

Send to: westcoastwoman@

comcast.net. You will also find

more You're News on our Facebook

page West Coast Woman.

You're News will be posted on

Facebook in April so be on the

lookout to see if your name is

there! We also publish this page

on our website (westcoastwoman.

com) and in our monthly e-blast.

Want to subscribe

to our e-blast?

Send us your email address.

Send to westcoastwoman@

comcast.net.

22 WEST COAST WOMAN APRIL 2022
---
TUE, APR 5 • 8PM

In a recording career spanning three decades

and 23 albums, Grammy Award® winning saxophonist

Kenny G has woven elements of R&B, pop and Latin

music into his signature, smooth sound.

Sponsor: Encompass Health

QUIT TOBACCO

with GROUP QUIT

There's never been a more important time to quit.

Free expert-led sessions to help you quit all forms of tobacco.

2 . 6 LO G O LOCKUP S

1 .

TFF.COM / FDOH LOCKUP

Virtual Group Sessions -OR- In-Person Group Sessions

The logo lockups were designed to contain both logos,

separated by a bar that is the same thickness as our

TICKETS & PRESHOW DINING

941.263.6799

vanwezel.org

SAT, APR 23 • 8PM

"Diana Krall possesses a voice at once

cool and sultry, wielded with a rhythmic

sophistication."

–The New York Times

Box Office: M-F 10-6, Sat 10-4,

Open Later on Show Days

Prices, dates and times subject to change without notice.

View the Latest Safety Protocols on Our Website

2 .

Develop your

personalized

quit plan.

*(If medically 3 . appropriate for those 18 years of age or older)

Pre-registration is required.

CALL TODAY:

4 .

FREE nicotine

replacement patches,

gum, or lozenges. *

Learn more about all of Tobacco Free Florida's tools and services at

X

of our logo. We will maintain the clear space

established on page 6 between the bar and both logos.

Depending on the type of materials, we could use one

of the following lockups.

1. Full color Logo Lockup

More than

DOUBLES your

chances of success!

preferred, but it can ONLY be used in full color and

only against a white background. It cannot be placed

in a white box.

2. One-Color Logotype Lockup

The One-Color Logotype Lockup is the most commonly

used version. It can only be used against a white

background or as a Reverse White Logotype.

Sponsored by:

866-534-7909 AHEC

GULFCOAST SOUTH

AREA HEALTH

EDUCATION CENTER

3. Black and White Logotype Lockup

4. Reversed Logotype Lockup

The reversed logotype lockup can be used against a

black bacground or against the NEW TFF ADA BLUE

(HEX: #1074BB)

T F F

BRAND G U I D E

Liberties

ARTIST STUDIOS & GALLERY

Experience Sarasota's Visual Arts Community

• Purchase Local Art

• Visit working artists Studio's

• Monthly Artist Markets

• Open Studio Events

Artists Helping Artists

Open to Public: Wednesday - Saturday, 10 am - 4 pm

901B Apricot Ave, Sarasota | www.creativeliberties.net

APRIL 2022 WEST COAST WOMAN 23
---
happening this month

24 TH ANNUAL

Sarasota Film Festival is Back

Hybrid Festival to Run Virtually and In-Person April 1-10

The Sarasota Film Festival

(SFF) is running

April 1-10. Mark Famiglio,

SFF Chairman and

President stated that,

"After two years of limited in-person

engagements, we're honored

to host a number of distinguished

guests and filmmakers on the

beautiful Florida Gulf Coast for a

10-day event, complete with a variety

of engaging Q&As, conversations,

and panels featuring diverse

voices from across the industry.

The festival opens on April 1

with a screening of M. Cahill's

Porcupine, a narrative feature

based on the true story of an adult

woman who puts herself up for

adoption and forms a bond with

the misanthropic patriarch of her

adoptive family. The film stars

Jena Malone (Into The Wild, The

Hunger Games series), who will

be honored in-person with the

Sarasota Film Festival Excellence

in Acting Award.

Malone will participate in an "In

Conversation" discussion as part

of the festival's program, and Joe

Wright's 2005 film Pride & Prejudice,

which also starred Malone,

will play the festival as a free,

outdoor community screening in

Malone's honor.

HBO's Listening To Kenny G,

which is directed by Penny Lane

and examines the life and career

of musician Kenny G, will screen

as the festival's Documentary Centerpiece

film on April 7. Lane and

Kenny G will attend the festival,

the latter of whom will receive

the Sarasota Maestro Award. Both

Lane and Kenny G will also participate

in an "In Conversation" discussion

following the screening,

moderated by Rolling Stone's Tatiana

Siegel. The film will serve as

the Centerpiece film for this year's

Music Sidebar program as well.

Scott McGehee and David Siegel's

neo-Western drama Montana

Story, starring Owen Teague and

Haley Lu Richardson, will screen

as the festival's Narrative Centerpiece

film. The film tells the story

of two estranged siblings who must

confront a deep and bitter family

legacy upon their return home to

the sprawling Montana ranch that

they once knew and loved.

The festival closes with a

screening of Russell Brown's

Loren & Rose, whose three-act

story follows the bond between a

promising filmmaker and a storied

actress looking to reinvigorate her

career. Star Jacqueline Bisset

will also be in attendance to

receive the Sarasota Film Festival

Lifetime Achievement Award and

participate in an "In Conversation"

discussion preceding the screening.

SFF will also include Spotlight

screenings of Kogonada's After

Yang, which follows a father's

journey of self-discover as he

searches for a way to repair his

daughter's Android, and stars

Colin Farrell and Jodie Turner-Smith;

Maria Loohufvud and

Love Martinsen's Calendar Girls,

a coming-of-golden-age documentary

film about a group of senior

volunteer dancers in Southwest

Florida; Catherine Corsini's The

Divide, which tells the story of a

couple on the verge of breaking

up who find themselves in an

Emergency Department on the

evening of a major 'yellow vests'

protest in Paris, and stars Valeria

Bruni Tedeschi and Marina Foïs;

Ron Howard's documentary We

Feed People, which spotlights

renowned chef José Andrés and

the incredible mission of his nonprofit

World Central Kitchen; Rosa

Ruth Boesten's Master Of Light,

which follows the story of classical

painter George Anthony Morton

who spent ten years in federal

prison for dealing drugs; and

Nadia Tass' Oleg, chronicling the

life of Oleg Vidov, one of the most

famous Soviet film stars, and narrated

by Brian Cox. Costa Ronin

(The Americans, Homeland), who

voices Oleg Vidov, will also be in

attendance at the festival.

SFF also has an African American

Sidebar and a Spotlight on

Sarasota program for feature

films. There will be 18 programs

of short films this year, including

Narrative Competition, International

Narrative Competition, Documentary

Competition, Animated

Shorts, Florida Shorts, Female-Led

Florida Shorts, LGBT+ Shorts, Socially

Distanced Shorts, Midnight

Shorts, International Midnight

Shorts, Comedic Narrative, Family

on Film, Remembering, A Parent's

Love, Coming of Age Shorts,

African American Documentary

Shorts, Father & Sons, and The

Humans Behind Headlines.

The theme for this year's poster

was Upstream With a Paddle.

Created by Christopher Tuscan,

graduate of Sarasota's own Ringling

College of Art and Design and

owner of design firm Dog House

Studio, the poster reflects the local

community's efforts and successes

in navigating this new world, while

also recognizing the obstacles we

have collectively overcome in the

past two years.

This year's Sarasota Film Festival

will be presented in a hybrid

format featuring live and in-person

screenings and events, including

live Q&As and conversations,

alongside offerings for virtual audiences.

For tickets, visit https://

www.sarasotafilmfestival.com/.

Here are some of the films we

thought you'd like.

Opening Night Film

Porcupine

dir. M. Cahill (USA), 2021

Fired

from her

seventh

job in two

years and

estranged

from her

family, Audrey

(Jena

Malone)

dwells in a

distinctly

modern solitude, relying on You-

Tube for companionship. One night

a video rabbit hole leads her to the

world of adult adoption, and she is

pulled in, deciding to try it herself.

Closing Night Film

Loren & Rose

dir. Russell Brown (USA), 2022

A single meal frames this three-act

story of the bond between Loren,

a promising filmmaker, and Rose,

a storied

actress

looking to

reinvigorate

her career.

From

a lunch

meeting

to discuss

a possible

collaboration

grows

a years-long friendship between two

people whose love of art, understanding

of grief, and faith in life's

potential guide them through personal

and creative hardships. Kelly

Blatz and Jacqueline Bisset star.

Documentary

Centerpiece Film

Listening To Kenny G

dir. Penny Lane (USA), 2021

Listening To Kenny G is about why

some people hate Kenny G's music,

and why so many more people love

it. A light-hearted exploration of this

conflict raises big questions about

taste, genre, and marketing. Along

the way we hear from music critics,

record executives, radio personalities,

market researchers, fans – and

of course, the G man himself.

Spotlight Features

Calendar Girls

dir. Maria Loohufvud and Love

Martinsen (Sweden), 2022

Calendar Girls is a coming-of-goldenage

film

about the

second

teenage

phase: the

retirement

phase.

Following

senior

volunteer

dancers in

Southwest

Florida, The Calendar Girls give it

all they've got including impressive

makeup, handmade costumes, elaborate

dance routines and their enthusiasm

and sparkling personalities.

We Feed People

dir. Ron Howard (USA), 2022

We Feed People

spotlights renowned

chef

José Andrés and

his nonprofit

World Central

Kitchen's incredible

mission and

evolution over 12

years from being a scrappy group

of grassroots volunteers to becoming

one of the most highly regarded

humanitarian aid organizations in

the disaster relief sector.

Documentary Feature

Competition

The First Step

dir. Brandon Kramer (USA), 2021

In a divided America, Van Jones

attempts to bring people together

to pass a landmark criminal justice

bill — and finds himself under fire

from all sides.

The Smell Of Money

dir. Shawn Bannon (USA), 2022

What is

the price

some pay

for the

world's

pork?

North Carolina

residents

take

on one of

the world's

most powerful

companies in a fight for their

rights to clean air, pure water, and a

life free from the stench of shit.

Independent Visions

Feature Competition

Dawn, Her Dad, And

The Tractor

dir. Shelley Thompson

(Canada), 2021

As a young

trans woman

and her

estranged

father

begin to

restore the

old family

tractor,

they cautiously

rebuild

their

relationship and come to understand

the mechanics of the heart.

African American

Sidebar Features

Raised Up West Side

dir. Brett A. Schwartz (USA), 2022

In Raised Up West Side, we follow

the harrowing, yet inspiring plight

of ex-offenders, social activists,

and entrepreneurs, witnessing the

tenacity required to change the

narrative — and change lives on

Chicago's West Side.

Music Sidebar Features

Little Satchmo

dir. John Alexander (USA), 2021

Louis Armstrong

is

iconic- a

symbol of

musical

genius and

unparalleled

success.

Little

Satchmo

redefines

this perpetuated

caricature and reveals one

of his dearest loves- a child hidden

from the world: a daughter sworn to

a life of secrecy until now.

Mixtape Trilogy: Stories

Of The Power Of Music

dir. Kathleen Ermitage (USA), 2021

Mixtape Trilogy explores one of the

continued on next page

24 WEST COAST WOMAN APRIL 2022
---
SSF2022_WestCoastWoman_Ad_03.pdf 1 2/16/22 4:41 PM

C

M

Y

CM

MY

CY

CMY

K

APRIL 2022 WEST COAST WOMAN 25
---
sarasota film festival continued

most intense

and

unique relationships

between

people

who rarely

meet: music

artists

and their

fans. Featuring

Indigo

Girls, Vijay Iyer, and Talib Kweli.

Spotlight On Sarasota

Playing Through

dir. Balbinka Koreniowska

(USA), 2021

Late in her career, Ann Gregory

finds the courage to be the first

woman of color to enter the USGA

Women's Amateur. She collides

with Babs Whatling, a privileged

white woman from the south who

is searching for her own identity.

The Fabulous Ohs:

The Marriage And

The Music

dir. Kathryn Parks (USA), 2022

Inside the musical journey of

a small-town composer and a

strong-willed singer/librettist who

dared to spend a lifetime chasing

their dreams together. A story

captured on film by their daughter

in Sarasota.

Documentary Features

Devil Put The Coal In

The Ground

dir. Peter Hutchison and Lucas

Sabean (USA), 2021

A cautionary tale of unfettered

corporate power, and an elegy to a

vanishing Appalachi told through

the personal stories of native West

Virginians.

Mission: Joy -

Finding Happiness In

Troubled Times

dir. Louie Psihoyos (USA), 2021

Deeply

moving

and laughout-loud

funny, His

Holiness

the Dalai

Lama

and Archbishop

Desmond

Tutu share

science- backed wisdom of how to

live with joy in troubled times.

The Automat

dir. Lisa Hurwitz (USA), 2021

Once upon a nickel, before fast

food, one

American

restaurant

empire

was unstoppable.

Experience

the

untold

story of

"The Automat,"

a

documentary film directed by Lisa

Hurwitz and starring Mel Brooks.

Female-Led Florida Shorts

Wake

dir. Katie Leary (USA), 2021

World Premiere. A woman struggles

to wake up from an increasingly

traumatizing loop of dreams.

The Den

dir. Jessica Aquila Cymerman

(USA), 2022

A psychological

thriller

following

Myna

O'Neill, an

ambitious

New York

stage

actress,

as she

navigates a

manipulative and toxic relationship

with her idol, Jamie Bock.

Lioness

dir. Molly E. Smith (USA), 2022

Barricaded in a motel room, a

mothers determination and primal

instincts kick in to protect her

child's innocence.

La Casita De La Mariposa

dir. Samantha Ferrand (USA), 2021

As a child, Renee's mother promised

she'd grow up to marry a

prince. Instead, Renee found herself

married to a monster.

Moon Dust

dir. Naida Joanides (USA), 2022

An aging circus performer seeks

to learn the true significance of

the gift her mother gave her the

night of the first moon landing.

Sirens Of The Swamp

dir. Hali Gardella and Emery

Matson (USA), 2021

Two

sirens,

banished

to the

swamps

by their

mother

Venus,

dream of

making

it big in a

rock band.

Only problem is: they keep killing

their audience.

LGBT+ Shorts

情 人 Qingren

dir. Sean Patrick Higgins

(USA), 2021

A 19th century American Railroad Financier

and Chinese Emigrant-Worker

ensnare one another in a dance of

interdependence, love, and guilt.

Masaru

dir. Rubén Navarro (USA), 2022

A Major League Baseball player

discovers his passion for Japanese

traditional dance and is confronted

with the choice of embracing

his true identity or continuing

masking behind the pressures of

family, loyalty and honor.

Hear My Voice

dir. Daniele Guerra (UK), 2021

Mike's opera career and love life

have stalled. During yet another

gay hook-up, he sees the apparition

of his grandmother: will she

make him change?

Show Pony

dir. Meghan Lennox (USA), 2020

Kate tries an adult ballet class

and becomes infatuated with the

teacher, Laura- until she discovers

a hidden side to Laura she struggles

to accept.

A Summer Place

dir. Alexandra Matheou

(Cyprus and France), 2021

In a city overtaken by oligarchs and

a real estate boom, two women

find themselves lost at sea. Each

will end up saving the other, in all

of life's most unexpected ways.

Better Days

dir. Fran Herrero Ansoleaga

(Spain), 2021

Five LGBTIQ+ refugees seeking

asylum in Spain look into the lens

to share their fears, doubts, and

certainties, but they can all now

say, "It gets better".

Socially Distanced Shorts

The Show Must Go On

dir. Paul Grant (USA), 2021

At the height of the pandemic,

Broadway's resilient community

comes together to create the infrastructure

to supply frontline

medical workers with desperately

needed hospital gowns.

For the full schedule, visit: https://

www.sarasotafilmfestival.com/.

SPOTLIGHT ON:

Local Filmmaker

Presents Sarasota Parents'

Marriage and Music

An award-winning

Sarasota Filmmaker,

Kathryn Parks'

new documentary

"The Fabulous Ohs:

the Marriage and the Music"

will have its world premiere at

the 2022 Sarasota Film Festival.

The forty-five minute film follows

the story of her parents,

Sharon Ohrenstein and David

Ohrenstein, two Sarasota-based

performers and musical artists

who find romance and song as

they embark on a lifelong pursuit

to bring their original music to

the world. The 42-year marriage

Behind the scenes, Cinematographer Dylan

Jon Wade Cox, Sharon Ohrenstein, David

Ohrenstein, director Kathryn Parks, Filmed at

West Coast Black Theatre in Sarasota, 2021.

Photo by Goddess Imagery Photography

of the pianist/composer and

singer/librettist included raising

three children while performing

as the duo, The Fabulous Ohs,

and eventually transitioning into

writing and producing original

musicals and operas. Parks

directed, produced, and edited

the film with cinematography by

Dylan Jon Wade Cox and music

by David and Sharon Ohrenstein.

Sarasota Film Festival Programmer

Rodney Piatt calls the film

"joyful, personal, and uplifting."

"The Fabulous Ohs" will have an

in-person showing on April 4 at

7:45pm at the Sarasota Municipal

Auditorium and is available

for virtual screening throughout

the festival from April 1-10.

"The Fabulous Ohs" is Parks'

third film and first documentary,

and marks her third film premiering

at the Sarasota Film Festival.

Previous films, "Her Place"

(2020) and "50 Words"(2018),

were short narratives and

each awarded the honor of

Best Florida Film at the Bonita

Springs International Film Festival

and numerous other festivals

across the state.

The documentary takes us

inside the musical journey of a

Sarasota composer

and a strongwilled

singer/librettist

who dared

to spend a lifetime

chasing their

dreams together.

The film weaves

together current

and past interviews

of the couple

while Parks

watched and

selected content

from more than

40 archived VHS

tapes and DVDs of

concerts, gigs, and

original musicals.

It also focuses on the lasting legacy

of David's parents', both Holocaust

survivors as expressed

through his music.

"In my adult years, I've come

to realize my parents' story is

one that is completely original

and truly inspirational," Parks

explained. "They live far from

the artistic mecca of New York

City and yet managed to follow

their calling while raising a family.

Now, they are writing new

musicals with strong female

leads, and they are still chasing

their dreams as they reach into

their 60s and 70s."

The film also features an original

score by her father, David

Ohrenstein, who is awoken every

night by a muse, compelling

him to sit at the piano and write

out a new melody before he goes

back to bed. Parks was joined

by cinematographer Dylan Jon

Wade Cox, a Florida photographer

and cinematographer, and

story producer Elise Rodriguez,

a Cuban-American performer,

teaching artist, and creative professional.

Sharon and David Ohrenstein

will be attending the screening

alongside their daughter and

director, Kathryn Parks.

26 WEST COAST WOMAN APRIL 2022
---
Easter

at

Brunch and Dinner

mattison's

mattisons.com

"WBTT goes mega with

Broadway in Black…

chock full of hits from

a century of music."

Kay Kipling

SaraSota Magazine

CREATED, ADAPTED

& DIRECTED BY

NATE JACOBS

CHOREOGRAPHED BY

DONALD FRISON

MARCH 10–APRIL 24, 2022

westcoastblacktheatre.org

941-366-1505

1012 N ORANGE AVE, SARASOTA

APRIL 2022 WEST COAST WOMAN 27
---
your healthier health you

Craniosacral Therapy Can Be Life Changing

CST treats the whole body physically, physiologically, mentally, emotionally and energetically

Clients come to me because they are in physical

pain such as neck, back, pain and TMJ as well as

for chronic headaches and migraines.

Pain and stress caused by

shortened Fascia

Fascia (strong connective tissue) encases all

our muscles, organs, brain and spinal cord.

Whenever fascia shortens any place in the

body, the entire network of fascia creates an

increased tension affecting the functioning

of our physical body as well as our organs,

our brain and spinal cord.

Our body is the history of every major

trauma we have experienced physically and

emotionally beginning with birth issues, falls,

head trauma, car accidents, childhood abuse

issues, death, divorce and other emotional

issues. Our body tries to minimize each trauma

by shortening fascia to isolate the energy

coming into the body from that trauma.

Shortened fascia results in pain, loss of mobility

and range of motion, organs becoming

less efficient and with parts of the brain and

spinal cord becoming stressed.

To keep the brain functioning, the body

transfers some of your functional work play

energy (7:00 AM-10:00 PM) to the brain resulting

in less energy to make it through each

day. As we age, the accumulation of all the

tightened fascia, from every major trauma

in life, begins to restrict every aspect of our

body's functions resulting in pain, loss of mobility,

mis-functioning organs, loss of energy,

as well as our brain losing some its sharpness.

How Craniosacral

Therapy Works

The Craniosacral Therapist creates a safe

place, with gentle holding techniques, that

engages your body's ability to self correct,

reorganize and heal itself with the release

of some of that tightened fascia during

each session. As the Craniosacral Therapist

engages your body, you will feel fascia releasing.

As the fascia releases, pain begins to

decrease, range of motion and mobility improve,

organs begin functioning better and

with less stress on the brain feels, it returns

the energy it borrowed at the time of each

trauma resulting in an immediate increase in

your energy levels. Rarely does anyone leave

from my first session not feeling better.

Short Leg Syndrome

Eighty-five percent of my clients have one

of their legs pulled up 1/2 to 1 by shortened

fascia. The tension from short leg syndrome

on the sacrum (5 fused vertebrae at bottom

of the spine) is transferred up the dural tube

that encases the spinal cord into the lower

and upper back, the neck, the cranium and

The physical stress in bodies caused by shortened

fascia (connective tissue) shuts down

energy flows to certain organs. Short leg syndrome

by ½ to 1 in (where one leg is pulled up

by shortened fascia) shuts down energy flow to

the spleen (an important part of your immune

system) and the small and large intestine. With

the release of that shortened fascia, energy returns

to these organs.

the brain. Headaches, migraines, TMJ and

neck problems can originate from the fascial

stress in the sacrum.

Releasing this sacral stress increases energy

in the bladder, sex organs, kidneys and

the chakras as well as releasing major stress

in the upper part of the body.

Cause of Shallow Breathing

A great majority of the clients who come to

me for various problems are also shallow

breathers. Fascial stress in the diaphragm

restricts the depth of breathing by restricting

energy flow to the lungs, the pericardium

and the heart. With the release of fascial diaphragm

restriction, the client immediately

starts breathing deeply and energy is restored

to the pericardium and the heart.

Shoulder blades that are cemented to the

body also restricts how much the rib cage can

open and thereby also restricting depth of

breath. Without proper breathing, your cells

do not get enough oxygen. Everyone, especially

people suffering from bronchitis, asthma

and COPD as well as shallow breathing can

benefit when the fascial stress is released.

Specialized Training

to work with Brain

Dysfunctions

Just as the body physically gets stressed from

physical and emotional trauma, the functioning

of the brain is also affected by fascial stress. For

our brains to remain healthy, we need dynamic

production of craniosacral fluid which performs

the important function of bringing nourishment

to all the cells in the brain and spinal

cord as well as cleansing all the metabolic

wastes given off by those same cells.

Once the craniosacral fluid cleanses these

metabolic wastes, efficient drainage of these

metabolic wastes into the lymph system is

absolutely necessary. Research has shown,

that at night, craniosacral fluid cleanses amyloid

plaques from the brain. If the drainage

is inefficient, then the brain is being bathed

in a toxic slurry. How does 15 or 20 years of

your brain being bathed in a toxic slurry

affect you: senile dementia, Parkinson's,

Alzheimer's and other brain dysfunctions?

A Craniosacral Therapist, who has received

training in working with the brain, can reverse

that stress on the brain that eventually can

result in those brain dysfunctions. As we all

know, the proper functioning of the body is

dependent on a healthy functioning brain.

Babies and Children can benefit

■ Our little boy Leo, four years of age, had a

difficult birth and at 7 months was put on antibiotics

for an ear infection and as a result developed

c-diff. His development came to a stop.

At 3 years, with the help of an OT, he started

to walk and talk. In spite of the improvements,

he was unable to answer questions and his

communication skills were very poor. Leo

had very poor muscle tone, a lot of stress in

his body and physical activities such walking,

jumping and climbing were difficult for him.

Beginning with the first session with Terry,

he began showing improvement and with each

following session. Everyone from his teachers

to his grandparents noticed an increase in his

■ "I was in awful pain and the

MRI showed 2 pinched nerves

and stenosis. I scheduled surgery.

My daughter suggested Craniosacral therapy.

After only 2 visits the pain was reduced to

advanced craniosacral about 80% and therapy I canceled the surgery. I went

for a 3rd visit and I am about 90% better."

■ "Simply Amazing! One visit was all it took for

Terry to relieve 85% of my year long, nagging

(sometimes severe) neck/shoulder tightness/

pain!! My breathing improved tremendously."

physical strength, as well as improvements in

comprehension, speech and communication

skills. For the first time, he started participating

in class lessons and interacting with his

classmates. Terry has made a huge impact on

getting Leo to a place a little boy should be at

age four. We cannot thank Terry enough.

■ Terry's treatment helped our 6 week old

baby boy from recent hospitalization into

the first series of healthy bowel movements

when seemingly nothing could help. Our son

was able to latch onto the breast and for the

first time completed his feeding. He was much

calmer after working with Terry.

■ "He was able to relieve tension that I have

been carrying around for 15 years or more.

I left his office table with more energy than I

have had in years."

■ "I began working with him because I was

dealing with anxieties, depression and lots of

emotional pain inside and out. You don't realized

how much stress can cause damage to

your body, mind and soul. I can say Terry was

a big help."

Terrence Grywinski

of Advanced

Craniosacral Therapy,

B.A., B.ED., LMT #MA 6049

Testimonials from Clients

SOURCE:

■ Terrence Grywinski of Advanced Craniosacral Therapy,

B.A., B.ED., LMT #MA 6049. Terry has specialized in Craniosacral

Therapy since 1994 when he began his training at the Upledger

Institute. Described by his teachers, clients and colleagues

as a "gifted healer", Terry's intuitive sense and healing energy

provides immediate and lasting relief from injury, pain, mobility

issues as well as dysfunctions of the body and the brain. Part

of Terry's ongoing education, he has completed 4 craniosacral

brain and peripheral nervous system classes which enables him

to work at a cellular

level and with brain

dysfunctions.

Call 941-321-8757

for more information,

Google Advanced

Craniosacral

Therapy.

■ "On a recent vacation to Siesta Key, I re-injured

my back. I found Terry online. I can say

with complete joy that was the best decision

I made in the history of my back pain. I have

sought many modalities and visit a CST regularly

and never have I had such a healing in

my entire body.

After 3 sessions, I made a 16-hour drive

home with no pain or discomfort in my entire

body. Unbelievable. My body has a sense of

moving freely and that is completely new. I'm

advanced craniosacral therapy

so grateful to Terry for his knowledge, for his

sensitivity to my needs and his kind generosity

in healing my body. I will see him when I return

next year."

■ "I am a snowbird who spends 7 months

in Sarasota. I have had back problems for 25

years. Terry's techniques have led to a great

deal of release and relief in areas that have

been problematic. I have been seeing him over

the years when my body says "it's time". Usually

after a few sessions, I can tell a huge difference."

28 WEST COAST WOMAN APRIL 2022

PAID ADVERTORIAL
---
travel news

Spring in New Orleans means

Whether you are a New Orleans

native or a first-time visitor, spring

in NOLA means one thing: boiled

crawfish. Get ready to boil, peel, and devour

this delicious Louisiana favorite.

Here are some of the best places to get

them in the Big Easy:

ï Frankie and Johnny's—This local favorite

is known for its hot and spicy, award-winning

crawfish. Venture Uptown to this

casual, family-friendly restaurant.

ï Cooter Brown's—A favorite spot for

watching the Saints in the Fall, Cooter

Browns offers delicious boiled crawfish in

the spring. For generations, Cooter Brown's

has been an uptown destination.

ï Cajun Seafood—With the aroma of boiling

seafood wafting through the air, Cajun Seafood

will have your mouth watering before

you even see the menu. They have multiple

locations in the New Orleans metro area.

ï Superior Seafood—Feeling a bit fancier?

Check out Superior Seafood, located along

United has introduced bag drop

shortcut, a new, simple way for

customers to skip the line, check their

bag in a minute or less on average, and get

to their flight. According to recent customer

surveys, the bag check process can be one of

the more stressful and time-consuming parts

of the travel experience and United is the first

airline to streamline the process in this way.

Here's how bag drop shortcut works:

■ Check-in on the United app and select the

number of bags

crawfish season

■ Find the bag drop shortcut location at the

airport with detailed instructions available

right in the app

■ At the bag drop shortcut location, customers

place their bag on the scale and scan

their boarding pass at the kiosk

■ The United team will check the customer's

ID, apply the bag tag and they're on

their way!

This free service is available now at all of

United's U.S. hubs in Chicago, New York/

Newark, Washington D.C., Houston, Den-

the famous St. Charles

Avenue. With on-site

and catering options,

Superior can fulfill

all of your crawfish

needs.

ï Melba's Old School

Poboys—This hub is

full of soul food, but

you can't pass up their

crawfish.

ï Bevi Seafood Co.—Why get just crawfish

when you can have a full seafood boil?

Their boil includes crawfish, crabs, oysters,

and shrimp.

ï Clesi's Crawfish and Catering—The

name says it all! Swing by Clesi's to enjoy

some fresh boiled crawfish, or call them to

come cook for you.

ï BOIL Seafood House—Try Vietnamese-style

(what the Louisianans are calling

Viet-Cajun) crawfish loaded with garlic butter

at BOIL on popular Magazine Street.

ï Blue Crab—Get some fresh air and enjoy

boiled crawfish on Lake Pontchartrain at

Blue Crab.

ï Mukbang Seafood and Bar—Satisfy

your Asian cuisine and seafood cravings at

Mukbang Seafood. Enjoy Viet-Cajun-style

boiled crawfish and other seafood on beautiful

Oak Street.

SOURCE: New Orleans & Company

Frontier Airlines and Spirit Airlines to Combine

Spirit Airlines, Inc. and Frontier Airlines,

Inc., have merged. As a result, the companies

will create America's most competitive

ultra-low fare airline. The stronger

financial profile of the combined company

will empower it to accelerate investment in

innovation and growth and compete even

more aggressively, especially against the

dominant "Big Four" airlines, among others.

Combined, they're expected to offer more

than 1,000 daily flights to over 145 destinations

in 19 countries, across complementary

networks. And, they'll expand with more

than 350 aircraft on order, increase access

to ultra-low fares by adding new routes to

underserved communities across the United

States, Latin America and the Caribbean.

The combined airline will have the

youngest, most modern and fuel-efficient

fleet in the United States, featuring the largest

fleet of A320neo family aircraft of any

airline in the country. The combined airline

is expected to achieve over 105 seat miles

per gallon by 2025.

United Debuts New

'Bag Drop Shortcut' Service

ver, Los Angeles and San Francisco and the

airline plans to expand bag drop shortcut to

dozens more new airports this year.

United also helps customers bypass lines

with its exclusive Agent on Demand service,

where travelers can easily connect with a

live customer service agent directly from

their mobile devices. United's mobile app and

website also provides customers with a stepby-step

guide on what tests or documents are

needed to travel anywhere in the world, and

helps customers find testing locations, schedule

appointments, upload tests and vaccine

cards if necessary, all within the app.

Canyon Ranch Lenox Spa

gets a Renovation

The wellness company has introduced

a renewed, elevated spa experience

at their Lenox resort. Reflecting the

beauty of the Berkshires and the historic

Bellefontaine mansion, Canyon Ranch Lenox

Resort has a freshly renovated spa.

Brought to life by Hall of Fame architect

and interior designer Lauren Rottet of Rottet

Studio, the design aesthetic celebrates the

beauty of the area's rolling mountains and

the subtle ambiance of an early American

lifestyle through the utilization of authentic

materials. The new look features warm

wood highlights and stone and metal finishes

paired with white linen.

Inspired by the nearby Hancock Shaker Village

– a utopian community that is the epitome

of New England charm – the new spaces at the

spa emphasize themes of utility and simplicity.

The spa now offers products from Biologique

Recherche and Yon-Ka Paris. In

addition to a full-service menu of 65 diverse

treatments, the spa will continue to offer a

guest favorite, Canyon Ranch purifying and

detoxifying Hungarian Scrub, which exfoliates

and soothes with Hungarian moor mud,

capsicum peptide and a firming body oil.

For more information about Canyon

Ranch, visit www.canyonranch.com or email

pr@canyonranch.com.

Baking with Biscoff:

Your favorite airline snack just got

even better

Many of us love Lotus Biscoff cookies.

They've been given out on so many

airlines over the years. Delta Air

Lines is probably the most famous name

associated with the brand. Delta began

serving them back in the 1990s and over the

years they've also appeared and then disappeared

from several airlines — including

American Airlines and United Airlines.

TikTok star James Lamprey is also a fan

and he partnered with the celebrity chef (@

officialfunfoods on TikTok) to see what kind

Prep time: 20 minutes;

Cook time: 8 minutes;

Cooling time: 4 hours.

Makes 25-30 Biscoff

cookies

Ingredients

1 tablespoon sugar

6 tablespoons unsalted

butter (melted)

6 Biscoff cookies (for

decoration)

Filling

1 cup heavy whipping

cream

1 8-ounce package of

cream cheese (softened)

1 cup Biscoff cookie butter (creamy)

½ cup sugar

1 teaspoon vanilla extract

Directions

Preheat oven to 350°

Put the Biscoff cookies in a food processor

and grind until they're fine crumbs.

Biscoff cookie pie

of magic he could make with the famous

cookies. Here's the recipe.

well combined.

Mix in melted

butter.

Press crumb mixture

into a 9-inch

pie dish. Bake 6-8

minutes, then let

cool completely.

In a large bowl,

whisk the heavy

whipping cream just

until it forms stiff

peaks.

In a separate large

bowl, beat the cream

cheese, cookie

butter, sugar and

vanilla extract until

Fold in the whipped cream just until

combined.

Pour on cooled crust and smooth the top.

Drizzle caramel sauce or melted Biscoff

cookie butter over the pie and decorate

with extra Biscoff cookies (optional).

Refrigerate until firm (about 4-6 hours).

Cut and serve.

APRIL 2022 WEST COAST WOMAN 29
---
wcw shopper

New Health Book by Local

Physician and Wellness

Champion

Dan Watts, MD, of The

Renewal Point, and wellness

championSandra Strauss, will

be launching A Toxic Brain—

Revelations from a Health

Journey. It was written to help

people learn more about how

toxins and other root causes

are drivers of inflammation of

today's chronic illnesses.

A Toxic Brain—Revelations

from a Health Journey will

have a kickof event on

Thursday, April 7, 2-3 p.m.

at The Meadows Country

Club, Second Floor, 3101

Longmeadow, Sarasota (near

UTC mall). Free event.

Sandra Strauss and Dan Watts, MD, have co-authored a

book detailing their families' journeys with hard-to-diagnose

illnesses, now identified as chronic inflammatory response

syndrome (CIRS), a silent epidemic.

They'll offer important insights regarding how exposures

to mold, Lyme, heavy metals, and other toxins, fire up

autoimmune issues with 25% of population who are genetically

vulnerable as poor detoxifiers.

They'll share how precision evaluations and therapies available

from functional practitioners help to both prevent chronic

issues as well as recover health.

More information at https://www.sandrastrauss.com/

or https://www.therenewalpoint.com/.

Chalk it up to chalk

TWEE is ready for spring with new

handmade sidewalk chalk designs.

Got grandkids in for Easter or

a spring visit? They'll love these

colorful chalks by TWEE which is

a woman owned Maker's Studio

based in Philadelphia, PA specializing

in reimagined, eco-friendly,

childhood classics for playtime.

They offer colorful Bunny's 6 Eggs

Handmade Sidewalk Chalk

Set - with three being golden -

are limited edition. Personally,

we like the TWEE Sprinkle

Donut Handmade Sidewalk

Chalk. All TWEE designs ship

nationally from Philadelphia.

https://tweemade.com/

Get the Drift?

How's this for a summer

convenience— a ready-to-drink

cocktail that's got some healthy

ingredients? Drift offers a canned

cocktail mixed with higher alcohol,

lower calories and better flavor.

The entire Drift line is 85 calories,

gluten-free and has no artificial

additives — just organic spirits, real

fruit (not juice) and carbonated mineral

water. It's collection of flavors

are the lowest calorie and highest

ABV (7%) canned cocktail options

available to date.

It has natural ingredients

including corn sourced from North

Carolina farms; sugarcane and

blackstrap imported from the Virgin

Islands and Jamaica; tequila from Mexico; and fruit sourced from a local North

Carolina purveyor with a ratified standard of quality for organic produce.

Their four flavors include Blood Orange: organic vodka mixed with a citrus

burst of high oxidant blood oranges; Passion Fruit Rum: Virgin Islands white

rum, natural passion fruit and guava; Tequila Lime: blue agave tequila blanco

with natural lime; And Meyer Lemon: organic vodka with meyer lemon. n.

Drift is currently available in select stores, supermarkets and independent

retailers throughout South Carolina, Georgia and Florida. For more

information, visit www.driftcocktails.com.

Light up your world

(and charge

your phone)

LumiCharge-LD

is an all-in-one

lamp, charger and

Bluetooth speaker

that's compact

and perfect

for traveling. Save

space or easily stow

away when traveling.

The cradle offers fast

wireless charging, and

a USB plug in the back to

charge two phones at once.

Pair it with a smart speaker and

talk directly to it. Take a call or listen to

music with the built-in Bluetooth speaker. Keep the

ambiance on point wherever you are with the LD's

multiple color and brightness options. It also includes

a micro-SD card slot and 3.5 mm audio input.

Cost: $59. Available at

https://thelumicharge.com/ and Amazon.

30 WEST COAST WOMAN APRIL 2022
---
DENTAL

INSURANCE

Get the dental care you deserve.

If you've put off dental care, it's easy to get back on track. Call

Physicians Mutual Insurance Company now for inexpensive

dental insurance. Get help paying for the dental care you need.

Don't wait.

Helps cover

over 350

procedures

Preventive

care benefits

right away

Go to any

dentist, but save

more with one in

our network

No deductible,

no annual

maximum

Getting back to the dentist couldn't be easier!

CALL TODAY

1-855-637-6404

Dental50Plus.com/westcoast

Get your

FREE

Information Kit

Product not available in all states. Includes the Participating (in GA: Designated) Providers and Preventive Benefits Rider. Acceptance guaranteed for one

insurance policy/certificate of this type. Contact us for complete details about this insurance solicitation. This specific offer is not available in CO, NY; call

1-800-969-4781 or respond for similar offer. Certificate C250A (ID: C250E; PA: C250Q); Insurance Policy P150 (GA: P150GA; NY: P150NY; OK: P150OK; TN: P150TN).

Rider kinds: B438, B439 (GA: B439B).

6208-0721

Join us for this FREE family community event for all ages!

RSVP to save your spot for faster check-in by scanning

QR code below or visiting: www.coresrq.org/egg

FUN

ACTIVITIES

FOR ALL

EGG

SCAVENGER

HUNT

PHOTO

WITH THE

BUNNY

VISIT

FOOD

TRUCK

PRESENTED BY

CoreSRQ Palmer Ranch Branch

8301 Potter Park Dr., Sarasota, FL 34238

941-922-9622

SCAN CODE

TO RSVP

APRIL 2022 WEST COAST WOMAN 31
---
Choose a trusted, professional nursing team to ensure the years ahead and your health

care path align with your wishes.

Take Care provides all levels of care—from

skilled nursing to helping with groceries

and companionship—for clients in any

home setting. We remain dedicated to

helping you and your loved ones.

Courtney Wise Snyder, MSG, CMC, President Erika Wise Borland, MA, Vice President Susanne S. Wise, RN, MBA, CEO & Owner

26

Celebrating Years of Caring

www.TakeCareHomeHealth.com

(941) 927-2292

info@takecarehomehealth.com

Lic. # HHA 21657096 | 299991405

Do you wish to age in place?

Take Care is locally nurse and familyowned

with 26 years of experience meeting

your health care needs, from one hour of

care as needed up to around-the-clock

support, 24 hours a day, 7 days a week.

Personalized care in your own home has

never been more important.

Our Registered Nurse New Services team

is ready for your call.

Community Voted Best Home Health since 2012

32 WEST COAST WOMAN APRIL 2022