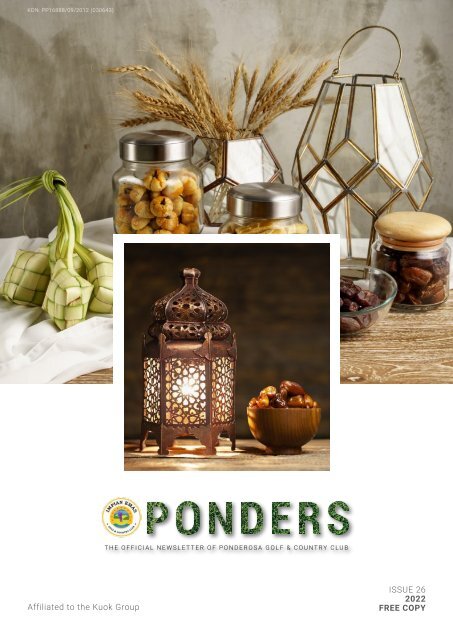 PONDERS by Ponderosa ISSUE 26 - Ramadan Issue
You also want an ePaper? Increase the reach of your titles
YUMPU automatically turns print PDFs into web optimized ePapers that Google loves.
KDN: PP16888/09/2012 (030643)

THE OFFICIAL NEWSLETTER OF PONDEROSA GOLF & COUNTRY CLUB

Affiliated to the Kuok Group

ISSUE 26

2022

FREE COPY
---
PONDEROSA GOLF & COUNTRY CLUB NEWSLETTER

MY SHARING …

"Great things are meant to be shared !

FREEBIES

SCAN ME

MOTHER'S / FATHER'S

MONTH SPECIAL

GET FREE DESSERT IN

MAY & JUNE

(WITH MIN SPEND

OF RM 50)

At Hop Sing Chinese

Restaurant

*Scan to access freebie together

with reservation

Ponderosa has marched into a terrific start of year 2022

with more new members signing up and guests visiting

us. Furthermore with more upgrades around the club,

Ponderosa is adding more comfort and convenience to

your entitlement. Thank you everyone for sharing your

greatest moments with Ponderosa.

We are proud to present to you the ever-improving

Ponderosa. Not only have we expanded our affiliations

by signing up with more than 10 golf clubs nationwide

since last year, Ponderosa has also hosted a series of

member events both within the club and outside the

club. The soon-to-be upgraded sports facilities shall

also provide more motivation for leisure and training.

Those who have been around are aware that we are in

the process of upgrading our toilets for the comfort

of users. We want our members to feel proud of their

membership with Ponderosa.

As part of year 2022's resolution, Ponderosa aims

to go more digital and we encourage all members

to embrace the convenience and power of cashless

payment. It all started with e-statements in place of

printed statements to reduce paper usage, then we

incorporated other Go Green efforts through looking

at our food packaging and waste management. These

initiatives had been rewarding and had enabled

Ponderosa to be sustainable for the future.

Moving forward, Ponderosa shall remain as the preferred

venue for hosting tournaments, functions and events by

offering one of the most-well-maintained golf courses

with value-for-money experience. We would like to

invite more members and guests to join the next level

of networking and improved lifestyle, always available

at Ponderosa.

At Ponderosa, we care to share great things with you!

TAN KAI YANG

General Manager

PONDERS newsletter is published by Ponderosa Golf & Country Club (No. 3, Jalan Ponderosa 1, Taman Ponderosa, 81100 Johor Bahru, Johor)

& Printed by Sin Hua Printing [No 7 & 9, Jalan Anggerik 3/2, Taman Anggerik, 81200 Johor Bahru, Johor]. Copyright of articles, contributions and

photos which are published are the property of Ponderosa Golf & Country Club.
---
PONDEROSA GOLF & COUNTRY CLUB NEWSLETTER

PERSONA...

86 and he hit a Hole-in-One!

Although elated, Tan had mused in his speech,

"Having reached this age, there is nothing much

to seek for. Just to maintain peace of mind and

doing my best in everything I do."

Nevertheless, it was a victory that motivates

other younger golfers yet to achieve a Hole-in-

One that age is never a factor. It is a matter of

passion, attitude and practice.

Mr Tan only started playing golf when he was

around the age of 60 as he felt that exercising

is the prerequisite to staying healthy, especially

important after retirement. Golf is only one of

his many pursuits which include jogging, going

to the gym and going for walks.

On why he chose an interest in golf at a late age,

he explained that other than an intrinsic love for

exercise, the flexibility of timing to play the sport

gave him the means to blend both social and

domestic life.

Mr Tan Ah Chin is the oldest person in Ponderosa's

history to hit the coveted prize!

Amidst a celebrative environment in one of

Ponderosa's meeting rooms, Mr Tan was feted by

his good friends cum golfing kakis when he hit a

Hole-in-One at Par 3 of Hole No 12.

"Not only does it allow me to mingle with my

usual Kakis, it also gives me precious time with

my family". His normal routine would be to teeoff

at 7:00am to finish his game by 11:00am, with

the rest of the day devoted to household chores

(which pleases his better half), gardening and

generally spending time with loved ones.

Winning is not

everything. You

can't win all

the time but

with the right

attitude , you

become winner

of your life !
---
PONDEROSA GOLF & COUNTRY CLUB NEWSLETTER

CHALLENGE OF THE CHAMPS @ ORNA

GOLF & COUNTRY CLUB, MELAKA

The Winners of All Winners emerged at the Grand

Final of the 9-Hole Golf Challenge on Friday, 21

January 2022 with 32 participants, who qualified

based on merit points of the whole series of the

9-Hole Challenge at Ponderosa in 2021.

TOP TEN SCORERS

Champion: Cheong Yaw Khang

2nd Place: Tang Sim Cheow

3rd Place: Diana Tay
---
PONDEROSA GOLF & COUNTRY CLUB NEWSLETTER

Participants chilling at our newly-affiliated Club in Melaka

9-HOLE GOLF CHALLENGE CALENDAR

for 2nd Quarter of 2022

Winners of every series of the 9-Hole Golf Challenge will have their names listed on a plague at

the Café, and will compete in a Grand Final organised either at Home Club or at an Off-site Club

at the end of each year's run.
---
PONDEROSA GOLF & COUNTRY CLUB NEWSLETTER

FRIENDS OF PONDEROSA

Building Bonds through Golf … New Affiliated Clubs

ORNA GOLF & COUNTRY

CLUB, MELAKA.

Batu 16, Jalan Gapam 77200 Jasin,

Melaka.

Tel : 06-521 0333

Email : ogcc@ornaresort.com.my

It is located just seven minutes from the Ayer Keroh interchange of the North South Highway and 25

minutes from the Melaka city centre, and your welcome is marked by a distinctive looking Clubhouse.

Named as one of the toughest and most challenging golf courses in the south, American Andy Dye's

characteristic heavily mounded fairways, set between uphill slopes will require both wit and skill.

CLUB RATE

DAMAI LAUT GOLF & COUNTRY

CLUB, PERAK

Hala Damai 2, Jalan Damai Laut

Off Jalan Teluk Senangin 32000 Lumut

Perak Darul Ridzuan, Malaysia

Tel: 019-574 2113

Email: info@dlgcc.swissgarden.com

A par-72 championship buggy-tracked course which is located within Damai Laut in Perak. Its defining

course by the sea and surrounded by lush greenery is anything but breath-taking. One of Ronald

Fream's masterpieces which is routed through a tropical landscape with nine holes overlooking the

Straits of Malacca and the other nine over the estuaries of the Dinding River.

CLUB RATE
---
PONDEROSA GOLF & COUNTRY CLUB NEWSLETTER

KELAB GOLF

DIRAJA, PAHANG.

Jalan Padang Golf

25050 Kuantan, Pahang

Tel: 09-567 5811

Email: kgdphg@yahoo.com

A matured links course, the Pahang Royal golf course is only a short distance from the famed Telok

Chempedak beach, Kuantan. With the South China Sea in view, swirling winds often pose a challenge

to golfers while holes near to the forest demand accuracy as hazards come in the form of tall trees, aside

from bunkers and water features.

KELAB GOLF

DIRAJA PEKAN

Jalan Padang Polo 26600 Pekan

Bandar DiRaja Pahang

Tel: 09-422 4193

Email: golfpekan@yahoo.com

SANDAKAN GOLF & COUNTRY

CLUB, SABAH

P.O. Box 541 90000 Sandakan

Sabah, Malaysia

Tel: 08 966 0557

E-mail: sdkgolf178@gmail.com

Sandakan Golf & Country Club offers 18-hole golf course on a strategic and scenic stretch along Mile

6 North Road endowed with a well-equipped modern Club House with a full range of F & B services

as well as a comprehensive range of other Sports and Recreational Facilities.
---
PONDEROSA GOLF & COUNTRY CLUB NEWSLETTER

CITARASA SERANTAU

For Break Fast with our popular Dulang Sets

From 3 April – 8 May 2022, breaking fast at Ponderosa

will be a journey of taste featuring the Johorean Malay,

Indian to Chinese selections served in a Dulang.

Eating out of a Dulang is the resurgence of an

age-old tradition of communal eating especially in

Kampungs. Here at Ponderosa, we re-enact the

break fast to once again, be served in a Dulang

and to bring home the meaning of togetherness,

unity and harmony.

For Bookings and Enquiries, contact 019-758 8093
---
PONDEROSA GOLF & COUNTRY CLUB NEWSLETTER

DO'S & DON'TS –

YOUR HARI RAYA 'NEW NORM'

ETIQUETTE 2022

(An adaptation: Article by Stephanie Yap [2019, May 16 - www.iproperty.com.my/lifestyle])

DO: Check what time to arrive

Although you have been invited to an open house,

it is only good manners to check with your host.

Moreover, with social distancing as the norm, it

will allow your host to manage the crowd. Be on

time.

chemicals as well.

DO: Greet the host

Remember your manners and to greet your host

by wishing them a Selamat Hari Raya. Amidst

the precarious COVID period, the word 'Selamat'

has deep meaning for everyone.

Also remember the norm of greetings now.

Avoid shaking hands or the 'salam' with kissing

the hand of the host. Do the palm on your chest,

or at most do a light fist bump.

DON'T: Overstay your welcome

Even if the host is your good friend, remember

that he/she will have guests coming in and out

of the house and they'd need to make time to

entertain them. So the best thing to do is take

your leave if you see people starting to arrive.

Moreover, due to the practice of standard SOPs,

too many people in the house are not allowed.

DON'T: Wear clothes that are too revealing

Out of respect, do away with shorts, mini-skirts,

sleeveless tops, body-hugging dresses even if you

feel comfortable with them. Be modest, but you

don't have to cover every inch of your body. A

simple t-shirt and jeans will also do, or to rise to

the occasion take out that rarely worn traditional

Malay dress / batik shirt you have hanging in your

wardrobe. Your host will be warmed.

DO: Help yourself with the food but mind your

SOP

The beauty about Malaysians is their pride in

their diverse cuisines and share of festivity fare.

If anyone has the audacity to tell us that 'Chicken

Rendang should be crispy" he will not hear the

end of it from Malaysians on social media!

Hari Raya is the time to savour among the best of

Malaysian food and do your host's effort justice

and keep topping up! It's only once a year. But

remember to respect the SOPs put to you.

DO: Help out wherever you can

It is good manners to clear your own plate after

eating, or at least take it into the kitchen and

leaving it at the sink. Don't leave the soiled plate

there as you leave the table. If you are sitting

at the table with other guests, be helpful by

passing dishes to them if they find it difficult to

reach. The host will appreciate it because they

may be busy entertaining other guests at the

same time.

DON'T: Open the Raya packet in front of people

It's a NO NO! Especially if you're visiting with

kids, remind them not to open the packets until

they're home. You don't want them running

around tearing open the Raya packets and

counting the amount they received in front of

the host as it is discourteous.

DON'T: Eat with your left hand

If you choose to follow the custom and eat with

your hands, you should always receive or handle

food with only your right hand. The left hand is

often deemed as "unhygienic" as it is typically

used to clean oneself after using the washroom. If

you have sanitised your hands earlier, remember

to wash it off first otherwise you will be ingesting
---
PONDEROSA GOLF & COUNTRY CLUB NEWSLETTER

MUD TO THE RESCUE …

"With the quickening pace of environmental degradation as well as the depletion of our collective

natural resources, the quality of life we experience on Earth is deteriorating at an alarming pace. Experts

say that individuals, groups, corporations, and governments must act now to contain the threat to

the very existence of mankind and all other forms of life. The challenge before us now is the reversal

of the existing situation through the enrichment of the environment and conservation of the natural

resources for a sustainable future for us and for our children" – Green Earth Society, Johor.

MUDBALLS FOR RIVER CARE

Throwing mudball into rivers

GES teaching students how to make mudballs

Mudballs are made using the EM

technology from Japan which is a

combination of mixing ordinary clay,

red earth or top soil with EM Activated

Solution and fermented to create naturally

occurring micro-organisms. These act to

purify water and hence improve water

quality that revives aquatic life over time.

LAKE CARE@

PONDEROSA

In March and in conjunction with the resorts'

revival of its Let's Bond 4.0 – H2O & More,

where we celebrate and raise the awareness

of the importance of water, Ponderosa and

Green Earth Society (GES) collaborated to

make and throw mudballs into its many lakes

and ponds, not forgetting the river dividing

Ponderosa and Permas Jaya.
---
PONDEROSA GOLF & COUNTRY CLUB NEWSLETTER

THE NEEM TREE

NATURE'S AMAZING REMEDY TO BETTER AIR QUALITY

Do you know that the Neem Tree is the most

researched tree in the world and is said to be

the most promising tree of the 21st century?

This is because it can help to combat deforestation,

soil erosion and is able to reduce excessive global

warming. It has a high rate of photosynthesis and

therefore releases more oxygen into the air in

the day as compared to other tree species, while

absorbing carbon dioxide during the night. A

member of the Mahogany family it is a hardy, fastgrowing

tropical tree up to 30 metres in height,

which provides good shade with long spreading

branches and moderately thick foliage.

What is further

amazing about the

Neem Tree is that

its fruits, leaves and

bark have Ayurvedic

medicinal properties.
---
PONDEROSA GOLF & COUNTRY CLUB NEWSLETTER

NEEM TREES @ PONDEROSA

FOR SHADIER, FRESHER AIR ON THE GOLF COURSE

GES and Ponderosa embarked on an initiative to plant Neem Trees along Hole 3. The first batch of

trees were planted by several Social and Golf Committee members on 28 February 2022.

Director, Steven Goh, marks the tree planting by

signing on the banner

Social Committee Member, Lena Lim and sister

Lydia Lim having fun with planting under the sun

Golf Committee Members, Mah Chee Wah and Tan Zi Yond doing their part to plant a neem tree

ENVIRONMENT CARE WITH GREEN EARTH SOCIETY

The Green Earth Environmental Care Association (GES) was founded by Mr. P.

Sivakumar in 2013, and was established as a body of NGO's carrying out various

activities related to environmental ecosystem care in Johor. GES is funded

through public donations, personal contributions, and grants and is run by

members and volunteers who are dedicated to environmental reform and with

goals to mobilize a mass movement through education and awarness.

To donate or sponsor projects, contact Elisha: 016-716 5565
---
PONDEROSA GOLF & COUNTRY CLUB NEWSLETTER

IN CELEBRATION OF THE MOST

IMPORTANT GADGET IN OUR LIFE

(Adaptation: Articles by Akayi Soe [2020, May 16 - www.buymobiles.net] and Dimas Pardo [2018, Jan 30 – https://

ehorus.com])

Mobile phones have become an everyday addiction – no longer just a tool of communication but

an indispensable gadget that could never be allowed to leave our sides. More so now, with the

MySejahtera we cannot go anywhere without it.

So to celebrate the gadgets that we've come to depend on so dearly, here are 10 mobile phone facts

that you probably didn't know. You may not believe all of them but let's have fun and appreciate the

technology that has been bestowed upon us.

1. The first mobile phone was HUGE and cost

about USD4000

The first mobile phone was likened by the local

Malaysian to a handy, hand held weapon! It was

even nicknamed as "Da Ge Da" literally translated

as "Big Big Brother". The Motorola DynaTAC 8000x

was very large compared to phones today. This first

cell phone was very expensive when it was released

in the US in 1984 with a retail price of $3,995!

2. Mobile phones are dirtier than toilet handles

Your smartphone goes just about everywhere

with you - which means that it picks up a whole

load of germs along the way. A used smartphone

carries around 18 times more 'potentially harmful'

types of bacteria than a toilet seat. So when you

sanitise your hands, sanitise your phone too!

and placing alarm clocks on bedside tables,

preferring the clock and the alarm clock features

in our smartphones. Soon they will completely

disappear while the vintages become prized

collectors' items.

5. Scientists can charge phones using urine

Yeeewwww!! But no kidding. BBC had reported

that scientists in Bristol have developed a way

of charging phones using urine, as urine is an

unending supply of waste product. An energy

converter which turns organic matter directly

into electricity can be installed in bathrooms

to harness the urine and produce sufficient

electricity to charge mobile phones. After all,

people enjoy using mobile phones while doing

their 'business' - no?

6. We check our mobiles around 150 times a

day

The average person unlocks their phone around

150 times each day as it is said that we check our

phones every 6 minutes on average. And you

wonder why it becomes a crime to use mobile

phones while driving?!

3. Your mobile is more powerful than a spaceship

According to www.zmescience.com, an iPhone

could be used to guide an Apollo-era spacecraft to

the moon, at the same time perform instructions

120,000,000 times per second faster than the

spacecraft itself.

4. Watches and alarm clocks will disappear

Statistics say that around 60% of users have

stopped wearing watches on their wrists
---
PONDEROSA GOLF & COUNTRY CLUB NEWSLETTER

7. Losing your phone has become a Phobia

It's a real ailment and even has a name!

According to Healthline.com, 'Nomofobia'

shortened from "no mobile phone phobia,"

describes a fear of not having your phone

that's so persistent and severe it affects daily

life. Symptoms include anxiety, difficulty in

breathing, trembling, perspiration, agitation,

disorientation and heart palpitations of over

100 beats per minute.

8. More people have mobiles than toilets

globally

A UN report provided a stunning statistic that

more people now have mobile telephones

around the world than have access to a flush

toilet. Six of the world's seven billion people

have mobile phones - but only 4.5 billion have

a toilet and now UN is so concerned with

the finding that they have launched a global

campaign to improve sanitation.

This is the Falcon Supernova Pink Diamond

IPhone 6, which has a case made of 18-carat

gold and has a large pink diamond on its back.

A toy for the ultra-rich and famous!

10. The best-selling mobile phone is the

Nokia 1100

Early users will remember those years when

NOKIA was the household name in mobile

phones. Although many locals remember the

highly hardy Nokia 3310 better, the Nokia 1100

considered as one of the toughest phones ever

created is the best-selling to date, having sold

250 million units.

These were also the earliest phones which

started the frenzy of interchangeable colourful

covers.

9. The most expensive mobile phone in the

world costs … 95.5 million dollars!
---
PONDEROSA GOLF & COUNTRY CLUB NEWSLETTER

PONDEROSA GOLF & COUNTRY CLUB

SPORTS WEEKLY ACTIVITIES 2022

DAY & TIME

Monday

9.00 A.M.

ACTIVITY

AEROBIC

Monday

7.00 P.M.

MUAYFIT

Tuesday

7.00 P.M.

KICKBOXING

Wednesday

7.00 P.M.

MUAYFIT

Thursday

9.00 A.M.

FITNESS CIRCUIT TRAINING

Thursday

7.00 P.M.

YOGA

Friday

9.00 A.M.

KPOPX FITNESS

Friday

7.00 P.M.

ZUMBA

Saturday

10.00 A.M.

4.00 P.M.

READYSTEADYGOKIDS

Tennis Lessons / Swimming Lessons / Diving Lessons / Personal Training and Paintball Games

are by appoinment only.

PADDOCK TENNIS COURT MULTI-PURPOSE STUDIO

For More Information, Please Contact us at Sport Department : 016-702 7852 sports@ponderosagolf.com