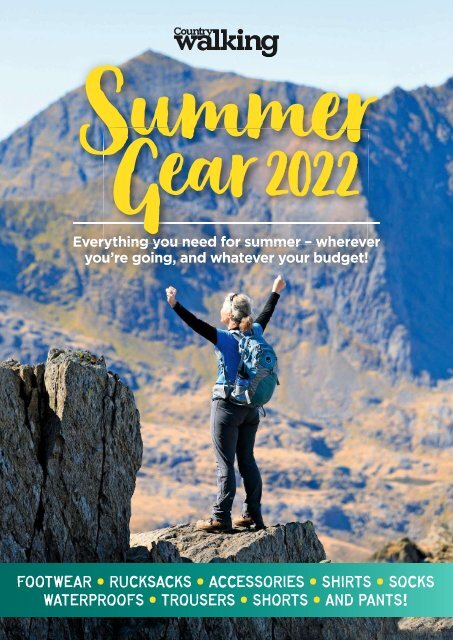 You also want an ePaper? Increase the reach of your titles
YUMPU automatically turns print PDFs into web optimized ePapers that Google loves.
Summer

Gear 2022

Everything you need for summer – wherever

you're going, and whatever your budget!

FOOTWEAR • RUCKSACKS • ACCESSORIES • SHIRTS • SOCKS

WATERPROOFS • TROUSERS • SHORTS • AND PANTS!
---
HIKER BEYOND

THE ORDINARY.

isthenewbenchmarkforalldayhikes.Abootmadeinthe

name of comfort and technologies, with IKS system on the sole that helps

to reduce foot fatigue during hiking.

SCARPA.CO.UK
---
Good to Go!

Believe it or not, these three photos were all taken in July. You know it's true

because you've had July days that looked like each of these, haven't you?

And while we might dream of days that look like the top two (and be over

the moon when we get them), there really isn't anything wrong with the

one down below, because…

1) You went out and walked anyway – go you!

2) There's always a damn good chance the day will change, and you'll be the one

who's out enjoying the magic moment as the skies clear.

3) Even if it stays like that all day, you had the kit to cope with it.

And that's what this guide is all about – kit that's ready for anything a British

summer can throw at you. Yep there are lots of cool T-shirts, skip-happy sandals

and flasks to keep your lemonade chilled. But we've also got boots that keep the

rain out and jackets the keep the rain off; hats and headbands for a chilly summit,

and zip-off trousers that go from windstopping combats to sunny-afternoon

shorts in the wink of an eye. We've scoured that crazy, crowded market out there

and selected options we think you'll love, and which are likely to see you right

not just for this wonderful, changeable summer, but for many more to come.

Because whatever comes your way, you've got this.

The Country Walking Team

COUNTRY WALKING

SUMMER GEAR 2022

WRITERS

Matthew Pike & Nick Hallissey

ART EDITOR

Emily Reynolds

PRODUCTION EDITOR

Marie Marsh

COMMERCIAL & MARKETING

Anna Skuse, Katie Kerry

& Angele Karsan

Contents

05 RUCKSACKS

From compact daypacks to

big beasts for the Coast to

Coast and Pennine Way.

09 SUMMER

ESSENTIALS

From poles to pants:

everything you need for sweet

summer adventures.

13 FOOTWEAR

Everything from super-light

sandals for the beach to boots

for high-peak trekking.

17 SUMMER SOCKS

If boots are the hardware,

here's the perfect software to

install in 'em.

21 SHIRTS & TEES

Explorer-style button shirt or

fast-wicking baselayer? The

choice is yours.

25 WATERPROOFS

Unbelievably, it can still rain in

July. But that's not a problem

on this page.

28 TROUSERS & SHORTS

Keep those hard-working legs

cool and comfy when the

mercury's rising.

--

Plus: MASTERCLASSES

A close look at what makes

the best outdoor kit work

so beautifully.

SUMMER GEAR GUIDE 2022 3
---
DEUTER

IS FOR

LEADING LIGHTS

#deuterforever

FUTURA 25 SL

deutergb.co.uk
---
ADVERTISING FEATURE

Rucksacks

From nature reserve to national park:

we've got your back this summer.

THE MASTERCLASS

DEUTER

TRAIL SERIES

We kick off our Summer Gear Guide with the cleverest, most

adaptable and hardest-working piece of kit on any summer

walk: the rucksack. Think of all the incredible things a

rucksack has to do when it's warm: carry all your

wet-and-windy weather kit (but compress

nicely once you take that stuff out and put it

on); stay stable and sturdy whether you're

boulder-hopping on a summit or

sliding around a muddy field;

keep heat and moisture

off your back; and feel

comfortable even on day

8 of a long-distance walk.

That's why we've singled

out one of the very best

rucksack ranges to show

how it does all that and more.

BACK SYSTEM

The Trail's Aircontact back

system makes carrying

even heavy loads easy. It

brings the weight close to

the body and your centre

of gravity, resulting in

better pack control. The

cushions are made from

hollow camber foam,

which provide great

ventilation thanks to the

pump effect of your

movement.

A FIT FOR EVERY BODY

The Trail comes in unisex and women's specific fit (SL).

The women's fit has a shorter back length, narrower

shoulders, and conical-shaped hip fins, which all work

together to provide a better fit for women's bodies. These

fits, along with the diversity of volumes in the range

(20 litres to 36 litres), means there is a pack for everyone.

ADAPTABILITY

The close fit of the pack is

comfortable on paths and

trails but also provides a

secure fit for when the

terrain becomes more

steep or technical. The

Trail has space for all you

need for a day out in the

hills and attachments

for your walking poles,

making it a great choice

for all types of walks.

STORAGE

With a lid pocket, internal

valuables pocket, one

zippered side pocket and

one stretch side pocket

there are a variety of

storing solutions. The

two-way zip on the front

allows direct access to

well buried items, even

when the lid is closed.

How much &

where from?

Prices range from £95

to £135. Model shown is

the Trail 28SL (£105).

Find the full range at

deutergb.co.uk

GOOD FOR THE PLANET

The Trail series, like all Deuter packs, is free from

perfluorocarbons, or PFCs. PFCs are harmful chemicals

which have been used in waterproofing products.

Instead Deuter use treatments that are 100% free from

PFCs, yet are still highly water- and dirt-repellent.

Turn over to meet

more rucksacks for

summer days…

SUMMER GEAR GUIDE 2022 5
---
Rucksacks

CLASS OF 2022

QUECHUA

20L COUNTRY

WALKING £10

As well as an excellent choice of

name, it's also a great choice

of pack for everyday walks.

At 20 litres there's enough space

to store lunch and waterproofs,

and there are five pockets, side

compression straps and basic back

ventilation. All of that for a tenner?

That's extraordinary. decathlon.co.uk

COLUMBIA

TANDEM TRAIL 22L

£65

A lightweight option that's still

equipped with everything you

might want for a summer walk.

There are two water bottle

pockets and it'll take a hydration

system too. It also has pole

attachments, and the adjustable

chest strap distributes the weight

nicely. columbiasportswear.co.uk

ALPKIT

PACIFIC CREST 55L £75

A great-value option for those needing

a larger pack for multi-day trails.

It might be large, but it weighs just

1.75kg, and is mega-comfy to

carry thanks to its adjustable back

system and padded hip belt. The

zipped base and side entry points

mean that everything in the main

compartment is easy to access.

alpkit.com

DEUTER

SPEED LITE 25 /

23SL £90

Deuter's Speed Lite range sets

the standard for low-weight,

low-fuss hiking, and this newly

updated version flies the flag in

style. The full range goes from

13 to 30 litre packs, but this 25L

version is featherlight at 732g

and perfect for day-walks.

deutergb.co.uk

MONTANE

ORBITON 20 £90

This is a brilliant new pack for

those who like multiple forms of

exercise. It has adjustable hip fins

which you can switch between

'walk', 'run' or 'bike', as each is

designed to fit for that particular

activity. Its main compartment

is expandable and there's a

laptop pocket too.

montane.com

BERGHAUS

REMOTE HIKE 35 £95

This large pack is ideal for those who'll

be out all day. It comes in men's and

women's varieties with adjustable

back systems designed specifically for

the male and female form. It also has

numerous pockets and quick access to

the main compartment (for when you

suddenly need that waterproof you

stuffed right at the bottom).

berghaus.com

KELTY

REDWING 36 £100

Another great one for long days.

US brand Kelty have updated

their most popular pack with

a new ventilation system and

improved frame for greater

stability. Its clever side pockets

allow you to put your walking

poles right through, and you

can stash a jacket under the

bungee cords at the front.

wildbounds.com

SALOMON

OUTNIGHT 30+5

£105

A really comfy, versatile

option that's great if you're

undertaking steep trails or

a bit of scrambling. It fits

snugly, it moves with you, and

it's compatible with a hydration

bladder or soft flask. It also has

a detachable lid to help you

adapt your load from one trip

to the next. salomon.com

6 SUMMER GEAR GUIDE 2022
---
THE KNOWLEDGE

Every rucksack feels lovely when you try it on in the shop because it's only

loaded with display padding. If you're going rucksack shopping, make sure you

take along everything you'd take on an average walk – waterproof, mid-layer,

a lunch box/bag, hat, gloves, first aid kit, map, compass, charger, headtorch –

and ask to load it all up into the pack you like the look of. Only when it's packed

to the max with everything you'd take on a real walk will you know how well it

really disperses the weight, and how easy it is to find the bits that you buried

down at the bottom.

PATAGONIA

ALTVIA 22L £110

This is both a cool and feelgood

option. Cool because it has a really

breathable back panel and shoulder

straps that'll help keep you

ventilated on the hottest summer

days. Feelgood because

Patagonia have made it from

100% recycled nylon, so it's a

great purchase for Mother Nature.

eu.patagonia.com

RAB

AEON 25L £110

This is packed with great features

for day-walks in the mountains.

The ABS back panel has been

vacuum formed, precurved and

moulded to maintain shape while

moving with your body. The pack

also has adjustable back length,

loads of pockets (including an

internal zipped one for valuables)

and raincover. rab.equipment/uk

JACK WOLFSKIN

TERRAVENTURE 22

£115

Another pack with serious

eco-cred. Jack Wolfskin say

'every synthetic fibre, sewing

thread, webbing and trimming,

is made from fully recycled

material, as well as all buckles

and zippers.' It's also comfy to

wear and made from tough

stuff. jack-wolfskin.co.uk

SHOWERS PASS

RANGER HIP PACK £115

A great option for minimising perspiration on hot days.

This hip pack has seven litres

of storage space – enough for

snacks, sun cream and

light clothes – plus a

mesh water storage

pocket on either side of

the bag. The hip belt is

easy to adjust as you go.

showerspass.co.uk

OSPREY

TALON 22 /

TEMPEST 20 £120

A classic day-pack. However

tough the terrain, the Talon and

Tempest packs are so lightweight,

and framed so perfectly, that

they won't destabilise you.

They allow full freedom

of movement, and the

breathable backsystem is

a treat. ospreyeurope.com

VAUDE

TRAIL SPACER 18 £140

It's small, it's light, it's eco-friendly

and it's designed so you can

walk at pace for long periods.

The straps feel a bit like you're

wearing a vest, so the pack is

very comfortable and has great

ventilation. It has also been made

from sustainable materials and

without the use of fluorocarbons.

vaude.com

FJÄLLRÄVEN

ULVÖ ROLLTOP 30

£150

A new, larger version of their

popular Ulvö 23. It's waterproof,

so you can actually store

electronics inside without the

need for a drybag (there's even

a laptop sleeve inside). Its tough

Bergshell fabric is made from

100% recycled material, and is

highly resistant to abrasion and

tearing. fjallraven.co.uk

GREGORY

FOCAL 48 £180

At just 1.18kg, the Focal is

amazingly lightweight for a

trekking pack of this size. There

are two fixed back lengths which

you can adjust to find your

perfect fit, and the panels move

with your body to help with

stability. The lid is removable,

making the pack highly adaptable,

and there's a built-in raincover.

gregorypacks.com

SUMMER GEAR GUIDE 2022 7
---
ADVERTISING FEATURE

Summer Essentials

Sunhats to sweatbands; torches to

trekking poles: everything for every walk!

THE MASTERCLASS

SEA TO SUMMIT

LIGHTWEIGHT DRY SACK SET

Drybags are simply one of the smartest ideas in the walking

world. Most rucksacks aren't waterproof, which means that

even with a raincover, the important stuff inside is still

vulnerable to heavy rain. That's where drybags work

miracles: they keep things clean, organised, easy to find

and most importantly dry, no matter how much water

seeps into the pack. Plus

they're lightweight,

hardwearing and almost

infinitely reusable. From

valuables to electronics,

from sandwiches to wet

swimming kit, drybags

are the first and last line

of defence. Here's

the perfect example.

TOUGH STUFF

Made from 70

denier nylon, these

Lightweight Dry Sacks

are tough, yet still light

so they don't weigh

you down. The flexible

fabric also makes them

easy to stuff into tight

areas, saving space as

well as weight.

HASSLE-FREE

So easy to use: simply fill

as required, roll down the

top and clip the buckle.

MADE TO LAST

Sea to Summit are proud

of what they create. All

their products carry a

lifetime warranty against

defects in workmanship

and materials to the

original owner for the

intended life of the

product under normal

use. (T&Cs apply, but

apparently the guarantee

doesn't get invoked

very often…)

A HISTORY OF

ADVENTURE

Sea to Summit began

when Aussie climber and

gearmaker Roland Tyson

outfitted an unusual first

ascent of Mount Everest

from sea level to summit.

Since then, he and fellow

adventurer Penny

Sanderson have created

adaptable, lightweight kit

that any hiker can use,

whether they're heading

for Everest or their local

country park.

TAKING THE

TRASH

A popular option is to use

the smallest dry sack as a

rubbish bag, both for your

own rubbish and for any

litter you might find on a

walk – so you can help to

keep our footpaths clean

without filling your pack

with loose rubbish.

ALL YOU NEED

Sea to Summit's

Lightweight Dry Sack

set offers durability and

reliable weatherproofing

for the items that you

need to protect from the

elements in one handy

set, which includes

Yellow 4L, Green 8L and

Blue 13L drybags.

How much &

where from?

£35; find the complete

Sea to Summit range at

seatosummit.co.uk

Turn over to find more

great accessories for

every walk you do…

SUMMER GEAR GUIDE 2022 9
---
Summer Essentials

CLASS OF 2022

LIFESYSTEMS

MOUNTAIN

SUN CREAM £9

At factor 50+, this cream has been

specifically designed to protect your

skin from the extra-harmful rays you get

at high altitude. Once applied, the skin

protection lasts for up to six hours,

although you'll need to reapply every

two hours when up high or when it's

really humid. lifesystems.co.uk

FJÄLLRÄVEN

ABISKO WOOL

HEADBAND

£18

As well as ensuring

your hair behaves itself,

this headband wicks

away moisture, so you feel

more refreshed in the heat. It's

made from the leftover material from the

Abisko Wool Tank Top, so you'll be helping to

reduce wastage too. fjallraven.co.uk

TREKMATES

ORCHY DRY GAITERS £20

These lightweight ankle gaiters from

Trekmates (offcial partners of

#walk1000miles) are not only

waterproof, but are made of tough

material that's also breathable. They

work with shoes or boots and

come with a replaceable

underfoot strap and

metal hook for attaching

to laces. trekmates.co.uk

PRIMUS

KLUNKEN BOTTLE 0.5ML

DOUBLE WALL INSULATION

£33

Made from stainless steel and vacuum

insulated with a double wall, this sturdy bottle

will keep your drinks well chilled over summer.

Then come winter, it'll keep your coffee piping

hot. Primus are stablemates with Fjällräven, so

the Klunken's colour schemes match those of

the all-conquering Kånken backpack.

ldmountaincentre.com

CROSSFLY

IKON X 6" BOXERS £25

We already love three brands when it

comes to walking underwear for men

(Saxx, BAM and Páramo), but new

kids on the block Crossfly might just

be the most impressive of the lot.

Super-smooth and super-supportive

where you need it, yet brilliantly

breathable, these are just absurdly

comfortable after hours on the go.

crossfly.com

OUTDOOR RESEARCH

HELIOS SUNHAT

£35

This is a favourite of

CW writer Philip

Thomas. It has a UPF

50+ rating and a wide brim,

so your whole head is well

protected. The drawcord

keeps the hat snug and well

anchored to your head.

cotswoldoutdoor.com

SILVA

SCOUT 3XT HEAD TORCH £35

A lightweight, take-it-anywhere headtorch at a great price.

There's a powerful light output of 350 lumens, delivered via

Silva Intelligent Light, which is a combination of long-reach

spotlight and close-in floodlight. silvasweden.uk

HYDRO FLASK

24OZ BOTTLE £38.95

This will keep a drink nice and cold for up to

24 hour, and hot for up to 12 hours. It's made

from practically indestructible pro-grade

stainless steel (which prevents flavour

transfer) and has a leak-proof cap. It also

has a limited lifetime warranty against

manufacturer defects. Hydro Flask are a

great brand but sadly they don't sell direct or

deliver to the UK, although you can find their

wares courtesy of Mr Bezos at amazon.co.uk

10 SUMMER GEAR GUIDE 2022
---
THE KNOWLEDGE

You may look at a UPF number and think, 'that sounds impressive, but what

does it actually mean?'. UPF stands for Ultraviolet Protection Factor and tells

you how much UV radiation from the sun reaches your skin if you're using this

particular product. If the UPF is 50, only a 50th of UV rays that reach the fabric

get to your skin, so it blocks 98% of rays. A UPF rating of 30 to 49 is considered

very good, while 50 or more (as seen with Lifesystems' Mountain Sun Cream,

below) is regarded as excellent protection. The NHS has more information

about UPF and sunscreen precautions at bit.ly/nhsupf

CAMELBAK

FUSION 2L

RESERVOIR £60

Camelbak have managed to

make this brand new reservoir

(and the three-litre version)

30% lighter than their previous

models. And the valve delivers

20% more water on each sip.

It's also easy to fill and its on/off

lever prevents leakage.

camelbak.co.uk

JULBO

CAMINO SUNGLASSES £60

You won't miss a thing with these on – they have ultra-wide

vision to take in the full view, they're scratch resistant and

they have removable side shields to protect against glare.

You'll also look amazing, quite frankly. julbo.com

LEATHERMAN

BOND MULTITOOL £60

As with the original Leatherman, this is

minimalist in design but has

loads of features. These include

a knife, pliers, wire cutters,

screwdrivers and the 'thank God

for the Leatherman' bottle

opener. You can't argue with a 25-year

warranty either. And the suggestion that

someone called Bond might use it is just the

icing on the cake. leatherman.co.uk

PETZL

ACTIK CORE HEAD TORCH £60

The Actik Core is a perfect watch for keen night walkers, from

the renowned head torch specialists of old. Adjustable beams

with a maximum of 450 lumens, red light for night vision, USB

chargeable but able

to take AAA

batteries too.

cotswold

outdoor.com

SMARTWOOL

SEAMLESS

RACERBACK BRA

£60

A bra of two layers – the inner

layer is made from seamless

merino, so it feels comfortable

on the skin, while the outer

layer offers support. The cups

are designed to provide shape and lift, and come with

removable padding, so you can get the feel just right.

smartwool.co.uk

CRAGHOPPERS

TREKLITE CARBON WALKING

POLES £85 (PAIR)

Taking these with you adds very little to your

pack weight but offers a lot of support when

you need it. They're made from carbon fibre,

which is why they're strong and light, and

they have a really comfortable grip. They're

suitable both for normal and Nordic

walking. And often heavily discounted,

making them a bargain.

craghoppers.com

HELINOX

SPEED STOOL £85

An ideal piece of kit for if

you like to stop for civilised,

dry-bottomed breaks as

you go. It weighs just 470g

and when it's packed it's just

42cm long, so it's easy to carry

with you. Then when you need

it, it just pops open and is

ready in an instant. helinox.eu

LEKI

MAKALU FX CARBON / CRESSIDA FX

CARBON WALKING POLES £190 (PAIR)

A new high-end, superlight

version of Leki's

top-selling trekking

poles, these offer a

supremely eronomic

Aergon Air grip, a Speed

Lock system for fast

adjustment, and a 'guiding

nose' for downhill use.

leki.com

SUMMER GEAR GUIDE 2022 11
---
TFBUPTVNNJUDPVL
---
ADVERTISING FEATURE

Footwear

Take your feet to the next level this summer,

and unlock incredible days out.

THE MASTERCLASS

SCARPA

RUSH TRK GTX

Is 'the perfect walking boot' a myth? Well sort of,

because everyone's feet are different and

there's no magic boot or shoe that will

suit every walker. What does exist is

the perfect walking boot for you, as

long as you shop carefully, try

before you buy, and listen to what

your feet are telling you. That said,

the Scarpa Rush TRK is pretty close

to a perfect walking boot. Here's

why we've chosen it to illustrate

what makes a really good walking

boot tick…

TREAD LIGHTLY

Weighing in at only 1100g

per pair (size 42), the Rush

TRK boots feel light while

still being protective

and durable.

COMFORT IS KEY

The Rush TRK is built for

comfort even on long,

all-day walks. The padded

fabric of the Autofit 3D

collar stabilises the entire

foot without pressure

points and wraps the

ankle to allow it to stay

supported but flexible.

The Interactive Kinetic

System in the sole is

designed to support the

weight of your body while

walking to keep you going

all day long.

…AND AWARD

WINNING

The Rush TRK was

Country Walking Product

of the Year 2021, thanks

to its lightweight build,

grippy traction and

precision roll from

heelstrike to toe-off – and

sheer value for money too.

GREAT LOOKS

The Rush TRK looks

utterly modern, with

great design to stand

out on the hills, yet it

comes with the

pedigree of over 90

years of Italian

craftmanship. That's

what makes it a

superb all-rounder.

HEART AND SOLE

The Presa sole (developed by

Scarpa's in-house R&D team)

is made with a high-grip

Supergum rubber compound

giving you excellent grip and

durability. The pronounced

heel and hiking-oriented lugs

aid braking on descents, while

providing grip on climbs.

TOUGH BUT COOL

The Rush TRK's tough upper

is made from 1.6-1.8 mm

leather, providing great

durability. But it's also

flexible and breathable,

making it ideal for summer

walking. There's Gore-Tex to

keep it waterproof while also

dispersing heat effectively. It

keeps water out, while sweat

that is created inside the

boot quickly evaporates.

How much &

where from?

£185; find more details

and the full Scarpa

range at scarpa.co.uk

Turn over for more

quality footwear

options…

SUMMER GEAR GUIDE 2022 13
---
Footwear

CLASS OF 2022

CRAGHOPPERS

ECO-LITE MID £95

A fab-looking casual-style shoe packed full

of eco features, such as the antibacterial

and breathable midsole which is made

from recycled foam, and the mesh

upper made from recycled

bottles and marine litter.

craghoppers.com

COLUMBIA

HATANA MAX OUTDRY £110

A sleek, sophisticated shoe from fast-and-light specialists

Columbia, the Hatana offers 'adaptive traction' (the grip

follows the ground) and 'Navic fit' (a lace

webbing system that keeps your heel

in place), plus their highly reliable

OutDry membrane.

columbia

sportswear.

co.uk

KEEN

NXIS EVO WP £140

We've been mooching about over vale and hill

in this for a couple of months now and it is

a seriously impressive all-terrain shoe.

It offers the extra toe room and

protection the brand is known

for, but with enhanced

all-terrain grip and

really stunning

underfoot comfort.

keenfootwear.com

JACK WOLFSKIN TERRAVENTURE

TEXAPORE LOW £140

Jack Wolfskin have made this shoe as

eco-friendly as possible, with a

recycled inner lining and upper,

and a waterproof membrane

made from both post- and

pre-consumer waste.

It's also lightweight

and really comfy.

jack-wolfskin.

co.uk

MERRELL

CHAM 8 STRETCH TACTICAL £140

Named after a famously adaptable reptile, this new boot is

at home on just about any terrain.

With shock absorbers in the heel,

an EVA foam midsole for stability,

waterproof upper and

excellent traction,

it looks after

your foot nicely.

merrell.com/uk

HANWAG

BLUERIDGE LOW £150

Hanwag's new Blueridge range aims to be a lighter, softer,

more flexible alternative to their excellent Banks range for

easy hiking – and it's eco-conscious

too. 100% PFC-free and made in

Europe with a fully traceable

supply chain, it's

looking like a

real winner for

summer walks.

hanwag.com

HOKA ONE ONE

ANACAPA MID GTX £150

If your feet suffer from constant pavement

and track pounding, then these should help

soothe them. They have Hoka's incredibly

distinctive cushioning and an extended

heel that makes the impact

smoother. The Gore-Tex

membrane will also keep

feet dry and cool.

hoka.com

BERGHAUS

VC22 MID GTX BOOT £160

These mid-cut boots offer great ankle

protection, so you can take on uneven

terrain with confidence. There's luxurious

cushioning in the footbed too, and the

Gore-Tex membrane will keep those

feet fresh after a long day.

berghaus.com

14 SUMMER GEAR GUIDE 2022
---
NEXT ISSUE: OUR BIGGEST EVER BOOT TEST

30 WALKING BOOTS PUT THROUGH THEIR PACES BY THE

COUNTRY WALKING TEAM. ON SALE 28 TH APRIL – DON'T MISS IT!

MEINDL

ONTARIO GTX £165

This shoe looks as good on the high street

as on the hill. But that doesn't mean it

lacks technical features. The uppers

have a Gore-Tex membrane, the

footbed keeps things ventilated

and the sole has enough

traction for a variety

of terrain.

meindl.co.uk

SALOMON

PREDICT HIKE GTX £165

This shoe might be cosy, with its soft footbed, close fit and

good ankle support. But it's also

capable of handling big days on pretty

tough terrain thanks to its sturdy,

deep lugs, its Gore-Tex

membrane

and its

flexibility.

salomon.

com

LA SPORTIVA

TX HIKE MID GTX £170

La Sportiva's focus is on lightweight,

precise, technical footwear for mountain

terrain, and the TX Hike embodies those

priorities smartly. It's lightweight, really

flexible, and the midsole has

stabilisers that add cushioning

and keep you steady.

And it's made using 65%

recycled materials.

lasportiva.com

LOWA

EXPLORER GTX LO II SHOE £170

A shoe designed to handle the tough stuff – its tread provides

excellent traction even on diffcult terrain. There's lots of

cushioning for long days in the hills,

plus a lacing system that gives a

precise fit for your lucky

feet. lowa.

co.uk

DANNER

TRAIL CAMPO GTX £180

US brand Danner really know how to make a comfy trail shoe.

On this little beauty, the footbed consists of three layers

which combine to offer great

cushioning and support, while the

Vibram outsole provides

plentiful grip. global.

danner.

com

ZAMBERLAN

NEW TRAIL LITE GTX BOOT £180

This boot has been built to last. The

single-piece leather upper (with

Gore-Tex) is a match for any conditions

you might face, and the Vibram

Grivola outsole will give you

good grip even on the

slippy stuff.

hillanddale

outdoors.co.uk

AKU

ROCK DFS GTX SHOE £190

These remarkable shoes aim to change

the game with their double lacing

system. The first provides a relaxed

fit for regular walking, and the

second tightens the shoe

around your forefoot

for steeper

ascents and

scrambling.

trekitt.co.uk

SCARPA

MESCALITO TRK GTX £225

This boot has the toughness, resilience

and comfort to be your ideal companion

on a long-distance trail. It also copes with

demanding conditions with its excellent

grip and sturdy support, and should

keep you going day after day.

scarpa.co.uk

SUMMER GEAR GUIDE 2022 15
---
"I can't believe what a difference

Bridgedale socks make to walking."

Kim Kimberley

LITTLE THINGS MATTER

Design, knit and quality control in UK

Nylon structure gives durability

Tested around the world

LYCRA® structure allows stretch and recovery

Recommended Sock for The Duke of

Edinburgh's Expedition

All day comfort

www.lycra.com

LYCRA® DRY TECHNOLOGY

www.bridgedale.com
---
ADVERTISING FEATURE

Socks for Summer

Stay cool and stable in your boots

for mile after mile this summer.

THE MASTERCLASS

LORPEN

T3 MIDWEIGHT HIKER

Even the 'perfect' boot or shoe will only do its best work if

it's working in tandem with the perfect sock. In summer your

socks have a host of important jobs to do: keeping your foot

stable and secure inside the boot; keeping

its shape so it doesn't scrunch down

as you cover those long, lovely

miles; preventing those

annoying rubs that can

turn into blisters – and

carefully managing the

heat and moisture that

come with a warm day's

walking. So a good sock isn't a

luxury – it's an essential. And

here's a sock which gets that

blend spot-on.

SUSTAINABILITY

Lorpen is committed to

preserving the

environment in every

aspect of business.

Wherever possible, the

brand uses fibres created

from sustainable and

manageable resources.

They also develop

manufacturing processes

that are sensitive to the

environment and reduce

the amount of

post-production waste at

all levels.

PROUD

HERITAGE

Lorpen Socks are

engineered in the

Pyrenees where the

brand has been making

great socks for outdoor

enthusiasts for over

30 years.

THE PERFECT

BLEND

Ideally a walking sock

needs to be a blend of

toughness, breathability

and stretch, and the

secret is in the blend of

fabrics. Here's the mix that

makes the T3 Midweight

Hiker so dynamic…

• 20% PrimaLoft

• 35% merino wool

• 35% nylon

• 10% stretch nylon

with Lycra

ADAPTABILITY

The T3 Midweight Hiker

has a great balance

between insulation

and breathability,

making it a good

companion on

long walks

throughout

the year.

How much &

where from?

£22; find full details of

this pair, and the rest of

the Lorpen range, at

lorpen.co.uk

TOP TECHNOLOGY

Lorpen's T3 technology combines three

layers of different yarns to create a sock

which maximises warming and cooling

properties. The three layers work together to

wick moisture away from the feet, help it to

disperse and protect the feet from abrasion.

STRONG WHERE IT COUNTS

With reinforcement in the sole and

cushioning across the foot, the T3

Midweight Hiker provides added comfort,

so you don't have to worry about your feet,

even on the longest of walks.

This way for more

great sock options…

SUMMER GEAR GUIDE 2022 17
---
Socks for Summer

CLASS OF 2022

KEELA

ROVING SOCK £10

The Roving Sock (great name)

offers plenty of protection with a

fully-cushioned sole, a cushioned

bridge, plus reinforcement in the heel

and toes. keelaoutdoors.com

HJ HALL

PROTREK LIGHT HIKE

£10.50

Perfect for summer walking – these are

lightweight, they wick moisture and

they dry quickly so they are soon ready

to go again. hj.co.uk

SHOWERS PASS

TEMPO £12

Cycling brand Showers Pass have

moved confidently into the walking

market. Here's a low-cut sock providing

'earth-friendly comfort and durability'.

showerspass.co.uk

1000 MILE

APPROACH SOCK £14

The Approach sock is devilishly clever:

the inner layer moves with the foot,

while the outer moves with the shoe,

reducing friction and blister risk.

1000mile.co.uk

BAM BAMBOO

WALKING SOCK £15

'Join the bamboo revolution,' say BAM.

Made from bamboo and merino, these

socks are beautifully soft, and great at

controlling temperature, moisture and

odour. bambooclothing.co.uk

CRAGHOPPERS

HEAT REGULATING

TRAVEL SOCK £16

We're not entirely sure what makes this

a 'travel sock' as distinct from a 'really

good walking sock' – but it's definitely

one of those. craghoppers.com

18 SUMMER GEAR GUIDE 2022
---
THE KNOWLEDGE

Some brands use bamboo in their socks – particularly BAM, for whom bamboo

is the cornerstone of their whole offering. But isn't bamboo a type of wood?

Yes, though the bamboo plant also has leaves and a soft inner pith at the

centre of its trunk. These are crushed before being soaked, washed and spun

into a yarn. You're left with a material that feels really soft and silky, and is

stretchy and excellent at absorbing moisture away from your skin. It costs less

to produce than cotton, and if responsibly farmed and manufactured, it can be

a good eco option too. Bamboo: not just for pandas, then.

EDZ

ALL CLIMATE

MERINO SOCK £18

Designed to be as handy in winter as

in summer, these adaptable socks are

well-padded and great at wicking

moisture. edz.co.uk

BRIDGEDALE

HIKE LIGHTWEIGHT

MERINO PERFORMANCE

£18.50

Can't say much cos of the long name

but: probably the best walking sock in

the world. That's all. bridgedale.com

LORPEN

T3 LIGHT HIKER £19

A lighter option than the Midweight

in the Masterclass, these superb

all-rounders are fantastic in summer

and just as good through spring and

autumn. lorpen.co.uk

MEINDL

MT3 MERINO MAGIC £22

Multi-day walkers take note: these

lightweight socks won't smell even if

worn on consecutive days, thanks to

the antibacterial qualities of the merino

wool inside them. meindl.co.uk

DARN TOUGH

DECADE MICRO CREW

£23

These socks can be worn in just about

any weather – they're really tough,

and they feel fabulously smooth.

absolute-snow.co.uk

SMARTWOOL

HIKE LIGHT CUSHION £23

Created for numerous terrains, with a

light layer of cushioning across the sole,

extra ankle flex and amazing durability.

smartwool.co.uk

SUMMER GEAR GUIDE 2022 19
---
Deter midges and mosquitoes away

with the Thermacell Zone Protectors.

Available from

Designed for portability and easy

to use, the MR300 gives you no

need for smelly, harmful sprays

or oily lotions.
---
Baselayers & Shirts

Keep your cool when it's warm – but stay ready for anything, too…

THE MASTERCLASS

FORCLAZ

TREK 500 MOUNTAIN TREKKING

LONG-SLEEVED T-SHIRT

Cool, light, flexible, breathable, odour-free, functional,

fashionable – we ask a lot of our baselayers and shirts,

especially in summer. Sometimes we're after a casual

look, sometimes we'd like something that

looks and feels ready for big

adventures. The best baselayers

can bring all those attributes

together in a product you can

wear all year round – and here

is a superb merino top

to prove it…

LIGHTWEIGHT

Hardworking though it may be, the

greatest virtue of a good baselayer is in

not realising you're even wearing it. At

243g (large), the Trek 500 is featherlight

considering its sophisticated construction.

HALF-ZIP

Polo neck shirts might be

cooler in general, but a

half-zip gives you greater

versatility – zip down for

maximum breathability on

hot days; zip up to keep

the draughts out when it's

chilly out there.

FREEDOM OF

MOVEMENT

Look for a decent degree

of built-in stretch, so your

movements stay smooth

and uninhibited on the

go. High quality merino

like this has stretch

for days.

ODOUR

CONTROL

Synthetic fibres

can handle odours

pretty well – but

nothing beats

merino wool

for dispersing

unpleasant odours,

giving a baselayer

that can run for days

between washes

without you scaring

people away.

BREATHABILITY

This is probably our biggest concern

with a baselayer, especially in the heat of

summer. Look for something like this one,

which uses natural merino wool to wick

away moisture and maintain your arms

and torso at a comfortable temperature.

ABRASION RESISTANCE

Your baselayer will often be sandwiched

between your skin and an outer layer,

probably with a rucksack harness pressing

down on it too. So look for subtle seams and

a soft polyamide yarn to prevent abrasion.

How much &

where from?

£45; find full details of

this one, and other

options from Forclaz

and Quechua, at

decathlon.co.uk

Turn over to meet more

baselayer options…

SUMMER GEAR GUIDE 2022 21
---
Baselayers & Shirts

CLASS OF 2022

ROHAN

VAPOUR T £37

This lightweight, airy T-shirt wicks

moisture away from your skin, dries

quickly enough after a wash to wear

the next day, and has UPF 40+ sun

protection, plus an anti-odour finish.

rohan.co.uk

SUB ZERO

ANTI-MOSQUITO £40

If you're heading to where bloodthirsty

insects roam, this will repel them with

its Superbug fabric treatment. It also

has mesh zones where heat can

escape, plus enhanced wicking.

subzero.co.uk

BAM

KAGU £44

The half-zip Kagu is made

predominantly from bamboo, which

makes it really soft and smooth. It also

absorbs moisture and is breathable to

keep you cool as well as comfy.

bambooclothing.co.uk

CRAGHOPPERS

NOSIBOTANICAL HULA

£50

NosiBotanical is an extension of Crags'

renowned NosiLife insect-repellent

formula and it's plant-based (hence the

name); specifically it's derived from

lemon eucalyptus twigs. Love this shirt.

craghoppers.com

ZEROFIT

COOL WEAVE £50

Zerofit are primarily known for their

warm winter layers, but here they are

proving they can do summer too. This

has a water absorbing polymer that

shrinks to allow sweat to disappear at

speed. The arms and neck also have a

UPF 50+ rating. zerofit.co.uk

ALPKIT

CAREON £55

The trekking shirt is a bit of an artform:

a genuine all-rounder that, if it works

properly, you can wear on the hill, on

the plane, in the piazza and in the bar.

Here Alpkit get it spot-on with a soft,

light, fast-wicking shirt that looks great.

alpkit.com

22 SUMMER GEAR GUIDE 2022
---
THE KNOWLEDGE

You'll see many brands explaining that the Durable Water Repellent (DWR)

treatment they use is 'PFC-free'. DWR is an outer coating that makes water roll

off the fabric, and those that include PFCs (perfluorocarbons) can be very

effective at this. But PFCs are also non-biodegradable, so eco-conscious

companies are trying to remove them. Doing so while maintaining the same

level of performance is proving to be a real headache, but the alternatives

are improving by the year and some companies are hoping to be completely

PFC-free in the near future.

RAB

FORGE £55

A slim-fitting baselayer made with a

blend of merino and polyester, which is

quick to dry, breathable and prevents

bad odours. A joy to wear from Day 1 of

a trail to Day 15, with minimal care

needed along the way. rab.equipment

SALEWA

PUEZ HEMP £60

Salewa are never knowingly

undercomplicated, but it works. This

slick, bodymapped shirt is made with

Alpine hemp – a material that's

impressively durable and has a low

environmental impact. salewa.com

ARTILECT

BOULDER £65

What doesn't this T-shirt do? It's

ultra-lightweight, it's made from

soft merino wool, it's stretchy, it's

breathable, it's durable… the list

goes on, and new US brand Artilect

continues to impress. artilect.studio

KEELA

HERITAGE £65

Scottish brand Keela love to designs

stuff for erratic UK weather conditions.

This classy shirt is rain and wind

resistant, and made from tough stuff.

When it's warmer you can open the

buttons and adjust the cuffs.

keelaoutdoors.com

PÁRAMO

KATMAI £75 /

SOCORRO £65 SHIRT

Another superb trekking-and-travel

shirt, the sleek, swishy fabric of this

shirt is cooling and deters insects, while

its three pockets (with hidden security

pocket) allow you to store valuables

safely. paramo-clothing.com

FJÄLLRÄVEN

ABISKO TREKKING SHIRT

£110

Perhaps the ultimate in classy trekking

shirts, the Abisko is tough but also so

light and malleable that it can be

packed into its own pocket. Great

storage and ventilation too.

fjallraven.co.uk

SUMMER GEAR GUIDE 2022 23
---
BAMBOOCLOTHING.CO.UK

Get 15% off your order with code W15 at checkout

Terms and conditions: 15% OFF applies to full price items only and cannot be used in conjunction with any other offer or promotion. Offer valid until 30th June 2022

DAWA YANGZUM SHERPA

STRONG AS

YOU ARE.

SHERPA FX.ONE CARBON
---
Waterproofs

Remember that picture on page 3? Here's how to fix a day like that.

THE MASTERCLASS

SPRAYWAY

REACTION LONG JACKET

The first thing we want from our waterproof

jacket in summer is to not have to use it,

which means ideally it needs to be packable

and compressible to fit snugly in the

rucksack. But when the rain comes (and

come it will, in any form from annoying

drizzle to all-day monsoon), we want it

to be lightweight, breathable, but also

every inch as robust and reliable as it

is in winter. Here's how to do all that,

illustrated by an excellent example

from Sprayway.

FLEXIBILITY

Flex matters because

your body moves in so

many unusual ways on a

walk – especially if hills

are involved. Sprayway

pride themselves on the

'amazing arm lift' of the

Reaction jacket, so you

won't feel constrained

when brushing

branches away or

reaching for that

handhold on a

rocky ascent.

CUFFS

AND

CORDS

Look for

points of

adjustment;

how easy is

to to get the

perfect fit for

you? Here we've

got adjustable

cuffs to lock

draughts out of

the sleeves, and

drawcords to pull

the hem close and

keep the damp out.

LONGER CUT

The majority of

waterproof jackets

these days are cut

at the waist, but

there is so much to

be said for a more

traditional longer

cut like this one: it

covers the butt and

the thighs and makes

you feel at least 10%

more snug on the go.

A GOOD HOOD

Look for a snug-fitting hood with a

firm peak to keep the rain out of your

eyes. Sprayway's fully adjustable

Hill Hood design delivers precisely

that – and unlike with skimpier

jackets, the hood can be fully

rolled away into the collar

when not needed.

RELIABILITY

Always check what the

waterproofing system

is. Here it's fairly

unimpeachable as it's

handled by two-layer

Gore-Tex inside a

PFC-free recycled fabric

shell, with a mesh and

taffeta interior lining for

comfort and breathability.

PROPER

POCKETS

How many pockets, where

are they and what can

you fit in them? All key

questions on a jacket,

given how much stuff

walkers like to have access

to. The Reaction jacket

has a map-sized chest

pocket, two large

handwarmer pockets

and an inner security

cubby-hole too.

How much &

where from?

£200, find it along

with the rest of the

Sprayway range at

sprayway.com

Turn over for more

options to keep you

dry this summer…

SUMMER GEAR GUIDE 2022 25
---
Waterproofs

CLASS OF 2022

QUECHUA

MH500 £70

It would be hard to find another

jacket of this quality at such a good

price. It has a three-layer membrane

to keep the water out, yet is breathable,

with openings at the side where

perspiration is wicked away. The

fabric is stretchy, and the hood has

a lip to keep rain off your face.

decathlon.co.uk

SHOWERS

PASS SYNCLINE £110

If you want to be seen and safe,

this excellent waterproof has

reflective material so you're visible

from any direction. It's lightweight

and has two adjustable core vents,

so you'll keep cool in a summer

storm. It also has loads of pockets

including two front hand warmers.

showerspass.co.uk

MONTANE

PODIUM JACKET £120

Perfect for fast-and-light fans.

The Podium is a supremely lightweight

jacket – just 115g. It comes with its

own stuff sack that, with the jacket

inside, can fit into the palm of your

hand. It comes with an elasticated

hood and partially-elasticated

cuffs so the rain stays out.

montane.com

BAM

ROWTOR

LONGAFORD £129

The Rowtor and Longaford jackets

are made from 98-percent recycled

materials, use PFC-free water repelling

treatment, and are also recyclable.

They have a breathable membrane

and ventilation at the back, and are

compact enough to packs into their

own pockets. bambooclothing.co.uk

BERGHAUS

PACLITE DYNAK £160

Berghaus' Paclite range (their cheapest

Gore-Tex offering) has always been

a winner. The Dynak is a new variant

for 2022: a great all-rounder with a

stiffened peak on its adjustable hood,

PFC-free water repelling treatment and

easy-to-adjust hem and cuffs. And

getting a Gore-Tex jacket for under

£200 is impressive now. berghaus.com

OUTDOOR RESEARCH

HELIUM RAIN JACKET

£160

This one's all about robustness. It's five

times more tear-resistant than its

parent the Helium II, yet also lighter.

As with all Helium waterproofs, it

functions to a really high standard, but

the Helium Rain can withstand even

more being thrown at it than previous

versions. ultralightoutdoorgear.co.uk

26 SUMMER GEAR GUIDE 2022
---
THE KNOWLEDGE

The main measure of a waterproof is pressure rating called hydrostatic head.

A piece of the jacket material is clamped across the bottom of a vertical tube,

which is then slowly filled with water. Observers then monitor how high the

column of water gets before the material lets drips through. A hydrostatic head

of 3000mm means the column was 3 metres tall before any water came

through. Interestingly, Gore-Tex don't use the hydrostatic head test as they say

it isn't very realistic: instead they replicate a full range of outdoor conditions in

their lab and unleash them on a completed jacket.

ROHAN

FARNE £160

The Farne's waterproof fabric has two

layers – a water-repellent outer layer

and a fully seam-sealed PU membrane,

which are bonded together to create a

highly effective breathable waterproof.

It's comfy too, with a loose inner lining

and smooth taffeta in the sleeves.

The cuffs and hem are also adjustable.

rohan.co.uk

COLUMBIA

AMPLI-DRY £135

Columbia love their in-house

technologies, and Ampli-Dry is but

their latest innovation. As well as

keeping the rain out and removing

moisture from within, this jacket has

four-way stretch so it moves when you

do, and you can adjust the hood, cuffs

and hem for a perfect custom fit.

columbiasportswear.co.uk

RAB

ARC ECO £200

An extremely eco-friendly jacket

whose waterproof fabric is made from

100% recycled polyester, which in turn

can be recycled after it's reached the

end of its life. Its finish is PFC-free.

Plus there's an adjustable hood with

laminated peak, fleece-lined chin guard

and large chest pockets big enough

for maps. rab.equipment/uk

PATAGONIA

GRANITE CREST £260

Another product for which the

environment is a key priority – it's made

from recycled fishing nets to help

reduce plastic pollution in the oceans,

and uses no PFC in its water repellent

treatment. The hood has a laminated

visor so rain misses the face, the zips

are watertight, and it stuffs into its own

pocket. eu.patagonia.com

PÁRAMO

VELEZ JACKET £300

If you're bagging summits on steamy

summer days, the Velez is brilliant at

removing sweat and keeping you dry.

It doesn't just wick away vapour, but

moves liquid from your skin – 80% of

it, Páramo says. Its chest pockets

and upper arm vents are also great

for regulating temperature.

paramo-clothing.com

ARC'TERYX

BETA £320

A highly versatile jacket for a host of

conditions and terrains. The top-level

Gore-Tex fabric is extremely tough and

as waterproof and breathable as you'd

expect for a jacket at this end of the

price spectrum. The fit is trim, but

is flexible and offers freedom of

movement, while the hood adjusts

with just one pull. arcteryx.com

SUMMER GEAR GUIDE 2022 27
---
Trousers & Shorts

Take a giant leap forward this summer (in legwear that's ready for it).

THE MASTERCLASS

REGATTA

HIGHTON ZIP-OFF

WALKING TROUSERS

Your legs are the turbines that power every move you

make on a walk, from slithering around a churned-up

field path to boulder-hopping on a high summit.

So wrap them in armour that knows how to respond to

all those weird and unusual movements, while keeping

them warm or cool,

dry and ventilated,

no matter what the

weather is doing.

In this section we're

looking at legwear

that'll take you

from beach to

beacon, and from

peak to pub. Here

to show how it's

done are Regatta's

tried and tested

Highton zip-offs,

which are literally

ready for anything…

STORAGE

Although most of your kit will

likely be in your rucksack,

pockets and extra storage are

always useful for phones, GPS,

maps, a bit of cash, medicines

etc. Here there are four

storage options including

zipped main pockets.

QUICK DRYING

It's also helpful if your

trousers will dry out

quickly after a soaking.

The lightweight synthetic

fabric in these trousers

allows moisture to wick

away and evaporate

quickly.

COME RAIN,

COME SHINE

They don't need to be fully

waterproof, but it's ideal if

your legwear can hold

off squally showers or

persistent drizzle. On the

Highton trousers there's a

Durable Water Repellent

finish (DWR) – but also

40+ UPF sun protection to

keep those harsh rays off

your legs.

COMFORT

First and foremost,

summer walking

trousers need to be

comfy and responsive

over many miles. The

Highton is made with

Regatta's Isoflex active

stretch fabric – a blend

of tough polyamide and

stretchy elastane means

they respond to what

you're doing and feel

great on the go.

CONVERTIBILITY

Zip-offs are fantastic

for switching between

practical protection and

fun in the sun. The Highton

trousers zip off smoothly

and offer easy and

faff-free reattachment.

How much &

where from?

£75 (men's), £65

(women's) and often

discounted, making

them great value. Find

the full Regatta range

at regatta.com and in

stores nationwide.

Check out more great

legwear options here…

SUMMER GEAR GUIDE 2022 28
---
Trousers & Shorts

CLASS OF 2022

ALPKIT

TELEKI £45

Alpkit's Teleki trousers are a tried and

tested summer favourite – especially

in the zip-off format shown here (the

non-convertible version is £40). Tough

enough to handle long hikes, but with

plenty of stretch for hillwalking.

alpkit.com

RAB

MOMENTUM £50

These are lightweight and flexible

shorts for summer days, but they're

wind and water-resistant should you

encounter an unexpected shower or

three. They're fast-drying too, and they

have an elasticated waistband.

rab.equipment

REGATTA

HIGHTON TROUSERS £65

The 'standard' version of the zip-offs

seen in our Masterclass, these tough

but adaptable walking trousers offer

UPF 40+ protection and are stretchy

and water-repellent.

regatta.com

PÁRAMO

MAUI SHORTS £65

ALIPA SHORTS £75

These cargo shorts are made of the

strong yet stretchy Parameta A

Cotton+ fabric, they offer UPF 50+

UV protection, and they have hidden

storage inside the cargo pocket to keep

valuables safe. paramo-clothing.com

BERGHAUS

EMBIRA SKORT £65

The Embira skort is made from more

than 50% recycled materials and has

four-way stretch fabric that's also

breathable, quick-drying and wicks

away moisture. It comes with security

pockets and is water-resistant too.

berghaus.com

SHOWERS PASS

CROSS COUNTRY SHORT

£68

Street-to-summit shorts with a splash

of urban chic. They have silicone grip

on the back waistband so won't slip

even on a sweaty outing, and they're

body-mapped for a close but

responsive fit. showerspass.co.uk

SUMMER GEAR GUIDE 2022 29
---
THE KNOWLEDGE

Breathability. It's a word that gets thrown at us from all angles as soon as we

step into the gear shop, but what does it really mean? First thing to say is it's

not really about stopping you from sweating, it's about handling the sweat

when it happens – and specifically, conducting it away from your body.

The real challenge for clothing manufacturers is to achieve this while keeping

moisture out AND preventing a build-up of condensation. Breathable clothes

work best when they fit close to the body, as this means there are fewer

pockets of colder air that create condensation on the inside of the outer layer.

CRAGHOPPERS

NOSILIFE PRO

CONVERTIBLE II £75

Ideal for warm days with cool mornings

and evenings. These lightweight

trousers become shorts by zipping off

the lower legs, and offer protection

from the sun and bitey critters.

craghoppers.com

PATAGONIA

ALTVIA TRAIL SHORTS

£80

Patagonia's eco-concern shines

through again here. The fabric is made

from 86% recycled polyester and the

water repellent coating is PFC-free.

Great freedom of movement and five

pockets. eu.patagonia.com

SALEWA

LAVAREDO HEMP CARGO

SHORTS £85

Salewa want us to go scrambling in

these: they have Durastretch inserts,

seams and gusset panel to allow full

movement. Meanwhile, the soft but

tough fabric is made with 49%

sustainable hemp. salewa.com

ROHAN

PIONEER CONVERTIBLE

£100

Whether it's trousers or shorts you

need, these have it covered with their

detachable legs. They offer good

sun and insect protection, and are

comfortably breathable even when

it's hot out there. rohan.co.uk

COLUMBIA

FIELD CREEK

CONVERTIBLE £110

New this season, the Field Creeks are

sophisticated zip-offs powered by

Columbia's Omni-Shield DWR

technology. Plenty of storage too,

including cargo and security pockets.

columbiasportswear.co.uk

FJÄLLRÄVEN

KEB SHORTS £135

Last but not least, we finish with an

update to a tried and trusted classic.

Fjällräven have updated their already

excellent Keb shorts by making them

even stronger and closer-fitting, while

using organic and recycled materials.

fjallraven.com

30 SUMMER GEAR GUIDE 2022
---
Head for

the hills

SHOP OUR FULL CAMPING RANGE AT REGATTA.COM

AND IN STORES NATIONWIDE

@regattaoutdoors