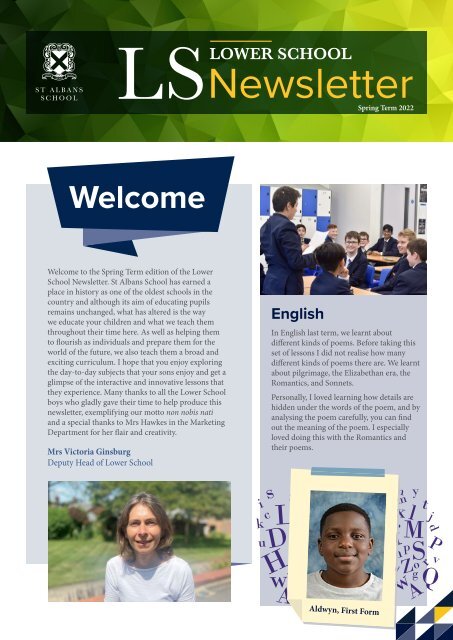 Lower School Newsletter Spring Term 2022
Create successful ePaper yourself
Turn your PDF publications into a flip-book with our unique Google optimized e-Paper software.
LOWER SCHOOL

Newsletter

Spring Term 2022

Welcome

Welcome to the Spring Term edition of the Lower

School Newsletter. St Albans School has earned a

place in history as one of the oldest schools in the

country and although its aim of educating pupils

remains unchanged, what has altered is the way

we educate your children and what we teach them

throughout their time here. As well as helping them

to flourish as individuals and prepare them for the

world of the future, we also teach them a broad and

exciting curriculum. I hope that you enjoy exploring

the day-to-day subjects that your sons enjoy and get a

glimpse of the interactive and innovative lessons that

they experience. Many thanks to all the Lower School

boys who gladly gave their time to help produce this

newsletter, exemplifying our motto non nobis nati

and a special thanks to Mrs Hawkes in the Marketing

Department for her flair and creativity.

Mrs Victoria Ginsburg

Deputy Head of Lower School

English

In English last term, we learnt about

different kinds of poems. Before taking this

set of lessons I did not realise how many

different kinds of poems there are. We learnt

about pilgrimage, the Elizabethan era, the

Romantics, and Sonnets.

Personally, I loved learning how details are

hidden under the words of the poem, and by

analysing the poem carefully, you can find

out the meaning of the poem. I especially

loved doing this with the Romantics and

their poems.

Aldwyn, First Form
---
LS NEWSLETTER

SPRING TERM 2022

Mathematics

This term, one of the things I have

learnt is how to find a percentage

of a decimal number or a whole

number. I have chosen this topic as I think

I have made the most progress on it.

I will describe the method that I have been taught to use to solve these

problems. The first thing you need to do is make the percentage into a

decimal e.g. 8% of 345, you would change the 8% into 0.08 as it is 8 parts

of 100. Next, you multiply your newly converted decimal by your whole

number or whatever you are trying to find the percentage of. So, in this

case, you would multiply 0.08 by 345 (=27.6). You do this sum on the

calculator.

Alex, First Form

French

Bonjour! J'apprécie énormément mes leçons de français! A recent

highlight of our lessons was the Quelle est la date de ton anniversaire?

song which we all really enjoyed because everyone had to sing along

in French. It sounded very "authentique"! When we practise speaking

French, we sometimes pretend that we are having a conversation at a

party. It brings the language to life in an engaging way!

Henri, First Form
---
SPRING TERM 2022

LS NEWSLETTER

German

The Learning Booklet

The German Learning Booklet consists of many German facts, and as

you go through the book, there are illustrations of people talking to

others helping you to understand what the words are and when to use

them. Sometimes after you have learnt a set of words like the months

or country names, there is a word search to help you memorise what

the word looks like thereby extending our German vocabulary. There

are also a few links within the booklet so when the teacher wants

to they can click the link to help teach us something. This is useful

because when you need to write down something they can play a

video and let us copy down the words we need.

Rohan, First Form

Our teacher

My class has a teacher called Mr Squibb and he is an incredible

teacher for a multitude of reasons. Mr Squibb will allow us to watch

the video and pause it, leaving the German word displayed, giving

the whole class time to write it down, meaning he takes into account

people's different writing speeds. Moreover, if he sees something is

not included in the book then he will tell us to write it in on the side

of the page.

Learning about German culture

As we have gone through the book, we have learnt many facts about

Germany and how school works there. Also, we learnt some of the

room names and greetings. An example is classroom in German

which is 'herzlich willkommen' and a desk is 'mein Platz'...I am really

enjoying learning about German culture alongside the language and

look forward to learning more!
---
LS NEWSLETTER

SPRING TERM 2022

Spanish

In Spanish, we have been learning

conversational skills including how to talk

about what we do in school and our free time.

We have also learnt about different sports,

hobbies and lessons. We have also been

writing paragraphs about the subjects we do

throughout the day and whether we like them

and why. We have written about the members

of our family and what they do. We have

written about clubs and sports that we take

part in as Co-Curricular activities, when we do

them and what we enjoy about them. We have

really enjoyed this and have learnt a lot.

James, Second Form

Mandarin

Mandarin lessons over the past term have been

very fun and intriguing. Although quite a difficult

language, we improved rapidly over the course of

the term. We learnt things from basic numbers

all the way to being able to introduce ourselves

and our family both out loud and on paper. By

far the most interesting thing we did in Mandarin

was our calligraphy – we did this in the first week

of February. Due to the fact it was Chinese New

Year, the year of the tiger, we learnt calligraphy,

writing either 'tiger' or 'luck' in Mandarin.

Mandarin has been a great experience and I

would like to thank Shen Lao Shi for teaching us.

George, Second Form
---
SPRING TERM 2022

LS NEWSLETTER

Latin

In Latin, we have embraced many fun and educational projects.

In the First Form, we were learning about the tragic event of

the eruption of Pompeii and what life was like beforehand.

Because of this, the School decided (as St Albans has a lot

of Roman history) to visit Verulamium Museum- which is

walking distance away. There we were fortunate to be able to

handle artifacts and this helped us see what everyday life would

have been like. Afterwards, we visited the huge mosaic and

hypocaust in the park.

Ben, Second Form

Science

The Learning Booklet

For Science this term, I had an incredibly

exciting and interesting topic: Acids and Alkalis. I had

heard about acids previously but was pleasantly surprised

when I found out that is what we were doing because it is a

topic I had never studied before. It was extremely enjoyable,

particularly the practical tasks that we got to do which were a

key part of it. Working with certain chemicals may have been

dangerous but we were careful, and it did not take away the

enjoyment of it. Personally, it was one of the best topics I had

ever done, and I cannot wait until I get to do it again.

Finn, First Form
---
LS NEWSLETTER

SPRING TERM 2022

Religion, Philosophy

and Ethics

Religion, Philosophy and Ethics at St Albans School has been inspiring and

fun to learn. The School has provided us with interesting and motivational

lessons and homework assignments. RPE gives me a new edge to the

way I think and encourages me to see

the religions of the world in a new

light. In addition, the RPE staff are

approachable, supportive and are always

ready to help you understand or think

in another way that will help you.

Therefore, I really enjoy learning RPE

and experiencing the wonderful ways

we are taught these life lessons.

Rohan, Second Form

Games

This term in Games we have

been playing Hockey and have

been extremely lucky that we

have been able to train and play

on the state-of-the-art AstroTurf

pitches at The University of

Hertfordshire. All the teachers

from all the Games groups

have been very nurturing and

understanding as they are always

available to help us with skills

and learning points and will try

to correct us individually so that

we are able to grasp the game

better.

Also in Games, we have played

matches against other schools

which was a brilliant experience.

Overall, Games this term has

been a challenge, but teachers

and fellow students always make

it fun and very enjoyable.

Krishan, First Form
---
SPRING TERM 2022

LS NEWSLETTER

History

Last term in History, we were learning about the times when

people believed that witches walked among us. We learnt about the

different reasons people believed that others were witches, and how

witches were punished. Our class especially enjoyed learning about

this as, being the kids we are, we like learning about the gory and

nasty parts of history. We talked about the trials that 'witches' went

through and how most of them were unfair or rigged. Our class

loved this topic as it was fun, gruesome, and exciting. We love these

kinds of topics and look forward to looking at them again.

Dali, Second Form

Geography

In Geography this year we have learnt about topics such as

earthquakes in South-East Asia and rainforests in the heart of

South America. We have recently learned about GIS, Geographic

Information System: a geographical map that meteorologists use to

simulate natural disasters, see the effect of deforestation, and areas

of crime. We have also had enjoyable assignments such as inventing

a new animal and making a video to describe its adaptions caused

by the area it inhabits. Overall, Geography has been an amazing

subject this year and I am looking forward to enjoying it further in

the future.

Aanand, Second Form
---
LS NEWSLETTER

SPRING TERM 2022

PSHEE

At School, PSHEE is a highly

encouraged subject. Every Thursday

morning, our classes take part in

PSHEE instead of tutor time. We

work through a booklet and learn

about improving our mental and

physical wellbeing. Sometimes we

watch interesting videos which

go into depth on the topic. Each

week, we have a new topic, which

have included Friends, Family,

Relationships and the Growing Body.

These sessions help many students

to grow their self-confidence and

increase their mental health and

wellbeing. We also take part

in PSHEE days, where people come

into the School and we take part in

fun, interactive sessions to help us to

learn new PSHEE topics.

Charlie, Second Form

Hugh, Second Form

Drama

At St Albans School, I have found Drama to be a very inclusive and fun

subject. One topic I particularly enjoyed was stage combat. During this

period, we practised different fight moves and used different angles to make

the scene look realistic. We worked with certain sound effects and gestures,

such as a slap on the chest, to emphasise the moment of impact. My

favourite stage combat move was the head slam, where the attacker grabs

hold of the other person's head and slams it on a surface, e.g. a table. I am

looking forward to learning more techniques in the Summer Term.
---
SPRING TERM 2022

LS NEWSLETTER

Music

We have been recreating a medieval piece

called Salva Nos on iMacs. We were given

a sheet of music with all the ostinato (a

repeated musical phrase), drone and melody

parts, and a table of the piece's musical

structure. I enjoyed choosing instruments

for each part, then playing the parts on the

keyboards. It didn't matter whether you were

an experienced pianist or not: I practised

one melody twice before recording, and went

back over it, perfecting the rhythm and pitch.

Everyone sang the tune, but each pupil's

work was unique as we each chose different

instruments. It was a fun and creative project.

Design and Technology

Design and Technology this term has been

exciting with projects like making a Vibrobug, a

simple machine that makes the bug vibrate and

move. Currently, we are making bug pods which

is interesting as we are learning how to use the

various woodcutting tools around the D&T lab. My

favourite tool to use so far is the tenon saw, as it is

powerful and cuts through wood easily. We have

just begun cutting out pieces for the frame of the

bug pod and will try to include design ideas that we

have drawn already.

Thomas, First Form

Joey, First Form
---
LS NEWSLETTER

SPRING TERM 2022

Art

In Art, we are currently learning about Islamic patterns.

Islamic artists were prohibited from making representations

on holy sites, so geometrical patterns and designs were there

instead. These patterns are used in mosques all around the

world. I really enjoy learning about these patterns as I find

them intricate to look at and different from normal patterns.

They are built from combinations of repeating lines and

shapes. What's interesting is that the whole pattern can be

constructed with just a pen. We haven't got very far into it,

but so far, it's a very fun topic to learn about.

Zaid, Second Form

Ben, Second Form

Computer Science

Computer Science is one of my

favourite subjects for many reasons,

one being the problem-solving skills

required in coding and another being

how it teaches us to be safe online

(something which is very important).

So far, this year, we have learnt about

cyber security, flowcharts, AI, machine

learning and control systems. The

topic I have found most interesting

has been machine learning because it

demonstrates how we can use machines

to make our lives easier, for example,

by letting computers automatically

sort our incoming emails into different

folders. It also illustrates how machines

can learn, what they can offer in the

future and how they will develop and

affect our lives.
---
St Albans School

Abbey Gateway, St Albans, AL3 4HB

www.st-albans.herts.sch.uk