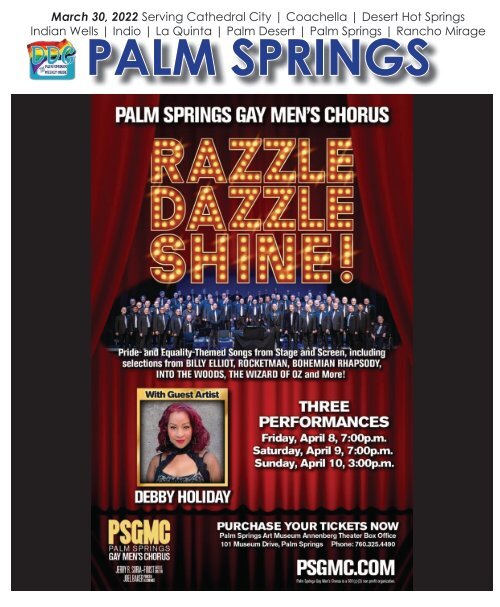 This week March 30, 2022 in gay Palm Springs.
Inside This Issue, World Famous Palm Springs Gay men's Chorus. David Hernandezi bares all! California Desert Chorale, The Harvey Milk Coachella Valley Diversity bars, nude resorts, and more.
Inside This Issue, World Famous Palm Springs Gay men's Chorus. David Hernandezi bares all! California Desert Chorale, The Harvey Milk Coachella Valley Diversity bars, nude resorts, and more.
SHOW MORE
SHOW LESS
Create successful ePaper yourself
Turn your PDF publications into a flip-book with our unique Google optimized e-Paper software.
March 30, 2022 Serving Cathedral City | Coachella | Desert Hot Springs

Indian Wells | Indio | La Quinta | Palm Desert | Palm Springs | Rancho Mirage

PALM SPRINGS

1
---
2 Never miss a DDG we are always FREE at ddg.gay THE OLDEST KNOWN LIVING PERSON IS KANE TANAKA OF
---
3
---
FETISH FRIDAY

8pm - 2am

DJ

COREY D

Heavy

Cruising

Wear Your

Favorite Fetish

Gear For

Happy Hour

Prices All Night

Leather

Latex

Uniforms

Underwear

Sexy

Bartenders

4 Never miss a DDG we are always FREE at ddg.gay

600 E. Sunny Dunes Rd
---
5
---
6 Never miss a DDG we are always FREE at ddg.gay
---
SINGLET

SATURDAY

8pm - 2am

Sexy Bartenders

Heavy Cruising

DJ Corey D

Happy Hour

Prices For

Wearing A

Singlet

Drink

Specials

600 E. Sunny Dunes Rd

7
---
REPORTER: Adam

ADAMSARTEXPOSE'

EMAIL: adamsart@desertdailyguide.com

THE ART OF THE UNITED STATES

POST OFFICE AND ITS STRUGGLE

FOR SURVIVAL

The United States Postal Service was

originated in 1775 during the second

Continental Congress. Benjamin

Franklin was appointed the first Post

Master General. The Post Service Act

created the post office in 1792. In

1872 it was transformed by the Postal

Reorganization Act to a cabinetlevel

department. It was transformed

into an independent agency of the

government as the United States Postal

Service. In recent decades it has been

forced to compete against private

delivery services such as United Parcel

Service, FedEx, and Amazon.

Before stamps were introduced into

the postal service, the recipient of mail

paid the deliverer for the mail received.

The Post Office first became involved

directly in art and promoting artists with

the first stamp designs used in 1847 with

the requirement of adhesive stamps be

used as postage. One of the earliest

stamps featured Ben Franklin as the first

postmaster general Since the late 1800s

over 4000 different stamps have been

designed for the U.S. Postal Service.

Many feature presidents and prominent

figures in society as well as current issues.

Stamp collectors cherish their collection

of U.S. postal stamps, some worth a few

dollars to several thousand dollars.

franklin

As the United

States grew and

expanded to

the west with

the Louisiana

Purchase

mail was first

delivered

by the Pony

Express which

consisted of

8 Never miss a DDG we are always FREE at ddg.gay NEXT PAGE 23
---
9
---
10 Never miss a DDG we are always FREE at ddg.gay
---
11
---
03

12 Never miss a DDG we are always FREE at ddg.gay

08

26

Vol 26 Issue 27 03.30.22

SUMMARY

08 ADAMSARTEXPOSE'

14 FEATURED BUSINESS

18 BAR|FOOD

22 COMMUNITY LISTINGS

20 MASSAGE

17 POINTS OF INTEREST

Team DDG

PUBLISHER: Will Paige

will@desertdailyguide.com

EDITOR IN CHIEF: A, A,

AA@desertdailyguide.com

Contributing Photographers: Marko Russell,

David Stanfield

National Ad Representatives

Rivendell Media

(212) 242-6863

Contributing Writers

Vic Gerami

TheBluntPostWithVic.com

Art: Adams's Art

adamsart@desertdailyguide.com

Advertising

Digital or printed media packs available on

request.

SALES: Will Paige

will@desertdailyguide.com

Magazine is hand delivered every week

to select locations. Updated weekly ,

Currently under minimal COVID restrictions

Available

Online 2-4-7

AT DDG.GAY

DDG Media Group creates and prints Desert Daily Guide. Opinions expressed in the DDG columns do not necessarily

reflect the opinion of the DDG, its staff, or its advertisers. DDG is not responsible for claims made by its advertisers, or the

products or services they offer. Listings, pictures, or advertisements in the DDG should not be construed to represent or

reflect the sexual orientation of any business, its owners, or staff. All events are subject to change without notice. Any

omissions of events are not intentional. © 2021 DDG Media Group , All Rights Reserved.
---
13
---
14 Never miss a DDG we are always FREE at ddg.gay
---
GET THE BOOK!

Before the series!

showrunners Jenny Han, who also wrote

the pilot, and Gabrielle Stanton. Han,

Stanton, and Karen Rosenfelt serve as

executive producers, along with Hope

Hartman, Mads Hansen, and Nne Ebong

for wiip. The series is a co-production of

Amazon Studios and wiip.

The Summer I Turned Pretty stars Lola

Tung, Jackie Chung, Rachel Blanchard,

Christopher Briney, Gavin Casalegno,

Sean Kaufman, Alfredo Narciso, and

Minnie Mills, with Colin Ferguson and

Tom Everett Scott. amazon.com

The Summer I Turned Pretty

is a multigenerational drama that

hinges on a love triangle between

one girl and two brothers,

the ever-evolving relationship

between mothers and their

children, and the enduring power

of strong female friendship. It is

a coming-of-age story about

first love, first heartbreak, and

the magic of that one perfect

summer.

The Prime Video series is led by

15
---
BUSINESS

DIRECTORY

FEATURED

BARS/DINING

AMP Sports Lounge Everyone is welcome

here at this local friendly bar in the heart

of Cathedral City plaza, A sports bar

with a twist featuring your favorite sports

and daily happy hour. All the big sports

games will be shown on seven huge TV

screens.

68-718 E Palm Canyon Dr #201,

Cathedral City, CA 92234

RIO AZUL MEXICAN Style Rest. & Bar

Best authentic Mexican style restaurant

in the valley. With patio and Bar. Home

of an original and distinct interpretation

of Mexican food & Longest running

Sunday Drag Brunch.(760) 992-5641 350

South Indian Cyn. PS

Runway Restaurant & Bar

The valleys premier arts and

entertainment. Featuring American

Casual Dining Drinks & Drag at CCBC

Resort Hotel.68300 Gay Resort Drive. CC

SUNSHINE CAFE Nearly as perfect as it

gets! Known as a local hole in the wall

with a funky vibe and fantastic food,

frequented by celebrities, politicians

36815 Cathedral Canyon CC

16 Never miss a DDG we are always FREE at ddg.gay

RUNWAY RESTAURANT & BAR

The valleys premier arts and

entertainment. Featuring American

Casual Dining Drinks & Drag at CCBC

Resort Hotel.68300 Gay Resort Drive, CC

TOOL SHED LEVI/LEATHER In the Warm

Sands District in central Palm Springs.

600 E Sunny Dunes Rd , PS

FEATURED RESORTS

NEW! Descanso is the first men's resort to open

in Palm Springs in over ten years. This exclusive

destination offers sophisticated travelers a relaxing,

luxurious getaway in the beautiful Coachella Valley

desert.

relax@descansoresort.com

Descanso Resort

288 E Camino Monte Vista

Palm Springs, CA 92262

760-320-1928

CCBC RESORT 18+ 760 324-1350

68-300 Gay Resort Drive

CCBC is the largest clothing optional

Gay men's resort in Southern California.

Located just a few minutes from

downtown Palm Springs, Our 3.5 acre

fantasy playground is perfect for

weekend get-aways and extended

stays.

ccbcresorthotel.com

NEXT PAGE 21
---
EXHIBIT STILL OPEN TO MARCH 31

SPONTANEOUS AND DELIBERATE

Julio de La Concha & Perry Butler

BAZAR DEL AR

691 Industrial Place, Palm Springs

The Harvey Milk Coachella Valley

Diversity

Breakfast is Proud to Recognize

Mayor Annise Parker With the 2022

Legacy Award

(Palm Springs, CA) March 21, 2022… The

Harvey Milk Diversity Breakfast Committee

announces that Mayor Annise Parker will

be this year's recipient of the Harvey B.

Milk Legacy Award at the 10th Annual

Coachella Valley Harvey Milk Diversity

Breakfast on Wednesday, May 11, 2020 at

9:30 AM at the Palm Springs Convention

Center. Proceeds benefit Coachella Valley

youth through Gay-Straight Alliance clubs

and LGBTQI youth-related programs. Cole

Brett-Burks a Palm Springs High School

graduate will be given the Outstanding

Youth Award.

'Say Gay' Billboard Appears On Same

Day Florida Gov. Signs Controversial Bill

Into Law - YouTube

YouTube

The 'Say Gay' billboard unveiled in

Orlando is one of several protesting

a new Florida law critics dubbed the

"Don't Say Gay" bill.

The California Desert Chorale

continues its 29th season as the

premiere Chorale in the Coachella

Valley with "Bach to Broadway"

on Sunday, April 3, 2022 at 3:00

PM. This previously announced

concert, prior to COVID-19

shutdowns, will be held at the

Hope Lutheran Church in Palm

Desert. The Chorale is suggesting

a donation of $20, but patrons are

encouraged to give as generously

as they can to support the

programs of the California Desert

Chorale. For more information

www.CaliforniaDesertChorale.org.

POINTS OF INTEREST PREVIOUS NEXT PAGE 20

17
---
EVERY DAY

7AM-7PM

Welcome!

WORSHIP WITH US IN PERSON

SUNDAYS AT 10 AM

3601 E. Mesquite Ave, Palm Springs

Demuth Community Center

God's Love &

Good Works.

760.327.3802

www.bloominthedesert.org

WORSHIP WITH US ONLINE

SUNDAYS AT 10 AM

Facebook

Bloom in the Desert Ministries UCC

REPLAY ANYTIME

YouTube

Bloom in the Desert Ministries UCC

18 Never miss a DDG we are always FREE at ddg.gay
---
19
---
SHOPPING

Gear Leather and Fetish 760-322-3363

We carry only the finest quality leather

and fetish goods, gym wear, toys and

furnishings, all designed to get you off

and make you look good while you're

doing it. gearleather.com 650 E. Sunny

Dunes

Off Ramp Leathers 760-778-2798

offrampleathers.com New and used

leather and fetish/BSDM gear.

Alterations and repairs handmade item

by Paul. Great selection of consignment

items. 650 E. Sunny Dunes Rd., Unit

3,Palm Springs, CA

MASSAGE

MALE KNEADS Exceptional, Sensual,

Soothing, body work for men of all

ages. Outcalls only. Call Adam for an

extraordinary experience in innovative

erotic relaxation. 760-835-0727

Hey guys...take a break from life and

come relax with a great massage

by trained hands. I am a Professional

Massage Therapist here offering

something therapeutic, restorative and

sensually tailored to your needs. I am

well trained and provide a session that

is unparalleled. Say hi and tell me how

I can make your body feel awesome!

The massage is done on a table. I see

people at my location.

I am off Ramon by Sunrise.

845-866-0498 Mark

20 Never miss a DDG we are always FREE at ddg.gay

DID YOU KNOW?

You can check your credit bureau to see if your

info is on the public web—a marketplace for

people finder websites where robocallers,

spammers, hackers and identity thieves could

access your info.

LOCAL ATTRACTIONS

desertfilmsociety

Upcoming Screenings

Palm Springs Cultural Center's Historic

Camelot Theatre, Saturday,March 5, 2022

10:00 AM :::: Doors open at 9:40 AM w/film

introduction at 9:50 AM. Free to Desert Film

Society Members –or- $12 at the door.

Apr 2 SECRET NAME – France – 112 min –

Drama

Nelie escaped a miserable existence by

becoming a frontline nurse in 1914. One day,

she takes the identity of Rose, a young woman

from a good family, who dies in front of her.

Apr 9 CONFETTI – China & U.S. – 86 min –

Drama/Family

The film centers around a traditional

Chinese family who face a number of obstacles

after their daughter is diagnosed with dyslexia.

Cabot's Pueblo Museum

760-329-7610

McCallum Adobe 760-323-8297

Indian Canyons 760-323-6018

Palm Springs Aerial Tram

760-325-1449

POINTS OF INTEREST PREVIOUS PAGE 17 NEXT PAGE 26
---
BUSINESS Directory

BAR| FOOD | RESORTS

Cathedral City

BARS|FOOD

The Barracks

Runway

Sunshine Cafe

AMP Sports Lounge

Roost

Trunks

Studio One 11

Desert Hot Springs

BARS|FOOD

Playoffs Sports Bar

Palm Springs

BARS|FOOD

Eagle 501 Bar

Rio Azul

Tool Shed

Toucan's

Streetbar

Oscar's

Chill bar

Hunters

Stacy's

BlackBook

QUADZ

RetroRoom

Resorts

CCBC

Triangle Inn

Bearfoot Inn

All Worlds Resort

Desert Paradise

Resort

LA DOLCE VITA

RESORT & SPA

THE HACIENDA AT

WARM SANDS

Shopping

Q trading

Gear

Off Ramp Leathers

Gay Mart

Did We Miss

You?

Let us know

FREE LISTING!

For all Gay and Gay

friendly Bars Resorts

and Lodging

TRIANGLE INN 760-322-7993

555 E. San Lorenzo Rd Palm Springs CA

Romantic and relaxing or fun and frisky.

At the Triangle Inn Palm Springs, the

choice is yours. Historic Palm Springs

Resort is a feast for all your senses, with

a special flair for Southern (California)

hospitality. triangle-inn.com

SPECIAL and ONGOING EVENTS

Park

Rock Park

THE

WEDNESDAY NIGHT

CONCERT SERIES

First Wednesday of each month starting February

February 2nd

TLR

Experience the Eagles

Hosted by the

Palm Springs

Chamber of

Commerce

UCR AGING INITIATIVE

palmdesert.ucr.edu/events-programs

Held at the New City Park

in Downtown Palm Springs

Can we train our brain to improve

cognition and well-being as we age?

PREVIOUS PAGE 16 NEXT PAGE 22

21
---
BUSINESS Directory

6 p.m. Wednesday, March 30

DAVE MAY CONCRETE

PATIOS | SIDEWALKS | DRIVEWAYS |KOOL DECKS

760-327-4849

LIC. #441265

Thursday nights VILLAGEFEST takes place

in downtown Palm Springs on Palm

Canyon Drive every.

villagefest.org

DAP/ DOCK Clinic (760) 992-0492

Borrego Health (Stonewall Medical

Center) Cathedral City 760-507-3310

GROUPS/ORG/HELP

Guided Nature Walks

Palm Springs Aerial Tramway

Check schedule. pstramway.com

FRIENDS OF THE DESERT

MOUNTAINS celebrate Friends'

champions and accomplishments

November 10th services hikes various

events check schedule

desertmountains.org

GENERAL SERVICES

Red's Hauling. We remove trash and

unwanted items. Garage clean outs.

Red 760-288-6956

MEMORIAL DAY AWARDS LUNCHEON

SET FOR MAY 30!!!!!

NICOLINO'S ITALIAN RESTAURANT

35-325 DATE PALM DRIVE SUITE 111

CATHEDRAL CITY CA $25 ITALIAN BUFFET

INCLUDES TAX AND TIP DESSERT AND

BEVERAGE

SLIDING SCALE FOR LOW-INCOME

MAKE CHECKS PAYABLE TO "VFP".

CALL TOM SWANN HERNANDEZ

(760) 324-5670

FOR RESERVATIONS. SPACE IS LIMITED.

22 Never miss a DDG we are always FREE at ddg.gay

PREVIOUS PAGE 21 NEXT PAGE 24
---
iders riding between stations from 5

to 20 miles apart depending on the

terrain of the area. For the most part,

the Pony Express used routes traveled

by stagecoaches operating at this same

point in history.

During the era of the Great Depression

from the early 1930s into the 1940s the

New Deal legislation aimed at providing

employment for various professions

began granting artists employment by

painting murals at local post offices

throughout the United States. These

murals

became

historical

icons

of the

history

of that

period.

There

were

over 1,400

murals

painted in

postoffices.

Today

there is a movement by the U.S. Post

Office to preserve the murals that are

currently remaining.

insert newdealmural

Throughout

recent history

during the past

3 decades,

there has been

an effort by

conservative

politicians to privatize the postal service

One of the schemes introduced by

Republican legislators during the

George W. Bush administration was

titled the Postal Accountability and

Enhancement Act of 2006. This required

the U.S. Post Office to basically prefund

the value of earned retirement

obligations of postal employees for

a fifty-year period. This was for past

retirement promises which had not yet

come due for a ten-year time span.

This was a deliberate scheme to attempt

to bankrupt the U.S. Post Office. The

Enhancement Act of 2006 was passed

by a voice vote prior to a recess. Henry

Waxman at that time a representative

from California who had a mixed bag

of support for a variety of progressive

measures succumbed to the promise

of dark money from UPS and FedX to

provide his vote for this fiasco. The other

California representative to provide

his vote is the former felon involved in

a number of auto theft schemes and

eventually starting a company called

"Steal Stopper" car alarms. Who

PREVIOUS PAGE 8

23
---
First State Monument

Dedicated

To LGBT who gave all!

LGBT Veterans Memorial

Desert Memorial Park,

Cathedral City, CA

Tom Swann Hernandez

AMVETS POST 66

tomswannhernandez

@earthlink.net

Vet Records https://vetrecs.archives.

gov/VeteranRequest/home.html for vet

or family or with written authorization.

San Diego VA Regional Office's Virtual

VA Benefits Briefing

Explore and learn more about a variety

of VA benefits

Lgbt community center

760-416-7790 thecenterps.org

American cancer society

800-227-2345

Amvets: Veterans club 760-324-5670

Coachella Valley sexual assault

(760) 568-9071

Desert Legal aid: 760-832-9770

Stonewall democrats:

desert-stonewall.Org

Desert winds freedom band

760 776-2700

24 Never miss a DDG we are always FREE at ddg.gay

-Gay artists -760 835 0727

-Gay book club of ps—write to

Bookclubofps@yahoo.Com

-Transgender Community

Transcc.Org

Palm Springs Gay

Men's Chorus 760-219-2077

Palm Springs Leather Order of the Desert

760 272-5553

Palm Springs Pride

Pspride.Org

Prime Timers of the Desert

760-424-8014.

NATURIST DAY PASSES

Gay Men CCBC Resort

Family DeAnza Desert Sun Resort

Starland Community Desert retreat

Sea Mountain Luxury Nude Resort and

Spa Hotel DHS

Nude beaches in California which are

also called "free beach", or "clothingoptional".

Blacks Beach Nude Beach in San Diego

is located just north of La Jolla Shores

and beneath the Torrey Pines bluffs.

Pirate's Cove, Avila Beach

Corona Del Mar is one of California's

best nude beaches.

WE DELIVER OPTIONS

Email Today for a free,ad!

All community listings are free for 2021

Space Permitting

Email will@desertdailyguide.com

PREVIOUS PAGE 22 NEXT PAGE 24
---
NEXT PAGE 26

25
---
26 Never miss a DDG we are always FREE at ddg.gay PREVIOUS PAGE 25
---
etter to design auto theft prevention

devices than an auto thief. Issa's

other involvements in the House of

Representatives have been to attempt

to prevent any progressive legislation

that is beneficial to the welfare of the

general public.

This attempt to

kill the U.S. Postal

Service was

exaggerated

during the Trump

administration

when Trump

installed Lous

DeJoy as

postmaster general. DeJoy former CEO

and on the board of directors of New

Breed Logistics freight company and

a major Republican Party donor and

fundraiser. He contributed $1.2 million

to Donald Trump's 2020 campaign.

You would not expect this would have

any influence on his appointment to

postmaster general, especially since

he was on the board of a large logistics

company that had a $300. million

contract with the post office??? It was

demonstrated by the office of Budget

and Planning would have saved the

public $53 million using the post office

delivery services.

DeJoy came in strong and destructive.

The first attempts were to limit the

number of mail-in voters during the 2020

election by decommissioning hundreds

of high-speed mail sorting machines,

removed some mail sorting boxes from

streets. This caused major delays in mail

delivery. This was a deliberate attempt

on the part of Trump to influence the

election in his favor since mail-in ballots

were a favorite of Democratic voters.

Amid pressure from the public and

congress, DeJoy was forced to suspend

most of the changes, and in October

of 2020 the postal service reversed all

of his proposed changes. DeJoy is still

in office??? WHY?? Hopefully soon to

be gone. It just doesn't seem logical to

have a postmaster general who wants

to eliminate the post office!

insert dejoy as trump lap dog

The art of the USPS locally only one

mural was found on the building at the

North Palm Springs post office a mural

reflecting the desert environment with

a coyote and cactus with mountains

on the horizon and a hint of wind

turbines against the mountains. No

information of the date of the mural or

the artist. The age of the mural is not

known probably several decades by the

condito.

This mural can be seen on the east wall

of the post office on Dillon Road about 1

block east of N. Indian Canyon.

insert n palm springs po

The United States Post Office continues

to function with the

dedication of the

loyal employees

who continue

to work through

the continued

controversies. Each

day the U.S. P.S. handles on the average

167.3 million pieces of mail.

PREVIOUS PAGE 23

27
---
Zoom Mass every Saturday at 430.

Call or 442-282-8389 or visit stgilesaltadena.org for more details.

28 Never miss a DDG we are always FREE at ddg.gay
---
NEW & EXCLUSIVE!

PUMP! UNDERWEAR

L E AT H E R & F E T I S H

G E A R L E AT H E R C O

@ G E A R L E AT H E R

6 5 0 E S U N N Y D U N E S PA L M S P R I N G S 7 6 0 3 2 2 3 3 6 3 G E A R L E AT H E R .C O M

29
---
30 Never miss a DDG we are always FREE at ddg.gay