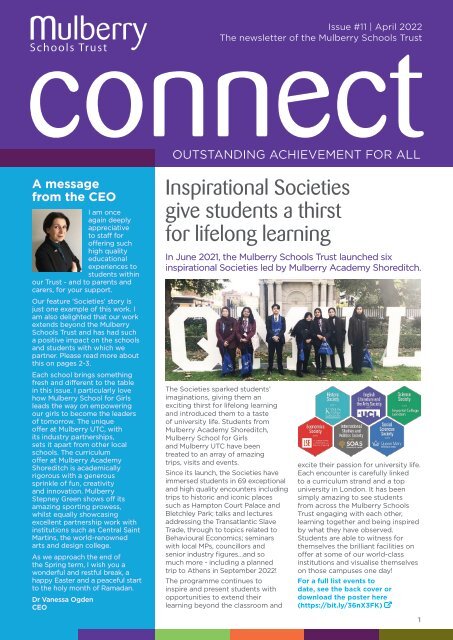 Connect_Iss11_April_2022-Web
Create successful ePaper yourself
Turn your PDF publications into a flip-book with our unique Google optimized e-Paper software.
Issue #11 | April 2022

The newsletter of the Mulberry Schools Trust

connect

OUTSTANDING ACHIEVEMENT FOR ALL

A message

from the CEO

I am once

again deeply

appreciative

to staff for

offering such

high quality

educational

experiences to

students within

our Trust - and to parents and

carers, for your support.

Our feature 'Societies' story is

just one example of this work. I

am also delighted that our work

extends beyond the Mulberry

Schools Trust and has had such

a positive impact on the schools

and students with which we

partner. Please read more about

this on pages 2-3.

Each school brings something

fresh and different to the table

in this issue. I particularly love

how Mulberry School for Girls

leads the way on empowering

our girls to become the leaders

of tomorrow. The unique

offer at Mulberry UTC, with

its industry partnerships,

sets it apart from other local

schools. The curriculum

offer at Mulberry Academy

Shoreditch is academically

rigorous with a generous

sprinkle of fun, creativity

and innovation. Mulberry

Stepney Green shows off its

amazing sporting prowess,

whilst equally showcasing

excellent partnership work with

institutions such as Central Saint

Martins, the world-renowned

arts and design college.

As we approach the end of

the Spring term, I wish you a

wonderful and restful break, a

happy Easter and a peaceful start

to the holy month of Ramadan.

Dr Vanessa Ogden

CEO

Inspirational Societies

give students a thirst

for lifelong learning

In June 2021, the Mulberry Schools Trust launched six

inspirational Societies led by Mulberry Academy Shoreditch.

The Societies sparked students'

imaginations, giving them an

exciting thirst for lifelong learning

and introduced them to a taste

of university life. Students from

Mulberry Academy Shoreditch,

Mulberry School for Girls

and Mulberry UTC have been

treated to an array of amazing

trips, visits and events.

Since its launch, the Societies have

immersed students in 69 exceptional

and high quality encounters including

trips to historic and iconic places

such as Hampton Court Palace and

Bletchley Park; talks and lectures

addressing the Transatlantic Slave

Trade, through to topics related to

Behavioural Economics; seminars

with local MPs, councillors and

senior industry figures…and so

much more - including a planned

trip to Athens in September 2022!

The programme continues to

inspire and present students with

opportunities to extend their

learning beyond the classroom and

excite their passion for university life.

Each encounter is carefully linked

to a curriculum strand and a top

university in London. It has been

simply amazing to see students

from across the Mulberry Schools

Trust engaging with each other,

learning together and being inspired

by what they have observed.

Students are able to witness for

themselves the brilliant facilities on

offer at some of our world-class

institutions and visualise themselves

on those campuses one day!

For a full list events to

date, see the back cover or

download the poster here

(https://bit.ly/36nX3FK)

1
---
Richard Street, Commercial Road, London E1 2JP

A 020 7790 6327 m stemacademy@mulberryschoolstrust.org

www.mulberryschoolstrust.org/stemacademy @MulberryTH

First cohort enjoy

lavish graduation ceremony

On Friday 25th February, 48 students

from the first cohort of the Mulberry STEM

Academy graduated at an incredible event

hosted at Mulberry Academy Shoreditch.

The students were joined by parents, carers, headteachers

from across our schools, trustees and speakers to

celebrate the students' achievements.

During the event, guests were addressed by Paul Mills,

Chief People Officer at Mercedes-Benz Grand Prix Ltd

(MGP) and Dr Ogden, CEO at the Mulberry Schools Trust

(MST). Graduate representatives from Mulberry Academy

Shoreditch and Mulberry School for Girls also gave an

address and spoke passionately about their experiences

on the programme.

All students graduated with a certificate, a presentation

badge and a Mercedes winners T-shirt. Five students were

awarded the individual PRIDE awards and a prize for best

exemplifying Passion, Respect, Innovation, Determination

and Excellence. The Mulberry Academy Shoreditch team

won the Best Team award and took home special MGP

Rubik's cubes!

A very big thank you to Mercedes-Benz Grand Prix Ltd

for partnering with the Mulberry Schools Trust to give our

young people such amazing opportunities.

Read more about the day's event and watch the highlight

video here (https://bit.ly/381ufn0)

Greenpower project update

The second cohort of STEM scholars are already deeply

immersed in the Greenpower project. The project is

currently running with Year 12 students at Mulberry

Academy Shoreditch, Mulberry School for Girls and

Mulberry Stepney Green, who are dismantling last

year's cars, and rebuilding them with improvements

including body work, wheels, driver position and careful

consideration to

aerodynamics and

efficiency. We are

racing in the heats for

Greenpower in May.

We are very grateful to

Peter Hodgkinson from

MGP who visited our

schools to advise us on

the project.

In the summer term,

Year 10 will be involved

in building the cars.

We will also be

hosting the primary

school London heat

of Greenpower Goblin

cars at Mulberry

Academy Shoreditch

in June.

NEWS IN BRIEF

Let EPQ commence…

On Saturday 12th March, a conference of over 40

Year 12 students in cohort 2 took place to launch the

Extended Project Qualification process. An EPQ is a

qualification that is worth half an A level. Students

select a topic that they are particularly interested in

beyond what they are taught at A level, then plan

and carry out an independent project resulting in a

5000 word dissertation.

Year 10 robotics launch

All 55 Year 10 STEM scholars joined together for a

robotics launch recently. Students worked in groups

and learnt how to programme and code our MST robots

so that they

talked, walked

and moved. In a

world of increased

automation, the

skills of coding,

programming and

robotics are highly

sought after by

employers in the

STEM field.

2
---
Richard Street, Commercial Road, London E1 2JP

A 020 7790 6327 m mstnews@mulberryschoolstrust.org

www.mulberryschoolstrust.org @MulberryTH

CEO: Dr Vanessa Ogden

Maths students aim higher

This term we have run three Trust-wide

Maths conferences over a weekend.

Youth Conference reaches

20-year milestone

On Thursday 24th February, students from

Mulberry School for Girls led and hosted the

Mulberry Schools Trust's 20th anniversary

Youth Conference.

The conferences were an opportunity for teachers

and students to collaborate together on key topics

on the GCSE and A level specifications. Over 150

students participated and benefited from high

quality teaching and revision from some of our

best Maths teachers.

Reconnect London brings

leaders together to tackle

disadvantage

Reconnect London is a collaborative network of London

school and system leaders which was founded in 2020

by Dr Vanessa Ogden, CEO of the Mulberry Schools Trust

and David Boyle, CEO of Dunraven Educational Trust in

south-west London. The network brings together school

leaders in a way that helps to increase collaboration and

cooperation between them.

The work of Reconnect London is also supported by third

sector organisations such as Teach First, the FEA and the

EEF. The aim is to support schools to share good practice,

as they seek to build innovative solutions to key challenges

that have emerged following the pandemic. There is a

particular focus on meeting the needs of disadvantaged

and vulnerable children, who have been disproportionately

impacted by Covid-19.

Headteachers from across the Mulberry Schools Trust are

actively involved with the network.

The Reconnect London annual conference will

take place on Friday 24th June 9.30am-1pm. Visit

www.reconnectlondon.org for more information.

This award-winning, annual conference brings Sixth

Form students together from across the Trust and

UK to explore issues of common concern. The skilled

student leadership committee at Mulberry School

for Girls set the conference theme as "Reimagining

Equalities in a Post-pandemic world".

On the day, they had the privilege of hosting an

inspirational array of speakers including Mandu Reid

– the ground breaking first Black, female leader of a

UK political party; Justin Audibert – Creative Director

of the Unicorn Theatre, the 'People's Poet' David

Neita and many more. Thirteen schools and over

250 students came together to share their unique

perspectives and to consider ways they could be

agents of change.

This powerful day was the perfect way to mark

20 years of youth activism that the conference

has supported.

ELTSH leading the way!

This term, 156 participants from across

East London have signed up to complete

Specialist and Leadership National

Professional Qualifications with the East

London Teaching School Hub.

By the end of March, all participants will have attended

their first online session with us, led by our expert

facilitators from across the region.

There are now over 750 teachers and leaders, from

over 67% of all schools in Hackney and Tower Hamlets,

learning with East London

Teaching School Hub. The

strength of learning from and

with colleagues from across

East London is palpable!

Visit www.eastlondontsh.org

to find out more about the

programmes we offer.

3
---
NEWS FROM OUR SCHOOLS

Students lead languages and cultural diversity celebrations

On Monday 21st February, to mark International Mother Languages Day our Student

Equalities Group planned and led a series of whole-school events to promote

awareness of the linguistic and cultural diversity of our school community.

The highlight of the day was

undoubtedly the multilingual

culture fair. The main hall was

awash with wonderful sights,

sounds and enticing aromas

from fabulous traditional

foods. Students loved the

opportunity to immerse

themselves in the 17 different

culture stalls hosted by

students and staff. The event

was a wonderful celebration

of the cultural heritage and

richness found within our

school community.

The group also supported

staff and students to create

special language videos in

15 of the languages spoken

in our school community.

In just one day, more than

520 lessons were viewed

in languages as diverse as

Arabic, Bengali, British Sign

Language, Darija, French,

Greek, Irish, Kurdish, Polish,

Romanian, Somali, Tachelit,

Welsh and more! A wholeschool

multi-lingual poetry

competition also launched

during PSHE on the following

Wednesday.

Congratulations to the

Student Equalities Group

on a superb series of

celebrations. We look

forward to your next work!

WOW Weekend at the South Bank Centre

On Friday 11th – Sunday

13th March, students from

Mulberry School for Girls

attended the world's

biggest, most inclusive

festival celebrating

women, girls and nonbinary

people.

What a weekend! The Women of

the World (WOW) Festival is held

annually at the Southbank Centre

and this year we were lucky enough

to have tickets for all three days.

The weekend allowed our students

to hear directly from world-class

speakers and see wonderful female

role models.

Students were able to hear the

perspective of a wide range of

speakers and leaders as well as

learn about the great work and

personal journeys taken by each

keynote speaker.

Highlights from the Festival

✹ Students heard from experts

on managing finances,

learnt about the importance

of protest and saw a live

demonstration of Fencing

✹ Students heard from the

incredible Patrisse Cullors

(co-founder of the Black

Lives Matter Movement) on

her journey to fight injustice

and the journey on getting an

abolitionist mindset

✹ Warsin Shire (Somali British

author) spoke about her

experience of being raised in

the UK in a Somali household

through her poetry and book

'Bless the Daughter'

✹ Mary Portas (retail consultant

and broadcaster) spoke about

the importance of kindness

within leadership and learning

to become a compassionate

yet powerful leader while

setting down your boundaries

4
---
Richard Street, Commercial Road, London E1 2JP

A 020 7790 6327 m admin@mulberryschoolforgirls.org

www.mulberryschoolforgirls.org @MulberryTH

Acting Headteacher: Ms Alice Ward

Year 7 enjoy

pantomime

performance

All students in

Year 7 travelled to

the Stratford East

Theatre at the very

end of last term

for the pantomime

performance of Little

Red Riding Hood.

We were incredibly proud

of our students who

demonstrated the most

enthusiastic participation

of all schools in attendance.

Students laughed the whole

way through and commented

that the character playing Little

Red Riding Hood was by far

their favourite!

Winners at Model

United Nations

On Saturday 5th March,

17 Year 9–11 students

attended the West

London Model United

Nations Conference

and competed against

a range of elite London

independent schools.

The Model United Nations

programme is an academic activity

in which participants assume the

role of national ambassadors to

debate and seek to solve global

issues. Our team was thrilled to

win more awards than any other

school – taking home awards in

six out of the eight committees.

Former Mulberry alumni university

students served as Directors or

Chairs in seven out of the eight

committees. The global MUN

community continues to create

fantastic networking opportunities

for our students.

We look forward to hosting our

30th conference in July.

Standing up for peace

On Friday 4th March,

students held a powerful

Peace Day event.

Students and staff came together

to reflect on world events, the

meaning of peace and to consider

our own role in creating a more

peaceful world. Our school

community wrote almost 1,500

messages of hope which were used

to create a Wall of Peace.

The student-led fair raised £850

for UNICEF and these donations

will provide life-saving support for

children and their families in Ukraine

UKMT success!

Sixty students from Year 9

and 10 took part in the UK

Maths Trust intermediate

challenge - the first round

towards the Mathematical

Olympiad Qualification.

Our students demonstrated their

excellent problem solving skills as

well as resilience to gain a large

number of certificates. Three

students from Year 9, Jannah

Ahmed, Samia Hashem and Nashita

Noor, qualified for the next round

entitled the Grey Kangaroo.

Here's a question they all managed

to solve – can you?

and other conflict-affected countries.

Congratulations to Liliana Noor and

the Year 12 leadership team.

QUESTION

A rectangle with integer sidelengths

is divided into four

smaller rectangles, as shown.

The perimeters of the largest

and smallest of these smaller

rectangles are 28cm and 12cm.

Which of the following is a

possible area of the original

rectangle?

A. 90cm 2 B. 92cm 2

C. 94cm 2 D. 96cm 2

E. 98cm 2

NEWS FROM OUR SCHOOLS

5
---
NEWS FROM OUR SCHOOLS

Mulberry UTC welcomes

future students

On Thursday 10th March, Mulberry UTC

opened its doors to welcome over 200

fantastic students from all over London.

Alongside our curriculum showcase, we were lucky to

be joined by some of our amazing industry partners

including Barts Health NHS Trust, the National Theatre

and Goldsmiths University of London. We were also

joined by partners Ipsos MORI, Royal Pharmaceutical

Society, University College London, the University of

Sunderland in London and the Metropolitan Police who

gave students invaluable advice and guidance about

breaking into their industries as part of our MUTC

Futures Careers event.

Mulberry UTC now has almost 500 applications from

students wishing to join us in Year 12. We are planning

a suite of activities to keep in touch with our applicants

and can't wait for them to join us in September 2022.

Year 12 work hard to

promote health campaign

Year 12 Health and Social

Care Extended Diploma

students delivered a health

promotion campaign as

part of a unit they are

currently learning.

The campaign focused

on promoting health

and wellbeing of their

peers. Students chose

a variety of campaigns

including sexual health,

awareness of smoking

cigarettes/vapes and the

importance of healthy

eating. Students also used

questionnaires to measure

the success of their

campaigns before and

after the event.

Hats off to Year

11 Business

students

Our Year 11 Business students are

currently designing a business

proposal for an enterprise

producing distinctive hats. They

will identify a target market

segment, complete market

research, produce a design for a

hat and will review whether their

business proposal is viable at the

end of the assignment.

6
---
64 Parnell Rd, London E3 2RU

A 020 3137 7024 m info@mulberryutc.org

www.mulberryutc.org @MulberryUTC

Acting Principal: Ms Sally Brian

Students rise to the

challenge at careers festival

On Tuesday 8th March, the

Rise Up Academy Careers

Festival took place at

Mulberry UTC.

It involved over 100 Key Stage 4 and

75 Key Stage 5 students from across

our Trust and we were privileged to

lead this prestigious event.

Students met colleagues from

high profile media and broadcast

engineering companies like Amazon,

BBC, BT Sport, dB Broadcast, ITV

and Sky. Our MUTC digital media

students then supported technicians

in setting up a live panel as part of

International Women's Day.

Students across the Trust interacted

and networked with industry

professionals and developed exciting

connections which could impact

their future careers.

NEWS IN BRIEF

Bravo! Year 13 in

cutting-edge trial

performance

Year 13 students performed 'The

Trial' for Unit 8 in Performing and

Production Arts in the school's

cutting-edge studio theatre. The

CTEC course is very popular and

prepares students for careers in

theatre, acting and production

design.

NEWS FROM OUR SCHOOLS

Digital Media students

enjoy BBC news webinar

On Wednesday 9th March, our Year 11 Digital Media

students took part in an exciting webinar with the BBC

which was led by journalist Ros Atkins.

The Year 11 students heard

about how he manages big

issues in the news and how he

has learnt to present these in

short, straight-talking reports.

During the webinar, students

explored why trusted news

matters and the importance

of distinguishing different

sources and context in our

consumption of news.

Year 10 students

climb to the top

During the spring term, MUTC Year

10 students have been learning rock

climbing skills at Laburnum Boat

Club's rock climbing wall. They have

also been building towards gaining

a First Aid qualification via an eight

hour course delivered at Mulberry

UTC by the club.

Taster day huge success with the girls!

On Thursday 3rd March, we were joined by 30 Year 9

students from Mulberry School for Girls who took part in

a Mulberry UTC taster day, gaining experience in all our

specialisms through our practical, hands-on workshops.

It was a really fun, interactive day and it was a privilege

to host such engaged students!

We really hope some of the girls will join us in

September.

7
---
NEWS FROM OUR SCHOOLS

World Book Day

From Monday 28th

February to Thursday

3rd March we celebrated

books and the power

of reading with some

inspiring talks and

workshops.

8

On Tuesday 1st March, Year

10 students tuned into a live

streamed conversation with

BAFTA and MOBO award-winning

hip-hop artist, writer and social

entrepreneur Akala, who was

speaking from the Southbank

Centre to mark the release of his

new book, The Dark Lady. Students

were offered a copy of the book

afterwards to read at home and

they also received their free World

Book Day books.

On Thursday 3rd March, Year 7s

watched as authors celebrated

the launch of World Book Day

from the stage of Mathilda the

Musical. Students were treated

to readings and performances

from many famous authors and

illustrators including Children's

Laureate Cressida Cowell, Humza

Arshad, Frank Cottrell-Boyce and

Maisie Chan, and they also had

the opportunity to watch a short

performance from the cast of

Matilda!

Year 8 students took part in

workshops focused on an extract

from Run, Rebel by award-winning

author Manjeet Mann. During the

workshop, the students watched

Mann read the extract they were

studying, had a go at writing

their own verse in the same style,

and practiced performing a short

section of the extract.

In the World Book Day tradition,

Year 7s came to school dressed as

their favourite fictional characters

and there were prizes for the best

dressed!
---
Gosset Street, London E2 6NW

A 020 7920 7900 m info@mulberryacademyshoreditch.org

www.mulberryacademyshoreditch.org @MulberryAS

Executive Principal: Mrs Ruth Holden

IWD 2022: Visits,

workshop, assemblies

+ panels galore!

On Tuesday 8th March we

celebrated International

Women's Day 2022 with

a packed programme of

events and activities.

The day began for Year 12 girls with

a visit to the Canary Wharf Group

where they listened to speakers

and joined in a Q&A session

with professionals from the built

environment sector.

At break time, Ms Kilmanaite

introduced students to the work of

some famous women artists and they

coloured postcards based on the

artists' work.

The English department ran a session

to celebrate their favourite female

writers. Each teacher chose a famous

author/poet and then asked students

to write about their own favourites. It

was great to receive feedback from

authors Serena Patel and Majeet

Mann in response to Halima and

Amelia's words about their work.

Mrs Holden held assemblies for girls

in Years 7-10 where she celebrated

women who inspire us today and

in the past, and after lunch a panel

of female staff held a talk and Q&A

session with Year 7 students focusing

on the career pathways that have led

to their current roles in school.

The theme for this year's

International Women's Day was

#BreakTheBias and throughout the

day students enjoyed a celebration

of women's achievement and a

chance to talk about and raise

awareness against gender bias.

House basketball

tournament

Congratulations to Thames

House basketball team who won

the tournament on Thursday

3rd March, with Tate in second

place and Trafalgar in third place.

Well done to everyone who

took part and a big shout out to

George Younger and Joe Murphy,

our special guest referees!

NEWS FROM OUR SCHOOLS

Tower of London reward trip

On Wednesday 9th March, Mrs Holden took eleven

students out on her termly Principal's Reward Trip.

This term they went to the Tower of London where they had an amazing time

marvelling at the crown jewels and exploring the white tower and creepy

dungeons! Everyone had fun and the afternoon ended with ice cream! A big

well done to Melissa Kibrom, Victoria Chaponova, Kadir Cinko, Yusuf Haque,

Mariam Hussein, Linh Pham, Zaynah Uddin, Anisa Rahman, Inaya Tasnim,

Diana Lita and Bushra Kashemi for being superstars!

Sixth Form

enrichment

Every Wednesday Sixth Form

Enrichment group the 'London

Foodies Club', visit different London

eateries to sample the diverse

flavours and foods on offer in their

city. On Wednesday 2nd February,

they took their inspiration from

Taiwan and headed to T4 for Milk

Tea near Liverpool Street where

they enjoyed tasting tapioca

pearls, coffee jelly and some Oreo

toppings. The following week the

Foodies walked to Spitalfields

for some comforting desserts at

Humble Crumble and have since

been to China Town to try Korean

corn dogs. They are planning to

sample delicious Tempura, Ramen

and Lebanese cuisine in the next

few weeks!

9
---
NEWS FROM OUR SCHOOLS

Year 12 students embark on

aspirational trip to Canary Wharf

On Thursday 10th March, a number of our Year 12

students with very high aspirations took part in a

potential early application programme at the Situs AMC

offices in Canary Wharf.

Our students took part in a number of sessions and came back feeling

very proud of making good impressions with their potential mentors.

Situs prepared a variety of enriching sessions for our students. The first

session focused on communication and etiquette in a formal business

setting, their second session focused on how our students should be

preparing for and writing their UCAS personal statements. In the third

session our students had the opportunity to have a more personalised

session with their business mentors where they were able to explore

their potential career aspirations as well as planning the next steps to

achieving their career goals.

The entire event was a huge success and every student benefitted from

this opportunity. Thank you to Situs for their continued commitment to

our students.

Success at local

football tournament

Congratulations to the Year 9

football team who won the Tower

Hamlets Football Tournament at

Victoria Park in February. There

were 12 other teams from Tower

Hamlets. This s a great reward

for their dedication to training

throughout the winter. Good

luck as they continue with their

league matches into the summer.

Our girls compete in

top athletics competition

On Tuesday 1st March,

Mulberry Stepney Green

hosted the first ever Girls

Indoor Simmons Cup at

Lee Valley.

The Simmon's Cup is a prestigious

London wide competition in

athletics and aims to bring schools

together from across London.

Mulberry Stepney Green is very

proud to lead, organise and

compete in the event. With 15 of

the top schools across London

participating in the event, this was a

great opportunity for the students

to go up against some of the best

10

athletes in their age group. The

students all performed extremely

well and it was an excellent

experience for them all.

Mulberry Stepney

Green join

Greenpower

competition

It is official, Mulberry

Stepney Green are

now competing in

the Greenpower race

competition!

Our staff, students and parents are

extremely excited at the prospect

of competing in the Greenpower

race and relishing every moment.

The students have started

enhancing the first vehicle whilst

a second kit car is on order – all

in preparation for the races in the

summer term.

A huge thank you to the Mulberry

STEM Academy and Mulberry

School for Girls for lending their

vehicle to us.
---
Ben Jonson Road, Stepney, London E1 4SD

A 020 7790 6361 m mail@mulberrystepneygreen.org

www.mulberrystepneygreen.org

Headteacher: Mr Paramjit Bhutta

It's a win for the girls'

and boys' hockey teams

On Tuesday 22nd February, the Year

7 and Year 8 Girls' and Boys' Hockey

Teams attended the Borough Hockey

Tournament at John Orwell.

Both teams played very well throughout the competition

and showed true determination and resilience to win!

The boys' team played London Enterprise Academy in the

final and at half time were 3-0 up, however, LEA managed

to score 3 consecutive goals within the first few minutes

of the second half. The boys did not give up and got a

winning goal just before the final whistle. The final score

was 4-3.

The girls' team also played London Enterprise Academy

in the final with a half time score of 3-0 also. The girls

continued to perform well and scored a further three goals

in the second half, even after LEA had secured another

goal. The final score was 6-1.

NEWS FROM OUR SCHOOLS

Girls' futsal

tournament ends

in triumph

On Thursday 3rd March, our Year 7

and Year 8 girls took a trip to the

Copper Box Arena to compete in

the Borough Futsal competition.

There were 10 teams competing

from across Tower Hamlets. Both

teams played extremely well

throughout the competition and, as

always, showed determination and a

desire to never give up!

The teams went through to the

conference cup where the A team

beat London Enterprise Academy to

progress onto the finals and the B

team was unfortunately knocked out

on penalties to Wapping High. This

meant it was a Mulberry Stepney

Green vs Wapping High final. It was

a very intense game and Wapping

went 1-0 up very quickly.

However, Maryum managed to score

a great goal just before the final

whistle. Another round of penalties,

two misses on both sides (and

some great saves from Samina) and

the last penalty for both and then

Umayrah stepped up and scored an

amazing goal! The pressure was on

Wapping to score, but thankfully

they missed and Mulberry Stepney

Green took away the Conference

Cup! Hoorah for a tense but

impressive game of Futsal.

Sixth Form curriculum offers access to

world-leading arts institution

Mulberry Stepney Green Sixth Form is unique in being

able to offer a creative curriculum that allows students

to focus on the three specialist disciplines of fine art,

graphic communication and product design.

This is especially useful for those wishing to pursue a career in the creative

industries. Each area focusses on developing problem solving skills,

drawing skills and creating personal responses to a theme.

Last year, a group of students were accepted to Central Saint Martins,

University of the Arts London and its partner site, London College of

Communication to study Graphic Communication. This was especially

exciting due to the status of the university being ranked first in the world

for the arts.

We celebrated their work and the creative achievements of our current

A level cohort by holding our annual exhibition at the Arts Pavilion, with

a private viewing at the end of March. The exhibition will be open for

two weeks to

members of

the public and

is a fantastic

opportunity to

see the work

of our talented

students. The

work that will

be on view will

range across all

three disciplines

including

models,

animations and

paintings. We

look forward to

welcoming all to

the private view.

11