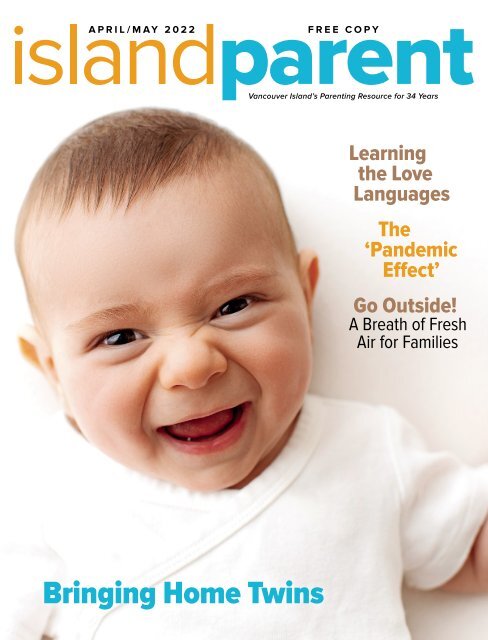 Island Parent Magazine April-May 2022
Vancouver Island's Parenting Resource for 34 Years • Bringing Home Twins • Learning the Love Languages • The 'Pandemic Effect' • Go Outside! A Breath of Fresh Air for Families


Vancouver Island's Parenting Resource for 34 Years
• Bringing Home Twins
• Learning the Love Languages
• The 'Pandemic Effect'
• Go Outside! A Breath of Fresh Air for Families

SHOW MORE
SHOW LESS
Create successful ePaper yourself
Turn your PDF publications into a flip-book with our unique Google optimized e-Paper software.
APRIL/MAY 2022

FREE COPY

Vancouver Island's Parenting Resource for 34 Years

Learning

the Love

Languages

The

'Pandemic

Effect'

Go Outside!

A Breath of Fresh

Air for Families

Bringing Home Twins
---
AN EXPERIENCE THAT LASTS A LIFETIME!

Register for Summer Camp

Before May 1st and Save 15%!

Summer Camps for Children, Youth, Families & Leadership

• Community & Corporate Retreats •

Registration is open for summer camps

and family cabin rentals.

CampPringle.com • 250-743-2189 • info@camppringle.com

Want to join our team? Visit our website for info on available staff and volunteer positions.

2 Island Parent Magazine IslandParent.ca
---
Try Canoe-Kayak!

Paddle for fun, fitness and friendships!

Nanaimo Canoe & Kayak Club

Building Paddlers for Life since 1988

Located at Loudon Park, Long Lake, NCKC offers

diverse paddling opportunities to people of all ages

and abilities. As a not-for-profit sport organization,

NCKC promotes healthy, active living and offers quality

programming focused on sport skill development,

water safety, and outdoor recreation.

SPRING PROGRAMS

in May and June

SUMMER CAMPS

weekly in July and August for children 6–13yrs

• Registration Opens Online May 1 @ 6am

• Come learn the 'FUN'damental paddling skills on Long Lake!

Spend time in a variety of different boats, learn about the sport,

practice new strokes, try some rescues, develop balance, boat

control and play games on and off the water. Participants must

be able to swim 25m with a PFD or be at Swim Kids Level 4.

Adult & Youth Programs

Sprint Canoe-Kayak

Birthday Parties

Development Racing Program

Group Sessions

School Field Trips

Adaptive Programs

Ongoing Registration

information@nckc.ca

www.nckc.ca

IslandParent.ca

April/May 2022 3
---
APRIL/MAY 2022

FREE COPY

Vancouver Island's Parenting Resource for 34 Years

TABLEOFCONTENTS

Features

In Every

Issue

5

Fast Forward

SUE FAST

6

Need to Know

16

Moms' POV

SERENA BECK

18

Nature Notes

LAUREN SHERWOOD

10

Bringing Home

Twins

From the first night

to the first month.

NATASHA MILLS

20

The 'Pandemic

Effect'

Has being born

during a pandemic

affected babies?

ANYA DUNHAM

34

Befriend

the Birds

Being a good

neighbour to

backyard birds.

LINDSAY COULTER

12

Learning the

Love Languages

How to create

deep connections.

SARAH SEITZ

14

When 'Good Enough'

Is Just Fine

Haunted by another mother.

JULIA MAIS

32

Alexa, How Do

I Teach My Kids

About Money?

The ABCs and 123s

of how to talk about

money with your kids.

VIVIAN LEUNG

36

Scavenger Hunt

In the City

Find the items, sing

a song, read some

books and have fun

learning together.

GREATER VICTORIA

PUBLIC LIBRARY

22

Dadspeak

GREG PRATT

24

What's for Dinner

EMILLIE PARRISH

26

Family Calendar

28

Kids' Reads

CHRISTINE VAN STARKENBURG

30

Preschool &

Child Care Directory

38

Cut It Out!

ALLISON REES

38

Businesses You

Need to Know

On the

Cover

Matteo (3 months)

Photo by

Chris Higginbottom

Photography

chrishigginbottom.ca

Bringing Home Twins

Learning

the Love

Languages

The

'Pandemic

Effect'

Go Outside!

A Breath of Fresh

Air for Families

Jim Schneider Publisher publisher@islandparent.ca

Sue Fast Editor editor@islandparent.ca

Kristine Wickheim Account Manager kristine@islandparent.ca

RaeLeigh Buchanan Account Manager raeleigh@islandparent.ca

Island Parent Magazine, published by Island Parent Group Enterprises Ltd., is a

bimonthly publication that honours and supports parents by providing information on

resources and businesses for Vancouver Island families. Views expressed are not

necessarily those of the publisher. No material herein may be reproduced without

the permission of the publisher. Island Parent is distributed free in selected areas.

Annual mail subscriptions (7 issues) are available for $21 (GST included).

Canadian Publication Mail Product Sales Agreement 40051398. ISSN 0838-5505.

Island Parent Magazine

250-388-6905 islandparent.ca

518 Caselton Place, Victoria, BC V8Z 7Y5

A proud member of

BC

4 Island Parent Magazine IslandParent.ca
---
FASTFORWARD

Why We Have Kids

Full. Human. Experience.

That's how one dad, in a post on Humans of New

York, described his reason for having kids.

The father of one recalled how he and his wife decided

over dinner at a rib joint that they would start a family.

"We actually took out a piece of paper and made a pros

and cons list," he said. At the top of the "pro" list: Full Human

Experience.

"After our daughter was born, that became an inside joke

with us," he recalled. "Every time she was screaming at bath

time, my wife and I would look at each other and say: 'Full

Human Experience.'"

Those words will mean something different to each of us.

And no doubt we all have our own reasons for having kids.

But chances are, we had no idea how we'd feel until after

our baby was born.

Take, for example, the moment they put your baby in your

arms. Speak of a full human experience. Nothing compares.

And seeing the world through your child's eyes? It's magic.

Sure, it's exhausting, too. And if you worried about the

cost—in dollars, sanity and hours of sleep—you likely

would've stopped at "Should we?" But if you didn't stop

there, you'll know that the highs shadow the lows and the

pros definitely outweigh the cons.

"Honestly we wondered if we'd made a mistake—it was

like a bomb dropped and eviscerated everything in our

lives," the dad recalled. "But then our daughter started

growing up, and learning to do things on her own, and we

kept taking small steps back and getting more of our own

time back."

And that was bittersweet.

"It's like getting laid off slowly from an equally grueling

but joyful job."

Here's to finding the joy in raising children, to laughing as

often as they do—300 times a day for a toddler, and only 4

for a 40-year-old!—and to believing in the magic.

IslandParent.ca

April/May 2022 5
---
NEEDTOKNOW

Mother's Day

Afternoon Tea

Treat Mom to a stroll through Butchart Gardens on

May 8, followed by afternoon tea in the Dining Room

where she'll be treated to house scones, savoury sandwiches

and delicacies, house-made sweets and a selection

of loose teas. Reservations recommended. Ask for

a seat at the window for a view of the flowering bulbs,

shrubs and trees—a celebration of spring and Mom.

butchartgardens.com

Family Jam at

Hermann's Jazz

Enjoy an afternoon of jazz at Hermann's Jazz Club in

Victoria on April 17 at 1pm and help raise funds for Arts

on View at the same time. Lelolai FAM (Family Arts Music)

is a family-focused, music-centric project, honouring

creativity and inclusivity of people of all ages and

cultures. Their original music is a tropical fusion of

sound blending Folk, Funk, Jazz and Latin Rhythms in

English, Italian and Spanish. Songs like "Big Feelings,"

"Wash your Hands" and "Magic Words" will delight your

little ones. Special guest appearances include kid

artists and the Easter Bunny. Join this interactive

and family friendly afternoon of music and fun.

Tickets $10 at hermannsjazz.com.

Brant Wildlife Festival

A spring celebration of nature from April 1–10,

the Brant Wildlife Festival celebrates nature,

springtime and the annual migration of Brant

geese. See them rest and feed on the shores of

mid-Vancouver Island before continuing their

migration to their northern breeding grounds.

This year's festival features a mix of outdoor

and indoor events at various locations.

brantfestival.bc.ca

6 Island Parent Magazine IslandParent.ca
---
Summer FUN at GNS

Glenlyon Norfolk School is offering a variety of fun summer camps

for students age 5 to 17. Arts, cooking, baking, field hockey, day camps,

kayaking, outdoor education and overnight camps, entrepreneurial

camps and more—our summer programs offer something for everyone!

Two Book Launches:

Anne's Adventure

and Fermenting

Made Simple

Island Parent's own Kids' Reads columnist,

Christina Van Starkenburg, and What's for

Dinner columnist Emillie Parrish are releasing

books in May. Christina is releasing her first

picture book, Anne's Adventure: A Pirate's

ABCs on May 4. Follow Anne, a "fiercely bold

pirate" as she sails her way through the

alphabet in search of cheese, fending off

monsters and cats! A rollicking good read,

Anne's Adventure is available on amazon.ca.

Fermenting Made Simple: Delicious Recipes to

Improve Your Gut Health is being released on

May 17 and includes everything you need to

know to make your own fermented foods and

beverages with 80+ entirely vegetarian recipes,

tips, tricks and recipes for serving fermented

foods. Available at local bookstores and online:

fermentingforfoodies.com/cookbook.

www.mygns.ca/summer-fun

IB CONTINUUM

CONTINUUM DE L'IB

CONTINUO DEL IB

IslandParent.ca

April/May 2022 7
---
Run to Restore Nature

A fun, family-friendly event where you can go

the distance for wildlife at your own pace from

May 7–15. Walk, run, wheel or even skip your

way to the finish line from wherever you are.

Do the entire distance in one go or take it one

day at a time. The distance is up to you—5km,

10km or half marathon from wherever you are

while raising funds to restore and protect vital

ecosystems across Canada. To register,

visit fundraisers.wwf.ca.

Environmental

Champions

Nominations are open for the 2022 Saanich

Environmental Awards. Some of the categories:

individual, volunteer organization, business, and

youth (individual/youth group/school). Past

recipients have been involved in invasive species

removal, environmental education, creating habitat,

research, and inspiring others. Business awards are

for leadership and practices that promote sustainability

and climate action. Nominate anyone as long as their

environmental work impacts Saanich. Submit by

4pm on April 19, at saanich.ca/enviroawards.

Sticks and Stones

and Stories

What could be more exciting than battling pirate weasels,

or sailing with the moon, or hosting a tea party for zoo animals?

Add a little wonder to bedtime, car-time or anytime with these

fun original podcasts, written and narrated by children's author

Rachel Dunstan Muller. To celebrate the one year anniversary of

the children's podcast, Rachel launched a new website,

sticksandstonesandstories.com.

8 Island Parent Magazine IslandParent.ca
---
One Planet Living Student Challenge

Grade 6-12 students in Greater Victoria are invited to submit

their video or illustration to answer: How might we bring

One Planet Living ideas into our communities and personal

lives? Pick one or more of the 10 One Planet Living principles

and show elements in your communities or personal lives that

support One Planet Living. Submit one of the following:

• Video—commentary, how-how, song (max. 3 minutes)

• Illustration—map, photo collage, cartoon (1 image)

Student submissions will be accepted until May 20.

Winners will receive cash prizes—with $1,200 total prize

money available and submissions will be judged on creativity,

engagement, illumination and alignment with One Planet Living.

Winners will be showcased on the One Planet BC website

at oneplanetbc.com.

Preschool for today's child

...and tomorrow's inner child.

Young children possess boundless

imagination, perfect openness to the

world and all its beauty, and the inborn

idea that anything is possible. We

believe that these wonderful gifts

should not fade with age.

With an innovative program enriched

by music, dance, theatre and visual

arts, our goal is to enable children

to fully explore and express these

gifts in an endless variety of ways.

Inspiring and nurturing today's child

firmly implants their future inner child

– that playfulness, creativity, vision and

confidence that will enable them to

realize their dreams.

Preschool to Grade 12 www.ArtsCalibre.ca 250-382-3533

"When I examine myself and my method of

thought, I come to the conclusion that the

gift of fantasy has meant more to me than

my talent for absorbing knowledge."

– Albert Einstein

IslandParent.ca

April/May 2022 9
---
Bringing Home Twins

All settled at home 5 days grown.

Liam and Mila are officially back to their birth weight

today and have made us so proud as we learn in baby steps

how to navigate this new reality together. Despite being

more comfortable in our beds, their dad, Mitch, and I barely

slept a wink the first night home from the hospital, feeling so

overprotective away from the reassuring call bell and medical

support.

As new twin parents on that first night, we felt so scrambled

trying to understand all that goes into these night feeds

and stay on top of every moving part—figuratively and literally!

Last night however, was a success story, with a brokenup

six hours of sleep for us, great feeding intervals (one

three-hour stretch) and I'm feeling like a new woman.

We've begun to streamline the process in our bedroom

and have transformed it into our Zen sanctuary of comfort,

white noise, meditation sounds playing continuously, a mini

fridge stocked with water, snacks and room for milk storage.

It takes a total team effort to get this job done and I'm

so grateful for Mitch being so hands-on and how far we've

come together already.

Through the blur of it all, I am practicing patience and

compassion for myself, for my older son Hudson adjusting

to the change, and I'm learning to let go of everything out of

my control.

No matter how hard the journey gets, I feel complete,

knowing that these twins chose me to be their mommy.

Every passing hour we are growing and learning together.

Every feed is a little more successful than the last because we

are embracing flexibility. The teamwork I've established with

their daddy has given me the needed confidence to press on

along the unpredictable road ahead. It's been scary and so

very real with emotions running all over the place.

My life is forever changed and I'm navigating a very liberating

acceptance with that. I'll be endlessly grateful for these

tiny blessings and for my body for enduring all that it has in

creating, delivering and nourishing them.

One month in.

As is the case with newborn parenthood, there often

comes a time when the chaos starts catching up with you.

No matter how hard you prepare for it and lower your ex-

10 Island Parent Magazine IslandParent.ca
---
pectations, there it is. Unannounced and loud in your face

like a freight train coming at you when you have nothing

left.

We're only one month in with the twins but I met eyes

with this place last night. Dad was there to save me. Without

a moment to eat my dinner, surround-sound crying started

up with Mila and Liam who are needing to cluster feed and

be held in the evenings, all while we try to get our sensitive

and sweet older boy to bed at a decent hour without him

holding a grudge.

Then, one twin won't settle until the early hours and the

whole schedule we've strived for all day is thrown off. My

brain, already compounded with excessive sleep debt, finally

gave up trying to fall into a slumber. I was up until 3am anticipating

the next feed, and I felt very scared.

I can't function when it gets this bad. The morning rolled

around and dad took over as best as he could, got Hudson

to daycare and I finally settled the twins beside me, breasts

painfully engorged, feeling guilty to sleep in with them until

nearly 11am. But that's what I needed to exist today.

And I needed Mitch. I love him and the father he is to our

three. I feel so grateful for the team that we have become on

this journey. We pull each other's weight when the other is

lower, and so far, it's been working.

To any moms struggling with this kind of stuff, I see you.

From no support to more support, we're all fighting a different

battle for our little blessings and it's so important to

remember that we're in this together.

The highs and lows of two newborns with a four-and-ahalf-year-old

dynamic is insane. Some days we're rocking

it—or at least it feels like we're not drowning. We're loving

the novel nuances of having this full, multi-faceted family.

Other days feel like complete and total chaos in that we're

totally outnumbered as parents—by our six-week-old twins

revving up equal parts cuteness and inconsolable evenings;

and by our Hudson whose whole world flipped upside down,

and whose parents are too exhausted to help him turn that

world right side up again.

Natasha Mills is a twin mom of three residing

on the island now for nearly 30 years. She has found

a creative outlet in documenting the real moments

of parenthood—the relatable highs and challenging

lows. She has also found a passion in writing her

experience of motherhood and connecting with

many like-minded parents in her community and

abroad. @mommamillsblog

STAGES

Summer Programs

Running This July & August

Preschool Dance Camps

For 3-5 year olds in Ballet, Jazz,

Musical Theatre & Tap

Youth Dance Camps

For dancers 6-12 years old in

Jazz, Hip Hop & Acrobatics

Dance Intensive

For dancers 11 years old & up with

Jazz, Ballet, Hip Hop & Acrobatics

Little Dancers Classes

Are running through the summer for

those 18 months to 3 years old

Come Dance With Us

Call (250) 384-3267, email: stagesdance@shaw.ca,

or visit us at www.stagesdance.com

IslandParent.ca

April/May 2022 11
---
Learning the Love Languages

Wouldn't it be great if kids came

with a manual? Imagine the time,

money and effort we could save if we had

a handy little booklet that contained all

of the nuances of your child's personality.

But our children aren't refrigerators;

there's no index to flip to when we don't

know what to do next. There are, however,

tiny clues. If we're paying attention.

I've always been a snoop, a Nancy

Drew of sorts, but I don't always see

what's right in front of me. One Christmas

morning early on in my marriage,

my husband and I were arguing as we

drove with our two babies to a family

dinner. My husband was trying to understand

why we had to be at my sister's

house at 10 a.m. if dinner wasn't until 5

p.m.

It was a fair question, but I'd noticed

that anything related to Christmas

seemed to change his easygoing demeanor

to grumpy.

At that moment, I didn't really want

to understand what was bothering him,

I just wanted him to put on a happy face

for my family. Using my sophisticated

communication skills, I told him, "Cheer

up. It's Christmas, dammit, and Christmas

is for kids!"

You can imagine how well that worked

to improve his mood.

Later, while I complained to my friend

about being married to the Grinch, she

suggested that perhaps there was something

bigger going on. She recommended

the book The Five Love Language by Dr.

Gary Chapman.

In his book, Dr. Chapman writes about

the five different ways that people express

and receive love. After years of counselling

couples, he noticed that couples were

misunderstanding one another and their

needs. He determined that we all have

our own language, and that sometimes

we struggle to express love in a way that

speaks to your loved one's heart.

Chapman's five Love Languages are:

Quality Time, Physical Touch, Words of

Affirmation, Acts of Service and Gifts

His Love Languages are complex, but

I'll simplify them in a language most parents

can understand:

Quality Time: Let's go for coffee.

Physical Touch: Let me wrap my hands

around you like a cup of coffee.

Words of Affirmation: You make a

great cup of coffee.

Acts of Service: Here's a cup of coffee

in bed.

Gifts: I got you a coffee.

After I read the book, my husband's

foul mood that Christmas started to

make sense. I realized that my husband

doesn't like Christmas because he doesn't

like gift-giving, which is often what

Christmas centres around. Well, that and

unnaturally long family visits.

We took the book's quiz and learned

that his Love Language is Physical Touch

mixed in with Quality Time of which

there would be neither in the eight hours

of family visiting we were about to embark

upon that day.

If I didn't know this about my husband,

I was probably stumbling through

my relationships with the kids too.

I already knew I was missing the mark

with my daughter. For years I have been

trying to figure out how to talk with her.

I find small talk awkward and unsatisfying,

but often this was all I could get

from her. My questions were met with

one-word answers. Car rides were silent.

When we went out to dinner at a restaurant,

we looked like those bored couples

who have been together so long that they

have nothing left to discuss.

When I learned that there was a Love

Languages book specifically for kids, I

12 Island Parent Magazine IslandParent.ca
---
thought I had finally found the manual

I was longing for. The original version

had helped my marriage: making dinner,

unclogging the shower drain and various

other Acts of Service, had proven successful

by my husband to make me happier.

Maybe the kids' version of the book

was my shortcut to unlocking the mystery

of how to connect with my daughter.

I would be able to take a quiz, figure

out what made her tick, and boom—we

would be sharing secrets like best friends.

The problem was, the child categories,

when viewed from the lens of a parent,

didn't seem as clear. For example, isn't

being a parent one big Act of Service? I'm

certainly not cutting off crusts and doing

their laundry for my own benefit. As for

Gifts, what kid doesn't love a gift? Just

take your kid to Toys 'R Us and you'll be

convinced this is their Love Language.

My kids get ample Words of Affirmation,

Quality Time (this especially peaked during

Covid) and Physical Touch.

What was clear was that my attempts

to connect with my daughter through

conversation were not working. I decided

to take the emphasis off of talking and

instead focus on when my daughter was

trying to connect with me.

She often asks me to play Rummy, to

draw with her or play with Lego, but

I never thought of these activities as a

connection because we weren't talking. I

noticed that when we were side by side,

playing calmly and quietly, a softness existed.

Quality Time, sometimes wordless,

was where our closeness lived.

I've always assumed that connection

came from communication and how

much we "talk" in our relationships because

that comes easily to me. I'm learning

that it's more about how we relate

to one another in our relationships that

creates the deep connection I seek.

There may be no troubleshooting chart

for children or a manual for how to love

other people. But, if we pay attention,

there are clues.

Sarah Seitz is a working

mother, writer and consumer

of coffee and books—in that

order. She writes about the

messy and real parts of

parenting and reveals

her underbelly in her

words. You can read

more of Sarah's writing

at sarahseitz.ca.

supports quality programming

for families with children facing

disabilities within your community.

supports quality summer programming for families with children

facing disabilities within your community.

COMMUNITY OPTIONS

TODAY!

Have you ever wondered about the future and

DONATE

COMMUNITY OPTIONS OPTIONS

COMMUNITY

supports what You it quality might gifts promotes

summer bring to programming

kids families being kids with for

this family families

summer! members

with children

facing disabilities within your community.

with a disability? You can make a difference by

supports designating quality Community summer programming Options for for families Children with children and

Families as your charity of choice when considering

leaving facing a gift disabilities through within your your will or community. any other gift

https://cocf.ca/get-involved/donations/

DONATE

planning instrument (gifts of stock). Community

OPTIONS

COMMUNITY

Options has supported thousands of families

in the community over the past 30+ years—

supports supporting quality summer a better programming quality of for life families for families with children

TODAY!

facing disabilities within your community.

on Southern Vancouver Island.

You For gifts more promotes information, kids being please kids this contact summer!

DONATE

TODAY!

Kathleen Burton, Executive Director

250.380.6363 ext 205

TODAY!

You gifts promotes kids being kids this summer!

You gifts promotes kids being kids this summer!

https://cocf.ca/get-involved/donations/

https://cocf.ca/get-involved/donations/

https://cocf.ca/get-involved/donations/

IslandParent.ca

April/May 2022 13
---
BYTE CAMP

Creative

Tech

Summer me

r Camps

When 'Good Enough'

Is Just Fine

Some days, I am haunted by another

mother who follows me around all

day. She is there as I struggle to get my

daughter's pants on in the morning. She

is there when we're late for daycare—

again. She is there when I see the other

mothers in management positions, when

I pack my daughter's lunch and wonder

whether my chopped carrots, peanut butter

sandwich and Babybell cheese will

make her feel as loved as the other kids'

seven-course Yumbox meal with kiwi

fruit cut into stars.

when I look at my cluttered living room

and cower in defeat.

She is the mom at baby-and-me yoga

who could maintain a squat while breastfeeding

her baby. She is my friend who

describes her meal plan of dahl, vegetarian

lasagna and squash and barley chili.

She is the woman with the UPPAbaby

stroller and contoured cheeks I pass at

lunch break. She is my colleague who

said her body "just knew what to do"

when she was pregnant. She is the mom

who offered to hold my baby while she

Video Game Design

3D Animation

Claymation

App Design

2D Animation

Music and Video

Production

1-888-808-BYTE

www.bytecamp.ca

She is there when I go to the bathroom

and notice the indent on my stomach

from my too-tight Lulus. She is there

when I forget to bring snacks to the

playground. She is there when I thought

I had a change of clothing in the diaper

bag. She is there when we're at a restaurant

without a colouring book, when my

daughter kicks at the plexiglass dividers

at the restaurant while the couple next to

us enjoy their Roti Chanai. She is there

cried at mom group because she knew

a trick. She is the mom at music class in

designer jeans and a leotard that doesn't

need to stretch at all. She is the YouTuber

who described breastfeeding in three

easy steps while her other children played

contentedly in the background. She is the

therapist with 7,000 Instagram followers

who has "hacks" for mastering maternity

leave. She's all the other moms who were

ready to have another child already while

I was drowning.

14 Island Parent Magazine IslandParent.ca
---
All the women who have come before

me haunt me on my bad days. A neverending

narration of Alyssa's Christmas

tree is already up, Mariam works out

every day before work, Would Elizabeth

's living room ever look like this? Kristin's

daughter can spell her name already.

Isabel would never have logged onto

Oak Bay Rec's online registration 15

minutes late and doomed her daughter to

six months without swimming lessons.

Then other days, my daughter sings

while we make pancakes with plenty of

time before ballet class. She hugs me and

says "I like you and I love you." She never

asks for a sibling. She tells me she likes

my "cookie earrings" and could I please

wear my "tutu" and dance with her. I put

on my flowy skirt, she puts on her purple

polka dot tutu and we have a dance party

before bath time. Other days, she asks me

to read Sasha and the Sloth over and over

again and I pat myself on the back that

my daughter gets so many books read to

her. And how she's learning math already.

Most days, she tells me that the loves me

to the moon. Other days she loves me to

White Spot. Other days to "the great big

city of Canada."

It is these times—the times when things

are going well and I am truly in it with

my daughter—that all the other ghosts of

the mom I'll never be disappear. I remember

that my daughter doesn't care if I

can hold plank for two minutes or where

I am on the career ladder. She doesn't

remember our breastfeeding struggles

and the permanent scowl she wore until

she was six-months old. She likes peanut

butter sandwiches and considers their

daily occurrence a treat not a failure. Our

living room is messy because she has so

many toys and because I'd rather cuddle

with her than stress over cleaning up. She

is healthy. When she jumps on the rainbow

sheets on her bed, I smile to myself

and marvel at how I never thought I'd

have such a fun daughter with such a nice

bedroom and I never knew how elated

I'd feel when she jumps off the bed and

into my arms.

Most days before bed, after a bath and

two books and setting the Gro clock, we

list three "good things" that happened

during the day. I say I enjoyed having

dinner together, that I enjoyed our dance

party and I'm thankful for a job that lets

me work from home. My husband says

he liked signing Radio Gaga on the way

back from daycare and that he liked talking

to his "work friends." My daughter

just says, "I had good feelings today."

She asks me to lie with her till the sun

comes up and with that, I put my ghosts

to sleep.

Julie Mais is a policy

and communications professional

in Victoria. She looks

for beauty in the everyday

through writing, photography

and the outdoors. She

lives in a messy, cheesefilled

home with her husband and preschooler.

IslandParent.ca

April/May 2022 15
---
MOM'SPOV

We're that House

cat is that?" asks my daughter's friend's

mom as a cat darts through our open front

"Whose

door.

"That's Thomas, our friend's cat," I reply.

"Wow, so not only do you take in everyone's kids, but

their pets, too?" she says.

I smile and reply that this cat is not the first cat to frequent

our house. Charlie was before Thomas until he moved

out of the neighbourhood with his family. Both of these cats

enjoy visiting us through our cat door. Initially, our cat,

Jack, did not appreciate all the feline guests, but just as our

introvert daughter gets used to guests, so did our cat. Our

family does enjoy our loaner cats. We always let the cat

owners know when their cats are having a sleepover or a

snack at our house, too.

Our open-door policy doesn't stop at pets. It includes

humans, too. I want our children and their friends to feel

welcome and safe at our house. We're that house: the house

where all the kids hang out. We're that family that you can

count on for help, a meal, or a shoulder to cry on. When

parents are running late after school, they can pick up their

kids at our house. It's convenient that we are steps from our

school and often home after school.

I've often been asked if I run a daycare. I've also been

asked on numerous occasions to provide before- and afterschool

care for children. I can see why people would ask this

as I often pick up my own kids and three or four of their

friends after school. We have watched a few of our friends'

children for one or two days a week after school. Even when

our kids no longer attend the elementary school that is steps

16 Island Parent Magazine IslandParent.ca
---
from our door, I am confident we'll still be the house where

they hang out the most often.

My son sometimes asks why we always have to be that

house and have everyone over. He prefers to branch out and

go to other people's houses, too. Although, he's just happy

to socialize anywhere. I think it comes down to many factors.

I am glad adults, kids, and pets feel comfortable in our

home. I leave our children and their friends to their own

devices during their playdates, but I am around to fix snacks

and help reach compromises when there are disagreements.

I think our availability, willingness, and love of entertaining

also helps. I enjoy the sound of kids being kids, running

through our house and playing hide and seek together. The

fact that my husband and I both work from home and can

adjust our work hours throughout the week helps us with

our frequent playdates. It's nice to know what your kids are

up to and to be able to keep an eye on them, too.

I believe our open door and open communication with our

children and their friends will help them communicate openly

with all their parents as they reach the 'tween and teen

years. I remember sitting up at sleepover with my daughter's

friend when she couldn't sleep because she was worried.

Sometimes it's challenging to know what your own kids need

let alone another family's child, but we've managed to make

it through.

I love that our home is that house. We feel connected to

our community and our neighbourhood. I love that our

kids can play outside and walk across the street to see if

our neighbours' kids want to go to the park. My parents'

house was also that house while I was growing up. Some of

my brother's friends lived with us while they were in high

school. We would often have our friends over for supper or

sleepovers, too. I guess it really stems from my roots and

the foundation my parents set for me. I enjoyed it when our

neighbour's son came up to me afters chool and said: "If my

Grandma is not home in time, my mom said my brother and

I can go to your house. Is that okay? Are you home?" I replied

"Of course! Any time."

Serena Beck works full-time as a Technical

Writer. She loves to write, travel and swim at the

beach with family and friends.

IslandParent.ca

April/May 2022 17
---
NATURENOTES

A Breath of Fresh Air for Families

Ahh…spring…blue skies, bees

buzzing, birds calling….one of

the best times for families to head

outside to parks. A change of scenery can

be a much-needed breath of fresh air. But

Why to go:

No matter your age, spending time in

nature has mental and physical benefits.

You can walk, hike, run, bike, or roll

your way along designated trails in parks

wren singing in the bushes or a river otter

playing on the beach. You can build

memories for the whole family while out

in nature.

How to have a great time:

Being prepared to head outside is the

first step to having a great time. Here are

some quick tips:

• Dress in layers and keep a blanket

handy in case the weather cools.

•Bring a hat or umbrella to provide

shade.

• Carry a daypack with the essentials,

such as water, snacks, whistle, flashlight,

and raingear.

• Plan your trip and know where you

are going—bring a map in case your cell

phone battery dies.

• For more tips, check out AdventureSmart.ca

or the Capital Regional

District's website (crd.bc.ca).

What to do:

Even young babies can enjoy being

outside. Here are some ideas for activities

for the youngest members of your family:

• When out with your stroller, sling,

or carrier, narrate your walk on the trail.

Pick up leaves from the ground and let

your baby feel them.

• Lay on the grass and point out the

different sights and sounds. Bring a book

and have story time with a picnic.

•If the baby is old enough to sit up and

crawl, explore with them in a safe area

such as a large field or beach in a park.

• Have your baby feel items in nature

like leaves, bark, moss, lichen, sand,

and dirt. Talk about the differences in

texture—soft, hard, rough, dry, wet, etc.

Watch that your baby doesn't eat anything!

• Inspire care for nature by leaving

plants in parks and observing animals

from a distance.

why is it so important for us to spend

time in nature? How can you be safe

and have a great time? We have some

answers!

all over Vancouver Island. It can feel

daunting to get kids ready and gather

everything you and your family might

need for time outside, but it is well worth

it. You never know what you might see

or hear out in parks—perhaps a Pacific

Where to go:

Check out which parks are in walking

distance from your home. Find out

if there's a nature centre in your area

where your family can learn more about

the plants and animals. You can also

look online for local hiking groups for

18 Island Parent Magazine IslandParent.ca
---
families. If you're in the Capital Regional

District, CRD Regional Parks offers free

registered guided programs for all ages,

including some five years and under specific

programs.

Some CRD Regional Parks with user

and stroller-friendly trails are:

• Francis/King Regional Park—the

universally accessible Elsie King Trail is

a short loop trail that meanders through

Douglas-fir and Garry oak trees providing

a shaded forest cover. Listen for the

sounds of Pacific tree frogs calling. You

can also visit the nature centre on weekend

afternoons.

• Island View Beach Regional Park—

the user-friendly trail parallel to the

beach offers prime birding opportunities

with shorebirds in the ocean and songbirds

in the bush.

• East Sooke Regional Park—from

Aylard Farms parking lot to just above

the beach is a user-friendly trail with easy

access to a picnic shelter and field area.

Or leave your stroller in the car and head

down to the beach for some sand castle

building.

No matter your age, being outdoors

brings numerous benefits and builds our

connection to nature. Children are full

of curiosity and parents and caregivers

shape how children will interact with nature

throughout their lives. By modelling

respectful behaviour in parks—like staying

on trail, keeping dogs on leash or under

control, and leaving things you find

where they are—adults can show children

from a very young age how to care

for nature. Instill a sense of wonder with

excitement and stories, inspire a sense of

care with kindness and compassion and

we will have a future generation that values

and protects the natural world.

Learn a new sport or refine

your skills: come join our

rock climbing teams!

Registration

for recreational

and competitive

teams open now.

All levels

welcome!

Ages 6–18.

Details and registration at climbtheboulders.com

The Boulders Climbing Gym

1627 Stelly's Cross Road | Saanichton, BC | 250.544.0310

Be on the lookout for Island Parent's

Family

Fun

Guide

Lauren Sherwood is a

Parks Naturalist with the Capital

Regional District. She enjoys

being out in nature with family

and friends of all ages, rain or

shine. For more information

about Regional Parks programs

visit crd.bc.ca/park-events.

Your guide for Attractions,

Activities and Family Fun

IslandParent.ca

IslandParent.ca

April/May 2022 19
---
The 'Pandemic Effect'

My youngest was born in the summer

of 2020. He hasn't yet met his by about 5 months babies learn that ture. Babies were tested in the lab by a

they learned previously. For example, I believe such conclusions are prema-

extended family or left Vancouver Island;

he has never seen his pediatrician without

a mask or visited a play group. He is

our pandemic baby. Like other parents,

I wondered if being born into the pandemic

could affect early development, so

I turned to science for answers.

The pandemic has affected everyone

but, although we are all in the same

storm, we are in different boats. The toll

dropped objects fall down, so a floating

balloon is likely to surprise them.

Fortunately, your home environment

provides many opportunities for seeing

patterns and noticing new things. It's perfect,

actually. Your baby can learn about

physics ("My ducky floats in the water…

but this heavy spoon from the kitchen

does not"), emotions ("When my brother

cries he is usually sad…and sometimes

stranger wearing a face covering; I imagine

some pandemic-born babies may have

felt in this environment what you and I

would feel if we were abducted by aliens.

(I don't think I would perform my best

on an IQ test from an alien spaceship!).

And other babies might have struggled

to concentrate on tasks the researchers

were asking them to do because the lab

environment was so novel and interesting

on health, finances, medical care and

available support has been much greater

for some families than others, and its

effects on babies, direct and indirect,

are challenging to measure. So I chose

to focus on one aspect: reduced interactions

with the outside world. Will our

pandemic babies be disadvantaged? Will

their cognitive or social-emotional development

be affected?

Cognitive development

During the first year, babies gradually

get better at gathering and organizing

information, remembering, problem solving

and predicting events. Did you know

babies use universal learning methods

that resemble scientific research? Their

brains constantly look for patterns in

the world around them, making mental

maps: "When I see this happen, I can

expect that." They also look for surprise

events that don't fit into patterns

frustrated") and relationships between

people ("When I smile, daddy smiles

back…but not if he's looking away").

And novelty? Well, everything is new to

babies, so they see plenty of surprises

even in the calmest of homes. In fact, a

calm, consistent home environment helps

babies stay rested and protects them from

overstimulation which, in turn, helps

learning: it's easier for a well-rested baby

to notice new things and, when he goes

to sleep, to integrate experiences into

memory. Being at home more may help

babies learn.

But you might have heard of a recent

study led by Dr. Sean Deoni, in which

babies born during the pandemic showed

a significant reduction in scores on cognitive

development tests. The Guardian

reported that pandemic babies had

"shockingly low" scores, at levels not

typically seen outside of major cognitive

disorders. This is concerning. However,

to them. Without measures of cognitive

development taken in babies' homes we

cannot draw definitive conclusions from

this study.

Social-emotional development

In supportive environments babies get

better and better at communicating their

needs and feelings, understanding emotions

and carrying forward a sense of

competence and trust.

Our babies are born capable and

aware. Newborns can already tell if

someone is looking at them or away from

them. One-month-olds perceive facial

expressions: when a parent assumes a

sombre face showing no emotion, baby's

heart activity changes in a distinct way

that indicates distress and active coping.

By six months babies learn to anticipate

actions they see and experience regularly

and can even recognize whether behaviours

of others are helpful or unhelpful.

20 Island Parent Magazine IslandParent.ca
---
What babies accomplish in their

first year—how much they learn and

change—is truly astounding. We, parents

and caregivers, can do a lot to support

their social-emotional development. But

science suggests that diverse interactions

with the outside world are not critical.

According to the theory of attachment,

most important for healthy

social-emotional development is a close,

committed relationship with one or more

adults. One or more. It is, of course,

wonderful for a baby to be part of a

loving community, but not having that

during the first year still allows for secure

attachment.

What about mask-wearing? Having

been surrounded by people in masks,

could our babies have trouble connecting

with others? A recent study by Dr.

Ed Tronick and Nancy Snidman suggests

that babies don't mind when mom puts

on a mask. Dr. Tronick is widely known

for the Still Face Experiment: when

moms stopped mid-play and assumed an

unemotional "still" face, babies showed

surprise followed by distress. Did mask

wearing result in a similar response?

Happily, the researchers found it doesn't.

Almost all babies reacted in some way

to their mom putting a mask on and

taking it off, but mask wearing did not

disrupt their ongoing interaction. As Dr.

Alison Gopnik wrote in her analysis of

this study, "Babies can look through the

masks and just see the love underneath."

Our son is now 19 months old. Has he

done and seen less than his sisters by this

age? Yes. Do I wish he got to spend time

with our extended family? Yes, absolutely.

But he got to do more in other ways:

he snuggled with his working-at-home

dad more; he saw his sisters giggle (and

squabble) more; he explored every inch

of our small backyard at his own pace;

his sleeping and eating habits developed

against the backdrop of the slow, predictable

days at home. I can't wait for him to

experience more of the world. For now, I

trust that he will be okay.

Anya Dunham is a research

scientist with a PhD in Biology,

a mom of three young children,

and the author of a parenting

book, Baby Ecology

(Encradled Press, Jan 2022).

Visit Anya at kidecology.com.

3045–C Douglas St.

Victoria, BC

GET CLOSER

the-raptors.com

The Kiddies Store

Dedicated to providing Vancouver Island families

with high-quality infant and toddler products

at affordable prices for over 40 years

tjskids.com

250-386-2229

Douglas St.

Finlayson St.

Larch St.

T.J.'s

Thrifty

Thursdays

A different

sale each

week!

Built for performance, the all-terrain RIDGE jogger goes more places, at all paces.

• Extendable canopy with mesh window and zipper pocket

• Disc hand brake system

• Adjustable handlebar with wrist strap

• Included water bottle holder

• Five-point harness with lumbar support

• Deep, comfortable seat with webbing recline

• Patented two-stage suspension system

• Reflective accents

• Large basket with included cover

• Swivel-locking front wheel and adjustable tracker

• 12" and 16" never flat tires

• One-handed fold, stands when folded

• From birth compatible with Bassinet, MESA and other

infant car seats with the addition of adapters

Now Offering Curb-Side Pickups Current Hours: Tues–Sat 10am–5pm

Entrance off

Larch St.

IslandParent.ca

April/May 2022 21
---
DADSPEAK

A Meconium

Congratulations

Good friends of mine told me the other day that they

are having a baby. It's amazing, hearing that news

and seeing their excitement. I was still thinking about

it that evening when I was changing a diaper and accidentally

thrust my fingers into a mound of soft excrement.

"Congrats, me," I muttered to myself as I stared at my

fingers, coated in what no human's fingers should ever be

coated in.

It made me think I needed to warn my friends about the

meconium poop. You know the one, the black ooze that

your baby births not long after they've been birthed, the

alien horror that can give heart attacks if arrived unannounced.

Changing that diaper, I stopped and stared off into space

for a minute, toddler staring at me confused, wondering

what I was doing with fingers covered in poo and staring

blankly at the wall, but truth be told by that point, I was

wondering if my friends were going to use cloth or disposable

diapers and wondering if we have old cloth ones we can

give them.

Poop slowly hardening on my fingers, I snapped out of

it and tried to remember what was safer: leaving the kid

on the bed and washing my hand (risk: him falling off the

bed; reward: poo off fingers faster) or finish changing kid

and then wash my hand (risk: good god man; reward: toddler

lives to terrorize another day). Always one to make a

half-assed decision that is somehow the worst of all worlds,

I kinda literally popped half of my body into the neighbouring

bathroom, while keeping one of my feet in the bedroom,

as if prepping to steal a base, when really I'm just prepping

excuses in my head as to how he fell off the bed that didn't

involve the phrase "wanted to get poo off my fingers."

So, I kinda washed my fingers too quickly, if we're being

honest here, so I could whip the top half of my body back

in the room as if none of this ever happened. Of course, I

snapped my torso around so fast it felt like Andre the Giant

had grabbed my skull and smashed it against the wall, which

happens, because I forgot the wall was there because there

was poo, and also there was a toddler in a maybe-precarious

position.

22 Island Parent Magazine IslandParent.ca
---
I tried not to swear, but probably did, re-adjusted my

glasses, remembered the poo even though it was history,

whipped my hand away from my face, and looked at my

kid, who was just staring at me, not having moved an inch

throughout the whole ordeal. I laughed like a complete maniac

for no reason, then went blank as I caught sight of and

stared at the crib next to our bed, the crib that these days

gets used as...well, nothing, actually. It's just been sitting

there forever.

Yeah, we've had that crib for a long time, so long that

parts of it may no longer be legal to sell in Canada, so I

started wondering about things like expiration dates on car

seats and I wondered if there's some weird underground

black market for parents for stuff like this, but I really don't

want to know. I've already told my friend that car seats expire,

a bizarre fact he was unaware of, but isn't parenting in

2022 full of bizarre facts we were all previously unaware of?

But the poo on the fingers, man, that goes back. Since the

dawn of time, parents have accidentally rammed their fingers

into piles of poo, and the sensation never fails to horrify me.

It's a horrifying, horrifying thing that no one ever warned

me about. There absolutely will come a time when there is

poo under your fingernails and you have to work to get it

out.

Oh man, I didn't check under my fingernails.

Uh, anyway, all of which is to say, congrats, you two. And

watch out for that meconium poop.

Greg Pratt is the father of three children and a

local journalist and editor. His writing has appeared

in, among other places, Today's Parent, Decibel

and Douglas. He is @gregprattwriter on Twitter.

IslandParent.ca

April/May 2022 23
---
WHAT'SFORDINNER

Make Ahead Healthy Snacks

It's not always easy to eat healthy when you're busy. Sometimes

you just don't have the time to whip up a healthy

snack or even chop some vegetables. And when your kids

are hungry, then they need food right away. Asking them to

wait just doesn't work.

The secret to healthy eating in a hurry is to always have a

few healthy snacks on hand!

Here's a few reasons why it's worth stashing some healthy

homemade snacks in your fridge, freezer and cupboards:

• If you make it yourself, you get to control the amount of

sugar and salt.

• Homemade food is usually preservative free compared to

their commercial counterparts.

• The packaging on commercial snacks just adds up in the

landfill, whereas homemade snacks are zero-waste!

• It's also a lot more affordable to make your own snacks.

Coconut Almond Energy Balls

(Prep Time 15 minutes)

These energy balls were a treat that my mom made when I was

growing up. We always had them to take on camping trips or for long

walks. They are full of healthy, sustaining energy. Have your children

help roll the balls and coat them in whatever topping they want.

1 cup of Medjool dates, pits removed

1 cup of unsweetened coconut flakes

1 cup of almonds

2 Tbsp of cocoa powder

1 ⁄2 tsp vanilla

Pinch of salt

Toppings: flaked coconut, slivered almonds, cocoa powder

1. Mix all of the ingredients in a food processor. If you don't have

a food processor, you can use a blender. Just keep scraping all the

ingredients down so they get finely chopped.

2. Once everything has been mixed into a smooth paste, scrape it

into a bowl and place it in the fridge for about 20 minutes.

3. Remove from the fridge. Using a teaspoon, grab a spoonful of

the energy ball mix, then roll it into a small ball. (This is a great time to

get your kids to help out).

4. Then roll the ball in one of the toppings and set aside while you

finish with the rest of the mix. You should have between 10–20 balls,

depending on how large you make them.

5. Store in the fridge until you're ready to enjoy them. They should

last for at least a month.

Ranch Flavoured Microwave Popcorn

(Cook Time 3 to 5 minutes)

Did you know that you can make popcorn in a glass bowl in the microwave?

You don't need to spend money on wasteful and expensive

packaged microwave popcorn. Just invest in a large bag of popcorn

kernels!

Microwave popcorn is a quick after school snack. Or you can pop

a large batch and store it in an air-tight container in the cupboard. It

should stay fresh for up to a week.

1 ⁄2 cup of popcorn kernels

1⁄2 cup of butter or oil (I usually do a 50/50 mix)

1 tsp garlic powder

1 tsp onion powder

1 tsp dried dill

1⁄2 tsp salt, to taste

1. Add the popcorn kernels to a large glass bowl and top with a dinner

plate.

2. Microwave for 3 to 5 minutes, until most of the popcorn is popped.

The exact timing will depend on the wattage of your microwave.

3. Use oven mitts to remove the bowl, it will be very hot.

4. Melt the butter in a small bowl. It will take about 20 to 40 seconds

in the microwave.

5. Drizzle the butter and/or oil over the popped corn. Then sprinkle

on the seasonings. Toss to fully mix the seasonings. And enjoy!

6. Ranch is our favourite flavour, but feel free to experiment with

other flavour options.

24 Island Parent Magazine IslandParent.ca
---
SKAM SUMMER CAMPS ARE BACK

R A U L P O P B Y D

N A M E D Grab and Go Vegetables

(Prep Time 15 minutes)

When my kids were young, my husband and I used to prepare a big

bag of mixed vegetables. It was chopped up and ready in the fridge

whenever we needed a snack. Now that my kids are older, they are

responsible for preparing the grab and go vegetables.

Wondering at what age you can get your kids chopping vegetables?

I recommend starting early. My daughter was helping with her school

lunch right from kindergarten. Though she still can't chop carrots, she's

used to the expectation that she's going to help out. So eventually,

she'll be able to prepare the grab and go vegetables all on her own.

The secret to these make ahead vegetables is the seasoning! They

won't dry out and curl up at the edges like typical vegetable sticks.

They're also flavourful enough that they don't need a dip! How easy is

that?

Carrots

Celery

Small head of cauliflower and/or broccoli

Mushrooms

Coloured peppers

Green beans and peas

1⁄2 tsp salt and pepper, to taste

1 bunch of fresh herbs

1. Wash and slice your favourite snack vegetables. I recommend a

mix of whatever is seasonal. However, cucumbers don't hold up well to

being prepared in advance. So don't include those in your mix.

2. Lightly season the vegetables with salt and pepper, to taste. Place

the vegetables in a large zip-top bag or a container with a lid.

3. Wash and dry the herbs. Then scrunch them up and put them on

top of the vegetables. They are just there to infuse the vegetables with

flavour, so remove before serving. I recommend mint and basil; parsley

and chives; or whatever you have that's handy.

4. Store the vegetables in the fridge and enjoy within 3–4 days.

DRAMA CAMPS FOR

AGES 5-8 AND 9-12

ARE RUNNING JULY

THROUGH AUGUST

REGISTER AT

SKAM.CA TODAY

Emillie Parrish loves having adventures with

her two busy children. You can find more of her

recipes in her recently released cookbook Fermenting

Made Simple. fermentingforfoodies.com

IslandParent.ca

April/May 2022 25
---
APRIL/MAYFAMILYCALENDAR

For more information and calendar

updates throughout the month

visit IslandParent.ca

V

P

W

Victoria & Area

Peninsula

Westshore

CV

N

CX

Cowichan Valley

Nanaimo & Area

Comox Valley

PR

G

O

Pacific Rim

Gulf Islands

Online

APRIL

1 FRIDAY TO 9 SATURDAY

Spring Break Physical Literacy N

Passport Challenge

Upload your passport or drop off at either Ravensong

Aquatic Centre or Oceanside Place Arena by

Sunday April 10.

rdn.bc.ca/recreation

2 SATURDAY

AGGV Public Open House

V

10am–5pm, Art Gallery of Greater Victoria

Drop by the opening of Reverberations and enjoy

a free day at the Gallery.

aggv.ca/events

Monthly Clothing Swap

10am–1pm, Fairfield Gonzales Community

Association

fairfieldcommunity.ca/clothing-swap

5 TUESDAY

AGGV Admission by Donation V

10am–5pm, Art Gallery of Greater Victoria

The first Tuesday of the month is always admission

by donation—all day long.

aggv.ca/events

V

9 SATURDAY

Penny Pom Pom

N

1pm, VIU Malaspina Theatre

Meet Penny Pom Pom, a colourful ball of energy

who embodies creative confidence and artistic

freedom. Her multi-media show for young children

is colourful, musical and interactive and

focuses on the importance of creativity and selfempowerment.

theatreone.ca

16 SATURDAY

Easter Eggstravaganza

V

9:30–11:30am, Oaklands Community

Association

Drop by for a morning of crafts, egg hunting,

petting goats and more! Two time slots, 9:30–

10:30am and 10:30–11:30am. Tickets at OCA.

oaklands.life/oca-events

Daniel Lapp's Joy of Life Concert V

7:30–9:30pm, Alix Goolden Hall

This Victoria event has a 20+ history celebrating

the best the city has to offer in toe-tapping folk,

fiddle and jazz music.

vcm.bc.ca/programs/joy-of-life-choir

17 SUNDAY

AGGV Family Sundays

V

2–4pm Art Gallery of Greater Victoria

An afternoon of exploring hands-on art-making

ideas for all ages.

aggv.ca/events

22 FRIDAY

Earth Day

In addition to raising awareness of environmental

issues among citizens and organizations across

the country, this campaign aims to encourage as

many people as possible to take action.

earthday.ca

30 SATURDAY

Wigglers at Work

V

10–11am, The Compost Education Centre

Parent-child workshop on red wiggler worms.

Learn what goes into compost and get a chance

to hold some live worms.

compost.bc.ca

MAY

1 SUNDAY

Annual Spring Fling

CV

1–3pm, Bowser Legion

Food, fashion, a silent auction and games, including

a balloon pop.

250-738-0822

26 Island Parent Magazine IslandParent.ca
---
Milner Gardens' Spring Plant Sale N

11am–4pm

Vancouver Island University's Milner Gardens

features great discounts on heritage trees, shrubs

and perennials.

milnergardens.viu.ca

2 MONDAY

YES 2022 BioBlitz

N

Yellow Point Ecological Society's 2nd annual

BioBlitz is an "intense community engagement"

to help identify as many species as possible in a

designated area. Family friendly and lots of fun.

yellowpointecologicalsociety.ca

7 SATURDAY

James Bay Community Market V

9am–3pm, Saturdays,

Superior and Menzies Streets

This vibrant community market features fresh

local produce and farm goods, artisan crafts and

ready-to-eat foods.

jamesbaymarket.com

23 MONDAY

Victoria Day Parade

V

9am–noon, downtown Victoria

This free family event features entertainment,

performances, building an awareness of our diverse

cultures, creating safe, inclusive opportunities

for everyone to participate.

gvfs.ca

28 SATURDAY

Kellie Haines: A Birdy Told Me N

1pm, VIU Malaspina Theatre

Eight-year-old Kellie doesn't feel like she fits in at

school until she receives a birthday gift who can

talk on their own. Kellie meets Magrau, a chatty

confident bird puppet who has a flair for singing,

dancing, and making people laugh.

theatreone.ca

COWICHAN BAY

KAYAKING

Canoeing Adventures

Youth Programs

OPEN FOR

BOOKING!

Book online or contact us

by email or phone

(minimum 24 hrs ahead).

Visit our website for details.

Wildlife Tours

ADVENTURE

CENTRE

Kayak &

SUP Rentals

On the Dock at Bluenose

Marina, Cowichan Bay

cowichanbaykayaking.com 250-597-3031 info@cowichanbaykayaking.com

IslandParent.ca

April/May 2022 27
---
KIDS'READS

Tourist in Your Own Town

When you grow up in a city, or if you've lived there

for a while, it can be easy to forget about all of

the exciting things people want to come and see.

After all, the Shaw Centre for the Salish Sea is always there.

You could go almost any day of the week (just don't pick

Wednesday). Or you might drive passed the Hatley Park

Gardens every day during your commute, so they no longer

seem so spectacular. But this summer, why not try to rekindle

the excitement we feel for our own towns and become tourists

in our own backyards, so to speak. I can even suggest

some books that will teach you about the animals around us

and give some suggestions on how you can remember and

treasure the little adventures you go on.

Let's start with The Collectors by Alice Feagan (Kids Can

Press, 2021). Winslow and Rosie love to collect natural

wonders and display them in their tree house on the edge of

the forest. Each item has a story that is carefully catalogued

by Rosie in her field journal. But now, their treehouse is so

full they only have one spot left. Rosie and Winslow set out

to try and find something amazing to go there. While you're

learning about the items they collect, maybe you'll get some

ideas about items you can collect as well. For ages 4 to 8.

Maybe while you're exploring you can convince your child

to use their ears to see if they can hear any bees buzzing or

birds singing. And then, you can read Sounds All Around:

The Science of How Sound Works by Susan Hughes and illustrated

by Ellen Rooney (Kids Can Press, 2021) to talk

about how we hear sounds and how animals hear sounds.

For example, did you know elephants hear through their

feet? For ages 6 to 12.

If your children love the water and want to learn about

some of the sea creatures that live in the area, there are several

books by local authors that can help. Dive into Colours

by Ann Donahue is a great first book about sea creatures for

children ages 3 to 5 and her second book Reef Creatures:

Weird and Wonderful has almost every possible answer to

every question your 6- to 12-year-olds can think about for

sea creatures that call reefs their home.

And if your intrepid reader is concerned about the lack of

orca information in Donahue's books, there is always Orca's

Everywhere: The Mystery and History of Killer Whales by

local author Mark Leiren-Young (Orca Publishing, 2019),

which is full of information for preteens. For ages 10 to 14.

If you're not exactly sure what sorts of information you

should record on your walk through the lagoon or along

one of the other beaches around here, Beach Walk which

was edited by Deanna F. Cook and Lisa H. Hiley (Storey

Publishing, 2019) has you covered. The book comes with a

magnifying glass, stickers, information about different sea

creatures and plants and a beach log to record your findings.

Let this book help you kindle your child's inner explorer and

28 Island Parent Magazine IslandParent.ca
---
help them find ways to connect with the ocean around us

this summer. For ages 4 to 8.

Or maybe you and your children aren't so scientifically

inclined and the idea of cataloguing what you see, hear and

smell doesn't sound so appealing. Then perhaps you can

follow the lead of the child in Poem in My Pocket by Chris

Tougas and illustrated by Josée Bisaillon (Kids Can Press,

2021) and create a found poem from all the words you see

fluttering in the breeze. For ages 6 to 12.

I hope these books give you and your children some ideas

for how they can explore their own neighbourhoods and local

beaches this summer.

Christina Van Starkenburg lives in

Victoria with her husband, children and cat.

She is the author of One Tiny Turtle: A Story

You Can Colour and many articles. To read

more of her work and learn about her upcoming

books visit christinavanstarkenburg.com. Facebook:

facebook.com/christinavanstarkenburg

and Twitter: @Christina_VanS.

Homestay Families Needed!

Dedicated students in grades 6–12 come from

28 different countries to attend academic

programs in Greater Victoria Schools.

Why Host?

• Enjoy an unforgettable cultural experience.

• $1100 per month will be provided to

support a student in your home

• Short Stay or Long Stay Hosting

Opportunities are Available

• 24/7 assistance is provided from

the Homestay Office

Questions?

250.592.6871

homestay@sd61.bc.ca

studyinvictoria.com

Connect your family to the world.

IslandParent.ca

April/May 2022 29
---
PRESCHOOL&CHILDCAREDIRECTORY

v Comprehensive programs for

Preschool through Grade 11

v Delivering academic excellence through

music, dance, drama and visual arts

v Outstanding educators,

locations and facilities

www.ArtsCalibre.ca 250.382.3533

Castleview Child Care........... 250-595-5355

Learning Through Play & Discovery.

Licensed non-profit, ECE staff. Since 1958.

Morning or full-time care.

castleviewchildcarecentre.com

Christ Church Cathedral Childcare

& Jr. Kindergarten..................250-383-5132

ECE and specialist teachers provide an

outstanding all day licensed program for

2.5–5 year olds at our Fairfield and

Gordon Head locations.

cathedralschool.ca

Emmanuel Baptist Church Child Care

We offer all-day Day Care

for 3 and 4 year olds.

We also offer an After School Care

Program for Kindergarten to 12 years

old for Campus View and Frank Hobbs.

250 598 0573 2121 Cedar Hill X Rd (by entrance to UVic)

daycare@emmanuelvictoria.ca afterschool@emmanuelvictoria.ca

Nightingale Preschool &

Junior Kindergarten Ltd........ 250-595-7544

We offer education through creativity and play, providing

rich learning experiences through a well sourced

and stimulating indoor and outdoor environment. Early

years reading programme. nightingalepreschool.com.

Arts/Drama programme. kidsworks.ca

Pre-School

Junior Kindergarten

PacificChristian.ca

250-479-4532

Educational Excellence to the Glory of God

Rainbows

& Dreams

Preschool

Offering small classes, creative 3–5 year

and kindie programs. Safe, fun, nurturing

environment to learn and grow.

250-479-1966 4184 Keewatin Place, Victoria

Ready Set Grow Preschool.....250-472-1530

Join our learning through play preschool located

in Hillcrest Elem. Our caring ECEs offer

an enriched Program for 3-4 hour, 2-5 days a

week and help with kindergarten transition.

heoscmanager@gmail.com

St. Christopher's Montessori School

Offering an enriched and

nurturing Montessori programme

Competitively priced independent

school education

Half day for 3 & 4 year olds

Full day kindergarten

stcmontessori.ca 250-595-3213

Call your local CCRR for free referrals and resources.

Victoria & Gulf Islands: 250-382-7000

Sooke: 250-642-5152 West Shore: 250-940-4882

Cowichan Valley: 250-746-4135 local 231

PacificCare (Ladysmith north): 250-756-2022 or 1-888-480-2273

30 Island Parent Magazine IslandParent.ca
---
Victoria & Area Peninsula Westshore Cowichan Valley Nanaimo & Area

w ild c h ild

e a r l y l ear n i n g c e n t r e

• Licensed program for

3–5 year olds

• Nature focused

• 3 hour morning classes

Exciting new learn-throughplay

program in Saanichton,

ideal for Peninsula families

www.wcelc.ca

Junior Kindergarten to Grade 12

Learn more today! 250-390-2201 AspengroveSchool.ca

NANAIMO' S JK–12 INTERNATIONAL

BACCALAUREATE WORLD SCHOOL

• Licensed programs, for children 3–5 years

• Flexible part-time schedules • Supported spaces available

• 3 and 4 hour morning classes

Encouraging your child's development and

learning through play and exploration

Fullobeans.ca 250-360-1148 E: fullobeans@snplace.org

Metchosin Co-Op Preschool

A Co-operative preschool in

the heart of rural Metchosin.

The best place to be.

Take a virtual tour today!

metchosinpreschool.com

250-478-9241 metchosinpreschool@gmail.com

St. Margaret's School Jr. Kindergarten

Apply now for our Early Learning (JK and

Kindergarten) Programs. Early learning at SMS is

a curriculum-based program for 3 and 4 year olds.

St. Margaret's School

250-479-7171 | admissions@stmarg.ca

SEEDLINGS

Forest Education

Where nature becomes the Teacher!

Seedlings Forest Education is a Nature based program

that includes After School Care, Nature Preschool, Parent

Workshops, Saturday Seedlings, Summer Camps and more!

250-880-0660 seedlingsforesteducation.com

Nestled on 4 acres of lush west coast forest, our Award

winning, Nature based program will not disappoint!

While firmly embracing the Reggio-Emila (Italy) Philosophy

our dedicated team of educators use the environment

as the third teacher as we encourage your child

throughout their day.

Our purpose built facilities have been handmade using the

trees from our forest. Come take a virtual tour on our website!

lexieslittlebears.ca

Waitlist: 250-590-3603

Programs for Infants/Toddlers/Pre-school Age.

BC Award of Excellence in Childcare & Prime Minister's Award of Excellence in Early Childhood Education.

IslandParent.ca

April/May 2022 31
---
Alexa, How Do I Teach My

Kids About Money?

Something's in the air and it's not just the silent alarm of

a much-needed diaper change. While you and your other

half grapple with who's taking the night shift and who gets

some extra shut-eye, a conversation about money will feel

like your last priority.

Nevertheless, the sooner our kids are taught the basics of

money, the sooner they'll become financially literate.

Some predict that Generation Alpha (born in 2010–2024)

will be the most formally educated, tech-savvy and wealthiest

generation in history. However, the lifelong lesson of

money can't be downloaded as an app and absorbed in an

instant. Instead, real life teachable moments can be applied

to the all-important financial literacy conversation.

And, just as critical as the discussion with your children

is, you and your partner need to be on the same page. Chartered

Professional Accountants Canada (CPA Canada) recommends

some areas to consider when teaching your kids

about money:

Partners in finance: While parents don't always see eye to

eye, money is a conversation that requires clear communication

and compatibility before you talk to your child.

ABCs and 123s: Start the conversation with your kids

early. It's never too soon to show them the value of dollars.

Make it relatable: Use real life 'teachable' moments to

kickstart lessons in financial education. With assistance,

letting your child pay at the grocery store gives them confidence

with transactions.

Pennies to profit: Teach your kids the long game. By providing

small allowances and exploring spending goals, your

kids will learn from an early age the importance of budgeting.

Continue the conversation: Financial lessons won't be

digested in a one-time talk. Keep checking in with your kids

and encourage them to learn.

It's never too early to start implementing money lessons

at home. CPA Canada has a range of tips and resources to

help guide the money conversation with your future financial

whiz kid. Download CPA Canada's free financial literacy

workshops or a copy of its Raising Money Smart Kids book

at cpacanada.ca.

Vivian Leung is a Senior Principal in CPA Canada's Taxation group.

She is passionate about advancing financial literacy amongst Canadians

and is the co-author of CPA Canada's book Babies: how to afford your

bundle of joy.

32 Island Parent Magazine IslandParent.ca
---
SPONSORED CONTENT

Inspired Summer Camps for Teens

Summer camps are not just for young children, they're a

chance for teens to pursue passions and explore new interests

with the Applied Skills for Teens series offered by

St. Michaels University School (SMUS) in Victoria, B.C.

These camps, taught by specialized teachers and including

subjects such as digital fabrication, graphic design, robotics,

math, physics, screenwriting, poetry, pottery, and photography

are a perfect opportunity to keep teens focused, engaged and

learning over the summer months.

"We are offering students the chance to engage in subjects

they are passionate about without the pressure of assessment

and homework," says Craig Kelley, Director of External

Programs. "They will have a lot of fun and it's a way of learning

that will spark their interest and keep them inspired through

the rest of the year."

SMUS has partnered with the Victoria Conservatory of Music

to offer the Summer Music Explorations Camp, with both day

and overnight options. Students will explore the creative world

of music, while broadening their knowledge of genres and

strengthening their technical playing skill within our world-class

facilities.

To encourage the next generation of budding engineers,

SMUS is offering Byte Camp U. During this two-week overnight

camp, students will tackle real-world challenges to develop

their problem-solving, engineering and technology skills.

With more than 60 camps, there is something for everyone

at SMUS. Day camps are open to all Greater Victoria families,

and overnight options are available for music, engineering,

sports and language programs.

To learn more and to register, please visit our Summer

Camps website: www.smus.ca/camps.

IslandParent.ca

April/May 2022 33
---
Healthy Families, Happy Families

Child, Youth

& Family

Public Health

South Island Health Units

Esquimalt 250-519-5311

Gulf Islands 250-539-3099

(toll-free number for office in Saanichton)

Peninsula 250-544-2400

Saanich 250-519-5100

Saltspring Island 250-538-4880

Sooke 250-519-3487

Victoria 250-388-2200

West Shore 250-519-3490

Central Island Health Units

Duncan 250-709-3050

Ladysmith 250-755-3342

Lake Cowichan 250-749-6878

Nanaimo 250-755-3342

Nanaimo 250-739-5845

Princess Royal

Parksville/Qualicum 250-947-8242

Port Alberni 250-731-1315

Tofino 250-725-4020

North Island Health Units

Campbell River 250-850-2110

Courtenay 250-331-8520

Kyuquot Health Ctr 250-332-5289

'Namgis Health Ctr 250-974-5522

Port Hardy 250-902-6071

islandhealth.ca/our-locations/

health-unit-locations

Changes with BC Medical Services Plan

premiums mean that families eligible for partial

payment of some medical services and access

to some income-based programs now must

apply for Supplementary Benefits through the

Government of BC. Applications can be done

online and take approximately 15 minutes.

Families who previously qualified for MSP

Premium Assistance should not need to re-apply

if taxes are completed yearly. It is advised to

confirm coverage before proceeding with

treatment to avoid paying out of pocket.

For more information, visit gov.bc.ca/gov/

content/health/health-drug-coverage/msp/

bc-residents/benefits/services-covered-bymsp/supplementary-benefits

Befriend the Birds

Your family can be a good neighbour hang it in a tree or shrub (sheltered from

to local backyard birds.

rain) where you can watch the action!

This spring put out nesting material. Continue to restock and offer nesting

See who prefers the fluff to the moss. materials March to July. It's common

Then learn to identify birds by song with for pairs to have a failed nest and they'll

fun mnemonics, as they settle in to nest need to rebuild after a storm or if a predator

comes thru.

and raise a family of their own.

Show passion for some part of our living

world. It's experiences in nature that with cotton, hemp and wool fibers at

Note: Shop for bird-nesting material

shape who we are and how we live. To wild bird stores or anywhere that sells

help our non-human kin brings us a little bird seed and houses.

more magic and helps make friends with

mystery. Nature is potent!

A mnemonic is a pattern of letters,

ideas or associations to help you

remember something. It aids the

memory. (You use them all the time.)

How to provide nesting

material

To "rewild" your yard, plant native

trees, shrubs, and forbs. Trees species

with the best downy-like fluff have catkins

(a flowering spike) like cottonwood,

maple, willow, and poplar. (Allergy sufferers

will know exactly where these

wind-pollinated trees are in the neighbourhood.)

All types of bird nests need a combination

of twigs, dried grasses, moss, hair,

mud and even spider webs. It's easy and

fun to attract birds and enjoy observing

them by putting out nesting material.

My local hummingbirds chose the moss,

while pine siskins preferred the cattail

fluff!

Other natural, biodegradable, pesticide-free

materials:

Dog fur (free from chemical flea and

tick treatments), horsehair (clean their

body brushes) or wool. DON'T use human

hair.

Moss

Dry grass

Cattail fluff

Twigs and strips of bark

Dried leaves

Don't use dryer lint (it's a chemical

soup), yarn or string and synthetic fibres.

Human hair is also too thin and can cut

or tangle birds.

Take a handful of nesting materials

and stuff a repurposed metal whisk or

use a winter cage-like suet feeder. Then

Keep a patch of bare ground with

exposed soil to help swallows and

robins. They need mud for their

nests (you'll help native mason bees

and butterflies, too). Sounds silly

but chances are you already have a

place they use. It could be the corner

of the yard that gets trampled or

a low spot that puddles.

Beginner bird mnemonics

for common species

Now that you've observed which birds

are nesting in or near your yard, get to

know them by song. You'll learn which

species love living near you and get to

know the birds on your favourite walking

routes, too.

When I birded for a living in the boreal

forest of Alberta, songs were the easiest

way to identify birds. Songbirds were

often hard to see in dense over- and understory

or they were far away and high

up. Luckily, birders train in mnemonics

and you can too!

Photo: Robert Fraser

34 Island Parent Magazine IslandParent.ca
---
Jon Young, author of What the Robin Knows: How Birds

Reveal the Secrets of the Natural World says the bravest

to most secretive birds to reveal their presence to you

are: chickadees, sparrows, juncos, thrushes, warblers,

then towhees.

Twelve phrases and clues to identify

Vancouver Island birds by song:

American Goldfinch says "po-ta-to-chip" while in flight

Barred Owl says "Who-cooks-for you? Who-cooks for you

all?"

Chestnut-backed Chickadee says "Sika-dee-dee"

Chipping Sparrow sounds mechanical, like a sewing machine

Olive-sided Flycatcher says "Quick, three beers!"

Ruby-crowned Kinglet says "Chubby, chubby, cheek, chubby

cheeks"

Song Sparrow says "Maids-maids-maids-put-on-your-teakettle-ettle-ettle"

or "Hey! Hey! Put on the kettle, kettle,

kettle"

Spotted Towhee says "Tow-hee?"

White-breasted Nuthatch sounds like a nasally French horn

White-throated Sparrow says "O, sweet, Canada, Canada,

Canada"

Yellow Warbler sings "Sweet, sweet, sweet, I'm so sweet"

I also recommend learning songs of the Pacific Wren, Darkeyed

Junco, Brown Creeper and Yellow-rumped Warbler, too

Don't hear it? Don't stress. Listen to a variety of bird song

recordings online to train your ear. Prefer to learn in the field?

Join a local naturalist group or register for a nature sanctuary

guided birding walk.

Lindsay Coulter is a writer, educator, facilitator,

naturalist, community catalyst, soul activist,

mentor, and dedicated mother of two. She's the

Director of Communications, Culture and Community

at EPIC Learning Centre, a forest and nature

school in Victoria. Find her @SaneAction on Instagram

and Facebook.

Photo: Kalene Lillico

Swimming is a Life Skill

Remember how much

fun it is to swim!

Now Registering

Spring

pre-competitive

programs

Coming Soon

Summer intro

programs—

registered by the

week

Register online at

www.islandswimming.com/program-info

More information

info@islandswimming.com (250) 744-5536

IslandParent.ca

April/May 2022 35
---
Scavenger Hunt

In the CITY

Things to

Look for

Something red

A sign with the letter

"A" on it

A recycling bin

10 blades of grass

A mailbox

A bus

A bicycle

A blue car

Find scavenger hunt items,

sing a song, read some books

and have fun learning together.

Rhyme "The Elevator Song"

Oh, the city is big and the city is grand

(stretch arms wide then stretch hands high)

There are lots of people living on a little bit of land

(pinch fingers close together)

And we live way up on the 57th floor (point up)

And this is what we do when we go out the door

(pretend to open a door)

We take the elevator up (reach arms up)

We take the elevator down (reach arms down)

We take the elevator up

We take the elevator down

We take the elevator up

We take the elevator down

Literacy Tip

Make letters, words, and sounds part of your everyday activities.

You could say, "I see something that begins with the same letter

(or sound) as your name. Do you see it?" or "Do you see the 'Stop'

sign? What should we do?" Try applying these same strategies

when reading books together. For example, ask your child to

find a familiar letter or word on the page.

And then we turn around (turn around)

Booklist

Look for these titles

at gvpl.ca

• Small in the City by Sydney Smith

• The Digger and the Flower

by Joseph Kuefler

• City Mouse, Country Mouse

by Maggie Rudy

36 Island Parent Magazine IslandParent.ca
---
City Nature Challenge 2022

Join nature lovers across the capital region in celebrating local species

and ecosystems by participating in the 2022 City Nature Challenge.

Over a four day period, April 29 through May 2, photograph and

document local biodiversity in the capital region using the free iNaturalist

Canada website or app, and help to build a record of the nature that surrounds

us. More than 400 cities around the world will be participating in

the City Nature Challenge this year, as a global celebration of biodiversity

in and around urban areas.

Participating in City Nature Challenge in the capital region is easy:

• Find nature in your backyard, neighbourhood, favourite park or

beach. Observations of plants, animals, fungi, insects, tracks, or even

scat are all welcome.

SPONSORED CONTENT

• Photograph your observation from different angles and capture

different features. Use a digital camera or smart phone.

• Create an iNaturalist account using the app or website and upload

your observation.

• Identify your finding to the highest level that you can, or let the online

iNaturalist community help with identification.

• Repeat!

Stay tuned for upcoming information about City Nature Challenge

events offered by the CRD and its partners, and iNaturalist resources that

will help you get started.

crd.bc.ca/biodiversity | inaturalist.ca

Calling all nature lovers!

Join the Capital Region's

City Nature Challenge

April 29 - May 2, 2022

How many wild plants and animals can you find in

the capital region? Join the CRD and its partners as

we compete with cities around the world to document

urban nature using the free and simple iNaturalist app.

Get outside with your family to explore the capital

region's amazing biodiversity.

Learn more at www.crd.bc.ca/biodiversity.

IslandParent.ca

April/May 2022 37
---
CUTITOUT!

Not a Problem

Children have problems with their

feelings. Some, a little more than

others. Although immaturity is

a factor, a lot has to do with temperament,

which is why a younger child can

appear more flexible, calmer, and easier

to handle. We come into the world with

a genetic blueprint of nine traits. Is your

child high in any of the following?

· Active children often use their bodies

to learn and to express themselves, so it

isn't unusual for this child to come out

swinging when they are dysregulated

or having a hard time managing their

emotional response. Yes, even past the

preschool years.

· Perceptive children can quickly absorb

other people's stress; they see it,

they feel it, they act it out.

· Persistent children have difficulty letting

go of their agenda. They grieve the

loss of their ideas.

· Cautious children experience strong,

overwhelming emotions when they are

faced with a new situation or person.

· Children who aren't adaptable like

things to be fair, and of course, life

rarely is.

· Very regular children like routine

and can easily be triggered by hunger

and fatigue.

· Sensory sensitive children often feel

overwhelmed by their environment. This

leads to depletion and an empty reserve

of patience.

· Intense children feel things in a big

way and have difficulty keeping their reactions

to a dull roar. Remember, adults

have temperament too.

· Some children come into the world

with a more serious mood.

What to do:

Stop seeing a child's eruptions as a

problem to be fixed. Time will take care

of this if handled well.

Regulate yourself. Focus on your

breath and your inner dialogue. "My

child isn't giving me a hard time; they

are having a hard time." (Dr. Ross

Greene)

Keep everyone safe and stand by without

words, lectures, threats, or lessons.

Breathe.

Be present if you can, and if you can't,

say you will be back and that you love

them.

Your task is to protect your children

from getting stuck in the bad kid role.

It does not make sense to punish a child

for dysregulation. Remember this is

simple immaturity plus temperament.

It's normal.

Children need to know you can handle

their big feelings. If they see fear or

helplessness in you, they will believe that

there is something wrong with them.

This will lead to more dysregulated episodes

and low self-esteem.

Remember to translate I HATE YOU,

into HELP, I'M STRUGGLING.

When it's over, just connect. You don't

have to talk it out but show that you get

it and you've got their back.

Dr. Allison Rees is a

parent educator, counsellor

and coach at LIFE Seminars

(Living in Families Effectively),

lifeseminars.com.

BUSINESSES

YOUNEEDTOKNOW

These local businesses are family-focused and committed to our community and helping you.

Tired of packing lunches? Try a

weekly delivery of school lunches!

HEALTHY

CONVENIENT

AFFORDABLE

ThisWeeksLunch.com/

How-It-Works

38 Island Parent Magazine

IslandParent.ca
---
SUMMER CAMPS

AT

UVIC!

• RECREATION • SPORT DEVELOPMENT • HIGH PERFORMANCE

• CLIMBING & OUTDOOR

Develop skills, meet new friends, explore creativity

and experience exciting activities in a fun, safe

and positive environment!

REGISTRATION

OPENS APRIL 4.

See complete camps listings online:

vikescamps.com

• Archery

• Racquet Sports

• Ball Hockey • Soccer

• Basketball • Softball

• Cheer

• Sport Science

• Cross Country • Swimming

• Dance

• Tennis

• Fencing

• Track & Field

• Girl Power • Vikes Adventurers

• Golf

• Vikes Sports

• Indoor Climbing • Volleyball

• Outdoor Climbing • Yoga

• Judo

• and more!

• Mini Vikes

Join us for adventure-filled co-ed summer camps at SMS!

Camp themes include tennis, robotics, nature & gardening, LEGO,

Harry Potter, art, Minecraft, and more!

Learn more at stmarg.ca/camps

IslandParent.ca

April/May 2022 39