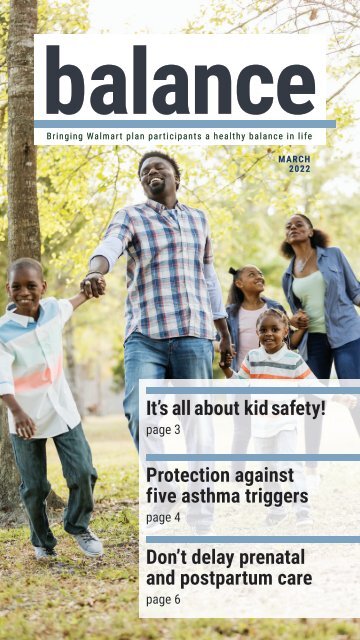 00096.03.01-balance-february-2022-mobile
NON-FINAL PLACEHOLDER
NON-FINAL PLACEHOLDER
SHOW MORE
SHOW LESS
Create successful ePaper yourself
Turn your PDF publications into a flip-book with our unique Google optimized e-Paper software.
alance

Bringing Walmart plan participants a healthy balance in life

MARCH

2022

It's all about kid safety!

page 3

Protection against

five asthma triggers

page 4

Don't delay prenatal

and postpartum care

page 6
---
Get your child back on track!

Schedule their age-appropriate vaccinations today

Parenting through the COVID-19 pandemic has been

hard. Many moms and dads have kept their children

close to home to avoid the virus. However, in doing

so, millions of children have not received their

recommended childhood vaccinations.

In this age of COVID, it's still important to protect children

from viruses like measles, meningitis, pneumonia,

etc. Your Walmart health plan covers childhood

immunizations.

When you're ready to get back on track with your child's

vaccinations, schedule a visit with their pediatrician.

The sooner, the better! You can get a copy of your

child's immunization record during the doctor's visit.

Are you wondering which immunizations your child

needs? Visit cdc.gov/vaccines/parents for in-depth,

age-appropriate schedules schedules or contact your

child's pediatrician.

2 | balance march 2022
---
kid safety!

13 tips to help keep them protected

Children have a knack for amusing themselves when

they're hanging around the house or outdoors exploring.

When they're on the move, they encounter all sorts of

potential hazards. But relax! You don't have to bubble

wrap your little ones to protect them. Just follow a few

simple safety precautions.

COVID and influenza vaccinations

• Talk to your healthcare provider about a COVID vaccine and

other recommended vaccines for your child. Know what

your child is eligible for and know the risks. Your healthcare

provider has information to help you decide.

3 | balance march 2022
---
Around the playgrounds

• According to the National Safety Council, when your little rascal

is romping through a playground, be sure that platforms over 30

inches high include barriers to prevent falls.

• Ensure there is appropriate ground cover (artificial grass or turf,

rubber mulch, etc.) under all play equipment.

• Nails, peeling paint, rust and sharp edges can cause injuries, so check

playground areas and equipment before letting your child loose.

Bike and trike road rules

• SafeKids.org says parents should fit children into bike helmets

they can wear now, not ones they will grow into.

• Remind little children to wear their helmets when they're riding,

even in the driveway.

• Teach older children to respect traffic signals and ride with the

flow of traffic.

4 | balance march 2022
---
Critters that bite and sting

• Dress younger children in light colors – It's easier to spot

mosquitoes and ticks that land on them.

• Teach them not to provoke – Bees and wasps can cause serious

injury, so train children to steer clear ... no chasing to slap or swat

these insects.

• Use insect repellent – An effective cream or spray can last for

hours to keep all sorts of bugs at bay.

Lawn chores and little helpers

• HealthyChildren.org suggests parents keep young children

indoors during lawn maintenance.

• Never hold a child in your arms or lap while using a push or

riding mower.

• Children who want to help can begin operating a push mower

by age 12 years old and a riding mower at 16. But consider your

child's maturity level before approving either.

Fun and games are often top of mind for children, but for

parents, playing it safe is the priority. You can have both.

Lay some ground rules and teach your kiddos to follow

them. You'll feel good about it and so will they.

5 | balance march 2022
---
Asthma

triggers are

everywhere

Protect yourself against

common ones

A sthma is a chronic respiratory disease that inflames the airways

in the lungs, making it difficult to breathe. Because children have

smaller and shorter airways than adults, even a slight amount of

irritation and swelling can become very serious. Signs of asthma

can include a cough that lingers or one that comes and goes,

chest pain or tightness, trouble breathing and wheezing.

It is unclear why some people develop asthma, but healthcare

providers do understand common asthma triggers. People who

recognize and avoid their asthma triggers can better control

their symptoms on most days.

6 | balance march 2022
---
Controlling common

triggers

Air irritants

Indoor and outdoor air irritants can include burning wood, cleaning

solutions, car exhaust, perfume, smog, etc.

• Wearing a mask outside can lessen the effects of pollen, and

on cold days it can warm the air, making it more comfortable to

breathe.

• Check the air quality on weather apps and limit your exposure on

days when the air quality index (AQI) signals pollutants that may

affect your breathing.

• Choose cleaning solutions without harsh chemicals and avoid

air fresheners and scented candles inside your home.

Dust mites

Dust and microscopic insects like mites

can trigger an asthma attack.

• Use hypoallergenic mattress and pillow covers.

• Wash your bedding in hot water.

• If possible, replace curtains, upholstered furniture and carpeting

with blinds, faux or natural leather seating and hardwood or tile

floors, respectively.

• Away from home, avoid overly dusty areas and keep your rescue

inhaler in hand.

7 | balance march 2022
---
Mold

According to the Asthma and Allergy

Foundation of America, you don't have to be

allergic to mold for it to get into your lungs

and trigger an asthma attack.

• Mold can grow in damp areas like basements,

bathrooms and kitchens, so address water damage immediately.

• Reduce humidity in your home with a dehumidifier.

Pets

Furry pets may be a problem for people with asthma

because their dander can cause allergy symptoms

that trigger an asthma attack.

• If you're visiting a home where furry pets are

present, ask to visit outside or remind the homeowner

so they can dust and put the pet and pet toys away.

Tobacco smoke

According to the Centers for Disease Control

and Prevention (CDC), tobacco smoke contains

hundreds of toxic chemicals, 70 of which can cause cancer.

If you have asthma, tobacco smoke, including second-hand

smoke, can cause the lungs to produce more mucus.

The build-up in the airways can trigger an attack.

• Check ahead to avoid places where smoking is permitted.

• If you're a smoker yourself, develop a plan to quit, as smoking

can increase and worsen asthma symptoms over time Visit one.

walmart.com and type "quit tobacco" in the search bar. Or

reach out to your people services team at 800-421-1362.

It's impossible to avoid common asthma triggers completely.

However, it's helpful to know what they are and some steps

to take for fewer symptomatic days. Also, regular visits with your

provider are critical to understanding your condition, and having

the information and support you need to successfully treat it.

8 | balance march 2022
---
Don't delay

prenatal and

postpartum

care

Get the support you

need when you need it

Pregnancy is an amazing time, filled

with challenges, joys and sometimes

the unexpected. Women who receive

timely prenatal (during pregnancy) and

postpartum (after pregnancy) care

experience better health for themselves

and their babies.

Most mothers have uncomplicated

pregnancies. However, the Centers for

Disease Control and Prevention's (CDC)

2019 National Vital Statistics Report

shows a different picture for infants

born to mothers who do not receive

timely prenatal care. These infants are

three times more likely to have a low

birth weight. They are also five times

more likely to die than infants whose

mothers do get regular prenatal care.

Women who have high-risk pregnancies

experience greater complications as

well. They include moms younger than

age 17 and older than age 35. They also

include women with anxiety, depression,

pre-existing health conditions, substance

use or abuse, and moms that are victims

of domestic violence. In addition, any

health issues that develop during

pregnancy can also make a pregnancy

high risk and lead to complications.

9 | balance march 2022
---
A healthy baby is possible with regular timely care

• Women who have uncomplicated pregnancies should visit

their provider

for prenatal care at least once in the

first trimester

• Postpartum care should occur three to

seven weeks after the delivery

• Women with high-risk pregnancies should follow their

obstetricians' guidelines for their specific prenatal and

postpartum needs

Your health plan covers prenatal and postpartum care through

the Life With Baby program and the Ovia Health app. You can

access a nurse care manager along with other support to guide

you through your questions and concerns. Call the number on the

back of your member ID card to learn more.

10 | balance march 2022
---
COVID concerns increase

stress among pre- and postnatal

women; help is available

A worldwide survey of about 7,000 pregnant and postpartum women

across 64 countries reported high levels of anxiety, depression,

loneliness and post-traumatic stress related to COVID-19.*

Overexposure to pandemic news and social media, along with

concerns about children, childcare and the economy, were

major contributing factors. According to the CDC, 1 in 8 mothers

experiences postpartum depression. Prenatal and postpartum

depression are not uncommon. Fortunately, both conditions are

treatable. Contact your healthcare provider for support today. And,

if you have questions about the COVID vaccine and its safety while

you are pregnant, please share your concerns and questions with

your provider.

*The Journal of Maternal-Fetal & Neonatal Medicine, June 2021

11 | balance march 2022