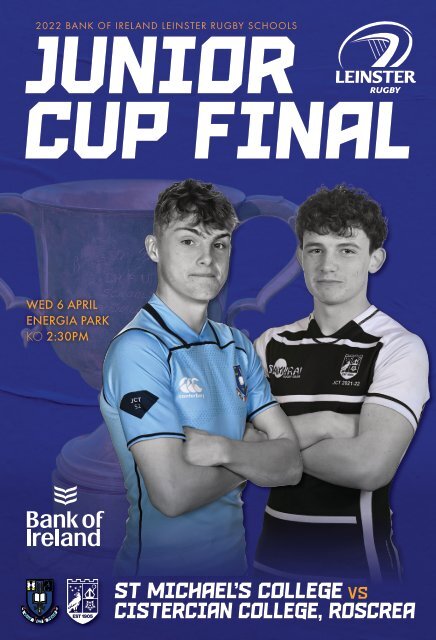 St Michaels College vs Cistercian College Roscrea
Leinster Rugby Schools | Official Matchday Programme Bank of Ireland Leinster Rugby Schools Junior Cup Final 2022 St. Michael's College vs , Roscrea Wednesday 6th April, 2022 | KO 2.30PM | RDS Arena
Leinster Rugby Schools | Official Matchday Programme
Bank of Ireland Leinster Rugby Schools Junior Cup Final 2022
St. Michael's College vs , Roscrea
Wednesday 6th April, 2022 | KO 2.30PM | RDS Arena
SHOW MORE
SHOW LESS
Create successful ePaper yourself
Turn your PDF publications into a flip-book with our unique Google optimized e-Paper software.
junior

cup final

2022 BANK OF IRELAND LEINSTER RUGBY SCHOOLS

WED 6 APRIL

ENERGIA PARK

KO 2:30PM

St Michael's College VS

Cistercian College, Roscrea
---
Newstead Building A,

UCD,

Belfield,

Dublin 4

#STMVCCR

The Line up

Telephone:

012693224

Fax:

012693142

E-mail:

information@leinsterrugby.ie

www.leinsterrugby.ie

EXECUTIVE MANAGEMENT

President: John Walsh

Chief Executive: Michael Dawson

Honorary Secretary: Stuart Bayley

Honorary Treasurer: Michael McGrail

4

schools

chairman

welcome

12

final

preview

2022

PROGRAMME CREDITS

Editorial Team:

Marcus Ó Buachalla

& Ryan Corry

Advertising:

Gary Nolan

Design:

Julian Tredinnick,

Ignition Sports Media

Photography:

Sportsfile

Chief Steward:

Sword Security

Ambulance:

St. John's Ambulance

Medilink

Event Control & Safety Services:

Eamonn O'Boyle & Associates

11

today's

match

officials

CISTERCIAN

COLLEGE,

ROSCREA

24preview

STAY

CONNECTED

& KEEP

UP-TO-DATE

20

st Michael's

college

preview

28

roll

of

honour

Leinster Schools Junior Cup Final 2022 | 3

ST MICHAEL'S COLLEGE VS CISTERCIAN COLLEGE, ROSCREA
---
john walsh welcome

PRESIDENT, LEINSTER RUGBY 2020/22

As President of

Leinster Rugby,

I extend a

warm welcome

to all those

attending

Energia Park

for today's

final of the

Bank of Ireland

Leinster

Schools

Junior Cup

and a special

welcome to

all those who

can't be here

to savour

the unique

atmosphere

of one of the

great sporting

occasions on

the Leinster

Rugby calendar

but are joining

us on our

various media

channels.

We look forward to an exciting

final game in a competition

that is renowned for producing

excitement, drama, passion

and sportsmanship and indeed

represents the values of our

sport in camaraderie, endeavour,

respect, discipline, friendship,

enrichment and most importantly

enjoyment.

The Leinster Schools Junior Cup was

first played in 1909 when St Andrew's

College became the first school to

have it's name inscribed on the cup.

The competition has gone from strength

to strength and was played for 110

consecutive years up to and including

2019 which is a most remarkable

achievement when you reflect on the

great events that have occurred in the

world and in Ireland from that first final

when St Andrew's College overcame

Belvedere College.

To date just 12 schools have succeeded

in winning the Junior Schools Cup

compared to the 17 schools who

have won the Senior Schools Cup.

The leaderboard for the Junior Cup is

headed by Blackrock College on 52

wins followed by Belvedere College on

17 wins.

The global pandemic has impacted on

all our lives and now is an opportune

time for us to reflect on the tragedy that

it brought to families and loved ones

of the 10,000 deaths attributed to the

disease on our island. A special word

of gratitude to all those individuals

working in our health care structures and

in our Government agencies for their

magnificent efforts in fighting this invisible

enemy and for ensuring that so many

patients did not succumb to the disease.

We owe them all our eternal gratitude.

We were unable to stage the 2020

final between Blackrock College and

Newbridge College so the title was

rightly shared between these two

colleges. As it so happened we managed

to stage the 2021 edition of the Schools

Junior Cup and by chance Blackrock

College and Newbridge College

appeared in the final with Newbridge

College emerging victorious by a score

of 19-15.

So, this season's final will mark the 113th

Leinster Schools Junior Cup Final and will

feature St Michael's College (Winners of

five titles in 1991, 2002, 2012, 2017 and

2019) and Cistercian College Roscrea

who recorded a sole victory in 1939 and

were beaten finalists in 1910 and 1940.

Roscrea College have won their three

cup fixtures with a total of 67 points

scored (nine tries) and conceding 53

points (eight tries) having overcome St

Fintan's High School (29-21), Clongowes

Wood College (21-20) and Newbridge

College (6-3).

St Michael's College's path to the final

saw them record victories over Blackrock

College (6-3), Terenure College (30-7)

and Castleknock College (7-6) for a total

of 43 points scored (five tries) and 16

points (one try) conceded.

The very best of luck to all those players

from the extended squads from both

teams and I hope that they savour the

occasion and indeed cherish the journey

and friendships that this year's cup

campaign has brought them on.

A special word of thanks to all those

Principals, Gamemasters and coaches

in the 120 Leinster-affiliated schools

and indeed to all those 73 affiliated

Leinster clubs for their important role

in developing and mentoring all those

young players who were participating

in the 39 Leinster Schools and the 24

Leinster Youth-Schools competitions

staged by Leinster Rugby this season.

A special word of thanks to the Leinster

Rugby Referees for their magnificent

support in ensuring that the 215 annual

Leinster Rugby competitions were

expertly catered for this season under

what were difficult circumstances. The

190 active referees attend in excess of

5,700 Leinster fixtures annually and

we urge all players, team management

and spectators to acknowledge and

respect the contribution that our match

4 | Leinster Schools Junior Cup Final 2022

ST MICHAEL'S COLLEGE VS CISTERCIAN COLLEGE, ROSCREA
---
officials make in ensuring the safety of

our players.

We have an ever-increasing annual

fixture list and this will require the

services of additional match officials.

Leinster Rugby in association with the

Leinster Rugby Referees can assist you

on embarking on a rewarding career as

a match official so please give back to a

sport that has enriched your life.

These days the world of rugby continues

to grow with 127 countries affiliated

to World Rugby. It is estimated that

worldwide 10 million people play rugby

with three million of these female players.

Leinster Rugby is committed to being a

sporting organisation that is inclusive and

welcoming to all.

tireless volunteers who

oversee and run our

mixed-ability teams

and 16 mini rugby

festivals.

What drives Leinster

Rugby forward is

the strength and the

passion of the various

rugby structures that we

have. We play for the

proud colours of our clubs,

our schools, our province and

our country. Thank you to

all involved in making sporting

dreams come true.

JOHN WALSH

LEINSTER PRESIDENT

Reflecting on the journey that Leinster

Rugby has undertaken to establish itself

as one of Europe's premier clubs we are

totally focused on building sustainable

pathways for players to enjoy the sport

at every level. In following the successful

strategies in developing the Youth, School

and U-20 structures in Leinster we are

committed to embarking on developing

Women's and Girl's rugby in a similar

fashion.

At present we have 32 Leinster clubs

fielding women's teams in nine Leinster

competitions and five Leinster girls

competitions that feature in excess of 70

girls Youth teams. We also recognise

the significant growth in the number of

Leinster schools participating in the IRFU

X7s programme for Junior and Senior

cycle girls in secondary schools.

I also wish to acknowledge the

outstanding work that Leinster's 54 Club

Community Officers and Community

Rugby Officers have undertaken in

promoting rugby during the past two

seasons.

Throughout our 12-county province

they engaged in 627 Leinster primary

schools and 216 Leinster secondary

schools in encouraging participation in

rugby as a sport in its various formats.

A special word of thanks to all those

Leinster Schools Junior Cup Final 2022 | 5

ST MICHAEL'S COLLEGE VS CISTERCIAN COLLEGE, ROSCREA
---
Conor Montayne

(Chair) - CBC Monkstown

Jonathan Newsome

(Hon. Secretary) - Newbridge College

Rodney O' Donnell

St Mary's College, Rathmines

Stephen O' Hara

Clongowes Wood College

Noel Mckenna

Belvedere College

Adam Malin

The High School

Andrew Adams

Newpark Comprehensive

Kevin Conroy

Presentation College, Bray

Colm Moloney

Kilkenny College

Pat Rossiter

CBS, New Ross

Brian Gallagher

Brendan Cryan

2022 Leinster Rugby Schools

committee

Chairman welcome

A very warm welcome to the Bank

of Ireland Leinster Schools

Junior Cup Final 2022.

This is the first time in a season

where we have played two

Junior Cup campaigns, with

Newbridge College winning the

delayed 2021 competition in a

pulsating final against Blackrock

College.

The excitement and enjoyment this

competition brings to these young

players is so important to their

development as a player and person of

character.

The competition this year has been full of

entertainment and excitement so far and

no doubt today will not disappoint.

Today's final sees St Michael's College

take on Cistercian College, Roscrea (first

final in 82 years) to be crowned Leinster

Schools Junior Cup Champions.

To all the teams who have competed, it

is hard to believe sometimes that players

of 14 and 15 years of age produce such

entertaining and positive rugby in this

competition. It is a joy to watch, and all

the schools involved should be thanked

for the contribution they have put in to

the teams and competition.

I would like to take this opportunity to

thank Bank of Ireland for their continuing

support in sponsoring this great

competition. They are a great partner

in promoting the game throughout the

province. Also, a special word of thanks

to the media who acknowledge the

positive way in which the game is played

at this level and the commitment of all the

schools and their rugby programmes.

I wish to thank all my colleagues on the

Schools Committee for their continuous

hard work throughout the season.

They are a vital part of running all

competitions within Leinster at all levels

on behalf of the rugby-playing schools.

I would also like to express my gratitude

to the Leinster Branch, particularly

Dermot O'Mahony who, as Schools

Administrator, works incredibly hard for

schools rugby, and to Steve Jameson

who organises the smooth running of

Energia Park throughout the season.

To Lisa Doyle, who works incredibly hard

on promoting the schools game at all

levels, it's very much appreciated. Thanks

are also due to Hayley Whyte and the

ARLB, who provide all the officials for the

matches.

To both finalists, the determination you

have shown to get here today, with some

very hard-fought victories along the way

will hold you in good spirits for the Final.

Your ability to play exciting, fast and

skilful rugby, will I'm sure be on show

today again. To both captains, Billy

Hayes (Roscrea) and Ethan Black (St

Michael's), I wish you the very best

of luck today and enjoy this special

occasion.

Finally, the 2022 Cup competition will

live long in the memories of all those

involved today and I hope players,

coaches, students and supporters of both

schools enjoy this occasion and have a

great day.

Conor Montayne

Leinster Schools Junior Cup Final 2022 | 7

ST MICHAEL'S COLLEGE VS CISTERCIAN COLLEGE, ROSCREA
---
carla

delaney

DIRECTOR, BANK OF IRELAND AREA EAST

Welcome to the

2022 Bank of

Ireland Leinster

Rugby Schools

Junior Cup

Final between

St Michael's

College and

Cistercian

College, Roscrea.

It has been just over six months

since Newbridge College captain

Paddy Taylor held the famous

trophy aloft, and while the Junior

Cup was only in Newbridge's

possession for a shortened period

it was still brilliant to have the

2021 edition played at all. But

now here we are for the final of

this year's competition.

Today's appearance in the final is a

historic first for Roscrea after 82 years,

and I would like to congratulate them on

this wonderful achievement. Of course

they will want to mark their first final

appearance in so long with a win, but

standing in their way, are a formidable St

Michael's College team. No matter who

wins it promises to be a special day for

both schools and I wish them both well.

Everyone involved in Bank of Ireland

has thoroughly enjoyed the rugby over

the last few months. It has not just been

about the Junior and Senior Cups either,

as we have supported the clubs and

schools rugby programme throughout the

province, and it has been exciting to see

all the finals being played over the last

few weeks.

The Shane Horgan and the Sarah

Robinson Cup competitions are also

coming to a conclusion, and again I

would like to take this opportunity to wish

the young men and women representing

their Areas in those competitions well

over the coming weeks. These games,

at clubs and schools level, are the

foundation upon which Leinster Rugby is

built, and these stand-out days are what

sustain most players during their rugby

careers – no matter what level they play

at.

We have had too many weeks and

months over the last two years without

occasions like this to celebrate, so

regardless of the winner today, celebrate

the day and celebrate the action in front

of us all. Having occasions like this to

savour once more makes them all the

more special.

Thank you,

CD

Leinster Schools Junior Cup Final 2022 | 9

ST MICHAEL'S COLLEGE VS CISTERCIAN COLLEGE, ROSCREA
---
Last year's final

in pictures

Newbridge College 19 Blackrock College 15

10 | Leinster Schools Junior Cup Final 2022

ST MICHAEL'S COLLEGE VS CISTERCIAN COLLEGE, ROSCREA
---
today's

match officials

Referee

Sam

Holt

Sam played underage rugby

with Edenderry, before playing

a season of U-20s with North

Kildare, and then returning to

Edenderry to play adult rugby.

He also played JCT and SCT in

Maynooth Post Primary, winning

both the Junior and Senior

Development Cups while playing

as a centre.

He started refereeing after picking up

a knee injury, passing his trial game in

2013. In 2018, he was selected for IPAS

and was promoted to the National Panel

in 2020. He recently refereed his first AIL

Division 1B game.

Refereeing highlights for Sam include

refereeing the Schools Senior League

final in 2019, making his AIL debut in

2021 (delayed due to covid) and acting

as fifth official for the Ireland v Scotland

Autumn Nations Cup match in 2020.

Sub

Referee/

Touch Judge

Paul

O'Connor

Paul is originally from Limerick

and attended St Munchin's

College. He used to play scrum

half (like a lot of referees) but at

the age of 16 first picked up the

whistle and refereed a first year

friendly. After leaving school

he played for his club Richmond

RFC as well as refereeing for the

Munster Association of Referees.

After completing a college degree in

Mathematics, he got a job in Dublin and

joined the Association of Referees Leinster

Branch from there. He was promoted to

the IPAS panel and subsequently to the

IRFU national panel in 2019. His highlight

so far has been refereeing Munster v

Connacht in the U-19 Interprovincial

Series in September 2021.

Touch

Judge

Michael

Forrestal

Michael started his referee

journey with Connacht when

he studied to be a woodwork

teacher in Galway.

On graduating he moved east to join the

Leinster Rugby Referees in 2016. Since

2016, Michael has reffed in various

divisions in Leinster and was selected for

the IPAS programme in 2019/20. He

was later appointed to the national panel

in May 2020.

Michael's highlight of his referee career

so far was being selected to the IRFU

national panel of referees.

Leinster Schools Junior Cup Final 2022 | 11

ST MICHAEL'S COLLEGE VS CISTERCIAN COLLEGE, ROSCREA
---
Bank of Ireland Leinster Rugby Schools

junior Cup Final Preview

BY DES BERRY

ST MICHAEL'S COLLEGE vs

CISTERCIAN COLLEGE, ROSCREA

St Michael's College are climbing

the ranks of Bank of Ireland

Leinster Schools Junior Cup

winners.

The growth in their stature as a

powerhouse is often reflected in

a remarkable production line of

professionals spread through Leinster

Rugby and throughout the Irish rugby

system.

At the grassroots schools level, they have

collected five titles, four since 2002,

including two Senior-Junior Cup doubles

in 2012 and 2019.

Last week, they went into the semi-final

against Blackrock as underdogs, based

on what had happened in the previous

rounds.

However, they probably relied more

on the pre-season friendly victory over

'Rock to put down the foundations for a

Herculean 6-3 upset.

Coach Shane O'Brien must have bought

into the power of the collective being

more than the sum of the parts as St

Michael's defence dominated and centre

Ethan Black took the two chances that

were enough on the afternoon.

The second-row pairing of Joe Elliott and

Eamon Burke is truly the engine room for

a feisty front row, led by Duinn Maguire,

and a loose forward unit that feasted at

the breakdown in the semi-final.

The passing of centres Charlie McConnell

and Black is key to the attack.

In contrast, Cistercian College Roscrea

has one Junior Cup crown beside their

name from 1939 as they bid to follow the

example of Newbridge College last year

in overcoming the odds.

Coaches Alan Long and Denis Rusu have

been assisted by ex-Connacht back row

Sean O'Brien, a past-pupil.

What they have is two of the best players

in the competition in No 8 Lee Fitzpatrick

and outside centre Rob Carney.

In addition, the supporting cast is

capable of competing well enough for

those two to swing matches with big

moments.

12 | Leinster Schools Junior Cup Final 2022

ST MICHAEL'S COLLEGE VS CISTERCIAN COLLEGE, ROSCREA
---
There is hope that at least one of second

row Reece Daly and flanker Alex

Kinsella-Garcia can make it back in time

from injury for the big day.

Tighthead Henry Maher, lock Sean

Killeen and captain Billy Hayes are well

able to carry the fight and the lineout has

improved from the first round.

Out the back, scrum-half Fionn Carney is

a canny operator and the sheer size of

out-half Jack Deegan, inside centre Joe

Finn and Carney is reason enough to be

optimistic about the outcome.

This is a difficult one to call on the

evidence of what has gone before. It

could go either way.

Leinster Schools Junior Cup Final 2022 | 13

ST MICHAEL'S COLLEGE VS CISTERCIAN COLLEGE, ROSCREA
---
Bank of Ireland Leinster Rugby Schools junior Cup Final Squad 2022

st michael's College
---
St Michael's College

1 2 3

HARRY

MILLER

DAVID

WILLIS

DUINN

MAGUIRE

6

4 5

7

SENAN

WALL

JOE

ELLIOTT

8

EAMON

BURKE

MYLES

BERMAN

9

RYAN

GREALLY (AC)

10

LUKE

KILMURRAY

12

11

CATHAL

LYDON

CHARLIE

McCONNELL

13

14

15

ETHAN

BLACK (C)

DANIEL

RYAN

JACK

O'SULLIVAN

COLM

KENNY (AC)

16

17 18 19 20 21 22 23

JOE

KENNEDY

HUGH

BRACKEN

BEN

GORMAN

JAKE

McINERNEY

CIAN

O'NEILL

ANDREW

NORSE

HENRY

PRETSELL

ORAN

RICHARDSON

16 | Leinster Schools Junior Cup Final 2022

ST MICHAEL'S COLLEGE VS CISTERCIAN COLLEGE, ROSCREA
---
Cistercian College, Roscrea

Referee:

Sam Holt

Sub Referee/Touch Judge:

Paul O'Connor

1 2

3

Touch Judge:

Michael Forrestal

DAVIN

EGAN

EVAN

BROPHY

HENRY

MAHER

4 5

6 7

JAMES

MILLER

CILLIAN

LEWIS

8

SEAN

KILLEEN

BILLY

HAYES (C)

9

LEE

FITZPATRICK

10

FIONN

CARNEY

12

11

JACK

DEEGAN

JOE

FINN

13

14

15

ROB

CARNEY

RONAN

SULLIVAN

FIONN

HIGGINS

SAM

CUSACK

16

17 18 19 20 21 22 23

LUKE

SHIELS

SEAN

TOOHER

FIONN

HOGAN

REECE

DALY

ALEX KINSELLA

GARCIA

SONNY

O'HARA

GLEN

ELLIOT

RYAN

STONE

Leinster Schools Junior Cup Final 2022 | 17

ST MICHAEL'S COLLEGE VS CISTERCIAN COLLEGE, ROSCREA
---
Bank of Ireland Leinster Rugby Schools junior Cup Final Squad 2022

Cistercian College, Roscrea
---
SHOP THE 2021/22 LEINSTER RUGBY RANGE NOW,

EXCLUSIVELY AT LIFE STYLE SPORTS
---
Story of the Season 2021/22

St Michael's

college

The JCT preparation for the

season began in April of last

year with gym and training

sessions.

Training soon paused for two

months due to summer but picked

up again in August with the

annual summer camp.

St Michael's JCT season kicked off in

September with wins against Bandon,

Newbridge and future cup opponents

Terenure.

Their first loss of the season came against

Clongowes with a score of 20-19 due to

a late try. The team soon beat Ennis from

Clare but also suffered their second loss

of the season to CBC Cork in Cork.

Michael's then went on a seven-game

winning streak going into Christmas

beating teams such as PBC Cork,

Blackrock and St Mary's by relatively

large margins.

Following Christmas, they beat Munchins

from Limerick by five decisive points but

soon had suffered their third loss of the

year to CBC Cork at home.

Michael's then beat Castletroy in Limerick

and a month later played fellow finalists

20 | Leinster Schools Junior Cup Final 2022

ST MICHAEL'S COLLEGE VS CISTERCIAN COLLEGE, ROSCREA
---
Roscrea, beating them 29-17, one week

before cup kicked off.

Going into the cup, Michael's had a

record of 13 wins and three losses. They

played Castleknock in the first round,

winning 7-6 with a late try from Ryan

Greally and a conversion from captain

Ethan Black.

They then played Terenure in a quick

turnaround for the quarter-finals beating

them 30-7 with tries from Duinn Maguire,

Daniel Ryan and David Willis (2), and

two conversions and penalties from Ethan

Black.

They played Blackrock in a tight game

on March 28 for the semi-finals, beating

them 6-3 with two penalties from Ethan

Black getting St Michael's into the Junior

Cup final and ending Blackrock's hopes

of a double.

And they now play Roscrea in the final to

win the Junior Cup for the first time since

2019.

Leinster Schools Junior Cup Final 2022 | 21

ST MICHAEL'S COLLEGE VS CISTERCIAN COLLEGE, ROSCREA
---
The Journey to the Bank of Ireland Lein

First Round

St Vincent's Castleknock 6

St Michael's 7

Quarter-final

Terenure 7

St Michael's 30

Semi-final

Blackrock 3

St Michael's 6

22 | Leinster Schools Junior Cup Final 2022

ST MICHAEL'S COLLEGE VS CISTERCIAN COLLEGE, ROSCREA

St

Michael's

college
---
ster Rugby Schools junior Final 2022

First Round

Newbridge 12

Roscrea 17

Quarter-final

Clongowes Wood 20

Roscrea 21

Cistercian

College,

Roscrea

Semi-final

Roscrea 29

St Fintan's 21

Leinster Schools Junior Cup Final 2022 | 23

ST MICHAEL'S COLLEGE VS CISTERCIAN COLLEGE, ROSCREA
---
Story of the Season 2021/22

Cistercian

college, Roscrea

Coming into this year's Junior

Cup campaign there was no

great expectation on our JCT

for success.

The disruption Covid-19 caused

over the past two years meant

that this group of players did not

get the opportunity to share the

field too often before the start of

this academic year.

The league campaign saw the team put

in a number of big performances before

succumbing to a strong Kilkenny College

team in the quarter-final. They showed

great character in shaking off this defeat

in advance of the first round of the cup,

believing they had the potential to make

a big impact in the competition.

The first round saw us take on last year's

winners, Newbridge College, in what

was a fine display of rugby from both

sides.

Rob Carney and James Miller crossed

the line for us that day while Jack

Deegan added the spoils and a penalty.

Newbridge never dropped their heads

and with the score reading 17-12 in

our favour the last five minutes made

for a nervous finish as Newbridge

continuously bombarded our five-metre

line looking for a weak link. However,

they did not find it and we marched on.

While victory in the first round was

sweet, the team knew there was plenty

of room for improvement. Clongowes

awaited us in the quarter-final and

nothing short of our best would seal a

victory.

This match was hugely entertaining from

start to finish with never more than seven

points between the teams at any stage.

Tries from Joe Finn and Fionn Higgins as

well as points from the boot of Deegan

saw us leading by three with 60 minutes

played.

24 | Leinster Schools Junior Cup Final 2022

ST MICHAEL'S COLLEGE VS CISTERCIAN COLLEGE, ROSCREA
---
The ball was kicked dead and we

celebrated a win only to be told the

clock was inaccurate, giving Clongowes

a chance for one last attack.

They seized it with both hands putting

them two points up with two minutes to

play.

We restarted the game and forced a

penalty 40 metres from the posts. The

countless hours of practice Deegan has

put in were not in vain as he calmly

slotted the ball between the posts

propelling us into a semi-final meeting

with St Fintan's.

We came out of the blocks quickly that

day, leading 22-0 at half-time courtesy

of tries from captain Billy Hayes, Sam

Cusack and two from our pocket rocket

Fionn Higgins.

A St Fintan's onslaught in the second

half followed, however an insurance try

from Lee Fitzpatrick and conversion from

Jack Deegan saw the game out and it

finished up 29-21.

This team has grown from strength to

strength since the start of this campaign

under the watchful eye of manager Alan

Long, forwards coach Denis Rusu and

Director of Rugby and CCR past-man

and legend Sean O'Brien.

From the first round, the team has played

a brand of rugby which has been a

joy to watch. The blend of skillful, fleetfooted

backs with no shortage of power

in the pack sees that we can mix it up

front and spread it out wide.

The depth of the panel is something to

be admired. Although injuries sustained

to Reece Daly and Alex Kinsella-Garcia

were a blow, capable replacements

were found in the form of Cillian Lewis

and James Miller.

Although our numbers in CCR are

modest, the passion we have for rugby

is there for all to see on cup days.

As the boys of Roscrea pile into

Energia Park and fill the air with chants

of support, driving the team on from

behind. This team has already written

itself into CCR folklore as the first Junior

Cup team to reach the final of this proud

competition in 82 years.

With the blessing of God they can be

the first CCR team to win the cup in 83

years. Come on lads, bring it home!

Leinster Schools Junior Cup Final 2022 | 25

ST MICHAEL'S COLLEGE VS CISTERCIAN COLLEGE, ROSCREA
---
the story so far

st michael's

as captured

by sportsfile

26 | Leinster Schools Junior Cup Final 2022

ST MICHAEL'S COLLEGE VS CISTERCIAN COLLEGE, ROSCREA
---
the story so far

roscrea

as captured

by sportsfile

Leinster Schools Junior Cup Final 2022 | 27

ST MICHAEL'S COLLEGE VS CISTERCIAN COLLEGE, ROSCREA
---
ROLL OF HONOUR SCHOOLS

JUNIOR CUP

FINALS

1909 St. ANDREWS C. (John Woods) 9 BELVEDERE C. (Peter Dunn) 0

1910 BLACKROCK C. (Tom Clune) 0,6 MSJ ROSCREA (Davy O'Meara) 0,3

1911 BLACKROCK C. (Frank Martin) 28 BELVEDERE C. (Rupert Coyle) 0

1912 BLACKROCK C. (Frank McKenna) 28 St. ANDREWS C. (Leslie Smith) 9

1913 BELVEDERE C. (Robbie O'Connor) 0,3 St. JOSEPHS CLONDALKIN (Lua Espinosa) 0,0

1914 BELVEDERE C. (Paddy Cunningham) 13,3 St. ANDREWS C. (James Allardyce) 3,0

1915 CASTLEKNOCK C. (Pat Brophy) 27 THE KINGS HOSPITAL (George Dagge) 0

1916 BELVEDERE C. (Tom Crean) 0,5 KILKENNY C. (Chris Jestin) 0,0

1917 BELVEDERE C. (Charlie Crean) 5 BLACKROCK C. (Michael Kelly) 3

1918 BELVEDERE C. (Jack O'Sullivan) 3,0,0 w/o CASTLEKNOCK C. (Charlie Hanrahan) 3,0,0,scr

1919 BELVEDERE C. (Eugene Davy) 16 BLACKROCK C. (Gussie Smyth) 3

1920 CASTLEKNOCK C. (Leo Shortall ) w/o BLACKROCK C. (Bertie Larkin) scr

1921 CASTLEKNOCK C. (Paddy O'Donnell ) 46 PRES GLASTHULE (Eddie Arigho) 0

1922 CASTLEKNOCK C. (Michael Linnane ) 6 BELVEDERE C. (Harry Tighe) 3

1923 BLACKROCK C. (Dermot O'Rourke) 12 C.U.S. (John Donovan) 0

1924 CASTLEKNOCK C. (Jimmy Quinn) 13 BELVEDERE C. (Willie Scott) 0

1925 BELVEDERE C. (Denis Mulcahy ) 6 BLACKROCK C. (Frank O'Reilly) 3

1926 CASTLEKNOCK C. (Jimmy Marsland ) 9 C.U.S. (Jimmy Corrigan) 0

1927 BLACKROCK C. (Larry McMahon) 12 MASONIC SCHOOL (Sam Fluke) 0

1928 CASTLEKNOCK C. (Siggie Hopkins) 3 BLACKROCK C. (Mickey Ryan) 0

1929 BELVEDERE C. (Redmond Gallagher) 6 NEWBRIDGE C. (Gerry McDermott) 0

1930 PRES BRAY (Jack Doyle) 14 BELVEDERE C. (Don Conroy) 6

1931 BELVEDERE C. (Kevin Kelly) 0,0,3 O'CONNELL SCHOOLS (Willie Curtin) 0,0,0

1932 BLACKROCK C. (Donie O'Brien) 17 BELVEDERE C. (Joe Drislane) 3

1933 BLACKROCK C. (Tom Chamberlain) 6 O'CONNELL SCHOOLS (Pat Eakin) 3

1934 St. MARYS C. (Dermot Smyth) 6 MOUNTJOY SCHOOL (Charlie Webster) 0

1935 BLACKROCK C. (Tony Hughes) 10 BELVEDERE C. (Jimmy Byrne) 8

1935 BLACKROCK C. (Kevin Murray) 12 CASTLEKNOCK C. (Jimmy McEntaggert) 6

1937 BELVEDERE C. (Toby Ryan) 3 CASTLEKNOCK C. (Liam O'Rafferty) 0

1938 THE HIGH SCHOOL (Stuart Weir) 5 NEWBRIDGE C. (Sean Mooney) 3

1939 MSJ ROSCREA (Charlie Aylward) 0,9 NEWBRIDGE C. (Donal Merrins) 0,0

1940 BELVEDERE C. (Adrian McKenna) 14 MSJ ROSCREA (Donal Flanagan) 0

1941 BLACKROCK C. (John Carey) 9 NEWBRIDGE C. (Mick Finnegan) 3

1942 BLACKROCK C. (Aidan Lehane) 6 BELVEDERE C. (Alo McGrath) 3

1943 BLACKROCK C. (Dermot Maguire) 5 St. MARYS C. (Charlie O'Flanagan) 3

1944 CLONGOWES WOOD (Tom Owens) 13 BELVEDERE C. (Billy Cashman) 3

1945 BLACKROCK C. (Lander Galastegi) 3 CLONGOWES WOOD (Barry O'Connell) 0

1946 BLACKROCK C. (Micheal O'Flaherty) 6 CASTLEKNOCK C. (Joe Masterson) 0

1947 CLONGOWES WOOD (Pat Ryan) 19 NEWBRIDGE C. (Billy McNally) 5

1948 BLACKROCK C. (Alex Spain) 13 CLONGOWES WOOD (Joe Dargan) 0

1949 CLONGOWES WOOD (Brian O'Connell) 9 BLACKROCK C. (Tom Gavigan) 0

1950 NEWBRIDGE C. (Dom Colbert) 13 BLACKROCK C. (Frank Casey) 0

1951 BLACKROCK C. (Niall Brophy) 14 C.U.S. (Gerry Byrne) 3

1952 CLONGOWES WOOD (Conor McCarthy) 5 BLACKROCK C. (Eamonn O'Neill) 3

1953 BLACKROCK C. (Donie Grehan) 6 CASTLEKNOCK C. (Oliver Quinn) 0

1954 BLACKROCK C. (Don Roe Kissane) 6 CASTLEKNOCK C. (Paddy Bourke) 0

1955 TERENURE C. (Joe Cahill) 9 BLACKROCK C. (Michael Minch) 0

1956 BLACKROCK C. (John Adey) 8 NEWBRIDGE C. (Liam Coughlan) 3

1957 BLACKROCK C. (Derry McGloughlin) 0,11 TERENURE C. (Mel Healy) 0,0

1958 TERENURE C. (Gerry Martin) 13 BLACKROCK C. (Pat Gill) 9

1959 BLACKROCK C. (Derry Roughan) 8 St. MARYS C. (Liam Sheppard) 0

1960 BELVEDERE C. (Billy Morgan) 3 St. PAULS RAHENY (Des O'Hare) 0

1961 BELVEDERE C. (Gerry Lynch) 8 BLACKROCK C. (Davy Browne) 3

1962 BLACKROCK C. (Dave Glynn) 6 BELVEDERE C. (Aengus Roche) 0

1963 St. MARYS C. (Tommy McCormack) 3,3 CASTLEKNOCK C. (Terry Grant) 3,0

28 | Leinster Schools Junior Cup Final 2022

ST MICHAEL'S COLLEGE VS CISTERCIAN COLLEGE, ROSCREA
---
1964 BLACKROCK C. (Ben Underwood) 14 TERENURE C. (Mick Smyth) 3

1965 BLACKROCK C. (Ben Underwood) 25 CASTLEKNOCK C. (Bernard O'Rourke) 0

1966 CASTLEKNOCK C. (John Magee) 6 DLS CHURCHTOWN (Colm O'Loughlin) 3

1967 TERENURE C. (Conor Sparks) 6 BLACKROCK C. (John McCabe) 5

1968 BLACKROCK C. (Paul Waldron) 3,12 BELVEDERE C. (Frank McGrath) 3,3

1969 BLACKROCK C. (John Cantrell) 9 TERENURE C. (Ciaran Mangan) 6

1970 BLACKROCK C. (Gerry Dooner) 23 CLONGOWES WOOD (Tommy Burns) 11

1971 St. MARYS C. (Hugh O'Neill) 3,6 TERENURE C. (Des Stafford) 3,5

1972 BLACKROCK C. (Bart Ramsay) 14 BELVEDERE C. (Frank McGrath) 13

1973 BLACKROCK C. (Harry Harbison) 9,4 PRES BRAY (Johnny Murphy) 9,0

1974 St. MARYS C. (Kevin Egan) 10 BELVEDERE C. (Oscar Daly) 4

1975 PRES BRAY (Brendan Toolan) 9 BELVEDERE C. (Brian Eagar) 7

1976 TERENURE C. (Mick Flood) 6 BLACKROCK C. (Pat Hickson) 4

1977 TERENURE C. (David Webb) 12 BLACKROCK C. (Gary McMahon) 10

1978 TERENURE C. (Kieran Harty) 10 BLACKROCK C. (Rory O'Farrell) 6

1979 BLACKROCK C. (Brendan Mullin) 4 BELVEDERE C. (Conor Hickey) 0

1980 BLACKROCK C. (Chris Bertrand) 4 TEMPLEOGUE C. (John Cullen) 0

1981 BLACKROCK C. (Brian McMahon) 16 PRES BRAY (Colm Dalton) 10

1982 BLACKROCK C. (Hugh Francis, Dara O'Flaherty) 3,12 TERENURE C. (Mick Costello) 3,9

1983 TERENURE C. (Dara Rowley) 8 BLACKROCK C. (Fergal O'Beirne) 4

1984 BLACKROCK C. (Mick O'Brien) 6 TERENURE C. (David Lynagh) 3

1985 PRES BRAY (Stephen Tully) 14 TEMPLEOGUE C. (Mick Thornton) 0

1986 BLACKROCK C. (Brian Barrett) 6,7 St. MICHAELS C. (Stephen Rooney) 6,0

1987 BLACKROCK C. (Jonny Mion) 12 TERENURE C. (Michael Kelly) 0

1988 PRES BRAY (Rory Vance) 3 CLONGOWES WOOD (Niall Hughes) 0

1989 TERENURE C. (Cillian de Gascun) 0,8 GONZAGA C. (Michael Kelly) 0,6

1990 PRES BRAY (Richie Murphy) 9 WESLEY C. (Ray McIlreavy) 6

1991 St. MICHAELS C. (Christian Victory) 9 CLONGOWES WOOD (Peter Lynch) 7

1992 St. MARYS C. (Mark McCrohan) 8,15 CLONGOWES WOOD (John Lacy) 8,12

1993 BLACKROCK C. (Barry Gibney) 33 St. MARYS C. (Fergal O'Duffy) 3

1994 BELVEDERE C. (Ciaran Leyden) 16 BLACKROCK C. (Ciaran Scally) 13

1995 BLACKROCK C. (Neil Coughlan) 18 TERENURE C. (David Guiry) 3

1996 BELVEDERE C. (Andrew Cullen) 9 St. MARYS C. (Paul Madden) 8

1997 St. MARYS C. (Shane Jennings) 21 TERENURE C. (Tony Byrne) 14

1998 BLACKROCK C. (John Ronan) 21 NEWBRIDGE C. (Darragh O'Shea) 7

1999 BELVEDERE C. (David O'Brien) 8 BLACKROCK C. (James Mannion) 7

2000 BLACKROCK C. (Ryan Walsh) 27 St. MICHAELS C. (James McCarthy) 10

2001 BLACKROCK C. (David Nyhan) 14 BELVEDERE C. (Kevin Barden) 12

2002 St. MICHAELS C. (Kevin Sheehan) 7 CASTLEKNOCK C. (Eoin Mullen) 6

2003 BLACKROCK C. (David O'Connor) 17 GONZAGA C. (Simon Murphy) 11

2004 BLACKROCK C. (Shane Rogers) 21 PRES BRAY (Jason Harris-Wright) 5

2005 BELVEDERE C. (Conor Colclough) 12 TERENURE C. (Ciaran Fitzgerald) 6

2006 BLACKROCK C. 36 GONZAGA C. 0

2007 BLACKROCK C. (Jack Kelly ) 13 St. MICHAELS C. 9

2008 CLONGOWES WOOD (Conor Gilsenan) 36 St. MICHAELS C. 0

2009 TERENURE C. (Niall Lalor) 5 St. MICHAELS C. 3

2010 TERENURE C. (Rob Somerville) 31 St. MICHAELS C. 9

2011 BLACKROCK C. (Nicholas Timoney) 12 St. MICHAELS C. 10

2012 St. MICHAELS C. 10 NEWBRIDGE C. 5

2013 BLACKROCK C. (Jay Mion ) 17 BELVEDERE C. 10

2014 BLACKROCK C. (Andrew Murphy) 14 BELVEDERE C. 10

2015 BLACKROCK C. (Liam Turner) 15 TERENURE C. (Conor Somerville) 13

2016 BLACKROCK C. (Gavin Jones) 8 St. MICHAEL'S (Mark Hernan) 3

2017 St. MICHAEL'S C. (William Hickey) 7, 31 BLACKROCK C. (Hugo O'Malley) 7, 17

2018 BLACKROCK C. (James Culhane) 24 St. MARY'S C. (Adam Mulvihill) 14

2019 St. MICHAEL'S C. (Zach Baird) 26 BLACKROCK C. (Gus McCarthy) 19

2020 BLACKROCK C. (Greg Barron) NEWBRIDGE C. (Ruairi Byrne) Shared

2021 NEWBRIDGE C. (Paddy Taylor) 19 BLACKROCK C. (Jack Angulo) 15

Leinster Schools Junior Cup Final 2022 | 29

ST MICHAEL'S COLLEGE VS CISTERCIAN COLLEGE, ROSCREA