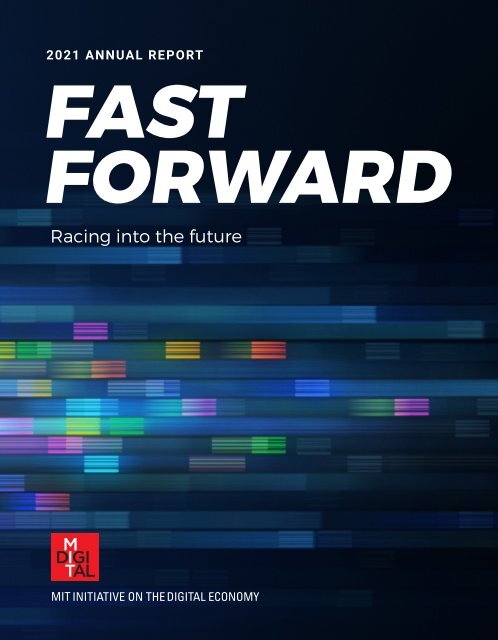 2021 MIT IDE Annual Report
Create successful ePaper yourself
Turn your PDF publications into a flip-book with our unique Google optimized e-Paper software.
2021 ANNUAL REPORT

Racing into the future
---
2021 IN REVIEW

A Pivotal Year for the World,

a Prolific One for the IDE

IDE Director Sinan Aral shares his thoughts on the past year

Sinan Aral

Director, MIT IDE

In 2021, we continued to lead the way forward

despite an ever-changing digital landscape.

How can technology effect positive change?

CONTENTS

03 ACHIEVEMENTS

04 RESEARCH

06 AWARDS

07 EVENTS

09 EDUCATION

10 TEAM

11 SUPPORTERS

It's often difficult to measure the impact of

academic accomplishments, but at the IDE

we repeatedly get to see how our diligence is

making a difference. 2021 was a pivotal year for

the world and a prolific year for our outstanding

faculty, researchers, and students.

Recent recognition and accolades are just one

reflection of our work's value. I was humbled to

be named the top digital thinker by Thinkers50,

joining other IDE researchers and scholars—past

and present—on this list, including Geoffrey

Parker, Marshall Van Alstyne, Andrew McAfee,

and Erik Brynjolfsson. I'm also privileged to work

with Maria Ressa, IDE fellow and CEO of Rappler,

who received the Nobel Peace Prize for her

staunch advocacy of press freedom and defense

of truthful information around the globe. The

leading-edge research of many other IDE leaders

was also recognized this year, which is fulfilling

and energizing.

At the same time, 2021 was much more than

a year when IDE scholars won awards; it

allowed us to be at the epicenter of international

business and policy discussions about the

significant implications of digital technologies

like AI and social media, and the increasing

impact of fake news.

When I began my study of social media and

marketing more than a decade ago, I knew it

was a growing phenomena. Still, it's startling

today to see the profound power wielded by

platforms such as Facebook, Twitter, Amazon,

and Google. As I point out in my book, The Hype

Machine, technology and society have fused

into one conversation. Should social media be

regulated? And if so, how? Can we safeguard

personal privacy and democracy? Can we stem

the flow of misinformation? The critical nature

of these issues explains why we had more than

20,000 people join us for the virtual Social Media

Summit at MIT in April 2021—the largest event at

MIT, ever.

I look forward to 2022 and the new areas of the

digital economy that we will study rigorously.

We'll shed light on the promise—and the perils—

these technologies may bring.

The IDE's goal is to explore how people and

businesses will work, interact, and prosper

in an era of profound digital transformation.

We can only achieve that goal with the support

of our members and sponsors. Even when we

can't meet in person, we continue to deepen

our collaboration and relationships with you,

our stakeholders. Thanks for joining us on this

wild journey.

02
---
ACHIEVEMENTS

2021:

The Pandemic-

Fueled Reliance

on Technology

Resulted in

Resilience and

Reinvention

FPO

RESSA WINS NOBEL

PEACE PRIZE

IDE Digital Fellow Maria Ressa won the 2021

Nobel Peace Prize "for [her] efforts to safeguard

freedom of expression, which is a precondition

for democracy and lasting peace." A journalist in

Asia for 35 years, Ressa co-founded Rappler, a

digital news site that's leading the fight for press

freedom in the Philippines. As the company's

executive editor and CEO, Ressa has endured

constant political harassment and arrests by

the Duterte government—and was forced to

post bail nine times to stay free. Rappler's battle

for truth and democracy is the subject of the

2020 Sundance Film Festival documentary, A

Thousand Cuts. Ressa has contributed to IDE

events, including her keynote talk at the 2021

IDE Annual Conference and Social Media

Summit @ MIT.

In 2021, social media truly took center

Reuters / Alamy

stage. No longer a benign fad, platforms

became enmeshed with the ongoing

NEW RESEARCH ABOUNDS

A-LAB DRIVES BENEFITS

COVID-19 crisis, government upheaval,

COVID-19 RESEARCH REPORT

The IDE research team worked tirelessly to provide timely,

accurate, and data-informed analysis of the pandemic and its

effects– even as it unfolded. The goal was to offer actionable

solutions for policymakers, business leaders, and citizens.

We collaborated with companies like Facebook, Safegraph,

Praekelt, and Graphika Inc. to analyze millions of data points

to help stop the coronavirus spread and advise global leaders

on critical next steps. Our report, Our World Accelerated:

COVID-19 and the Impact on Our Digital Economy, outlines the

key findings from multiple IDE research projects.

As always, IDE researchers focused on the most

crticial digital economy issues affecting the

world today– as well as the future. We tackled

thorny topics such as: How AI drives decisionmaking;

what the world of work will look like

post-pandemic, and when and how quantum

computing will replace traditional computing.

ACCENTURE DEEPENS COLLABORATION

Accenture, an IDE founding member, invigorated

our collaboration this year. With the establishment

of the MIT and Accenture Convergence Initiative

for Industry and Society, our organizations

launched a rigorous new agenda of research,

events, and content development.

IDE EVENTS DRAW HUGE AUDIENCES

With virtual events now the norm, the IDE took

full advantage of this format yielding excellent

response and participation. We launched

new events like the Social Media Summit and

continued our heritage events: the Platform

Strategy Summit and Annual Conference. Overall,

we engaged more than 25,000 viewers and

attracted new members and partners.

The IDE's flagship educational offering – the

Analytics Lab (A-Lab) – continues to be highly

sought by students and project hosts alike.

In this graduate seminar, student teams engage

with host organizations to use analytics,

machine learning, and other analysis

methods. Their results diagnose, enable, or

uncover solutions to real business issues and

opportunities. This year's class included 98

graduate students and 25 projects hosted by

19 companies.

IDE RESEARCHERS GARNER ACCOLADES

Our team of researchers continues to

receive recognition on the international

stage for cutting-edge work on the digital

economy. The list of accolades speaks to the

contributions of our researchers to academia,

industry, and the public sector. For example,

Dean Eckles provided testimony on algorithmic

transparency and assessing the effects of

algorithmic ranking before the US Senate

Subcommittee on Communications, Media,

and Broadband.

and related misinformation campaigns

worldwide. These topics also informed

the research agenda at the IDE. The

more technology's role in society was

top-of-mind and hotly debated, the

more relevant our work became.

PRESS & MEDIA COVERAGE SOARS

IDE research and events continue to attract global

attention from the press and media, advancing

the public understanding of the digital economy.

Our channels experienced widespread growth as

we launched informative content across Twitter,

LinkedIn, Medium, Instagram, and our newly

revised website and video. Our audience has

grown to more than 4,000 followers on Medium.

IDE Director Sinan Aral was a sought-after

commentator on national and global media—

including CNN and Yahoo Finance—on topics

ranging from the January 6 invasion of the US

Capitol to big tech monopolies.

03
---
RESEARCH

Our Research:

A Strong

Foundation

Research is at the core

of everything we do

at the IDE. Our team

continues to examine

the critical issues facing

the world today and in

the future.

RESEARCH GROUPS

The IDE leadership team focuses on six research group topics.

Misinformation & Fake News

David Rand is advancing the fight against online

misinformation and driving truth in our digital lives.

In the research project, The Psychology of Fake News, Rand writes,

"There is…a large disconnect between what people believe and what

they will share on social media, and this is largely driven by inattention

rather than by purposeful sharing of misinformation."

The Human/AI Interface

Renée Richardson Gosline is optimizing the human

and AI division of decision-making and preventing bias

in algorithms.

During the MIT Sloan Experts series, Gosline discussed "Human-

Centered AI," which examines the consequences of how and when

people trust bots and algorithms to help them make decisions, and

what it means for society at large.

Data-Driven Societies

Sandy Pentland is building data and AI ecosystems

and infrastructure in which all partners—citizens,

companies, and government—are winners.

Alex "Sandy" Pentland, is among the contributors to Remaking the

World—The Age of Global Enlightenment. The joint initiative by the

Boston Global Forum and the United Nations Academic Impact features

two articles by Pentland: "The Cycle of Prosperity: Ensuring Equal

Opportunity" and "Our Digital Future: from the Internet to the Interledger."

Tech for Good

Andrew McAfee is accelerating and ensuring the broad,

positive progress that innovation drives in our economy,

society, and environment.

McAfee's insights continue to illuminate the paradoxes and the

potential inherent in technology's ability to promote a more positive

future. Read "Don't Misunderstand Earth Day's Successes" in Wired.

Accenture Deepens Collaboration with IDE

As a founding member of the IDE, Accenture

has embarked on an extensive program of

research and activities with IDE faculty, scientists,

and staff. Currently, we are working closely

together on four streams of research: Quantum

Computing; Digital Decoupling; Responsible AI,

and Productivity and the Cloud.

Social Networks & Digital

Experimentation

Dean Eckles is uncovering how new technologies and

means of social interaction and contagion impact all

facets of life.

Industry decision-makers often want to identify interventions, such

as marketing campaigns, that will maximize a desired outcome, but

often this outcome can only be observed in the long-term. Eckles

and his co-authors' research finds methods for identifying optimal

interventions in the near term using statistical surrogacy and offpolicy

learning literature.

AI, Labor Economics, and

Online Marketplaces

John Horton explores how the design of online

marketplaces and computer-mediated transactions

can create widespread benefits for all.

Horton's forthcoming working paper, "The Death of a Technical Skill,"

examines when the demand for a skill falls—or will foreseeably fall.

Workers with that skill must make a choice. Using Apple's decision in

2010 to no longer support Adobe Flash, Horton uncovers the effect of

this decision on the workforce.

04
---
RESEARCH

New Projects for a New Age

The IDE research engine revved up in 2021 to focus on today's dominant topics

as well as the themes that will loom large tomorrow.

VIEW OUR LATEST RESEARCH PROJECTS AT IDE.MIT.EDU

DEEP LEARNING'S PRESENT &

QUANTUM COMPUTING'S FUTURE

Quantum Computing continues to gain attention

as a super-charged collaborator to classical

computing, but when and how we will reach

quantum advantage remains a pressing

question. IDE researchers are closely analyzing

quantum advancements and other AI technology

breakthroughs–as well as their limitations.

Current research includes:

How Fast Do Algorithms Improve?

"One way to improve computer performance

is to change their algorithms—the step-bystep

procedures used by computers to solve

problems. While many claims have been made

about the rapid pace of algorithmic progress,

there is a wide discrepancy across algorithms."

Deep Learning's Diminishing Returns

"Faced with rising economic and environmental

costs, the deep-learning community will need

to increase performance without causing

computing demands to go through the roof.

If they don't, progress will stagnate. But don't

despair yet: Plenty is being done to address

this challenge."

Quantum Computing for Business Leaders

This article published in Harvard Business Review

"examines the way quantum computers will not

only upend digital security, but spur investment,

reshape industries, and spark innovation."

SOCIAL MEDIA

Social media and its effect on our world

continues to provoke actions and reactions

by businesses, governments, and individuals.

For IDE researchers, that means constantly

offering data-based insights about the potential

ramifications of social media in areas such as the

platform economy, healthcare, and elections. We

take an interdisciplinary approach to analyzing

the behavioral, as well as the economic, impact

of technology. A few examples of recent reports:

Field Experiments On Social Media

Online behavioral data, such as digital traces

from social media, may allow researchers an

unprecedented window into human behavior.

However, research using such data is often purely

observational, limiting its ability to identify causal

relationships.

Influencer Video Advertising on TikTok

Influencer videos on the TikTok online platform

have emerged as a multi-billion dollar force

in marketing. We explore what differentiates

influencer videos that drive many sales from

those that drive only a few.

Online Platforms Have Become Chaos

Machines. Can We Rein Them In?

Sinan Aral continues to be the go-to expert on

social media. In this Harvard Business Review

article, Aral answers tough questions about

unchecked social media.

FAKE NEWS

JOURNALISM AGAINST MISINFORMATION

If we study the truth behind fake news, we may help

combat this dangerous and unintended byproduct

of the digital world. A team of IDE researchers

probed misinformation from various angles to

understand why and when people both believe and

share fake news and how to correct it.

Timing Matters When Correcting Fake News

"Countering misinformation can reduce belief in

that moment, but corrective messages quickly fade

from memory."

The Psychology of Fake News

"There is…a large disconnect between what people

believe and what they will share on social media,

and this is largely driven by inattention rather than

by purposeful sharing of misinformation."

Scaling Up Fact-Checking Using the Wisdom

of Crowds

"Crowdsourcing is a promising approach for

helping to identify misinformation at scale."

To affirm our commitment to journalistic freedom,

the IDE created a research collaboration with

Rappler's Maria Ressa with support from the New

Venture Fund.

This project is intended to bring truth to what's

happening in the Philippines. The primary

purpose of the project is to document the use

of misinformation and cyberattacks to silence

journalist opposition to the Duterte regime.

We also aim to scientifically analyze the online

dynamics of how such attacks unfold and why

they succeed or fail. Our research team has

started to analyze a large data set that includes

Rappler's data, as well as detailed data on the

last 20 years of election results in the Philippines

to statistically analyze the spread of online

misinformation and how it quells fair elections

and democracy.

05
---
AWARDS

The World

Takes Notice

Members of the IDE community continue

to change the world and earn accolades

along the way.

"Sinan Aral is a clear

and persuasive guide to

the new tech reality."

-Thinkers50

THINKERS 50

Under IDE Director Sinan Aral, recently named top digital

thinker by Thinkers50, our award-winning researchers worked

at the intersection of computing, social science, digital

experimentation, and economics to decipher and explain

unprecedented events.

Aral received the Digital Thinking Award, as someone who has

done the most to convert "the digital language of 0's and 1's into

useful human insight." Says Thinkers50: "Sinan Aral is a clear

and persuasive guide to the new tech reality."

Also topping the 2021 Thinkers50 list were IDE Visiting Scholar

Geoffrey Parker and IDE Co-Director Andrew McAfee. Former

IDE Fellow Marshall Van Alstyne also made the list.

Geoffrey Parker and Andrew MacAfee were recognized by Thinkers50.

PARAMVEER DHILLON

Former IDE Post-Doctoral Fellow and MIT Sloan PhD

Paramveer Dhillon won the Davis Young Scholar Award from

the Institute for Operations Research and the Management

Sciences. Dhillon is now on faculty at the University of

Michigan.

DEAN ECKLES & AVINASH COLLIS

As part of its Foundational Integrity Research proposal process, Facebook

(now Meta) awarded funding to Dean Eckles and former MIT Sloan PhD

Aviansh Collis. Of 446 proposals, Meta selected 19 winners, including

Eckles' proposal on "Measuring the Impact of Social Influence on Belief in

Misinformation" and "Does Whatsapp Increase Polarization?" by Collis.

MARIA RESSA

Maria Ressa, IDE fellow and CEO of Rappler, was awarded the

Nobel Peace Prize for her staunch advocacy of press freedom

and truthful information around the globe.

DAVID RAND

David Rand was named one of the top business school

professors under 40 years old by the annual Best 40 under 40

list by Poets&Quants, which honors young professors teaching

in MBA programs.

JOHN HORTON

John Horton won the 2021 INFORMS Slaughter Early Career

Award and the AI/ML Rising Star Award at the 2021 AI, ML and

Business Analytics program.

06
---
EVENTS

MIT IDE Seminar

Series

FEATURED SEMINAR

KATY MILKMAN

The Wharton School, University of Pennsylvania

Mega-Studies Improve the Impact of

Applied Behavioral Science

Our informal seminars spotlight

early results from current research

projects and provocative new ideas.

Katy Milkman introduces the concept of a

megastudy, a technique that can accelerate

the pace of discovery in behavioral science

and enable scientists to more effectively

inform policy-makers about improving citizens'

decisions and outcomes.

WATCH SEMINAR

SPRING / FALL 2021 SEMINARS

Watch select spring and fall

seminars on our YouTube channel.

Johan Ugander

Stanford University

"Measuring Network Effects

Using Randomized Graph Cluster

Randomization"

Florenta Teodoridis

USC Marshall

"Could Machine Learning be a General

Purpose Technology?

Michael Schrage

MIT IDE

"Selvesware and The Next AI:

How 'Augmented Introspection'

Transforms Recommendation"

Sarah Bana

Stanford HAI

"job2vec: Using Language Models

to Understand Wage Premia"

Tim Hwang

Georgetown Center for Security and

Emerging Technology

"Online Advertising is Broken. You

Won't Believe What Happens Next"

Sebastian Steffen

MIT Sloan School of Management

"Occupational Skill Compositions and

the Values of Skills: Panel Estimates

from 200 Million Job Postings"

Nicholas Ashford

MIT Sloan

"Actions We Can Take to Address

Misinformation and Safeguard

the Freedom of Speech"

Sukwoong Choi

MIT Sloan

"How Does AI Improve Human

Decision-Making? Evidence from

the AI-Powered Go Program"

D.J. Wu

Georgia Tech

"Commercializing Smart and

Connected Products: A Value

Chain Perspective"

Jonathon Hazell

Princeton

"AI and Jobs: Evidence from Online

Vacancies"

Joshua Gans

Rotman School, University of

Toronto

"The Information Requirements of

Preparing for Covid-29"

Sendhil Mullainathan

Chicago Booth

"Algorithmic Behavioral Science:

Automated Discovery of Human

Bias"

Cuy Sheffield

Visa

"The Evolution of Crypto: From

Bitcoin to NFTs"

Ron Berman

UPenn Wharton

"False Discovery in A/B Testing"

Sonia Jaffe

Microsoft Research

"The Effects of Remote Work on

Collaboration Among Information

Workers"

Avi Goldfarb

Rotman School, University of

Toronto

"Quantum Economic Advantage"

Siddharth Suri

Microsoft Research AI

"Ghost Work: The Labor that

Powers AI"

Sophie Calder-Wang

UPenn Wharton

"The Distributional Impact of the

Sharing Economy on the Housing

Market"

Judith Chevalier

Yale School of Management

"Gig Work and Digital Platforms:

Future of Competition for Workers"

Hal Gregersen

MIT Sloan

"Managing the Human Side of

Digital Disruption"

07
---
EVENTS

High Impact,

High Visibility

Events continue to be our primary means

for spreading our research insights far

and wide.

CONFERENCE ON DIGITAL

EXPERIMENTATION (CoDE)

The ever-growing attendance at MIT CoDE

reflects the tremendous interest among data

professionals and academics in online testing

methods. This year's two-day event was the

largest in its 14-year history, a testament to the

rise in these online testing methods.

500

REGISTERED

ATTENDEES

8

PLENARY

SPEAKERS

100

PARALLEL

SESSIONS

CoDE convenes leading researchers conducting and analyzing large-scale randomized experiments in digitally mediated

social and economic environments, in various scientific disciplines including economics and computer science.

VIEW SELECT SESSIONS

THE MIT IDE SOCIAL MEDIA SUMMIT

(SMS @ MIT)

SMS@MIT brought together social technology luminaries

to examine one of the most critical and compelling

issues of our time —the impact of social media on our

democracies, our economies, and our public health. The

ambitious vision of this first event was not just to identify

problems but to craft meaningful solutions to the social

media crisis that promote the promise of social media

and avoid its perils. The free event drew an impressive

20,000 attendees, the largest event ever hosted at MIT.

The SMS@MIT is now an annual IDE flagship.

Read:

Social Media at a Crossroads, 25 Solutions from

the Social Media Summit

IDE ANNUAL CONFERENCE

It's one thing to read new research

reports and analysis; quite another

to hear and see the author explain

their work first-hand, even if it's

virtual. The goal of our annual

conference is to connect the dots

between scholarly data and the

IDE members and sponsors who

need actionable insights from our

research every day. Attendees had

the opportunity to interact with

researchers, discuss studies, and

determine how their organization—

or society as a whole—can benefit

from this cutting-edge work.

The day offered a fast-paced, winwin

interchange where members

gained access to IDE experts and

the IDE team learned lessons from

practitioners in the field.

MIT ANALYTICS LAB (A-LAB)

The MIT Analytics Lab offers an

opportunity for IDE stakeholders

to submit projects and data to MIT

graduate student teams that will

use analytics, machine learning,

and other methods of analysis to

develop results that will diagnose,

enable, or uncover solutions to real

business issues and opportunities.

The 2021 Pitch Day was

held on September 18. The

2021 Final Presentations

were held on December

DIGITAL MEDIA & PRINCIPLED

ENTREPRENEURSHIP IN

GROWTH MARKETS

Maria Ressa, the Philippines' first

Nobel Prize Laureate, joined the IDE

for a special, live event.

Ressa, who is the founder of

Rappler and IDE digital fellow,

spoke with Sinan Aral about the

impetus of founding Rappler and

how she and the company have

used principled entrepreneurship

to leverage their platform for

social change. She also shared her

successes and lessons learned as a

leader and public figure.

The November 17 event was

produced in conjunction with The

Legatum Center for Development

and Entrepreneurship at MIT.

PLATFORM STRATEGY SUMMIT

The IDE hosted the internationally

recognized Platform Strategy

Summit for the ninth year running.

An impressive lineup of engaging

leaders and researchers examined

how platform ecosystems attract

new business partners, streamline

operations, and optimize digital

technologies. Songtradr, the

world's largest music licensing

marketplace, selected artists David

Davis and Alice Pisano to perform

live for our audience.

08
---
EDUCATION

Action + Learning =

The Future

As always, education is at the core of what

we do. We take pride in ensuring that the

insights derived by our researchers find

practical application and understanding for

our stakeholders and the broader community.

A-TEAMS DELIVER DATA-DRIVEN RESULTS

Successful implementation of business analytics requires

leading-edge tools and sophisticated data modeling skills—

exactly what MIT Analytics Lab (A-Lab) students know best.

This year, 25 student teams worked with their sponsor

organizations on a wide range of data-set problems—from

examining talent pipelines, to predicting real estate metrics,

and analyzing stock replenishment at local grocers. Their

analytical acumen yielded cost-saving results for the

businesses—and awards for the student teams.

Below (L-R): Kim Adler, Tiana

Cui, Grace Garbrecht, and

Zijin Wang of Lasso Ladies.

On December 3, the teams presented their semester-long

projects to a panel of judges that chose a winner based

on creativity, execution, and business value. The winning

student team worked with Atlassian, a maker of software

collaboration tools such as Jira, Confluence, Bitbucket, and

AtlassianMarket. The students worked on a project titled

"Marketing Attribution: Uncovering the Most Influential

Campaigns." They found that the most effective way to

convert leads to actual sales includes multiple intermediary

touchpoints such as webinars, trials, and website resources.

Congratulations to the winning A-Lab team 'Lasso Ladies.' representing Atlassian, who will have their

names etched on the silver winners' cup. Above (L-R): Justin Fortier (Head of Data Science at ViralGains &

A-Lab Judge), Renée Gosline (IDE Research Group Lead & A-Lab Judge), Grace Garbrecht (student), Kim

Adler (student), Tiana Cui (student), Zijin Wang (student), Yael Davidan (Senior Director at Chewy & A-Lab

Judge), Sinan Aral (IDE Director & A-Lab Professor).

Executive

Education

In 2021, IDE faculty and

researchers continued to launch

and contribute to best-in-class

executive education courses.

Renée Richardson Gosline launched her

new course, Breakthrough Customer

Experience (CX) Strategy. In this highly

interactive program, Gosline demonstrates

how state-of-the-art behavioral economics

can be combined with leadership strategy

to develop innovative marketing strategy

and competitive advantage.

Sinan Aral taught Executive Education

courses on Digital Marketing Analytics

and Social Media Strategy. Participants

gained practical insight into how to

apply digital marketing measurements

and analysis and how to harness social

media effectively and ethically.

MIT Digital Fellow Michael Schrage

and Douglas Ready, a senior lecturer at

the MIT Sloan School of Management,

taught the executive course,

Reimagining Leadership: A Playbook for

the Digital Economy in February.

09
---
TEAM

IDE Team

The IDE relies on the

expertise and dedication

of a committed group of

individuals.

LEADERSHIP

Sinan Aral

Director, MIT IDE

Professor, MIT Sloan School of Management

Andrew McAfee

Co-Director and Principal Research Scientist,

MIT IDE

RESEARCH GROUP LEADS

Dean Eckles

Associate Professor, MIT Sloan School of

Management

Renée Richardson Gosline

Senior Lecturer, MIT Sloan School of

Management

John Horton

Associate Professor, MIT Sloan School of

Management

Andrew McAfee

Co-Director, Principal Research Scientist, MIT IDE

Alex "Sandy" Pentland

Professor, MIT Media Lab

David Rand

Professor, MIT Sloan School of Management

RESEARCHERS

Daron Acemoglu

Professor, MIT Economics Department

Wang Jin

Research Associate, MIT IDE

Kristina McElheran

Assistant Professor, University of Toronto

Geoffrey Parker

Professor, Dartmouth College

Georgios Petropoulos

Research Scientist, MIT IDE

Jonathan Ruane

Visiting Scientist, MIT IDE

Neil Thompson

Research Scientist, MIT IDE & CSAIL

DIGITAL FELLOWS

Timothy Aeppel

Reporter, Reuters

Matt Beane

Assistant Professor, Technology

Management Program, University of

California, Santa Barbara

DIGITAL FELLOWS (CONTINUED)

Seth Benzell

Assistant Professor, Argyros School of Business

and Economics, Chapman University

Thomas Davenport

Professor, Babson College

Alan Davidson

Digital Economy Director, U.S. Department of

Commerce

Paramveer Dhillon

Assistant Professor, University of Michigan

Apostolos Filippas

Assistant Professor, Gabelli School of Business,

Fordham University

Joshua Gans

Professor, University of Toronto Rotman School

of Management

Shane Greenstein

Professor, Harvard Business School

David Holtz

Assistant Professor, Haas School of Business,

University of California, Berkeley

John Irons

Senior VP & Head of Research, Siegel Family

Endowment

Tod Loofbourrow

CEO, ViralGains

Christos Nicolaides

Assistant Professor, University of Cyprus

Claudia Perlich

Data Scientist, Two Sigma

Maria Ressa

CEO, Rappler

Daniel Rock

Assistant Professor, Wharton School, University

of Pennsylvania

Michael Schrage

Visiting Fellow, Imperial College Department of

Innovation and Entrepreneurship

John Van Reenen

Professor, London School of Economics

Irving Wladawsky-Berger

Visiting Lecturer, MIT Engineering Systems

PhD CANDIDATES &

POSTDOCTORAL ASSOCIATES

Nuruddin Ahmed

Postdoctoral Associate

Sukwoong Choi

Postdoctoral Associate

Zanele Munyikwa

PhD Candidate

Sebastian Steffen

PhD Candidate

Hong-Yi TuYe

PhD Candidate

Yuan Yuan

PhD Candidate

VISITING SCIENTISTS

Tamay Besiroglu

University of Cambridge

Erik Metz

BASF

Leonardo Serra

Capgemini Consulting

STAFF

Joanne Batziotegos

Finance Administrator

Tammy Buzzell

Associate Director

Devin Cook

Associate Director

Paula Klein

Contributing Writer and Editorial Content Director

Adjovi Koene

Administrative Assistant II

Aileen Menounos

Senior Administrative Assistant, MIT Sloan

A-Lab Coordinator

Carrie Reynolds

Assistant Director of Communications and

Marketing

David Verrill

Executive Director

10
---
OUR SUPPORTERS

Thank You

We are grateful for the ongoing

support of our advisors, donors,

and corporate members. Thank

you for joining our IDE community.

FOUNDATIONS

Center for Global Enterprise

Ewing Marion Kauffman Foundation

Ford Foundation

Google.org

Joyce Foundation

JPMorganChase Foundation

MIT-IBM Watson AI Lab

CORPORATIONS

Accenture (Founding Member)

Deutsche Bank (Founding Member)

3M

AB InBev

Adobe Systems, Inc.

Amazon.com, Inc.

Autodesk, Inc.

Staying Focused in

a Spinning World

The IDE team adapts to digital changes all around us.

David Verrill

Executive Director

Nasdaq

BASF

ADVISORY BOARD

Mitchell Baker

Chairwoman and Co-Founder, Mozilla

Carl Bass

Former President and CEO, Autodesk

Marc Benioff

CEO, Salesforce

Mary Callahan Erdoes

CEO of Asset and Wealth Management,

J.P. Morgan

Reid Hoffman

CEO, Linkedin

James Manyika

Director, McKinsey Global Institute

Marissa Mayer

Co-Founder, Lumi Labs

Eric Schmidt

Technical Advisor, Alphabet

Robert Solow

MIT Professor of Economics and

Nobel Laureate

Michael Spence

NYU Professor of Economics and

Nobel Laureate

New Venture Fund

Ralph C. Wilson Jr. Foundation

Rockefeller Foundation

Russell Sage Foundation

TDF Foundation

INDIVIDUALS

Nobuo N. Akiha

Wesley Chan

Aaron Cowen

Joe Eastin

Michael Even

Ellen and Bruce Herzfelder

Reid Hoffman

Richard B. Homonoff

Edward S. Hyman, Jr.

Gustavo Pierini

Gustavo Marini

Tom Pappas

Jeff & Liesl Wilke

and other individuals who prefer to

remain anonymous

Benefitfocus

Boston Globe Media Partners

Bruegel

Capgemini

Center for Global Enterprise

Dell EMC

Facebook

General Motors

Grant Thornton

Graphika, Inc.

IRC4HR

KPMG

MassMutual

Modis

Microsoft

Schneider Electric

The SWIFT Institute

Despite the continuing pandemic

in 2021, our remote yet technologyenabled

world continued to spin.

We embraced the circumstances

as best we could. I am so very

proud of our staff, who have

not only remained unbelievably

productive, but empathetic to the

inevitable issues of an existential

change to the way we work and

live. Finance Administrator, Joanne

Batziotegos; Associate Director of

Finance, Tammy Buzzell; Associate

Director, Devin Cook; Editorial

Content Director, Paula Klein; and

Assistant Director of Marketing

and Events, Carrie Reynolds: You

are all amazing. This small team

packages, promotes, and presents

our ideas for a broad audience –

from our generous stakeholders

(the individuals, corporations, and

foundations named above) to

academia, public policy pundits,

and the press.

2021 was a year in which we

deepened our focus on six

new areas of research: Renée

Richardson Gosline leading The

Human/AI Interface; Dave Rand

leading Misinformation & Fake

News; Dean Eckles heading

up Social Networks & Digital

Experimentation; John Horton

focusing on Labor Economics &

Online Marketplaces; Andy McAfee

driving Tech for Good; and "Sandy"

Pentland leading our Data-Driven

Societies efforts. And we launched

several new research projects,

including Quantum Computing

(Neil Thompson, Andy McAfee,

and Jonathan Ruane) and the

Metaverse and Digital Assets

(Sinan Aral). Watch for more on

these in 2022.

The IDE continues to be at the

forefront of how new technologies

impact individuals, industry, the

economy, and society. We don't

shy away from difficult or politically

fueled topics. We analyze

them. We put them into context.

And we do so with a directive for

positive change.

The IDE is unique, essential,

and ever-more needed in our

accelerating digital world. We

appreciate the support of our

stakeholders and the MIT and MIT

Sloan ecosystems that allow us to

thrive.

May the coming year treat us all

well.

11