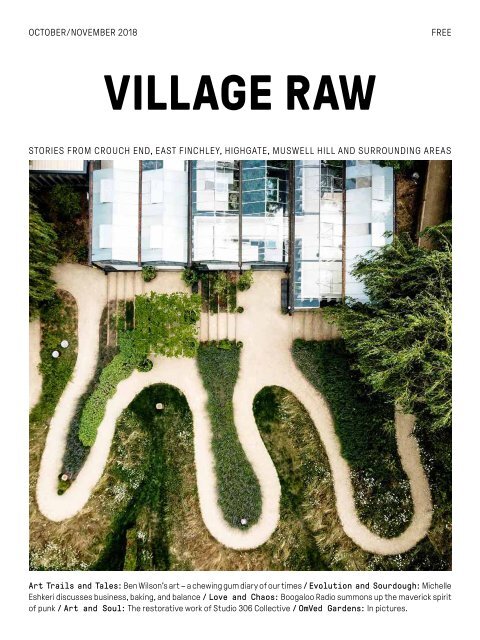 Village Raw - ISSUE 3
Village Raw is a magazine that explores cultural stories from Crouch End, East Finchley, Highgate, Muswell Hill and the surrounding areas. The magazine is created by the community, for the community. If you like this issue you can support the project through a subscription or donation. See the links below. The third issue of Village Raw magazine includes: ART TRAILS AND TALES - Ben Wilson's art – a chewing gum diary of our times. ART AND SOUL- The restorative work of Studio 306 Collective. MADE BY DESIGN - Two makers explore different approaches to manufacturing. OMVED - A picture profile of Highgate's OmVed Gardens. EVOLUTION AND SOURDOUGH - Michelle Eshkeri discusses business, baking, and balance. BOOGALOO RADIO - The chemistry of love and chaos. THE WOODS - Muswell Hill musician Johnny McFazdean's musical textures. GEEJAY - The Stroud Green duo discuss their journey into music. LIVING LOW WASTE - Emma Ross begins a new column exploring sustainable living. VILLAGE ESSAY - Saying hello by Lulu Socratous. AND MORE… Village Raw is created by the community, for the community. If you like this issue you can support the project through a subscription or donation. See the links below.
Village Raw is a magazine that explores cultural stories from Crouch End, East Finchley, Highgate, Muswell Hill and the surrounding areas. The magazine is created by the community, for the community. If you like this issue you can support the project through a subscription or donation. See the links below. The third issue of Village Raw magazine includes:

ART TRAILS AND TALES - Ben Wilson's art – a chewing gum diary of our times.
ART AND SOUL- The restorative work of Studio 306 Collective.
MADE BY DESIGN - Two makers explore different approaches to manufacturing.
OMVED - A picture profile of Highgate's OmVed Gardens.
EVOLUTION AND SOURDOUGH - Michelle Eshkeri discusses business, baking, and balance.
BOOGALOO RADIO - The chemistry of love and chaos.
THE WOODS - Muswell Hill musician Johnny McFazdean's musical textures.
GEEJAY - The Stroud Green duo discuss their journey into music.
LIVING LOW WASTE - Emma Ross begins a new column exploring sustainable living.
VILLAGE ESSAY - Saying hello by Lulu Socratous.
AND MORE…

Village Raw is created by the community, for the community. If you like this issue you can support the project through a subscription or donation. See the links below.
SHOW MORE
SHOW LESS
You also want an ePaper? Increase the reach of your titles
YUMPU automatically turns print PDFs into web optimized ePapers that Google loves.
OCTOBER/NOVEMBER 2018

FREE

VILLAGE RAW

STORIES FROM CROUCH END, EAST FINCHLEY, HIGHGATE, MUSWELL HILL AND SURROUNDING AREAS

Art Trails and Tales: Ben Wilson's art – a chewing gum diary of our times / Evolution and Sourdough: Michelle

Eshkeri discusses business, baking, and balance / Love and Chaos: Boogaloo Radio summons up the maverick spirit

of punk / Art and Soul: The restorative work of Studio 306 Collective / OmVed Gardens: In pictures.
---
04

06

10

14

16

20

24

CONTENTS

THE RAW

The latest local happenings

and things to do

ART TRAILS AND TALES

Ben Wilson's art – a chewing gum

diary of our times

ART AND SOUL

The restorative work

of Studio 306 Collective

MADE BY DESIGN

Two makers explore different

approaches to manufacturing

OMVED

A picture profile of

Highgate's OmVed Gardens

EVOLUTION AND SOURDOUGH

Michelle Eshkeri discusses

business, baking, and balance

BOOGALOO RADIO

Boogaloo Radio's chemistry

of love and chaos

EDITORIAL

We're really excited to bring you issue three of Village Raw. We're now far away from

the luxury of our Kickstarter comfort blanket and into the realm of, "You're on your

own, mate." Except we aren't, really. Lots of people have joined us and supported

us - from our contributors, subjects, numerous distribution points, through to

our subscribers. This is amazing, and we appreciate every single one of you. Partly

because it shows that you like and want the mag, but also because we're not very

good at chasing adverts. We're also not very good at replying to emails, it seems,

so we apologise to anyone we haven't replied to yet – we just weren't expecting

the amount of emails and suggestions we've received. You're on our list…

So the leaves are starting to fall, the days are certainly a little crisper, and

we're beginning to think about what makes us warm and cosy as we start to

snuggle up and nest in. The smell of freshly baked bread always connects us with

fond memories of home – the main difference with Margot Bakery's bread is that

it's the smell of sourdough, not yeast. It's the community that surrounds places

like this, and the power of saying "hello", that our essayist explores. Ben Wilson

has always embraced the warmth of community and continues to document our

lives on small painted chewing gum splats. Art is also a way through to recovery,

which we explore with the various crafts of Studio 306. In our makers piece we

explore two very different approaches to manufacturing, and our new sustainability

columnist asks us to consider how we use the resources around us. OmVed

Gardens also invites us to explore our interaction with the natural world, and

Boogaloo Radio shares their vision of being both local and global. While their DJs

and presenters settle into the warmth of the Boogaloo studio, the soundtrack

for this issue of Village Raw is supplied by local acts The Woods and GeeJay.

David and Luciane

hello@villageraw.com

www.villageraw.com

By subscribing you'll not only

be supporting Village Raw,

but the community as

well. You'll also receive the

magazine delivered to your

door every two months.

www.villageraw.com/

subscribe

28

29

31

33

34

THE WOODS

Muswell Hill musician Johnny

McFazdean's musical textures

GEEJAY

The Stroud Green duo discuss

their journey into music

LIVING LOW WASTE

Emma Ross begins a new column

exploring sustainable living

VILLAGE ESSAY

Saying hello by Lulu Socratous

VILLAGE GREEN

When nature takes over

EDITORS

Luciane Pisani

David Reeve

GRAPHIC DESIGN

Luciane Pisani for Studio Moe

COPY EDITOR

Emily Spurling

CONTRIBUTORS

Lito Apostolakou, Dan Bridge, Thomas Broadhead,

Sabrina Dallot-Seguro, Kate Kuzminova, Katrina

Mirpuri, Carla Parks, Emma Ross, Dan Snell, Lulu

Socratous, Woozy Machine Tatoos.

ADVERTISING

ads@villageraw.com

PRINTING

Printed in East Finchley by JG Bryson

Tweet us twitter.com/VillageRawMag

Like us facebook.com/villageraw

Follow us instagram.com/villageraw

Contact us hello@villageraw.com

Subscribe villageraw.com/subscribe

Village Raw October/November 2018

Cover image by Thomas Broadhead

and Sabrina Dallot-Seguro

Designed and published by

Studio Moe Ltd.

© 2018 Studio Moe Ltd.

All rights reserved. Reproduction

of any contents of Village Raw

magazine without prior permission

of the publisher is strictly prohibited.

THANKS TO:

Pamela Anomneze, Chris Arnold, James Atkinson,

Dorothy Barrick, Julie Bland, Rachael Booth-

Clibborn, Thomas Broadhead, Charlotte Broadribb,

Hope Brotherton, Bernard Butler, Amanda Carrara,

Adriana Conde Betts, Kim Crockett, Jenn Crothers,

Chris Currer, Terry Dillon, Michelle Eshkeri, Peter

Hale, Gina Jane, Tami Jarvis, Karen Leason, Jeremy

Leslie, Jacob Lobo, Caroline MacAskill, Edmund

May, Alan McGee, Johnny McFazdean, Joshua

Myers, Nati Morris, Gerry O'Boyle, Claire Pearce,

Alicia Pivaro, Joan Podel, Mathew Sawyer, Studio

306 Collective, Huw Williams, Ben Wilson and all

our subscribers.

03
---
VILLAGE RAW

THE RAW

VILLAGE ALLSORTS: Things to look out for in the neighbourhood, with a

hyperlocal focus on Hornsey. Words by Katrina Mirpuri.

Muswell Hill

Creatives market

COURSES/EVENTS/MARKETS: We'd like to do more with courses, events,

markets, etc. While we work out how we're going to do that, here's some coming

up over the next few months. Words by David Reeve.

Muswell Hill Creatives

Pop Up and Winter Market

Meet the makers at the pop up at the

Victoria Stakes pub on 13-14 October, 12pm-

6pm and the Winter Market in St. James

Square on 24 November, 10.30am-4pm.

www.muswellhillcreatives.com

Apple Day 2018

A celebration of apples – with pressing,

juice tasting, produce, talks, kids activities,

and a café at Hornsey Vale Community

Centre, 3pm-6pm, 20 October.

www.transitioncrouchend.org.uk

Haringey Youth Festival

You can support local performers at the

festival which is taking place in Northumberland

Park. There will be workshops on

spoken word, gospel, mime, and the festival's

finale. The performance runs from

3.30pm-6pm, 27 October.

www.twitter.com/haringeyfest

The Winter Designer/

Maker Fair

Handmade in Highgate offers a chance to

visit the Highgate Literary and Scientific

Institution, and to meet and check

out the wares of some of the UK's best

designers and makers. 2-4 November –

check website for times.

www.hand-made-in-highgate.com

The Stroud Green Winter Fair

Craft stalls featuring some of the best

local makers, cakes, and a winter raffle.

24 November, 12pm-5pm at the Stapleton

Tavern.

www.stroudgreenwi.co.uk

Artists Winter Fair

East Finchley Open Artists hosts the winter

art and craft fair, with charity partner

Art Against Knives, at the Finchley Youth

Centre, 24-25 November, 11am-5pm.

www.eastfinchleyopen.org.uk

A Very Merry Muswell

Muswell Hill's St James Square will see

choirs, singers, local makers, and plenty

of seasonal food and drink with the tree

lighting ceremony at 4pm. 1 December,

2pm-5pm.

www.muswellife.com

The Crouch End

Festival Xmas Market

Over 30 craft stalls, food, mulled wine,

music, choirs, children's entertainment,

Santa and much more. The festival closes

with the tree lights being turned on by a

local celebrity. 1 December, 11am-5pm.

www.crouchendfestival.org

Myddleton Road Winter Festival

The festival will have 50 stalls, bars, live

music, a Santa's grotto, fun fair rides, a

lantern parade, and a light switching on

ceremony. 2 December, 11am-5pm.

www.myddletonroadmarket.co.uk

PHOTOS BY DAVID REEVE AND LEWIS SLAYDEN (THROUGH THE WOODS).

Through the Woods The Three Compasses Heron Hawker

Ex-Pig and Butcher chef Chris Slaughter

and partner Steve Williams, owner

of Crouch End's Nickel, are the brains

behind Crouch End's new supper club,

Through the Woods, which focuses on

vegetarian and plant-based food. After

the initial success of his first club, Chicken

of the Woods, Chris has progressed

to provide locals with a permanent culinary

establishment situated right in the

heart of Hornsey. The restaurant will be

open three nights a week, from Thursday

to Saturday, with dinner starting at

8pm. It welcomes 18 diners each night

for a single sitting experience which explores

fresh, seasonal foods on a dense

and lavish tasting menu. All the produce

is sourced locally within an impressive

nine-mile radius from the restaurant. Ingredients

from Enfield, Ally Pally Farmers'

Market, local allotments and even from

the chef's very own garden are used to

create the mouth-watering dishes. The

menu also features one meat dish which

always comes from a high welfare farm,

meaning meat-eaters can also enjoy

honest and fresh food. Spaces are limited,

so make sure you book ahead.

www.throughthewoods.london

Having recently undergone a facelift,

Hornsey's well-known local now promises

even more beer, food and fun under

new management. The vibrant coloured

windows and spacious seating give the

pub a warm and homely feel, making it

perfect for large or small groups. The

drinks selection is broad and particularly

impressive on the beer front. They offer

a selection of craft beers and real ale

from local independent brewers, as well

as a great selection of gin and whiskey.

The food menu offers indulgent pub grub

along with fantastic vegetarian and vegan

options and smaller sharing plates,

which are a great option if you're taking

part in their weekly quiz night. The pub's

events calendar is action-packed with

DJs and events for Halloween and Christmas,

most of which take place in the large

upstairs function area. The space is also

available to hire for private events and

parties, making it a great spot for the

community to use and enjoy. With this, as

well as the quirks like the table football or

the giant wooden sculpture that watches

over the pub, it's clear that The Three

Compasses is worth a visit.

www.threecompasses.pub

Hornsey's streets have been given an

injection of oxygen after the opening of

plant shop Heron Hawker. Having relocated

from its last home in Wood Green's

Blue House Yard, the shop moved to its

current location next to Priory Park in

April. Unlike conventional plant stores,

Heron Hawker pays special attention

to terrariums - a growing trend in the

plant world. With evening workshops

running twice a month, Heron Hawker invites

plant enthusiasts to enjoy a glass

of wine and learn how to build their own

personalised terrarium, which they can

then take home and enjoy. In addition to

this, they offer child-friendly workshops

and special events such as Halloween

pumpkin-carving. The shop's aesthetic is

earthy, with a broad selection of plants

and cacti coming in all shapes and sizes.

Beautiful ceramics and a mixture of new

and recycled decorative glassware hang

from the ceiling and grace the shelves,

making it perfect for a mix-and-match

purchase. With plants starting from £2,

Heron Hawker is the perfect place to fuel

your plant addiction as there's a little

something for everyone inside.

www.heronhawker.com

04 05
---
VILLAGE RAW

ART & CULTURE

In tune with the environment in which he works, Ben Wilson uses

discarded chewing gum to create a trail of artworks which are

colourful snapshots of people's life stories.

Words by Lito Apostolakou. Photos by David Reeve.

ART TRAILS AND TALES

Short-lived or lasting, public and private, exposed and hidden,

Ben Wilson's thousands of miniature pictures painted on chewing

gum are embedded on trodden surfaces all over: from the

pavements of Muswell Hill to the metal treads of the Millennium

Bridge opposite Tate Modern; from the footpaths of Berlin to

rocks in Senja, Norway, north of the Arctic Circle. "The Chewing

Gum Man" has been written about in the New York Times, the

Telegraph, the Guardian, the Evening Standard, the Independent,

and in several online publications. He has been featured

on the BBC and in short film documentaries, all waxing lyrical

about the way he transforms discarded chewing gum blobs into

minuscule works of art. Ben Wilson has been called a street artist,

an environmental artist, an outsider artist, or simply "The

Chewing Gum Man", but he is nonchalant about labels. "It's a bit

like being a joker or a jester," he says. "You'd think I'm that but

in fact I'm this! I suppose that for the last 14 years people have

been photographing me and I have been photographing people."

For Ben, it is the creative process that matters, and how it

relates to and interacts with the environment he works in and

the people he encounters. He is very aware of the social function

of art and its impact on the expression and improvement

of collective experience. His practice has very much to do with

ideas not imposed on but formed by the environment he inhabits

as a working artist. "If you care about the environment you

are working in, it changes what you do," Ben says. "The main

ingredient is love." The importance of interacting with the environment

has informed his work from the very beginning of his

art journey, when he started creating wooden sculptures which

evolved, were destroyed, and grew again. It was in Barnet's Hadley

Common, a relic of ancient woodland, that Barnet-born Ben

created his first chewing gum piece – a face – and soon after,

a picture of a Westie dog, Eddie. Embarking on the creation of

the chewing gum art trail full-time in 2004, Ben found himself in

an environment where he had to negotiate the boundaries be-

tween public and private space, and the complex dynamics of

people's desires and expectations.

Reclining on the pavement, blowtorch in hand, Ben melts the

discarded, flattened chewing gum and shapes it to the desired

size. Using acrylic enamel, he paints on it anything from detailed

landscapes and intricate patterns to portraits; sprays it with

lacquer; and heats it up again to transform it into a solid disc

not much bigger than a 50p coin. The process can take hours or

even days to complete, and Ben's presence on the street usually

causes a small crowd to gather - people either curious about

the occupation of the man with the paint-splattered overalls,

or eager to place requests. The pictures he creates can be very

personal – memorials to lost friends and family, friendship vows,

love proclamations, marriage proposals – and often contain

symbols that only the person who put in the request can decipher.

"When I'm outside it's so social," Ben delights. He engages

with the physical environment he works on and, at the same

time, with the mental environment of the people he creates the

pictures for. It is a complex dynamic.

"I'm painting on something that has been thrown away -

that's there because people feel disconnected and they don't

care what they do, so they just spit it out." Ben sees his art as

using a thoughtless action, a product of people's alienation from

their environment, and turning it around to mean something different

and connect with people and their lives. This is public art

giving expression to individual meaning which, at the same time,

becomes part of the collective experience. It is art performed in

public, under people's feet: public but hidden in plain view, its minuteness

concealing it, its hidden meanings making it opaque. It

is art that connects the uniqueness of the individuals that make

up the collective with invisible threads – a trail of tales. There is

something very intimate about using a material discarded from

people's mouths carrying their genetic footprint and transforming

it through art to carry their personal stories.

06

07
---
VILLAGE RAW

ART & CULTURE

This is also art performed on a surface that became no-man's

land. Ben wanted to bypass bureaucracy and the controlled spaces

of galleries and similar institutions to create art, and he confronted

the heavy hand of the law as the surface he painted on became

disputed territory. Ben had to learn all about jurisdiction when

the City of London contested his right to use pieces of discarded

chewing gum as canvases. He has been arrested more than once

for obstruction and criminal damage and has gone through the

legal system twice. With the support of the local community, and

even of Barnet police, Ben has managed not only to be exonerated,

but to have his chewing gum canvases sanctioned as legitimate

spaces on which to do art. Deemed waste, and thus not part

of the public or private property on which it's found, chewing gum

was freed from the constraints of authority. Ben says, "Creating

a picture on chewing gum is finding common ground on a space

which is not under the jurisdiction of local or national government

- a space where something can happen in a spontaneous way."

But of course there are constraints. Ben has to be in tune with

the human environment when painting on chewing gum: "You've

got to be careful because you are dealing with people's lives and

doing something which is very personal. You've got responsibilities.

You open up, but there are boundaries." Ingrained in the life of

the neighbourhood he works in, he gets to know different people

and their stories and he has been in some "mad, frightening, un-

comfortable and funny situations" negotiating the boundaries between

what people wished him to paint and what he felt comfortable

with painting. He understands the disaffection some young

people have with the urban environment, their feelings of exclusion

and their need to assert their presence with graffiti tags. "People

have to be part of the environment. We have a voice as well!" After

14 years working on the streets, he waves away the abuse he has

sometimes suffered, the frightening situations he's been in and

the "intense times" he has gone through, and asserts that "there's

a funny side to everything". He says that most people are positive

and that he has had some amazing interactions over the years.

Muswell Hill-based Ben has worked in different parts of London:

from Barnet, North Finchley, Friern Barnet and Crouch End

to Muswell Hill, Holloway, Archway, King's Cross, Mornington Crescent

and Tottenham Court Road. He has also worked and exhibited

in Europe and the USA. Currently, Ben can be found on the

Millennium Bridge on Mondays from early in the morning until the

evening, and he works in Muswell Hill on a Wednesday. Ben lives

with his family and he is the carer for his elderly mother while he

finds time to do gardening ("I'm a keen gardener - it goes through

generations") and work on his ongoing wooden sculptures. At the

same time, he is working on a project he started in 2014 which he

has kept largely under wraps - he has been creating a series of

tiles which he places in undisclosed locations.

The creation of the tiles involves a more introverted process

– it is "a subconscious diary". Exploring shadow and pattern,

Ben paints black and white pictures on tiles without having a

preconceived idea of what they'll be before he starts the process;

instead "just seeing what happens when I start working".

Some are very personal and specific to him, as "they relate to

different members of my family and the feelings that I have".

Again, their placement has to do with the interaction with the

environment, but also with the concept of "giving art away for

people's enjoyment". The creative process involved in the tile

series may seem like more of a private conversation with one's

self and less social than the chewing gum art, but engaging with

the environment and intervening in public space remain among

Ben's overarching preoccupations. Combating the alienation of

humans from the space in which they live, his art imprints people's

uniqueness on impersonal structures by inserting individual

or personal material gestures into public spaces.

Ben Wilson defies labels and definitions and remains as detached

from established institutions as he has become integral

to the environments in which he works. He intervenes in the

urban spaces he engages with - not as an outsider, but as a

receptacle and transmitter of the collective threads of meaning

that run through them. He is a teller of tales, a painter of secrets

which are hidden but we all know they are there.•

Opposite page: Ben with his

diary tiles. This page: Ben with

one of his wooden sculptures.

Below: A selection of archive

photos of Ben Wilson constructions.

Ben tends to shy away from social media, and the internet in general, but you can find

more photos on our website: www.villageraw.com/benwilson

08

09
---
VILLAGE RAW

COMMUNITY

ART AND SOUL

Nestled in the heart of Wood Green, the Studio 306 Collective helps

people get on their feet by making things with their hands – and

it has had some royal recognition.

Words by Carla Parks. Photos by Dan Bridge.

ADDITIONAL PHOTO: DAVID REEVE (BOTTOM LEFT).

"Be the change you wish to see in the world." It's a quotation

adorning mugs, T-shirts and tote bags everywhere. But while the

expression is overused, it seems to have been coined especially

for Pamela Anomneze. A whirlwind of positive energy, Pamela

is the heart and soul of Studio 306 and is its project manager.

Housed in an institutional-looking building in Wood Green, the

studio, a series of small rooms and an office, helps people recover

from mental illness through art.

Inside, the walls are covered with bright textiles. There are

shelves filled with ceramics, from delicate tea lights to Christmas

decorations in the shape of stars. A display case contains

necklaces, earrings and bracelets, beautifully wrought in

sterling silver and twinkling under the overhead lights. Standing

nearby is a selection of greeting cards with detailed hand

drawings set against fluorescent backgrounds - an explosion of

blues, oranges and yellows. "These are all places in Haringey,"

Pamela says, pointing to one of the greeting cards, a drawing of

Alexandra Palace.

Everything inside the studio is made by students of the collective

– people who've been diagnosed with the likes of depression

or bipolar disorder. There are also "makers", former students,

who make items to sell. If they want to work on personal

projects at the studio, the makers are given an hour for every

hour worked for the collective. Wearing a polka dot scarf and

matching jewellery, Pamela is a walking advertisement of their

work. It's her firm belief that making things helps give people a

"sense of fulfilment and accomplishment".

Sitting down in her office, Pamela tries to distil what the

collective means to her. "Let's help people who have nobody to

even fall back on, people who feel, 'Is life worth it?'. I just believe

that life can be worth it for anybody. There is no useless

human being in this world. It's just that they haven't been given

the opportunity to be involved, to learn, to even belong. There

are people like that out there."

In a film made for the Big Issue, one of the students explains

what this place means to her: "Some of us might have isolated

ourselves in the past and this is a chance to be part of the community

again." She adds, "It's a place where we aren't going to

slip through the cracks and be forgotten about."

That Studio 306 does invaluable work is without question,

but the project has had some setbacks. Cuts to council funding

for mental health meant that they lost a larger space at the

Chocolate Factory in Wood Green, where they'd been based for

years. The council does pay for Pamela's wages, as well as wages

for four specialist tutors in four disciplines: sewing, screen

printing, ceramics and jewellery. However, they don't cover the

cost of raw materials or the studio's full rent. A community interest

company since 2011, Studio 306 funds itself through

what is made and then sold at markets, in shops, and online. It's

a lean operation.

Pamela's goal is to become self-sustainable; to increase

the tutors' hours to more than one day a week; and to own the

space where they're based. In October, they'll move to the old

Wood Green post office. A positive thing which has already come

out of their hard work is some hard-won recognition. Pamela,

who is trained in community mental healthcare, was invited to

the royal wedding and did the rounds on news outlets. On the big

day, she wore an elegant necklace, designed by the team. It was

auctioned off after the wedding to raise money.

Whenever Pamela talks about the work she does, she's quick

to point out that it's a team effort: "We are all one family. Everybody

who has a link with us, as far as I'm concerned, is part of

the 306 family." Pamela attributes the collective's success to

"passionate" people, such as sewing tutor Sharon Williams.

10

11
---
VILLAGE RAW

"Let's help people who have nobody

to even fall back on, people who

feel, 'Is life worth it?'. I just

believe that life can be worth it

for anybody. There is no useless

human being in this world. It's

just that they haven't been given

the opportunity to be involved, to

learn, to even belong. There are

people like that out there."

Clockwise from top left:

Pamela and her favourite egg

cup, Michael making cushion

covers, Sharon in the sewing

room, hen door stops.

Sharon's working on a large, felt advent calendar that will go on

sale soon. "There's so much to do, you can't get it all done in

one day," the tutor says. They also have volunteers to help. One

of them, a masseuse, was so impressed with their work that she

volunteered to be their cleaner.

Pamela – a proud Haringey resident – is well known in the

local area. When she walks down Wood Green High Road, she's

often stopped by people in the street. "It's not because of the

royal wedding," she clarifies, "but because they are people I

have helped." She estimates that she's worked with thousands

of people over many years. Some from Studio 306 have gone on

to have successful businesses themselves. "It's the satisfaction

of going from nothing to something," Pamela says. "We are

blessed – we are truly, truly blessed." Blessed, it would seem,

with some extraordinary people. •

Studio 306 sells their products through The Big Issue Shop and local markets and

shops. To find out more about Studio 306, visit: www.studio306.co.uk

ADDITIONAL PHOTOS: DAVID REEVE (TOP LEFT AND TOP RIGHT).

12
---
VILLAGE RAW

RAW MATERIAL

MADE BY

DESIGN

One looks to the future,

while the other harks

back to the past.

Two talented designers,

working out of their

homes, have very

different approaches

to manufacturing

their products.

Words by Carla Parks.

On the face of it, Huw Williams and Adriana

Conde Betts don't have much in common.

One is from Oxford, the other from Brazil.

One studied industrial design, while the

other trained as an architect. One works

with plastic, the other with leather. One

uses modern technology, the other uses

a craft handed down through generations.

But both love design and have recently

started selling to consumers who

appreciate their attention to detail.

In just one year, Huw quit his steady

job, set up his own shop and started selling

unique objects he's made with a 3D

printer bought for only about £110. His designs

include pots, planters, pens, clocks

and ring holders - all made in his studio

in Bounds Green, which is also his home.

"I get a lot of love from the local area,"

says Huw, who started selling his wares at

Alexandra Palace Farmers' Market in January.

"It was cold," he laughs. Since then,

the 25-year-old has been experimenting

and adding to his collection for his shop

Studio Nilli. He's had customers from as far

away as Trinidad and Tobago and Australia.

A current favourite piece is a wooden-legged

planter which takes inspiration from

the mid-century modern style.

Huw, who studied industrial design at

Brunel, has always liked making things. As

a child he used to make enormous paper

"It's not so much a science as

it is an art form, because you

do have to finesse something

out of this code."

ented," she explains. Some of these details

include adding a tag to the shoes

with the name of the person who made

them. Adriana wants the shoes to feel

fun, so she uses bright colours for the

lining which contrast with the high-quality

leather.

To make each shoe, Adriana employs

traditional techniques. Using "lasts", a

mechanical form that has the shape of

the human foot, she tests out the integrity

of her designs. She sometimes even

covers her daughter's old shoes to see

how a new design might look. "I want to

PHOTOS BY DAVID REEVE (STUDIO NILLI, TOP LEFT AND RIGHT) AND KATE KUZMINOVA (YAYA LALA, TOP RIGHT AND BOTTOM LEFT).

Opposite page: Huw

Williams working on

designs while the

3D printer builds

a pot layer by layer.

This page: Adriana

Conde Betts designing

a shoe in London,

while they are

handmade in Portugal.

keep the process quite organic," explains

the former architect, who lives in Muswell

Hill. When she's happy with the design,

she sends it to the manufacturer to make

a prototype.

Prototypes are a common feature of

3D printing. Huw's printer was assembled

and modified through a process called

RepRap - which stands for replicating rapid

prototyper. Essentially, it's a machine

that prints a significant number of its

own parts automatically, thus replicating

itself. The first of its type appeared at the

University of Bath in 2005 and many copies

have been made since because the

designs of the project are open source,

available to anyone who has an interest.

To make an object, Huw designs a 3D

model on a computer using a computer-aided

design (CAD) package; he takes

it into another programme which slices it

into layers and writes the code; and then

he sends it to print. There is some tweaking

to be done too, and the products are

finished by hand. "It's not so much a science

as it is an art form, because you do

have to finesse something out of this

code," he explains. A large planter will

take just over an hour and half to make.

Adriana's shoes are intricate and labour-intensive,

but that's part of her

philosophy – to make them feel personal,

crafted with love and attention by

a human being. With their vintage look,

she says they are reminiscent of an era

more focused on quality and time. "I want

the consumer to understand that someone

made these shoes from nothing into

something and then it became theirs."

She believes we've become disconnected

from the process of how things are

made and then sold to us. Too much is

mass-produced, argues the Brazilian.

"I want the consumer to

understand that someone made

these shoes from nothing

into something and then it

became yours."

Huw is also focused on producing small

quantities, but his method is a quick way

of manufacturing one-offs. The products

are printed in bioplastic, meaning that the

material is made from renewable biomass

such as corn starch and sugarcane. It's biodegradable

if taken to an industrial composter.

In an effort not to produce waste,

he'll make earrings and cufflinks with

some of the plastic left over.

Even though Huw's products are

technically made by a machine, he points

out that it's still him behind every design.

"I use digital design and manufacturing

aeroplanes out of newspaper. Inspiration

comes from everywhere, he says, and

he loves sketching his ideas and seeing

them develop.

It's the same for Adriana, who designs

children's shoes which are then made by

skilled artisans in Portugal. One of her

shoe designs, Trinity, was inspired by a

visit to a church called All Saints Margaret

Street. Like Huw, she runs her business

Yaya Lala from her home. Always a

creative person, Adriana spotted a gap in

the market after having her daughter in

2009. "Our focus is on being detail-oritools

to help produce my work, but I think

the connotations that go with 'handmade'

still apply. Great skill, time and

love have gone into making a product,

and that's what a lot of people appreciate

about something handmade. There is

always a story, someone's idea, process

and final result."•

Huw will be at the RHS Urban Garden Show,

26-28 October. He sells via Etsy at: www.studionilli.com;

and Kettle's Yard at: www.kettlesyard.co.uk

Adriana's shoes are available at: www.yayalala.com

14 15
---
OMVED

The Highgate Bowl had

hosted a garden centre

since the 1940s but,

in 2013, it closed

down. The neighbours

successfully fought off

a planning application

to build homes on the

site - and what eventually

manifested was something

completely different.

Photos by Thomas Broadhead

and Sabrina Dallot-Seguro
---
VILLAGE RAW

VILLAGE RAW

OmVed Gardens opened its doors in May 2017, in time for

the Chelsea flower show. The turnaround time in which the

glasshouses were refurbished and the landscape remodelled

was surprisingly quick - work was completed in just six weeks.

The name combines the two Sanskrit words om and ved, which

owners Karen and Lekhu Leason have come to realise means

learning from everything - or, as Karen alternatively

translates: "You don't get to choose what or how you learn."

The landscaped gardens and wild flowers play host to a

plethora of wildlife. People are invited to interact with it,

and one another, in a number of ways - through art, music,

food and discussion. OmVed's scope is both local and global

and it welcomes collaborations with a wide network of groups

and individuals.

You can find out more about OmVed Gardens and their events at: www.omvedgardens.com

4
---
VILLAGE RAW

EVOLUTION AND SOURDOUGH

Raised in both the UK and Australia, Michelle Eshkeri didn't follow a

conventional path towards opening Margot Bakery in East Finchley. She

tells Village Raw about finding balance, evolution and the rhythm of life.

Interview by Luciane Pisani and David Reeve. Photos by Kate Kuzminova.

Meringue mice

I have a book – it's an Australian Women's Weekly from the 80s –

and it's got these meringue mice in it. I couldn't ever make them

because, as a kid, I didn't have the piping bags. I would make

the other things in the book, but really wanted to make the meringue

mice – they represented an unfulfilled desire. I try not to

indulge my enjoyment of slightly kitsch baking too much, but I'm

a little bit fond of things that are fun – that have no particular

value other than the challenge and enjoyment of making them.

Seeing if you can make something is part of the joy of baking. I

did end up making the meringue mice.

Baking cakes

I moved to London and worked as a nanny for a while. I was getting

a bit tired of that - I was 26 or so and I thought, "What am I going

to do?". A friend of mine's mother-in-law had a friend who had

just opened a cake business and she was making small cakes and

selling them to Selfridges – beautifully made cakes. She gave me

a job and I worked with her for six months. I went to work for Konditor

& Cook for a year, and then started my own business making

cakes from 2008. The cake recipes and other things I developed

myself, in my own style. But then I had children, so I just kept it

ticking along so I could work from home. Always with the view of

scaling it up in the future – I was just waiting for the right moment.

Crazy or brave?

It's enormously expensive to open a bakery. It was an old post

office, then a convenience store. The place was in a complete

state – mould, rising damp, rotting floorboards. One of the walls

wasn't supported. The wiring hadn't been touched since the

60s. The landlord did some of the work but I completely rewired

it. We did top to bottom plastering, and we completely replaced

the shop front. I'd never worked in a bakery to even know how to

lay out a bakery. I had an architect who helped enormously and

I couldn't have done it without her. I had to invest an enormous

amount with no real certainty that I could make it work. I've never

employed people before; I've never run a business before;

and I'd never seen more than one loaf of bread come out of an

oven before. The jury's still out on whether it was crazy or brave.

Finding balance

I didn't see my children for quite a lot of the first year, but now

I pick them up from school four days a week. My husband helps

me a lot because we split work – he probably does more than I

do right now. But then it's the ebbs and flows of life. The first

five years I was at home and he was at work, so it's all good. And

it's been good for the children to have some time when they rely

on him emotionally – he's a big part of their lives. I'm heading

towards balance.

20

21
---
VILLAGE RAW

FOOD AND DRINK

The sourdough way

Sourdough is a natural way of leavening bread, so it doesn't

come from commercially produced yeast at all. For sourdough,

you put some flour and water together, give it a bit of warmth,

keep refreshing it and you start to concentrate those yeasts

and bacteria to a level where they're strong and behave predictably.

You feed them like pets or children but all they need

is water and flour. This starter goes into the bread. You retain

a little bit which goes into the next day's bread and, if you feed

it, it goes on forever. Sourdough, because it's a fermentation

process, breaks down the gluten and releases more of the nutrients

that are in the flour. It's better for you. It doesn't sound

that appetising, but part of the digestion process has already

been completed before you eat it, so your body doesn't have to

work so hard to break down the compounds. It has health benefits,

but the main reason I make sourdough is that it tastes so

much better than any other kind of bread I've ever tasted.

Preserving food

I've started doing some lacto-fermentation of chillies and

things, where you put them in a salt solution and they ferment.

I also have Kefir grains – it's so interesting, and once you start

it's very hard to stop. It's all of those traditional methods of preserving

food. One of my bakers made a bread last week which

we're putting on the regular baking list this week because it's

so good. He tried it when he went to the Dolomites. They used to

bake bread just a few times a year. They'd have the rye harvest,

put lots of rye flour in the bread, and bake it in such a way that

they could keep it for months and months. A lot of techniques

like lacto-fermentation are ways of preserving the summer harvest,

such as the cucumbers and the cabbage, so that you've

got them through the winter. Methods that got lost – certainly

no member of my family baked a loaf of bread or preserved anything,

except for a batch of chutney in Manchester. And there's

health benefits and other benefits: flavour; eating more seasonally,

and locally; thinking about what you're eating; and creating

less waste.

Evolution

You know they say you can't change above the age of 30 – I used

to believe that was true, but now I'm thinking it isn't. I'm not

a natural manager of people. I started off with no experience

and often got things very, very wrong. I was too demanding, too

impatient, or thought that people should just do things because

I would do it that way. I think that every day I am trying to be

better and do better so that other people do well in this place.

It's good for the customers and for the staff. I'm not there yet,

but it's teaching me something about myself and about human

nature because what is the value? Is it the value of just how

much money you make, or whether in five years I could sell the

business for x thousands of pounds? Or is the value in creating

something which is better because I gave more of myself to it?

To be proud of it, I have to learn from my mistakes and get better

and better. I think by the time that I'm 50 I'm going to be so well

rounded. I can't wait! (laughs).

The price of bread

For a long time, the price of bread was set by the government.

They couldn't put it above a certain level because in the traditional

British diet bread was a staple. In some countries it's rice

or beans. People feel like bread should be cheap, and the supermarkets

have played on that. They've kept the price of bread

artificially low even if they're making a loss on it – to get people

into the supermarket to do their £100 shop. It's altered the true

value of bread and people's willingness to pay the money for it. I

don't think that will change except by good bread and good bakeries

starting to talk to people about the differences between

supermarket bread and handmade bread – and that can also

mean yeast bread, because you can make good yeast bread.

What I would like to do is find a way to make it more accessible –

to find a way to make a loaf of bread that's less labour-intensive

and can be made alongside the other breads. I've not worked

out the answer to that question yet but that's something that's

been at the back of my mind since I opened.

The rhythm of life

I talk to the community all day long. I think that's probably the

main thing that I do. I'm here, the bakery's here, and I watch people

in the shop and they connect here. People have worked it

into their daily lives. This place has inserted itself into the way

people move – at least in this little corner of East Finchley. It's

become part of people's rhythm of life.

Who's Margot?

Bakeries are traditionally very masculine places full of people

throwing sacks of flour around – they're not places where women

have worked. I wanted to find a bit more balance with this

bakery. For me, a woman's name best conveyed the type of bakery

I was trying to make – something softer and a bit more feminine.

I thought Margot worked on multiple levels: it's a woman's

name; it's a French name, so gave an impression of patisserie

and things made well; and my grandmother and my husband's

grandmother had names related to the name Margaret – they

were both women I loved very much. •

Find out more at: www.margotbakery.co.uk

Inside the bakery:

With its open plan

set up, it's always

possible to see the

bakers at work.

22

23
---
VILLAGE SOUNDS

LOVE & CHAOS

With jingles from the likes

of Johnny Depp, Nick Cave,

Andy Bell and Bez, Boogaloo

Radio summons up the maverick

spirit of punk.

Words by David Reeve. Photos by Dan Bridge.

Nestled at the back of Highgate's The Boogaloo, where the old

bin shed used to be, is a radio studio. Boogaloo Radio began life

on the back of a beermat, when station manager Jenn Crothers

and landlord Gerry O'Boyle were chatting about their disillusionment

with radio.

"It wasn't very well thought out," admits Jenn. "We just kind of

did it." Gerry's background founding the infamous Filthy MacNasty's

Whiskey Café and then The Boogaloo had set him up with a solid

contact book that he opened for the radio station. "What we wanted

to do was create a radio station that used our pub's history and

mythology and connections," says Gerry. "That's 25 years of rock

and roll history there, and the radio station allows us to share that."

Bernard Butler steps out of the studio, where he's been discussing

music with co-host Mark Kingston, AKA The King, and

guest Colin MacIntyre. "I've known Gerry for a long time," Bernard

says. "Years and years ago I used to do a pop quiz here with

The King." Gerry sent him an email asking if he'd be interested

in presenting a show. "I'd never done anything like this before,"

says Bernard. "I'm a musician – I'm on the other side. But it was

a good time to get involved."

Since launching, a whole host of names have dropped into

the studio - whether as presenters or as guests. "We had Johnny

Marr talk through the whole The Queen is Dead album," says

Jenn. "Mickey Beans brought in Elly Jackson and, on the same

day, we had Stefan from Placebo." Other presenters and guests

have included actors David Morrissey, Kit Harington and Amanda

Abbington, and musicians Holly Johnson, Shane MacGowan,

Siobhan Fahey, Darryl McDaniels, the Libertines, and Romeo Stodart.

It's not all big names, though - and presenter Jack Donato

Brown, who presents the long running hip hop show Exhibit J,

was plucked from the Boogaloo kitchen. It's an eclectic mix that

mirrors the nature of the radio station. "We don't stick to any

one genre," says Jenn. "We encourage diversity on the shows.

24

25
---
VILLAGE RAW

VILLAGE SOUNDS

"You're not looking for just that genre or just that

thing you want to listen to instrumentally or vocally

– you can go anywhere with it. You find that seeps

into what you do and you find yourself less bigoted."

ADDITIONAL PHOTO: DAVID REEVE (TOP RIGHT).

Opposite page: Inside

the studio with

Bernard Butler, Colin

MacIntyre, and The King.

This page: Bernard

Butler checking

the playlist.

Instant photos of the

growing Boogaloo family.

We encourage playlists from the heart, so we would never tell

a presenter what they have to play." Ex-Creation Records boss

Alan McGee agrees: "I love Boogaloo – it's completely unfiltered.

They don't tell you what to talk about, they don't tell you what to

play. It's as good as you're going to get."

While all of the presenters bring their own music, some have

gone the extra mile to unearth hidden gems. Warner Chappell

UK's Mike Smith and Rob Owen requested a cassette player after

discovering demo tapes, from bands including Ride, while they

were clearing out the Warner basement. Ace Records' founder

Ted Carroll, who presents the So Many Records, So Little Time

show, regularly roots through his collection of 45s, 78s and other

records and recently played a rare Nat Hall record that he'd

just sold for £1000. It's this freedom to rummage through any

aspect of music, past and present, which seems to be engaging

and attracting the presenters.

Alan McGee has become a regular after finding that presenting

a show really reignited his love of music – especially 70s

glam and punk. "The guy I had on my show just now was a guy I

had on my record label in the 80s – a guy called Lawrence from

Felt. It was great." You can sense the passion and energy with

which Alan approaches his show. Bernard finds it similarly inspiring,

as a musician, a producer – and for him personally. "When

you're doing a radio show, you have to find a very broad sweep

of music," he says. "You're not looking for just that genre or just

that thing you want to listen to instrumentally or vocally – you

can go anywhere with it. You find that seeps into what you do

and you find yourself less bigoted."

So how do you start a radio station from scratch? As a live

music venue, there were a lot of cables and other equipment lying

around. Funky Junk and Audio Gold both lent their expertise,

and an honest email to Audio-Technica resulted in two state-ofthe-art

broadcast microphones, a turntable, and four pairs of

top-of-the-range headphones. The University of Westminster

donated a compressor, which Bernard Butler installed. And then

there's the former bin shed which has slowly evolved into a studio.

"Every week it improves," says Jenn. "We got soundproofing,

we got a carpet, we got a roof – that was really exciting."

To date, they've brought in around 75 presenters – most of

them local to the area. Boogaloo Radio's reach is global, though,

with a big following in the UK, Japan, Australia and the USA. It

helps that they've made it refreshingly easy to listen to the station.

You just have to download the app and click the big play

button – no need to register or sign in. Similarly, the website has

a play button, albeit positioned slightly more discreetly in the

top right corner. But perhaps the best and most social way to

listen is to pop by the pub itself. "You have punters in the beer

garden making requests," says Jenn. The scope and volume of

the radio shows, and the reaction of listeners suggests another

type of locality to Gerry: "Even if they've never been in to the

physical pub, we're welcoming people to the Boogaloo family."

The Boogaloo website contains a 360-degree walk-through

where, in a similar way to Google Street View, you can click arrows

to walk through the pub, down the corridor, through the

back yard, and into the radio station. It's noticeable that while

the pub hasn't changed, the studio has already developed significantly

since the 360-degree photos were taken. "It's not a

slick production by a long shot. Me and Gerry are making it up as

we go along. If we didn't love it, it wouldn't exist. It's 24/7 chaos

with a lot of love chucked in."

•

Use your device to download the Boogaloo Radio app, or visit: www.boogalooradio.com,

where you can also watch livestreams.

26 27
---
VILLAGE RAW

VILLAGE ART & CULTURE SOUNDS

THE WOODS

In The Woods you will

find Scottish producer,

vocalist, and multiinstrumentalist,

Johnny

McFazdean's handcrafted

world of haunting

vocals, mesmerising

folktronica, and

textured beats - sure

to lure you in deep.

Interview by Dan Snell.

Photo by David Reeve.

What's your name and what do you do?

My name is Johnny McFazdean, and I play

music under the name The Woods. I grew

up in south-west Scotland on a farm in

Galloway. I've been in London for two

years now, but before that I was in Edinburgh,

and before that I lived in Sydney.

Why music?

I have always gravitated towards music

- I was that kid who was constantly whis-

tling or singing. I've always had music in

my head and it's the natural way for me to

express myself.

Is being a musician a gift or a curse?

A gift. Definitely.

However, I've been channelling a lot of

time and energy into music and it's easy

to become dangerously obsessed - but I

love being a musician.

What's your background?

What's your vibe?

Things started way back when I was aged

nine - I got a scholarship to sing in the

King's College Choir. Music was everywhere

from dawn until dusk.

After university, I found myself in an

exhausting job which squeezed music

to the peripheries of life. Then, one day,

I picked up a guitar in a charity shop,

feeling that I needed it for the sake of

my sanity. I taught myself to play and

was soon writing songs. I'm now using

synthesisers, keys and beats, as I like to

harness a variety of textures to create

ambient, atmospheric music.

Who's the most important influence on

your music?

I love musicians who push the bounda-

ries to create unique sounds and break

moulds. Soweto Kinch, for example, tells

amazingly colourful stories by combining

jazz and hip-hop.

What's your most memorable live experience?

I'm in awe of the quality and diversity of

music here in London but there is a saxophonist

called Shabaka Hutchings. I saw

him play live and he seemed to glow, even

alongside amazing musicians.

What's your favourite part of the process?

Not the end, that's for sure. But that

first spark of melding sounds, when two

things come together, is the best part of

the process.

Do you have any favourite venues?

I love The Finsbury and its intimacy. I've

also played The Ned, which is an old bank.

It's a cavernous place with an unreal

echo – totally opposite to The Finsbury,

but equally enjoyable.

What are you working on now?

I've been working on new material which

I'm excited to release. Following Armchair

Expert, there will more EPs and live shows

in the next few months, so stay tuned!

What outside of music contributes to

your musicality?

I like to cycle deep into woodlands. These

environments are certainly shaping my

music alongside the urban London noise.

Name a piece that blows your mind.

Leonard Bernstein's Chichester Psalms.

Its Hebrew lyrics and rhythmic, choral

sounds really stuck with me. It's an incredible

piece.

Where do you like to hang out?

Cha-Cha-Cha Vintage is a favourite of

mine. It's a mecca for creativity with vintage

pop-ups, film festivals, music and a

real community vibe. It's brilliant! •

Find out more about The Woods on his website:

www.musicfromthewoods.com

We filmed live versions of his track Twilight Tales and

his interpretation of Joe Lee's Rock by Boy Blue.

You can view these on our website at:

www.villageraw.com/thewoods

GEEJAY

Gina Jane left rural

Gastard to pursue a

singing career in London.

Here, she met Stroud

Green musician Jacob

Lobo – and together, they

formed the duo GeeJay.

While GeeJay has only

been performing for less

than a year, they've

already supported Plan B,

and been played on BBC

Radio 1Xtra.

Interview by David Reeve

and Luciane Pisani.

Photo by David Reeve.

Why music?

Jacob Lobo: When I create or play music,

it's really therapeutic. It allows me to be in a

different mental space. So whatever mood

I'm in, I'm able to channel those energies

into something else – so if I'm feeling down

or emotional, I can channel that into music.

Gina Jane: For me, it all happened when

I met a singing teacher and she started

doing scat singing, which I was totally confused

about. But she said: "No no no – just

try." And I did and literally fell in love.

How do you write your music?

Gina: It normally comes from a jam-derived

basis. We just start playing a piano riff and

always press record. The recorder is our best

friend – otherwise, I don't think we'd have

any tracks. In that moment – we like to call

it channelling – you can never remember

what happened, although you know what

happened was good. Then we go back and

write down the number of the parts we like.

What do you write about?

Gina: The latest song, Oh My, is about

times of change. It's not really obvious.

Jacob: It's more metaphorical.

Gina: There are so many houses being built

that no one can afford, and music venues

are constantly being closed down. Where's

all the creative energy going to go and

what's the next generation going to do?

What's your favourite part of the process

of creating music?

Jacob: I like the very beginning when the

ideas are coming out, and the very end

when you're doing final tweaks and can

take a step back.

Gina: Performing it. I think performance is

very different from when you're listening to

the music. You have a job and a role to entertain

with the performance side.

Where are you in your career?

Jacob: We're laying foundations. It's really

hard to plot out where it's going to go – especially

in the music industry. There are a

lot of gatekeepers.

Gina: It's up to you as the artist to get your

team together and work. And work and work

– otherwise it's not going to happen. I'd rather

it be that way around than have someone

come to us saying: "Do this, do that."

How would you define your music?

Gina: The first genre would be soul. And

then it's a mix between jazz and hip-hop.

Jacob: A fusion.

Gina: It changes every time we make a different

song as well.

Name a song that blows your mind.

Jacob: Natural Mystic by Bob Marley. It's a

song that really resonates with me.

Gina: Green Eyes by Erykah Badu. It's a

ten-minute song that changes with the

whole mood that you explore when someone's

broken up with you. You have to listen

to the lyrics but also how the composition

changes to reflect those moods.

Tell us about Stroud Green.

Jacob: I was born on Florence Road. I love

the area. I feel there's a sense of community.

And we've got really good food.

Gina: Jacob is a pizza man. He's going to

look like a pizza if he's not careful.

Jacob: Pizzeria Pappagone. But we also

tried a place called Jerkmaica.

Gina: The chicken roti is fantastic.

Jacob: And Itto – a pan-Asian fusion restaurant.

Just next to Common Ground.

Gina: Really nice gyoza.

It seems like you're almost salivating?

Jacob: Yeah, we're real foodies. •

You can find out more about GeeJay on their website:

www.geejay.uk

We filmed a live performance of Blink which you can

view on our website at: www.villageraw.com/geejay

28

29
---
SUSTAINABLE VILLAGE

Discover the art of

conversation, for brands.

Discover the power of

conversation, for you.

Welcome to a new Marketing,

PR & Coaching company

that combines co-creation

and communication.

Working with individuals, start-ups

and large organisations, we can

help you discover the power of

conversation to help you achieve

your goals and grow your brand.

braegen.co

Join the conversation on Twitter @BraegenCo

LIVING LOW WASTE

Words by Emma Ross. Photo by Yasmin Anne Photography.

We design Village Raw.

We can also design your print / digital / video project.

connect@designstudio.moe / www.designstudio.moe

I'm so excited to be Village Raw's sustainability columnist.

I'm a mother of two leading a (practically) plastic-free

life in Muswell Hill, on a mission to make low-waste living

easy and accessible for every single person. I want

to dispel the myth that reusable items are the domain of

eco-warriors and tree-hugging hippies, or that green living

requires expensive gadgets and hours of extra time. I

want to be just one of the many parents who brings their

child to nursery in cloth nappies; I want to show the financial

savings to be made; the effect that being a more

conscious consumer can have on our mental health; and

I want there to be a whole queue of people lining up with

their containers at the Sainsbury's deli counter.

For me, my journey (and it really is a journey) started

when I was pregnant with my first child and I received

an email probably longer than any other email I've ever

received listing the "newborn essentials". I was incredulous

that something as small as a baby could require

simply so much stuff – and at what cost, exactly? Then I

attended NCT classes, as some of you reading this might

have done or be doing, and the section on cloth nappies,

quietly shoehorned in at the end, really piqued my curiosity.

Could there be a less wasteful, more resourceful

way of doing this parenting malarkey? One that didn't involve

specific plastic bath kneeling pads or throwaway

plastic baby bottles?

Flashforward nearly four years and, no, I don't have

a miniscule "trash jar" of all the rubbish our family creates

in one year; I'm not vegan; and I'm certainly not a

scientist or an environmentalist (these are all wonderful

things, by the way). What I am, though, is very passionate

about leaving this world in a good shape for my children

and carving out a type of parenting that doesn't

necessarily involve plastic tat (which sticks around forever

on this planet, even if your kid might use it fleetingly).

We produce and use 20 times more plastic today

than we did 50 years ago – how much longer can this go

on? I believe that now is the time for individuals to take

responsibility and to buy in – mentally and physically –

to living a less wasteful lifestyle.

In this column, I'll be sharing tips and tricks on

leading a sustainable life: from where to find the best

package-free coffee (W Martyn) to shouting about our

wonderful Haringey's reusable nappy incentive scheme

(they give parents money to spend on nappies!). I'll be

covering food and drink, grooming, parenting, cleaning

products, travel, entertainment amongst other things,

so join me here, in every issue, to for tips on leading a

more sustainable lifestyle, one compost pile at a time.•

To follow Emma's blog visit: www.mamalina.co

31
---
VILLAGE ESSAY

SAYING HELLO

Words by Lulu Socratous.

Illustration by David Reeve.

Human connection is the core of our existence. We are

all looking for a way to connect, constantly bombarded

with requests on multiple digital platforms. If you're anything

like me, your mind is buzzing with unanswered

texts and emails. I feel connected out, overwhelmed by

it all - preferring a cuppa and lie down.

But what about real human-to-human connection?

Are you as connected to the people you walk past every

day? We naturally want to smile and talk to each other.

Yet, in those initial seconds of seeing a stranger, we rationalise

ourselves out of it for fear of seeming crazy.

Talking to someone we don't know can feel scary because,

in doing so, we open up and become vulnerable

without the protection of our screens.

We often talk about loneliness in our vulnerable

communities. Yet lack of connection in our busy world

is something that affects all of us. This is something

I learned during my recovery from cancer. Most days I

was unable to leave the house, let alone travel around

London attending the social events once filling my diary.

With friends and family at work, the days soon became

lonely. Days spent with screens left me desperate

for tangible and meaningful interactions. It was this

need to get out of my own head that made me start doing

a very un-London thing – I started saying hello to the

people around me.

Without the need to rush anywhere, I was able to

stop and talk to the people I once ran past. I had the

oportunity to engage in real conversations with neighbours.

On the run lattes were enjoyed leisurely in local

coffee houses, where I got to know the staff and talk to

other customers. There was something intriguing about

the people sitting around me – why were they there

having a coffee in the middle of the day? I discovered a

whole other world of people closer to home which I never

saw before.

Getting the words out before the fear kicked in led

to some of the best conversations of my life. I met

new parents, the unemployed and retired. I met writers,

part-timers, entrepreneurs. People having time off,

visitors, and those who've lived here since before I was

born. Interesting folk all around me, alone during the day,

also seeking human-to-human connection.

I noticed a difference in my mood on the days I ventured

out. Listening to other people's stories helped

my own wellbeing. During those recovery days, I shared

tears, laughter and even hugs with complete strangers.

This wasn't about attending organised events. This

was about the daily satisfaction of connecting with each

other, sharing small moments away from the screen -

the moments that make us feel most alive.

It's the day when you're feeling pants and, on popping

out to buy milk, someone smiles at you. That moment lifts

your mood and kickstarts the happy endorphins scientifically

proven to be released when we smile back.

Connection is addictive. My hellos went from coffee

tables to shops. Retailers, usually too busy during weekend

visits, welcomed company during a quiet Monday

afternoon. I started to feel part of something bigger

than me. Right on my own doorstep.

Having since returned to city life, I keep a strong local

connection. Visiting the friends who once let me sit

in their shops for a cup of tea; I say hello to strangers

in queues; and leave the house five minutes earlier on

Tuesday to chat with George, who keeps our street clean.

My hope is that after reading this, you too feel inspired

to take that small risk in saying hello. It's such a

small, yet powerful, life-changing habit. But I warn you –

it's highly addictive, and it will spread happiness. •

instagram.com/luluandme.co

33
---
VILLAGE GREEN

Nordland Landscapes

North London's garden and landscape construction specialist

0203 623 1361

www.nordlandlandscapes.co.uk

PHOTO BY DAVID REEVE

TOLLY WANTS A BATH

For weeks, Muswell Hill's shop windows displayed posters

stating Tolly Wants a Bath. There was to be a three-day

fair to fundraise for the construction of a new swimming

bath at Tollington School.

Everything going spare was collected from the locale

to help the fundraiser and the fair, alongside other fundraisers,

successfully raised enough to construct the pool,

which opened in 1933. It had been a community-wide effort

over a number of years. In 1967, Tollington became Creighton,

and in 1983 Fortismere School. Thousands of children

learnt to swim in the pool, which was used for nearly 70

years, before it was closed down in the early 2000s.

Nature has since taken over, and the pool and surrounding

area has become a haven for wildlife, with visitors

including ducks and a heron. Wouldn't it be great to

see it brought back to life as a pool again, serving the

school and the community?

To advertise in the

December/January

issue of Village Raw

magazine contact

ads@villageraw.com

34
---
ILLUSTRATION BY @WOOZYMACHINETATTOOS