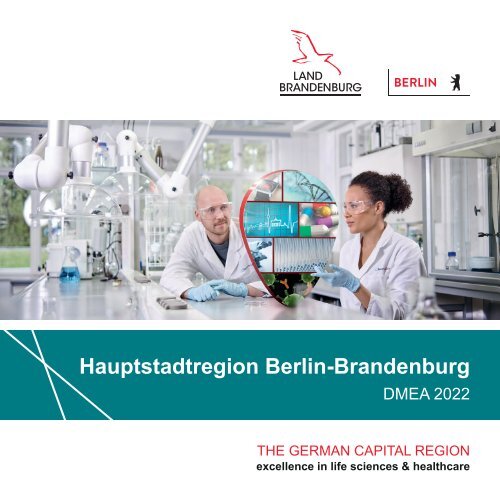 Berlin Brandenburg at DMEA 2022
Create successful ePaper yourself
Turn your PDF publications into a flip-book with our unique Google optimized e-Paper software.
Hauptstadtregion Berlin-Brandenburg

DMEA 2022

THE GERMAN CAPITAL REGION

excellence in life sciences & healthcare
---
2

Gemeinschaftsstand der Hauptstadtregion

Berlin-Brandenburg

Information ................................................. i

Halle 3.2, Stand D 103

3d-berlin vr solutions GmbH ...................... 2

4QD – Qualitätskliniken.de GmbH ........... 11

BDS Digital Health Solutions GmbH ......... 7

Berlin Institute of Health at Charité (BIH) .. 1

Berlin Partner für Wirtschaft und

Technologie GmbH ..................................... i

Condat AG ................................................ 4

Doc Cirrus GmbH .................................... 6

Dytter GmbH ........................................... 12

EMnify GmbH ........................................ 14

GHC Global Health Care GmbH ............. 16

HealthCapital Berlin-Brandenburg .............. i

IGES Institut GmbH .................................. 5

MEDIIO GmbH ........................................ 9

nursIT Institute GmbH ............................ 10

PHOEBUS IT Consulting GmbH ............. 17

secrypt GmbH ........................................ 13

Standortmanagement Golm GmbH ......... 15

Startup Campus Germany ........................ 8

Vilua Healthcare GmbH .......................... 18

ViREQ software solutions

GmbH & Co. KG ....................................... 3

Wirtschaftsförderung Land

Brandenburg GmbH (WFBB) ..................... i
---
3

Cluster Gesundheitswirtschaft Berlin-Brandenburg – HealthCapital

Die Region Berlin-Brandenburg ist international

einer der führenden Standorte in den Life

Sciences und der Gesundheitswirtschaft. Die

Stärke der Region liegt vor allem in der einzigartigen

Forschungs- und Kliniklandschaft

sowie in der engen Vernetzung zwischen

den Akteuren aus Forschung, Klinik und Industrie.

Zahlreiche Technologieparks und

die Netzwerke aus verschiedenen Bereichen,

insbesondere der Biotechnologie und

Medizintechnik, bilden eine hervorragende

Infrastruktur für die Überführung neuester

wissenschaftlicher Erkenntnisse in innovative

Produkte der Gesundheitswirtschaft.

The Healthcare Industries Cluster Berlin-Brandenburg

– HealthCapital – is one of

the leading life sciences and healthcare centers

in the world. The unique research and

clinic landscape, which is the region's major

strength, is supported by a close network of

key players from research, clinics and industry.

Here, numerous technology parks and

networks in different fields, above all biotechnology

and medical technology, create an

excellent infrastructure for transforming the

latest scientific findings into innovative products

and services for the healthcare sector.

HealthCapital Berlin-Brandenburg c/o Berlin

Partner für Wirtschaft und Technologie GmbH

Fasanenstr. 85

10623 Berlin

contact Dr. Kai Uwe Bindseil

phone +49 (0)30 463 02-463

info@healthcapital.de

www.healthcapital.de
---
4

3d-berlin vr solutions GmbH

3d-berlin macht Ihr Gebäude intelligent. Wir

bieten digitale Dienstleistungen für Orientierung,

Information und Navigation in Gebäuden.

Unsere Wayfinding-Lösungen easyGuide,

easyMaps, mapsEngine und carFinder

sind für verschiedene Anwendungsbereiche

und Märkte wie Gesundheitswesen, Einzelhandel,

Bildung und Transport konzipiert. Wir

sind ein serviceorientiertes Unternehmen mit

modernen und kosteneffizienten Lösungen,

die sich leicht umsetzen lassen. Unsere Demo-Galerie:

demo.3d-berlin.com

3d-berlin makes your building smart. We offer

digital services for orientation, information

and navigation in buildings. Our wayfinding

solutions easyGuide, easyMaps, mapsEngine

and carFinder are designed for different

application areas and markets like healthcare,

education, retail and transportation. We

are a service-oriented company with modern

and cost-effective solutions, that are both

easy to setup and maintain. Our demo gallery:

demo.3d-berlin.com

3d-berlin vr solutions GmbH

Geisbergstr. 16

10777 Berlin

contact Adrian Zentner

phone +49 (0)30 9210700-0

info@3d-berlin.de

www.3d-berlin.de
---
5

4QD – Qualitätskliniken.de GmbH

DAS REHAPORTAL von Qualitätskliniken.de

vergleicht Rehakliniken anhand von wissenschaftlich

fundierten Qualitätsparametern

und unterstützt Patient:innen bei der Wahl

einer geeigneten Einrichtung. Dabei greift

DAS REHAPORTAL auf Daten von bundesweit

über 240 Rehakliniken zurück.

Rund 5 Millionen Patient:innen informieren

sich jedes Jahr im Portal über Krankheiten

und Behandlungen, die Möglichkeiten zur

Beantragung einer Reha sowie über Ausstattung

und Leistungsangebot von Kliniken.

Die User können über das Portal direkt mit

passenden Einrichtungen in Kontakt treten.

As an online platform DAS REHAPORTAL

powered by Qualitätskliniken.de aims to

compare rehab clinics based on easily understandable

and scientifically based facts

about the clinics quality. The platform also

supports patients, relatives and professionals

with their choice of an adequate clinic

that matches the patients' needs, based

upon data from more than 240 clinics in Germany.

Almost 5 million patients each year utilize the

reviewed information about cure and origin of

the most important diseases, the possibilities

to apply for a rehabilitation treatment as well

as facilities and service offers of the mentioned

clinics. Users can also get in touch with

the rehab facilities directly via the platform.

4QD – Qualitätskliniken.de GmbH

Friedrichstr. 60

10117 Berlin

contact Annabelle Neudam

phone +49 (0)30 32 50 36 50

info@qualitaetskliniken.de

www.qualitaetskliniken.de
---
6

BDS Digital Health Solutions GmbH

Mit unserer MedKitDoc-Plattform ermöglichen

wir Fernbehandlungen auf einem

gänzlich neuen Niveau. Durch die Kombination

unserer MedKitDoc App, geschulter

Fachärzte und unserem MedKit können

wir ein patientenzentriertes, hochwertiges

und digitales Angebot ermöglichen. Unsere

medizinisch zertifizierte App ermöglicht eine

schnelle Terminvereinbarung und Zugang

zu qualifizierten Fachärzten. Alle Fachärzte

werden speziell auf Ferndiagnostik mit unserer

Lösung geschult. Das MedKit beinhaltet

zertifizierte Medizingeräte (z.B. das digitale

Stethoskop), die sich während der Behandlung

per Bluetooth mit der App verbinden

und Vitaldaten in Echtzeit übermitteln.

With our MedKitDoc platform, we enable

remote consultation on a whole new level.

By combining our MedKitDoc app, trained

specialists and our MedKit, we are able to

provide a patient-centric, high-quality, and

digital offering. Our medically certified app

enables quick appointment scheduling and

access to qualified specialists. All specialists

are trained on remote diagnostics with our

solution. The MedKit includes certified medical

devices (e.g. stethoscope) that connect

to the app via Bluetooth during consultation

and transmit vital data in real time.

BDS Digital Health Solutions GmbH

Wilhelmstr. 17

34346 Hann. Münden

contact Jule Ehrlich

phone +49 (0)30 30 80 80 86

mail@medkitdoc.de

www.medkitdoc.de
---
7

Berlin Institute of Health at Charité (BIH)

Die Mission des Berlin Institute of Health in

der Charité (BIH) ist die medizinische Translation:

Erkenntnisse aus der biomedizinischen

Forschung werden in neue Ansätze

zur personalisierten Vorhersage, Prävention,

Diagnostik und Therapie übertragen, umgekehrt

führen Beobachtungen im klinischen

Alltag zu neuen Forschungsideen. Ziel der

rund 400 Wissenschaftler*innen ist es, einen

relevanten medizinischen Nutzen für Patient*innen

und Bürger*innen zu erreichen.

Dazu etabliert das BIH ein umfassendes

translationales Ökosystem, setzt auf ein

organübergreifendes Verständnis von Gesundheit

und Krankheit und fördert einen

translationalen Kulturwandel in der biomedizinischen

Forschung.

The mission of the Berlin Institute of Health at

Charité (BIH) is medical translation: transferring

biomedical research findings into novel

approaches to personalized prediction, prevention,

diagnostics and therapy and, conversely,

using clinical observations to develop new

research ideas. The aim of its more than 400

scientists is to deliver relevant medical benefits

to patients and the population. The BIH is

also committed to establishing a comprehensive

translational ecosystem – one that places

emphasis on a system-wide understanding of

health and disease and that promotes change

in the biomedical research culture.

Berlin Institute of Health at Charité (BIH)

Anna-Louisa-Karsch-Str. 2

10178 Berlin

info@bih-charite.de

www.bihealth.org
---
8

Berlin Partner für Wirtschaft und Technologie GmbH

Wirtschafts- und Technologieförderung für

Unternehmen, Investoren und Wissenschaftseinrichtungen

in Berlin – das bietet

die Berlin Partner für Wirtschaft und Technologie

GmbH. Zahlreiche Fachexperten bilden

mit maßgeschneiderten Services und einer

exzellenten Vernetzung zur Wissenschaft

ein optimales Angebot, um Innovations-, Ansiedlungs-,

Expansions- und Standortsicherungsprojekte

zum Erfolg zu führen.

Als einzigartige Public-Private-Partnership

stehen hinter Berlin Partner für Wirtschaft

und Technologie sowohl der Senat des

Landes Berlin als auch mehr als 230 Unternehmen,

die sich für ihre Stadt engagieren.

Zudem verantwortet Berlin Partner das weltweite

Marketing für die deutsche Hauptstadt.

Business and technology support for companies,

investors and scientific institutions in

Berlin – this is the Berlin Partner für Wirtschaft

und Technologie GmbH mission. With customized

services and an excellent science

and research network, our many experts

provide an outstanding range of programs

to help companies launch, innovate, expand

and secure their economic future in Berlin.

A unique public-private partnership, Berlin

Partner for Business and Technology collaborates

with the Berlin State Senate and more

than 230 companies dedicated to promoting

their city. Berlin Partner is also responsible for

marketing the German capital to the world.

Berlin Partner für Wirtschaft

und Technologie GmbH

Fasanenstr. 85

10623 Berlin

contact Petra Schmauß

phone +49 (0)30 463 02-463

petra.schmauss@berlin-partner.de

www.berlin-partner.de
---
9

Condat AG

Die Berliner Condat AG unterstützt Krankenhäuser

und Gesundheitseinrichtungen

bei der umfassenden und integrierten Digitalisierung

von Informationswegen und

Prozessen. Mit der Smart Health Solution

stellen wir eine ausgereifte, cloudbasierte

Lösungsplattform bereit, die mit individuell

kombinierbaren Modulen die Abbildung und

Optimierung einer Vielzahl an Prozessen

und Geschäftsmodellen ermöglicht. Zu den

Anwendungsfeldern der Plattform gehören

Projektmanagement-Lösungen für die erfolgreiche

Umsetzung von KHZG-Vorhaben,

die Umsetzung von Mitarbeiterportalen und

-Apps sowie integrierte Systeme für das Bewerbermanagement.

Berlin-based Condat AG enables hospitals

and health facilities to transfer communication

channels and processes to the digital world.

Our Smart Health Solution is a cloudbased

platform that supports transforming

and optimizing a large number of processes

and business models. With our "mix and

match" approach, customers tailor a solution

that fits their individual needs. Platform use

cases include project management solutions

for KHZG projects, the implementation of

employee portals and apps and integrated

systems for applicant management.

Muster Condat GmbH AG

Musterstraße Alt-Moabit 91 D12

12345 10559 Musterstadt

Berlin

contact Max Mr. Tobias Mustermann Hildebrandt

phone +49 (0)123 (0)30 39456-12

49-0

max.mustermann@absender.de

sales@condat.de

www.absender.de

condat.de/healthcare
---
10

Doc Cirrus GmbH

Doc Cirrus ist ein ISO-zertifizierter Anbieter

zukunftsweisender Gesundheits-IT. Mit der

KBV-zertifizierten Praxis- und MVZ-Software

inSuite modernisieren und vereinfachen wir

die IT Ihrer medizinischen Einrichtung(en)

durch maßgeschneiderte Lösungen auf Basis

unserer Hybrid-Cloud-Architektur. Doc

Cirrus wurde 2012 gegründet, um mithilfe

einer neuen Softwaregeneration und offenen

Plattform das Gesundheitswesen vernetzter,

einfacher und damit wieder menschlicher zu

gestalten, zum Wohle von Ärzten und Apothekern,

ihren Teams und Patienten. Wir helfen

Ihnen, die Chancen moderner Gesundheits-IT

zu nutzen – vom ersten Testen bis

hin zum Support – und freuen uns auf Sie:

persönlich oder auf www.doc-cirrus.com

Doc Cirrus is an ISO-certified provider of pioneering

and high-security healthcare-IT. in-

Suite is the world's first turnkey solution for

3rd generation practice management software:

a unique system for electronic health

records, medical billing and patient communication

– turning practices and medical centers

into digital hubs for integrated and efficient

care. With inSuite, physicians use PC, Mac,

Tablet and mobile devices, provide consultations

using video conferencing, online appointments,

refer patients online and monitor

vital signs received directly from wearables

or medical devices – thanks to the use of the

Doc Cirrus Datasafe with local data storage.

Muster Doc Cirrus GmbH GmbH

Musterstraße Bessemerstr. 12 82

12345 12103 Musterstadt

Berlin

contact Max Isabell Mustermann Maier

phone +49 (0)123 (0)30 208 456-12 987 295

max.mustermann@absender.de

service@doc-cirrus.com

www.absender.de

www.doc-cirrus.com
---
11

Dytter GmbH

Dytter ist eine Technologie-Plattform, die

Gesundheits- und Pflegeeinrichtungen

mit Pflegefachkräften zusammenbringt.

Dytter verfügt über eine innovative Lösung

in Form einer Plattform und Apps, durch die

sich beide Parteien leicht finden können und

Angebot und Nachfrage zusammenkommen.

Pflege erfordert Flexibilität. Durch den Einsatz

modernster Technologie ermöglicht Dytter

Pflegekräften eine flexible Arbeitsweise.

Sie können wählen, wo, wann und zu welchen

Konditionen sie arbeiten. Für Einrichtungen

verringert sich der administrative

Aufwand und neue Mitarbeiterpools können

erschlossen werden.

Dytter is a technology platform that

connects healthcare and nursing facilities

with care professionals.

Dytter has an innovative solution in the form

of a platform and apps through which both

parties can easily find each other and supply

and demand come together.

Nursing requires flexibility. By using the latest

technology, Dytter enables caregivers to

work flexibly. They can choose where, when

and under what conditions they work. For facilities,

the administrative burden is reduced

and new staff pools can be tapped.

Muster Dytter GmbH

Musterstraße Budapester Str. 1246

12345 10787 Musterstadt

Berlin

contact Max Mustermann

phone contact +49 Julia (0)123 Eichler 456-12

max.mustermann@absender.de

julia.eichler@dytter.com

www.absender.de

www.dytter.de
---
12

EMnify GmbH

EMnify ist der führende Cloud Communication

Platform-Anbieter für die Mobilfunkkommunikation

im IoT-Stack, der weltweit

Millionen von IoT-Geräten verbindet

– von Elektrofahrzeugen über Energiezähler,

Alarmsysteme und GPS-Tracker bis hin zu

Thermometern und Gesundheits-Wearables.

Die EMnify-API- und SIM-Technologie verbindet

jede Art von IoT-Implementierung

sicher mit ihrem Application-Backend. Die

Cloud-nativen Integrationen und No-Code-

Workflows von EMnify gewährleisten eine

nahtlose Skalierbarkeit über den gesamten

Lebenszyklus für Implementierungen jeder

Größe – vom lokalen Start-up bis zum globalen

Unternehmen.

EMnify is a leading cloud building block for

cellular communications in the IoT stack,

connecting millions of IoT devices globally

– from electric vehicles to energy meters,

alarm systems to GPS trackers, thermometers

to health wearables. The EMnify API and

SIM technology connect and secure any kind

of IoT deployment to its application backend.

EMnify's cloud-native integrations and

no-code workflows ensure seamless lifecycle

scalability for deployments of all sizes –

from local start-up to global enterprise.

Muster EMnify GmbH

Musterstraße Charlottenstr. 12 2

12345 10969 Musterstadt

Berlin

contact Max Masha Mustermann Kovaleva

phone +49 (0)123 (0)30 555 456-12 733 333

max.mustermann@absender.de

mail@emnify.com

www.absender.de

www.emnify.com
---
13

GHC Global Health Care GmbH

Die GHC Global Health Care GmbH bietet

fortgeschrittene medizinische Versorgung

der Bevölkerung durch innovative telemedizinische

Fernbehandlung von Patienten an.

Die hierfür entwickelten Produkte der Aescu-

Link-Reihe wurden unter anderem von der

Charité validiert und sind nach dem MPG als

Medizinprodukte zur Fernbehandlung zugelassen.

Wirkliche Telediagnostik – an jedem Ort, zu

jeder Zeit!

GHC Global Health Care GmbH offers

advanced medical care to the population

through innovative telemedical remote treatment

of patients. The products of the AescuLink

series developed for this purpose

have been validated by the Charité, among

others, and are approved according to the

MPG as medical products for remote treatment.

Real telediagnostics – at any place, at any

time!

GHC Global Health Care GmbH

Charitéplatz 1

10117 Berlin

contact Georg Frenzel

phone +49 (0)30 450 578 690

info@ghc-tech.com

www.ghc-tech.com
---
14

IGES Institut GmbH

Die Spezialisten von IGES unterstützen

Sie in allen Fragen des Marktzugangs und

der Kostenerstattung für digitale Gesundheitsprodukte.

Unser Schwerpunkt liegt auf

Deutschland, aber wir bieten diese Dienstleistungen

auch für Frankreich und Großbritannien

über unsere dortigen Tochtergesellschaften

an. Unsere Experten bewerten

das Marktpotenzial, analysieren das Wettbewerbsumfeld

und evaluieren die jeweiligen

Erstattungsanforderungen. Wir führen auch

die erforderlichen klinischen Studien durch.

Dies ermöglicht einen nahtlosen Markteintritt.

Wir verfolgen einen analytischen Ansatz

und helfen Anbietern von digitalen Gesundheitslösungen,

die neuesten Methoden und

Techniken zu nutzen, um in die europäischen

Märkte einzutreten.

The specialists at IGES support you in all

matters relating to market access and reimbursement

for digital health products. Our

focus is on Germany, but we also provide

these services for France and the UK through

our subsidiaries there. IGES helps to strategically

develop European markets. Our

experts assess the market potential, analyze

the competitive environment and evaluate the

respective reimbursement requirements. We

also conduct the necessary clinical trials. This

enables a seamless market entry. We take

an analytical approach to commercialization

and help digital health providers leverage the

latest tools, techniques and in-depth healthcare

knowledge to enter European markets.

IGES Institut GmbH

Friedrichstr. 180

10117 Berlin

contact Dr. Tilo Mandry

phone +49 (0)30 230 809 0

international@iges.com

www.iges.com
---
15

MEDIIO GmbH

BI-Applikationen im sekundären und tertiären

Leistungsumfeld (Medical, Arzneimittel,

Wäsche, ZSVA/AEMP) zur Prozess- und

Kostenoptimierung in Krankenhäusern

MEDIIO-Plattform das Prozesssystem für

die "Supply Chain" vom Hersteller bis zum

Endverbraucher

Datenmanagement zur nachhaltigen Unterstützung

von Herstellern und Kliniken im

Rahmen der Prozesssysteme

MEDIIO GmbH

Kurfürstenstr. 9

14467 Potsdam

contact Grischa Kraus

phone +49 (0)331 769 9051-0

info@mediio.de

www.mediio.de
---
16

nursIT Institute GmbH

Die nursIT Institute GmbH ist spezialisiert

auf Dienstleistungen und Softwareprodukte

für die größten Stakeholder im Gesundheitsmarkt

– die Pflegefachkräfte. Das Unternehmen

verwendet ein bewährtes Modell der

strukturierten Pflege, mit dem Ziel der Reduzierung

von Arbeitsaufwand und Kosten bei

gleichzeitiger Verbesserung der Pflegedokumentation

und Pflegequalität. Das zugrundeliegende

Modell basiert auf vier Säulen:

Prozessmanagement, Technik, Ausbildung

und Pflegeökonomie. Aus diesen vier Säulen

entwickelte nursIT das Produkt "careIT".

The nursIT Institute GmbH specializes in services

and products for the largest group of

stakeholders in the health care market – the

nursing professionals. The company uses

a proven model of structured care, with the

goal of reducing costs and improving the

quality of care as well as employee satisfaction.

The model is based on four pillars:

process management, technology, training

and care economics. nursIT is confident that

the use of the structured care implemented

via its product careIT is the solution for this

problem.

nursIT Institute GmbH

Pfalzburger Str. 71 A

10719 Berlin

contact Heiko Mania

phone +49 (0)174 996 27 64

mania@nursit.institute

www.nursit-institute.de
---
17

PHOEBUS IT Consulting GmbH

Die PHOEBUS IT Consulting GmbH setzt

seit über 20 Jahren MIS/ BI Lösungen für

Krankenhäuser und Kliniken um. Zusätzlich

zum DataWarehouse bieten wir eine integrierte

Kostenträgerrechnung sowie eine inhaltliche

Unterstützung zur Umsetzung der

Kalkulation. Bei der InEK- Kalkulation sind

wir seit Beginn dabei. Neben den klassischen

Data Warehouse Themen, die richtigen

Daten am richtigen Ort zur richtigen Zeit,

liegen uns die Regeln zur Visualisierung der

Informationen am Herzen, damit Ihr wertvoller

Datenschatz auch die gewünschte Wirkung

entfalten kann.

PHOEBUS IT Consulting GmbH provides

data warehouse based integrated controlling

solutions. The solutions stand out by

combination of a management information

system and cost accounting tools. Therefore,

we do not only provide quick and flexible

access to all saved information but also offer

the possibility to calculate complex processes,

products or divisions. Information is

made available to you immediately. We offer

well-founded consultation and detailed industry

knowledge in health care.

PHOEBUS IT Consulting GmbH

Neuendorfer Str. 71

14770 Brandenburg

contact Nardin Maul

phone +49 (0)3381 21 35 10

info@phoebus.de

www.phoebus.de
---
18

secrypt GmbH

Die im Jahr 2002 gegründete secrypt GmbH

ist mit der digiSeal®-Produktfamilie spezialisiert

auf gesetzeskonforme E-Signaturen,

E-Siegel und Zeitstempel zur Gewährleistung

von Integrität und Authentizität sensibler

digitaler Daten.

Der neue Webservice digiSeal®web basiert

auf modernsten Webtechnologien und integriert

die Nutzung von E-Signatur, E-Siegel,

Zeitstempel und Signatur-Verifikation schnell

und schlank in webbasierte dokumentenführende

Systeme (z.B. KIS, DMS, PVS).

Anwendungsszenarien: Arztbriefe signieren

mit HBA oder Fernsignatur, Entlassbriefe mit

E-Siegel schützen, Patienten-Unterschrift

auf Tablet, Bestandsakten ersetzend scannen,

Beweiswerterhaltung im E-Archiv

secrypt GmbH was established in 2002 and

with its digiSeal® product line it specializes

in legally compliant e-signatures, e-seals and

timestamps to ensure the authenticity and integrity

of sensitive electronic data.

The new state of the art webservice digiSeal®web

is based on modern web technology

and integrates the usage of e-signatures,

e-seals, timestamps and signature verification

easily into web-based document management

systems (e.g. HIS, PAS).

secrypt GmbH

Bessemerstr. 82

12103 Berlin

contact Nastassja Scherling

phone +49 (0)30 756 597 80

mail@secrypt.de

www.secrypt.de
---
19

Standortmanagement Golm GmbH

Der Potsdam Science Park gehört zu den

bekanntesten Innovationsstandorten der

Hauptstadtregion Berlin-Brandenburg. Im

Potsdam Science Park trifft internationale

Spitzenforschung auf exzellente Ausbildung

und forschungsnahe Produktion. Drei Institute

der Max-Planck-Gesellschaft, zwei

Institute der Fraunhofer-Gesellschaft sowie

der größte Campus der Universität Potsdam

machen den Potsdam Science Park zu einem

erstklassigen Standort für Forschung

und Entwicklung – auch im Bereich Digital

Health. Aktuell gibt es zahlreiche verfügbare

Büro- und Laborflächen zur Miete auf dem

jüngst erweitertem Areal der Innovationszentren.

Der Standort ist optimal an Berlin und

den BER angebunden.

The Potsdam Science Park is one of the

best-known innovation locations in the Berlin-Brandenburg

metropolitan region. The

Potsdam Science Park is where top international

research meets excellent education and

research-based production. Three institutes

of the Max Planck Society, two institutes of

the Fraunhofer-Gesellschaft as well as the

largest campus of the University of Potsdam

make the Potsdam Science Park a first-class

location for research and development - also

in the field of digital health. There are currently

numerous available office and laboratory

space for rent on the recently expanded

Innovation Centres site. The location is

optimally connected to Berlin and the BER.

Standortmanagement Golm GmbH

Am Mühlenberg 11

14476 Potsdam

contact Anja Lauterbach

phone +49 (0)331 237 351 135

info@potsdam-sciencepark.de

www.potsdam-sciencepark.de
---
20

Startup Campus Germany GmbH

Startup Campus Deutschland ist Ihre Niederlassung

als Dienstleistung und bietet

einzigartige Möglichkeiten zum Einstieg in

den deutschen Markt! Als internationaler Accelerator

richtet sich unser Programm an innovative

Unternehmen aus der ganzen Welt

und konzentriert sich auf verschiedene Strategien

für einen erfolgreichen Markteintritt.

Unsere Kunden kommen aus Norwegen,

Ungarn, Großbritannien, Portugal und vielen

anderen Ländern, die wir mit ihren herausragenden

Ideen im Gesundheits-, IT- und

Logistik Sektor vertreten. Nun möchten wir

Ihnen die Möglichkeit bieten, uns und unsere

Kunden vor Ort auf der DMEA, Halle 3.2,

Stand D-103 zu treffen!

Startup Campus Germany is your subsidiary

as a service and offers unique possibilities to

enter the German market! As an international

accelerator, our program addresses innovative

businesses from all over the world and

focuses on different strategies for a successful

entrance to the market. With our clients

coming from Norway, Hungary, UK, Portugal,

and many other countries we represent outstanding

ideas in the health, IT and logistic

sector and would like to offer you the chance

to meet us on-site at DMEA, hall 3.2, booth

D-103!

Startup Campus Germany GmbH

Rosenheimer Str. 143 C

81671 München

contact Franziska Mieland

phone +49 (0)176 462 942 17

franziska.mieland

@startupcampusberlin.com

www.startupcampusgermany.com
---
21

Vilua Healthcare GmbH

Die Vilua Healthcare GmbH ist einer der

führenden deutschen Anbieter von datenbasierten,

nutzerzentrierten Lösungen für

die Gesunderhaltung. In Zusammenarbeit

mit universitären Einrichtungen, wie z.B. der

Universität Greifswald entwickelt Vilua validierte,

wissenschaftlich begleitete Produkte

für den Gesundheitsmarkt. Unser Angebot

umfasst digitale und hybride Präventionsund

Versorgungslösungen für Krankenkassen

und pharmazeutische Unternehmen

sowie BGM für Unternehmen. Mit der App

Vilua+ fördert Vilua die Gesundheit von Mitarbeitern,

Versicherten und Patienten durch

persönliche und nachhaltige Gesundheitsempfehlungen.

Vilua Healthcare GmbH is one of the leading

German providers of data-based, user-centric

solutions for health maintenance. In

collaboration with university institutions,

such as the University of Greifswald, Vilua

develops validated, scientifically supported

products for the healthcare market. Our offering

includes digital and hybrid prevention

and care solutions for health insurers and

pharmaceutical companies as well as BGM

for companies. With the app Vilua+, Vilua

promotes the health of employees, insured

persons and patients through personal and

sustainable health recommendations.

Vilua Healthcare GmbH

Ehrenbergstr. 19

10245 Berlin

contact Malike Gümrükcü

Frauke Steuer

phone +49 (0)30 343 49 19-0

kontakt@vilua.de

www.vilua.de
---
22

ViREQ software solutions GmbH & Co. KG

ViREQ entwickelt medizinische Kommunikations-

und Informationssysteme mit dem

Anspruch an einfacher Bedienung, flexibler

Anwendbarkeit und stabilem Betrieb. Dabei

verlassen wir uns auf erprobte Technologien,

auf unser ausgewiesenes Qualitätsmanagement

und auf die Erfahrungen unseres spezialisierten

Teams.

Seit 2010 betreuen wir europaweit Kliniken

und Labore – immer angetrieben von unserer

Leidenschaft die tägliche medizinische

Arbeit unserer Kunden und Partner zu vereinfachen.

ViREQ develops medical communication

and information systems with the demand

for simple operation, flexible applicability and

stable operation. We rely on proven technologies,

on our proven quality management

and on the experience of our specialized

team.

Since 2010 we have been serving clinics and

laboratories across Europe - always driven

by our passion to simplify the daily medical

work of our customers and partners.

ViREQ software solutions GmbH & Co. KG

Carl-Reichenstein-Str. 11

14770 Brandenburg an der Havel

contact René Mewes, Christoph Trapp,

Peter Wierszewski

phone +49 (0)3381 331 98 40

info@vireq.com

www.vireq.com
---
23

Wirtschaftsförderung Land Brandenburg GmbH

Die Wirtschaftsförderung Land Brandenburg

GmbH (WFBB) ist Ansprechpartner für

Investoren, ansässige Unternehmen und

technologieorientierte Existenzgründungen

im Land Brandenburg. Die WFBB bietet alle

Leistungen zur Wirtschafts- und Arbeitsförderung

aus einer Hand – von der Unterstützung

bei der Ansiedlung und Erweiterung

über Innovationen, Internationalisierung und

Vernetzung bis zur Fachkräfteakquisition

und -qualifizierung sowie in ihrer Rolle als

Energieagentur des Landes. Sie unterstützt

die Weiterentwicklung der branchenbezogenen

Wirtschaftscluster des Landes Brandenburg

und der deutschen Hauptstadtregion.

The Economic Development Agency Brandenburg

(WFBB) is the central point of contact

for investors, companies based in the

state of Brandenburg and technology-oriented

start-ups. WFBB offers a broad array of

services for economic development and the

promotion of employment: From supporting

a company's establishment and its expansion

to promoting innovations, internationalization

and networking as well as the acquisition

and qualification of a skilled workforce.

As Brandenburg's Energy Agency, WFBB is

also closely linked to the implementation of

the state's energy strategy. Furthermore, we

support the development of sector-specific

innovation clusters in the state of Brandenburg

and the German Capital Region.

Wirtschaftsförderung Land

Brandenburg GmbH

Babelsberger Str. 21

14473 Potsdam

contact Bastian Kuhse

phone +49 (0)331 730 61-258

bastian.kuhse@wfbb.de

www.wfbb.de
---
24

Gemeinschaftsstand der Hauptstadtregion Berlin-Brandenburg auf der DMEA 2022

im Auftrag:

Senatsverwaltung für Wirtschaft,

Energie und Betriebe

Ministerium für Wirtschaft, Arbeit

und Energie

organisiert und durchgeführt von:

Berlin Partner für Wirtschaft und

Technologie GmbH

Fasanenstr 85

10623 Berlin

Marina Mertsching

Tel. +49 (0)30 46302-453

marina.mertsching@berlin-partner.de

mit Unterstützung von:

EUROPÄISCHE UNION

Europäischer Fonds für

regionale Entwicklung

© 2022 Ausstellerverzeichnis

"Gemeinschaftsstand der Hauptstadtregion Berlin-Brandenburg" auf der DMEA 2022

Redaktion: Berlin Partner für Wirtschaft und Technologie GmbH