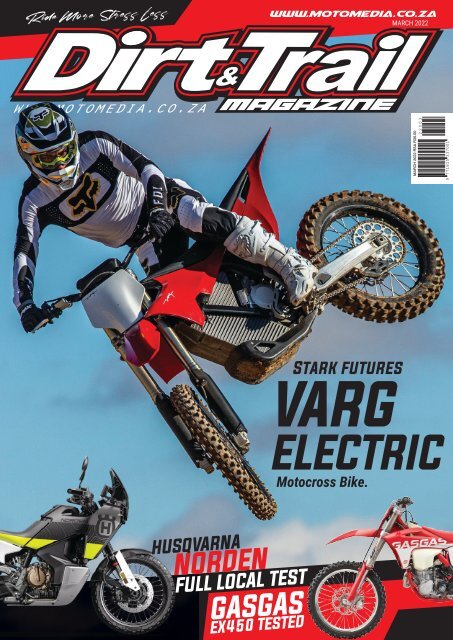 Create successful ePaper yourself
Turn your PDF publications into a flip-book with our unique Google optimized e-Paper software.
Ride More Stress Less

www.motomedia.co.za

MARCH 2022

22003

MARCH 2022 RSA R35.00

9 771815 337001

Stark futures

VARG

ELECTRIC

Motocross Bike.

HUSQVARNA

NORDEN

FULL LOCAL TEST

GASGAS

EX450 TESTED
---
© FIVE GLOVES 2021 Photo : @viniciusbranca / Fotop *Le privé volant du Dakar Rallye

PROTECTION / FITTING / DESIGN

FIVE E2 «XDS Special»

Navy / White / Gold

*Current model

not available in sa

XAVIER

DE

SOULTRAIT

DAKAR

RALLYE

FLYING

PRIVATEER *

ENDURO E2 MXF4 MXF3 TFX3

STUNT EVO

RFX3

R1095 INLC VAT R595 INLC VAT R495 INLC VAT R1295 INLC VAT R1450 INLC VAT R2495 INLC VAT

AVAILABLE FROM YOUR NEAREST PBA DEALER

CAPE PROVINCE

CRAIGS MOTORCYCLE

NEVES MOTORCYCLE WORLD

TRAC MAC BELLVILLE

TRAC MAC PAARDEN EILAND

TRAC MAC WYNBURG

NORTHWEST

BIKERS PARADISE

WATERITE MOTORCYCLES

FREE STATE

SALLEYS YAMAHA

021 939 8916

021 930 5917

021 945 3725

021 510 2258

021 761 4220

018 297 4700

018 771 5050

051 430 3326

GAUTENG

BIKERS WAREHOUSE

BIKING ACCESSORIES

FAST KTM

FIRE IT UP

GAME SERVICES

MOTO MATE EDENVALE

MOTO MATE RIVONIA

MOTO MATE BOKSBURG

PRIMROSE MOTORCYCLES

SILVERTON MIDAS

ZEEMANS MOTORCYCLES

LEKKA RACING

ALBERTON YAMAHA

011 795 4122

012 342 7474

011 867 0092

011 467 0737

011 425 1081

011 027 0545

011 234 5275

011 025 8272

011 828 9091

012 804 8888

011 435 7177

084 080 8237

011 869 2022

KZN

PERRY MOTORCYCLES CC

RBS YAMAHA

RIDE HIGH WITH YAMAHA

ROCKET RACING PMB

ROCKET RACING PINETOWN

UMPLEBY SUZUKI

LIMPOPO

KR MOTORCYCLES

031 566 7411

031 701 1311

035 789 1581

033 264 3240

031 702 2606

031 303 8323

015 297 3291
---
Intro. Keeping the wheels turning...

MARCH Issue 2022

We wanna hear from you info@motomedia.co.za

Read our back issues at www.motomedia.co.za

Hi Guys

A serious one this month- and for good reason, especially, it seems amongst our Adventure Motorcycle

riding friends.

We are often sent or made aware of riders who go on to forums and have a good moan about a tyre

that they bought and fitted and... the tyre broke and now its the worst brand on the planet and and

and...

Upon further investigation it turns out that most of the time, the person was riding with the incorrect

tyre for the application - and as a result, the tyres fail.

Just last week, one of the tyre importers was on his way back from a race when two guys on big

Beemers shot past him at big speeds. He found them at the next stop and sauntered across to see

what they were running. The tyres (his brand) fitted were rated for lower speed adventuring - not

high speed tar riding.

He spoke to the guys and they looked at him as if he was mad... "That's the tyres the dealership

fitted!"

So - one of two things is happening.

Either Dealers are selling the incorrect tyres for the application. OR and this is the more likely

scenario...

Buyers are not paying attention to what the dealers say and are listening to buddies or buying an

incorrectly rated tyre for your application.

Guys - it's dangerous stuff - your tyres are the bits that keep you upright on the road and we don't

need to tell you that a failure can be catastrophic.

As bikes get faster and more powerful, we all need to pay attention to how we use them.

Do some homework. Get the correct rubber. What does your motorcycle manual say?

Don't just listen to your chommie who knows everything.

More about all of this in next months issue.

PUBLISHER:

Glenn Foley

foleyg@mweb.co.za

ADVERTISING AND EDITORIAL:

Sean Hendley

sean@motomedia.co.za

071 684 4546

OFFICE &

SUBSCRIPTIONS:

Anette

anette.acc@ mweb.co.za

ONLINE &

DESIGN LAYOUT:

Kyle Lawrenson

kyle@motomedia.co.za

Cape Town Sales and News:

Lorna Darrol

lornad@motomeda.co.za

074 122 4874

PHOTOGRAPHY

Stefan van der Riet

CONTRIBUTORS

Shado Alston

Donovan Fourie

Tristan Foley

Kurt Beine

Mike Wessels

Mizz B

Kyle Foley

Videos and more

available online...

Copyright © Dirt And Trail Magazine: All rights reserved. No part of this publication may be reproduced,

distributed, or transmitted in any form or by any means, including photocopying, articles, or other methods,

without asking nicely...

WWW.MOTOMEDIA.CO.ZA

no 4

Nor

Ema

www
---
Africa ' s

Widest range of Motorcycle parts

RACETECH Caters for MX, ENDURO, TRAIL RIDING, SUPERMOTO, FREESTYLE, SPORT & RECREATIONAL

ATVS, ROAD RACING, SPORTS BIKES, TOURERS, VINTAGE BIKES, CRUISERS AND HARLEYS

L:

Spring Kits Available

WISECO PISTON KITS Wiseco leads the aftermarket performance kits by producing the

highest quality pistons on the highest quality forgings.

:

HOTRODS CRANKS AND RODS HOT RODS HAS BEEN MAKING THE BEST AFTERMARKET

CRANKSHAFTS AND CONNECTING RODS SINCE 1993.

KPMI® PRODUCT BRAND COVERAGE INCLUDE:

HARLEY DAVIDSON'S, SPORT BIKES, DIRT BIKES,

ATV/UTV'S, TOURERS, CRUISERS, CUSTOMS AND

CLASSICS

PIVOT WORKS BEARING KITS FOR MX,

ENDURO, ATV AND STREET BIKES. WHEEL BEARINGS,

SWING ARM BEARINGS AND LINKAGE.

no 4 Fifth avenue

Northmead Benoni

Email:G124@mweb.co.za 011 425 1081/4

www.gameservices.co.za
---
Scorpion Exo-Com Communication System

The Exo-Com is the custom intercom system that slots perfectly

into the company's new smart enabled EXO-T520 and

EXO-GT930 helmets and soon to fit the new ADX 2 Adventure

helmet. If needed for another brand, Scorpion does supply an

external bracket, but then the unit stands proud.

According to Scorpion, the communication system is supposed

to be an accessory that makes your driving experience

easier and smoother. No more crackling and inaudible

dialogue, say hello to HD sound in your helmet! The Boost 2.0

headphones are equipped with an equalizer, bass booster and

balance function that can be easily adjusted via the dedicated

Scorpion app. uClear's patented dual microphone system with

noise reduction allows the communication system to transmit

only your voice by filtering out ambient noise like wind.

The EXO-COM features multitasking audio for listening and

sharing music, while the volume adjusts so you can clearly

understand nav announcements and issue voice commands.

Thanks to Bluetooth 5.0 technology, you can connect multiple

devices simultaneously (smartphone, GPS, MP3 player ...),

while the scalable mesh communication network DynaMESH

allows you to talk to a group of up to 4 riders without being interrupted

by the departure and return of a rider. The high-quality

EXO-COM product is also waterproof and IPX5 certified.

Chat to your dealer.

Trax Moto: Overall Dealer Of

The Year for Husqvarna.

The Busy Pretoria dealership, Trax Moto

has been awarded the overall 2021 Husqvarna

dealer of the year award – after only

a year of having the Husqvarna franchise.

It's not just about sales, it's about the

shops corporate identity, parts, sales and

backup.

A friendly, pro active bunch for sure!

Nice one.

www.traxmoto.co.za

R

Batt Tyres releases new

ATV tyre

The company announced that

they have released a new tyre

type in their ATV range see

picture A051. The tyre looks like

their well-known A033 but is a

lot lighter yet keeping its 6 ply

rating, geared for quads that

want the 4x4 tread pattern but

have lower capacity engines

which cannot drive the weight of

the standard A033 which has a

heavier carcass.

Size range available:

145/70-6, 16*8.00-7, 18*7.00-7,

18*9.50-8, 19*7.00-8, 22*10.00-

10, 23*7.00-10, 25*8.00-12,

25*10.00-12, 20*10.00-9,

21*7.00-10, 22*7.00-10,

22*10.00-9

www.biketyrewarehouse.com
---
KTM 350 EXC-F

KTM 350 EXC-F

KTM 350 EXC-F

KTM 350 EXC-F

Please make no attempt to imitate the illustrated riding scenes, always wear protective clothing and observe the applicable provisions of the road traffic regulations!

The illustrated vehicles may vary in selected details from the production models and some illustrations feature optional equipment available at additional cost.

RAISE THE BAR

RACE-REFINED

Ultra agile and impressively powerful, the KTM 350 EXC-F is ready

to conquer any trail. With no compromise in overall performance,

it's a wildcard in enduro competition the world over.

FIND OUT MORE AT WWW.KTM.COM

Photo: R. Schedl / KISKA GmbH
---
E1 Endurance helmet by

Shuberth.

This innovative dual sports helmet for enduro

touring and adventure bike riders offers

great comfort, flexibility and safety for on

and off-roading. It features the comfort and

useability of a flip-up helmet combining the

look and feel of a modern adventure helmet

with safety that comes with the technology of

a Schuberth helmet and conforms to the testing

standard ECE R 22.05 which means that it

can be used in most countries in the world.

The E1 is available in sizes from XS to 3XL

and conforms to head circumferences from

52 to 65 centimetres. That is measured above

your eyebrows and ears… basically where

your cap or beanie would sit. A complex air

channel system on the inside of the helmet

shell provides air flow. The Visor aeration

prevents the visor from misting-up. The large

regulatable auxiliary aeration on the chin

piece gives you space to breathe on demanding

tours. All Schuberth visors are optical

class 1. They warrant an undistorted view and

are anti-scratch treated and feature turbulators

for noise reduction on the visor edge.

The visor mechanics allow a quick exchange

completely without tools.

For more information or to find your closest

stockist go to www.dmd.co.za and while

you are there check out all the other great

products they import.

K1

R1

33

4,

R2

R2

R

S1

10

3 R2

4

R3

Ve

KT

13

8 R9 5

R1

B

UFO now available through AMP

We were recently invited along to attend After Market

Products launch of everything UFO.

AMP is the aftermarket division of Tuning Fork and

bring in a great range of products and recently they have

added UFO to that range. Everything from full plastic

body kits for your dirtbike in every conceivable colour

you can imagine to riding jerseys, pants, gloves and

boots, (kiddies' sizes also available).

Added to this, they are also doing stainless steel

bolt kits, so you don't have to use your ugly, old and

tarnished bolts with your brand-new plastics. They also

bringing in UFO's handguards, frame protectors, engine

covers, chain sliders and the like to really get your bike

looking slick and new.

UFO roost guards and chest protectors are also on

offer and our favourite is their enduro jacket for those

slightly crisp mornings and cool winter days out in the

saddle. To round it all off nicely they have also included

UFO's knee braces. Understandably they might not have

everything in stock right at this minute, but two more

containers are due in the coming weeks and they are

busy putting new orders together all the time so the

range will just keep growing as the market dictates.

So, if you're after something in particular and don't mind

waiting while they order it for you give them a shout.

They have also landed some of the older bike plastics,

which barely touched the shelves and were snapped up

and sold out in mere minutes.

Give them a call on 0112597750
---
K1600 R18, First BAGGER Edition 2018

2020

33 4,000km E X Demo

R259 R280 000

000

S1000 K1600 RR, GTL 2010 719 Option 2019

45,000km 5 R119 R260 000

R1250 RT RS, 2021

1 2 400km

300km Top Box

R275 R199 000

R 1250 RS, 2019

S1000 100km

RR 2020

3 R215

400km

000

R320 000

R1250RT, 2019

R9T 18 000km

2018

13 R230

000km 000

- To many extras to mention

R169 000

C400 X 2020

S1000 1,300km

XR 2020

6 R109

000km 000

FULL AKRAPOVIC PIPE

R285 000

Vespa 300 GTS, 2018

KTM 13,500km 1290 SUPER DUKE 2015

8 R99 500km

000

R160 000

Vespa 250 GTS, 2011

Triumph 13, 000kmSpeed Triple RS 2021

8000km

R89 000

R220 R105 000

BMW Motorrad Fourways

R1250 GS Adventure 2013

R1250 GS-A 2021

34,000km

12 200km

R245 000

R299 000

Cnr Witkoppen and Cedar Road.

Fourways, Gauteng.

Tel: (011) 367-1600

Email: rodney.serfontein@cedarisle.co.za
---
Perry Bikes Umhlanga clinches the title…

Mark Perry and the team are stoked to kick off 2022 in

pole position, securing first place in South Africa for

total Husqvarna Motorcycle sales for 2021. In addition,

they also achieved the title of "dealer of the month" for

SYM in January 2022.

Mark Perry says, "It is only because of our most valued

customers that we are able to remain KZN's largest,

multi-franchise bike dealership and have been privileged

to represent some of the world's leading brands for

almost four decades. At Perry Bikes, we understand that

time is valuable. Our staff of trained professionals are

here to assist with all your motorcycle needs, from accessories

and apparel, to our world-class workshop. A

tailored fleet solution to suit your business. In addition

to offering a full selection of new Husqvarna, Kawasaki,

Suzuki, Polaris, Linhai and Sym motorcycles, we

work around the clock to bring you a choice of certified

preowned bikes.

Convenient services such as countrywide delivery and

collection, private-to-private financing, and most of all,

making your visit to our showroom one you will never

forget.

Yours in motorcycles, Mark & the Perry Bikes team."

Visit them 6 days a week at 1 Sneezewood Lane, Glen

Anil, or give them a shout on 031-566-7411 (Tel) or 084-

353-2713 (WhatsApp).

Clubhouse Kawasaki – Now official DNA

air Filter importer and distributor

Alain Jeanrenaud, owner of Clubhouse Kawasaki since

Grandma was a pin up model is respected widely for his

talent at making fast motorcycles even faster… and then

faster still. We all know that he has been the official

importer and distributor for everything 'Dynojet' for dirt

bikes and adventure bikes to full on race ready superbikes.

Fuel injection modules, quick shifters, jet kits to

auto tune kits and the list goes on and on.

Recently he acquired the rights to DNA air Filters for

Southern Africa. It's an washable air filter that filters

down to 5 microns… that is really is the equivalent to

baby powder type particles that it keeps out of your

fuelling system. The filters have a full contour design

that use and maximises the full shape of your airbox to

get as much air flow into your bike as possible and give

you a significant increase in power.

But wait! That's not all… Alain has also stated bringing

in some of the automotive air filters for popular model

bakkies, SUV's and kombi's or vans. The filters are all

washable and reusable with an unlimited life span, you

would literally have to burn, cut or crush or some other

unlikely scenario to have to replace it, basically a filter

for life. Go check out www.dnafilters.com to really

understand how they work.

And to get one for your bike call Clubhouse Motorcycles

on 011 618-4646
---
Scorpion Exo-GT930 Helmet Review [Modular

Motorcycle Helmet]: If you don't flip it up – you'd

never know that it's a flip up helmet.

The Scorpion Exo-GT930 is the brand's all-new, top-of-theline

modular helmet. It has pretty much all the bells and

whistles found in the most expensive modular helmets

from other manufacturers.It has a dedicated spot to install

a Bluetooth communicator called the Exo-Com. And whats

cool about that is the fact that the unit slit into the side of

the lid and does not stand proud. Another feature is the

fact that the communicators mouthpiece/ receiver is built

into the speakers – so no mouthpiece. We do like the look

very much, with its robot-like nose flowing back toward the

molded spoiler.

Scorpion states this helmet falls into the intermediate oval

head-shape category. We recommend that you always get a

helmet fitted for you by a trained professional.

It is available in XS to 3XL spread across three shell sizes

(XS/S, M/L, XL/XXL/XXXL). The appearance, finish, and materials

look and feel nice. There are no blemishes or manufacturing

oddities. The shell is polycarbonate with dual-density

EPS inside. The fabric liner is removable, washable, and

comfortable against the skin. The chinstrap is fastened with

traditional double D-rings.

The modular chin bar operates smoothly and has a satisfying,

secure click when closed. There is a chin bar lock that

does just that and allows safe riding while wide open. It's

DOT-certified, as well.

The chin bar is removable, which will be an appealing feature

for some riders. Also, an ADV-style peak is included, though

it can only be installed when the chin bar is removed. Chin

bar removal and installation requires no tools, another cool

feature.

There is an internal, drop-down jet fighter pilot-like sunshield

actuated with a left-side slider. Operation is smooth and

easy. The faceshield closes using Scorpion's ratchet system,

which pulls the faceshield against the rubber eye port seal

for a tight fit and for tool-less shield changes.

At your dealer…

Bike Brothers Cape Town is Expanding.

In addition to their main branch in Tokai, Cape Town, Bike Brothers now has a showroom in Paarden Eiland at53 Section

Street – with some really lekker bikes available.

Pop in at either branch for a browse, a coffee or two, and a chat!

They tell us that sales at both branches are cooking, as are their Tokai workshops!

The workshop now has full diagnostics for pretty much all major motorcycle brands.

Call us on 021 595 0055/8.
---
R

20

Just Bike Tyre News: Have a cup of

coffee while you wait for your tyres to be

fitted.

Just Bike Tyre opened their Cape Town branch in July

2017 at Unit L2, Okavango Junction, Kenwil Drive,

Brackenfell.

Just Bike Tyre is a Professional Tyre Fitment Centre that

sells and fit most major brand of tyres for all brands

of bikes, scooters, and quads. They also supply and fit

brakes, chains, and sprockets while you wait, or drop off

adveRtorial

Here's a good one: Win yourself a trip to

Iceland.

BMW Motorrad is running a competition from 1 Jan

to 30 March. Any customer buying any GS in the first

quarter from a 750GS and up will stand in line to win one

of 10 tickets to an all expense paid trip to Iceland from

the 7th to the 18th of August on a 1250GS.

If ever there was a time to buy a new Beemer – then this

is it!

Together with their partner, Up South Adventures, BMW

would like you to experience the magic and majesty of

the weirdest place in the world. A sparsely populated

your motorcycle using the easy access parking area, big

enough to manoeuvre your trailer.

Even though their main focus is the fitment of tyres, they

do keep some bike accessories in store, and their staff

is able to source any bike related accessory/clothing

you may require.

Just Bike Tyre also has a branch in Centurion, Pretoria,

and an online store.

Visit the website on www.justbiketyre.co.za

Drop in and say "Hi" to the team or catch them online,

on WhatsApp or email.

island that has some of the most unique riding

conditions in the world. Home of the Vikings. A land of

Fire and Ice.

TO WIN, buy one of the following new bikes - R 1250 GS

Adventure, R 1250 GS, F 850 GS Adventure, F 850 GS

or F 750 GS - between 1 January and 31 March 2022.

They will then select ten riders to experience a 12-day,

all-expenses paid trip to Iceland.

Also - with every bike purchased from BMW in 2022

you get a free club membership from any club that you

choose.

How's that for cool?

Details @ www.bmw-motorrad.co.za

2

A

Ap N

Tw

us

we

wi

ap

ed

T

B

Sp

be

ap

m

an

rid

he

An

Ho

on
---
RIDE THE WORLD

2022 AFRICA TWIN

2021

NC750X/DC

2021

NC750X/DCT

Apple CarPlay AND ANDROID AUTO

Apple CarPlay* seamlessly integrates your compatible iPhone®* into your new Africa

Twin, and Android Auto does the same for your Android phone. That means you can

use your devices to access maps, music, and other services easily. You'll have access to

weather, playlists and telephone numbers while aboard. Available Bluetooth®**-enabled

wireless headsets let you communicate more easily than ever. And best of all, with more

apps available every day, your bike's technology and convenience remain on the cutting

edge.

THE NEW NC750X: DO IT ALL, AND

BETTER THAN EVER.

TALL HANDLEBAR

Fitting a tall handlebar helps open up

the cockpit, and works in concert with

Specialization may be fine for something like golf clubs, but we think great motorcycles should

the seat and windscreen to give you a

be able to do it all. Case in point: The 2021 Honda NC750X. This is a bike is for motorcyclists who

more comfortable rider's triangle for

appreciate both versatility and virtuosity in their adventure machines. This year, we've given this

those long days in the saddle.

model some big improvements. More power. A larger integrated storage area. Lighter weight,

and a lower seat height. Plus some huge technologic upgrades like throttle by wire, selectable

riding modes, new instruments, a new frame, upgraded bodywork, and standard ABS. At its

heart, the twin-cylinder engine produces a broad torque curve as well, making it a joy to ride.

And you can choose from two transmissions: a conventional manual-clutch six-speed, or

Honda's revolutionary automatic DCT. Either way, this latest NC750X is going to be the perfect

one-bike choice for the rider who wants to do it all.

THE NEW NC750X: DOD

BETTER THAN EVER.

Specialization may be fine for something like go

be able to to do do it all. it all. Case Case in point: point: The 2021 The Honda 2021 NC750 Hond

appreciate both both versatility and virtuosity and virtuosity in their adventu in their

model some big big improvements. More More power. power. A larger A intl

and a lower seat seat height. height. Plus some Plus some huge technologic huge techno upg

riding modes, new new instruments, a new a frame, new upgraded frame, up b

heart, the the twin-cylinder engine engine produces produces a broad a torque broa

And you can choose from from two transmissions: two transmissions: a conventio a

Honda's revolutionary automatic automatic DCT. Either DCT. way, Either this wa lat

one-bike choice for for the rider the rider who wants who to wants do it all. to do it

Randburg: 011 795-4122
---
Cylists: Brakes for your bicycles…

Trickbitz motorcycle accessories is also the local importer

of Galfer brake pads and brake discs for mountain, road

and E-bikes. Ask your local motorcycle dealer to get you a

set when you next need to replace those on your pedal bike.

They tell us that their brake pads feature the advantages of

the new organic semi-metal compound, (non-asbestos), with

the absence of noise better feeling, progressiveness and

braking power. Minimization of vibration to the wheel. Less

wear on the brake discs. Resistance to high temperatures.

Increased durability. With these enhancements the user gets

a permanent braking response, with the same behaviour

throughout its life, improving bicycle control and increased

confidence and security for the rider. The "Disc Wave®"

represents the best example of research and development by

Galfer. Laser cut, stainless steel and high carbon content. All

direct replacement systems that do not require brackets or any

extra parts, they bolt just like a stock disc would having both

the option of a standard 6 bolt fitment or centre lock, spindle

fitment. Main features and advantages include powerful,

progressive and modular braking.

For your nearest stockist contact trickbitz.co.za

Drilling, Tapping and Countersinking -

All in one process by Alpen.

An Industry first from the Austrian drill bit leaders Alpen

with the introduction of a remarkable combination bit

that does it all in one process - Drilling, Tapping and

Countersinking.

These new combo bits do it all in one process. The

combination HSS bits with ¼" Hexagonal shank for Metric

ISO-Threads DIN 13 - Available in all the popular sizes M3,

4, 5, 6, 8, and 10

These new units are a breakthrough for industry, and

will appeal to trade, engineering, mining, manufacturing,

automotive, all trades. Repairers, mechanics, rebuilders

and DIY ers. As one drill action does the drilling, tapping

and the counter sinking. Prior to this it would have been a

3-process action, saving time in possible expensive errors

in bit size and tap selection.

If you are drilling and tapping threads these new bits will

give you the professional accuracy as they are precise,

special heat-treated steel, wear and water resistant and

they are suitable for alloyed and unalloyed steels up to

appr. 850 N/mm².

For more information on these unique multi-functional bits

go to www.vermontsales.co.za and click on Alpen.

Available from leading stores countrywide. For more

information talk to your retail outlet or contact, Vermont

Sales on 011 314 7711 or visit their web site www.

vermontsales.co.za Trade enquiries welcome.

husqvarna-motorcycles.com

Photo: R. Schedl, R. Steinke, KISKA GmbH

Please make no attempt to imitate the illustrated riding scenes, always wear protective clothing and observe the applicable provisions of the road traffic regulations!

The illustrated vehicles may vary in selected details from the production models and some illustrations feature optional equipment available at additional cost.
---
Photo: R. Schedl, R. Steinke, KISKA GmbH

husqvarna-motorcycles.com

Please make no attempt to imitate the illustrated riding scenes, always wear protective clothing and observe the applicable provisions of the road traffic regulations!

The illustrated vehicles may vary in selected details from the production models and some illustrations feature optional equipment available at additional cost.

N o r d e n

901

the entire globe is a

playground just waiting for you

to explore.

inspired by the north

and built for the world,

the norden 901 is a rugged

travel machine ready to

face the unknown.

parallel twin 889 cc 105 hp 204 kg

Trust in the north.
---
Chiaravalli sprocket and chain kits

Are you tired of riding around or phoning around looking for

matching sprockets and chains when you need to replace

the ones on your bike. One retailer might have the chain

but not the correct sprocket, the other retailer might have

the sprockets but in the incorrect size and etc and so on

and so forth. Wouldn't it be lekker if you could just go to

one shop and get a complete kit with the correct front

and rear sprocket and have the correct length and tensile

strength chain included in the same kit? Well, the guys

at Trickbitz have such kits from Chiaravalli for road and

adventure bikes all in one pre-packed kit. Give them your

bike make, model and year and they will refer you to your

nearest stocking dealer. The folk from Trickbitz are ever

expanding their offering in the Chiaravalli range, so if they

do not have your specific model in stock be rest assured

they will have it in within their next few shipments. The

highest quality raw materials are the starting point for all

products manufactured by CHT Chiaravalli. Not only are

their sprockets produced from the best materials available,

they are also treated using the most advanced systems, to

achieve the reliability and performance goals.

For your nearest stockist contact trickbitz.co.za

PUIG and POWERBRONZE Fender extenders

With the amount of rubbish and gravel on the roads these

days the majority of them could be considered rural with a

lot of that flicking up off your tyres and ricocheting off your

shining metal work or your paint job. And these days with

adventure bikes getting more glamorous we also don't want

stones, rocks and etc being flicked up off the tyre onto said

gorgeousness, so what do we do?

Give more protection to your motorcycle with the fender

extension from POWERBRONZE and PUIG. The extension

is made of ABS material which is highly resistant to

impacts, it will be the ideal protection to prevent debris

coming from the wheel/s and impacting the body of your

motorcycle or directly against you. The extension comes

in black finish to match the look of your motorcycle. Both

brands have a specific extension applications for the most

popular adventure motorcycles models on the market. For

installation the kits come with everything you need from

clear and concise instruction leaflets to the rivets to install

the fender extension to ensure a permanent attachment

to the motorcycle´s original mudguard, there are a few

exceptions that are offered with a stick on application.

For your nearest stockist contact trickbitz.co.za

PUIG Kick Stand extensions

Tired of looking for a flattened beverage can to or anything

else to place under the foot of your side stand to stop your

bike toppling over when parking soft surfaces? Yeah, so

are we and the guys at Trickbitz have a solution for most

adventure bikes out there from PUIG. The new Puig kickstand

extension is designed to prevent possible falls of the

motorcycle while it is parked. This piece, which has a 100%

wider base than the original, allows parking on soft or uneven

surfaces with greater safety. It is a mixed material piece,

with a part in stainless steel and the other machined from an

aluminium block with rear anodizing. These materials provide

great resistance while maintaining a low weight around 110g

to 160g depending on the model. For your nearest stockist go

to www.trickbitz.co.za and while you are there check out all

the other great products they do for your bike.

For your nearest stockist contact trickbitz.co.za
---
EXPERIENCE THE

EXTRAORDINARY

Iceland. One of the most spectacular places on Earth thanks

to its rugged landscapes, glaciers and hot springs.

When you purchase a new BMW Motorrad GS model (BMW 750 GS and

upwards), you could win one of ten places on an all-expenses-paid riding

BMW Motorrad / UpSouth Adventures riding holiday in Iceland.

Scan the QR code to find out more.

Ts&Cs apply. Offer valid until 31 March 2022

when winners will be announced.
---
PUIG Frame panels

Now here is a great innovation, frame panels to close up the

hollow or open bits on the sub frame of your adventure bike.

"Oh, but why would I want that?", we hear you say. Well, for

one they look really amazing and secondly they stop a lot

of the water, dirt and mud spray off your rear wheel ending

up on your riding pants and boots and we like that idea. The

strut and vehicle socket remain easily accessible. They are

very easy to install with the instructions supplied, so a nice

little DIY job for a Saturday morning. The frame panels come

in a choice of matt-black and silver and have been designed

to cover the hollow parts of the motorcycle protecting them

from possible splashes and dirt that can adhere to riding of

all kinds of tracks. Thanks to its ABS construction, the side

covers will also protect the rider from small objects that

can impact you while riding. Please note that these are only

available for most of the popular adventure bikes on the

market today, there is no road bike option. Fitment is with

screws and brackets.

For your nearest stockist contact trickbitz.co.za

Motorcycles for Africa (ex-Selwyn

Lurners Workshop)

The legendary Selwyn Lurners Workshop dealership

opened 38 years ago in the city centre of Johannesburg

by Selwyn Lurner and his Dad Sam.

Selwyn, an avid motorcyclist and a big fan of the

Kawasaki brand eventually got a Kawasaki franchise

and started supplying the JHB police with bikes and

kitting them out with lights, sirens, radios and the like.

Motorcycles for Africa still continue equipping emergency

vehicles to this day. Even after his retirement Selwyn

continued to service the emergency vehicle industry in

Sedgefield where he retired, and assisted with beach

patrols until he passed away early in 2022.

Eventually the shop had to move out to the northern

suburbs of JHB because of the inner city decay

becoming so very bad. With the move came the change

of name to keep the landlords and other tenants happy.

They specialise mostly in commercial fleet sales, maintenance

and parts back up they can now be found at

400 Jan Smuts avenue, Craighall just under the KFC.

They also have a huge amount of quite hard to find,

some might even say rare, brand new old bike parts,

mostly for Kawasaki's and Suzuki's as well as lots of

used bits and pieces, so if you are hunting for something

give them a call – but you'd better be quick about

it as they are busy with a big clean up and improvements

on the shop.

Unlike Selwyn who was into big powerful road bikes,

Warren is a fan of the dirt and loves his dirt bikes,

especially the Suzuki's. They do custom builds, accident

rebuilds and servicing and repairs to all makes and

models of bikes. A couple of years ago Warren Lurner,

(Selwyn's son), joined the business and learned from

the master before he retired, continuing the great family

legacy.

Pop in at 400 Jan Smuts avenue, Craighall or give them

a call on 011 501 3014 or mail Warren on warren@

motorcyclesforafrica.co.za
---
SPOT THE

Congratulations to the

February 2022 of the

Vermont/Tork Craft "Spot

the Difference"

We were inundated with entries for

the February competition and sadly

some of you neglected to tell us who

you are so we had to exclude you

from the final draw. Please include

your name and surname when you

send us your entry. Nevertheless,

here are your 12 winners for

February 2022: LW van Zyl, Pieter

(no surname given), Natasha (ditto),

Phillip (Hhmm… c'mon now), Lulu

Kruger, Luke Walker, Glen Ramsden,

John Jepson, George de Kock, JJ

Coetzee, Garth Taylor and Rudi

(and we were doing so well…).

Please drop us an email in info@

motomedia.co.za or a WhatsApp

071 684 4546 with your place on this

planet so we can get your prize to

you. And here is your next chance

to win… and remember if you have

won in the last 3 month you will be

excluded from the next draw… just

to give everybody a fair shot at the

prizes.

difference

circle the differences in pic 2, take a snap and whatsapp it to 071 684 4546

before

after

spot all 8 and you could win

1 of 12 tork craft multi tools...
---
Stark futures

VARG ELECTRIC

Motocross Bike.

We hate to say it, but with all the nanny stuff going on in the world, electric

technology is becoming more and more of a thing. Somwhere, we picked up a

clip about the Stark Varg.

We watched it all and came away fairly impressed. This is the first electric

dirtbike that has made our lot actually sit up and say… Well Well Well!
---
Here's the skinny:

Made in Sweden, they tell us that the sole aim in the design of this

bike is to outperform combustion engine equivalents.

That's a huge claim when you consider just how many amazing

dirtbikes there are out there!

Sure – we've told you about what it feels like to ride an electric – but

it always comes down to the simple fact that batteries do not provide

the range needed for our favorite pastime.

In MX terms, Stark seems to have nailed it with their VARG.

The range from a full charge is similar to a 450 with a full tank of fuel

– at full power. In English this means a full 'moto' at Grand Prix-like

intensity or up to 6 hours of easy trail riding with a 1-2 hour recharge.

We'll need to see that for ourselves…

But wait. They tell us that there is more… The claimed power figures

are also rather impressive.

The silent engine and powertrain, provides the equivalent of 80hp –

30% more than any 450 – and with double the amount of torque.

And, they tell us that you can adjust that power via an app on your

phone with customizable power settings to ape a 125 two-stroke up

to a 650 four-stroke. The bike's power curve, engine-braking, traction

control and virtual flywheel weight can be tuned in a few seconds and

through as many as 100 ride 'modes'.

The bike weighs in at 110KG's. It hosts an ultra-small and light

chassis uses the engine as a structural component and is made from

materials like carbon fibre, magnesium, and aero grade aluminum.

Kayaba and technical Touch supply the fully adjustable suspension.

Slim, sporty ergonomics (goodbye to airboxes, radiators and fuel

tanks) and redesigned plastics, enables more weight-saving. And

from any angle it just looks so pretty!

A super-robust 'floating' dual compound skid plate removes the need

for a lower section of the frame and provides protection. The wheels

are CNC-machined 6082 T6 aluminum hubs, 7050 T6 rims, spokes

made in Italy from high-grade steel shod in Pirelli MX32 tyres.

Check out the innovative chain adjuster 'click system' that

eliminates the need for measuring tapes and the flush axle and bolt

composition. They tell us that even the foot pegs are special: the

parts are cast from a special stainless steel alloy, 40% stronger than

titanium or chromoly steel and they tell us that they are lighter than

well - anything. The installation process is also simple as Stark has

taken away the need for a lock pin.

The Stark VARG is priced at a mere €11,900 (That's Euro's)

The motorcycle can be ordered through the Stark Future website

www.starkfuture.com

If anyone orders one, we would like a quick spin please!

About Stark Future:

Stark Future is a multi-national company, established in 2019 with

Swedish roots but located on the fringes of Barcelona. Making the

most of Catalunya's reputation as one of Europe's off-road riding

'hotspots', Stark Future was able to construct a dedicated, passionate

and knowledgeable team from the cream of both the motorcycle

and power electronics industries. They rapidly started work on the

first model of an ambitious catalogue of next-generation electric

motorcycles. The Stark VARG is the result. The highly advanced

technology has been dutifully evolved at the firm's factory, where

robotic assembly lines will produce the Stark VARG and forthcoming

models to order. The Stark VARG itself is a strong definition of

the company's values. Stark Future want to challenge the norm to

improve how things are done, search for the limit, adapt and set clear,

smart and inspiring goals and, finally, deliver outstanding results.
---
Setting the power delivery via the app on your VARG phone
---
GO

NORTH

YOUNG

MAN!

Part 2

After the short launch ride at the end of last year, Husqvarna

SA promised us the new bike for a decent amount of time.

We used it for a full week, rain, shine, suburbia, freeways and

jungles. Here's what we think:

The Adventure part of this story starts... it was a bright and

sunny day...

NOT. Here's a better intro:

One rather wet Saturday morning, we took the bike for a

proper adventure ride. The evening before the ride, the East

Rand was hit by a Tsunami. Our office rain gauge actually

overflowed, so we can't even tell you how many millimeters of

rain we had, but it was crazy...

We roped in the services of Jayson Dale, an avid adventurer and off-road guy and

asked him to share his opinions on the bike, and quite frankly, we really put the

Norden through its paces on a roughly 200Km ride. A blend of fast gravel, wet gravel,

slippery gravel, thick mud, a couple of slightly rocky furrows deep puddles, deeper

rivers, a smidgeon of fast tar and - well - jungle.

Jungle on the East Rand?

Yup! All of our usual single spoor haunts are just so overgrown. It seems that

developers have bought the ground and banned - well everyone, so all the old trails

are now just Blackjacks and Khakibos taller than a man on a bike. No wind gets in

and it was properly hot and humid trying to work our way through and - (sorry guys),

we are still pulling blackjacks out of our gear.
---
A

A

A

Once we had extricated ourselves and

replenished our fuel reserves at the Big Red

Barn, we opted for a more civilized route -

down the freeway and on to some more open

railway service roads. That was fun - the

roads are not very well maintained and small

potholes turned into massive swimming

pools. Drainage ditches were much the

same. Enormous fun - and thankfully, nobody

managed to fall over and injure their pride or

the bikes that were along for the ride.

After much conversation about the merits and

demerits of perhaps seeing our arses in the

slippery stuff, we decided to hit some of the

wide gravel roads that everyone loves - and

that was a lot of fun and a perfect higher

speed testing ground thanks to massive ruts,

sand traps and washaways also caused by

the rain. The Norden handled all of that with a

smile.

So - in a nutshell, we'd quietly say that we did a

lot more than your average Norden buyer might

try. The good news is that, unwittingly or not,

we proved unequivocally that this one is one

hell of a capable machine.

The Nuts n Bolts:

By now you'd have read all of the techy info

on this bike in our launch story, so we are not

going to bore you with all of the good stuff

that is included if you unlock the Explorer

pack. This bike is loaded with just about every

electronic component known to man and it all

works. Just as you'd expect from a high-end

brand like this. And, we have to say this -

actuating it all is really easy. Even for dummies

like our Ed who has taken a long time to start

coming around to electronic interventions.

So far, he agrees that a quickshifter is a great

idea...21 inch front 18 inch rear shod in Pirelli

scorpion Rallye STR tyres.

A light flickable chassis - and a faring that

offers great slipstream through the elements.

All of this is powered by a very tractable

parallel twin engine. It comes complete with

easily selector rider modes - off road for calm,

rain for wet and street for fast. That simple -

and again - it all works rather well.

The overall impression of the Norden is one

of a small, compact motorcycle. Sure it's a

900, but its girth belies its engine capacity.

It feels small and light, and - if you, like us

like an adventure that won't rip your arms off,

it's plenty powerful and comfortable for long

hours in the saddle.

We had two bigger adventures along on the

day and there was not a single time that we

felt we needed more power or torque. In fact

- through that nasty, thick bush, there were

two of us who were wishing that we were on

A

E

Batt ATV
---
A051

A027

ALL-TERRAIN SPORT/4X4 ATV

ALL-TERRAIN ENDURO & SPORT ATV

Batt Tyres, the Ultimate

for Extreme ATV Enduro

All BATT Tyres provide superior grip, long tread life and the

best value-for-money thanks to our 4-TYRE COMBO SPECIALS,

available for Sport & Utility ATV, Side-x-Side and UTV models.

Batt is the largest supplier of ATV and Side-x-Side tyres on the

African continent and ship tyres nationwide.

TYRES AVAILABLE FOR ALL SPORT,

UTILITY AND SxS APPLICATIONS:

A033

A043

MULTI-PURPOSE SXS/UTILITY

MULTI-PURPOSE ON & OFF ROAD SXS/UTILITY

A051 SIZES:

• 145/70-6

• 16*8.00-7

• 18*7.00-7

• 18*9.50-8

• 19*7.00-8

• 21*7.00-10

• 22*7.00-10

• 23*7.00-10

• 20*10.00-9

• 22*10.00-9

• 22*10.00-10

• 25*8.00-12

• 25*10.00-12

A033 SIZES:

• 24*8.00-12 & 24*11.00-10

• 24*8.00-12 & 24*10.00-11

• 25*8.00-11 & 25*10.00-11

• 25*8.00-12 & 25*10.00-12

• 26*9.00-12 & 26*11.00-12

A027 RACE SERIES 1 SIZES:

• 21*7.00-10 & 20*10.00-9

• 21*7.00-10 & 20*11.00-9

• 21*7.00-10 & 20*11.00-8

• 22*7.00-10 & 20*10.00-9

• 22*7.00-10 & 20*11.00-9

• 22*7.00-10 & 20*11.00-8

• 22*7.00-10 & 22*10.00-9

• 22*7.00-10 & 22*11.00-9

• 23*7.00-10 & 22*11.00-9

• 23*7.00-10 & 23*11.00-9

A043 SIZES:

• 25*8.00-12 & 25*10.00-12

• 26*9.00-12 & 26*11.00-12

• 26*9.00-14 & 26*11.00-14

ENDURO PRO RACE

SERIES 2 SIZES:

• 22*7.00-10

• 21*11.00-9

We ship tyres nationwide for LESS!

EnduroPro

RACE SERIES 2

BATT HOLDINGS:

UNIT 9 SABLE PARK, 997 RICHARDS DRIVE, MIDRAND, JHB

QUOTES: 073 777 9269 / 083 467 1349 • ADMIN: 011 205 0216

• BRUCE@BATT-TECH.CO.ZA

www.batt-tech.co.za

GraphicWerx Advertising & Design

Batt ATV D&T March '22.indd 1 2022/02/18 17:43
---
the smaller Norden. In saying that, however we did not travel massive

kilometers on tar to hook up with the next trail, but when we did, she

happily spun along at speeds well in excess of the national limit - in real

comfort - even with a pillion on board.

Guys - there is such a vast selection of very cool adventure bikes to

choose from these days. If we had our way - we'd have a garage full of

each model and invite people for test rides.

If you are looking for a capable, comfortable, light ADV bike, then this is

one that you really should go and ride. And despite the fact that it has a

similar cousin in the stable - it really is quite different.

We had a lot of wet, slippery, muddy fun - and we need to ride it back

to back with some of the other manufacturer's bikes in the 800 to 1000

class. You can look forward to that soon.

Second opinion by Stefan.

A stunning bike in my opinion, but it's more than just a looker.

From the get-go, it's a quality comfortable ride. Everything looks and

feels like top quality, it was just a pleasure to ride on the road.

The bikes light weight makes it manageable. The sitting position is

very comfortable, I can see myself riding down to the Cape on this bike,

but if you like standing while riding, I'd recommend raising the bars

unless you like riding hunch back. The engine makes beautiful power

and it delivers it very smoothly, linear all the way through the rev range.

Off-road you can open up without fear of losing traction and the smooth

power delivery is fantastic for low-speed manoeuvres. When we hit a

patch of thick sand my heart nearly stopped though, it was looser than

I expected it to be but it held its own and powered through. No puddle

could stand in its way, it's very well balanced with the centre of gravity

very low so can control any slips with ease or navigate any obstacles.

With the smooth power delivery and the centre of gravity so low you

almost forget you're on a 900cc bike that weighs around 217 kg's wet.

The seat is low but very wide which makes your leg reach a bit shorter.

But once you're up on the pegs, it feels so well balanced and light, and

easy to ride and manoeuver around.

You get a state of the art interface with 4 rider modes, 2 traction control

modes and more personalisation options than I can find. Equipped

with cruise control and a very smooth quickshifter which you can also

toggle on and off. Plenty fast for a 900 and all-around a great modern

adventure bike, or perhaps a sports tourer that just so happens to be

very capable off-road.

I really do like it. A lot.

www.husqvarna-motorcycles.co.za for your local dealer.

T

20

DEAL

LOGO PARA USO ENRECAMBIO Y COMPETICIÓN

LOGO FOR USE IN AFTERMARKET & COMPETITION

T

TH

SEV

USO INSTITUCIONAL

INSTITUTIONAL USE
---
TRAVEL-MX-ENDURO

2021

DEALER OF THE YEAR

LOGO ORIGINAL

ORIGINAL LOGO

FE250

FE350-FE450

701

ENDURO

AUTHORIZED KTM, HUSQVARNA AND GASGAS DEALER

Willow Rock Shopping Centre

Solomon Mahlangu Drive, Willow Acres,

Pretoria East

Tel: 012 111 0190

www.traxmoto.co.za

TE150i

TE250i-TE300i

LIMITED EDITION

ROCKSTAR TE300i

Spoiled

for Choice

Scan to Find us

LOGO FOR USE IN AFTERMARKET & COMPETITION

TECHNOLOGY, LOGO INNOVATION INVERSO

AND PASSION.

INVERSE LOGO

THE BRAKE SYSTEMS SPECIALIST GALFER,

SEVENTY YEARS OF EVOLUTION AND SUCCESS

BRAKE PADS

Brake pads are fundamental elements in any brake

system because they are directly responsible for

transmitting the power of the caliper to the brake

disc so that it can overpower the brake pads

without strain. Galfer has developed specifi cs

compounds for each use and motorcycle model

looking to off er the top performances in all type of

driving and for all the profi les and needs of users.

Features:

Powerful, progressive & modular brake

Low wear rate and minimum noise

Maximum resistance to the fade eff ect

Effi ciency in wet conditions

No wear on brake disc

COLORES CORPORATIVOS

CORPORATE COLOURS

THE ORIGINAL WAVE DISC

ADVENTURE

MX & ATV

PADS

1054 & 1370 ADVENTURE

1397 ATV

1396 MX

Compound Brake Pads by Galfer®.

Excellent feel and modulation, this

sintered pad compound is built for

off road and street use

depending on the application. Great

heat recovery and easy on the rotor,

this is Galfer most popular highperformance

compound. Precision

made in Galfer factory in Spain.

INSTITUTIONAL USE

BLANCO

WHITE

C:0 M:0 Y:0 K:0

R:255 G:255 B:255

NEGRO

BLACK

C:0 M:0 Y:0 K:100

R:0 G:0 B:0

PANTONE 021

PANTONE 021

C:0 M:53 Y:100 K:0

R:241 G:142 B:0
---
National MX 2022.

Round 1. Cape Town.

By MX Spotter

Pics by Zygmund Brodalka.

The MSA Motocross Nationals, sponsored by Cannabis Energy Drink

and TRP Distributors and Prepsol, headed to the mother city for the

2022 season. 137 of South Africas top riders converged on the magnificent

Zone 7 track just outside of Cape Town.

The weather was great with temperatures down from the previous 34

degrees the day before. The sun broke through and you could smell

the 2-stroke firing up as riders started jetting and preparing for the day

they had all been awaiting for.

The opening started with the officials on the finish jump standing with

pride with the South African flag as the National Anthem played, it was

officially time to GO RACING !!

Heat 1 started at 10am with the 50 cc class and the juniors definitely

brought their "A" game to the track. Front runners Raydon Wools and

Lou Rademeyer went bar to bar throughout the race with amazing

skills. Ross Mackenzie and Seth van der Walt followed soon after

battling it out for that spot on the podium. Raydon Wools took the win

in heat 1 with a nail biting finish of 0.17 sec ahead of Lou Rademeyer

, followed by Ross Mackenzie and Seth van der Walt. Talented female

rider Kaylin Oosthuizen from the Cannabis Energy Team finished in 5th

slot trailed by Alistair Maycock , Hendrico Barwise , Qhamani Thu ,

Dietmar Swart , Parker Cik, Riley Geldenhuys , Coby Kretzman, Cooper

Harvey , Curtis Stone and Mason Barnes.

Heat 2 was a phenomenal display of action you can only expect from

the national series. Again Rayden Wools and Lou Rademeyer battled it

out with Seth van der Walt, this time giving chase.
---
Anthony Raynard.

Callum Marriott MX2.

Jordan van Wyk Pro Mini.

It was 10mins of blistering pressure as Rayden took the checquered flag

followed by Lou Rademeyer and Seth van der Walt with Ross Mackenzie

in 4th , Hendrico Barwise in 5th and Kaylin Oosthuizen in 6th.

Overall results for the 50cc class were Rayden Wools 1st place , Lou

Rademeyer 2nd place , Seth van der Walt in 3rd place , Ross Mackenzie in

4th and Kaylin Oosthuizen in 5th.

The 65cc class paid dividends for the junior riders as the top riders knew

what they were in for. This was not going to be an easy task and battling

it out against the countries best of the best brought shout and screams

of support from the many moms and dads.

The Fro-Bros jockey, Evan Frost took a reasonable pace of 2.20 win in

heat 1 with Trent Valsecchi shortly after followed by Trenton Kretzman ,

all within 1 second apart lap times.

Leah Haygate MX Ladies.
---
Heat 2 saw Kabelo Ledwaba come out guns blazing

with his eyes focussed on that chequered flag.

Kabelo had a sterling ride and took the finish flag

3 seconds ahead of Evan Frost, followed by Trent

Valsecchi. The sheer skill and talent in this class is

breathtaking to watch.

Overall results in the 65cc class with the shake up

from heat 2 , ended up being Fro-Bro star Evan Frost

taking 1st place with Kabelo Ledwaba stamping his

mark in 2nd place and Trent Valsecchi on the 3rd

step of the podium . Trenton Kretzman took 4th place

and Daniel Brindley in 5th , Riley Rocher following in

6th with team mate Aiden retief in 7th place followed

by Cruz Martin also having a good ride, Maxwell

Fourier in 9th and Jack Anderson in 10th.

In the 85cc class there was no lack of action as

legacy racing between Neil van der Vyver, Jordan van

Wyk and Trey Cox battled it out again.

Practice times clearly gave warning to an expected

battle for champions.

Neil van der Vyver was at home on the Zone 7 track

and finished 7 seconds ahead of Trey Cox who was

followed by an amazing ride from Jake van Schoor.

Heat 2 is where the riders knew it was now or never

and it was flat taps from that gate drop.

The track was wearing down and pushing the riders

to the limits. Cox clinched a spectacular lead to finish

17 seconds ahead of Neil van der Vyver followed by

Jordan van Wyk a mere half a second behind. Alon

Orland and Jake van Schoor took 4th and 5th slots.

Overall results for the day saw Trey Cox on the top

step with Neil van der Vyver in 2nd spot with Jake

van Schoor in 3rd followed by Jordan van Wyk in 4th

and Alon Orland in 5th, Christian Berrington-Smith in

6th with Tyler Petersen in 7th.

The MX High School class was full of testosterone as

the teenagers lined up for the bull fight.

Nothing was spared with a lot of change ups in the

races as the 125cc's screamed at full tilt. Luke Grundy

has been on fire recently and was tipped to show

his number board.

He took a clear win in heat 1, 16 seconds ahead of

Barend du Toit in 2nd place. Blake Young on number

44 came in 3rd with Hayden Tully shortly behind him

in 4th . Tristan Durow came in 5th with Ryan Adler

and Kyle Townsend pulling in behind them in 6th and

7th respectively.

Heat 2 was again where the action went ablaze

as Luke had a mishap and lost his gear lever... He

was stuck in 3rd gear for the remainder of the race.

Hayden Tully had the ride he worked hard for taken

the chequered flag with a hairline 1,4 sec ahead of

Blake Young in 2nd. Daiyaan Manuel pulled a superb

3rd place with Barend du Toit in 4th position and

Cuan Conway in 5th.

Overall results for the MX High School class saw

Hayden Tully take the red plate on the top step with

Blake Young in 2nd place and Barend du Toit in 3rd

position.

Following them are Tristan Durow who had a smooth

ride and Daiyaan Manuel in 5th with Ryan Adler in

6th followed by Cannabis Energy team rider Kyle

Townsend with Breece Romans behind him with

another Cannabis Energy team mate Cuan Conway in

9th position and Luke Grundy in 10th slot.

Ace Raynard (23) Cameron Durow (58).

Callan Broskie MX2.

Jayden Proctor MX1 && MX2.

Dean Wheeler MX3.

Tristan Purdon MX2.
---
MX Ladies was combined with MX 3 which

had some eye opening moments as the

riders took on the track in heats 1 and 2 with

ultimate passion not to be outdone.

Kayla Raaf showed her true talent taking the

overall win with Leah Heygate in 2nd with

Jadene de Lima in 3rd. Puck Klaasen, new on

the scene and clinched a 4th place followed

by Jadene, sister Cheyenne de Lima and then

Dakota Grobbelaar in 6th.

Barend Du Toit MX High School.

Jake Van Schoor Pro Mini.

Kyla Raaff MX Ladies.

Mark Carthy MX1 && MX2.

Neil van Vyver Pro Mini.

The MX 3 class held little back as Anthony

Raynard took on the field on his 32nd birthday

to pull an easy overall win. Dean Wheeler took

the 2nd step and Tyson Engelbrecht, back in

racing taking the 3rd step on the podium..

Freddie Fourie, Justin Cope and Levi Doherty

took 4th 5th and 6th consecutively.

MX 2 had a massive change up between heat

1 and 2 with Cameron Durow , David Goosen

and Tristan Purdon not wanting to give a

knobbly under any circumstances.

The 250s battled it out like Gatling guns at

each other right to the end of each heat.

David Goosen, on his home track finished 2nd

in both heats but it was Cameron Durow who

took the title honour of 1st place for the day.

Tristan Purdon took 2nd place with Goosen

in 3rd trailed by Jonathan Mlimi in 4th and

Jayden Proctor in 5th slot. Davin Cocker impressed

the crowd but didn't manage to take

a step on the podium.

The ultimate pinnacle of racing came down

to the MX 1 class where there was no doubt

of utter brute force as the riders lined up on

the gates.

Tristan Purdon dominated heat 1 with a 20

second lead win over Cameron Durow. TP41

maintained his machine pace and as always

showed the crowd his ultimate Motocross

mark in South Africa. Anthony Raynard , Cameron

Durow , David Goosen all with their eye

on the top step could not beat him on the day

and Tristan walked away with the overall win.

Tristan Purdon celebrated the top step with

Anthony Raynard in 2nd position and Durow

in 3rd position with David Goosen in 4th.

Jesse Wright came in 5th overall with Jayden

Proctor in 6th trailed by Arnu Saaiman in 7th.

This was a great day for Motocross South

Africa. A big field, lekker crowds and some

mighty fine racing.

www.samxnationals.co.za

Dates and venues for 2022:

• 2nd April 2022 – KwaZulu-Natal / Maritzburg

Thunder Valley MX Track

• 14th May 2022 – Free State / Bloemfontein

MX Track

• 2nd July 2022 – Eastern Cape / Rover MX

Track

• 3rd September 2022 – Free State / Phakisa

MX Track

• 29th October 2022 – Gauteng / Chestnut

MX Track (venue amended)
---
WITH A LITTLE HELP FROM OUR FRIENDS

Coetzee Zietsman

Riding a bike is a solitary thing. Even when

you ride in a group, it comes down to you, the

bike, and the decisions you make. Sometimes

you make the wrong decisions and

then you need a little help from your friends.

Our recent trip to the Drakensberg is a good

example.

The plan was simple; get four university

friends together on bikes and circumnavigate

Lesotho on as many dirt roads as possible.

What could possibly go wrong?

Rain. We prepared for the trip in beautiful

sunshine, but the morning of our departure, it

was pelting down.

Day one was supposed to be a simple ride

from Johannesburg to Nottingham Road and

then through Lotheni, dirt, to Himeville. If we

arrived in Himeville early enough, we thought,

we could even ride up Sani Pass and camp at

the Sani Top Lodge in Lesotho.

In Harrismith, we realised we had to get off

the N3. Heavy rain, large trucks, and near-zero

visibility make it very dangerous on a bike. So

we took the backroad over Oliviershoek Pass,

through Bergville to Nottingham Road.

When we reached Bergville, we were ready for

a break. We stopped at Bingelela Lodge for

warm coffee and cold beer.

We had lost time because of the weather and

it was clear that we would not make it up Sani

Pass before nightfall, but we could at least try

for Himeville.

Wrong again. As we rode into Nottingham

Road we called it a day and looked for a place

to sleep over. Maarten Willemse, who bought

his bike just weeks before the trip, convinced

us. It was his 54th birthday and he was in no

mood to spend it wet, cold, and on a bike at

night. We had dinner at the Nottingham Road

Hotel and retired to the guesthouse.

The next morning was also dreary. The rain

stopped, but it was still overcast and cold. We

had quite a distance to cover and headed out

towards Lotheni Road. About 10 kilometers

further, the tar ended and the mudbath started.

Our friend Anton Kock, on his very first bike

trip, decided to take the one survival tactic we

shared with him to heart and attacked the mud

with gusto and momentum. He completely

ignored the tractor pulling a milk tanker out

of the mud or the local farmer who signaled

frantically for him to turn around. Initially, the

momentum helped, but only for about 50 meters.

By then his front wheel was clogged and

stopped turning. The only thing a back wheel

can do when the front wheel stopped turning,

is to overtake it.

The outcome is obvious and Anton had his

first-ever spill, on his maiden run.

Maarten was clever enough not to attempt the

mud and watched on in amazement as two

more bikes tipped over in the mud. With a little

help from our friends, we quickly got the bikes

out and onto the tar road.

But disaster struck. The clutch cable on the

KTM 990 that Anton road had snapped rendering

the clutch lever useless. We knew from

experience that it's not a good idea to "crash

change" gears on the 990, especially not into

first. We called around for help, but everybody

was at the Roof of Africa supporting their riders.

We were out of plans and ready to tow the

KTM to Nottingham Road and make plans to

get it back to Johannesburg. The trip was over.

To add insult to injury the waving farmer

stopped next to us with his comfortable 4X4

and a big "I told you so" smile on his face.

"Trouble?" he asked. "Yes", we answered and

explained in detail. "Give me a minute", he

said and walked off to make a telephone call.

As it turned out, his brother, Andrew, also a

keen biker, a mechanical engineer, owner of

a bike trailer and a KTM 950 project bike just

happened to have a serviceable clutch cable

and was willing to help.
---
SCAN and WATC

TRAVELING THE ROA

START YOUR

LESS TRAVELE

ADVENTURE

R199 950

SAVE UP TO R20 000

WHEN PURCHASING THE DL1050 XT MO.FROM

1ST FEBRUARY - 31 MARCH 2022

The MASTER The MASTER of Adventure of Adventure - NOW AVAILABLE

FEATURES FEATURES

-Hill Hold Control -Hill System Hold Control System

-Slope Dependent -Slope Control Dependent System Control System

-Load Dependent -Load Control Dependent System Control System

-Cruise Control System -Cruise Control System

-3 Level Traction -3 Control Level Traction System Control System

-Height Adjustable -Height Rider Adjustable Seat Rider Seat

www.suzukimotorcycle.co.za

www.suzukimotorcycle.co.za suzuki_motorcycle_s.a suzuki_motorcycle_s.a @MotorcycleSA

SUZUKI DL1050 XT V Strom

FROM R221 950

ONLY YELLOW AVAILABLE

@MotorcycleSA T's & C's Apply

T's & C's A
---
Twenty minutes later the 990 was loaded and we followed

Andrew to the farm. It took him about an hour to strip the

cable from his bike and about 10 minutes to fit it to the

990. To save time he ran it on the outside of the petrol

tank.

Andrew wanted nothing in return. He is a true hero who

lives the motto that as bikers we never leave a brother/

sister stranded. We can all take a leaf from his playbook.

The world will be a better place. A little help from a friend

saved our trip.

We started day three a full day and a half behind schedule

and it was only a four-day trip. There was no way we could

still circumnavigate Lesotho. We had to come up with

another plan. We still wanted to ride up Sani Pass and

decided to get to Himeville, the gateway to Sani Pass,

where we arrived mid-afternoon.

Maarten had hurt his ankle in the mud and we booked him

into a room at the Himeville Arms Hotel. Edward Campbell

decided to join him. Anton and I pitched our tents.

Over a cold beer, we planned our next move. Early the next

morning Anton, Edward, and I would ride the RAD KTM,

Suzuki V-Strom 1050 XT, and the KTM 990 up Sani Pass.

Early morning we hit the road. It is now tarred to the South

African border post at the foot of Sani Pass. It's beautiful

and a treat for all who love twisties. Even if you only ride

to the border post, ride it and ride it again. It's worth the

effort.

But we were going up the pass and glad to see the end of

the tar. Anton discovered he left his passport at home and

we had to negotiate him through the border post. Since

we were not entering Lesotho, it was not too difficult.

Don't chance it though. Success is dependent on the

officer on duty and your ability to speak fluent SeSotho.

Fortunately, I grew up in the Eastern Free State and

learned SeSotho as a child. We got Anton through.

I have been up and down Sani Pass many times and

this was the worst I have ever seen it. Much of the dirt

between rocks had washed away and clearly, there is very

little maintenance done. If we wanted to get safely to

the top, we had to throw caution to the wind and just gun

it. Not a big issue for the KTM. It has suspension travel

for days. I was a bit worried about the Suzuki which is

obviously more road-biased.

As you get closer to the top, the gradient and number

of switchbacks increase. There are a number of sharp

off-camber turns that can easily catch you out. You can't

lose concentration for even a second. Although a bit

too fast, second gear with a steady throttle was the only

option, we made it to the top without incident. It turns out

I had no reason to worry about the Suzuki. It was more

than up to the task.

With sighs of relief and a sense of achievement, we

parked the bikes at the top for some pictures and to rest.

The view is spectacular, possibly one of the best in the

world.

What goes up must come down and that normally takes

much less effort. You have to keep your wits about you

and rely heavily on the back brake. Grab the front brake

in a moment of insanity and you are going to pick up your

bike against a gradient. We all know how difficult that can

be.
---
In our minds, we rode down like champions. We made it to the

border post without incident and huge smiles on our faces.

Back at the Himeville Arms Hotel, Maarten had struck camp and

we were ready for the next part of the ride. We adjusted the route

and headed for the mountains around Harrismith. That would take

us through Lotheni, Nottingham Road, Ladysmith, and Normandien

pass to Memel. Not what we had planned, but Normandien

Pass is on most bucket lists and I had been looking forward to

riding it again.

Maarten was in no mood for the Lotheni Road after the drama of

the previous day and decided to stay on tar through Bulwer again.

We would regroup at Mooirivier.

If you have never ridden Lotheni Road, you should move it to the

top of your "to-do" list. It is spectacular and some of the best

riding you can do. From tight corners to sweeping turns, from

spectacular views and an introduction to village life, Lotheni Road

has it all.

At Mooirivier we called Maarten. He had missed our rendezvous

and was pushing on to Ladysmith. We agreed to meet him there

and make it our overnight stop. It was the last night of our trip and

we spent the evening talking about the good old days. The four of

us met in 1988 as first-year students at the then Rand Afrikaans

University (now the University of Johannesburg). Anton and I were

roommates and so were Edward and Maarten. We stayed friends

all these years and this time it was bikes that brought us together.

The next morning Maarten informed us that he had recovered

enough to take on Normandien Pass. To get there, you ride

through villages and over Collings Pass. Again we were out in

rural areas where your biggest danger is stray animals, farm

implements, and going into a corner too fast. What's not to like?

Normandien Pass is mostly used by farmers and we did not see

another vehicle until we got closer to Memel. We were in a groove

now, riding the long stretches of dirt road at speeds reserved for

tar. I'm sure each rider was immersed in their own thoughts. For

me, it was time to reflect on friendships and the people you meet

on adventure trips. Without help from our friends we would not

have completed the bike trip and neither would we have made it

this far through life.

In Memel, we stopped at the local pub and ordered four shots of

Jagermeister. It marked the end of our trip. The only thing left

now is to start planning the next one.

The Bikes

Suzuki VStrom 1050 XT

My friends at Suzuki made this bike available. I did some research

and it got great reviews as a tar road tourer. "It does not perform

well on dirt", said many of the reviews. "Rubbish", say I. This bike

took me to the top of Sani Pass and back, through valleys and

up mountains, rain, and sunshine, tar, and dirt and it didn't miss

a beat. What more do you want in an adventure bike? If I was in

the market, I would buy one. You're going to run out of talent long

before the bike runs out of capability. It's not for Alfie Cox, but for

the rest of us, it's a perfect adventure bike.

Jagermeister marked the end of our trip.

RAD Moto KTM 890 Adventure

Now this one is for Alfie Cox. It seems like KTM went back to its

off road roots when they designed and built it. It's extremely capable

off-road and performs very well on tar. But it prefers the rough

stuff. If you come to adventure biking from an off road background,

this is the bike for you. We mere mortals will never get

close to testing its full capabilities. When my old friend, Miguel

Lage, heard we were short a bike for our trip, he happily offered us

the RAD KTM 890. He is just one of those "with a little help from

our friend" kind of guys. Salute.
---
The Science Of

Speed

There are so many different riding disciplines, that very often we tend to forget

that the whole reason most people get into riding is so that you can go fast. The

Gas Gas 450…. Is a bike that is designed just for that. We caught up with Ruan

Smith, just back from injury. He'll be racing the Trax GasGas EX450F at various

off-road races through the '22 season – oh yes, we swung a leg over the saddle.

We have to be honest when we say that, very often, we'll go along to a national

offroad or even a club race – and we have no flippen idea how that lot manage

do go so fast, for so long in what are often ridiculously dusty, rutted conditions.

It's a blend of guts, talent and most importantly how your motorcycle reacts in

these conditions.

Our lot are pretty quick sometimes, but when you see a

racer – or even better – a bunch of them at full cry, it really

is something to behold.

Multiple regional champ, Ruan Smith is back for '22 and as

an added bonus, Bots racer James Kleynhans happened to

be running in his brand new GasGas EX350X and agreed

to pose for the camera. Botswana has a pool of really fast

riders – they all grew up doing desert races and stuff – so

they do know how to go really fast.

About the bike:

The EX models are pretty rare in SA, and are imported on

order only. The GasGas EX 450F features its own suspension

settings, exhaust system, bodywork, and forged triple

clamps. The main frame, subframe, engine, fuel system,

electronics, Brembo hydraulic clutch, and Brembo brakes

are borrowed from KTM, while the swingarm is the same

as a Husqvarna. The rims are unbranded, but manufactured

for GasGas by Excel.
---
The Neken handlebar is the same as what comes on the KTM motocross

and cross-country models, but silver instead of black. Tyres are shared

among all three Austrian 450cc cross-country motorcycles, with the

Dunlop Geomax AT81 front and rear. The EX comes with an 8.5 litre fuel

tank.This bike is designed for wide-open trails or flowing single tracks, it's

propelled by a monster of a motor that delivers serious, torquey power,

good light response, and tons of over-rev.

The six-speed gearbox is marketed as wide-ratio, since it has a very tall

sixth gear, there's room to go up a tooth or two on the rear sprocket if you

want more low-speed first-gear rideability. On this bike, however Ruan

has opted for the opposite - top speed rather than torque, so Trax fitted

a smaller rear sprocket – which means that at full cry, this bike runs

170KPH on the GPS. That's flippen quick for tearing around a mealie field

or the Kalahari Desert. The smaller sprocket also means that a little more

clutch input is needed on tighter trails, or for showboating and doing

wheelies and stuff. If it was our bike, we'd probably have left the gearing

standard – but each to his or her own. Ruan prefers the long gearing

because it smoothys the bike down a bit and he reckons he is able to ride

harder, longer.

You know how the saying goes – power is nothing without control? Well

this bike is a case in point – most serious racers spend time on suspension

setup and Ruans bike is no exception.

G

He has carried his Cycleworks front WP suspension over from last years

KTM. That's the beauty of cross pollinating between the brands – it's a

straight swap with no modifications needed.

For '22 he decided to invest in the rear suspension. Out back, you'll find

an Ohlins TTX flow shock. Ruan says that the TTX Flow gives the bike

improved traction, comfort and predictability which enhances the bikes

stability. It's also easy to adjust to find the perfect setting for what you

need. Cycra brush guards round off the package to prevent damage in

case of a spill.

What else?

He grins – "lots of saddle time!" "I spend lots of time riding – that's my

trick for staying fit and getting faster."

We asked him for his impressions on the new Gasser.

"I completely love it! This bike, is different from last years bike. It feels

like a 350, but its as fast as a 500. At 110 KG's fully fuelled its really light.

And it feels different to last years bike. It feels nimble, light and fast. I'm

so looking forward to the race season."

As for the bike.

Our lot managed a few laps around the sandy quarry and old MX track

at Legends. The bike is ergonomically really comfortable. The faster you

go – the better the suspension works (Ruan probably weighs in at around

75KGS, our riders are marginally heavier) but Gauteng based guys will be

familiar with the whooped out section along the fence at the top of the

quarry. 4th gear wide open and those whoops get easier to ride as the

suspension does its job. And that is the key to really going fast.

It's equally good in the corners, hit them fast, dab the brake and open

wide, this bike turns beautifully.

The hydraulic clutch is typical GasGas smooth and soft on the hand - and

make no mistake – once you get the hang of pulling off with the higher

gearing, that 450 mill delivers a lot of speed without any big hits or power

surges.

The guys who race this discipline must be incredibly fit to be able to hang

in there for a full race. The way in which the power builds makes throttle

control very easy. There is plenty of power through the midrange, and just

when you think it's going to sign off, it keeps revving for a few thousand

rpm more. To be frank – we kept running out of trail before the engine ran

out of revs.

This bike is well balanced really, really quick and thankfully, the Brembo

brakes are top notch too, great stopping power with smooth, action and

feedback. You'd expect nothing less from this brand.

We keep saying this. It's very fast. With brakes and handling to match.

But when it comes to bikes – there is no such thing as too fast. It's up to

the rider to hang in and enjoy the ride.

This one from Trax Moto – www.traxmoto.co.za

O

C
---
www.gasgas.com

GET

Photos: Sebas Romeo, Mitterbauer H.

ON THE

CHECK IT OUT!

G A S !

Purpose built for no-nonsense riding enjoyment, GASGAS EC Enduro bikes put highperformance

into the hands of everyone from occasional weekend warriors to those chasing

extreme enduro glory. Wherever you decide to ride, GASGAS EC 2-stroke and 4-stroke enduro

bikes are super versatile, ready to get you through the hardest rides and to the top of the

gnarliest climbs!

#GetOnTheGas

@gasgas.official

Please make no attempt to imitate the illustrated riding scenes, always wear protective clothing and observe the applicable provisions of the road traffic regulations!

The illustrated vehicles may vary in selected details from the production models and some illustrations feature optional equipment available at additional cost.
---
Zone 7 Mini Moto

4 February 2022

By Lorna Darrol.

Once restrictions were eased the guys at Zone 7 were determined to put their riding skills

to good use, albeit in an informal and yet VERY competitive format!

Friday evening, the 4th February saw the aficionados of the Order of the Pit Bike gathered

at the Zone start line to do battle with their trusty steeds.

Pitties of all shapes and sizes – none over 110cc – were there. From the latest Honda

is red livery to a few Chinese knockoffs, all intent on being the victor at the end of the

evening.

A group of the young MX riders, from 50cc to 65cc were also part of the evenings festivities,

getting in some practice ahead of the upcoming Cape MX Nationals. A few newbies

who were riding slightly bigger bikes also joined in the fun.

The event was run in heats – the pit bikes, then the junior MX riders – rinse and repeat!

Although the bikes were far smaller than a full size MX bike, the riders were undeterred

and rode just as hard as if they were competing in an official event!

Joining the riders on the evening was Sam Pilgrim, a professional freeride mountain biker

who was definitely no pushover on the small bikes. The kids were particularly impressed

and he kindly signed a few MX shirts – which their young owners were very proud of.

The final event was a team relay - down the start straight, then through the central kids

MX track, out onto the main track and over the tunnel and clubhouse jumps and back up

the straight to where their team mate was waiting to take over.

A marking system was set up and the first team to complete 18 circuits were to be the

winners. The junior riders teamed up with some of the older riders and battle commenced

with a pull away from the start line and then, while the riders completed the rest

of the course, helpers pulled tyres into place for barrel racing down the straight.

The competition was really fierce and everyone who took part or spectated are looking

forward to Friday, 4 March, when the next Mini Moto will again take place at the Zone 7

MX track.

If you are in The Cape, I'll see you there!

Lorna.
---
Round 2

Round two of this popular junior development series was hosted

at a very hot Terra Topia track on Sunday the 13th of February.

With many of last years crop of riders moving up to regional

racing, competitor numbers are increasing and 64 eager

youngsters lined up for a bit of bar banging.

The Pee Wee class did not disappoint and it was awesome to

see the most junior riders pinning it with even more enthusiastic

parents egging them along.

It's always fun - and great to watch - and this is where many of our

young riders are learning the love of the sport.

Round 3 is at ERORA on the ERast Rand on the 13th of March.

See you there!
---
The 2022

Pics by Cloud 9 photography SA, Sean Versfeld.
---
Adventure

touring

on a sensible budget

We FF..f…fff…Flippen' love stories like this,

(and if you have one we would love to hear

about it and maybe even publish it. While,

(boredly), scrolling through social media we

happened upon this really cool post with

the most amazing pictures… Who says you

need to have a big, expensive, recognised

adventure bike to enjoy adventure riding.

All you need is the desire, the terrain and

anything with two wheels and an engine as

Wayne Duck and his Missus proved…

He Says:

Touring the dusty Klein Karoo two-up on our Sym Symphony

150cc scooter.

While staying at De Vlugt, (Prince Alfred Pass), in our

camper truck for two months, my wife and I decided to

take our scooter on two 3 night, 4 day trips:

First to Gamkaskloof, (Die Hel), and a second through

Baviaanskloof via Grootrivierpoort.

Off to 'Die Hel' a total distance of 450 km's.

•Day 1 - 115 km: De Vlugt to Oudtshoorn via Nolshalte and Eseljagpoort, (Kammanassie).

•Day 2 – 96 km: Oudtshoorn to Gamkaskloof via Swartberg Pass. We spent quite

a bit of time freewheeling down the hills on the Gamkaskloof road. The fuel range

is not too much on the little scooter so we had to save where we can!

•Day 3 – 61 km: Gamkaskloof back to Swartberg Pass and then to Prince Albert.

As we joined the Swartberg Pass again from Die Hel, we met a friendly couple

about to ride into Die Hel. Their 1250 GS has the equivalent of 8 of our scooter's

engines in it, should have NO problem doing the road down into the kloof and

back!

•Day 4 – 178 km: Prince Albert to De Vlugt via Meiringspoort, De Rust, Hoekplaas,

Uniondale and Prince Alfred Pass.

The scooter handled this route with ease, and might I add with a lot more giggling

than if I was on a 'proper' adventure bike. I'm not a fan of tar roads hence us

following as much dirt road as possible. The road down into Gamkaskloof from

the Swartberg Pass is not very technical but very scenic! Take it slow as there are

many photo opportunities and also places to enjoy a swim in the cold mountain

streams.

The machine that carried us two-up on this trip was our Sym Symphony 150

scooter. We have had this scooter since 2016 and it continues to bring us much

enjoyment… not least because of the ease with which it carries us on these types

of little adventures. Okay - maybe also the looks of astonishment we get from

people when we arrive at some "middle-of-nowhere" destination on it!

I've been racing and riding off-road/adventure bikes since 1980, and have done

many hundreds of thousands of kilometres through Southern Africa over the

years.

Just over the period 2005 to 2020 on my last two bikes, a KTM 950 S and KTM

990 R, we… my wife as pillion, have done a combined 130 000 km through seven

African countries.

Nothing beats the feeling of month long trips through Africa over gravel roads and

tracks on a capable and reliable bike!
---
Due to our current lifestyle, (for the past 5.5 years we now live and travel

full time in our camper truck), we have not had much time to use the KTM

990 R, so I sold it (after 11 years of ownership), in January last year.

The Sym scooter, for now, has to satisfy our yearning for two wheeled

adventures, and it does so without fuss.

It has been extremely reliable and is a joy to maintain. A 750ml oil

change every 3000 km, and it has its third air filter in after 6,850 km.

That's it! I have spent nothing else on it! Original tyres, (no punctures). No

fancy so-called "must have adventure accessories". No need for expensive

luggage systems either, just stow away your luggage under the seat…

dry, dust free and out of sight.

Yes, it's not for long distance touring if you're in a hurry! It'll manage 80

km/h two up on good gravel but mostly it ticks along at 60… being retired

we have the time.

It also has no suspension to brag about. It does not have much in the

way of ground clearance either, but because it's so small and light one

can very easily manoeuvre it between the rocks and potholes and still

maintain a decent average speed.

Helped by its 16" wheels it handles deepish water crossings surprisingly

well too, see the next part of our trip through Grootrivierpoort and

Baviaan's.

Grootrivierpoort and Baviaanskloof, a total distance 546 km.

Many have done this popular route and it remains one of our favourite

loops to do whenever we are in the region. We have done it many times,

on my KTM 950S and 990R, in our Suzuki Jimny, (sold all of these since),

and in our Iveco Daily 4x4 camper (which we now live and travel in

fulltime).

Day One: 191 km

As with our trip to Die Hel, we loaded up three changes of clothes (3

T-shirts, 3 socks, 3 undies each), plus my small air compressor, a tyre

repair kit and a few toiletries under the scooter's seat and headed up the

Prince Alfred Pass to Uniondale. Here we had breakfast and fuelled up, a

mere 5 litres in the tank plus 3 litres in two 1.5L cool drink bottles. The 5L

tank can get us +-130 km so, with no refuel point between Uniondale and

Steytlerville, I had to carry extra. I hung these two bottles from the bag

hook in the "step-through area" of the scooter.

From Uniondale we took the gravel Misgund/Hartbeesfontein road to the

R332 T-junction. We turned left towards Willowmore direction but then

soon right onto the Winterhoek road to Steytlerville. We stayed the night

in the Steytlerville Royal Hotel.

Day Two: 134 km

A full tank, (all 5L of it!), and 3L spare in the bottles we headed out of

Steytlerville direction Grootrivierpoort, via Hottentotspoort and Antoniesberg

Pass. The water crossing at Grootrivierpoort was deep enough to get

my feet wet on the scooter's foot board but it managed it very well, albeit

sounding a bit like an outboard motor!

The climb out of Grootrivierpoort has loose rock some of the way and,

with the scooter's almost nil ground clearance, my wife had to take a

short walk here and there! This had a plus side as she was then able to

take some short videos of the scooter bouncing over said rocks!

After this climb the track heads over the hills in the Patensie direction

until you get to the R331 tar road. After turning right on the R331 it is not

long before you get to the Padlangs Country Restaurant, where we had

a great lunch. After lunch we headed for Kudu Kaya where we spent the

night.

Day 3: 114 km

We were up at the crack of dawn to get to the Baviaan's eastern gate,

(they open at 6am). This would give us the whole day to take it real slow

and enjoy the spectacular scenery through this very special area. The

road was mostly good, with 12 of the water crossings actually having

water in them, none too deep that our scooter could not get through.

One of them, Smitskraal, my wife chose to walk through but all the rest

she stayed on pillion and took videos on her phone while we splashed

through.
---
FU

fo

Once out of the western gate of the park we headed to Uitspan Camp

where we spent the night.

Day 4: 107 km

From Uitspan Camp we continued through Nuwekloof Pass until the left

turn to Uniondale, again via Hartbeesfontein/Misgund as we had done

on the outward route. From Uniondale it's a 30 kilometre ride down to De

Vlugt on the beautiful Prince Alfred Pass.

As with the previous 6,850 km that we have done on this scooter, it

performed faultlessly. No punctures, no falls, starts first time every time.

Quite amazing for the price really!!

Sym Symphony 150 +/- R19,995.00

Start year 2011

Frame type

Steel

Wheelbase

1,328 mm

Length

1,986 mm

Width

690 mm

Height

1,175 mm

Front Tyres 90/80-16

Rear Tyres 110/70-16

Front brakes

Single disc

Rear brakes

Expanding brake (drum brake)

Front Brakes

225 mm

Rear Brakes

130 mm

Curb Weight (including fluids) 119.0 kg

Dry Weight

114.0 kg

Fuel Tank Capacity

4.80 litres

Engine type

Single cylinder, four-stroke

Engine details

Electroplated ceramic cylinder

Fuel system

Carburettor

Engine size

149.60 cc

Camshaft

SOHC

Engine oil capacity

1.00 litres

Driveline

Automatic CVT

Starter Type

Electric & kick

Instruments

Digital and analogue

Lights

12V 35W/35W headlights

AT YOUR SYM DEALERSHIP.

www.sym.co.za

AD

CAPE TOWN

021 981 8399

Okavango Junction L2,

Kenwil Dr, Brackenfell

CENTURION

010 007 4987

17Landsmark ave, Unit 7

Samrand

co
---
ADVENTURE AWAITS

071 101 6146 - 078 912 2160

sales@gutsngas.co.za

www.gutsngas.co.za

gutsngas

order

online

ARMA AIRFLUX JACKETS

Mens r2200 LADIES R2200

forma adv high boots

r4650

cardo freeCom x2

single r3150

duo r5950

cardo freeCom spirit

single r2280

duo r4260

go gravel agulhas 30l

r995

alpinestar venture xt

jacket r4995 pants r4195

desert fox storm 700

r3450

2,

ll

t 7

octane vISION gear

jacket r3150 pants r2380

givi

st611 r2250

combO madness

turkana pellipouch

r975

free

fitment and

balancing

120/170-17 r4470 r3800 r4900

120/170-17

110/150-17 r3890 r3380 r4390

110/150-17

21.150-18 r3585 r3075 r3600

21/150-18

21/150-17 r3700 r3015 r3830

21/150-17

eo7+

FULL SELeCTION of gear in store

for the bike - for the rider - for any adventure

26 Avant Garde Ave. Northlands Deco Park. Randburg.

trailmax

mt505 r1615

adv

ea123 r1140
---
Cape Test:

Hero Xpulse 200 Rally

Fun comes in small packages

Words and Pictures: Wilhelm Lutjeharms.

By now, unless you live under a rock, you will have heard or seen that

Hero Motorcycles are making waves on the local scene and globally.

They now have a fairly well established dealer network locally, with

bikes available all over the show. One of them even took part in

Decembers Roof Of Africa and as for global news – well our very own

Kalahari Ferrari, Ross Branch has just signed with the Hero rally team.

How cool is that?

Down in The Fairest Cape, Wilhelm Lutjeharms hooked the 2020 Indian

motorcycle of The Year to a Peugeot bakkie and took it for a ride in

Helderberg.

He shares his opinion…

Which is the most fun, a road bike or an off-road bike?

It's a discussion that motorcycle enthusiasts have been having since

bikes were invented - and will be having for years to come.

Having ridden selectively on gravel roads, I have not been exposed to

many small capacity off-road bikes. But, one of my favourite memories

is the very first motorcycle I ever rode, which was a 1974 Suzuki RV90

"Fat Cat"… which is, incidentally still in the same family on the same

farm since day one.

However, it didn't take me long to realise how much fun small-capacity

bikes can be in the right conditions – and the Hero Xpulse 200 Rally

rejuvenated these thoughts again.

This upgraded Hero Xpulse 200 Rally is visually rather appealing. Fitted

with an Akarapovic slip-on exhaust pipe and those knobbly Maxxis tyres,

plus the white hand guards it does look the part and seems ready to

tackle some trails or the nearest farm road.

It is also quite high off the ground. At 1.87-metre tall I was, just, able to

put my feet flat on the ground, but more often than not it was the front

part of my feet that I used to keep my balance. The Rally does, after all

offer a claimed ground clearance of 220 mm.

There is a kick starter should the need arise to use it, otherwise the

electric starter that was faultless for the duration of my ride is always a

nice touch. The seat is comfortable and the small and compact nature

of the bike allows you to feel fully in control of the bike at all times.

The light switch has a dim and bright setting and the small digital information

screen shows the rev counter at the top while the trip computer

indicates the fuel consumption, fuel range as well as the speed.
---
And it also has a Navigation system which is very simple to use – and a pretty high spec

standard feature.

There are also foot pegs for your pillion and metal handle bars to hold on to.

On a tarmac road you can feel that the knobbly tyres are not altogether happy, but the

moment I hit the gravel roads they dig into the gravel and easily kicked up some stones

and dust as I opened the throttle. The benefit of such a small capacity engine is that you

never have to worry if the front wheel will lift. You can open the throttle to the stop and be

confident in the fact that the bike will simply accelerate without any surprises. If you want

to lift the front wheel you will have to use your weight and the clutch. Even over bumpy

terrain the suspension did a good job in absorbing the bumps, while tricky terrain can be

tackled with relative ease as the first gear is extremely low.

The result is that at tickover I was able to ride on challenging flat surfaces at around 10

km/h.

When road became smooth again, I went through the five gears and achieved an indicated

100 km/h. This is more than enough speed for those weekend excursions at your favourite

playground. The brakes come standard with ABS – unobtrusive and they were also top

notch for my little adventure.

For a novice rider, the bike is capable and unintimidating to ride largely due to its compact

size. For the more experienced riders – as a day-to-day commuter or a weekend toy,

in my opinion, this Hero will give you lots of grins, for a relatively small amount of money.

Best of all, this bike appears to run on the sniff of an oil rag… which is great because with

the cost of fuel these days, economy really is becoming more and more of an issue.

There are five colours to choose from, this test unit came in the Pearl Fadeless White,

while a green, grey black and red is also available.

There is also a 5-year/100 000 km warranty, which means you can pile on the miles and

rest assured it is still under warranty. The first service is at 500 km, which is free, and

then every service is at 3 000 km.

Priced at R52 499 (R59 999 with the slip-on exhaust pipe), in my opinion, the Rally offers

an ideal introduction to off-road riding and the fun that can be experienced when you

venture onto the trails.

Thanks to Mad Macs Somerset West (021 852 4851) for supplying this test unit.

WE R'ACED IT

2022 dakar rally

*perfect as a commuter, adventurer or commercial ride.

Introducing the 2022 Hero Xpulse 200

with revised engine mapping, top speed, ABS, digital dash

and turn-by-turn navigation.

Available at Hero dealers nationwide.

www.heromotorcycles.co.za

220 mm Ground Clearance - 190 mm Front Suspension Travel

10 Mono-shock settings - 14 Sensor Fuel Injection
---
The Namibian Connection:

Our favourite line is – You need a motorcycle

in your life – and we are very happy to see

that many people agree with us. Namibias

Frederick van Greunen send us this cool feature

about how he got into biking at the tender

age of forty.

Hi Guys!

I've always wanted to share a little story, if you

are interested, for those guys just starting and

those late starters who always wanted to.

I started riding dirt bikes in late 2019, before

then my only motorbike was a Vespa 300

that I've ridden for 10 years now as my daily

runaround, like most people I remember trying

a Blaster on the beach or getting kicked by an

old 500xt..

I've just been a keen mountain biker, doing

all the big stage races and winning some age

cater races now and then, no other sport apart

from some triathlons where you drown, ride,

run.

Where we live in Namibia, you have some

freedom to roam some lonely gravel roads,

which is why adventure bike tourists are found

all along our desolate backyard.

Now that I think of it, I can't remember why

I didn't start trying enduro biking sooner, I

remember driving back from a project site and

seeing some faint tracks go up to a cellphone

tower, and I asked my buddy in the car "yo, I

wonder if one can ride up there with a motorbike,

like what kind of speed would one need

to make it"?

Earlier that year I ran into one of the Namibian

mountainbike pioneers, Aidan de Lange, who

told me how he suffered with a 500 KTM when

he did a "small outride" down some rocky

rivers with "senior" 2 strokers. Aidan himself

started toying with a two stroke when his new

son in law took him on a ride in the Eastern

Cape where they live, when he got back he

ordered a 300tpi.

Now Aidan was my hero since 2006 when

he randomly invited me on a mountain bike

training ride for his yearly Cape Epic, "Hey,

come along tomorrow, bring some water"

,suffice to say my R 1800 hard tailer and my

legs didn't easily finish the 120km 7hour affair.

I was broken but the fuse was lit for a 15 year

cycling lifestyle to follow.

De Lange also founded the desert dash which

is a famous 24hour race through almost 400

clicks of rough gravel, so this guy was the

father of mountain biking back then when

golfers played golf and real cyclists were few

and far between. I knew maybe six people,

versus the thousands that now participate in

our small town. So when he started riding a

dirtbike, I took notice.

Somehow things fell into place as I saw a

random facebook ad for a 2015 250XCW. It

wasn't crazy expensive, similar to a mountain

bike. I realized I knew the seller and asked so

many questions, most of them truly stupid,

then I went to his house with my vespa helmet,

jeans and vellies.

He showed me how to start it after I ogled the

fat pipe and the missing dashboard "where is

the key?, ah just this little button?"

Rolling into a bush padjie I went into second

and figured out the clutch… At first I was afraid,

then I was more afraid and then something in

my brain went "click", that rush, that push-pull

sensation, I tasted the proverbial "drug".

I told the seller I'd come back to him, and on

the way to the car I asked repayment terms…

so the seed was planted. I started researching

and asking around, what kind of kit, where

does one find these things, the most common

answer was, "Get proper knee braces and

boots, the rest you can figure out as you go

along"

R25k later I had a helmet, ballistic jacket, braces,

and lekker boots that were on special, I was

the "all the gear, no idea" guy and still without

a very good excuse to justify a new toy..

Time ticked on..

One morning I woke up, sent the message,

and arranged to pick up the bike. I was now a

beginner rider, day 1 of my new enduro life…

After figuring out how to not flood the carb,

and after someone had to help me clean out

the gunk, I put on my kit and met my one dirt

bike friend to go riding, my first hill is my first

stall, my second hill is my first fall over, and

so on…
---
Thinking that mountain biking would make me superfit for this bike story, I

assumed that I must be able to figure it out fast. Nope..

I soon ran into lots of guys on bikes, and started going out twice a week

for longer stints, two of my friends also bought bikes, one got a 300 Sherco

and the other a 350, having heard a four stroke climbs well. So now we

were a bunch of beginners riding with some veterans, I remember every

little step up and every little drop was a fear stricken affair with me either

getting off to push up or walk it down, I was doing all the heavy lifting and

the experienced guys were just taking photos of this sweating rookie.

Every ride was hard, even getting dressed into all the kit was a long story

and I sometimes forgot my hydration pack, but this was the most fun I've

had in a long, long time, serious learning curve.

Fast forward a few months and now we enter our first Enduro race, I take

insulation tape and make up my race number, the night before I can't

sleep, I tell myself that I've prepared for and executed hundreds of MTB

races, from early coffee, eating, warmup and the entire Saturday ritual

ending with cold beers and a late afternoon nap. This was different, the

only preparation was a funduro event a month before, we rode on some

jeep track in tag teams and there was a small step up that I tumbled over

on each lap.

So race 1. I go through all the motions and the nervous chatting in the

lineup for class 7, I also thought I was too cool for class 10, and my two

class 10 friends thought I was windgat and would surely die… four class

7 laps and six hours later, I come into the pits dead last, but ecstatic to

have finished and tagged all the waypoints. Now we can drink some beers

and chat about all the redo hills, and walk down drops, water crossings

and fall overs, it was a taste of what would become one of my favourite

pass times.

A week later we got hit with lockdowns, I then realized that no one cares

if I take the bike and go riding in the hills, we meet friends but obviously

don't do any handholding on the rock slab waterfall climbs, those few

months were heaven, work from home, ride when I want, look after kids,

repeat! Sooner or later I started being that stupid guy who blames his bike

for his lack of skill, I kept thinking it was the 250 causing my spin outs

and my inability to ride "properly".

In hindsight, I now feel ashamed for selling that bike and topping up some

cash for a 350, the 350 was great and taught me to commit up scary

climbs, it might have just had 140 tyres on and softer mousse when I

rode it, but it felt more powerful and that, I assumed would make me ride

better..

JOIN US FOR A RIDE

YOU AND YOUR FAMILY

ARE WELCOME

Enduro Weekend

11-13 March

Breakfast Run

27th March

Adv Tour

27th March - 02 May

Breakfast Run

24th May

Enduro Day

10th April

Wheelie Day

9 April

SAVE THE DATES

Corner Rivonia and Witkoppen Road, Witkoppen Rd, Sandton,

2157 Phone: 011 234 5007 Email: info@radmoto.co.za
---
Half page

The more I participated in races the better I felt, the bike was expensive

to maintain, ran hot, and through hours riding and some six enduro

races on different farms and terrain, I figured it out, I don't need this

350 weight and engine braking, I want the light touch of a two stroke

again and every now and then something needed attention. During one

of these downtimes I asked to ride my old 250xcw, I had read up and

noticed the powervalve was in quite deep, I played around and turned

it out bit by bit to see, at the same time I swopped to a really gummy

Mitas I had in the garage. All of the sudden my old bike was the best

climber, more chilled out on lower revs, no screaming away, and much

more rideable for my abilities.. I was now in remorse. Combined with

more experience and some minor tweaks, I now missed the two stroke

and wanted a do over.. sell the 350, order a TPI…

Forward a few months, and a lot of waiting and making deals with the

devil , I now have 30 hours on a '22 Erzberg, from which I removed the

factory plastics (as I still fall over) and put some six days replica vinyl

on (because 22 six days are Miami 80s nice) ..

This is a new chapter and things are going smooth, crisp power, gurgling

up any hill, popping up and down rocks with greater ease, I am now in

love again.

So much to learn and looking forward to the enduro season, and even

coming down to SA to see the wet and muddy side of the sport!

I still ride my mountainbike and I even did a moerse nice three day

event in Piketberg (the U 2021) with free beers all weekend, and then

during those war stories, whenever I speak to a mountain bike buddy, it

is difficult to explain the ecstasy of riding a two stroke up a gnarly hill

and through unmapped unbuilt terrain. The sheer freedom.

We live in one of the few places on earth where one can still go out and

just ride, from doorstep to step up, just ride…

P.S – borrow some boots and a bike, take your mountain bike friends for

ONE enduro ride. BE the person who changes someones life!

Frederick van Greunen, 40 year old amateur dirtbiker
---
GIVI PRODUCTS ARE IMPORTED AND DISTRIBUTED BY DANIEL MULDER DISTRIBUTORS.

CALL 011 792 7691 OR VISIT WWW.DMD.CO.ZA TO FIND YOUR NEAREST AUTHORISED GIVI DEALER.

PRICES ARE AT RECOMMENDED RETAIL PRICE INCLUDING VAT. E&OE.

Half page DMD.indd 1

1/20/2022 7:02:32 PM

BIKE GRAPHICS

robertco.co.za
---
Pic 1

Pic 3

Pic 2

Pic 7 Pic 10

South Africa

to Slovenia part 7 Egypt

By Cronjé Bruwer

Egypt is surely an interesting country, our first observation was how

freely benzene, (petrol), was available after struggling finding it in

Ethiopia and Sudan.

When the Aswan Dam was built, the roads between Sudan and Egypt

were all flooded. Ferries are therefore provided to transport vehicles

from Wadi Halfa in Sudan to Abu Simbel in Egypt. The border crossing

between these two countries is troublesome as our motorcycles need

to be registered in Egypt and deregistered upon leaving the country.

See photos 1 and 2 showing our Egyptian number plates, This is an

extremely costly exercise, to the tune of about 60% of the value of

your vehicle or motorcycle, so you do need to budget for that, you do

however get a full refund when you take your bike out of the country

again, this just protects the local importers and distributors from grey

imports and the like.

The Aswan Dam, or more specifically since the 1960s, the Aswan High

Dam, is the world's largest embankment dam, which was built across

the Nile in Aswan, Egypt, between 1960 and 1970. Its significance

largely eclipsed the previous Aswan Low Dam initially completed in

1902 downstream, (from Wikipedia), Photo 3 show how spectacular the

dam is.

On our arrival in Abu Simbel, Abu Simbel are two massive rock-cut

temples in the village of Abu Simbel, Aswan Governorate, Upper Egypt,

near the border with Sudan. They are situated on the western bank of

Lake Nasser, about 230 km southwest of Aswan. (from Wikipedia) .

The temple complex build by Raamses II would have been covered with

water as the Aswan Dam filled. The international community donated

money to cut the whole structure into blocks and transported to higher

ground at Abu-Simbel, see photo 7. Today this is an UNESCO heritage

site.

The town of Aswan is located at the Aswan dam wall. We experienced a

pleasant evening as we were sailed to an island in the Nile River where

we experienced a lovely meal, Jacques's credit card was trapped in an

ATM as the power went down, the next morning we, (Colin and Cronjé),

took a slow ride towards Luxor as we waited for Jacques to retrieve

his card and to catch up with us. As we left Aswan we were stopped at

a roadblock and asked where the third rider was, we had to wait until

Jacques joined us. This showed us how we were watched in Egypt , so

behave yourself when you are visiting Egypt.

The town of Luxor was one of the highlights of our tour. The Valley of

the Kings was truly exceptional, we spent most of the morning sightseeing

around the area, photo 10 shows a typical entrance to one of

the tombs. Photo 12 shows the spectacular interior of the tombs. The

Valley of the Queens was not as spectacular as the Valley of the Kings

but definitely worth a visit. The temple of Hatshepsut, the Pharaoh

Queen, was spectacular, the temperature during our visit to this temple

was extremely high, see photos 13.

Pictures say a thousand words, and really, I would need more than a

thousand words to try and describe the splendor, history and the sense

of wonder that this place instills in you, so I am going to let the pictures

tell the story. Photo 15 shows Jacques in an deep conversation with a

statute, while Colin posing at the Colossi of Memnon as if it belongs

to him, all of us has been away from home too long at this stage of

the tour and losing our minds a little bit in the heat. Luxor temple is

magnificently lit during the night, see photos 17. The temple of Karnak

was inscribed in 1979 on the UNESCO World Heritage List and is a must

see place in Egypt.

From Luxor towards Cairo we took the route via the desert towards the

Red Sea as the road next to the Nile river is town upon town making

our progress very slow. We stayed in Hurghada next to the Red Sea

for a couple of days as we awaited a boat to transfer our motorcycles

from Alexandria to Pirius in Greece. Photo 22 shows a small bit of the
---
ic 3
---
Pic 15

splendor of the Red Sea. Hurghada is a beach

resort town stretching some 40km along

Egypt's Red Sea coast. It's renowned for scuba

diving, and has numerous dive shops and

schools in its modern Sekalla district. There

are many restaurants, bars and nightclubs,

while the old town, El Dahar, is home to

traditional Egyptian coffee shops and souks.

Hurghada's long stretch of sandy beach is

lined with resort hotels, (Google).

From Hurghada we travelled next to the Red

Sea and stopped at the Suez canal. The Suez

Canal is an artificial sea-level waterway in

Egypt, connecting the Mediterranean Sea to

the Red Sea through the Isthmus of Suez and

dividing Africa and Asia. The canal is part of

the Silk Road that connects Europe with Asia.

(Wikipedia).

Early during our tour, the Slovenian government

enquired about our Facebook entries named

Johannesburg to Slovenia. Later during our

tour we received an invitation to a lunch with

the Slovenian ambassador in Cairo which we

gladly accepted. See photo 25 taken in the

embassy and photo 26 with the ambassador

with us at the motorcycles. 3 musketeers, the

ambassador and her staff on the roof of a

hotel next to the pyramids. The Giza pyramid

complex, also called the Giza necropolis, is

the site on the Giza Plateau in Greater Cairo,

Egypt that includes the Great Pyramid of Giza,

the Pyramid of Khafre, and the Pyramid of

Menkaure, along with their associated pyramid

complexes and the Great Sphinx of Giza.

From Cairo we headed towards Alexandria

our last stop in Africa. See photo 30 taken in

Alexandria. Alexandria is a Mediterranean port

city in Egypt. During the Hellenistic period,

it was home to a lighthouse ranking among

the Seven Wonders of the Ancient World as

well as a storied library. Today the library is

reincarnated in the disc-shaped, ultramodern

Bibliotheca Alexandrina. The city also has

Greco-Roman landmarks, old-world cafes

and sandy beaches. Its 15th-century seafront

Qaitbay Citadel is now a museum. (― Google)

The catacombs of Kom El Shoqafa in

Alexandria is a very interesting site, see

photos 31 and 32. The catacombs of Kom El

Shoqafa, an Arabic name meaning "Mound

of Shards", is a historical archaeological site

located in Alexandria, Egypt, and is considered

one of the Seven Wonders of the Middle

Ages. The necropolis consists of a series of

Alexandrian tombs, statues and archaeological

objects of the Pharaonic funerary cult

with Hellenistic and early Imperial Roman

influences. Due to the time period, many of the

features of the catacombs of Kom El Shoqafa

merge Roman, Greek and Egyptian cultural

points; some statues are Egyptian in style,

Pic 17

yet bear Roman clothes and hair style whilst

other features share a similar style. A circular

staircase, which was often used to transport

deceased bodies down the middle of it, leads

down into the tombs that were tunneled into

the bedrock during the age of the Antonine

emperors during thesecond century AD. The

facility was then used as a burial chamber

from the second century to the fourth century,

before being rediscovered in nineteen hundred

when a donkey accidentally fell into the access

shaft. To date, three sarcophagi have been

found, along with other human and animal

remains which were added later. It is believed

that the catacombs were only intended for a

single family, but it is unclear why the site was

expanded in order to house numerous other

individuals. Another feature of the catacombs

is the Hall of Caracalla, which contains the

bones of horses which were the tombs created

for the horses of the emperor Caracalla in 215

AD.(-Wikipedia)

From Alexandria we shipped our motorcycles

to Athens, the next episode will describe our

last leg of our tour through Europe.

Pic 13

Pic 25

Pic 30

Pic 31

Loo

Pic 26

Pic 33

Suez Canal

Pic 32
---
Cycle Technology ccT/A

1

Looking for motorcycle parts or accessories

Phone 011 395 2553 - 082 756 1008

Email : info@nickscycles.co.za

082 756 1008

Mon - Tues 8am to 5pm Wed 10am to 5pm

Thurs - Fri 8am to 5pm

Closed Saturdays/Sundays & Public Holidays

EST. 1978

Adventure, Classic & Custom

Motorcycle & Accessory Specialists

Accessorising of all

HARLEY DAVI

Transmission 6-sp

low

Battling to find BMW

Motorcycle Engine Parts? V tw

Exclusive stockists of a DO

comprehensive range of New, lifte

Aftermarket, Reconditioned

and Used Parts Max from Power 1950 150

to current Torque Models. 127

Frame Stre

Professional Restoration, Custom

Building, Servicing and Repairs of all

BMW Motorcycles

Accessorising of all makes of

Adventure Motorcycles

Stockists & Fitment of proven

Adventure Motorcycle Equipment

& Accessories

Prepare & Equip all types of

Adventure Motorcycles

Service & Maintaining of BMW Classic, Touring

Fuel Capacity 21.2

Front Rim 19"

Rear Rim 17"

Seat Height 789

Wheelbase 158

Wet Weight 254

and Adventure Motorcycles

Tyre Stockists, Recommendation, Fitment &

Electronic Wheel Balancing

Manufacture & Design Parts to Specific Requirements

Cycle Technology ccT/A

Customisation Consultancy

Repairs, Trueing and Lacing of Wheels

Tubeless Conversion

Puncture Repair Kits

EST. 1978

Officially Appointed

Adventure,

Distributors

Classic

for

and

Motorcycle Equipment,

Custom Motorcycle Accessories and more and

Accessory Specialists

Battling to find BMW

Motorcycle Parts?

Exclusive stockists of a

comprehensive range

of New, Aftermarket,

Reconditioned and

Used Parts from 1950

PUNCTURE to current REPAIR KITS Models.

Professional Restoration, Custom

Building, (011) 433 8850 Servicing info@cytechmotorcycles.co.za

and Repairs

of all

61

BMW

Port Road,

Motorcycles

Robertsham, Johannesburg

www.cytechmotorcycles.co.za
---
EMD Online_justTRAC_A5 Advert.pdf 1 21/11/30 8:23:03 AM

Looking for a

cool Adventure

Route:

Memel Hotel to

Verkykerskop via

Witkoppe .

This is not a ride review, but rather an appetiser to

some of the adventure riding in and around the area

of Memel Hotel.

Memel Hotel is located in the picturesque eastern

Free State town of Memel and is owned and

managed by Rudi and Sarinda. The hotel is just 2

½ hours east of Johannesburg and 47 km's from

Newcastle on the R34. The hotel turned a 100 years

young in 2014. They have 7 bedrooms with en-suite

bath or shower.

There is a lively bar with a big screen TV and a

lekker fireplace for those cold winter evenings. The

cosy lounge with communal TV leads into a dining

room seating 30 guests. Both venues have a fireplace.

There is a lovely garden to relax in and read

a book, (or your favourite motorcycle magazine),

with a private braai area. In addition, a communal

braai area for bigger groups is available. For those

special occasions, a spitbraai facility is available.

They will arrange off-road maps and GPS settings

for the adventure motorcycle enthusiasts with over

600kms of dirt road rides including 5 mountain

passes. Hiking trails, mountain bike routes, and

fishing dams for bass/carp and yellow fish are also

available. An a-la carte menu is available with delicious

meals to suit all palettes and should you so

desire they can also accommodate any small events

or weddings and the like.

C

M

Y

CM

MY

CY

CMY

K

Asset

Tracking

+ Recovery

− Riders

− Bikes &

Quads

− Trailers &

Caravans

www.justtrac.co.za

A

t

LINK

Breath-taking views of Witkoppen, rolling grasslands

to Muller's pass. In the wet, this one can become a

real handful, so don't be too relaxed about it. Stop

at Moorfield Farm.This steep, gravel road pass lies

between Newcastle in KZN and Memel in the Free

State. The pass traverses a natural path up the Drakensberg

and is located roughly 33 km west-southwest

of Newcastle and 15 km north east of the Normandien

Pass. Like most passes in this part of the

Drakensberg, it is subject to heavy electrical storms

in summer and snowfalls during winter. Whether you

travel up or down Normandien pass, brace yourself

for a real eye opener. Normandien Pass is named

after the farm and small settlement located near the

foot of the pass on the eastern side, which consists

of just of few buildings, a shop and a police station.

It is without question one of the best gravel passes

in KwaZulu-Natal, and one which many avid off-road

enthusiasts aspire to conquer. Steep gradients,

difficult road conditions, lots of twists and turns, and

breath-taking views.

Chat to Deon and his team. They will get you sorted.

For more information go to www.memelhotel.co.za

or look out for their advert in this fine publication.
---
EMD Online_justTRAC_A5 Advert.pdf 1 21/11/30 8:23:03 AM

A-to-Z

to YOU!

...so easy

C

M

Y

CM

MY

CY

CMY

K

Asset

Tracking

+ Recovery

− Riders

− Bikes &

Quads

− Trailers &

Caravans

A

t

PERFORMANCE AND RELIABILITY STARTS HERE

www.justtrac.co.za

RACE TESTED

LINKAGE BEARINGS, WHEEL BEARINGS, WHEEL BEARINGS, DUST SEALS

Whether you ride on or off road, ATV's or UTV's we have you covered with the

bearings and drive line components you need to handle any abuse you can dish out!

ORDERS / DEALER ENQUIRIES CALL (011) 425-1081 / 1084

E-MAIL:SALES@GAMESERVICES.CO.ZA
---
THE ADVENTURE COMPANY

WWW.ADVENTURECOMPANY.CO.ZA

On the 25th of March, its time for Luneburg mountains on the border on Natal and Mpumalanga.

We stay in Wakkerstroom with a full day of riding on Saturday and a shorty on Sunday before we

go home.

Its awesome! One of the most beautiful places in the world - all private farmlands - and we get to

ride there.

On the 1st of May (Sunday), it's time for The 3rd Trax And Trail Funduro. Dirtbikes only. A great

venue just an hour from Pretoria. Always lekker!

Come and see how many laps you and your buddies can do. Lots of prizes and trophies are up for

grabs. Booking open soon - but pencil in the date!

Tri Nations: 1st to 4th of July. Starts from Pongola all the way to the beach, we have some new

ideas for this years edition - we head out for a recce after Luneberg so we'll have that detail for

you soon!

GP to the bay in the dirt: We are looking at two editions for 2022.

One for the Adventure guys and gals, kicking off from JHB on the weekend of October 6th.

Quads 4 Quads, Dirtbikes, Quads and Side By Sides: Kicks off on September the 29th. Details on

all of that soon.

JHB all the way to Richards bay in the dirt. It's going to be epic!

We'll keep you posted as we go along. Lots more in the pipeline!

Keep an eye on or social media page - facebook.com/the advco

anette.acc@mweb.co.za foleyg@mweb.co.za

072-1770621 082-870-6134 083-314-2203

www.go-mx.co.za

Specialists in motocross gear and accessories

R

173 Blaauwberg Road, Table View info@go-mx.co.za

079 270 8958

@go_mx @GO.MX.CT
---
GET IT.

READ IT.

Your No

LOVE IT!

AIR FILTERS

SA'S MOST LOVED

ROAD & TRACK MOTOR-

CYCLE MAGAZINE.

READ IT AT

#1 Choice

For Engine

Parts!

BEARINGS

CABLES

CLUTCH PARTS

CON RODS

CRANKSHAFTS

GASKETS

OIL FILTERS

PISTONS

VALVES

ORDERS / DEALER ENQUIRIES:

CALL; (011) 425-1081 / 1084

FAX: (011) 849-9352

E-MAIL:G124@MWEB.CO.ZA

www.motomedia.co.za

WE SEND VIA MAIL ORDER!

PERFORMANCE AND RELIABIzLITY

STARTS HERE

LINKAGE BEARINGS, WHEEL BEARINGS,

WHEEL BEARINGS, DUST SEALS

ORDERS / DEALER ENQUIRIES:

CALL; (011) 425-1081 / 1084

FAX: (011) 849-9352

E-MAIL:G124@MWEB.CO.ZA

WE SEND VIA MAIL ORDER!
---
17D_Q3+_SalesBull_2pg_r2_Layout 1 4/13/17 3:08 PM Page 1

DURABILITY THAT MATCHES PERFORMANCE

TRACK DAY

Pc by: Simon Cudby

THDO THE MATH

GPR-300

NCE

SPORTMAX

MORE PERFORMANCE

SPORTMAX

r,

Great Handling at an

IFE

62°

+ =

LEAN

GRIP20% ANGLE. STREET

MORE

LEGAL. .

TIRE LIFE =

EFITS

affordable price.

Offers a balance of

achieves lean angles up to 62 degrees*.

ed for street-legal use.

in the wet

and dry

quire tire warmers, and runs at street

or chassis or electronic

ANGLE

adjustments.

bon black like Dunlop's racing slicks for

conditions with

LONGER

uses a continuously wound strip compound

across the rear tread profile.

WEAR LEGAL

ses carbon fiber reinforcement in the

ng performance, braking stability and feel.

a.

310

320

330

340

350

62°

62 LEAN

STREET

0

10

SPORTMAX Q4

TRACK DAY

20

30

40

50

More than 80% of the Q3+

has been redesigned

compared to the Q3

60

120

MORE

PERFORMANCE

20% MORE

LIFE

70

80

110

90

100

Performance touring tyre

that not only lasts longer,

but performs at higher

levels

LESS

WEAR

MORE

maximum grip.

FEATURES & B ENEFITS

SPORTMAX

GPR-300

Great Handling at an

affordable price.

Offers a balance of

GRIP

• This purpose-built track-day tire achieves lean angles up to 62 degrees*.

• The Sportmax Q4 is DOT-approved for street-legal use.

in the wet

and dry

• The user-friendly Q4 does not require tire warmers, and runs at street

pressures, eliminating the need for chassis or electronic adjustments.

• Rear tire compound contains carbon black like Dunlop's racing slicks for

conditions with

LONGER

• Jointless Tread (JLT) technology uses a continuously wound strip compound

to optimize stability, flex, and grip across the rear tread profile.

WHERE WEAR

• Carbon Fiber Technology (CFT) uses carbon fiber reinforcement in the

sidewalls for exceptional cornering performance, braking stability and feel.

• Dunlop branding on the tread area.

• Made in the U.S.A.

nlop retailers, as well as race distributors.

• The Q4 is available through all Dunlop retailers, as well as race distributors.

ze Load/Speed Part Number

0/70ZR17 (58W) 45233176

0/55ZR17 (73W) 45233177

0/60ZR17 (75W) 45233131

0/50ZR17 (73W) 45233060

0/55ZR17 (75W) 45233074

0/55ZR17 (78W) 45233092

BEN KELLEY

S594/A

DUNLOP DOMINATION

RADIAL SPORT TIRES RACE TRACK STREET SPORT

PERFORMANCE

TOURING

Sportmax Q4

Sportmax Q3+

Sportmax GPR-300

Sportmax Roadsmart III

DunlopMotorcycleTires.com

©2018 *As tested Dunlop by Motorcycle Dunlop on a Tires. 2017 Suzuki GSX-R 1000 RR on a closed track at Barber Motorsports Park.

@RideDunlop DUNLOPTYRESSA

DunlopMotorcycleTires.com. ©2017 DUNLOPTYRESSA

Dunlop Motorcycle Tires.

Size Load/Speed Part Number

Sportmax Q4 Front 120/70ZR17 (58W) 45233176

Sportmax Q4 Rear 180/55ZR17 (73W) 45233177

180/60ZR17 (75W) 45233131

190/50ZR17 (73W) 45233060

190/55ZR17 (75W) 45233074

200/55ZR17 (78W) 45233092

S594/A

PERFORMANCE

TOURING

2021 GNCC CHAMPION

©2018 Dunlop Motorcycle Tires.

DUNLOPTYRESSA

S594/A