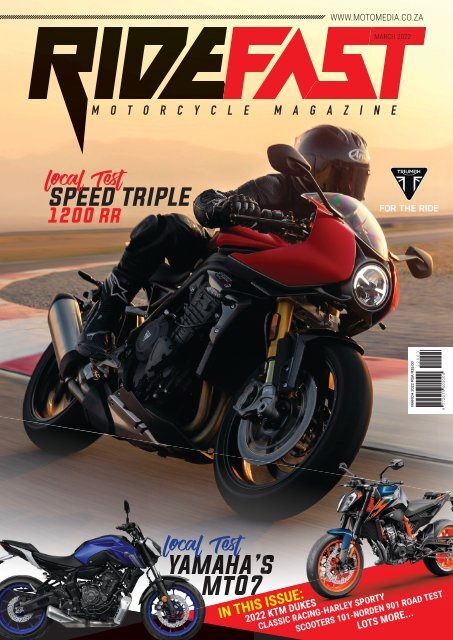 Create successful ePaper yourself
Turn your PDF publications into a flip-book with our unique Google optimized e-Paper software.
WWW.MOTOMEDIA.CO.ZA

MARCH 2022

local Test

speed triple

1200 rr

22003

MARCH 2022 RSA R35.00

9 772075 405004

local Test

yamaha's

mt07

IN THIS ISSUE:

2022 KTM DUKES

LOTS MORE...

CLASSIC RACING-HARLEY SPORTY

SCOOTERS 101-NORDEN 901 ROAD TEST
---
PRO

EXPERIENCE THE

EXTRAORDINARY

Iceland. One of the most spectacular places on Earth thanks

to its rugged landscapes, glaciers and hot springs.

When you purchase a new BMW Motorrad GS model (BMW 750 GS and

upwards), you could win one of ten places on an all-expenses-paid riding

BMW Motorrad / UpSouth Adventures riding holiday in Iceland.

Scan the QR code to find out more.

W

S

C

Ts&Cs apply. Offer valid until 31 March 2022

when winners will be announced.
---
PROTECTION / FITTING / DESIGN

© FIVE GLOVES 2021 / photo : PHOTO PSP *Champion du Monde Supersport

WORLD

SUPERSPORT

CHAMPION*

DOMINIQUE AEGERTER - FIVE RFX1

2021 SUPERSPORT WORLD CHAMPION

ENDURO E2

MXF4

MXF3

TFX3

STUNT EVO

RFX3

R1095 INLC VAT R595 INLC VAT R495 INLC VAT R1295 INLC VAT R1450 INLC VAT R2495 INLC VAT

AVAILABLE FROM YOUR NEAREST PBA DEALER

CAPE PROVINCE

CRAIGS MOTORCYCLE

NEVES MOTORCYCLE WORLD

TRAC MAC BELLVILLE

TRAC MAC PAARDEN EILAND

TRAC MAC WYNBURG

NORTHWEST

BIKERS PARADISE

WATERITE MOTORCYCLES

FREE STATE

SALLEYS YAMAHA

021 939 8916

021 930 5917

021 945 3725

021 510 2258

021 761 4220

018 297 4700

018 771 5050

051 430 3326

GAUTENG

BIKERS WAREHOUSE

BIKING ACCESSORIES

FAST KTM

FIRE IT UP

GAME SERVICES

MOTO MATE EDENVALE

MOTO MATE RIVONIA

MOTO MATE BOKSBURG

PRIMROSE MOTORCYCLES

SILVERTON MIDAS

ZEEMANS MOTORCYCLES

LEKKA RACING

ALBERTON YAMAHA

011 795 4122

012 342 7474

011 867 0092

011 467 0737

011 425 1081

011 027 0545

011 234 5275

011 025 8272

011 828 9091

012 804 8888

011 435 7177

084 080 8237

011 869 2022

KZN

PERRY MOTORCYCLES CC

RBS YAMAHA

RIDE HIGH WITH YAMAHA

ROCKET RACING PMB

ROCKET RACING PINETOWN

UMPLEBY SUZUKI

LIMPOPO

KR MOTORCYCLES

031 566 7411

031 701 1311

035 789 1581

033 264 3240

031 702 2606

031 303 8323

015 297 3291
---
Intro. Keeping the wheels turning...

FEBRUARY Edition 2022

We want to hear from you info@motomedia.co.za

Read our back issues at www.motomedia.co.za

'22 has started with a bit of a bang - and with Moto GP starting this very month... it's going to

get even better!

Wheres your money? Ducati seems to have stacked the pack quite a bit, fielding more teams

than any other brand.

But Honda, Suzuki, Aprilia and co have certainly not been sitting on their asses playing wait

and see games - testing has been interesting.

But that's testing - and anything can happen at the racing.

TWO Binders to cheer for! One on a KTM, and another on Yamaha.

How flippen cool is that?

On the SA front there is a new race series starting up pretty soon. We hope its a roaring

success, coz thats exactly what SA needs.

By the way:

Did you hear about the incontinent communist drag racer?

His name is Skid Marx.

Have a great riding month!

IN THIS ISSUE

PUBLISHER:

Glenn Foley

foleyg@mweb.co.za

ADVERTISING AND EDITORIAL:

Sean Hendley

sean@motomedia.co.za

071 684 4546

OFFICE &

SUBSCRIPTIONS:

Anette

anette.acc@ mweb.co.za

ONLINE &

DESIGN LAYOUT:

Kyle Lawrenson

kyle.lawrenson@icloud.com

Cape Town

Lorna Darol

lorna@motomedia.co.za

074 122 4874

PHOTOGRAPHY

Stefan van der Riet

CONTRIBUTORS

Shado Alston

Donovan Fourie

Kurt Beine

Morag Campbell

Videos and more

available online...

2

NM

M

T

B

Wo

for

exp

you

S

for

be

745 ap

The m

or an f

you rid

he

ma

An

DC

H

23-

on

an

NC

Copyright © RideFast Magazine: All rights reserved. No part of this publication may be reproduced, distributed,

or transmitted in any form or by any means, including photocopying, articles, or other methods, without the prior

written permission of the publisher.

WWW.MOTOMEDIA.CO.ZA
---
2

:

YOU REALLY

SHOULD

JOIN THE

HONDA

FAMILY

2021

NC750X/DC

2021

NC750X/DCT

MULTASKING

MASTERPIECE

THE NEW NC750X: DO IT ALL, AND

BETTER THAN EVER.

Wouldn't it be nice to have a whole garage full of bikes? One

for touring, one for weekday commutes, one for weekend

exploring. Some purely practical, others just for fun? Well,

you can—but you only have to pay insurance and registration

for one, at least when you have a 2022 Honda NC750X. The

745cc parallel-twin engine is versatile and has plenty of power.

The seating position is comfortable no matter where you ride

or for how long. There's a wide selection of accessories, and

you can even choose from two transmissions: a conventional

manual-clutch six-speed, or Honda's revolutionary automatic

DCT. Finally, check out the NC750X's unique integrated large

23-liter storage compartment. Don't have a garage the size of

an aircraft hangar, or a wallet to match? No worries—your new

NC750X can do it all.

Specialization may be fine for something like golf clubs, but we think great motorcycles should

be able to do it all. Case in point: The 2021 Honda NC750X. This is a bike is for motorcyclists who

appreciate both versatility and virtuosity in their adventure machines. This year, we've given this

model some big improvements. More power. A larger integrated storage area. Lighter weight,

and a lower seat height. Plus some huge technologic upgrades like throttle by wire, selectable

riding modes, new instruments, a new frame, upgraded bodywork, and standard ABS. At its

heart, the twin-cylinder engine produces a broad torque curve as well, making it a joy to ride.

And you can choose from two transmissions: a conventional manual-clutch six-speed, or

Honda's revolutionary automatic DCT. Either way, this latest NC750X is going to be the perfect

one-bike choice for the rider who wants to do it all.

THE NEW NC750X: DOD

BETTER THAN EVER.

Specialization may be fine for something like go

be able to to do do it all. it all. Case Case in point: point: The 2021 The Honda 2021 NC750 Hond

appreciate both both versatility and virtuosity and virtuosity in their adventu in thei

NC750X

model some big big improvements. More More power. power. A larger A intl

and a lower seat seat height. height. Plus some Plus some huge technologic huge techno up

riding modes, new new instruments, a new a frame, new upgraded frame, ub

heart, the the twin-cylinder engine engine produces produces a broad a torque broa

And you can choose from from two transmissions: two transmissions: a conventio a

Honda's revolutionary automatic automatic DCT. Either DCT. way, Either this wa lat

one-bike choice for for the rider the rider who wants who to wants do it all. to do i

Randburg: 011 795-4122
---
All the NEWS proudly brought to

you by HJC HELMETS

Scorpion Exo-Com Communication System

The Exo-Com is the custom intercom system that slots perfectly into

the company's new smart enabled EXO-T520 and EXO-GT930 helmets

and soon to fit the new ADX 2 Adventure helmet. If needed for another

brand, Scorpion does supply an external bracket, but then the unit

stands proud.

According to Scorpion, the communication system is supposed to be

an accessory that makes your driving experience easier and smoother.

No more crackling and inaudible dialogue, say hello to HD sound in

your helmet! The Boost 2.0 headphones are equipped with an equalizer,

bass booster and balance function that can be easily adjusted via the

dedicated Scorpion app. uClear's patented dual microphone system

with noise reduction allows the communication system to transmit

only your voice by filtering out ambient noise like wind. The EXO-COM

features multitasking audio for listening and sharing music, while the

volume adjusts so you can clearly understand nav announcements and

issue voice commands. Thanks to Bluetooth 5.0 technology, you can

connect multiple devices simultaneously (smartphone, GPS, MP3 player

...), while the scalable mesh communication network DynaMESH allows

you to talk to a group of up to 4 riders without being interrupted by the

departure and return of a rider. The high-quality EXO-COM product is

also waterproof and IPX5 certified. Chat to your dealer.

Trax Moto: Overall Dealer Of The Year for

Husqvarna.

The Busy Pretoria dealership, Trax Moto has been awarded the overall

2021 Husqvarna dealer of the year award – after only a year of having

the Husqvarna franchise.

It's not just about sales, it's about the shops corporate identity, parts,

sales and backup.

A friendly, pro active bunch for sure!

Nice one.

www.traxmoto.co.za

KISKA.COM Photo: R. Schedl

Bike Brothers Cape Town is Expanding.

In addition to their main branch in Tokai, Cape Town, Bike Brothers

now has a showroom in Paarden Eiland at53 Section Street – with

some really lekker bikes available.

Pop in at either branch for a browse, a coffee or two, and a chat!

They tell us that sales at both branches are cooking, as are their

Tokai workshops!

The workshop now has full diagnostics for pretty much all major

motorcycle brands.

Call us on 021 595 0055/8.
---
KISKA.COM Photo: R. Schedl

THE MOST EPIC

ROADS ARE

OFFROAD

Take aim at the horizon and choose the more adventurous way to get there.

Featuring reworked ergonomics, updated electronics, and a refined powerplant

that all enhance the ride, the new KTM 1290 SUPER ADVENTURE R reaffirms

its status as the ultimate all-terrain powerhouse.

SEE MORE AT KTM.COM

Please make no attempt to imitate the illustrated riding scenes, always wear protective clothing and observe the applicable provisions of the road traffic regulations!

The illustrated vehicles may vary in selected details from the production models and some illustrations feature optional equipment available at additional cost.
---
All the NEWS proudly brought to

you by HJC HELMETS

E1 Endurance helmet by

Shuberth.

This innovative dual sports helmet for enduro touring and adventure bike

riders offers great comfort, flexibility and safety for on and off-roading. It

features the comfort and useability of a flip-up helmet combining the look

and feel of a modern adventure helmet with safety that comes with the

technology of a Schuberth helmet and conforms to the testing standard

ECE R 22.05 which means that it can be used in most countries in the

world.

The E1 is available in sizes from XS to 3XL and conforms to head circumferences

from 52 to 65 centimetres. That is measured above your eyebrows

and ears… basically where your cap or beanie would sit. A complex air

channel system on the inside of the helmet shell provides air flow. The Visor

aeration prevents the visor from misting-up. The large regulatable auxiliary

aeration on the chin piece gives you space to breathe on demanding

tours. All Schuberth visors are optical class 1. They warrant an undistorted

view and are anti-scratch treated and feature turbulators for noise reduction

on the visor edge. The visor mechanics allow a quick exchange completely

without tools.

For more information or to find your closest stockist go to www.dmd.co.za

and while you are there check out all the other great products they import.

Rear fenders/huggers for most road motorcycles.

Also in stock for Honda CBR1000RR Fireblade/SP 2020 models

Designed specifically for the Honda CBR1000RR FIREBLADE/SP '20

-'21, the rear fender from Puig is a great complement to the super

sport line of your motorcycle, highlighting its "Racing" character

and protecting you and the motorcycle from potential damage from

stone impacts or splashes during while riding. Its design has been

conceived following the new trend in the world of motorcycling and

the piece has been subjected to numerous studies to form an elegant

product with high aerodynamic capacity, in addition to providing an

additional point of protection to one of the sensitive areas of the bike.

Manufactured in ABS material, highly resistant to impacts and with

great aerodynamic capacity. In addition to the protection, Puig has

placed special emphasis on the design of the hugger achieving an

avant-garde fender for the CBR that will maximize the image and spirit

of the motorcycle. Then… they also have a huge range of huggers for

most brands and models of road and superbikes currently in South

Africa today, for more details go to www.trickbitz.co.za and while you

are there check out all the other great products they do for your bike.

For your nearest stockist contact trickbitz.co.za

Just Bike Tyre News: Have a cup of coffee while you

wait for your tyres to be fitted.

Just Bike Tyre opened their Cape Town branch in July 2017 at Unit L2,

Okavango Junction, Kenwil Drive, Brackenfell.

Just Bike Tyre is a Professional Tyre Fitment Centre that sells and fit

most major brand of tyres for all brands of bikes, scooters, and quads.

They also supply and fit brakes, chains, and sprockets while you wait, or

drop off your motorcycle using the easy access parking area, big enough

to manoeuvre your trailer.

Even though their main focus is the fitment of tyres, they do keep some

bike accessories in store, and their staff is able to source any bike related

accessory/clothing you may require.

Just Bike Tyre also has a branch in Centurion, Pretoria, and an online

store. Visit the website on www.justbiketyre.co.za

Drop in and say "Hi" to the team or catch them online, on WhatsApp or

email.
---
All the NEWS proudly brought to

you by HJC HELMETS

Perry Bikes Umhlanga clinches the title…

Mark Perry and the team are stoked to kick off 2022 in pole position,

securing first place in South Africa for total Husqvarna Motorcycle

sales for 2021. In addition, they also achieved the title of "dealer of the

month" for SYM in January 2022.

Mark Perry says, "It is only because of our most valued customers that

we are able to remain KZN's largest, multi-franchise bike dealership and

have been privileged to represent some of the world's leading brands for

almost four decades. At Perry Bikes, we understand that time is valuable.

Our staff of trained professionals are here to assist with all your

motorcycle needs, from accessories and apparel, to our world-class

workshop. A tailored fleet solution to suit your business. In addition to

offering a full selection of new Husqvarna, Kawasaki, Suzuki, Polaris,

Linhai and Sym motorcycles, we work around the clock to bring you a

choice of certified preowned bikes.

Convenient services such as countrywide delivery and collection,

private-to-private financing, and most of all, making your visit to our

showroom one you will never forget.

Yours in motorcycles, Mark & the Perry Bikes team."

Visit them 6 days a week at 1 Sneezewood Lane, Glen Anil, or give them

a shout on 031-566-7411 (Tel) or 084-353-2713 (WhatsApp).

Clubhouse Kawasaki – Now official DNA air Filter

importer and distributor

Alain Jeanrenaud, owner of Clubhouse Kawasaki since Grandma was a

pin up model is respected widely for his talent at making fast motorcycles

even faster… and then faster still. We all know that he has been the

official importer and distributor for everything 'Dynojet' for dirt bikes and

adventure bikes to full on race ready superbikes. Fuel injection modules,

quick shifters, jet kits to auto tune kits and the list goes on and on.

Recently he acquired the rights to DNA air Filters for Southern Africa.

It's an washable air filter that filters down to 5 microns… that is really

is the equivalent to baby powder type particles that it keeps out of your

fuelling system. The filters have a full contour design that use and maximises

the full shape of your airbox to get as much air flow into your bike

as possible and give you a significant increase in power.

But wait! That's not all… Alain has also stated bringing in some of the

automotive air filters for popular model bakkies, SUV's and kombi's or

vans. The filters are all washable and reusable with an unlimited life

span, you would literally have to burn, cut or crush or some other unlikely

scenario to have to replace it, basically a filter for life. Go check out

www.dnafilters.com to really understand how they work.

And to get one for your bike call Clubhouse Motorcycles on 011 618-

4646
---
All the NEWS proudly brought to

you by HJC HELMETS

B

W

Scorpion Exo-GT930 Helmet Review [Modular

Motorcycle Helmet]: If you don't flip it up – you'd never know

that it's a flip up helmet.

The Scorpion Exo-GT930 is the brand's all-new, top-of-the-line modular

helmet. It has pretty much all the bells and whistles found in the most

expensive modular helmets from other manufacturers.It has a dedicated

spot to install a Bluetooth communicator called the Exo-Com.

And whats cool about that is the fact that the unit slit into the side of

the lid and does not stand proud. Another feature is the fact that the

communicators mouthpiece/ receiver is built into the speakers – so

no mouthpiece. We do like the look very much, with its robot-like nose

flowing back toward the molded spoiler.

Scorpion states this helmet falls into the intermediate oval head-shape

category. We recommend that you always get a helmet fitted for you by

a trained professional.

It is available in XS to 3XL spread across three shell sizes (XS/S, M/L,

XL/XXL/XXXL). The appearance, finish, and materials look and feel

adveRtorial

nice. There are no blemishes or manufacturing oddities. The shell is

polycarbonate with dual-density EPS inside. The fabric liner is removable,

washable, and comfortable against the skin. The chinstrap is

fastened with traditional double D-rings.

The modular chin bar operates smoothly and has a satisfying, secure

click when closed. There is a chin bar lock that does just that and

allows safe riding while wide open. It's DOT-certified, as well.

The chin bar is removable, which will be an appealing feature for some

riders. Also, an ADV-style peak is included, though it can only be installed

when the chin bar is removed. Chin bar removal and installation

requires no tools, another cool feature.

There is an internal, drop-down jet fighter pilot-like sunshield actuated

with a left-side slider. Operation is smooth and easy. The faceshield

closes using Scorpion's ratchet system, which pulls the faceshield

against the rubber eye port seal for a tight fit and for tool-less shield

changes.

At your dealer…

Here's a good one: Win yourself a trip

to Iceland.

BMW Motorrad is running a competition from 1

Jan to 30 March. Any customer buying any GS in

the first quarter from a 750GS and up will stand

in line to win one of 10 tickets to an all expense

paid trip to Iceland from the 7th to the 18th of

August on a 1250GS.

If ever there was a time to buy a new Beemer –

then this is it!

Together with their partner, Up South Adventures,

BMW would like you to experience the magic

and majesty of the weirdest place in the world.

A sparsely populated island that has some of

the most unique riding conditions in the world.

Home of the Vikings. A land of Fire and Ice.

TO WIN, buy one of the following new bikes

- R 1250 GS Adventure, R 1250 GS, F 850 GS

Adventure, F 850 GS or F 750 GS - between 1

January and 31 March 2022. They will then

select ten riders to experience a 12-day, allexpenses

paid trip to Iceland.

Also - with every bike purchased from BMW in

2022 you get a free club membership from any

club that you choose.

How's that for cool?

Details @ www.bmw-motorrad.co.za

K

R10

R25 R

R

F80 R 4

3240

R

5

R10

R12

96 R5

R69 R18

B
---
BMW Motorrad

West Rand

K1600 GTL, 2016

R1200 GS Adventure , 2017

R255 105 000km

13 R75 500km 000

R255 R194 000 995

R75 R199 000995

R1250 GS, 2021

1 R319 500km000

R279 R319 995 000

R NINE T, 2020

F800 R 4000km NINE GSA, T, 2015 2020

324000km

R145

500KM

000

R109 R145 995 000

C400x, 2019

R299 000 16 R165 277km 000

R259 R299 995 000 R99 R165 995 000

R1200GS, 2007

96 R185 500KM 000

R69 R185 995 000

F900 XR, 2021

3 000km

R175 000

R149 R175 995 000

K1600 GT, 2013

29

R185

800km

000

R154 R185 995 000

BMW Motorrad West Rand

Email: japretorius@cfaomotors.co.za

RIDEFAST MAGAZINE JUNE 2021 43
---
All the NEWS proudly brought to

you by HJC HELMETS

Cylists: Brakes for your bicycles…

Trickbitz motorcycle accessories is also the local importer of Galfer

brake pads and brake discs for mountain, road and E-bikes. Ask your

local motorcycle dealer to get you a set when you next need to replace

those on your pedal bike. They tell us that their brake pads feature the

advantages of the new organic semi-metal compound, (non-asbestos),

with the absence of noise better feeling, progressiveness and braking

power. Minimization of vibration to the wheel. Less wear on the brake

discs. Resistance to high temperatures. Increased durability. With

these enhancements the user gets a permanent braking response,

with the same behaviour throughout its life, improving bicycle

control and increased confidence and security for the rider. The "Disc

Wave®" represents the best example of research and development by

Galfer. Laser cut, stainless steel and high carbon content. All direct

replacement systems that do not require brackets or any extra parts,

they bolt just like a stock disc would having both the option of a

standard 6 bolt fitment or centre lock, spindle fitment. Main features

and advantages include powerful, progressive and modular braking.

For your nearest stockist contact trickbitz.co.za

Drilling, Tapping and Countersinking -

All in one process by Alpen.

An Industry first from the Austrian drill bit leaders Alpen with the

introduction of a remarkable combination bit that does it all in one

process - Drilling, Tapping and Countersinking.

These new combo bits do it all in one process. The combination HSS bits

with ¼" Hexagonal shank for Metric ISO-Threads DIN 13 - Available in all

the popular sizes M3, 4, 5, 6, 8, and 10

These new units are a breakthrough for industry, and will appeal to trade,

engineering, mining, manufacturing, automotive, all trades. Repairers,

mechanics, rebuilders and DIY ers. As one drill action does the drilling,

tapping and the counter sinking. Prior to this it would have been a

3-process action, saving time in possible expensive errors in bit size and

tap selection.

If you are drilling and tapping threads these new bits will give you the

professional accuracy as they are precise, special heat-treated steel, wear

and water resistant and they are suitable for alloyed and unalloyed steels

up to appr. 850 N/mm².

For more information on these unique multi-functional bits go to www.

vermontsales.co.za and click on Alpen.

Available from leading stores countrywide. For more information talk to

your retail outlet or contact, Vermont Sales on 011 314 7711 or visit their

web site www.vermontsales.co.za Trade enquiries welcome.

Chiaravalli sprocket and chain kits

Are you tired of riding around or phoning around

looking for matching sprockets and chains when

you need to replace the ones on your bike. One

retailer might have the chain but not the correct

sprocket, the other retailer might have the

sprockets but in the incorrect size and etc and

so on and so forth. Wouldn't it be lekker if you

could just go to one shop and get a complete

kit with the correct front and rear sprocket and

have the correct length and tensile strength

chain included in the same kit? Well, the guys

at Trickbitz have such kits from Chiaravalli

for road and adventure bikes all in one prepacked

kit. Give them your bike make, model

and year and they will refer you to your nearest

stocking dealer. The folk from Trickbitz are

ever expanding their offering in the Chiaravalli

range, so if they do not have your specific model

in stock be rest assured they will have it in

within their next few shipments. The highest

quality raw materials are the starting point for

all products manufactured by CHT Chiaravalli.

Not only are their sprockets produced from the

best materials available, they are also treated

using the most advanced systems, to achieve

the reliability and performance goals. For your

nearest stockist contact trickbitz.co.za
---
All the NEWS proudly brought to

you by HJC HELMETS

Motorcycles for Africa (ex-Selwyn

Lurners Workshop)

The legendary Selwyn Lurners Workshop dealership opened 38 years

ago in the city centre of Johannesburg by Selwyn Lurner and his Dad

Sam.

Selwyn, an avid motorcyclist and a big fan of the Kawasaki brand

eventually got a Kawasaki franchise and started supplying the JHB

police with bikes and kitting them out with lights, sirens, radios and the

like. Motorcycles for Africa still continue equipping emergency vehicles

to this day. Even after his retirement Selwyn continued to service the

emergency vehicle industry in Sedgefield where he retired, and assisted

with beach patrols until he passed away early in 2022.

Eventually the shop had to move out to the northern suburbs of JHB

because of the inner city decay becoming so very bad. With the move

came the change of name to keep the landlords and other tenants

PUIG Flanker windshield

Sometimes naked bikes are just a little bit

too naked and you end up taking quite a

serious beating from the wind and would

give your left nut for just a little bit of wind

protection. Improve the aerodynamics

of your motorcycle while maintaining its

sporty and modern character with the

Flanker windshield. This minimalist windscreen

fits in with the sharp and forceful

lines of the new motorcycles, a design

language that will combine most naked

models on the market today. It has beautifully

moulded and rounded edges that

make it look factory with all the mounting

bits and bobs you need to fit it in the kit.

A easy DIY fitment for when you are bored

on those rainy days. For your nearest

stockist contact trickbitz.co.za

happy. They specialise mostly in commercial fleet sales, maintenance

and parts back up they can now be found at 400 Jan Smuts avenue,

Craighall just under the KFC.

They also have a huge amount of quite hard to find, some might even

say rare, brand new old bike parts, mostly for Kawasaki's and Suzuki's

as well as lots of used bits and pieces, so if you are hunting for something

give them a call – but you'd better be quick about it as they are

busy with a big clean up and improvements on the shop.

Unlike Selwyn who was into big powerful road bikes, Warren is a fan of

the dirt and loves his dirt bikes, especially the Suzuki's. They do custom

builds, accident rebuilds and servicing and repairs to all makes and

models of bikes. A couple of years ago Warren Lurner, (Selwyn's son),

joined the business and learned from the master before he retired,

continuing the great family legacy. Pop in at 400 Jan Smuts avenue,

Craighall or give them a call on 011 501 3014 or mail Warren on warren@motorcyclesforafrica.co.za
---
adveRtorial

SPORTMAX

ROADSMART IV

Dunlop Introduces

Roadsmart IV Tyres

with New Carcass

And Tread.

Now catering to naked bikes and road-focused ADVs too.

Dunlop's Roadsmart IV sport-touring tyre succeeded the Roadsmart III. However, the brand

continued developing the series based on market feedback. For 2022, Dunlop addresses

that rider response with a revised Roadsmart IV approved for as many as 650 different

motorcycle models.

Just like the previous iteration, the new Roadsmart IV still delivers dry performance and

wet grip for sport-tourers, but now the tyre caters to naked bikes, road-focused ADVs, and

hypernakeds as well. To accommodate riders on such a diverse range of bikes, Dunlop has

redesigned the tyre profile and tread pattern, but also split the common sizes (120/70ZR17

front and 180/55ZR17 and 190/55ZR17 rear) into SP and GT variants.

Predictably, the SP version delivers more stability and feedback for sporty models while

the GT provides better handling for heavy grand tourers. New carcass materials and new

grip resins in the tread improve the Roadsmart IV's performance while maintaining the

tyre's versatility.

"Our research told us that road riders wanted outstanding wet grip, good mileage, and

confidence-inspiring handling," noted Dunlop Europe marketing manager Luca Davide

Andreon. "By bringing together a range of technologies, we've created a tyre that can cater

for the demands of an incredibly diverse sector of riders and machines. It is a sport-touring

tyre that goes well beyond the sport-touring segment."

Dunlop will offer the Roadsmart IV in 21 different tyre sizes (seven front and 14 rear).

Together with Dunlop's other sport-touring tyres, the range consists of 40 sizes covering

almost the entire sport-touring segment. Dunlop's new tyre may carry the sport-touring

badge, but they tell us that the tyre's handling characteristics, water evacuation, and importantly,

class leading long lifespan (30 percent more life then the Road 3's) transcends

that label.

At your Dunlop stockist.

ROADSMART IV ADVANTAGE

STEERING

RESPONSE

DRY PERFORMANCE IMPROVEMENT*

Roadsmart III 100%

Roadsmart IV 105%

Roadsmart III 100%

NIMBLENESS

Roadsmart IV 105%

GRIP

NIMBLENESS

STABILITY IN

CORNERS

FRONT TIRE

REAR TIRE

80 85 90 95 100 105 110

WET PERFORMANCE IMPROVEMENT*

Roadsmart III 100%

Roadsmart IV 110%

Roadsmart III 100%

Roadsmart IV 110%

Roadsmart III 100%

Roadsmart IV 110%

80 85 90 95 100 105 110

MILEAGE IMPROVEMENT**

Roadsmart III 100%

Roadsmart IV 123%

Roadsmart III 100%

Roadsmart IV 126%

70 80 90 100 110 120 130

/

/

/
---
NEW

///EXO930

FLIP UP

ARRIVING APRIL

///FABIO DARK

EXOR1 AIR

///COVERTX

///EXO520 ///EXO520 LADIES ///EXO-TECH

/// FREE DARK VISOR ON SELECTED MODELS

/// FREE PINLOCK ON SELECTED MODELS

/// 5-YEAR WARRANTY

Henderson Racing Products - 011 708 5905

www.facebook.com/Hendersonracingproducts

Available at selected dealers nationwide
---
Triumphs new 1200RR

Amazing. Just a few short

months ago, we saw concept

drawings, then it was time for

the unveiling – and it seems

like just a blink or two and the

bike is here in the flesh.

Triumph seems to have

perfected the art of taking

an idea on paper to a living

machine in less time that it

takes a bean to sprout – and

despite the short time frame,

they do churn out quality

machines.

Red Mist? Beautiful girl? Man how do

you even title a feature like this? Without

waxing lyrical, or filling pages with

cliché's, we'll tell you straight that this

is certainly one of the finest looking

motorcycles for '22 so far. And we got to

spend a day with her. And just look at her.

She is pretty damn gorgeous!

Although it shares the RS's electronics,

chassis and engine, we all agree on

this, essentially a brand new model in

Triumphs lineup. Or is it? Somehow it

reminds us a lot of the very first Speed

Triple that came out in 1994. And that

was one very cool bike.

You need to just step back a bit and take

in all of the extra detail. It's sprinkled with

Carbon Fibre bits and pieces. They have

mounted a very sexy little Café' racer type

mini faring with Clubman bars to match.

We've had mixed reactions to the plain

round headlamp, but our lot like it. A lot.

Build quality and detailing is superb and

Triumph really has gone all out with the

groceries.

The RR has rider modes, lean sensitive

traction control and ABS. On the streets

you don't even know it's all working.

A smooth quickshifter is standard fare.

Thanks to the quickshifter, touching the

light assist-and-slipper clutch is only

necessary when setting off or pulling in.

Carbon panels, a lithium battery, keyless

ignition, backlit switches, cruise control

and a very neat TFT dash with LED's all

round.

The biggest single feature on this bike is

the addition of the electronic semi-active
---
suspension that offer a slightly plusher ride

than its naked cousin. The Öhlins software and

servos automatically and constantly adjust

damping rates to ensure a comfy ride in any of

its three semi-active modes—Comfort, Normal,

and Dynamic. It all delivers a great ride

even on the roughest JHB roads. Electronic

Wizardry allows the forks and shock to stiffenup

when it needs to support hard braking and

acceleration. Realistically, you can tune a bike

to your needs within seconds from the dash

and set the RR as hard or soft as you like,

either within the riding modes or fine-tune it via

the dash.

The pegs have been adjusted a bit to match

the bars making the bike superbikey – but

not overly so. At urban speeds, the additional

weight on the wrists is noticeable. When you

begin to pick up speed, having extra weight

over the bars results in more feedback from

the front end.

Your seating is quite a bit more relaxed than –

say a Fireblade, but it definitely leans towards

a sportier ride than on the RS. Standard up

front the the Brembo Stylema brake system

with the trick addition of the span- and ratioadjustable

Brembo MCS master cylinder. This

gives you the ability to firm or soften up your

brakes on the fly. Linked braking is standard in

all modes, save for Track, and works brilliantly.

The rear stopper is great for low-speed

handling or correcting lines.

Ohlins semi Active suspension, race focused

Pirelli Diablo Super Corsa SP tyres and a great

engine and chassis all add up to great big

grins in the saddle.

Ride Impressions.

Triumph sees the RR as a road bike first. So

that's where we took it. But we'd love to try this

bike at a track day.The naked RS is Triumphs

hooligan. Absolutely, no doubt about it. It's an

on the back wheel blitz about the joint kind of

bike that begs to be naughty.

The RR is – well somewhat more refined,

tighter and more focused. More serious

maybe, closer to a superbike – but far more

chilled than a "real" crotch rocket. When

Triumph launched this bikes platform, the

Speed Triple 1200 RS, it was more than just

a model update. It was a huge jump in power

and technology. The 177 hp engine defines

the word smooth. The tractable three-cylinder

motor makes it an easier ride than just about

anything else in this class. The wide spread of

power means you can use more of it more of

the time, without the need to constantly kick

up and down through the gearbox. It wants to

be ridden hard and fast. Triumph engineers did

change the fueling on the RR that accentuates

midrange and top-end power without

sacrificing too much torque.

Throughout the day we chopped and changed

and, like we said - we all felt that we'd love

to give the RR a blast around the track

sometime…
---
T

Visits to all the twisty offshoot roads that we know were great. Short but

tight and so much fun. The chassis is nimble and tight enough to hustle

the tight sections of the road without feeling twitchy or overaggressive.

The engine has a beautiful spread of power that allows you chug along in

third gear through corners that would have you up and down through the

gearbox on other bikes.

On the RR, you kind of wish that you lived closer to ET…

Then there's Freeway time – the RR makes a lot of sense with the faring

offering good protection to riders who exceed the national speed limit

and yes, we guarantee that you'll do that.

The seating position is still sporty – you do rest on your wrists, but it's

nowhere near as extreme as a superbike to ride. The Speed Triple feels

so balanced. Through traffic she feels light and nimble and responds to

rider input so smoothly. On the freeways she's comfy and very fast with

the faring making sure that your visor is not flattening your nose. In the

fast, flowing twisties we guarantee that she'll go lower than most average

riders with and that suspension just holds the line and you can feel it

react as the surface changes.

This is one very cool, well thought out motorcycle. Triumph has ticked the

box again. It's not a naked, but it's also not a superbike. Triumph has built

a machine that scratches the superbike itch for most, building a bike that

can be lived with on the street and we'll bet, some of the best fun you can

have on a track.

Go and ride it. You'll see what we mean.

2022 Triumph Speed Triple 1200 RR Specifications

Engine:

DOHC, liquid-cooled, inline 3-cylinder; 12 valves

Displacement:

1,160cc

Bore x Stroke:

90.0 x 60.8mm

Compression Ratio:

13.2:1

Transmission/Final Drive:

6-speed/chain

Claimed Horsepower:

177 hp @ 10,750 rpm

Claimed Torque:

92 lb.-ft. @ 9,000 rpm

Fuel System:

Multipoint sequential electronic fuel injection w/ electronic throttle

control

Engine Management/Ignition:

Wet, multiplate, slipper/assist function

Frame:

Aluminum twin spar; bolt-on aluminum rear subframe

Front Suspension:

Öhlins 43mm fully adjustable USD fork; S-EC 2.0 OBTi system electronic

compression and rebound damping; 4.7 in. travel

Rear Suspension:

Öhlins monoshock RSU w/ linkage; S-EC 2.0 OBTi system electronic

compression and rebound damping; 4.7 in. travel

Front Brake:

Brembo Stylema Monoblock 4-piston calipers, dual 320mm floating discs

w/ OC-ABS

Rear Brake:

Brembo 2-piston caliper, 220mm disc w/ OC-ABS

Tyres, Front/Rear:

120/70ZR-17 / 190/55ZR-17

Wheelbase:

1,439mm

Seat Height:

83 cm

Fuel Capacity:

15 litres

Claimed Wet Weight:

199.12 KG's

C

M

Y

CM

MY

CY

CMY

K
---
Triumph Speed Triple 1200 RR - PRINT.pdf 1 2022/02/16 11:00

C

M

Y

CM

MY

CY

CMY

K
---
The MT07...

TWIN TORQUE

Last month we got to spend a few days in the saddle

of the MT03 - and in that class, especially at the

price, there is just about nothing to touch it. We

hope you read that feature. This month, we were

offered the (slightly), larger, faster, better MT07.

World of Yamaha was generous enough to let us

keep this nippy beast for a few days, and we made

proper use of it.

By Stefan VD Riet.

The masters of torque. I can't think of a more fitting title for the the MT

line-up.

Did you know that since 2013, around 250,000 MTs have been sold in

Europe, with half of those being MT-07s? That's flippen respectable in

anyone's language and we'd love to know what the global figure is. The

bike saw a restyling in 2018. Now in its third generation, there's a new

face, more eco-friendly twin-pot motor, fatter front discs and more.

And our blast of roughly 200 kilometres, proved that it still keeps its

great character and lightness, with the ability to make riders of all skill

levels grin.

The Parallel twin went under the knife in 2020, refreshed to comply

with Euro5 emissions regulations, which came into force at the

beginning of 2021. It received an extra cat in the revised two-into-one

exhaust pipe, but this did not compromise the sweet tunes.

The current model achieved the latest standard with hardly any drop

in performance. Yamaha claims 72.4bhp and 49.4lb.ft in this latest

model, meaning a loss of just 1.6bhp and 0.7lb.ft of torque over its

predecessor. Changes to the intake, valve plates and gearbox mean

you enjoy the same popular engine characteristics as before, with the

MT actually delivering more linear power.

Right from the dealership in Kramerville, we hit the highway all around

the south of Jo'burg up to Roodepoort and back, thoroughly testing

open freeway capabilities.
---
Quick-revving, and surprisingly fast, it briskly

builds up speed and the slick gearbox (there is

no option of a quickshifter but you don't need

one) ensures you can keep up with almost

anything on the road. The engine makes all

the torque in the world, you can cruise at 130

in 5th gear with plenty of revs left, and even in

6th gear you still have all the potential of the

torquey engine at your fingertips.

What a blast it is to ride through the traffic

and if you really want to, it's possible to push

the bike past the 200 kph mark, all stable and

under control.

The MT-07 just feels extremely light and agile.

Euro5 has not compromised its performance

at 184kg, in running trim.

After the highway run, I got a chance to assess

the overall feel and comfort. Everything on

the bike from the grips to the gear shifter fits

properly and gives quality, tactile feedback.

It's got a big, comfortable seat and all-around

comfortable upright riding position and

ergonomics. Everyone in our team road it and

complimented the overall comfort for day to

day urban cruising.

As mentioned in last months MT-03 story,

Yamaha knows what they're doing with

aerodynamics. Despite the fact that this is

a naked, the headlight unit design does a

fantastic job of throwing the high speed winds

up and over your helmet, so no brain crushing

turbulence when you do your speed runs.

There is also very little buffeting.

The torque is just fantastic and it's what

makes this bike a hooligan machine. As usual,

Mr Lawrenson spent more time on the back

wheel than anything else, and if I could wheelie
---
I'd do the same. You get all the torque

and high-speed performance that you

need from a 700, and the vibes from

the parallel-twin aren't too bad and

only really noticeable at around the

5k mark.

The gearbox is very smooth and

positive.

The power plant is definitely the star

of the show. It's what gives this bike

its crazy riding personality, a unique

experience with a quality feel and a

nice soft grumble from the emissions

restricted exhaust.

It also feels light, making for easy

maneuverability around town and

in traffic. Combined with all the MT

Torque, it makes this bike a great

all-around motorcycle, something I

reckon that you can take on a track if

you really want to and something you

can commute or even tour on.

We kept the bike for a couple of

days to run around on and I just fell

more and more in love with it. It's

never boring and always does what it

should, and it's comfortable enough to

ride day after day.

Plus the funky looks makes a lot of

heads turn which is always a nice

bonus.

It was quite sad when World of

Yamaha phoned to say they want

it back because customers were

begging to ride it. Understandable.

We couldn't keep the public from

experiencing this lekker machine.

At R145K, it seems to be really well

priced. Now could someone tell the

finance guys that we NEED one of

these at our offices.

Thanks.

This one came from World Of Yamaha:

www.yamaha.co.za/world_of_yamaha

Engine size 689cc

Engine type Four-valve, liquidcooled,

DOHC,

parallel-twin

Frame type Diamond

Fuel capacity 14 litres

Seat height 805mm

Bike weight 184kg

Front suspension Conventional

forks, non-adjustable

Rear suspension Single shock,

preload and rebound adjustable

Front brake Dual four-piston

calipers, 298mm discs, ABS

Rear brake Single-piston

caliper, 245mm disc, ABS

Front tyre size 120/70 x 17

Rear tyre size 180/55 x 17
---
A NEW GENERATION SUPERSPORT

Torquey CP2 Powerplant

Yamaha's proven 689cc liquid-cooled, inline 2-cylinder

DOHC fuel-injected CP2 engine delivers excellent power and

performance throughout the rpm range for an exhilarating

ride and a true supersport experience. Its 270-degree

crankshaft delivers linear torque for exciting acceleration

and limited vibration.

Thin Proportions for Perfect Control

All-new dimensions give the YZF-R7 the slimmest proportions

of the entire R-Series family, aiding in confident cornering

performance on the track and quick, agile direction changes

on twisty roads. The slim design also reduces wind resistance

for optimal aerodynamics, while new bodywork incorporates

the rider's body to improve the flow of air around the bike.
---
Moto GP

The Icon vs The Machine:

the strange case of Barry Sheene versus Kenny Roberts

By the time this magazine graces your palms, the first round of the

2022 MotoGP season should be underway in Qatar or possibly have

already happened. In which case, what took you so long to buy this

mag?

Doing any sort of modern MotoGP pre-season analysis becomes

redundant the moment the lights go off; therefore, we shall not analyse

anything modern and instead look back to one of the most iconic

rivalries in history and see what it taught us.

In the mid-seventies, Barry Sheene was all the rave. This longhaired,

cockney charmer was the darling of all the world, becoming the first

professional motorcycle racer to grace the front cover of mainstream

magazines and turned motorcycle GP racing from a niche fancy to a

global phenomenon.

And he was pretty good at riding, too, winning the 1976 and 1977 500cc

World Championships aboard a Suzuki baring the iconic number 7

plate, something he kept even after winning the title.

Naturally, his title wins are lauded, but that's not what makes Barry

Sheene special.
---
It was the way he was more than a helmet on

top of a bike. People wanted to know about

the funny, handsome guy beneath it and what

he would do and say next.

Sure, people won more races and titles than

him, but Barry Sheene was more than a racer.

He was an icon. Possibly, motorcycle racing's

first.

Then 1978 happened, and Sheene was

knocked off his throne by some American guy

called Kenny Roberts. We say "some American

guy" because, at the time, he was little more

than that.

Roberts had, until then concentrated his

racing efforts on the AMA Grand National

Championship, a series that followed a

selection of different motorcycling disciplines

but was more about flat tracking than anything

else. There were the odd road races snuck in

there – most famously the Daytona 200 – but

most events took place on dirt.

Before 1978, Roberts had snuck across the

pond a few times, participating in road races

in England and Italy but only a few. And he

was devastatingly fast in those few.

With Yamaha not able to build a flat tracker

that could compete with the Harley-Davidson

factory bikes at the time, the American

Yamaha importer arranged a ride for Roberts

in the 500cc World Championship, racing

in countries he'd never been to, at tracks

he'd never been to before and on a type of

motorcycle he had very limited experience on.

As a rookie at 28-years-old, he won the

championship. In fact, he won it three times,

dethroning the mighty Barry Sheene and the

whole of Europe. Nowadays, something like

that is unheard of. Grand Prix racers these

days have been primed for racing since they

were little kids. It's like the AMA Supercross

champion jumping onto a Yamaha M1 at

Qatar, beating the likes of Marquez, Quartararo

and Mir, and walking away with the World

Championship at Valencia in November.

It is like Darryn Binder winning his first

MotoGP race at Qatar (spoiler alert?) after

climbing off a Moto3 bike.

Kenny Roberts was an absolute machine and,

despite not having the win records, he could

well be the best GP racer the world has ever

seen.

And yet, the world speaks more of Barry

Sheene. Ask people about racing in the late

'70s, and they commend Roberts on his talent

and achievements, but will truly light up when

talking about the man that was Barry Sheene.

Generally, people and personalities win over

machines.

It's going to be a great '22 Moto GP season!

Donovan Fourie

www.thebikeshow.co.za
---
After Don's feature, we thought we'd research a few facts about these guys – just for the

whippersnappers who don't know who we are on about…

Barry Sheene.

The 1979 British Grand Prix at Silverstone was an epic duel between Sheene and King Kenny Roberts,

the reigning world champion from the USA. As Sheene passed his rival at 180mph he infamously put two

fingers up behind his back. He lost the race by 0.3 seconds, but his gesture cemented his reputation.

• He drilled a hole in his helmet so he could smoke on the grid

That hole in his chin bar was evidence of a 60-a-day habit that undoubtedly contributed to his

cancer. Sheene had been smoking since the age of nine, despite suffering from

chronic asthma, and was rarely without a Gauloise. After his 175mph horror crash at Daytona,

when he broke his leg, six ribs, his back, a wrist and his collarbone, the first thing he did when

he came round in hospital was ask the nurse for "a fag".

• His Brut 33 sponsorship stank

By the late Seventies, Sheene was a bona fide star. He hung out with George Harrison and

James Hunt and splashed it on with Sir Henry Cooper for ubiquitous aftershave ads. His wife,

Stephanie, was unimpressed. "I'd have gone mad if he splashed that all over him. We

had buckets of it so we would give it to his uncle who used to stink of it."

• He survived in a deadly era of motorsport and once saved a rival's life.

Sheene's mechanic, Martyn Ogborne, kept a record of deaths in the Suzuki GB Race Team from

1969 to 1988. The final tally was 62. Riders reasoned that there would be six fatalities a year

and each rider would have three crashes, so they each ticked off their crashes and hoped.

Once, during a practice session in Sweden, Sheene stooped on the track to free the tongue of

fallen rival John Williams.

• He ruined his best friend's chance of winning a grand prix

Sheene had already wrapped up the 1977 title defence by the time of the British Grand Prix.

After retiring through bike failure, he watched his great friend, Steve Parrish, head towards

victory. From the corner of his eye, Parrish saw his friend leaning over the pit wall

with a message board at the start of his last lap. "Gas it wanker", Sheene

had scrawled. Parrish obliged and crashed.

• He was dubbed "bionic" after his second near-death crash

He hit a stricken 250cc rider, Patrick Igoa, in practice for the British Grand Prix in 1982 at

165mph. They ended up in neighbouring hospital beds. This time there were metal plates and

27 screws. Kenny Roberts, one of the first on the scene, described what he saw as

"a plane crash". Yet Sheene returned and still made the podium in his final year in 1984.

He was a good talent spotter:
---
Having been impressed by a young rider, he typed a letter and sent

it to Mitsuo Itoh, a TT-winner turned Suzuki top brass. "I have every

confidence in his ability to become a big fighter in the 500 GPs." He

urged a quick reply. "His name is Michael Doohan. He is 22 years

old." Seven years later Michael had become Mick and he won the

first of five successive world titles.

Roberts:

"King" Kenny Roberts was a great American flat-tracker and road

racer, throwing his leg over a variety of special machines during his

racing career.

Few riders have achieved as much as King Kenny, which is why

people call him the 'King'.

He is credited with revolutionising riding technique, using wheelspin

to help steer the bike.

He transformed GP racing by leading a riders' revolt that improved

safety and helped riders earn better money. Later Team Roberts was

the first motorcycle outfit to use Formula 1-derived technology, like

data-logging and carbon brakes. In the early 1990s Roberts helped

save the premier 500cc class – then on its last legs, with just 13

bikes on some grids – by convincing Yamaha to sell engines to

European chassis builders. In the late 1990s Team Roberts became

MotoGP's first F1-style constructor, engineering its own engines

and chassis, employing John Barnard, Tom Walkinshaw Racing and

others. The team's KR3 motorcycle was good enough to score the

last two-stroke MotoGP pole position.

Some of his most remarkable machines were the 500cc world grand

prix road racing motorcycles he used to beat the Europeans at their

own game, winning the title his rookie season in 1978 and repeating

in 1979 and 1980.

Yamaha knew that the competition would be intense in 1980 so the

tuning fork company added some special features to its machine.

The engine was derived from the same inline four-cylinder twostroke

that had carried Roberts to his first two titles. But the frame,

painted black to avoid attention, was made of square-section

aluminum tubing, a first for Yamaha.

The fork options included a set with hydraulic anti-dive, but Roberts

favored the type on this machine, with externally adjustable rebound

and compression damping and no anti-dive.

The engine in this machine features the standard cylinder

arrangement of the previous two years, but midway through the

season, the team tried reversing the outside two cylinders, placing

the intake in front and the exhaust at the rear, with two silencers on

each side of the bike instead of three and one.

Roberts rode this machine to victory in the first three races of the

1980 season, then hung on as Suzuki swept four of the last five

rounds. While Suzuki came on strong, it wasn't enough and Roberts

won his final championship.
---
Harley

Davidson

Enters the 21st century.

In our last issue we brought you the news that HD

has revolutionised their Sportster. It's all new, and

modern - and apparently all the good things that

people want.

Donovan Fourie got to spend a day in the saddle -

and was suitably impressed....

He shares his thoughts on the new bike.

Pics by Black Rock Studios

Words by The Fourie - www.thebikeshow.co.za

Harley-Davidson may have been ridiculously

clever.

The Sportster is the longest-running

model in the American brand's lineup –

possibly the longest-running model

in anyone's lineup. The name first

appeared on a Harley side cover in

1957 and has been gracing side covers

ever since.

Actually, it goes further – before Harley began

thunking up actual words, it had the model K, a bike

serving the same function as the Sportster since 1952.

Essentially, Harley has been building a Sportster since 1952.

The clever part is that every Sportster motorcycle built in the last 70

years has had a motor derived from the original model K.

That saves a fortune in development costs. It's even more interesting

when their designs have been relatively basic from a technological

point of view, when exotic materials were non-existent. They were

relatively cheap to build and sold at a premium. It's capitalist heaven.
---
Harley could get away with this when companies like Ducati could not

because it didn't need to do better. The chug-alongs had charisma

combined with that legendary Harley image, one of Easy Rider and

outlaws romantically inhabiting dreams. It didn't matter what they were

like to ride; Harley's were cool.

Nowadays, iPhones graced with a litany of social media apps are cool.

Being a bit sad about your life is cool.

The leather jackets of Steppenwolf have been replaced by the multicoloured

fab of Boy Bands.

Nowadays, surviving on just your ageing image won't cut it.

So Harley has had to work in different directions, starting with the Pan

American, its first adventure bike. We featured that bike in Dirt And Trail

Magazine - and our lot really were suitably impressed at the brands first

foray into the world of adventure biking. Central to that impressed-ness

(is that even a word?) is that new engine. But we digress.

Its second new concept is the oldest name in Harley – the Sportster.

This model is called the Sportster S, and it is entirely new. That's a bold

statement – it ends 70 years of motors derived from the model K. It's

like Superman deciding he's sick of the damn cape and silly tights, and

from now on is going to wear comfy jeans and a golf shirt.

The new motor is a version of the Revolution Max 1250 unit used in the

Pan America.

Like that in the big traily, it's a 1252cc, 60º V-twin featuring a radiator,

camshafts at the top and even variable valve timing. Where it's different

to the Pan is in the addition of the letter T at the end of 1250.
---
SA

N

T stands for "Torque".

Therefore the outright power has been

softened to 121hp with 127Nm of torque for

good measure. That figure might be less than

the Pan, but it is a veritable powerhouse in a

Sportster. And what they've knocked off the

top end, they've more than made up for with

midrange. This Sportster S moves!

Of course, most capable sports bikes will

leave it for dead, especially above 200km/h,

when the rider of the Sportster discovers that

our subtle atmosphere can quickly turn to

concrete while they are sitting like a parachute

in the absence of any wind protection. But

the way it goes from a low speed to a high

speed is this motorcycle's forte. More so, the

people at ROC Harley-Davidson, from whom we

borrowed the bike, have gutted the otherwise

emphysemic exhausts slightly, making them

bark gloriously every time the throttle is

opened. It's intoxicating and leaves the rider

wanting to find an excuse to slow down just to

speed up again.

All this is supported by the usual host of

electronic gadgetry, including a small, round

TFT dash that I rather like. Harleys should

still be about charisma and feeling, not a

technological showcase. You still want the

technology there but without shouting about it,

which is what the Sportster S does.

The dash doesn't splash itself in a full

cinematic experience but just winks at you to

let you know that bits of electronics are there,

secretly making your day better.

The chassis is also new, with the Sportster

S adopting Showa inverted forks and a

piggyback single rear shock with just 51mm

of travel, a figure that makes the rider acutely

aware of every little bump on the road.

The frame is new in that there is hardly any.

Like modern Ducatis, the motor is most of the

frame with a steel trellis section holding on

the front end, a steel swing-arm holding on the

rear wheel and a sub-frame holding the fleshy

bit on top.

This design, among other innovations, has

lowered the weight of this motorcycle from

what would have been somewhere close to

300kg to just 228kg. That's not bad at all.
---
The seating position is foot forward and bars upright, leaving the rider's

body forming a C-shape. Other Harleys have got this very wrong, with

the rider having to limit their journeys to about 100km for fear of being

crippled. The Sportster S seems to have got the compromise between

aggressive C and the ability to walk afterwards somewhat spot on. Sitting

on the Sportster, the rider feels ready to attack but not straining to hold

on. Although, not for too long.

Luckily the tank is just 11.8L, so you will need to stop every 200-odd km

for a refuel. That's probably a good thing.

The problems don't entirely end there; various journalists overseas have

bemoaned the wide front tyre that does indeed make the steering a little

slow and wayward. Also, the single brake disc and Brembo Monobloc

calliper are not quite enough for a 228kg motorcycle. These are problems,

but the alternative is far worse.

The Sportster is a modern marvel. We mean that wholeheartedly. There

are some moans, but that's just us nitpicking. Overwhelmingly, the

Sportster S makes its rider feel rock n roll. Feel badass. Feel like they own

the whole planet. That's what a Harley is meant to do.

And it starts when the rider walks into the garage and sees it parked

there. A smaller front wheel, a double front disc brake system and a more

comfortable riding position will improve the ride but ruin the bike. It'll look

ridiculous, and this bike looks far from ridiculous. It looks incredible.

The wider front tyre, the minimalist front mudguard, the stubby tailpiece

and that meaty, flat-track style exhaust coving that new liquid-cooled

motor is a sight to behold.

SAVE UP TO R8,000 WITH VOGE'S

NEW YEAR SPECIAL!

NOW ONLY R44,999.00

SAVE R5,000.00!

NOW ONLY R46,999.00

SAVE R8,000.00!

Scoop these limited specials while

stocks last on our 2021 R and AC

models before new stock arrives.

(Voge 300DS already sold out!)

ABOUT VOGE SOUTH AFRICA

The VOGE brand is a high-end subsidiary of Loncin Motorcycle, an international brand renowned for their pursuit of engineering excellence and

ingenuity. SA Motorcycles has proudly acquired the Voge agency for South Africa to add a unique range of highly affordable larger capacity

models to the current small-capacity product line of SAM's top-selling brands including Big Boy, GoMoto and Jonway. The 300 Range provides

a unique offering of models for three different markets, all providing unrivaled value and performance in their own respective categories.

For more info and dealer enquiries: info@jonway.co.za • www.voge.co.za

OFFICIALLY IMPORTED AND DISTRIBUTED BY SA MOTORCYCLES

VOGE 300 FEATURES:

• Most affordable in it's category

• High-quality build and finish

• YF300 liquid-cooled engine

• 3.4 litres/100km

• For urban or highway commuting

• Electric-start

• 6-speed gearbox

• Sporty alloy wheels

• Front and rear disc brakes

• LED lights & digital trip-meter

3 YEAR

SAM Warranty
---
It is one of those bikes that will cause you to have a conversation with

some passerby at every garage and outside every restaurant. It has a

hugely alluring presence. The Sportster S makes the rider feel rock n roll

and look rock n roll while being a thoroughly modern motorcycle. It's what

we've wanted from Harley for the last ten years, and, man, they have got

it right.

As usual, Stephan our photographer took a little spin. Heres what he says:

I managed to steal the new Sportster from Donovan for a total of 5

minutes. 5 sweet minutes.

What I experienced was not what years of Harley Davidson pop culture

has taught me. A futuristic yet modern design that still looks badass,

a smooth and very powerful 1250cc state-of-the-art V-twin, and all the

creature comforts of a brand new luxury car.

I wish I could experience the old classic Sportsters to compare it to this

brand new design.

The engine, which I had experienced before on the mothership of a Pan-

America, is mind-meltingly fast, especially so on the minimalist Sportster,

and strangely smooth.

One of the coolest bikes I've had the privilege to ride.

Price: from R290,000

Thanks, ROC Harley-Davidson, for the bike: 010 492 4300

Length

(2,265 mm)

Overall Width

(843 mm)

Overall Height

(1,089 mm)

Seat Height, Laden (734 mm)

Seat Height, Unladen (753 mm)

Static Ground Clearance (93 mm)

Wheelbase

(1,518 mm)

Tires, Type

Dunlop® Harley-Davidson Series, radial

Tires, Front Specification 160/70R17 73V

Tires, Rear Specification 180/70R16 77V

Fuel Capacity (11.8 l)

Weight, In Running Order 502 lb. (228 kg)

Gross Vehicle Weight Rating 922 lb. (418 kg)

Engine

Revolution® Max 1250T

Drive Train

Chain-driven, DOHC, hydraulic selfadjusting

lifters, intake & exhaust VVT; four

valves per cylinder

Bore

(105 mm)

Stroke

(72.3 mm)

Displacement

(1,252 cc)

Fuel System

Electronic Sequential Port Fuel Injection

Exhaust

2-into-1-into-2; catalyst in muffler

Lubrication System Semi-Dry Sump

Final Drive

Belt, 80/34 ratio

Transmission

6-speed

Frame

Stressed-member, high strength low alloy

steel trellis frame; stamped, cast, and

forged junctions; MIG welded; aluminum

forged mid-structure

Swingarm

High strength low alloy steel, tubular

sections, stamped x-member, forged axle

junctions; MIG welded

Front Fork

43 mm inverted fork with compression,

rebound and spring preload adjustability.

Aluminum fork triple clamps.

Rear Shocks

Linkage-mounted, piggyback monoshock

with compression, rebound and hydraulic

spring preload adjustability

Engine Torque

94 ft-lb (127 Nm)

Engine Torque 6,000

Power

121 HP / 90 kW @ 7500 rpm

Fuel Economy

(4.8 l/100 km)

We think the new bike is a big improvement over this

old one.

LOGO PARA USO ENRECAMBIO Y COMPETICIÓN

LOGO FOR USE IN AFTERMARKET & COMPETITION

USO INSTITUCIONAL

INSTITUTIONAL USE

T

T

SEV

Demos' with

TOTA

SUPE

Pure Moto

PRE OR

LIMITE
---
ORIGINAL LOGO

LOGO FOR USE IN AFTERMARKET & COMPETITION

TECHNOLOGY, LOGO INNOVATION INVERSO

AND PASSION.

INVERSE LOGO

THE BRAKE SYSTEMS SPECIALIST GALFER,

SEVENTY YEARS OF EVOLUTION AND SUCCESS

1370 Semi Sinted BRAKE PADS

Excellent feel and modulation, this sintered pad

compound is great for everyday street riding,

canyon carving, and aggressive or heavy braking.

Great heat recovery and easy on the rotor,

this is Galfer's most popular high-performance

compound.

Galfer 1375 HH Sintered BRAKE PADS

• For moderately aggressive every day and sport

street riding

• Ceramic-coated backing plate assists with

temperature management and dissipates heat

• Advanced ceramic composite compound is

ready to withstand higher temperatures than

regular semi-metallic carbon brake pads

• HH friction rated

• Brake pads do not fade, ideal for performance

street riding or track days

• Performance street, track days, canyon riding,

amateur racing

COLORES CORPORATIVOS

CORPORATE COLOURS

FULL FLOATING DISCS

1054 Semi-Metallic Brake Pads

Galfer 1054 Semi-Metallic Brake

Pads provide a great feel and provide

excellent braking in all weather and

terrain conditions.Overall the Galfer

1054 Semi-Metallic Brake Pads are

a very versatile compound for almost

every need. The 1054 compound

is the workhorse of our brake pad

family. It off ers progressive feel and

feedback and is GG rated which

makes it a great overall brake pad.

This compound is available for front

and rear calipers. Use this compound

if you commute to work, ride light

trails or woods or "just need some

good brake pads". Applications

range from street, ATV, dirt bike

and cruisers. This compound is so

versatile, many Karts use it as a race

compound!

INSTITUTIONAL USE

BLANCO

WHITE

C:0 M:0 Y:0 K:0

os' with up to R 30000 trade assist

R:255 G:255 B:255

NEGRO

BLACK

C:0 M:0 Y:0 K:100

R:0 G:0 B:0

PANTONE 021

PANTONE 021

C:0 M:53 Y:100 K:0

R:241 G:142 B:0

MOTUS HONDA

2022 AFRICA TWIN

CRF1100 L

Demos' with up R30 000

trade assist

TOTAL CONTROL AND

SUPERB HANDLING

Pure Moto-Cross DNA

CRF450 RX

PRE ORDERS YOURS NOW

LIMITED STOCK

NC750 X from R128 500 ACE 125 from R23 900

Demo rides available. Trade-Ins Welcome. Wide Range of Pre-Owned Bikes Available.

• FREE 2 YEAR UNLIMITED MILEAGE WARRANTY • FREE RIDER ACADEMY TRAINING • FREE ROADSIDE ASSISTANCE

Sandton

William Nicol Drive

Sandton, Johannesburg,

Telephone: +27 (11) 540 3000

www.motushonda.co.za

East Rand Mall

Cnr Jan Smuts & Loizides St,

Bardene Ext, Johannesburg, 1462

Telephone: +27 (11) 826 4444

www.motushonda.co.za
---
Suzuki

Road School at Red Star Raceway.

By Brian Cheyn.

At the beginning of the year, I was invited to

ride the new Suzuki GSX-S1000. As I sat down

for coffee with Stuart Baker and Chris Kuun

from Suzuki, I mentioned that I still had a

problem with cornering a bike. It is a confidence

thing. I had a big accident a few years

ago, and the memory of my injuries still haunt

me as I tip a bike into a corner. I still fear that

the bike might step out and high side me into

the scenery. Stuart then suggested I attend

the Suzuki road school that was to be held at

Red Star Raceway. This is not designed to be a

track day. It is not about fast times and putting

new scratches on your knee-sliders. This day

is about growing and becoming a better, more

confident rider.

Suzuki tries to host three of these events per

year and these events are advertised on their

social media platforms. The cost is minimal

and includes a light lunch. This particular

event was only R200 and was open to all

makes of bikes and even included a special

slot for owners of Suzuki Swift Sport cars.

It was a gloomy day when I set off to Red Star.

I even packed my rain jacket just in case. I

thought I was early, but I was clearly mistaken.

When I arrived, there was already a hive of

activity around the office to get the first order

of business out of the way: indemnity forms.

Clearly a light drizzle was not enough to

dampen the enthusiasm of the riders. I strolled

through the pits and saw everything from

blacked out track weapons to a little 125cc

Honda E-Storm. One bike in particular caught

my eye though.

A 2007 Suzuki GSR 750 with 150 919 kms on

the clock. The owner, Alan, proudly told me

that the engine has never been opened and

that the bike was still running sweetly! This

was going to be an interesting day.

After the formalities, we were asked to

convene in the training centre. Here we were

given a briefing on track safety and how you

should behave when a marshal waves a flag at

you. After that, we had a very insightful lecture

on road safety and general alertness. Even

after years of riding, you forget the basic stuff

and it is refreshing to have someone state the

obvious again.

What was made abundantly clear was the fact

that this was a road school. We were here to

learn and improve our skills, not our lap times.

What I found encouraging was the number of

TO

CO

W

PRIC

I

T

a
---
iders that were going to be on a track for the first time. Even more encouraging

was the amount of female riders that were in attendance. I spoke to a few

and the overwhelming sentiment was that they wanted to come to a safe, controlled

environment where they could build confidence. Out on track, I saw that

there were a lot of riders that had no trouble winding up their bikes on the back

straight but lacked sufficient skill to negotiate even the easiest of corners. And

this is exactly what a day like the Suzuki road school was for. If you arrive in a

corner too hot, you can just sit the bike up, and roll off the track, without fear of

hitting a pavement or a tree.

Suzuki had three bikes for me to ride: the highly underrated DL 650 V-Strom,

the GSX-S1000 and the mighty Hayabusa. Red Star is a fairly technical track

with 5 straights and 13 corners and I chose the DL to start with. But first, we

had to witness the cars lapping the tight Red Star track. Suzuki's own Errol

Quan Chai scared a few passengers witless in his canary-yellow Suzuki Swift!

Then it was the turn of the fast class A riders. As the bikes hurtled past the pit

wall, I saw a few anxious faces. Some of them dreading going out on track for

the first time others, chomping at the bit for their chance to go out.

By the time the class B riders lined up, I was ready on the V-Strom. I took it

easy on the cold tyres, and soon found my rhythm. There is just something

about a track where you do not have to be on the lookout for diesel spills,

potholes and people in cars who are browsing Facebook. Here you just concentrate

on yourself and the bike. Each time you get to a corner, you try and lean a

bit more, and go a bit faster. I gained so much confidence in one session, that I

switched to the GSX-S and then to the Hayabusa without fear.

This is a great initiative from the Suzuki bunch. As a motorcyclist, you simply

cannot say that you don't need any more training. Also, with days like these,

you cannot say that you cannot afford track days.

The Suzuki road school meant the world to a few new riders. They were coming

off the track beaming with smiles, knowing that by the end of the day, they

were better riders than they were that morning. Thank you, Suzuki, for the

initiative.

Look out on the Suzuki social media pages for the next one. Do yourself a

favour and attend one!

www.facebook.com/MotorcycleSA

THE

ITALIAN

HELMET

SINCE 1974

STORM

R5,995

INTEGRA

R5,995

DRIFT EVO

CARBON

R7,250

DRIFT EVO raising even more the standards to satisfy the most

demanding sport bike riders and in many championships.

FREE

DARK

SMOKE

VISOR

BLAST

R3,250

GIGA

R3,250

AVALON

HAWK

R3,250

The Avalon is Caberg's new full face with a sport-inspired design

and many technical features, suited for the youngsters.

CARBON

R6,495

IRON

R5,495

GHOST

MAORI

R5,495

GHOST is the helmet conceived for those who want to be noticed.

The look and shapes are combined with great functionality.

TO FIND YOUR NEAREST CABERG DEALER,

CONTACT 011 792 7691 OR VISIT

WWW.DMD.CO.ZA

PRICES ARE AT RECOMMENDED RETAIL INCLUDING VAT
---
The good old days

of racing scooters

in a parking lot at night

Words: Donovan Fourie (The Bike Show)

Pics: Well… everybody

Racing has a simple recipe for success:

Make it cheap, make it simple and make it fun. Every racing class where

people rock up on whatever they have and bang around a circuit for the

joy of it will succeed, regardless of lap times or, mostly, how much silverware

is won.

This recipe was epitomised during the mid-2000s by a group called Scooter101.

These were the days when South African showrooms sported joys

like the Yamaha BWS100, the PGO Naked 125, Gilera Roadrunner 150 and

a host of scooters designed more to be fun and sporty than dreariness

like fuel economy and safety. They were two-stroke rockets that cost less

than a month's salary and were easily fettled with expansion chamber

exhausts made in a garage, air-filters from a pit bike and even bored out

cylinders. The entire package cost less than an old, second hand Golf and

it was glorious.

Scooter101 was organised by scooter and sticker kit enthusiast Brannigan

Achadinha and started as simple night rides where a bunch of

people would meet somewhere on their scooters and ride to various

underground parking lots where benevolent havoc pursued until a security

van chased everyone away.

It was some of the most fun anyone could have.

Famous stuntman Dave Eager parked the Buell for an evening

to try his hand at scootering. He would wheelie his scooter to the

point of flipping, put his foot out at the last minute and do a 180

U-turn.
---
The parking lot mayhem later evolved into

casual races that eventually evolved into organised

races. A suitable parking lot where

centre management looked the other way

was found, bunting tape and sometimes,

hay bales marked out the circuit and that

night, racing commenced.

It was a casual affair, no classes, no

technical rules and wrung whatever scooter

you brung. There weren't even clothing

regulations, with individuals lining up in

the shorts and t-shirt they worked in that

day. The unsaid agreement was that if you

fell and hurt yourself, there was no one to

blame but yourself.

The turnout was fantastic, both in terms of

competitors and spectators. Riders brought

whatever scooter they had in their garage,

and the parking lot was ten minutes from

most people's homes. It was a jolly good

night out.

Heats were raced, riders were whittled

down to a final and the winner got a pat on

the back.

The men from Suzuki came to join the fun:

Jean-Francois, Stuart, Sinny, Phil (Loxton's)

and Harold (Motana)

Former SA superbike champ Stewart Mc-

Leod with Vin, now from Guts & Gas.

Ryan Ottens with his Mrs, Chanti.

They were BMW salesmen by day, and

scooter racers by night.

From the lady racer department, Janine

Mitchell with Nicole Van Aswegan. They

were big rivals on the track, but good

friends off of it.

Support grew, and eventually, motorcycle

dealers were enquiring about hosting races

in their parking lots. Sound systems were

brought in for commentary, generators

hummed as lights illuminated tracks and

prizes became more and more lavish.

The original recipe didn't change, race whatever

scooter you wanted and have a good

time. It was cheap, simple and fun, and it

was booming… Until it wasn't.

Eventually, the powers that be pressured

Scooter101 to move to real race tracks and

adopt traditional safety protocols. Naturally,

it then died a quick death. Suddenly, people

could no longer race whatever they wanted

and were forced to adopt a plethora of technical

rules, they had to buy leathers, trailer

their scooters to a track an hour from home

and pay a hefty entrance fee to take part.

Team from Italmoto and came very close to

taking the overall win. Robbie from Primrose

next to Italmoto boss Marco Liberatore. Next

to them is Italmoto's madcapped rider Dean

Wheeler and on the far right is Max from

Italmoto.

More so, manufacturers stopped focusing

on fun, sporty scooters and put all their

efforts into fuel economy and safety,

making pricey, emphysemic monstrosities

that were, by comparison, as much fun as

drowning.

The racing became expensive, complicated

and a hassle, the death of any racing class.

We probably couldn't do something like that

again. The world is too wet and snobbish.

Road racer Marco "Poodle" Puigi with famous

motard racer Riaan Neveling. Riaan has thriving

career with KTM in Austria. Marco, sadly

has moved along.

The organisers and hosts of this fine event:

Alex De Rapper (Holeshot), Brannigan

Achadinha (Scooter 101), Matt Smith (Scooter

101) and Garrith De Rapper (Holeshot).

Still, the memories of those good days

when people in shorts and takkies buzzed

around parking lots on the bike they commuted

on every day brings warm joy and

happiness to those that were there and are

no doubt ever grateful for them.

All the race winners and organisers, complete with nicknames:

Brannigan, BMX Brad, Shorty Davidson, Hershibar (overall winner), Matt Smith, Garrett

Mcdougal, Stewie McCleod, Dean Wheeler, Grant Frerichs and Jeremy Pincus.
---
Street test:

Husqvarna's

Norden 901

What's an Adventure bike doing in Ridefast? Well, the fact is most people

use adventure bikes on the road every day. And Husqvarna asked us

to please tell road riders what the bike is all about. We gave the bike to

Séan to use on his rounds and asked him to tell us what he thinks of the

new Norden 901.

With all the rain and the very short time span we have had the bike I have only had the opportunity

to ride the Norden on the road, with absolutely zero dirt time, so I won't be even vaguely discussing

its off road capabilities. And my point of reference is going to be my daily wheels, a current

model Honda Africa Twin 1100, with the new software and fitted with power shifter and running

the exact same Pirelli Scorpion Rally STR's as the Norden. The fact that there is less than a 5%

price difference makes it a fairly good comparison.

I literally did a MotoGP style motorcycle swap from the Africa Twin onto the all new Husqvarna

Norden 901 in the morning, arriving at the office on the "Twin" and hopping onto the Norden and

heading straight out onto the road to call on customers. My route was around 300 odd kilometres

for the day and included long fast highways, traffic light to traffic light bumper bashing and a quick

lunchtime burn through "The Cradle" before swimming home along the N1 through Gilooly's onto

the R21 through the afternoon thunder, lighting, rain and hail.
---
The absolute first thing I noticed was the

riding style/sitting position, even though it felt

familiar initially, I couldn't place why and then

it quietly dawned on me. The Norden feels

almost Super Motard.

The handle bars are quite flat and low, great

for long distance touring with very little fatigue

on the shoulders, however I know for my 2 metre

long chassis will be a challenge to stand up

and ride in the dirt or over rocks. The rider foot

pegs are a bit higher than I expected adding to

the Motard feel but what this all does is give

the Norden a very nimble feeling on the road,

especially when you get a bit enthusiastic in

the corners.

The next thing I noticed almost immediately

was the physical size of the Norden. It feels

quite small and light, almost diminutive, until

you yank on the throttle, dump the clutch and

kick through the gears with the silky smooth

power assisted gear shifter. 200Kmh arrives

and is surpassed with quite alarming alacrity

with the 889cc snarling, growling and spitting

the wrath of the Gods of speed all the way

through the rev range. Suddenly the "little"

Norden doesn't feel so small anymore and the

maniacal giggling starts inside the helmet.

Couple all of that to the Motard style riding

position, the absolutely fantastic chassis,

brilliant brakes and the WP suspension and

suddenly it becomes very hard to maintain

self-discipline and concentrate on calling on

customers, especially when you are within

spitting distance of some of the most scenic

and twisty riding roads in Gauteng… so a quick

lunchtime burst around "The Cradle", (a couple

of times), almost scratched the itch enough

and saw me heading back to the East Rand a

couple of hours later than expected and in the

rain and hail.

Interestingly, the seat is quite wide, firm and

squared off on the edges which might be a

bit of an issue for the vertically challenged

as my Mrs and one or two people mentioned.

It does however lend itself to using your butt

cheek pressure the inside edge of the husky

into corners rather than your foot pressurising

the inside foot peg into a corner. Being quite

firm I was waiting for my ass to really take

some strain after a little while in the saddle

but the opposite was true. It was a lot more

comfortable than a conventional seat over a

few hours.

The "Explorer" electronics package is straight

out of the same parts bin as its brother from

another mother, this we all know and understand

how good it really is. Pushing the limits

a bit you can feel the rear ABS twitch the foot

brake pedal a bit as you trail it into a corner,

(I kept it in standard Road mode), and the

front brake lever will give a soft tap, tap, tap

especially when having to grab a handful in the

rain as some twazzle in a car tries to avoid a

puddle unexpectedly, but the Norden remains

stable and true through it all. The traction control,

which to be honest I only felt in the heavy
---
ain and hail kicking in, is confidence inspiring making small corrections to

the power delivery to keep the Husky from getting horribly squirley in the

torrents that used to be roads and highways.

Next up, wind protection. Compared to our "AT", the screen is quite low and

far away from the cockpit. At 2m's tall I noticed very little wind pressure on

my visor. The tank is quite wide and will give your psoas muscle a bit of a

work out, but the shape does deflect the wind around your legs and lower

body very effectively.

The Norden has a comprehensive electronics package. Street, Rain and

Off road riding modes as well as an optional Explorer mode (Nine levels

of adjustable traction control). Husky call their quick-shifter 'Easy Shift'

and its really very good with a smooth gearbox and the auto-blip on down

shift sounds absolutely wicked. Throttle is ride-by-wire and the clutch has

a slipper function. Instrumentation is TFT with full information and offers

typical current connectivity with features like turn-by-turn navigation, music

and phone functions.

The chrome-moly chassis uses the engine as a stressed member. The

spoked wheels are tubeless and shod with Pirelli Scorpion Rally STR tyres.

A welcome standard feature for a long-distance bike is cruise control.

Brakes are a Husqvarna branded J.Juan four-piston front and two-piston

rear system which work great. 320 mm front discs with a 260 mm rear.

GEZINA

079 079 1158

JB MOTORCYCLES NOW YOUR OFFICIAL

HERO DEALERS IN PRETORIA

SALES - SPARES - SERVICES

On the streets, it's absolutely brilliant. Nimble, nippy, comfortable and light

with a great chassis, handling and brakes. The overall feel of the bike is a

lot more refined and dignified than its stable mate, more of a gentlemanly

tourer with great off road capabilities, (kinda like the Daniel Craig version of

007). Oh yes! Did I mention that this bike has a Remus exhaust? Its sounds

great!

I would be interested to see how it handles in the dirt… that would be the

acid test for me. The boys did that it for a proper Adventure ride. You can

read up on that in the March issue of Dirt And Trail Magazine.

www.husqvarna-motorcycles.co.za for your dealer.

New Hero X Pulse 200 Fi ABS

R42 999

New Hero ECO TRAIL 150

R23 999

2004 TM 300 2T R24 499

New Hero Eco commercial 150

Delivery bike R22 999

YAMAHA PW50 R17000

Workshop repair and services

NEW AND USED SPARES

1997 KAWASAKI KDX 200

R22 500

USE REF #HERORIDEFAST AND RECEIVE A FREE

VR1 FULL FACE HELMET.

079 079 1158

sales@jbmotorcycles.co.za

825 Steve Biko Drive.Gezina

www.jbmotorcycles.co.za
---
Round 1 – Classic Superbike Racing Association

5 Feb 2022 Redstar Raceway.

The old Dogs go out to play…

Word – Paul Jacobs

Pics- Shirley Pinkerton, Beam Promotions and Eugenes Digital prints.

With stormy weather on the cards for the weekend, riders were scrambling for rain

tyres during the week leading up to the first round on the CSRA Championship race at

Redstar Raceway on the 5th of February.

Rain was bucketing down on the way to the circuit on Saturday morning but somehow

stayed away from Redstar leaving the track dry, with the exception of ground water

flowing over the track at the "dog bone".

This made qualifying and Heat 1 rather exciting with riders giving their all on every

corner, only to dramatically slow to cross the stream in the dog bone, before belting it

around the rest of the dry circuit to put in a good quali lap.

22 Riders lined up for race 1 with Invitational rider AJ Venter on the Mike McSkimming

F2 1100 Katana on pole outqualifying the "newer" GSXR1100's and FZR1000 of Paul

Jacobs, Jaco Gous and Matthew Herbert.

Venter proceeded to blitz the field in race 1 and ran low 2.01's on his 35-year-old F2

machine winning by over 18 seconds from second placed F1 rider Gous and Paul

Jacobs, with Tom Maritz coming home forth on track and 3rd in F1.

Matthew Herbert was caught out on the wet surface in the dog bone on lap 2, being

launched over the highside of his FZR1000 and lucky to walk away from the huge crash

with a mangled helmet and a serious headache.

Sarel Pottas pipped Fergal McAdam to the line in the F2 class for 2nd and 3rd in Class,

with Lionel Black on his GSXR750 coming home 4th in class.

Race 2 was a similar affair with AJ bolting away ion front, Gous and Jacobs battling for

2nd position and Tom Maritz a distant 4th.

Newcomer Grant Mills was home next from Pottas, Dyl Pinkerton and Leon vd Berg,

who returned to racing after his big crash in East London last year.

As ever, the "old men" enjoyed the massive flow of adrenaline that race day brings and

as usual, the "I am racing for fun" attitude vanished when the lights went out!!

The Battle will commence in the Motorcycle Racing SA series, again at Redstar

Raceway on 12 March – spectators are welcome so come and relive the heydays of

1980's racing, take a walk around the pits, meet the riders and see their immaculately

prepared Classic Superbikes up close!

For more information about CSRA visit www.classicsuperbikeracing.co.za
---
SCAN and WATC

TRAVELING THE ROA

START YOUR

LESS TRAVELE

ADVENTURE

R199 950

SAVE UP TO R20 000

WHEN PURCHASING THE DL1050 XT MO.FROM

1ST FEBRUARY - 31 MARCH 2022

The MASTER The MASTER of Adventure of Adventure - NOW AVAILABLE

FEATURES FEATURES

-Hill Hold Control -Hill System Hold Control System

-Slope Dependent -Slope Control Dependent System Control System

-Load Dependent -Load Control Dependent System Control System

-Cruise Control System -Cruise Control System

-3 Level Traction -3 Control Level Traction System Control System

-Height Adjustable -Height Rider Adjustable Seat Rider Seat

www.suzukimotorcycle.co.za

www.suzukimotorcycle.co.za suzuki_motorcycle_s.a suzuki_motorcycle_s.a @MotorcycleSA

SUZUKI DL1050 XT V Strom

FROM R221 950

ONLY YELLOW AVAILABLE

@MotorcycleSA T's & C's Apply

T's & C's A
---
THE BRABUS 1300 R

ROARS OFF THE LINE IN LESS THAN 2 MINUTES…

Did anyone buy one locally?

It took a mere 1 minute and 55 seconds for all 154

ultra-exclusive BRABUS 1300 R motorcycles to sell out

via KTM's pre-order platform – approximately a BRABUS

1300 R sold every second A statement about exclusivity,

hand-built luxury, and individual sovereignty.

For those who might not know, Brabus GmbH is a German

high-performance automotive aftermarket tuning

company founded in 1977 in Bottrop. Brabus specializes

in Mercedes-Benz, Smart and Maybach vehicles. Brabus

is the largest Mercedes-Benz tuner after Mercedes-AMG,

which has been a Daimler AG subsidiary since the 1990s.

This bike is collaboration between Brabus and KTM.

The bike looks every inch the high-end machine that

Brabus customers are used to. You'll have to be quick

if you want one. KTM is only making 154 of the things,

with 77 in each of the colour options of Magma Red or

Signature Black.

Why 77? Because Brabus was founded in 1977.

You don't have to look too hard to see that the Brabus

1300 R is based on the existing KTM 1290 Super Duke,

more specifically it takes elements from the Super Duke

Evo and from last year's limited-edition Super Duke RR.

A distinctive new look is achieved by adding a Brabus-branded

version of the circular headlight from Husqvarna's

Vitpilen and Svartpilen, as well as carbon-fibre

scoops on either side of the steel, 16-litre fuel tank.

Those intakes feed the same V-twin engine that's used

in the 1290 Super Duke, which retains identical performance

figures –178bhp and 103lb.ft of torque arriving

at 9500rpm and 8000rpm respectively – despite the new

intakes and a bespoke, Brabus-only exhaust system with

stacked silencers and a black ceramic-coated finish.

The frame is also straight from the Super Duke, but

with a carbon-fibre seat unit similar to that used on the

Super Duke RR, helping reduce the bike's weight to 205kg

including fuel, exactly halfway between the 210kg Evo

and the 200kg RR.

Other elements that are purpose-made for the Brabus

1300 R include the 'Monoblock Z' nine-spoke wheels,

reflecting a design used on many of the firm's cars. Those

are fitted with the same Bridgestone S22 tyres used on

the Super Duke Evo, 120/70-17 at the front and 200/55-17

at the rear. Unique Brabus-branded Gilles footpegs and

Magura HC1 levers, both CNC-machined, also distinguish

the new model, as does a special start-up screen on the

TFT dash display.

With the Super Duke Evo as its basis, the Brabus 1300

R gets the same extensive suite of tech with traction

control, engine brake control, 'supermoto' ABS, cruise

control, tyre pressure monitors, auto-cancelling indicators

and keyless ignition.

The switchable riding modes are similar to the Super

Duke RR's, including Track and Performance modes as

well as Rain, Street and Sport settings. The bike also benefits

from the Super Duke Evo's semi-active WP Apex SAT

forks and shock, with 'Suspension Pro' to automatically

detect load and set the rear preload to suit, with three

heights – Low, Standard or High – for the rider to choose

from via the dash.

Other settings include 'Track', 'Auto' and 'Advanced'

modes, the last offering eight stages of selectable damper

settings for the front and rear.

If you wanted one – it would have set you back a few

thousand over the 700k mark… at current exchange rates.

www.ktm.com
---
2022 KTM Dukes

incoming!!

KTM launches a new incarnation of the KTM 1290 SUPER DUKE R that

delivers, they say, exactly what riders have asked asked for.

KTM has updated their bad ass V-twin 1290 Super Duke R range for 2022, and have revealed a

new Evo model complete with WP semi-active suspension.

Already impressively sprung in standard trim, thanks to full manually adjustable WP units, the

latest Evo will roll off the production line equipped with a second-generation electronic WP Apex

system – said to provide even greater usability for the rider, whilst adding only 2kg to the overall

weight.

This is done via three standard damping modes – Comfort, Street and Sport - plus the option to

tweak the rear spring preload by as much as 20mm in increments of 2mm.

It's all controlled via the colour TFT dash. This alteration can be taken even further with the

inclusion of the optional 'Suspension Pro' package, which adds another three damping options:

Track, Advanced and Auto.

As the name suggests, Track is the stiffest setting available to make you faster on the track.

Advanced mode allows you to fine-tune your preferences, with the level of damping for the forks

and shock changeable on a scale from one to eight.

For those happier letting the bike do all the work, Auto is said to be able to detect different styles

of riding and adjust the suspension to suit. A soft, comforting set-up will be adopted on sedate

rides, with the springs hardening up the more aggressively you ride.

On top of this, Suspension Pro will adjust the preload automatically to match the weight of the

rider and there is a switchable anti-diving feature to keep the front end high under hard braking.

Both the Evo and standard R will be powered by the same 178bhp V-twin motor and share Rain,

Street and Sport riding modes, with optional Track and Performance maps available for sportsorientated

customers.

For better throttle response, they say that both machines benefit from a new quicker-action

throttle, which reduces the twist by seven degrees, to 65.

Completing the changes to both bikes is a new livery, featuring licks of orange, sliver and blue –

plus bright orange rims.
---
2022 KTM 890 Duke R on its

Less than two years since it was first i

for 2022 along with a new matt Atlanti

1290 Super Duke R.

Around since 2020, the 890 Duke R ha

boasting 121 HP and 99 Nm of torque

and high-spec adjustable WP APEX su

The KTM 890 Duke R wears monobloc

with an adjustable Brembo MCS mast

grip.

In terms of electronic wizardry, the 89

(motorcycle traction control) with a 6

and forwards and backward (pitch) m

vertical axis (yaw).

A selection of ride modes include Ra

isation. That includes nine levels of a

additional throttle control setting.

The 2022 890 Duke R looks like one

A full range of KTM PowerParts and

The 2022 KTM 890 Duke R will arrive

www.ktm.com for your closest deale
---
Duke R on its way.

s since it was first introduced, KTM has given the 890 Duke R a sharper new profile

h a new matt Atlantic Blue base colour lifted directly from its big brother, the KTM

.

, the 890 Duke R has become a global contender in the middleweight segment,

nd 99 Nm of torque, alongside the load-bearing design of its tubular steel chassis

ustable WP APEX suspension.

e R wears monoblock Brembo Stylema front calipers grabbing 320 mm rotors, along

Brembo MCS master cylinder. A set of sticky Michelin Power Cup 2 tyres gives the

onic wizardry, the 890 Duke R makes use of Cornering ABS and Cornering MTC

ion control) with a 6D lean angle sensor that not only detects the side-to-side (roll)

backward (pitch) movements of the bike, but also the rotation of the bike on its

).

e modes include Rain, Street, Sport and an optional Track mode for full customudes

nine levels of adjustable traction control slip, anti-wheelie on/off, and the

e control setting.

ke R looks like one of those track-ready machines that you'll want to ride every day.

TM PowerParts and Powerwear, developed for the 890 Duke R is also available.

90 Duke R will arrive in authorised KTM dealerships later this year.

or your closest dealer

JOIN US FOR A RIDE

YOU AND YOUR FAMILY

ARE WELCOME

Enduro Weekend

11-13 March

Breakfast Run

27th March

Adv Tour

27th March - 02 May

Breakfast Run

24th May

Enduro Day

10th April

Wheelie Day

9 April

SAVE THE DATES

Corner Rivonia and Witkoppen Road, Witkoppen Rd, Sandton,

2157

Phone: 011 234 5007

Email: info@radmoto.co.za
---
BUYERS GUIDE

Brought to you by

MODEL PRICE MODEL PRICE MODEL

PRICE

Superlight 125

R18,499

RS 660

Tuono 660

RSV4 RR 1000

RSV4 RR 1100 Factory R495,011 Monster 821

R216,000

Tuono V4 1100

Tuono V4 1100 Factory

G 310 R

G 310 GS

C 400 X Scooter

C 400 GT Scooter

F 750 GS

F 850 GS

F 850 GS Adventure

R 1250 GS

R 1250 GS Adventure

R 1250 R

R 1250 RS

R 1250 RT

R NineT Pure

R NineT

R NineT Scrambler

R NineT Urban GS

R NineT Racer

K 1600 GT

K 1600 GTL

K 1600 B

S 1000 R

F 900 R

F 900 XR

M 1000 RR

Velocity 150

Velocity 200

TSR125

TSR250

Mustang 250

APRILIA

BMW

BIGBOY

Superlight 250

R19,499

R234,660 Voge 300R

R49,999

R210,600 Voge 300 AC

R385,011

DUCATI

R54,999

R315,011 Monster 821 Stealth R220,000

R365,011 Monster 1200

R236,000

Monster 1200 S

R276,000

R99,100

R108,800

Monster 1200 R

Monster 1200 Black

POA

POA

R140,200

Hypermotard 950

R214,100

R154,100

Hypermotard 950 SP R254,000

R206,600

R213,900

Supersport

Supersport S

R215,100

R241,400

R240,200

Multistrada 950

R228,800

R322,900

Multistrada 950 S

R256,100

R343,700

Multistrada 1260

R232,000

R230,300

Multistrada 1260 S

R292,700

R254,000

Multistrada 1260 Enduro R337,500

R252,400

Multistrada Pikes Peak R345,300

R175,300

Multistrada Grand Tour R312,900

R257,940

Diavel 1260

R329,600

R232,704

R248,049

Diavel 1260 S

X Diavel

R370,500

R328,495

POA

X Diavel S

R401,000

R351,500

Panigale V4 base

R369,500

R356,200

Panigale V4 S

R439,800

R398,000

Panigale V4 Speciale R600,00

R292,250

Panigale Superleggera R1,7m

R210,700

Streetfighter V4

R323,200

R217,000

Streetfighter V4 S

R377,900

R690,299 Icon Scrambler

R163,700

Full Throttle Scrambler POA

R15,999

Classic Scrambler

POA

Desert Sled Scrambler R210 900

R19,499

Cafe Racer

POA

R23,2999

1100 Scrambler

R210,900

R26,999

1100 Scrambler Special R230,900

R35,999

1100 Scrambler Sport R264,500

HARLEY-DAVIDSON

Street 750

R109,000

Street Rod

R120,000

Iron 1200

R153,000

Superlow

R147,500

Iron 833

R151,500

1200 Custom

R163,900

Superlow 1200T

R169,000

FortyEight Special

R163,000

FortyEight

R163,000

Roadster

R171,500

StreetBob

R191,000

LowRider

R218,500

Deluxe

R276,900

Sport Glide

R234,500

Fat Bob

R229,500

Fat Bob 114

R263,000

Soft Tail Slim

R249,900

Fat Boy

R280,500

Fat Boy 114

R316,500

Brak Out 114

R316,000

Break Out

R281,000

Heritage Classic 114 R319,500

Heritage Classic

R286,900

Ultra Limited Low

R385,000

Road King

R323,500

Road King Classic

R281,000

Road King Classic

R323,500

Road King Special

R344,500

Street Glide

R354,000

Street Glide Special

Road Glide Special

R371,000

R375,000

Road Glide

R355,000

Road Glide Ultra

R379,000

Ultra Limited

R385,000

CVO Street Glide

R510,000

CVO Limited

R544,000

Free Wheeler

R407,000

TRI Glide Ultra

R514,000

FXDR114

R299,900

Prices may change so please contact local dealer.
---
BUYERS GUIDE

MODEL PRICE

MODEL

PRICE MODEL

PRICE

ACE 125

R27,850

Elite 125 Scooter

R27,600

NC750X

R128,500

NC750X DCT

R138,200

Africa Twin 1100 Manual R238,400

Africa Twin 1100 DCT R257,400

Africa Twin 1100 AS Man R267,750

Africa Twin 1100 AS ES R311,100

XR190

R58,000

XR150L

R38,500

XR125L

R35,500

CRF300L

R86,700

CBR 1000 RR

R209,999

CBR 1000 RR-R

R423,300

CBR 1000 RR-R SP

R488,000

GL1800 Goldwing M POA

GL 1800 Goldwinh DCT R500,700

FS 450

701 Enduro

701 Supermotard

Vitpilen 401

Svartpilen 401

Vitpilen 701

Svartpilen 701

Agility RS 125

Like 125l ABS

G-Dink 300l

Xciting 400l

AK550

HONDA

HUSQVARNA

KYMCO

BUYERS GUIDE

R150,699

R186,699

R186,699

R84,699

R84,699

R146,699

R146,699

R19,950

R34,950

R54,950

R99,950

R154,950

FTR 1200

R269,900 125 DUKE

R82,999

FTR 1200 Carbon

R322,900 RC125

R73,999

Scout Sixty

R210,900 390 DUKE

R92,999

Scout

R233,500 RC390

R93,999

Scout Bobber

R233,500 390 Adventure

R107,999

Chief Dark Horse

R325,900 890 DUKE

POA

Chief Classic

POA

890 Adventure

POA

Chief Vintage

POA

890 Adventure R

R210,00

Springfield

R464,900 690 Enduro R

R185,999

Springfield Darkhorse R369,900 890 DUKE

R189,999

Chieftan Dark Horse R489,900 1290 Super ADV S

R299,999

Chieftan

R489,900 1290 Super ADV R

R314,999

Roadmaster

R521,900 1290 SuperDuke R

R295,999

Z300

Z400 ABS

Ninja 400 ABS

Z650

Z900 ABS

Z900 RS

Z900 Cafe Racer

Z1000R

Z1000SX

Ninja 650

Versys X300

Versys 650

Versys 1000

ZX10R WSB 2019

ZX10R WSB 2020

H2 SX SE

ZZR1400 Ohlins

INDIAN

KAWASAKI

KTM

MOTO GUZZI

V85 TT

R194,850

Audace Carbon

R430,000

MGX 21 Flying Fortress R575,000

V7 Stone lll ABS

R175,850

V7 Special III

R193,850

V85 Centenatio

R235,850

V85 TT Evovative

R239,850

V85 TT Travel Pack

R249,850

R61,995

R79,995

R104,995

R110,995

R145,995

R175,995

R168,995

R179,995

R179,995

R122,995

R85,995

R115,995

R159,995

R259,995

R289,995

R310,995

R289,995
---
BUYERS GUIDE

Brought to you by

OU

GI

SP

MODEL

PRICE

MODEL

PRICE

Dragster Pirelli LE

Dragster 800RR

Dragster 800 RC Limited

Super Veloce 800RR

Brutale 1000RR 208HP

RUSH 1000RR 212hp

Turismo Veloce 800 160HP

UR110

UB125

GS150

GSX150F

DL650XA L9

DL1010RC

GSXR750 L9

GSXR1000 L9

GSXS1000 R L9

GSXS1000 L9

Katana

VZR1800

Hyabusa 1300

XS125 K Delivery

NH125

XS200 Blaze

XS200 Trail Blaze

Citycom 300l

GTS 300l EV

Max Sym 600l ABS

Crox 125

Fiddle ll 150

Jet14 200

Orbit ii 125

Symphony 150

X-Pro 125

MV AGUSTA

TRIUMPH

SUZUKI

SYM

R329,900

R299,900

R359,900

R379,900

R479,900

R549,900

R299,900

R19,650

R23,500

R35,750

R35,750

R144,500

R221,950

R182,900

R273,900

R298,500

R162,500

R189,900

R209,900

R329,000

Street Triple RS

Speed Triple RS

Street Twin

Bonneville T120

Bonneville Bobber

Bonneville Bobber Black

Tiger Sport 660

Street Scrambler

Speed Twin

Tiger 900 GT PRO

Tiger 900 Rally Pro

Rocket R

Rocket GT

XTZ125

YBR125G

TW200

XT250

XT700 (T7)

MT03

MT07 ABS

MT09 ABS

MT07 Tracer

MT09 Tracer

YAMAHA

R180,000

R269,000

R159,000

R188,000

R202,000

POA

R169,00

R180,000

R202,000

R220,000

R235,000

R344,000

R360,000

R41,950

R33,950

R73,950

R77,950

R199,950

R84,950

R144,950

R194,950

R124,950

R209,950

MT09 Tracer GT

R249,950

R18,995

MT09 SP

R209,950

R29,995

XMax 300 Scooter

R104,950

R18,495

R19,995

YZF R3

R99,950

R59,995

YZF R7

POA

R63,995

YZF R1 2020

R339,950

R121,995

YZF R1M 2020

R424,950

T MAX 560

R214,950

R19,995

R20,495

ZONTES

R26,995 ZT250 R

R44,900

R19,995

ZT310R

R63,900

R19,995

ZT310X

R68,900

R21,995 ZT310T

R74,900

DEALERS CONTACTS WHO

ADVERTISE WITH US

BMW Fourways Tel:011 367 1600

BMW West Rand Tel: 011 761 3500

Honda East Tel: 011 826 4444

Indian Motorcycles SA Tel: 011 259 7600

Kawasaki SA Tel: 011 566 0333

Fire it Up Tel: 011 467 0737

RAD KTM Tel: 011 234 5007

TRAX KTM Tel: 012 111 0190

Suzuki SA Tel: 011 975 5545

SYM SA Tel: 011 566 0333

Linex Yamaha Randburg Tel: 011 251 4000

Linex Yamaha Lynnwood Tel: 012 501 0120

KTM Group Tel: 011 462 7796

(Husqvarna Gasgas)

Bigboy SA Tel: 011 794 6399

Honda SA Tel: 0800 466 321

Triumph SA Tel: 011 444 4444

Honda West Tell: 011 675 3222

SWM Tel: 011 967 9930

JB Motorcycles(Hero) Tel: 079 079 1158

Polaris/Linhai Tel: 011 284 2000

Perry's Bikes Tel: 031 566 7411

MICHELIN POWER CUP 2

This dual compound tyre offers

good straight-line and cornering

grip through the use of Dual

Compound Technology + (2CT+) on

the rear and Dual Compound

Technology (2CT) on the front.

BMW F650G

BMW G650

BMW F650G

(800 twin) 0

BMW F700G

(800 twin) 1

BMW F800G

Adventure0

BMW S1000

BMW S1000

(Including

SE

DIR

W

At We

Mot

of v

for t

thro

w

We a

BUYERS GUIDE

Brought to you by
---
OUR SERVICE CENTRE IS OPEN 6 DAYS A WEEK - MONDAY TO SATURDAY!

GIVE US A CALL FOR ALL YOUR MOTORCYCLE NEEDS!

SPROCKETS / CHAINS / TYRES / FILTERS / FITMENT CENTRE

AVAILABLE ON

TAKEALOT.COM

BMW

BMW F650GS 99-07 R1995.00

BMW G650GS 11-15 R1995.00

BMW F650GS

(800 twin) 08-12 R2195.00

BMW F700GS

(800 twin) 13-18 R2195.00

BMW F800GS incl.

Adventure08-18 R2595.00

BMW S1000R 13-18 R2695.00

BMW S1000RR 09-18

(Including HP4) R2695.00

HONDA

CRF230F 03-19 R1695.00

CRF250R 02-17 R1695.00

CRF450R 02-18 R1695.00

TRX400EX ATV 99-09 R1695.00

TRX450R ATV 06-14 R1695.00

CBR600RR 03-16 R2095.00

CBR1000RR 04-16 R2195.00

NC700 12-13 R2195.00

NC750 14-20 R2195.00

VTR1000 SP1/SP2 R2195.00

includes fitment or shipping country wide

KAWASAKI

KAWASAKI KX250 99-08 R1695.00

KAWASAKI KX250F 04-18 R1695.00

KAWASAKI KFX400 03-06 R1650.00

KAWASAKI KX450F 06-18 R1695.00

KAWASAKI KX500 87-04 R1695.00

KAWASAKI ER6N/ER6F 06-16 R1695.00

KAWASAKI KLE650 07-18 R1795.00

KAWASAKI KLR650 90-10 R1995.00

KAWASAKI ZX6R 07-13 R2095.00

KAWASAKI ZX10R 04-19 R2495.00

KAWASAKI ZX12R 01-05 R3395.00

KAWASAKI ZX14 06-19 R3595.00

SERVICE KITS AVAILABLE!

DIRTBIKES - ATV'S - ADVENTURES - TOURERS - CRUISERS

W E S H I P C O U N T R Y W I D E

www.wesellparts.co.za

011 088 9240/9251

38 Plantation Road, Eastleigh, Edenvale.

Open on Saturdays.

5 minutes from Edenvale Central.

Just off Terrace road.

Find us here

Scan me

KTM

KTM 250 EXC-F 07-19 R1750.00

KTM 350 EXC-F 12-17 R1750.00

KTM 350 XCF-W 13-16 R1750.00

KTM 450 EXC-F 10-19 R1750.00

KTM 450 SX-F 07-19 R1750.00

KTM 450 XC-F 08-19 R1750.00

KTM 1050 Adventure 15-16 R2995.00

(with silver ZVMX chain)

KTM 1090 Adventure/R 17-18 R2995.00

(with silver ZVMX chain)

KTM 1190 Adventure/R 13-16 R2995.00

(99with silver ZVMX chain)

KTM 1290 Super Adventure/R/S/T 14-19

(with silver ZVMX chain) R2995.00

KTM 1290 Superduke/GT/R 14-19 R2995.00

(with silver ZVMX chain)

SUZUKI

RMZ250 04-20 R1695.00

RMZ450 05-19 R1695.00

LTZ400 ATV 03-12 R1650.00

LTR450 ATV 06-09 R1695.00

GSXR600 01-19 R2195.00

DL650 V Strom 04-19 R2195.00

GSXR750 00-18 R2195.00

GSXR1000 01-08 R2295.00

GSXR1000 09-16 R2495.00

GSXR1300 Hyabusa 99-07 R3495.00

(with silver ZVMX chain)

GSXR1300 Hyabusa 08-16 R3795.00

(with silver ZVMX chain)

YAMAHA

YZ125/YZ250 05-19 R1695.00

YZ250F 01-19 R1695.00

YZ450F 03-18 R1695.00

WR450F 03-09 R1695.00

YFZ450 ATV 04-13 R1695.00

YFZ450R ATV 09-19 R1695.00

YZFR6 06-19 R2395.00

YFM660 Raptor 01-05 R1695.00

YFM700 Raptor 06-19 R1695.00

YZFR1 98-14 R2395.00

CHAIN AND SPROCKET KITS

AVAILABLE FOR MOST SUPERBIKES,

ROADBIKES, ADVENTURE BIKES,

ATV'S AND DIRT BIKES

At WeSellParts.co.za we have a passion for motorcycling. We have worked tirelessly to source the best brands available at competitive market pricing. Our team of experts is

available to provide advice on the best products for you.

Moto Rentals offers Motorcycles and Kart rentals

of various types as well as professional training

for the novice who has no experience at all, right

through to Advanced Level Training for riders that

want to improve their skills to pursue racing.

We also cater for parties, bachelors, team building and

ladies days etc

Please contact Jason on 073 773 4578

For all makes of:

Motorcycles Scooters Quads

SHADO ALSTON
---
BE

t

20

e

125 Shifters

No Speed

Limit

BRAD BINDER IN HIS CRG

KELVIN VAN DER LINDE IN THE FK DARK

For more information on the FKR shifter series:

Contact:

Phillip - 082 777 8368

or

Marius - 083 289 9328

Photos done by Vision Media

www.visionmedia.co.za
---
BEAUTIFUL PRE-LOVED BARGAINS!

BMW K1300, 2012, 36 000KM

R129,900

KAWASAKI GTR 1400, 2010, 24 000KM

R125,000

HONDA CB1000R, 2012, 24 000KM

R99 000

BMW F800 GS, 2018, 14 000KM

R129,000

BMW R1200 GS, 2010, 51 000KM

R189,000

TRIUMPH TIGER 800 XCX, 2015, 30

000KM R129,000

BMW R1250 RS, 2021

900KM R205,000

NEW & USED BIKE SALES / SERVICE / SPARES NATION WIDE DELIVERY

Honda Wing Westrand

011 675 3222

TRIUMPH TIGER EXPLORER 1200 2012,

24 000KM R129,999

repairing, refurbishing, widening and stripping

to all makes of motorcycles, quads and car wheels.

over 25 years

experience

CBR 500F, 2012, 25 000km

R65,000

cnr Hendrik Potgieter and Jim Fouche Rd

1735 Roodepoort, Gauteng

011 900 1341

sales@hitechmagrepairs.co.za

208 BOSWORTH STREET, ALRODE SOUTH, ALBERTON

www.facebook.com/hightechmagrepairs
---
K1

R

33

4,

R2

R

R

S1

10

3 R

4

R3

Ve

KT

13

8 R5

R1

B
---
K1600 R18, First BAGGER Edition 2018

2020

33 4,000km E X Demo

R259 R280 000

000

S1000 K1600 RR, GTL 2010 719 Option 2019

45,000km 5 R119 R260 000

R1250 RT RS, 2021

1 2 400km

300km Top Box

R275 R199 000

R 1250 RS, 2019

S1000 100km

RR 2020

3 R215

400km

000

R320 000

R1250RT, 2019

R9T 18 000km

2018

13 R230

000km 000

- To many extras to mention

R169 000

C400 X 2020

S1000 1,300km

XR 2020

6 R109

000km 000

FULL AKRAPOVIC PIPE

R285 000

Vespa 300 GTS, 2018

KTM 13,500km 1290 SUPER DUKE 2015

8 R99 500km

000

R160 000

Vespa 250 GTS, 2011

Triumph 13, 000kmSpeed Triple RS 2021

8000km

R89 000

R220 R105 000

BMW Motorrad Fourways

R1250 GS Adventure 2013

R1250 GS-A 2021

34,000km

12 200km

R245 000

R299 000

Cnr Witkoppen and Cedar Road.

Fourways, Gauteng.

Tel: (011) 367-1600

Email: rodney.serfontein@cedarisle.co.za
---
SPORTMAX

ROADSMART IV

CONSTRUCTION

A NEW ERA OF SPORT-TOURING TYRE

NEW FRONT AND REAR CONSTRUCTION CONSTRUCTION

DURABILITY CONSTRUCTION

ENHANCE HANDLING AND THAT COMFORTMATCHES PERFORMANCE

NEW FRONT AND REAR CONSTRUCTION

NEW FRONT AND REAR CONSTRUCTION ENHANCE HANDLING AND COMFORT

ENHANCE HANDLING AND COMFORT

New front tire constructions are utilized by size to meet specific motorcycle requirements. The

DRY PERFORMANCE IMPROVEMENT*

Roadsmart III 100%

120/70ZR18 utilizes aramid Jointless Band (JLB) construction and the 120/70ZR17 utilizes

NIMBLENESS

STEERING Roadsmart IV III 100% 105%

aramid 2 Cut-Breaker construction for greater New front compliance, tire constructions ride quality, are utilized comfort by size and to meet rider specific motorcycle requirements. RESPONSEThe

Roadsmart IV 105%

feel. In back, Dunlop's JLB construction also 120/70ZR18 contributes utilizes to aramid a very Jointless linear feel Band by (JLB) reducing construction tire and the 120/70ZR17 utilizes

New front tire constructions are utilized by size to meet specific motorcycle requirements. The

Roadsmart III 100%

NIMBLENESS

aramid 2 Cut-Breaker construction for greater compliance, ride quality, comfort and rider

120/70ZR18 growth for utilizes cooler aramid running, Jointless enhanced Band (JLB) grip construction and handling.

Roadsmart IV 105%

and the 120/70ZR17 utilizes

feel. In back, Dunlop's JLB construction also contributes to a very linear feel by reducing

WET

tire

PERFORMANCE IMPROVEMENT*

aramid 2 Cut-Breaker construction for greater compliance, ride quality, comfort and rider

growth for cooler running, enhanced grip and handling.

Roadsmart III 100%

feel. In back, Dunlop's JLB construction also contributes to a very linear feel by reducing tire

growth for cooler running, enhanced grip and handling.

WET PERFORMANCE IMPROVEMENT*

GRIP

DRY/ WET HANDLING AND COMFORT DRY/ WET HANDLING AND COMFORT

DRY/ WET HANDLING AND COMFORT DRY/ WET HANDLING

NIMBLENESS

AND COMFORT

DRY/ WET HANDLING AND COMFORT BEAD DRY/ WET PROFILE

GRIP

HANDLING AND COMFORT

SLIM HIGH BEAD APEX

Dunlop Slim High Bead Apex

With the tire sidewall stiffness being reduced

STABILITY IN Roadsmart III 100%

CORNERS Roadsmart III 100%

technology utilizes a longer and Dunlop Slim High to Bead enhance Apex absorption, a new bead With profile the tire was sidewall stiffness NIMBLENESS being reduced

SLIM HIGH BEAD APEX

BEAD PROFILE

technology utilizes a longer and

to enhance absorption, a new bead profile was

Dunlop thinner Slim bead High apex, Bead which Apex enhances

tire performance utilizes a longer by reducing and

to enhance the rim. absorption, Additionally, a new bead the new profile bead was profile

CORNERS

With the developed tire sidewall to stiffness inhibit being float from reduced the bead area on

thinner bead apex, which enhances

tire performance by reducing

the rim. Additionally, the new bead profile

developed to inhibit float from STABILITY the IN bead Roadsmart area on III 100%

technology

thinner the rigidity bead apex, and improving which enhances

absorption tire performance of the by sidewall. reducing

the rim. minimizing Additionally, the buckling new bead at profile

shock

developed improves to inhibit traction float from and the bead slide area control by

the rigidity and improving shock

improves traction and slide control by MILEAGE IMPROVEMENT**

absorption of the sidewall.

full lean angle. minimizing buckling at full lean angle. Roadsmart III 100%

FRONT TIRE

the rigidity and improving shock

improves traction and slide control by

absorption of the sidewall.

minimizing buckling at full lean angle.

MILEAGE IMPROVEMENT**

Combined, these two new technologies create Combined, more these even two pressure new technologies distribution create and more even pressure distribution and Roadsmart III 100%

REAR TIRE

Roadsmart III 100%

improve sidewall stiffness, providing more improve linear sidewall feel at stiffness, different providing loads and more lean linear angles, feel at different loads and lean FRONT angles, TIRE

Combined, these two new technologies create more even pressure distribution and

while also improving wet and dry handling.

while also improving wet and dry handling.

improve sidewall stiffness, providing more linear feel at different loads and lean angles,

Roadsmart III 100%

while also improving wet and dry handling.

REAR TIRE

DRY/ WET HANDLING AND COMFORT

DRY/ WET HANDLING AND COMFORT

CAMBER THRUST TUNING

CAMBER THRUST TUNING

SLIM HIGH BEAD APEX

DRY/ WET HANDLING AND COMFORT

BEAD PROFILE

CAMBER THRUST TUNING

Camber thrust is the turning force generated when a bike is leaned. Dunlop's exclusive

Camber thrust is the turning force generated Camber when Thrust a bike Tuning is leaned. technology Dunlop's allows exclusive the RSIV to better balance front and rear tire

Camber thrust is the turning force generated when a bike is leaned. Dunlop's exclusive

Camber Thrust Tuning technology allows patterns, the RSIV construction to better balance and profile front for and nimble rear and tire neutral handling.

Camber Thrust Tuning technology allows the RSIV to better balance front and rear tire

patterns, patterns, construction construction and and profile profile for nimble for nimble and neutral and neutral handling. handling.

ROADSMART IV ADVANTAGE

ROADSMART DRY PERFORMANCE IV IMPROVEMENT* ADVANTAGE

STEERING

RESPONSE

Roadsmart III 100%

Roadsmart IV 105%

80 85 90 95 100 105 110

80 85 90 95 100 105 110

Roadsmart IV 110%

Roadsmart III 100%

Roadsmart III IV 100%

110%

Roadsmart IV 110%

Roadsmart IV 110%

Roadsmart IV 110%

80 85 90 95 100 105 110

Roadsmart IV 110%

80 85 90 95 100 105 110

Roadsmart IV 123%

Roadsmart IV 126%

Roadsmart IV 123%

70 80 90 100 110 120 130

Roadsmart IV 126%

70 80 90 100 110 120 130

* Testing performed at the Dunlop proving grounds in Huntsville, AL in sizes 120/70ZR17 front, and

190/55ZR17 rear on a 2018 BMW K1600 GTL. Individual results may vary.

**Testing performed by Dunlop in Japan on a 2018 Honda CB1300 SB with tire sizes 120/70ZR17 front

and 180/55ZR17 rear on 40% public roads and 60% highways. Individual results may vary.

* Testing performed at the Dunlop proving grounds in Huntsville, AL in sizes 120/70ZR17 front, and

190/55ZR17 rear on a 2018 BMW K1600 GTL. Individual results may vary.

S594/A

**Testing performed by Dunlop in Japan on a 2018 Honda CB1300 SB with tire sizes 120/70ZR17 front

and 180/55ZR17 rear on 40% public roads and 60% highways. Individual results may vary.

DUNLOPTYRESSA

DUNLOPTYRESSA