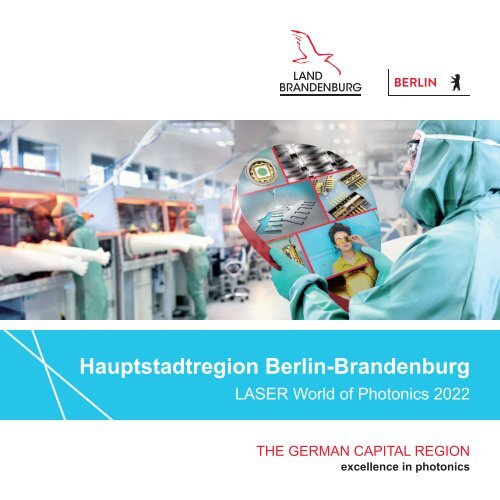 Berlin Brandenburg at LASER World of PHOTONICS 2022
Create successful ePaper yourself
Turn your PDF publications into a flip-book with our unique Google optimized e-Paper software.
Hauptstadtregion Berlin-Brandenburg

LASER World of Photonics 2022

THE GERMAN CAPITAL REGION

excellence in photonics
---
2

Gemeinschaftsstand der Hauptstadtregion

Berlin-Brandenburg

10

9

11 12 13 14 15

8

16

i

7

1

2

6 5 4 3

Halle B5, Stand 528

Information ................................................. i

AdlOptica GmbH ..................................... 16

BeamXpert GmbH ................................... 7

Berlin Partner für Wirtschaft und

Technologie GmbH .................................... i

Ferdinand-Braun-Institut gGmbH .............. 6

Fraunhofer Heinrich-Hertz-Institut ............. 2

Hope Printer ............................................ 4

Laserverbund Berlin-Brandenburg e.V. ...... i

MSG Lithoglas GmbH ............................. 10

Nano-Join GmbH ................................... 13

Photonics Cluster Berlin-Brandenburg ....... i

PolyPhotonics Berlin ................................ 3

Quantiox GmbH ...................................... 11

SENTECH Instruments GmbH ................ 12

SLT Sensor- und Lasertechnik GmbH ..... 15

Technische Hochschule Brandenburg ..... 14

Technische Universität Berlin .................... 9

Tutolino gUG i.G. ...................................... 5

Universität Potsdam ................................. 8

WISTA Management GmbH ..................... 1
---
3

Cluster Optik und Photonik Berlin-Brandenburg

Das Cluster Optik und Photonik Berlin-Brandenburg

fördert die technologischen Entwicklung

der Region. Hierzu wird Unternehmen

und Forschungseinrichtungen umfassender

Zugang zu Ressourcen, wie Wissen und Kapital,

sowohl auf lokaler als auch auf internationaler

Ebene ermöglicht. Kernthemen sind:

Optik, Photonik, Quanten-Technologien und

Mikroelektronik/Mikrosystemtechnik.

Das Aushängeschild des Clusters ist sein

starkes wissenschaftliches Fundament sowie

die große Anzahl an spezialisierten Unternehmen.

Dieses breit gefächerte Know-how

macht die Hauptstadtregion zu einem weltweit

führenden Branchenstandort und ist perfekte

Basis für den wechselseitigen Transfer

zwischen Wissenschaft und Wirtschaft.

The Photonics Cluster Berlin-Brandenburg

aims to promote the technological development

of the region. Services for companies

and research institutions include access to

resources, such as knowledge and capital,

at both local and international level in the

fields of: Optics, Photonics, Quantum Technologies,

Microelectronics/Microsystems

Technology.

The Cluster's flagship is its strong scientific

base and the hugh amount of specialized

companies. This wide-ranging know-how

makes the capital region a globally leading

industry location for photonics and is the

perfect basis for the mutual transfer between

science and industry.

THE GERMAN CAPITAL REGION

excellence in photonics

c/o Berlin Partner für Wirtschaft und

Technologie GmbH

Fasanenstr. 85

10623 Berlin

contact Gerrit Rössler

phone +49 (0)30 463 02-500

info@berlin-partner.de

www.optik-bb.de
---
4

AdlOptica GmbH

AdlOptica GmbH entwickelt Lasertrahlformungsoptik,

kundenspezifische industrielle

Optik für Hochleistungs- und Ultrakurzpulslaser,

Spezialoptik für Mikroskopie, Geophysik

und Interferometrie. Umfassender Service

im Bereich optischer Systementwicklung

Arbeitsgebiete

• Entwicklung hocheffiziente Laserstrahlformungsoptik

für wissenschaftliche und

industrielle Anwendungen

• Interferometrie

• Mikroskopie

• Industrielle Anwendungen, z.B. Schweissen,

Mikrobearbeitung

AdlOptica GmbH develops high efficient

Laser Beam Shaping Optics, customized industrial

optics for high-power and ultra-short

pulse lasers, special optics for microscopy,

geophysics and interferometry; service of optical

systems design.

Fields of Activity

• Laser Beam Shaping Optics

• Interferometry

• Microscopy

• Industrial applications, e.g. welding,

micromachining

AdlOptica GmbH

Rudower Chaussee 29

12489 Berlin

contact Birgit Kaufmann

phone +49 (0)30 565 908 880

info@adloptica.com

www.adloptica.com
---
5

BeamXpert GmbH

Die BeamXpert GmbH ist ein Spin-off des

Ferdinand-Braun-Institut, Leibniz-Institut

für Höchstfrequenztechnik (FBH). Sie entwickelt

Software für Optikdesign und Laserstrahlanalyse.

Ihr Hauptprodukt ist die Software BeamXpert-

DESIGNER für die Echtzeit-Simulation von

Laserstrahlung in optischen Systemen. Diese

bietet eine CAD-ähnliche 3D-Darstellung

und -Bedienung, spricht die Sprache der

Lasertechnik und verfügt über eine umfangreiche

Komponentendatenbank.

Simulierte Systeme reichen von Hochleistungslasern

im Kilowattbereich über Laseroptiken

für die Augenmedizin, Lasershowsysteme,

Laseranwendungen im Maschinenbau

bis hin zur Satellitenkommunikation.

BeamXpert GmbH is a spin-off of the Ferdinand-Braun-Institut,

Leibniz-Institut fuer

Hoechstfrequenztechnik (FBH). It develops

software for optical design and laser beam

analysis.

Its lead product is the BeamXpertDESIGNER

software for real-time simulation of laser radiation

in optical systems. The software offers

a CAD-like 3D representation and operation,

speaks the language of laser technology, and

has an extensive component database.

Simulated systems range from high-power

lasers in the kilowatt range to laser optics for

ophthalmology, laser show systems, laser

applications in mechanical engineering, and

satellite communications.

BeamXpert GmbH

Max-Planck-Str. 3

12489 Berlin

contact Dr. Bernd Eppich, Dr. Guido Mann

phone +49 (0)30 403 669 720

info@beamxpert.com

www.beamxpert.com
---
6

BerlinPartner für Wirtschaft und Technologie GmbH

Wirtschafts- und Technologieförderung für

Unternehmen, Investoren und Wissenschaftseinrichtungen

in Berlin – das bietet

die Berlin Partner für Wirtschaft und Technologie

GmbH. Zahlreiche Fachexperten bilden

mit maßgeschneiderten Services und einer

exzellenten Vernetzung zur Wissenschaft

ein optimales Angebot, um Innovations-, Ansiedlungs-,

Expansions- und Standortsicherungsprojekte

zum Erfolg zu führen.

Als einzigartige Public-Private-Partnership

stehen hinter Berlin Partner für Wirtschaft

und Technologie sowohl der Senat des

Landes Berlin als auch mehr als 230 Unternehmen,

die sich für ihre Stadt engagieren.

Zudem verantwortet Berlin Partner das weltweite

Marketing für die deutsche Hauptstadt.

Business and technology support for companies,

investors and scientific institutions in

Berlin – this is the Berlin Partner für Wirtschaft

und Technologie GmbH mission. With customized

services and an excellent science

and research network, our many experts

provide an outstanding range of programs

to help companies launch, innovate, expand

and secure their economic future in Berlin.

A unique public-private partnership, Berlin

Partner for Business and Technology collaborates

with the Berlin State Senate and more

than 230 companies dedicated to promoting

their city. Berlin Partner is also responsible for

marketing the German capital to the world.

Berlin Partner für Wirtschaft

und Technologie GmbH

Fasanenstr. 85

10623 Berlin

contact Gerrit Rössler

phone +49 (0)30 463 02-500

info@berlin-partner.de

www.berlin-partner.de
---
7

Ferdinand-Braun-Institut gGmbH,

Leibniz-Institut für Höchstfrequenztechnik

Das FBH präsentiert das komplette Spektrum

seiner Diodenlaser und UV-LEDs – von

Chips bis zu Plug & Play Systemen. Es zeigt

u.a. seine Hochleistungs-Diodenlaser und

LiDAR-Pulslaserquellen für Punkt- und Linienscanner.

Zu sehen sind auch kohärente

RGB-Lasermodule für holografische Laserdrucker

in der Medizin, ein transportables,

spektrometerloses System für Raman-Messungen

sowie schmalbandige Lasermodule

für anspruchsvolle Weltraum- und Satellitenanwendungen.

Das FBH präsentiert zudem

ein Bestrahlungssystem mit optimierten

UV-LEDs, das multiresistente Krankheitserreger

und Corona-Viren direkt auf der Haut

unschädlich macht.

The FBH presents the complete spectrum of

its diode lasers and UV LEDs – from chips

to plug & play systems. Exhibits include

high-power diode lasers as well as LiDAR

pulse laser sources for point and line scanners.

Also on display are coherent RGB laser

modules for holographic laser printers in

medicine, a transportable spectrometerless

system for Raman measurements, and narrow-linewidth

laser modules for sophisticated

space and satellite applications. FBH will

also present an irradiation system with optimized

UV LEDs that inactivates multi-drug

resistant pathogens and corona viruses directly

on the skin.

Ferdinand-Braun-Institut gGmbH,

Leibniz-Institut für Höchstfrequenztechnik

Gustav-Kirchhoff-Str. 4

12489 Berlin

contact Nicole Vlach

phone +49 (0)30 6392-2873

pr@fbh-berlin.de

www.fbh-berlin.de
---
8

Fraunhofer Heinrich-Hertz-Institut (HHI)

Das Fraunhofer HHI ist weltweit führend in

der Erforschung von mobilen und optischen

Kommunikationsnetzen und -systemen sowie

der Verarbeitung und Kodierung von

Videosignalen. Das HHI entwickelt optoelektronische

Halbleiterkomponenten sowie integrierte

optische Schaltungen für die Datenübertragung.

Ein weiterer Schwerpunkt liegt

auf Infrarotsensorik, THz-Spektroskopie und

Hochleistungs-Halbleiterlasern für industrielle

und medizinische Anwendungen. Forschungsschwerpunkt

darüber hinaus sind

optische Hochleistungsübertragungssysteme

für den Einsatz in In-house-, Zugangs-,

Metro-, Weitverkehrs- und Satellitenkommunikationsnetzen.

Fraunhofer HHI a world leader in the development

of mobile and optical communication

networks and systems, fiber optical sensor

systems as well as the processing and

coding of video signals. The HHI develops

optoelectronic semiconductor components

as well as integrated optical circuits for data

transmission. Another focus is on infrared

sensor systems, terahertz spectroscopy and

high-performance semiconductor lasers for

industrial and medical applications. A further

research focus are high-performance optical

transmission systems for use in in-house,

access, metropolitan, wide-area and satellite

communication networks.

Fraunhofer Heinrich-Hertz-Institut (HHI)

Einsteinufer 37

10587 Berlin

contact Jörn Falk

phone +49 (0)30 310 022 75

joern.falk@hhi.fraunhofer.de

www.hhi.fraunhofer.de
---
9

Hope Printer

We develop low-tech 3D printing technology

for developing countries. The goal of our

concept is to make our products easy to use,

to maintain and to repair.

Our 3D printing technology is capable of

pumping concrete and printing it layer by layer

in a controlled way to build minimal construction

units. These minimal construction

units can be piled or combined to build for

example a small warehouse.

Hope Printer is developing its technology in

Germany and Chile since 2020, this involves

research and development about 3D printing

technologies.

So far we have done a lot of field tests and

we have achieved the development of a concrete

mix that is workable with our 3D printing

technology.

Hope Printer

Am Mühlenberg 11

14476 Potsdam

contact Manquel Tejeda

phone +49 (0)176 6289 4178

tejeda.manquel@hotmail.com

www.hopeprinter.com
---
10

Laserverbund Berlin-Brandenburg e. V.

Wir – der Laserverbund Berlin Brandenburg

e.V. – sind der Zusammenschluss von Fachleuten

aus Wirtschaft und Forschung auf

dem Gebiet der Lasertechnik und Laseranwendung

mit über 120 Mitgliedern.

Unsere Angebote:

• Workshops, Seminare und Anwender

Treffen

• Vermittlung von Weiterbildungsangeboten

• regelmäßiger Laserstammtisch

• Vermittlung von Beratungsleistungen

• Fachkräfte Pool und Nachwuchsförderung

We – the Laserverbund Berlin Brandenburg

e.V. – are an association of professionals

from business and research (industry, universities,

research in the field of laser technology

and laser application with over 120

members.

Our services:

• Workshops, seminars and user groups

• Communication of advanced training

• Regular informal gatherings in laser technology

• Networking from a pool of professionals

and promotion of young talents

Laserverbund Berlin-Brandenburg e.V.

c/o Prof. Dr. Georg Sommerer, Berliner

Hochschule für Technik

Seestr. 64, 13347 Berlin

contact Prof. Dr. Georg Sommerer

phone +49 (0)30 4504 3917

sommerer@laserverbund.de

www.laserverbund.de
---
11

MSG Lithoglas GmbH

Lithoglas ist spezialisiert in neuartigen Lösungen

für das Opto-Electronic-Packaging.

Wir ermöglichen miniaturisierte, hermetische

SMD-Gehäuse mit dem Fokus auf dem

Packaging von Laserdioden und UV-LEDs.

Durch den Einsatz von Wafer-Level Prozessen

bieten wir kundenspezifische Lösungen

bei gleichzeitiger kosteneffizienter Skalierbarkeit.

Zertifiziert nach ISO 9001:2015 ist Qualität

ein fundamentaler Baustein unserer Firmenphilosophie.

Lithoglas entwickelt und produziert in

Deutschland mit Fertigungslinien in Dresden

und Berlin.

Lithoglas is a specialist in advanced opto-electronic

packaging components.

We enable miniaturized, hermetic SMD

packages with a focus on Laser Diode and

UV LED packaging. Employing wafer-level

processing techniques we can offer highly

customized solutions at cost-efficient scalability.

Certified according to ISO 9001:2015 quality

is a fundamental element of our company`s

philosophy.

Lithoglas is located in Germany with production

lines in Dresden and Berlin.

MSG Lithoglas GmbH

Maria-Reiche-Str. 1

01109 Dresden

contact Joanna Wojtowicz

phone +49 (0)30 4679 8315

info@lithoglas.de

www.lithoglas.de
---
12

Nano-Join GmbH

Die Nano-Join GmbH entwickelt, produziert

und vertreibt patentierte Sinterpasten, sowohl

auf Silber- als auch auf Kupferbasis.

Sinterpasten sind der Schlüssel zu langlebigen,

effizienten und kostengünstigen Lasermodulen.

Durch ein hervorragendes Wärmemanagement

werden Leistung, Lebensdauer

und Zuverlässigkeit von optoelektronischen

Komponenten deutlich verbessert.

Neben Standard-Silber-Sinterlösungen bietet

Nano-Join auch kundenspezifische F&E-

Projekte für eine Vielzahl von Anwendungen

an.

Nano-Join GmbH develops, produces and

distributes patented sintering pastes, based

on silver and copper. Sintering pastes are the

key to durable, efficient and cost-effective

laser modules by superior thermal management:

performance, lifetime and reliability of

optoelectronic components can be significantly

improved.

In addition to standard silver sinter solutions,

Nano-Join also offers customized R&D projects

in a wide variety of applications.

Nano-Join GmbH

Rudower Chaussee 29

12489 Berlin

contact Tobias Röhrich

phone +49 (0)30 6293 1130

info@nano-join.de

www.nano-join.de
---
13

PolyPhotonics Berlin

Mit der Technologieplattform PolyPhotonics

Berlin entsteht neben den etablierten Plattformen

auf Basis von Halbleitern oder Glas

eine neue Technologie auf dem Weltmarkt,

die den etablierten Lösungsansätzen in

vielen Punkten überlegen ist. Die unternehmerische

Vision der Allianz ist es, die Weltmarktführerschaft

in der polymerbasierten

Integrationstechnologie zu übernehmen und

darüber hinaus diese Plattform für andere

Technologieplattformen zu öffnen und verfügbar

zu machen und damit neue Anwendungsfelder,

z.B. in der Medizin- oder Umwelttechnik,

zu erschließen.

PolyPhotonics Berlin – A technology platform

for highly functional optical components

With the PolyPhotonics Berlin technology

platform, a new technology is emerging on

the world market alongside the established

platforms based on semiconductors or glass,

which is superior to the established solution

approaches in many respects. The entrepreneurial

vision of the alliance is to take over

the world's leading position in polymer-based

integration technology and, in addition,

to open up and make this platform available

to other technology platforms, thereby

opening up new fields of application, e.g. in

medical or environmental technology.

Great in Optics − Small in Size

PolyPhotonics Berlin

Einsteinufer 37

10587 Berlin

contact Crispin Zawadzki

phone +49 (0)30 310 02-624

info@polyphotonics-berlin.de

www.polyphotonics-berlin.de
---
14

Quantiox GmbH

Quantenkaskadenlasermodule im mittleren

Infrarotspektralbereich sind die Spezialität

der, in Berlin-Adlershof ansässigen, Quantiox

GmbH. Benutzerfreundliche Systeme mit

Emissionswellenlängen von 3,5 µm bis 18

µm sind ab Lager lieferbar. Module mit hoher

Brillanz und einer Leistung im Watt-Bereich

sind für Anwendungen in den Bereichen

militärische Gegenmaßnahmen (DIRCM),

Laserbearbeitung, sichere optische Kommunikation

im mittleren Infrarotbereich im

freien Raum und Abstandsdetektion konzipiert.

Module mit schmalem Spektrum und

Milliwatt-Leistung sind für Anwendungen in

der optischen Analyse, Bioanalyse, hyperspektralen

Bildgebung und medizinischen

Diagnostik optimiert.

Turn-key Quantum-Cascade-Laser modules

(QCL), operating in the mid-infrared spectral

range between 3.5 and 18 µm is a specialty

of Berlin-Adlershof-based company

Quantiox GmbH. High-brightness modules

emitting Watt-level power are designed for

applications in military countermeasures

(DIRCM), laser processing, secure mid-infrared

free-space optical communication,

and stand-off detection. Narrow spectrum

milliwatt-power-level modules are optimized

for applications in optical analytics, bio-analytics,

hyperspectral imaging, and medical

diagnostics.

Quantiox GmbH

Newtonstr. 15

12489 Berlin

contact Dr. Mykhaylo Semtsiv,

Prof. W. Ted Masselink

phone +49 (0)30 2093 82 192

info@quantiox.com

www.quantiox.com
---
15

SENTECH Instruments GmbH

Ellipsometer und Reflektometer zur hochgenauen

Messung von Schichtdicke und optischen

Eigenschaften sowie zur Qualitätskontrolle

in der Fertigung.

Plasmaätzanlagen und Plasmabeschichtungsanlagen

für schädigungsarme Prozesse

und Herstellung von optischen

Bauelementen, plasma-unterstützte ALD für

optische Beschichtungen.

Ellipsometer and reflectometer for high-precision

measurement of layer thickness and

optical properties as well as quality control

in production.

Plasma etching equipment and plasma

deposition equipment for low-damage processes

and manufacturing of optical components,

plasma-enhanced ALD for optical

coatings.

SENTECH Instruments GmbH

Schwarzschildstr. 2

12489 Berlin

contact Dr. Helmut Witek,

Wolfgang Wagenseil

phone +49 (0)89 897 9607-0

sales@sentech.de

www.sentech-sales.de
---
16

SLT Sensor- und Lasertechnik GmbH

• Pyroelektrische Energiemessköpfe

• THz-Sensoren

• Leistungsmessköpfe

• OEM-Sensoren und Auswerteelektroniken

• Einsatzbereich vom VUV bis FIR / THz

• Anzeigegeräte

• Interne Leistungsmessung mit kurzer Anstiegszeit

• Sonderanfertigungen

• Kalibrierservice, rückführbar auf die PTB

Braunschweig

• Pyroelectric Energy Detectors

• THz Detectors

• Powermeter

• Thermopile Sensors

• OEM Sensors

• From VUV up to FIR / THz

• Read out Electronics

• Internal power measurement with short

risetime

• Calibration service, traceable to PTB

Braunschweig

SLT Sensor- und Lasertechnik GmbH

Freiheitstr. 124-126

15745 Wildau

contact Karsten Lange

phone +49 (0)3375 525 7201

service@pyrosensor.de

www.pyrosensor.de
---
17

Technische Hochschule Brandenburg

Die Technische Hochschule Brandenburg

(THB) ist eine junge und moderne Hochschule

mit ausgezeichneten Studienbedingungen

vor den Toren Berlins. Sie bietet innovative

Bachelor- und Masterstudiengänge

an, z. B. Augenoptik/Optische Gerätetechnik,

Energieeffizienz Technischer Systeme

oder Photonik.

Zahlreiche moderne und sehr gut ausgestattete

Speziallabore ermöglichen eine praxisnahe

Lehre sowie die Bearbeitung aktueller

Forschungs- und Entwicklungsideen. Zu

den Speziallaboren gehören u. A.: Labor für

Optische Messtechnik, Labor für Optische

Gerätetechnik, Laserlabor, Maschinenhalle,

Offene Werkstatt, Reinraum oder das Chemie-

und Werkstoffprüflabor.

The Brandenburg University of Applied Sciences

is a young and modern university with

excellent study conditions just outside Berlin.

There innovative Bachelor's and Master's

degree programmes are offered, such as Optometry/Optical

Device Engineering, Energy

Efficiency of Technical Systems or Photonics.

Numerous modern and very well-equipped

special laboratories enable practical teaching

as well as the processing of current research

and development ideas. The special

laboratories include laboratories for Optical

Metrology, Optometry and Optical Devices,

Lasers, a Machine Hall, a Fab Lab, a Clean

Room or Chemistry and Materials Testing.

Technische Hochschule Brandenburg

Magdeburger Str. 50

14770 Brandenburg an der Havel

contact Prof. Dr. Justus Eichstädt

phone +49 (0)3381 355-380

justus.eichstaedt@th-brandenburg.de

technik.th-brandenburg.de
---
18

Technische Universität Berlin

FG Mikro- und Feingeräte

Demonstriert werden diffraktive Elemente

mit abbildender Funktion, welche durch lokale

Anpassung der Strukturdichte erreicht

wird. Die Elemente sind durch Ultrapräzisionszerspanung

hergestellt, woraus sich

neuartige Freiheitsgrade in der Auslegung

optischer Systeme ergeben.

Mit der Zwei-Photonen Lithographie lassen

sich komplexe 3-dimensionale Strukturen

herstellen. Besonders optische Elemente wie

Beugungsgitter können so getestet werden.

Ebenso wird ein Raman-System zur Analyse

biologischer und chemischer Substanzen in

Flüssigkeiten vorgestellt. Das System besteht

aus einer Raman-Sonde sowie einem

Spektrometer, in welchem die diffraktiven

Elemente Anwendung finden.

Diffractive elements with imaging functionality

are demonstrated, which is achieved by

local adjustment of the structure density. The

elements are manufactured by ultra-precision

machining, resulting in novel degrees of

freedom in the design of optical systems.

3-dimensional structures can be manufactured

with two-photon lithography. One of these

structures are diffraction gratings.

In addition, a Raman system for the analysis

of biological and chemical substances in

liquids is presented. The system consists of

a Raman probe and a spectrometer incorporating

the diffractive elements.

Technische Universität Berlin

FG Mikro- und Feingeräte

Pascalstr. 8-9

10587 Berlin

contact Marco Jagodzinski

phone +49 (0)30 3142 3578

jagodzinski@mfg.tu-berlin.de

www.mfg.tu-berlin.de
---
19

Tutolino gUG i. G.

Tutolinos gemeinnütziges Projekt "3D-Druck

macht Schule" stattet Schulen im ganzen

DACH-Raum mit einem eigens zusammengestellten

Bausatz zum Aufbau eines sicheren

und erweiterbaren 3D-Druckers aus und

begleitet die Schüler und Schülerinnen mit

einer umfassenden Anleitung auf dem Weg

zum eigenen 3D-Drucker.

Die Praxisorientierung des Projektes ermöglicht

eine Abwechslung zum bekannten

Unterrichtsmodell und eröffnet einen neuen

pädagogischen Ansatz, der die Schüler nicht

der Technologie aussetzt, sondern dazu anregt

sie zu verstehen, zu verbessern und

dessen Arbeitsweisen selbstständig in neue

Prozesse zu integrieren.

Tutolino's non-profit project "3D-Printing

goes school" provides schools throughout

the German-speaking region with a specially

compiled kit for building a safe and expandable

3D printer and accompanies the students

with comprehensive instructions on the way

to their own 3D printer.

The practical orientation of the project allows

for a change from the familiar teaching model

and opens up a new pedagogical approach

that does not expose students to the technology,

but encourages them to understand it,

improve it and integrate its working methods

independently into new processes.

Tutolino gUG i. G.

Mariendorfer Damm 1

12099 Berlin

contact Sarah Kostic

team@tutolino.net

www.tutolino.net
---
20

Universität Potsdam – Potsdam Transfer

Innovative Hochschule – Joint Lab OPAT

Im Joint Lab OPAT bringen die Universität

Potsdam und das Fraunhofer-Institut für Angewandte

Polymerforschung IAP ihr Wissen

und ihre Kompetenzen beiderseitig ein. Beide

Institutionen kombinieren ihre Expertisen

in optischen Prozess-Monitoring-Verfahren

(Universität Potsdam/innoFSPEC) und Prozessentwicklung

(Fraunhofer IAP). Diese

Optischen ProzessAnalyse Technologien

ermöglichen z.B. eine präzise Inline- und

Echtzeit-Überwachung vielfältiger hochkonzentrierter

biologischer und chemischer Systeme.

The Joint Lab OPAT combines knowledge

and competences of the University of Potsdam

and the Fraunhofer Institute for Applied

Polymer Research IAP. Both institutes merge

their expertise in optical process monitoring

(University of Potsdam/innoFSPEC) and process

development (Fraunhofer IAP). These

Optical Process Analytical Technologies enable

e.g. precise inline and real-time monitoring

of various highly concentrated biological

and chemical systems.

Universität Potsdam – Potsdam Transfer

Science Park Potsdam Golm

Am Mühlenberg 3

14476 Potsdam

contact Dr.-Ing. Anne Hartwig

phone +49 (0)331 977 62 23

anne.hartwig@uni-potsdam.de

www.inno-up.de
---
21

WISTA Management GmbH

Berlin-Brandenburg ist eines der stärksten

Cluster der Photonik, Optik und Mikrosysteme

in Europa. Zahlreiche Unternehmen

aus diesen Bereichen haben ihren Sitz im

Technologiepark Adlershof u.a. in den sechs

Gebäuden des Photonikzentrums (ZPO)

mit rund 17.300 m² Labor-, Hallen- und

Büroflächen. Zahlreiche Firmen sind dem

ZPO bereits entwachsen und haben in Adlershof

ihr eigenes Gebäude gebaut. Dies

in unmittelbarer Nähe zu universitären und

außeruniversitären Forschungseinrichtungen:

u.a. dem Helmholtz-Zentrum Berlin

für Materialien und Energie (HZB) und dem

Ferdinand-Braun-Institut, Leibniz-Institut für

Höchstfrequenztechnik (FBH).

The Berlin-Brandenburg region is home to

one of the most significant clusters for optics

technologies in Europe. Many of these

businesses are based at Adlershof, in the

Photonics Centre's six buildings, which comprise

17,300 square metres of lab and office

spaces.

The businesses are joined by the university

and non-university research institutes, including

the Helmholtz Centre for Materials and

Energy (Helmholtz-Zentrum Berlin für Materialien

und Energie, HZB) and the Ferdinand-Braun-Institut,

the Leibniz-Institute for

Microwave Technology (Leibniz-Institut für

Höchstfrequenztechnik, FBH).

WISTA Management GmbH

Rudower Chaussee 17

12489 Berlin

contact Dr. Bernd Ludwig

phone +49 (0)30 6392-2230

b.ludwig@wista.de

www.wista.de
---
22

Gemeinschaftsstand der Hauptstadtregion Berlin-Brandenburg auf der LASER World

of Photonics 2022 im Auftrag:

Senatsverwaltung für Wirtschaft,

Energie und Betriebe

Ministerium für Wirtschaft, Arbeit

und Energie

organisiert und durchgeführt von:

Berlin Partner für Wirtschaft und

Technologie GmbH

Fasanenstr 85

10623 Berlin

Olav Morales Kluge

Tel. +49 (0)30 46302-454

olav.morales.kluge@berlin-partner.de

mit Unterstützung von:

EUROPÄISCHE UNION

Europäischer Fonds für

regionale Entwicklung

© 2022 Ausstellerverzeichnis

"Gemeinschaftsstand der Hauptstadtregion Berlin-Brandenburg" auf der LASER World of

Photonics 2022, Redaktion: Berlin Partner für Wirtschaft und Technologie GmbH