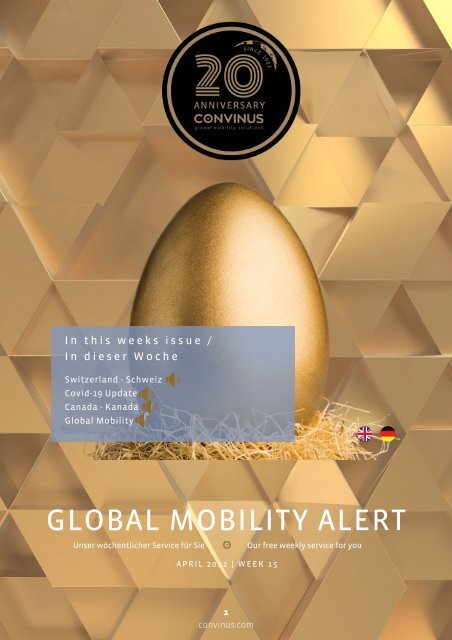 CONVINUS Global Mobility Alert Week 15.2022
Create successful ePaper yourself
Turn your PDF publications into a flip-book with our unique Google optimized e-Paper software.
I n t h i s w e e k s i s s u e /

I n d i e s e r W o c h e

Switzerland - Schweiz

Covid-19 Update

Canada - Kanada

Global Mobility

GLOBAL MOBILITY ALERT

Unser wöchentlicher Service für Sie Our free weekly service for you

A P R I L 2 0 2 2 | W E E K 1 5

1

convinus.com
---
2

convinus.com
---
Switzerland / April 14, 2022

Wage Book 2022 - A Comparison with the Online

Calculation Platforms "Salarium" and "National

Wage Calculator"

The Office for Economy and Labor of the Canton of Zurich has recently compiled and published the new Swiss Wage

Book 2022. This reference work contains in detailed form all minimum wages and the wages customary in the

location and industry in Switzerland. Real wages in the various cantons were taken into account, as well as the

employee's education and professional experience in the respective industries. Currently, many offices and actors

in the private sector use the "Salarium - Statistical Wage Calculator 2018" or the national wage calculator to

calculate the Swiss minimum wage, which is the basic requirement for issuing a work permit to foreign employees.

The results of both platforms are generated by entering precise information regarding region, occupation,

education, function, work experience and hours worked in the individual case. The calculations are based on wage

statistics from 2018, whereas the Swiss minimum wage is determined by the Wage Book 2022 based on education

and work experience in the respective regions. While the online platforms divide the result of the wage calculation

into three categories (lower quartile - 25% earn less, median value, upper quartile - 25% earn more), the wage book

only distinguishes between the median and average value.

For the work permit procedure, it is essential that the applicant has calculated or verified the Swiss minimum

wage, either using online platforms or the wage book. Often, the salary calculated online is higher than the usual

salary in practice. Therefore, it is recommended to consult all resources in this context before a salary is

contractually agreed.

Schweiz / 14. April 2022

Lohnbuch 2022 - Ein Vergleich zu den Online-

Berechnungsplattformen «Salarium» und

«Nationaler Lohnrechner»

Das Amt für Wirtschaft und Arbeit des Kantons Zürich hat nun das neue Lohnbuch der Schweiz 2022 erarbeitet und

publiziert. Dieses Nachschlagewerk beinhaltet in detaillierter Form alle Mindestlöhne sowie die orts- und

branchenüblichen Löhne der Schweiz. Berücksichtigt wurden die Reallöhne in den verschiedenen Kantonen sowie

die Ausbildung und die Berufserfahrung der Mitarbeiter in den jeweiligen Branchen. Aktuell verwenden viele Ämter

und Akteure in der Privatwirtschaft das «Salarium – Statistischer Lohnrechner 2018» oder den nationalen

Lohnrechner für die Berechnung des Schweizer Mindestlohns, der die Grundvoraussetzung für die Erteilung einer

Arbeitsbewilligung für ausländische Arbeitnehmer ist.

Die Resultate beider Plattformen entstehen durch die Eingabe präziser Informationen bezüglich Region, Beruf,

Ausbildung, Funktion, Berufserfahrung und Arbeitsstunden im Einzelfall. Die Berechnungen basieren auf

Lohnstatistiken aus dem Jahr 2018. Durch das Lohnbuch 2022 wird hingegen der Schweizer Mindestlohn gestützt

auf Ausbildung und Berufserfahrung in den jeweiligen Regionen ermittelt. Während die Online-Plattformen das

Ergebnis der Lohnberechnung in drei Kategorien aufteilen (unteres Quartil - 25% verdienen weniger, Medianwert,

oberes Quartil - 25% verdienen mehr), findet man im Lohnbuch nur die Unterscheidung zwischen dem Median- und

Durchschnittswert.

Im Arbeitsbewilligungsverfahren ist es essenziell, dass der Antragsteller den Schweizer Mindestlohn berechnet

bzw. überprüft hat, sei es mittels Online-Plattformen oder anhand des Lohnbuchs. Oft fällt der Lohn mittels Online-

Berechnung höher aus als die übliche Vergütung in der Praxis. Deshalb ist es empfehlenswert, alle Ressourcen in

diesem Zusammenhang zu konsultieren, bevor ein Lohn vertraglich vereinbart wird.

3

convinus.com
---
COVID-19 Update / April 14, 2022

Expiry dates of transitional tax and social security

arrangements for cross-border commuters

During the pandemic, Switzerland agreed on transitional arrangements with its neighbouring countries to simplify

the tax and social security consequences of the home office obligation. As a result, the home office obligation did

not lead to a different assessment under tax or social security law for cross-border commuters, among others.

However, the transitional arrangements are now also coming to an end. The following expiry dates of the

transitional arrangements must be observed:

After the expiry of the transitional regulations, the original regulations come into effect, which also means that

care must be taken when cross-border commuters work in their home offices. This can lead to a possible unwanted

tax and social security liability in the country of residence.

COVID-19 Update / 14. April 2022

Ablaufdaten der steuer- und sozialversicherungsrechtlichen

Übergangsregelungen für Grenzgänger

Während der Pandemie hat die Schweiz mit ihren Nachbarstaaten Übergangsregelungen zur Vereinfachung der

steuer- sowie sozialversicherungsrechtlichen Konsequenzen durch die Homeoffice-Pflicht vereinbart.

Dies hat

dazu geführt, dass die Homeofficepflicht u.a. für Grenzgänger zu keiner anderen steuer- oder

sozialversicherungsrechtlichen Beurteilung führte. Die Übergangsregelungen kommen nun aber ebenfalls zu einem

Ende. Dabei gilt es die folgenden Ablaufdaten der Übergangsregelungen zu beachten:

Nach Ablauf der Übergangsregelungen kommen die ursprünglichen Regelungen zum Zuge, dies führt auch dazu,

dass bei der Ausübung einer Tätigkeit im Homeoffice von Grenzgänger aufgepasst werden muss. Dies kann zu einer

möglicherweisen ungewollten Steuer- und Sozialversicherungspflicht im Wohnsitzland führen.

4

convinus.com
---
Canada / April 14,2022

Temporary Foreign Worker Program introduced

he Canadian government has revised its Temporary Foreign Worker Program (TFWP) to boost its economy after the

pandemic. Canada has already created over 300,000 new jobs as of February 2022. As part of this, Canada has

improved the TFWP and introduced the following changes:

The maximum duration of work permits for High Wage and Global Talent Streams workers has been increased

from two to three years. Workers now qualify for a permanent residence permit thanks to this increase.

The labor market impact assessments are now issued for 18 months.

The work permit for seasonal workers in the Low Wage Program is now valid for 270 days per year.

As of April 30, 2022, the following changes will be introduced:

Employers with proven labor shortages for low-wage positions can hire up to 30% of their workers through the

TFWP for one year. For all other employers, 20% apply.

Labor market impact assessments are now accepted in the low-wage sector even at 6% unemployment or more.

Kanada / 14. April 2022

Programm für befristete ausländische Arbeitskräfte

eingeführt

Die kanadische Regierung hat ihr Programm für befristete ausländische Arbeitskräfte («Temporary Foreign Worker

Programm [TFWP]) überarbeitet, um ihre Wirtschaft nach der Pandemie wieder anzukurbeln. Bereits im Februar

2022 hat Kanada über 300'000 neue Arbeitsplätze geschaffen. In diesem Zusammenhang hat Kanada das TFWP

verbessert und folgende Änderungen eingeführt:

Die maximale Dauer der Arbeitsbewilligungen für «High Wage and Global Talent Streams workers» wurde von

zwei auf drei Jahre erhöht. Dank dieser Erhöhung qualifizieren sich die Arbeitnehmer nun für eine unbefristete

Aufenthaltserlaubnis.

Die Folgenabschätzungen für den Arbeitsmarkt («Labour Market Impact Assessments») werden neu für 18

Monate ausgestellt.

Die Arbeitsbewilligung für saisonale Arbeitnehmer im Niedriglohnprogramm («Low Wage Program») ist nun für

270 Tage pro Jahr gültig.

Ab dem 30. April 2022 werden folgende Änderungen eingeführt:

Arbeitgeber mit nachgewiesenem Arbeitskräftemangel für Niedriglohnpositionen können ein Jahr lang bis zu

30% ihrer Arbeitnehmer über das TFWP einstellen. Für alle anderen Arbeitgeber gelten 20%.

Folgenabschätzungen für den Arbeitsmarkt werden im Niedriglohnbereich nun auch bei 6% Arbeitslosigkeit

oder mehr akzeptiert.

5

convinus.com
---
April 14, 2022

Global Mobility:

Flexibility requires know-how - Companies should know

the legal framework for remote working at

home and abroad

Many of us have developed cherished routines during the pandemic that we are reluctant to give up when we return to the office.

It is, therefore, no surprise that, according to a recent study by Topia.com, nearly 2/3 of workers say they would look for another

job if forced to work exclusively on-site again.

Meanwhile, 72% of respondents say that flexible working is very important to them. In addition to time flexibility, this likely also

means a desire for location flexibility. HR departments are aware of this cultural shift. They are, thus, striving to find a balance

here between the wishes of their employees, the needs of the employer, and the legal framework.

The latter should not be underestimated. While many companies would like to accommodate their employees' wishes for timeand

location-independent working, there are numerous pitfalls to be considered, particularly regarding "home office abroad" in

terms of registration requirements, work permits, income taxes, and social security. Companies that would like to open in terms

of time and location are, therefore, well advised to inform themselves comprehensively about the associated hurdles.

14. April 2022

Global Mobility:

Flexibilität erfordert Knowhow – Unternehmen sollten die

rechtlichen Rahmenbedingungen für Remote Working

im In- und Ausland kennen.

Viele von uns haben während der Pandemie liebgewonnene Routinen entwickelt, die sie mit der Rückkehr ins Büro nur ungern

wieder aufgeben. So ist es auch nicht verwunderlich, dass gemäss einer aktuellen Studie von Topia.com fast 2/3 der Arbeitnehmer

angeben, dass sie nach einem anderen Job Ausschau halten würden, wenn sie gezwungen wären, wieder ausschliesslich vor Ort

im Büro zu arbeiten.

Im Gegenzug geben 72% der Befragten an, dass für sie flexibles Arbeiten sehr wichtig ist. Neben zeitlicher Flexibilität dürfte dies

auch der Wunsch nach örtlicher Flexibilität bedeuten. HR-Abteilungen ist dieser Kulturwandel durchaus bewusst. Sie sind daher

bestrebt, hier die Balance zwischen den Wünschen der Arbeitnehmer, den Bedürfnissen des Arbeitgebers und den gesetzlichen

Rahmenbedingungen zu finden.

Gerade letztere sind nicht zu unterschätzen. Während viele Unternehmen den Wünschen ihrer Mitarbeiter nach zeit- und

ortsunabhängigem Arbeiten entgegenkommen möchten, sind gerade beim «Homeoffice im Ausland» zahlreiche Fallstricke in

Bezug auf Meldepflichten, Bewilligungen, Steuern und Sozialversicherungen zu beachten. Unternehmen, die sich zeitlich und

örtlich öffnen möchten, sind daher gut beraten, sich umfassend über die damit verbundenen Hürden zu informieren.

6

convinus.com
---
Haben Sie schon

Ihre Vorsätze für

das neue Jahr

getroffen?

2022

investieren Sie

in Ihre Karriere

Ihr Global Mobility

Karriere-Booster!

Mit unseren

Webinaren inkl.

Zertifikat über Ihre

neu erworbenen Skills

Alle Details:

shop.convinus.com