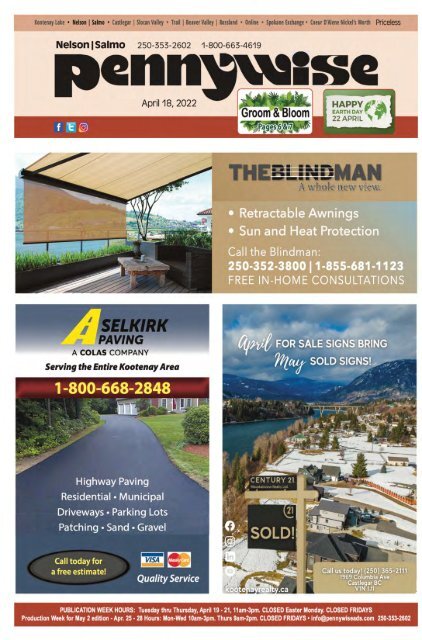 April 18, Pennywise – Nelson, Salmo
Complete coverage of the City of Nelson, Blewett, Taghum, Ymir & Salmo.
Complete coverage of the City of Nelson, Blewett, Taghum, Ymir & Salmo.
SHOW MORE
SHOW LESS
Create successful ePaper yourself
Turn your PDF publications into a flip-book with our unique Google optimized e-Paper software.
Asolo Power Matic 200 GV EVO

Hiking Boots Are In Stock

Asolo Power Matic 200 GV EVO

Support for unpaid caregivers

caring for someone 55+

1-888-212-2337 wkbcaregiver.org

Caregivers can access:

• Support navigating

healthcare system

• Emotional support

• Home visits

• Phone support

• Support groups

• Social activities

Over 1 million people in British Columbia provide

physical and/or emotional care to a family member,

partner, friend or neighbour.

Our program supports the West Kootenay and

Boundary area, including Grand Forks, Trail, Castlegar,

Salmo, Nelson, Kaslo, Slocan and New Denver.

Asolo Fugitive GTX

Hosted by

Mason

Jim Van Horn

Jar Full of Tunes

TOTALLY ORGANIC

Th e

Come by & see

us now for best

selection!

Old Tyme Couny

Sing Band

presents

The Incomplete History

of Country Music Part 4

Langham Theatre

Thursday, May 12, Friday May 13

Saturday May 14

7pm

Tickets $15

at Sunnyside Naturals

250-353-9667

pennywise office

#209 312 Fourth St, UPSTairs in the Kemball, Kaslo

Next Pennywise Publication Date: Monday, May 2

Next Ad Deadline Wednesday, April 27 • 3 pm 1-800-663-4619

Animals/Pets .................................................................................................................13, 14

Antiques ................................................................................................................................ 6

Automotive ...................................................................................................................14, 15

Auto Parts/Service ............................................................................................................. 15

Building Supplies ................................................................................................................. 6

Bulletin Board.................................................................................................................... 2-5

Business Opportunity.......................................................................................................... 7

Cars ...................................................................................................................................... 14

Computers/Electronics ........................................................................................................ 6

Services, Contractors/Trades ......................................................................................8 - 13

Classes/Workshops ............................................................................................................ 13

Education ............................................................................................................................ 13

Employment ......................................................................................................................... 7

Events .................................................................................................................................... 5

Free for Free ......................................................................................................................... 5

Furniture & Appliances ....................................................................................................... 6

Gardening/Landscaping ..............................................................................................12, 13

Health/Personal Care ........................................................................................................ 13

Heavy/Farm Equipment .................................................................................................... 15

Help Wanted ......................................................................................................................... 7

Hiring ..................................................................................................................................... 7

Markets/Fairs ........................................................................................................................ 5

Merchandise ..................................................................................................................... 6, 7

Notices/Legal/Found ......................................................................................................... 13

Puzzles ................................................................................................................................... 4

Real Estate, Agents ............................................................................................................ 15

Rentals/Commercial Rentals ......................................................................................15, 16

RVs/Campers ...................................................................................................................... 14

Seniors Discounts .............................................................................................................. 16

Shared Accommodation ................................................................................................... 16

Sporting Goods .................................................................................................................... 7

SUVs ..................................................................................................................................... 14

Tools ...................................................................................................................................... 7

Trucks .................................................................................................................................. 14

Wanted/Looking For ........................................................................................................ 7, 8

OBITUARIES/IN MEMORIAM

Tony Frary ........................................................................................................................ 9

Linda Louise Brooks Gelinas ......................................................................................... 9

Karma Halleran

karma@pennywiseads.com

Kaslo Area - Ainsworth

250-353-2602

Two Out of Three

Ain't Bad

Apr 18

Larger solution online

https://www.pennywiseads.com/

puzzle-solutions/

Advertising Strategists

Adam Prisciak

adam@pennywiseads.com

Castlegar/Nelson/Trail Area

250-505-2921

Larissa Scott

larissa@pennywiseads.com

WK Features/Sales Support

250-353-2602

This Week's Puzzle Answers

Open to

serve you

If you need us and can't make the stairs, we'll come down to you! 250-353-2602

email: info@pennywiseads.com editorial@pennywiseads.com

Box 430, #209 312 4th St, Kaslo, BC V0G 1M0

Pennywise also publishes the Go & Do Regional Guide, Visit Kaslo Guide, 4 Seasons in Salmo

the Central Kootenay Farm & Food Directory, Discover Sixty-Five

Printed in Canada. All Rights Reserved. © 2022 by KS•Perry Publishing Ltd.,

Karma Halleran, Publisher. We reserve the right to edit or reject submissions or

advertising that are not within our guidelines, see at www.pennywiseads.com

Bulletin Board Bulletin Board Bulletin Board Bulletin Board Bulletin Board

LOOKING FOR THE DISTRIBU-

TION LIST of our Discover Sixty-Five,

Kootenay Seniors Living

Magazine? Email us! April edition

on stands now! Would you like to be

a distributor or to advertise? email

seniors@pennywiseads.com

2022 VISIT KASLO GUIDE HAS AR-

RIVED! Available at the Pennywise

office #209 - 312 Fourth St, Kaslo or

call us 250-353-2602, 1-800-663-4619

to arrange deliver.

AFFORDABLE & SECURE HOUSE-

HOLD STORAGE CONTAINERS:

20´ & 40´ units for sale or rent.

Kootenay Containers, Castlegar.

250-365-3014.

ALERT, PHONE NUMBER SCAM:

Please be aware of a phone number

scam using 1-800-353-2602. This is

NOT the Pennywise toll free number

and if you call it in error, do not follow

the instructions, hang up. Pennywise.

ALL UKRAINIAN FUNDRAIS-

ING CLASSIFIED ADS ARE FREE:

Call Pennywise 1-800-663-4619,

250-353-2602 in Kaslo, or email to

info@pennywiseads.com

APPLEWOOD MASSAGE THERAPY:

Paul Chernoff, Registered Massage

Therapist, injury related treatments,

deep tissue therapy, ICBC, RCMP, VA,

MSP. Appointments, please call 250-

365-7752. 785 Silverbirch Lane, in the

Oglow Subdivision, Castlegar.

ATTENTION NEW CANADIANS:

Building suitable for cultural gatherings

and/or worship. 3200sq.ft.

nicely finished building in Trail on

.50 acre lot. Easy access, level entries,

ample parking, washrooms,

large common area, a/c. 250-368-

1312, 250-364-0352.

BIBLE STUDY: Don, 778-877-0579.

CALL THE BLINDMAN for Awnings

and Window Coverings. 25 years of

quality service. Free consultations,

250-352-3800.

BOIL WATER NOTICE for Fletcher

Creek Improvement District water

users. Please inform all renters &

guests. FCID has a moratorium on all

connections until further notice. Visit

www.fletchercreekwater.com

BORED TEENAGERS LOOKING

FOR SOMETHING TO DO? Castlegar

Youth Action Network has Youth

Led programming, community leadership,

educational and mentorship

opportunities for youth in the Castlegar

area. Regular programming

and Drop-ins on Mondays, Wednesdays

and Thursdays between 3-6pm

and additional activities and events

scheduled monthly with zoom options

available. Contact Zoe Mackay

at youth@cdcss.ca or call 250-365-

2104 extn#226 for more info.

CALL OUT FOR OLD BROKEN GAR-

DEN TOOLS! Especially HOES... Starting

a new community Farm Stand

and seeking Garden Tools for decor.

Offering 25% discount on seedlings.

Call/text 250-505-2453.

BREATHE EASIER WITH OUR SU-

PER INTELLIGENT AIR PURIFI-

ER! Smart enough to monitor your

air quality in real time, filters up

to 99.99% of the bad stuff! Nothing

but 360 degrees of fresh and

clean air for your home and office!!

CALL/TEXT/EMAIL. 250-505-3321,

gottaspin@hotmail.com

BROADWAY PARFAIT: A small

town, small theatre, big love musical.

Coming June 2-5, The Langham,

Kaslo. Information/tickets:

saltnpepper@kaslo.org

CEDAR LUMBER: Fencing, siding,

decking, tongue and groove, garden

beds, etc. 250-505-4207.

CHECK OUT DISCOVER SIXTY-FIVE

Kootenay Seniors Living Magazine at

www.discoversixty-five.com

CHEZ SERGE TAKE OUT: Open 7

days a week, 12-7pm. Online ordering

now available, please see our

Facebook page for details. Call 250-

777-4016, Kaslo. Enjoy poutine, fish &

chips, burgers and more!

CHEZ SERGE TAKEOUT We are a

contender in the 14 Days of Poutine!

Try Serge's Decadent Duck Poutine,

and vote at http://westkootenay.secondstreetapp.com/14-Days-of-Poutine.

CHIROPRACTOR in KASLO: 409

Water St, (behind Figments), DR. McK-

ENZIE, Tuesdays, 250-551-3225. For

appointments, 250-352-1322.

CHIROPRACTOR, DR. McKENZIE,

SALMO: Thursdays, Willow Healing

Arts Centre. Call 250-551-3225.

NELSON, M.W.F, Community First

Health Co-op, 250-352-1322.

CUSTOMER APPRECIATION

SALE! At Kootenay Luxury Mattress

Outlet, Nelson. 250-505-6548,

kootenaymattressoutlet@gmail.

com

2 Apr 18, 2022 Your local shopper N picture online: www.pennywiseads.com
---
YOUR LOCAL GROCER

FLORAL

DELI

FRESH PRODUCE

KASLO FRONT STREET

MARKET

OUR PRICES VALID: APRIL 21 st - 27 th

WE RESERVE THE RIGHT TO LIMIT QUANTITIES

WHILE QUANTITIES LAST

SPECIALTY FOODS

FRESH MEAT

IN-STORE BAKERY

HELPING YOU TAKE A BITE OUT OF INFLATION

CENTSIBLES

DONUTS

322 g

6 PACK

D'ITALIANO

SAUSAGE ROLLS

454 g

BANANAS

2 for

$1.00 $5.00 $0.69/LB

SUMMER

FRESH HUMMUS

GRIMMS

SMOKIES

QUE PASA

TORTILLA CHIPS

255 g 450 g

350 g

2 for

$5.00 $5.99 $3.99

KOOTENAY

COFFEE

HAAGEN DAZS

ICE CREAM

OLYMPIC

YOGURT

454 g 500 ml 1.75 kg

$10.99 $4.99 $9.99

AYLMER

CANNED TOMATOES

select varieties

KASLO

SOURDOUGH PASTA

BUBLY

540 ml 560 g 355 ml

12 CANS

2 for

select varieties

$3.00 $5.00 $4.99

STORE HOURS:

SUNDAY 10 am - 6 pm

MONDAY - SATURDAY 9 am - 7 pm

250-353-2331

411 FRONT STREET, KASLO BC V0G 1M0

N picture online: www.pennywiseads.com Your local shopper • Pennywise Apr 18, 2022 3
---
For brand new puzzles by email, sign up at

www.ClassiCanadianXwords.ca

Two Out of Three Ain't Bad

Barbara Olson

© ClassiCanadian

Crosswords

Apr 18

Local shoppers

read the

"Stopping

advertising

to save

money is like

stopping your

watch

to save time."

~ Henry Ford

Advertising

will help get you there.

1-800-663-4619

Invest in

yourself,

advertise!

ACROSS

1 Unfortunate event

7 Worksite trailer company

11 Video file extension

14 Warrior called the "Scourge

of God"

15 Over yonder way

16 Be off

17 Mantra of a slightly restrained

carouser, maybe

19 Word in an Abba musical

20 Deflating sound

21 Words before "dull moment"

22 Farm building with layers

23 Gifts of The Two Wise Men?

25 They're passed in relays

28 "Do as ___, not as ..."

29 Words that come back on you

30 Cocoon occupants

33 Fluff a slapshot

36 Hunky, but not THAT hunky

40 ___-Agathe-des-Monts,

Québec

41 Be braggadocian

42 Wolf or fox den

43 Caught in ___ of lies

45 Severely injured

47 There's more to the story than

this

52 Oceanfront drawbacks?

53 Auto gear system, informally

54 Fed. riding reps

57 "Bubble" drink

58 Forget part of the fire drill,

maybe

60 Opposite of 'neath

61 Short-term hiree

62 More like pie, in a way

63 Mine find

64 "Eat, ___, Love"

65 Spiral-horned antelopes

DOWN

1 Gaping yaps

2 Medical dictionary suffix

3 Dots on a T.T.C. map

4 Book it, old-style

5 Offshoot of a 12-step program

6 Groups of experts

7 Between coasts

8 What Androcles extracted from

the lion

9 Nationality of .5% of the world

10 Nonprofit assn.

11 Impressionable stuff?

12 Previous

13 Chart showing a trend

18 Rental at Blockbuster

22 Texter's "ciao"

23 Goopy gunk

24 Teacher's advanced deg.

25 What a hotel maid makes

26 Room to swing ___

27 Very well-worn, as a rug

30 "Get a room!" elicitor, for short

31 Thinker's sounds

32 One way to stand

34 Girl friend, in Gatineau

35 Wonkish sort

37 A son of Adam and Eve

38 Not having improved

39 Was a good toboggan

44 Part of W.P.M.: Abbr.

45 Male-sounding deodorant

brand

46 Not long now

47 Copycat comment

48 Gag app for suds drinkers

49 Coffeehouse draw

50 Bum wrap for a British baby?

51 Gene material

54 Do drudge work

55 Defendant's statement

56 Some 35mm cameras

58 Informal French "please": Abbr.

59 Cape Town's ctry.

Kootenay Lake Ferries

Osprey 2000 Ferry

OUT OF SERVICE

April 19, 2022 - May 3, 2022

for semi-annual maintenance

The smaller capacity MV Balfour ferry will be in service

operating on the regular winter schedule.

Potential for increased wait times during busy sailings.

Please refer to DriveBC.ca for updates.

MV Balfour weight restriction:

Only one 6-8 axle semi-trailer per sailing.

Western Pacific Marine Ltd would like to thank

you for your continued patience.

Do you want

to sponsor

our popular

Sudoku/

Crossword

puzzle page

in the Castlegar/

Slocan Valley

Pennywise?

Contact:

Adam Prisciak

Ph 250-505-2921

1-800-663-4619

adam@pennywiseads.com

SUDOKU

Sudoku puzzles are formatted as a 9x9 grid, broken

down into nine 3x3 boxes. To solve a sudoku, the

numbers 1 through 9 must fi ll each row, column and box.

Each number can appear only once in each row, column

and box. You can fi gure out the order in which the

numbers will appear by using the numeric clues already

provided in the boxes. The more numbers

you name, the easier it gets to solve the puzzle!

Solutions on Page 2 or

pennywiseads.com/local news/puzzles&solutions

Bulletin Board Bulletin Board Bulletin Board Bulletin Board Bulletin Board

DID YOU KNOW... Pennywise ad

payments (cash or cheques) can be

dropped off at And More Second

Hand Store, 1398 McQuarrie St,

Trail during regular store hours.

Questions? Call 1-800-663-4619.

Thank you, Pennywise.

DR. McKENZIE, CHIROPRACTOR

has closed his Slocan office and is

accepting patients in his Nelson or

Salmo offices. Call 250-352-1322 for

appointments.

HEATING AND COOLING FOR

YOUR HOME OR BUSINESS?

Call Canadian Aerothermal serving

the Kootenays for over 15

years. 250-304-0455 or 250-505-

8209. curttoni@noducts.ca

In-stock WALLPAPER is back

at OGLOW'S PAINT in Castlegar!

We have 100's of new rolls! Stop by

611 Columbia Ave. 250-365-6214.

Open: Monday-Friday, 9am-1pm.

Expanded hours coming soon!

IDIDARIDE & RUN KASLO: Sunday,

July 3, 2022. www.ididaride-kaslo.ca

JB'S WELCOMES YOU BACK FOR

OUR SPRING SEASON! Hours

Thursdays-Sundays, 3pm till closing.

Happy Hour 3-6pm! 250-353-7717.

KASLO E-KRUISE SERVICE CEN-

TRE NOW OPEN! We service all

traditional, mountain and e-bikes.

423 Front St. 250-300-7923, www.

eKruise.com

KASLO FRONT ST MARKET: Full

service grocery store with in-store

bakery, meat shoppe, fresh produce

and full service deli. 411 Front

St Kaslo, 250-2331.

MIRROR LAKE WATER USERS

COMMUNITY: Boil water advisory

for all users. Inform renters and

guests.

NEW AT FIGMENTS: Spring clothing

and hats, books, and more!

Open Monday-Saturday. 250-353-

2566, Kaslo. wwwfigmentscanada.

com

NOTICE OF AGM FOR KASLO TO

SANDON RAILS TO TRAILS SOCI-

ETY (AKA Wagon Road): Thursday,

Apr. 28, 7pm. This event will be hosted

on the main floor of the Kemball

Memorial Center, Kaslo 312 4th St.

All are welcome, please RSVP. Contact

Dustin East, 250-505-8159 for

more information and email dustin.

east@gmail.com and to receive a

live stream link.

OGLOW'S PAINT IN CASTLEGAR

now has ECOCOAT - 100% recycled

latex paint. (Limited colours).

250-365-6214.

NOTICE OF RATE INCREASE:

To our valued clients, due to the

increase cost and availability of

operating supplies our landscaping

and snow removal service prices

have risen. Questions? Or to book

an appointment please call Joe at

250-352-7447. Thank you.

Better Lawn & Garden.

SELKIRK TRUSS, can provide all

your custom trusses for your reno

or new build. Visit our website www.

selkirktruss.com and get the answers

to many of your questions.

Selkirk Truss, 2894 Sentinel Rd,

South Slocan. 250-359-7000.

SHARPENING SERVICE: Saws,

tools, scissors, knives, clipper

blades. C&D Sharpening Service,

250-365-3658.

THRIFT STORE KASLO: Wednesday

through Saturday, 11:30am-

2pm. Lots of new spring items. Longer

hours possible if we have more

volunteer staff. 250-353-1037.

SHIPPING CONTAINER SALES,

RENTALS & SELF-STORAGE: Call

250-304-5955. MKV International

Trading, 2812 Popoff Rd, South Slocan,

BC.

SLOCAN COMMUNITY LIBRARY

HAS EXPANDED HOURS! Starting

Apr. 2 new hours are SATURDAY and

SUNDAY, 11am-3pm; THURSDAY

1-5pm and FRIDAY, 7-9pm which is

our tea and chat. Keep updated at

www.slocanlibrary.ca

SPECIAL DELIVERY

ClassiCanadian Crosswords.

Brand new, straight to you. Check

your inbox, Wednesday's the day.

For weekly delivery subscribe at

www.ClassiCanadianXwords.ca

4 Apr 18, 2022 Your local shopper N picture online: www.pennywiseads.com
---
Trash‐to‐Treasure Day ‐ April 23

The Regional District of Central Kootenay and the

Regional District of Kootenay Boundary are hosng a

Trash‐to‐Treasure (T2T) day on

Saturday, April 23, 2022.

Visit our website for details.

rdck.ca/t2t

250.352.8161 | wastedept@rdck.bc.ca

Commercial, Industrial and Residential

Garage Door Sales, Service,

Repair & Installation

24 HR

EMERGENCY

SERVICE

bobsdoorserviceinc.com

bobsdoorservicerh@gmail.com

236-972-BOBS (2627)

WIN A NEW $15,000 BOAT!

2021 Marlon SWV16L Boat with a Mercury 25ELH Outboard & Karavan Trailer

Bulletin Board Bulletin Board Bulletin Board Bulletin Board Bulletin Board

THE TREASURE SHOP CASTLE-

GAR IS OPEN Tuesday, Thursday,

Saturday, 11am-3pm. Donations accepted

Tuesday & Saturday, please

call 250-365-7317 before bringing

your donations. Check out our summer

clothing and our auction. www.

castlegarhospitalauxiliary.org Looking

for volunteers, apply on our

website or stop by the shop! See

you there!

UKRAINE FUNDRAISER BOOM-

TOWN WAREHOUSE SALE! 3403

Ymir Rd, Nelson. Friday & Saturday,

April 22-23, 10am-5pm. Snowboards,

skis, boots, bikes! By donation.

USA - BECOME A PUBLISHED AU-

THOR. We want to read your book!

Dorrance Publishing trusted since

1920. Consultation, production,

promotion & distribution. Call for

free author's guide 833-719-3029 or

visit dorranceinfo.com/acp

VISIT FIGMENTS FOR UNIQUE,

handmade, quality gifts for

all ages. Now open Monday

through Saturday. 250-353-2566.

www.figments canada.com

WANECO ENTERPRISES CUSTOM

SAWMILLING: Fir, cedar, clears,

decking, timbers. 250-353-7126,

wanecoent@gmail.com

WE OFFER SUPPORT FOR UN-

PAID CAREGIVERS caring for

someone 55+. West Kootenay

Boundary Caregiver Support, 1-888-

212-2337 or email wkbcaregiver.org

Events

BLUE JAYS BUS TOUR 2022: July

8 to July 11. Package includes round

trip bus to Seattle, 3 nights accommodation,

breakfast, tickets to 3

games, $1069/person. Call Karen at

West's Travel, 250-304-2000. BC reg

23776.

Events

CELEBRATE BELTANE WITH A

BEASTIE! "Storytime With Lady

Beastie": 2 Live Shows! Saturday

Apr. 30, 2pm all-ages, 7pm adult.

By donation. For-rest Retreat,

8960 Nelson/Nelway Hwy, Salmo.

forstmedia.ca, www.for-rest.ca

RUN FOR REFUGEES UKRAINE

FUNDRAISER: 5km run/walk, May

7, Millennium Park Castlegar. Can

you Volunteer? Donate? Organize

a Pledge Challenge? Email inforun-

4refugees@gmail.com Visit www.

run4refugees.com On Facebook

Run 4 Refugees.

WEST KOOTENAY TRADE SHOW

April 22 5-8pm, 23 10-5pm, 24 10-

3pm at the Castlegar Complex. Tickets

sold at the door. Presented by

the Castlegar & District Chamber of

Commerce.

Events

YARD & YARDAGE! Outdoor market

at the Slocan Valley Threads

Guild, Sunday, Apr. 24, 10am to

2pm. Fabric, yarn, notions, craft

supplies, sweets, savouries and

PERENNIALS at reasonable prices.

Come to Perry's Siding at Highway

6. No dogs please.

Markets/Fairs

SLOCAN VALLEY BLACK ANGUS

BEEF: Sides $4.99/lb; ground beef

special, $100 freezer packs; 50lb

dog bones, $49.99, soup bones and

organs. Government inspected.

Home of the Happy Cows. Wayne

Savinkoff, 250-226-BEEF.

TARZWELL FARMS: Top grade,

locally grown & naturally raised

beef. Grain & grass finished, available

year-round. Delivery to Nelson,

Castlegar & Trail available.

250-428-4316 or find us on

Facebook!

Events

THE SALMO VALLEY YOUTH &

COMMUNITY CENTRE is hosting

their first annual Dandelion Festival

May 21, 2022. This will be a

celebration of Spring, community

and well-being. Vendor Applications

are available through our website

www.svycc.ca Email info@svycc.ca

or phone 250-357-2320 for more

information.

Free for Free

SPALDING MEN'S RIGHT

HANDED GOLF CLUBS: Spalding

ladie's left handed golf clubs. Both

sets in bags w/pull carts. 250-365-

5478, Castlegar.

TV STAND: W/drawers and shelves,

50˝Hx54˝W, photo available.

250-353-7128.

N picture online: www.pennywiseads.com Where locals shop. Apr 18, 2022 5
---
When should you start m

Landscape Construction

in Nelson BC

Water Features: ponds,

pondless waterfalls,

retaining walls

Patios | Decks | Fences

Pergolas | Stone work

250.505.6004

cascadialandscapingnelson@gmail.com

We are Open!

Early bedding plants

now available:

pansies, onions,

peppers & more

• Fruit & shade trees

• David Austin,

fragrant shrub roses,

climbing roses

• Bedding plants

• Vegetable & flowers

• Hanging baskets

• Shrubs & evergreens

• Hedging trees

• Raspberries, strawberries

• Wasabi & horseradish root

• Many small fruits

Over 300

Perennials

starting at

$

6.99

Here are a few things to keep in mind

before mowing your lawn for the first

time this spring.

If you've already tuned up your lawn

equipment or are in the market for

a new lawn mower, you're probably

anxious to get out and start caring for

your yard. But before you do that, it's

good to know when the right time is to

start mowing your lawn in the spring.

It's not as simple as "when the grass

starts growing."

Great advice

Great selection

Great products

It's all here!

When can you start

mowing your lawn?

While the answer depends on your

part of the country and lawn type, the

general indicator will be how tall your

grass is. Most grass cutting heights are

between two and three inches, according

to Pennington's full list. However,

there are exceptions. Just because the

grass is looking a little long doesn't

mean it's time to fire up the mower.

Wait until it's warm enough to mow

regularly. If temperatures are expected

to drop below 5 degrees Celsius, you're

probably not ready to start mowing

again.

Soils, manures,

fertilizers, grass

& clover seed

New shipment of

ceramic & plastic pots

Yard & Garden Waste ‐ Seasonal Free Tipping

Friendly, knowledgeable

advice backed by 37 years of

growing experience.

Four Seasons

Greenhouse & Nursery

5531 SLOCAN RIVER RD, WINLAW 250-226-7254

Turn left at Mama Sita's Café, left off Winlaw bridge 1.5 km

Only 45 minutes from Nelson or Castlegar

OPEN 9-5 DAILY

Shrubs are in now.

Hurry in for best selection!

Ace Building Centre Kaslo

Hwy 31 250-353-7628

www.kaslobuilding.com

During the month of MAY the following

Resource Recovery Facilies accept Yard & Garden Waste

for FREE:

Balfour / Burton / Salmo / Edgewood / Marblehead / Kaslo

Grohman Narrows / Nakusp / Ooschenia / Rosebery / Slocan

Quanes greater than 2.5 m3 must go to the Ooschenia Landll or the Nakusp Landll.

Site Staff reserve the right to limit the number of loads disposed by any customer, based on available space.

Visit our website for more details.

rdck.ca/gardenwaste

250.352.8161 | wastedept@rdck.bc.ca

Merchandise Merchandise Merchandise Merchandise Merchandise

Antiques

OLD SCHOOL FURNITURE: Stop

into our shop at 434 Rossland Ave

in Trail. Open Thursday-Saturday 12-

4pm or book an appointment to view

our WAREHOUSE or all. We BUY, SELL

& TRADE furniture! Follow us on Facebook

or Instagram for exclusive offers

and behind the scenes! 250-521-3028.

Building Supplies

ACE BUILDING CENTRE, KASLO:

Check us out for all your building

needs and more! 250-353-7628, www.

kaslobuilding.com

BOB'S DOOR SERVICE: Commercial,

industrial and residential garage door

sales, service, repair and installation.

24hr emergency service. 236-972-

2627.

BOB'S DOOR SERVICE: Commercial,

industrial and residential garage door

sales, service, repair and installation.

24hr emergency service. 236-972-

2627.

Building Supplies

COME IN AND EXPERIENCE WHAT

WE CAN DO FOR YOU! Nelson

Home Hardware Building Centre, 101

McDonald Dr, 250-352-1919.

HARROP-PROCTER FOREST PROD-

UCTS: Your local source for sustainably

harvested building materials. A

wide variety of cedar/fir lumber for

every project. We also custom cut to

order. Go green by supporting BC's

only Eco-Certified Community Forest.

Check out our products at http://

www.hpcommunityforest.org Call

250-551-5452 or email sales@hpcommunityforest.org

for a quote. Monday-Friday,

8am-4:30pm & Saturday,

9am-3pm.

PERRY RIDGE PANELLING: Manufacturer

of cedar, pine, knotty fir/clear

fir, edge or flat grain into siding, molding,

panelling, flooring, decking and

trim. 250-226-7530.

WOOD I BEAMS: 11´7/8˝Hx22´L, 35

in total, $5500. 250-687-1443.

Building Supplies

WANECO ENTERPRISES CUSTOM

SAWMILLING: Fir, cedar, clears,

decking, timbers. 250-353-7126,

wanecoent@gmail.com

Computers/Electronics

HEXA-TEK REPAIR: Computer repairs,

upgrades, maintenance, diagnostics,

406 Baker Ave, Salmo. 250-

357-9271, www.HexaTek.ca

WINLAW FINE COMPUTING.....

www.winlawtech.com, Windows, Apple,

Linux. Pat, 250-226-7215.

Furniture & Appliances

HOME GOODS FURNITURE: A

family business serving Kootenay

families since 1950. 1790 Home-

Goods Rd, Genelle, BC. www.

homegoodsfurniture.com and on

Facebook.

SOLID OAK DESK, large, $300; assorted

tools, must be seen. 250-352-

3651.

Furniture & Appliances

OFFERING WHIRLPOOL, MAY-

TAG, KITCHENAID, Bosch, Sealy,

Temper-Pedic, Beautyrest and much

more! Bears Furniture & Appliances,

612 Lakeside Dr, Nelson, BC. www.

bearsbrandsource.ca

Misc Merch

BLACK & DECKER ELECTRIC LAWN

MOWER: 36V, 18˝, great condition,

$150. 250-551-1525.

DO YOU HAVE YOURS? Call the

Pennywise at 250-353-2602 or 1-800-

663-4619 for copies of the 2022 VISIT

KASLO GUIDE!

HOUSEHOLD STORAGE: Steel shipping

containers for sale/rent. 20´ &

40´ units. Kootenay Containers, Castlegar.

250-365-3014.

MALLARD'S, YOUR LOCAL

SOURCE FOR SPORTS! Castlegar

& Nelson locations. 250-365-5588,

250-352-3200.

Misc Merch

SOLD

KINDRED STEEL QUEEN SS KITCH-

EN SINK: 27.25˝x20.56˝"x7˝, one

& a half bowl, drop-in, still in box,

$80. 250-353-1590, after 4pm.

RETRACTABLE AWNINGS. Sun

and Heat Protection. Call The Blindman,

250-352-3800, 1-855-681-

1123. A whole new view.

VINCE DEVITO SHOES AND OR-

THOTICS: We carry Blundstone,

Cobb Hill, Dunham, Muck Boot

Company, New Balance, Red Wing

Shoes, Royer, Saucony and Viberg.

411 Hall St, Nelson. 250-352-6261,

www.vincedevito.ca

6 Apr 18, 2022 Your local shopper N picture online: www.pennywiseads.com
---
mowing your lawn?

ping

aste

slo

ocan

enwaste

dck.bc.ca

The ideal height

to cut grass

Figuring out the best height to cut grass

depends on the type of lawn you have. Typically

you should keep your grass about three

inches long, with the last cut of the season

taking it down to between 1.25 to 1.5 inches.

Cutting grass too short before the end of

the season can damage the soil and the lawn

mower itself. Short grass also will not do as

good of a job blocking the sun, which can dry

out the soil and create dead patches.

Best weather conditions

for mowing

It's generally not a good idea to cut wet

grass after it rains, so mow when it's sunny

or the ground is dry. Mowing wet grass is bad

for several reasons. Leaving clumps of wet

clippings could smother the grass beneath.

Wet grass can clog the mower, causing it to

overheat, and stick to the mower's underside,

which is difficult to clean. And no matter

how much traction you think your shoes

have, you can easily slip on wet grass.

So don't mow first thing in the morning

if the grass is damp with dew. Wait until the

lawn has dried out. Early evening is the optimal

mowing time since it allows the grass the

most shade to heal.

When to fertilize and

water your lawn

If you fertilize in both spring and fall, in

early spring apply just enough lawn fertilizer

to help green up your grass. A second application

can be added in mid to late spring. The

best time to fertilize your lawn in the fall is

around Labour Day.

Watering your lawn properly is

crucial for a lush look and feel. How

much water to use and how often you

should be watering your lawn depends

on your soil moisture, region, grass

type and other factors. Generally,

grass should be watered early in the

morning. Watering during the hottest

times of the day allows too much

water to evaporate. That's the reason

most municipalities prohibit mid day

watering – it's wasteful. And watering

at night encourages the growth of

harmful fungi.

Slocan Valley

Pruning Time

Pruners, loppers, ladders,

sprayers. All that is needed to

prepare your trees & shrubs for

a healthy season

Lawn &

Garden

Tools

Come in and explore

KOOTENAY

CRITTERS

CASTLEGAR

Discover the Tranquil

World of Ponds and

Water Gardening

502 Columbia Avenue

Castlegar 250-365-7370

• lawn seed

• soil

• manures

New Shipments of

fencing and posts

have arrived!

What if it gets cold or

snows again?

Spring weather can be fickle. It's hard to

predict when cold weather actually is behind

us. Temperatures should be consistently

"Spring has

sprung and we

have everything

you need to tackle

your garden!"

Flower & vegetable

seeds, flats, inserts,

pots, domes & more!

Early bedding

plants from

Four Seasons

Greenhouse

BUNDLE PRICING

ON POSTS

AVAILABLE

5763 Hwy 6, Winlaw | 250-226-7771

Open 9-5 Monday-Friday, 10-4 Saturday

Closed Sundays

R

above 5 degrees Celsius before you attempt

your first mow of the spring. However, do not

mow again if temperatures drop and there is

frost. Mowing frosted or frozen grass can

damage your lawn, possibly killing it.

OUR GREENHOUSE IS OPEN!

Come see US

for your

Asparagus Roots

Rhubarb

Strawberries

Blueberries

Raspberries

Seed Potatoes

Dahlia Bulbs

Onion Sets

Gladiolus Bulbs

Veggie Starts

So Much More!

NELSON FARMERS SUPPLY

Serving the region for over 80 years

524 Railway St., Nelson 250-352-5375

WATER

GARDENING

WET PETS & SUPPLIES

~ Koi & Fancy Gold Fish

~ Preformed Ponds & Liners

~Water Plants: Lilies, Marginal & Bog

~ Pumps, Filters & Lights

~ Fountains

~ Lawn & Water Ornaments

Knowledgeable Staff

Merchandise Merchandise Employment Employment Employment

Misc Merch

Tools

Hiring

Hiring

Business Opportunity

Sporting Goods

LINE MARKING EQUIPMENT: DEBRI RESOURCES LTD IS HIRING GERMAN SPEAKING TOUR GUIDE/

FREE BUSINESS COUNSELLING

2009 Haulmark enclosed trailer power saw operators for brushing/ DRIVER:

FOR BUSINESS STARTUPS: Free

Needed for summer 2022.

appointments for startups on Apr.

with ramp and side door; Lemmer

line paint pump and Wagner with experience and certifications to: job with very competitive compensa-

slashing projects. Send resumes Class 4 drivers license required. Great

28, May 12 & 26. Email: info@futures.bc.ca

to book a time (phone

pump; large & small cones; stencils-

no parking, alphabet letters, 778-463-0091.

el.com for more information.

debri_resources@shaw.ca or fax to tion. Please e-mail markus@csmtrav

or in person). Community Futures

also offers business loans, business

workshops, resource library

numbers; tool box; counter wheel;

some paint; asking $14000obo. Will

and the Self-Employment Program.

sell just paint stuff, NO trailer for

www.futures.bc.ca

$6500obo. Call Bill, 250-354-8441.

THREE PANASONIC PHONES, like

new, $70; 58 cake decorating tips,

$30. 250-367-7907.

BUYING, SELLING & TRADING

FIREARMS: BEST PRICES PAID.

Call Wally, 250-231-3721.

GREAT BIKE! GREAT BUY! Men's

Specialized Crossroads Elite. Excellent

condition, less than 100mi.

since new, lots of extras, less than

half price, $250. 250-231-3404.

TEETER INVERSION TABLE, new

paid $450, selling $300; Pilates Pro

Chair, new near, complete w/six

instruction DVDs, $175. 250-359-

7476.

ADVERTISING WORKS!

SELL IT IN THE PENNYWISE

TODAY!

Employment

Hiring

CLASS 1 DRIVER WANTED FOR

LOCAL WORK: 2yrs experience required,

Super B experience an asset

but not essential (will train), mostly

day shift w/occasional nights. Send

resume and current abstract to timleavitt@telus.net

with contact info.

WANTED EXPERIENCED YARD

AND GARDEN MAINTENANCE

PERSON: Part-time basis, Castlegar.

250-365-3014.

EISENHAUER WOODWORKS is

hiring carpenters and apprentices.

Full-time year-round employment on

offer. Work in Kaslo and Balfour. Call

Carl at 778-205-4701.

GALENA CONTRACTORS LTD. is

seeking a heavy-duty mechanic, experienced

with logging equipment.

This is a permanent full-time position

that offers competitive wages and a

health benefit plan. To apply please

contact Kevin by email at shop@galenacontractors.com

TRAIL HOME HARDWARE IS NOW

HIRING for multiple positions.

Please apply via email, send resumes

to tharding@homehbc.ca

HAMILL CREEK TIMBER HOMES

in Meadow Creek is hiring full-time,

part-time year-round timberframers/

labourers, machine operators and designers.

Please apply to info@hamill

creek.com

KASLO COMMUNITY ACUPUNC-

TURE CLINIC COORDINATOR:

Kaslo Community Acupuncture

Society is looking to hire a clinic

coordinator for 2-3 times/month,

every second Friday from 12:30-

6:30pm, wage starts at $20/hr. Requirements:

friendly, kind and calm

personality, people skills, computer

skills (MS Excel, MS Word), secretarial

& organizational experience,

ability to maintain confidentiality.

Contact: kaslocas@gmail.com

Help Wanted

CAREGIVER REQUIRED FOR

HOME CARE IN KASLO: 8am-1pm,

Monday-Friday, starting May 1, $22/

hr. Contact France, 250-661-5268 or

flachmoi@yahoo.com

Wanted

Looking For

OLD BEER/POP SIGNS, wooden/

metal crates, old gas/service station

items, old Coke/pop machines. 250-

231-9397.

N picture online: www.pennywiseads.com Where locals shop. Apr 18, 2022 7
---
We are a contender

in the 14 Days of Poutine

Chez Serge

Takeout

Kaslo • 250-777-4016

Vote every hour for your

favourite poutines in

all three categories ~

Best Presentation,

Best Tasting,

Most Unique, to win!

Chez Serge Takeout

SERGE'S DECADENT

DUCK POUTINE

Hand cut fries topped with

cheese curds and duck confit.

Smothered with creamy

mushroom foie gras gravy.

Dressed with fresh arugula,

spring onions and a drizzle of

roasted garlic aioli.

405 4TH STREET

KASLO

Voting ends April 24th

at midnight.

All voters will be entered into a draw to

win a $20 gift certificate from 10 of the participating restaurants!

Plus a second prize of 11 x $20 gift cards for voters who also tag us

in a photo of their favourite poutine on social media! instagram @

nelsonstarnews

Full contest details available

https://westkootenay.secondstreetapp.com/14-Days-of-Poutine

Courses Coming up in Nelson

Fall Protection Certification ........................ Apr 22

Airbrakes .................................................... Apr 23

Barbering: Beard Trim & Style ..................... Apr 24

Learn to Knit: Mittens ................................. Apr 25

OFA Level 3 Refresher ................................. Apr 25

Fleeing the Funk…Busting Them Blues .... Apr 26

First Aid Instructor Training: OFA 1 .............. Apr 27

Occupational First Aid Level 1 ......................May 5

Emergency Child Care First Aid with CPR C ..May 6

Canadian Firearms Safety ............................May 7

Cold Process Soap Making: Introduction ......May 7

Canadian Firearms Safety: Restricted ..........May 8

Getting Started with Medicinal Cannabis

(Join by Zoom or in Person) ......................May 14

selkirk.ca/ce 250-354-3220 for more info

www.facebook.com/SelkirkCommunityEducation

Community Education & Workplace Training

Have you heard?

The Wednesday market will be returning to Baker Street

for the 2022 season.

We're very busy working through all of the amazing market

applications and appreciate your patience during this exciting

time. We can't wait to see what this season will bring!

The first regular

Wednesday

Market is June

1, 2022. But

don't forget the

Garden Starter

Market is Sunday,

May 8.And

Saturday, May

15 is the date of

the season's first

market at Cottonwood

Falls.

Do you have a

question? Email

Quinn, farmersmarket@nelson.ca

Nelson BC

Farmers

Markets

New ED for Nelson CARES

Nelson CARES board of directors is very pleased to

announce that effective April 1, 2022 Jacqueline (Jac) Nobiss

will assume the role of executive director. We feel fortunate

that Jac has agreed to join our team.

Jac is warm, energetic, and possesses a wonderful sense of

humour. They are a life-long learner with a SW, an MSW, an

MBA and is currently working on a PHD. Jac has worked in

remote communities and large urban centres as a counsellor,

program coordinator, operations manager, and a business

consultant.

Their passions include social development, economic

development, and youth housing as well as many other challenges

related to Indigenous, Metis and First Nations issues.

We also want to sincerely thank Jenny Robinson for her 15

years of dedication and leadership as executive director. Creating

and sustaining a caring community has been Jenny's

unflagging focus as NCARES has grown to meet the needs

of the community it serves. We know that whatever Jenny

pursues next will be with passion and integrity.

As Nelson CARES Society embarks on this next chapter,

the board of directors is confident that the organization's

staff, clients and funders will be well served and supported

by Jac Nobiss in their role as executive director and the board

is excited about what this next chapter holds for both Nelson

CARES and the community it supports.

Ron Little, board chair said "We look forward to working

with Jac who will bring us new perspectives and open our

eyes to new opportunities for creating a caring community

in Nelson. Our most heartfelt thanks to Jenny and a warm

welcome to Jac."

Nelson CARES Society

building centre

Not feeling too sharp?

We now offer a sharpening service for

blades, scissors, hand saws and so much more.

Ask about Crazy's Sharpening Service

in store

4 Seasons

You'll

want to be

included

in this

publication

featuring

all the

area's

attractions...

all year

long!!

in

■ Canada Day

■ Shambhala

■ Camping

■ Hiking

■ BMX Racing

■ Mountain Biking

■ Local Trails

■ Restaurants

■ Accommodation

■ Fishing

■ Hunting

■ Snowmobiling

■ Skiing

■ Back Country Ski Touring

■ Snowshoeing

Guide comes out in early June!

Advertising Deadline April 26

& Ymir

Nelson Home Building Centre

101 McDonald Dr. 250.352.1919

For Rates

and Booking

information:

Adam Prisciak cell 250-505-2921

adam@pennywiseads.com

Sales Support, Larissa Scott: larissa@pennywiseads.com 1-800-663-4619

Wanted Wanted Services Services Services

Looking For

Looking For

Contractors/Trades

Contractors/Trades

Contractors/Trades

$$$ COIN COLLECTOR LOOKING

TO PURCHASE COLLECTIONS, Accumulations,

Royal Canadian Mint

Coins & Sets, Olympic, Gold and Silver

Coins, Paper Currency, etc. Please

call Chad 250-863-3082 cell, 250-499-

0251, Kootenays.

FIREARMS: Call John Urquhart in

confidence anytime. I will come to

your home. 250-367-7540.

FREE USED OIL STAIN: Any colour

will work. 250-226-7635.

LONG-TIME LOCAL WOMAN w/

three older children and two inside

cats seeking short or long-term

rental around Nelson as far as Kaslo,

Apr. 30. Ursula, 250-777-8287,

adishaktiwellbeing@yahoo.com

MOBILE HOME TO BUY: Cash sale,

2+ bedrooms, save real estate fees!

Email: westkootenaymobilehome@

gmail.com

USA - PAYING TOP CASH FOR

MEN'S SPORTWATCHES! Rolex,

Breitling,Omega, Patek Philippe, Heuer,

Daytona, GMT, Submariner and

Speedmaster. Call 833-603-3236.

WANTED, SNOWMOBILES: Skier

looking for older Tundra model skidoo

with reverse for trail head access.

Mike 250-353-9648, Kaslo.

Services

Contractors/Trades

A.D. CONTRACTING: Residential

Renovation and Construction, Windows,

Doors, Kitchens, Bathrooms,

Decks, Rot Repair, Laneway Homes

and more. Red Seal. acrrodesign@

gmail.com 778-962-0707.

ALUMINUM RAILINGS AND VI-

NYL DECKING: Free estimates.

Call Royal Vinyl Decking at 250-231-

7905 or email royalvinyl@shaw.ca

CLEARWATER SEASONAL SER-

VICES: Window/gutter cleaning,

pressure washing, gutter repair,

moss removal. Licensed & Bonded,

free estimates. 250-354-7151. Service

not available on East Shore.

ALL TYPE ROOFING & RENOVAT-

ING: For all your general contracting

needs, since 1993. 250-368-8857

WE'RE JUST A PHONE CALL

AWAY for all your ad ver tis ing

needs. Big or small, we have it all!

Pen ny wise ads get re sults! 1-800-

663-4619 or 250-353-2602 in

Kaslo..

ALERT, PHONE NUMBER SCAM:

Please be aware of a phone number

scam using 1-800-353-2602.

This is NOT the Pennywise toll free

number and if you call it in error, do

not follow the instructions, hang up.

Pennywise.

You can depend

upon Pennywise

advertising to get

you results.

Just ask any of the businesses

you see in these

pages, week after week! Next

deadline 3pm Wednesday

April 27 for the May 2 edition.

1-800-663-4619.

A&A PAINTING LTD. 32 YEARS

IN BUSINESS: Professional and

best service guaranteed. Bonded,

licenced and insured. Call now 250-

354-9015 Nelson; 250-304-5237 Castlegar;

250-368-1044 Trail. office@

aapainting.ca www.aapainting.ca

ALL AROUND SEPTIC SERVICES

LTD.: Offering sewage pump-outs,

septic system evaluations & installations,

and commercial grease trap

services. 250-354-3644, www.allaroundsepticservices.com

HEAT-CHECK: WETT Inspections,

chimneys, woodstoves, liners, duct

work, HRV. Call 250-355-2338.

8 Apr 18, 2022 N Your local shopper N picture online: www.pennywiseads.com
---
Linda Louise Brooks Gelinas

Anthony (Tony)

Sibilio Frary

June 19th, 1945 –

February 1st, 2022.

In loving memory of

our dear friend,

Linda Louise

Brooks Gelinas

October 19, 1948 –

April 4, 2022

A potluck

memorial will

be held in her

honour at the

Lardeau

Community Hall on

April 30 at 3:00 pm.

All are welcome

It is with great sadness

we announce the passing

of Tony Frary – brother,

father, grandfather, uncle,

and friend.

Born in Los Angeles, CA,

to parents Ralph and Mary Frary, he grew up in Visalia,

CA, with his sister Florence and brother Ralph.

After graduating from Redwood High School (1963),

Tony furthered his education at the University of Notre

Dame (1963-67), UC Davis, and University of Toronto

(1976) where he received his Master of Science

in Urban and Regional Planning. After meeting and

marrying Candace in Toronto, they traveled around

the world visiting and living in New Zealand, Asia, and

Europe, before settling in Kaslo in the late 1970s and

raising their three children.

He had many jobs over the years spanning from communications

officer in the US Navy (1968-1974), urban

planner, Realtor, B & B owner, English teacher in

South Korea, and vehicle transporter to name a few. He

volunteered many hours to improve the community of

Kaslo, served as a councillor in the 1990s, and was an

active Legion member. Tony had a love of travel, adventure,

and foods of all kinds. A dreamer and an optimist,

he loved to talk about politics and current events,

and to plan adventures with family, friends, or solo.

His greatest love and proudest accomplishment were

his children (Lindsay, Heather, and Christopher), and

8 grandchildren. A true gentleman, he will be remembered

for his kindness and generosity.

A celebration of life is planned for Saturday, April 23rd,

at the Kaslo Legion Hall, between 2 and 4 pm.

April Edition on Stands now.

Does your business or

organization contribute

to the well-being of our

Kootenay Seniors?

_______

You may want to

Advertise Here

Our readers want to hear from you,

and greatly appreciate your interest and

support of their well-being. ❤

Email us for a media kit

seniors@pennywiseads.com

or call for a chat 1-800-663-4619, Kaslo

Services Services Services Services Services

Contractors/Trades

ALL PHASES HOME RENOVA-

TIONS: Kitchens, bathrooms, windows

& doors. Licensed, registered,

insured. Photos, references. Book in

advance. Michael Nesbitt Contracting,

250-825-4771.

AVIS EXCAVATING, Winlaw: Landscaping,

Driveways, Waterline Ditches,

Property Development, Land

Clearing, Tree Removal, Fire Mitigation,

Gravel & Topsoil Hauling, etc.

Larry Avis, 250-226-7849, lmavis@

telus.net www.avisexcavating.com

FLOW PLUMBING & HEATING

LTD: We make it drain! Competitive

pricing, no job too small.

250-685-8177.

Contractors/Trades

BASED IN HARROP, SERVING

KOOTENAY LAKE AND NELSON:

EAE Electrical Contracting offers affordable

rates for any size of job. Call

or text 250-551-5511.

BILSKI MASONRY: Serving the

Kootenays since 1992. For high quality

tile work, custom showers, stone

work, etc. Call Peter Bilski, 250-229-

2157 or 250-505-3005 (cell).

BRENTON INDUSTRIES LTD: Kaslo

Excavation Contractor, Septic & Utility

Installations, Land Clearing & Tree

Trimming. Call Sean, 250-551-4058,

www.brentonindustries.ca

Contractors/Trades

BULLDOG CONCRETE FINISHING:

Your Kootenay Concrete Specialist!

Basement/garage floors, patios,

driveways, form to finish. Organized

journeyman. 250-365-5573,

www.bulldogconcretefinishing.ca

CASCADIA ROOFING: 25 years

contracting in West Kootenays. Reroofing,

new installations, repairs.

Roof inspections/reports. Asphalt/

fibreglass laminate shingles, metal

roofing & cedar shake conversions.

WSBC & liability insurance.

Quality workmanship guaranteed.

250-354-2999.

CLELAND ROOFING & REPAIRS:

30yrs experience, 23yrs certified.

Certified roofers are the only way to

get your manufacturer's warranty,

10yr transferable warranty. Old-fashioned

service. Call 250-231-0142.

PULPIT PLUMBING: Call

us for all your plumbing and

heating needs. 250-551-6575,

www.pulpitplumbing.com

Contractors/Trades

CRESTVIEW PAINTING: 25yrs+ experience,

reliable/quality work that

lasts, new construction, residential,

repaints, certified journeyman. Fully

insured. 250-304-5197.

CURRY'S EXCAVATING: EX-120 and

5T Mini for all your digging needs!!

WAYNE CURRY, 250-226-7661,

valhallacur@hotmail.com

DESIGNING AND CRAFTING

UNIQUE Timber Frame Homes for

the Kootenays and beyond since

1989. Hamill Creek Timberwrights,

1-888-713-1800.

EAS ELECTRIC: Rewires, service upgrades,

renovations and more. No

job too small. Free estimates. Fully

licensed, insured and bonded. Call

Eddy, 250-231-9950.

GRAY CREEK STORE: Your heating

specialists! Wood, gas & pellet sales

& service. WETT inspections. 250-227-

9315, graycreekstoves@gmail.com

Contractors/Trades

ELECTRICIAN FOR HIRE: Licensed,

experienced, semi-retired. Back-up

power generator install, renos, small

jobs, serge protection. Reasonable

rates. Jim Rogan, 250-353-9638,

250-354-8910.

GUTTER SOLUTIONS, BY HY-

BREED CONTRACTING: Installation,

cleaning, repair and replacement

related to gutters, soffits,

downspouts and fascia boards. Are

you having issues with water diversion?

Water can cause huge damage

to your investment, we are your rainwater

diversion specialist. Please call

for free estimates, 250-608-7777.

HOOVER MASONRY, CERTIFIED

EXPERIENCED MASON: Stonework,

Bricklaying, Tile Setting, Custom

Masonry Fireplaces, Restoration,

Chimney Re-pointing, Stone Patios

& Stairs, Retaining Walls, Manufactured

Stone. Communication...

Service...Satisfaction! 250-551-3245,

hoovermasonry@gmail.com

N picture online: www.pennywiseads.com Where locals shop. Apr 18, 2022 9
---
Special Feature in

and

summer

MARKETS

AM FORD HELPS YOUR

FAMILY SAVE MONEY

WHEN YOU UPGRADE TO A NEW

OR PRE-OWNED VEHICLE FROM AM FORD

5 litre/100 km savings with an upgrade from AM Ford

Ask us how we will help save you $10,447 (over 5 year period) at $1.99/litre

West Kootenay Loop Fuel Economy Test

We did it the old fashioned way! We recorded the kilometres on

a vehicle fueled to the brim at the Trail Husky. We then drove

through Castlegar to Nelson and back to Trail through Salmo.

At the same Husky we filled up the car again and calculated the

fuel economy based on litres used and difference in kilometres.

Completed March 2019

AM Ford

and

WE WANT TO BUY YOUR

TRUCKS, SUVS OR CARS

1-800-961-0202

OVER 40 PRE-OWNED IN STOCK

2018 FORD EDGE AWD

$

18

DAILY

Titanium, 68,502 km

stk#82440

$

258

BI-WEEKLY

$34,989

2018 FORD F-150 XLT

$

20

DAILY

2015 FORD EDGE

Titanium,nav, leather

stk#6540

$

277

BI-WEEKLY

$28,989

2019 FORD F-350 LARIAT

DIESEL

2018 Ford Focus

4.6L/100km

2019 Ford Edge

6.5L/100km

2019 Ford Mustang

7.2L/100km

2019 Ford Explorer

9.1L/100km

2019 Ford Fusion

6.8L/100km

2019 Ford EcoSport

5.1L/100km

2019 Ford Ranger

7.6L/100km

I completed the West

Kootenay loop for these

7 Ford vehicles in March

2019 and certify that all

fuel economy numbers

are accurate. I drove at the

posted speed limit for the

duration of the route (Trail,

Nelson, Salmo, Trail)

MEET THE SALES & FINANCE TEAM

4WD SuperCrew, 6.5' box, 80,777 km,

5.0L 8 cyl, STK#62676

$

21 29

DAILY

$

298

BI-WEEKLY

84 MONTH

$39,989

2018 FORD F-150 XLT

4WD SupervCrew Cab, 6.5' box,

5.0L 8 cyl, 59,500 km stk#39825

$

24

DAILY

$

339

BI-WEEKLY

$42,989

2017 FORD F-350 SRW

DIESEL

4WD SuperDuty Crew Cab, 6.75' box,

6.7L 8 cyl, 24,840 km stk#05267

$

49

DAILY

2018 FORD F-350 XLT SRW

DIESEL

4WD SuperDuty Crew Cab, 6.75' box,

52,563 km, 6.7L 8 cyl, STK#50872

$

38

DAILY

$

655

BI-WEEKLY

$

531

BI-WEEKLY

$85,989

84 MONTH

$69,989

2017 TOYOTA TACOMA TRD

TO

Publishing in the May 30 Pennywise

and June Discover Sixty-Five Magazine

✔ Pull out section in centre of Pennywise

✔ All 4 Pennywise Area Editions

✔ Centre Spread of the Discover Sixty-Five

✔ Includes Free Full Colour in each publication

✔ Only $415+tx for both publications, 1/4 pg

Run in one or the other, $299+tx

Larissa Scott

office 250-353-2602

larissa@pennywiseads.com

Karma Halleran

office 250-353-2602

karma@pennywiseads.com

1-800-663-4619, local Kaslo 250-353-2602

JEB GROSSUTTI

SALES ASSOCIATE

PROUD SPONSOR OF THE

2022 WEST KOOTENAY TRADE SHOW

A Show For Everyone!

April 22, 23 and 24, 2022

SHOW TIMES:

Friday 5 - 8pm

Saturday 10am - 5pm

Sunday 10am - 3pm

COME

SEE US

STEPHEN ROSS

SALES ASSOCIATE

Not exactly as shown

LOAN BY

PHONE

1-800-961-0202

4WD Crew Cab, 160" Lariat, 6.75' box,

6.7L 8 cyl, 72,220 km stk#88541

$

562

BI-WEEKLY

$69,989

2018 CHEVY CRUZE LT

4 dr sdn, 1.4L, 39,332 km

stk#38175

$

13 50 $

188 $25,989

DAILY BI-WEEKLY

4WD, double cab, V6, off road, 3.5L,

red, 106,413 km, STK#024905

$

26

DAILY

2017 HYUNDAI SANTA FE SE

$

15

DAILY

$

372

BI-WEEKLY

Sport, AWD, 4 dr, 2.0L 4 cyl,

103,802 km, stk#475311

$

207

BI-WEEKLY

84 MONTH

$46,989

2016 TOYOTA SIENNA XLE

AWD, 5 dr, 7 pass, 3.5L V6, white

107,101 km, stk#145888

$

335

BI-WEEKLY

$39,989

$26,989

2795 Hwy Dr Trail BC 8000 Hwy 3B, Trail BC

DL# 7336/30770

DL# 7336/30770

$

41

DAILY

2017 TOYOTA TACOMA TRD

4WD double cab, V6, off road,

orange, 111,874k, stk#107967

$

27

DAILY

$

380

BI-WEEKLY

$3000 Down or trade equity/6.99%/OAC, all administration/documentation fees of $798 included in stated bi-weekly/daily payment. DLN#30770 / DLN#7336

$47,989

$

24

DAILY

Services Services Services Services Services

Contractors/Trades

HIM N HER CONTRACTING: Home

renovation, maintenance & repair,

licensed and insured, over 32yrs in

construction industry. Excellent references

and photos available, check

us out on Facebook. For fast, friendly

and courteous service please call Vanessa

or Dusty, 250-212-2384.

HYBREED CONTRACTING: We

are a locally owned and operated

General Contracting/Construction

company, offering a wide range of

services. Please visit www.hybreedcontracting.com

for more info or call

250-608-7777.

Contractors/Trades

JUSTHINK PAINTING: Serving Kaslo

& Area. Residential, commercial, interior

& exteriors. Seniors discount.

Free estimates. 25+ yrs experience.

All work guaranteed. Call Stephan

250-353-7128, 250-353-8763.

LOKI TREE SERVICE: Complete tree

& forest services. Certified Arborists

& Fallers. Hazardous Tree Removal,

Pruning, Chipping, Stump-Grinding,

Forest Management, FireSmart. No

job too big or small. 250-353-2405,

www.lokitree.com

LOON PLUMBING, HEATING AND

GAS FITTING: Reliable service for

Nelson and the Kootenay Lake area.

Call or email Levon@loonplumbing.

ca, 250-354-9299.

MONASHEE CONSTRUCTION:

Serving the community for over 30yrs.

Home renovations, bathrooms, kitchens,

basements, etc. Fully insured &

licensed. 250-368-1850.

Contractors/Trades

MOUNTAIN HIGH LIGHTING:

Lighting layout & design, residential &

commercial. 301 11th Ave Castlegar.

250-365-0500, www.mhlighting.ca

MY PLUMBER: No job too small.

Maintain, service, install, plumbing

systems, blocked sewer lines. 250-

521-0206, 250-687-9041 (cell), email

columbiamyplumber@gmail.com

PACE ELECTRIC: Underground

to overhead. Residential or commercial.

All your electrical needs.

250-304-8930 (cell).

PARADISE VALLEY PLUMBING:

Plumbing contractor serving the

Kootenay area, www.paradisevalley

plumbing.ca 250-226-7947, 250-777-

3588 (cell) or schaferspeare@gmail.

com

RNR ELECTRIC & CONTROLS: Your

local Kaslo & Area electrician for residential,

commercial and industrial

projects. Call Randy, 250-366-0087.

Contractors/Trades

R.J. EARTHWORKS EXCAVATING

AND CONTRACTING: E50 Bobcat,

dump trailer. Land development,

site prep, land clearing, driveways,

boulder walls, retaining walls, basements,

septic, underground utilities,

fencing, hauling. Fully insured, fast,

efficient. Call/text 250-551-7347,

r.j.earthworks@gmail.com

R&S ROOFING: Seamless Gutters

too! Call for free estimate. WCB/insured,

licensed, workmanship guaranteed

on labour. Booking for 2022!

Richard, 250-367-9404.

Contractors/Trades

RENK MASONRY & TILE: High

quality stonework, tile, bricks,

blocks, etc. Call Brian Renk,

250-354-8439 (cell) or email

brianrenk@shaw.ca

SAMURAI HARDWOOD FLOOR-

ING: Residential/Commercial Flooring

and Tiling Services, Professional

Installations, Custom Stairs, Refinishing

Services. 295 Baker St, Nelson,

778-463-5388.

SPRING CHIMNEY SWEEP

SPECIAL! April 2022, only $175

for most chimney systems. Call

now to reserve a spot. Redpoint

Chimney, 250-354-3489.

www.redpointchimney.com

10 Apr 18, 2022 Your local shopper N picture online: www.pennywiseads.com
---
ESEL

FORD CANADA HAS JUST GIVEN AM FORD MORE VEHICLES!

NO CHIP SHORTAGE DURING OUR

SPRING FACTORY ORDER EVENT

2795 Hwy Drive 8000 Hwy 3B

next to Waneta Plaza

This AM Ford vehicle is not in stock…You have to order one

TO TAKE ADVANTAGE OF OUR SPRING FACTORY ORDER EVENT

WHY FACTORY ORDER:

Get yourself in the queue and have your vehicle built instead of

waiting for months from big city dealers.

Receive a gift or discount from the MSRP and if Ford Canada

offers rebates when the vehicle arrives, you get that also.

2795 Hwy Dr

Trail BC

DL# 7336/30770

Images are for illustration purposes only. DLN#30770 / DLN#7336

ALL MAKE SERVICE WITH 10 AUTO TECHNICIANS

Visit us at

AMFORD.COM

LOAN BY

PHONE

1-800-961-0202 250-364-0202

To whom it may concern,

I was asked by Dan Ashman to test the fuel efficiency of the 2016 F150

models with different engines.

The route I took with each truck was from the Trail Husky gas station (right

after fill up); to Castlegar, then to Nelson, then to Salmo and finished my

trip back at the Husky gas station in Trail. This is where I filled the trucks up

again, and proceeded to do the calculations based on the number of litres it took

to refill the truck. The 3.5L EcoBoost engine was done the middle of April 2016 with

the 3.5L and the 2.7L EcoBoost done on May 5th 2016 and the 5.0L done on May 24,

2016. The results of the calculations were as follows:

2016 F150 3.5L Ecoboost

2016 F150 3.5L

2016 F150 2.7L Ecoboost

2016 F150 5.0L V8

9.1L per 100km

8.8L per 100km

9.1L per 100km

9.0L per 100km

8000 Hwy 3B

Trail BC

DL# 7336/30770

31.04 MPG (Imperial)

32.1 MPG (Imperial)

31.04 MPG (Imperial)

31.05 MPG (Imperial)

1-800-961-0202 SERVICE AREA

Build it, price it, just the way you like it.

PLUS Every order gets you a 50" Smart TV

or an AM Ford exclusive discount

(while quantities last)

Slocan City

Winlaw

Castlegar

Trail

Rossland

Spring

CHIMNEY SWEEP

SPECIAL!

$

175

(for most chimney systems)

APRIL 2022 ONLY!

Plus 10% OFF all chimney &

wood stove services!

For the month of April only. WETT inspections, new bricks

in wood stove, fibreglass gasket on stove door, caulking

on storm collar, rust paint on flashings and braces.

Worksafe BC & Liability Insurance.

Call now to reserve a spot when we are in your area.

Space is limited.

Nelson

Meadow Creek

Ymir

Salmo

includes GST

Kaslo

250-354-3489

redpointchimney.com

Riondel

Gray Creek

Boswell

REDPOINT CHIMNEY

Services Services Services Services Services

Contractors/Trades

SELKIRK INSULATORS a division

of Seib Contracting: For all

your residential and commercial

insulation needs. Certified spray

foam installation, conventional &

blown-in residential. Licensed, Insured,

and WorkSafeBC. Serving

Trail, Rossland, Castlegar, Fruitvale,

Nelson and Grand Forks area.

250-231-2837.

SEVEN REFRIGERATION: Serving

Kaslo and area. 35 years experience.

Commercial Refrigeration,

Heating and Cooling, Heat Pumps.

Cell 250-551-2152. House 250-

353-2965. E-mail sevenrefrigeration77@gmail.com

TRAIL ROOFING LTD: Gov't certified,

commercial, industrial, residential.

Free estimates. Bonded &

Insured, 250-364-2900.

WATER HEATER GUYS: Gas & electric

water heaters, on demand units,

free quotes, 250-362-5665.

Contractors/Trades

TRIXIE'S CLEANING AND JUNK

REMOVAL IS NOW BOOKING

junk removal and demolition jobs.

Have a garage or shed that's broken

and need it gone? Moving

and need to get rid of stuff? We

can get rid of it for you! Also hiring

for a house cleaning position

in Castlegar. Email trixiejennifer@

gmail.com or text 250-365-9313.

www.trixiecleaners.ca

WATER FEATURES, excavation

services, paver installations, decks,

fences, retaining/garden walls,

stone work -natural/faux. 250-505-

6004, www.cascadialandscaping.ca

Contractors/Trades

WITH AN ACCENT FINE CARPEN-

TRY: Specializing in interior finishing,

built-ins and railings. 250-551-1842.

WOLFGANG'S PLUMBING: Serving

the Slocan Valley and surrounding

area. Qualified pump installer. 250-

226-7320, wteiner@netidea.com

General Services

A HANDY HUSBAND: Repairs,

replace, maintenance, decks,

fences and most everything else.

250-354-8598.

ALL-HOME & COMMERCIAL RE-

PAIR: Handyman services, roofs,

gutters and more. Light deliveries/

small moves. 250-267-8591.

ASK OUR EXPERTS for your

home furnishings and appliance deliveries.

We deliver for Bears, Floyds

and Kootenai Moon. Found it on

Facebook? We will pick it up and deliver

it to you. Call Positive Apparel,

250-505-5444.

General Services

BEAVER'S SEPTIC TANK CLEAN-

ING SERVICE: Serving the Kootenays.

Goes the distance! 250-354-

3508 (cell) or 250-357-9724.

SPARKLE CLEANERS: Home and

Interior Auto Clean. Two experienced

and enthusiastic women.

Bondable. 250-551-3529.

PENNYWISE IS PROUD PUB-

LISHER OF THE GO & DO

– a guide to all that's fun and interesting

or relaxing and inspiring

in the West Kootenay. Informative

for visitors and really handy for locals

too! Pick up your free copy at

Visitor Info Centres across the region

and at many businesses in the

West Kootenay. Or check it out at

gokootenays.com

THANK YOU FOR READING

PENNYWISE

General Services

BEKKER TRUCK WORX: Towing &

Hauling Vehicles, Sea Containers,

Light Equipment, Building Supplies.

Roll-back truck with 20´ tilt deck.

Call Niko, 250-353-1091.

FOR ALL YOUR DRYWALL AND

PAINTING NEEDS: Steel stud and

suspended ceilings. No Job Too

Small! Serving Trail & Castlegar areas.

Rob, 604-551-8554, Fruitvale.

Landscaping

LOT 3 LANDSCAPING: Creating

beautiful outdoor spaces. Paver Patios,

Allen Block & Sierrascape Walls,

Planting. Call Geoff, 250-777-3228.

N picture online: www.pennywiseads.com Where locals shop. N Apr 18, 2022 11
---
Would your acreage benefit from soil amendment?

Mercer Celgar is looking for landowners with 2 or more acres within 55 km

that would benefit from using their Celgrow soil amendment. Pastures and

hay fields are good options.

Mercer Celgar will cover the costs of a Qualified Professional performing

soil sampling, obtaining government authorization and delivery costs of Celgrow

soil amendment based on access with a large truck/pup combination.

Acreage should be able to accommodate at least 6 truck/pup loads. The two

major components of Celgrow are individual wood fibres lost from the pulping

process and surplus bacteria from the wastewater biological treatment

facility. Wood fibres enhance soil moisture retention and bacteria are a good

source of soil nutrients. The landowner is responsible for spreading and incorporating

Celgrow into their soil.

If interested, please contact Len Hewat

Email: leonard.hewat@mercerint.com • Phone: 250-608-3513

Professional, Reliable, Quality Service Providers

Septic system installation,

maintenance and repair

Grease trap servicing

Sump pits and

lift stations

Drain auguring

and flushing

Call Today!

Registered Onsite Wastewater Practioner

All-Around Septic Services Ltd.

250-354-3644 • 250-359-8282

allsepticvac@gmail.com

www.allaroundsepticservices.com

I need

to be

fed!

THE CRUSHER

is here & hungry…

Just added

to our fleet:

50 TON TRI-DRIVE

WRECKER!

1660 Airport Road

Salmo

250-357-2091

scrapkingauto.com

PHILIP KANIGAN BSc, DMD

Notary Public Inc. A Name You Can Trust

WE ARE OPEN FOR BUSINESS by appointment

Please call 250-365-2289. Ask us about our safety procedures!

2009 Columbia Ave, Castlegar, BC Tel. 250-365-2289 Fax 250-365-2275 www.castlegarnotary.com

Wills & Power of Attorneys

Representation Agreements

Real Estate Purchases & Sales

Real Estate Contracts

Mortgages/Refinances

Changes to Land Titles

Subdivisions

Easements

and more

SOLD

2 FOR

FOR 1

Frames & Lenses

or 40% OFF 1 Pair*

Good for 2 Prescriptions – Share the Savings.

WE NOW HAVE

*See in store for details. Some restrictions apply.

SNOW GOGGLES!

Tuesday-Friday 10am-5pm

Saturday 10am - 4pm

701 Front St, Nelson

250.354.EYES (3937)

Unit 2, 688 18 th St,

Castlegar 250.365.2026

Next to Common Grounds

Coffee Shop

Free sight testing both locations

Services Services Services Services Services

General Services

General Services

General Services

General Services

General Services

COOL BEAMS MOBILE SAWMILL

SERVICE: Turning your logs into lumber

on-site. 250-777-7366.

CLEANING GENIES: Professional

Clean Team. You've tried the rest,

now call the best! Fully insured,

WorkSafeBC. All employees on payroll.

Call Marilyn, 250-505-8346.

www.cleaninggenies.ca

DO YOU HAVE YOURS? Call the

Pennywise at 250-353-2602 or 1-800-

663-4619 for copies of the 2022 VISIT

KASLO GUIDE!

GET YOUR DECK READY FOR SUM-

MER! Contact Treeline Deck and Rail

Ltd., Nelson. 250-859-3088, info@

treelinedeckandrail.com

GW CONTRACTING: Ffor All

Your Building Needs! 250-231-4532,

bit.ly/3ilFCIp

KERRY'S STITCHERY: Custom sewing,

alterations & repairs, including

denim, leather, canvas & drapery. In

Kaslo, 250-353-7722.

KOOTENAY CURRENCY EX-

CHANGE: For all your foreign currency

needs. Better than bank rates

when buying or selling US dollars.

Canadian Gold and Silver. Call

250-354-1441.

LOCAL MOVING & SPRING CLEAN-

ING: Residential. Commercial. Long

Distance moving. Brush clearing and

junk removal. 250-777-3454.

NELSON MINI-STORAGE: 1.6kms

from City Centre, heated, easy access,

18yrs of friendly, personalized

service. 1393 Knox Rd, 250-354-8289,

www.nelsonministorage.ca

PASS CREEK TOOL REPAIR: Air

and electric tools, small compressors,

quality repairs, fair price.

250-304-4811.

PHILIP KANIGAN BSC. DMD NO-

TARY PUBLIC INC: Offering residential

& commercial property services,

estate planning, notarizations, legal

advice and mediation. 250-365-2289,

www.castlegarnotary.com

PROFESSIONAL DELIVERIES,

Junk Removal, Plumbing, Sewer

Backups, Dry Cleaning, Laundry

Service, Furnace/ Air Duct Cleaning,

Carpet Cleaning. 24/7 Emergency

Service. 250-231-8529, 250-

921-4356, 250-364-0145. http://

kootenaymoveandjunk.vpweb.ca

http://dirtbusters.vpweb.ca

PROFESSIONAL PLUMBING SER-

VICES: 24/7 EMERGENCY! Licensed,

WCB, Bondable, work and materials

guaranteed C.V.M.S. 250-921-4356.

facebook.com@CVMS/CVMS.vp

web.ca.

SELKIRK PAVING: Serving the entire

Kootenay area. Call for a free estimate.

1-800-668-2848.

RBT ACCOUNTING SERVICES:

Accepting New Clients. Bookkeeping,

Personal and Corporate Taxes,

GST, Payroll and Other Services.

Call 250-354-7107 or email

rbtcpa@outlook.com

RUBBISH REMOVAL & RECYCLE,

SNOW REMOVAL, estate removal,

gutter cleaning/sealing, moving,

deliveries, building demolition.

250-231-9397.

VALHALLA SEPTIC SERVICES LTD.:

Fully insured for all your residential

and commercial septic pumping

needs. 778-454-2221.

SHARPENING SERVICE: Saws, tools,

scissors, knives, clipper blades. C&D

Sharpening Service, 250-365-3658.

TREE SERVICE: Certified, Licensed,

Insured. Pruning to removal of hazardous

trees. Free Estimates. 250-

505-6114, www.fallguy.ca

Gardening/Landscaping

*GLACIER VALLEY TREE CARE:

Local danger tree professionals.

Utility certified lift trucks. Whole

tree chippers. Stump grinding.

Pruning. Land clearing. Certified

arborists, fallers, assessors. Free

same day assessment and advice.

Certified & insured WCB. Jim Sipkes,

25yrs experience. 250-304-

3774, jim@glaciertree.com

COW MANURE: Delivered by the

truck load, fresh and aged. Also straw.

Wayne Savinkoff, 250-226-BEEF.

12 Apr 18, 2022 Pennywise Publishing every 2nd week N picture online: www.pennywiseads.com
---
Free to roam in your new home

sleeps 3, 1 slideout,

backup camera prep

Bi-Weekly $135 Was $44,995

NOW ONLY $39,995

VIN #12343

PLUS TAX

2021 Dutchmen Coleman

Rubicon

1628 BH

Travel Trailer

Sleeps 5,

Weight 3,560 lbs

Bi-Weekly $130 Was $44,995

NOW ONLY $38,995

on

wheels...

250-364-2323 Parts 250-364-1267 Toll Free 1-888-817-2323

2021 Dutchmen Coleman

Rubicon 1608

Travel Trailer

NEW

See Rock Island RV for

NEW, USED Parts & MORE!

VIN#11221

PLUS TAX

NEW

2021 Forest River

2251 LE Class C

Motorhome

Sleeps 4 , 1 slideout,

backup camera, cruise control,

only 14,000 km!

Bi-Weekly $350

NOW ONLY $119,995

2022 Keystone Cougar

5th Wheel

Sleeps 4,

2 Slideouts

weight: 7350 lbs

28.11 ft

Bi-Weekly $237 Was $74,995

NOW ONLY $69,995

VIN #U99990

PLUS TAX

VIN #02085

PLUS TAX

2022 Forest River

Surveyor Legend 19 BHLE

Travel Trailer

1 slideout

Sleeps 6,

Length: 23.7 ft.

2019 Forest River

Sunseeker 2650 S

Class C

Motorhome

Sleeps 6,

1 slideout

NOW ONLY $48,995

Bi-Weekly $330

NOW ONLY $99,995

VIN#112114

PLUS TAX

NEW

VIN #U4587

PLUS TAX

2022 Keystone

Cougar 22 MLSWE

Travel Trailer

Sleeps 4

1 slideout

Weight 5,700 lbs

Was $69,995

NOW ONLY $63,995

VIN#009876

PLUS TAX

NEW

2022 Keystone

Hideout 25 DBWE8

Travel Trailer

Sleeps 6

1 slideout

Weight 6,000 lbs

Bi-Weekly $164

NOW ONLY $47,995

VIN#45468

PLUS TAX

NEW

Rock Island RV

2011 Tiffin Allegro

Bus Class A

Motorhome

Diesel

Only 34,500 km!

Sleeps 6, 37 ft.

NOW ONLY $269,995

VIN#U87251

PLUS TAX

2020 Dodge Ram 3500

Bighorn

Diesel, 43,000 km

6 passenger

NOW ONLY $78,995

8023 Old Waneta Road, Trail

www.rockislandrv.com DL#9096

VIN#45211

PLUS TAX

Services Services Services Services Education

Gardening/Landscaping

BETTER LAWN & GARDEN: Mowing,

trimming, weeding, deadheading,

installations, waste removal, beach

cleaning & more. 250-352-7447

www.betterlawnandgarden.com

CALL NOW TO BOOK YOUR

SPRING YARD WORK: Pruning, aeration,

and power raking. We also provide

scheduled seasonal mowing and

hedge trimming. Rick, 250-687-1345

Bauman Enterprises.

FARM STAND FOR SALE: Lockable

produce stand w/self-serve

honour system in place, pictures

available, located in Harrop, $1500.

250-229-5481.

COLUMBIA TREE SERVICES/SIMS

CONTRACTING LTD: Call Pat Sims

for a free estimate for 60´ bucket

truck, chipping, climbing/rigging,

stump grinding, soil delivery. Certified,

Insured, WorkSafe. Thousands

of satisfied customers since 1980.

250-367-7939.

GARDENER AVAILABLE FOR SE-

NIORS needing help. 250-551-3279.

LOKI TREE SERVICE: Complete tree

& forest services. Certified Arborists

& Fallers. Hazardous Tree Removal,

Pruning, Chipping, Stump-Grinding,

Forest Management, FireSmart. No

job too big or small. 250-353-2405,

www.lokitree.com

WINLAW EARTHWORKS: Excavating,

ditching, site/garden prep, landscaping,

ponds. Wildfire interface fuel

removal and access trails. No job too

small. Seniors Discounts. Call 250-

505-6042.

Gardening/Landscaping

TOPSOIL & BARK MULCH FOR

SALE: $55/yd. 250-365-1632.

SPRING HAS SPRUNG, and it's

spring yard cleanup again. Add

in some new soil or mulch! Thinking

of adding some new trees or

shrubs? Or a landscape redesign?

Please call for a free onsite quote.

Carrie @ Creative Cut Landscaping,

250-809-8971.

Health/Personal

ARE YOU TIRED? DO YOU SNORE?

You may have sleep apnea. Call Columbia

Respiratory for your free

consultation, no referral required.

1-844-440-0277.

CEDAR AVENUE DENTAL CENTRE:

Delivering personalized, high quality

dentistry for the entire family in a

comfortable and relaxing environment.

www.cedardentaltrail.com

GLASS HOUSE OPTICAL: 701 Front

688 18th St, Castlegar, 250-365-2026.

Free sight testing at both locations.

NEW LOCATION: Red Clover Dental

is now located at 810 Vernon St.

Nelson. Accepting new patients.

250-352-5012.

SHADE TREE MASSAGE THERAPY

NOW WELCOMING new and returning

clients for therapeutic and

relaxation treatments. Clean, quiet,

professional office located in Winlaw.

Jessica Coonen, RMT 250-226-6887,

shadetreemassagetherapy@fastmail.com

Notices Page

Notice

KASLO RIDING CLUB AGM: Sunday,

Apr. 24, 1pm at the riding

grounds.

Notice

AGM KASLO & AREA YOUTH

CENTRE: #2 404 Front St. Kaslo.

In person or on ZOOM. All are welcome,

especially the teens! Refreshments

provided. ZOOM Invitation:

Wednesday Apr. 27, 2022, 4pm. Join

Zoom meeting https://us02web.

zoom.us/j/87022071043?p-

wd=blZCZ1pBSVZ5SlY3Z2t1anF0S-

GYvZz09 Meeting ID: 870 2207 1043.

Passcode: 725031

ALL UKRAINIAN FUNDRAISING

CLASSIFIED ADS ARE FREE: Call

Pennywise 1-800-663-4619, 250-

353-2602 in Kaslo, or email to info@

pennywiseads.com

DID YOU KNOW... Pennywise ad

payments (cash or cheques) can be

dropped off at And More Second

Hand Store, 1398 McQuarrie St,

Trail during regular store hours.

Questions? Call 1-800-663-4619.

Thank you, Pennywise.

KOOTENAY LAKE HISTORICAL SO-

CIETY AGM: Thursday, Apr. 28, 4pm

at the Seniors' Hall, Kaslo. Come hear

what we have accomplished this year

and learn about our major project to

rehabilitate the outer decks of the SS

Moyie in 2022 and 2023. The Society

is looking for new board members to

join the team to preserve this community

treasure. 250-353-7171. Looking

to work on the rehabilitation project?

Contact moyiejobs@kaslo.org

THE ANNUAL GENERAL MEETING

for the Ootischenia Improvement District

will be held Tuesday, May 10 at

7pm at the Ootischenia Community

Hall. Please attend.

Notice

KORTS 2022 AGM: Thursday, Apr.

28, 2022, 7pm, Kaslo St. Andrews

United Church Heritage Hall. Agenda:

Reports, Election of Board, Plans and

Projects. Membership available at the

door. Must be a current member to

vote. Membership is by calendar year.

SLOCAN COMMUNITY LIBRARY

AGM will be held on Wednesday,

Apr. 27 at 7pm via Zoom. Email info@

slocanlibrary.ca for invite. Nomination

packages for board positions will

be available in April during opening

hours, Sundays 11am-3pm; Thursdays

1-5pm. Stay informed at www.

slocanlibrary.ca

SLOCAN PARK COMMUNITY HALL

SOCIETY: Will be holding a SPECIAL

MEETING, Wednesday, Apr. 27, 7pm,

hall opens at 6:30pm, at the Slocan

Park Hall, 3036 Hwy 6. Meeting will

be held to fill vacancies of the Slocan

Park Community Hall Board of Directors.

THE KASLO & AREA CHAMBER OF

COMMERCE will be holding its AGM

on Monday, Apr. 18, 2022 at 6pm, upstairs

meeting room Kaslo Arena, 517

Arena Ave. All members welcome.

THE KASLO BOAT CLUB AGM will

be held Wednesday May 25, 7pm at

Kaslo Seniors' Hall.

YEARNING FOR FACE TO FACE

CONTACT? TIRED OF ZOOM? Victorian

Hospital Of Kaslo Auxiliary

Society (VHKAS) AGM. Monday, May

9 at VIMY PARK. More Info: Facebook.

Ad elsewhere in this issue, and 250-

353-1037.

Classes/Workshops

COMMUNITY EDUCATION &

WORKPLACE TRAINING: Selkirk

College,1-866-301-6601. www.selkirk.

ca/ce

COMMUNITY FUTURES SMALL

BUSINESS WEBINARS: April: Writing

Your 'About YOU' Page (Apr. 26);

Instagram for Business – Beginner

(Apr. 27); Social Media Promotions

& Events (May 12). Check out our full

schedule: www.mycfck.ca

Animals

Pets

CERTIFIED PET GROOMER: And

certified in Animal Care Expert

Training. 250-512-9513, Trail.

DACHSHUND PUPPIES: Ready

to go May 10, will have vet check,

shots and deworming. Beautiful

markings, 2 males and 1 female still

available. 250-368-1960.

COPPER IS A SWEET 8YR OLD

GERMAN SHEPHERD HUSKY

MIX: He loves his people and walkies,

a very happy boy! Copper had

some ongoing health issues, but he

is on the mend. We would love to

find him a forever home. Call 250-

509-0297 or visit www.spca.bc.ca/

locations/west-kootenay for details.

USA - BERNESE MOUNTAIN DOG

PUPPIES: Born December 24, 2021,

ready for their forever homes, 2

males, 5 females. Find us on Facebook

at "Berners in the Woods"; or

call/ text 509-370-7799 or 509-226-

1223.

N picture online: www.pennywiseads.com Where locals shop. Apr 18, 2022 13
---
Young visions reveal the future

West Kootenay youth Stanley Humphries, Kootenay Columbia

Learning Centre (both Trail and Castlegar) and Rossland

Summit School are featuring their art in the annual Young

Visions exhibition. It opens Thursday, April 21 at 7 pm at the

Kootenay Gallery of Art in Castlegar. Everyone is welcome to

attend the free opening event.

"This is my favourite show of the year" says Val Field,

Executive Director of the Gallery. "It is such a pleasure to see

the creativity and hard work of our local students. The variety

and quality of the artwork is outstanding" Gallery Curator,

Maggie Shirley agrees with Field and adds, "It is a pleasure to

focus on local talent and to provide the youth with an opportunity

to get the experience of having work professionally presented

in an art show. I secretly hope that this is the beginning

of at least one art career and that I'll see their work back in the

Gallery again some day in the future. "

The Gallery is grateful to School District 20 for making the

show possible and in particular to teachers Shelley Painter,

Bryar-Anne Woods, Michelle Reddick, and more. Shirley says

"We appreciate the effort of the art teachers to provide the students

with this community-enhancing experience. Like most

teachers, they go above and beyond their job expectations to

support the students. " The show is supported by School District

20, the BC Arts Council,

cont'd on pg 15

MORE...

HOMEGOODS

H O T

DEALS!

Spring

furniture

value you

won't want

to miss out

on!

H O T

DEAL!

MATTRESS

SALE!

Reclining Set Available in 2 colours

Sofa - $1,399 99 Love Seat - $1,299 99

•FURNITURE • MATTRESSES • HOME DECOR •MAJOR APPLIANCES

Open

7 days

a week

Danby

10.0 cu ft

Refrigerator

• Frost free,

• Reversible door,

• 21.5" w., 60.5" h.

$

599 99

While stock lasts

H O T

DEAL!

H O T

DEAL!

Located halfway between

Trail and Castlegar

1790 HomeGoods Rd, Genelle BC

250-693-2227

Comfy

Recliner

H O T

DEAL!

$

499 99

Stylish Sofa

Sofa - $899 99 Love Seat - $799 99

Come and see

our new working

kitchen designed by

JMK Kitchens

H O T

DEAL!

$

1,299 99

Good selection

Palliser Power

Recliner

50% OFF All Mattresses! Homegoods

has ALL

H O T

DEAL!

Check out our website HomeGoodsFurniture.com and see us on Facebook!

H O T

DEAL!

your

favourite

Brands!

Kitchens & Custom

Woodworking Ltd

On Stands Now...

The West Kootenay Regional Visitor Magazine

Stay & Play

Go & Do

Spring/Summer

Edition 2022

This guide is

loaded with

information on

recreation,

accommodation,

dining and events.

Featuring hiking,

biking, hot springs,

markets, festivals

and local craft

beers in the West

Kootenay!

YOUR

Ainsworth • Balfour • Castlegar • Creston • East Shore • Kaslo • Nakusp • Nelson • New Denver • Rossland • Salmo • Sandon • Slocan Valley • Trail

WEST KOOTENAY Magazine

SPRING

SUMMER 2022

FREE

#gokootenays

BC ❤ Canada

The Go & Do is made for visitors

and used by locals too.

Find your copy at a business or InfoCentre near you!

Regional

stay

p l ay

West Kootenay Go & Do gokootenays.com

www.gokootenays.com • IG #gokootenays

www.facebook.com/WestKootGoAndDo

&

&

FREE

For Locals

& Visitors

INTRO

Get a NEW START this SPRING!

QUALITY PRE-OWNED AT NELSON FORD

2019 Ford Edge

SEL Moonroof, Navi

49,477 kms #22EX9108A

SALE PRICE $37,874

2020 Ford F-150

XLT Longbox,

3.5L V6 EcoBoost, 71,575 kms #PW0797

SALE PRICE $51,464

2019 Ford

Ranger 4x4

Lariat, leather, loaded

47,836 kms #PW0776

SALE PRICE $46,444

DROP IN

TODAY

and

take

one

for a

TEST

DRIVE!

2018 Ford Escape Titanium

102,110km, 4WD

#21BR3263A

SALE PRICE $28,467

2019 Hyundai Santa Fe

leather, loaded

43,524 kms #PW0784

SALE PRICE $37,963

2018 Ford F-150 4x4

5.0l V8, auto,

78,198 kms #PW0769

SALE PRICE $41,779

Nelsonfordsales.com

623 Railway Street, Nelson BC DL 28082

2017 Ford

Explorer

Auto, twin panel moonroof

49,120 kms #PW0789

SALE PRICE $41,897

2018 Jeep

Trailhawk

Sunroof, tow pkg, navigation

97,995 km #PW0783

SALE PRICE $35,979

2016 Ford Focus SE

2.0l , auto, hatchback

95,740 kms #PW0772

SALE PRICE $15,787

250-352-7202

1.888.955.5528

Prices are + taxes & $699

admin fee. Financing

rates from 4.99% OAC

Animals Automotive Automotive Automotive Automotive

Pets

Cars

Cars

SUVs

RVs/Campers

2004 MUSTANG GT CONVERT-

2009 MITSUBISHI LANCER: Black, CASTLEGAR HYUNDAI: Offers a

IBLE: 40th anniversary edition, V8,

4dr, loaded w/leather, heated seats, wide array of new & used vehicles.

automatic, pw/ps, Mach 1 stereo

sunroof, sub-woofer, 160,000kms, includes

winters, $8000. 250-304-4445 ship with big city selection. 713 17th

We are a smaller lower-cost dealer-

system, low profile tires, low mileage,

always stored inside, excellent

(day cell), 250-304-2069 (eves).

St, Castlegar. 250-365-5200.

shape, $12,000obo. Call Gerry, 250-

367-0097.

SHEPADOODLE PUPPIES: Six

gorgeous, healthy, black, very loving

and extra cute pups! Beautiful

Czech Shepherd mom and adorable

Goldendoodle dad are both quiet

dogs w/calm temperaments. Puppies

will make amazing companions

for active families, individuals,

or anyone with a yard. 2 boys & 4

girls born Feb. 24 will be ready for

their forever homes at end of April,

w/their first vaccinations and checkup.

$700/ea. $200 deposit required.

Questions? Call/text 250-575-1954,

250-505-5998. Will deliver puppies

in Kootenay region, Okanagan and

around Vancouver. Puppy play videos

available!

2008 FORD FUSION: 6cyl,

220,000kms, silver/grey, leather/

heated seats, winter tires, lady driven,

very good condition, $3500. 250-

367-0228.

2010 CADILLAC AWD SPORT: 6.3L,

66,000kms, new tires, mint, $19,000.

250-365-5481.

Trucks

1995 TOYOTA TACOMA 4X4: Extended-cab,

canopy, extra set of tires,

$3000. 250-304-9648.

2014 DODGE RAM 2500: Gas,

145,000kms, needs motor, first $5000

owns it. Please contact 250-608-2695

for viewing.

TWO SUZUKI SIDEKICKS FOR

PARTS: 1991, std, locking hubs. Engine,

running gear and brakes all

good, frame shot; 1997 body ok,

doesn't start, offers. 250-357-2563.

RVs/Campers

2009 30' TRAIL-LITE TRAILER

(30RKU): Good condition, $15,000.

250-608-2695, Castlegar.

CHRISTINA LAKE RV ON PERMA-

NENT RENTAL SPOT with deck.

28.5´ 2015 Jayco, 2 slides, outdoor

kitchen, excellent condition. 250-

262-8823.

CUSTOM FLOW 5TH WHEEL

TAILGATE, fits 2009-2016 Ford,

$325; Husky 16T 5th wheel hitch,

$225. 250-365-3841.

ROCK ISLAND RV: Not only do we

have RVs but we also have used vehicles

and boats! 8023 Old Waneta

Rd, Hwy 3B, Trail BC. www.rockislandrv.com

WATERFRONT RV SITE AVAIL-

ABLE for rent at Sunshine Bay in

Harrop, 60+ seniors only. 250-229-

5359.

14 Apr 18, 2022 Your local shopper N picture online: www.pennywiseads.com
---
cont'd from pg 14

the City of Castlegar and the BC Gaming Commission.

Young Visions runs from April 22 to May 28. The Gallery is

open Tuesday to Saturday, 10 am to 5 pm. Admission to the

show following the opening is free for members and by donation

for non-members.

Sunday, July 3, 2022

Kootenay Gallery

LIKE US ON FACEBOOK TO KEEP UP TO DATE ON ALL THE LATEST HOMES ON THE MARKET:

www.facebook.com/PropertyGuys.comWestKootenays

BALFOUR 199113

1-778-738-1697

$1,124,000

WOW!! Kootenay lakefront!

Shared beach & boat dock!

Sandy beach! Fabulous 4 bed 3

bath home, recently renovated

- including new windows,

insulation and heat pump.

ROSS SPUR 198504

1-778-738-1697

SALMO 197820

$974,500

PRIVATE EXECUTIVE 4 bed 3bath

home on 2+ acres next to

Beaver Creek, with water rights.

Built with high end product &

details. Amazing kitchen with

commercial gas stove!

CRESCENT VALLEY 198942

NELSON 199104

1-778-738-1697

$699,000

ANDERSON CREEK FRONT

Nelson-Fairview area! Cozy 3

bed 1 bath family home with

creek on property line! Corner

lot ! Great views! Landscaped!

Recent upgrades!

250-304-2269

CRESCENT VALLEY 198963

CRESTON 198511

CHRISTINA LAKE 198921

1-778-738-1697

CRESTON 198520

1-778-738-1697

SILVERTON 198971

$999,999

1 BLOCK from Christina Lake

beaches! STUNNING LOG STYLE

HOME with VIEWS! 5 bed 3

bath home with open concept

floor plan and log/post details

everywhere! Must see!

$174,300

Ideal home for 55+! Rare

double wide modular in Creston

Estates! 3 bed 1 bath well kept

home! Deck, carport, garden

space, recent updates, pets

allowed! Mountain views!

HARROP 198972

Kaslo

iDIDaRide.ca

$525,000

60.8 acres subdividable land! Lots of

level land throughout. Property features

drinkable spring water and reservoir.

1-250-921-6275

CRESTON 196547

$699,000

Between Nelson and Castlegar and

minutes to the Rail Trail and Slocan

River. Choose your own home style!

1-778-738-1697

CRESTON 197924

$1,100,000

3 bed 2 bath home in private location,

minutes to Slocan amenities. Brand

new windows, lighting & ventilation

upgrades, air conditioned shop, vaulted

ceiling, central vacuum system.

1-778-738-1697

WINLAW 199095

$224,900

Cute and cozy 2 bed 1 bath home located

on a lovely lot with plenty of parking

and fruit trees. Bright, open concept

living space with lots of potential!

1-778-738-1697

ROSSLAND 198517

$499,999

Private 1/4 acre lot, newly upgraded

3 bed 2+ bath home, 2 bay detached

carport, workshop. Offers over $500K

will be considered.

1-778-738-1697

CASTLEGAR 199119

$1,200,000

Subdividable lakeside, 11 acre lot

bordering Crown land, mature trees,

primed for electrical hook up.

1-778-738-1697

GRAND FORKS 199115

$1,200,000

This property meets and exceeds all

expectations. 7.85 acres of fertile orchard

land, just 5 minutes from town!

1-250-428-1442

CRESCENT VALLEY 198943

$234,900

Opportunity is knocking with this turn-

key outdoor sports business, located

right in the heart of Creston's bustling

downtown core.

855-742-4539

BALFOUR 198929

$495,000

LOCATION! Unique property at the edge of

Valley View Golf Course! 5 acres with 600

ft of river frontage & 2 bed 1 bath home.

1-514-591-3939

WINLAW 198891

$1,480,000

Right in the heart of ski country! 5 bed 3

bath chalet style home on 6.1 acres with

lots of privacy, hobby farm, rental suite.

1-778-738-1697

. NELSON 199064

$259,000

A 2 bed 1 bath home that comes with

a park! Corner lot backs directly onto

Millennium Park. Perfect starter home.

1-778-738-1697

ROSSLAND 198505

$335,000

Charmer with promise! This 2 bed 1 bath

home is situated on a level lot in quiet

neighbourhood. Ideal for small family.

1-778-738-1697

ROSSLAND 198502

❤❤

$179,900

1.317 acres ready for you to build your

dream home! Power and water to the lot

line and telephone is available.

1-778-738-1697

CRESCENT VALLEY 198944

$309,900

Unique turn key vacation property or new

home build lot! Several options to consid-

er. Power, water, septic, mins to lake.

1-250-229-4137

TRAIL 197090

UPDATED!

$539,000

$20K+ in upgrades! 5 beautiful acres

ready for livestock/horses! 4 bed 2 bath

home, quonset shop, fenced & landscaped.

1-778-738-1697

CASTLEGAR 198109

$879,000

Recently renovated unique custom

built home! 3 bed 3 bath duplex with 2

self-contained floors. Ample parking.

1-778-738-1697

KASLO 199108

$1,000,000

Newly built modern home on 1.75

acres! Landscaped lot with established

gardens and fruit trees..

1-250-306-1771

BURTON 198997

$199,000

Vacant 0.14 acre lot in fantastic newer

neighbourhood! Build your dream home

in Rossland BC! Services at lot line.

1-360-488-7371

MONTROSE 198500

Copper

Copper is a sweet 8 year old German shepherrd husky mix.

He loves his people and walkies. A very happy boy, he was

surrendered because his owner could no longer care for him.

Copper had some ongoing health issues, but now that he is

on the mend, we would love to find him a forever home.

He is dog selective and seems to prefer females. Who could

resist those bright blue eyes!

BC SPCA

250 509 0297

sponsored by

West Kootenay Community Animal Centre

124 Heritage Way, Castlegar • https://adopt.spca.bc.ca

$699,900

1.517 acres between Castlegar and

Nelson and minutes to the Slocan River.

Choose your own home style!

1-778-738-1697

CHRISTINA LAKE 198904

$499,900

3 bed, 2 bath home is move-in ready!

Walk to Christina Lake Provincial Park,

you have everything at your fingertips.

1-778-738-1697

$209,900

Great value property with lots of room!

Open to offers, Realtors welcome! 3 bed

2+ bath home with 1280 sq ft living space.

1-778-738-1697

MONTROSE 198538

$399,800

Fantastic one level 1 bed 1 bath home in

Montrose! Large corner lot with ample

privacy and room to expand!

1-250-485-8988

$1,100,000

Log home on 3.24 acres in Pass Creek.

Large master suite, large rooms,

expansive views. Hot tub, central vacuum.

1-250-365-6427

NAKUSP 198859

$1,099,000

Completely private with lake and moun-

Private! Build new and live in mobile 2 bed

tain view, 4 bed home with separate guest

1 bath unit! 2.84 acres backs onto Crown

suite, 12.73 acres on edge of town.

Land. Easy access, level property.

1-778-738-1697

$685,000

Gorgeous solar powered log home in

secluded portion off Kootenay Lake!!

200' lake frontage. Boat access only.

1-778-738-1697

ARROW CREEK 198519

$399,700

1-778-738-1697

$199,999

1-403-499-9139

$399,800

Lakeview acreage! 9.02 acres with water

3.25 acre lot with build site! Great views.

license to creek and amenities to lot

All services at lot line, mature trees,

line. Adjacent 11.21 acre lot available.

private yet close to all amenities.

BURTON 198897

$799,000

Located on Arrow Lake Reservoir, this

3 bed 2 bath home/hobby farm offers

a great opportunity! Private, level

property on 5.54 acres.

1-778-738-1697

1-250-485-8988

WESTBRIDGE 198980

SOLD

$47,500 IN

COMMISSION SAVED!

Legal disclaimers - propertyguys.Com inc. (Collectively 'us' or 'we') is a private sale marketing company and we represent neither the buyer nor the seller. We do not trade in real estate. We neither warranty nor make any representations as to the outcome of a property sale. *Our pro approach

may include services which are performed for our customers by third party service providers. Such services are not performed or provided by us. * "List now. Pay later." (Our "pay nothing upfront" program) is a payment program offered through a third party provider, and is only available in

participating franchise areas. The program is offered on approved credit, certain conditions do apply. The telephone numbers associated with these listings are those of the private sellers or their personal answering service. Any amount of commission saved referenced above is for illustrative

purposes only. It represents the potential money saved if the private seller had paid commission to a real estate agent instead of using propertyguys.Com. *© 2015 Propertyguys.Com inc., All rights reserved.

Automotive Automotive Automotive Real Estate Real Estate

Heavy/Farm Equipment

Auto Parts/Services

Auto Parts/Services

Agents

Commercial

HALVERSON 120 SKID STEER FOUR GOODYEAR TIRES: IS IT TIME TO BRING YOUR CAR IN

MOUNT WOOD PROCESSOR: Cut, 235/75R15, very good condition, FOR SERVICE? AM Ford has you covered.

We have a wide range of main-

splits a cord/hr, $13,000; 2016 JD320E $260. 250-231-5931.

Skid Steer, 1200 hours, $42,000. Take

tenance and services available in our

them together for $53,000. 250-777-

FOUR KUM- service center. 2795 Highway Dr, Trail,

1621.

HO SOLUS BC. 1-800-961-0202.

Auto Parts/Services

BORDERLINE TRANSMISSIONS is

your automatic transmission specialist.

Ed Batt Owner/Operator has over

45 years of rebuilding experience.

250-368-3231.

C & G TRANSMISSIONS: Your local

West Kootenay transmission shop.

Services all transmissions, transfer

cases & differential repairs. Bonnington,

250-505-7632.

TA11 ALL-SEA-

SON TIRES:

195/65R1591T

on Honda Civic

rims, bought in

2021, used one

summer, car

totaled in

March, $550.

902-308-0427.

FROM OIL CHANGES TO FULL-ON

ENGINE REPAIR with everything in

between. Nelson Ford, 250-352-7202.

We are THE Ford Dealer in Nelson.

www.nelsonfordsales.com

SCRAP KING AUTO WRECK-

ING AND TOWING: Salmo's onestop

shop for any used auto part.

www.scrapkingauto.com

Real Estate

Agents

BUY AND SELL ON YOUR OWN

TERMS! Explore how you could save

thousands on commission. www.

propertyguys.com

DID YOU KNOW THERE IS A WAY

TO SELL YOUR HOME conditional

on finding and securing your future

home? Call for a free no obligation

market valuation of your home.

Thinking of buying or selling? Contact

Sarah Rilkoff Valhalla Path Realty,

250-509-0006.

DID YOU KNOW THERE IS A WAY

TO SELL YOUR HOME conditional

on finding and securing your future

home? Call for a free no obligation

market valuation of your home.

Thinking of buying or selling? Contact

Sarah Rilkoff Valhalla Path Realty,

250-509-0006.

THINKING OF SELLING? Give us a

call today! Century 21 Mountainview

Realty Ltd. 250-365-2111.

WHAT'S YOUR HOME WORTH?

Free, quick, over the net home evaluation.

www.joniaskew.com/homeeval

Residential

2BDR 2BATH CONDO: Located in

Castlegar, BC. Serious inquiries only,

$399,000. Call 250-365-3777.

WANTED, MOBILE HOME TO BUY:

2+ bedroom in/around Nelson, cash

sale. Email westkootenaymobilehome@gmail.com

2022 VISIT KASLO GUIDE HAS AR-

RIVED! Available at the Pennywise

office #209 - 312 Fourth St, Kaslo or

call us 250-353-2602, 1-800-663-4619

to arrange deliver.

SKYWAY HARDWARE SALMO,

BC: Serving since 1985. Flowers

to Building Supplies, $1,000,000+

sales. Real Estate and Business:

$1.15 million. Larry Martin, 250-

357-9911. www.skywayhardware.

wixsite.com/mysite

Rentals

Residential Rentals

ASSISTED LIVING in brand new

1bdr apartment in new home.

Borders Salmo, BC. Care aide on

site. For info, 250-307-6043 or

ron@bigbeartours.ca

N picture online: www.pennywiseads.com Where locals shop. Apr 18, 2022 15
---
om

Small town, Kootenay style

Join Maureen Brownlee as she reads from her new novel

Cambium Blue and chats with Deryn Collier about the writing

process, May 4th at 7 pm at Nelson Library.

Set in the British Columbia Interior, the novel Cambium

Blue is an homage to resource towns, independent women and

local newspapers. Rich with unforgettable characters and set

For All Your Currency Exchange Needs

$

Better Than

Bank Rates

when buying or

selling US dollars

kootenay currency exchange

• foreign exchange • drafts

• gold • silver

715 Vernon St., Nelson •250-354-1441

Hours: Monday - Friday 9 am – 5 pm

2 SPECIAL

SECTIONS!

1 LOW PRICE!

Be part of the most popular

Kaslo events of the year!

• May Days published May 16

• Kaslo Jazz Etc published July 25

1-800-663-4619

$

ONLY $168 FOR BOTH

(+GST) includes colour!

Over 56,000 circulation

in print & on the web!

Space limited!

Special offer DEADLINE:

Monday, May 2, 2022

Need more info?

Call Larissa at 250-353-2602

or email

larissa@pennywiseads.com

in the Interior hinterland of British Columbia, Cambium Blue

is a masterful and compassionate illumination of the human

politics of a small town, and the intersection of individual lives

with political agendas and environmental catastrophes.

"Maureen Brownlee is a vital and important voice in British

Columbia fiction, capturing a way of life under-represented

in our country's literature. Cambium Blue vibrates with violence

and sings with beauty. This story, these characters,

.ca

PROFESSIONAL

JANITORIAL

AND DESIGN

SERVICES

Th e

most

extreme

gleam!

Expertly tailored to your business!

Custom Janitorial • High Commercial Dusting

Floor Strip/Wax • Real Estate-Sale Ready • BnB Turnover

Homestaging • Colour Consults • E-Design & More

Call Marilyn at 250-505-8346

or visit cleaninggenies.ca

Call us for all your plumbing

and heating needs.

250.551.6575

www.pulpitplumbing.com

this environmental and political discussion – all so crucially

important today, right now. Read it." –Angie Abdou, author of

The Bone Cage, In Case I Go and This One Wild Life: a Mother-Daughter

Wilderness Memoir.

Nelson Public Library

Earth Day Celebration at the park

Join the Nelson Museum at the Lakeside Park Rotary Shelter

as we welcome members of the Sinixt Confederacy and the

Colville Confederated Tribes to celebrate Earth Day, Friday,

April 22, 2– 4 pm. Everyone is invited to this celebration event.

Touchstones Nelson: Museum of Art and History

Storytime with Lady Beastie

Come celebrate Beltane and

the art of storytelling with Lady

Beastie Saturday, April 30 at the

For-rest Retreat just north of

Salmo, with two live shows, at 2

pm (for all ages) and 7 pm (for

adults). If the weather is fair, the

performances will be around a

campfire, so dress appropriately

and bring a chair; and if the

weather's foul, the show will go

on in a yurt!

Storytime with Lady Beastie is

a two-tiered adventure! You can

find her character-filled You-

Tube show on the Lady Beastie

channel, then there's the live show that's a selection of savoury

and sweet stories from Lady Beastie's life that tell a broader

narrative.

As the Beastie herself says, "There is enough in the simple

telling of a story and I am enough simply by telling it." Brought

to life by the award-winning artist, Lisel Forst, Lady Beastie

believes that "art in itself is a rebellion these days and I am

swimming into its simplicity. So much art lately seems to rely

heavily on relaying a message and/or preaching; it is all coming

from a good place, but it can still feel overwhelming. I wanted

to do something old-school, art for art's sake. Something new

and retro, that could be done anywhere."

As a well-established actor, director and writer who has

mounted massive Broadway-level hit musicals along with intimate

personal triumphs, such as her upcoming poetry colouring

book and a short film which won top awards in Paris,

Cannes, Berlin and California, Lisel has been keeping busy

blogging on her forstmedia.ca website where her live show,

website and video channel are all working with each other to

support one another.

Celebrate Beltane with a Beastie! Admission by donation;

For-rest Retreat, 8960 Nelson/Nelway Highway, Salmo

forstmedia.ca • for-rest.ca

Rentals Rentals Seniors

Residential Rentals

1BD, 1BATH LOWER SUITE IN UPPER

KASLO: Newly renovated, open concept,

in-suite laundry, close to amenities,

on quiet street next to forested area,

seasonal creek and secluded back yard,

non-smokers only please, $1250/mo.

1yr lease, available Apr. 15, Please email

kaslo-rental@protonmail.com

RETIRED PROFESSIONAL WOMAN on

pension desperately needs long-term

rural accommodation with gardening

potential asap. Rustic ok. Very quiet

lifestyle, no pets. Excellent references.

westkootenaymobilehome@gmail.com

Commercial Rentals

4200SQ.FT OFFICE AND SHOP AREA in

Genelle, BC. Available May 2022. Please

call 250-231-2346 for more information.

HAPPY EARTH DAY

APRIL 22!

Commercial Rentals

3200SQ.FT. NICELY FINISHED BUILD-

ING, TRAIL: .50 acre lot, easy access.

level entries, ample parking, large open

area plus office areas, a/c, multi-functional

use; commercial, medical, warehousing,

worship, daycare, & much more. 250-368-

1312, 250-364-0352.

Shared Accommodation

CUTE, COZY SMALL ROOM in shared

house that I've being renovating. A community

room is available as well. 1 block to

downtown Nelson, same block as Selkirk

Arts. Pictures available on demand, $800/

mo. +$75 utilities. 250-505-0148. Thank

you for your interest.

GOT AN EVENT? Garage sale?

House for rent or sale, etc.. and YOU

MISSED THE DEADLINE FOR THE

NEXT PENNYWISE? Don't panic...

we can help! Call 1-800-663-4619

or go online and LIVE LOAD your

ad to the Pennywise website.

Discounts

MONDAYS 2-FOR-1 RENTAL AT KAS-

LO E-KRUISE: Now open at 423 Front St,

250-300-7923.

SENIORS RECEIVE 10% OFF supplement

purchases at Sunnyside Naturals everyday.

404 Front St, Kaslo, 250-353-9667.

SENIORS! SHOP THE FIRST WEDNES-

DAY OF EVERY MONTH and receive 10%

off your purchase. Some exclusions apply.

Kaslo Front Street Market, 411 Front St,

250-353-2331.

SMALL ENGINE TUNE-UPS AND RE-

PAIRS: All makes and models. Mowers/

riders, chainsaws, etc. Senior Discount

offered. 250-365-0005.

WANT PENNYWISE IN YOUR HAND

ON MONDAY to get at the best deals

sooner? Sign up for an e-Subscription.

Fastest delivery in town! 250-353-2602.

New patients welcome

Suite 810 #201- Vernon 402 Baker St, Nelson, St, BC 250-352-5012

V1L 4G4

250-352-5012

RedCloverDental.net

• http://redcloverdental.net

Office hours: Monday -Thursday 8:30am - 4:00pm

16 Apr 18, 2022 N Your local shopper N picture online: www.pennywiseads.com