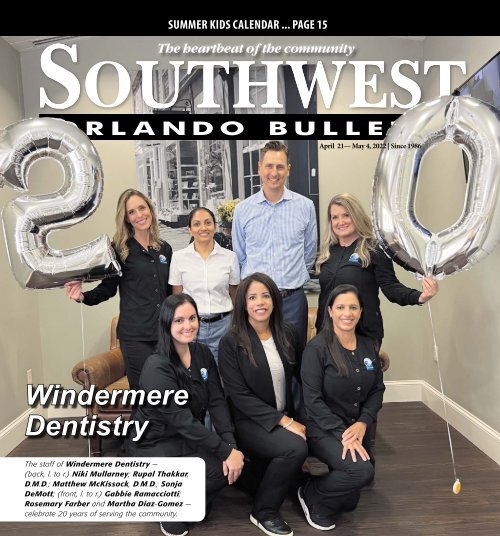 042122 SWB DIGITAL EDITION
Create successful ePaper yourself
Turn your PDF publications into a flip-book with our unique Google optimized e-Paper software.
O

SUMMER KIDS CALENDAR ... PAGE 15

The heartbeat of the community

ORLANDO BULLETIN

April 21— May 4, 2022 | Since 1986

Windermere

Dentistry

The staff of Windermere Dentistry —

(back, l. to r.) Niki Mullarney; Rupal Thakkar,

D.M.D.; Matthew McKissock, D.M.D.; Sonja

DeMott; (front, l. to r.) Gabbie Ramacciotti;

Rosemary Farber and Martha Diaz-Gomez —

celebrate 20 years of serving the community.
---
When you want it SOLD

Darrell Nunnelley

BROKER

407-467-8069

For Sale

11129 Lake Butler Blvd

Windermere

Build Your Dream Home

SOLD * Multiple Offers

1005 West 2nd Avenue

On Lake Butler

SOLD

2730 Midsummer Drive

on Lake Down

FOR SALE in May

1st Time Ever Available

1842 Down Lake Drive Windermere

Lake Down access* Community Ramp

For Sale

1516 Hempel Ave Windermere, Fl.

Build Your Dream Home

501 Main Street – Windermere

Local Office

DarrellSells.com
---
www.SouthwestOrlandoBulletin.com x April 21— May 4, 2022 x 3
---
4 x April 21— May 4, 2022 x www.SouthwestOrlandoBulletin.com

TABLE OF CONTENTS

HOW TO .......................................................................................... 5

Apply Makeup for a Special Occasion

SOUTHWEST SPORTS ........................................................................ 6

PROMOTIONAL FEATURE ................................................................. 10

Windermere Dentistry

SOUTHWEST ORLANDO HOME & REAL ESTATE ................................ 11

Top Home Improvements to Enhance Evolving Lifestyles

Home Generators Add Safety and Savings

SUMMER KIDS CALENDAR ............................................................... 15

OBSTETRICS & GYNECOLOGY

NOW OFFERING:

NEWS & BUSINESS BRIEFS .............................................................. 19

COMMUNITY BULLETIN BOARD ....................................................... 21

SOUTHWEST SERVICE DIRECTORY ................................................... 22

• Pregnancy

• Contraception

• Menopause

• Menstrual

Disorders

• In-office Surgery

AESTHETICS

• PRP -PLATELET-RICH-

PLASMA

• O-SHOT TM

• DOUBLE CHIN

TREATMENT

• LASER RESURFACING

April 21, 2022

Volume XXXVI, No. 12

P.O. Box 851

Windermere, FL 34786

407-351-1573

www.southwestorlandobulletin.com

The Southwest Orlando Bulletin is published semimonthly by

Cornerstone Publishing & Multi-Media LLC. No material may be reproduced

without written permission. Subscriptions are available in the U.S. and Puerto

Rico for $25.56 per year and in Canada for $31.80 per year. For foreign

surface mailing, add $20 per year.

Neither the publishers nor the advertisers are responsible or liable for

typographical errors, misinformation, misprints, etc., unintentionally contained

herein. All letters received become the property of Cornerstone Publishing &

Multi-Media LLC and may be reproduced and edited without consent.

©2022/Cornerstone Publishing & Multi-Media LLC

PRESIDENT & PUBLISHER

Rick V. Martin

VICE PRESIDENT

Yvette Martin

MANAGING EDITOR

Lisa Sagers

lisa@kearneypublishing.com

ASSISTANT EDITOR

Lauren Salinero

lauren@kearneypublishing.com

FREELANCE WRITER

Blair Parke

CIRCULATION

Robert Barlow

MARKETING CONSULTANTS

Madeline DeVito

407-351-1573, option 1

mdevito@kearneypublishing.com

Michelle Oakes

321-277-3467

michelle

@cornerstonepublishinggroup.com
---
www.SouthwestOrlandoBulletin.com x April 21— May 4, 2022 x 5

HOW

The season of growth and new beginnings,

spring heralds many special occasions from

weddings and showers to senior photos and

proms. For those wanting a beautiful look

without the expense of a professional makeup

artist, use the following at-home makeup

tips to achieve a flawless face:

• Regularly clean your brushes and

tools. To get the best results, start with clean

makeup brushes. Brushes can be a breeding

ground for bacteria that can cause skin issues

and make any existing blemishes worse

or even cause infections. Aside from hygiene,

using a clean brush also stops the transfer

of other products you've used before. To

clean your brushes, rinse with lukewarm water,

then gently massage the bristles with a

cleanser. Don't pull on the bristles, as being

too rough could cause them to fall out. Rinse

the brushes thoroughly and pat dry. Brushes

and other tools should be cleaned at least

every two weeks.

• Prepare your skin. It's important that

your face is free of any dirt, oils or leftover

makeup for a clean, blank canvas on which

to apply your makeup. Start by washing

your face and apply moisturizer. Use a

primer to create a smooth surface for your

makeup. Choose your primer based on what

you want to address with your skin. Different

primers can help to remove redness, reduce

wrinkles and fine lines, plump skin and

more. This helps your look last all day.

• Less is more. Whether you are applying

foundation, blush or eye shadow, be wary of

overuse. It may be tempting to layer on the

product, but using too much will make it look

thick and cakey or unnatural. In the words

of my mother, "The best makeup looks like

you're not wearing any at all." Even if you're

going with a bolder look, you want your skin

to look as natural as possible.

• Highlight one feature at a time.

Choose one asset to accentuate with

your look, whether it's your eyes or lips.

Daytime makeup is best kept to natural

looks, but you can go bold with nighttime

events. If you want a dramatic smoky eye,

choose a more natural lip color. If your lips

are bold, tone down the eye makeup. By

highlighting one asset of your face, you

TO ...

Apply Makeup for a Special Occasion

Tips for a Flawless Face

by Lauren Salinero

For special occasions, use neutral colors

and a flawless base to bring out your

natural beauty.

choose where you want someone's attention

to be drawn.

• Go for a classic look versus a trendy

one. When choosing a look that will be

documented in photos that you'll keep for

a lifetime, avoid short-term trends that may

make you cringe in a decade. Instead, go for

a classic, flawless look. You can still utilize

trendy techniques to contour the face or highlight

areas, but opt for neutral shades that

accentuate your natural beauty.

• Blending is your best friend. To get

a flawless look, use a blending sponge to

erase any sharp lines and blend colors seamlessly.

Having the right shades to match your

skin tone is essential, but also pay special

attention to around the outside of your face,

where your makeup meets your bare skin.

Use the sponge to also blend any highlighter,

bronzer or blush on your face. For your eye

makeup, use a brush to blend the shades,

creating a cohesive look.

• Practice makes perfect. Just like any

other skill, applying makeup flawlessly

takes practice. Don't expect to learn to contour

your face or create a perfect smoky

eye the first time. Make the effort to practice

your look several times before your big

day to ensure you have the right products,

shades and techniques to let your natural

beauty shine through. ª

401 Main Street, Suite A, Windermere, FL

Windermere Center for

DENTISTRY

Emilia Godoy-Rapport, D.M.D.

Always Friendly & Gentle

Cosmetic and family dentistry

www.windermeresmiles.com

(407) 909-1097

Thank You

to

all my friends and neighbors for voting me

a Best of Southwest Realtor for the 7th year in a row!

eXp Realty Orlando

Visit our site today to:

• Ask About Our Perfect Home Finder Program;

• Find Out the True Value of Your Home In Today's HOT Market;

• Use the Mortgage Calculator to prepare for monthly expenses;

• Request a Free Buyer or Seller's Guide;

• Learn about the Rent-to-Own Program;

• Stay current with local real estate trends;

• And so much more
---
6 x April 21— May 4, 2022 x www.SouthwestOrlandoBulletin.com

Among the 132-player field for the 13th

annual Florida's Natural Charity Classic

golf tournament was University of Florida

alumna Samantha "Sam" Wagner

of Windermere. Every season, the top

10 in the Race for the Card earn LPGA

Tour membership for the following year.

The classic was held at the Country Club

of Winter Haven. The 25-year-old finished

17th on the 2021 Race for the Card

money list after a heartbreaking end to

last year's LPGA Q-Series, during which

Wagner called a penalty on herself.

"It was the sixth hole of the first round,"

she said. "I think I was one under at that

point. I hit a good shot into the par five,

and I walked up, and I had my hands

full. I had my yardage book and a tee

to fix my ball mark, and my caddie was

waiting for me to throw him the ball. And

I just picked it up. I literally had gotten

6 inches off the ground with it, and I

was like, 'Ah, shoot.' I put it back down,

marked it, no one had seen it. ... But at

the same time, I'm like, 'I called it on myself,

and no one had seen it.' I was pretty

proud of that."

Wagner finished Florida's Natural

Charity Classic with a score of 73.000.

SOUTHWEST SPORTS

She placed 38T and earned $1,343. She

has since competed in the Carlisle Arizona

Women's Golf Classic, IOA Championship

presented by Morongo Casino Resort &

Spa, and the Casino Del Sol Golf Classic,

placing 9T in the last one. Wagner is currently

ranked 28th on the Epson Tour. Her

goal is to earn her LPGA Tour card.

The Jewish Pavilion's 10th annual

Charity Golf Tournament will take place

May 1 at Rosen Shingle Creek Golf

Club in Dr. Phillips. Participants have

a chance to play with former NBA, NFL

and MLB professionals or with their own

foursome. The tournament raises funds

for Jewish Pavilion's Orlando Senior

Help Desk, a free service that provides

Central Florida seniors with the resources

and referrals they need to maintain

their livelihoods and health. Participation

starts at $150 per individual.

compiled by Lauren Salinero

For more information or to register,

visit jpav.ticketspice.com/2022-golf

-tournament.

Foundation Academy 12th grader

Justin Williams was named the winner

of the Jersey Mike's Naismith High

School Basketball Courage Award.

He first was selected as one of 10 finalists

after a nomination process that saw

hundreds of entries from coaches and

athletic directors across the country.

The Jersey Mike's Naismith High

School Basketball Courage Award recognizes

a high school basketball player

who has consistently gone above and

beyond throughout the basketball season

and has demonstrated courage in his/

her approach to his/her team, school

and community.

Born with Aperts syndrome, Williams

has undergone 12 surgeries. His

condition results in his outer extremities

being fused together because they did

not separate in the womb. Five of his

surgeries were on his head. Despite his

challenges, Williams is a leader on the

basketball court and never makes excuses

or complains about his struggles.

In the nomination process, his coach applauded

Williams for his character as

well as his basketball IQ. He is a mentor

for the younger players and an inspiration

to his teammates.

The First Academy opened its

new baseball facility as the Royals

began its state title defense in the season

opener against Citrus League Rivals

— the Windermere Preparatory

School Lakers. The state-of-the-art facility,

which includes new Musco LED

field lights, fencing, a clubhouse and

turf field, was completed during the offseason

and promises to be a premier

high school baseball facility in Central

Florida.

CONTINUED ON PAGE 9

THE "VISION OF FLIGHT"

STEM AVIATION SUMMER CAMP

This Camp is unlike any other Summer Camp in Central Florida

Four exciting days of youth empowerment through Real World Aviation experiences

Camp Session ALPHA: July 11th - 14th, 2022

Camp Session Bravo: July 25th - 29th, 2022

Ages 10-18

Summer Camp Itinerary

Ground School Basics - VR Interactive Flight Simulation

Drones / UAV Build and Test Fly - Special Guest Speakers

Instructional Flight (Real Flight Time)

Call: 407-719-0912 or Email: info@visionofflight.org

Check us out on: Facebook.com/visionofflight

Register at: http://visionofflight.org/vision-of-flight-youth-aviation-summer-camp
---
www.SouthwestOrlandoBulletin.com x April 21— May 4, 2022 x 7

At Jackson Law we have made it our philosophy to create a

legal environment for clients where legal representation is not about

lawyers and legal staff controlling and dictating the representative

needs of clients, but rather about joining forces and standing

together with clients to strengthen the ability to best represent

their interests and achieve for them and their families a positive

result. To memorialize this philosophy so that it will continue to

be practiced and not be forgotten by those who work for our firm,

we have registered the trademark… "Together We Stand ® ". So the

next time you need legal representation for you or your family,

visit our firm and together we will roll up our sleeves and take

care of your needs.

Kristen Jackson

Attorney At Law

Estate Planning

Wills, Trusts, Probate, Living Wills, Powers of Attorney, Health Care Directives,

Pre-Need Guardians, Trust Administration, Pet (Animal) Trusts

Probate

With or without a Last Will, in order to obtain assets, pay debts and taxes and distribute

remaining assets to the heirs or beneficiaries, the deceased's estate requires the

assistance of an attorney to manage the court supervised administration.

Corporation & Business Law

Contracts, Start-ups, Purchase or Sales, Corporations (Inc.), Limited Liability

Companies (LLC's), Trademarks, Copyrights, Franchise Agreements

Real Estate

Closings, Title Insurance, Sales & Purchases, Leases, Contract Review,

Contract Preparation

(407)363-9020

www.JacksonLawPA.com

Offices: Orlando

Credit Cards Accepted
---
8 x April 21— May 4, 2022 x www.SouthwestOrlandoBulletin.com

Offering MOH's and

Superficial Radiation Therapy

Appointments are now available

407-566-1616
---
CONTINUED FROM PAGE 6

Construction was completed by

general contractors Advanced Sports

Group. The turf is Shaw Sports Turf

TruHop in the infield and Legion turf in

the outfield, which is modeled after the

Shaw surfaces placed in Major League

Baseball.

"I am beyond thrilled for our kids to be

able to have access to a facility like this,"

said head coach Scott Grove. "As a

coach, it's exciting to be able to use this

as a teaching tool, as a place to foster

relationships with my players, as well as

pursue excellence on the field. I couldn't

be more thankful and excited."

Sports Foundation and the Florida

Collegiate Summer League on May

20 and May 21 at Sanford Memorial

Stadium. All proceeds will support the

two nonprofits.

A committee of local coaches will

select participants to compete in the

two-day event. Baseball players from

Orange and Seminole counties who

achieve excellence in the classroom

and on the ballfield will be considered

for participation. The games feature

player introductions, special first pitch

appearances, guest speakers, color

guards, national anthem singers and

a Cure All-Stars version of a stand up

for cancer tribute that will mirror the

Major League Baseball all-star and

playoff games stand up. A live broadcast

of the event will also be

made available.

www.SouthwestOrlandoBulletin.com x April 21— May 4, 2022 x 9

The First Academy's head baseball coach Scott

Grove (left) and assistant coach Glenn Finnerty are

awarded National Coach of the Year and National

Assistant Coach of the Year, respectively, at the annual

American Baseball Coaches Association Conference.

Two Central Florida charities have

partnered to celebrate the senior high

school baseball all-stars from Orange

and Seminole counties at the conclusion

of the 2022 spring baseball season.

The Cure All-Stars Baseball Game

will be co-hosted by the Orlando

Southwest resident and wakeboarder

John Dreiling was

recently recognized as Alliance

Wake's 2021 Rider of the Year.

The Alliance Wake Rider of the

Year is a tradition that has lasted

for more than 20 years. Riders

who receive this award are not

only recognized for their talent but

also for the way they influence the

sport.

It was only a matter of time

before Dreiling's passion and

dedication to wakeboarding was

acknowledged on a large scale.

He has been riding at Orlando

Watersports Complex since he

was 9 years old. He was first introduced

to OWC by attending its

summer camp. As the years went

on, Dreiling's passion allowed him

to quickly progress as he went on

to ride for The University of Central

Florida's Knights Wake, where he

became a national champion.

Dreiling continued to push himself

and eventually developed his status into

a pro wakeboarder.

Although we try to ensure that all information presented above is

the most current, correct and dependable available, we do rely on

others for the source of our news. Therefore, the Southwest Orlando

Bulletin and Cornerstone Publishing & Multi-Media LLC cannot be

held responsible for the validity of the information presented here,

nor does mentioning it constitute an endorsement. Sports information

is welcome and may be mailed to P.O. Box 851, Windermere,

FL 34786; or emailed to Lauren@kearneypublishing.com. ª
---
10 x April 21— May 4, 2022 x www.SouthwestOrlandoBulletin.com

Windermere Dentistry

Marking Several Milestones With a Beloved Staff

The staff of Windermere

Dentistry has so much to celebrate!

This month marks a 20-year

birthday for Windermere Dentistry

as well as 20 years of employment

for its star team member, Linda

Dowty. If that isn't exciting enough,

Matthew "Matt" McKissock,

D.M.D., FAGD, is also celebrating

the big 50.

Kerry, Dr. McKissock's wife of

27 years, is surprising both Dr.

McKissock and Linda by shining

a light on their 20-year career at

Windermere Dentistry and recognizing

his special birthday. Neither of

them would want recognition or the

extra attention, but that is what makes

this surprise so much fun.

"Dr. McKissock would want to take

the focus off of himself, because his

family is his pride and joy," Kerry

said. "When we opened the office

on April 24, 2002, we had two baby

girls, Matti (2) and Elli (4 months).

Life was crazy busy, and eight years

later, we were blessed with a son,

Jack, now 14, who is in school at

The First Academy. Our daughter,

Matti, is now 22 and engaged to

a wonderful man. She plays volleyball

at the University of California,

Los Angeles. (Go Bruins!) Elli is 20

and a sophomore student-athlete

playing volleyball at the University of

Florida. (Go Gators!) Dr. McKissock

is so proud of them, he can hardly

stand it."

In addition to being a proud family

man and lover of all things golf — all

sports, really — Dr. McKissock has

a passion for coaching. He coaches

his son's football teams and has

made an impact in the community

by teaching the boys work ethics, responsibility

and positive values, leading

by example.

A huge part of Windermere

Dentistry began 20 years ago with

the God-given talents of Linda. She

quickly became the backbone of the

office with her big, bubbly personality

and her incredible knowledge of

dentistry. Before settling in Orlando,

the Dowty family proudly served 20

years in the Navy. Through the years,

Linda has become a dear friend

to the McKissock family and has

joined them on early morning runs,

weddings, bridal showers and trips

to New York. When the McKissock

PROMOTIONAL FEATURE

girls were young, they would

even dress up like Linda and

pretend to be her, answering

the phones and chatting with

clients. Linda has such an undeniable

gift, the children

are drawn to her. Now, Linda

loves being a grandmother,

"Lala," to Piper (8), Poppy

(5) and Jack (3). She and

her husband recently moved

to Alabama, only two hours

from her grandchildren, and

she continues to work for the

practice remotely. Linda is

an amazing woman, and the

staff is blessed to know and

work with her for the past 20

years.

"Thank you, Linda!" Kerry

said. "You are loved and appreciated

more than you will

ever know. We love you!"

In 2006, the practice happily welcomed

Rupal Thakkar, D.M.D.,

a graduate of Tuffs University.

She specializes in sleep dentistry

and lives in Windermere

with her husband and their two

children.

"We are so blessed to have Dr.

Thakkar as a partner at Windermere

Dentistry and a family friend for the

past 16 years," Kerry said.

For 13 years, Rosemary Farber

has worked her magic to accommodate

clients' needs and schedules.

She represents the office with both

courtesy and efficiency.

Kerry raves about her team's wonderful

hygienists. Niki Mullarney,

registered dental hygienist, has been

with the practice for seven years, and

Martha Diaz-Gomez, registered

dental hygienist, for four years.

"They have both worked tirelessly

each day to make sure our clients

leave the office with bright, clean and

sparkling smiles," Kerry said.

She finished the roster with two fabulous

assistants Sonja DeMott (six

years) and Gabbie Ramacciotti

(three years), who assist the doctors

in all of the procedures offered at

Windermere Dentistry.

"I hope this year brings many more

blessings and fun surprises for Dr.

McKissock, Linda and the team," Kerry

said. "Thank you all for supporting

our family business and know that you

are in the best hands with this crew.

Cheers to 20 more years with you all!"

Windermere Dentistry is located in Suite 100 at 4769 The

Grove Drive in Windermere. For more information, call 407-

258-1330 or visit www.windermeredentist.com.

Psalm 103:1-5 ª
---
SOUTHWEST ORLANDO

Home & Real Estate

Volume 3, Issue 2 — April 2022

Home

Generators

Add Safety

and Savings

Top Home

Improvements to

Enhance Evolving

Lifestyles

A Product A Product of the of the

Southwest Orlando Bulletin
---
2 | April 2022 | Southwest Orlando Home & Real Estate

Home is more than just where

the heart is. Whether creating an

office, a socially distant gathering

space, or making room for a loved

one to move in, people are using

their homes in ways they may never

have before. Experts predict homeowners

will focus on upgrades and

home improvements that fit this evolving

lifestyle in 2022 and beyond.

In fact, the Leading Indicator for

Remodeling Activity from Harvard

University's Joint Center for Housing

Studies predicts a steady and significant

rise in remodeling projects that

is projected to reach $401 billion of

annual spending by the third quarter

of 2022.

If you're looking to make some

moves with home renovation projects

this year, here are five trending

upgrades for 2022 that will have a

lasting impact.

Refresh the Staircase

You probably don't spend much

time using staircases compared to

the rest of the house, so staircase design

isn't likely top of mind. However,

if you have dated carpet on your

stairs, you have a prime opportunity

to revamp a central component of

your home for a small investment. It

could be as simple as installing new

treads, selecting new paint for the

walls, and maybe a new stain on the

trim. To go the extra mile, local ironworkers

are happy to custom fabricate

a handrail. If you have kids in

Shrubs ● Palm Trees ● Mulch ● Perennials

Citrus Trees ● Decorative Rock ● Annuals ● Topiaries

Flagstone ● Groundcovers ● Pottery ● Boulders

WE SELL SOD

Sod sold by the piece, half pallet and pallet

St. Augustine Floratam - St. Augustine Palmetto – Zoysia – Bahia

WE DELIVER

Top Home Improvements

to Enhance Evolving Lifestyles

For a fresh

look this year,

start with the

ground up by

installing new

flooring.

the house or older family members

moving in, keep safety in mind on

the stairs to help them navigate your

home with ease.

Modernize the Bathroom

It's amazing how the right paint

and new hardware can revitalize a

row of sad old cabinets. With no

major construction involved, you can

transform your bathroom vanity over

the course of a weekend. Select new

hardware that looks bold and stately

(think chrome bars, not little plastic

knobs) to match the tones in your

countertop, and remove the cabinets

and give them a fresh, neutral

shade. If you're over the white-onwhite

bathroom look, try a dramatic

dark finish that will make your new

hardware and fixtures really pop.

Install New Flooring

Flooring is quite literally the foundation

of design, so it must strike

a blend of fashion and function.

Research flooring with a good combination

of durability and timeless

aesthetics like the Duravana hybrid

resilient flooring, a waterproof and

eco-friendly product exclusive to LL

Flooring. Duravana's range of styles

are designed to replicate the natural

color, grain and texture of real hardwood,

with more unique plank patterns

than traditional vinyl plank or

laminate. Plus, its easy-click installation

makes it DIY-friendly. Learn more

at llflooring.com.

Organize the Mudroom

A little bit of organization in an entryway

can make a huge difference

in the functionality and flow of the

home. Start with simple shoe and

boot storage, like a DIY bench or

wall rack, so those items don't spill

out to hallways and bedrooms. Wall

hooks are helpful for when guests arrive.

And, if you don't have a true

mudroom, a bit of wall-mounted storage

can make even the slimmest entryway

feel intentional and inviting.

Define Outdoor Spaces

Adding a dedicated lounge to your

back or side yard can feel like adding

a whole room's worth of square

footage to your house. It could be as

easy as a new patio set and a fire

pit with some gravel or simple flagstone

landscaping. Gabion baskets,

framed with good-looking lumber,

can be made into a simple divider or

group seating. Pergolas with climbing

plants continue to be popular. This

outdoor space can become a yearround

retreat that everyone will love.

(BPT) ª

Call for availability

and pricing
---
If you've experienced a power outage,

you know how inconvenient it

is. While a couple of hours without

electricity may be a nuisance, any

longer can become costly in many

ways — and the level of impact

depends on the length of the outage,

which is completely out of your

control.

From the aging power grid to

severe weather events, power outages

lasting more than an hour or

two are increasing, no matter where

you live. According to representatives

of the U.S. Energy Information

Administration, electricity customers

experienced an average of eight

hours of power outages in 2020,

causing many to seek solutions like

home standby generators.

"While storms have historically

played a big part in the demand for

home standby generators, things like

aging grids, rolling brownouts and

the work-from-home trend are just a

few of the reasons that we continue

to see significant sales growth in

standby generators in recent years,

and this growth is expected to continue,"

said Michelle Gross, senior

director marketing of energy solutions

at Briggs & Stratton.

During longer outages, what might

have been merely inconvenient can

become a real hazard. Virtually everything

in a home today relies on

electricity. Beyond the lights, HVAC

and refrigerator, homes may also employ

smart-home technologies, security

systems and electric water pumps

— all of which depend on electricity.

If you don't have a home generator

to keep your power on during an outage,

what consequences could you

face?

How a Home Outage

Can Impact Your Pocketbook

Losing power creates problems

you may not anticipate. This can

include communitywide issues like

disruptions to communication, transportation

and business, as well as

individual household issues that are

major inconveniences to your family.

An extended power outage could result

in:

• Food spoilage, including meats,

dairy and eggs.

Home Generators

Add Safety and Savings

• No lights, heating, air conditioning,

running water or sewage pumps.

• Repairs due to flooding/frozen

pipes.

• Mold and necessary removal.

• Risk of intrusion if your security

system is inoperable.

• Interruptions to work/study.

• Cost of hotel stays for comfort

and safety.

As an outage extends from hour

to hour, so does the strain on a

family's time, comfort and finances.

However, solutions exist to help you

and your family mitigate — and

even avoid — the impacts of a home

outage.

How You Can Prepare for an Outage

Being proactive can help restore

your peace of mind. Here are three

steps to take so you'll be ready for

severe weather or other emergencies

that could lead to a power outage:

• Create a home emergency kit.

Preparedness experts recommend using

a waterproof container to store

clean drinking water, nonperishable

food, flashlights and batteries, a first

aid kit and more to be prepared for

any emergency. See recommendations

at ready.gov/kit.

• Assemble a "go bag." In some

emergencies, evacuation is recommended

or even required, so have a

bag ready with items you'd need if

you had to leave in a hurry. Some

things will be similar to an emergency

kit, plus personal hygiene items

Southwest Orlando Home & Real Estate l April 2022 I 3

Losing power

can cause more

damage than just

a refrigerator full

of spoiled food.

that you might need for staying in

a shelter or hotel. It should be small

enough that you can carry it.

• Protect your home with a standby

generator. Home standby generators

differ from portable generators.

Portable generators are designed for

portable power needs, require manual

setup, do not turn on automatically,

and must be monitored for refueling

every few hours. A standby generator,

however, is permanently installed

outside your home and connected to

a natural gas or liquid-propane fuel

source.

Unlike portable generators used

for camping or tailgating, home

standby generators are designed to

supply power for your entire home.

They include an automatic transfer

switch that seamlessly shifts your

electrical circuits and appliances to

the standby generator within seconds

of an outage.

With home standby generators,

you don't need to go outside or do

anything to get it started. You don't

even have to be present, making

them ideal for vacation homes or for

those who travel frequently. They are

set up to work automatically, day or

night.

Learn how a home standby generator

can save money and time

while providing peace of mind at

briggsandstratton.com.

(BPT) ª

must be received by May 25 for a chance to appear in our June 16 issue.
---
MOTHER'S DAY BRUNCH BUFFET

MAY 8 | 11 A.M.–5 P.M.

$54.95 *

per adult

(prepaid reservation)

$21.95 *

per child, 4 –12

(3 and under free)

More Than 60 Dishes | Unlimited Champagne & Mimosas | Free Self-Parking

RosenCentre.com/MothersDay | 407.996.3969 | 9840 International Drive

*Not inclusive of tax and service charge. Walk-ins welcome based on availability and for an additional charge.
---
www.SouthwestOrlandoBulletin.com x April 21— May 4, 2022 x 15

Summer Kids

C a lendar

With summer just around the corner, kids and parents are looking forward

to getting out of the house. If you're seeking fun activities to keep your children

entertained, active and out of trouble, then look no further. Southwest Orlando

Bulletin's annual Summer Kids Calendars provide great ideas to get you started!

DANCE CAMPS at Footworks Dance Studio, 1201 Winter Garden

Vineland Road, Winter Garden, 407-877-2260, www.footworksdancestudio.

com, offer summer programs for all ages. Camps begin June 13, and the

five-week summer class program is June 13-July 29. Classes include ballet,

hip-hop, musical theater/jazz, acro, aerial silks, Shining Star combo class,

Twinkle Star combo class, stretch and conditioning, rotations and improvisation,

Wee Hop & Tumble, and Mommy & Me.

Footworks

Dance Studio offers

summer programs for

all ages.

CONTINUED ON PAGE 16

SUMMER 2022

June 27th – July 22nd

Camp Gan Israel is a summer camp dedicated to enriching the lives of

children from diverse Jewish backgrounds and affiliations, through a

stimulating camping experience. Campers are infused with a deep sense

of pride in their Jewish heritage, and love for the land of Israel. We put

great focus on child safety and program quality. We offer a variety of

"Funshops" to suit each camper's interest and talent.
---
16 x April 21— May 4, 2022 x www.SouthwestOrlandoBulletin.com

CONTINUED FROM PAGE 15

Lake

Cypress

Summer

Camp

attendees

have a

multitude of

activities to

keep them

engaged.

Sponsored by

Window World of Central Florida

JUNE 4 - JULY 23

In-person and virtual

events for kids of all ages

FUN • EDUCATIONAL • FREE

LAKE CYPRESS SUMMER CAMP at Windermere Preparatory

School, 6189 Winter Garden Vineland Road, Windermere, 407-905-7737,

opt. 7; camp.windermereprep.com, offers a program where campers choose

their own adventure! Each week boasts a different theme and includes oncampus

field trips, lots of specialty camp rooms, swimming, sports, dance,

martial arts, inflatables and more, from June 6-July 29. Choose any weeks

you want! Camp days are 9 a.m.-3 p.m. for $290, or extended day is 7:45

a.m.-5:45 p.m. for $360.

STEM AVIATION

SUMMER CAMPS at

Vision of Flight are

unlike any other summer

camps in Central

Florida. Geared toward

ages 10-18, two camps

include four exciting

days of youth empowerment

through real-world

aviation experiences

such as ground school

basics, VR interactive

flight simulation, drones,

special guest speakers,

instructional flights and

more. Camp Session

Alpha is July 11-14, and

Camp Session Bravo

is July 25-29. For more

information, call 407-

Young people are introduced to the world of aeronautics

through Vision of Flight's summer camps.

719-0912 or email info@visionofflight.org. To register, visit visionofflight.org/

vision-of-flight-youth-aviation-summer-camp.

ocls.info/SRP

SUMMER CAMP at The First Academy, 2667 Bruton Blvd., Orlando,

thefirstacademy.org/academics/camp-roar. Camp Roar at The First Academy

is for students age 2-sixth grade and features all-day and part-time camp opportunities

from June 6-July 29 with engaging offerings, including academics,
---
www.SouthwestOrlandoBulletin.com x April 21— May 4, 2022 x 17

Camp

Roar at

The First

Academy

offers all-day

and

part-time

camp

opportunities.

Campers

enjoy a

variety of

outdoor

activities at

Gan Israel

Day Camp.

sports, the arts and other activities. Camp Roar is open to both TFA students

and non-students.

Association. Camp sessions are June 26-July 22 from 9:30 a.m.-3:30 p.m.

Extended care is available.

SUMMER CAMPS at Gan Israel Day Camp, 407-354-3660, www.

ilovegi.com, are camps on 27 beautiful acres that are dedicated to enriching

the lives of children from diverse Jewish backgrounds and affiliations

through stimulating camp experiences. Activities include sports, swimming,

archery, a ropes course, watersports, art and specialty fun shops. Camp

Gan Israel is part of the largest, fastest-growing network of day camps,

enjoying a reputation as a trendsetter in Jewish camping, with innovative

ideas and creative programs. CGI is accredited by the American Camp

SUMMER TENNIS CAMPS at The Tennis Academy at Windermere

Preparatory School and its tri-sport tennis/golf/swim at West

Orange Country Club, 3300 West Orange Country Club Drive, Winter

Garden, begin May 30. The program includes fun, games and activities

while keeping cool, as well as a lifeguard-supervised swimming pool cool-off!

The cost is $325 per person for five days from 9 a.m.-noon. Lessons/junior

CONTINUED ON PAGE 18

St. Luke's Summer Camps provide

quality, affordable, Scripture-based

instruction in a nurturing environment!

Extended day options available.

VACATION BIBLE SCHOOL

June 20-24

PRESCHOOL CAMP

June 13-17, July 11-15, July 18-22

ELEMENTARY CAMP

July 11-15, July 18-22

View more information and register at

www.st.lukes.org/camps
---
18 x April 21— May 4, 2022 x www.SouthwestOrlandoBulletin.com

CONTINUED FROM PAGE 17

Windermere

Preparatory

School gives its

campers hands-on

tennis experience.

programs continue throughout the summer with the top on-staff tennis

professionals. For more information or electronic registration, visit

www.orlandotennisacademy.com or email info@orlandotennisacademy.com.

St. Luke's

United

Methodist

Church offers

vacation Bible

school and

summer camps

for youngsters in

pre-K through sixth

grade.

VACATION BIBLE SCHOOL & SUMMER CAMPS at St. Luke's

United Methodist Church, 4851 S. Apopka-Vineland Road, Orlando, 407-

876-4991, www.st.lukes.org/camps, provide quality, affordable, Scripturebased

instruction in a nurturing environment. Children of all backgrounds and

traditions participate in activities like music, science, art and more. VBS (pre-

K-sixth grade) takes place June 20-24. Summer camps are June 13-17 (pre-K

only), July 11-15 and/or July 18-22 (pre-K-sixth grade). Extended day options

are available.

Orange County Library System hosts both

virtual and in-person library events, camps and

classes at all its 15 locations this summer.

VIRTUAL AND IN-PERSON

LIBRARY CAMPS AND

CLASSES through the Orange

County Library System's

Summer Reading Program,

407-835-7323, ocls.info. This

year's Summer Reading Program

theme is "Oceans of Possibilities."

Give your kids a chance to explore

seven seas of information

and inspiration with events and

camps, reading challenges, prizes

and more. Browse what the

library has in store on its website.

The Summer Reading Program

takes place June 4-July 23. ª
---
n Winter Garden Little Free

Library opens

To celebrate her bookstore's first anniversary

in historic downtown Winter

Garden, Lauren Zimmerman,

owner of Writer's Block Bookstore,

donated a Little Free Library to the

community to provide an opportunity

to share books and encourage reading.

It is located at 207 W. Plant St. in

front of the post office. The library is

a free book-sharing box that is open

24/7 for residents and visitors to take

and/or leave books. It is not required

to leave a book in order to take one.

Donated books should be appropriate

for all ages with an emphasis on kidfriendly

topics.

Downtown's Little Free Library is a

registered unit of the worldwide network

of more than 100,000 Little Free

Libraries. Little Free Library is a nonprofit

organization that serves as a

catalyst for building community, inspiring

readers and expanding book access

for all through a global network

of volunteer-led Little Free Libraries.

For additional information about

the organization, visit www.

littlefreelibrary.org.

n United Arts to raise funds

for local foundation

The 2022 Collaborative Campaign

for the Arts has begun, and United

Arts of Central Florida is asking

for help to raise funds for the Winter

Garden Heritage Foundation.

Donations will be matched 15%

by UA. The mission of the Winter

Garden Foundation is "to preserve

our heritage and architecture while

creating new cultural experiences."

Each donation helps the organization

gather, archive and exhibit photographs,

documents and artifacts

that tell the stories of the people, places

and things that formed the legacy

of west Orange County; maintain its

two museums and history research,

education and Visitors' Center; and

continue to foster its education programs,

which reach thousands of students

and adults each year.

The Collaborative Campaign

gives the Foundation an opportunity

NEWS & BUSINESS BRIEFS

to work with United Arts in raising

funds to keep the arts alive, providing

critical support where it is

most needed, particularly among

the area youth. UA's goal is, along

with two dozen arts organizations,

to raise $4.38 million by April

30 to unlock this year's Orange

County $500,000 Challenge Grant.

To donate, visit unitedarts.cc/

collaborativecampaign.

n Southwest resident

continues charitable work

Ann Varkey, a Realtor and

philanthropist residing in Phillips

Landing, has made great strides

with her charitable organization,

Varkey Charitable Foundation

Inc. In 2021, the foundation received

approval as a 501(c)(3), making all

contributions tax-deductible. It sponsors

the distribution of food and clothing,

conducts educational classes and

seminars, and provides assistance

with educational and medical costs to

better the lives of those in need.

The current focus of the foundation

in the U.S. is food distribution, local

YMCAs and helping those in the

blind and disabled communities. In

India, the foundation is focused on

helping those with leprosy, feeding

programs and with Gospel outreach.

www.SouthwestOrlandoBulletin.com x April 21— May 4, 2022 x 19

compiled by Lauren Salinero

For more information about the

foundation and how to contribute,

visit www.varkeycharities.com.

n Developments ahead for

east Winter Garden

The Orange County Board of

County Commissioners unanimously

voted to extend the Winter

Garden Community Redevelopment

Agency (CRA) for 10 years. The city

of Winter Garden had approved the

extension one month earlier at a city

commission meeting.

The 10-year extension will allow

the Winter Garden CRA to leverage

the redevelopment success in

The Varkey Charitable Foundation Inc. makes a difference to those in the deaf

community.

downtown Winter Garden to benefit

east Winter Garden. It is estimated

Start early June

TOP COACHES

Beginners and High

Performance

Start early June

For all your summer tennis requirements at

For all your summer tennis requirements at

Windermere Prep School and West Orange Country Club.

Windermere Prep School and West Orange Country Club.

407 928 6666

that more than $20 million will be

generated during this time frame,

and at least 75% of these funds will

be spent in east Winter Garden to

revitalize the community.

"The time has come for us to build

up our community and continue to

thrive here in east Winter Garden for

the next 20 years and beyond," said

Jamie Holley, east Winter Garden

resident; CRA Advisory Board member;

and president of One Winter

Garden, an organization created

to advocate for east Winter Garden

and work within the community to

bring everyone together.

In 2018, the city approved the east

Winter Garden plan with the hope

of obtaining the CRA extension to

pay for many of the improvements

envisioned in the plan. At that time,

the city of Winter Garden hired

Dover Kohl & Partners out of Coral

Gables to work with the community

to develop the plan. The firm is being

brought back to assist in fine-tuning

the east Winter Garden plan.

n Exhibit featuring Oakland's

history opens

Discover Oakland during its

heyday as the headquarters of the

Orange Belt Railroad with a thriving

business district and opera house,

and learn about the repercussions

the Great Freeze of 1895 had on the

town's progress in becoming a major

city in Florida.

Est. 1887, the new exhibit at the

Healthy West Orange Arts

and Heritage Center, explores

(407) 928-6666

OrlandoTennisAcademy.com

info@orlandotennisacademy.com

6189 Winter Garden-Vineland Rd, Windermere

West Orange Country Club

3300 W Orange Country Club Dr, Winter Garden

354455-1

TOP COACHES

CONTINUED ON PAGE 20

Beginners For and High all your summer tennis requirements

Performance at Windermere Prep School and

West Orange Country Club.

Top Coaches on the Courts All Summer

#1 Tennis Facility in Southwest Orlando

Children of All Ages and Abilities

407 928 6666
---
20 x April 21— May 4, 2022 x www.SouthwestOrlandoBulletin.com

CONTINUED FROM PAGE 19

Oakland's history as an industrial

and social hub of Orange County

135 years ago. Featuring historic

photographs, documents and artifacts,

Est. 1887 traces the origins of

the town of Oakland and the major

players behind its founding.

Local Central Florida artists, including

Joseph Warren, David

Minichiello, Anne Fanelli,

Heather Lorenz and Mike

Jakubowski, display artwork that

highlights the area's unique charm

and natural beauty. Displays feature

artifacts relating to Oakland's incorporation

and include historic minute

books that give a glimpse into early

governmental operations, the original

town seal, century-old railroad

ties, and more. Visitors may also

view the center's cornerstone, the

historic Oakland Presbyterian

Church's beautifully illuminated

stained-glass window, dating back

to the 1919 brick structure.

The exhibit will run through June

17. The center, located at 126 W.

Petris Ave., is open Wednesday

through Friday from 11 a.m.-3 p.m.

and for extended hours during special

town events.

BUSINESS BRIEFS

West Orange Chamber of

Commerce ambassadors joined

city of Ocoee officials and the West

Orange Healthcare District in

the groundbreaking for Healthy

West Orange Wellness Park.

The district awarded a $2.25 million

seed grant for the park, which

is estimated to be $2.75 million.

The 5-acre park will include a halfmile,

10-foot-wide, multipurpose trail

around both ponds; and four shaded

wellness stations, two of which will

have suspension-fitness equipment

for strength training. The park will

also have a shaded pavilion in the

middle of the pond, connected to

both sides of the trail by a boardwalk.

The site is slated to open in

late 2022 or early 2023.

Community Health Centers

Inc. officials announced the election

of officers to the center's board of

directors for 2022-23. Those elected

include Karla Radka, chairperson;

Timothy McKinney, first

vice chairperson; Jerry Kassab,

second vice chairperson; Melissa

Singh of Winter Garden, treasurer;

and Dale Budha-Price,

secretary. Other board of directors

photo courtesy of WOCC

West

Orange

Chamber of

Commerce

ambassadors

and Ocoee

officials break

ground on

the Healthy

West Orange

Wellness

Park.

are Bennitta Edmeade, Darryl

Owens, Felicia Davis, judge

Gisela Laurent of Winter Garden,

Nathaniel Friends, Nilmarie

Zapata, Sonya Young, Timothy

Scott Walker, and Community

Health Centers President and CEO

Dr. Debra Andree (ex-officio

member). ª

We see things

through your eyes.

Accountability is the Schwab way.

At Schwab, we hold ourselves accountable

for your satisfaction. It's why we offer a

Satisfaction Guarantee, which ensures

that if you're ever dissatisfied with us, we'll

refund your fee and work with you to make

things right. You won't find that kind of

promise everywhere, but you will find it here.

Nurse Practitioners:

Esther Pelissier, ARPN-BC

Irene Gan, PMHNP

Raykha Crag-Chaderton, PMHNP-BC

Rachael Pittala, ARPN-BC

Therapists:

Michael Kellogg, LMHC, ATR-BC

Randie Morillo, LCSW, ACSW

Amy Singleton, LMHC

Brooke Parker, LMHC

Cristal Daniel, LMHC

Rachael Pittala

Esther Pelissier

Michael Wytiaz, CFP ®

Branch Leader

Get started at schwab.com/windermere

4848 S. Apopka Vineland Rd, Suite 204

Orlando, FL 32819

407-909-0485

If you are not completely satisfied for any reason, at your request Charles Schwab & Co., Inc. ("Schwab"),

Charles Schwab Bank ("Schwab Bank"), or another Schwab affiliate, as applicable, will refund any eligible fee

related to your concern within the required time frames. Schwab reserves the right to change or terminate

the guarantee at any time. Go to schwab.com/satisfaction to learn what's included and how it works.

© 2021 Charles Schwab & Co., Inc. ("Schwab") Member SIPC.

All rights reserved. (1120-0JP6) SCH4761-28 (12/21)
---
n Charities/Fundraisers

April 23 — Nehrling Gardens Art & Stroll

Nehrling Gardens, 2267 Hempel Ave., Gotha,

hosts Caladiums, Canvases & Coffee — Nehrling

Gardens Art & Stroll — including coffee and morning

cocktails, brunch bites, live music, an online art

auction, interaction with artists and caladium bulbs

for sale. Time: 9 a.m.-noon. Cost: $25 in advance,

$35 the day of the event, with proceeds benefiting

Nehrling Gardens. For more information, visit

nehrlinggardens.org.

May 1 — Charity Golf Tournament

Shingle Creek Golf Club, 9939 Universal

Blvd., Orlando, hosts the annual Charity Golf

Tournament at Shingle Creek, including a day

of golf, gourmet food, prizes, a live auction and

more. Participants receive a $40 Shingle Creek

return play coupon and have the opportunity to

play with former NBA, NFL and MLB pros. Time:

7:30 a.m. for registration, 8 a.m. for shotgun

start. Cost: $150; $200 with a professional player,

with proceeds benefiting The Jewish Pavilion's

Orlando Senior Help Desk. For more information,

visit jewishpavilion.org.

May 7 — Run For The Roses

The West Orange Junior Service League presents

its 12th annual Run for the Roses, sponsored by

Gentle Touch Medi Spa & Wellness and including

mint juleps, Kentucky-inspired cuisine, casino

gaming, a live DJ, silent auction, live showing

COMMUNITY BULLETIN BOARD

of the 148th Kentucky Derby, a complimentary open

bar, and Best Ladies Derby Hat and Best Dressed

Man contests, at the Ocoee Lakeshore Center, 150

N. Lakeshore Drive. Attendees must be 21-older.

Time: 5-10:30 p.m. Cost: $150, with proceeds

benefiting several charities in west Orange County.

Sponsorships are available. For more information

or to purchase tickets, visit bidpal.net/r4r2022 or

www.wojsl.com.

May 7 — Walk For Life

Blue Jacket Park, 2501 General Rees Ave., Orlando,

hosts Walk for Life, a family-friendly 1- or 2-mile

walk/run that includes live music, children's activities

and a photo booth. Time: 8-9 a.m. for registration,

9-10 a.m. for the walk. Proceeds benefit Choices

Women's Clinic. For more information or to register,

visit walkforlifeorlando.com.

May 14-15 — Black And White

Weekend

Rosen Plaza Hotel, 9700 International Drive,

Orlando, hosts the 12th annual Black and

White Weekend, with numerous festivities that

include networking and socializing, multiple

entertainers, a pool gathering, silent auction,

50/50 raffle, photo booth, discounts on food

and beverages, and more. Time: Saturday at

www.SouthwestOrlandoBulletin.com x April 21— May 4, 2022 x 21

8:30 p.m.-Sunday at 2 a.m. Cost: $49 in advance;

$75 at the door, with proceeds benefiting Base

Camp Children's Cancer Foundation. Sponsorships

are available. For more information, visit

blackandwhiteweekend.com.

n Children's/Teen

Programs

compiled by Lisa Sagers

April 30 — Art Scavenger Hunt

Kids of all ages are invited to participate in the

Downtown Art Scavenger Hunt to find clues

throughout the businesses in historic downtown

Winter Garden. Check in and pick up a scavenger

hunt form from 11 a.m.-1 p.m. at the SOBO

tent at the Winter Garden Farmers Market, 104

S. Lakeview Ave. When done, return the form to

the SOBO Art Gallery, 127 S. Boyd St., by 2

p.m. All answers must be correct to be eligible

for the grand prize. For more information, visit

downtownwg.com.

May 14 — Teen Driver Challenge Car &

Truck Show

Promenade at Sunset Walk, 3251 Margaritaville

Blvd., Kissimmee, hosts the Teen Driver Challenge

Car & Truck Show, including a live DJ, driver

instruction course, sheriff's office vehicle displays,

drug and street-racing seized vehicles, "seat belt

convincer" demonstration, vehicle roll over simulator,

K-9 demonstrations and more. Time: 4-8

p.m. Admission is free for spectators. Show car

entry fee is $20 VIP parking on Margaritaville

Boulevard, $10 general admission to the show

car parking lot. For more information, visit

sunsetwalk.com.

n Events/Performances

April 23 — Autism Awareness Car &

Truck Show

Promenade at Sunset Walk, 3251 Margaritaville

Blvd., Kissimmee, hosts the Autism Awareness

Car & Truck Show, including a 50/50 raffle

and many other prize giveaways. All makes

and models of cars are welcome. Time: 4 p.m.

Cost: $30, VIP parking; $20, show car lot parking.

Free admission for spectators, friends and

family members. For more information, visit

sunsetwalk.com.

April 28-May 1 — The Great Gatsby

Performances

Orlando Ballet presents performances of The

Great Gatsby with live music in the Walt Disney

Theater of the Dr. Phillips Center of the Performing

CONTINUED ON PAGE 22
---
22 x April 21— May 4, 2022 x www.SouthwestOrlandoBulletin.com

CONTINUED FROM PAGE 21

Arts, 445 S. Magnolia Ave., Orlando. Showtimes

and ticket prices vary. For more information, visit

orlandoballet.org.

May 5 — Cinco De Mayo Street Party &

Celebration

Promenade at Sunset Walk, 3251 Margaritaville

Blvd., Kissimmee, hosts the Cinco de Mayo Street

Party & Celebration, including a special tribute to

Mana, Latin America's No. 1-selling rock band; street

performers; food and beverage specials; and more.

Admission is free. This is an outdoor event, rain or

shine. For more information, visit sunsetwalk.com.

May 13 & 14 — Stars Of Tomorrow

Performances

Harriett's Orlando Ballet Centre, 600 N. Lake

Formosa Drive, Orlando, hosts Stars of Tomorrow

performances by Orlando Ballet School's upperlevel

students, including OB's Second Company

and trainees. Performances showcase both classical

and contemporary dance. Time: Friday at 7:30 p.m.

and Saturday at 2 p.m. and 7:30 p.m. Cost: $35.

For more information, call 407-426-1733 or visit

www.harriettsorlandoballetcentre.com.

n Miscellaneous

April 28 & May 26 — MetroWest Food

Truck Connections

MetroWest Golf Club, 2100 S. Hiawassee Road,

Orlando, hosts MetroWest Food Truck Connections,

including food, fun and music. Social-distancing

guidelines are observed. Time: fourth Thursday of

every month from 5:30-9 p.m. For more information,

visit www.metrowestcommunity.com.

May 8 — Mother's Day Brunch Buffet

Rosen Centre, 9840 International Drive, Orlando,

offers a Mother's Day Brunch Buffet, including

more than 60 dishes and unlimited Champagne

and mimosas. Time: 11 a.m.-5 p.m. Cost:

$54.95, adults; $21.95, children 4-12; free for

children 3-younger. Prices do not include taxes

and service charges. For more information or to

make a reservation, call 407-996-3969 or visit

rosencentre.com/mothersday.

n Networking/Clubs

Ongoing — Members Wanted

The West Orange Women seeks women of all

ages to join its group for fun, friendship and philanthropy.

Annual dues are $20. For more information,

call Mary Borgan, 407-929-3030; or visit

www.westorangewomen.com.

April 26, May 3, 10, 17, 24 & 31 —

Virtual Toastmasters Meetings

Windermere Toastmasters Club No. 4662754

holds Zoom meetings. Attendees learn to develop

their oral communication and leadership skills in

a supportive and positive learning environment.

Time: Tuesdays from 7-8:30 p.m. For more information

or to request online Zoom meeting details,

visit www.4662754.toastmastersclubs.org and

click "Contact Us."

April 27, May 4, 11, 18 & 25 — Virtual

Toastmasters Meetings

The Turnpike Toastmasters Club holds Zoom meetings.

Time: Wednesdays from noon-1 p.m. For more

information or to register for a virtual meeting, visit

2362.toastmastersclubs.org and click "Contact Us"

at least one day before the event.

April 28, May 5, 12, 19 & 26 — Virtual

Toastmasters Meetings

The Vista Toastmasters Club holds Zoom meetings.

Time: Thursdays from 7-8:30 p.m. For more information,

email vistatoastmasters.zoom@gmail.com or

visit www.vistatoastmasters.org.

April 28, May 12 & 26 — Thursday

Networking Group Meetings

West Orange Chamber of Commerce's Thursday

Networking Group meets at the Dr. P. Phillips YMCA

Family Center, 7000 Dr. Phillips Blvd., Orlando.

Time: second and fourth Thursday of each month

from 8:30-9:30 a.m. For more information, email Jim

Zeitschel, jim.zeitschel@primelending.com.

n Volunteer Opportunities

Ongoing — Virtual Volunteers Needed

RSVP seeks volunteers to help make masks for

Cornerstone Hospice & Palliative Care. For more

information or if interested, call Tyler VanBuren, 630-

335-3084; or email tvanburen@vcifl.org.

Ongoing — Volunteers Needed

The Foster Grandparent Program seeks limitedincome

volunteers 55-older to join in helping

children in schools all around Central Florida.

For more information, call 407-298-4180 or visit

volunteersforcommunityimpact.org/wp-content/

uploads/2020/01/FGP-Info-Flyer-1-13-20.pdf.

Ongoing — Pet Foster Homes Needed

As part of its Pet Peace of Mind program,

Cornerstone Hospice seeks foster homes for pets

left behind after their owners pass away. For more

information or to receive an application to foster,

email ppom@cshospice.org. For more information

about hospice volunteer opportunities, call Sharon

Smith, 404-290-1583; or email ssmith@vcifl.org.

Ongoing — Volunteers/Docents Needed

Oakland Nature Preserve, 747 Machete Trail,

Oakland, seeks adults interested in learning about the

history, wildlife, plants and restoration efforts at ONP to

volunteer at the preserve to greet visitors, help answer

questions and lead a tour from time to time. Workdays

are Mondays and/or Saturdays. For more information,

email outreach@oaklandnaturepreserve.org or

visit www.oaklandnaturepreserve.org/guide. To register

online, visit oaklandnaturepreserve.org.

Ongoing — Volunteer Veterans Needed

Cornerstone Hospice seeks volunteers who are veterans

of America's armed forces to honor patients

who are veterans by visiting them in their homes,

a facility or a hospital. Cornerstone Hospice is a

four-star level member of the We Honor Veterans

program, a national initiative to provide veterans

in hospice care with specialized services. All volunteers

must participate in mandatory training that

includes an overview of what is hospice care and

how volunteers play an important role in caring for

patients. For more information, call Olivia Davidson,

407-206-5060; or email odavidso@cshospice.org.

Ongoing — Volunteers Needed

The Mustard Seed of Central Florida, 12 Mustard Seed

Lane, Orlando, seeks volunteers who can help with

donation sorting, mattress recycling, warehouse maintenance,

administrative work, special events or general

maintenance. For more information, call 407-875-

2040, ext. 110; or email jessi@mustardseedfla.org.

Ongoing — Volunteers Needed

The town of Oakland seeks volunteers to assist in

various fun and fulfilling roles at The Healthy West

Orange Arts and Heritage Center. Applicants must

consent to a criminal background check. For more

information, call Pamela Stewart, 407-656-1117,

ext. 2112; email arts&heritage@oaklandfl.gov; or

visit bit.ly/artsandheritagecenter.

Ongoing — Volunteers Needed

My Brother's Keeper seeks volunteers — especially

adult men (18-older) of color — who can serve as

positive role models and mentor boys and young

men of color. For more information, email Grace,

gdearden@vcifl.org, at Volunteers for Community Impact.

Contributions to Community Bulletin Board are welcome.

Please send information six weeks before the event to P.O.

Box 851, Windermere, FL 34787; call 407-351-1573,

option 5; or email Lisa@kearneypublishing.com. ª

Seniors Way, Inc.

Companion / Homemaker Services

407-340-4120

carmen@seniorswayinc.com

Locally Owned & Operated

License number 236778

Free in Home Consultation

★★★★★★★★★★★★★★★★★★★★★★★★★

★★★★★★★★★★★★★★★★★★★★★★★★★★★★★★★★★★★★★★★★★★★★★★★★★★

Ken

PROFESSIONAL HANDYMAN

Interior & Exterior Painting

All Flooring • Pressure & Chemical Cleaning • Screen Repair

Drywall • Texture • Popcorn Removal • Kitchen & Bath Remodeling

407-769-1348

All Repairs, Improvements & Odd Jobs, Large or Small

★★★★★★★★★★★★★★★★★★★★★★★★★★★★★★★★★★★★★★★★★★★★★★★★★★

★★★★★★★★★★★★★★★★★★★★★★★★★

The West Orange Chamber of Commerce

FACILITATING OPPORTUNITY FOR OVER 45 YEARS

Dr. Phillips | Gotha | Horizon West | Lake Avalon | MetroWest | Oakland

Ocoee | Orlo Vista | Pine Hills | Windermere | Winter Garden

wochamber.com

(407) 656-1304

Networking

Marketing

Education

Advocacy

Live and in Person.

Your Message Targeted.

Sharpen Your Saw.

Stay "In The Know"
---
MAY 5 TH

Residences

PRESENTED BY:

&

FREE

ADMISSION

Outdoor Event /

Rain or Shine

STREET PARTY & CELEBRATION

"THE RUNDOWN" LIVE!

Including a Special

Tribute Set to "Mana",

Latin America's #1

Selling Rock Band!

"DJ GABRIEL"

Spinning the very best

Latin Pop, Merengue,

Salsa, Bachata & More!

STREET PERFORMERS INCLUDING "THE TRES AMIGOS" • FOOD & BEVERAGE SPECIALS INCLUDING MARGARITAS & MOJITOS

PRESENTED BY:

&

Residences

SATURDAY

MAY 14 TH

4PM TO 8PM

TEEN DRIVER CHALLENGE

SHOW CAR ENTRY FEE:

$20.00 VIP Parking on Margaritaville Blvd.

$10.00 General Admission Show Car Lot Parking

3

3

Live DJ

Driver Instruction Course

Sheriff's Office Vehicle Displays including:

Helicopter & SWAT Vehicles

Drug & Street Racing Seized Vehicles

"Seatbelt Convincer" Demonstration

"Vehicle Roll Over" Simulator

K-9 Demonstrations

CAR & TRUCK SHOW

Benefitting: THE OSCEOLA COUNTY SHERIFF'S OFFICE - TEEN DRIVER PROGRAM

3 SPECTATORS FREE
---
P.O. Box 851

Windermere, FL 34786

Offering more than 50 nearby locations; same-day, next-day and virtual appointments; plus, online

scheduling, Orlando Health Physician Associates is an expert primary care team that works with your

lifestyle to provide personalized care for a lifetime of health.

For care, closer to you, choose Orlando Health.

OrlandoHealth.com