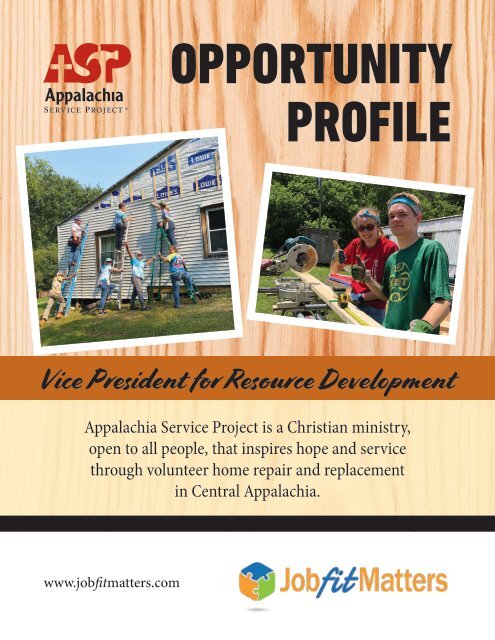 ASP - VP Resource Development
Create successful ePaper yourself
Turn your PDF publications into a flip-book with our unique Google optimized e-Paper software.
OPPORTUNITY

PROFILE

Vice President for Resource Development

Appalachia Service Project is a Christian ministry,

open to all people, that inspires hope and service

through volunteer home repair and replacement

in Central Appalachia.

www.jobfitmatters.com
---
LETTER FROM

President/CEO Walter Crouch

Dear Prospective Candidate,

Thank you for taking a moment to learn why the Appalachia Service Project (ASP) Vice President of Resource

Development is such a unique opportunity.

ASP provides one of the most rewarding structured life-changing short-term Christian mission trip opportunities

in the nation—bringing thousands of volunteers from around the country to rural Central Appalachia to make

homes warmer, safer, and drier for families in need. Serving in Kentucky, North Carolina, Tennessee, Virginia and

West Virginia, ASP ministers in a spirit of Christian love and service, accepting people right where they are, just

the way they are.

In 1969, ASP sent fifty (50) volunteers to serve four (4) families. Now, with the help of our amazing volunteers,

ASP makes homes warmer, safer and drier for hundreds of families in need each year. It also provides a unique

framework that fosters transformational experiences for volunteers, families served, and staff—by building

relationships with each other that break down cultural, social and economic barriers.

But don't take our word for it. To hear stories from families who have been served by ASP and youth who have

been transformed by their service, visit www.youtube.com/c/AppServProject/featured.

We encourage you to read through this Opportunity Profile and further explore our website for additional

information. If you are interested in pursuing this opportunity, please reference the Process of Candidacy page to

begin the application process.

If you have any questions, please contact the JobfitMatters Consultants who are assisting Appalachia Service

Project in this search, Tommy Thomas or Laura Coverstone, at (615) 261-4623.

Sincerely,

Walter Crouch

President/CEO
---
OVERVIEW

2019 (Pre-Pandemic)

KY

WV

VA

TN

NC

PROJECTS COMPLETED

Basic utilities repaired/replaced

(plumbing, electrical, septic, wells) 117

Bedroom & bathroom additions 15

Ceilings repaired 231

Doors/windows installed 237

Drainage ditches/

retaining walls 71

Floors repaired 687

Foundations repaired 54

Insulation/fascia/guttering/

underpinning 419

Interior/exterior paint 523

Porches/steps/ramps 359

Roofs repaired/installed 178

Siding repaired/installed 131

Walls repaired 406

Total number of projects 3,428

New homes constructed 26

IMPACT

ESTIMATED ANNUAL

ECONOMIC IMPACT

Served 1,100 Individuals in 395 Families, including

24 Veterans 339 Children

426 Disabled Persons 141 Elderly

Volunteers serving

$33 MILLION

Volunteer hours contributed

Value of volunteer labor

15,037 volunteers

446,103 hours

$11.3 million
---
MISSION

Appalachia Service Project is a Christian ministry, open to all people,

that inspires hope and service through volunteer home repair and

replacement in Central Appalachia.

VISION

Appalachia Service Project envisions the eradication of substandard

housing in Central Appalachia and the transformation of everyone

who comes in contact with this ministry.

GUIDING PRINCIPLES

Î

Î

Î

Î

Î

Î

Î

We believe that each person is a child of God imbued with dignity and worth

We accept people right where they are and just the way they are

We believe that all people should be able to live in affordable, safe, and sanitary housing

We are committed to witness through the good quality of our work and careful stewardship

of our resources

We believe God calls people to serve others as volunteer partners in ministry and we will

encourage their growth in faith as they answer this call

Where ASP is involved in local communities we will encourage, affirm, and support the fair

and just treatment of people

We believe in ministering in the spirit of love, acceptance, and hopefulness
---
HISTORY

"We accept people right where

they are, just the way they are."

In 1969, Rev. Glenn "Tex" Evans—a United Methodist minister—became one of the first people to connect the

energy of youth with the deep needs of the poor.

During Tex's 13 years as director at Henderson Settlement in Frakes, Kentucky, he witnessed the great need for

home repair assistance. So as part of his already-thriving outreach to the people of Appalachia, he recruited 50

teens and adult volunteers to repair homes in Barbourville, Kentucky. They worked on-site during the day and

worshiped in the evenings. By summer's end, four families had safe, warm homes for the winter, fifty young lives

had been changed forever—and a longstanding legacy was born.

But Tex was more than a leader; he was a born motivator. A true student of Appalachian culture and a legendary

storyteller, he set the tone for what ASP is today: an extended family where laughter is abundant. Where relationships

matter. And where changing the lives of families and volunteers alike is the highest priority of all.

Each year, ASP typically hosts more than 15,000 volunteers working in 5 different Central Appalachian states,

serving over 350 families with home repairs and new home construction. During the COVID-19 pandemic ASP

has implemented new volunteer hosting protocols to ensure for the safety of volunteers, our staff, and the families

we serve. ASP staff and volunteers have focused on exterior repair projects and those interior projects that can be

accomplished safely, as well as new home construction.
---
2021 FINANCIALS*

Assets

Cash, Designated & Restricted.... $4,529,089

Receivables & Other........................ $763,196

Inventories & WIP............................ $582,043

Property, Plant & Equipment........ $1,628,010

Total Assets............................ $7,502,338

Liabilities

Accounts Payable........................... $300,906

Deferred Revenue............................ $654,949

Notes Payable................................. $100,000

Total Liabilities........................ $1,055,855

Net Assets

Restricted..................................... $1,351,904

Unrestricted.................................. $5,094,579

Total Net Assets........................... $6,446,483

Total Liabilities & Net Assets

............................................... $7,502,338

Total Revenue = $6,876,032

Donations & Grants 70% | Other 29% | Merchandise 1%

Total Expenses = $6,937,345

Program 85% | Fundraising 8% | Administration 7%

For more information, see ASP's

2020 Annual Report and Audited

Financial Statements. Both are

available on ASP's website at

ASPhome.org/Financials

*The figures shown here are

unaudited financials. A copy of

ASP's audit will become available

online and by mail in June 2022.
---
THE POSITION

Vice President for Resource Development

The Vice President for Resource Development will have natural entrepreneurship, solid operational skills, the

ability to manage people and build relationships, and passionate enthusiasm for the mission. ASP is looking for a

the right candidate to lead our Volunteer Department and Office of Advancement.

The VP for Resource Development will create, oversee and implement a comprehensive development plan which

includes strategic marketing and brand awareness resulting in increased volunteer involvement and funding

available for the mission of ASP.

The VP for Resource Development will synergistically lead both the Volunteer and Advancement Departments.

This position will report to the Chief Executive Officer and participate in the strategic leadership of the organization

as part of the Executive Leadership Team. The VP for Resource Development is expected to develop aggressive

growth-oriented volunteer recruitment/retention goals and fundraising benchmarks, then facilitate the success of

the volunteer and advancement teams in meeting those goals.

ASP is a relational ministry, and this is a hands-on role. A good candidate is expected to interface with current

and potential volunteers/donors and lead their team by example.
---
Organizational Chart

Walter Crouch

President/CEO

Emma Clark

Administrative

Executive

Greg DeGennaro

Chief Financial Officer

Accounting

3 Reports

Grants & Strategic

Corporate Partnerships

Strategic Public

Grants Manager

Church & Foundation

Grants Manager

Senior Director

of Advancement

Director of

Special Projects

Advancement

Assistant

Office Manager/

Receptionist

IT

Manager

Vice President

for Resource

Development

Volunteer

Specialist

Volunteer

Assistant

Senior Director

of Volunteers

Volunteer

Recruitment

Specialist

Communications &

Marketing

Coordinator

Dave Kelley

Senior VP for

Donor Engagement

New Build & Disaster

Recovery, HR

7 Reports

Melisa Miller

Executive VP/ Chief

Operating Officer

Nicole Intagliata

VP of Home Repair

Home Repair, Spiritual

Programming, Fleet &

Facilities / 11 Reports

Denotes Executive

Leadership Team
---
KEY RESPONSIBILITIES

Volunteer Resource Development

Develop & execute strategic volunteer growth plan

• Work with executive leadership to establish annual volunteer recruitment & growth goals by category/season

• Implement recruitment & marketing plan to achieve volunteer growth targets & expand ASP's volunteer base

• Understand the volunteer landscape & current trends, communicate these to key leadership, & adjust

strategies accordingly

• Collect and analyze data to determine possible recruitment sources and to inform strategy

• Evaluate volunteer feedback to ensure retention and to recommend and implement changes as appropriate

• Strategically plan travel (& supervise travel) to key volunteer groups & recruitment events as needed

• Ensure that ASP is appropriately represented at regional & national events to promote volunteer growth

• Oversee expansion of ASP's Ambassador program by identifying & engaging current/former staff &

volunteers to serve as ambassadors for recruiting staff & volunteers

Manage & lead volunteer team

• Maximize customer service throughout the volunteer lifecycle from initial contact through repeat volunteer

experiences

• Provide leadership for the volunteer recruitment team as they follow up on prospects, convert prospects into

new groups, & manage a portfolio of existing groups

• Ensure smooth volunteer management & placement services

• Oversee the Volunteer Department & manage staff to obtain Objectives & Key Results

• Liaise with the Ministries Department to promote understanding, develop partnerships, & assess/advocate

for volunteer needs
---
Funding Resource Development

Develop & execute strategic fundraising growth plan

• Work with executive leadership to establish annual fundraising & growth goals by category/season

• Develop & execute strategic development plan to achieve fundraising growth targets

• Ensure expansion of development strategies to include robust & diverse portfolio of mid/major individual

donors, sponsor/partnerships, legacy giving, new donor acquisition & grants

Manage & lead advancement team

• Lead the team in achieving results through innovative and proven fundraising strategies

• Oversee the Advancement Department & manage staff to obtain Objectives & Key Results

General

• Participate strategically as part of the Executive Leadership Team (ELT)

• Ensure maintenance, utilization & effectiveness of CRM for volunteer & donor data & relationship tracking

• Contribute to the smooth-running operation of ASP
---
QUALIFICATIONS

The successful candidate will have proven record of success in volunteer recruitment, fundraising,

sales, and/or marketing communications, and will enjoy implementing cutting edge marketing

strategies and evaluating their progress. The Vice President of Resource Development may be on

the road frequently as an ASP ambassador speaking to congregations, community organizations,

schools and individuals about the transformative service opportunities presented by ASP.

Required

• Genuine interest in the world, engaging & outgoing personality, & desire to work in a Christian environment

• Sales &/or development experience with a demonstrated track record of ability to drive the sales process

from plan to close

• Ability to represent ASP responsibly & professionally to the existing ASP community, prospective volunteers

& staff, funders, diverse board of directors, & other groups & organizations with whom ASP works

• Self-motivated, team-oriented problem solver who can inspire people to service, handle & prioritize multiple

projects, embrace change, & think in a way that is both visionary & pragmatic

• Excellent oral & written communication skills

• Proficiency with computer applications, with an emphasis on presentation software & basic database

management skills

• Ability to travel up to 50% of time

• Willingness to travel alone throughout the country on volunteer recruitment & donor cultivation trips

• Occasional weekend or holiday work may be required

• Valid driver's license & driving record that is acceptable to ASP's insurer

• Ability to lift items (boxes, materials) weighing up to 30 pounds

• Satisfactory results of a thorough background check

Desired

• An applicable 4-year degree from an accredited college or university

• Experience with internet-based multi-faceted CRM

• Past experience as volunteer or staff member at ASP or similar service organization

Compensation

• Salary based on experience

• Medical insurance, flexible medical spending account, retirement plan & vehicle use for business travel

• Vacation, holidays & sick leave
---
LOCATION

Johnson City, Tennessee

Nestled in the mountains of Northeast Tennessee, Johnson City is the fourth largest region of Tennessee and the largest

city in the Tri-Cities area. Home to more than 126,000 residents, Johnson City is a thriving retail, healthcare, cultural

and education center in the Southern Appalachian Mountains. From local boutiques in the downtown area, to the

classic and convenient location of The Mall at Johnson City, you will find a shopping, dining, and entertainment venue

sure to please the whole family. Johnson City is consistently voted one of the nation's most popular metro areas for

raising a family, retiring, its low cost of living, healthcare and its business friendly climate.

Washington County and the metro Johnson City area boast a diverse job base that offers employment opportunities

from professional to manufacturing positions. More than 50% of the U.S. population is within a day's drive. Johnson

City was ranked #6 out of 10 most diversified metro economies in the United States in July 2020 and Top 100 Best Places

in January 2018 by Livability.com, outpacing more than 2,100 cities (with populations between 20,000 and 350,000).

Johnson City is fast becoming the medical hub of Northeast Tennessee. The success of our medical community is

enhanced by the presence of East Tennessee State University, the ETSU Quillen College of Medicine, Bill Gatton

College of Pharmacy and one of the largest Veterans Hospitals in the Southeast, which give us a billion dollar healthcare

industry. A strong hospital network, Ballad Health, exists to provide a variety of routine and specialty healthcare needs.

Both Johnson City and Washington County school systems have received state and national honors for their

commitment to education. Private schools such as Ashley Academy, Providence Academy, and St. Mary's School offer

additional educational options. East Tennessee State University, Milligan University, King University, and Northeast

State Community College offer higher learning opportunities.

Rich in history, Northeast Tennessee hosts a variety of historic sites such as Rocky Mount, Tipton-Haynes, Sycamore

Shoals, Gray Fossil Site, and Historic Jonesborough—Tennessee's oldest town. There are ample opportunities for

recreation including hiking, boating, fishing, rafting, cycling, racing, hunting, and golf, just to name a few.

Johnson City offers one of the best places to experience all four seasons. Summers have an average temperature of 80

degrees, while the winter drops to an average of 38 degrees.

• 2021 Best City for Young Families in Tennessee, based on real estate market hotness and inventory, diversity in local

school districts, access to parks and outdoor recreational facilities, and residential and road safety (Insurify)

• Top 10 Metro Areas where the cost of living has dropped the most during the pandemic – we are #2. Overall cost of

living dropped by 3.3%, grocery costs down 12.6%, and housing costs down 3.1% (Apartment.com)

• 10 Most Diversified Metro Economies in the United States (Livability.com)

• Top 100 Places to Live, outpacing more than 2,100 cities with a population between 20,000-350,000 (Livability.com)

• Top Adventure Town (Blue Ridge Outdoor Magazine)

• 5 Most Affordable Cities in Tennessee (Livibility.com)

• Top Five (#4) Retirement Destinations in the country (Kiplinger)

• Top 5 for Happiest Blue Ridge Mountain Towns with a population of 50,000 or more (Blue Ridge Country Magazine)

For more information about Johnson City, visit JohnsonCityTNChamber.com.
---
THE PROCESS

If after reading this Opportunity Profile you sense that the gifts and experience God has given you are a good

match for Appalachia Service Project, we invite you to begin the inquiry process. All candidate information and

conversations are handled confidentially. You may contact Tommy Thomas or Laura Coverstone at any stage of

the process to get more information and to ask questions. Their contact information is below.

When preparing your resume for this position, please include the following for each position that you have held

during the past fifteen years:

• Name and location of company/organization

• Job title

• Years in the position

• Position to which you reported and positions that reported to you

• Primary responsibilities and achievements

• Aspects of the position which most directly prepared you to be the Vice President for Resource Development

• Reason for leaving the position

In order to help us get a more complete picture of you and your interest in this position, provide us with

responses to the following three questions:

1. What is it about the position of Vice President for Resource Development that attracts you?

2. Please share details of your most recent volunteer recruitment or fundraising leadership position and your

success. (e.g. What is your history with volunteer recruitment? How many volunteers were you responsible

for recruiting annually? How many were recruited by your entire team? Perhaps share a story of a significant

volunteer increase or major donor gift.)

3. Provide the names and contact information (telephone numbers and email addresses) for four references

who know you and your career well enough to comment on your suitability for this role.

Please do not be overly concerned with brevity in assembling this package of materials. While we don't want to read

volumes, we do want you to take the time to share enough meaningful information to allow us to get to know you

and why you would make a strong Vice President for Resource Development at ASP.

Submit this information in one document (Word or .pdf) to:

Tommy Thomas & Laura Coverstone

JobfitMatters

resumes@jobfitmatters.com

Phone: (615) 261-4623

In the subject line, please write "VP for Resource Development—ASP"