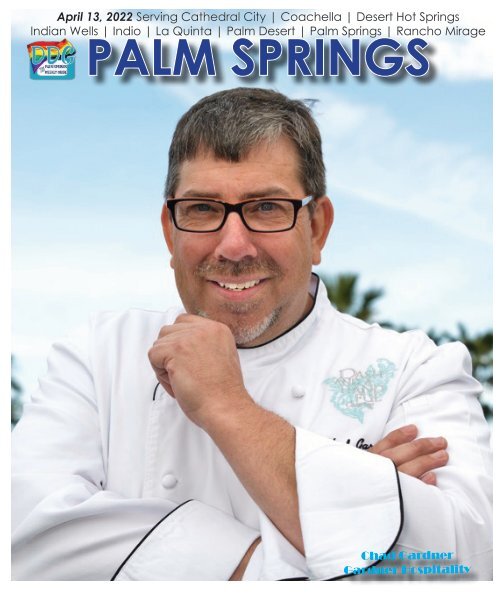 420 fabulous in Palm Springs
April 20, 2022, Ukrainian artist Kirill Fadeyev, Joshua Tree National Park, Local restaurateur and philanthropist, Chef Chad Gardner donates to CalFresh. The Harvey Milk Coachella Valley Diversity Breakfast, Blatino, Cumunion! Fetish Friday, Singlet Saturday, Serving Cathedral City | Coachella | Desert Hot Springs | Indian Wells | Indio | La Quinta | Palm Desert | Palm Springs | Rancho Mirage.
April 20, 2022, Ukrainian artist Kirill Fadeyev, Joshua Tree National Park, Local restaurateur and philanthropist, Chef Chad Gardner donates to CalFresh. The Harvey Milk Coachella Valley Diversity Breakfast, Blatino, Cumunion! Fetish Friday, Singlet Saturday, Serving Cathedral City | Coachella | Desert Hot Springs | Indian Wells | Indio | La Quinta | Palm Desert | Palm Springs | Rancho Mirage.
SHOW MORE
SHOW LESS
Create successful ePaper yourself
Turn your PDF publications into a flip-book with our unique Google optimized e-Paper software.
April 13, 2022 Serving Cathedral City | Coachella | Desert Hot Springs

Indian Wells | Indio | La Quinta | Palm Desert | Palm Springs | Rancho Mirage

PALM SPRINGS

Chad Gardner

Gardner Hospitality
---
2 Never miss a DDG we are always FREE only at ddg.gay
---
3
---
FETISH FRIDAY

8pm - 2am

DJ

COREY D

Heavy

Cruising

Wear Your

Favorite Fetish

Gear For

Happy Hour

Prices All Night

Leather

Latex

Uniforms

Underwear

Sexy

Bartenders

600 E. Sunny Dunes Rd

4 Never miss a DDG we are always FREE only at ddg.gay
---
5
---
6 Never miss a DDG we are always FREE only at ddg.gay
---
SINGLET

SATURDAY

8pm - 2am

Sexy Bartenders

Heavy Cruising

DJ Corey D

Happy Hour

Prices For

Wearing A

Singlet

Drink

Specials

600 E. Sunny Dunes Rd

7
---
REPORTER: Adam

ADAMSARTEXPOSE'

EMAIL: adamsart@desertdailyguide.com

REVISITING UKRAINIAN ARTIST

KIRILL FADEYEV

Two weeks ago the article

on the Ukrainian artist Kirill

Fadeyev gave an overview

of his work and the dire

situation he is in along with

his country It didn't seem to

be enough information

this creative and daring

gay artist in the middle of

a war zone. In addition

to being available to

defend his country, he is

continuing to develop his art

with statements about his

country andgay liberation.

The photo at the lead to

this article shows him in his

studio prior to the beginning

of Putin's war. The painting

he is working on is titled,

"Beach".the photo of

the painting on the left is

exemplary of his fantasy

storytelling with a gay

theme. This is one version of

his Gullivers Travels paintings.

Even at his young age, Kirill's

art has influenced numerous

people and organizations

throughout the world. An

upcoming exhibition at the

Leslie Lohman Gallery in

8 Never miss a DDG we are always FREE only at ddg.gay

New York City, titled

Stepping Boldly into the

Future will feature his work

some of which this article

will reserve space to provide

visual stimulation about his

work.

Kirill's painting of Dorian

Gray is his take on the novel

by Oscar Wilde of which

has been redone and

modified numerous times

even to the making of a

film telling the story in more

contemporary times. The

basic theme is about an

artist who is infatuated with

the male beauty of Dorian

Gray. He paints a portrait

attempting to exemplify

Dorian's handsomeness.

Dorian Gray sees his beauty

in the portrait and wants

to continue to live a life of

lavishness that he has been

introduced to. As a result,

he wants to stay in the same

appearance as he is in the

portrait. Dorian pursues a life

lacking morals. The portrait

ages as he ages showing

the amoral experiences he

adamsart next page 27
---
9
---
ALONE is "Fine"

Gender Bending Artist Redefines Masculinity

By Paul Hutnick

"There are many

expressions of

masculinity and they all

can be hot," says gender

bending Queer artist

ALONE. His new single,

"Fine," is out to expand

the prevalent notions of

sexuality, masculinity,

and what it means to be

a man today.

The track follows

ALONE's debut single

"Everything," a bright,

classic RnB style song

that enjoyed over 50K

views on YouTube.

"Fine" is more Blues-

Rock-inspired and

introduces listeners to

ALONE's darker side.

"It's the kind of song that

makes you wanna take

off your clothes and give

someone a lap dance,"

10 Never miss a DDG we are always FREE only at ddg.gay

continued on page 27
---
11
---
When Two Deserts Converge

Two distinct desert ecosystems, the Mojave and the Colorado, come together

in Joshua Tree National Park. The Park is open year-round. There are few

facilities within the park's approximately 800,000 acres, making Joshua Tree a

true desert wilderness just a few hours from town.

Though beautiful, the desert environment can be harsh and unforgiving.

12 Never miss a DDG we are always FREE only at ddg.gay
---
www.nps.gov/jotr

74485

National Park

DriveTwentynine

Palms, CA

92277-3597

photos by Adrian

13
---
Is a journey

Fate or Destiny

14 Never miss a DDG we are always FREE only at ddg.gay
---
15
---
03

Vol 26 Issue 29 04.13.22

SUMMARY

08 ADAMSARTEXPOSE'

18 BAR|FOOD

22 COMMUNITY LISTINGS

14 FEATURED BUSINESS

20 MASSAGE

14 ON GOING DIGITAL

17 ON THE COVER

Team DDG

PUBLISHER: Will Paige

will@desertdailyguide.com

EDITOR IN CHIEF: A, A,

AA@desertdailyguide.com

Contributing Photographers: Marko Russell,

David Stanfield

National Ad Representatives

Rivendell Media

(212) 242-6863

Contributing Writers

Vic Gerami

TheBluntPostWithVic.com

Art: Adams's Art

adamsart@desertdailyguide.com

29

08

Advertising

WEDNESDAY MAY 11, 2022

HARVEY MILK

Digital or printed media packs available on

request.

SALES: Will Paige

will@desertdailyguide.com

Magazine is hand delivered every week

to select locations. Updated weekly ,

Currently under minimal COVID restrictions

COACHELLA VALLEY Available

D I V E R S I T Online Y 2-4-7

B R E A K F A S TAT DDG.

DDG Media Group creates and prints Desert Daily Guide. Opinions expressed in the DDG columns do not necessarily

8:3O am | Coffee Welcome & Breakfast

reflect the opinion of the DDG, its staff, or its advertisers. DDG is not responsible for claims made by its advertisers,

9:3O -11 am | Program

or the products or services they offer. Listings, pictures, or advertisements in the DDG should not be construed to

represent or reflect the sexual

PALM

orientation

SPRINGS

of any

CONVENTION

business, its owners,

CENTER

or staff. All events are subject to change

Milk without Diversity notice. Breakfast Any omissions Coalition invites of events you to are join not us. intentional. This event brings © 2021 together DDG Media all who Group support , All Rights Reserved.

d social 16 justice Never in celebration miss a DDG of this we influential are always civil FREE rights activist. only at ddg.gay
---
On the cover!

Donation From Local Chef Funds Popular

Farmers' Market Nutrition Matching

restaurateur and philanthropist, Chef

Chad Gardner, will help CalFresh dollars

go farther at the Certified Farmers'

Markets of the Coachella Valley

(CFMCV) right when it's needed most.

Operated by the 501(c)(3) nonprofit

organization The Palm Springs Cultural

Center, the Certified Farmers' Markets

of the Coachella Valley are the only

mission-driven farmers markets in the

local area, with locations in Palm

Springs, Palm Desert, and La Quinta.

Not only can customers use their EBT

card at these farmers markets, the

CFMCV locations also participate in

Market Match, California's largest

nutrition incentive program. Market

Match provides a dollar for dollar

match of shoppers' nutrition benefits at

participating farmers' markets, allowing

them to purchase even more healthy

fruits and vegetables. So if a customer

spends $15 of their CalFresh benefits at

the farmers market, they are given an

extra $15 to spend on fresh fruits and

vegetables.

Program Through End of Year

A generous donation from local

Since the beginning of the pandemic,

CalFresh

enrollment has grown

exponentially while

the popularity of farmers

markets continues to climb.

As a result, outlets offering Market

Match across the state have seen a

significant increase in participation.

cover next page 19

17
---
18 Never miss a DDG we are always FREE only at ddg.gay
---
When asked about the program,

CFMCV customer Johanna Roberts said

"Market Match has allowed me to keep

my fridge stocked with healthy, fresh

foods while keeping within my budget.

Going to the CFMCV is an integral part

of my life, so being able to match and

bring home extra fruits and veggies just

makes it even better!"

The increase in participation has placed

a financial strain on the program, and

the Certified Farmers' Markets of the

Coachella Valley was obligated to

reduce the daily maximum matching

amount from $15/$15 down to $10/$10.

However, as soon as Chef Chad

Gardner learned about the funding gap

he personally contributed the entire

$5,000 needed to preserve the $15/$15

match through the end of the year.

Serving Diners and the Community Alike

Chad Gardner is the Chef and Creative

Director of the Gardner Hospitality

Group, a collection of culinary ventures

based in the Palm Springs area,

including Roly China Fusion, 533 Viet

Fusion, Willie's, 1501 Uptown Gastropub,

Dash and A Handful Catering, and

the highly anticipated Sol y Sombra

Restaurant at The Paloma Resort.

Deeply connected to Palm Springs and

the desert community, Chef Gardner

is personally committed to helping

both local businesses and the region's

underserved citizens thrive.

"I've made it my business over the

years to enrich our community through

restaurants and events that are

welcoming and joyful. It's a pleasure to

extend that same spirit of hospitality and

excitement about quality food to the

tables of families who need it the most,

by supporting Certified Farmers' Markets

of the Coachella Valley." said Chef

Gardner.

Helping Local Family Farms

Market Match not only puts the freshest

and most nutritious produce available

in the valley directly on the table of

local families who need it most, it also

provides a much-needed boost in

revenue for small family farms. Chef

Gardner's support for local farmers

has long been appreciated by the

CFMCV. As Market Manager Megan

Goehring expressed, "We've watched

with pleasure as Chef Chad's desert

businesses blossomed. He has been

a steady CFMCV supporter since we

introduced him to Jones Girl Farm

tomatoes, back in the early Dash and

a Handful days. He's a true culinary

professional who understands the desire

to make sure everyone can access high

quality fresh food."

The Certified Farmers' Markets are the

Coachella Valley's *Original* State

and County Certified Farmers' Markets.

"Certified" means all the produce from

participating farms at the markets has

been grown at California farms which

have been registered and inspected by

their county Agriculture Departments.

In addition, almost all the CFMCV farms

cover from 17 next page 35

19
---
BUSINESS

DIRECTORY

FEATURED

BARS/DINING

AMP Sports Lounge Everyone is

welcome here at this local friendly bar

in the heart of Cathedral City plaza,

A sports bar with a twist featuring your

favorite sports and daily happy hour. All

the big sports games will be shown on

seven huge TV screens.

68-718 E Palm Canyon Dr #201,

Cathedral City, CA 92234

RIO AZUL MEXICAN Style Rest. & Bar

Best authentic Mexican style restaurant

in the valley. With patio and Bar. Home

of an original and distinct interpretation

of Mexican food & Longest running

Sunday Drag Brunch.(760) 992-5641 350

South Indian Cyn. PS

FEATURED RESORTS

CCBC RESORT 18+ 760 324-1350

68-300 Gay Resort Drive

CCBC is the largest clothing optional

Gay men's resort in Southern California.

Located just a few minutes from

downtown Palm Springs, Our 3.5 acre

fantasy playground is perfect for

weekend get-aways and extended

stays.ccbcresorthotel.com

TRIANGLE INN 760-322-7993

555 E. San Lorenzo Rd Palm Springs CA

Romantic and relaxing or fun and frisky.

At the Triangle Inn Palm Springs, the

choice is yours. Historic Palm Springs

Resort is a feast for all your senses, with

a special flair for Southern (California)

hospitality. triangle-inn.com

SUNSHINE CAFE Nearly as perfect as it

gets! Known as a local hole in the wall

with a funky vibe and fantastic food,

frequented by celebrities, politicians

36815 Cathedral Canyon CC

RUNWAY RESTAURANT & BAR

The valleys premier arts and

entertainment. Featuring American

Casual Dining Drinks & Drag at CCBC

Resort Hotel.68300 Gay Resort Drive, CC

TOOL SHED LEVI/LEATHER In the Warm

Sands District in central Palm Springs.

600 E Sunny Dunes Rd , PS

20 Never miss a DDG we are always FREE only at ddg.gay

NEW! Descanso is the first men's resort to open

in Palm Springs in over ten years. This exclusive

destination offers sophisticated travelers a

relaxing, luxurious getaway in the beautiful

Coachella Valley . relax@descansoresort.com

288 E Camino Monte Vista 760-320-1928

Your Ad Here?

ads@desertdailyguide.com

New Online Only RATES!

Full Page Ads $45 per Issue

bussiness directory next page 21
---
BUSINESS Directory

BAR| FOOD | RESORTS

Cathedral City

BARS|FOOD

The Barracks

Runway

Sunshine Cafe

AMP Sports

Lounge

Roost

Trunks

Studio One 11

Desert Hot Springs

BARS|FOOD

Playoffs Sports Bar

Palm Springs

BARS|FOOD

Eagle 501 Bar

Rio Azul

Tool Shed

Toucan's

Streetbar

Oscar's

Chill bar

Hunters

Stacy's

BlackBook

QUADZ

RetroRoom

Resorts

CCBC

Triangle Inn

Descanso

All Worlds Resort

Desert Paradise

Resort

LA DOLCE VITA

RESORT & SPA

THE HACIENDA AT

WARM SANDS

Shopping

Q trading

Gear

Off Ramp Leathers

Gay Mart

Did We Miss

You?

Let us know

FREE

LISTING!

For all Gay and Gay

friendly Bars Resorts

and Lodging

SHOPPING

Gear Leather and Fetish 760-322-3363

We carry only the finest quality leather

and fetish goods, gym wear, toys and

furnishings, all designed to get you off

and make you look good while you're

doing it. gearleather.com 650 E. Sunny

Dunes

Off Ramp Leathers 760-778-2798

offrampleathers.com New and used

leather and fetish/BSDM gear.

Alterations and repairs handmade

item by Paul. Great selection of

consignment items. 650 E. Sunny Dunes

Rd., Unit 3,Palm Springs, CA

DAVE MAY CONCRETE

PATIOS | SIDEWALKS | DRIVEWAYS |KOOL DECKS

760-327-4849

LIC. #441265

bussiness directory from page 21 next page 24

21
---
EVERY DAY

7AM-7PM

Welcome!

WORSHIP WITH US IN PERSON

SUNDAYS AT 10 AM

3601 E. Mesquite Ave, Palm Springs

Demuth Community Center

God's Love &

Good Works.

760.327.3802

www.bloominthedesert.org

WORSHIP WITH US ONLINE

SUNDAYS AT 10 AM

Facebook

Bloom in the Desert Ministries UCC

REPLAY ANYTIME

YouTube

Bloom in the Desert Ministries UCC

22 Never miss a DDG we are always FREE only at ddg.gay
---
23
---
BUSINESS Directory

MASSAGE

MALE KNEADS Exceptional, Sensual,

Soothing, body work for men of all

ages. Outcalls only. Call Adam for an

extraordinary experience in innovative

erotic relaxation. 760-835-0727

HEY GUYS...take a break from life and

come relax with a great massage

by trained hands. I am a Professional

Massage Therapist here offering

something therapeutic, restorative and

sensually tailored to your needs. I am

well trained and provide a session that

is unparalleled. Say hi and tell me how I

can make your body feel awesome! The

massage is done on a table. I see

people at my location.

I am off Ramon by Sunrise.

845-866-0498 Mark

GENERAL SERVICES

Red's Hauling. We remove trash and

unwanted items. Garage clean outs.

Red 760-288-6956

NATURIST DAY PASSES

Gay Men CCBC Resort

Family DeAnza Desert Sun Resort

Starland Community Desert retreat

Sea Mountain Luxury Nude Resort and

Spa Hotel DHS

Nude beaches in California which are

also called "free beach", or "clothingoptional".

Blacks Beach Nude Beach in San Diego

is located just north of La Jolla Shores

and beneath the Torrey Pines bluffs.

Pirate's Cove, Avila Beach

Corona Del Mar is one of California's

best nude beaches.

Your Ad here

ads@desertdailyguide.com

CALENDAR

April 21 Boxing's most beloved

heavyweight fighter, Gerry Cooney has

been announced as the special VIP

Guest at Fantasy Springs Resort Casino

on the Thursday, April 21 fight card.

24 Never miss a DDG we are always FREE only at ddg.gay

bussiness directory from 21 next page 25
---
Doors open at 5 p.m. and matches

begin at 6 p.m.Tickets to the event start

at $25 and are available at the Fantasy

Springs Resort Casino box office, by

calling (800) 827-2946, or online at www.

fantasyspringsresort.com.

May 1 The Desert Winds Freedom Band's

final concert of our 20th Anniversary

season is a FREE, fun POPS Concert, on

Sunday, May 1, 2022 at 2:00 pm in the

Bochner Auditorium of Temple Isaiah

located at 332 W. Alejo Road, Palm

Springs, CA.

Promoting Independent Cinema in the

Coachella Valley Palm Springs Cultural

Center's Historic Camelot Theatre,

Historic Camelot Theatre @ the Palm

Springs Cultural Center, 2300 E Baristo Rd

Palm Springs, CA 92262 United States

psculturalcenter.org

Thertre and Virtual films

hardship.

May 11 The Harvey Milk Coachella

Valley Diversity

Breakfast is Proud to Recognize

Mayor Annise Parker With the 2022

Legacy Award

(Palm Springs, CA) March 21, 2022…

The Harvey Milk Diversity Breakfast

Committee announces that Mayor

Annise Parker will be this year's recipient

of the Harvey B. Milk Legacy Award

at the 10th Annual Coachella Valley

Harvey Milk Diversity Breakfast on

Wednesday, May 11, 2020 at 9:30

AM at the Palm Springs Convention

Center. Proceeds benefit Coachella

Valley youth through Gay-Straight

Alliance clubs and LGBTQI youth-related

programs. Cole Brett-Burks a Palm

Springs High School graduate will be

given the Outstanding Youth Award.

desertfilmsociety.org

Upcoming Screenings

MAY 7 PEACE BY CHOCOLATE -

UKRAINIAN FUNDRAISER Based on

an incredible true story, this film is an

inspiring narrative of working together

and overcoming unimaginable

bussiness directory from 24 next page 26

Thursday nights VILLAGEFEST takes place

in downtown Palm Springs on Palm

Canyon Drive every. villagefest.org

Guided Nature Walks

Palm Springs Aerial Tramway

Check schedule. pstramway.com

25
---
FRIENDS OF THE DESERT

MOUNTAINS celebrate Friends'

champions and accomplishments

November 10th services hikes various

events check schedule

desertmountains.org

LOCAL ATTRACTIONS

Cabot's Pueblo Museum

760-329-7610

McCallum Adobe 760-323-8297

Indian Canyons 760-323-6018

Palm Springs Aerial Tram

760-325-1449

Palm Springs Air Museum

760-778-6262

Palm Springs Art Museum

760-325-7186

Sunnylands

760-328-2829

Patton Memorial Museum 760-227-3483

Joshua Tree National park 760-367-5500

FREE COMMUNITY LISTINGS

AAP - Food Samaritans (760) 325-8481

Eisenhower HIV Clinic (760) 834-7930

Veterans Records https://vetrecs.

archives.gov/VeteranRequest/home.

html for vet or family or with written

authorization.

Lgbt community center

760-416-7790 thecenterps.org

American cancer society

800-227-2345

VETERANS. MEMORIAL DAY

AWARDS LUNCHEON

SET FOR MAY 30!!!!!

NICOLINO'S ITALIAN RESTAURANT

35-325 DATE PALM DRIVE SUITE 111

CATHEDRAL CITY CA $25 ITALIAN BUFFET

INCLUDES TAX AND TIP DESSERT AND

BEVERAGE

SLIDING SCALE FOR LOW-INCOME

MAKE CHECKS PAYABLE TO "VFP".

CALL TOM SWANN HERNANDEZ

(760) 324-5670

FOR RESERVATIONS. SPACE IS LIMITED.

Coachella Valley sexual assault

(760) 568-9071

Desert Legal aid: 760-832-9770

Stonewall democrats:

desert-stonewall.Org

Desert winds freedom band

760 776-2700

Gay artists -760 835 0727

DAP/ DOCK Clinic (760) 992-0492 Gay book club of ps—write to

Bookclubofps@yahoo.Com

Borrego Health (Stonewall Medical

Center) Cathedral City 760-507-3310

26 Never miss a DDG we are always FREE only at ddg.gay

bussiness directory from 25 next page 28
---
has been involved in. This is Kirill's version

of how he visualizes the Dorian portrait in

modern terms.

of this space you will find further

examples of Kirill's diverse creativity.

The uncertainty of the fate of Ukraine is

intertwined with the fate of Kirill Fadeyev

and his ability to continue to create and

contribute to the benefit of the world.

Because of the war Kirill will not have

any prints available of his work until the

war has ended Limited

originals will be available to purchase.

His work can be found under KIRILL

FADEYEV OFFICIAL STORE http//artgays.

com. There are various

prints available to view and purchase

from other online vendors and galleries

such as Etsy, Saatchi Art,

Instagram, and Pinterest.

adamsart from 8

In the remainder

27
---
Transgender Community

Transcc.Org

Palm Springs Gay

Men's Chorus 760-219-2077

Palm Springs Leather Order of the Desert

760 272-5553

Palm Springs Pride

Pspride.Org

Prime Timers of the Desert

760-424-8014.

FOOD DISTRIBUTION

Every THURSDAY

5pm - 7pm

610 Belardo Rd.

APR 23 NATIONAL PROPANE GAS

ASSOCIATION A celebration of propane

and propane related accessories.

APRIL 21 - 23 2022 NATIONAL

CLYDESDALE SALE

ONLINE BIDDING DETAILS:

We are excited to "Team Up" with CCi.

Live for your on-line coverage of the

National Clydesdale Sale! To purchase

on line, you must complete the set up

form–this needs to be done prior to the

sale. Click this link to get signed up and

ready to bid!!!

https://cci.auction/orgs/95/

auctions/2441

National Events

National Park Week 2022 from April 16 to

24! Parks.

April 22 Earth Day

For the past 50 years, Earth Day has

been celebrated by billions of people

around the globe, annually every

April 22, to join together in promoting

awareness for the health of our

environment.

APR 23 NATIONAL PET PARENTS DAY

APR 23 NATIONAL CORNBREAD FESTIVAL

2022 The National Cornbread Festival

is a weekend-long celebration of

cornbread and cornbread related

activities in Tennesee

APR 23 NAUTICAL ARCHAEOLOGY

TRAINING WORKSHOP 2022

Shipwrecks have always been sources

of wonder and fascination. The

documentation of these important

pieces of history has been a priority for

the National Museum of the Great Lakes

and the Maritime Archaeological Survey

Team.

WE DELIVER OPTIONS

Email Today will@desertdailyguide.com

All community listings are free for 2022

Space Permitting.

Email will@desertdailyguide.com

28 Never miss a DDG we are always FREE only at ddg.gay

bussiness directory from page 28
---
Grab a coffee,

take the survey,

make a difference.

Take the 16th Annual

LGBTQ Community Survey ®

LGBTQsurvey.com

LGBTQ research helps non-profits, universities

and businesses better understand and

serve our community.

Download survey results free of charge

at cmi.info.

CLICK

HTTPS://SURVEY.CMI.INFO/SE/359D342B06DB7B00?CMID=22043

Proudly LGBTQ-Owned and -Operated. A pioneer in LGBTQ

research since 1992.

Your information is confidential, used for research purposes only.

You will not be contacted for marketing purposes.

29
---
Hear Ye Hear Ye

Palm Canyon Theatre presents the

award-winning Broadway musical

Monty Python's SPAMALOT

April 22 – May 1, 2022

Palm Springs, Calif., (April 8, 2022) – Palm

Canyon Theatre (PCT) is spreading

laughter and merriment with Monty

Python's SPAMALOT. A musical

lovingly ripped off from the

motion picture "Monty Python

and The Holy Grail"

This hilarious musical comedy

tells the legendary story of King

Arthur and the Knights of the

Round Table, as they journey through

England in search of the Holy Grail. With

Book and Lyrics by Eric Idle and Music

by John Du Prez & Eric Idle, the musical

tale stars Sir Lancelot (Eric Stein-Steele),

Sir Bedevere (Alan Berry) and the Lady

of the Lake (Jaci Davis.) It also features

insulting Frenchmen, inventive use of

coconuts and a homicidal rabbit.

Monty Python's SPAMALOT runs April

22 – May 1. Show times are 7 p.m.

on Thursdays, 8 p.m. on Fridays and

Saturdays, and 2 p.m. on Sundays.

Tickets are $32-$36. Student tickets are

available for $15 with a valid ID.

For tickets, sponsorship opportunities,

or other information, call the PCT Box

Office at (760) 323-5123 or order online:

PalmCanyonTheatre.org. The Palm

Canyon Theatre is located at 538 North

Palm

Canyon

Drive,

at the

corner

of Alejo

Road

and Palm Canyon Drive. Box Office

hours are currently Tuesday-Saturday, 10

a.m.-4 p.m.

Monty Python's SPAMALOT is presented through

special arrangement with and all authorized

performance materials are supplied by

Theatrical Rights Worldwide 1180 Avenue of the

Americas, Suite 640, New York, NY 10036. www.

theatricalrights.com

30 Never miss a DDG we are always FREE only at ddg.gay
---
His powerful vocals ride a

dirty rhythm set by distorted

guitars and a throbbing lowdown

bass line as the lyrics

narrate a story of Queer

passion.

"I feel like today's culture

looks at Rock music as a

'straight' genre and I beg to

differ," ALONE says from his

NYC home. "The Queer

legacy of Rock 'n Roll dates

back to its inception with

artists like Big Mama Thornton and Little Richard, and has always

been present through artists such as David Bowie, The Velvet

Underground, and Freddie Mercury — it's time we reclaim it."

ALONE, born Alon, was raised in

Israel. His musical influences were

Prince, Grace Jones, George

Michael and Sylvester. "Growing

up as a Queer kid who never fully fit

in anywhere, seeing a Queer artist

like Sylvester was a beacon of

hope," ALONE reflects. "It made me

feel like there was a future for me

and that there were others out there

like me."

ALONE's "Fine" is available now on

Apple Music, Spotify and all digital

platforms.

continued from page 10

31
---
WEDNESDAY MAY 11, 2022

HARVEY MILK

COACHELLA VALLEY

D I V E R S I T Y

B R E A K F A S T

8:3O am | Coffee Welcome & Breakfast

9:3O -11 am | Program

PALM SPRINGS CONVENTION CENTER

The Harvey Milk Diversity Breakfast Coalition invites you to join us. This event brings together all who support

equality and social justice in celebration of this influential civil rights activist.

• TABLE SALES NOW OPEN

SEE EVENT Details @ www.harveymilk.us

• TICKETS AVAILABLE ONLINE: www.HarveyMilk.us

• Table and Sponsorship Opportunities by mail:

https://www.bit.ly/Milktix

ACCESSIBILITY:

This event is accessible for persons with hearing, visual

• Donate tables so Valley GSA Students can attend.

and mobility impairments.

SPECIAL PERFORMANCE BY PALM SPRINGS GAY MEN'S CHORUS

HARVEY B. MILK LEGACY AWARD HONOREE

ANNISE PARKER

Former Mayor of Houston

Victory Fund and Victory Institute President & CEO Annise Parker is the first

former elected official to lead the organization, having served six years as a

Houston City Council member, six years as City Controller, and six years as

Mayor of the city.

HARVEY B. MILK LEADERSHIP AWARD

ANDY LINSKY

Recognized for his activism and deeply rooted commitment

to philanthropy. Andy served on the Board of Directors for

Desert AIDS Project from 1990 to 2014 and the Human

Rights Campaign (HRC) from 2002 to 2017. He has served

on the HRC Emeritus Council since 2019.

GOLD SPONSOR: Barton CPA, Harold Matzner, and Grace Helen Spearman Foundation

SILVER SPONSORS: CCBC Resort and Runway, Center for Spiritual Living Palm Springs, DAP Health, Desert Care Network, Eisenhower Health

BRONZE SPONSORS: Boyd & Lisette Haigler, Bud Light Seltzer, Canyon Pacific Insurance, Capstone Partners Financial and Insurance Services, LLC, Channel Q, City of Cathedral City - for LGBTQ Veterans, City of

Palm Springs, Geoff Kors and James Williamson, Inland Empire Community Foundation, Ron deHarte for City Council, The Bianco Group (Boo 2 Bullying), The Gregory-Ornelas Family Trust, LGBTQ Community Center

of the Desert, The Relationship Group at Morgan Stanley, The Saguaro, VRON - Vacation Rentals Owners and Neighbors

TABLE SPONSORS: Bloom in the Desert Ministries, Coachella Valley Independent, Contempo Lending, Desert Business Association, Desert Daily Guide, Desert Stonewall Democrats, Eisenhower Health, Hilton

Palm Springs, Human Rights Campaign, Jeffrey Norman, KGAY 106.5 FM & Gay Desert Guide, Mike Swize (PSUSD), Mizell Center, MOD Mansions, Modern Bear, Palm Springs Chamber of Commerce, Palm

Springs Escrow, Palm Springs Gay Men's Chorus, Planned Parenthood of the Pacific Southwest, Promohomo.tv, Randy Steele & Erin Driscoll, Shann Carr, Visit Palm Springs, Well in the Desert

STUDENT TABLE SPONSORS: Al Jones, Candace/Marina/Sassy/Melissa, Carol K and Bella da Ball, Desert Business Association, Grace Helen Spearman Foundation, David Hood, Human Rights Campaign,

Dr. Frank C. Figueroa, Streetbar, Brian Eggert, Ray Chance, LGBTQ Community Center of the Desert, Henry Munson, Palm Springs Gay Men's Chorus, Susan Thronson, The Standard Magazine, Visit Palm Springs

32 Never miss a DDG we are always FREE only at ddg.gay
---
DDG VAULT

PAST EVENTS

PHOTO BY ADRIAN

33
---
WATCHER, Julia (Maika Monroe) joins her husband (Karl Glusman)

relocates to his family's native Romania for a new job. Having recently

abandoned her acting career, she finds herself frequently alone and

unoccupied. One night, people-watching from her picture window, she

spots a vague figure in an adjacent building, who seems to be looking

back at her. Soon after, while alone at a local movie theater, Julia's

sense of being watched intensifies, and she becomes certain she's

being followed — could it be the same unknown neighbor? Meanwhile,

a serial killer known as The Spider stalks the city.

WATCHER had its world premiere at the 2022 Sundance Film Festival

and most recently screened at the 2022 SXSW Film Festival. WATCHER

will open theatrically on June 3rd from IFC Films. Shudder will take the

first streaming window of the film.

Trailer https://youtu.be/awZTfjPrYJw

34 Never miss a DDG we are always FREE only at ddg.gay
---
are located within a 100 mile radius of

the Markets (thus reducing the carbon

footprint), and many products sold

were grown using organic principles.

The CFMCV are also GMO-free and

sustainably-focused Markets.

The Certified Farmers Markets are

sponsored by the Palm Springs

Cultural Center, a 501(c)(3) non-profit

organization, which was established

to encourage the development of the

cultural arts in the Coachella Valley with

a specific focus in the areas of film, fine

art, live performance, dance, music,

and community festivals. The Center is

dedicated to advancing education, to

nurturing community-wide participation

in the cultural arts, and to sponsoring

scholarship awards for deserving

individuals.

www.certifiedfarmersmarkets.org

Market Match is a farm-direct based

nutrition incentive program Led by the

Ecology Center, based in Berkeley,

and funded through the USDA Gus

Schumacher Nutrition Incentive Program

and California Nutrition Incentive

Program. The Market Match program

provides a dollar for dollar match, up to

a daily maximum, on purchases made

at the farmers market with CalFresh

(known as SNAP on a federal level)

benefits, at nearly 250 locations across

38 California counties.

https://marketmatch.org/

cover from 19

35
---
Zoom Mass every Saturday at 430.

Call or 442-282-8389 or visit stgilesaltadena.org for more details.

36 Never miss a DDG we are always FREE only at ddg.gay
---
HARD WEAR

CELLBLOCK13

L E AT H E R & F E T I S H

G E A R L E AT H E R C O

G E A R L E AT H E R

6 5 0 E S U N N Y D U N E S PA L M S P R I N G S 7 6 0 3 2 2 3 3 6 3 G E A R L E AT H E R .C O M

37
---
38 Never miss a DDG we are always FREE only at ddg.gay