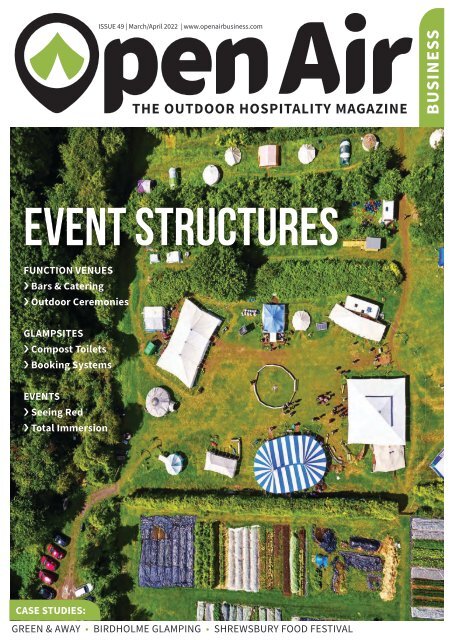 March/April 2022
The UK's outdoor hospitality business magazine for function venues, glamping, festivals and outdoor events
The UK's outdoor hospitality business magazine for function venues, glamping, festivals and outdoor events
SHOW MORE
SHOW LESS
Create successful ePaper yourself
Turn your PDF publications into a flip-book with our unique Google optimized e-Paper software.
ISSUE 49 | March/April 2022 | www.openairbusiness.com

BUSINESS

EVENT STRUCTURES

FUNCTION VENUES

› Bars & Catering

› Outdoor Ceremonies

GLAMPSITES

› Compost Toilets

› Booking Systems

EVENTS

› Seeing Red

› Total Immersion

CASE STUDIES:

GREEN & AWAY • BIRDHOLME GLAMPING • SHREWSBURY FOOD FESTIVAL
---
ISSUE 38 | October/November 2020 | www.openairbusiness.com

ISSUE 35 | March 2020 | www.openairbusiness.com

BUSINESS

BUSINESS

ISSUE 39 | January 2021 | www.openairbusiness.com

ISSUE 33 | January 2020 | www.openairbusiness.com

FUNCTION VENUES

BUSINESS

/ /

GLAMPSITES

EVENTS

> Legalities

> Biophilic Design

> Seasonal USPs

> Bespoke Structures

> Wedding Insights

> Professional Services

CASE STUDIES: HEATON HOUSE FARM • BROOK MEADOW • DOGFEST

FUNCTION VENUES

OAB Gathering 2020 – Don't miss our very own conference this March!

Alfresco Dining

› Promoting Events

› Market Research › Testing Times

› Contingency Plans › Booking Channels › Necessary Change

CASE STUDIES:

SKIPBRIDGE COUNTRY WEDDINGS • TRECOMBE LAKES • WEEKEND AT THE ASYLUM

> Events Report

> Changing Diets

> Marquees

/ /

GLAMPSITES

CASE STUDIES:

FUNCTION VENUES

› Venue Searches

› Customer Excellence

EVENTS

STAYCATION

INVESTMENT

GLAMPSITES

› Tree Advice

/ /

› Glamping Show

CASE STUDIES:

FUNCTION VENUES

› Changing Habits

› Industry Taskforce

CHILLI BARN • MAD DOGS & VINTAGE VANS • HEVER CRAFT AND DESIGN FAIR

EVENTS

› Event Glamping

› Coping with Covid

/ /

GLAMPSITES

› Casual Excellence

› Planning Exemptions

EVENTS

THE ORCHARD AT MUNSLEY • HOLLY WATER HOLIDAYS • LANTERNS AT CHESTER ZOO

Customer

First

› 2021 Predictions

› Marketing Post-Covid

FUNCTION VENUES

› Delegation

› Instagram 1

› Start-up Venues › Small Space Design

CASE STUDIES:

HOUCHINS • THE PADDOCK RAMSBOTTOM • FRINGE BY THE SEA

/ /

GLAMPSITES

BUSINESS

EVENTS

› Placemaking

› Covid Insurance

ISSUE 40 | February 2021 | www.openairbusiness.com

SUPPLIER

SHOWCASE

BUSINESS

Spread the Word

Open Air Business is now £20 per year

If you know someone who would benefit

from a print subscription, please let them know!

With big thanks,

The Open Air Business Team

www.openairbusiness.com/subscribe
---
ISSUE 49 | March/April 2022 | www.openairbusiness.com

WELCOME

FOR ANYONE who missed it, outdoor marriages are now

legal. Following the overwhelming response to a consultation

conducted by the government on temporary measures

brought in during the pandemic, couples can now conduct

both their ceremony and reception in the open air. What great

news for our industry – Charlotte Winship has more on how to

maximise on the opportunity on pages 21-22.

While the government has 'given' here, it has taken from

the events industry with the banning of red diesel. Organisers

are seeing their operating costs soar by the crackdown, billed

as a carbon saving measure. EIF chair Steve Heap and Craft in Focus director Rob

Chapman discuss the implications on pages 56-57.

A fascinating factory visit to Glampsan's workshop (pages 38-39) reveals the journey

a humble plastic holding tank goes through in its manufacture, and leads nicely in

to our feature on composting toilets! Thank you Practically Green for giving us your

round up of the best toilets on the market and explaining the biological process

behind composting.

Following the low impact theme, our function venue case study Green & Away

(pages 16-19) has sustainability at its core. A pop-up summertime venue run by

volunteers, it is over 30 years old and welcomes people from all walks of life to party,

learn and create.

In a sector striving for the best guest experience and customer service, I would like

to echo Caroline Cooper's words in her piece on experiential learning (pages 26-27) –

let's keep our eyes open for best practice and exemplar service and seek to emulate it

wherever we can. You never stop learning!

Tally Rix

Editor / Publisher

PUBLISHERS

Steve Rix - steve@openairbusiness.com

Tally Rix - tally@openairbusiness.com

EDITOR

Tally Rix - tally@openairbusiness.com

ADVERTISING SALES

Marney Whyte - 01892 677743

marney@openairbusiness.com

David Hobden - 01892 677741

david@openairbusiness.com

ADMINISTRATOR

Kirsty Farrow – 01892 677740

kirsty@openairbusiness.com

DESIGN

James English -

www.jamesenglishdesign.co.uk

PUBLISHED BY

Coffee Shop Media Ltd

www.coffeeshopmedia.com

Milroy House, Sayers Lane,

Tenterden, TN30 6BW

01580 848555

Contents ISSUE 49 – MARCH/APRIL 2022

UP FRONT

4 News

7 Product News

10 Event Production

Show Review

12 Entrepreneur's Chat

– Helen McCombie

Armstrong, Glamp

and Tipple

FUNCTION VENUES

16 Green & Away

– a low impact,

pop-up venue in

Worcestershire

21 Go Outdoors –

Charlotte Winship

discusses the

wedding law changes

25 A Place to Interact

– Andrew White on

venues inspiring

creative interaction

26 Experiential

Leaning – learning

from experiences

inside and outside of

work

28 Bars & Catering –

products in action

GLAMPSITES

31 Birdholme Glamping

– fully insulated safari

lodges operating year

round

36 Booking Systems –

how to compare and

select the right one

for you

40 Compost Toilets

– the best on the

market with advice

from Practically

Green

42 Bookings &

Partnerships –

products in action

46 Alfresco Dining –

products in action

EVENTS

48 Shrewsbury Food

Festival – 200 food,

drink and artisan

craft stalls

53 Total Immersion

– the power of

immersive events

56 Seeing Red – the

banning of red diesel

for events

59 Structures –

products in action

62 Spotlight

63 Classifieds

65 Behind the Scenes

Susie Reid Thomas,

Twilight Trees

OPEN AIR BUSINESS IS

NO LONGER FREE

To start a paid subscription, please visit

www.openairbusiness.com/subscribe

Find more expert advice online:

www.openairbusiness.com

SUBSCRIBE

ONLINE

EVENT STRUCTURES

FUNCTION VENUES

› Bars & Catering

› Outdoor Ceremonies

GLAMPSITES

› Compost Toilets

› Booking Systems

EVENTS

› Seeing Red

› Total Immersion

CASE STUDIES:

GREEN & AWAY • BIRDHOLME GLAMPING • SHREWSBURY FOOD FESTIVAL

COVER PHOTO

Pop-up summertime venue Green & Away in Worcestershire.

www.greenandaway.org

WWW.OPENAIRBUSINESS.COM 3

BUSINESS
---
Outdoor Weddings

Legalised

Sustainable Events

Around Morecambe Bay

PEOPLE ACROSS Morecambe Bay are being

invited to get involved in a project aimed at

inspiring organisers to manage outdoor events in a

sustainable way.

Morecambe Bay Partnership is inviting

the outdoor community across The Bay and

surrounding areas to get involved with 'Clear The

Bay By Day' project and contribute their expertise

to inspire organisers to manage outdoor events in

a sustainable way

Many local event companies have been involved

with the project so far, including T2 events, The

Lap Windermere, Ourea Events, Greener Miles

Running and other organisations like Dirtbags

Climbing, Trees Not Tees, Green Small Business

and Trash Free Trails. They are pooling their

collective knowledge and expertise to build the

resource.

The partnership's beach care assistant, Lauren

Munro-Bennett, who is leading the project, said:

"If you're an organiser of a 5km fun run, a trail

race, fell run, triathlon, swim event, cycle sportive,

challenge event or a festival, we would love to hear

from you!"

The project is being funded by the European

Outdoor Conservation Association (EOCA). Please

contact Lauren at lauren@morecambebay.org.uk

or call 07505 962212.

T2 EVENTS

OUTDOOR WEDDINGS at licensed

venues in England and Wales have

been legalised permanently. Having

been introduced as a temporary

measure during the pandemic, a

government consultation found that

96% of respondents backed making

the change permanent, while 93%

supported extending it to religious

weddings.

Ministers have now legalised

outdoor civil weddings and

partnerships indefinitely and reforms

to religious ceremonies will be made

in due course after the consultation

found every major faith group

supported the move.

Couples can now have the whole

ceremony outside in the venue's

grounds – providing them with

greater flexibility and choice, as

well as boosting the recovery of

the wedding sector following the

pandemic.

Justice Minister Tom Pursglove MP

said: "A wedding is one of the most

important days in a person's life and

it is right that couples should have

greater choice in how they celebrate

their special occasion.

"These reforms will allow

couples to hold more personalised

ceremonies and provide a welcome

boost for the wedding sector."

Hospitality Carbon Calculator Launches

FOLLOWING THE publication in November of the industry's roadmap to net zero, the Zero Carbon

Forum has launched the Hospitality and Brewing Carbon Calculator and Toolkit developed in

collaboration with UKHospitality, BBPA, and powered by Sky.

The toolkit enables hospitality operators and brewers to calculate their carbon footprint and

identify achievable key actions to reduce emissions. To support the accuracy of footprint calculations

and easy-to-use actions, operators can choose from the groupings of visitor attractions, hotels,

restaurants, contract catering, pubs and breweries.

Forum CEO and founder, Mark Chapman said: "We want to support operators to quickly identify

the actions they can take. Accurately measuring and understanding your current carbon footprint is

critical to starting a meaningful plan to cut carbon and costs. Our new calculator and toolkit shows

operators how to take action on reducing emissions in their own business and supply chain rather

than offsetting. It is based on the roadmap findings, learnings of all forum members and input from

our carbon experts."

The toolkit and calculator can be accessed for brewers and pubs through the BBPA and through

UKH for pubs, hotels, restaurants, QSR, nightclubs, contract catering and visitor attractions. It will also

be available on Sky's customer portal, MySkySports.com. Visit www.ukhospitality.org.uk/page/UKHCarboncalculator

4 WWW.OPENAIRBUSINESS.COM
---
Dark Skies Generates £200,000

THIS FEBRUARY'S Dark

Skies Festival is estimated

to have helped generate

more than £200,000 of

income for businesses and

organisations across both

the North York Moors and

Yorkshire Dales National

Parks.

Running across four

protected landscapes, North

York Moors National Park,

Yorkshire Dales National

Park, Nidderdale Area of

Outstanding Natural Beauty

AONB, and Howardian

Hills AONB, a significant

proportion of the 100-plus

events sold out early and

attracted a healthy waiting

list. The popularity of

this, now biannual, event

underlines its status as a

UK calendar fixture and its

importance as a valuable

off-season income booster

for businesses.

Based on the attendance

numbers and using an event

evaluation calculator, the

National Parks estimate

this year's festival will

have helped generate over

£200,000. The figure relates

to both direct purchases

such as event tickets as

well as indirect spending

on items such as food

and drink or overnight

accommodation for a

proportion of visitors.

Helen Dalton, tourism

Friends @The Farm 2022

officer for the Yorkshire

Dales National Park, said:

"When we look back to the

initial festival, the events

were mainly centred on

traditional stargazing and

astronomy evenings. While

these still remain a core,

and very important part

of the festival, we've seen

how more businesses and

organisations are putting

their own spin on the

theme to appeal to new

audiences."

AN INFORMAL gathering of glamping professionals is planned

for 30 June–1 July in Peckham Bush, Kent.

"The aim is to create an informal and friendly event where

interested/would be site owners can meet and talk with

professionals in the glamping market," says co-organiser Lisa

Bullen. "The key words here are friendly and informal. We

aren't chasing big numbers; it's about enabling visitors to see

structures and products in a natural setting."

Exhibitors include Tree Tents International, Lotus Belle, Glamping Fires, Coal Bunker,

TruDomes, Solar Technology, Glampsan, DPage Contractors plus service providers to include

social media, marketing, web development and photography. For free tickets, visit

www.trybooking.co.uk/BNBN

IN SHORT

› BREWERY AND VENUE PLANS

A former farm park in North Ayrshire has

unveiled plans to create an exclusive

wedding venue and micro-brewery.

Blackshaw Farm in West Kilbride, which

closed to the public as a tourist attraction

in 2000, intends to host weddings all yearround

and a Blackshaw Farmhouse Ale will

be crafted on-site and sold at the venue and

in local pubs.

› COTSWOLD FARM PARK LAUNCHES

SAFARI TENTS

Cotswold Farm Park has revealed six

new safari tents, extending its holiday

accommodation which includes lodges,

camping pods and pitches, and pop-up

glamping village, Strawberry's Field.

Bookings for the safari tents start from

£100 per night. Entry to the park is included

in stays and the tents are dog friendly.

› BUSINESS AFLOAT VIA

ROSEBUD LOAN

A Lancashire boat hire

company has diversified

into weddings and

other events. Canal Boat

Cruises, based at Riley

Green Marina, Hoghton, allows customers

to hire canal boats for special occasions,

events, romantic dinners and holidays. The

business purchased land adjacent to the

site then developed this into a wedding

venue with the help of a £130,000 loan from

Rosebud which it secured in 2018.

Rosebud is owned by Lancashire County

Developments (LCDL), a wholly owned

subsidiary of Lancashire County Council. It

aims to support the growth of Lancashire

businesses and the local economy, offering

loans between £10,000 and £300,000 and

business support.

MAC CABINS LIMITED

Modular • Artisan • Contemporary

Glamping Sites, Leisure Parks, Holiday Rentals,

Bed & Breakfasts (B&B), Hotels & Resorts, Golf Clubs,

Camp Sites, Holiday Retreats, AirBnB and Land/

Garden Owners.

Whether you are looking to start,

expand or diversify your own

existing holiday rental business,

MAC Cabins brings you the

perfect selection of the best

Timber Log Cabins, Glamping

Pods, Timber Lodges and Small

Homes Tiny Houses, collectively,

for you to choose from.

MAC Cabins actively supports and promotes the sustainable tourist industry.

0800 999 1564

maccabins.co.uk

WWW.OPENAIRBUSINESS.COM 5
---
New Opportunity

with Forestry England:

Campsite Development - Technical

Recreation Programme Lead

Forestry England have launched a search for a new role to lead and

innovate camping and glamping development across the nation's forests.

If you have knowledge and experience gained within the leisure and

accommodation sector and are ready for the challenge of growing the

net value of camping and glamping to our business, while connecting

people with nature in our nation's forests, we'd love to hear from you.

the best

value

100% cotton

bell tent

on the

market.

285gsm & 320gsm

colour

Find out more at

civilservicejobs.service.gov.uk

Closing date: 3rd May

The Bell Tent Shop is a well-established online tent shop

located in Warwickshire. We offer free shipping across the

UK. From 100% cotton canvas, fireproof & fire-retardant

eco-friendly, sustainable bell tents to luxurious camping

equipment, we have it all!

OUR TENTS ARE PERFECT FOR

PROFESSIONAL AND INDIVIDUAL USE

please visit us at www.thebelltentshop.co.uk

e: thebelltentshop@gmail.com t: 07732 040468

6 WWW.OPENAIRBUSINESS.COM
---
PRODUCT

Caboose & Co Joins

Cube to Enhance

Event Accommodation

CUBE MODULAR has acquired

Caboose & Co luxury pop-up bedroom

suites to further expand its portfolio

of modular cabins for event rental.

Caboose & Co has a diverse range of

stylish, high quality modular hotel

rooms designed for short

term hire at events

and festivals. The

Caboose range

complements

Cube's own

Event Hotel and

Snoozy glamping

accommodation

solutions,

as well as its

multi-functional

and award-winning

Continest sustainable,

foldable event cabins.

The acquisition of the Caboose

& Co suite of products fits into

Cube Modular's strategy to bring

a comprehensive range of event

accommodation solutions to the

festival and event industry. Caboose

& Co is a well-respected brand with

well-designed units manufactured

to the highest quality; products that

integrate perfectly within Cube's

portfolio. Units feature sun terraces,

comfortable beds, showers and

flushing toilets, and will appeal to

Cube's existing clients, particularly

within the festival sector.

Brandon Weston, Cube Modular's

MD, said: "Bringing the Caboose &

Co products within the Cube

group complements our

overall modular portable

building offering and

significantly enhances

our capacity to serve

our festival and

event customers.

We can now provide

a full temporary

accommodation

solution, including

a whole new level of

luxury portable hotel rooms

alongside our award-winning and

multi-functional Continest containers,

Snoozy glamping pods and our own

Event Hotel."

Cube will be looking to launch

'Caboose Town' at next year's

Cheltenham Festival, offering VIP

accommodation adjacent to the

Cheltenham Racecourse venue.

01905 955814, theteam@

cubemodular.co.uk,

www.cubemodular.co.uk,

New Opportunity with

Forestry England

FORESTRY ENGLAND has launched a search for

a new role –Campsite Development Technical

Recreation Programme Lead to lead and

innovate camping and glamping development

across the nation's forests.

This is a national role based on a combination

of office based and virtual working. The role can

be based at any Forestry England office with

good travel and IT connections.

Forestry England is the country's largest

land manager, caring for the nation's forests for

people, nature and the economy. Whilst being

the biggest provider of outdoor recreation in

England, its recreation and visitor experience

business plays an essential role in fulfilling

the purpose of Forestry England. It believes

that the immersion into nature, adventure and

direct access to the recreational facilities that its

campsites provide is a unique and desirable offer

that already attracts year-round repeat visitors.

There are currently 18 campsites in operation

and the plan is to diversify and grow this

unrivalled offer, establishing new camping,

glamping and motorhome products and

experiences in a greater range of forest locations.

Forestry England is looking for a talented

individual to take an insight-led approach

to innovate and deliver commercially viable

new offerings and establish new and effective

relationships with developers and operators.

If you have knowledge and experience gained

within the leisure and accommodation sector

and are ready for the challenge of growing

the net value of camping and glamping to the

business while connecting people with nature in

our nation's forests, Forestry England would love

to hear from you.

Closing date: 3 May. Find out more at

www.civilservicejobs.service.gov.uk

WWW.OPENAIRBUSINESS.COM 7
---
PRODUCT

Instant,

Low Impact

Foundations

BASED IN the West Country, with a network

of regional installation partners, FIRST

BASE Ground Screws UK is a young and

fast-growing company supplying bespoke,

instantly loadable foundations for modular

and steel/timber framed constructions such

as lodges, pods, staging and tent/awning

anchors, even on heavily sloping ground.

New for 2022, FIRST BASE has introduced

its PRO-V series of extendable screws to

the UK market, which are perfect for poor

ground conditions, sand and areas prone

to high moisture content. The recent

collaboration in the Netherlands on the

Marker Wadden nature reserve created

screw foundations for timber-framed

accommodation buildings, standing on

sand, clay and silt extracted from the

Markermeer. Closer to home, FIRST BASE is

currently supplying screw pile foundations

and project support for eight eco-lodges

around a lake near York, among many other

projects.

Ground screws offer a simple and costeffective

alternative to concrete bases, with

many sustainability benefits too. Installed in

minutes, they cause minimal disruption or

vibration to soil structure, and tree roots just

grow around them. If structures ever need

to be moved, the screw piles can simply be

unscrewed and re-used!

01548 859879, info@firstbasegroundscrews.

co.uk, www.firstbasegroundscrews.co.uk

Built to

Impress

RURAL ACCOMMODATIONS is one of the UK's

leading suppliers of log cabins and chalets

for domestic or commercial use, all with a

distinctive style, they are designed and built

to impress.

The company is now delighted to introduce

bespoke hand built shepherds huts, A-frames

and pods to its ever increasing portfolio, all

to the very highest standard. The perfect

business opportunity, additional living

space or for catering, structures are available

in various sizes, painted and decorated

throughout in a colour of your choice and

ready to furnish.

All structures are fully insulated with 240V

electrics, double sockets throughout, internal

and external lighting, double glazed windows

and stable or double doors and laminated

flooring. Shepherds huts come with cast

iron wheels, steerable chassis and draw bar.

Optional extras are available on request

such as kitchen, bathroom/shower room, log

burner etc.

01524 792633, logcabinworld@btinternet.

com, www.logcabinworld.co.uk

8 WWW.OPENAIRBUSINESS.COM
---
ZehnderPumpen

Te

T

chnology

We've combined our relentless pursuit of innovation with

Zehnder's German engineering to bring some new, heavy-weight

lifting stations to the commercial and industrial sector. They're

available in one or two pump options and in single or three-phase

specifications. So, it doesn't matter if it's a factory or an office block,

we've got the power you need to get the job done.
---
INDUSTRY OVERVIEW

Event Production Show

A round up of the 2022 Event Production Show

DEDICATED TO the live events industry

across sports, music and culture, The Event

Production Show (EPS) brought together

event professionals on the 8-9 March at ExCel

London.

Visitors came to experience a showcase

of the latest products and services

including staging, AV, equipment hire, event

technology, temporary structures, security

and more.

From working collectively to tackle

challenges including soaring costs, supply

chain issues, sustainability goals and

attracting new event professionals, to

embracing new tech and new ways of

working to evolve event offerings, the 10

Access All Areas main stage panel sessions

proved a font of knowledge.

In all, the conference at ExCel London

hosted 50 senior event professionals

including London Marathon Events director

Hugh Brasher, Wimbledon Championships

operations director Michelle Dite, AEG

Europe chief operating officer John Langford,

Kilimanjaro Live director and Ed Sheeran UK

promoter Steve Tilley, AIF CEO Paul Reed,

End of the Road festival MD Lauren Down,

Vision Nine festival director Kevin Moore, PGA

European Tour championship director Mark

Casey, S&C Productions head of partnerships

Chris Jammer, Kilimanjaro Live COO Zac Fox,

We Are The Fair CEO Nick Morgan and Ascot

head of venue operations Joanna Wales.

Brasher emphasised the importance of the

Access All Areas conference at EPS as a forum

for debate and exchange of ideas. He said:

"The industry is still in a period of transition;

there are lots of uncertainties in the market,

so the important thing to carry on doing

is talking and listening to each other and

helping each other. The fact is you have got

people from across the industry talking – I

was getting some brilliant nuggets that I have

been using in other conversations across our

business."

The all new Fanzone provided an

alternative space for suppliers, organisers

and associations to meet and network as

well as enjoy a drink while catching up with

industry colleagues. The area presented an

opportunity for sponsors to showcase their

products by replicating a real life fanzone,

with clips of the most memorable sporting

moments in history displayed on a mobile

LED screen.

OAB's Top Picks

Eventclean

01443 844492, info@eventclean.co.uk , www.eventclean.co.uk

Eventclean specialises in event cleaning and waste management. With over 25

years' experience, it has catered to some of the most high profile events in the

country including the Rugby World Cup Fanzone in 2015, the UEFA Champions

League Final in 2017 and the Volvo Ocean Race in 2018. It also introduced waste

sorting and recycling services to the National Eisteddfod in Cardiff Bay in 2018

and has been the cleaning contractor for the RHS Flower Shows for many years.

10 WWW.OPENAIRBUSINESS.COM
---
INDUSTRY OVERVIEW

Tysers

0203 915 0000

www.tysers.com

Tysers is an established Lloyd's broker, trading

for more than 200 years and offering specialist

solutions and expert advice on insurance and

risk management. It arranges cover for some of

the biggest events in the calendar worldwide and

insures some of the most prestigious international

artists. Its reputation and experience is significant

and the in-house team supports the efficient

management and settlement of claims.

CORE Bar and Event Hire

0845 299 6499

sales@core-barandeventhire.com

www.core-barandeventhire.com

CORE creates multi-level event structures from carbon fibre

modular panels which can be configured to provide VIP areas,

viewing platforms and bars. Lightweight and strong, they are

easily branded and can be built by a small team in a very short

space of time with no specialist knowledge or tools.

CORE also supplies modular bars and the 'Wheel in Cellar

in a Box' kit that allows kegged beers whenever and wherever

needed.

Cartoseat

+31 (0)765 791178

info@cartoseat.com

www.cartoseat.com

Cartoseat supplies sustainable, printable

cardboard event furniture which is sturdy, practical

and 100% recyclable. The range includes stools,

bars, benches, chairs and tables, all of which can

be printed with a client's brand or messaging.

Furniture can be set up and taken down in no time

and is easily transported and stored.

Event in a Tent

01978 661449

info@event-in-a-tent.co.uk

www.event-in-a-tent.co.uk

Whether you're having a

party, wedding celebration,

corporate get-together or a

festival, Event in a Tent has a

tipi or tent to suit. The range

incorporates giant Nordic

tipis, stretch tents, timber

domes and, new to the UK,

quad domes – square based

geodesic roofed structures.

The team also supplies dining

dens and undertake bespoke

projects.

WWW.OPENAIRBUSINESS.COM 11
---
PEOPLE

ENTREPRENEUR'S CHAT

Helen McCombie

Armstrong

We

talk to Helen McCombie

Armstrong about how the

phenomenal success of her

bell tent hire business funded

the start-up of permanent site

Glamp and Tipple in Norfolk

12 WWW.OPENAIRBUSINESS.COM
---
PEOPLE

he pandemic was hell for so many people but

for us it has marked a real opportunity," says

Helen McCombie Armstrong, co-creator of yurt

glampsite Glamp and Tipple.

"I had run my own agency providing pet,

house, child and elderly relative care for 10 years

but with kids of my own it became too stressful.

In December 2019 I moved away from that

business and was just taking a few months to

reset and figure out what to do next when Covid

hit."

Helen's wife Lou was working 50 hour

weeks as a shift manager at Lidl to keep the

family afloat. "I am a trained dog trainer and

behaviourist so I had been doing a bit of that

to keep the money coming in but when Covid hit I wasn't able to

work," says Helen. "We were lucky that Lou is a key worker, but

financially things were squeaky! It was then that Lou had the idea

of getting a bell tent to hire out locally. We love glamping so were

pretty familiar with bell tents, and it seemed like a no brainer what

with lockdown meaning people couldn't go anywhere."

It seems the couple hit gold, and within two weeks they had

gone from a single tent to eight, along with eight Lazy Spa electric

hot tubs. Lou's days got even busier and the family, including four

children, worked tirelessly to service the demand.

"We went all over the south of England," says Helen. "Surrey,

Norfolk, Suffolk, Hampshire, Kent etc. We would set one tent up,

drive straight to another place to take one down, then back to base

for a deep clean before getting straight on the road again to the

next booking. For Lou, this was often after having already done a

5am-2pm shift, often working 20 hour days. We hardly slept, with

me doing all the admin at night, and we were home schooling too!"

"WE LOVE

GLAMPING SO

WERE PRETTY

FAMILIAR WITH

BELL TENTS, AND

IT SEEMED LIKE

A NO BRAINER

WHAT WITH

LOCKDOWN

MEANING PEOPLE

COULDN'T GO

ANYWHERE."

THE PAY OFF

Within one season, the couple had accrued enough money to

jump at the opportunity offered by a local farmer. "A local farmer

approached us in August 2020 to see if we'd be interested in renting

land to establish a permanent glampsite. This had always been

our absolute dream. The farm is just four miles from where we live

so we put in planning permission for bell tents along with all the

infrastructure to do things properly – electric, water, waste and Wi-

Fi. Planning was granted in October and we started the project in

November, opening in April 2021."

The initial investment in the ground was around £150,000 and

was entirely funded by the bell tent hire business. "We did so well

in that lockdown season that it gave us the financial leg up we

needed to create Glamp and Tipple," says Helen.

"It was obviously a huge decision and one we discussed at length

but the feeling was we had to give it a go, even though we could

end up losing all the money we had worked so hard to gain.

"We are a great team and as I had previously run a successful

business, Lou trusted me with the admin and accounts side of

things."

The site offers private facilities throughout and has now, in its

second season, has been upgraded from bell tents to yurts. "We

tried to futureproof the site by thinking about what would happen

if Covid reared its ugly head again and ensured that everything is

well spaced out. Every tent has its own private toilet, shower and

cooking facilities.

"We are open all year round and have successfully had guests

sleeping in bell tents throughout the winter. All the tents were

heated with electric heaters but the bills were astronomically

expensive, as you can imagine. That's when we decided on

insulated yurts. We have five beautiful structures now from Kents

of Cornwall, and they have the added advantage of being able

WWW.OPENAIRBUSINESS.COM 13
---
PEOPLE

to withstand 150mph winds and feature lockable doors. We had

thought of geo-domes but the farmer wasn't keen as they are quite

modern looking. If we were to open a second site I think we'd go for

shepherd huts or safari tents."

I LIKE WHAT I LIKE

During the set up phase, Helen says the family enjoyed doing their

market research, staying at other sites to find out what worked

and what didn't. "We'd make lists of what we liked, didn't like and

wished we had – things that were annoyingly absent. We didn't go

to any trade shows as we already had a clear idea in our mind of the

structures we wanted and had done extensive research online into

bookings and marketing.

"One area we quickly learned we couldn't scrimp on was hot

tubs. Originally we had planned to make use of our rental Lazy Spas

but there were a few reasons that this wasn't going to work. Firstly,

the regulations dictate that tubs have to be emptied and cleaned

between guests. This is fine except that an electrically heated Lazy

Spa can take up to 24 hours to get to temperature, which was

obviously not going to work. They are

also expensive to run and easily broken.

We ended up with timber wood-fired

hot tubs with jets and lights from

Gardenvity, who did us a great deal on

five tubs.

"We didn't use to heat the tubs for

clients but experience has shown us

that people are rubbish at making

fires! They either put two logs on and

complain it won't heat up or they make

a huge fire and make it too hot. We now

get the tubs ready for guests who book

them and they can keep them topped up with heat. We also learned

from feedback that not all people want a tub so we now offer them

as an added extra that's bookable night by night."

Glamp and Tipple is listed with numerous OTAs and on many

directories including Airbnb, Booking.com, Cool Camping,

Glampingly, Cool Stays and Love Glamping. "If I'm honest, I don't

understand why people don't list in more places," says Helen.

"Would they get that booking if they didn't list there? They may

be down a 10-15% commission but lots of links scattered over the

internet can really help your Google rankings. Many directory sites

charge an annual listing fee, which is easily absorbed. Interestingly

90% of our bookings come direct through our website but we have a

required field that asks where the customer has found us and many

will have seen us elsewhere first before Googling to find out more.

"We use the Bedful booking system which was part of the Cool

Camping group. I believe it has just been sold to Hip Camp UK – the

Airbnb for outdoor accommodation. There hasn't been great press

about Hip Camp so we'll see how it goes!"

Helen's pricing strategy pitches Glamp and Tipple a step above

the majority of sites. "We are open year round and charge between

£140-£220 a night depending on the season and day of the week.

From October to March, we keep our prices the same but offer a

discount code to make them 20-30% cheaper.

"You can't please all of the people all of the time. We got a

message recently saying we were too expensive after announcing a

special deal at £440 for a two night stay in our six person yurt with

the hot tub. I split it up and showed that this worked out at £37 per

night per person including VAT, which is certainly not the cheapest

but I doubt you'd find a Travelodge for that!"

FINDING PEOPLE

Glamp and Tipple now has five members of staff who work on a 10-

15 hour per week basis. "It works really well and means we can take

time off and enjoy our own holidays," says Helen. "We have been so

14 WWW.OPENAIRBUSINESS.COM
---
"WE HAVE BEEN SO LUCKY TO FIND THE

RIGHT PEOPLE AND RECRUITED VIA INDEED

AND, MUCH MY PREFERENCE, PERSONAL

RECOMMENDATION. I FIND THAT PEOPLE

WHO ARE RECOMMENDED TEND TO HAVE

A SIMILAR MIND SET TO THE PERSON WHO

RECOMMENDED THEM!"

lucky to find the right people and recruited via Indeed and, much my

preference, personal recommendation. I find that people

who are recommended tend to have a similar mind set to

the person who recommended them!"

By June 2021, the site was so busy that Lou left Lidl and

joined the Glamp and Tipple team full time. "Lou heads

up site maintenance, cleaning, refilling the tubs etc. I take

care of the bookings, HR, and the legal side of things. We

also still have the hire business, although demand has

obviously changed and we mostly do events now. It's

wonderful being our own bosses and looking towards the

future and exciting plans for our enterprises."

New offerings at Glamp and Tipple include dog

friendly glamping and weddings. Helen and Lou also

have ambitions to open a second site. "Covid was hell

for everyone but if it hadn't happened we wouldn't be

where we are. Our thinking was the world is going to pot,

so we should take the opportunity given to us and do what makes us

happy!"

WWW.OPENAIRBUSINESS.COM 15
---
FUNCTION VENUES

CASE STUDY

Green & Away

A pop-up venue with a communal

atmosphere in Worcestershire

We talk to Dan Lindeque

about the 32 year old

venue run exclusively by

volunteers from a field

every summer. Keeping

spirits high whatever the

weather with umbrellas,

cosy breakout spaces and

woodfired stoves, Green &

Away has community and

sustainability at the heart of

its offering and welcomes

weddings, creative courses

and conferences to its

unique, low impact spaces.

When did you start your venue

business and what is its history?

Green & Away was started in 1990

as a small outdoor gathering of likeminded

individuals over a summer

weekend. The weekend was so

well received as a unique space in

the outdoors, that we have since

expanded to run a fully serviced

temporary tented venue which

operates with charitable aims to

educate about environmental and

social issues.

We've been in our current location

since 2008 and are an entirely

volunteer run organisation which

hosts outdoor events, conferences,

workshops and celebrations in a low

impact manner.

Tell us about your location

and site

Nestled within a 200 acre farm

bordering a river and woodland in

"WE CREATE

A SPACE THAT

PROVIDES

ALL THE

CREATURE

COMFORTS

ONE MAY

NEED WHILST

HAVING A LOW

IMPACT ON

THE ENVIRON-

MENT"

rural Worcestershire, we set up our

outdoor tented venue from scratch

each summer with our team of

volunteers.

Reminiscent of a village green

and centred around a campfire,

our fully serviced events venue

includes numerous structures. We

create a space that provides all the

creature comforts one may need

whilst having a low impact on the

environment.

Adverse weather brings out

the challenges of our venue. As

everything we do happens under

canvas or the open sky, ensuring our

guests are warm, dry and happy is

important. But good spirits, many

umbrellas and woodfired stoves

can overcome even the worst rain

shower!

Green & Away is a space for all.

Groups therefore do not have to be

environmentally focused to visit us

16 WWW.OPENAIRBUSINESS.COM
---
FUNCTION VENUES

as we can take care of everything,

from the biodegradable soaps to the

sustainable food preparation.

What facilities for outdoor

functions do you offer?

Our key structure where events

take place is a large marquee

that can seat up to 140 guests for

conferences, music and dancing or

ceremonies.

We have a licensed bar on site

serving local beverages and a fully

functional kitchen that caters three

vegetarian meals a day, snacks and

baked goods. Our tea tent serves

various hot and cold drinks and

our cosy sitting room yurt can be

used as a breakout space or a place

to congregate or warm up in the

evenings.

Integrated into the 'village circle'

of structures is a small tent for

children to play in with various toys

and a large area for games. Electric

lighting, Wi-Fi and 12V solar powered

charging facilities are provided

throughout the main area.

We provide on-site accommodation

in the form of a fully furnished yurt

and bell tents, as well as a large field

for guests to camp in with their own

tents or campervans.

Further facilities include hot open

air showers powered by woodburners

and composting toilets with

hand washing facilities, which are

scattered throughout the field.

What services do you offer?

We are able to support the planning

of events in the lead up to the season

and have a full volunteer crew on

hand to support the running of

events on site. From the arrival and

welcoming of guests, serving drinks

at the bar and catering, to settling

guests in and helping with the

smooth running of events, our team

can support diverse events and their

unique needs.

As part of our educational

aims we also offer talks and

workshops on various

WWW.OPENAIRBUSINESS.COM 17
---
FUNCTION VENUES

environmental, practical or social

issues and take guests on tours of

the site to learn about the various

ways in which we make Green &

Away a sustainable venue.

Describe how you researched and

sourced your structures

All our main structures are

temporary, which we set up in one

location every summer over a period

of two to three weeks. These mostly

consist of bespoke or second-hand

canvas marquees which we have

purchased from small British or

European suppliers over the years.

A number of smaller structures are

cobbled together using excess stock

material and many of the facilities

are made by ourselves on site (such

as our wooden composting toilet

cubicles and outdoor showers).

"EACH YEAR WE

DECIDE HOW

TO ARRANGE

THE SITE TO

BEST SUIT

OUR SUMMER

PROGRAMME

AND THE EXTRA

STRUCTURES

WE MAY

INCLUDE"

We take care to consider where

the products come from, the

impact they may have on our field

(such as avoiding contributing to

microplastics) and make purchases

guided by our procurement policy,

always keeping safety, longevity and

sustainability in mind.

How do you work with your

customers to make their event

unique?

Due to the temporary and low

impact nature of our venue, we are

very flexible in the services we can

provide guests and tailor things to

each event. In the run up to events

we are in close contact with the

organisers to ensure that we can

accommodate their needs.

Each year we decide how to

arrange the site to best suit our

summer programme and the extra

structures we may include. Our site

has been used by varied groups

from lively wedding celebrations of

140 people to an intimate workshop

of four on a painting course. By

our very nature as a low impact

environmental organisation, we

aim to ensure that everyone leaves

us feeling a sense of experiencing

something new or familiar in a

unique setting.

How do you publicise yourself?

The large majority of new enquiries

for bookings come from our website,

social media and search engine

18 WWW.OPENAIRBUSINESS.COM
---
FUNCTION VENUES

advertising. We also rely on word

of mouth through our extensive

network of volunteers and previous

guests.

How would you describe your

style or unique selling point?

Green & Away offers an open space

for people from all walks of life to

explore, experience and further their

knowledge on low impact living and

sustainability issues. Community

is at the heart of our organisation,

reflected in our village green,

our volunteer community and

engagement with our guests.

As our venue is so closely

entwined with the surrounding

landscape, Green & Away is a space

to leave the city behind without

having to sacrifice your creature

comforts. We create an easy going

and safe space for people to reflect,

work or simply relax and enjoy

themselves.

What challenges have you faced

historically?

The very nature and ethos of our

"GREEN &

AWAY IS RUN

BY A TEAM

OF AROUND

10 TRUSTEES

WHO OVERSEE

THE IN AND

OUT OF

SEASON

OPERATIONS

OF THE

ORGANISATION

AS WELL AS

ENSURING OUR

CHARITABLE

AIMS ARE MET"

venue brings with it a certain level

of resiliency as we can respond

relatively reflexively to smaller

challenges as they arise. Having

tented and temporary structures

gives us much flexibility, however

this also brings short term

unforeseen challenges such as the

damage of canvas following heavy

rain. One of our main challenges is

navigating mud after long periods

of rain, requiring us to find ever new

ways to ensure accessible walkways.

How did Covid-19 impact you?

Covid-19 has led to the first (and

hopefully last!) time that we have

had to fully cancel a season in our

30 years of operation. The trustee

board met numerous times to

discuss the impact of Covid-19 and

government restrictions however

ultimately we were unable to run.

We are fortunate enough to be

a well-established organisation

which operates on a not for profit

basis and therefore could handle

missing two seasons. This has

brought its own challenges in terms

of maintenance of equipment,

keeping up a profile as well as

volunteer engagement during an

extended hiatus.

How large is your team – any

special people you'd like to

mention?

Green & Away is run by a team of

around 10 trustees who oversee the

in and out of season operations of

the organisation as well as ensuring

our charitable aims are met. During

the summer season we have a

changeable team of around 20-40

volunteers and interns living on

site. We also have a coordinator to

ensure the venue runs smoothly.

What are your plans for next

season?

This summer we are pleased to be

running a full season after a two year

hiatus during Covid, with a number

of exciting events lined up consisting

of both familiar faces and new ones.

Describe your average day midseason

Our days differ a bit depending on

whether we have guests on site or

not. When we have no guests, the

volunteers gather each morning for

a meeting where we check in and

share out the jobs for the day, which

revolve around maintaining the

site and getting it ready for the next

guests. Tea and cake are bountiful,

and when the site is ship-shape –

wood chopped, accommodation

cleaned ready, food prepared,

ongoing maintenance done etc. –

volunteers have time to enjoy the

field or engage with the educational

program we provide.

During event days, the

daily routine is tailored to the

requirements of the event and

our volunteers ensure the smooth

running of the site, catering and bar

or help with the program.

What are you most proud of?

Despite being a completely new

team each season made up of old

and new faces, we manage to host

and run successful events each year.

The whole Green & Away team is

made up of hard working volunteers,

who successfully come together

to professionally and competently

run the venue, and have a lot of fun

while doing so!

What advice could you give

to someone coming into the

industry?

First-hand experience is golden –

make sure valuable knowledge is

written down in order to share with

others and increase the resilience of

your team. Always have a back-up

plan or be ready to adapt.

ADDRESS BOOK

DETAILS

Green & Away

Bransford

Worcestershire

www.greenandaway.org

WWW.OPENAIRBUSINESS.COM 19
---
www.oldskoolbusevents.com

Instagram & Facebook @oldskoolbusevents

20 WWW.OPENAIRBUSINESS.COM
---
FUNCTION VENUES

Go Outdoors

Outdoor weddings are here to stay as the government announces

a permanent extension to licensed wedding venues

GETTY IMAGES

AFTER A robust campaign by members

of the wedding industry, the interfaith

community and the wider public, the

government has announced that outdoor

civil weddings and partnerships at

licensed venues will be made permanently

legal in England and Wales from April

2022. This legislation will be a permanent

extension to the temporary measures

that were introduced in 2021 to enable

couples to safely marry outdoors during

the pandemic.

A government consultation found

that 96% of respondents backed this

permanent change. 93% also supported

extending it to religious ceremonies. This

change currently only applies to civil

ceremonies and partnerships however

further reforms to religious ceremonies

are planned due to overwhelming support

from all major faith groups.

This is exciting news for the wedding

and events industry and opens the door

for couples to plan their dream outdoor

summer wedding.

WHAT DOES THIS MEAN FOR COUPLES?

Couples are often looking for more

meaningful ways to personalise their

wedding and this change will give them

greater choice and freedom to create a

"IF AN OUTDOOR CEREMONY

IS ATTRACTIVE THEN

EXAMINE WHAT OUTDOOR

SPACE THE VENUE CAN

OFFER AND WHETHER

IT IS SUITABLE FOR THE

CEREMONY"

more authentic ceremony. The legislation

will allow couples the ability to exchange

their vows in the open air surrounded by

nature. They must still book an approved

venue but the venue licence will be

extended to include all outdoor areas. A

woodland glade, a lakeside jetty, on a roof

garden or a clifftop field overlooking the

sea. So many more possibilities!

Before visiting wedding venues, couples

should think about whether they want an

indoor or outdoor ceremony. If an outdoor

ceremony is attractive then examine what

outdoor space the venue can offer and

whether it is suitable for the ceremony.

Consider seating space and accessibility

as well as the aesthetic qualities of the

site. If the weather forecast is poor then

what alternative ceremony venues are

available? Are they equal to the outdoor

setting? Could a temporary structure such

as a tipi or marquee be erected to provide

shelter and enable the ceremony to

continue outdoors?

The ceremony will still be required to be

officiated by a registrar and couples must

adhere to the legal preliminaries including

giving notice of their marriage or civil

partnership and providing identification

documents. The ceremony must also

include specific vows and be free of any

religious influence.

WHAT DOES THIS MEAN FOR WEDDING

VENUES?

Lots of calls from couples who have

already booked the venue and are now

thinking of changing their plans from

indoor ceremony to outdoor ceremony!

The venue will still be required to have

a licence to conduct civil weddings and

partnerships on their premises but

the licence will no longer be restricted

to indoor spaces. The licence will be

extended to include all outdoor spaces

provided that the areas are 'seemly and

dignified.' This will be determined by an

assessment undertaken by a registrar from

the local authority.

WWW.OPENAIRBUSINESS.COM 21
---
FUNCTION VENUES

All venues should consider what

outdoor spaces they can offer for wedding

ceremonies –

venues that can offer a larger variety of

outdoor spaces with multiple appeal will

stand out. Larger estates may have endless

options from formal gardens to more

bohemian wild woodlands, but urban

venues can also compete with courtyard

gardens and rooftop vistas.

Think about the aesthetic qualities

of the space you are offering. What is

the appeal to couples wishing to marry

outside? Does it offer the romance of a

showstopping view, a unique or unusual

setting or breathtaking beauty? Venues

should consider investing equal time and

money into developing their outdoor areas

as they do their indoor areas.

As well as creating the wow factor, also

ensure your outdoor spaces are accessible

and suitable for ceremonies. How many

guests can you safely and comfortably

accommodate in the outside space? How

will guests get to the space? Does the

space offer privacy or is it overlooked?

Will you need to pacify any neighbours

fearful of outdoor weddings? Are your

gardeners worried about the flowerbeds?

Will you need to leave a field fallow to

enable alternative usage? Remember that

requirements for public access will also

remain.

WHAT DOES THIS MEAN FOR

REGISTRARS?

Please bear with your local registrars.

No doubt they are still learning about

what the change in the law means and

how best they can support venues and

couples. Speaking to my local registrar

this week, they had only found out about

this change when we did and are catching

up on the ramifications themselves. If

you are planning to offer outdoor spaces

alongside your approved indoor venues,

please do inform your local authority well

in advance.

FUTURE WEDDING LAW REFORM

This change in law is also encouraging

news ahead of the publication of the Law

Commission's report into the proposed

reform of the Marriage Act. A final report is

expected in July and is intended to provide

recommendations for a "reformed law of

weddings that will allow couples greater

choice within a simple, fair and consistent

legal structure." Principally we hope that

the reform will remove any unnecessary

regulation and increase choice for

couples. Consideration is being made to

the legal preliminaries required before

the wedding, removing the restrictions

on where a wedding can take place, who

GETTY IMAGES

"AS WELL AS CREATING THE WOW FACTOR, ALSO ENSURE

YOUR OUTDOOR SPACES ARE ACCESSIBLE AND SUITABLE

FOR CEREMONIES. HOW MANY GUESTS CAN YOU SAFELY AND

COMFORTABLY ACCOMMODATE IN THE OUTSIDE SPACE?"

can solemnise a marriage, if specific

vows are required and how marriages are

registered.

The anticipation is that a reform will

offer couples more freedom and inclusivity

than ever before to choose how and where

they conduct their marriage or partnership

ceremonies:

• Instead of venues being licensed, an

officiate could be registered with the

local authority. This could be a humanist

or independent celebrant, church

minister or civil servant who can meet

certain stipulations. A similar officiate

system is already in place in Australia

and New Zealand

• Couples could be able to choose a

meaningful place to conduct their

ceremony rather than an approved

venue. This could be anywhere – at

home, on a beach or in a church

• Couples could be able to decide a style

of ceremony that reflects them, and

not the state or church, and choose

authentic words personal to them

• Couples could also have the opportunity

to combine a secular ceremony with

a religious ritual. This would be an

important and inclusive change in our

multi-faith society. Families become

joined through marriage which can

often create complications if each family

has a different faith or belief

• This reform may also help make

weddings more affordable as couples

are saved the cost of hiring an approved

venue.

ABOUT THE AUTHOR

Charlotte Winship has

over 20 years' experience

transforming good wedding

and events venues into

great ones. She is an expert

in helping venues reach their

ideal customers, maximise sales

opportunities, increase profitability,

establish effective teams and streamline

venue operations. 07493 350303 / charlotte@

charlottewinship.com /

www.charlottewinship.com

22 WWW.OPENAIRBUSINESS.COM
---
FOR EVERY

SOIL TYPE

W

Specialists in sustainable foundations

for luxury accommodations

Galvanized in accordance

with DIN EN ISO 1461

High load-bearing capacity

Suitable for all ground conditions

Cost efficient installation

in minutes

Reusable foundation

Minimal disruption of

the soil environment

Contact us today: +44 154 885 9879 • info@firstbasegroundscrews.co.uk

WOW - FACTOR

Let us transform your garden to create memories

PROFESSIONAL & RELIABLE

www.tentickle-stretchtents.co.uk

0121 740 1385 or 07826 843 099

Stretch Tents, furniture, lighting, heating, flooring - short and long term hire - purchase

@TentickleUK

@Tentickle_UK

TentickleUK

WWW.OPENAIRBUSINESS.COM 23
---
CWC Advert (Open Air Magazine).pdf 1 23/02/2021 12:04:51

C RE®

EVENT-STRUCTURES

UNIQUE OUTDOOR

MULTI-LEVEL STRUCTURES

Expert

advice to help you

achieve the most

from your venue

business.

C

M

Y

CM

MY

CY

CMY

K

• Increase

profitability

• Reach your ideal

customers

• Maximise sales

opportunities

• Streamline your

processes

CALL NOW FOR A FREE QUOTE

T: 0845 299 6499 - E: sales@core-eventstructures.com

www.core-eventstructures.com

www.charlottewinship.com

07493 350303 / charlotte@charlottewinship.com

ADVERT-EVENT-STRUCTURES.indd 1 27/01/2022 12:07:22

01295 981580 • sales@prosmokebbq.co.uk

www.prosmokebbq.co.uk

S2T GRASS

REINFORCEMENT

PERFO

interlocking tiles - effective

protection for soft ground

• Stocking everything

from small camping

grills to large grills and

smokers.

• Whatever your vision

for your business,

glamping site or home

kitchen we have you

covered.

Ideal for the reinforcement of

parking areas, access tracks,

pitches etc. at:

- camping & glamping sites

- open air event venues

- country & leisure parks

Specialist retailer showcasing all the hard

to find BBQ's from around the world.

Tel. 01992 522797

www.perfo.co.uk

24 WWW.OPENAIRBUSINESS.COM
---
FUNCTION VENUES

GETTY IMAGES

INDUSTRY COMMENT

Business Events

A Place to Interact

As savvy event producers recognise that face to face is more about creative interaction

than stodgy conference programmes, savvy venues need to reshape their offering

IT USED to be said that 'content is King'.

Content – information, insights, and best

practice – was used to draw people to trade

shows. Quality content was a marker of

excellence for a conference or event; the

bigger the keynote's name the bigger the

draw.

The market has evolved and changed

since the world adapted to a new

workplace regime and a heightened pace

emerged that's resulted in new ways and

new means of learning. Content can now

be consumed in many ways, on multiple

platforms and without being bound by

date or time. People draw content from

broadcast and print media, and through

live events such as conferences and

exhibitions. There's YouTube too, streams

from social channels and the meteoric rise

of podcasts.

We can learn from anywhere nowadays

and extract knowledge and insights from a

swipe across our phones, and it seems this

is having an impact on trade shows and the

role of content at conferences.

Nothing was more apparent than at

a recent trade show where we secured

speaking opportunities for some pretty

prolific clients. In days gone by they'd have

packed the keynote sessions out however

they each received a handful of attendees.

There were no normal trade show excuses

of tube strikes or train cancellations –

the fact is no one attended the content

sessions. The 'show floor' however was

bustling and footfall by all accounts was up.

There's currently a marked change in

why people are going to events. It used to

be to gain knowledge and insights, and of

course network with peers and discover

new products, but our use and reason for

trade shows has changed in line with a trip

to the office. Stay home for the tasks that

require quiet, whether it's for learning or for

problem solving, and get into the midst of

it with colleagues and peers for networking

and creative thinking.

For venues who are targeting corporate

events it's worthwhile drawing on the

parallels of hybrid working. Working from

home is where the work is done, office

based is where ideas and innovation come

from. For folk in the events market, it's no

different. Guests now come to venues to

network, interact and bring about creativity

and innovation. When it comes to the hard

work, those stodgy presentations can

be played out online and at a time that

suits the delegate. Today, networking,

touching base and actually shaking hands

with colleagues and peers is the mark of a

successful event.

Being aware of the reason for the event

and helping clients understand better

what the outcomes and markers of success

need to be will help guide organisers to

even more successful events. The client's

budget may be far better spent on a drinks

and power networking session then a full

day conference schedule. Content can

be consumed everywhere, anytime, but

building back relationships can only be

played out face-to-face.

We used to say content was king, I firmly

believe that today, 'context is King'.

ABOUT THE AUTHOR

Andrew White is

MD of Triggerfish

Communications, a

specialist in helping heritage

venues and leisure attractions

build awareness and market share

in the business of events.

www.triggerfish.co.uk

WWW.OPENAIRBUSINESS.COM 25
---
FUNCTION VENUES

Experiential

Learning

Caroline Cooper on how to

get team members noticing

and learning from experiences

inside and outside of work

GETTY IMAGES

MOST OF us are familiar with mystery

shopping and using this as a way of

gathering feedback from a customer's

perspective. As valuable as this is,

if it highlights much in the way of

improvements this can sometimes be

taken as criticism and your team resisting

any change.

When your team are involved with

identifying areas of improvement for

themselves it means you'll have far more

buy-in, and with it a commitment to

making the changes happen.

So how do you do this? One of the

biggest mistakes is to make this too

generic. If you ask people to feedback any

observations you'll get at best one or two

things they liked or didn't like. But what

you really want them to think about is why

they liked/didn't like it, how it made them

feel, and what you can learn and apply (or

avoid) in future?

Here are three ways you can apply the

mystery shopping concept to help shape

improvements and seven considerations

for continuous improvement.

GETTY IMAGES

1

SELF-AUDIT

The easiest and most basic way is to create a

checklist of every last detail you'd expect to see,

hear, feel, or even smell! Make it simple for people to

complete as a yes or no.

The drawback with the self-audit is that your team

are too close to the situation, they'll never see things

in the same way customers might and gauging what

might be a customer's first impression is difficult.

However doing the self-audit before you implement

any of the following options means team members

have a chance to discuss and correct their own

shortcomings before anyone points them out.

26 WWW.OPENAIRBUSINESS.COM
---
FUNCTION VENUES

2

IN YOUR CUSTOMERS' SHOES

Allocate each team member or group

a section of your customer journey,

taking an aspect of your business they are

not normally exposed to. For example, your

housekeepers making an initial enquiry,

your kitchen team giving a showround etc.

You can use the same checklists as the

self-audit, but the important thing is to

review it through a customer's eyes. Don't

forget first touch points such as website and

enquiries, and post event such as sending

the final invoice or follow up marketing

messages.

Give people guidance on what to feedback

on, for example:

• What were your own observations?

• What do we do well to give customers a

great experience?

• If this was your business, what would you

do differently?

• What one thing could you start doing

tomorrow to give customers an even

better experience?

Extend this activity to include sampling

and experiencing your finest products and

services first hand. Not only does this help

with product knowledge but it can also be

a fantastic way to reward team members,

and if relevant you can include partners or

friends to get a further perspective (and

even greater buy-in).

A critical consideration with this activity

is that it's about learning and improving,

and for the departments under review not to

take feedback as a criticism.

3

WIN-WIN

An extension of the above is to

learn from other businesses.

These don't need to be competitors,

but venues, the high street or other

industries altogether, that have a

reputation for being brilliant at any

aspect that's important to you.

This becomes a win-win when you

reimburse this shopping experience

as a thank you or a way to recognise

a team member. So, it might be

anything from a cup of coffee at a local

café, to a night away in a beautiful

location.

Again, create a list of things you'd

like reviewed. For example, if you'd

like to improve your confirmation

process, ask for specific feedback

on what was experienced when

Creating the culture

For any of the above to work, here are seven

factors to consider:

1. Make time to review people's observations.

This could be a simple debrief from the day's

events, to audits and mystery shopping

exercises

2. Be specific about the criteria you want people

to review and what specific questions you'd

like them to answer

3. Encourage everyone to accept feedback as an

opportunity to learn, not to be seen as criticism

4. Be open and honest about shortfalls or

mistakes; they provide an opportunity for

everyone to learn and hopefully prevent

making them in the future

5. Involve everyone in contributing ideas for

improvement, not just the people directly

involved. Recognise and reward people's

contribution

6. Focus on what they can change or influence,

not waste time and energy on the things out of

their control

7. Take on board your team's observations and

feedback. If there's no follow through they'll

stop bothering to tell you.

booking. Schedule ahead of time an

opportunity for your team to share

their findings:

• What they liked and why

• What you already do which is better!

• What could be copied or adapted

for your business (you might set a

target of eg. at least three ideas you

could apply in your own business

• Any ideas are welcome even if

your team members are not sure

how to apply them. Ask them to

still be prepared to feedback their

observations

• Always look for ideas on what

you can borrow from other

industries. To stand out you must be

continuously improving and doing

things differently or better than the

competition.

ABOUT THE AUTHOR

Caroline Cooper is the Founder of Naturally Loyal and has over 30

years' training and development experience in hospitality.

Recognising that managers in hospitality often get promoted into

positions without much management training, her key focus is on

developing newly promoted and junior managers to lead and engage

their teams effectively.

These activities were taken from Caroline's '38 Customer Service Training

Exercises and Activities' available at www.naturallyloyal.com/resources/28activities

WWW.OPENAIRBUSINESS.COM 27
---
FUNCTION VENUES

PRODUCT IN FOCUS

Bars &

Catering

Motorpoint Arena, Nottingham

Product: Reusable cups

Supplier: Green Goblet, 01278 238390, info@

green-goblet.com, www.green-goblet.com

Details: The Motorpoint Arena was the first UK

entertainment and sports venue to introduce

reusable cups, leading the way to eliminating

single-use cups. It hosts a wide range of events

from ice hockey to live music and adapts its

layout for every event it holds.

Operating the reusable eco cups on a £1.00

deposit scheme, the arena offers a variety of

cups sizes and different designs. These include

elite ice hockey league team The Nottingham

Panthers as well as generic Motorpoint

branding such as Christmas and Halloween

designs. Hospitality cups are branded

differently as no deposit is charged on them.

By switching over to reusable cups,

Motorpoint Arena has saved hundreds of

thousands of single-use cups going into landfill.

Instead, the reusable cups are supplied and

washed by Green Goblet at one of their wash

stations, using the latest most environmentally

friendly washer/dryer machines.

Since December 2017, when they first

started operating the reusable cup scheme,

other stadiums and arenas have followed suit.

Green Goblet now supplies reusable cups

and tableware to venues up and down the

country and is helping organisations to lower

their carbon footprint, as well as giving their

attendees a better drinking experience.

The great news is that Motorpoint Arena uses

its reusable cups hundreds of times over, and at

the end of their life they are recycled into useful

objects such as ice scrapers or coat hangers.

#Refill Not Landfill.

Customer feedback: Commercial director

Phillip Jones said: "Motorpoint Arena is proud

of the fact that we have saved hundreds of

thousands of cups from going into landfill over

the years by using reusable cups throughout

our venue. Saving the planet should be at the

core of every organisation."

Great Betley

Farmhouse, Sussex

Product: Event catering food

truck

Supplier: Old Skool Bus Catering

& Events, 07918 761981,

hello@oldskoolbusevents.com,

www.oldskoolbusevents.com

Details: Being an outdoor venue,

Great Betley Farmhouse gets lots

of wedding couples, corporate

clients and outdoor event

organisers looking for quality

catering options from awesome

looking food trucks, as well as

more formal seated marquee

dining. Skool Bus Catering &

Events offers buffet and familystyle

seated dining as well as a

festival food truck service, so they

can do the wedding breakfast and

the evening food.

The team uses locally sourced

food and are very experienced

at organising both the

catering service, and the event

management side of outdoor

events. They're happy to take

work off of a venue's hands with

planning as well as helping with

event management on the day.

Skool Bus Catering & Events also

runs licensed bars, either from a

bar set up or from the bus itself.

Customer feedback: Kim

Stewart, venue owner and

manager, said: "It's always a

pleasure to have such helpful

28 WWW.OPENAIRBUSINESS.COM
---
FUNCTION VENUES

and reliable suppliers who make

your life easier and take some

pressure off on the big day! For

a recent festival-style wedding

we all worked so well together,

supporting each other and

working as one big team. The

Old Skool Bus team camped

overnight to serve breakfast to

glampers the following day, then

stayed behind after that to help

everyone litter pick and tidy my

field!

"I'd happily recommend their

catering, service and the unique

American school bus kitchen to

any of my customers!"

PAUL EVANS

PRODUCT SNAPSHOT

Cellar-in-a-Box

CORE Bar and Event Hire

0845 299 6499

sales@core-barandeventhire.com

www.core-barandeventhire.com

Catering from a Shepherd's Hut

Rural Accommodations

01524 792633

logcabinworld@btinternet.com

www.logcabinworld.co.uk

Looking to start your own

mobile food and drink business?

Then why not choose a unique

shepherds hut and make that

dream come true. Quick and

easy to move from one place to

another, huts are ideally suited

to festivals, artisan/local markets

and private functions – the list

goes on.

Our shepherds huts can be

designed and manufactured to

your own individual requirements

with a timber or corrugated

exterior, painted and decorated

throughout in a colour of your

choice, furnished or unfurnished –

you decide.

The CORE 'Wheel-Inn Cellar-in-a-box' kit is a

mobile fully featured cellar set up that allows

you to dispense kegged beers and ciders

whenever and wherever needed – in minutes!

Easily integrated into CORE's modular

bar solution (pictured), it means you can

have a professional bar set up for any event

irrespective of location. The CORE 'Wheel-

Inn Cellar-in-a-box' kit can dispense up

to three different drinks and ensures that

professionally dispensed, ice cold beverages

=

Bar Box

Creative Products

+31 (0)165 51 07 77

sales@creative-products.nl

www.creativestructuresworldwide.com

Create six different bar setups from just one

pallet box. A solid appearance, combined with

a functional design, the Creative Elements Bar

Box from Creative Products is distinguished

can be served so you are not limited to only

bottled drinks.

The kit is ideal for any situation where you

need to serve kegged beers and ciders in

a temporary location without the need for

expert installation crews. Kits are available

to purchase or rent by contacting the friendly

CORE team.

by its unique features which include compact

packaging; only one pallet box is needed

for 12m of bar! The system adapts to every

circumstance and uses a unique click system –

no screws or tools are required for installation.

The Creative Elements range offers the ideal

temporary or semi-permanent furniture

solution and includes lounge seats, high seats

and tables. Available in natural impregnated,

white or grey pinewood.

WWW.OPENAIRBUSINESS.COM 29
---
PARTNER

WITH US IN

2022 & 2023

Glamping Partnerships MADE MORE

START SOMETHING AMAZING

WE INVEST IN AMAZING GLAMPING

PARTNERSHIPS, SUPPORTING

MICRO-TOURISM

OUR PARTNERS RANGE FROM FARMERS AND PRIVATE

LANDOWNERS TO ESTATES AND TOURIST ATTRACTIONS.

What they all have in common is an interest in micro-rural

tourism, a motivation to offer great glamping hospitality,

and at least 1 acre of land with something special to offer.

OUR PARTNERSHIPS ARE BASED ON A 10-YEAR

SUPPORT PLAN. We retain ownership of our pods and you

retain ownership of your land.

WE'RE WITH OUR PARTNERS EVERY STEP OF THE WAY.

We invest in their journey and providing all of the tools

needed for sustainable success.

— Planning and architectural services

— Cloud based booking system

— Support with marketing and customer reservations

— Support with business admin

— An established brand presence and growing customer base

— Our high spec'd 4-berth, heated and ensuite pod

— Plus much more

Contact a member of our team today to find out how we could invest

in your glamping opportunity and for a complete list of our services.

PARTNERS@FURTHER.SPACE

WWW.FURTHER.SPACE

FurtherSpace-Press-Ad-Open-Air-Magazine-2021-12-START-SOMETHING-AMAZING-HALF-PAGE.indd 1 03/12/2021 14:30

Bespoke Hand Built Shepherds

Huts, A-Frames and Pods

Available in various sizes to suit your own requirements

•The Perfect Business Opportunity • Additional Living Space

• Catering/Bar Huts • Office/Studio

CONTACT US FOR FURTHER DETAILS

01524 792633, logcabinworld@btinternet.com,

www.logcabinworld.co.uk

30 WWW.OPENAIRBUSINESS.COM
---
GLAMPSITES

CASE STUDY

Birdholme Glamping

Fully insulated safari lodges sleeping up to six in

Nottinghamshire countryside

A property development

background put husband

and wife team Peter and

Holly Hinchley in good stead

as they embarked on a low

impact glamping enterprise

on a 15 acre woodland site. We

talk to Holly about how they

created stays akin to a hotel

room in a field, complete with

underfloor heating and all

mod cons.

What's your back story – your life before

glamping?

Both of us are from farming backgrounds

and prior to starting Birdholme we have

had various ventures dealing in antique

furniture and then property development.

I have a dog grooming business which I set

up 12 years ago and our daughter Megan

has now taken that over as well as helping

out at Birdholme on changeover days.

What made you decide to start offering

glamping accommodation?

After my husband Peter's parents sold their

farm they retained 15 acres on which his

father had planted around 7,000 trees. We

thought it was a waste not to share the

beauty and wildlife and started looking

into glamping options, opening Birdholme

in October 2019. About 25 years ago we

applied for log cabins and got turned

down straight away by the planners, now

planning policies have changed and we

approached them again.

How did you research the business

before entering it?

We spent a lot of time looking into other

sites and what type of glamping attracted

us, staying at other places and deciding

what we would want. We wanted to be

open all year round and with this we

needed to consider all weathers to ensure

luxury, comfort and warmth.

Tell us about your location and site

We're based at Stanton-on-the-Wolds in

the south of Nottinghamshire. We are

located in the countryside with beautiful

views, but you can be in the centre of

Nottingham within 15 minutes. There is

easy access to the motorway and we are

only two and a half hours from London.

We have five unique lodges (three are

dog friendly), each with a fully fitted

kitchen and bathroom, two bedrooms (one

king room and one with two singles) and

then we have a mezzanine bedroom with a

double mattress on the floor. This is in the

eaves of the lodge and is ideal for children.

WWW.OPENAIRBUSINESS.COM 31
---
GLAMPSITES

We provide all bedding and towels

and guests are kept warm and

toasty whatever the weather

with underfloor heating and a log

burner. There's a Smart TV and

the latest superfast Wi-Fi. Outside

each cabin, there's a large veranda

including an electric hot tub and

a walkway to a fire pit area which

has a BBQ plate for alfresco dining.

We looked at off-grid solutions

but for what we wanted it made

sense to put in all the services. We

had to buy a transformer, phone/

broadband connections and water

connections and supply. Each

lodge also has its own LPG boiler

which runs off one central gas

tank.

How did you tackle getting

planning?

The first thing we did was to

arrange a meeting with our

planning department. We

explained what we would like to

create and asked them for their

input. We are in green belt so

certain conditions needed to be

met in order not to impact on the

countryside. Because the lodge

tents are temporary structures

we were allowed them, although

we had to apply for change of use

on the land from agricultural to

commercial use.

The planners were very

accommodating and in favour

of us creating something special

to boost tourism to Nottingham

and create new jobs. Our biggest

challenge was local residents

being in uproar over the whole

idea, thinking we were wanting

to create a hen/stag rave/party

venue. Since opening we've had

neighbours having family stay and

realise that what we've created

isn't threatening in any way.

How did you finance the project?

We applied for an EU Leader

grant which took a lot of time but

was definitely worth it. We then

financed the remainder of the

funds with loans.

32 WWW.OPENAIRBUSINESS.COM
---
GLAMPSITES

"AFTER STAYING IN A SAFARI TENT

WE COULD EASILY DEFINE EXACTLY

WHAT WE WOULD/WOULDN'T

WANT AND, ESPECIALLY WITH THE

ENGLISH WEATHER, WARMTH,

COMFORT AND LUXURY WERE AT

THE TOP OF OUR LIST"

What glamping accommodation

do you offer and why did you

choose it?

We chose safari tents (which

we purchased from Clear Sky)

because we could adapt them to

how we wanted and accommodate

a family or friends sharing. We

fully insulated the lodges in the

floor, wall and ceiling and put

underfloor heating in, double

glazed windows, doors and proper

partitioning panels for each room.

The inside of the lodges is like a

hotel apartment but in the middle

of a field in the countryside.

Fortunately, with our property

development background, we had

the right tradesman to work with

and our design was made up as we

went along. After staying in a safari

tent we could easily define exactly

what we would/wouldn't want

and, especially with the English

weather, warmth, comfort and

luxury were at the top of our list.

What occupancy levels and price

per night do you achieve?

It's very hard to get a true picture

of occupancy levels as the first

lockdown started five months after

we opened. We were allowed to

re-open in July 2020 and were 100%

fully booked right up to the end of

that year but had to shut at the end

of October as the second lockdown

happened. We re-opened again in

April 2021 and were again 100% fully

booked until November/December

where we had a handful of midweek

stays available.

Our forecast for 2022 is looking at

80% occupancy but bookings seem

to be slow at the moment due to

global circumstances. Depending

on the time of year the guests wish

to stay our prices for a three-night

weekend stay from Friday to

Monday is between £684-£860 or

a four-night mid-week stay from

Monday to Friday between £640-

£971.

• Super hygienic LDPE interior lining for quick handovers.

• Durable and classic Thermowood

exterior complements the glamping setting.

• Choice of Internal or External wood fired heaters.

• Two sizes available 4 person / 8 person.

Snowford Hill, Southam CV47 9QE t 01926 504067

e sales@glamptubs.com www.glamptubs.com

WWW.OPENAIRBUSINESS.COM 33
---
GLAMPSITES

What are you most proud of?

Seeing all our ideas come together

and seeing our guests loving their

experience.

How did you work out your

brand and how do you publicise

yourself?

We have a great marketing

company called Peaky Digital

that helped brand us, created our

website and does all our social

media posts. We use Supercontrol

for our booking platform and a

lot of work has gone into looking

where to advertise ourselves and

finding the right platforms as we

are more top end. We are with

Canopy & Stars, Coolstays, Cool

Places and The Wanderlist.

How would you describe your

ethos and unique selling point?

Unique, luxury accommodation

with all the home comforts in the

middle of a field offering beautiful

views.

How did you choose your

interior decoration?

I chose the décor myself and had

bespoke sofas made.

What challenges have you faced?

Research is a big factor, which

takes a lot of time. From the

research we then took what we

liked/wanted, added fresh ideas

and put together our business

profile.

What are your plans for next

season?

Our plan is to try and re-coup from

Covid. We are still feeling it now

despite having been booked for

the majority of last year, as a lot of

those bookings were rebooks from

previously cancelled stays. Last

"UNIQUE,

LUXURY

ACCOM-

MODATION

WITH ALL

THE HOME

COMFORTS

IN THE

MIDDLE

OF A FIELD

OFFERING

BEAUTIFUL

VIEWS"

Christmas, and even this Easter, we

had rebooks from people we took

payment from well over a year ago.

Luckily we did get a little help from

the government.

Our next phase is to dig a natural

swimming lake and potentially add

more lodges

Describe your average day midseason

We have two changeovers per week

on a Monday and Friday which are

pretty manic. We have a great team

of staff that know their jobs inside

and out which helps!

Our self-check-in policy and

trying to think of everything that

our guests need makes things very

self-sufficient as we don't live on

site. We check the hot tubs every

day and do low level maintenance

like mowing etc. We hire in our

laundry and towels, otherwise

I would be washing and ironing

constantly.

Do you enjoy the business?

We both love the business and both

of our children want to eventually

join us in the venture.

What advice could you give

to someone coming into the

industry?

Do a massive amount of research,

have a firm idea of what you want

to create and get the planners

onside at the very beginning.

Have a good business plan and be

unique! Make sure you run the site;

don't let it run you!

DETAILS

LODGES

Clear Sky www.safaritents.net

BOOKINGS

Supercontrol

www.supercontrol.co.uk

DIRECTORY SITES

Canopy & Stars

www.canopyandstars.co.uk

Cool Places www.coolplaces.co.uk

Cool Stays www.coolstays.com

The Wanderlist

www.thewanderlist.uk

BRANDING & PR

Peaky Digital

www.peakydigital.co.uk

WOOD BURNING STOVES

Welsh Dragon

www.welshdragonstoves.co.uk

FURNITURE

Storm Interiors

www.interiorstorm.co.uk

DETAILS

Birdholme Glamping

Birdholme Wood

Stanton-on-the-Wolds

Nottinghamshire NG12 5BQ

www.birdholmeglamping.co.uk

34 WWW.OPENAIRBUSINESS.COM
---
UK's Leading Safari Tent Supplier

Increased Income - Engineered to Last

The Clear Sky

approach to building

your dream and

generating income…

We love to stay friends with our clients, from supply to

construction we also provide ongoing support, advice

and feature some of our unique sites in our case studies,

brochures and virtual tours. Featured here is the

beautiful Birdholm owned by Peter Hinchley,

Dale2Swale owned by Chris Long, Love2Stay owned by

Salop Leisure Limited & Clear Sky's own show tents.

We would love to hear from you, contact us or book your free site visit today at

The Clock House, Mount Pleasant Farm, Peckham Bush, Kent TN12 5NE

Telephone: 0333 241 2660 Email: sales@safaritents.net

safaritents.net
---
GLAMPSITES

TRADE SECRETS

Booking Systems

GETTY IMAGES

How to compare and select the right booking system with advice from Ted Howard-Jones

IF YOU'RE running a business that takes

bookings your customers will now expect to

be able to book and pay online. Businesses

that rely on taking bookings solely by phone

or email will lose business to those that make

it easy for a client to confirm availability,

book accommodation, pay and receive an

email confirmation.

Choosing the right booking system for your

business is vital. This is a decision you want

to get right because moving from one system

to another mid-season is very painful!

COST

From experience, the costs of these systems

are falling as competition increases. In

fact, the monthly, or more often annual,

subscription costs average at £300-£400/

year for a five pitch glamping site. The more

significant cost is your time; choosing the

right system for you, setting it up, testing it

and tweaking as your business evolves.

Many providers of systems to this market

have also spotted that their clients lack a

basic website, so are including this as part of

the package. That might be attractive, but of

course might mean that you are even more

"MANY PROVIDERS OF

SYSTEMS TO THIS MARKET

HAVE ALSO SPOTTED THAT

THEIR CLIENTS LACK A BASIC

WEBSITE, SO ARE INCLUDING

THIS AS PART OF THE

PACKAGE."

'tied-in' to their subscription if you choose to

change suppliers.

CHOOSING A PROVIDER

There is a huge variety of providers, but

don't be overwhelmed. Many provide similar

features but it pays to do your research.

Ask them to identify three or four of their

customers similar to your business in both

scale and type. Call them and see how they

like the system and what, in practice, the

pros and cons are.

Systems broadly break down into two

types. The most common are for overnight

accommodation owners, such as glampsites

and B&Bs. However, these aren't suitable

for on-farm activities such as horse riding or

paintballing so, if you are running this type

of venture, choose an 'appointments' type

system that can handle time-of-day based

slot booking. We haven't yet seen a system

that handles both types on one platform.

Some suppliers help you to integrate or

connect with other platforms such as Airbnb,

Pitchup etc. If this is important to you now,

or in the future, ensure the right 'connectors'

are in place and what the charges are for

connecting you.

TEST, TEST AND TEST AGAIN

Take advantage of the free trial periods

offered by most suppliers. Set your system

up follow the tutorials or advice, then ask the

supplier to review your setup. Get as many

friends and relations as you can to create test

bookings before you go live. Then make sure

you wipe all these bookings off.

One of the major advantages of online

bookings is that it helps you build a detailed

customer list. Ensure the supplier allows you

to download and re-use your customer data

and that both you, and they, comply with

GDPR rules.

36 WWW.OPENAIRBUSINESS.COM
---
GLAMPSITES

CHECK LIST

When it comes to choosing the right system for you and your business, here is a

useful checklist to ensure you are getting what you need out of the system:

Pricing

Some systems charge per year or per

month. Others charge on the number

of bookings you take or a percentage of

the transaction, or a combination of the

above.

Visuals

Take a look at both the 'front end,' what

the customer sees, and the 'back end,'

what you see. Can that front end be

included within or made to look like

your existing website or do you get a

'free' website as part of the package?

Mobile friendly

Can both you as the business owner,

but more importantly your customers,

access the system from a smartphone

or tablet? Test this thoroughly.

Increasingly, transactions are now done

from these devices.

Language

Many booking systems are designed for

B&Bs and hotels and routinely use the

term 'room' throughout. Make sure you

can change this to 'bell tent' or 'fully

furnished pod' etc.

Integration

Ensure you can 'integrate' the booking

system into your own website/Facebook

page utilising 'widgets' or similar.

Customers expect the experience to be

seamless.

Phone bookings

Can you also manually take a phone

booking? Does the system show you the

difference between a phone booking or

a web booking?

Prices and deposits

If you vary your prices at different times

of the year, have 'minimum stays' or

take a one night or percentage deposit,

can the system be set up to allow this?

Occupancy changes

How does the system cope when you

want to swap a booking from one pitch/

pod/tent to another? Can you 'drag

and drop' a booking so that you can

maximise occupancy?

Ease of use

Is all the information about a customer

on one screen, or do you have to juggle

between various tabs?

Notifications

Do you get an email alert when a person

books so that you can review the

booking?

Flexibility

Can you access the system from your

phone while away from your PC? If so,

can you then add days to a booking as

you talk to a customer and persuade

them to stay longer or see how much

they owe you?

Customer contact

Does the system show you which emails

it has sent to a customer and if they

have been received or bounced?

Card payments

If you want to add this, does the system

allow you to integrate things with a

payment platform such as Stripe?

Provisional bookings

If you want to 'vet' bookings before

accepting them (perhaps to check one

doesn't conflict with a phone booking

taken by a family member) make sure

your system allows this.

Customisation

Can you ask custom questions as people

book? For example, you might want to

know the type of dog they are bringing.

Automated emails

Ensure you can customise emails and

that you can confirm a booking, send

a 'deposit received' note, a pre-arrival

note and a day of departure or follow-up

note.

Growth

If you are considering expanding in the

future, will the system allow for this and

how much will it cost?

Analytics

Does the system produce useful daily or

annual reports that alert you to when

people are booked to arrive or tell you

what the average occupancy was in each

month/year?

Accounting

Does the system allow for cash,

cheque, BACS etc. deposits and balance

payments? Can you action refunds?

Data capture

Can you export the data on all your

visitors so that you can import it into

another system, such as MailChimp,

for future email marketing ensuring it

complies with GDPR?

Suppliers

There are many suppliers and new

ones seem to pop up every month,

but to get started these ones are more

geared towards smaller tourism-based

enterprises:

• Anytime Booking

• Bedful

• Bookalet

• Free to Book

• GlampManager

• Innstyle

• Q-Book

And for an appointments-base system:

• Acuity Scheduling

• SimplyBook.me

If you are running an enterprise with

many (10+) options for clients to choose

from, the list of suppliers increases as

you will become more relevant to the

systems set up for hoteliers.

ABOUT THE AUTHOR

Ted Howard-Jones grew up

on his father's mixed farm

in the Chiltern Hills. The

livestock has now gone but

he has put his early career in

marketing (working with clients

such as BT and Ericsson) to good use,

developing three profitable income streams.

Ted has recently started working with other

local farmers to help them with their marketing

and has spoken at farmers' clubs, CLA and

IAgSA events about rural marketing. He also

helps to support 500+ small caravan sites

across the country with their marketing. He has

recently served on the Caravan & Motorhome

Club Council and helped develop the CL

Booking app. ted@countrysidemarketing.co.uk

WWW.OPENAIRBUSINESS.COM 37
---
GLAMPSITES

FACTORY VISIT

Glampsan

A look behind the scenes of Glampsan's

production plant

Regular readers of this magazine will recognise

Glampsan as a provider of a range of products

and solutions to help capture and control waste

at 'off-grid' glamping sites. Alongside its broad

product offering of composting loos, sewage

lifting stations, waste pumps and small waste

treatment plants, one of Glampsan's core

products is the Flat Tank. Quite simply, this is a waste collection tank,

available in three sizes. It is positioned underneath or adjacent to a

glamping pod to collect toilet, sink and shower waste, or sited on a

campsite to allow guests to dispose of their chemiloo toilet waste.

When the tank is full, the waste is removed by a third party waste

contractor.

It's the way many of Glampsan's customers start in the glamping

business. These tanks are robust but lightweight, they do not require

planning permission (as they are not installed underground) and they

allow the flexibility to move them around as a business develops. The

planning process to install underground infrastructure is invariably

long-winded, or sometimes impossible, so Flat Tanks give you the

option to get into business quickly and cost-effectively.

Glampsan, and its mother company Plastic Solutions (Aldridge), has

been manufacturing in the UK since 2010. Now in its fifth version, the

Flat Tank sounds a simple product, but years of development and design

time have gone into today's version, and its production is anything but

simple. The following is how it transforms from plastic powder to a tank

underneath your glamping pod.

MANUFACTURING PROCESS

1ROTATIONAL MOULDING

If you imagine a chicken roasting in an oven on a rotating spit, then you're not far off

understanding how Flat Tanks are made. Instead of an open spit, Flat Tanks are 'baked' in a

specifically-designed two-part steel or aluminium tool (see picture and imagine a cake tin) weighing

in excess of 1300kg. To bake a 3m x 2m wide product, our oven is just a larger version of the one in

your kitchen and it uses a lot of fancy control software!

2 GREEN

CREDENTIALS

Flat Tanks are

made from a durable

polyethylene, the same

long-lived material used in

heating oil or agricultural

tanks. No single use

plastics here. Many of the

oldest tanks we produced

when we started in 2010

are still in active service!

This plastic is

impregnated with UV filters

and is lightweight yet

strong and pliant enough

to cope with the bumps

and knocks of working

life. Compare this with a

metal tank three times

the weight, which needs

specialist equipment to

move and may only last

two years before rusting

through.

38 WWW.OPENAIRBUSINESS.COM
---
GLAMPSITES

4

POST PRODUCTION AND SHIPPING

Prior to fitting out each tank with its standard

components, we perform an air test for quality

control purposes and then assemble tank lids, caps

and graphics. We ship tanks direct to you from

our production plant or into our West Midlands

warehouse.

From this point on, our experienced sales and

technical team respond to customers' additional

requirements by supplying extra equipment such as

an Elsan Tipping

Point, a high

level alarm, an

odour trap, a WCconnector

kit or

a linking kit. We

have sorted it all

out, so you don't

need to worry.

3 PRODUCTION

The two-part tool is opened by lifting the lid away from the base

with a crane. Polyethylene powder is placed inside and the tool

is closed up again. The whole tool is then craned into the oven and

attached to the rotating spit. The control software now performs its

magic to regulate the heat and air flow in the oven and rotate the tool so

that the plastic inside flows to the outside to form the shape of the tank.

After 20 minutes of baking, the tool is craned away from the oven

where it will be cooled by fans. After another 20 minutes, the lid is

removed and the cooled plastic moulding can be taken out. The whole

one hour cycle then repeats itself, meaning we get about eight Flat

Tanks moulded in an eight hour shift. This consistent and reliable

quality has kept us moulding throughout the Covid era, supplying

Nightingale hospitals and testing centres, and now carrying on to

respond to the staycation boom.

PROFILE

Glampsan

A division of Plastic Solutions (Aldridge)

0800 999 6010

www.glampsan.com

www.plasticsol.com

LOCATION:

Merchant's Way, Aldridge,

West Midlands

WS0 8SW

PRODUCT: Flat Tank

waste collection tank

WWW.OPENAIRBUSINESS.COM 39
---
GLAMPSITES

GETTY IMAGES

TRADE SECRETS

Composting Toilets

The best composting toilets with advice from Practically Green

DRY TOILETS are a great way to

go off-grid at your glamping site.

They require no water and often

no electricity. Dry toilets come

in a variety of types, including

incinerating and bag and wrap, but

arguably the most ecological and

suitable for hospitality set ups are

composting toilets.

Compost toilets treats faeces

through a biological process that

decomposes organic elements,

transforming human waste into

compost. Microorganisms undertake

composting under controlled aerobic

circumstances (primarily bacteria and

fungus).

After each use, a carbon addition

such as sawdust, peat moss or

coconut coir is supplied to assist

decomposing the solid waste in

various types of composting toilets.

This method creates air gaps for

aerobic decomposition and also

raises the amounts of carbon and

nitrogen, which reduces possible

odours. This simple, sustainable

technology has been used for

thousands of years and is now

making a much-needed comeback!

WHICH TOILET?

There are a variety of manufacturers

of quality composting toilets on the

market, including Nature's Head,

Sun Mar, Airhead and Separett, to

mention a few.

It's worth understanding the

difference between self-contained

and central system toilets. Selfcontained

units are usually preferable

for glampsites and cabins as opposed

to central systems as the pedestal

and the composting chamber are

all-in-one – perfect for structures with

limited or no underfloor space.

You should also consider toilets

that divert urine into a separate

chamber to that of solid waste.

Composting is slowed by the addition

of urine, which cools and dampens

the material. Toilets that feature

urine separators, channel urine into

a separate receptacle which will need

to be emptied. You can alternatively

choose to filter urine through an

external soakaway (check with

your local rules and reg regarding

expelling urine in this manner) or

collect it in a larger external tank

for manual removal by a specialist

company.

COMPOSTING METHODS

True composting toilets feature

chambers that hold and break down

dry matter so that what you end up

with looks and smells like soil. Others

require emptying and the dry matter

disposed of, but are kept odour free

by means of a fan which dries the

solid matter.

Here are some examples of our

favourite composting toilets:

BEST OVERALL

NATURE'S HEAD DRY COMPOSTING TOILET

Because of its simplicity and compactness, this is a

self-contained and portable type that uses a urine

separating system, making it excellent for glamping.

Due to its hand crank agitation in its core, Nature's

Head Dry Compost Toilet with standard crank

handle design provides users with a better and faster

cleaning ability.

This waterless toilet functions on a urine-diverting

mechanism and is self-contained. It is built-in with a

12v power plug and fan for low volume air circulation.

Maintenance is fairly straightforward and it has a

quick installation process. It is free from bad smells,

running on a waterless operating system. However,

the toilet requires the urine container to be emptied

frequently.

40 WWW.OPENAIRBUSINESS.COM
---
GLAMPSITES

MOST EFFICIENT COMPOSTING

SUN-MAR EXCEL

Sun Mar has a patent for the most efficient

composting method, and has a long-standing history

of creating and producing composting toilets. An

innovative 'Bio-drum' is included in every unit that

allows the rotation of the compost. Use the handle

at the front to rotate the drum every two days to mix

and aerate the compost. Once a month or so roll the

drum anticlockwise to drop some compost into the

finishing drawer where it remains for at least another

month to break down. This method means that you

never have to handle any unbroken down waste – the

output is like a fertile loamy soil made of sand, clay,

and water.

Despite being non-electric, the toilet is efficient

in decomposition and disintegrates human waste

without any smells from the process. It is able to have

up to three users in residential settings and up to

seven if installed in a cabin or used for weekend use.

BEST OUT OF THE BOX

SEPARETT VILLA 9215 AC/DC

Separett has been developing waterless toilet solutions for over 40

years. The Villa 9215 AC/DC is an excellent choice if you need a toilet

that can be used both on and off the grid as it can be used with a battery

or a solar panel. With this composting toilet, you receive everything

you need to get started right out of the box. The Separett Villa 9215

composting toilet doesn't require any additional parts to be functional,

unlike some others.

The price is a little on the high side, but you won't have to worry

about any odour concerns with this model. For direct venting and

draining, the single-speed fan may reach a maximum distance of 20 feet.

Compostable bags and a lidded waste receptacle are included. It also

comes with a five-year warranty on manufacture defects and a threeyear

warranty on the fan.

BEST VALUE

AIR HEAD COMPOSTING TOILET

This AirHead diverts urine from solids, allowing the solids

to dry up and compost in three months. Moreover, the

composted solids occupy minimal space, and they offer

agricultural value.

The liquids divert into a tank that is smaller than the

solids hatch and placed on the lower front of the AirHead

to allow easy removal. The urine bottle is compact and

capable of holding 10 litres so you can go a day or two

before emptying it.

This toilet is electric and a 12-volt shroud fan keeps

sewage smells at bay. A simple, waterless flush plunges the

deposit into the compact solids hatch, which is spacious

enough to take 60 comfortable visits.

Like most modern composting toilets, it is waterless and

self-contained. Even when gents urinate into the AirHead

while standing, the solids hatch will trickle the liquids back

into the front urine bottle. Select between a paper liner in

the bowl or commissioned coir, which provides a smooth

carriage when you open the solids hatch for a waterless

flush.

ABOUT THE

AUTHORS

Practically Green is a

blog and review site

created by university

friends Leo Dickson

and Jess Taylor.

Creating content to

help people live more

sustainable lifestyles,

the pair aim to give to

access to information

to help more people

to make more

sustainable choices.

www.practically.green

WWW.OPENAIRBUSINESS.COM 41
---
GLAMPSITES

PRODUCT IN FOCUS

Bookings & Partnerships

Little Massingham

Estate, Norfolk

Product: Franchised glamping

Supplier: Amber's Bell Tents,

07580 072861,

ambersbelltents@hotmail.co.uk,

www.ambersbelltents.co.uk

Details: On the far reaches of

North West Norfolk sits Little

Massingham Estate – 2,000 acres

of forests and heathland, wild

ponies and pigs, all playing a part

in the important rewilding work

that is happening there. Oak Dell

is home to seven furnished 5m

bell tents courtesy of glamping

franchise, Amber's Bell Tents.

Amber and her team use

their 10 years of experience in

the glamping industry to help

franchisees launch successful

glamping sites. This allows

landowners with no prior

experience in the hospitality

sector to create high end

glamping opportunities that

meet with market demand.

Amber's Bell Tents highlights

what can be utilised in each

location to make the space

unique and special. Everything

needed to offer guests a

comfortable and stylish glamping

stay is provided, including all

the thoughtful items that help

communicate care for guests'

wellbeing during their stay. A new

product line means all franchised

partners will have access to

unique branded products to give

each space its own aesthetic and

help strengthen brand identity in

this crowded market.

Amber's Bell Tents also draws

up a plan to get sites ready for

guests, and provides a team

to set up in year 1. Behind the

scenes, the team markets the site

using its brand, generating sales

and handling customer support

until guests arrive on site when

it's time for the new partners to

take over.

Customer feedback: Oliver

Birkbeck, owner of Little

Massingham Estate, said: "I

have been working with Amber

and her team since late 2020. I

manage a large estate in North

Norfolk, which has lots of

different enterprises – the main

one being a re-wilding project.

I was looking for a way to bring

people onto the estate very

lightly, who would enjoy the

nature and hopefully take some

of the rewilding ethos away with

them, while also creating a much

needed revenue stream.

"I immediately felt that we

were on the same page - Amber

is also passionate about

creating access to nature and

wild spaces for people. I felt

like someone was on my side,

and that bringing people

onto the estate to enjoy the

wildlife was not only viable,

but would be financially

beneficial too. Amber's Bell

Tents took away all the usual

bumps in the road that launching

a business from scratch brings.

We launched in June last year

and had a season of happy

glampers, with the space working

particularly well for groups. We

had many a Saturday night of

people dancing under the trees

and stars."

42 WWW.OPENAIRBUSINESS.COM
---
GLAMPSITES

PRODUCT SNAPSHOT

Cardross Estate, Sterling

Service: Partnership providing pods

and full business services

Supplier: Further Space,

07761 747212,

simon@furtherspace.co.uk,

www.further.space

Details: Further Space partnered

with Cardross Estate in 2020 to bring

further diversification activities to

the estate. Overlooking Ben Lomond,

the site has six 4-star glamping

accommodation pods. Each pod

sleeps four people and has its own fire

pit and outdoor seating area. Cardross

Estate work with local suppliers to

provide breakfast, BBQ packs and

even sustainable charcoal from a local

social enterprise.

Further Space brings a completely

unique business model to the

glamping market, working with

landowners to create micro-tourism

partnerships. It provides luxury

four berth pods at zero upfront

cost with partners only needing to

invest in their site works. This gives

a significantly lower cost method to

entry, with a far lower financial risk

profile. Full support with site layout,

design, architectural services and the

planning process is also provided.

Once the site is open the entire

customer acquisition process is

managed, including TV, radio, press

and digital/social media advertising. A

booking system, payment processing

and customer service is provided

so landowners only need focus on

customer experience once they arrive

on site.

As a partner you are connecting

with a brand currently building

a network of sites across Ireland

and the UK. Partners benefit from

a level of marketing spend and

promotion that would be difficult

to justify individually and receive

a dedicated relationship manager,

training materials and support for

glamping experts. They also benefit

from a growing base of existing loyal

customers keen to experience more

Further Space glamping in new and

unique locations.

Customer feedback: Alistair Orr-

Ewing, owner of Cardross Estate, said:

"The main challenge for landowners

is that they have the assets but lack

the marketing budget and expertise

to get to scale quickly. We operate the

site but split the capital investment.

Further Space helped with getting

through the planning process, the

design and layout. We don't have to

worry about booking systems and

pre-arrival customer communications,

we just focus on the customer when

they arrive. It means I have more time

to work on the many other projects

across the estate."

Letting the Unusual

Quality Unearthed - 01348 830922

letting@qualityunearthed.co.uk

www.qualityunearthed.co.uk

Why Choose Quality Unearthed to market your

glampsite? Simple, we've got proven experience in

increasing bookings. Employing Quality Unearthed

gives you immediate access to an existing customer

database and the benefit of our experience in

marketing and administration. This frees up your time

to pursue other projects or concentrate on our site,

accommodation and guests.

There are no costs to join us – all photography,

brochure and marketing costs are included in your

commission fee so you only pay once we get you

bookings. We have a skilled in-house development and

marketing team, allowing us to respond effectively as

digital marketing evolves.

We have over 60 years' experience in cottage and

glamping holiday letting so get in touch now for a no

obligation consultation. Whatever stage your project is

at, we can advise how best to proceed to maximise your

demand and revenue potential. We specialise in letting

the unusual!

Do you Have a One of a Kind Place?

Unique Hideaways - 01736 230140

hello@uniquehideaways.com

www.uniquehideaways.com

From houseboats docked in private quays to romantic

clifftop cabins with luxurious hot tubs, Unique

Hideaways offers a collection of one-of-a-kind places to

stay in hidden corners across the UK.

The team at Unique Hideaways works with owners to

learn everything about their hideaway. From the initial

idea to the finished piece, and if owners need help from

the very beginning, we are on hand to advise every step

of the way. Most of the hideaways are positioned in the

South West, but Unique Hideaways is now starting to

spread its magic across Wales and is looking to head

further afield.

If you have your own hideaway, a plot of land or even

a vision that you'd like to explore, please get in touch.
---
Quality Glamping

Cabins and BBQ Huts

Join our dynamic portfolio of

unique glamping structures

Visit www.qualityunearthed.co.uk

or call 01348 830922

Finman

Sleeper Cabin

For all year round bookings, upgrade your bell tent or

yurt to a Finman Sleeper cabin. Available in 4m, 5m and

6m diameters. They are assembled on site so perfect

for hard to reach locations.

EN-SUITE AVAILABLE • OFF-GRID OR ECO OPTIONS

BESPOKE SOLUTIONS • FULLY INSULATED AND HEATING OPTIONS

01389 887205 info@logspan.com www.logspan.com

44 WWW.OPENAIRBUSINESS.COM
---
GLAMPSITES

SUPPLIER PROFILE

MAC Cabins

Founded mid-pandemic, this timber building company

champions sustainable tourism

What does your company do?

MAC Cabins is a fast-growing timber

building company based in Devon,

founded on over 30 years' experience in

the construction and leisure industries.

We are proud to be the provider of one of

the largest selections of timber buildings,

including log cabins, leisure and holiday

cabins and glamping pods, in the heart of

the South West of England.

To complement the extensive ranges of

timber buildings, MAC Cabins also offers

a vast variety of other timber frame and

modular frame options, providing one of

the widest selections of timber buildings

on the market.

Our post and beam classic range

continues to be popular. Where multiple

use is required, accommodation can

be created over garages or workshops

providing a space perfect as an annex or

holiday rental unit that can be tailored to

suit your exacting requirements.

For all timber frame styles, MAC Cabins

works with self-build and custom-build

projects. Designed and created by

architects, we help guide developers

large and small to identify the best way to

convert vision into reality.

We continue to expand our vast portfolio

of designs and build options, allowing

you to select the perfect combination of

style, size and price, confident you will

find the perfect selection to meet your

growing demands. With every building you

will receive a structure that has a higher

standard specification than most other

comparable products.

Our potted company history

MAC Cabins was founded in the middle of

the 2020 Worldwide Covid-19 pandemic

by Dirk McFarlane-Aitken to separate

timber building from his existing property

renovation and development company.

In a very short period of time, MAC Cabins

has come a long way, with a vast variety of

cabin and timber building designs, partner

manufacturers and sustainably produced

products.

Dirk has combined his experience

across many areas of the construction

and property industry with his experience

working within the leisure and holiday

sector. All our products are sustainably

sourced to ensure the ability to continue

to harvest the world's finest building

product, timber. This is not just what we

do, it's what we are passionate about!

Why should a customer get in touch?

From selecting the buildings of your

choice, MAC Cabins will support you

every step of the way. From foundation to

finance and everything in between.

MAC Cabins actively supports

sustainable tourism and all our timber

products are sustainably and ethically

produced and manufactured. Dedicated

holiday accommodation at glampsites

and other leisure resorts does not

adversely affect local property markets

and is good for the tourism industry

and local economies. We are proud to

provide the tourism industry with the right

accommodation for the market.

Contact us today to be part of the

positive tourism industry our nation is

famous for. No enquiry is too large or too

small. Whether you are looking for one

building or an entire rental fleet, MAC

Cabins will offer you the same individual

service. We supply the buildings and you

provide the best holiday experience for

your guests.

We know that your repeat business

is reliant on your guests' experiences.

It is therefore our aim that your guests

will come back time after time, with the

knowledge that your holiday location

provides the best place to relax, unwind

and recharge.

GET IN TOUCH

MAC Cabins

0800 999 1564

help@maccabins.co.uk

www.maccabins.co.uk

WWW.OPENAIRBUSINESS.COM 45
---
GLAMPSITES

PRODUCT IN FOCUS

Alfresco Dining

Bunker Down Glamping,

Oxfordshire

Product: BBQs, Offset Smoker and fuel

Supplier: ProSmoke BBQ, 01295 981580,

sales@prosmokebbq.co.uk,

www.prosmokebbq.co.uk

Details: ProSmoke BBQ supplied a full

outdoor cooking service for the bell

tents and shepherds hut at Bunker Down

Glamping, set on the edge of Shenington

Airfield. The package included PK grill

BBQs for each guest area plus a communal

Cactus Jack offset smoker and regular

charcoal supplies throughout the season.

Cooking manuals were provided for the

site owners to distribute to guests. These

are specific to the grills and give the guests

confidence to cook different types of food

while glamping. Charcoal, wood and fire

starters supplied on pallets allowed the

site owners to charge for extras without

having to source them themselves. All

ProSmoke fuel is restaurant-grade and

ethically sourced.

The offset smoker allows the whole site

to be catered for at unique one-off events.

ProSmoke provided a training day to the

site owners, showing them how to slow

cook large cuts of meat over a real wood

fire.

Customer feedback: Bunker Down

Glamping owner Liz Gibbs said: "Up until

now, we had guests cooking over fire pits,

which are just not great for novice outdoor

cooking; the guests found it very hard to

control the heat and often burnt their food.

But with the cookbook and BBQs supplied

by ProSmoke, guests often made evening

meals a real event.

"The PK grills are easy for us to clean

and we no longer have to replace BBQs

after each season, as they are so well

made. The offset smoker was great for

feeding the whole site, or when we put

events on, plus it really looks the part

outside the shepherds hut."

46 WWW.OPENAIRBUSINESS.COM
---
GLAMPSITES

PRODUCT SNAPSHOT

Finman Open BBQ Hut

Logspan

01389 734572

info@logspan.com

www.logspan.com

The Finman

Open BBQ Hut

is the perfect

congregating area

for any glamping

site. It provides

alfresco dining away

from the rain, or just

somewhere for guests to

relax in the afternoon.

Providing more than just a pretty

picture, the Finman Open BBQ Hut will be an additional

income source with the ability to rent it out by the hour.

It comes in four sizes up to 5m in diameter so there will

be a hut that suits your site. The walls are 45mm thick

Scandinavian spruce and the floor is 30mm pressure

treated timber. This is one structure that is built to last

and will be used year round.

Kadai Firebowls

The Log Company

01748 889298

www.thelogcompany.com

READER EXCLUSIVE

Boutique Camping

0203 319 1315

hannah@boutiquecamping.com

www.boutiquecamping.com

10 % OFF

ALL BOUTIQUE

CAMPING STOVES!

USE CODE

'OPENAIR10'

Whilst globally renowned for their exclusive tent designs, Boutique

Camping's range of wood burning stoves has quickly established itself

with the most credible outdoor businesses wanting to broaden and

brighten their glamping amenities.

An exclusive design, Boutique Camping's most coveted wood

burning stove, the Pizza Oven Plus wowed bidders on crowdfunding

platform Kickstarter as it effortlessly flaunted its 5-in-1 creative

cooking integrations, including a pizza oven with a built in cordierite

baking stone and a removable grill rack which acts as a BBQ

alternative.

Delivering unparalleled outdoor experiences by producing alluring

ambiances and creative cook-offs, the Pizza Oven Plus's ferocious

300+°c flames will turn up the heat and be the start, middle and end

highlight of your guests' next wild adventure... whether that be in a

canvas/cotton tent or installed into a shepherds hut!

Available in 60, 70 and 80cm diameters, Kadai

firebowls are made from recycled oil drums,

riveted together using a traditional Indian

method for strength and durability.

Packages include wrought iron low and

high stands, double 4mm steel grills, forged

tongs and a wire brush. A range of accessories

are available including a cooking tripod with

chain, hanging skillet and even a pizza oven.

Icey-Tek Cool Boxes

Cool Boxes UK

01326 555765

sales@coolboxesuk.com

www.coolboxesuk.com

Since 2005, Cool Boxes UK

has been supplying Icey-Tek

cool boxes to the glamping

and camping sector across the

UK and Europe. Rugged and

durable, they provide extended

cooling times of up to 10 days,

which means food and drink

will stay fresh for longer without

electricity.

Check out the colourful range

in various sizes as well as the

'Plus One Cart', a strong, salt

waterproof, all-terrain hand-cart

that makes light work of even

the heaviest cool box.

WWW.OPENAIRBUSINESS.COM 47
---
EVENTS

CASE STUDY

Shrewsbury

Food Festival

30,000 people celebrating the best of Shropshire food and drink

We talk to director

of fun at Shropshire

Festivals Beth Heath, the

brains behind a range

of Shropshire events

that attract 90,000 to

the county annually

including the award

winning Shrewsbury

Food Festival.

Tell us a bit about yourself

Shropshire Festivals is a family-run

business belonging to my husband

Sid and I. I have been working

in events and the agritourism

industry my whole working life and

launched the Shrewsbury Food

Festival in 2013 to celebrate local

food and drink producers. I went

on to launch several more festivals

under the Shropshire Festivals

label, including Shropshire

Oktoberfest, Shropshire Kids

Festival, Field to Fork Festival

and Shropshire BizFest, which

collectively attract over 90,000

visitors to the region annually.

I also offer event consultancy

supporting event businesses,

coming up with creative ideas to

boost footfall at local attractions

and organising corporate events

from parties to huge conferences.

Describe your event and how

many people it attracts?

The Shrewsbury Food Festival

has been held annually since

2013. On the last weekend in

June, which is always a hot one,

the festival attracts up to 30,000

people to the 29 acres of parkland

in the centre of this picturesque

town. In the festival's nine year

history, it has been voted Best

Food Festival in the Midlands

multiple times.

The event has grown year on

year and now hosts 200 food,

drink, home and garden stalls,

street food vendors, plus beer,

wine, gin, and fizz bars (this year

we have banned mainstream

alcohol brands). Talented chefs

from the region's top restaurants

lead talks, demonstrations and

cookalongs. There is a live music

stage hosting top local bands, a

huge free kids' zone featuring a

circus big top, a BBQ competition,

the Fire Stage and the educational

Field and Fork area.

At Shropshire Festivals we

love providing a platform for

48 WWW.OPENAIRBUSINESS.COM
---
EVENTS

the region's small businesses and

performers, which in turn provides

unique experiences for our customers.

Fun is at the heart of everything we do –

we want to make people smile and give

them memories to treasure, and we want

to do it in an environmentally friendly

way by making our events zero waste.

Explain a bit about your venue and

your history with it

Most of our festivals are held in the

Quarry in Shrewsbury. It's a stunning

park right in the centre of town that

sits in the loop of the River Severn. The

council has a limited number of licenses

it releases every year to hold events

there, and we're proud to have them for

Shrewsbury Food Festival, Shropshire

Oktoberfest and Shropshire Party in the

Quarry Park (our new event launching

this May).

Aside from the expanse of space, we

are served well by the proximity to the

town centre's shops, railway and bus

stations. The park is accessed from more

than one point, making it convenient for

our visitors and suppliers.

What is the event's history and what

made you decide to run it?

I spent eight years as operational

director at Ludlow Food Festival.

Shrewsbury is a thriving food-loving

town, and it felt like there was a big gap

in the market for a food festival here.

There is also more space and therefore

room for an event to grow and evolve.

My hunch was right! Aside from 2020 in

the midst of the pandemic, we have held

a successful Shrewsbury Food Festival

every year since 2013, with numbers

growing every year, and attracting some

top chef names.

How is your relationship with the local

authority and community?

We have a great relationship with the

local authority and a very loyal following

in the community. I also chair the

Shropshire Business Board and Visit

Shropshire – the region's destination

management organisation, which has

built up my network.

Our events are a huge boost to

the local tourism sector with people

travelling from outside the county,

and even the country, to visit us – local

restaurants and hotels get booked out.

We also give space at our festivals for

other events to market themselves,

helping to boost visitor return visits.

How have you planned the layout of

the event?

Years of experience have given me

a great instinct in how people move

around a festival. I find it fascinating

watching people navigate an event, and

every year I make tweaks to get the

most out of the space.

We hire in a huge number of

marquees and a live music stage, but

we erect our own tipis (we also

own Shropshire Tipi Hire)

"MOST OF OUR

FESTIVALS ARE

HELD IN THE

QUARRY IN

SHREWSBURY.

IT'S A

STUNNING

PARK RIGHT IN

THE CENTRE

OF TOWN THAT

SITS IN THE

LOOP OF THE

RIVER SEVERN"

which really epitomise the look of our

events. Add a tipi to any festival and it

really elevates the look of the site.

How did you research and source your

marquees, flooring, bars etc?

We have worked with Burgoynes and

Tents and Marquees for a number of

years and as such they are brilliant at

offering up new ideas. If you get a good

relationship with a marquee foreman

they become invaluable as they have a

wealth of experience and ideas that they

have seen work elsewhere!

We tend not to need flooring as we

aim for sunshine and grass. For bars we

take inspiration from Pinterest, good old

Google and of course Open Air Business

magazine!

What entertainment do you offer and

how did you choose and source it?

Our aim is to offer something for

everyone. The foodies will be at

the Chef Talks and Demos

stage, trying samples from

producers or doing a cook

along with a top chef.

Families have a huge free

kids' zone to enjoy with

our circus big top, rides,

STEM activities and lots of

hands-on experiences like

trying out a bike, baking,

crafting, digging in the

sandpit or playing a giant

game.

Adults that like to relax

with a drink will be at

the bars or sitting on

the hill watching

WWW.OPENAIRBUSINESS.COM 49
---
EVENTS

the live music stage, and the avid

shoppers will visit all 200+ exhibitors

until they drop! We are advocates of

supporting local so we always reach out

to our community if we're looking for

something new. We've built up a brilliant

network of talent over the years.

What provisions do you make for

power, lights and sound?

We have a nightmare with power costs,

the same as most people, and have a

very limited supply onto festival sites

which we supplement with generators.

The red diesel ban is a real problem, as

that is an unbudgeted extra cost that

is going to really affect our clients and

visitors as we pass this cost on further

down the line.

For lighting and sound, we have

worked with ProAudio for a number

of years and they've always brought

excellent solutions to the table. We

love the projected lighting installations

we do in the beer tent at Shropshire

Oktoberfest where we work with artist

Andy McKeown. They are a much talked

about dimension. Lighting is often under

used but we have done some interesting

venues and the lighting has really

brought them to life.

How do you manage admissions and

visitor safety?

We now have a bespoke ticketing system

as the majority of visitors have moved

to buying tickets in advance online.

One of our core members of the team,

Gemma, is dedicated to admissions

throughout the event – troubleshooting

issues, heading up customer service

and ensuring our gates are running

efficiently.

Our security team bag searches all

visitors on entry and we work with an

external health and safety company,

Online Safety Solutions, who ensure our

sites are the safest they can be.

How did you cope during 2020 and

2021?

As we were unable to hold any of

"FOR

LIGHTING

AND SOUND,

WE HAVE

WORKED

WITH

PROAUDIO

FOR A

NUMBER OF

YEARS AND

THEY'VE

ALWAYS

BROUGHT

EXCELLENT

SOLUTIONS

TO THE

TABLE"

our Shropshire Festivals in 2020, we

launched the Shropshire Drive-in. We

organised seven separate drive-in

events with comedy, live music and

performance, with visitors each getting

their own area to safely park up and

enjoy a show.

Within a month of conceiving the

idea we had launched the tickets on a

brand new website and about a month

later we were standing in the middle of

a grassy field at the first sold out event.

We entertained over 8,000 people during

July 2020! The events were covered by

every local news outlet, featured in The

Telegraph and Metro, and even recorded

and broadcast on BBC Breakfast!

We also launched a new hamper

business during the pandemic.

There are hundreds of small local

food and drink businesses that have

been unable to exhibit at our annual

festivals, so we decided to bring those

businesses together in a brand-new way,

diversifying to launch the Shropshire

Hamper Company, and the response was

amazing! In fact, our suppliers reported

selling more through the hampers

than they normally would at our food

festival. We will continue to run the

hamper business, which keeps us busy in

between events.

In December 2020 we were behind

what could have been the biggest

national event of the year – Carols on the

Doorstep! Our idea to get the people of

Shropshire singing carols in unison went

national, with BBC radio stations signing

up to broadcast the backing music. We

were filmed for BBC Breakfast and the

One Show. It was incredible to unite

isolated communities across towns and

rural areas to spread some festive cheer.

We held Doorstep Carols for a second

year last Christmas, uniting the nation

in song. We simultaneously had people

singing from choirs in Trafalgar Square to

Great Ormond Street Hospital and from

cathedrals to street parties, all in the

name of boosting community spirit and

combatting social isolation.

The government's Culture Recovery

Fund enabled us to plan and hold

Shrewsbury Food Festival in 2021, albeit

three months later than usual.

What ground protection do you use for

cars and footfall?

We don't need ground protection

for Shrewsbury Food Festival as the

weather is always great. For Shropshire

Oktoberfest we have a real problem as

it always rains, so we now own our own

ground matting to combat this cost and

also to limit the damage done by the

cherry pickers as they hang the lights etc.

How do you publicise the event?

We have our own in-house marketing

team – Shropshire ThinkTank. They

market with a mix of social media, email

marketing and press work. We have

promotional leaflets distributed to high

footfall areas throughout the year and

hang banners and signs around the town

ahead of the event.

What additional challenges have you

faced?

We have the same challenges as

everyone else – navigating through Covid

and incurring bigger costs on everything,

which we will have to pass on to visitors

who are battling a cost-of-living crisis

themselves. It hasn't been an easy

couple of years!

How have you financed the event?

We have sponsorship packages for every

event – from sponsoring our re-usable

beer cups through to the main stage. I

wholeheartedly believe it is an incredible

way to boost brand awareness and

reposition how consumers view brands.

We are always open to sponsorship

requests!

What are your plans for next year?

We will be holding events throughout

the year – Shropshire Kids Festival,

Shropshire Tasty Trail (our walk and

eat event), Shropshire Party at the

Quarry Park, Shrewsbury Food Festival,

Shropshire Oktoberfest and a host of
---
EVENTS

ADDRESS BOOK

corporate events. We are also consulting

on some amazing projects – follow

Shropshire Festivals on Facebook and

Instagram to keep up to date!

What advice could you give to

someone coming into the outdoor

event industry?

It's not for everyone as it's incredibly

physically and mentally demanding,

but when the sun is shining and you

have 30,000 happy visitors eating and

drinking from small local food and

drink producers and making amazing

memories, it makes it all worthwhile. It

is also very different from smaller indoor

events; it might seem obvious but if

you're used to running indoor weddings

then be warned this is a very different

ball game!

MARQUEES

Burgoynes

www.burgoynes-marquees.co.uk

Jacksons

www.jacksonsmarquees.co.uk

Shropshire Tipi Hire

www.facebook.com/shropshiretipi

Tents and Marquees

www.tentsandmarquees.com

STAGES

ProAudio Services

www.proaudioservices.co.uk

LIGHTING

Andy McKeown, Wild Strawberry

www.wildstrawberry.com

HEAT & POWER

Barry Hamer Electricians

Cool Services

www.coolservices.co.uk

TOILETS

Space Mobiles

www.spacemobiles.co.uk

Wrekin Conveniences

www.wrekinloos.co.uk

SECURITY

Online Safety Solutions

www.online-safetysolutions.co.uk

ProSecure www.pro-secureltd.co.uk

INSURANCE

Covermarque

www.covermarque.com

Henshalls www.henshalls.com

DETAILS

25-26 June

Quarry Park

Shrewsbury

Shropshire SY1 1JA

www.shrewsburyfoodfestival.co.uk

Create a Greener Event

Branded Reusable Cups | Plates | Bowls

• Sales • Serviced • Rental Solutions

01278 238 390 info@green-goblet.com www.green-goblet.com

WWW.OPENAIRBUSINESS.COM 51
---
TOPCAT

BIGTOPS

T E N TS & MA R Q U E E S

TOP CAT BIG TOPS manufacture & hire

out colourful Big Big Top Top style style Marquees.

Staffed by a crew of highly experienced

personnel with many years of in experience the

festival, in the festival, local authority, local authority, educational educational &

corporate & corporate fields. fields. We We can can supply supply small small

to

to

large

large

colourful structures built

built

by

by

our

own craftsmen, that can withstand

our own craftsmen, that can withstand

extreme UK weather conditions.

extreme UK weather conditions.

01654 700030/07599 882654 Email: info@topcatbigtops.co.uk Web: www.topcatbigtops.co.uk

t: 01654 700030

07956 878157

e: info@topcatbigtops.co.uk

w: www.topcatbigtops.co.uk

First Class Cleaning

for Your Event

New for

2022

glamping

mats

Site Cleaning | Recycling

Toilet Hire & Servicing

Compostable Food Packaging

Purchase Stylish Products, for Event Professionals

Fire Retardant Matting | Oak Cross-Back Chairs

Festoon Bulbs | Giant Shepherd Crooks

01443 844492

07841 120411

info@eventclean.co.uk

www.eventclean.co.uk

We'd love to talk! hello@eventshed.co.uk

www.eventshed.co.uk | Follow us on Linked In

52 WWW.OPENAIRBUSINESS.COM
---
EVENTS

Total Immersion

AGB Events' creative director Anthony Bastic on the power of immersive events

Parrtjima

ELEVATE SkyShow

featured 550 drones over

Sydney Cove

WWW.OPENAIRBUSINESS.COM 53
---
EVENTS

What is an immersive event?

For us an immersive event is

something that you lose yourself in; it's

engaging and emotive and has a strong

narrative. The story is the driver and

designing content that tells the story in

a captivating and memorable way is the

key element.

At AGB Events we love combining bold

ideas and technology. I love the concept

of lighting as it's very accessible. It

overcomes language and physical barriers

and can bring art and culture

to life.

How are organisers, brands and educators

making use of immersive events?

Consumers today are more sophisticated and

their expectations around stimulation are

changing. Technology has had a huge impact

on communication and has really opened

up the ability to expand reach and influence

people.

Technology allows us to access and

exploit a narrative. A narrative, done well,

is something that engages people; it affects

them and they remember it. Organisations

see the value in that!

Today, events are using a lot more

technology – there's a huge rise in visual

content, particularly augmented reality

(AR). At our 2021 ELEVATE SkyShow (a show

featuring 550 drones over Sydney Cove) we

also added an AR element.

Audiences are becoming much more

attuned and familiar with technology,

especially given the recent experiences

of the pandemic. It is now second nature

to download an app, scan a QR code etc.

technology has become more prevalent

and we're utilising that evolution to build

multiple layers into event experiences; it's

really exciting.

Why are immersive events so powerful?

Because they're accessible… worldwide.

MATTHEW ANDREWS

FROM LEFT Lumiere Festival and Parrtjima

Even though the world shut its borders with

the Covid pandemic, technology enabled us

access. We were able to use technology to

visit galleries in other parts of the world while

never leaving our lounge. The reach now is

so broad and we've become acclimatised

to not attending but participating through

technology.

It's adding a new perspective to event

concepts and development. It's hard to

get your head around when you're doing

something in the public realm, it has

longevity and it can travel.

Storytelling – how does it inspire change

and connection?

People are curious. They're invested in

stories, especially about other people's lives

and cultures. Experiences can change you

and our events have always been about

creating memorable experiences. By adding

new perspective to event concepts and

development, technology has allowed us to

tell stories in different ways – through visual

content, lighting, drones and AR.

EXAMPLES

Lumiere Festival (UK)

Lumiere invites local and international artists

to produce large scale artworks and events.

Launched in 2009 in Durham, it is now home

to 270 installations and has expanded to

Parrtjima

include Lumiere Derry (2013) and Lumiere

London (2016 and 2018).

www.lumiere-festival.com

Beauty Rich and Rare (travelling)

Commissioned by the National Library of

Australia, Beauty Rich and Rare was the

first Australian exhibition to appear at

the National Museum for Natural History

(Smithsonian) in the US.

It comprises six screens (65 feet long), six

laser projectors and has gorgeous imagery

illustrating the wonder and excitement of Sir

Joseph Banks and his team as they made the

first collection and recording of Australia's

unique flora and fauna. www.naturalhistory.

si.edu/exhibits/beauty-rich-and-rare

Parrtjima (Australia)

A Festival in Light, Mparntwe

Parrtjima is the only authentic Aboriginal

light festival of its kind, showcasing the

oldest continuous culture on earth through

the newest technology – all on the 300

million-year-old natural canvas of the

MacDonnell Ranges in Central Australia.

The 'Grounded' installation is of particular

note. Visitors wander through an animated

sequence of curated Aboriginal artwork

projected onto the red sands of the desert

park. www.parrtjimaaustralia.com.au

ABOUT THE AUTHOR

Australian-based Anthony

Bastic is CEO and creative

producer at AGB Events. AGB

specialises in creating public

celebrations, iconic events and

innovative digital experiences.

Founded in 2006, AGB Events has

conceptualised and produced events and

exhibitions across Australia, Asia, Europe and

the United States.

Anthony's ingenuity has been well

recognised by his appointments as creative

director for many international events

including the Sydney Invictus Games

Opening Ceremony (2018), the Melbourne

Commonwealth Games (2006), the Rugby

World Cup (2003), Melbourne's New Year's

Eve celebrations and the Sydney Olympic &

Paralympic Games Live Sites (2000).

www.agb.events

54 WWW.OPENAIRBUSINESS.COM
---
MAKE YOUR GUESTS AS SAFE AS THEY CAN

BE WITH OUR COMPLETE SERVICE OFFERING.

CROWD SAFETY

SECURITY

STEWARDS

TRAFFIC MANAGEMENT

01295 722844

WWW.NEWMANEVENTS.CO.UK

WWW.OPENAIRBUSINESS.COM 55
---
EVENTS

GETTY IMAGES

INDUSTRY COMMENT

Seeing Red

Chairman of the Events Industry Forum, Steve Heap, on the banning of red diesel for events

IN THIS spring's budget the chancellor had

the opportunity to make a difference the

outdoor events industry. 5p off the fuel tax

(yet to be confirmed that it will apply to

white diesel and biofuels) does not make

enough difference to really help us.

So, whilst we recognise that the

government announced the banning of

red diesel for festival sites two years ago it

didn't actually hit home at the time and so

is coming as a bit of a shock to an already

dented industry.

With over 20% rises in equipment

costs recovering from two years off

for Covid, no pandemic insurance (HM

government proposal not fit for purpose),

staff shortages due to Brexit and now a

doubling of costs for power to our stages,

"OTHER PARTS OF THE

BUDGET DID NOTHING FOR

THE FESTIVAL SCENE, OTHER

THAN CONFIRM IT IS GOING

TO BE A TOUGH YEAR WITH

PEOPLE'S DISPOSABLE

INCOME STRETCHED TO THE

LIMITS"

2022 will not be the year of recovery we

had hoped for but will be the toughest

year as all the above is being paid from a

2019 ticket price revenue carried over for

most festivals.

The VAT holiday is finished. We fought

for 5%, then 12.5% and we continue

to fight to keep it down low, but the

chancellor has put it back to 20%.

We were very willing to work with the

government on reducing our carbon

footprint, and still are, and gradually we

will switch to renewable and alternative

energies, but now the chancellor has taxed

those as well, up to the same level as white

diesel.

Generator companies are all cleaning

out their tanks to switch to white diesel

so campaigning for an extension to red

diesel is not much use, and it doesn't meet

our industry's commitment to carbon

reduction by 2025 (see Vision2025 report).

Other parts of the budget did nothing

56 WWW.OPENAIRBUSINESS.COM
---
EVENTS

for the festival scene, other than confirm

it is going to be a tough year with people's

disposable income stretched to the limits.

The sun is shining, the music is ready, all

we need now is customers who can afford

to come. Mr Sunak will be hearing from us

again...

I would suggest that readers join with

many others in the events industry and write

to the chancellor, inviting him to join with us

to meet government climate change targets.

He can help us do this by taking fuel duty off

biofuels and alternatives as well as taking off

the VAT. This would help our industry in this

recovery year and give us a chance to get

fuels sorted without further 2022 expenses.

From the

HAE EHA

Changes to the law concerning the

use of red diesel came into effect

on 1 April, affecting thousands of

hire companies across the UK. Hire

Association Europe and Event Hire

Association (HAE EHA) is urging its

members and the wider hire industry

to ensure they are fully aware of the

changes to avoid finding themselves

on the wrong side of the law.

Previously, rebated gas oil (red

diesel) and rebated biofuels could

be legally used for any machine

which is not a road vehicle eg.

mobile generators. From 1 April, this

entitlement was removed for all but a

handful of specific sectors, including

farming, forestry and communitybased

landscaping such as hedge and

verge cutting. Any individual found

guilty of breaching the new regulations

may be subject to criminal sanctions

and fines, and HMRC can also seize

vehicles and machines found to be

running unlawfully on red diesel.

There is no requirement to flush out

engines, and any rebated fuel still in

tanks can be used up after 1 April, so

long as it can be proved that it was

put into the vehicle or machine legally

prior to the changeover date.

HAE EHA has taken a number of

actions including creating revised

terms and conditions of hire and

putting in place training and general

guidance. Anyone who would like to

know more about how the changes in

regulations might affect them can get

in touch with HAE EHA on 0121 380

4600.

Yet

More

Cost

Rob Chapman, director of Craft in Focus which runs

some of the country's largest craft and design fairs,

illustrates the cost implications of banning red diesel

AS THE organiser of some of the

country's largest craft and design

fairs we are very concerned about the

government's decision to prohibit the

use of red diesel at events.

Over the last two years the event

industry has been among the hardest

hit. We all understand the need to cut

greenhouse gases, and the removal of

use of red diesel is being billed as a way

forward to encourage greener options

and reduce the use of fuel. But what are

the alternatives? As yet, there are none

that are cost effective, so our running

costs will just have to increase.

All our events require diesel

generators to provide power, but

even with the change to low energy

equipment, the amount of fuel used

is still significant. The removal of red

diesel for generators will increase our

costs by around £800 or so for most

summer based events. The problem

really hits hardest at our winter events

where our heating units have been

fuelled by red diesel. Three years ago at

our November fair (our largest event)

we had almost daily fuel deliveries as

the heating used over 10,000 litres of

fuel. If we had not had access to red

diesel the increase would have been

around £4,500.

We could change to Kerosene for the

heating, which is cheaper than white

diesel, but would require separate

storage and delivery as we still need

diesel for the generators. The extra

delivery and storage adds more cost

again. If we use white diesel then we

will also have to increase security as

keeping the fuel on site is likely to

attract unwanted attention, so yet more

costs.

As with most companies we are

already running to tight budgets, but

this addition makes a huge impact to

the viability of our autumn and winter

events. Yet again the events industry

is being hit by lack of government

thought.

GETTY IMAGES

WWW.OPENAIRBUSINESS.COM 57
---
R

Since 1889 OPAS have

been keeping things

looped, clipped, stuck,

pinned, strapped, sewn,

riveted, hooked, zipped

or popped together.

Stunning tents for

stunning events!

Our comprehensive range of top value quality

textile and marine fasteners, marquee and

exhibition stand materials are backed up with old

fashioned service and free technical support.

OPAS are also certified to ISO 9001/2015

underscoring our commitment to achieving and

maintaining excellence.

WE LOVE STRETCH TENTS!

Years of experience, passion and enthusiasm

to get what you want from your event.

Sales, full installation and custom

design services.

AUTHORISED DISTRIBUTOR

Call, email or go online for advice and wholesale quotations.

01903 239 955 | sales@opas.co.uk

www.opas.co.uk

t: 01920 830256 e: info@alternative-stretch.co.uk

w: www.alternative-stretch-tents.co.uk

@alternative_stretch_tents

58 WWW.OPENAIRBUSINESS.COM
---
EVENTS

PRODUCT IN FOCUS

Event Structures

National Strategy

for Economic

Development,

Dundee

Product: Staging, backdrops

and visitor seating

Supplier: QUICKBLOCK, 0141

478 0365, info@quickblock.uk,

www.quickblock.uk

Details: The Scottish

government was launching

its National Strategy for

Economic Development and

QUICKBLOCK was chosen to

provide some of the event

infrastructure.

Businesses are being

challenged to be more

sustainable and are

tasked with looking at the

environmental impact of

events and how to reduce

it. The fact QUICKBLOCK is

made from 100% recycled

plastic, which otherwise would

contribute to landfill or ocean

waste, was a major factor in

the procurement process and

final decision.

The versatility and speed

in which you can assemble,

reconfigure and disassemble

QUICKBLOCK allowed the

contractors to spend more

time on problem areas and

less time on erecting the event

infrastructure as there was no

requirement for special tools

or construction skills.

Due to it's innovative,

modular design, the solutions

available are endless. For

this event, QUICKBLOCK's

Main Stage, Visitor Seating

and Location Backdrops were

chosen, all of which were

assembled in less than one

and a half hours.

The 4.8m x 2m stage with

wooden platform was built in

20 minutes. The platform was

then carpeted to provide a

clean, professional finish.

The event required enough

seating for a minimum of 50

visitors. 10 corner sofas and

10 benches, which included

all-weather seat pads, were

assembled in 45 minutes.

Backdrops were used to

create areas for people to

meet, as part of the shell

scheme infrastructure and as

cordons to stop people from

entering restricted areas. Two

contractors erected these

backdrops in 25 minutes

having had no previous

experience using the product.

Customer feedback:

Marketing and

communications director Gill

Simpson said: "We absolutely

love the QUICKBLOCK

product and it reflects our

business values perfectly. Its

flexibility means we can use

it at our varying events, and

it is always a huge talking

point that makes our space

stand out from the crowd.

The QUICKBLOCK team are

the friendliest and most hard

working we have come across,

and whenever we work with

them it simply feels like they

are an extension of our own

team. I couldn't recommend

QUICKBLOCK more!"

WWW.OPENAIRBUSINESS.COM 59
---
EVENTS

Glastonbury Festival,

Somerset

Product: Marquees, solar power and

production

Supplier: Selene Events, 07778 765724,

sh@seleneevents.com,

www.seleneevents.com

Details: One event that Selene Events

frequent is Glastonbury Festival where the

round little big top was first put up in the

only Green Field in 1986. Now the festival

has grown to the size of a pop up city, the

Green Fields are eight separate areas, of

which Selene Events runs one; known

as the Croissant Neuf field, it is all about

sustainability.

The four pole big top, accommodating

1,000 people complete with stage, PA tower

and seating, is entirely run from solar

power, as pioneered at the festival 33 years

ago! The matching smaller marquees make

a backstage area and artistes' green room,

and others are used by exhibitors in the

main arena.

Among the trials and tribulations of

putting up marquees and running outdoor

events is the weather and being exposed to

the ever changing elements. Glastonbury

Festival is no exception, being famously

known for mud. Wind has not been a

problem as the marquees stand up to

pretty hefty gusts, sun is only a problem

when the ground turns to dust and

sticks to the tents, and of course rain is a

problem when the ground, trodden on by

many thousands of people, turns to mud,

mud, glorious mud, which then has to be

cleaned off meticulously so the structures

are sparkling clean and fresh for the next

event.

With a wealth of experience in the

festival, wedding, private parties,

educational and corporate fields, Selene

Events tailors a customer's special

requirements to suit all event needs,

offering anything from a beautiful single

marquee of a chosen size to a fully themed

event.

Customer feedback: Michael Eavis,

Glastonbury Festival founder and

organiser, said: "Selene Events runs a

tight ship and has been an integral and

respected part of the festival family since

the eighties. Their Croissant Neuf venue

has its roots firmly stuck in the mud at the

Green Field's entrance. It's been around for

over 30 years and has set the tone of those

fields and will continue to do so forever."

BBC Proms, Hull

Product: 15x20m stretch tent

Supplier: Tentickle Stretch Tents UK, 07826 843099,

info@tentickle-stretchtents.co.uk,

www.tentickle-stretchtents.co.uk

Details: Tentickle Stretch Tents was asked to provide

a stage cover for the BBC Proms in Hull. With very

strict compliance needs, Tentickle provided all health

and safety documents, risk assessments and weather

monitoring. The wind is an extremely important factor for

any type of temporary structure. A combination of wind

forecasting services and on-site wind meters were used

to determine the suitability of installing a stretch tent –

safety is paramount and overrides any client wishes.

With everything in place for a safe installation the

stretch tent was installed ready for the Proms. The

professional crew installed the 15x20m stage cover in

four hours. Once fully installed the orchestra was allowed

to enter the tent and set up ready for the Proms. The

event was a huge success and was broadcast live on BBC

Radio 3.

60 WWW.OPENAIRBUSINESS.COM
---
EVENTS

PRODUCT SNAPSHOT

Marquees and Colourful Big Tops

Meerkat Marquees

07966 402696

info@meerkatmarquees.co.uk

www.meerkatmarquees.com

Offering traditional marquee and colourful big top hire,

Meerkat Marquees' versatile range caters for any event need.

With 30 years' experience, the company is well respected and

enthusiastic about making large scale events and private parties

happen without a hitch.

Check out The Big Red, a real circus tent with standing

capacity of 1,600 or around 500 seated at round tables. It has 13

foot side walls and a four king pole truss with 20 foot cupola.

Zero Waste Flexible Event Structures

CORE Bar and Event Hire

0845 299 6499

sales@core-barandeventhire.com

www.core-barandeventhire.com

The MESR-Technic structure from CORE

Bar and Event Hire takes advantage of

the extensive benefits of carbon fibre and

carbon fibre composite materials. Create

structures for almost any outdoor or even

indoor event, with multiple levels and

numerous shapes and configurations.

Infinite flexibility means endless

possibilities. These structures are

modular and adaptable, light enough

to be transported and assembled by a

small team, yet strong enough to provide

a festival stand or community space for

those events that need it most. Fully

assembled within a few hours, MESR-

Technic provides quick and safe solutions

with a zero waste philosophy.

Elegant Stretch Tents

Alternative Stretch Tents

01920 830256

info@alternative-stretch.co.uk

www.alternative-stretch-tents.co.uk

Alternative Stretch Tents hire elegant

stretch tents for a huge variation of

events across the UK. From brand

activations to festivals to funerals.

Whether it's blending into the natural

surroundings or making a statement

through certain rigging techniques, we

truly believe the 'stretch tent' can suit

and add that lasting impression to any

event.

Now specialising in long term

installs, purchases and custom size

tents, we pride ourselves on great

Master Craftsmen and

Marquee Hire

Top Cat Big Tops

01654 700030

info@topcatbigtops.co.uk

www.topcatbigtops.co.uk

customer service, advice and long term

support.

Spanning festival stages, bending

around that awkward tree or spanning

a water feature, if it's for hire or

purchase, years of rigging experience

make almost any space possible!

Top Cat Big Tops has been

going for a few years, directed

by Rob Sage (formally of

Roustabout). We are both

a colourful marquee hire

company as well as master craftsmen, manufacturing marquees

with expertise and love in our workshop. One of our private commissions was

featured on a Channel Four show where the proprietor rigged it himself in his

Chateau grounds, next to his Orangery! We concentrate on manufacturing over

the winter months with our core local crew, expanding the crew during the hiring

festival months. Our clients vary widely, from the well-known festivals, smaller

niche ones, corporate dos as well as funky weddings and private parties.

WWW.OPENAIRBUSINESS.COM 61
---
Spot light

A roundup of products for the outdoor hospitality industry

SAFE, SECURE, SUCCESSFUL

WEDDINGS

Newman Event Services

01295 722844

enquiries@newmanevents.co.uk

www.newmanevents.co.uk

Nothing is left to chance when you

book Newman Event Services'

Glamping Wedding Package.

A trusted supplier of crowd

management and event safety

solutions, we offer bespoke

services, adapting to your needs

to give you the personal touch on

the big day. Whether you require

notable security on site or a less

conspicuous presence, NES tailor

the day to the client and venue.

From traffic management, security,

admissions to and from the site,

cloakroom stewards,

even organising when the music

gets turned off; the expertise of

our highly-trained staff will help

you deliver a safe, secure and

successful event.

BEAUTIFUL LOG BUILDINGS

Scandinavian Homes

0845 299 6337

info@scandinavianhomes.com

www.scandinavianhomes.com/selfbuild-holiday-homes

Will holidays ever be the same?

With more and more people

deciding that the UK has so much

to offer, they want to holiday

nearer to home. So create luxurious

holiday accommodation for them

with a beautiful log holiday home.

Easily customised, these can be

designed specifically to suit your

target market.

With typical British weather,

a warm, welcoming, genuine

log holiday home will help you

generate year round income. You'll

be able to provide holidays that

your customers will remember,

and book again and again. Contact

us today to discuss your holiday

home, mobile home, café, event

space, or other log building plans.

PERFO GROUND REINFORCEMENT

SYSTEM

S2T Group

01992 522797

www.perfo.co.uk

S2T Group's PERFO range of ground

protection products comprises

a system of interlocking, selfanchoring

permeable plastic

tiles which are embedded into an

existing surface, eg. a mature grass

area or prepared base consisting of

a layer of crushed stone chippings,

depending on the application.

A number of light to heavy duty

solutions are available to suit

varied ground conditions, traffic

profiles and loading requirements.

Unlike other geogrid systems,

PERFO tiles are usually installed

without the need for excavation,

being compacted directly into the

existing surface using rollers or

compactor plates. Installation is

therefore rapid and planning issues

less problematic.

ADDING VALUE TO VENUES AND

HOTELS

Blackdown Shepherd Huts

01460 929774

info@blackdownshepherdhuts.co.uk

www.blackdownshepherdhuts.co.uk

Hotels and wedding venues, by

their very nature, often have the

potential to add a glamping stay

space to their grounds offering the

chance to add value to previously

under-utilised land with minimal

disruption to pre-booked events

during the install.

Blackdown Shepherd Huts

have proven expertise in this

area and were delighted to be

the provider of choice for last

issue's entrepreneur's chat

feature, Wellington Barn. Its three

shepherd huts offer super comfy

accommodation for guests who

want to stay at the venue, as well

as an additional line of income for

the business.

62 WWW.OPENAIRBUSINESS.COM
---
R

EVENTS

Classified Directory

TWO-WAY RADIO

SUPPORTING

YOUR EVENTS

Call FREE:

0800 043 2688

sales@dcrs.co.uk

www.dcrs.co.uk

DCRS Open Air Magazine Classified Advert.indd 1 06/12/2018 09:36

Finman

Glamping

Cabins and

BBQ Huts

From

£4,992

UNIQUE • QUALITY • CUSTOMISABLE

01389 887205 www.logspan.com

A tiny ad

for a HUGE

choice of fasteners

• Certified to ISO 9001/2015.

• Textile and Marine Fasteners.

• Marquee & Exhibition Materials.

• Old fashioned service.

• Free technical support.

AUTHORISED DISTRIBUTOR

01903 239 955 | sales@opas.co.uk

www.opas.co.uk

10% off all

camping stoves!

01654 700030

07956 878157

www.topcatbigtops.co.uk

Colourful

BIG TOP STYLE MARQUEES

MANUFACTURE

FOR SALE OR TO HIRE

Use Code:

www.boutiquecamping.com

WWW.OPENAIRBUSINESS.COM 63
---
Classified Directory

C RE®

BAR& EVENTHIRE

STYLISH CUSTOMISABLE BAR RENTAL

TIMBER INTENT LTD

01297 444416 • mail@timberintent.co.uk • www.timberintent.co.uk

tensile fabric structures • standard and bespoke

architecture • design • planning

DRY HIRE OR FULL SERVICE

T: 0845 299 6499 - E: sales@core-barandeventhire.com

www.core-barandeventhire.com

Advert - small.indd 1 16/04/2021 16:04:43

64 WWW.OPENAIRBUSINESS.COM
---
PEOPLE

Behind the Scenes with…

Susie Reid

Thomas

Behind the scenes with Susie Reid Thomas, founder

and creative director of Twilight Trees

MY ROLE is incredibly varied which I

absolutely love. I am a creative by nature

and that's what makes my heart sing but

I am also an inherent entrepreneur (or

en'tree'preneur as we like to call it). Ideas

spill out of my brain 24 hours a day (I don't

get to sleep much) but I also live off the thrill

of seeing an idea turn into reality.

I started Twilight Trees eight years ago

and have literally lived and breathed it all

the way through – or held my breath as may

have been the case over the past couple of

years. I am lucky enough that I have been

able to build an incredible team of people

with such an intricate set of skills and we

very much work on an even playing field.

We work hard, play hard and are all in this

business together.

When I first started the business I did so

instinctively and nothing much has changed

there. I still lead with my heart and I really

do think that people bought trees from me

at the beginning because they could see my

genuine passion for the product. These days

we are a bigger team and there is strategy

in place but I am fortunate enough to have

creative freedom and I genuinely believe in

every product that leaves this warehouse.

If we don't love it, we don't sell it, it's as

simple as that.

Twilight Trees started off as LED cherry

trees sales but demand quickly grew for

rentals. One thing led to the next and before

I knew it I had trees stretching the 180 metre

length of Mayfair's Burlington Arcade! That

was my 'pinch me' moment. We had to

create a tree specifically for that project and

that's where our collections began. We now

have a huge variety of trees from LEDs to

florals, trees with green leaves to trees in

metallics.

We are huge innovators and have taken

great pride in being able to bring a large

amount of our production in-house, which

is a rarity these days. It also helps us to

achieve our sustainability aims which

is something we are constantly striving

towards. We are a carbon neutral business

and are involved with tree planting schemes

across the UK and in the Amazon but we are

constantly working to better ourselves when

it comes to our environmental impact.

After seven years working from my spare

room, it was with great pride that we were

finally able to make the move to our new

premises in October 2021. Twilight Trees

now occupies a 6,000 square foot unit

just outside Winchester. The building is a

former cattle shed which, when we took

over the lease, had no running water and

rough concrete flooring. Being the 'masters

of transformation' we now have a huge

warehouse which includes a workshop area,

picking racks and 'Bentley' our treasured

fork-lift!

We have a large communal kitchen which

doubles up as a reception area and hotdesking

zone. 'The Boardroom' is rather

beautiful; I wanted it to have a home from

home feeling so that we are always reminded

of our kitchen table roots. My inspiration

was to make it feel like a fun dinner party so

the walls are decked out in olive green and

the room adorned with palm trees, mirrors

and a large table handcrafted from scorched

scaffolding boards. The office itself is kitted

out with bespoke living walls and inspiration

boards and is the perfect space for creativity

to thrive alongside the more administrative

parts of business. And last but not least, the

showroom…

We dreamt of a showroom for so long.

We have walls for all seasons, an array of
---
PEOPLE

LED trees and a Grande TIG tree with an

upholstered bench seat that wraps around

its base. There is a sample wall that shows

our clients the array of different florals and

foliage that we can create from as well as

rows of racking that contain everything from

Christmas baubles to reclaimed tree trunks

salvaged from local storms. The pièce de

résistance is the eight metre bespoke living

wall which is branded with the Twilight Trees

logo so that there is no mistake as to which

wonderland you have fallen down the rabbit

hole into!

THE KETTLE'S ALWAYS ON…

I hope I've painted the picture for you but

there's really nothing better than coming to

visit us yourself. The Twilight Trees doors

are always open and we are encouraging

friends, colleagues and clients to give us a

ring and make an appointment; the kettle is

always on and the wine is always cold…

No day at Twilight Trees is the same but

if I'm in the office I do try to stick to some

sort of routine. School drop off is the first

thing on the list but after that I always try

to start the day with some exercise to focus

the mind and get the blood going. We are

lucky enough to be on the edge of the South

Downs National Park and the office and

home are four miles from each other so on

go the trainers! Of course, even during a run

I can't escape my mind so I've mastered the

art of leaving myself voice notes which I go

through the second I get to the office.

If it's a Monday we all sit down at our

boardroom table (including Vinnie our office

cockapoo) and catch up on the weekend's

events. The weekend is when Twilight Trees

is at its busiest and so it's great to be able to

sit down with the whole team and debrief.

We'll also catch up on how the business as

a whole is moving forward, get updated on

what is being created in the workshop, what

the marketing department have planned

and the volume of enquiries that the events

team are working with. It's busy, buzzy and

coffee fueled but the room is often bursting

"NO DAY AT TWILIGHT TREES

IS THE SAME BUT IF I'M IN

THE OFFICE I DO TRY TO

STICK TO SOME SORT OF

ROUTINE"

with ideas and creativity. We have such

special people working at Twilight Trees and

that's probably the thing I'm most proud

of, my team. Twilight Trees is in reality a

very nuanced business and the balance is

something I work hard to achieve; I really

think this meeting along with many other

elements, is instrumental in creating it.

After the meeting I catch up with the

marketing team, we review our Instagram

engagement, any promotional events we

have planned, press we are communicating

with and any brand partnerships. This week

I have a big radio interview coming up so

we've been working on a plan of action for

that.

The rest of the day really is varied. I'm

often at my computer working on proposals

for bespoke projects. This was an area of

the business that was given the space to

grow during the pandemic and I am now

confident that our professionalism and skills

are on a par with the best in the business.

Last week we completed a bespoke

installation for the premises of a huge

advertising company in the midlands. It was

a huge project that spanned 28,000 square

feet and had been six months in the making.

It was incredibly gratifying to see it all come

together and the client was overwhelmed by

the result.

If I'm not in the office I'm out in the

workshop, overalls on and creating! I spent

five years at Central Saint Martins College

of Art and being hands on really is where I

feel most at home. I have a background in

sculpture and previously made my living

selling sculptures made from cow horns. I've

always seen the trees as art forms, they have

infinite sculptural qualities and bring both

aesthetics and an ethereal atmosphere to a

space; I am so lucky to be able to work with

them.

We have also been fortunate enough to

be able to start including elements of travel

into our design inspiration process and

we have just returned from a research trip

to Paris. I cannot overstate the wealth of

inspiration we gained from this trip. From

the shop displays, to the brand typography

and the landscape itself, being immersed

in a different culture was invaluable. I think

the lockdowns made us forget the true

value of embracing culture in person. It's so

wonderful to have it back and to witness the

impact it has on our work.

Back at Twilight Trees HQ, we often work

well past home time but we'll crack open

the wine, pump up the music and let the

creativity flow. That is another reason why I

love the Twilight Trees culture, whether it's

bringing your family to the office to paint the

new office walls at the weekend or working

through the night to get the job done, it's

the spirit of the team that really really gives

Twilight Trees its sparkle, and I'm delighted

to say it only gets brighter!

ABOUT SUSIE

Founder and creative director, Susie Reid

Thomas, started Twilight Trees in 2014 while

raising two small children. Twilight Trees

started off as an LED tree company and is

now one of the leading innovators in biophilic

bespoke installations and artificial tree rentals.

Susie, together with her husband Andrew,

has grown Twilight Trees from a kitchen table

start-up into a cutting edge business with a

dedicated and specialised team.

DETAILS

Twilight Trees

01962 877644

info@twilight-trees.com

www.twilight-trees.com

66 WWW.OPENAIRBUSINESS.COM
---
COMING

SOON

n Industry news

n Market trends

n Movers and shakers

n Opinions and comment

n Architecture and design

n In depth case studies

n Products in focus

ISSUE ONE

SPRING 2022

PRIVATE

EQUITY

INVESTMENT

Luxury Outdoors

The explosion of

boutique retreats

Resort & Retreat is Open Air Business's new sister

title created for the high-end boutique retreat and

larger scale resort businesses in the blossoming

back to nature leisure and wellness industries.

PLUS: DESIGNING

IN THE X-FACTOR

LANDAL

BARNSOUL

Landal GreenParks rewrites

the holiday park blueprint

Don't miss out - subscribe at www.resortandretreat.com/subscribe
---
Take advantage of the growth in staycations and construct a luxury log holiday home.

Spacious, warm, welcoming and beautiful, a genuine log holiday home will generate year round income.

You'll be able to provide holidays that your customers will remember, and book again and again.

0845 299 6337 / INFO@SCANDINAVIANHOMES.COM

WWW.SCANDINAVIANHOMES.COM/SELF-BUILD-HOLIDAY-HOMES