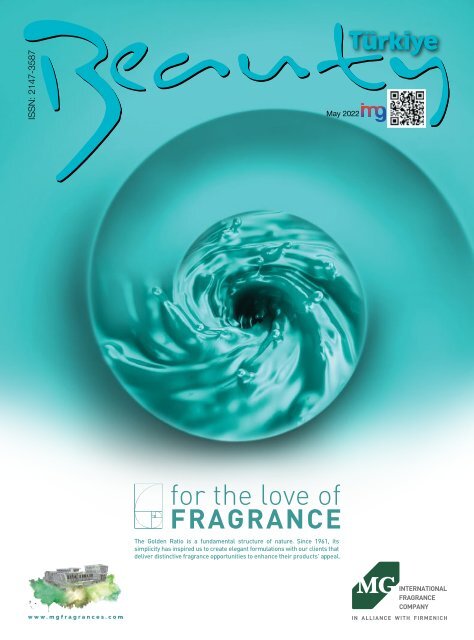 Beauty Türkiye May 2022
Beauty Türkiye May 2022
Beauty Türkiye May 2022
SHOW MORE
SHOW LESS
You also want an ePaper? Increase the reach of your titles
YUMPU automatically turns print PDFs into web optimized ePapers that Google loves.
ISSN: 2147-3587

May 2022
---
Nostalgia

Savon De Luxe liquid soaps will be indispensable

for your bathrooms with their unique bottle designs,

carefully prepared ingredients and passionately

selected fragrance.

www.savondeluxe.com.tr
---
Deodorant Wipes

DeepFresh Deo Wet Wipes are suitable for daily use to wipe off the

sweat and remove unpleasent odour.

● Does not leave stains on your clothes (with special stain lifting

formulation).

● While rich content combination helping moisturize, thanks to

extract of Salix Alba contributes the skin brightness and elasticity on

the skin. Carefully selected magnesium, potassium and calcium

minerals derived from natural sea salt extract, developed to meet the

mineral needs of the skin.

● Whether you have a big meeting or an emergency occasion, Deep

Fresh Deo wipes always indorse to perfection to be dry, fit and confident

during the day.

24H

PROTECTION

CONTAINS SALIX ALBA EXTRACT

& DEAD SEA SALT
---
Eyüp Sabri Tuncer opened

its first store in

Istanbul in Vadistanbul

Publisher

H. Ferruh IŞIK

on behalf of

İSTMAG Magazin Gazetecilik

İç ve Dış Tic. Ltd. Şti.

Managing Editor

(Responsible)

Mehmet SÖZTUTAN

mehmet.soztutan@img.com.tr

Editors

Dilara CICA

dilara.cica@img.com.tr

Recep ARSLANTAŞ

recep.arslantas@img.com.tr

20

48

Eyüp Sabri Tuncer,

İstanbul'da ilk mağazasını

Vadistanbul'da açtı

Maximum quality-optimum price:

Malva Kozmetik!

Maksimum kalite-optimum fiyat:

Malva Kozmetik!

Graphic & Design

Tayfun AYDIN

tayfun.aydin@img.com.tr

Advertising Coordinator

Recep ARSLANTAŞ

recep.arslantas@img.com.tr

Foreign Relations Manager

Ayça SARIOĞLU

ayca.sarioglu@img.com.tr

Web Developer

Emre YENER

emre.yener@img.com.tr

Accounting Manager

Cuma KARAMAN

cuma.karaman@img.com.tr

Finance Manager

Yusuf DEMIRKAZIK

yusuf.demirkazik@img.com.tr

Subscription

İsmail ÖZÇELİK

ismail.özcelik@img.com.tr

Head Office

İstanbul Magazin Grubu

İHLAS MEDIA CENTER

Merkez Mahallesi 29 Ekim Caddesi

No:11 Medya Blok Kat:1

34197 Yenibosna / İstanbul / Turkey

Tel: 0212 454 22 22

Faks: 0212 454 22 93

Printing

İhlas Gazetecilik A.Ş

Merkez Mahallesi 29 Ekim Cad.

İhlas Plaza NO: 11/A 41

Yenibosna / İstanbul / TURKEY

Tel: 0 212 454 30 00

68

72

"The packaging is

more important than

the content of the

product"

"Ürün içeriğinden önce

ambalajı önemli"

52

The year of bold and different hair!

Cesur ve farklı saçların sezonu…

Herbal protection

against the harmful

effects of the sun

Güneşin zararlı etkilerine

karşı bitkisel içerikli

koruma

C

M

Y

CM

MY

CY

CMY

K
---
Dilara CICA

from

the

editor

A must in all seasons!

Although we know that sun rays are beneficial for health, we have to know that ultraviolet rays

are just as harmful. It is completely wrong to have the perception that "sunscreens are used

only in summer". No matter what season we are in, we should make it a habit to use sunscreen.

That's why? Because the harmful rays of the sun can cause a lot of damage! However, if you use

sunscreen, you will be protected from UV-A UV-B rays and prevent health problems. Only

this? Of course no!

When you use sunscreen:

- You are protected from skin cancer.

- You delay the aging of your skin.

- You prevent wrinkles on your skin.

- You get rid of the spots that the sun can generate.

- You provide a bright and lively look.

- You gain moisture.

- You prevent burns.

While all these items have great importance, remember that skin type compatibility is also

very important in choosing a sunscreen… This month, we covered anti-fatigue and acne

creams, and sunscreens that will keep you away from harmful rays. I hope we were able to

convey the care tips that will add to your beauty in a useful way. Wish healthy days to you all!

Her mevsim sart!

Güneş ışınlarının sağlık açısından yararlı olduğunu bilsek de ultraviyole ışınlarının da bir o

kadar zararlı olduğunu bilmek zorundayız. "Güneş kremleri sadece yazın kullanılır" tarzı bir

algıya sahip olmak tamamen yanlış. Hangi mevsimde olursak olalım, güneş kremi kullanımını

alışkanlık haline getirmeliyiz. Neden mi? Çünkü, güneşin zararlı ışınları birçok hasara sebep

olabiliyor! Oysa, güneş koruyucu kullandığınız takdirde UV-A UV-B ışınlarından korunup

sağlık sorunlarının da önüne geçersiniz. Sadece bu mu? Elbette hayır!

Güneş kremi kullandığınız zaman:

- Cilt kanserinden korunursunuz.

- Cildinizin yaşlanmasını geciktirirsiniz.

- Cildinizdeki kırışıklıkları önlersiniz.

- Güneşin oluşturabileceği lekelerden kurtulursunuz.

- Aydınlık ve canlı bir görünüm sağlarsınız.

- Nem kazandırırsınız.

- Yanıkları önlersiniz.

Tüm bu maddeler büyük bir önem taşırken, güneş kremi seçiminde cilt tipi uygunluğunun da

çok önemli olduğunu unutmayın… Bu ay dergimizde yorgunluk ve sivilce karşıtı kremleri,

sizi zararlı ışınlardan uzaklaştıracak güneş koruyucularını işledik. Umarım, güzelliğinize

güzel katacak bakım tüyolarını faydalı bir şekilde aktarabilmişizdir. Hepinize sağlıklı günler!

C

M

Y

CM

MY

CY

CMY

K

My Favor ites

Superior protection

for the skin with the

La Roche-Posay Anthelios

range

The new fragrance that

attracts all world:

Bella Vita Rosa

Two new members

to the Twisted Curls

Hibiscus &

Shea Butter family
---
10 Beauty Güzellik

Lifeline for our exporters

İhracatçılarımıza can suyu

RECEP ARSLANTAŞ

COORDINATOR

recep.arslantas@img.com.tr

My Favorites

"The packaging is more important than

the content of the product"

Choosing the export-based growth model,

Türkiye forced our exporters to struggle with

various problems, even though there were

risks posed by the pandemic. With the start

of the Russia-Ukraine war, global problems

affected almost every sector negatively, and

the deepening of uncertainties made it very

difficult for manufacturers. This being the

case, our exporters had to make some moves.

At the very least, in order to increase their

market share, they had to work effectively and

provide competitive power in international

markets with new products. In order to carry

out all these works, many of our exporters,

especially SMEs, needed long-term, lowinterest

financing.

Fortunately, the expected good news came in

the past few days:

Low -interest financing given to our exporters

in Turkish lira is the rescue as a lifeline! As we

can understand from this important decision,

it has been proven once again that the export

model will be supported at every opportunity

and will always be with our exporters.

As Beauty Türkiye team we will be at

Cosmoprof Bologna Italy fair between April

28-May 02, 2022 with our May 2022 issue. We

wish success to all our exporters. Until we meet

in our June 2022 issue, stay healthy and safe.

İhracatta dayalı büyüme modelini seçen

Türkiye, pandeminin oluşturduğu riskler

olsa da ihracatçılarımızı çeşitli sıkıntılarla

mücadele etmeye zorlamıştı. Rusya-Ukrayna

savaşının başlamasıyla birlikte global

anlamda oluşan problemler hemen hemen

her sektörü olumsuz yönde etkilerken,

belirsizliklerin derinleşmesi de üretici

firmaları oldukça zorlar hale getirmişti.

Durum böyle olunca, ihracatçılarımızın

birtakım hamlelerde bulunmaları gerekiyordu.

En azından pazar paylarını artırabilmeleri

için etkili çalışmalar yapmaları, yeni

ürünlerle uluslararası pazarlarda rekabet

gücü sağlamaları gerekiyordu. Bütün bu işleri

gerçekleştirebilmeleri için de başta KOBİ'ler

olmak üzere birçok ihracatçımızın uzun vadelidüşük

faizli finansmana ihtiyaçları vardı.

Neyse ki, beklenen müjdeli haber geçtiğimiz

günlerde geldi:

İhracatçılarımıza düşük faizli, Türk lirası

olarak verilen finansman can suyu olarak

imdada yetişti! Alınan bu önemli karardan

da anlayacağımız gibi, ihracat modelinin

her fırsatta desteklenip her zaman

ihracatçılarımızın yanında olunacağı bir kez

daha ispatlanmış oldu.

Beauty Türkiye Ekibi olarak Mayıs 2022

sayımızla 28 Nisan- 02 Mayıs 2022 tarihlerinde

Cosmoprof Bologna İtalya fuarında olacağız.

Bütün ihracatçılarımıza başarılar dileriz.

Haziran 2022 sayımızda görüşünceye kadar

esen kalın.
---
12 Beauty Cilt

So much more than foundation!

Fondötenden çok daha fazlası!

Even Better Clinical Serum Foundation is much more than

a foundation, promising a more even skin tone with regular

use! This skin-perfecting foundation, which visibly reduces the

appearance of dark spots and offers a more even-toned skin

with three different serum technologies, will also help you have

a bright and plump appearance.

This product, which will become your new favorite with its

versatility, also promises a bright and smooth appearance in as

little as 8 weeks, even without make-up. Imagine your foundation

doing skincare at the same time, and that's exactly what Even

Better Clinical Serum Foundation does. Moreover, SPF 20

sun protection is also available!

Changes in the skin

After 24 Hours:

The skin is 56% more hydrated.

At 12 Weeks:

Within 12 weeks, users observed improvements in

the appearance of skin imperfections:

-73% brighter skin appearance

-61% more even-looking skin tone

-89% achieved a reduction in the appearance of

wrinkles and lines.

What does it do?

This clinical foundation is built with three serum

technologies. Therefore, it supports our skin care

routine by working to visibly moisturize and

smooth the skin with every use.

Dark Spot and Even Skin Tone Technology:

Contains 3 Vitamin C Derivatives and UP302.

Vitamin C helps reduce the appearance of dark spots,

improve skin tone unevenness and increase radiance.

The 3 Vitamin C Derivatives Ascorbyl Glucoside, Magnesium

Ascorbyl and Phosphate Tetrahexldecyl Ascorbate each have

different molecular weights. It helps to even out skin tone, helps

to improve the appearance of dark spots, including signs of aging

and acne scars.

Humidification and Moisture Barrier Support Technology:

Contains Sodium Hyaluronate, Cholesterol, Caffeine and Vitamin

E. Sodium Hyaluronate provides instant hydration, while caffeine

helps improve overall moisture levels to help keep skin plump and

comfortable. Cholesterol and Vitamin E help nourish the skin for

sustained hydration.

Skin Smoothing and Brightening Technology: Contains Salicylic

Acid. Salicylic Acid smoothes, restructures and illuminates the

skin by stimulating epidermis cells to regenerate.

UV Protection: The formula contains a physical sunscreen blend

with broad-spectrum SPF 25 to protect skin from harmful UV

exposure and future discoloration.

Note: This moisturizing foundation offers a satiny matte finish on

the skin, providing medium to full coverage. In addition to having

a feather-light texture and 24-hour permanence; It has an oil-free,

waterproof, sweat and moisture resistant formula that does not

accumulate in lines.

Even Better Clinical Serum Fondöten, düzenli kullanımda

daha eşit bir cilt tonu vaadiyle bir fondötenden çok daha

fazlası! Üç farklı serum teknolojisi ile koyu leke görünümünü

gözle görünür şekilde azaltan, daha eşit tonlu bir cilt sunan

cilt mükemmelleştirici bu fondöten, aydınlık ve dolgun bir

görünüme sahip olmanıza da yardımcı olacak.

Çok yönlülüğüyle yeni favoriniz haline gelecek bu ürün aynı

zamanda 8 hafta gibi kısa bir sürede, makyajsızken bile parlak

ve pürüzsüz bir görünüm vadediyor. Fondöteninizin aynı anda

cilt bakımı yaptığını hayal edin, işte Even Better Clinical Serum

Fondöten tam olarak bunu yapıyor. Üstelik SPF 20 güneş koruması

da mevcut!

Ciltte görünen değişimler

24 Saat sonra:

Cildi %56 oranında daha fazla nemlenir.

12 Haftada:

12 hafta içinde, kullanıcılar cilt kusurlarının

görünümünde iyileşmeler gözlemlediler:

-%73'ü daha parlak bir cilt görünümü

-%61'i daha eşit görünen bir cilt tonu

-%89'u kırışıklık ve çizgi görünümünde azalma elde

etti.

Ne işe yarıyor?

Bu klinik temel, üç serum teknolojisi ile

oluşturulmuştur. Bu nedenle her kullanımda

cildi gözle görünür şekilde nemlendirmek ve

pürüzsüzleştirmek için çalışarak cilt bakım

rutinimize destek sağlar.

Koyu Leke ve Eşit Cilt Tonu Teknolojisi: 3 C

Vitamini Türevi ve UP302 içerir. C vitamini, koyu

lekelerin görünümünü azaltmaya, cilt tonlarındaki eşitsizliği

iyileştirmeye ve parlaklığı artırmaya yardımcı olur. 3 C Vitamini

Türevi olan Askorbil Glukozit, Magnezyum Askorbil ve Fosfat

Tetrahexldesil Askorbat'ın, her biri farklı moleküler ağırlıklara

sahiptir. Cilt tonunun eşitlenmesine yardımcı olur, yaşlılık

belirtileri ve akne izleri de dahil olmak üzere koyu lekelerin

görünümünü iyileştirmeye yardımcı olur.

Nemlendirme ve Nem Bariyeri Destek Teknolojisi: Sodyum

Hyaluronat, Kolesterol, Kafein ve E Vitamini içerir. Sodyum

Hyaluronat anında nemlendirme sağlayan, kafein ise cildin dolgun

ve rahat kalmasına yardımcı olmak için genel nem seviyelerini

iyileştirmeye yardımcı bileşenlerdir. Kolesterol ve E Vitamini,

sürekli nemlendirme için cildi beslemeye yardımcı olur.

Cilt Pürüzsüzleştirici ve Parlaklık Veren Teknoloji: Salisilik

Asit içerir. Salisilik Asit, epidermis hücrelerini yenilenmeye teşvik

ederek cildi pürüzsüzleştirir, yeniden yapılandırır ve aydınlatır.

UV Koruması: Formül, cildi zararlı UV'ye maruz kalmaktan ve

gelecekteki renk bozulmalarından korumak için geniş spektrumlu

SPF 25 içeren bir fiziksel güneş koruyucu karışım içerir.

Bilgi: Bu nemlendirici fondöten, ciltte saten mat bir bitiş sunar,

orta ila tam kapatıcılık sağlar. Tüy kadar hafif bir dokuya ve 24 saat

kalıcılığa sahip olmanın yanı sıra; yağsız, su geçirmez, ter ve neme

dayanıklı, çizgilerde birikme yapmayan formüle sahiptir.
---
14 Beauty Güzellik

A fresh start of spring with Jowaé!

Jowaé ile taze bir bahar başlangıcı!

Combining the miraculous herbs of South Korea and the

superior dermocosmetic experience of France in a unique

harmony, Jowaé prepares your skin for the summer season

with its anti-fatigue energizing moisturizer range containing

the traditional and medical Korean super fruit kumquat.

Jowaé Anti-Fatigue Energizing Moisturizer range regains the

energy and moisture your skin needs with its kumquat fruit

and antioxidant-effective Lumiphenol. As the summer season

approaches, it allows you to remove the cold effects of winter

from your skin in the most natural way.

Jowaé Anti-Fatigue Vitamin-Rich Energizing Moisturizing

Gel

Offering a unique revitalizing effect, Jowaé Anti-Fatigue

Vitamin-Rich Energizing Moisturizing Gel provides the skin

with the moisture it needs and offers a fresh look. The gel that

forms a shield against external factors and the fast pace of life,

antioxidant effective lumiphenol, vitamin C store kumquat

extracts and daily energy source caffeine fights the signs of

fatigue on your skin! With its non-sticky, light gel structure,

the gel-cream applied to clean skin in the morning and evening

offers the energy needed by the skin in the most natural way.

Jowaé Anti-Fatigue Vitamin-Rich Moisturizing Revitalizing

Eye Gel

Developed for a vibrant eye area, Jowaé Anti-Fatigue Vitamin-

Rich Moisturizing Revitalizing Eye Gel offers a brightening

effect by eliminating the signs of daily fatigue. The serum takes

action against under-eye puffiness and dark

circles with energizing kumquat and holly

herb extracts. With its 97% naturally

sourced content, the light gel serum,

which offers an instant refreshing effect,

is applied to clean skin in the morning and

evening.

Jowaé Anti-Fatigue Moisturizing

Overnight Recovery Cream – Mask

Anti-Fatigue Moisturizing Overnight

Recovery Cream – Mask, which provides a

restorative effect throughout the night, offers

your skin a smoothing experience with an

intense moisturizing effect. In addition to

the lumiphenol and energizing kumquat in

the content of the series, it promises a rested,

vigorous skin with natural papaya extract

that offers a new skin effect. Its smooth and

fresh gel-cream structure is applied to the

face in a thick layer for restorative care and

left overnight.

Güney Kore'nin mucizevi bitkileri ve Fransa'nın üstün

dermokozmetik deneyimini eşsiz bir uyum ile bir araya

getiren Jowaé, geleneksel ve medikal Kore süper meyvesi

kumkuat içerikli yorgunluk karşıtı enerji veren nemlendirici

serisi ile cildinizi yaz mevsimine hazırlıyor.

Jowaé Yorgunluk Karşıtı Enerji Veren Nemlendirici Serisi

içeriğindeki kumkuat meyvesi ve antioksidan etkili Lumifenol

ile cildinizin ihtiyacı olan enerji ve nemi yeniden kazandırıyor.

Yaz mevsimi yaklaşırken kışın soğuk etkilerini en doğal şekilde

cildinizden atmanızı sağlıyor.

Jowaé Yorgunluk Karşıtı Nemlendirici Jel Krem

Eşsiz bir canlandırma etkisi sunan Jowaé Yorgunluk Karşıtı

Nemlendirici Jel Krem, cildin ihtiyacı olan nemi kazandırarak

taze bir görünüm sunuyor. Dış etkenlere ve hızlı hayat

temposuna karşı kalkan oluşturan jel, antioksidan etkili

lumifenol, C vitamini deposu kumkuat özleri ve günlük enerji

kaynağı kafein ile cildinizdeki yorgunluk belirtilerine savaş

açıyor! Yapışkan olmayan hafif jel yapısı ile sabah/akşam temiz

cilde uygulanan jel-krem cildin ihtiyacı olan enerjiyi en doğal

şekilde sunuyor.

Jowaé Yorgunluk Karşıtı Canlandırıcı Göz Çevresi Serumu

Canlı bir göz çevresi için geliştirilen Jowaé Yorgunluk

Karşıtı Canlandırıcı Göz Çevresi Serumu günlük yorgunluk

belirtilerini gidererek aydınlatma etkisi sunuyor. Serum

enerji veren kumkuat ve çoban püskülü otu özleri ile göz altı

şişkinliğine ve koyu halkalara karşı aksiyon alıyor. %97 doğal

kaynaklı içeriği ile anında tazeleyici etki sunan hafif jel yapılı

serum sabah akşam temiz cilde uygulanıyor.

Jowaé Yorgunluk Karşıtı Onarıcı Gece Maskesi

Gece boyunca onarıcı etki sunan Yorgunluk Karşıtı Onarıcı Gece

Maskesi cildinize yoğun nemlendirici etki ile pürüzsüzleştirici

bir deneyim sunuyor. Serinin içeriğinde bulunan lumifenol ve

enerji veren kumkuata ek olarak yeni bir cilt etkisi sunan doğal

papaya özü ile dinlenmiş dinç bir cilt vaat ediyor. Pürüzsüz ve

taze-jel krem yapısı onarıcı bakım için kalın bir tabaka halinde

yüze uygulanarak gece boyu bekletiliyor.
---
3 rd International Exhibition for Cosmetics, Beauty, Hair

Home Care, Private Label, Packaging and Ingredients

October 13 - 14 - 15, 2022

ICC - Istanbul Congress Center & ICEC - Istanbul Lutfi Kirdar

Taksim, Istanbul - Turkey

ICE COLLECTIVE PARTICIPATION AT

BEAUTYISTANBUL 2022

Following the success of 45 Italian exhibitors at 2021 edition, meeting qualified buyers from

152 countries and reaching the world markets in Istanbul, we are delighted to announce that

ICE-Italian Trade Agency will organize a collective participation to BEAUTYISTANBUL 2022 with

800sqm and 60 companies.

In addition to the 30 confirmed individual

exhibitors as of March 2022, ICE Pavilion will

bring around total Italian exhibitors count for

2022 edition to 90 companies, a record high

for Italian participation at exhibitions abroad!

You are also invited to join Italian companies

exhibiting at BEAUTYISTANBUL 2022, for lucrative

opportunities to export all around the globe, from

a single place: Istanbul!
---
3rd edition of BEAUTYISTANBUL International Exhibition for Cosmetics, Beauty, Hair, Home Care,

Private Label, Packaging and Ingredients will be held on 13-14-15 October 2022 at Istanbul

Congress Center and Lutfi Kirdar in Taksim, Istanbul-Turkey.

ASTRA MAKE-UP

BEAUTYLAND POINT

BEST COLOR

CARTACOR ITALIA

CERIOTTI

www.astramakeup.com

www.artisthaircare.com

www.bestcolor.it

www.cartacoritalia.com

www.ceriotti.it

CHRISTINE MOR

COMPROF MILANO

COSM&TIC ASSIST

COSM.O SRL

COTRIL SPA

www.christinemor.eu

www.comprofmilano.it

www.cosmeticassist.com

www.cosmohairproduct.it

www.cotril.it

DCM DIAPASON COSMETICS

EUROVETROCAP

EXPORT MAGAZINE

FARMEN - VITALITY'S

GERARD'S

www.diapasoncosmetics.com

www.eurovetrocap.com

www.exportmagazine.net

www.farmenspa.com

www.gerards.it

ICC SRL

INDUSTRIE PAGODA

INFINITY MAKE UP

INTERCOSMETICS GROUP

LA DISPENSA

www.icc-italy.com

www.industriepagoda.it

www.infinitymakeup.it

www.intercosmeticsgroup.com

www.ladispensabellusco.it

LACA TRADE

MARCHESINI GROUP

MAZZONI LB SOAP

MYOSOTIS - ORISING

OYSTER COSMETICS

www.lacatrade.com

www.marchesini.com

www.mazzonilb.it

www.orising.it

www.oystercosmetics.it

OZONO HEALTH & BEAUTY

PROCOSMET SRL

RENEE BLANCHE

VITALFARCO SRL

VIVIPHARMA SPA

www.ozono-hb.it

www.procosmet.com

www.reneeblanche.it

www.vitalfarco.com

www.vivipharma.com

www.beauty-istanbul.com

For more information:

info@beauty-istanbul.com - +90 212 222 90 60

Organizer
---
18 Beauty Güzellik

Neostrata Correct range promises a smoother and tighter

skin by providing regenerative anti-aging care with its

unique formulations.

Skin rejuvenation specialist Neostrata provides professional

anti-aging care to the skin with its regenerating Correct range.

Formulated with the unique combination of alpha hydroxy

acids, poly hydroxy acids, neoglucosamine and retinol, the

products offer effective solutions to fine lines and wrinkles,

firmness and moisture loss, skin unevenness, photodamage

and intense anti-aging problems. High-performance Correct

products, which can be used together with different Neostrata

products by improving the daily skin care regimen, enable

normal, dry and oily skin to achieve a smoother and tighter

look.

Antioxidant Defense Serum

Containing a powerful antioxidant complex, Antioxidant

Defense Serum strengthens the skin's defense against

environmental factors that cause premature aging. It prevents

the appearance of photo aging by helping to prevent damage

caused by UV rays for a healthy skin.

Retinol 0.3% Night Serum

Targeting the moisture matrix of the skin, Retinol 0.3% Night

Serum reduces deep wrinkles by providing

a powerful and comprehensive regenerative

care. The serum used under the moisturizer

gently exfoliates the skin to support the skin's

natural regeneration process, smoothing out

discoloration and improving skin texture,

making it look firmer.

Pure Retinol Eye Cream

Pure Retinol Eye Cream reduces visible

fine lines around the delicate eye area and

increases skin elasticity. By targeting the dark

circles under the eyes, it promises a brighter,

tighter and smoother appearance. With the

neoglucosamine in its content, it gently exfoliates

the skin and supports the skin regeneration

process and evens the skin tone.

Corrective and regenerative care

Smooth Surface Glycolic Peel

Smooth Surface Glycolic Peel, which instantly

renews the skin surface with the professional

alumina crystals it contains, removes the cells on the skin

surface and cleans the pores by applying physical and chemical

exfoliation. It smoothes, illuminates and prepares the skin for

the use of anti-aging products.

Düzeltici ve yenileyici bakım

Neostrata Correct serisi, benzersiz formülasyonlarıyla

yenileyici yaşlanma karşıtı bakım yaparak daha pürüzsüz ve

sıkı bir cilt vadediyor.

Cilt yenileme uzmanı Neostrata, yenileyici Correct serisiyle

cilde yaşlanma karşıtı profesyonel bakım yapıyor. Alfa hidroksi

asitler, poli hidroksi asitler, neoglukozamin ve retinolün

eşsiz kombinasyonuyla formüle edilen ürünler ince çizgi ve

kırışıklıklar, sıkılık ve nem kaybı, cilt eşitsizliği, foto hasar

ve yoğun anti-aging problemlerine etkili çözümler sunuyor.

Günlük cilt bakımı rejimini geliştirerek farklı Neostrata

ürünleriyle bir arada kullanılabilen yüksek performanslı

Correct ürünleri, normal, kuru ve yağlı ciltlerin daha pürüzsüz

ve sıkı bir görünüme ulaşmasını sağlıyor.

Antioksidan Koruyucu Serum

Güçlü antioksidan kompleksi içeren Antioksidan Koruyucu

Serum, cildin erken yaşlanmaya sebep olan çevresel etkenlere

karşı savunmasını güçlendiriyor. Sağlıklı bir cilt için UV

ışınlarından kaynaklanan hasarı önlemeye yardımcı olarak foto

yaşlanma görünümünün önüne geçiyor.

%0,3 Saf Retinol İçeren Gece Serumu

Cildin nem matriksini hedefleyen %0,3 Saf Retinol İçeren

Gece Serumu, güçlü ve kapsamlı yenileyici

bakım yaparak derin kırışıklıkları azaltıyor.

Nemlendirici altına kullanılan serum, cildin

doğal yenilenme sürecini desteklemek için cildi

nazik bir şekilde soyarak renk eşitsizliklerini

gideriyor ve cilt dokusunu geliştirirken daha

sıkı bir görünüme kavuşturuyor.

Saf Retinol Göz Kremi

Saf Retinol Göz Kremi, hassas göz çevresindeki

gözle görülür ince çizgileri azaltıp cildin

elastikiyetinin artırıyor. Gözün altında oluşan

koyu halkaları hedefleyerek daha aydınlık,

sıkı ve pürüzsüz bir görünüm vadediyor.

İçeriğindeki neoglukozamin ile cildi nazikçe

soyarak cilt yenilenme sürecini destekliyor ve

cilt tonunu eşitliyor.

Pürüzsüzleştirici Glikolik Peeling

İçerdiği profesyonel alümina kristalleri ile cilt

yüzeyini anında yenileyen Pürüzsüzleştirici

Glikolik Peeling, fiziksel ve kimyasal

eksfoliasyon uygulayarak cilt yüzeyindeki

hücreleri uzaklaştırıyor ve gözenekleri temizliyor. Cildi

pürüzsüzleştiriyor, aydınlatıyor ve yaşlanma karşıtı ürünlerin

kullanımına hazırlıyor.
---
20 Beauty Güzellik

Eyüp Sabri Tuncer

opened its first store in

Istanbul in Vadistanbul

Eyüp Sabri Tuncer,

İstanbul'da ilk mağazasını

Vadistanbul'da açtı

Established in 1923 with the Republic of Türkiye, Eyüp Sabri

Tuncer brand, which is 99 years old, opened its 3rd store in

Vadistanbul Shopping Center. Traditional products blended

with 100 years of experience pioneered by the brand are

offered together with innovative and specially formulated

products in the Vadistanbul store, as in its other stores.

Eyüp Sabri Tuncer, one of the most well-established and

powerful brands in Türkiye with its 99-year story, is now

meeting with its fans not only in Ankara but also in Istanbul

in its own store. The brand, which has hundreds of different

sales points in the country and abroad, now welcomes its fans

in its store in Vadistanbul. Eyüp Sabri Tuncer brings together

more than 600 products developed in different categories by

approaching the traditional with an innovative and modern

point of view in its new store

Everything from baby products to fluoride-free toothpaste

Eyüp Sabri Tuncer, who developed Türkiye's first local lemon

cologne formula, conveys the essential values ​that are on the

verge of extinction to new generations; As a curious, brave

and innovative brand that follows the trends in the world, it

continues to grow day by day. Recently, the brand, which has

attracted great attention in a new category with its fluoride-free,

titanium dioxide, sls, sles, sugar, salt-free toothpastes, offers

paraben-free, gluten-free, liquid soap, body lotion, shampoo,

baby products, etc. with vegan and vegetarian products as

well as personal care products; As an innovative brand that

1923 yılında kurulan Türkiye Cumhuriyeti ile yaşta 99 Yıllık

Eyüp Sabri Tuncer markası, 3. mağazasını Vadistanbul

Alışveriş Merkezi'nde açtı. Vadistanbul mağazasında da

diğer mağazalarda olduğu gibi; markanın öncülük ettiği 100

yıllık deneyimle harmanlanan geleneksel ürünler, yenilikçi

ve özel formüllü ürünler ile bir arada sunuluyor.

99 yıllık hikayesiyle Türkiye'nin en köklü ve güçlü markalarından

biri olan Eyüp Sabri Tuncer, artık sadece Ankara'da değil,

İstanbul'da da kendi mağazasında sevenleriyle bir araya geliyor.

Yurt içinde ve yurt dışında yüzlerce farklı satış noktasında

bulunan marka, sevenlerini şimdi Vadistanbul'daki mağazasında

ağırlıyor. Eyüp Sabri Tuncer, yeni mağazasında; geleneksel

olana, yenilikçi ve modern bakış açısıyla yaklaşarak farklı

kategorilerde geliştirdiği 600'den fazla ürününü ziyaretçileriyle

buluşturuyor.

Bebek ürünlerinden florürsüz diş macununa kadar her şey

Türkiye'nin ilk yerli limon kolonyası formülünü geliştiren Eyüp

Sabri Tuncer, yok olmaya yüz tutmuş öz değerleri yeni nesillere

aktarırken; dünyadaki trendleri takip eden, meraklı, cesur ve

yenilikçi bir marka olarak her geçen gün büyümeye devam

ediyor. Son dönemde florürsüz, titanyum dioksit, sls, sles, şeker,

tuz içermeyen diş macunları ile yeni bir kategoride büyük ilgi

gören marka, parabensiz, glutensiz, sıvı sabun, vücut losyon,

şampuan, bebek ürünleri vb. kişisel bakım ürünlerinin yanı sıra

vegan ve vejetaryen ürünleriyle; ürün geliştirme çalışmalarına

sürekli yatırım yapan yenilikçi bir marka olarak da toplumun
---
Güzellik

Beauty

21

constantly invests in product development, it fully responds to

the evolving and changing needs of society. In the home care

category; surface cleaner, kitchen soap, room fragrances, baby

laundry liquid and disinfectant products.

First V-Label Certificate in Türkiye

Being aware of the fact that developing new products is a

long-term process that requires care and time, Eyüp Sabri

Tuncer brand continues to develop new products, taking into

account the demands and needs of its fans and guided by them.

In addition to the product test researches, it became the first

brand in Türkiye to receive the vegan and vegetarian V-Label

certificate for cosmetic products by following the trends in the

world. However, Eyüp Sabri Tuncer, being the first brand to use

Braille Alphabet in personal care and home care products such

as liquid soap, lotion, and especially cologne products since

2011, also provides regular support to Six Points Association

of the Blind with its products. Eyüp Sabri Tuncer has made an

important innovation in the sector with its gluten-free products

developed with the demands and sensitivities of its users with

celiac disease.

Eyüp Sabri Tuncer products, which are also offered for sale in

chains and local markets in different parts of Türkiye, meet with

their fans in their 99-year-old historical store on Anafartalar

Street in Ankara. In addition, it is possible to reach all product

types from the sales point and e-commerce store located in

Ankara Airport domestic lines.

gelişen ve değişen ihtiyaçlarına eksiksiz cevap veriyor. Ev

bakım kategorisinde ise; yüzey temizleyici, mutfak sabunu, oda

kokuları, bebek çamaşır yıkama sıvısı ve dezenfektan ürünleri

yer alıyor.

Türkiye'de ilk V-Label Sertifikası

Yeni ürün geliştirmenin uzun soluklu, özen ve zaman isteyen

bir süreç olduğunun bilinciyle Eyüp Sabri Tuncer markası

sevenlerinin talep ve ihtiyaçlarını dikkate alarak onların da

yönlendirmesi ile sürekli yeni ürünler geliştirmeye devam

ediyor. Yapılan ürün testi araştırmaların yanı sıra dünyadaki

trendleri takip ederek Türkiye'de kozmetik ürünlerine ilk

defa vegan ve vejetaryen V-Label sertifikası alan marka oldu.

Bununla birlikte, 2011 yılından bugüne başta kolonya ürünleri

olmak üzere sıvı sabun, losyon vb. kişisel bakım ve ev bakım

ürünlerinde Braille Alfabesi kullanan ilk marka olan Eyüp

Sabri Tuncer, ürünleri ile Altınokta Körler Derneği'ne düzenli

olarak destek sağlıyor. Eyüp Sabri Tuncer, çölyak rahatsızlığı

olan kullanıcılarının talepleri ve hassasiyetleriyle geliştirdiği

glutensiz ürünleriyle de sektörde önemli bir yeniliğe imza attı.

Türkiye'nin farklı noktalarında zincir ve yerel marketlerde

de satışa sunulan Eyüp Sabri Tuncer ürünleri, Ankara'da

Anafartalar caddesinde 99 yıllık tarihi mağazasında da

sevenleriyle buluşuyor. Ayrıca Ankara Havalimanı iç hatlarda

bulunan satış noktası ve e-ticaret mağazasından da tüm ürün

çeşitlerine ulaşmak mümkün.
---
22 Beauty Güzellik

The most natural way to healthy hair:

Yves Rocher, Anti Chute

Sağlıklı saçlara giden en doğal yol: Yves Rocher, Anti Chute

Yves Rocher, a French herbal cosmetics brand that respects

nature and the skin, promises less hair loss and more

naturalness with its Yves Rocher Anti Chute range, consisting

of shampoo, conditioner and expert hair

care treatment that supports hair growth

and prevents hair loss!

Anti-Chute, a highly effective specialist care

range with natural ingredients against hair

loss, stimulates hair follicles thanks to the

White Bitter Bean it contains, slows down the

functioning of the mechanisms that cause

shedding, and supports the increase in the

number of hair. Organic Agav, developed

by Yves Rocher's Herbal Laboratories, helps

the hair follicles to be fed better, while

making a great contribution to healthy and

strong hair.

Anti-Shedding Strengthening Shampoo,

with its renewed Sulfate-free formula

and more than 96% natural content, treats

your skin with respect, gently cleanses your

hair and reduces hair loss. However, its light,

sulfate-free texture leaves a soothing feeling on

your scalp. It is recommended to use the shampoo,

which is applied by massaging slowly from the scalp to the ends,

with Anti-Hair Loss Intensive Treatment Against Hair Loss to

ensure higher effectiveness. While the Intensive Treatment

Against Hair Loss provides ease of use with its liquid structure

and easy absorption, it provides the formation of 6480 new hair

strands in 1 month of use, helping your hair to become visibly

thicker and revitalized.

Note:

While 72% of users stated that hair loss

decreased and their hair started to grow and

gain a healthy look within 1 month after

regular use and 82% of them stated that

their hair feels softer after washing their

hair.

While all formulas produced in

Yves Rocher Herbal Cosmetics

Laboratories adopt the principle

of respect for the skin and

nature, they also contribute to

protecting nature with their

packaging made of 100%

recycled plastic and

sustainable forests.

Doğaya ve cilde saygılı Fransız bitkisel kozmetik markası

Yves Rocher, saç oluşumunu destekleyen ve dökülmeyi

engelleyen şampuan, saç kremi ve uzman saç

bakım küründen oluşan Yves Rocher Anti

Chute Serisi ile daha az saç kaybı, daha

fazla doğallığın sözünü veriyor!

Saç dökülmesine karşı doğal içeriklere

sahip, yüksek etkili uzman bakım serisi

Anti Chute, içeriğinde yer alan Beyaz Acı

Bakla sayesinde saç köklerini uyarıyor,

dökülmeye sebep olan mekanizmaların

çalışmasını yavaşlatarak saç sayısındaki

artışı destekliyor. Yves Rocher'nin Bitkisel

Laboratuvarları tarafından geliştirilen

Organik Agav ise saç köklerinin daha iyi

beslenmesine yardımcı olurken sağlıklı

ve güçlü saçlara kavuşmanıza da büyük

katkı sağlıyor.

Dökülme Karşıtı Güçlendirici Şampuan

yenilenen Sülfatsız formülü ve %96'dan

fazla doğal içerik oranı ile cildinize

saygı ile yaklaşırken, saçlarınızı nazikçe

temizliyor ve saç kaybını azaltıyor.

Bununla birlikte, sülfatsız hafif dokusu saç derinizde

rahatlatıcı bir his bırakıyor. Saç derisinden başlayıp, uçlara

doğru yavaşça masaj yaparak uygulanan şampuanın daha

yüksek etkinlik sağlaması için Saç Kremi ve Güçlendirici

Dökülme Karşıtı Saç Bakım Kürü ile kullanılması tavsiye

ediliyor. Dökülme Karşıtı Saç Bakım Kürü likit yapısı ve kolay

emilimi ile kullanım kolaylığı sağlarken, 1 aylık kullanımda

6480 yeni saç teli oluşumunu sağlayarak saçlarınızın gözle

görünür bir şekilde gürleşmesine ve canlanmasına yardımcı

oluyor.

Bilgi notu:

Kullananların %72'si düzenli kullanım sonrası

1 ay içinde saç dökülmesinin azaldığını ve

saçlarının uzamaya başladığını ve sağlıklı bir

görünüm kazandığını belirtirken, %82'si ise

yıkama sonrasında saçlarının yumuşak bir

hisse sahip olduğunu belirtti.

Yves Rocher Bitkisel Kozmetik

Laboratuvarları'nda üretilen tüm

formüller cilde & doğaya saygı prensibini

benimserken %100 geri dönüştürülmüş

plastikten ve sürdürülebilir ormanlardan

elde edilen ambalajlarıyla doğayı

korumaya da katkı sağlıyor.
---
TRASH

TO

TREASURE
---
24 Beauty Güzellik

A special scented adventure with the Penhaligon's

Portraits family!

Penhaligon's Portraits ailesiyle özel kokulu bir serüven!

Penhaligon's, inspired by the extraordinary stories of

members of the British aristocracy family Here is the

Portraits family…

This special adventure, it begins with Penhaligon's travel to

London in 1870, opening a barber shop and then founding Mr.

Penhaligon's. The story continues with Penhaligon's becoming

one of Britain's oldest niche perfume brands today.

Penhaligon's, which is essentially creative The Portraits series

humorously tells the stories of members of the

British aristocracy, each reflecting luxury and

glamor. The name of each fragrance comes to life

with the style and inspiration of this family.

ARTHUR 75 ML

The newest and wisest member of the family.

Brother of Lord George, seeker of wisdom

and adventurer. Feeling the weight of high

expectations and the pressure of countless boring

relationships, this family's first son, Arthur, has

fled the career his family has afforded him!

The only passion he tries to hide is traveling

and knowing what lies behind the so-called

impassable Great Wall of China. Hiding in a

decrepit car, visiting hills, lakes and temples and

making his own Lucky Searching for your Dragon! Because

there is only one philosophy he believes in and cannot tell his

family: Sometimes it takes traveling far to discover the familiar.

Fragrance Family: Aromatic Woody

Top Note: Rum-Cognac

Middle Note: Barber Soap

Base Note: Tonka Bean

LORD GEORGE 75 ML

This perfume, which is a reflection of the aristocratic selection

of the extraordinary and special Portraits describing the British

aristocracy, belongs to the aromatic woody fragrance family.

While its contents include rum-cognac, barber soap and tonka

beans, deer are exhibited in the cover design.

Fragrance Family: Aromatic Woody

Top Note: Rum-Cognac

Middle Note: Barber Soap

Base Note: Tonka Bean

LADY BLANCHE 75 ML

The Revenge of Lady, the wife of Lord George, one of the British

aristocratic family members mentioned in the series. Blanche is

a fresh fragrance with very elegant and heartwarming powdery

floral notes.

İngiliz aristokrasi ailesi üyelerinin sıra dışı hikayelerinin

ilhamıyla oluşturulan Penhaligon's Portraits ailesi işte

karşınızda…

Bu özel serüven, Mr. Penhaligon'ın 1870 yılında Londra'ya

seyahat ederek bir berber dükkânı açması ve ardından

Penhaligon's'u kurmasıyla başlıyor. Hikâye, Penhaligon's'ın

günümüzde İngiltere'nin en köklü niş parfüm markalarından

biri haline gelmesiyle de devam ediyor.

Özünde kreatifliğin hâkim olduğu

Penhaligon's Portraits serisi, lüksü

ve ihtişamı yansıtan, her biri İngiliz

aristokrasi ailesi üyelerinin hikayelerini

mizahi bir şekilde anlatıyor. Her bir

kokunun adı bu ailenin tarzı ve ilhamıyla

hayat buluyor.

ARTHUR 75 ML

Ailenin en yeni ve en bilge üyesi. Lord

George'un abisi, bilgeliğin peşinde ve

maceraperest. Büyük beklentilerin

ağırlığını ve sayısız sıkıcı ilişkinin baskısını

hisseden bu ailenin ilk oğlu Arthur,

ailesinin ona sağladığı kariyerinden kaçtı!

Onun gizlemeye çalıştığı tek tutkusu

seyahat etmek ve geçilemez denilen Çin Seddi'nin arkasında

ne olduğunu bilmek... Eskimiş bir vagonda gizlenerek tepeleri,

gölleri ve tapınakları ziyaret etmek ve kendi Lucky Dragon'ını

aramak! Çünkü inandığı ve ailesine anlatamadığı tek bir felsefe

var: Bazen tanıdık olanı ortaya çıkarmak için çok uzaklara

seyahat etmek gerekir.

Koku Ailesi: Aromatik Odunsu

Üst Nota: Rom-Kanyak

Orta Nota: Berber Sabunu

Alt Nota: Tonka Fasulyesi

LORD GEORGE 75 ML

İngiliz aristokrasisini anlatan sıra dışı ve özel Portraits'in

aristokratik seçkisinin bir yansıması olan bu parfüm, aromatik

odunsu koku ailesine ait. İçeriğinde rom-konyak, berber

sabunu ve tonka fasulyesi yer alırken, kapak tasarımında geyik

sergilenmekte.

Koku Ailesi: Aromatik Odunsu

Üst Nota: Rom-Kanyak

Orta Nota: Berber Sabunu

Alt Nota: Tonka Fasulyesi

LADY BLANCHE 75 ML

Serinin bahsettiği İngiliz aristokrat ailesi üyelerinden Lord
---
Güzellik

Beauty

25

The special bottle caps that make the collection unique are

made of 'xanac' metal, a mixture of copper and gold, and each

symbolizes the inspired person. The Revenge of lady Blanche's

cover design is inspired by the leopard, which has a strong and

unique character.

Fragrance Family: Floral fresh

Top Note: Powdery iris flower

Middle Note: Narcissus

Base Note: Hyacinth flower

Mr. PENHALIGON 75 ML

Inspired by the brand's founder, William

Penhaligon, this perfume invites you to turn

heads and provide new passions with its special

ingredients. The perfume, which is a fresh, warm

and earthy scent with its strong vetiver note, draws attention

with its special bottle caps that make the collection unique. Mr.

Penhaligon cover design is inspired by the figure of a ram with

a libertarian charm.

Fragrance Family: Woody Oriental

Top Notes: Jasmine, Bergamot

Middle Notes: Vetiver, Incense,

Cedarwood

Base Notes: Sandalwood, Amber

CHANGING CONSTANCE 75

ML

changing Constance perfume

represents the cousin of the

family and the perfume

cap is a gazelle figure, very

modern, reminiscent of

a woman who says no

to rules and traditions.

Seductive, modern and

cool, this perfume

belongs to the woody

fragrance family.

Fragrance Family:

Oriental Fresh

Top Note: Cardamom, Allspice

Middle Note: Salted Butter Caramel

Base Notes: Tobacco, Vanilla, Cashmere Wood

CLANDESTINE CLARA 75 ML

Majestic and confident Clandestine Clara is known for her

mischievous and free spirit as well as her scandalous love affair

with Lord George. Its perfume is as extraordinary as it is! This

impressive fragrance emerges with the meeting of dazzling

oriental woody notes with powder and vanilla.

Fragrance Family: Woody Oriental

Top Notes: Rum-Vanilla

Middle Notes: Musk, Cinnamon

Base Notes: Patchouli, Amber

George'un eşi olan The Revenge of Lady Blanche, çok zarif ve

iç açan pudramsı çiçek notalarıyla ferah bir koku. Koleksiyonu

eşsiz kılan özel şişe kapakları bakır ve altın karışımı olan 'xanac'

metalinden oluşup her biri ilham alınan kişiyi simgeliyor.

The Revenge of lady Blanche'ın kapak tasarımı,

güçlü ve eşsiz bir karaktere sahip olan leopardan

esinleniyor.

Koku Ailesi: Çiçeksi ferah

Üst Nota: Pudramsı iris çiçeği

Orta Nota: Nergis

Alt Nota: Sümbül çiçeği

Mr. PENHALIGON 75 ML

Markanın kurucusu William Penhaligon'dan

ilham alan bu parfüm, sahip olduğu özel

içerikleriyle baş döndürmeye ve yepyeni tutkular sağlamaya

davet ediyor. İçindeki güçlü vetiver notasıyla ferah, sıcak

ve topraksal bir koku olan parfüm, koleksiyonu eşsiz kılan

özel şişe kapakları ile dikkat çekiyor. Mr. Penhaligon kapak

tasarımı özgürlükçü cazibeli bir karaktere sahip koç figüründen

esinleniyor.

Koku Ailesi: Odunsu Oryantal

Üst Nota: Yasemin, Bergamot

Orta Nota: Vetiver, Tütsü, Sedir ağacı

Alt Nota: Sandal ağacı, Amber

CHANGING CONSTANCE 75 ML

Changing Constance parfümü, ailenin kuzenini temsil

etmektedir ve parfüm kapağı ise çok modern, kurallara

ve geleneklere hayır diyen bir kadını anımsatan bir ceylan

figürüdür. Baştan çıkarıcı, modern ve cool bu parfüm odunsu

koku ailesine aittir.

Koku Ailesi: Oryantal Ferah

Üst Nota: Kakule, Yenibahar

Orta Nota: Tuzlu Tereyağlı Karamel

Alt Nota: Tütün, Vanilya, Kaşmir Ağacı

CLANDESTINE CLARA 75 ML

Görkemli ve kendinden emin Clandestine

Clara,

yaramaz ve özgür ruhu yanında

Lord George ile yaşadığı skandal

aşk ile biliniyor. Parfümü ise

kendisi kadar sıra dışı! Baş

döndürücü oryantal odunsu

notaların pudra ve vanilya

ile buluşması ile ortaya bu

etkileyici koku çıkıyor.

Koku Ailesi: Odunsu

Oryantal

Üst Nota: Rom-

Vanilya

Orta Nota: Misk,

Tarçın

Alt Nota: Paçuli, Amber
---
3. Uluslararası Kozmetik, Güzellik, Kuaför, Ev Bakım

Ürünleri, Private Label, Ambalaj ve Ham Madde Fuarı

2021 yılında katılımcılarımız

Fiziki fuarımız, Online Platform ve Online Bölgesel B2B

toplantılarımızda 190 ülkeden alıcılarla buluştu.

38 Ülke

16

13 - 14 - 15 Ekim 2022

İKM - İstanbul Kongre Merkezi & İstanbul Lütfi Kırdar / Harbiye, İstanbul

www.beauty-istanbul.com

Ülke

2

Ülke

28

Ülke

Bölgelere

Göre Alıcılar

39

Ülke

52

Ülke

15

Ülke

Etkinlik Türüne

Göre Alıcılar

Orta Doğu

Afrika

BDT

Latin Amerika

Avrupa

Asya Pasifik

K. Amerika

A

% 25

% 20

% 15

% 15

% 13

% 11

% 1

Online

Platform

Zoom

Toplantıları

Fiziksel

Fuar

176 105 152

Ülkeden Ülkeden Ülkeden

TOPLAM

190

Ülkeden

8.358 1.856 9.336 19.550

Alıcı Alıcı Alıcı Alıcı

AFGANİSTAN ALMANYA AMERİKA BİRLEŞİK DEVLETLERİ AMERİKAN SAMOASI ANDORRA ANGOLA ANTİGUA VE BARBUDA ARJANTİN ARNAVUTLUK

ARUBA AVUSTRALYA AVUSTURYA AZERBAYCAN BAHAMALAR BAHREYN BANGLADEŞ BARBADOS BELARUS BELÇİKA BELİZE BENİN BHUTAN BİRLEŞİK

ARAP EMİRLİKLERİ BİRLEŞİK KRALLIK BOLİVYA BOSNA HERSEK BOTSVANA BREZİLYA BULGARİSTAN BURKİNA FASO BURUNDİ CEZAYİR CİBUTİ CURACAO

ÇAD ÇEKYA ÇİN DANİMARKA DOMİNİK CUMHURİYETİ DOMİNİKA EKVADOR EKVATOR GİNESİ EL SALVADOR ENDONEZYA ERMENİSTAN ESTONYA

ETİYOPYA FAS FİLDİŞİ SAHİLİ FİLİPİNLER FİLİSTİN FİNLANDİYA FRANSA GABON GAMBİYA GANA GİNE GRENADA GUADELOUP GUATEMALA GUYANA

GÜNEY AFRİKA GÜNEY KORE GÜNEY SUDAN GÜRCİSTAN HAİTİ HIRVATİSTAN HİNDİSTAN HOLLANDA HONDURAS HONG KONG IRAK İRAN İRLANDA

İSPANYA İSRAİL İSVEÇ İSVİÇRE İTALYA JAMAİKA JAPONYA KAMBOÇYA KAMERUN KANADA KAP VERDİ KARADAĞ KATAR KAZAKİSTAN KENYA KIBRIS

KIRGIZİSTAN KIRIBATI KKTC KOLOMBİYA KOMOROLAR KONGO CUMHURİYETİ KONGO DEMOKRATİK CUMHURİYETİ KOSOVA KOSTA RİKA KUVEYT

KUZEY MAKEDONYA KÜBA LESOTO LETONYA LİBERYA LİBYA LİTVANYA LÜBNAN LÜKSEMBURG MACARİSTAN MADAGASKAR MAKAO MALAWİ

MALDİVLER MALEZYA MALİ MALTA MARTİNİK MAURİTUS MAYOTTE MEKSİKA MISIR MOĞOLİSTAN MOLDOVA MONSERRAT MORİTANYA MOZAMBİK

MYANMAR NAMİBYA NEPAL NİJER NİJERYA NİKARAGUA NORVEÇ ORTA AFRİKA ÖZBEKİSTAN PAKİSTAN PANAMA PAPUA YENİ GİNE PARAGUAY PERU

POLONYA PORTEKİZ PORTO RİKO REUNION ROMANYA RUANDA RUSYA SAINT KITTS VE NEVIS SAINT LUCIA SAINT VINCENT VE GRENADINLER SAN

MARİNO SAO TOME VE PRENSİP SENEGAL SEYŞELLER SIERRA LEONE SINT MAARTEN SIRBİSTAN SİNGAPUR SLOVAKYA SLOVENYA SOMALİ SRİ LANKA

SUDAN SURİNAM SURİYE SUUDİ ARABİSTAN SVAZİLAND ŞİLİ TACİKİSTAN TANZANYA TAYLAND TAYVAN TOGO TRİNİDAD VE TOBAGO TUNUS TURKEY

TÜRKMENİSTAN UGANDA UKRAYNA UMMAN URUGUAY ÜRDÜN VENEZUELA VİETNAM YEMEN YENİ ZELANDA YUNANİSTAN ZAMBİYA ZİMBABVE
---
3 rd International Exhibition for Cosmetics, Beauty, Hair

Home Care, Private Label, Packaging and Ingredients

October 13 - 14 - 15, 2022

ICC - Istanbul Congress Center & ICEC - Istanbul Lutfi Kirdar / Taksim, Istanbul

Now in 2 Venues

www.beauty-istanbul.com

Tel: +90 212 2229060 |

+90 533 4843030 | info@beauty-istanbul.com
---
28 Beauty Cilt

Discover the Aurelia Geneve effect in skin care!

Cilt bakımında Aurelia Geneve etkisini keşfedin!

Aurelia Geneve massage tools, the

newest technique for a healthy-looking

skin… Aurelia Genéve, produced from

natural stones and special metals, allows you

to have a more vibrant and healthy skin with 2

new massage tools.

Gua Sha, a traditional Chinese medicine treatment

method, is mostly used in anti-aging care for the

skin today. The purpose of Gua Sha massage, which

is done with the help of stones with special energy; To

improve the skin by increasing blood circulation and

sending more oxygen to the cells. Of course, the stones and

beauty tools used in this method are as important as how the

massage is done.

Aurelia Geneve 2 Replaceable Head Beauty Bar

Vibrating gua sha massage stone with double head, the big head

of Aurelia Geneve 2 Replaceable Head Beauty Bar stimulates the

blood circulation of the skin and promotes collagen production;

Helps reduce the appearance of fine lines and wrinkles. The

small head, on the other hand, helps to remove puffiness and

under-eye circles, providing vitality and luminosity. In order to

benefit from the healing power of rose quartz, this massage

tool, whose 2 heads are designed from rose quartz

crystal, can be used with or without vibration. For better

results, it is possible to increase the effects of the product

by cooling the cap in the refrigerator just before use.

Aurelia Geneve -T- Shaped Energy Beauty Bar

T-shaped beauty massager Aurelia Geneve-T-Shaped Energy

Beauty Bar helps reduce wrinkles and sagging skin around the

eyes, lips, forehead, neck and hands and make the skin look

younger. Thanks to its battery-operated vibration feature (6000

vibrations per minute), it activates the blood circulation and

makes a lifting effect on the skin, thus making the

skin look more alive and healthy. The massage tool,

which can also be used in the bathroom with its

waterproof structure, can be used not only on your

face but also on your décolleté area, either alone or

with your products such as moisturizer and serum.

Aurelia Geneve masaj aletleri, sağlıklı

görünen bir cildin en yeni tekniği… Doğal

taşlar ve özel madenlerden üretilen Aurelia

Genéve, 2 yeni masaj aleti ile daha canlı ve

sağlıklı bir cilde kavuşmanızı sağlıyor.

Geleneksel Çin tıbbına ait bir tedavi yöntemi olan

Gua Sha, günümüzde daha çok cilt için yaşlanma

karşıtı bakımda kullanılıyor. Özel enerjisi olan taşlar

yardımıyla yapılan Gua Sha masajında amaç; kan

dolaşımını arttırarak, hücrelere daha fazla oksijen

göndererek cildin iyileşmesini sağlamak. Tabii bu

yöntemde masajın nasıl yapıldığı kadar kullanılan taşlar

ve beauty tool'lar da büyük önem taşıyor.

Aurelia Geneve 2 Replaceable Head Beauty Bar

Çift başlığa sahip titreşimli gua sha masaj taşı Aurelia Geneve

2 Replaceable Head Beauty Bar'ın büyük başlığı cildin kan

dolaşımını uyarmaya, kolajen üretimini teşvik etmeye; ince

çizgilerin ve kırışıklıkların görünümünü azaltmaya yardımcı

oluyor. Küçük başlık ise göz çevresindeki şişlikleri ve göz altı

morluklarını gidermeye yardımcı olarak, canlılık ve aydınlık

sağlıyor. Pembe kuvarsın iyileştirici gücünden yararlanmak

için 2 başlığı da pembe kuvars kristalinden tasarlanan bu

masaj aleti, titreşimi açık ya da kapalı kullanılabiliyor.

Daha iyi sonuç almak için kullanımdan hemen önce

başlığı buzdolabında soğutarak ürünün etkilerini

arttırmanız mümkün.

Aurelia Geneve -T- Shaped Energy Beauty Bar

T şeklindeki güzellik masaj aleti Aurelia Geneve -T-

Shaped Energy Beauty Bar, göz çevresi, dudaklar,

alın, boyun ve ellerinizdeki kırışıklıkları, sarkmaları

azaltmaya ve cildin daha genç görünmesine yardımcı

oluyor. Pille çalışan titreşim özelliği (dakikada 6000

titreşim) sayesinde kan dolaşımını hareketlendirerek,

cilde lifting etkisi yapıyor ve böylece cilt daha canlı ve

sağlıklı görünüme kavuşuyor. Su geçirmez yapısıyla

banyoda da kullanılabilen masaj aleti ister tek ister

nemlendirici ve serum gibi ürünlerinizle birlikte sadece

yüzünüzde değil, dekolte bölgenizde de kullanılabiliyor.
---
30 Beauty Cilt

Superior protection for the skin with the

La Roche-Posay Anthelios range

La Roche-Posay Anthelios serisiyle cilde üstün koruma

Offering a better life for sensitive skin, La Roche - Posay

provides skin care enthusiasts with the support they seek in

daily care with Anthelios products with broad spectrum and

very high sun protection. La Roche-Posay, developed by La

Roche-Posay with the power it takes from science Anthelios

Age Correct and the new member of the Anthelios

family, La Roche-Posay Anthelios Pigment

Correct fights against UVA, UVB, Infrared-A

and pollution by using the latest technology.

Roche-Posay, which has developed a very

intensive knowledge against visible and invisible

damages such as dark spots, wrinkles and loss of

elasticity caused by UV-induced effects such as

pollution and oxidation, provides protection for

sensitive skin with

Anthelios sun care

products.

Next generation

sunscreen from La

Roche-Posay: Anthelios

Age Correct

La Roche-Posay Anthelios Age

Correct, an anti-blemish and antiwrinkle

colored care cream caused

by UV rays, prevents wrinkles, dark

spots and loss of elasticity. Color

care cream with daily sun protection

factor; While providing high protection

against UV rays, it also offers an anti-stain effect.

Enriched with fragmented hyaluronic acid, feresorcinol

and niacinamide

Anthelios Age Correct reduces the appearance of

signs of aging with its formula containing antiaging

hyaluronic acid, fer-resorcinol, which helps

reduce wrinkles, and niacinamide, which helps to

provide a soothing effect. Anthelios Age Correct,

which you can reapply abundantly and frequently to maintain

the protection, moisturizes the skin for 24 hours with its light

textured colored structure. The non-oily product provides a

velvety finish.

15%* reduction in the appearance of wrinkles and fine lines,

26%** reduction in the appearance of dark spots

Anthelios Age Correct, which provides anti-aging activity with

its dermatological expert content, reduces the appearance of

Hassas ciltlere daha iyi bir yaşam sunan La Roche- Posay,

geniş spektrumlu, çok yüksek güneş koruması sunan

Anthelios ürünleriyle cilt bakım tutkunlarına günlük

bakımda aradıkları desteği sağlıyor. La Roche-Posay'in

bilimden aldığı güçle geliştirdiği La Roche-Posay Anthelios

Age Correct ve Anthelios ailesinin yeni üyesi La

Roche-Posay Anthelios Pigment Correct;

UVA, UVB, Infrared-A ve kirliliğe karşı, son

teknolojiyi kullanarak mücadele ediyor.

Özellikle kirlilik ve oksidasyon gibi UV kaynaklı

etkilerin neden olduğu koyu lekeler, kırışıklık

ve elastikiyet kaybı gibi görünür ve görünmez

hasarlara karşı oldukça yoğun bir bilgi geliştiren

La Roche-Posay, Anthelios güneş bakım

ürünleriyle hassas ciltlere koruma

sağlıyor.

La Roche-Posay'den

yeni nesil güneş bakımı:

Anthelios Age

Correct

UV ışınları

kaynaklı leke ve

kırışıklık karşıtı

renkli bakım

kremi La Roche-

Posay Anthelios Age

Correct, kırışıklıkların,

koyu lekelerin ve elastikiyet kaybının önüne

geçiyor. Günlük güneş koruma faktörlü renkli

bakım kremi; UV ışınlarına karşı yüksek koruma

sağlarken, aynı zamanda leke karşıtı etki sunuyor.

Parçalanmış hyalüronik asit, fe-resorsinol ve

niasinamid ile zenginleştirildi

Anthelios Age Correct; kırışıklıkları azaltmaya

yardımcı olan yaşlanma karşıtı hyalüronik asit,

fe-resorsinol ve yatıştırıcı etki sağlamaya yardımcı

niasinamid içeren formülüyle yaşlanma belirtilerinin

görünümünü azaltıyor. Korumayı sürdürebilmek için bol

miktarda ve sık sık yeniden uygulayabileceğiniz Anthelios Age

Correct, hafif dokulu renkli yapısıyla cildi 24 saat nemlendiriyor.

Yağlı his bırakmayan ürün, kadifemsi bir bitiş sağlıyor.

Kırışıklık ve ince çizgilerin görünümünde %15*, koyu

lekelerin görünümünde %26** azalma Dermatolojik uzman

içeriğiyle yaşlanma karşıtı etkinlik sağlayan Anthelios Age
---
32 Beauty Cilt

wrinkles and

fine lines

by 15%*

and the

appearance

of dark spots

by 26%** after

4 weeks of use;

skin feels 15%*** more supple.

The new La Roche-Posay Anthelios Pigment

Correct protects the skin from UVA, UVB

rays

The new La Roche-Posay Anthelios Pigment

Correct with Cellox-B3 technology; While

protecting the skin from UVA and UVB rays,

it also helps to prevent Infrared-A rays and

pollution from damaging the skin. The product,

which is light and easy to apply thanks to its fast moisturizing

feature; It prevents the formation of stains, and also supports

the removal of the appearance of existing stains.

Anthelios Pigment Correct with niacinamide, procerad and

pigment content, offered in 2 different color tones; It prevents

hyperpigmentation and visibly evens out skin tone.

You can apply Anthelios Pigment Correct, which is resistant to

water and sweat, just before going out into the sun, and use it

frequently and abundantly to maintain protection, especially

after sweating and after drying. Anthelios

Pigment Correct, suitable for use on the

face

and neck area, does not leave an oily

and sticky feeling on the skin.

* Instrumental test, 24 women, 4 weeks

**Clinical test, 50 women, 4 weeks

*** Instrumental test, 24 women, 4 weeks

Correct, 4 haftalık

kullanım sonucunda

kırışıklık ve ince çizgilerin

görünümünde %15*, koyu

lekelerin görünümünde

%26** azalma sağlıyor;

cilt %15*** daha esnek

hissediyor.

Yeni La Roche-Posay Anthelios Pigment Correct

cildi UVA, UVB ışınlarından koruyor

Cellox-B3 teknolojisine sahip yeni La Roche-

Posay Anthelios Pigment Correct; cildi UVA,

UVB ışınlarından korurken aynı zamanda

Infrared-A ışınlarının ve kirliliğin cilde hasar

vermesini engellemeye yardımcı oluyor. Hafif, hızlı

nemlendirme özelliği sayesinde sürülmesi kolay olan

ürün; leke oluşumunu engelliyor, aynı zamanda mevcut leke

görünümünü gidermeyi destekliyor.

2 farklı renk tonuyla sunulan, niasinamid, procerad ve pigment

içerikli Anthelios Pigment Correct; hiperpigmentasyonu

önlüyor ve cilt tonunu gözle görülür şekilde eşitliyor.

Suya ve tere karşı dayanıklı Anthelios Pigment Correct'i güneşe

çıkmadan hemen önce uygulayabilir, özellikle terledikten sonra

ve kurulandıktan sonra korumanın devam etmesi için sık sık

ve bol miktarda kullanabilirsiniz. Yüz ve boyun bölgesinde

kullanıma uygun Anthelios Pigment Correct, ciltte yağlı ve

yapışkan bir his bırakmıyor.

*Instrumental test, 24 kadın, 4 hafta

**Klinik test, 50 kadın, 4 hafta

***Instrumental test, 24 kadın, 4 hafta
---
Reflect the Purity of

Flowers to Your Beauty!

Dalan Le jardin soaps pamper

your soul with its unique floral

scents designed by French

perfumers, while cleansing your

skin by purifying it thanks to its

vegetable ingredients.

Orchid & Lily

Peony & Rose

Freesia & Sweet Pea

Goodness from Nature
---
34 Beauty Güzellik

"We do not make ordinary, we generate our own way"

"Ezber değil, kendi patikamızı oluşturuyoruz"

Sedef KALAYCI, Co-Founder, Director of Sales & Marketing

Founded in 2019, the young company NORMACTIVE continues

to grow without slowing down in the sector… We interviewed

Sedef Kalaycı, Co-Founder, Director of Sales & Marketing of the

brand, about the company that uses herbal resources in Türkiye

directly and also evaluates our country's herbal industrial waste

outputs.

For those who want to explore the fascinating world of

NORMACTIVE, could you inform about your company a little

better?

NORMACTIVE is a young company established in 2019

and is the only company that produces standardized natural

cosmetic active ingredients with proven efficacy claims through

laboratory and clinical tests. On the other hand, we have been

able to grow out of the pandemic conditions, and we keep

growing with more than 15 countries to export. With the

value-added cosmetic actives that we develop by utilizing the

industrial wastes of food industry as well as the natural plant

resources, we aspire to be one of the major natural cosmetic

active ingredient manufacturers in the cosmetic sector.

WHERE WE ARE THE MOST STRONG IN THE MARKET:

NATURAL ACTIVES

We know that you include high-performance natural cosmetic

products. Can you talk about your product range in general?

As NORMACTIVE, our product portfolio is classified under

three main categories. Natural actives, natural standardized

extracts, and natural oils. We have promising products with

different concepts and features for both hair and skin in the

natural actives category, which is our strongest area in the

market. Among these natural active ingredients, we have a

wide range of action from anti-cellulite, and anti-wrinkle active

ingredients to hair loss, dandruff, and prevention of color bleed.

2019 yılında kurulan genç firma NORMACTIVE, sektörde hız

kesmeden büyümeye devam ediyor… Türkiye'deki bitkisel

kaynakları doğrudan kullanıp ülkemizin bitkisel endüstriyel atık

çıktılarını da değerlendiren firma hakkındaki merak edilenleri

markanın Kurucu Ortağı & Satış Pazarlama Direktörü Sedef

Kalaycı'yla konuştuk…

NORMACTIVE'in büyüleyici dünyasını keşfetmek isteyenler için

firmanızı biraz daha yakından tanıyabilir miyiz?

Türkiye'de etkinliği kanıtlanmış standardize doğal kozmetik

etken maddesi üreten tek firma olan NORMACTIVE,

laboratuvar ve klinik testlerle etkinliği kanıtlanmış bitkisel

kozmetik etken maddeleri üreten, 2019 yılında kurulmuş

genç bir firmadır. Fakat bunun yanında, pandemi şartlarının

da dahil olduğu süreçten büyüyerek çıkmayı başararak, şu an

15'in üzerinde ülkeye ihracat gerçekleştirmekteyiz. Türkiye'deki

bitkisel kaynakları doğrudan kullanmamızın yanında,

ülkemizin bitkisel endüstriyel atık çıktılarını da değerlendirerek

geliştirdiğimiz katma değerli kozmetik aktifleri ile, ilerleyen

süreçte dünyadaki majör doğal kozmetik etken madde

üreticilerinden olmayı hedeflemekteyiz.

PAZARDA EN KUVVETLİ OLDUĞUMUZ ALAN: DOĞAL

AKTİFLER

Yüksek performanslı doğal kozmetik ürünlere yer verdiğinizi

biliyoruz. Ürün gamınızdan genel olarak bahseder misiniz?

NORMACTIVE olarak ürün portföyümüz üç ana başlık altında

sınıflanıyor. Doğal aktifler, doğal standardize ekstreler ve doğal

yağlar. Pazarda en kuvvetli olduğumuz alan doğal aktifler

grubunda hem saç hem cilt için ayrı konsept ve özelliklerde

ürünlerimiz var. Bu bahsettiğim ürünler içerisinde selülit

karşıtı, kırışıklık karşıtı etken maddeden, saçtaki dökülmeye,

kepeğe, renk akmasını engellemeye kadar geniş bir hareket

alanımız var. Bunların her birinin çalışmaları yalnızca sektörün

beklentilerine yönelik olarak değil aynı zamanda bizim aktarmak

istediğimiz konseptlerle uyumlu olacak şekilde tamamlanmış

durumda. Bu sebeple diğerlerine nazaran NORMACTIVE'i

daha güçlü yapan seçenek burası. Bunların yanında 'Upcycling'

yani ileri dönüştürülmüş ürünler adı altında, özellikle

meyve suyu fabrikaları tarafından imhaya gönderilen meyve

çekirdekleri ya da kabuklarını kullanarak, üretimini yaptığımız

ekstreler ve yağlar, yağ kompleksleri bulunuyor. Bu yağlar ve

yağ kompleksleri, standardize ekstreler gibi yine saçla ya da

ciltle ilgili çeşitli amaçlar için kullanılabiliyor. Genel anlamda

NORMACTIVE, sektörünün ihtiyaç duyduğu hammadde

portföyünü en doğal yolla, doğaya en az zararla, modern

trendleri de takip ederek, bu coğrafyada bunu mümkün

kılabilen geniş bir ürün yelpazesine sahip diyebiliriz.
---
Güzellik

Beauty

35

The studies of each of these ingredients were carried out not

only according to the expectations of the sector but the way we

want to express the ability of each active. This is what makes

NORMACTIVE a trendsetter. In addition to these, there are

extracts, oils, and oil complexes that we produce with 'upcycling'

approach. Upcycling for us is turning trash into treasure.

Utilizing byproducts like fruit seeds or peels of fruit juice

factories enables us to contribute to circular beauty movement

by creating various hair or skin-related active ingredients. In

general terms, we can say that NORMACTIVE has a wide range

of raw material portfolio which is obtained by naturally, with

least harm to nature, and by following modern trends.

"WE CONCENTRATE ON SPECIFIC INGREDIENTS AND

ANALYZE FOR EVERY PLANT EXTRACT WE PRODUCE"

You are quite at the forefront of benefiting the skin and hair. So,

what are your basic principles that you adopt in the process of

developing your products?

Yes, our priority is to produce highly effective natural cosmetic

active ingredients inspired by nature with the valuable

phytochemicals that plants give us. Proven Efficacy, Product

Standardization and Market Trends are our core principles.

Efficacy:

As NORMACTIVE, the category we focus on the most is natural

actives. While producing natural cosmetic active ingredients,

the efficacy of the product is one of the most important criteria

for us. Yes, plants have very strong, valuable content and have

positive effects on the human body. For hair and skin care

actives; we scientifically reveal and prove the positive effects of

plants on the human body with in-vitro, in-vivo and ex vivo

tests.

Standardization:

If we need to explain the importance of having a standardized

natural active ingredient with an example; Plants contain many

phytochemicals, fatty acids and vitamins that are beneficial

to skin and hair. We also analyze the specific ingredients for

each plant extract we produce. And by paying attention to this

in every production, we offer our customers the same quality

product in every batch.

Demand:

Considering that we live in a changing and transforming world,

of course we do our best to protect it. This is an issue that we pay

attention to in every area, from the selection of raw materials

to the end of production. For example, when choosing raw

materials for some of our products, we use the waste part of the

plant, transform waste materials into value-added products and

produce upcycled ingredients. On the other hand, if we are using

the valuable root part of the plant, our priority is sustainability.

For this, we train local farmers and provide training for both

harvesting and replanting the plant. In this way, we support

both local farmers and the circular economy. Today's trends

are about protecting the Earth and providing sustainability. As

NORMACTIVE, we are happy to lead these trends and to be the

mirror of nature.

"ÜRETTİĞİMİZ HER BİTKİ EKSTRESİ İÇİN SPESİFİK

İÇERİKLERE YOĞUNLAŞIP ANALİZİNİ YAPIYORUZ"

Cilde ve saça fayda sağlama konusunda oldukça ön plandasınız.

Peki, ürünlerinizi geliştirme sürecinde benimsediğiniz temel

ilkeleriniz nelerdir?

Evet önceliğimiz; doğadan ilham alarak, bitkilerin bizlere

verdiği değerli fitokimyasallar ile yüksek etkinlikte doğal

kozmetik etken maddeleri üretmek. Kanıtlanmış Etkinlik, Ürün

Standardizasyonu ve Pazar Trendleri bizim bu konudaki temel

ilkelerimiz.

Normactive olarak üzerinde en çok durduğumuz kategorimiz

doğal aktifler. Doğal kozmetik aktif maddeleri üretirken,

ürünün etkinliği bizim için en önemli kriterlerden başında

geliyor. Evet bitkiler çok güçlü, verimli içeriğe sahip ve insan

vücudu üzerinde olumlu etkileri mevcut. İşte biz de tam olarak

bunu kanıtlıyoruz. Saç ve cilt bakım aktiflerimiz için; In-vitro,

In-vivo ve Ex vivo testler ile bitkilerin in vücudunda yarattığı

olumlu etkileri bilimsel olarak da göstermiş ve aynı zamanda

kanıtlamış oluyoruz.

Standardizasyon:

Bir ürünün belirli bir standarda sahip olmasının önemini bir

örnekle açıklamamız gerekirse; Bitkilerin içeriğinde, cildimize

yararlı çok sayıda fitokimyasal, yağ asitleri ve vitamin mevcut.

Biz de ürettiğimiz her bitki ekstresi için spesifik içeriklere

yoğunlaşarak analizini yapıyoruz. Ve her üretimde buna dikkat

ederek müşterilerimize aynı kalitede ürün sunuyoruz.

Talep:

Değişen ve dönüşen bir Dünya'da yaşadığımızı göz önüne

alırsak tabi ki onu korumak için elimizden geleni yapıyoruz.

Bu hammadde seçiminden üretimin sonuna kadar her

alanda dikkat ettiğimiz bir konu. Örneğin bazı aktiflerimiz

için hammadde seçerken bitkinin atık diyebileceğimiz

kısımlarından yararlanıyoruz ve atık maddeleri katma değerli

hale getirerek upcycled ürünler üretiyoruz. Diğer bir yandan

eğer ki bitkinin değerli olan kök kısmını kullanıyorsak

önceliğimiz sürdürülebilirlik. Bunun için yerel çitçilere eğitim

verip bitkinin gerek toplama gerekse tekrar ekimi için eğitimler

veriyoruz. Bu şekilde hem yerel çitçileri aynı zamanda döngüsel

ekonomiyi de desteklemiş oluyoruz.
---
36 Beauty Güzellik

The inspiration you get from nature draws attention. What about

this?

When you observe nature closely, you can see that everything

happens at the right time and in nature, everything is at its

precise perfection. Nature always knows what is best for herself.

Let's take the plant's secondary metabolites as an example; The

plant produces these phytochemicals, which have antioxidant,

antimicrobial, well-aging effects, in its metabolism for its

own defense system. The amount and distribution of these

secondary metabolites produced by the plant alters when the

environmental and physical conditions change. It may even

differ from the previous year. So in fact, nature always knows

what is best for herself. What we, as NORMACTIVE, know best

is how to bring out the best in nature from what she offers us.

From this point of view, one of our most important features as

NORMACTIVE is to make sure that the active ingredient in

every plant we work with is standardized in accordance with

the European Pharmacopoeia. As our number one priority is to

produce clean, standardized and safe natural active ingredients

with proven claims, we do all the checks prior to present

NORMACTIVE products to our customers. We share the

blessings that nature offers us with the cosmetics industry in a

properly standardized manner.

"INSTEAD OF OBJECTING, WE GENERATE THE STORY OF

OUR PRODUCTS AND OUR PRODUCTS THROUGH ABSTRACT

WORKS"

You talk about an unconventional marketing approach. Could

you clarify this a little more?

Our latest launch, CHROMAZONE, is a natural cosmetic

active that protects the color of the hair against UV and color

bleeding. We spend almost the same time thinking about the

narrative of this product as much as we spend on the efficacy

tests. Using a picture of a woman with beautiful hair in the

marketing communication of this natural active ingredient

developed for hair care is absolutely incompatible with our

understanding of 'beauty'. Rather than such an approach, we try

Günümüzdeki trendler Dünya'yı korumak, sürdürülebilirlik

sağlamak üzerine aslında. Biz de Normactive olarak bu trendlere

öncülük etmekten ve doğanın aynası olmaktan mutluluk

duyuyoruz.

Doğadan aldığınız ilham oldukça dikkat çekiyor. Buna yönelik

bilgi verebilir misiniz?

Doğayı iyi bir gözlemci olarak izlediğinizde, her şeyin tam

olması gereken zamanda ve mükemmel bir ölçülülükte meydana

geldiğini görebilirsiniz. Doğa her zaman kendisi için en iyisinin

ne olduğunu bilir. Bir bitkinin sekonder metabolitlerini örnek

alalım; bitki antioksidan, antimikrobiyal, well-aging etki

gösteren bu fitokimyasallarını kendi savunma sistemi için

metabolizmasında üretir. Bitkinin çevresel ve fiziksel şartları

değiştiğinde ürettiği bu sekonder metabolitlerin miktarı ve

dağılımı bir önceki yıla göre bile farklılık gösterebilir. Yani

aslında doğa her zaman kendisi için en iyisinin ne olduğunu

bilir. Bizim de NORMACTIVE olarak en iyi bildiğimiz

şey doğanın bize sunduklarından maksimum faydayı nasıl

sağlayacağımızdır. Buradan hareketle NORMACTIVE olarak

en önemli özelliklerimizden biri, çalıştığımız her bitkinin

içindeki etken maddenin Avrupa Farmakopesi ile uyumlu

olarak standardize edildiğinden emin olmak. Doğanın bize

sunduğu nimetleri doğru şekilde standardize edilmiş olarak

kozmetik sektörü ile paylaşıyoruz.

"OBJELEŞTİRME YAPMAK YERİNE, SOYUT ÇALIŞMALAR

ÜZERİNDEN KENDİMİZİN VE ÜRÜNLERİMİZİN HİKAYESİNİ

OLUŞTURUYORUZ"

Alışılmışın dışında bir pazarlama yaklaşımından söz ediyorsunuz.

Buna biraz daha açıklık getirir misiniz?

Bu sorunun cevabını şu şekilde özetleyebilirim... Son

lansmanımız olan CHROMAZONE, saçın rengini UV ve boya

akmasına karşı koruyan doğal bir kozmetik aktifi. Bu ürünün

etkinlik testlerine ayırdığımız vakit kadar, pazarlaması üzerinde

de neredeyse aynı sürede kafa yoruyoruz. Saç bakımı için

geliştirilen bu doğal etken maddenin pazarlama iletişiminde
---
Güzellik

Beauty

37

to do it with abstract works that we think will best convey the

story behind that product, as if each product is a work of art.

Why is this important to us? As you know, the commodification

of femininity is very common in the cosmetic industry, as is

the case in almost many other industries. For this reason, we

adopt to create the story of ourselves and our products through

abstract works, instead of making an objectification through the

female figure. This is not a cliché for me and my team, beauty is

not what is seen on the outside, but something that is felt inside.

The cosmetics sector, it is a sector that appeals to the emotions,

and we actually want to express this by saying 'Create Your

Own Beauty Norm'. We do this with the narrative as well as the

visuals we use in marketing communication. In our monthly

mini-magazine NORMAG, with the same approach, we clarify

the stories of the products as if the scientists were also a part

of that story. In other words, this is a concept that we created

by blending the concept of the product that are known to be

scientifically effective with its own abstract story and images.

Simply put; I can say that we are creating our own path in

cosmetic active ingredient marketing rather than following

other's footsteps.

What are your market position, strengths and plans for new

investments?

At NORMACTIVE, we believe that the product story is as

important as the scientific studies behind it. Marketing is not

only a product promotion, but also a means of sharing these

stories with the world. Therefore, one of our most important

goals is to enable the development of innovative products in the

cosmetics industry by working on reformist concepts. Being one

of the raw material manufacturers that dominate the market, as

a company that has just turned three years old, is one of the

short-term goals for NORMACTIVE. Our long-term plans

include the establishment of biotechnological infrastructures in

which we will use plant cell cultures in the production of natural

cosmetic active ingredients by leaving traditional methods.

güzel saçlı bir kadın resmi kullanmak bizim 'güzellik'

anlayışımız ile kesinlikle uyuşmuyor. Böyle bir yaklaşımdan

ziyade, her ürün birer sanat eseriymişçesine, o ürünün altındaki

hikâyeyi en iyi şekilde aktaracağımızı düşündüğümüz soyut

çalışmalar ile yapmaya çalışıyoruz. Bu neden önemli bizim için?

Bildiğiniz gibi, neredeyse birçok sektörde olduğu gibi, kozmetik

sektöründe de kadının metalaştırılması çok bilindik bir durum.

Bu sebeple biz kadın figürü üzerinden bir objeleştirme yapmak

yerine, soyut çalışmalar üzerinden kendimizin ve ürünlerimizin

hikayesini oluşturmayı benimsiyoruz. Bu benim ve ekibim için

bir klişe değil, güzellik dışta görünen şey değil içerde hissedilen

bir şeydir. Kozmetik sektör olarak duygulara hitap eden bir

sektör ve biz 'Kendi Güzellik Normunuzu Yaratın' diyerek

aslında bunu ifade etmek istiyoruz. Pazarlama iletişiminde

kullandığımız görseller kadar kullandığımız dil ile de yapıyoruz

bunu. Aylık çıkardığımız mini dergi NORMAG'de yine aynı

yaklaşımla, ürünlerin hikayelerini, sanki bilim insanları da o

hikâyenin birer parçasıymış gibi açıklığa kavuşturuyoruz. Yani

ürünün bilimsel olarak etkili olduğu bilinen noktalarını, kendi

soyut hikayesi ve görselleriyle harmanlayarak oluşturduğumuz

bir konsept bu. Basitçe söylemek gerekirse; ezberden

bulacağımız kolay yollardan gitmektense, kendi patikamızı

oluşturuyoruz diyebilirim.

Pazardaki konumunuz, güçlü yönleriniz ve yeni yatırımlara

yönelik planlarınız nelerdir?

NORMACTIVE olarak ürün hikayesinin en az arkasındaki

bilimsel çalışmalar kadar önemli olduğuna inanıyoruz.

Pazarlama sadece ürün tanıtımı değil aynı zamanda bu

hikayeleri dünya ile paylaşmanın bir aracı bizim için. Dolayısıyla

alışılmışın dışında konseptler üzerinde çalışarak kozmetik

sektöründe yenilikçi ürünlerin geliştirilmesine olanak sağlamak

en önemli hedeflerimiz arasında yer alıyor. Henüz üç yaşını

yeni doldurmuş bir firma olarak pazara yön veren hammadde

üreticilerinden biri olmak NORMACTIVE için kısa vadeli

hedeflerden biri. Uzun dönem planlarımızda ise doğal kozmetik

etken maddelerini geleneksel yöntemlerden çıkarak etken

maddelerin üretiminde bitki hücre kültürlerini kullanacağımız

biyoteknolojik altyapıların kurulması yatmakta.
---
38 Beauty Hair

Home care range against hair loss from Scalp Clinix

Scalp Clinix'ten saç dökülmesine karşı evde bakım serisi

Hair loss is one of the most important problems of women

as well as men. Fiber Clinix, the brand of the professional

hair care brand Schwarzkopf Professional, which has the

most advanced and most powerful hair repair technology,

now offers one of the most effective solutions for hair loss

with its Scalp Clinix Anti-Hair Loss Range, which offers

fully customizable scalp care. With the range developed by

Scalp Clinix for home care application, it becomes possible

to protect your hair and scalp health at home until the next

visit to the hairdresser.

Saç dökülmesi, erkekler gibi kadınların da en önemli

problemleri arasında yer alıyor. Profesyonel saç bakım

markası Schwarzkopf Professional'ın en ileri ve en güçlü

saç onarım teknolojisine sahip markası Fibre Clinix, şimdi

tamamen kişiselleştirilebilir baş derisi bakımı sunan serisi

Scalp Clinix'in Saç Dökülmesi Karşıtı Serisi ile saç kayıpları

için en etkili çözümlerden birini sunuyor. Scalp Clinix'in

evde bakım uygulaması için geliştirdiği seri ile bir sonraki

kuaför ziyaretine kadar evde saç ve baş derisi sağlığınızı

korumanız mümkün hale geliyor.
---
40 Beauty Hair

Developed within the scope of home care remedies for thinning

hair, Scalp Clinix Anti-Hair Loss Range strengthens the blood

microcirculation of the scalp and hair follicle with formulas

containing Biotic Technology. In addition, with Scalp Clinix,

it helps to support the balance of microbiomes, which play an

important role in determining scalp health, by prolonging the

effect of the care service applied in hairdressing salons.

Special ingredients inspired by skincare

Aiming to offer the best care for the scalp, Scalp Clinix Anti-

Hair Loss Range has been formulated with special skin-inspired

ingredients. The products contain Ginseng Extract, which is

known to strengthen hair follicles and roots, Carnitine Tartrate,

which supports the hair follicle with energy during the growth

period, Taurine, which prevents the hair follicle from entering

the hair loss period early, and Echinacea Extract, which is

effective against non-pathological hair loss.

Scalp Clinix Anti-Hair Loss Range

-Scalp Clinix Anti-Hair Loss Shampoo: Scalp Clinix Anti-

Hair Loss Shampoo in the range gently cleanses the scalp and

hair. It provides a moisturized scalp feeling and activates the

hair follicles together with the Anti-Hair Loss Serum. * With

massage, it increases the blood microcirculation of the scalp

and strengthens the hair follicles.

-Scalp Clinix Anti-Hair Loss Serum

Scalp Clinix Anti-Hair Loss Serum facilitates the production

of factors that are effective in hair growth and the preparation

of components that provide energy to the scalp. With a gentle

massage, it helps to strengthen the scalp and hair follicles

and fix the hair on the scalp. It promotes cell

division and stimulates cell production

to support the vitality of the hair. When

used regularly with Scalp Clinix Anti-

Hair Loss Shampoo, it reduces nonpathological

hair loss after 6 weeks.**

* Increased rate of active hair follicles

** When the Scalp Clinix Anti-Hair

Loss Shampoo & Serum are used

together

Seyrekleşen saçlar için evde bakım uygulamaları kapsamında

geliştirilen Scalp Clinix Saç Dökülmesi Karşıtı Seri, Biyotik

Teknoloji içeren formüllerle, baş derisinin kan mikro

dolaşımını ve saç folikülünü güçlendiriyor. Ayrıca Scalp Clinix

ile kuaför salonlarında uygulanan bakım servisinin de etkisini

uzatarak, baş derisi sağlığını belirlemede önemli rol oynayan

mikrobiyomların dengesini desteklemeye yardımcı oluyor.

Cilt bakımından ilham alan özel bileşenler

Baş derisi hakkında en iyi bakımı sunmayı hedefleyen Scalp

Clinix Saç Dökülmesi Karşıtı Seri, cilt bakımından ilham

alan özel bileşenlerle formüle edildi. Ürünlerin içeriğinde saç

foliküllerini ve köklerini güçlendirmesi ile bilinen Ginseng Özü,

saç folikülünü uzama dönemi süresince enerji ile destekleyen

Karnitin Tartarat, saç folikülünün saç dökülmesi dönemine

erken girmesini önleyen Taurin ve patolojik olmayan saç

dökülmesine karşı etkili olan Ekinezya Özü bulunuyor.

Scalp Clinix Saç Dökülmesi Karşıtı Seri

-Scalp Clinix Saç Dökülmesine Karşı Şampuan: Serideki Scalp

Clinix Saç Dökülmesine Karşı Şampuan, baş derisini ve saçı

nazikçe temizliyor. Nemlendirilmiş baş derisi hissi sağlıyor ve

Saç Dökülmesine Karşı Serum ile birlikte saç köklerini aktive

ediyor. * Masajla beraber baş derisinin kan mikro dolaşımını

artırıyor ve saç foliküllerini güçlendiriyor.

-Scalp Clinix Saç Dökülmesine Karşı Serum

Scalp Clinix Saç Dökülmesine Karşı Serum, saçın uzamasında

etkili olan faktörlerin üretimini ve baş derisine enerji sağlayan

bileşenlerin hazırlanmasını kolaylaştırıyor. Nazik bir masaj ile

birlikte baş derisini ve saç köklerini güçlendirmeye, saçı baş

derisine sabitlemeye yardımcı oluyor. Hücre bölünmesini teşvik

ediyor ve saçın canlılığını desteklemek için hücre üretimini

uyarıyor. Scalp Clinix Saç Dökülmesine Karşı Şampuan ile

birlikte düzenli kullanıldığında 6 hafta sonra patolojik olmayan

saç dökülmesini azaltıyor.**

* Aktif saç köklerinin artan oranı

** Scalp Clinix Saç Dökülmesine Karşı Şampuan ve Scalp

Clinix Saç Dökülmesine Karşı Serum düzenli olarak birlikte

kullanıldığında
---
42 Beauty Güzellik

The new fragrance that attracts all world:

Bella Vita Rosa

Dünyayı etkisi altında bırakan yeni koku:

Bella Vita Rosa

The global lifestyle brand is presenting a new fragrance for

Spring 2022.

Guess Bella Vita celebrates the allure in the personality of the

Guess woman. This fruity, floral fragrance opens with playful

and vibrant notes of zesty Italian lemon, juicy cassis and

luscious black cherries. The sensual side of the Guess woman

is expressed through a velvety white floral heart composed

of jasmine, tuberose and vanilla orchid. A warm blend of

amberwood, tonka bean, praline and fluffy musks creates a

sweet and unforgettable trail.

"I generated GUESS Bella Vita Rosa to celebrate the joyful

outlook of the GUESS woman, her ability to see life through

rose-colored glasses, to appreciate everything positive and

beautiful in this world," says perfumer Gabriela Chelariu.

The Guess Bella Vita packaging design draws inspiration

from the brand's timeless fashion heritage. The bottle and the

carton bear the iconic Guess peony medallion in the centre.

Transparent glass reveals the warm, rich colour of the fragrance,

while the opulent gold cap adds a precious detail.

Art directed by Guess chief creative officer Paul Marciano,

and shot through the lens of photographer Tatiana Gerusova,

the campaign captures model Julia Logacheva in an alluring

moment. Contrasting the rich gold tones of the Guess Bella Vita

bottle against a black-and-white setting, Julia is the centre of

attention as she enjoys the notes of Guess Bella Vita lingering

on her skin.

Global yaşam tarzı markası, İlkbahar 2022 için yeni bir koku

sunuyor.

GUESS Bella Vita Rosa, meyveli çiçeksi koku, ışıltılı İtalyan

limonu, sulu siyah frenk üzümü ve parlak ayvanın çapkın

notalarıyla bahara açılıyor. Yaşam sevinci ise, yasemin, manolya

çiçeği, selvi ve mügeden oluşan yemyeşil egzotik çiçekli bir

kalple ifade edildi. Süsen çiçeği, yosun, sandal ağacı ve cezbedici

misklerin göz kamaştırıcı karışımı, unutulmaz kadınsı bir iz

sağlıyor.

Parfümcü Gabriela Chelariu, "GUESS Bella Vita Rosa'yı,

GUESS kadınının neşeli varlığını, hayata 'gül renkli gözlüklerle'

-bu dünyada olumlu ve güzel olan her şeyi görme yeteneğinikutlamak

için oluşturdum" diyor.

GUESS Bella Vita Rosa'nın ambalaj tasarımı, markanın zamansız

moda mirasından ilham alıyor ve şişe, ortada güzel bir pembealtın

rengiyle ikonik GUESS şakayık madalyonunu taşıyor.

Şeffaf cam, kokunun feminen pembe rengini ortaya çıkarırken,

gösterişli pembe altın kapak değerli bir ayrıntı katıyor.

GUESS Inc.'in Kreatif Direktörü Paul Marciano tarafından

yönetilen ve fotoğrafçı Tatiana Gerusova'nın objektifinden

çekilen kampanya, model Julia Logacheva'yı neşeli bir anda

yakalıyor. GUESS Bella Vita Rosa şişesinin zengin ve pembealtın

tonlarını çarpıcı bir siyah beyaz İtalyan dekoruyla

karşılaştıran Julia, çapkın gülümsemesi ve yaşama sevinciyle bir

GUESS kadınının ışıltısını yayıyor.
---
46 Beauty Güzellik

The first and only cream deodorant brand: Deotak!

İlk ve tek krem deodorant markası: Deotak!

It's not sweating, but the smell of sweat can turn into a

problem. Turkey's first and only cream deodorant brand,

Deotak, that you will use after shower or bath, does not allow

sweat odors with its 7-fold effective formula that provides

extra protection.

Sweating is a natural process with health benefits… The part

of this process that causes discomfort to the person and the

environment is undoubtedly the smell of sweat… Taking a

shower frequently and getting help from deodorants that

prevent sweat odor, not sweating after the shower, helps to

prevent bad odors. Using deodorant or perfume without taking

a bath can give an even worse result. Turkey's first and only

cream deodorant, Deotak, provides 7 times effective protection

against sweat odor thanks to its clinically proven effect and D-

Panthenol added formula.

Deotak Cream Deodorant moisturizes and refreshes the skin

and does not leave marks on clothes as it is quickly absorbed

by the skin. Deotak Cream Deodorant, which can be easily

applied after a shower or bath, has four different types that offer

different formulas for different skin structures. Classic Cream

Deodorant provides protection with its suitable structure for

every skin. Specially formulated for sensitive skin, Soft Cream

Deodorant contains Allontoin added formula. Providing a

feeling of freshness, Fresh Cream Deodorant brings freshness

to the skin thanks to the menthol in its formula, while Plus

Cream Deodorant provides an extra protection against sweat

odor thanks to Tea Tree Oil, a natural oil used in many skin

care products.

Note:

Deotak, which has been proven in clinical studies to provide

effective protection against sweat odor up to 7 times, provides

active protection to its users with its special formula that

controls excessive sweating and prevents sweat odor without

preventing natural sweating. Deotak, which is the first cream

deodorant offered for sale in Turkey, also has roll-on varieties.

Terlemek değil ama ter kokusu bir soruna dönüşebiliyor.

Duş ya da banyo sonrası kullanacağınız Türkiye'nin ilk ve tek

krem deodorant markası Deotak, ekstra koruma sağlayan 7

kat etkili formülüyle ter kokularına geçit vermiyor.

Terleme doğal ve sağlığa faydaları bulunan bir süreç… Bu

sürecin kişiye ve çevresine rahatsızlık veren kısmı ise şüphesiz

ter kokusu… Sık sık duş almak ve duş sonrası terlemeyi değil ter

kokusunu önleyen deodorantlardan yardım almak kötü kokuları

önlemeye yardımcı oluyor. Banyo yapmadan deodorant ya

da parfüm kullanmak ise, daha da kötü bir sonuç verebiliyor.

Türkiye'nin ilk ve tek krem deodorantı Deotak, klinik olarak

kanıtlanan etkisi ve D-Panthenol katkılı formülü sayesinde ter

kokusuna karşı 7 kat etkili koruma sağlıyor.

Deotak Krem Deodorant, cildi nemlendirerek tazeliyor ve

cilt tarafından hızla emildiği için giysilerde iz oluşturmuyor.

Duş veya banyo sonrası kolayca uygulanabilen Deotak Krem

Deodorantın farklı cilt yapıları için farklı formüller sunan dört

farklı çeşidi bulunuyor. Classic Krem Deodorant, her cilt için

uygun yapısıyla koruma sağlıyor. Hassas ciltler için özel olarak

formüle edilen Soft Krem Deodorant, içeriğinde Allontoin

katkılı formülünü barındırıyor. Tazelik hissi sağlayan Fresh

Krem Deodorant, formülündeki mentol sayesinde cilde ferahlık

kazandırırken, Plus Krem Deodorant ise içeriğinde yer alan ve

birçok cilt bakım ürününde kullanılan doğal bir yağ olan Tea

Tree Oil sayesinde ter kokusuna karşı ekstra bir koruma sağlıyor.

Bilgi notu:

Ter kokusuna karşı 7 kata kadar etkili koruma sağladığı klinik

çalışmalarla kanıtlanan Deotak, doğal terlemeye mâni olmadan

aşırı terlemeyi kontrol eden ve ter kokusunu önleyen özel

formülüyle kullanıcılarına aktif bir koruma sağlıyor. Türkiye'de

satışa sunulan ilk krem deodorant olma özelliğine sahip

Deotak'ın aynı zamanda roll-on çeşitleri de bulunuyor.
---
48 Beauty Güzellik

Maximum quality-optimum price: Malva Kozmetik!

Maksimum kalite-optimum fiyat: Malva Kozmetik!

Becoming a part of the global cosmetics sector in 2011, based

on the principle of "maximum quality-optimum price" and

blending rich and different experiences in the cosmetics

industry, Malva Kozmetik ranks first in Turkey's cosmetics

exports in a short time and emerges as an organization with

100% Turkish capital.

Making a name for itself with successful works,

Malva Kozmetik carries the passion of beauty

to women all over the world, while making a

contribution to the country's economy. Under the

"Topface" brand with its 6,000 m 2 facility; Reaching

an average of 2 million women a year by producing

color cosmetic products such as nail varnish, lipstick,

mascara, eye shadow, blusher, powder, foundation

cream and lipgloss, while analyzing the needs of women and

the industry in the best way, the brand also adopts as the most

important principle to progress with an innovative perspective

with developing technology.

Malva Kozmetik, which wants to further develop its

investments with the increasing domestic market volume

and demands, initiates the necessary research and

development processes in this field as well. The cosmetics

brand, which aims to progress by adding new products

to its product portfolio every day with its R&D studies

carried out with an expert and experienced team, it

also promises extraordinary results with its quality

products designed to reveal beauty with its slogan of

"Every woman is beautiful!"

"Maksimum kalite-optimum fiyat" ilkesi baz alınarak,

kozmetik sektöründeki zengin ve farklı deneyimlerin

harmanlandığı birikimle 2011 yılında dünya kozmetik

sektörüne giriş yapan Malva Kozmetik, kısa bir sürede

Türkiye kozmetik ihracatında ön sıralarda yer alarak, yüzde

yüz Türk sermayeli bir kuruluş olarak karşımıza

çıkıyor.

Başarılı işlerle adından söz ettiren Malva Kozmetik,

dünyanın dört bir yanındaki kadınlara güzellik

tutkusunu taşırken ülke ekonomisine katkı sağlamayı

da es geçmiyor. 6,000 m2'lik tesisiyle "Topface"

markası altında; oje, ruj, maskara, far, allık, pudra,

fondöten ve lipgloss gibi renkli kozmetik ürünlerinin

üretimini gerçekleştirerek yılda ortalama 2 milyon kadına

ulaşan marka, kadınlar ve sektörün ihtiyaçlarını en iyi şekilde

analiz ederken, gelişen teknoloji ile her zaman inovatif bir

bakış açısı ile ilerlemeyi de en önemli ilke olarak benimsiyor.

Artan iç pazar hacmi ve talepler ile yatırımlarını daha da

geliştirmek isteyen Malva Kozmetik bu alanda da gerekli

araştırma ve geliştirme süreçlerini başlatıyor. Uzman ve

deneyimli bir ekip ile sürdürdüğü AR-GE çalışmaları

ile her geçen gün ürün portföyüne yeni ürünler

katarak ilerlemeyi hedef edinen kozmetik markası,

"Her kadın güzeldir!" sloganıyla, güzelliğin

ortaya çıkarılmasına yönelik tasarlanmış kaliteli

ürünleriyle elde edilecek olağanüstü sonuçlar için de

söz veriyor.
---
Güzellik

Beauty

49

Maximum quality

Malva Kozmetik, which makes it a priority to fully realize the

requirements of the quality management system and to ensure

the continuous improvement of its effectiveness in order to

ensure customer satisfaction, also attaches extra importance to

the motivation and professional development of its employees,

to generate quality awareness, to manufacture the products in

hygienic conditions, within the promised time, according to

good production practices, and to have a working awareness in

a way that contributes to the country's economy by prioritizing

the occupational health and safety of its employees.

Maksimum kalite

Müşteri memnuniyetini sağlamak amacıyla kalite yönetim

sisteminin gereklerini tam olarak gerçekleştirmeyi ve

etkinliğinin sürekli iyileştirilmesini sağlamayı ilk öncelik

haline getiren Malva kozmetik; çalışanlarının iş sağlığı ve

güvenliğini ön planda tutarak, motivasyonunu ve mesleki

gelişimini sağlamayı, kalite bilincini oluşturmayı, ürünlerin iyi

üretim uygulamalarına göre, hijyenik koşullarda, taahhüt edilen

sürede üretilmesini ve bununla birlikte çalışma bilincinin ülke

ekonomisine katkı sağlayacak şekilde olmasına da ekstra önem

veriyor.
---
50 Beauty Güzellik

Two new members to the Twisted Curls Hibiscus &

Shea Butter family

Twisted Curls Hibiscus & Shea Butter ailesine iki yeni üye

You will have perfect curls all day long with the "Sulphate

Free" Twisted Curls Hibiscus & Shea Butter range of the new

generation hair care brand URBAN Care. With the range

consisting of 6 different product options that complement

each other, your curls will be full of moisture without getting

heavy; electrification will decrease and it will gain a smooth

look.

URBAN Care, which develops new generation solutions by

offering practical and effective treatments in hair care, offers

solutions to the heavy curls and electrification problems that

women with curly and wavy hair often complain about, with the

Twisted Curls Hibiscus & Shea Butter range.

For those who want volume…

Curly and wavy hair is now more voluminous with the 'Micellar

Shampoo' and 'Pre-Shower SOS Repairing Hair Care Mask' that

joined the Twisted Curls Hibiscus & Shea Butter family.

The newest of the range, Twisted Curls Hibiscus and Shea

Butter, apply the SOS Repairing Hair Care Mask to dry hair

before the shower and leave it on for 5 minutes. It nourishes

your hair and helps repair dry, frizzy, electrified and damaged

curls while locking moisture in the hair to control frizz and

frizz. It helps to get under. It calms and conditions the hair and

offers distinctive curls all day long. Thanks to its rich content of

Hibiscus, Shea Butter, high antioxidants, vitamins A and C, it

reduces the electrification of the curls and provides shine and

smoothness.

If you feel that your curls are getting heavy, Urban Care

Micellar Shampoo is for you!

Sulfate-free Hair Care Shampoo in the range acts as a magnet

to remove dirt, oil and residues on the roots of the hair with its

dense foam structure. provides a view.

While salicylic acid in its specially

developed formula helps to get rid of

dry and exfoliated skin; It moisturizes

the scalp. Hyaluronic Acid with a

plumping effect helps moisturize the

curls without weighing them down,

and reduce breakage and shedding.

Nutritious Hibiscus Flower and

Shea Butter, rich in vitamins A

and C, reduces the electrification

of the curls and provides shine and

smoothness.

Yeni nesil saç bakım markası URBAN Care'ın "Sülfatsız"

Twisted Curls Hibiscus & Shea Butter serisi ile gün

boyu mükemmel buklelere sahip olacaksınız. Birbirini

tamamlayan 6 farklı ürün seçeneğinden oluşan seriyle

bukleleriniz ağırlaşmadan neme doyacak; elektriklenme

azalarak, pürüzsüz bir görünüm kazanacak.

Saç bakımında pratik ve etkili bakımlar sunarak yeni nesil

çözümler geliştiren URBAN Care, kıvırcık ve dalgalı saçlara

sahip kadınların sıklıkla yakındığı ağırlaşmış bukleler ve

elektriklenme sorunlarına, Twisted Curls Hibiscus & Shea

Butter serisiyle çözüm sunuyor.

Hacim isteyenlere…

Twisted Curls Hibiscus & Shea Butter ailesine katılan

'Micellar Şampuan' ve 'Duş Öncesi SOS Onarıcı Saç Bakım

Maskesi" ile kıvırcık ve dalgalı saçlar artık daha hacimli.

Serinin en yenisi Twisted Curls Hibiscus ve Shea Yağı bukle

belirginleştirici duş öncesi SOS Onarıcı Saç Bakım Maskesi'ni

duş öncesi kuru saça bakım maskesini saçınıza uygulayarak

5 dakika beklettiğinizde saçlarınızı besleyerek kuru, kabaran,

elektriklenen ve yıpranmış buklelerin onarılmasını sağlarken

saçta nemi hapsederek elektriklenmeyi ve kabarmayı kontrol

altına almaya yardımcı oluyor. Saçları yatıştırıp, forma

sokarak gün boyu belirgin bukleler sunuyor. Hibiscus, Shea

Yağı, yüksek antioksidanlar, A ve C vitaminleri yönünden

zengin içeriği sayesinde buklelerin elektriklenmesini

azaltarak, parlaklık ve pürüzsüzlük sağlıyor.

Buklelerinizin ağırlaştığını hissediyorsanız Urban Care

Micellar Şampuan tam size göre!

Serideki sülfatsız Saç Bakım Şampuanı, yoğun köpük

yapısıyla saç diplerinde oluşan kiri,

yağı ve kalıntıları gidermek için

adeta bir mıknatıs görevi görürken,

kuru, kabaran, elektriklenen,

dalgalı ve kıvırcık saçlar için özel

geliştirilmiş formülüyle ise

saçları ağırlaştırmadan

derinlemesine

temizleyerek gün boyu

mükemmel buklelere sahip

bir görünüm sağlıyor.
---
52 Beauty Güzellik

"The packaging is more important than the content

of the product"

"Ürün içeriğinden önce ambalajı önemli"

Aziz Özay, CEO Natureliz Kozmetik and Aziz Plastik

Complementing each other with Natureliz Kozmetik and

Aziz Plastik is among the leading companies in our country

with its cosmetic packaging production, filling and all

packaging services.

We interviewed Aziz Özay, CEO of Aziz Plastik and Natureliz

Kozmetik on the packaging and cosmetics industry…

How did Aziz Plastik's adventure of success begin?

By achieving first-class quality in production and completing

all packaging processes including silk screen printing, sleeve

dressing and labeling, we provide the highest level of supply

service by filling the packaging according to the wishes of our

customers with our team.

What are your products and the industries you serve?

As Aziz Plastik, we provide packaging services for the cosmetics,

health and food sectors by producing our newest packaging

molds in our mold workshop with our graphic design team in

our factory.

You are a company that sets out with an understanding of

superior quality. Can you tell us about the strategies you

generally follow?

Natureliz Kozmetik provides services in personal care and

Natureliz Kozmetik ile birbirini tamamlayan Aziz Plastik,

ülkemizde kozmetik ambalaj üretimi, dolumu ve tüm

ambalajlama hizmeti ile ender firmalar arasında yer alıyor.

Aziz Plastik ve Natureliz Kozmetik firmalarının CEO'su

Aziz Özay ile ambalaj ve kozmetik sektörü hakkında merak

edilenleri konuştuk…

Aziz Plastik'in başarı serüveni nasıl başladı?

Üretimde birinci sınıf kaliteyi yakalayıp serigraf baskı, sleeve

giydirme ve etiketleme dahil tüm ambalajlama süreçlerini

tamamlayarak müşterilerimizin isteğine göre ambalajın

dolumunu da yaparak en üst düzeyde tedarik hizmeti

sağlamaktayız.

Ürünleriniz ve hizmet verdiğiniz sektörler nelerdir?

Aziz Plastik olarak kozmetik, sağlık ve gıda sektörüne yönelik,

fabrikamız bünyesindeki grafik tasarım ekibimizle birlikte kalıp

atölyemizde en yeni ambalaj kalıplarımızı üreterek ambalaj

hizmeti vermekteyiz.

Üstün kalite anlayışıyla yola çıkan bir firmasınız. Bize genel

olarak izlediğiniz stratejilerden bahseder misiniz?

Natureliz Kozmetik kişisel bakım ve kozmetik ürünlerinde gerek

kendi markaları olsun gerekse private label olarak müşterinin
---
Güzellik

Beauty

53

kendi markalı ürünlerini kimyagerlerimiz ve AR-GE ekibimizle

geliştirilmiş kaliteli, profesyonel bir şekilde üreterek hizmet

sağlıyor.

Natureliz Kozmetik hakkında bilgi verir misiniz?

Natureliz Kozmetik ile birbirini tamamlayan Aziz Plastik,

ülkemizde kozmetik ambalaj üretimi, dolumu ve tüm

ambalajlama hizmeti ile ender firmalar arasındadır. Her saç

ve cilt tipine uygun ürün ve ambalaj çeşitliliği ile dolumundan

etiketlenip kolilenmesine kadar anahtar teslim hizmet vermesi

kozmetik ürün yaptırmak isteyen müşterilerin daha hızlı ve

uygun sonuç almalarını sağlıyor.

cosmetics products, both as its own brands and as private labels,

by producing the customer's own branded products in a high

quality, professional manner developed by our chemists and

R&D team.

68 yıllık bir Plastik/Ambalaj firmasından bahsediyoruz. Bu

firmayı kozmetikle birleştirmek olumlu ve olumsuz yönden

nasıl etkiledi?

68 yıllık bir plastik ambalaj firmasının kozmetik dolumu ile

birleşmesi yurt içi ve daha çok yurt dışında ürün çeşitliliği

ve tedariki yönünden müşteri memnuniyetini arttırdı. Son

zamanlarda kozmetik ürün yaptırmak isteyen müşteriler

tüketicinin ilk bakışta ambalajı dikkat çektiği, ürün içeriğinden

önce ambalajının önemli olduğunu belirtiyorlar… Bu nedenle

900 adedin üzerinde ambalaj çeşitliliğimiz ile müşterilerimizin

isteklerine cevap vermiş oluyoruz.

Could you inform us about Natureliz Kozmetik?

Complementing each other with Natureliz Kozmetik, Aziz

Plastik is among the rare companies in our country with its

cosmetic packaging production, filling and all packaging

services. The variety of products and packaging suitable for

every hair and skin type, as well as the turnkey service from

filling to labeling and packaging, ensures that customers who

want to have cosmetic products get faster and more appropriate

results.

Ürün gruplarınıza yönelik ihracat ve hedef pazarlarınız

hakkında ne düşünüyorsunuz?

Her sene katılımını sağladığımız yurt içi ve yurt dışı

fuarlarla kozmetik ürün satın almak veya yaptırmak isteyen

müşterilerimizle portföyümüzü genişletiyoruz…

We are talking about a 68-year-old Plastic/Packaging

company. How did combining this company with cosmetics

affect it positively and negatively?

The merger of a 68-year-old plastic packaging company with

cosmetic filling has increased customer satisfaction in terms of

product variety and supply, both at home and abroad. Recently,

customers who want to have cosmetic products have stated

that the packaging attracts the attention of the consumer at

first glance and that the packaging is more important than the

product content. Therefore, we respond to the requests of our

customers with our packaging variety of more than 900 pieces.

What about your export and target markets for your product

groups?

We are expanding our portfolio with our customers who want

to buy or have cosmetic products made with domestic and

international fairs that we attend every year...
---
54 Beauty Güzellik

Perfektüp Packaging acquired 88-year-old Favia

Perfektüp Ambalaj, 88 yıllık Favia'yı satın aldı

Livio Manzini, Chairman of the Board of

Perfektüp Packaging

Perfektüp Packaging, one of the leading companies in the

packaging industry in Türkiye, has taken a very important

step towards becoming a global brand by acquiring Italian

Tubettificio Favia, which has been operating as an aluminum

tube manufacturer for 88 years. Stating that he represents the

third generation of the Manzini family born abroad, Livio

Manzini, Chairman of the Board of Perfektüp Packaging,

said that this acquisition will bring the relations between

Türkiye and Italy even closer.

An important purchase move came from Perfektüp Packaging,

which has been producing aluminum tubes, monoblock aerosol

cans and laminated tubes for the packaging needs of the

pharmaceutical, cosmetics, personal and home care, food and

chemical industries since 1955. Operating with more than 500

employees in its production centers in Türkiye and Bulgaria,

Perfektüp Packaging purchased Tubettificio Favia, one of the

leading aluminum tube manufacturers in Italy. Working for

major national and international pharmaceutical companies

since 1934, Tubettificio Favia stands out as one of the most

admired companies in the aluminum tube field.

The third generation of the Manzini family in Türkiye

Livio Manzini, Chairman of the Board of Perfektüp Packaging

said that Favia's joining their group has a distinct industrial

logic behind it, as well as a very special and emotional meaning

to him. Stating that his grandfather immigrated from Italy and

Türkiye'de ambalaj sektörünün önde gelen firmalarından

olan Perfektüp Ambalaj, alüminyum tüp üreticisi olarak

88 yıldır faaliyet gösteren İtalyan Tubettificio Favia'yı satın

alarak küresel bir marka olma yolunda çok önemli bir adım

attı. Perfektüp Yönetim Kurulu Başkanı Livio Manzini,

kendisinin Manzini ailesinin yurtdışında doğan üçüncü

neslini temsil ettiğini belirterek, bu satın almanın Türkiye ile

İtalya arasındaki ilişkileri daha da yakınlaştıracağını söyledi.

1955 yılından bu yana ilaç, kozmetik, kişisel ve evde bakım,

gıda ve kimya sektörlerinin ambalaj ihtiyaçları için alüminyum

tüp, monoblok aerosol kutu ve lamine tüp üreten Perfektüp

Ambalaj'dan önemli bir satın alma hamlesi geldi. Türkiye ve

Bulgaristan'daki üretim merkezlerinde 500'ü aşkın çalışan

ile faaliyet gösteren Perfektüp Ambalaj, İtalya'nın önde gelen

alüminyum tüp üreticilerinden Tubettificio Favia'yı satın aldı.

1934'ten bu yana büyük ulusal ve uluslararası ilaç şirketleri için

çalışan Tubettificio Favia, alüminyum tüp alanında en beğenilen

şirketlerden biri olarak öne çıkıyor.

Manzini ailesinin Türkiye'deki üçüncü nesli

Perfektüp Yönetim Kurulu Başkanı Livio Manzini, Tubettificio

Favia'nın gruplarına katılmasının arkasında belirgin bir

endüstriyel mantık olmasının yanında kendisi için çok özel

ve duygusal bir anlamı olduğunu da söyledi. Büyükbabasının

1900'lı yılların başında İtalya'dan göç edip Türkiye'ye yerleştiğini

ve kendisinin ailenin yurtdışında doğan üçüncü neslini
---
56 Beauty Güzellik

settled in Türkiye in the early 1900s and that he represents the

third generation of the family born abroad, Manzini said, "With

this initiative, I am very happy to be the person who brought

together the cycle of a journey that had begun. At the same

time, we are also happy and proud that we will contribute to

making the relations between the two countries even closer

and more friendly. Favia's production facility will contribute

to the development of our group not only in Italy, but also in

the European Union. With this acquisition, we will make an

important contribution to becoming a global brand. We have

taken a step forward. We will continue to grow by providing

a more effective service with the expansion of the production

network and product portfolio after the merger."

It will open a new way in recycled products

According to the information given by Manzini, this merger

will also pave the way for a new path especially in recyclable

products. Recording that both companies have common

corporate values, Manzini said, "Perfektüp, like other Bell Group

companies, gives priority to recycled or recyclable materials.

It undertakes to implement eco-sustainability principles with

its production processes, taking on responsibilities to reduce

energy consumption and environmental emissions. Favia also

carries out important studies in the recycling of aluminum

packaging waste. In addition, it is an active participant in the

search for innovative solutions such as aluminum tube with

compostable lid. These two companies will act with a common

perspective and innovation in recycled products."

temsil ettiğini belirten Manzini, şunları söyledi: "Bu girişimle,

başlamış bir yolculuğun döngüsünü tekrardan bir araya getiren

kişi olduğum için çok mutluyum. Aynı zamanda iki ülkenin

arasındaki ilişkilerin daha da yakın ve dostane olmasına katkıda

bulunacağımızdan dolayı ayrıca mutlu ve gururluyuz. Favia'nın

üretim tesisi grubumuzun sadece İtalya'da değil, Avrupa

Birliği'nde de gelişimine katkıda bulunacak. Bu satın alma ile

küresel bir marka olma yolunda önemli bir adım attık. Birleşme

sonrası üretim ağının ve ürün portföyünün genişlemesiyle daha

etkin bir hizmet verip büyümeye devam edeceğiz."

Geri dönüşümlü ürünlerde yeni bir yol açacak

Manzini'nin verdiği bilgiye göre bu birleşme aynı zamanda

özellikle geri dönüştürülebilir ürünlerde yeni bir yolun

da oluşmasını sağlayacak. Her iki şirketin ortak kurumsal

değerleri olduğunu belirten Manzini, "Perfektüp, Bell Şirketler

Topluluğu üyesi diğer şirketler gibi, geri dönüştürülmüş

veya dönüştürülebilir malzemelere öncelik veriyor. Enerji

tüketimini ve çevresel emisyonları azaltacak sorumluluklar

üstlenerek üretim süreçleriyle eko-sürdürülebilirlik ilkelerini

uygulamayı taahhüt ediyor. Favia da alüminyum ambalaj

atıklarının geri kazanımında önemli çalışmalar yapıyor.

Bunun yanında kompostlanabilir kapaklı alüminyum tüp gibi

yenilikçi çözümlerin aranması çalışmalarının aktif katılımcısı.

Bu iki şirket geri dönüşümlü ürünlerde ortak bir bakış açısı ve

yenilikçilikle hareket edecek." dedi.
---
58 Beauty Güzellik

Adil Pelister was

re-elected the

Chairman of IKMIB

again

Adil Pelister, yeniden

İKMİB Başkanı oldu

Adil Pelister, Chairman of the Board of IKMIB and

Chairman of the Board of BETA Kimya A.Ş.

As a result of the election held at the 2021 Annual General

Meeting of the Istanbul Chemicals and Chemical Products

Exporters' Association (IKMIB), Adil Pelister, Chairman of

the Board of IKMIB and Chairman of the Board of BETA

Kimya A.Ş., was re-elected the Chairman of IKMIB with the

majority of votes.

1670 delegates who attended the IKMIB 2021 Ordinary General

Assembly held in Istanbul on 7 April 2022 voted. Adil Pelister,

Chairman of the Board of IKMIB and Chairman of the Board of

BETA Kimya A.Ş. restored trust.

Goal: Permanent first place in exports

Stating that they have prepared strategic projects that will carry

chemistry to the future with the motto of "Vision 2030" for the

new period at IKMIB, Adil Pelister, Chairman of the Board

of IKMIB indicated that they will establish a new chemistry

ecosystem that opens up to the world from Türkiye with

visionary projects. Emphasizing that IKMIB and the Board of

Directors will continue to work with a fair, transparent and

active management approach in the new term, Pelister said

that they are determined to carry the chemical industry to the

permanent first place.

İstanbul Kimyevi Maddeler ve Mamulleri İhracatçıları

Birliği'nin (İKMİB) 2021 yılı Seçimli Olağan Genel

Kurulu'nda yapılan seçim sonucunda İKMİB Yönetim Kurulu

Başkanı ve BETA Kimya A.Ş. Yönetim Kurulu Başkanı Adil

Pelister, oy çoğunluğuyla yeniden İKMİB Başkanı oldu.

İstanbul'da 7 Nisan 2022 tarihinde düzenlenen İKMİB 2021 yılı

Seçimli Olağan Genel Kurulu'na katılan 1670 delege oy kullandı.

Yoğun katılımla gerçekleşen seçimlerde geçerli sayılan toplam

1657 oyun 1002'sini alarak üstünlük sağlayan İKMİB Başkanı ve

BETA Kimya A.Ş. Yönetim Kurulu Başkanı Adil Pelister güven

tazeledi.

Hedef: İhracatta kalıcı birincilik

İKMİB'de yeni dönem için "Vizyon 2030" mottosuyla kimyayı

geleceğe taşıyacak stratejik projeler hazırladıklarını belirten

İKMİB Başkanı Adil Pelister, vizyoner projelerle Türkiye'den

dünyaya açılan yeni bir kimya ekosistemi kuracaklarını dile

getirdi. İKMİB'in yeni dönemde de Yönetim Kurulu ile birlikte

adil, şeffaf ve aktif bir yönetim anlayışıyla çalışmalarına devam

edeceklerini vurgulayan Pelister, kimya sektörünü kalıcı

birinciliğe taşımaya kararlı olduklarını söyledi.

"Kimyada birlik kazandı"

Kimya sektörünün güçlü isimlerinden oluşan yönetim

kuruluyla birlikte Türk kimya sektörünü dünya arenasında en

"Unity won in chemistry"

Recording that they will work to raise the Turkish chemical

industry to the highest level in the world arena, together with
---
60 Beauty Güzellik

the board of directors consisting of strong names in the chemical

industry, Adil Pelister, Chairman of the Board of IKMIB, said,

"We have gained unity in chemistry. I would like to thank all

our members who trusted us and deemed them worthy to

serve for 4 more years. In this new 4-year period, which is the

second term for me, we will serve our industry much stronger

together with our IKMIB Board of Directors, of which I am

the Chairman. Our new goal is to increase the exports of our

sector to over 50 billion dollars in 2030 and to reach the first

place in the sector permanently, and to raise our sector to a

position that exports chemical technology with high valueadded

products and to increase our unit-kilogram export value

to over 1.5 dollars. As the rising star of exports, the chemical

industry, we aim to increase the global market share of the

Turkish chemical industry from 0.5 percent to over 1% with our

Chemistry Technology Center and Turkish Chemistry Agency

projects, which will be the first in Türkiye. In addition, we will

generate a "Turkish Chemical Sector Strategy Document" with

the common mind of all stakeholders of our sector."

"We will work to establish the General Secretariat of IKMIB"

Pelister expressed that they want to bring their sub-sectors that

export more than a certain value to the status of "Exporters

Union" and said, "We think that each of the sub-sectors of our

chemical industry should gain the "Exporters Union" identity

and that IKMIB should gain its own General Secretariat. We

believe that our sub-sectors, especially plastic, rubber, paint,

pharmaceutical, medical device and medical, mineral oil and

mineral fuels, cosmetics and cleaning sectors, will carry our

chemical industry from success to success with a much wider

representation with the status of "Exporters' Association". We

started our initiatives to realize the dream of years. We will

follow up for the successful outcome of our initiatives in this

regard. Hopefully, we will realize this dream in the new term."

üst seviyeye yükseltmek için çalışacaklarını belirten İKMİB

Başkanı Adil Pelister, "Kimyada birlik kazandı. Bizlere güvenen

ve 4 yıl daha hizmet etme görevine layık gören tüm üyelerimize

teşekkür ediyorum. Benim için ikinci dönem olan bu 4 yıllık

yeni süreçte, Başkanı olduğum İKMİB Yönetim Kurulumuzla

birlikte çok daha güçlü bir şekilde sektörümüze hizmet edeceğiz.

Yeni hedefimiz 2030 yılında sektörümüzün ihracatını 50 milyar

doların üzerine çıkarmak ve kalıcı olarak sektörel birinciliğe

ulaşmak. Yüksek katma değerli ürünler ile sektörümüzü

kimya teknolojisi ihraç eden bir konuma yükseltmek ve birim

kilogram ihracat değerimizi 1,5 doların üzerine çıkarmak.

İhracatın yükselen yıldızı kimya sektörü olarak, Türkiye'de bir

ilk olacak Kimya Teknoloji Merkezi ve Türkiye Kimya Ajansı

projelerimizle Türk kimya sektörünün dünyadaki pazar payını

yüzde 0,5'ten %1'in üzerine çıkarmayı hedefliyoruz. Bununla

birlikte sektörümüzün tüm paydaşlarının ortak aklı ile "Türkiye

Kimya Sanayi Strateji Belgesi" oluşturacağız." dedi.

"İKMİB Genel Sekreterliği kurulması için çalışacağız"

Belli bir değerin üzerinde ihracat yapan alt sektörlerini

"İhracatçı birliği" statüsüne kavuşturmak istediklerini ifade

eden Pelister, "Kimya sektörümüzün alt sektörlerinin her

birinin "İhracatçı Birliği" kimliği kazanması ve birleşik olarak

İKMİB'in kendi Genel Sekreterliğine kavuşması gerektiğini

düşünüyoruz. Plastik, kauçuk, boya, ilaç, tıbbi cihaz ve

medikal, madeni yağ ve mineral yakıtlar, kozmetik ve temizlik

sektörlerimiz başta olmak üzere alt sektörlerimizin "İhracatçı

Birliği" statüsü ile kimya sektörümüzü çok daha geniş bir

temsiliyet ile başarıdan başarıya taşıyacaklarına inanıyoruz.

Yılların hayalini gerçekleştirmek için girişimlerimizi başlattık.

Bu konuda başlattığımız girişimlerimizin başarılı sonuçlanması

için takipte olacağız. İnşallah yeni dönemde bu hayali biz

gerçekleştireceğiz" açıklamasını yaptı. Güney Kore'nin mucizevi

bitkileri ve Fransa'nın üstün dermokozmetik deneyimini eşsiz

bir uyum ile bir araya getiren Jowaé, geleneksel ve medikal Kore

süper meyvesi kumkuat içerikli yorgunluk karşıtı enerji veren

nemlendirici serisi ile cildinizi yaz mevsimine hazırlıyor.
---
64 Beauty Güzellik

Moist and shiny hair with

Coconut Milk

Coconut Milk ile

nemli ve parlak

saçlar

Maui Coconut Milk family provides a healthy shine while

deeply moisturizing the hair thanks to its exotic ingredients.

Bringing the breeze of the exotic Maui Island in Hawaii to the

hair, Maui promises intense moisture and shine for dry hair with

the Coconut Milk family, which includes creamy coconut milk,

shiny guava oil and nourishing mango oil. The series, consisting

of shampoo and conditioner, offers daily regenerative care to

hair with its light structure and clean formulation that does not

contain sulfates and silicones.

Nourishing Coconut Milk shampoo and conditioner deeply

moisturizes dry and dehydrated hair with its unique tropical

ingredients carefully collected and hand-processed. Coconut

milk, rich in fiber, vitamins and minerals, which gives the series

its name, provides nourishing care to the hair. Pure guava oil

helps hair regain a healthy shine while improving its texture.

Mango butter, which has high nutritional value, prevents hair

dryness and gives elasticity to the hair.

With Maui Coconut Milk shampoo and conditioner, you will

have healthy hair that regains the lost moisture!

Maui Coconut Milk ailesi, egzotik içerikleri sayesinde

saçları derinlemesine nemlendirirken sağlıklı bir parlaklığa

kavuşturuyor…

Hawaii'deki egzotik Maui Adası'nın esintisini saçlara taşıyan

Maui, kremsi hindistan cevizi sütü, parlak guava yağı ve besleyici

mango yağı içeren Coconut Milk ailesi ile kuru saçlar için

yoğun nem ve parlaklık vadediyor. Şampuan ve saç kreminden

oluşan seri, hafif yapısı ve sülfat ve silikon içermeyen temiz

formülasyonuyla saçlara ihtiyacı olan günlük yenileyici bakımı

sunuyor.

Besleyici Coconut Milk şampuan ve saç kremi, özenle toplanan

ve elle işlenen eşsiz tropikal içerikleriyle kuru ve nemini

kaybetmiş saçları derinlemesine nemlendiriyor. Seriye adını

veren lif, vitamin ve mineral yönünden zengin Hindistan cevizi

sütü saçlara besleyici bakım sağlıyor. Saf guava yağı, saçın

dokusunu iyileştirirken sağlıklı bir parlaklığa kavuşmasına

yardımcı oluyor. Besin değeri yüksek mango yağı, saç

kuruluğunun önüne geçerken saça elastikiyet kazandırıyor.

Maui Coconut Milk şampuan ve saç kremi ile kaybettiği nemi

geri kazanan sağlıklı saçlara sahip olacaksınız!
---
68 Beauty Hair

The year of bold and different hair!

Cesur ve farklı saçların sezonu…

The world has welcomed a new age of harmony with 2022.

While people adapt to the development and change of the

world, they also have an intense desire to highlight their

creativity and individual talents. Focusing on innovation,

inspiration and creativity, the Essential Looks team of

Schwarzkopf Professional analyzed the new spirit of the

world and prepared the first hair collection of 2022. 3 new

trends are waiting for us in Essential Looks's 2022 spring –

summer hair collection. Hair is starting to change with the

new Essential Looks trends called

WANDERLUST, CRAFTED SOULS and TOUGH ICON.

Trend 1 – WANDERLUST

Focusing on the changing balances between life and work in the

modern world

WANDERLUST trend; It was developed on the concept

of relaxation, restoring energy, and getting away from all

negativity. WANDERLUST focuses on embracing nature

and different cultures and getting to know the world better

while escaping from daily realities. In addition to its soft and

comfortable textures, it invites you to a completely different

journey with its earthy palette and holiday feeling.

Trend 2 – CRAFTED SOULS

Art takes creativity and courage. It is a communication

you establish with yourself, your environment and the

world. Essential Looks 's CRAFTED SOULS hair trend invites

you to discover the power of imagination. It builds a unique

bridge to your creativity and helps you express your essence

through art, while giving you the key to self-realization. In this

trend, bold and lively designs are accompanied by exaggerated

silhouettes, resulting in a sensational result.

Dünya 2022 ile yeni bir uyum çağını da karşıladı. İnsanlar,

dünyanın gelişimine ve değişimine adapte olurken

farklılıklarını ve bireysel yeteneklerini öne çıkarmak için de

yoğun bir istek içinde. Yeniliğe, ilham almaya ve değişikliğe

odaklanan Schwarzkopf Professional'ın Essential Looks

ekibi de dünyanın yeni ruhunu analiz ederek 2022'nin

ilk saç koleksiyonunu hazırladı. Essential Looks'un 2022

ilkbahar – yaz saç koleksiyonunda 3 yeni trend bizleri

bekliyor. WANDERLUST, CRAFTED SOULS ve TOUGH

ICON olarak adlandırılan yeni Essential Looks trendleriyle

saçlarda değişim başlıyor.

Trend 1 – WANDERLUST

Modern dünyada yaşam ve iş arasındaki değişen dengelere

odaklanan WANDERLUST trendi; rahatlama, enerjiyi geri

kazanma, tüm olumsuzluklardan uzaklaşma konsepti üzerine

geliştirildi. WANDERLUST, günlük gerçekliklerden kaçarken

doğayı ve farklı kültürleri kucaklamayı, dünyayı daha yakından

tanımayı merkezine alıyor. Yumuşak ve rahat dokuların yanı

sıra toprak paleti ve tatil hissiyle bambaşka bir yolculuğa davet

ediyor.

Trend 2 – CRAFTED SOULS

Sanat, farklılık ve cesaret ister. Kendinizle, çevrenizle ve

dünyayla kurduğunuz bir iletişimdir. Essential Looks'un

CRAFTED SOULS saç trendi, sizi hayal etmenin gücünü

keşfetmeye çağırıyor. Farklılığa benzersiz bir köprü kuruyor

ve özünüzü sanatla ifade etmenize yardım ederken, kendinizi

gerçekleştirmenin de anahtarını veriyor. Bu trendde, cesur ve

canlı tasarımlara, abartılı siluetler eşlik ediyor ve sansasyonel

bir sonuç ortaya çıkıyor.
---
70 Beauty Hair

Trend 3 – TOUGH ICON

Essential Looks The TOUGH ICON trend offers a window

into the continued rise of individuality and extraordinaryness

in fashion. It emphasizes the importance of being strong and

brave, and most importantly, being yourself. Inspired by

groundbreaking and freethinking people, she presents a striking

interpretation of drawing strength from one's own spirit to go

beyond the mundane. TOUGH ICON specially developed color

tones, monochrome style designs and personal creativity come

together.

Trend 3 – TOUGH ICON

Essential Looks'un TOUGH ICON trendi, modada bireyselliğin

ve sıra dışılığın devam eden yükselişine bir pencere sunuyor.

Güçlü ve cesur olmanın, en önemlisi de kendiniz olmanın

önemini vurguluyor. Çığır açan ve özgür düşünen insanlardan

ilham alarak, sıradan olanın ötesine geçmek için kendi

ruhundan güç almanın çarpıcı bir yorumunu sunuyor. TOUGH

ICON'da özel olarak geliştirilen renk tonları, monokrom stil

tasarımlar ve kişisel farklılık bir araya geliyor.
---
72 Beauty Güzellik

Herbal protection against the harmful effects of the sun

Güneşin zararlı etkilerine karşı bitkisel içerikli koruma

To meet the upcoming holiday season, B'iota Laboratories

offers its new sun range consisting of herbal-based products

to the use of those who care for their skin and health. The

Bioxcin Sun Care range, newly developed by the B'iota Plant

Research Center, aims to slow down photoaging as well as to

minimize the harmful effects of the sun on the skin.

The Bioxcin Sun Care range, developed by B'iota Laboratories,

which pioneered the sector with its herbal-based 'expert'

products, offers a comfortable and safe holiday this year to those

who want to be protected from the harmful rays of the sun. The

new range, consisting of high-protection sunscreens, colored

sunscreens, sun spray and tanning sun oil, makes it possible to

protect the skin at the maximum level against ultraviolet rays.

Developed at the Plant Research Center of B'iota Laboratories,

using soothing thermal water and botanical extracts from Bursa

Osmangazi, the Bioxcin Sun Care range differentiates itself from

its counterparts with its powerful and healthy formulas. The

mixture of 'collagen' and 'hyaluronic acid' in the formulas helps

to restore the moisture lost in the skin, thus providing protective

support against photoaging.

Herbal shield against the harmful effects of the sun

One of the active ingredients in the formulas of the products

in the Bioxcin Sun Care range is green tea extract, the effect

of which has been proven by various scientific studies against

harmful sun rays. This herbal extract, which prevents ultraviolet

radiation in the most effective way and protects the skin, also

stands out with its anti-photoaging antioxidant effect. Vitamin

B'iota Laboratuvarları, yaklaşan tatil sezonunu karşılamak

üzere, bitkisel özlü ürünlerden oluşan yeni güneş serisini,

cildine ve sağlığına özen gösterenlerin kullanımına sunuyor.

B'iota Bitki Araştırma Merkezi tarafından yeni geliştirilen

Bioxcin Sun Care serisi, güneşin cilt üzerindeki zararlı

etkilerini minimum düzeye indirmenin yanında, foto

yaşlanmayı yavaşlatmayı da hedefliyor.

Bitkisel özlü 'uzman' ürünleri ile sektörüne öncülük eden

B'iota Laboratuvarları tarafından geliştirilen Bioxcin Sun Care

serisi, güneşin zararlı ışınlarından korunmak isteyenlere, bu

yıl rahat ve güvenli bir tatil yapma imkânı sunuyor. Yüksek

korumalı güneş kremleri, renkli güneş kremleri, güneş spreyi

ve bronzlaştırıcı güneş yağından oluşan yeni seri, ultraviyole

ışınlarına karşı cildin maksimum seviyede korunmasını

mümkün kılıyor.

B'iota Laboratuvarları'nın Bitki Araştırma Merkezi'nde, Bursa

Osmangazi'den elde edilen yatıştırıcı etkili termal su ve botanik

özler kullanılarak geliştirilen Bioxcin Sun Care serisi, güçlü

ve sağlıklı formülleriyle muadilleri arasında fark sağlıyor.

Formüllerde bulunan 'kolajen' ve 'hyaluronik asit' karışımı,

deride kaybedilen nemin geri kazanılmasına yardımcı oluyor,

böylece foto yaşlanmaya karşı koruyucu destek sağlıyor.

Güneşin zararlı etkilerine karşı bitkisel kalkan

Bioxcin Sun Care serisindeki ürünlerin formüllerinde bulunan

aktif bileşenlerden biri, zararlı güneş ışınlarına karşı etkisi

çeşitli bilimsel araştırmalarla kanıtlanmış yeşil çay ekstresi.

Ultraviyole radyasyonunu en efektif şekilde engelleyip cildi
---
Perakende Sponsoru

Araştırma

Çözüm Ortağı

Medya

Sponsorları

T: 0212 367 92 15 E: info@yilinurunu.com.tr www.yilinurunu.com.tr
---
74 Beauty Güzellik

E in the formulas helps to prevent the formation of fine lines

and wrinkles while protecting the skin against free radicals.

Commenting on the new product line, B'iota Scientific

Committee Chairman Prof. Dr. Murat Türkoğlu said, "The

face and body creams of our newly developed Bioxcin Güneş

range provide a very high total protection against both UVA

and UVB. It offers an herbal solution against skin aging with the

contribution of Thistle, Tomato and Green Tea extracts in its

content. SPF15 suntan oil containing carrot oil and cocoa butter

provides moderately successful protection against UV, strongly

moisturizes, and also contains Provitamin-A against skin aging.

Wide range of product

Bioxcin Sun Care range includes two sunscreens with very high

protection (SPF 50+) for 'dry/normal' skin and 'oily' skin, as

well as a sunscreen with very high protection (SPF 50+) that

can be used for all skin types.

Another product in the range is the colored sunscreen,

which draws attention with its high protection (SPF 50+)

feature. Colored sunscreen is also offered in two options, for

'dry/normal' skin and 'oily' skin. Bioxcin Sun Care colored

sunscreens, which give a pleasant glow to the skin with their

tone-regulating colored structure, also provide extra protection

against photo-aging by reducing the formation of sun-induced

wrinkles.

Bioxcin Sun Care range, obtained from herbal extracts and

combining naturalness with expertise, is offered for sale in

pharmacies in April, just before the holiday season.

korumaya alan bu bitkisel öz, foto yaşlanma karşıtı antioksidan

etkisiyle de ön plana çıkıyor. Formüllerde bulunan E vitamini

ise, serbest radikallere karşı cildi korurken, ince çizgi ve kırışık

oluşumunu engellemeye yardımcı oluyor.

Yeni ürün serisi hakkında yorum yapan B'iota Bilim Kurulu

Başkanı Prof. Dr. Murat Türkoğlu, "Yeni geliştirdiğimiz Bioxcin

Güneş serisinin yüz ve vücut kremleri hem UVA hem de UVB'ye

karşı çok yüksek bir toplam koruma sağlıyor. İçeriğindeki

Devedikeni, Domates ve Yeşil Çay ekstrelerinin katkısı ile deri

yaşlanmasına karşı bitkisel bir çözüm öneriyor. Havuç yağı ve

Kakao yağı içeren SPF15 güneş yağı, UV'ye karşı orta düzeyde

başarılı bir koruma sağlar, kuvvetle nemlendirir, ayrıca deri

yaşlanmasına karşı Provitamin-A içermektedir.

Geniş ürün serisi

Bioxcin Sun Care serisi, 'kuru/normal' ciltler ile 'yağlı' ciltler

için çok yüksek korumalı (SPF 50+) iki güneş kreminin yanında,

tüm ciltler için kullanılabilen çok yüksek korumalı (SPF 50+)

bir güneş spreyi yer alıyor. Seride bulunan bir diğer ürün ise,

yine yüksek korumalı (SPF 50+) özelliği ile dikkat çeken renkli

güneş kremi. Renkli güneş kremi de 'kuru/normal' ciltler ile

'yağlı' ciltler için olmak üzere iki seçenek halinde sunuluyor. Ton

düzenleyici renkli yapısıyla cilde hoş bir ışıltı veren Bioxcin Sun

Care renkli güneş kremleri, güneş kaynaklı kırışık oluşumunu

azaltarak foto yaşlanmaya karşı da ekstra koruma sağlıyor.

Bitkisel özlerden elde edilmiş, doğallığı uzmanlıkla buluşturan

Bioxcin Sun Care serisi, tatil sezonunun hemen öncesinde

Nisan ayında eczanelerde satışa sunuluyor.
---
76 Beauty Güzellik

Added value the natural way

Katma değer onun tarzı

In-Cosmetics Global 2022: Omya presented functional

solutions from minerals and plants

At in-Cosmetics Global, Omya showcased a sensorial hub

with a huge range of prototypes that illustrated how natural

ingredients can fulfil multifunctional benefits. The company's

expertise in the treatment of mineral ingredients makes it

possible to create applications for oral care, color cosmetics

and skin care, not only with optimal processing abilities but

also high efficacy. In combination with natural colorants and

ingredients from the distribution portfolio, creations such as

charcoal beads toothpaste, spirulina tooth tabs or an optical

blurring lotion are all feasible.

To show the wealth of options for developing holistic product

innovations, the company's sensorial hub featured different

fields of personal care applications: from oral care to color

cosmetics and waterfree skin care.

Oral care

Functional particles such as Omyadent® 100 and Omyadent®

200, based on calcium carbonate, are natural, brilliant white

and, moreover, have impressive abrasive properties while

strengthening the outer dentin surface of teeth. Different

particle sizes and surface structures allow for the creation of

products such as edible toothpaste for children, desensitising

toothpaste for sensitive teeth, charcoal bead toothpaste for

whitening purposes or tooth tabs that can be used on the move

without water.

In-Cosmetics Global 2022: Omya, mineraller ve

bitkilerden fonksiyonel çözümler sundu

In-Cosmetics Global'de Omya, doğal bileşenlerin çok

işlevli faydaları nasıl yerine getirebileceğini gösteren

çok çeşitli prototiplere sahip duyusal bir alan sergiledi.

Şirketin mineral bileşenlerin tedavisindeki uzmanlığı,

ağız bakımı, renkli kozmetikler ve cilt bakımı için yalnızca

optimal işleme yetenekleriyle değil aynı zamanda

yüksek etkinlikle uygulamalar oluşturmayı mümkün

kılıyor. Dağıtım portföyündeki doğal renklendiriciler

ve bileşenlerle birlikte, kömür boncuklu diş macunu,

spirulina diş tabletleri veya optik bulanıklaştırıcı losyon

gibi kreasyonların tümü mümkün. Şirketin duyusal

merkezi, bütünsel ürün yenilikleri geliştirmeye

yönelik seçeneklerin zenginliğini göstermek için ağız

bakımından renkli kozmetikler ve susuz cilt bakımına

kadar farklı kişisel bakım uygulamalarına yer verdi.

Ağız bakımı

Kalsiyum karbonat bazlı Omyadent ® 100 ve

Omyadent ® 200 gibi fonksiyonel parçacıklar doğal,

parlak beyazdır ve ayrıca dişlerin dış dentin yüzeyini

güçlendirirken etkileyici aşındırıcı özelliklere sahip.

Farklı partikül boyutları ve yüzey yapıları, çocuklar için

yenilebilir diş macunu, hassas dişler için hassasiyet

giderici diş macunu, beyazlatma amaçlı kömür

boncuklu diş macunu veya hareket halindeyken

susuz kullanılabilecek diş tabletleri gibi ürünlerin

oluşturulmasına olanak sağlıyor.

Renkli Kozmetik

Şirketin COSMOS sertifikalı Omyacare sınıfları, parlak

beyaz ve renk geliştirici, modaya uygun CD Reds gibi

dağıtım portföyündeki doğal renklendiricilerle ideal

bir şekilde birleştirilebilir. BB kremden ruj ve dudak

balsamına kadar: tüm uygulamalar eşit dağılmış ve

hoş bir cilt hissi sağlarken nem sağlar ve cildi korur.

Cilt bakımı

Omyaskin ® ve Omyacare ® partikülleri, viskoziteye

ince ayar yapmak için mükemmel tekstüre edicilerdir.

Color cosmetics

The company's COSMOS certified Omyacare grades, brilliant

white and color enhancing, can be ideally combined with

natural colorants from the distribution portfolio, such as the

trendy CD Reds.
---
BEAUTYWORLD ME

31 Ekim - 2 Kasım 2022

Dubai - B.A.E.

COSMOPROF ASIA

16-18 Kasım 2022

Singapur

YA
---
78 Beauty Güzellik

From BB cream to lipstick and lip balm: all applications provide

moisture and protect the skin, while having an even spread and

pleasant skin feel.

Skin care

Omyaskin® and Omyacare® particles are perfect texturizers to

fine-tune viscosity. Different grades are available, making them

ideal mineral ingredients for applications such as a waterless

facial mask, melt and pour soap bars, optical blurring lotion or

even a glow stick containing SPF 30.

Added value beyond ingredients

All ingredients can be delivered as raw materials to be

incorporated into unique project developments, or enhance

standard formulations. Different particle sizes and grades such

as Omyaskin® 100, Omyadent® 100, Omyadent® 200, Omyacare®

S 85 or Omyacare® S 70 make it easy to find a perfect match.

The company, drawing on more than 130 years of expertise,

also acts as a service partner to give best advice on formulation

development.

Carolina Diaz Quijano, Director Technical Services Consumer

Goods, explains: "Current consumer demand is continuously

focusing on natural ingredients that enable better value-added

products. Omya's response is to offer ingredients based on

the modular principle: components can be freely combined,

opening up an unimagined wealth of functional applications

with multiple benefits for manufacturers and consumers alike."

Susuz yüz maskesi, eriyik ve dökülen sabun kalıpları,

optik bulanıklaştırma losyonu ve hatta SPF 30 içeren

bir kızdırma çubuğu gibi uygulamalar için ideal mineral

bileşenler sağlayan farklı dereceler mevcuttur.

Malzemelerin ötesinde katma değer

Tüm bileşenler, benzersiz proje geliştirmelerine

dahil edilecek veya standart formülasyonları

geliştirecek hammaddeler olarak teslim edilebiliyor.

Omyaskin ® 100, Omyadent ® 100, Omyadent ® 200,

Omyacare ® S 85 veya Omyacare ® S 70 gibi farklı

partikül boyutları ve sınıfları, mükemmel bir eşleşme

bulmayı kolaylaştırıyor. 130 yılı aşkın uzmanlığından

yararlanan şirket, formülasyon geliştirme konusunda

en iyi tavsiyeyi vermek için bir hizmet ortağı olarak da

hareket ediyor.

Teknik Hizmetler Tüketim Ürünleri Direktörü Carolina

Diaz Quijano şöyle açıklıyor, "Mevcut tüketici talebi,

sürekli olarak daha iyi katma değerli ürünler sağlayan

doğal içeriklere odaklanıyor. Omya'nın yanıtı, modüler

ilkeye dayalı bileşenler sunmak: bileşenler serbestçe

birleştirilebiliyor, böylece hem üreticiler hem de

tüketiciler için çok sayıda fayda sağlayan, hayal

edilemeyen bir işlevsel uygulama zenginliği ortaya

çıkıyor."
---
Meet the Beauty

where the continents meet!

Kıtaların buluştuğu yerde

güzellik ile buluşalım!

15-17 June / Haziran 2022

YESILKOY / Istanbul

HALL 9 - 10 - 11

Follow us / Bizi takip edin

/beautyeurasia

/beauty_eurasia

/beautyeurasia

/beautyeurasia.com/Linkedin

Organiser / Organizatör
---
ake The Storm

Top Quality

Men's Fragrances

Women's Fragrances
---
Hight Quality