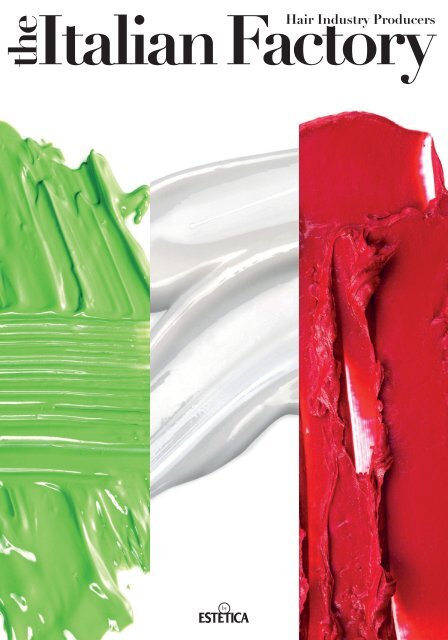 You also want an ePaper? Increase the reach of your titles
YUMPU automatically turns print PDFs into web optimized ePapers that Google loves.
the

Italian Factory

Hair Industry Producers
---
DISCOVER

ESTETICAEXPORT.COM

A new digital way to enhance

international business is

now available!

An editorial and digital

service supporting hair & beauty

product manufacturers entering

new international markets.

THE MOST IMPORTANT BEAUTY

TRADE SHOW IN THE WORLD,

DEDICATED TO ALL SECTORS

OF THE BEAUTY INDUSTRY

COSMOPROF.COM

BOLOGNA, ITALY

FAIR DISTRICT

28 APRIL – 1 MAY 2022

29 APRIL – 2 MAY 2022

ORGANIZED BY

BolognaFiere Cosmoprof S.p.a.

Milan, Italy

P +39 02 796 420

F +39 02 795 036

info@cosmoprof.it

COMPANY OF IN PARTNERSHIP WITH WITH THE SUPPORT OF

A NEW WORLD FOR BEAUTY BOLOGNA, HONG KONG, LAS VEGAS, MUMBAI, BANGKOK

BEST IN EXPORT

AN EXCLUSIVE

SELECTION

OF THE BEST

HAIR PRODUCTS

FOR LEADING

DISTRIBUTORS

esteticaexport.com

BEST IN EXPORT

AN EXCLUSIVE

SELECTION

OF THE BEST

HAIR PRODUCTS

FOR LEADING

DISTRIBUTORS

esteticaexport.com

JOIN US TODAY!

www.esteticaexport.com
---
There are encouraging signs on the horizon for the Italian Cosmetic sector: at more than 13

billion euro, the value of production surpasses the pre-pandemic levels (+8.3 compared to 2019).

Pier Giorgio Scrimaglio

Estetica Export

Project Leader

If we analyse the industrial indicators, overwhelmingly optimistic

investment intentions emerge that apparently have not been

penalised by strong tensions on prices and raw materials.

(Data courtesy of the Centro Studi di Cosmetica Italia Milan, 20 September 2022).

The global turnover of the Italian cosmetic sector at the end of 2022

is expected to exceed 13 billion euro, higher not only compared to

2021 (+10.7%), but also when compared with the pre-pandemic

figures (+8.3% over 2019). Exportations in 2022 are expected to

amount to approximately 5.6 billion euro with an increase of more

than 15% over the previous year.

Even Italian market forecasts are indicating a positive outlook with a

value over 11.4 billion euro (+7.6% higher than 2021): the consumption of cosmetics in Italy in

2022 will therefore be greater than those recorded in 2019.

Excellent performance is also expected for professional channels (hairdressing and beauty) in

spite of the significant impact of restrictions imposed by the health care emergency. Indeed, they

should show double-digit improvement, respectively +14.3% and +11.4. Finally, prospects are

also positive for contract manufacturing, which should close 2022 at +9.4% with a strong

comeback of the foreign demand.

The Italian Factory reflects the drive of the contract manufacturing industry to grow, fully aware

of the leading role played by Italian Companies dedicated to PRIVATE LABELS in the world

tricology market. The objective is to promote and present the high production standards and

creativity that the ITALIAN PRIVATE LABEL offers sector companies, dealers, distributors, salon

chains interested in customised and personalised tricologial product lines.

The work of the Aziende Italiane Contoterziste is not limited to formulation, but is also actively

researching and developing products. Meetings are held with the Client's marketing division to

propose updates on new trends. Strategic elements are enhanced in detail to support the Client

in the presentation of the Products and the formulation of proposals/responses to launch on the

market and for consumers. To cite a famous aphorism of Peter Schulz, «Three people were

working at a construction site. They all had the same job, but when someone asked them what it

was, they gave three different answers. "I'm a stonecutter," answered the first. "I'm making a

living," answered the second. "I am helping to build a cathedral," said the third».

Estetica's editorial initiative is intended to highlight Italian companies and give the utmost

coverage to a section of the economy that represents 'the Cathedral' of Italian Cosmetics in the

world.

PUBLISHER AND MANAGING DIRECTOR: Roberto Pissimiglia

EXPORT BUSINESS DEVELOPMENT MANAGER:

Pier Giorgio Scrimaglio - pg.scrimaglio@estetica.it

CIRCULATION MANAGER: Elena Flaugnatti - e.flaugnatti@estetica.it

EDITORIAL STAFF: Gary Kelly, Paolo Maggi, Glorianna Vaschetto

DIGITAL: Alessandro Zanetti

i

Advertising Head Office: Via Cavour, 50, 10123 Torino (Italy)

Tel.: +39 011 83921111 - Fax: +39 011 812 56 61

ONLINE

business@esteticaexport.com

pec@pec.estetica.it

www.esteticaexport.com

Version October 2022
---
Agf88 HOLDING

BIOCOSM'ETHICS

COMPANY NAME

Biocosm'Ethics S.r.l.

COMPANY ADDRESS

Via A. De Gasperi, 16

36050 Cartigliano (VI) Italy

PHONE/MAIL

+39 0424 827347

info@biocosmethics.it

WEBSITE

www.biocosmethics.it

CHIEF OF PRIVATE LABEL

Francesca Damato

Contact: ricercasviluppo@

biocosmethics.it

COMPANY PRESENTATION

Biocosm'Ethics was born from a thirty year

experience of Dr. Francesco Damato, a

researcher and scholar of the various

problems of skin and hair. Back in the 70s, he

was already a pioneer in the use of naturally

derived ingredients such as essential oils,

vitamins, minerals, antioxidants. Persuaded

that the path taken was right, over the years

he has brought passion in creating and

testing products of proven efficacy, to

improve the quality of people's life.This

professional knowledge has now been

transferred firstly to his daughter, Dr.

Francesca, who has been at his side for

several years and also to all his collaborators

who share his passion. "Experiencing Nature,

by understanding its secrets, by mixing its

active ingredients to create pure beauty and

wellness in full respect of the environment,

this is Biocosm' Ethics" philosophy.

CERTIFICATES

LEAN TRANSFORMATION

SUSTAINABILITY

Biocosm'Ethics has always been in constant

harmony with nature by mixing natural

formulae with innovative methods, in full

respect of the company philosophy.

PRODUCTIVE CAPACITY

Biocosm'Ethics provides an integrated

service to manage all or part of the whole

product cycle:

Research & Development

(ingredients, formulation);

Production & Quality Control

(stability testing, packaging).

Administrative Management

(purchasing, stock management).

Distribution of Products

(warehouses, retail stores)

Daily production rate:

23,000 pieces

The high quality of raw materials, carefully

selected, the rigorous controls of quality and

production standards, the numerous tests of

efficacy and safety of use, as well as the

dermatological tests, guarantee excellence

and reliability of our products, made entirely

in Italy.

Each formula is thought and "tailor-made"

according to the needs of our customers.

A cosmetic product is always the result of

many ideas, but a high quality cosmetic

should always create unique and exiting

emotions, to be able to dream and to leave

a mark in a modern evolving market.

SPECIAL FEATURES

Professional Skin Care

Professional Hair Care - medium and low volumes.

Pet Care
---
G&P

Cosmetics

COMPANY PRESENTATION

G&P is a company for people, whose aim is

to improve some aspects of people's lives

and the way they feel about themselves. G&P

comes from a culture dedicated to achieving

balance and harmony in every aspect of life. It

promotes health and beauty, well-being, selfesteem

and confidence at all levels, through

honest and correct business practices. This

company can offer the beauty industry and its

customers the best, thanks to the fine quality

of its products, the high professional levels

of its services and the solid experience of its

collaborators, trainers and mentors.

CERTIFICATES

ISO 9001-ISO 22716-ISO 45001-ISO 14001

SUSTAINABILITY

G&P Cosmetics creates products that combine

technology and performance whilst enhancing

beauty and respecting the environment that

surrounds us by observing the ethical code that

it has set itself. The company makes use of

renewable energy, local ingredients, optimizes

itself for the elimination of waste and purifies

waste water on site. The river Tiber, which come

and flow in the clean riverbed, give us the vital

water for our products whilst guaranteeing the

well-being of our environment. Proximity is a

value: we are All Made in Tuscany!

PRODUCTIVE CAPACITY

Daily production rate:

280,000 pieces

The use of a customized production cycle

ensures only the use of the semi-finished

products needed for the satisfaction of the

customer. This allows us to always work fresh

COMPANY NAME

G&P Cosmetics S.r.l.

COMPANY ADDRESS

Via A. De Gasperi, 8

52037 Sansepolcro (AR) Italy

PHONE/MAIL

+39 0575 720682

info@gpcosmetics.it

WEBSITE

www.gpcosmetics.it

CHIEF OF PRIVATE LABEL

Simona Piccinelli

Contact: resp.gestioneoperativa@

gepcosmetics.com

product and avoid any risk of contamination.

Our molar stoichiometry formulation system

allows a perfect match between the dyes,

thereby avoiding problems that the free

molecules may develop. The internal R&D

section is composed of a team of young

graduates working on the development of

products capable of meeting the needs of the

market successfully, inspired by a philosophy

of keeping an eye on the result and respect

for renewable resources. Every week tests

are performed on women and men from all

over the world, with ethnic characteristics

very different from one another, for total

amount of 2000 tests per year.

SPECIAL FEATURES

Professional Hair Coloration:

Permanent Oxidative Color with and Without

Ammonia, Demi-permanent oxidative color,

Direct color treatments.
---
Agf88 HOLDING

PETTENON

COSMETICS

COMPANY PRESENTATION

For over 70 years, Pettenon Cosmetics S.p.A.

S.B. has been supporting high-quality Italian

Professional Hair Care in Italy and worldwide.

Pettenon Cosmetics S.p.A. S.B. performed

127 Million € turnover in 2021. It has a sales

network that spans 99 countries and

substantial experience in all of the main global

markets. It provides high-quality professional

products that can be customized to suit the

needs of specific markets and various types

and conditions of hair.

COMPANY NAME

Pettenon Cosmetics S.p.A. S.B.

COMPANY ADDRESS

Via del Palù, 7/d

35018 San Martino di Lupari (PD) Italy

PHONE/MAIL

+39 049 9988800 info@pettenon.it

WEBSITE

www.pettenon.it

CHIEF OF PRIVATE LABEL

Alessandro Miatello

Contact: alessandro.miatello@pettenon.it

CERTIFICATES

ISO 9001

SUSTAINABILITY

In June 2021 Pettenon Cosmetics become

a Benefit Company, following a sustainable

perspective, eco and human-friendly, in line

with ESG criteria.

5 benefit Goals are: increase formulas to

reduce consumption and waste of resources,

maximize the use of sustainable energy

and packaging, multi-culturality and gender

equality, employee and partner education,

philanthropic initiatives.

PRODUCTIVE CAPACITY

Its constantly expanding and evolving

production site in San Martino di Lupari (near

Padua, Italy) specializes in targeted hair care

and beauty treatments.

Daily production rate:

170,000 pieces

It covers the entire production process:

blowing and silk-printing packaging,

manufacturing and packing products, and

efficient, automated warehousing and

logistics. In addition, quality and innovation

are guaranteed by four in-house laboratories:

Research & Development, Microbiology and

two for Quality Control.

SPECIAL FEATURES

Professional Hair Care: medium-high volumes:

Shampoo, Treatments, Liquid styling, Peroxide.

Packaging: we produce packaging in our

campus for internal demand. We don't sell

packaging outside.
---
www.agf88holding.it
---
ALFAPARF

GROUP

COMPANY NAME

ALFAPARF GROUP S.P.A.

COMPANY ADDRESS

Legal address:

Via Cesare Cantù 1, 20123 Milano Italy

Offices & Plant:

via Ciserano, 24046 Osio Sotto (BG) Italy

PHONE NUMBER/MAIL

+39 035 419 77 11

WEBSITE

www.alfaparfmilano.com

GENERAL MANAGER GLOBAL PRIVATE LABEL

Paolo Signori

contact: paolo.signori@alfaparfgroup.it

COMPANY PRESENTATION

The Alfaparf Group is the world's leading

Italian beauty company in the professional

channel.Our Company was established in

1980, taking the first steps in the north of

Italy, then in the 90s, we broadened our

horizons beyond national borders, becoming

the first Italian cosmetics company in the

world in the professional channel. Since our

early beginnings, we have taken steps to

create an independent and integrated group,

attentive to innovation and market trends:

our numerous brands and the number of

international companies and leaders in the

beauty market who rely on our expertise to

develop projects and products for the hair

and body are evidence of this. Our business

divisions constantly interact with each other,

circulating skills and transforming them

into the best responses to the evolution in

the industry; by doing so, we continue to

improve the quality of the service offered

by professional operators, leaving a better

world for future generations.

Highlights

Over 40 years of experience in

professional cosmetics

5 manufacturing plants (Italy, Brazil,

Mexico, Venezuela and Argentina)

25 branches

Over 100 countries around the world

More than 2,800 collaborators

A portfolio of 15 brands

Over 100 million consumers
---
OUR HISTORY

We launched in 1980 thanks to the idea of

Roberto Franchina, who, along with around

ten people, began to design products in

northern Italy for the hairdressing channel.

In the 90s we began the adventure abroad.

The first exports were to Spain and Latin

America, followed by the commercial

branches and first factories opened in Brazil,

Mexico, Argentina and Venezuela.

At the end of the 90s, Alfaparf Group

took the qualitative leap towards being

a global benchmark company in the

professional cosmetics market. In fact, in

2000, we completed the development of

the Osio Sotto headquarters, a total area

of 25 thousand square meters, where

manufacturing and storage still take place

today, as well as office space.

In the early 2000s, we expanded the two

flagship factories (Mexico and Brazil) to

reach their current size of about 30 thousand

square meters. The Group's international

vocation has been confirmed and grown

over the years with the opening of various

branches in Latin America, the USA, and

Australia.

Alongside the activities related to the

Group's brands, the Private Label business

has also grown substantially. The production

on behalf of third parties, especially in

the colour area, has become a flagship

thanks to Alfaparf Group's know-how and

development of commercial relationships

with increasingly high-quality and

outstanding clients.

Over recent years, Alfaparf Group has been

determined to move towards globalization,

both in terms of new geographical locations

and new brands and/or distribution

channels.

The globalization phenomenon has

influenced the way we work. Today, all the

Group's branches work in an interconnected

way, ensuring consistent standards which

are recognized internationally.

PRIVATE LABEL

For decades, the Alfaparf Group has made its

formulation know-how and the international

presence of its manufacturing sites available

to win over customers who are looking for

a partner capable of developing innovative

products to support their brands on the

market.

Specialist technical competence, a strong

relationship with the customer and a strong

predisposition to build lasting partnerships

are the characteristics that distinguish the

Private Label division of Alfaparf Group.

The consolidated technical and regulatory

competence allows custom development

and product validation to be carried out

in Italy, Brazil and Mexico, the three main

manufacturing sites of the Group.
---
ALFAPARF GROUP

CERTIFICATION

ITALY (BEAUTY & BUSINESS S.p.A.)

ISO 9001:2015

GMP ISO 22716:2007

ISO 13485:2016 MEDICAL DEVICE

MEXICO (DOBOS S.A.de C.V.)

ISO 9001:2015

ISO 22716:2007

GMP - COFEPRIS

INDUSTRIA LIMPIA (clean industry)

environmental certification

BRAZIL (DELLY KOSMETIC LTDA)

ISO 9001:2015

GMP - ANVISA

BRC AUDIT

SUSTAINIBILITY

In Fall 2018, Alfaparf Group began its path

towards sustainability, guided by the belief

that the ultimate goal in business activity

is not limited just to maximizing profit: it

must include the creation of shared longterm

value, for the benefit of all corporate

stakeholders and in the interest of future

generations.

We want to conduct our activities in

a transparent and responsible way,

communicating our strategy, our objectives

and our results to all stakeholders and

integrating their expectations into our

decision-making processes. We undertake

to manage our resources efficiently and

strategically, to generate value for the

company and also to contribute to the

socio-economic development of the territory

in which we operate, the growth of our

people and of all the individuals that make

up our value chain, the protection of the

environment, and the promotion of respect

for human rights.

The efforts made and the results achieved

have been recognized: in 2021 and 2022, we

were awarded as Sustainability Leader in the

ranking prepared by Statista for Il Sole 24

Ore. This research was based on the analysis

of sustainability reports, by evaluating the

achievement of a series of KPIs in three

macro-areas: environmental, social, and

economic.

HERE ARE A FEW EXAMPLES OF THE

COMMITMENT THAT HAS LED US TO BE A

LEADER IN SUSTAINABILITY:

CLEAN ENERGY: 2 out of 5 production

plants use exclusively 100% renewable

electricity, 1 plant uses more than 80%

renewable electricity.

CO2 OFFSET: Natural gas CO2 emissions of

the Italian production plant are offset.

SUSTAINABLE INGREDIENTS: 40% of the

ingredients used in our formulations are of

natural origin and 18% are certified;
---
SUSTAINABLE PACKAGING: We use

recycled materials (aluminium, plastic and

paper) for Private label tailor-made

projects.

EQUAL OPPORTUNITIES: Almost all

employees are hired on permanent

contracts and women represent more than

half of the workforce;

SUSTAINABLE SUPPLY CHAIN: 100% of

new suppliers are selected on the basis of

ethical, social and environmental criteria

and almost 60% of 2021 expenditure is on

local suppliers;

ETHICS: The company has adopted a new

Code of Ethics, committing to uphold and

promote respect for human rights, nondiscrimination,

health and safety in the

workplace, zero tolerance for child labour,

the right to fair and supportive working

conditions, environmental protection and

the achievement of the Sustainable

Development Goals (SDGs) promoted by

the United Nations.

DIVERSITY&INCLUSION: "Beauty in all its

forms" project was created by Alfaparf

Group to offer young people with Down's

syndrome the opportunity to undertake a

Special features

PROVEN SUCCESS IN PROFESSIONAL

COSMETICS

CENTRAL R&D LAB: ITALY (Osio Sotto)

WITH 3 FORMULATION UNITS (HAIR

COLOR, HAIR CARE, SKIN CARE)

1 INNOVATION UNIT

REGIONAL R&D LABS IN MEXICO

(Toluca) AND BRAZIL (Rio de Janeiro.)

REGULATORY, SAFETY AND

COMPLIANCE SUPPORT

INTELLECTUAL PROPERTY UNIT

GLOBAL MANUFACTURING

CAPATIBILITIES

GLOBAL SOURCING FOR COMPONENTRY

& RAW MATERIALS

GLOBAL SUPPLY CHAIN MANAGEMENT,

LOCAL SERVICE LEVEL WITH HIGH

RESPONSIVENESS

HIGHEST QUALITY CONTROL

STANDARDS

training course to become hairstylist

assistants.

SUPPORT TO VULNERABLE PEOPLE:

Through the Alfaparf Group Professional

brand, we are supporting Dynamo

Campo, a non-profit organization, which

arranges holiday camps with recreational

therapy for children suffering from serious

or chronic diseases and their families.

HUMAN RIGHTS PROTECTION: We are at

the forefront fighting violence against

women by supporting D.i.Re., an Italian

organization of non-institutional antiviolence

centers and shelters.

PRODUCTION CAPACITY

ITALY (BEAUTY AND BUSSINESS S.p.A.)

SITE AREA: 25.000 SQM

COVERED AREA: 11.000 SQM

EMPLOYES: 451

MEXICO (DOBOS S.A.de C.V.)

SITE AREA: 15.000 SQM

COVERED AREA: 11.000 SQM

EMPLOYES: 523

BRAZIL (DELLY KOSMETIC LTDA)

SITE AREA: 35.000 SQM

COVERED AREA: 15.000 SQM

EMPLOYES: 233

Total Annual Capacity:

over 300.000.000 units

Production extent

HAIR DYES:

permanent - demi permanent - direct

colors. cream, oil, gel textures

HAIR COLOR KITS

TECHNICAL PRODUCTS:

developers - bleaching powders -

straightening and perm products

HAIR CARE TREATMENTS:

shampoo - conditioners - masks -

leave in - vials

SKIN CARE:

face and body products
---
BAREX ITALIANA

Carlo Baiesi

COMPANY

PRESENTATION

Established in 1967 by the Baiesi Family,

Barex Italiana is a brand created by experts

who fully understand the needs of consumers

and professionals in the hair industry, as well

as the requirements of exclusive retailers and

distributors around the world.

Performance, quality and creativity have

always been the guiding light of our research.

Thanks to our long-time know-how in the

research, development and production of

professional hair products, we can create

COMPANY NAME

BAREX ITALIANA Srl

COMPANY ADDRESS

Via Grazia 11,

40069 - Zola Predosa (BO) Italy

PHONE/MAIL

+39 051 751554

WEBSITE

www.barex.it

CEO

Carlo Baiesi

MARKETING MANAGER

Giulia Sandrolini

Contact: marketing@barex.it

EXPORT

Lorenzo Prosdocimi

Contact: exportaccount@barex.it

products for those clients who wish to

develop their own product ranges.

Oriented towards offering a full service, we're

used to work with all types of customers -

local or global, large or small - with product

quality as our number one priority.

CERTIFICATES:

ISO 9001:2015

SUSTAINABILITY

There are no shortcuts to true sustainability.

For this reason, Barex Italiana is making

increasing and progressive efforts to create a

better future through concrete and shareable

steps. Through constant energy efficiency

(which also includes the use of energy from

100% renewable sources), the recycling of

plastic and cardboard packaging and the

purification of waste water, 100% Vegan

formulas, Barex Italiana is committed to the

creation of hair care products for sustainable

beauty. It is attentive to the overall impact on

the planet, while its packaging is completely

recyclable and made of PCR plastic from

50% to 100%.
---
PRODUCTIVE CAPACITY

Shampoo

Kg 5,000 per day

Conditioner

Kg 1,500 per day

Other products (Oils, Gel,...)

Kg 500 per day

SPECIAL FEATURES

Treatments and styling products are

formulated, developed and produced in our

Research & Development laboratory.

Tailor-made formulas can be developed for

shampoos, mask, treatments and styling.

Our lab can propose Vegan formulas and use

certified organic ingredients and extracts.

SLES, SLS, Parabens and Gluten free

products can be found in our range of

products.

Several packaging options can be offered to

the private label customer and customized

with color printed or label graphics.
---
BAREX ITALIANA

BAREX Brands

Barex Italiana is also a manufacturer of

successful brands distributed in the hair

professional market in many countries

around the world. 6 complete and

comprehensive ranges of haircare products,

each designed and produced in Italy, feature

the finest natural ingredients available,

exquisite packaging, stunning marketing,

and merchandising material.

JOC: 100% vegan professional treatment

program for scalp care, hair care, colouring,

permanent products, as well as styling.

OLIOSETA ORO DEL MAROCCO: a complete

range of treatments, styling and coloring

products that care for the hair day after day

and support the hairdresser by providing

sophisticated in-salon services.

OLIOSETA ORO DI LUCE: ideal for extremely

smooth, sleek and shiny hair, the line

includes treatments and styling products

that nourish, regenerate and illuminate hair

SUPERPLEX: bonding, bleaching, care and

toning products to achieve the desired

blonde without compromising the hair fiber.

PERMESSE: the art of creating beauty using

coloring cream with an evolved chromatic

technology and advanced treatment system.

100% Vegan and Gluten Free.

CONTEMPORA: a haircare line which uses

the nutraceutical properties of food to ensure

instant and surprising results.

Why choose

Barex Italiana products?

A COMPLETE RANGE OF EXQUISITELY

PACKAGED, WORLD-CLASS HAIRCARE

PRODUCTS

FORMULATIONS ARE "MADE IN ITALY" AND

DEVELOPED IN OUR OWN LABORATORIES

55 YEARS OF EXPERIENCE THROUGH

EXTENSIVE RESEARCH AND DEVELOPMENT

PROFESSIONAL SIZES FOR SALON USE

TOGETHER WITH A VARIETY OF SIZES

TAILORED TO THE NEEDS OF EVERYONE

FULL SUPPORT AND ASSISTANCE OF A

HIGHLY-SUCCESSFUL COMPANY, WITH AN

UNQUESTIONABLE REPUTATION FOR LOYALTY

AND INTEGRITY

Production extent

HAIR TREATMENT:

Conditioner, mask, leave in

STYLING/FINISH:

Gel, oil, spray, fluid, wax
---
FARMEN

International Cosmetics Distribution

PRIVATE LABEL ACTIVITIES

ODM and OEM services

All this know how experience and

commitment become a great opportunity for

the brands who choose Farmen has theirs

Supplier. Most of the clientele require ODM

services taking advantage of the outstanding

quality and variety of Farmen formulations

and turnkey service. Also OEM can be

COMPANY NAME

FARMEN I.C.D. S.P.A.

COMPANY ADDRESS

Via Leinì 150, Settimo Torinese (TO) Italy

PHONE NUMBER/MAIL

+39 011 802 345 11

WEBSITE

www.farmenspa.com

CEO

Alberto Manzetti

contact: info@farmenspa.com

MARKETING MANAGER

Alberto Manzetti

contact: info@farmenspa.com

EXPORT MANAGER

Gianni Manzetti, Guido Bassignana

contact: info@farmenspa.com

provided to Brands who rely on their own

formulations and image.

The long experience in this field allows

Farmen to offer a very complete range

of product, all with the same superlative

quality. Hair colour of every type, including

decolourant bleaches and direct colour

balm; hair treatment from shampoos to

conditioner, to hair lotions and masques.

A wide choice of styling products, like gels,

matte, wax, no gas spray and even the in

house production of aerosol propellers sprays

that only a handful of company can provide.

The huge offering is completed by a series of

formulas for skincare.

GROWING TOGETHER:

Tailor-made services for every need

Farmen's Motto is Growing Together. This

summaries the attitude of the company who

wants to embrace a common future with the

brands who choose their bespoke services

for the creation of new ranges. Relationships

that are made to last for many years and

create a profound link among the partners.

Farmen has created a division entirely

dedicated to bespoke projects, from

Customer Care to Marketing, to offer clients

innovative products, designed specifically

for their reference markets.

The formulas on offer

A huge range of shades to welcome

customers to the world of colour.

Personalise every colour chart with oxidation

dyes, choose the locks of hair to best reflect

a style and complete a range by choosing

among more than 160 shades.

Bleaching: a wide range of hair bleaches

Farmen supplies customised formulas with

the possibility of enhancing them by adding

extracts and active ingredients depending on

customers' specific needs.
---
Certification and Recognition

SUSTAINABILITY:

BOTTLES ARE MADE FROM

100% RECYCLED PET.

THANKS TO POST-CONSUMER

RECYCLING, FROM EVERY 2 BOTTLES

MADE OF VIRGIN PET, ONE 100%

RECYCLED PET BOTTLE IS OBTAINED.

A SECOND LIFE FOR PLASTIC!

PACKAGING IS MADE FROM

FSC-CERTIFIED CARDBOARD,

GUARANTEEING THAT THE PRODUCT

IS SOURCED FROM RESPONSIBLY

MANAGED FORESTS AND

PRODUCTION PROCESSES.

THE PRODUCTS HAVE NO ADDED

COLOURANTS.

PRIMARILY FEATURING NATURAL

AND BIODEGRADABLE INGREDIENTS.

PRODUCTION CAPACITY:

THE ENTIRE PRODUCTION CYCLE,

WITH A CAPACITY OF WAROUND

100,000 ITEMS PER DAY

The bleaching powder ranges include:

- Scented or neutral bleaches

- Coloured bleaches

- Ammonia-free bleach and low-ammonia

content Bleaching powders enriched with

natural extracts All types of bleach are

powder-free!

All ready to use as a custom product in 20

days with certified manufacturing process.

COMPANY INTRODUCTION

The Origins

Farmen International Cosmetics Distribution

was founded in 1964, in a small three-room

laboratory in Turin, Italy. A genuine firm, it

is the fruit of the labours of two generations

and offers effective, reliable and cuttingedge

products to beauty treatment and

hairstyle professionals. It is a firm which is

recognised and held in esteemin more than
---
FARMEN

International Cosmetics Distribution

Production extent

HAIR DYES:

A complete range of oxidation dyes

and direct colours with over 160

shades; Bleaches ammonia free

colours and bleaches

SHAMPOO:

A wide selection of shampoos

for every kind of hair and scalp

HAIR TREATMENT:

hair treatment from conditioner, to

hair lotions to hair masques

STYLING/FINISH:

A wide choice of styling products,

like gels, matte, wax, no gas spray;

in house production of aerosol

propellers sprays

SKIN CARE:

a complete series of formulas

for skincare.

80 countries across the five continents. Since

its first product, Farmesil Silicon Spray - the

brainchild of founders Mariarosa Ceccon

and Piero Manzetti - Farmen has stood out

for its innovative and modern business

approach. In the '80s, the second generation

came along with the brothers Alberto

and Gianni Manzetti, now managing the

company together with Guido Bassignana.

They have contributed to the international

success of brands such as Vitality's, Neà-Spa

and Fascinelle - well known for their quality,

sustainability and outstanding performance.

The Present

Farmen is a traditional Italian firm strongly

linked to the local environment but at the

same time able to be truly International.

Seventy percent of their staff live in

Settimo Torinese, a town on the outskirts

of Turin, where the company's production

plant has been established since the
---
eginning. Ninety percent of first level

suppliers can be considered local. Farmen

is also committed in supporting the local

community, sponsoring sports activities,

NPOs and other organizations. Despite

their roots being deeply embedded in

their local territory, Farmen has never

overlooked the importance of expansion into

foreign markets, either by exporting their

own brands or supplying products for its

corporate clients.

Farmen holds the role of the staff in the

organisation in high regard; they are

considered a fundamental asset that

deserves the best working conditions and

support. The firm guarantees a healthy

and well protected working environment,

transparent recruitment policies, equal

opportunities and equitable remuneration,

special terms for maternity leave and

freedom to seek trade union representation.

PRODUCTION CAPACITY:

The entire production cycle,

with a capacity of around

100,000 items per day

SPECIAL FEATURES:

Quality and Reliability

One of Farmen's strongest points is its ability

to manage its entire production chain from

within the company: from the initial concept

to the selection of raw materials and active

ingredients right up to production, delivery

and education. Farmen guarantees the

quality and reliability of its products through

a meticulous procedure that controls of

every step of the process. They apply tests

so stringent that no more than around

100 formulas are approved every year -

out of the approximately 1000 formulas

evaluated. This level of control over the

production phases is especially important

when producing for private label where the

manufacturer is responsible for the quality

and reliability of the product.

Committed to Values

Farmen is no stranger to embracing values

such as 'respect for the environment', 'safety

at work', 'customer care' and awareness

that 'profit and responsibility' cannot be

separated.

Farmen has decided to go beyond

this mission statement, formalizing its

values and objectives with the project:

"The sustainable colours of beauty" is a

social responsibility strategy that aims at

promoting a new kind of beauty, closer to

the environment and people. The first result

of this commitment was the formalisation

of the 'charter of values and commitments'

which was born as an evolving document

and becomes richer through dialogue with

the firm's stakeholders.

With the aim to guarantee the maximum

possible quality of its products, Farmen has

developed a sustainable supply policy on

the raw materials based on environmental

and human rights protection. On top of that,

since 2018, Farmen has asked its suppliers of

the main ingredients to respect this policy.

Finally the company provides support and

assistance in training before and after sales

to ensure that products are 100% safe for

humans and for the environment, thank to

thousands of analysis carried out each year

by quality control at R&D laboratories.

Efficiency

Technology plays a fundamental part in the

production phase. One example of many is

the automated system for bleach production

in a controlled microclimate that Farmen

has installed. This climate control system

operates within the factory - over 20,000

sqm - monitoring the temperature and

hydrometry and reducing polluting agents.

The entire production cycle, with a capacity

of around 100,000 item of product per day,

is monitored from start to finish to ensure

complete quality for every single product.
---
H.S.A.

COSMETICS

PRIVATE LABEL

Created in 1982 in Varese in the heart of

Europe, HSA Cosmetics is an Italian private

label cosmetics manufacturer specialising

in the production and marketing of cuttingedge

cosmetic products.

Everything started with a dream: founded by

the Zanzi family with the aim of developing

an important expertise in hair color, HSA

has now expanded its range of hair care,

face and body products. Nowadays, HSA

has become the ideal marketing partner

for companies that intend adopting a 360

degree beauty approach to their brands

and want to rock the cosmetic market by

creating something unique.

COMPANY NAME

H.S.A. COSMETICS

COMPANY ADDRESS

Via Ugo Foscolo 27,

21050 Bisuschio (Varese) Italy

PHONE/MAIL

+39 0332474654

hsa@hsacosmetics.com

WEBSITE

www.hsacosmetics.com

CEO

Stefano Zanzi

GENERAL MANAGER

Davide Zanzi

MARKETING MANAGER

Paolo Delle Piane

Stefano Zanzi

Davide Zanzi

Paolo Delle Piane

HSA is the private label cosmetics

manufacturer that creates and manufactures

in Italy to protect an originality recognised

the world over. We are present in 90

countries on the 5 continents, helping beauty

brands with their private label skin care and

hair care lines.
---
COMPANY INTRODUCTION

HSA excels in Private Label manufacturing for the export market, as well as distributing its

own brands.

In the last few years, HSA has been going through an important evolution summarized with an

acronym PDD: Product, Digitalisation and Distribution. HSA started its activity in 1982 with a

great expertise in hair colors, but in recent years the company has enlarged its portfolio to other

categories such as haircare and skincare. Private labelling represents 75% of the turnover, while

our brand distribution covers the other 25%.

Internal R&D labs are the main resource of the company and they enable to provide a

complete range of innovative products. Anyway, we not only provide products to our clients,

but also strategic support regarding new trends, statistics and any other information that

might help them develop new ranges and products. All the digital information, through

e-books and blogs can be easily viewed on HSA website.

Digitalisation is fundamental to develope our business in this fast-evolving world. HSA is very

active on social media, editing a blog, issuing newsletters and other communication streams.

All this digital activity is getting a lot of attention, for example, last year in the USA our article

views increased by 400%.

An important step in the development of our private label department happened when we

started serving different kinds of clients - today we produce for companies selling online, or

in retail stores, for example in the USA we are cooperating with brands selling in Ulta which

has recorded an impressive growth in the beauty categories.
---
H.S.A.

COSMETICS

CERTIFICATION

AND RECOGNITION

ISO 9001-2015 ISO 22716-2007 GMP

SUSTAINABILITY:

We have implemented a corporate

sustainability policy to improve the impact

on the environment of all our activities

and suppliers collaborating with us. These

are some concrete and practical actions to

implement our green strategy: 50% of the

energy used comes from the photovoltaic

panels installed on all corporate buildings.

Charging stations for electric cars are

installed in the company yard to encourage

their use. Short Supply Chain since 90%

of packaging and packing materials are

purchased in Italy. Some raw materials are

purchased locally, km 0, to avoid polluting

transport and support local businesses. For

example, for some product lines we use

chestnut honey typical of our territory and

produced by local farms. We calculate the

carbon footprint for some product lines to

assess their harmful CO2 emissions. The

aim is to initiate compensation projects

through reforestation of some areas of the

world that most require it. The first project

is linked to our brand Eslabondexx. For

some years now, we have adopted a Clean

Care approach providing for the use of as

many natural ingredients as possible, in

combination with synthetic ingredients that

are not harmful to man or the environment.

We communicate how to use water in a

conscious way both through the product

and the advertising materials, to avoid

wasting this increasingly valuable resource.

We work to reduce the impact of packaging,

eliminating overly heavy or bulky secondary

and primary packaging. We decided not

to use any more cellophane film in the

packaging of hair dyes, resulting in a saving

of about 15 tons of plastic per year. We

know the new sustainable materials and

green plastics that we implement in the new

packaging. We use FSC cardboard boxes

(FSC: Forest Stewardship Council).

We are applying on each product the

symbols of the packaging material along

with the indications of the waste separate

collection. Sustainability also means social

commitment, that is why we distribute free

sanitizing gel in all schools in our territory to

contribute to our local administration.

PRODUCTION CAPACITY

We can produce up to 375,000

products in jar/bottle monthly.

So approximately

4,000,000 annually.

We can produce up to 150,000

tubes per day, so

3,000,000 monthly

and approximately

36,000,000 tubes annually.

SPECIAL FEATURES:

we are specialized in full service production

of hair care, hair colors, skin care. All the

formulations are H.S.A. property and we offer

a high level of customization for every single

client. We have our internal R&D laboratories:

hair care, hair color and skin care.

Production extent

SKIN CARE

HAIR DYES

HAIR TREATMENTS

TOILETRIES

SHAMPOO

STYLING/FINISH
---
We fulfill Hair & Skin dreams

bringing your brand to life

Connect yourself with the most

innovative company for private

label production of personalized

cosmetics.

Find out how to become one of our

"customer partners". Thanks to an

expertise of over 30 years in hair color,

hair care and skin care products and with

a portfolio of more than 1000 formulas,

we offer made in italy full services to

more than 200 brands in 90 countries

around the world.

connect yourself with your dreams : hsacosmetics.com - shop.hsacosmetics.com - hsa@hsacosmetics.com
---
I.B.I COSMETICS

COMPANY NAME

IBI Cosmetics Srl

COMPANY ADDRESS

Via Monti 32, Milano (MI) Italy

PHONE/MAIL

+39 3467848565

WEBSITE

www.ibicosmetics.it

CEO

Serena Caimano

SALES MANAGER

Eva Sampietro

Contact: eva.sampietro@ibicocmetics.it

SALES MANAGER

Jacqueline Errington

Contact: jacqueline.errington@

ibicosmetics.it

PRIVATE LABEL

I.B.I Cosmetics is an independent Italian

company specializing in the design and

production of innovative and sustainable

hair products.

Starting from your needs and the identity of

your brand, we develop and produce your

professional quality hair products.

We customize for you the latest formulation

innovations, based on the constantly evolving

consumption trends of the population.

We are part of an Italian cosmetic innovation

project set up within the Pidielle group - a

haircare player active on the international

market for over 40 years.

We develop highly performing hair&beauty

products thanks to formulations and

production expertise built over the years.

Our specific expertise lies in the ability to

create customized formulas based on

customer needs and perfectly adhering to

the identity of their brand.

We put maximum sustainability and respect

for the planet at the heart of everything we do.
---
We work for international cosmetic brands

and we intend to expand our network to

make the benefits of our method available to

innovators, beauty entrepreneurs and to

those who are passionate about the highest

quality. Together we undertake a path, a

structured, shared and transparent

development process whose goal is the

product launch, which passes through the

development of the formula, the texture, the

packaging as well as the management of

regulatory aspects.

FROM CONCEPTION TO DELIVERY

Our know-how allows us to offer customers

a complete, all-round service, from

conception to design, from formula to filling,

from quality control to delivery of the

finished product. The customer can count on

our constant and dynamic support through

each stage of the project, also having a

complete view of the supply chain.

Experience, service and flexibility are the key

elements of our modus operandi. Our

experience in the hair care industry makes

us efficient, affordable and accurate.

We have the knowledge to help understand

and comply with regulations. We implement

international best practices and strictly

follow them. Relationships with our

suppliers are stable, so we know where to

buy ingredients from reliable sources. This

translates into a saving of time and

resources for our customers. Finally, we

guarantee the flexibility necessary to create

products that meet specific needs and we

operate on production volumes that require

minimum initial quantities and that support

the growing demand of consumers.

CERTIFICATION

UNI EN ISO 2015, 22716:2008 (GMP), HALAL CERTIFICATION

SUSTAINABILITY

IBI's photovoltaic systems provide about 190 kW in optimal

environmental conditions, amply sufficient to satisfy the entire

demand for the machinery. On the product front, all the formulas are

cruelty free, but there are also lines without parabens, silicone free,

sulfate free, vegan and much more. IBI is also focus on biothecnologies,

with pure active ingredients respecting the environment.

SPECIAL FEATURES

Starting from your needs and the identity of your brand, we develop

and produce your quality professional hair products. We customize

for you the latest formulation innovations, based on the constantly

evolving consumption trends of the population. Our range: hair color,

scalp care, haircare, styling.

Production extent

HAIR DYES

HAIR CARE

HAIR TREATMENT

STYLING/FINISH
---
INDUSTRIE

PAGODA

COMPANY NAME

Industrie Pagoda Srl

COMPANY ADDRESS

Via Spallanzani 24/26,

24061 Albano Sant'Alessandro (BG) Italy

MAIL

sales@industriepagoda.it

WEBSITE

www.industriepagoda.it

CEO

Vittoria Condemi

FOUNDER

Lorenzo Condemi

COMPANY

PRESENTATION

In 1980, when he was almost thirty, Lorenzo

Condemi decided to take over a small

company, if that's the right word for a garage

with a few bits of equipment used to make

hydrogen peroxide, shampoo and bath salts.

In the coming years the company invested to

expand its production of hair and skin care

products, culminating in the installation of a

bleaching powder plant. The current plant was

inaugurated in 2011 and is improved every

year to optimize production and ensure better

service. The target for 2023 is to install a new

extremely innovative sachet and doypak

packaging machine for bleaching powder.

CERTIFICATES:

UNI EN ISO 9001:2015

ISO 22716:2007 - GMP

BEST QUALITY

In the company, certified ISO 9001:2015

and GMP, the well-trained team offers a

comprehensive service, from identifying

the best raw materials and choosing the

most appropriate packaging, if the customer

doesn't have any, to production and

shipment.

The R&D and quality control laboratory

works constantly to innovate and offer all the

certifications and tests needed.

In addition to its extensive technical

experience, the company also offers

customers a wealth of creativity

and expertise in the graphical and

communication area, which it uses to

develop successful packaging and a winning

product image.
---
Today Industrie Pagoda srl works on a

steady basis with companies in various

countries around the world, proposing

innovative solutions to satisfy any need and

exporting the best 'Made in Italy' products at

the best quality/price ratio.

STRENGTHS & OPPORTUNITIES

Dynamic and responsive organisation that

ensures a rapid response

Mutual respect and trust built on open,

simple, straight-forward communication

Utmost confidentiality in relation to all the

information and documents to which we

become privy

Chemical support and the development of

custom formulations for the application

requirements of each customer

Our production flexibility allows us to

satisfy multiple demands in terms of both

quantity and specialisation

Optimism and passion

Forty years of expertise and product

knowledge

MONTHLY PRODUCTION

CAPACITY

CORE BUSINESS

120 tons bleaching powders

40 tons bleaching creams

OTHER PRODUCTION

850 tons

cold liquids preparations

120 tons hot emulsions

Our numbers

OPENING YEAR: 1980

CORPORATION STOCK (FULLY PAID UP):

10.000 EURO

2021 TURNOVER: 5.950.000 EURO

ITALY TURNOVER: 30%

EXPORT TURNOVER: 70%

HAIR CARE: 90%

SKIN CARE: 10%

SHIFT PER DAY: 1

TOTAL NUMBER OF EMPLOYEES: 18
---
INDUSTRIE PAGODA

Production extent

BLEACHING POWDERS:

Industrie Pagoda bleaching powder

produces excellent results without

damaging hair. The variety of

formulations can satisfy the habits

and needs of customers and cover all

techniques: streaks, highlights and

total bleaching.

BLEACHING CREAM:

Bleaching cream is a revolutionary

product with a formula that

guarantees optimum bleaching

performance while protecting hair.

Bleaching cream is easy to apply and

powder-free.

HAIR PRODUCTS:

Industrie Pagoda exploits synergy

between constant technical and scientific

evolution and research performed by the

internal laboratory to identify innovative

proposals, develop state-of-the-art

custom preparations designed to satisfy

customers' needs and guarantee the

highest raw material and end product

quality standards.

BEAUTY PRODUCTS:

Industrie Pagoda has drawn on the

company's long-standing experience

in the cosmetic sector to develop a

complete range of face and body products

formulated specifically for each treatment

area and suitable for all skin type.
---
PARISIENNE

ITALIA

PRIVATE LABEL

AND THIRD PARTY COSMETIC

MANUFACTURE

Parisienne has created a centre of innovation

for the creation of cosmetic lines. Quality,

customisation and listening to customers'

needs: these are Parisienne Italia's strengths

in the manufacture of hair care products,

beauty care products and private label

cosmetics. They take care of everything:

from creating formulas that fully respond to

product requirements, through to defining

the most suitable packaging.

Luca Papetti

COMPANY NAME

PARISIENNE ITALIA SPA

COMPANY ADDRESS

Via di Corticella 190/2,

40128 Bologna (BO) Italy

PHONE/MAIL

+39 051-323090

info@parisienneitalia.it

WEBSITE

www.parisienneitalia.com

CEO

Luca Papetti

MARKETING MANAGER

Miriam Rondelli

EXPORT MANAGER

Giorgio Milani

Contact: info@parisienneitalia.it

The objective is to share their know-how

with the clients to ensure they can obtain the

perfect product. This is possible thanks to

craftsmanship, research and Italian cosmetic

tradition that is embedded in Parisienne

Italia DNA.

COMPANY

INTRODUCTION

It is Italy that is about to be overwhelmed by

the enthusiasm and excitement of the Boom

and the Dolce Vita. It is Italy animated by

new intentions, thrilled by suggestions and

great goals to achieve.
---
This is Italy of 1955, that of Fape, the

innovative brilliantine for hair that

revolutionizes the Italian cosmetic market

with which the company establishes itself on

the national scene. Shortly after, Fape

becomes Parisienne Italia and starts - first in

the Bel Paese - the production of hairsprays

for the national market. More than sixty

years have passed and since then the

Parisienne Italia group contributes every day

to the evolution of cosmetic excellence

exclusively made in Italy.

In 2021, Parisienne Italia becomes part of HQ

Holding, a 100% Made in Italy industrial hub

specialized in high value-added productions,

with the aim to become the first player in

Europe in the production of aerosols in the

professional channel in terms of volumes

and know-how, and among the principal

players in the production of hair colouring.

SUSTAINABILITY:

Parisienne Italia has implemented a selfconsumption

photovoltaic system on

the roof of its production site, intending

to improve the quality of the working

environment by removing a potentially

polluting source, saving on the consumption

of its industrial cycle while obtaining, at the

same time, a reduction of CO2 emissions

into the atmosphere thus contributing

to the fight against global warming. The

photovoltaic system, with a power higher

than 100 kW, saves over 140,000 kWh, equal

to 2,618 tons of oil per year, equivalent to

61.6 tons of CO2 saved every year.

MANUFACTURING

CAPACITY

The production centre consists of 5 production

lines for hair colours, 1 for aerosols and

2 filling machines for liquid products.

We produce per hour

17,000 colour dye tubes,

1,100 cans and

1,100 bottles

Production extent

HAIR DYES:

5 hair dye ranges -

17,000 tubes per hour.

SHAMPOO:

Two liquids filling machines -

1,100 bottles per hour

HAIR TREATMENTS:

Two liquids filling machines -

1,100 bottles per hour

STYLING/ FINISHING:

One aerosol line -

1,100 pressurised can per hour
---
REVI PHARMA

Lucio Fusaro

COMPANY NAME

Revi Pharma S.r.l.

COMPANY ADDRESS

Via G. Falcone 35,

20080 - Vernate

WEBSITE

www.revipharma.it

PRESIDENT

Lucio Fusaro

Francesco Ioppolo

EXPORT MANAGER

Franceco Iappolo

Contact: francesco.ioppolo@revipharma.it

COMPANY

PRESENTATION

Revi Pharma researches, formulates,

produces and packages food supplements,

medical devices and cosmetics exclusively

on behalf of third parties. By coming to

us, customers find answers to all their

needs. As a matter of fact, our strength

lies in providing customized solutions and

products, an expert and dedicated service as

well as quality offer, strictly Made in Italy. We

consider companies that come to us more

as partners rather than mere customers. A

vision that makes our work more effective,

concrete and closer to the needs of each and

every brand. We have been offering accurate

consultancy and turnkey solutions for more

than 30 years, providing our expertise aimed

at studying and producing innovative and

game changing ideas, with attention to every

detail, taking the customer through each

stage of the project step by step.

Revi Pharma is a team of specialists, always

working hand in hand with customers,

ready to create innovative products in full

compliance with the regulations, capable of

implementing customized projects aimed

at creating, developing, industrializing,

producing and controlling the quality of the

preparations.

SUSTAINABILITY

Quality is a value to us. A deeply-rooted

ethical and responsible commitment

through constant and advanced research,

stringent choice of suppliers, painstaking

selection of raw materials, thorough check

of all production steps and compliance

with international production and safety

standards as proven by the numerous

certificates awarded to us.
---
This is why, for a long time now, we have

been taking part in the Green Initiative aimed

at contributing, to the best of our ability,

towards saving the planet, guaranteeing

better living conditions for all and leaving

a better world for the future generations. A

journey that has seen us committed towards

carrying out our projects in full compliance

with the environmental requirements, using

renewable energy, eliminating wastage and

recycling 99% of the processing residues in

the production sites.

the organism also protecting against change

of season issues, preparations that stimulate

metabolic processes capable of controlling

weight, managing diuretic functionalities

and much more.

A highly qualified scientific staff oversees

product development while production

occurs by means of automatically controlled

machines with one and two-phase dosing.

SPECIALIZATIONS

High specialization and advanced

technology are at the core of Revi Pharma

nutraceuticals. For many years now, we

have been researching, developing and

producing formulations that boost the

general well-being of a person: probiotics

capable of restoring the natural defense of
---
REVI PHARMA

Even though certificates are definitely a

major feather in our cap, our commitment

towards our customers' projects is what

makes us an ideal partner with whom you

can develop innovative products where

quality is paramount.

As far as cosmetics, we are very strong

in three main categories: hair colors, hair

treatments and skincare.

Formulation and production of hair

coloration products is the actual core

business of the haircare department. Our

vast experience, the result of decades

of activity in the professional market

worldwide, guarantees up to standard

products for extraordinary performance. Our

wide range of nuances, the different types of

formulations (permanent, semi-permanent,

direct) and the numerous formats (single

tube, semi kit, retail kits) merge to offer great

flexibility capable of meeting any needs.

On the other hand, we pay special attention

to the formulation of treatment products,

ranging from products meant for treating

scalp dysfunctions and products for daily

use. Our laboratories offer various solutions

for all types of hair with tangible and longlasting

results.

About the skincare, Thanks to the experience

of our formulators, who directly collaborate

with university research institutes and with

experts in the pharmaceutical industry, we

can formulate products and treatments for

drugs markets, drug stores and professional

beauty care guaranteeing utmost quality,

reliability and performance.

PRODUCTION EXTENT

Revi Pharma complies with the HACCP

self-control system which prevents food

contamination hazards. In addition, the

system is based on the systematic control

of the food processing points potentially

exposed to the danger of biological,

chemical and physical contamination.

Furthermore, we apply the GMP ("Good

Manufacturing Practices") standards, having

been awarded the certificate following an

inspection, consisting of a set of rules laying

down the methods, equipment, means and

management of production processes with

the aim of ensuring appropriate quality

standards.
---
CERTIFICATES

ISO 22716:2007

ISO 9001:2015

ISO 13485:2016

Strict management of the production

process helped us – at Revi Pharma

– achieve the ISO 9001:2015 quality

management system certificate. This

certificate was issued by IQNet (International

Certification Network).

Our production – at Revi Pharma – was

also awarded the following certificates: ISO

13485:2016, which regulates medical devices

standards; ISO 22716:2007, which enforces

compliance with the GMP standards in

the cosmetic industry; the BIO code 40338

certificate of conformity (IT-BIO-004 control

body code).

The highly technological production

comprises automatically controlled

machines with one and two-phase dosing.

New products are developed under the

management and supervision of highly

qualified and skilled scientific personnel.
---
AN EXPERT IN

PRIVATE LABEL:

ANDREA ROSA

relations between private label manufacturers

and clients' brands. So, my experience with

the suppliers, together with Kirschner's

knowledge of the numerous brands and

distributors that belong to the network, put

me in an advantageous position to obtain the

best deals for my clients. We understand their

needs and the characteristics of the products

they are looking for. In this way, we can guide

our clients to the best possible deals and the

most suitable manufacturers for each product

they plan to sell, also coordinating projects

that require multiple synchronized suppliers".

Andrea Rosa, International Private Label Specialist at Kirschner

Andrea Rosa's specific role is one of

consultancy to a large number of Kirschner

associated distributors and brands. He

advises on choosing the most suitable private

label manufacturer suppliers in the Italian

market for hair products, and assists the

customer for the realization of the whole

project.

Mr Rosa how did you become an expert in

Private Labels?

"Coming from IT and TLC, I have worked in

the private label cosmetic industry for over 12

years. Five years ago, I joined Kirschner and

I brought my experience into the company

where we developed a system to facilitate the

What makes your service different?

"It is a personalized service! Dealing with a

wide range of Private Label manufacturers we

can choose and suggest to our distributors

a roster of manufacturers, each specialized

in some products so that clients can build

a range getting the top quality and most

competitive prices.

This system comes to the advantage of

everyone: the manufacturer will work only

with what he does better, and the distributor

will get top quality and services for each

product of the range. On top of that, I follow

every project from the beginning to the

delivery to guarantee both sides that the final

goals are met".

Where are the suppliers from?

"I take care of the Italian suppliers, especially

for hair products. I deal with the best of

Italian manufacturing, while my colleagues

in Kirschner take care of other areas of the

world".
---
INTERVIEW

What are the advantage points with regards

to Italian suppliers?

"Without doubt, Italy is considered a place

of excellence in haircare product production.

Italian Manufacturers offer top quality,

especially for hair colouring and other

technical products. In Italy some of the best

hair and scalp treatments are also produced

and the offer is now aligned with the requests

of the market in terms of sustainability and

natural ingredients".

So 'Made in Italy' is still important…

"At a global level, we witness that 'Made in

Italy' is an important added value for this

kind of product. The final consumers, even

the ones who ponder carefully on the prices,

appreciate the Italian origin of a product. In

certain areas, for example South America,

consumers would choose an Italian brand

even if the price is not the lowest".

What are the products you supply the most?

Bleach and peroxide are the commodities

more requested, and of course the permanent

color then special unique items like color

accelerator, 20 in 1, lamination, plex and

peptides reconstruction.

Spray and finishing are always in the menu,

as the hair care lines, as well.

In the very last years the haircare line

requests are more and more green oriented;

and we are proud to offer very sustainable

and innovative formulation.

How is business going now?

"Demand is growing – at least for products

that guarantee high quality and performance.

Our industry is enjoying a positive period; the

only change brought about by the pandemic

is an adjustment in sales from professional to

retail".

How do you see the future of the private

label market?

"Compared to simple distribution, Private

Label has always been and will always be the

system that offers better guarantees to the

distributor and owner of the brand – in terms

of profit and loyalty of the clientele. This works

even better when the brand offers high quality

and reliable products like the ones we trade in".

CONTACTS

Cell & WA: +39-342 858-0156

mail: AndreaRosa@KirschnerGroup.com

mail: ar@iplcc-usa.com

website : www.iplcc-usa.com

website: www.kirschnergroup.com
---
ULTRA HI-TECH

ITALIAN HAIR COLOUR

AND HAIR CARE FACTORIES
---
ULTRA HI-TECH ITALIAN HAIR COLOUR

AND HAIR CARE FACTORIES!

- TEN RESEARCHERS IN AN EFFICIENT R&D LABORATORY

- TEN FULLY AUTOMATED PRODUCTION LINES

- TEN MANAGERS FROM THREE GENERATIONS OF THE SAME

SAMILY

- A QUARTER OF A MILLION PIECES PRODUCED DAILY

- ALL OUR FACTORIES ARE CERTIFIED WITH THE SGS "MERIT

AWARD"

ISO 9001:2015 - ISO 14001:2015 - ISO 22716:2007 - ISO 45001:2018

THE MOST ADVANCED TECHNOLOGICAL SOLUTION
---
WE GUARANTEE QUALITY AND PERFORMANCE
---
RESEARCH AND DEVELOPMENT

Giovanni Mogni

giovanni@mogni.org

Simonetta Mogni

simonetta@mogni.org

Alessia Mogni

alessia@mogni.org

Silvio Mogni

silvio@mogni.org

Giulio Mogni

giulio@mogni.org

HAIR CARE MANUFACTURING

MASTER IN HAIR COLOR

www.initalyindustries.com
---
THE MOST IMPORTANT BEAUTY

TRADE SHOW IN THE WORLD,

DEDICATED TO ALL SECTORS

OF THE BEAUTY INDUSTRY

COSMOPROF.COM

BOLOGNA, ITALY

FAIR DISTRICT

16 – 18 MARCH 2023

17 – 20 MARCH 2023

ORGANIZED BY

BolognaFiere Cosmoprof S.p.a.

Milan, Italy

P +39 02 796 420

F +39 02 795 036

info@cosmoprof.it

COMPANY OF

IN PARTNERSHIP WITH

WITH THE SUPPORT OF

A NEW WORLD FOR BEAUTY BOLOGNA, HONG KONG, LAS VEGAS, MUMBAI, BANGKOK