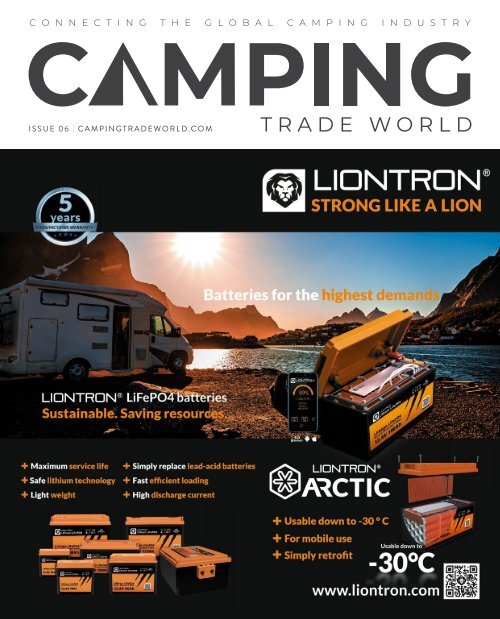 Camping Trade World – Issue 06
Inside issue six of Camping Trade World – THE B2B magazine for the camping, caravanning and RV industries around the world: • Scandinavian companies show power of teamwork • Inside the tent fabric tech arms race • A success in Leipzig: Touristik & Caravaning report • How to do business with the Australian market • Celebrating AL-KO's 90th anniversary • How LIONTRON could help boost your sales • Exclusive interview with Caravan Industry Association of Australia's Stuart Lamont • We demystify SEO and teach you how to use it
Inside issue six of Camping Trade World – THE B2B magazine for the camping, caravanning and RV industries around the world:

• Scandinavian companies show power of teamwork
• Inside the tent fabric tech arms race
• A success in Leipzig: Touristik & Caravaning report
• How to do business with the Australian market
• Celebrating AL-KO's 90th anniversary
• How LIONTRON could help boost your sales
• Exclusive interview with Caravan Industry Association of Australia's Stuart Lamont
• We demystify SEO and teach you how to use it
SHOW MORE
SHOW LESS
You also want an ePaper? Increase the reach of your titles
YUMPU automatically turns print PDFs into web optimized ePapers that Google loves.
C O N N E C T I N G T H E G L O B A L C A M P I N G I N D U S T R Y

ISSUE 06 | CAMPINGTRADEWORLD.COM
---
WELCOME

MEET THE TEAM

DAVID GUEST

EDITOR

David has worked in B2B publishing since 2006 and has edited

several major titles in that time. He has also worked on the UK's

biggest consumer camping magazine, Camping & Caravanning. A

keen camper and outdoorsman, David will bring you the very latest

international industry news.

david.guest@dhpub.co.uk

JUSTIN FOX

PUBLISHER

Justin is hugely experienced in publishing and oversees the running

of all of David Hall Publishing's titles, which includes not only B2B

titles, but also some enthusiast consumer brands too. Justin's

organisational and sales skills are invaluable to the business.

justin@dhpub.co.uk

WILLEM BONNEUX

BUSINESS DEVELOPMENT

Fluent in several languages, Willem is hugely experienced in

helping outdoor industry brands realise their global communication

ambitions. He has a broad background in sales, marketing and key

account management.

willem.bonneux@dhpub.co.uk

GUIDO KNEGT

BUSINESS DEVELOPMENT

Guido has a wealth of experience in helping companies grow their

international export businesses. He speaks numerous languages

and is well-known for going that extra mile for all of his international

customers.

guido.knegt@dhpub.co.uk

MARK GRAFTON

DESIGNER

Mark is the man who takes our essential trade info and turns it into

something beautiful. A freelance designer with more than 20 years of

experience as a magazine and digital designer, we trust him to make

us look good.

housegrafton@gmail.com

PAUL EVANS

ART EDITOR

Paul is the Art Editor of our publishing house and he runs the rule

over the creative direction of our titles. He has worked in the company

since 2008 and keeps our vision in focus.

NEW YEAR, NEW YOU?

A

■nd just like that, it's 2022.

Despite most of us feeling

like life has been in some

kind of standstill for the last two

years, the time has raced along.

Except, that's not exactly true

is it? The standing still part. As

I've been speaking with business

owners and industry leaders in

camping, caravanning and RVing,

I've learned that standing still is

just about the last thing everyone

has been doing. There have been

acquisitions aplenty with Dometic

and Thor Industries among the

most active, there have been

expansions of manufacturing

facilities and the building of new

ones by big names such as Isabella,

Bürstner and Carthago, there

have been shows (some at least)

in Europe, Asia and the United

States. In short, this industry has

been moving, growing and working

incredibly hard to fully optimise

the fortunate hand it has been

dealt during the tough last couple

of years. Interest in camping and

RVing has never been higher, and

any company that has been resting

on its laurels during a state of

standstill has surely missed out.

Don't get me wrong, I know

many companies have faced

hardships and we all face new

challenges as we enter 2022, such as

supply and logistics problems, the

continuing on-and-off cancellation

of events and soaring raw material

prices. But there's a saying that

I'm going to impart upon you

here that I think could help you

change your mind set about the

year to come: "Being positive in a

negative situation is not naïve, it's

leadership." Of course, for some

this may be easier than others. But

the starting point of looking for the

positives, looking for the solutions,

looking for the opportunities is, I

think, a great way for everyone to

approach a new year of business.

If you are being positive enough

to try and think of solutions to the

problems and challenges you face,

then the battle is already half won.

It's hard to imagine that global

business will face a tougher 24

months than it just has, but it's also

not impossible. By maintaining that

progressive, positive and flexible

outlook you won't be one of those

people who's sighing and being

grateful that 'this is all over'. You'll

be someone who has been making

moves in a changing landscape

and giving your business the best

chance it has to achieve success in

2022 and beyond. I wish all of you

a positive, proactive and prosperous

New Year.

Enjoy the issue,

David Guest

04 | www.campingtradeworld.com
---
CONTENTS

16

22

26

48

58

BASECAMP

06-13 The stories and trends that you need to know about. We

cover the global industry, seeking out the most interesting

and useful news for your consumption.

THE DETAIL

14 How Kampgrounds of America is helping to charge up the

electric vehicle revolution at its huge network of campsites

and campgrounds in North America.

16-17 One of the biggest studies of its type has revealed the

true value of the leisure vehicle industry to the German

economy on a region-by-region basis.

18-19 Leading UK motorhome dealer is celebrating a 10-year

partnership with Erwin Hymer Group.

20-21 We mark 20 years of the Scandinavian Outdoor Group, an

organisation that proves working together is best for us all.

22-23 Often the focus is on leisure vehicles when it comes to new

technology, but tents are holding their own too.

24-25 The camping industry in Leipzig, Germany got a boost

thanks to the running of its highly successful exhibition.

FEATURES

26-31 Time to head down under and discover how the market in

Australia works and how you could be doing business with

the country. Featuring insight from the key players and

stakeholders.

32-33 SuperSprings International likes to do things differently.

We find out how and why.

34-35 Winnebago Industries flexes its muscles in the world of

electrified recreational vehicles.

36-39 The story of how one of the leisure vehicle industry's

biggest names, AL-KO Technology Group, achieved 90

years in business – and what the future holds.

42-43 Innovative German battery producer LIONTRON is

hoping to build on the success of 2021 for the future.

44-47 We speak with Caravan Industry Association of Australia

CEO Stuart Lamont in the latest of our podcast series.

48-53 Awnings are not always the most glamorous of items, but

no less important. We examine the global market for these

essential accessories.

54-57 Heard about SEO but still not quite sure what it is? Our

marketing guru demystifies the subject and gives you practical

advice about how to do SEO better and the potential rewards.

MAKING CONTACT

58-63 Our usual round-up of some of the most interesting,

innovative and saleable items that have hit the camping,

caravanning and RV markets over the last few weeks. You

won't want to miss them.

www.campingtradeworld.com | 05
---
BASE CAMP

DO YOU REALLY NEED TO PRINT THOSE CATALOGUES?

■atalogues. They can be the bane including: apparel, footwear, sporting

of our business lives at times. goods, cycling, winter sports, outdoor

C

It's a constant treadmill to gear, surf, handbag/purse, household

create content for them and get them cooking/appliance, cosmetics, auto parts/

to the printers by that fast-approaching accessories, home décor, lighting fixtures,

deadline. But are paper catalogues really power tools, hardware and construction

relevant in the modern world? And materials. That's 4,288 square miles per

more importantly, what is their impact year. To produce this many catalogues,

on the environment? The latter of those it requires 46.3 million trees, uses

questions has been answered in a fashion 56.4 trillion BTUs of energy, produces

by digital technology leader Elastic Suite, 21.8 million tonnes of carbon dioxide,

part of the Emerald group. It has created uses 53.5 billion gallons of water and

the first ever estimate of the global produces 1.37 million tonnes of solid

environmental impact of printing B2B waste. You don't need to be genius to

catalogues using scientific methodology figure out that a lot of that is unnecessary

provided by the Environmental Paper and harmful.

Network's (EPN) Paper Calculator.

"Awareness is the first step leading

The findings of the report estimate to the necessary changes in corporate

that about 184.1 billion double-sided behaviour and adopting a vision toward

catalogue pages are produced by

greener business practices," said EPN's

companies across 16 key manufacturing Kim Porter.

verticals that heavily rely on them,

"Elastic Suite is not only using our

Paper Calculator to help create that

awareness, but also provides actual

technology solutions to ensure that the

natural resource savings can be realised."

Jason Reddin of Emerald EVP

Elastic Suite added: "Taking greater

responsibility for the environmental

impact of all aspects of manufacturing,

including the printing of B2B sales

catalogues, is becoming increasingly

important to successfully combat climate

change. Helping brands achieve higher

levels of sustainability when marketing

their products to retailers is at the core of

our mission and values."

Curious to find out your own

environmental impact when it comes

to printing those business-to-business

catalogues? You can use the tool, which

analyses 24 key metrics to work it out,

right here:

www.elasticsuite.com/savings-calculator/

THE DEFINITION OF

HUSTLE

If you've heard on story of

entrepreneurial rise you've heard

them all, right? Well actually,

maybe not. A rather interesting

one crossed the Camping Trade

World newsdesk this last month

that caught our attention.

Matt Sims was trudging

through a wet field on his way

to take a shower contemplating

where it all went wrong. By

his own admission he was at

a crossroads in his life. His

marriage had broken down,

he had moved out of the

family home and was living

in a caravan. Things weren't

sustainable. He decided it was

time to act. He founded a new

business – the ninth of his long

career. His time in a caravan

had got the cogs turning and

he founded The Motorhome

Holiday Company – focusing

on hiring and selling luxury

motorhomes with a focus on

great customer experience. Fastforward

a few short years and

that business is now booming,

in part down to the huge

growth of the camping industry

in general.

"I saw the motorhome industry

as one with huge potential to

06 | www.campingtradeworld.com
---
BASE CAMP

grow and I wanted to make it as

accessible to as many people as

possible," Matt explained.

"Unlike caravans, anyone with

a driving licence can drive a

motorhome and it offers both

freedom and comfort. Our

customers were traditionally

recent retirees but now it

includes people in their early

20s looking for adventure and

families with young children

who want to travel in style."

The business now

encompasses a camping and

accessory shop, inspirational

camping magazine and more,

proving it's never too late to

turn your idea into reality.

STRIVING FOR EQUALITY

Equality is something we're

all striving for as modern

businesses, and it seems like

we're finally getting somewhere

in some instances in what

is a very male-dominated

industry. The Caravan Industry

Association of Australia

recently welcomed a change

of gender composition among

its annual board. Three of

the six announced new board

members were women: Kate

Meldrum – COO of Tourism

Holdings Australia Pty

Limited, Nikki Milne – CEO

of Tasman Holiday Parks, and

Margaret Shannon – GM of

Tiona Holiday Park and Future

Leaders Committee Chair.

These additions brought the

total to four out of nine board

members, which is well above

the 26.8 per cent average (2018-

19) of female directors in the

non-public sector as reported

by the Australian Bureau

of Statistics in the Gender

Indicators report. This was on

the back of nearly 50 per cent of

all nominations received being

women. Better yet, all these

women earned their places on

merit and not based on any kind

of forced quota, proving that

women are trailblazing in the

Australian industry.

INDUSTRY INSIDERS

IN THIS ISSUE

Founder of the

Scandinavian Outdoor

Group, Martin Kössler

reflects on 20 years of the

organisation's existence,

helping brands from the

region work together to

grow internationally.

P20-21

President and CEO of the

AL-KO Vehicle Technology

Group Harald Hiller reflects

on the company's 90th

anniversary and looks to the

future, which will remain

hevily reliant on the caravan

and motorhome market.

P36-39

▲ Matt Sims (fourth from right) and his team at The Motorhome Holiday Company.

Camping Industry

Association of Australia

CEO Stuart Lamont took

time out to talk to us about

caravanning and camping

in the country, including

the opportunities ahead,

challenges which need

addressing, and trends.

P44-47

www.campingtradeworld.com | 07
---
BASE CAMP

GERMAN MUSCLE

■n Europe, Germany is king in

the leisure vehicle industry, we

I

all know that. But the true power

of the industry in the country and the

importance to its economy have never

been understood in as much detail as

they are now thanks to one of the most

comprehensive studies ever undertaken

on the subject by the German Institute of

Economic Research for Tourism (dwif ).

The headline finding of the study was

that the leisure vehicle tourism market

has been vital to the German economy

over the last two years, bringing an

estimated €14.1 billion in turnover. This

was achieved despite the initial tourism

standstill at the start of the pandemic.

German motor caravan pitches recorded

an impressive 10 million overnight stays

in 2020 – an increase of more than 50

per cent for this kind of stay in the total

number of overnight stays in Germany.

To get a better picture of the impact the

caravanning industry has had in Germany,

the dwif analysed things at a district and

regional level with regard to demand for

pitches. Top of the tree with the highest

turnover was Moselle and Saar (€23.2

million), followed by the Baltic Sea (€16.1

million), then the Lower Rhine (€14.4

million), the Lüneburg Heath (€12.9

million) and finally the central Black

Forest (€11.7 million).

As well as revenue, the study examined

the areas where motor caravan overnight

stays were the highest proportionally in

the total number of overnight tourist

stays. The leaders here were Lower Elbe

Lower Weser (23.4 per cent), Hassberge

(22.6 per cent), Middle Weser (18.0 per

cent), Franconian Lake District (16.2 per

cent), Werra-Meißner Land (14.9 per

cent), Franconian Wine Country (13.1

per cent), and Moselle/Saar (13.0 per

cent). Read more on pages 16-17.

MOVIN' ON AT MERCEDES

It's been a big couple of months

for Mercedes-Benz in the

world of motorhomes. Back at

the end of December, it was

announced that the majority

of its Sprinter vehicles would

soon benefit from AL-KO

Vehicle Technology's HY4

levelling support system. The

hugely popular system, which

is already the base for a large

number of motorhomes around

the world has been expanded

with six new variants designed

to make the Mercedes-Benz

Sprinter a motorhome base

vehicle that can work perfectly

with it. There will be two and

three-axle AMC and SLC

▲ The Sortimo eCamper shows Mercedes' potential in EV RVs.

chassis, MB original frames as

well as vans and AL-KO has

also adapted the control system

for the electronics to the safety

device guidelines required

by Mercedes-Benz, meaning

that the HY4 has become the

first hydraulic support system

on the market to receive a

Photo: Mercedes-Benz/Sortimo

compatibility certificate from

Mercedes-Benz.

As if that wasn't enough

good news for the German

automotive giant, it has also

revealed big plans for electrifying

the motorhome industry

with its EQV – the batteryelectric

driven counterpart to

the V-Class mid-sized van.

This van has already helped

renowned converters such as

Swiss company Sortimo Walter

Rüegg to create a market-ready

eCamper campervan. Sortimo's

conversion is modular and

features options such as pop-up

roof with roof bed, multifunction

box with bed and kitchen unit.

One of the standout features in

the lightweight construction,

which offers considerable

advantages for an electric vehicle

– every kilogram saved means

greater range. Solar panels can be

added to the Sortimo eCamper

to help increase self-sufficiency

as they charge both the starter

battery and the auxiliary battery.

08 | www.campingtradeworld.com
---
BASE CAMP

MOVERS AND SHAKERS

The who's who of hires and promotions

RV and truck suspension expert

SuperSprings International has

announced a new leadership structure

that sees five clearly defined business

units headed up by different members of

its talented team. Marketing will be led

by director of marketing Tom Bateman,

operations will be led by director of

operations Jeni Chen, data and tech ops

will be led by director of data and tech

ops Justin Tevis, finance and HR will be

led by controller Ryan Dougan. Lastly,

the sales unit will be led by a director of

sales, a position which is currently vacant

and being advertised for. American RV

giant Thor Industries has announced

two major promotions as part of a

staff reshuffle. Todd Woelfer has been

promoted to the position of senior vice

president and chief operating officer

of the American company, while Trevor

Gasper has been promoted to the role

of vice president, general counsel and

secretary. Swedish RV heating systems

expert has appointed Petter Johnson

as its new managing director – Petter

had previously served as the company's

finance manager since 2011, and has

been with the company in general

since 2008. Top UK motorhome dealer

Erwin Hymer Centre Travelworld has

appointed its first new operations

director in 17 years in the shape of Erik

Baxendale. Erik is being promoted to

the position after first starting with the

company back in 2013, and being an

instrumental part of its growth since

then. RV accessories and components

giant Lippert has announced that Carlos

Navarro has been promoted to the

position of chief financial officer for its

EMEA division after working his way up

through the company since he started

as a staff accountant after graduating

in 2005. Lastly, British caravan and

motorhome brand Bailey of Bristol has

appointed David McDonald as its new

head of product development and

promoted its head of finance Martyn

Cutter to the role of chief financial

officer.

Tell us about your hires and promotions via:

david.guest@dhpub.co.uk
---
BASE CAMP

Photo: Darby Communications

REACHING OUT

S

■ome brands talk the talk, others let their actions do

the talking. A great example is American camping

equipment and tent manufacturer Sierra Designs, which

is continuing its excellent Reach Out campaign to help increase

participation and accessibility in outdoor recreation. Each year

it selects a series of partners that it will donate thousands of

dollars' worth of products to, as well as gifting one per cent

of its web sales per quarter. The 2022 partners are Women's

Wilderness, Outdoor Asian, LGBT Outdoors and SOS Outreach,

who as well as the financial and physical donations will also be

supported by education, event support and specific awareness

campaigns each to help further their goals.

"Since its founding, Sierra Designs has been about

encouraging people to explore the outdoors and get outside

their comfort zones, no matter their background or experience

level. In 2020, we were excited to create Reach Out as the

impact initiative of our business to further this mission through

partnerships and philanthropic efforts," said Zoe Lanterman,

senior marketing manager for Sierra Designs. "As an outdoor

brand, it is our responsibility to foster and encourage the

opportunity for all people to enjoy the outdoors places we love

and want to preserve for generations to come."

Learn more at www.sierradesigns.com

▲ The Associazion Produttori Camper is hard at work liaising with the Italian government to make life easier for motorhomers.

AN ITALIAN JOB IN

PROGRESS

In Italy, the Associazion

Produttori Camper (APC)

is hard at work ensuring that

the caravan and motorhome

industry in the country has the

right infrastructure and support

in place to help it capitalise

on the surge of interest it is

experiencing. It has been holding

positive talks with the Ministry

of Tourism in Rome, which

include discussing the creation of

new infrastructure for campers

around Italy, changing regional

laws to make them more friendly

to motorhome users and also

working on issues such as parking

and rest areas for leisure vehicle

users. The ultimate aim of both

the APC and Italy's Ministry of

Tourism is to ensure that Italy

can fully capitalise on promoting

camping and RVing tourism to

both domestic and international

holiday makers and that the

country has the right facilities to

be able to accommodate them.

You can learn more about the

APC via its website:

www.associazioneproduttoricamper.it

10 | www.campingtradeworld.com
---
BASE CAMP

CRUEL COVID BLOW

FOR CMT

After hosting one of the most

innovative and successful digital

shows of 2021, German tourism

and caravanning event CMT

was very much looking forward

to getting its show back on the

road in January 2022. However,

as has so often been the case for

event organisers over the last two

years, the pandemic had other

ideas. A late decision by Baden-

Württemberg State Government,

which oversees the city of

Stuttgart where the show was set

to take place, saw new COVID

protocols coming into place that

would forbid shows for a period

up until 17 January, which ran

right through the middle of

CMT's 15 to 23 January dates.

"The booked up halls at

CMT clearly show us that an

Photo: Landemesse Stuttgart

▲ CMT has had to cancel its physical show two years in a row.

exhibition platform is urgently

required," a disappointed

president of Messe Stuttgart,

Roland Bleinroth said.

"At present, we will

deliberately not hold a hybrid

event. Apart from the fact that

the focal points of CMT are

the exchange of information,

advisory discussions and direct

personal contact, the preparation

time for an alternative digital

format would now be far too

short."

For those who were hoping to

attend or exhibit, you can still

at least get some connections or

ideas from the show by visiting

www.messe-stuttgart.de/cmt/

– you never know, you could still

make a meaningful connection

or spot a new product that is

perfect for your business in the

future.

DEALS ON WHEELS

The year 2022 has kicked

off with a few significant

acquisitions and buyouts in the

industry, as its overall growth

and evolution continues. A major

story from the United States was

that of RV giant Thor Industries

completing the acquisition

of premium producer of

polypropylene-based composite

materials Elkhart Composites.

The acquisition was completed

via Thor's subsidiary company

Airxcel Inc and will see Thor

become the owner of Elkhart's

proprietary sustainable foamed

polypropylene-based composite

materials marketed and sold

under the Elkboard brand.

Another major story of the

last couple of months was the

announcement that leading RV

sanitation and accessories brand

Thetford is set to be acquired

by New York-based private

investment company Monomoy

Capital Partners. Thetford has

been owned by Dyson-Kissner-

Moran Corporation for the past

three decades and that company

will still retain a meaningful

equity interest in Thetford.

In campsites, Scandinavian

campsite chain First Camp

agreed to acquire Danish

campsite and kids holiday park

Jesperhus Feriepark. The deal

is reported to be worth US

$30million and is expected to be

closed in the fourth quarter.

And lastly, would it be a

deals on wheels section without

a Dometic acquisition? The

RV and outdoor product

expert recently entered into an

agreement to acquire Italian

company NDS Energy – an

expert in mobile power solutions

for the outdoor market. The

move, it's claimed, will further

strengthen and increase

Dometic's offering and market

presence in the mobile power

solutions sector in the European

outdoor market.

FIVE STATS TO MAKE

YOU THINK

More than 26,000

01 advance tickets had

been sold for February's

Caravan, Camping and

Motorhome Show in

Birmingham, the UK by the

end of December 2021.

German leisure

02 vehicle brand

Güma has been steadily

expanding its production

facility over the last year

and now employs more

than 80 people. It puts its

success down to focussing

on getting its foundations

right.

03 Winnebago

Industries has

reported a record $1.2 billion

in revenues for the first

quarter of its latest fiscal

year, which represents

a 45.7 per cent increase

compared to the 2021 fiscal

period. It's clear the RV

boom is still going strong.

Go RVing managed

04 to achieve more

than one billion total

impressions for its 'Go on a

Real Vacation' marketing

campaign that helped keep

RVing at the forefront of the

American public's mind.

An expected

05800,000 registered

RVs are expected to hit

the roads in Australia

during its 2021/22 summer

period, which will represent

roughly four million

separate trips.

www.campingtradeworld.com | 11
---
AROUND THE WORLD

USA

As the month of October passed in 2021,

the year officially became the year that the

RV industry in the United States built more

RVs than ever before. In October 2021 an

eye-watering 57,971 units were shipped,

an increase of 22.5 per cent on October

2020 and 18 per cent up on the best

October ever recorded in 2017. RV Industry

Association president and CEO Craig Kirby

said: "Despite the challenges we have

faced with supply chain and workforce,

what is really remarkable is the way the

RV industry has found ways to overcome

the issues and deliver 12-straight months

of record shipments. We know more and

more people want to get outdoors and

experience the joys of RVing with their

friends and families and our manufacturers

and suppliers have responded impressively

to keep more and more RVs heading to

dealerships every month."

Learn more online at www.rvia.org

01

Around the world

Camping and leisure vehicles are a global business, but

each corner of the world faces its own unique challenges

and enjoys its own successes. Here's a snapshot of what's

been happening on planet camping the last few months.

02

What's happening

in your part of the world?

Contact us today and

tell us your story:

david.guest@dhpub.co.uk

SPAIN

The Spanish Caravan Industry and Trade Association (Aseicar) has been

working in close cooperation with traffic police to crack down on high levels

of fraud and illegal activity involving camping units. The boom in the industry

has been great for Spain, but it has led to some criminals attempting to take

advantage of the situation. It's been reported that fraudsters have been

importing caravans from other European countries and illegally modifying

their technical inspection cards to reduce their weights so they avoid having

to pass safety checks and can be sold cheap. An awareness campaign has

been started to warn people about the dangers of buying online and also a

checklist of things to look out for. For the latest, visit: www.aseicar.org

12 | www.campingtradeworld.com
---
AROUND THE WORLD

03

FINLAND

The market in Finland continues to go from strength to strength with 3,149 new factorybuilt

motorhomes registered in the country in 2021 up to November. This represents an

impressive 25 per cent increase compared to the previous year. It is also trending way

above figures from any previous year prior to 2020. The Finnish Motor Vehicle Importers

group believes this increase in popularity was also shown at the Helsinki Caravan Trade

Fair, which took place from 21 to 23 January 2022. The show boasted its highest even

number of exhibitors including purveyors of not only leisure vehicles but also a wide

range of camping and outdoors accessories. Go to www.liikkuvakoti.fi to learn more.

04

SOUTH KOREA

The dates for the 2022 edition of

leading Korean show Camping &

Picnic Fair have been announced

as 10 to 13 March. The show, which

takes place at the Ilsan KINTEX

Exhibition Hall in Seoul, is open

for bookings for exhibitors and

pre-registration for visitors. The

show has been growing steadily

alongside the Korean camping

industry for the last nine years and

last year attracted 72,000 visitors

through its doors, all with the

correct COVID-19 safety protocols

in place. There were 112 companies

taking up more than 22,000sqm

of floorspace showing products in

categories such as tents, camping

cars, motorhomes, caravans,

trailers, tarps, camping accessories

and picnic goods. To find out

more about the show or for how to

attend, check out:

www.campingfair.co.kr

05

INDIA

Perhaps not the first country you'd think of when it comes to camping

and caravanning, but India could be about to become a serious player for

this kind of tourism on the world stage. More and more of the country's

states are embracing camping and caravanning, particularly in the sector

of campervans. The Times of India recently reported that a change in law

interpretations in Thiruvananthapuram, Kerala means that people and

converters will have more freedom to convert existing vans into campers.

Elsewhere in India, campervan rental companies have reported a huge

surge in interest over the last 18 months, with bookings in the months of

June and July the highest the country has ever seen.

06

AUSTRALIA

Down under, the Caravan Industry

Association of Australia is gearing

up for the 30th anniversary edition

of its National Conference. The

event, which brings together all

the major players in the country's

caravanning and RV industry,

will take place from 28 March to

1 April at the RACV Royal Pines

Resort in Gold Coast, Queensland.

As well as being an excellent

networking opportunity for

industry professionals to make

new contacts and share ideas,

the event will also feature a host

of informative seminars and

workshops to help people improve

their businesses. The event has

been cancelled the last couple

of years due to the coronavirusrelated

restrictions, so this special

anniversary edition will have a

special vibe. To learn more or to

register your own attendance, visit

www.caravanconference.com.au

www.campingtradeworld.com | 13
---
KOA EV CHARGING THE DETAIL

Photos: Kampgrounds of America

Electric dreams need

electric infrastructure

As electric vehicles transition from the stuff of science fiction into reality in the

camping world, is enough being done to create the infrastructure to make them

genuinely viable options? In the US and Canada, the answer could very well be yes.

O

■ver the last year we've reported on more and

more innovations and developments in the

arms race to create motorhomes, caravans and

campers that run on electric power. The transition to

electric may be the natural evolution for recreational

vehicles, but it has become a more pressing issue even

in the last few years due to the increasing pressure

to do something to combat climate change and

reduce emissions from combustion engines. Many

manufacturers and brands have been working hard

to produce vehicles that give campers a genuinely

viable option to pursue their hobby via electric

propulsion, but there is a missing piece of the puzzle

– where do we charge these things? Even owners of

regular electric cars will tell you that the charging

infrastructure still has a way to go to catch up with

what is required for EVs to overtake regular vehicles.

For campers, short of ensuring that their round trip

for their camping adventure is less than their electric

RVs range, they need to be sure they can find places to

charge on the road. North America's leading campsite

chain Kampgrounds of America (KOA) has pledged

to do something about it. The company has announced

a programme to install level 2 EV chargers by

Jamestown Advanced Products at select campground

locations across the United States and Canada. It

is making these chargers available for campground

owners at all of its 520 sites to buy from the start of

2022 in a huge effort to make electric vehicles and

electric RVs a real-life possibility for the masses.

14 | www.campingtradeworld.com

▲ KOA is setting an

example for other

campsite owners.

According to KOA's latest research, one in five

campers have an EV in their household, compared

to 12 per cent of non-campers. The national average

for EV ownership is around seven per cent. KOA is

excited to bring this amenity to campers and RVers

who own electric vehicles at a higher rate than the

national average.

Toby O'Rourke, president and CEO of KOA,

said: "KOA is always looking for innovative ways to

make our properties more environmentally friendly

and reduce our carbon footprint. This amenity is a

first-of-its-kind for a campground network, and we

could not be more excited to offer EV chargers as an

amenity to campground owners and guests alike.

"It's an important step in promoting sustainability

in the outdoor industry and making it easy for

electric vehicle owners to enjoy camping, road

tripping and RVing."

KOA has made sure that these charging stations

are easy to instal and work in a similar fashion to

the standard RV power outlets that campsite owners

are used to. Each EV charging station will allow for

added 50, 30 or 20amp receptacles.

In the race to make the greenest electric vehicles

we possibly can, it could be levelled at the industry

that we've forgotten that we need to have the

infrastructure to make them work. One can't happen

without the other and hopefully campsites around

the world will follow KOA's example. Learn more

online at www.koa.com
---
GERMAN STUDY THE DETAIL

Study shows

the power of

caravanning

The most comprehensive

study of its kind by the

German Institute of Economic

Research for Tourism (dwif)

has revealed the economic

importance of the caravan and

leisure vehicle industry to the

German economy.

G

■ermany's Institute of

Economic Research

for Tourism (dwif ) has

revealed the economic power

of the caravanning and leisure

vehicle industry in the country

after undertaking one of the

most comprehensive studies

ever on the subject.

The headline finding of

the study was that the leisure

vehicle tourism market has

been vital to the German

economy over the last two

years, bringing an estimated

€14.1 billion in turnover. This

was achieved despite the initial

tourism standstill at the start of

the pandemic. German motor

caravan pitches recorded an

impressive 10 million overnight

stays in 2020 – an increase of

more than 50 per cent for this

kind of stay in the total number

of overnight stays in Germany.

REGIONAL FOCUS

To get a better picture of

the impact the caravanning

industry has had in Germany,

the dwif analysed things at a

district and regional level with

regard to demand for pitches.

Top of the tree with the highest

turnover was Moselle and Saar

(€23.2 million), followed by

the Baltic Sea (€16.1 million),

then the Lower Rhine (€14.4

million), the Lüneburg Heath

(€12.9 million) and finally the

central Black Forest (€11.7

million).

As well as revenue, the study

examined the areas where

16 | www.campingtradeworld.com
---
THE DETAIL GERMAN STUDY

HIGHEST TURNOVER

PER REGION

■ Under €1m

■ Between €1m – €2m

■ Between €2m – €5m

■ Between €5m – €10m

■ Over €10m

TOP 5 REGIONS

1 Mosel/Saar: €25m

2 Ostee: €16,2m

3 Nierderrhein: €14,4m

4 Lüneburger Heide: €13,3m

5 Mittlerer Schwarzwald: €11,5m

AREAS WHERE

MOTOR CARAVAN

OVERNIGHT STAYS

WERE THE HIGHEST

PROPORTIONALLY IN

THE TOTAL NUMBER

OF OVERNIGHT

TOURIST STAYS

■ Under 2%

■ Over 2%, under 4%

■ Over 4%, under 6%

■ Over 6%, under 10%

■ Over 10%

Graphs and data: dwif, Destatis and GfK

motor caravan overnight stays

were the highest proportionally

in the total number of

overnight tourist stays. The

leaders here were Lower Elbe

Lower Weser (23.4 per cent),

Hassberge (22.6 per cent),

Middle Weser (18.0 per cent),

Franconian Lake District (16.2

per cent), Werra-Meißner Land

(14.9 per cent), Franconian

Wine Country (13.1 per cent),

Moselle/Saar (13.0 per cent),

Thuringian Rhön (12.7 per

cent). Many of these regions

are not especially developed

or well-known as tourism

heartlands, which shows that

caravanning brings tourism

money to places that don't

normally get it.

THE WHY

One of the aims of the study

was so that the findings could

be used to help municipal

and private investors in their

decision making for the future.

Good data equates to a better

chance of people investing in

an industry.

Thomas Bareiß, member of the

German Bundestag and Federal

Government Commissioner for

Tourism, said: "Innovations and

targeted investments are required

for the successful development

of the camping industry in the

future. For decision-makers

in politics and business, it is

important to set the right course

- this study provides valuable

insights for this."

As a concrete aid, the paper

includes a dedicated potential

guide for determining the need

and potential of motor caravan

pitches. Interested parties

can also find further points

of contact and advice on all

important questions concerning

the construction and operation

of pitches, including the

CIVD's planning aid. In three

case studies, the researchers

have also shown examples

of conceivable concepts for

the site-specific construction

of pitches in three very

different regions - Uckermark,

Starnberger Seenlandschaft

and Ostfriesland. Furthermore,

the scientific work sheds light

on successful examples from

practice in detail.

Meanwhile, Danierl

Onggowinarso, managing

director of the German

Caravanning Industry

Association, added:

"Caravanning has proven to

be a resilient form of holiday

during the pandemic. In

order for it to remain a strong

economic driver, politics is

called upon: The holiday form

must be taken into account in

the national tourism strategy

and the framework conditions

for it must be improved. In

concrete terms, this means

expanding the infrastructure.

Here, targeted funding

programmes and the reduction

of bureaucratic hurdles can

provide decisive impulses. This

strengthens Germany as a

tourism location."

▲ Germany has many stunning locations for camping holidays.

www.campingtradeworld.com | 17
---
EHCT – 10 YEARS THE DETAIL

A decade of

dedication

Family-run UK motorhome dealer Erwin Hymer Centre Travelworld is

celebrating a decade of working exclusively with the German leisure vehicle

giant – it's been "an incredible journey" and the best is yet to come.

A

■lot happened in the

year 2012: Queen

Elizabeth II of the

United Kingdom celebrated

her diamond jubilee, Spain

won the UEFA European

football championships, CERN

discovered a particle with

properties consistent with

the Higgs boson. But for one

British motorhome dealer, it

was a year they'll never forget

for entirely different reasons.

Travelworld, as it was then

known, began working with

German motorhome expert

Hymer – a partnership that has

since seen Travelworld rename

itself as Erwin Hymer Centre

Travelworld, become the only

privately owned Erwin Hymer

Centre in the world, and grow

into a UK centre of excellence

for this famous brand.

So, how did it happen?

Hymer had long been admired

by the Edwards family, owners

of Travelworld, but they could

never work with the German

brand due to a long-standing

exclusive partnership it had

with another UK dealer. Then

in 2011, that partnership ended,

and the team at Travelworld

saw their chance to approach

Hymer. Travelworld already

had an excellent reputation in

the motorhome market and had

extensive experience in selling

Photo: Erwin Hymer Centre Travelworld

18 | www.campingtradeworld.com
---
THE DETAIL EHCT – 10 YEARS

Below pics: Erwin Hymer Group

▲ Above: Erwin Hymer Centre Travelworld's operations manager Erik Baxendale (left) and managing director Ross Edwards (right).

motorhomes from premium

brand Niesmann+Bischoff,

which is also part of the Erwin

Hymer Group (EHG) stable.

The two companies were

able to come to an agreement

and Travelworld began an

exciting new dawn. It quickly

made Hymer its focus and,

working closely with the

German factory, became a

UK centre of excellence for

the brand, replacing what

had been known as Hymer

UK. As the relationship

flourished, Travelworld was

invited to become an exclusive

Hymer dealer in 2015. This

was a tough decision for the

Edwards family – it meant

breaking long-standing ties

with motorhome manufacturers

not associated with the Erwin

Hymer Group. However,

EHG's position as Europe's

largest manufacturer of

motorhomes made the decision

easier and they agreed.

The commitment to the

EHG included taking on

exciting new brands within

the group such as Carado, a

name which is synonymous

with cost effectiveness and

functionality, and Dethleffs, the

oldest and largest manufacturer

within the group. What's

more, Travelworld was also

granted sole UK rights for the

chassis accessory manufacturer

Goldschmitt.

This transition laid the

foundations for Travelworld

building a brand new, stateof-the-art

dealership in 2018

and was given permission by

the EHG to name the new

dealership Eriwn Hymer

Centre Travelworld, as it is

known today.

"The last 10 years has been

an incredible journey for our

business, our staff and of course

our customers," said managing

director of the dealer, Ross

Edwards

"We're extremely proud

and honoured to have such

strong links with HYMER and

we are totally committed to

specialising in what we believe

are the best motorhomes in the

world."

For a company with an

overall history spanning 45

years, the last decade have been

particularly important for its

growth, especially during the

last two years where it has

seen some of its most prolific

sales growth ever. Ross added:

"The ongoing demand for

motorhomes is quite staggering

and demonstrates that people

are adjusting their mediumterm

holiday plans and crave

the freedom you experience

when owning a motorhome.

"Yes, people will undoubtedly

return to mainstream holidays

abroad, but there is no doubt

in my mind that there is now a

growing trend towards people

staying in the UK for their

breaks and a desire to be selfcontained

and away from the

crowds.

"I would suggest that trend

looks here to stay for quite

some time. I've been in this

industry for nearly three

decades and I've never seen

demand on this level."

Listen to our podcast with Erwin Hymer

Centre Travelworld managing director

Ross Edwards to learn more about this

experienced and well-known player in

the motorhome industry.

www.campingtradeworld.com | 19
---
SOG ANNIVERSARY THE DETAIL

Scandinavian

Outdoor

Group proves

the power of

cooperation

A conglomerate of Nordic camping and

outdoor companies is celebrating its 20th

year of existence this year – this is the

Scandinavian Outdoor Group story.

■

enthusiastic meeting in

W

hat began after an

Stockholm, Sweden back

in 2001 with just ten companies

has grown over the last 20 years to

become a strong organisation of

some 67 premium outdoor brands

– this is the story of Scandinavian

Outdoor Group (SOG).

Initially the brainchild of

Martin Kössler, then of outdoor

clothing brand Haglöfs, SOG

was created with the idea of

forming an export cooperation

group for the ten founding

members – Dale of Norway,

Haglöfs, Hestra, Hilleberg,

Icebug, Lundhags, Peak

Performance, Primus, Silva and

Tentipi. The main focus for the

group in its early days was to

help create Scandinavian 'villages'

at different trade shows around

the world – especially focussing

on the German market. They

began with the slogan "It's

more fun to do business with

Scandinavians" – a comment

▲ Martin Kössler.

they borrowed from a retailer at

the very first SOG party, which

saw 800 guests invited at a show

in Munich.

I'M GLAD THEY WERE WRONG

"Every journalist asked the same

question during our first years –

how can you cooperate, you are

competitors?" explains Martin

Kössler, founder and former

secretary general and president

of SOG.

"I'm glad they were wrong.

For 20 years, SOG has not

only established Europe's

biggest educational program

20

00

First Scandinavian

Party

20 20 20 20

01 02

03 04

20 20 20

05

06 07

20 20 20

08 09

10

SOG was founded

First Outdoor

Academy

First Scandinavian

Outdoor News

First Scandinavian

Village at ISPO China

First Scandinavian

Outdoor News

20 20

11

12

20

13

10-years celebration

European Outdoor

Summit Stockholm

22 | www.campingtradeworld.com
---
THE DETAIL SOG ANNIVERSARY

▲ David Ekelund.

for outdoor retailers, become

a driver for a more sustainable

and responsible industry but also

contributed to the foundation

of EOG and inspired outdoor

brands to team up and work

together internationally. For me

personally it gave many friends

around the world sharing the

same passion and values."

One of the key founding

members of SOG in the

beginning was high-quality

tent manufacturer Hilleberg. Its

founder Bo Hilleberg explained:

"It's incredible that it's been

20 years, I have so many great

▲ David Nordblad.

memories. Thanks to SOG I

have met fantastic colleagues and

international customers from

the outdoor industry. Perhaps

my best memories come from

our joint Outdoor Academies,

when we invite our customers

to trekking and skiing in our

Scandinavian mountains."

As SOG has grown it has

been an organisation that has

stayed true to its aims – to

strengthen the image and profit

of the member brands on an

international level through

cooperation and joint projects.

It focuses on heritage, premium

products, innovation, doing good

and going business with passion.

But, as it marks this impressive

anniversary, what of the future?

THE NEED IS MORE

IMPORTANT THAN EVER

"My dream is that the SOG

gears up even further and

becomes a sustainability superpower

to spearhead the change

of the outdoor industry, that

takes a leading role in changing

business at large," says David

Ekelund, current chairman of

the SOG board, as well as CEO

of Icebug.

"With the global challenges

faced, the purpose of business

will have to change from growth

and consumption to satisfying

relevant human needs with

minimal resource use.

"With this grounded link

to nature that we share, that

makes us want to protect it,

we can together focus on what

really makes a difference to get

structural change to happen. The

condition for this is trust. This is

the secret sauce that makes the

SOG work better than all the

other outdoor groups that have

tried to model after us."

SOG recently appointed a new

secretary general in the shape of

David Nordblad, who claims that

"the need and purpose for SOG

seem more important now than

ever before". He adds: "Together

we are able to do so much

more and further strengthen

Scandinavia as a leading hub

for the outdoor industry. Let us

remember our history, and values

but then look forward to the

coming years and what we can

achieve as one unit."

20 20 20 20

14 15 16

17

20 20 20 20

18 19 20 21

Sara Wänseth becomes

General Secretary

SOG sustainability

Network started

New logo

European Outdoor

Summit, Malmö

EOG Sustainability

Charter signed

"Stronger Together"

online meetings

20 years together

SCANIDINAVIAN OUTDOOR GROUP

W: www.scandinavianoutdoorgroup.com

www.campingtradeworld.com | 21
---
TENT TECH ARMS RACE THE DETAIL

Photo: Nemo Equipment

▲ Several new Nemo tents will be

made from its new more sustainable

OSMO fabric in 2022.

The tent tech

arms race

If you thought that technology in tents was at a standstill, then think again. There's

a steady rolling arms race among manufacturers to make tents that perform better

and are ultimately better for the environment. And its starts with the fabrics.

W

■hat do you want from

a tent? A simple

question, but one that

manufacturers have to constantly

think back to when they are

designing new technologies

and products. What does a tent

need to be for the user to have

a good experience? Of course,

the answer can vary depending

on the type of user but there are

some general principles that all

campers benefit from. It needs to

be waterproof or water resistant,

it has to protect from the wind

and cold and also from the sun,

it needs to be durable and it

helps if it is lightweight. There

are also secondary attributes to

consider such as whether the

way it's made and the materials

it's made from are kind to the

environment. All these attributes

and more have been carefully

considered by two big names

in the tent business as they

both recently revealed new and

updated fabric technologies that

will be entering their line-ups

in 2022 and beyond. In Europe,

Danish family camping brand

Outwell has revealed one of

its most durable and protective

materials ever, while over in the

United States, New Hampshirebased

Nemo Equipment has

revealed an award-winning new

fabric technology that scores

well on the sustainability scale.

While these two reveals are

inherently different from two

very different companies with

different statures and aims,

you can see parallels that they

are striving for the same kinds

of goals. In a world of electric

motorhomes, caravans you can

control with your smartphone,

and folding campers that

operate via remote control,

it's easy to forget that one of

the most innovative product

development spaces in camping

is in the world of tents. These

are just two recent examples

that prove the technological

arms race in tent camping is

thriving – with the ultimate

result being great news for

campers all around the world.

22 | www.campingtradeworld.com
---
THE DETAIL TENT TECH ARMS RACE

Photo: Oase Outdoors

▲ Outwell hopes its new Outtex 6000 Endurance RS fabric will offer unrivalled shelter for campers

DANISH DURABILITY

Outwell is probably Oase

Outdoor's most popular brand

– it sells a wide range of tents

with a focus on family camping

that cater for most camping

situations you can face. The

brand recently revealed a brand

new fabric technology known

as Outtex 6000 Endurance

RS – a unique double ripstop

Oxford polyester that has

a 6,000m hydrostatic head

thanks to its PU coating.

Already the numbers are

impressive, but the main aim

with this technology according

to Outwell was to help campers

extend the camping season

and extend the life of their

products. The fabric is four

times stronger than traditional

Outwell fabrics thanks to two

reinforcing threads that run in

a square pattern through the

weave. These threads enhance

the overall structural strength

and prevent punctures or

tears spreading until a repair

can be initiated. Outtex 6000

Endurance RS is also fire

retardant and has a durable

water repellent coating to

help shed water and dirt. It's

also got a UPF 50+ rating

for enhanced sun protection.

In short, this is one of the

most advanced performance

fabrics that Outwell has ever

made, and will be added

to its latest Superior Air

Collection, comprising six

tents. The goal? To help family

campers enjoy comfortable

tent accommodation in safety

and style, no matter what the

weather conditions.

www.outwell.com

SPOTLIGHT ON SUSTAINABILITY

Over in the United

States, camping brand

Nemo Equipment's

latest technological

advancement had the

prestigious honour of

being named one of 2021's

100 greatest innovations

by Popular Science.

The new fabric, named

OSMO, will debut this

year and is a proprietary

composite weave made

from 100 per cent recycled

fabric without the use of

harmful flame-retardant

chemicals or fluorinated

water repellents (PFAS).

Not only does the new

material represent a leap

forward in environmental

sustainability but also in

technical performance

too – the 100 per cent

recycled yarns and nylon

fibres provide exceptional

strength while polyester

fibres and resist stretching

when wet. In addition to

optimizing strength and

water resistance, OSMO

achieves water repellence

with a PFC chemicalfree

finish and meets

flammability requirements

without fire retardant

chemical additives.

Nemo's product

development manager,

Gabriel Rosenbrien,

explained: "Climate change,

chemical impacts, and

resource depletion need

urgent action.

"The goal for OSMO was

to develop a tent fabric that

reduces environmental

impact and maximizes

performance, without

compromise. OSMO fabrics

represent a significant

step forward in tent fabric

sustainability and will help

drive future developments."

OSMO will be available

on Nemo's best-selling

backpacking tent Dagger

(pictured) as well as the

top-selling ultralight shelter

Hornet Elite in spring 2022.

It expects to integrate the

material into additional

tents in 2023 and beyond.

www.nemoequipment.com

www.campingtradeworld.com | 23
---
TOURISTIK & CARAVANING THE DETAIL

Positive mood at

Leipzig show

Despite going ahead under more stringent restrictions than have been

seen for much of 2021, the Touristik & Caravaning show in Leipzig,

Germany produced a positive result for visitors and exhibitors alike.

T

■he health of the

German camping and

caravanning industry

was once again in the spotlight

at the third ever Touristik &

Caravaning (TC) exhibition

in the eastern German city

of Leipzig. The TC show is

organised by the same team as

the CMT show in Stuttgart

and attracted an estimated

30,000 visitors over its five-day

duration. It was also one of the

first German events to go ahead

with the country's 2G rule,

which means that only people

who are fully vaccinated against

COVID-19 or have recently

recovered from it may attend.

Visitors were also obliged to

wear facemasks throughout

the show halls. Despite these

restrictions, the show was

deemed a success by organisers

and attendees alike, and

despite the fact that it is largely

considered a consumer event, it

was also well attended by people

within the camping and leisure

vehicle industry too. Several

events, including summits,

discussions and seminars

were put on for trade visitors

with speakers from the Saxon

Tourist Marketing Association,

Saxon Tourist Association and

the Mountain Bike Tourism

Coordination Center offering

advice.

Roland Bleinroth, president

of the event's organiser Messe

Stuttgart, said: "Touristik &

Caravaning proved once again

this year how important holidays

and travel are. Especially in

these difficult times, people

are yearning for freedom and

adventure. With TC, we were

able to offer the industry a

platform and bring supply and

demand together. It was shown

once again that real experience

and personal discussions are

irreplaceable. I would like to

thank all the participants and the

colleagues at Messe Leipzig for

the successful implementation of

the event."

As well as receiving positive

feedback from visitors who

were desperate to plan future

holidays, the show was also

hugely successful for those

companies and brands who

decided to exhibit – there were

370 in all, and nearly all of them

reported success from a doing

business point of view.

Markus Freitag, head of sales

and marketing at Concorde

Reisemobile, commented: "After

a one-year absence it was good

24 | www.campingtradeworld.com
---
THE DETAIL TOURISTIK & CARAVANING

All photos © of Landemesse Stuttgart GmbH

SHOW STATS

370

Exhibitors

30,000

Visitors

1/3rd

Of visitors travelled more

than 100km to attend

to be back at the trade fair in

Leipzig. The number of visitors

was lower than before the

pandemic, but those persons

present showed a great deal

of interest and sales were well

above the figure in 2019."

Meanwhile, Torsten

Schwengber, managing director

of the camper manufacturer

TS Buscamp, added: "The

cooperation with the organisers

was superb. Of course, the

influx of visitors was slightly

reduced due to the current

circumstances, but we held

some interesting conversations

and were able to generate

business after the event. The

hygiene concept functioned

very well and was absolutely

transparent and enforceable for

us as an exhibitor. This is also

certainly encouraging me to

plan our return to Touristik &

Caravaning in Leipzig next year.

I can highly recommend the

trade fair."

The show wasn't just about

leisure vehicles though. It had

a strong presence from tent

brands as well as accessories

for camping too. Companies

from these sectors enjoyed an

equally profitable show – Camp

Nation managing director,

Dirk Langenfeld, said: "I was

positively surprised by the

outcome of the trade fair.

Although there were naturally

fewer visitors, those people

who came to the event were

definitely interested in making

purchases. This means that

we were able to devote more

time to customers and conduct

intensive purchase discussions.

We recorded a particularly great

interest in caravan awnings."

The 2022 edition of the TC

show in Leipzig will take place

at the same Messe Leipzig venue

from 16 to 20 November. To learn

more, visit www.tc-messe.de

96%

Said they would

recommend the show

to a friend

80%

Of visitors said their main

interest was caravanning

www.campingtradeworld.com | 25
---
AUSTRALIA DOING BUSINESS WITH...

DOING

BUSINESS

WITH...

Australia

Camping and caravanning is simply part of the Australian psyche – it's a nation of

adventurers, travellers and people who love to play with their toys. Interested to

learn more about arguably the southern hemisphere's most significant market?

You came to the right place…

26 | www.campingtradeworld.com
---
DOING BUSINESS WITH... AUSTRALIA

T

■he caravanning and

RVing industry in

Australia is probably in

the best place it has been in about

40 years. Before the pandemic even

occurred, Australia reported record

figures for domestic camping and

caravanning trips (53.5million),

RV registrations (679,393), and

RVs manufactured (23,070) in the

year 2018 – with the effect of the

pandemic, as has been seen in so

many other countries, only further

enhancing that increasing interest

in the sector. Domestic tourism

has always been an important part

of the Australian psyche – it is a

nation of travellers, of explorers, of

adventurers. Pre-pandemic, much

of that domestic adventuring would

be undertaken by those that had

retired, or perhaps young families

who could not afford international

travel for their whole clan. In light

of COVID, many Australians

have decided to shift their decision

to buy a caravan or motorhome

forward to enjoy the best of

their own country now, while

international travel still remains

sluggish and restricted.

One quite remarkable aspect

about the market in Australia is

how strong it is when it comes to

caravans and other towables. While

large parts of Europe seem to be

clamouring to build campervans

and small motorhomes, in Australia

the caravan and trailer tent/

towable camper reigns supreme.

It is estimated that about 90 per

cent of RVs manufactured in the

country each year are towables,

which is a proportion probably

not matched in any other country

on Earth. That's not to say that

motorhomes and campervans don't

exist in Australia, they do, but they

just haven't quite got a foothold

on market share yet. That could

change in the coming years as more

affordable imported campers from

Asian countries such as China,

Korea and Japan start to make their

way into the market.

Elsewhere there is a strong tent

▲ Australia has an estimated 800,000 registered RVs.

and trailer tent market in Australia

too – as with many other countries,

it is often a starting point for those

who want to try camping on a

lower budget, but it also serves a

purpose for those who like to get

away from it all and leave home

comforts behind when they head

out into the great outdoors.

Setting aside the domestic

market for a moment, Australia

normally receives in excess of

350,000 international visitors per

year who choose to spend some

aspect of their holiday camping

or caravanning. This equates to

almost five million nights. Losing

this, as Australia has by locking

itself away from the world and

closing its borders during the

COVID pandemic, has of course

had a detrimental effect on the

camping industry. Some of that

has been mitigated by the uptake

of domestic interest, but it is still

a sector of the market that the

industry would dearly love to

return in the near future. At the

time of writing, Australia had laid

down plans to open up its borders

again in 2022, but it seemed

subject to change dependent on the

situation with the Omicron variant

of coronavirus.

The Australian industry is

overseen by the Caravan Industry

Association of Australia (CIAA),

which liaises directly with the

country's federal government

and represents the interest of the

regional state associations. This

organisation does a tremendous

amount of good work on behalf

of the Australian industry – from

compiling data and statistics, to

lobbying the government. One of

its most recent activities has been

promoting safety advice about

caravanning to the public, with

a huge number of Australians

heading out on a camping

adventure for the first time during

the 2021/2022 summer. More

than 800,000 registered RVs are

thought to be preparing to go on

a camping holiday during this

period, which equates to about four

million camping holidays and 14

million nights of accommodation.

The CIAA will be providing

road safety information regarding

pre-planning of trips to managing

fatigue, appropriate use of rest

stops including truck rest areas,

vehicle preparation, sharing the

road with trucks, towing, caravan

parks shared spaces and pool

safety. The association believes this

information is relevant for all road

users regardless of experience.

FACT FILE

Capital: Canberra

Population: 25,900,000

Dialling code: +61

Prime Minister:

Scott Morrison

Official languages:

English

Time zones:

UTC+8, +9.5, +10

Currency: Australian Dollar

Internet domain: .au

ECONOMY IN FOCUS

$1.9 trillion

GDP (USD)

$62,500

GPD per capita (USD)

6.1%

GDP growth

4.2%

unemployment

TOP IMPORT PARTNERS:

China

USA

Japan

Germany

Thailand

TOP EXPORT PARTNERS:

China

Japan

South Korea

USA

India

www.campingtradeworld.com | 27
---
AUSTRALIA DOING BUSINESS WITH...

Photo: Oztent

ECONOMY IN FOCUS

Australia is a highly

developed economy that

is estimated to be among

the 12 largest in the world

by GDP. The country

has told a story of long

and steady growth and

prosperity – it actually set a

record for the longest run of

uninterrupted GDP growth

in the developed world in

March 2017, recording 103

consecutive quarters of

growth. Despite its historic

links with western Europe

and its 'western' culture,

the country is heavily

dependent financially on

the countries closet to it in

Asia and South East Asia,

as well as close neighbour

New Zealand. China is one

of its largest import and

export partners, and there

are many Chinese migrants

living in Australia.

In terms of market

sectors, Australia still has

a significant industry in

mining, with gold, copper

and iron ore the main

exports. Its manufacturing

industry has been in decline

since the 1960s, which many

companies moving such

facilities out of Australia and

into nearby Asian countries

with cheaper labour.

Agriculture also plays a

reasonably siginificant role

in the Australian economy.

The service industry

is among the largest in

Australia with finance,

media and tourism all

being formidable players

towards the country's overall

prosperity.

WHO'S WHO

Australia has a good pedigree of leisure vehicle manufacturing – the camping and caravanning industry here

has outlasted and outperformed other automotive industries in the country. Perhaps the most iconic export

is Jayco, now part of the huge Thor Industries group – but there are many other makers of differing shapes

and sizes. Tents and awnings are also made here in good numbers, however Australian brands in these market

segments don't have quite as much success when it comes to export – maybe your company could be the one to

help change that?

KEA MOTORHOMES

Made by the Action Manufacturing Group, which makes motorhomes for popular

Australian and New Zealand motorhome hire brands Britz and Maui, KEA is the sales

brand for this group. Built on a wide range of vehicle chassis including Volkswagen,

Mercedes and Toyota, KEA has been around for more than 30 years and prides itself on

the best technology, innovation and customer comforts.

www.keamotorhomes.com

TALVOR

Owned by Australian tourism company Apollo, TALVOR manufactures a range of

motorhomes and campervans in both Australia and New Zealand, both for rentals and

for permanent sales. It has been in the business since 1985, and manufacturing since

2005 and it claims its models are specifically designed to handle the unique weather and

road conditions of Australia and New Zealand.

www.talvor.com

JAYCO

One of the most iconic names in Australian caravanning and RVing is Jayco. The

company has been around for more than 45 years and still designs and manufactures its

products in Dandenong South in Victoria. It supplies a network of more than 150 dealers

and service agents and is known for its high standards of technical expertise, safety and

build quality. In 2016, it was acquired by American giant Thor Industries.

www.jayco.com.au

28 | www.campingtradeworld.com
---
DOING BUSINESS WITH... AUSTRALIA

AVAN

From humble beginnings in a garage in Hallam, Victoria, Avan has grown over the last

20 years to become one of the most trusted names in campers and caravans in Australia.

The company makes caravans, trailer tents and motorhomes of varying sizes utilising

sophisticated designs and revolutionary construction techniques. All of its models come with

a 24-month manufacturing warranty, such is the company's confidence in its build quality.

www.avan.com.au

COROMAL

Coromal has been a name associated with the Australian camping industry since 1977,

with a focus on making its campers pretty inside and out. It claims to be the number one

choice for Australians looking to buy both their first, or upgrade their existing RV, thanks

to its close attention to detail with aspects such as comfort, style, and functionality. It

claims the next generation of caravans will change the game in the RV industry.

www.coromal.com.au

SOUTHERN CROSS CANVAS

Southern Cross Canvas manufactures a vast range of tents to suit numerous applications

ranging from your quick and easy to use, touring style tents through to your cabin style

tents. The company is known for high standards of craftsmanship and can also make

custom models if you cannot find something that works for you with their range. It also

provides awnings or tents that can be added onto other camping vehicles.

www.southerncrosscanvas.com.au

OZTENT

Oztent is a tent and camping brand that has grown to become one of the country's most

well-respected brands. It claims it crafts all its products from experience and says they

are perfect for combining camping with other outdoor activities such as kayaking and

hiking. Not only a seller in Australia, Oztent's products have reached international fame,

with many of them popular in export markets such as the United States too.

www.oztent.com.au

BLACKWOLF

A brand that people rely on, BlackWolf provides all types of camping products for

outdoor adventures including tents, packs, sleeping bags, camping furniture and coolers.

The company has a strong reputation for long-lasting quality and reliability, and in its

own words, it doesn't get caught up in the seasonal trends or any misguided distractions,

instead is completely focused on delivering strong, quality products to our customers.

www.blackwolf.com.au

SHOW BUSINESS

The nature of Australia

– both its colossal size

and its state-based

organisation – means

that there isn't really one

central show or event that

unites the whole industry.

However, some of the

regional and state shows

are hugely significant

events in the Australian

calendar. One of the most

significant is the Victorian

Caravan, Camping and

Touring Supershow, which

takes place in May each

year at the Melbourne

Showgrounds. It has been

in operation for almost

70 years and attracts

thousands of trade and

consumer visitors alike

each year. More info can

be found at

www.caravanshow.com.au

– the organisers of this

show also run the Bendigo

Caravan and Camping

Leisurefest and the Border

Caravan and Camping

Expo. Many of these events

have had a rough time

over the past two years

due to cancellations and

restrictions because of the

pandemic. However, they

are all aiming to come

back in 2022 and offer even

better experiences for all.

▲ Jayco is a name synonymous with the Australian caravan and RV industry. (Photo © Jayco)

www.campingtradeworld.com | 29
---
AUSTRALIA DOING BUSINESS WITH...

A BIG CAMPING COUNTRY

AUSTRALIAN STATS

94%

Of Aussie campers believe

the hobby teaches kids

valuable life skills

4 million

Camping trips are

estimated to have been

taken by Australians this

summer

Camping has long been at the heart of a

great Australian holiday. The country is one

of the few on Earth that offers genuine

wilderness that many Australians love to seek

out and enjoy a break from their busy lives.

Campgrounds can be found up and down

the country, both around its urban centres

and also at key stopover points on the long

road journeys between them. The strength

and growth of the leisure vehicle and caravan

industry is well documented, but a similar

growth pattern has also occurred with tent

camping, trailer tents and general outdoors

goods. This market is estimated to be worth

more than US$5 billion at retail level in

Australia, which represents growth of around

11 per cent. Since the year 2016, the size

of this market has grown at a steady rate of

around one per cent each year, with the last

couple of COVID-affected years accelerating

that further. One of Australia's stereotypes is

that all of its various dangerous animals are

trying to kill you – so it may seem surprising

that tent camping is still a popular pastme.

Like most stereotypes, the grain of truth it

comes from has been warped and campgrounds

are generally very safe. The consistently

warm conditions in many parts of Australia

also further help to boost tent camping. As

previously mentioned, the fact that Australia

has genuine wildnerness that you can explore,

leaving behind almost any trace of civilisation

in a wide range of climates and conditions,

makes tent camping the perfect way to do that

and combine with another outdoor activity

such as hiking, surfing, fishing or hunting.

AUS $23b

The amount the caravan

industry contributes to

the Australian economy

annually

800,000

Estimated number of

registered RVs in Australia

90%

Of RVs in use in Australia

are Australian made

6,000

Businesses are involved in

the camping and caravan

trade in Australia

Photo: Mike Holford, Unsplash

30 | www.campingtradeworld.com
---
DOING BUSINESS WITH... AUSTRALIA

Photo: Jonathan Forage, Unsplash

INSIDER

INSIGHT

STUART LAMONT, Caravan Industry Association of Australia

"We've traditionally outperformed

the automotive industry and other

vehicle industries over the last

10 years, so we have a fantastic

foundation already. Yes, we have

a huge sugar hit at the moment,

but we expect that subject

to customers experiencing a

fantastic experience when they go

camping, we'll get a fair amount

of stickability and we'll see a new

foundation. We expect to see

very strong mid and long-term

results out of new people coming

in. We are seeing a lot of new,

young, migrant individuals coming

into caravanning that have never

thought about it in the past – it's

a whole new wave of consumers

that have never been exposed to

our industry in the past and we

believe that will continue, moving

forward.

International travel and cruises

will have a long tail when it comes

to nervousness from people to

return to them, which will mean

that domestic tourism should stay

strong for some time to come.

"Our marketing has been

aimed towards that recently too

– cheekily, we've communicated

the message that when you come

back from a holiday abroad, all you

come back with is some photos

and credit card debt. With an

RV, you have an asset sitting on

your front lawn that you can use

multiple times, you can share with

your family and friends, and when

the time is right, you can sell or

trade-in."

Learn more about the Australian

camping market by listening to

our podcast with Stuart Lamont

www.campingtradeworld.

com/category/podcast

www.campingtradeworld.com | 31
---
SUPERSPRINGS INTERNATIONAL COMPANY PROFILE

A different approach

to brand

With several years of successes and exponential growth behind it,

SuperSprings International has some big plans to take things even

further in 2022. The company's unique focus on branding and doing things

differently has the end goal of making it a household name.

S

■uperSprings

International (SSI)

is a company that

likes to do things differently.

From development and

manufacturing through to

marketing and branding. The

California-based suspension

expert rarely does any of its

thinking inside the box.

"That's fair, and we

like it that way," explains

the company's director of

marketing, Tom Bateman. "We

have and continue to produce

all visual content in-house and

that's what gives us the agility

and wealth of content to attack

the industry differently.

"There's nobody as

passionate about our company

and our products as us, and

our passion and mission is

to make the end consumer's

journey better. That includes

our approach to how we

market, how we present

ourselves, and the type of

company we want people to

associate themselves with.

We here to create better

journeys and to be a leader in

marketing while doing it."

You may be thinking to

yourself, you've heard this all

before. Marketing is marketing

right? Wrong. The team at

SSI place a huge emphasis on

their brand and how they want

to present it to the industry

– even the tiniest details

are poured over with great

precision and with serious

thought about their overall

impact to the brand. Joined up

thinking is essential when you

want your branding to deliver

a clear and engaging message

about your company, and that's

something Tom and the team

have placed huge importance

on since the early days.

"I think the best branding

is the most simple, and that

sounds easy, but it's actually

quite the opposite," says Tom.

"There's been times when

Adam Weisner (CCO of

SuperSprings International)

and I have sat in our office for

north of three hours trying to

find the right three words to

use in a line of copy for an ad.

But it's those types of relentless

exercises that make a good

brand really special.

"When we set out to grow

and shape our brand a couple of

years ago, Adam and I wanted

to make sure it was classy,

simple, clean, and consistent.

It's been a lot of work, but

we're both really proud of what

it is today. Under his direction

and leadership, it's now really

gaining heavy momentum."

32 | www.campingtradeworld.com
---
COMPANY PROFILE SUPERSPRINGS INTERNATIONAL

THE 2022 GAME PLAN

▲ Expect to see a lot more of SuperSprings International's videobased

booth at an exhibition near you soon.

THE METHOD

Naturally, a good marketing

plan has a combination of

elements – you really can't

leave any stone unturned. Sure,

some aspects will deliver better

or faster results than others,

but when they are part of a

network of communication

across many channels, they do

their best work. Having said

that, one clear strategy that

has performed very well for

SSI is video. If you missed the

article in issue five of Camping

Trade World, head back to the

website and check it out now,

because SSI's strategy when it

comes to this powerful media

was discussed in detail.

Tom says: "We'll keep saying

it… video is king! It really is

the key to unlock everything.

Stills, social media, print and

digital ads, web campaigns,

you name it; it's all possible

with high-quality video as the

bedrock."

Whether its instructional

videos explaining the products

and how to use them or choose

the right one, inspirational

videos about the amazing

adventures people have had

in RVs using SSI products, or

behind-the-scenes discussions

with the people who build

RVs, SSI has a wealth of

video content that it keeps

building on to further emphasis

the strengths of its brand.

Throughout 2021 and into the

year to come, the company is

utilising this content heavily

to make its presence at shows,

exhibitions and conventions

stand out too. It recently

revealed a new booth design at

the Meyer Distributing Show

that really caught the attention

of attendees and other

exhibitors alike.

Tom explains: "From the

beginning of building our

marketing strategy, we knew

we wanted to place time and

energy on video production

that we could then use in all

efforts. Having put that much

focus on visual content, we

were able to translate that into

our newest investment. The

booth is a modular design that

allows us to build a 10x10',

10x20' (pictured) and a 20x20'

booth. They all feature a large

video wall and lit imagery on

all walls."

So, what of the year that is to come? After enjoying

phenomenal success for its Sumo Springs product, SSI is

planning to slightly shift the focus with its marketing and

promote its namesake product: SuperSprings.

Tom explains: "SuperSprings are a simple, bolt-on, steel

helper spring that eliminates rear-end sag and stabilizes sway

& body roll. Built in the USA from high-grade shot peened

steel, this suspension solution allows you to add everything

including the kitchen sink, without sacrificing your ride quality.

It's a really impressive solution, especially for heavy RVs.

"The SuperSpring design includes a patented roller shackle

on each end that allows for self-adjustment as weight is

changed. This is particularly helpful as you add water or gear

to your RV."

With that clear focus in mind, SSI will be pushing

SuperSprings and its other products in the same way it has

for several years now – with solid marketing investment, with

smart ideas that tell stories, and with modern, engaging

content like its excellent video range.

"Our plan is to become the best-known suspension brand

in the world; to be a household name," concludes Tom.

"We believe part of that comes from these types of early

and heavy investments in marketing."

SUPERSPRINGS INTERNATIONAL

E: tom@supersprings.com

W: www.superspringsinternational.com

Visit SuperSprings on Youtube at

W: www.youtube.com/c/SuperSpringsInternational

www.campingtradeworld.com | 33
---
e-RV WINNEBAGO

Photos © Winnebago Industries

Winnebago

sparks the EV buzz

RV giant Winnebago Industries has revealed its first all-electric zero emission

motorhome concept, the e-RV. Another sure sign that the motorhome industry is

headed towards an electrified future.

R

■V giant Winnebago

Industries has revealed

its first all-electric

zero emission motorhome

concept, the e-RV. The vehicle,

which was showcased at the

recent Florida RV Super Show,

has been in development

for two years and features in

incorporated an advanced drive

train and battery package that

also powers all the living area

systems in the RV.

"This is an exciting time for

Winnebago Industries and

the outdoor lifestyle industry

as a whole. We are proud to

continue our innovation legacy

with the reveal of the e-RV

concept vehicle," said Michael

Happe, Winnebago Industries

president and CEO.

Meanwhile, Winnebago

Industries senior vice president,

business development, advanced

technology and enterprise

marketing, Ashis Bhattacharya,

added: "Consumer demand

is driving electric power

applications across many fronts,

and we believe RV consumers

are poised to benefit from the

enhanced features and usability

that electrified and connected

RV products will provide.

"Winnebago Industries has

an ongoing mission to listen to

and learn from our customers as

we continue refining, exploring,

and innovating, and the e-RV

concept vehicle is a perfect

example of this."

The e-RV was developed

by Winnebago Industries

Advanced Technology Group

(ATG), which was established

in 2019 to help identify and

develop emerging technologies

for application within future

products. This is the first public

facing example of ATG's work

and Winnebago Industries

believes it highlights its

commitment to innovation and

sustainability. Learn more at:

www.winnebagoind.com/electric

34 | www.campingtradeworld.com
---
WINNEBAGO e-RV

WHAT ARE THE KEY FEATURES OF THE e-RV?

The e-RV is packed with appliance designed to

optimise energy usage and battery performance.

Examples include the 350volt DC power for the

water heater and roof mounted air conditioner,

110-volt AC for the induction cooktop and the

refrigerator, which can also operate on 12-volt DC

power for enhanced flexibility and convenience.

The battery is flexible in terms of its charging

source, meaning users can charge it at home,

on the campground or at a dedicated charging

station. In a high-current charging situation,

charging time is about 45 minutes.

Battery technology is anticipated to continue to

evolve as this concept vehicle develops but the

current industry standard of an 86kWh battery

configuration provides a range of 125 miles while

powering on-board systems. This is sufficient for

54 per cent of new RV buyers who prefer to make

trips under 200 miles according to data from the

RV Industry Association.

An integrated control system that enables

operation of subsystems, optimises load and

efficiency, and displays system information

and controls on a digital display. The control

systems can be monitored through a tablet or

smartphone app.

High performance wireless connectivity through

a residential grade wi-fi network via dual-modem

router that enables high data streaming levels.

Premium galley amenities including a modern,

marine-grade refrigerator, slide out induction

cooktop, and matte black sink fixtures. The

bathroom includes a toilet and contemporary

fixtures including a detachable, handheld

shower head.

Materials throughout the e-RV concept vehicle

are selected with a preference for eco-friendly

and sustainable options. This includes sustainable,

recycled cork-rubber flooring and woollen wall

appliques to enhance thermal and wall insulation.

▲ Winnebago Industries' e-RV concept shows what is possible and

what could be possible in the future for electric-powered camping.

A chassis based on a readily available Ford

Transit platform that has been modified with an

advanced electrical power system from Lightning

e Motors that powers the drivetrain, vehicle

controls and living quarters.

www.campingtradeworld.com | 35
---
AL-KO COMPANY PROFILE

The growth of a

global group

How did one small Bavarian company become a multi-national expert in chassis

and suspension components for trailers, leisure vehicles and more represented

in more than 40 locations worldwide with 15 international brands?

This is the story of AL-KO Vehicle Technology Group on its 90th anniversary.

A

■s is often the way when

a company reaches a

significant milestone,

it was perhaps never in the

mind of Alois Kober when

he founded his company in

1931 that his initials would

become so iconic in so many

industries. When he laid the

foundations for what would

become the multi-national

AL-KO Vehicle Technology

Group in Bavaria during that

turbulent time in Germany's

history, he was no doubt just

trying to get by and put his

engineering and entrepreneurial

talents to good use. In the 90

years that have passed since that

moment, AL-KO has grown to

become a company with some

3,800 employees all around

the world in more than 40

different locations worldwide.

High quality chassis and chassis

components for leisure vehicles

is perhaps what AL-KO is

best known for by readers of

this magazine. The company,

through its slow and steady rise

to the top, has always placed a

large emphasis on innovation,

quality and also safety and

comfort for motorhome and

caravan users around the world.

"Our trade is always geared

towards quality, functionality

and comfort for comprehensive

driving safety," explains Harald

Hiller, president and CEO of

All photos © AL-KO Vehicle Technology Group

36 | www.campingtradeworld.com
---
COMPANY PROFILE AL-KO

KEY PRODUCTS

AK 161 BALL COUPLING

AL-KO's range of ball coupling

connections pride themselves on being

incredibly safe and reliable. One of the

highlights in this series of products over

the years has been the AK 161, for braked

trailers of up to 2,700kg. It prevents

sham locking, has improved ergonomics, better wear

reduction, a soft dock as standard and optional accessories

such as a pressure lock.

▲ AL-KO is at the forefront of chassis technology in RVs.

the AL-KO Vehicle Technology

Group. "We are now very

much a part of the mobility

transformation."

It only took 30 years for AL-

KO to open its first overseas

subsidiary, albeit in nearby

Austria. But this first expansion

would lead the company

down a path away from just

being a German company, and

becoming a major international

player. It had added subsidiary

outposts in the USA, Australia,

South Africa, China and several

others before one of the most

significant moments in its

history that would help make

it truly international. In 2016

AL-KO Vehicle Technology

and Dexter Axle, a leading

developer and manufacturer of

trailer axles, brakes, and related

components in North America,

merged under the umbrella of

DexKo Global Inc to accelerate

the company's growth. Then

followed acquisitions, and

plenty of them. Well-known

brands such as CM Trailer

Parts, E&P Hydraulics,

Bankside Patterson and most

recently Nordelettronica and

Brink joined the stable to the

point where there are now 15

different international brands

within this global group. These

acquisitions have helped to

doible the turnover of the group,

with it expected to reach almost

US $1 billion by the time 2021's

figures are finalised. The target

is to grow that figure to $1.5

billion by the year 2025, I bet

Alois Kober would have laughed

at you if you could go back in

VARIO X CHASSIS

This lightweight chassis concept allows the opportunity

for caravans to have more payload due to a lighter overall

weight. This innovative and robust chassis was launched to

the market in partnership with Adria and is being used on

the new Adria Adora with various layouts in the 2,000kg,

single-axle caravan weight class.

AL-KO CHASSIS

In collaboration with vehicle

manufacturers such as Fiat,

Peugeot, Citroën, Mercedes-Benz

and Volkswagen, AL-KO has near

perfected the motorhome chassis. The

hot-dip galvanised chassis concept

in lightweight construction features a wide-track chassis

with single-wheel suspension. The standard torsion bar

suspension is also unique among chassis manufacturers in

the leisure vehicle market.

MAMMUT MANOEUVRING SYSTEM

Strong yet sensitive, the AL-KO

MAMMUT manoeuvring system enables

smooth and precise manoeuvring of

single-axle caravans up to a maximum

weight of 2.5 tonnes or tandem axles up

to three tonnes. Now this smart product

also has a weight detection system to determine the weight

within five minutes with a tolerance of less than five per cent.

www.campingtradeworld.com | 37
---
AL-KO COMPANY PROFILE

▲ More than 3,800 employees work for the AL-KO Vehicle Technology Group at more than 40 sites around the world.

""It is really incredible how the AL-KO Vehicle

Technology Group has grown and developed..."

HARALD HILLER, PRESIDENT AND CEO OF THE AL-KO VEHICLE TECHNOLOGY GROUP

a time machine and show him

these numbers.

"It is really incredible

how the AL-KO Vehicle

Technology Group has grown

and developed," continues

Harald. "The team has done

an outstanding job. The focus

on our customers, partners and

employees, consistency through

financial stability, a high level of

in- novation and the philosophy

of having everything to do with

chassis and peripherals from a

single source, are what made this

possible. All of this will continue

to define us in the future.

"We are still on course

for growth, which became

particularly clear with the

acquisition of Brink, our largest

single acquisition for the DexKo

Group worldwide to date. With

the towbars, a completely new

business area came to us, which

is already served by over 900

colleagues today and is expected

to grow further."

1931 1961 1970 1983 1985

Alois Kober laid

the foundations for

today's AL-KO Vehicle

Technology with a forge

in Großkötz in Bavaria,

Germany.

38 | www.campingtradeworld.com

The company founded

its first ever foreign

subsidiary company

in the neighbouring

European nation of

Austria.

Further subsidiaries

were opened in the

UK (Southam), France

(Louhans) and also Italy

(Vintl).

AL-KO USA was

established, closely

followed by AL-KO

International in

Australia in 1986.

The market launch of

one of AL-KO's most

iconic products, the

chassis AMC, which has

become the base for

many leisure vehicles

over the years.
---
COMPANY PROFILE AL-KO

Forecast for the future

A company doesn't make it to its 90th

anniversary without having a firm

focus on the future. You have to have

a plan, and you have to identify the

growth areas in which your company

can develop. Luckily for AL-KO, it has

these in abundance – the research

and development department

within the company has gone from a

local sector focused on vehicles and

trailers to an international network

with a comprehensive portfolio of

technology and expertise. AL-KO

Vehicle Technology Group takes an

active role in the megatrends of the

mobility industry such as caravanning,

e-mobility and last-mile logistics. Dr

Frank Sager, senior vice president

of research and development at the

company, explains: "We will expand our

expertise in all these areas. In addition,

our ability to customise sophisticated,

safety-relevant chassis and chassis

systems subject to approval will remain

crucial in the future."

Naturally the caravanning market

in its current state of growth is a

market that AL-KO Vehicle Technology

Group will continue to have a very

active role in. Record demand for

▲ AL-KO is predicting a bright future in the lesiure vehicle market.

caravans, motorhomes and panel

vans is predicted by the company

to continue for some time to come.

"Individual travel in a leisure vehicle is

a safe form of holiday and is becoming

increasingly popular. Therefore, as an

essential supplier for the motorhome

and caravan sector, we will continue

to push our core competencies from

lightweight chassis through to chassisrelated

components and electronics,"

says Harald Hiller.

Besides the leisure vehicle market,

the future of AL-KO will also lie in the

sectors of hydraulic components,

modern trends like tiny homes, and

light commercial trailers, which are

said to be in similarly high demand to

RVs. But perhaps the closest link with

the leisure vehicle industry that AL-KO

will be working within is that of electric

vehicles. Erwin Gentner, managing

director of Alois Kober GmbH, explained:

"Society's call for more electromobility

and sustainability also demands a

change in the special vehicle segments

in which we operate. We are proud to

help shape this change and to develop

pioneering studies such as the Hybrid

Power Chassis and the Green Trailer

Platform. Our chassis platforms as

adaptable system carriers and our

axle systems for electric vehicles are

also in demand. Furthermore, we help

partners with industrialisation all the

way to series production – such as in

our E-Factory. Electric vehicles for ABT

e-Line are produced there, for example."

2006 2010 2014 2016 2021

The start of series

production for the ATC

Trailer Control began.

AL-KO introduces the

MAMMUT caravan

manoeuvring system.

It also acquired Sawiko

Fahrzeugzubehör in

2012.

The company reached

the milestones of

producing 225,000 AMC

chassis and 25 million

axles. It also acquired

Bradley Doublelock in

the same year.

The significant merger

between AL-KO

Vehicle Technology

Group and Dexter as

DexKo Global Inc was

confirmed.

The company reached

the milestone of

producing 28 million

couplings and also

acquired Dutch

company Brink

International.

www.campingtradeworld.com | 39
---
GROW YOUR BUSINESS

Grow your

business

with...

TRADE

WORLD

S

■ince the launch of our

website and digital

magazine around a year

ago, Camping Trade World has

been on a rapid growth curve.

We've gone from 0 to 60 pretty

quickly and reach a growing

audience of camping, caravanning

and RV industry professionals

around the world every single day.

Our aims are to keep the industry

informed, help you improve how

your company operates and, if you

choose to work with us, help you

grow your business.

What can it do for me?

By working with us, even in just a small capacity, we can help you:

• Gain partners in new countries and territories

• Put your products/services in front of buyers around the world

• Build your brand

• Communicate your message to the industry

• Source new products, services and components

• Learn about market trends and insight

• Get the latest news and opinion from the industry

• Get your voice heard

40 | www.campingtradeworld.com
---
GROW YOUR BUSINESS

How We Do It

Our up-to-the-minute

website is updated daily and

is visited by 2,000 people per

month from more than 110

different countries.

Our LinkedIn page is a hub

of industry news and debate

with a fast growing network of

followers and a post reach of

more than 8,000 on average.

Our email newsletters

feature a wide range of

content and have strong

engagement rates of between

20% and 45% on average.

Our multimedia channels

such as our industry podcast

and YouTube channel are

listened to and watched by

people around the world and

are on a fast growth curve.

Over 4,500 pageviews

per issue of our digital

magazine, people spend 10

minutes and read 12 pages

on average per session

Our database now has

professionals subscribed

from more than 40

different countries – with

more joining every month.

YOU CAN WORK WITH US FROM AS LITTLE AS £385 / $520 / €430

VISIT www.campingtradeworld.com/advertise to find out how

www.campingtradeworld.com | 41
---
LIONTRON COMPANY PROFILE

Give your 2022

a power boost

German firm Liontron believes it has the right strategy in place and product lineup

to continue on its growth path in 2022. Could you be part of it? If you're seeking

lithium iron phosphate smart batteries with a host of advantages over traditional

ones, the answer should be yes.

GOING GLOBAL

At present, LIONTRON has a big market in its native Germany, but it also sells into

Austria, Switzerland, the Netherlands, Luxembourg, France, Italy, Spain, the UK

and Scandinavia. This is just the tip of the iceberg. It has plans to expand into the

USA, Australia, New Zealand, South and Central America, Asia and Eastern Europe.

Presently, LIONTRON has about 900 sales partners in 20 countries, but it's on the

lookout for new partners. Could you be the next to join team LIONTRON?

E: info@liontron.de W: www.liontron.com

42 | www.campingtradeworld.com
---
COMPANY PROFILE LIONTRON

WHAT THEY SAY

How was 2021 for LIONTRON?

"2021 was really good for us. We significantly increased our

turnover as well as the quantity of lithium batteries sold.

The camping boom continues – many people started to get

interested in camping and need equipment. This is a big

advantage for us."

What was the biggest success of the year?

"Our biggest success was seeing how well our unique,

sustainable batteries were received by campers. The demand

was very high this year."

▲ LIONTRON's batteries can be repaired by the user easily.

A

■s we move into a new

year, it's a time of

considering what plans

you should be implementing

for your business in order to

help it grow. Could it be a new

product? A new partnership?

How about working with

a company that has a fastgrowing

reputation in the

industry for innovative products

that are sustainable, high-tech,

and help leisure vehicles reduce

their overall weights? Then

German company LIONTRON

is who you need to be speaking

to. The company is an expert

in LiFePO4 batteries that are

already gaining a lot of fans in

the caravan and motorhome

industry, and with good reason.

LiFePO4 batteries have twice

as much capacity as traditional

VRLA batteries, because those

can only be discharged up to

50 per cent. LIONTRON

batteries can be discharged 100

per cent. That means, that a

200Ah VRLA battery can be

replaced by a 100Ah Lithium

battery. They also have a longer

lifecycle – they can survive as

many as 3,000 complete charges

and discharges. After 3,000 full

cycles, LiFePO4 batteries still

have at least 80per cent of their

original power available and can

definitely deliver a reasonable

performance for another 7,000

cycles. Using this technology

also means that LIONTRON

batteries can be much smaller

and lighter than lead options.

A 100Ah LIONTRON battery

weighs just 14.5kg, compared to

32kg for 100Ah lead batteries

– a key benefit for caravan and

leisure vehicle manufacturers

who value any weight saving

they can possibly make.

Better yet, the batteries

offer the highest level of

sustainability for this type of

product currently available

in the market. Their modular

design means that they are easy

to take apart and repair by the

user – individual components

can easily be repaired or

replaced, hugely extending

the lifespan of the battery.

LIONTRON doesn't glue

or solder the battery housing

or parts so a dealer or an

experienced camper can easily

carry out repairs.

How is the market for you right now?

"The demand for our products continues to increase.

Opportunities lie in our strategy: unlike the competition, our

batteries can be repaired and modules replaced. The biggest

challenge is to make clear why this makes sense. It does not

make sense to everyone yet and we want to change that."

What are your plans for 2022?

"Our plan is to maintain the market leadership for lithium

batteries in Europe – especially Germany, Austria, Switzerland

and France."

▲ LIONTRON's Wolfgang Felzen with CTW's Guido Knegt.

What is the most important product in your line-up and why?

"The most important product in our line-up right now is

our new battery with 300 Ah, which is also available as an

Arctic version that can be charged at temperatures up to

-30 degrees Celsius. Autarchy is one of the biggest trends

in camping. With this much battery power, we can satisfy

the needs of people who need more and more energy for

their appliances in their camping vans, but want to stay

self-sufficient."

Why should people work with LIONTRON?

"Because we offer a product with 5 years warranty and 10 years

repair promise that works with Bluetooth and offers an app."

www.campingtradeworld.com | 43
---
STUART LAMONT INDUSTRY VIEWS

Stuart Lamont

CEO of Caravan Industry Association of Australia

Camping Industry Association of Australia CEO, Stuart Lamont, took some

time out to talk to us about caravanning and camping in the country,

including the opportunities ahead, challenges which need addressing,

consumer trends, the rise of Chinese imports, and what the national

industry association is doing to benefit industry.

F

■or those that don't know,

could you please give a

quick, general outline

about the Caravan Industry

Association of Australia (CIAA)

and the work that it does?

Australia is set-up in very

defined states and territories,

and we have a federal

government, so we have three

tiers of government. From

where we (the Caravan Industry

Association of Australia) sit,

we are a federated body, and we

only have ten members – our

well-formed state caravanning

associations, which deal with

local issues on the ground and

the day-to-day stuff. From

the CIAA perspective, we

are the sole voice to do with

anything federal – whether

that's compliance, federal laws,

insurance and so-on, we have an

important relation to what that

looks like.

We have a very

compartmentalised

organisation, but we carry out

several main activities. The first

44 | www.campingtradeworld.com
---
INDUSTRY VIEWS STUART LAMONT

one of those is research – we

have developed a very strong

research and insights team

over the last five or six years,

which underpins everything

we do from a marketing,

compliance, and advocacy

perspective. The second activity

is compliance and accreditation

– we run a comprehensive

accreditation programme from

a manufacturing perspective.

We audit and inspect product at

manufacturers, at dealers and at

shows and exhibitions. We have

seen a decline in compliance

issues of about 40 per cent over

the last three years, so we see

that the education through

audit process is highly valued

with great outcomes. Lastly, and

I guess quite unusually for a

trade association, we market the

industry. We have a very strong

consumer stimulus role; we

have databases of some 900,000

people with an interest in

caravanning and camping that

we regularly talk to. This also

allows us to survey the market.

It's quite hard not to talk about

COVID and the pandemic with

any business conversation – how

did it pan out in Australia for

the country and the camping and

caravanning industry?

I think it's been a blessing and

a curse. Australia as an island

locked itself off from the rest

of the world so that has been

quite advantageous for our

industry. We are a country of

travellers, and so the inability

to go overseas and our other

main competition of cruises

also being offline, people have

looked to substitute and enjoy

domestic holiday options

such as camping and

caravanning. But those

things have always been

part of the Australian psyche

anyway – when I was growing

up, you went to school, you got

a qualification, got married,

bought a house, you'd work in a

job for 40 years, and then you'd

retire, get a caravan and spend

the rest of your life touring

around Australia. It's very

fondly thought of, so we already

had a great foundation before

COVID. Even notwithstanding

being one of the most locked

down countries in the world,

with the inability to travel

within our own borders at

times, some of our caravan

parks have never done better.

Our vice chairman has been in

the industry for 30 years and

he's never seen it as good as

it is now. By and large, we are

somewhat embarrassed when

we go and have a conversation

with tourism recovery – we are

doing better than almost any

other sector in the Australian

economy from a tourism

perspective.

The curse side of it comes

with some of the transit

parks – a lot of international

caravanning journeys in

this country can be long, so

www.campingtradeworld.com | 45
---
STUART LAMONT INDUSTRY VIEWS

▲ Campgrounds in Australia have been busy for a long period with international travel restricted due to the COVID-19 pandemic.

We are seeing a lot of new, young, migrant individuals coming into

caravanning that have never thought about it in the past – it's a whole

new wave of consumers that have never been exposed to our industry...

CEO OF CARAVAN INDUSTRY ASSOCIATION OF AUSTRALIA – STUART LAMONT

those stop-off places haven't

had the custom with people

staying closer to home. We've

also got labour issues – the

government offered some very

generous incentives to help

keep employees connected and

to help people out through the

pandemic, which was almost

a disincentive to work. Most

companies had plenty of orders

in the booking systems but

didn't physically have the labour

to allow that to get into the

marketplace. More broadly,

COVID has created welldocumented

parts and supply

issues, which have of course

affected us, on top of surging

demand. And more generally,

just navigating the myriad of

different health orders that have

come in and changed over the

last 18 months.

Do you see the boost that

the caravanning industry is

experiencing continuing in

Australia?

We've traditionally

outperformed the automotive

industry and other vehicle

industries over the last 10

years, so we have a fantastic

foundation already. Yes, we have

a huge sugar hit at the moment,

but we expect that subject

to customers experiencing

Want to enjoy this interview

in-full and in real-time? Scan

the QR code to listen to

the Camping Trade World

podcast, also available on

Spotify and Apple Podcasts.

a fantastic experience when

they go camping, we'll get a

fair amount of stickability and

we'll see a new foundation.

We expect to see very strong

mid and long-term results out

of new people coming in. We

are seeing a lot of new, young,

migrant individuals coming

into caravanning that have

never thought about it in the

past – it's a whole new wave of

consumers that have never been

exposed to our industry in the

past and we believe that will

continue, moving forward.

International travel and

cruises will have a long tail

when it comes to nervousness

46 | www.campingtradeworld.com
---
INDUSTRY VIEWS STUART LAMONT

from people to return to them,

which will mean that domestic

tourism should stay strong for

some time to come.

Our marketing has been

aimed towards that recently too

– cheekily, we've communicated

the message that when you

come back from a holiday

abroad, all you come back with

is some photos and credit card

debt. With an RV, you have

an asset sitting on your front

lawn that you can use multiple

times, you can share with your

family and friends, and when

the time is right, you can sell or

trade-in.

Have you noticed a trend of

people expecting more from

campsites when they stay, driven

by newcomers? Are expected

standards higher?

I think it's two-fold on that.

On the one hand, you have

the traditional caravanner and

camper who doesn't want a lot

of facilities, they just want clean

amenities and a place to park

up. But then you have families

who are maybe expecting

a creche for the kids, or a

standard of living that they have

at home. As general standards

of living continue to increase, so

too will what people expect on

their vacations as well.

One trend we are seeing very

strongly here in Europe is that

of campervans – the 'van life'

movement has really taken off

here. Is that something you're

seeing in Australia as well?

We don't see it the same –

traditionally about 90 per cent

of our market is in caravans and

towed products. We certainly

have a lot of new families

coming in and we have a lot of

Chinese campervan imports

coming in at the low end of the

market that are very affordable

for a young family. However,

this hasn't really changed

▲ Caravans and towables are the biggest part of the market.

the market share despite

campervans getting a lot more

profile than they used to. I guess

social media has had an effect of

glorifying life on the road in a

campervan, and certainly what

COVID has taught us is that

you don't need to work in an

office anymore.

We set-up a number of videos

and towing courses to take away

the fear factor for new people

when it comes to caravans.

Technology is improving to

make those products safer and

less intimidating. But we are

generally an outdoors type of

culture and we do like to play

with our toys, and so by and

large, a caravan probably holds

less fear to an Australian as

opposed to some other global

markets that we deal with.

One thing you seem to do really

well as an association is compile

strong data – is that something

you rely on for the work you do?

If we look back maybe five or

six years, we didn't really have

any data on the industry at all.

So, it was a deliberate decision

by us to gather some, to make

sure that the internal decisions

we made were evidence based

and also so that we can run

good PR and government

advocacy. To tell a really good

story, we needed to base that on

research and insight. As we've

WHO ARE YOU?

Company: Caravan

Industry Association of

Australia

Founded: 1992

Location: Port Melbourne,

Victoria, Australia

Its vision: To lead and

champion a robust,

compliant, and sustainable

caravanning and camping

industry in Australia

Other: Caravan Industry

Association of Australia

operates as a not-forprofit

organisation

with a membership

base comprising

the individual state

caravanning and camping

associations, who it works

collaboratively with on

matters concerning the

caravanning and camping

industry in Australia.

developed that we have found

that the industry has demanded

more and more and we've

found that the more we look,

the more we find. Our research

and insights team has grown to

quite a size and a very good tool

for us – arguably we have more

research than we know what to

do with, which is a good thing.

One thing we are looking at

is RV deaths, once we have

good data on that we can make

strong recommendations and

lobbying around safety issues to

the government. Is it a need for

improved education or improved

road infrastructure? We can help

to answer these questions with

strong insights.

www.campingtradeworld.com | 47
---
AWNINGS SECTOR SPOTLIGHT

Photo: Isabella

SECTOR

SPOTLIGHT

Awnings

With a rise in leisure vehicles comes a rise in add-ons that can help make

them more comfortable to users, and nothing does that quite like an

awning. Offering additional space to those with smaller campers, the

humble awning has come a long way in a short amount of time.

48 | www.campingtradeworld.com
---
SECTOR SPOTLIGHT AWNINGS

T

■he humble awning

probably doesn't get the

credit it deserves – both

among end users and also among

the industry as a whole. This

simple concept is a fantastic way

for campers to expand the space

they have available to them in a

more affordable and versatile way.

Think about it – what would a

caravan be without an awning to

allow users to sit out in the fresh

air, whatever the weather? What

would a motorhome be without an

awning for the kids and the pets

to sleep and play in? The more you

think about it, the more important

the awning becomes to the average

camper. But awnings are far more

than a simple canvas canopy these

days, they are a whole market in

their own right, and have seen

continued development, innovation

and new ideas like any other facet

of the camping industry.

In short, there are three general

types of awning: the full awning,

the porch awning and the canopy

awning. The canopy awning, as the

name suggests, is a simple canopy

that can usually be expanded and

retracted within a built-in rail on

the side of a caravan, motorhome

or campervan. It offers simple

shade and basic weather

protection from light showers

and its advantages are that it is

attached to the side of your unit

for ease of transport and also that

it is incredibly easy to set-up.

Disadvantages are that it doesn't

offer full shelter and cannot

realistically offer any additional

berths to a camping set-up. Some

of the biggest names in this sector

of the industry are Dometic and

Fiamma, both of whom supply

their awnings on an OEM basis to

manufacturers of camping vehicles

so they can include them in added

features.

A porch awning is where things

start to get interesting. Again, the

clue is in the name, this awning

helps to create a porch area for

your unit. It doesn't normally

cover the entire length or width

of the camping vehicle and is not

normally used as a sleeping berth

but it can offer additional living or

dining space, of just better shelter

from bad weather if you still want

to remain outdoors.

The full awning is a much more

significant set-up that can allow

you to vastly increase the size

of your camping vehicle. These

awnings have come on leaps and

bounds in recent years with smart

technological innovations such as

breathable and waterproof fabrics,

inflatable poles for quick erection,

and even removable panels to

change their use throughout the

day. In many cases, these smart

awnings are more like tents that

you simply attach to a caravan,

motorhome or caravan and as

such have some of their features

including dark bedrooms and

Global interest in Google search term 'awning' in the last year

changeable layouts. Much of the

technical innovation seen in the

tent camping market has made its

way across to awnings, and many

awning-specific experts such as

Danish firm Isabella have created

their own smart features such

as fold-away kitchens. Within

the category of full awnings you

will find tent-style awnings and

also more traditional flat-fronted

awnings that have not changed

much in terms of looks for many

years. Both of these remain popular

with the tent-style awnings gaining

more traction in the campervan

market, whereas traditional

designed awnings more in the

world of caravans. Some companies

have gone one further to create

whole new categories of awning – a

great example is the Dometic Hub,

a square tent/awning hybrid that

can be attached to virtually any

kind of camper and is billed as an

inflatable activity shelter.

Awnings are often used in

camping in connection with other

outdoor activities as they give

additional space for campers to

store large items such as bicycles or

canoes. They also offer a place for

people to store wet or muddy items

that they may not want to bring

inside of their camping vehicles.

Awnings are an important and

fast-moving part of the camping

industry and one with much more

potential than you might imagine

upon first glance.

THE STATISTICS

45

Different countries sell

awnings by Danish brand

Isabella

100+

Patents registered by

Italian awning producer

Fiamma

10

The number of years since

Vango introduced AirBeam

technology used in its

awnings

10

Minutes to erect the

OLPRO Cubo inflatable

campervan awning

7,000sqm

Size of Isabella's awning

production facility in

Lubawa, Poland

100

75

Top five countries with

highest Google search interest

for the term 'awning' in 2021

50

25

Australia

United Kingdom

New Zealand

20 DEC

2020

11 APR

2021

1 AUG

2021

21 NOV

2021

Malaysia

Ireland

www.campingtradeworld.com | 49
---
AWNINGS SECTOR SPOTLIGHT

Photo: Outwell/Oase Outdoors

▲ The advantages of a good awning come to light when paired with a relatively small camping vehicle like a campervan.

The vanlife crowd helped awning manufacturers change their perceptions

about what an awning is, and what an awning can do for campers.

TRENDING

One key driver of change in the

awning industry over the past

decade has been the growth of

the campervan sector – yes, it's

that word again: vanlife. The

vanlife crowd helped awning

manufacturers change their

perceptions about what an

awning is, and what an awning

can do for campers. Perhaps

the most obvious change was

the creation of the drive-away

awning – an awning that you

set-up and attach to your

campervan but can leave fully

erected and detach from the van

if you want to go out for a drive

for the day. This helped to give

vanlifers the same freedom that

caravan users have when they

uncouple their cars and head

out on day trips. This change

helped awnings to become

less stuffy, to become less

old fashioned and to become

products that helped younger

and more active campers enjoy

their other outdoor hobbies

alongside camping. The vanlife

trend has helped to bring across

innovations from the tent

camping market into awnings,

such as more lightweight

materials, inflatable tubes for

faster set-up and break-down,

and more advanced waterproof

and windproof technologies.

The modern awning is much

more than just a sheet of

fabric to keep the sun off you

while you grill some burgers,

it can become a versatile and

fully usable part of an overall

camping set-up.

The acceleration of interest

in awnings has led to much

consumer feedback, which in

turn has resulted in some smart

new ideas entering the market.

Examples include awnings that

can be attached to each other

or to more than one camping

vehicle if you want to share

your camping space with family

and friends. We are also seeing

designs that break the mould of

convention, such as the OLPRO

Wrap campervan awning that

wraps around a campervan on

two sides to give a larger living

space but remaining friendly

to campsite pitch restrictions.

Other recent trends to hit the

market include removable panels

to add versatility, darkened

bedrooms, roll-flat fronts to

allow access for wheelchair users

and large opening attachments

for campervan side-doors.

As mentioned above, the use

of awnings to help campers enjoy

other hobbies is another trend

that manufacturers are catering

for. The Swift Basecamp could

perhaps stake a claim to being

one of the first – this small

action caravan first launched

several years ago introduced

some innovative awning designs

to give it more space and to

help users store accessories like

bicycles. Fast-forward to now

and we have examples like the

Dometic Hub, the SheltaPod

and smart designs from Outwell

that are made with the uses of

campers firmly in mind.

50 | www.campingtradeworld.com
---
SECTOR SPOTLIGHT AWNINGS

INDUSTRY INSIGHTS

LOTTE SIMONSEN, MARKETING AND R&D DIRECTOR AT OASE OUTDOORS

"The current state of the

awnings market is very good

– high sales of campervans is

helping to drive this. Supply

chain issues are the main

challenge we are facing. We

make sure we monitor our

transport options 24/7 to

ensure we find a way to ship our

products.

"The future looks bright

– more people entering the

market with fresh ideas and

needs. More adventurous people

entering the market with new

ideas of how they want to use

their motorised base. We will

keep a finger on the pulse,

innovate accordingly and grow

our market position."

SHOW STOPPERS

Awnings are one of those

items in the camping world

that benefit hugely from being

displayed in person. Because

there are so many styles

available, each awning is a very

personal choice for a camper

regarding the job it is going to

do for them on the campsite.

Whether it's creating a useful

porch for storage, an outside

place to sit and relax even in

bad weather, or creating a whole

extension for sleeping in, the

awning is best sold in person.

You can see this first-hand when

attending exhibitions and shows

around the world – awnings

always attract the crowds.

Awning displays are also a great

way to help campers visualise

how a leisure vehicle might

work for them – so they are not

only reserved for exhibitions but

also for motorhome and caravan

dealers too. The most successful

dealers sell the lifestyle of being

a camper to their customers, and

awnings are a terrific way to add

an extra layer to the displays

they have in their showrooms.

Over the years, the market

has got more and more

sophisticated to the point

where people expect awnings to

have high levels of technology,

features and materials. An good

awning can no longer be just

a shade or a shelter, it has to

have versatility, it has to have

features you'd expect to find on

a high-end tent, and it has to

be of a build quality that will

last for years and years. Quite

simply, the humble awning is

not so humble anymore – it's a

fast-moving market sector with

much more still to offer.

www.campingtradeworld.com | 51
---
AWNINGS SECTOR SPOTLIGHT

BUSINESS CONNECTIONS

Awnings come in an extremely

wide range of shapes, sizes,

and price points. From small

and simple porches or canopy

awnings, through to full tentstyle

awnings that can effectively

double the size of a leisure

vehicle. The market has expanded

and evolved rapidly over the last

few years to create an offering

for every taste and budget, with

many of the big names pushing

the boundaries of innovation and

invention, driven by the needs

and wants of end consumers.

Photo: Dometic

Photos: Lippert

ACCESSORIES

Awnings also have their own

sector of accessories to help

make them more comfortable

and useful for all. From carpets

to sleeping mats, wheelchair

access ramps to furniture – the

accessories market for awnings

has expanded at a rapid rate.

Because it is a product accessory

designed to increase convenience

for campers, it is only natural that

a wide range of accessories follow

to ensure this convenience is met.

Here is a list of a few awning

brands and awning accessory

brands that could be useful to

know. Who knows, you could find

your next serious business partner

on these pages?

AWNING BRANDS

Bent

www.bent-club.com

Coleman

www.coleman.com

Dometic

www.dometic.com

Dorema

www.dorema.com

dwt Zelte

www.dwt-zelte.de

Easy Camp

www.easycamp.com

Eurotrail

www.eurotrail.info

Fiamma

www.fiamma.it

Fritz Berger

www.fritz-berger.de

Gentle Tent

www.gentletent.com

Hahn Zelte

www.hahn-zelte.de

Inaca

www.inaca.es

Isabella

www.isabella.net

Kampa

www.kampaoutdoors.com

OLPRO

www.olproshop.com

52 | www.campingtradeworld.com
---
SECTOR SPOTLIGHT AWNINGS

Photo: Outwell/Oase Outdoors

Outdoor Revolution

www.outdoor-revolution.com

Royal

www.royal-leisure.co.uk

Ticamo

www.ticamo.com

Zempire

www.zempire.co.nz

Outwell

www.outwell.com

Quest Leisure

www.questleisure.com

Reimo

www.reimo.com

Rhino Rack

www.rhinorack.com

Scalabros

www.shopscalabros.com

Skandika

www.skandika.com

SunnCamp

www.sunncamp.co.uk

Thule

www.thule.com

Trigano

www.trigano-camping.com

Vango

www.vango.co.uk

Westfield Outdoors

www.westfieldoutdoor.com

Wigo Zelte

www.wigo-zelte.de

*Note: We know this isn't

every company that deals

in awnings on the planet,

but we hope you can make

a meaningful business

connection through it. If you

feel we've missed you out,

contact us today to talk about

editorial opportunities.

www.campingtradeworld.com | 53
---
SEO BECOME A BETTER BUSINESS

BECOME

A BETTER

BUSINESS

Making the most of

SEO

Simply having a great website doesn't necessarily mean it will work hard for your business.

There's a missing ingredient that's often overlooked: SEO. Our marketing guru explains

how to get the best out of this often underestimate tool and reap the often huge rewards.

Y

■ou've got a great looking

website that's filled with

information about your

business. But how do you make

sure that people can find your

website? If it isn't providing

the leads or sales that you

were expecting, search engine

optimisation – or SEO – could be

the missing ingredient.

A website is more than just a

place to showcase what you sell.

It's also a great tool for increasing

revenue. SEO can help you target

the right audience and improve

your website's visibility, so more

potential customers discover

your business when searching for

products or services online. In

turn, this can help boost that allimportant

revenue.

HOW SEO HELPS

At its core, SEO helps improve

where your website ranks in the

search engine results pages (or

SERPs), which appear when

a customer types a query into

Google. SEO focuses on organic

results, rather than paid results –

which are the ads that appear at

the top of the SERPs.

Optimising your website and

meeting the quality standards set

by Google can boost the position

of your website in the SERPs. And

appearing higher up in the results

means that more people are likely

to find and visit your website.

It's not just about getting your

website seen by more people

though. It's also about getting

the right people to see your

website. SEO can help you target

customers who are searching

Google for the type of products

and services your brand offers, so

that these customers land on your

website.

For example, if you sell

campervans, it's no good if your

website appears in the search

54 | www.campingtradeworld.com
---
BECOME A BETTER BUSINESS SEO

results for people looking to hire

a campervan for a holiday. SEO

helps to ensure that your website

only appears in searches that are

relevant to your brand, improving

the quality of leads generated.

It can be tailored to be highly

specific to the products or services

you offer.

WHAT IS YOUR WEBSITE FOR?

Before getting into the nitty gritty

of SEO, consider the reasons

behind having a website for your

business in the first place. What

goals are you aiming to achieve

with this online presence? Is

it a brochure to advertise your

services? If so, SEO can be used

to boost awareness of your brand.

Is it a lead generation tool? SEO

can help your website generate

new, high quality leads. Is it an

online shop? If you are selling

products through an e-commerce

website, SEO can increase revenue

by generating online sales. Once

you know what you expect your

website to deliver, it will be easier

to create a strategy for optimising

your website.

ORGANIC OR PAID?

Organic SEO is the process of

optimising a website so it appears

in the organic search results when

a user types a relevant keyword

or query into the search bar.

Meanwhile, the results marked

as ads which generally appear

at the top of the page are paid

advertising, or pay per click (PPC)

results, which require a monetary

investment.

Many businesses invest in

both organic and paid SEO to

maximise the visibility of their

brand online. Paid advertising

is also a useful tool when you

are in the process of optimising

the site, as it can increase quality

traffic before the website begins

appearing in the organic results.

HOW DOES SEO WORK?

Imagine the internet as an everexpanding

library: filled with

billions of books, but with no

filing system to help you find what

you need. To make it easier for

internet users to find what they

are looking for online, Google uses

software called web crawlers to

explore the internet and discover

web pages – including the pages

on your website.

Crawlers browse these web

pages to learn about the content of

each website, gathering data that

is then relayed to Google's servers.

This data is then organised and

indexed – which is like creating

a filing system for that growing

library of books.

Now, when a user types a

query into the search bar, Google

can automatically sort through

hundreds of billions of web pages

to find the most relevant and

useful result for that query. Just

like a librarian picking out the

perfect book.

By using technical, on-page,

and off-page SEO methods, it

is possible to tell Google what

your website is about and why it

should rank well in the SERPs.

That means that when the web

crawlers explore your site, they

will understand exactly what

your business offers and know

what kind of search queries or

keywords your website should

appear for.

SEO STAT-ATTACK

92.27%

Search engine market share

held by Google (YouTube,

Yahoo, Bing and Amazon

make up the next four places)

47%

Of consumers view 3-5

pieces of content by a

company before talking to

a salesperson.

75%

Of people never scroll

past the first page of

search engines.

70-80%

Of people ignore paid

search results, choosing to

only click on organic search

results.

▲ Search engines are the gateway between consumers and the content you want them to see.

40%

Of people search only on a

smartphone.

1,000%+

SEO drives this much more

traffic than organic social

media.

www.campingtradeworld.com | 55
---
SEO BECOME A BETTER BUSINESS

quick wins to

boost SEO

There are many elements of a

website that can be optimised to

boost how it performs in the SERPs.

Optimisation includes carrying out

updates to the site, then monitoring

its performance and making further

changes informed by data. Here are

six quick wins that could improve

your site's search rankings.

01 02

FIX DUPLICATE CONTENT

All content on your website

should be unique, meaning it

doesn't appear anywhere else

on the internet. You should also

avoid copying and pasting the

same content across multiple

pages. This is a common issue

when using marketing text or

product descriptions provided by

a manufacturer. Always rewrite

any copy in your own words before

adding it to your website, and

don't be tempted to steal nicelywritten

text from other websites.

OPTIMISE EXISTING PAGES

Adding fresh content to your

website regularly is one of the best

ways to improve its performance

in the SERPs, but optimising

existing pages is important too,

and a fast fix when you don't

have time to create new content.

On each page, optimise title

tags, alt tags, meta descriptions,

headers, and body content. This

means ensuring that each of these

elements includes the keywords

or search queries that you are

targeting, plus your brand name.

56 | www.campingtradeworld.com
---
BECOME A BETTER BUSINESS SEO

03 04 05 06

GO MOBILE FRIENDLY

With more people than ever

before using phones to browse the

internet, Google favours websites

that are mobile friendly. Search

for Google's Mobile Friendly Test

to see if your website makes the

grade – and if it doesn't, it's time to

invest in a mobile-friendly design.

Most ready-made themes and

templates created by companies

like Wordpress and Wix are

mobile-friendly as standard, or

you could hire a web designer to

craft a unique design.

IMPROVE ANCHOR TEXT

Anchor text is the word or words

that link to other pages on your

website – like "read more" and

"click here". Instead of using these

generic terms, make this anchor

text relevant to your brand, which

will help Google get a better idea

of what each page is about. For

example, "see our campervans"

is better anchor text than "click

here", and can be easily changed

for a quick win.

MAXIMISE BRAND MENTIONS

Links to your website are one

of Google's key ranking factors,

which is why you may have heard

of link building in the context

of SEO. For a simple way to

gain more links, set up a Google

Alert to know when your brand

is mentioned somewhere on

the internet – like in a review

or news story. If any of these

brand mentions don't link to your

website, get in touch with the

author of the content to ask them

to include one.

HIRING A PRO

The ever-changing nature of

Google's search algorithm and

quality standards mean that,

although SEO isn't rocket science,

it can be a full-time job. If you

want to invest in getting SEO

done right, research SEO agencies

or professionals who can do the

hard work for you and have a

proven track record of delivering

results for businesses like yours.

www.campingtradeworld.com | 57
---
MAKING CONTACT

PRIMUS

FIRESTICK

Swedish outdoor brand Primus claims to have set a new

standard when it comes to compact outdoor stoves with

its smart new Firestick. This streamlined, ultra-packable

stove has been made to be as lightweight as possible

– it folds down neatly into a compact and durable

size that fits practically anywhere. The 2,500W

high-performance burner provides a strong and

narrow flame that is ideal for windy conditions

when cooling with smaller backpacking pots.

www.primus.eu

MAKITA

DCW180Z CORDLESS COOLER

A name normally associated with tools, Makita also makes

some camping accessories that could be very useful – such

as the DCW180Z cordless cooler and warmer. It can be

powered by an 18V LXT Li-Ion battery, 12V/24 DC cigarette

lighter or mains supply and can offer five hours of -18C, 17

hours of 5C or 4 hours of 60C temperature control.

www.makita.biz

FJÄLLRÄVEN

KEB TREKKING TROUSERS

Billed as Fjällräven's top trekking trouser, the Keb is made

from a super durable stretch fabric that offers premium

protection from the elements and great freedom of

movement. Wind and water resistant, the Kebs feature

ventilation zippers from hips to knees and down the calves

that allow for additional breathability when the wearer works

up a sweat. The trousers are completed with detachable strap

adjustments and spacious leg pockets with flaps.

www.fjallraven.com

OMNIA

OVEN

A simple yet ingenious design, the Omnia oven gives

you the power to cook things evenly thanks to the

combination of the pan, base and lid providing heat

from both above and below. It can be used on pretty

much any heat source with the exception of induction

stovetops and is fast-becoming a hit with campers

around the world. It is perfect for cooking meals or

even baking and is available with a wide range of

accessories including thermometers and cook books.

www.omniasweden.com

58 | www.campingtradeworld.com
---
MAKING CONTACT

ARMA

TOILET

This foldable toilet is a perfect sanitary solution for camping and wide range of

other outdoor activities. The foldable design means it can be packed down into

an incredibly small size and fit into almost any bag or panier. The toilet takes toilet

bags and standard toilet chemicals and is also supplied with 12 disposable bags to

get you started. It can withstand 150kg of weight and features a fully hinged toilet

seat for comfort and easy bag change.

www.armaoutdoor.com

SNUGPAK

JOUNEY DUO

For campers who like things simple and highly practical, the

Snugpak Journey is ideal. It is available in two and three-person

sizes and features a low-profile design that performs excellently

in high winds. It has plenty of storage space and a generous front

porch that is sealed with a large front door with mosquito net

and ventilation panel. The bathtub style groundsheet is incredibly

durable so you can take it out in all conditions and terrains.

www.snugpak.com

QUECHUA

ULTIM COMFORT CAMPING MATTRESS

Comfort on the campsite is becoming an necessity for modern

campers, so it's perhaps no surprise that brands such as

Quechua are putting their all into creating sleeping mattresses

that offer it in abundance. The Ultim Comfort mattress, here

shown in the single person version, is self-inflating and offers a

flat and smooth sleeping surface with four-season insulation.

It is also lightweight, at just 2.9kg and packs down to a much

smaller size for transport.

www.quechua.com

HELINOX

CHAIR ZERO

We all need somewhere to sit, but bringing a chair

along on a camping trip can seem like a chore and an

excessive use of weight. Not with the Helinox Chair Zero,

weighing in at just 490 grams, this packable chair has

a place in everyone's camp set-up. It offers excellent

comfort and strength, with a weight capacity of 256lbs

(120kg). It has received countless praise from magazines

and journalists all over the world since its launch.

www.helinox.eu

www.campingtradeworld.com | 59
---
MAKING CONTACT

MERCEDES-BENZ

EVITO PANEL VAN

Following in the footsteps of the

Mercedes‐Benz eVito Tourer, the eVito

panel van will also receive a comprehensive

update of the electric powertrain and a new

battery with a usable capacity of 60 kWh.

The van has a range of 242 to 314 kilometres

and has a standard fast-charging function.

The battery has a 70 per cent higher

capacity than the previous model and the

van is available in two lengths with up to

6.6m3 loading volume.

www.mercedes-benz.com

OUTWELL

SUPERIOR TENTS

Four new models and the development of some innovative new

features such as Outtex performance fabric has pushed the Outwell

Superior range of inflatable family tents to even greater heights. The

latest additions include three Springville models offering different

two-zone floorplans with extended porch, and the three-zone

Forestville 6SA with Panoramic front. All showcase the Scandinavian

brand's innovation, top design and superb quality that help achieve

the ultimate outdoor experience for the family camper.

www.outwell.com

POWEROAD

12V LINC INFI LIFEPO4

RECHARGABLE BATTERY

This smart 12V LiFe PO4 battery can provide fantastic

performance with the option to have four batteries being

used in parallel at once. Made by Chinese battery expert

Poweroad, the the capacity of LINC INFI can be boosted

by connecting 4 of them in parallel and the voltage can

be increased to 48V with 4 batteries in serial connection,

which is flexible for Lithium battery DIY. What's more, with

built-in Bluetooth, battery status of SOC, voltage can be

easily monitored through a mobile app.

www.poweroad.com

MORELO EMPIRE LINER

One of premium motorhome producer Morelo's most

popular models, the Empire Liner, has been given a

full workover improving its dimensions, components

and drivability. The walls are now 52mm thick featuring

48mm of RTM insulation and the motorhome has been

equipped with a Mercedes-Benz Actros 1840 L with an

extra powerful chassis top ov even the Atego 1530 L - for

that extra portion of travelling pleasure. It also features

driving assistance features from the Mercedes-Benz

Trucks range as well as a choice of 10 versatile layouts.

www.morelo-reisemobile.de

60 | www.campingtradeworld.com
---
MAKING CONTACT

ETRUSCO

CAMPERVANS

The campervan range from south

German manufacturer Etrusco promises

flexibility, great value and timeless

modern designs. The range encompasses

four different layouts with double bed,

twin bed or bunk bed options and all the

vans feature luxury fittings such as highquality

fly screens, LED lighting, soft-close

drawers and cabinets and even ISO FIX in

case you need to use child seats on the

travelling seats.

www.etrusco.com

DUVALAY

D-ROLL MATTRESS

Billed by UK brand Duvalay as the easiest way to install a topquality

mattress into any caravan, campervan or motorhome,

the D-roll mattress offers unparalleled levels of comfort for

campers. Delivered in a handy box and very easy to install,

the lightweight mattress can be offered in memory foam for

amazing pressure relief or FreshTec foam for a softer feel that

helps keep you cool at night. Duvalay's products are wellknown

and well-used by UK camping companies and offer a

great night's sleep at an affordable price.

www.duvalay.co.uk

QOOL

COOLBOX

German brand Qool

specialises in highperformance,

eco-friendly

cool boxes that operate

without the need for

power and can keep your

food or water at a specific

temperature for up to 10

days. You can choose from

five different temperature

ranges, from frozen through

to room temperature,

depending which of the

internal cooling elements

you use in the boxes. Qool

produces a variety of sizes

and a Eco+ model, which is

made from at least 25 per

cent recycled material.

www.qool-products.com

LIPPERT

SKIA

RV component expert Lippert recently revealed

the Skia: a new range of front blinds for the Fiat

Ducato cabin with a system consisting of three

elements: one right and one left to darken the

windows on the side doors, and one front for the

windshield. The front version is available both for

the versions of the Ducato V7 and V8 without the

mirror and for those with anti-collision radar, which

occupies a fairly important part of the upper part

of the windscreen.

www.lci1.com

www.campingtradeworld.com | 61
---
MAKING CONTACT

SAWIKO

TRIGO-VAN CARRIER SYSTEM

Many rear carrier systems on panel vans block the hinged

doors and obstruct access into the vehicle. This is not the case

with the brand-new TRIGO-VAN from SAWIKO. It ensures free

access to the rear doors at all times. Thanks to its user-friendly

and ergonomic design, the rear carrier can be manoeuvred

effortlessly and safely, even when loaded. Speaking of loading:

with a payload of around 80 kg, the TRIGO-VAN is ideal for two

bicycles, including standard e-bikes. The transport platform

can be folded up while the towbar remains fully usable.

www.sawiko.com

ALDE

AQUACLEAR UV-C

Alde AquaClear UV-C is a water disinfection system that

cleans the water with UV light generated from special LEDs.

In addition to being free from active chemicals, LED has

several other advantages. It is robust and shock resistant,

maintenance free and has a low energy consumption.

www.alde.se

IVECO

DAILY CAMPER

First spotted by us at the Caravaning Salon show in Barcelona,

the IVECO Daily Camper is the company's first ready-for-market

campervan that consumers can buy directly from them. Built

on a reliable IVECO base vehicle the camper features 2.3lite FIA

engine, 8-speed automatic gearbox, kaiflex insulation, a fixed

rear bed with second removable bed installed as a bunk, LED

strip lighting and IVECO's Canbus System, which allows the user

to control water tanks, batteries, lights and other aspects of the

vehicle via a central console.

www.iveco.com

LUXER

KUBIC SERIE

This smart campervan from Spanish brand Luxer is kitted

out with a wide range of features and customisable aspects,

all for a reasonable price. Based on the Renault Traffic van,

the Kubic features a host of this van's accessories such as

rain sensor windscreen wipers, Easy-Link control system, rear

reversing camera and blindspot detector. It can be supplied

with Fiamma F35 awning, bike rack, WEBASTO heater,

stylishly upholstered seats available in three colours and even

an solar panel.

www.luxer.es

62 | www.campingtradeworld.com
---
MAKING CONTACT

CARGO CLIPS

CLIPWALL AND EQUIPMENT

This smart creation from German company Cargo

Clips allows you to custom build your own campervan

using its unique wooden clipwall and various

accessories. Made from beech or beech with walnut

veneer the walls offer endless customisation while

Cargo Clips also sells beds, desks, cabinets, kitches and

many other accessories that can help you to custom

build your own home from home.

www.cargoclips.com

CAMPWERK

IKAMPER SKYCAMP

The iKamper Skycamp roof tent is a spacious

and easy-to-set-up system that can sleep

up to four people. It unfolds and becomes a

comfortable living space in just a matter of

seconds, thanks to the unique mechanical

system it uses. It means no more crawling

around on your hands and knees on the

ground to set-up a tent. Two adults can sleep

comfortably along the length of the vehicle, or

you can expand the sleeping space so that two

adults and two children can sleep across the roof

of your vehicle.

www.campwerk.de

CARTHAGO

C-TOURER T

This year, the c-tourer T is celebrating its tenth anniversary. Over the course

of its fantastic career, Carthago has continuously developed the successful

model series. On the occasion of its birthday: Carthago has once again

reduced the weight of the c-tourer, put together an attractive designer

package for the A-Class models, upgraded the lounge seating groups of the H

models and made the c-tourer even more comfortable. One of the standout

features is the fact that it has lost 20kg from its overall weight.

www.carthago.com

KATHREIN

CAR 150 WIFI DUO

The Kathrein CAR 150 WIFI DUO is a simple and high-quality solution for

supplying the motor home with fast Internet. The Internet connection is first

established via the supplied powerful roof antenna, consisting of two LTE, one

GPS and two WLAN reception modules. Then the internal WLAN antenna

sets up a secure WLAN hotspot for all fellow travellers. Thanks to the router's

two SIM card slots, users can choose between two available LTE networks at

any time. This improves stability and enables seamless internet reception

even when changing campsites or on the move.

www.kathrein-ds.com

www.campingtradeworld.com | 63
---
www.campingtradeworld.com