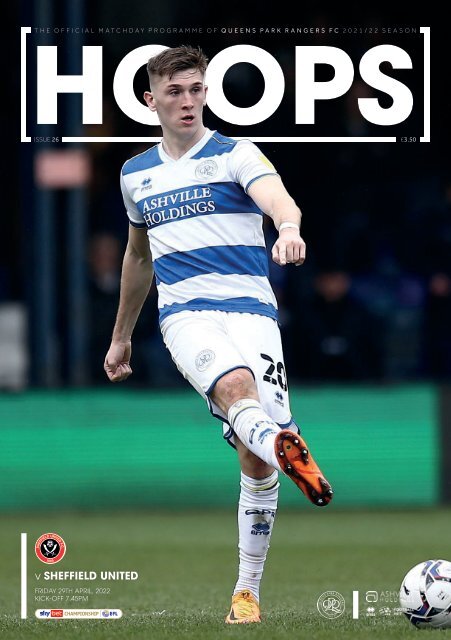 Queens Park Rangers v Sheffield United
Hoops | Official Matchday Programme of Queens Park Rangers | Issue 26 Queens Park Rangers v Sheffield United | Sky Bet Championship Friday 29th April, 2022 | KO 7:45pm | Kiyan Prince Foundation Stadium
Hoops | Official Matchday Programme of Queens Park Rangers | Issue 26
Queens Park Rangers v Sheffield United | Sky Bet Championship
Friday 29th April, 2022 | KO 7:45pm | Kiyan Prince Foundation Stadium
SHOW MORE
SHOW LESS
You also want an ePaper? Increase the reach of your titles
YUMPU automatically turns print PDFs into web optimized ePapers that Google loves.
THE OFFICIAL MATCHDAY PROGRAMME OF QUEENS PARK RANGERS FC 2021/22 SEASON

ISSUE 26 £3.50

v SHEFFIELD UNITED

FRIDAY 29TH APRIL, 2022

KICK-OFF 7.45PM
---
HOOPS

#QPRSHU

SATURDAY 29 APRIL 2022

CLUB DIRECTORY

Queens Park Rangers FC

QPR Holdings Ltd, Kiyan Prince

Foundation Stadium, South Africa

Road, London, W12 7PJ

Main Switchboard: 020 8743 0262

Commercial Sales: 020 8740 2560

Superstore: 020 8749 6862

Direct Mail Order Line: 0870 240 4547

Community Trust: 020 8740 2509

Official Website: www.qpr.co.uk

STAFF

QPR FC/QPR Holdings Ltd Chairman:

Amit Bhatia

QPR Holdings Ltd Vice-Chairmen:

Tony Fernandes, Ruben Gnanalingam

Board members:

Tony Fernandes,

Ruben Gnanalingam, Amit Bhatia,

Datuk Kamarudin Meranun

CEO: Lee Hoos

Financial Director: Ruban Ghandi

Director of Football: Les Ferdinand

First Team Manager: Mark Warburton

Club Ambassador: Andy Sinton

Club Historian: Chris Guy

OFFICIAL TWITTER

Queens Park Rangers @QPR

QPR+ Pass @QPRPlusPass

QPR in the Community Trust @QPRtrust

QPR Women @QPRWFC

PROGRAMME

Editor:

Ben Kosky

Contributors:

Tony Incenzo, Simon Cheshire,

Lennie Harvey

Designed by:

Thomas Ridge

This programme was produced on

behalf of Queens Park Rangers by

Ignition Sports Media.

www.ignitionsportsmedia.com

Printed by: Stephens & George Print Group

The views of this publication are not necessarily

the views of Queens Park Rangers Football Club.

Material in this publication is copyrighted and may

only be reproduced with written permission of

Queens Park Rangers Football Club. All information

correct at time of print.

04 12

21 36

04 THE GAFFER

Words from Mark Warburton

09 NEWS + MESSAGES

All the latest from W12

12 THE BIG READ

Interview with Jimmy Dunne

19 COLUMNIST

Ben Summer has his say

21 VISITORS

An in-depth look at our oppo

30 KEEPING PERSPECTIVE

Assessing our young goalies

34 ANDY SINTON

Our ex-winger pens his column

37 1981/82 FEATURE

A chat with Ernie Howe

42 KEY FIXTURE

A vital clash from 1981/82

45 ONE OF 'R' OWN

Sinclair Armstrong opens up

46 OTHER USES OF LR

The ground has seen it all

50 JUNIOR HOOPS

Test your knowledge

54 MIKE DONOVAN

A trip down memory lane

62 FIXTURES & RESULTS

Stay updated this season

65 STAT PACK

Key facts from the Champ

66 AIDAN MAGEE

The view from the press box

WWW.QPR.CO.UK // @QPR // @OFFICIALQPR // OFFICIALQPRFC 03
---
HOOPS

The Gaffer

FIRSTLY, MAY I EXTEND A WARM WELCOME TO PAUL

HECKINGBOTTOM, HIS STAFF, PLAYERS AND ALL ASSOCIATED

WITH SHEFFIELD UTD FOOTBALL CLUB.

P

aul brings his team here seeking a

vital three points for their

continued play-off push, and we

know they arrive with a squad containing

both quality and Premier League

experience. Paul and his staff have done

an outstanding job and there is no doubt

we face a formidable challenge here this

evening but, as always, it is one we are

very much looking forward to.

Today marks the final home game of this

2021/22 season, and it is only right that

I both answer some questions and give

clarity to some aspects that have been

raised in recent weeks.

On Saturday, we delivered a below-par

performance against Stoke City. In truth, it

was a poor-quality game that was decided

by a sloppy goal given away just before halftime.

This was even more disappointing,

following the positive performances

against Huddersfield and Derby County

only a few days earlier. As in games against

Peterborough and Cardiff at home, or

Barnsley and Preston away, we failed to

deliver the quality of display that was so

evident in the early part of this campaign.

However, accusations from some of a 'lack

of effort', or 'the players don't care', are

comments so very far from the truth.

The players are learning and developing and

growing as a squad. Are we good enough

to have made the play-offs? Yes, of course,

and the players deserve so much credit for

punching above their weight and staying in

a top six position for much of this season.

This group of players possess quality

and potential, experience and youthful

energy, and to a man they recognise the

responsibility they have as a professional

player for Queens Park Rangers.

They have been devastated by recent

results and myself, John and the staff have

watched and worked with them as they

strive to keep moving forward, individually

and collectively. Please let me emphasise

how much the players care and how badly

they want to play their part in bringing

success to the club.

The Championship is a unique league

for so many reasons. The relentless

nature of the schedule is an issue that

has been raised many times, along with

the devastating injury list that can result

from the players facing such demands.

However, it is also the players coping with

the budgetary disparity that forms an

important part of their education.

During the game against Stoke, I watched

as they introduced substitutes whose

04 WWW.QPR.CO.UK // @QPR // @OFFICIALQPR // OFFICIALQPRFC
---
HOOPS

Thank you to each and

every QPR supporter for

the tremendous backing you

have given us this season.

WWW.QPR.CO.UK // @QPR // @OFFICIALQPR // OFFICIALQPRFC 05
---
We stand for clean sport.

Even for your skin.

Sport is the most beautiful thing in the world, and nothing must be allowed to pollute that beauty.

That is why, besides developing increasingly high-performance materials that have a low impact

on the environment, we at Erreà are the first teamwear company in Europe to have been awarded

STANDARD 100 by OEKO-TEX ® certification.

This certification sets extremely strict limits for substances harmful to health, which is why our fabrics

are highly safe in all conditions.

With Erreà, sport and health run side by side.
---
HOOPS

wages would, in some cases, be multiples

of our own players. Therefore, when I hear

some supporters say, 'we should be top

six as a bare minimum', it is important to

highlight what our players are competing

against, and the work being done to close

this wage disparity. We cannot compete

with many of the clubs in our league in

terms of finance. The club is now being

well run in a professional and realistic

manner, giving firm foundations for a bright

future. The club has suffered previously,

and it is important rules and guidelines are

now adhered to. Other clubs have been

somewhat 'looser' in their financial control,

and it is fair to say that next season may

see action taken against certain parties.

In the meantime, however, we need to

close the gap through player development,

player belief and confidence and the

building of a club identity in terms of style

of play. I hope very much that you, our

supporters, will have enjoyed many good

performances and seen the development

of a QPR style of play. Yes, we are in a

result-driven industry, but we are also in the

entertainment industry, and you need to

enjoy watching your team play on a weekly

basis. To conclude on this subject, I know

absolutely how much this group of players

and staff care about the club and how hard

they will continue to work until the final ball

of the season is kicked.

Finally, I think I can speak for everyone in

the first-team football department, when

I say a very sincere thank you to each and

every QPR supporter for the tremendous

backing you have given us this season.

From the very first games against Millwall

and Hull City, you have turned out in

numbers, both home and away, and given

tremendous support to the players, which

has always been gratefully received. In

such financially challenging times, this level

of backing is never taken for granted, but is

always hugely appreciated.

That leaves me to say what a privilege it

is to even work in professional football,

let alone manage a club of the stature of

Queens Park Rangers. As long as I am in

such a privileged position, every effort will

always be made to keep playing my part in

helping the club move forward to achieve

its aims and ambitions. I know that is the

very least you deserve!

Enjoy the game!

Gaffer

WWW.QPR.CO.UK // @QPR // @OFFICIALQPR // OFFICIALQPRFC 07
---
HOOPS

08 WWW.QPR.CO.UK // @QPR // @OFFICIALQPR // OFFICIALQPRFC
---
HOOPS

WILLOCK

REGISTERS HAT-

TRICK AT END OF

SEASON AWARDS

Congratulations to Chris Willock,

who collected a hat-trick of

accolades when QPR's end of

season awards were announced

earlier this week.

Willock's impressive

performances throughout the

season meant he was voted

Player of the Year, as well as

Players' Player of the Year and

Junior Hoops Player of the Year.

The 24-year-old attacking

midfielder made 38 appearances

in all competitions, finding the

net seven times, before his

hamstring tear during the game at

Nottingham Forest in March ruled

him out for the rest of the season.

Rangers' Young Player of the

Year award went to wing-back

Sam McCallum, on loan from

Norwich, while Andre Gray's

stunning last-minute winner at

Derby in November was voted

Goal of the Season.

The club's Supporter of the Year

award went to five-year-old

Rangers fan Dottie Rees, who

has been battling an inoperable

brain tumour and is undergoing

18 months of intensive

chemotherapy.

JEREMY AND JON

Good luck to Jeremy Meek and

Jon Rowley, who will be taking

part in next month's Ride London

cycling event to raise funds for

QPR in the Community Trust.

If you would like to support

Jeremy and Jon's efforts in

the 100-mile ride, please visit

https://ridelondon.enthuse.com/

qprinthecommunitytrust/profile

or scan the QR code above.

WILLIAM

An early happy birthday to

QPR supporter William Leyson,

who turns 80 in June – and has

followed Rangers for almost 70

of those years! Despite moving

to the West Midlands in 2004,

William is a season ticket holder

and has continued to travel down

to cheer the team on at weekend

home games.

LESTER

Happy 40th birthday to Lester

Bennett on Tuesday 10th May.

We hope you (and Yoann Barbet)

have a wonderful day! Love from

all your girls.

MATTHEW

We look forward to welcoming

young QPR fan Matthew Bajor

in the near future! Matthew,

who was born at the start of

the season, is pictured proudly

sporting his Rangers colours with

dad Steven and grandad Steve.

TILLY-ANNE

Happy birthday to Tilly-Anne

Tyler, who celebrated turning 14

on Friday 15th April. Lots of love

from Scott, mum, Sue and Andy.

Come on urssss!

WWW.QPR.CO.UK // @QPR // @OFFICIALQPR // OFFICIALQPRFC 09
---
HOOPS

GCL

GROUND CONSTRUCTION LIMITED

LEADING THE WAY

As one of the UK's leading groundworks and concrete frame

specialists we are proud to have become an

Employee Ownership Trust.

Groundworks | Concrete Frames | Remediation | Tower Cranes | Demolition

020 8238 7000

info@groundconstruction.com

www.groundconstruction.com

GCL IS AN EMPLOYEE OWNERSHIP TRUST

GROUND FOR CONFIDENCE.

INTEGRATED CONSTRUCTION EXCELLENCE SINCE 1997.

Proud to be official

construction sponsors

of QPR FC

10 WWW.QPR.CO.UK // @QPR // @OFFICIALQPR // OFFICIALQPRFC
---
HOOPS

FRANKIE

Happy 15th birthday Frankie,

have a lovely day. Love you lots,

Mum & Thomas xxx

FREDDIE

Happy 13th birthday to Freddie

Ferdinand Barton from Mum and

Dad. Freddie has been a season

ticket holder in the Loft Lower

for the last 10 years.

OBITUARY

JOHN CARR

Lifelong QPR supporter John Carr,

who was also a steward at Loftus

Road from 1980 to 1985, passed

away on Sunday 17th April. John's

son Gary, who has been watching

Rangers since 1977 and grandson

Bailey, a current season ticket

holder, are both at tonight's game

continuing his tradition. You will

be missed, John. Love always

from all your family and friends.

OBITUARY

WALLY FARMER

(1936-2002)

Lifelong QPR fan Wally Farmer

passed away earlier this month.

Wally, who grew up in Shepherd's

Bush, used to watch the R's with

grandson Ashley and the pair

were season ticket holders during

the team's promotion-winning

campaign in 2004. Thinking of

you tonight, Wally – you will be

dearly missed. With love always,

your family and friends.

OBITUARY

PETER DIACON RIP

Remembering lifelong QPR

supporter Pete Diacon, who

passed away on Saturday 9th

April at the age of 81. A steward

in the Ellerslie Road stand, Pete

also travelled to many away

games. His love for QPR was

infectious and, despite moving

away from London, he always

kept up with all the latest from

W12. Pete will be missed by all his

family and friends and his spirit

will live on forever at the Kiyan

Prince Foundation Stadium.

OBITUARY

JOHN

TANSER

(1962-2022)

We have lost John Tanser,

beloved father, partner and friend.

John grew up in Belfast supporting

QPR and loved watching Gerry

Francis, Stan Bowles, Frank

McLintock, Phil Parkes and

Terry Venables. It also gave him

immense pride to see Belfast

boys Billy Hamilton and David

McCreery pulling on the Rangers

shirt. John is deeply missed by his

sons Barry (of Dundee), Paul (of

Darwin, Australia) and Philip (of

Belfast), and devoted partner Jane

(of East Kilbride). For John, come

on you R's!

OBITUARY

ROBERT

PAVITT

(1956-2022)

Lifelong QPR supporter Robert

Pavitt followed and cherished

the R's wherever he went. He will

be remembered as the man who

lit up every room he walked into

– not just because he seemed

to wear a Rangers shirt to every

family occasion, but because of

who he was as a person. We will

love and miss you, Robert x

OBITUARY

FRANK HAUGHEY

QPR supporter Frank Haughey

passed away on Easter Sunday

at the age of 86. Frank, who

was a Loft Lower season ticket

holder until last year, followed

Rangers ever since coming to

London from Ireland in 1957. He

is sadly missed by all his family,

who are carrying on his legacy of

supporting QPR.

WWW.QPR.CO.UK // @QPR // @OFFICIALQPR // OFFICIALQPRFC 11
---
HOOPS

12 WWW.QPR.CO.UK // @QPR // @OFFICIALQPR // OFFICIALQPRFC
---
HOOPS

Mr Consistent

JIMMY DUNNE

INTERVIEW: BEN KOSKY

DEFENDER JIMMY DUNNE REFLECTS

ON THE FRUSTRATION OF MISSING OUT

ON THE TOP SIX AND EXPLAINS WHY,

DESPITE THAT, THIS EVENING'S CLASH

AGAINST SHEFFIELD UNITED CARRIES

PLENTY OF IMPORTANCE…

WWW.QPR.CO.UK // @QPR // @OFFICIALQPR // OFFICIALQPRFC 13
---
HOOPS

Jimmy, let's cut to the chase – the

play-off dream is effectively over.

What's the mood been like in the camp

since Stoke?

There's no point in lying about how

disappointed we felt – everyone was

absolutely gutted. The atmosphere in

the dressing-room after the Stoke game

was one of disappointment and regret,

inevitably you start looking back over

the season and some of the games we

should have done better at. We have to

stay positive, accept maybe it wasn't

meant to be this year and that happened

for a reason – we can't be bitter about it.

For those of us who are going to be here

after the end of the season, we know we

have to learn from the experience and

take it into next season.

We still have the opportunity to make

an impact on the play-off race – a few

other teams will be cheering us on

against tonight's opponents, sixthplaced

Sheffield United…

Yes, we could do our neighbours at Millwall

a favour, though I'm not sure we should

want to! Seriously, I don't think we'll look

at the consequences a victory could have

for anyone else – it's far more important

that we get another couple of Ws on the

board and finish with a bit of pride. We

want to get a higher points total than last

season and prove to ourselves what we're

capable of. It'd also be nice to show the

fans there's still something to be excited

about going into next season. Hopefully

we can forget about Stoke and there'll

be a similar atmosphere to the one we

created for the Derby game here.

Our last meeting with the Blades was

only a few weeks ago, when they won

through an early deflected goal. Overall,

would it be fair to say there wasn't a

great deal in it?

No, there wasn't a lot in that game at

Bramall Lane – it was a good example of

14 WWW.QPR.CO.UK // @QPR // @OFFICIALQPR // OFFICIALQPRFC
---
HOOPS

It was a proud moment

being asked to captain QPR,

it made me feel particularly

connected with the club

us failing to express what we're capable

of. That's something that's happened

a lot recently away from home, when

games have been there for the taking

and we've struggled to show the talent

we've actually got. Sheffield United are

a team who may well be competing

in the play-offs and we want to show

them what we're made of. In a way, it

might actually hurt if we can beat them

because that leads to more feelings of

what could or should have been.

Apart from pride, can finishing the

season on a high note make a difference

in itself when you start to think about

returning to training in the summer?

Regardless of the way you end the season,

you have to come in with a fresh attitude

and mindset in pre-season. No matter

what's happened before, you have different

goals and that'll be the case whether we

win these last two games or not.

On a personal level, you must be

pleased with the way your first season

at QPR has gone. I'm sure you hoped to

be playing regularly, but did you expect

that to happen as soon as it did?

My number one personal goal was to play

as much football as possible, that's what

I came to QPR to do. From the collective

point of view, promotion was the target

and unfortunately we've missed out on

the collective goal, but individually I'm

delighted to have had so much game

time. I hope I've had a positive impact

on the team and the fanbase. I've had

a lot of performances I need to learn

WWW.QPR.CO.UK // @QPR // @OFFICIALQPR // OFFICIALQPRFC 15
---
HOOPS

Of course, it's nice to

know you can get that

recognition internationally

from playing with QPR and

that our games are being

watched and monitored

from as well, things I have to improve but

hopefully it's going in the right direction.

Your consistent form for Rangers also

resulted in a call-up to the Republic

of Ireland squad last month, which

must give you an extra sense of

achievement…

Of course, it's nice to know you can get

that recognition internationally from

playing with QPR and that our games are

being watched and monitored. It helped

me to realise that, if I can show my best

at club level, the rest will follow.

You initially came into the team on the

left of the three-man defence, then

moved into the central position and

more recently you've played in a flat

back four. Which role do you feel suits

you best?

I think we got the majority of our wins

when I was playing in the middle of the

three but, if I'm totally honest, it's not like

I'm changing between being a striker and

playing on the left wing – it's all central

defence and all very similar. Basically it

still involves being roughly in the middle

of the pitch where I can see most of the

game, communicate with my teammates

and orchestrate things from the

back – the only difference is whether I'm

on my right or left foot most of the time.

Another role you took on recently was

wearing the armband for the game

against Derby. Is captaincy something

16 WWW.QPR.CO.UK // @QPR // @OFFICIALQPR // OFFICIALQPRFC
---
HOOPS

My number one personal goal

was to play as much football as

possible, that's what I came to

QPR to do

you'd like to do more permanently,

further down the line?

I'd like to be in a position where I can lead

a group of lads and hopefully be the right

role model for younger players – that's

something I definitely aspire to become.

I've seen some really good captains and

leaders in the past – people like Ben Mee

at Burnley. He's someone who always

leads by example, not necessarily by

having to shout and scream and I learned

a lot from him. It was a proud moment for

me being asked to captain QPR because

it made me feel particularly connected

with the club. This is my home and it

really feels like I've been here forever.

WWW.QPR.CO.UK // @QPR // @OFFICIALQPR // OFFICIALQPRFC 17
---
HOOPS

feel it all

18 WWW.QPR.CO.UK // @QPR // @OFFICIALQPR // OFFICIALQPRFC
---
HOOPS

Columnist

A

'R' GENERATION WRITER BEN SUMMER SHARES

HIS LATEST COLUMN

1-0 defeat at Stoke and a parallel result

at Bramall Lane means that, if anyone's

going to catch Sheffield United this

season and make the play-offs, it won't be QPR.

It's difficult to know where to start when

talking about this disappointment, but I've seen a

lot of discussion about what it would have taken

to get us into the play-offs after a good first half

of the season made them an expectation rather

than a hope.

Mark Warburton spoke well, as I think he usually

does, on the Open All Rs podcast last week.

Speaking about the idea that we should have

made one or two killer signings in the winter

transfer window to carry us over the line, he

pointed out that you can still make that signing,

still fail to get promoted, and end up in financial

trouble as a result.

For every Luton, managing to reach the play-offs

with a small budget and solid recruitment, there's

a Derby. Seeing the Rams finally let go of their

grip on the Championship when Luke Amos'

strike relegated them, it was abundantly clear

what can happen when you spend seven seasons

trying to make the one final big-money signing

to take you over the line – only to realise you've

made 20 of those signings and now have FFP

looming over your shoulder.

As a kid, I never liked it when I was upset about

something and an adult told me to think

about how many people had it worse. I always

understood the point – be grateful for what you

have and feel sympathy for people with bigger

problems rather than feeling sorry for yourself.

I don't love those comparisons, but my mind does

inevitably drift towards Oldham Athletic fans,

who took to the pitch as relegation from the EFL

loomed after a decades-long decline. Or Barnsley

fans, who have gone from play-offs to relegation in

the space of a year. Or AFC Wimbledon fans, who

will spend next season in League Two worrying

that everything they've spent years rebuilding from

the ground up could be under threat.

You hear about those clubs and it doesn't really

help. Of course our expectations should be far,

far higher than that. Every football fan should

have the certainty that their club won't suddenly

disappear between one Saturday and the next.

QPR, a club which has begun the hard graft of

turning into a well-run Championship outfit, can

and should aim higher than that.

This season has not panned out the way we

hoped, and the fact there are others in worse

positions offers little comfort. The fact that our

club will be there next season is, thankfully, a given.

We now have the luxury of expecting a lot more

than that – let's see where it goes from there.

WWW.QPR.CO.UK // @QPR // @OFFICIALQPR // OFFICIALQPRFC 19
---
HOOPS

IS THERE

A BETTER

WAY TO

BUY YOUR

NEXT CAR?

CAZOO

YEAH!

Buy or finance a car online and we'll deliver it to

your door with a 7-Day Money Back Guarantee.

20 WWW.QPR.CO.UK // @QPR // @OFFICIALQPR // OFFICIALQPRFC
---
HOOPS

Today , s Opposition:

SHEFFIELD

UNITED

IN THE CABINET:

CLUB FACTS:

STADIUM:

[ Bramall Lane ]

OPENED:

[ 1855 ]

CURRENT CAPACITY:

[ 32,050 ]

RECORD ATTENDANCE:

[ 68,287 ]

CLUB COLOURS:

[ Red & White ]

PREMIER LEAGUE (LEVEL 1)

Winners: 1897/98

Runners-up: 1896/97, 1899/00

FOOTBALL LEAGUE CHAMPIONSHIP

(LEVEL 2)

Winners: 1952/53

Runners-up: 1892/93, 1938/39, 1960/61,

1970/71, 1989/90, 2005/06, 2018/19

FOOTBALL LEAGUE ONE (LEVEL 3)

Winners: 2016/17

Runners-up: 1988/89

FOOTBALL LEAGUE TWO (LEVEL 4)

Runners-up: 1981/82

FA CUP

Winners: 1898/99, 1901/02, 1914/15, 1924/25

S H E F F I E L D U N I T E D F A C T F I L E

WWW.QPR.CO.UK // @QPR // @OFFICIALQPR // OFFICIALQPRFC 21
---
HOOPS

SHEFFIELD UNITED

OPPOSITION

OVERVIEW

O P P O S I T I O N O V E R V I E W

ONE of only five teams to have won all four professional

divisions of English football, Sheffield United are very much in

the running for an immediate return to the highest of those

via the play-offs.

The Blades tumbled through the divisions during a wretched

spell in the late 1970s and early 1980s, but recovered

to regain top-flight status in 1990 and become founder

members of the Premier League two years later.

However, United were relegated on the final day of the season in 1994

and, apart from a single year back in the Premier League under Neil

Warnock, they continued to flounder until the return of former Blades

defender Chris Wilder as manager in 2016.

Wilder brought the League One title to Bramall Lane in his first season

and went on to steer the club back to the Premier League two years later,

dramatically exceeding expectations with a ninth-place finish in the

2019/20 campaign.

The Blades were unable to build on that achievement and finished

bottom of the table last season but, following a slow start under Slavisa

Jokanovic, they have worked their way into the top six.

22 WWW.QPR.CO.UK // @QPR // @OFFICIALQPR // OFFICIALQPRFC
---
HOOPS

M

PAUL HECKINGBOTTOM

Age: 44

Nationality: English

Year Appointed: 2021

Succeeded: Slaviša Jokanović

[ THE GAFFER ]

TWICE a promotion winner

with hometown club

Barnsley, Paul

Heckingbottom was handed

the reins at Bramall Lane in

November, stepping up from

his previous role as coach of

the club's Under-23 side.

During his 15-year playing

career, Heckingbottom

turned out as a defender

for eight EFL clubs and

gained promotion through

the League One play-offs

in successive seasons with

Sheffield Wednesday and

Barnsley.

His initial steps into

coaching came at Oakwell,

where he worked with

the development squad

before becoming caretaker

manager and repeating his

League One play-off success

– along with winning the EFL

Trophy – in 2016.

After two years as

Barnsley's permanent boss,

Heckingbottom left to join

Yorkshire rivals Leeds United

– but he was sacked after

just four months to make

way for the arrival of Marcelo

Bielsa.

A nine-month spell as

Hibernian head coach

followed before he joined the

Blades in 2020, succeeding

Chris Wilder as caretaker

manager towards the end of

last season and reverting to

his Under-23 position under

Slavisa Jokanovic.

SHEFFIELD UNITED THE GAFFER

WWW.QPR.CO.UK // @QPR // @OFFICIALQPR // OFFICIALQPRFC 23
---
HOOPS

SHEFFIELD UNITED KEY QUARTET

[ SAFE HANDS ] [ THE ROCK ]

18

#

18

WES FODERINGHAM

GOALKEEPER

Age: 31

Nationality: English

Signed From: Rangers

INITIALLY signed from

Glasgow Rangers to

cover for Aaron

Ramsdale, Wes

Foderingham has

claimed the number

one spot for himself

since his rival departed

for Arsenal at the start

of the season.

Foderingham started

out on the books at

Fulham, but made his

senior debut on loan to

Bromley and then joined

Crystal Palace before

settling at Swindon and

helping the Robins to

win promotion from

League Two in 2012.

Moving north of the

border three years later,

the shot-stopper played

in the Rangers side that

won the Scottish

Championship and

Challenge Cup under

Mark Warburton,

eventually making 143

appearances for the

Ibrox club.

CENTRAL defender John Egan

remains a beating heart of

Sheffield United's back line and

one of the first names on the

teamsheet – as has been the case

ever since his switch from

Brentford four years ago.

Egan, who began his career at

Sunderland, actually made his

debut for the Blades during a brief

loan spell in 2012 and eventually

moved to Gillingham two years

later, winning their player of the

year award in his first season.

The Republic of Ireland

international signed for Brentford

in 2016 and his performances

over the next two years, with

seven goals in 71 appearances,

convinced the Blades to shell out

£4m for his signature.

CLASSIC KIT

GLYN

HODGES

1993

12

#

12

JOHN EGAN

DEFENDER

Age: 31

Nationality: Irish

Signed From: Brentford

24 WWW.QPR.CO.UK // @QPR // @OFFICIALQPR // OFFICIALQPRFC
---
HOOPS

[ THE HIT MAN ]

10

#

10

DODGY BARNET

WAYNE

QUINN

1998

16

#

16

OLIVER NORWOOD

MIDFIELDER

Age: 31

Nationality: N. Irish

Signed From: Brighton

[ THE ENGINE ]

SCORER of the only goal when

tonight's opponents met at

Bramall Lane earlier this month,

Northern Ireland international

Oliver Norwood has now been a

Blades player for almost four

years.

The 31-year-old, who started out

with Manchester United but left

without making a first-team

appearance, went on to establish

himself as a Championship player

during two-year stints at both

Huddersfield and Reading.

Norwood can lay claim to an

impressive record of promotion

successes, having played for

teams that went up to the

Premier League in three

consecutive seasons – Brighton,

Fulham and then Sheffield United

in 2019.

BILLY SHARP

FORWARD

Age: 36

Nationality: English

Signed From: Leeds

DESPITE turning 36 in

February, Billy Sharp's

love affair with Sheffield

United shows no signs

of drawing to a close –

the boyhood Blades

supporter leads their

scoring charts again

with 15 goals so far this

season.

Sharp is now in his third

spell at Bramall Lane,

having also turned out

for Scunthorpe,

Doncaster,

Southampton,

Nottingham Forest,

Reading and Leeds since

his senior debut almost

18 years ago.

Since his second return

to the Steel City in

2015, the experienced

centre-forward has

become club captain

and played his part in

two promotions, as well

as netting more than

100 league goals in a

United shirt.

SHEFFIELD UNITED KEY QUARTET

WWW.QPR.CO.UK // @QPR // @OFFICIALQPR // OFFICIALQPRFC 25
---
HOOPS

SHEFFIELD UNITED DANGER MAN

[ DANGER MAN ]

ATTACKING midfielder

Morgan Gibbs-White has

made a real impact

during his season-long

loan from Wolves, with

10 goals and eight

assists so far in the

Blades' Championship

campaign.

Gibbs-White, who has

been at Molineux since

he was eight, made his

first-team debut as a

16-year-old and has

gone on to feature a total

of 86 times.

However, he was sent

out on loan to gain the

playing time that failed

to materialise during a

similar spell at Swansea

last season, when injury

restricted him to just a

handful of games, and

scored on his Blades

debut, a 6-2 victory

against Peterborough.

A member of the England

side that triumphed

in the Under-17 World

Cup five years ago, the

22-year-old has since

represented his country

at every youth level up to

Under-21.

27

#

27

MORGAN

GIBBS-WHITE

FORWARD

Age: 22

Nationality: English

Signed From: Wolves

26 WWW.QPR.CO.UK // @QPR // @OFFICIALQPR // OFFICIALQPRFC
---
HOOPS

FAMILIAR FACE:

TONY

CURRIE

GIFTED attacking midfielder Tony Currie captained QPR in

the 1982 FA Cup final replay, having previously made his name

during an eight-year spell at Bramall Lane.

Currie, who grew up in north-west London and was turned down by

QPR as a youngster, launched his career at Watford before joining

Sheffield United in 1968 and immediately became a fans' favourite,

going on to score 54 goals in 313 games.

Following the Blades' relegation in 1976, he spent three years at

Leeds, helping them to qualify for European football before signing

for Rangers and donning the famous no 10 shirt vacated by Stan

Bowles.

After a brief spell in Canada, Currie turned out for Southend and

Torquay before dropping into non-league football and returned to

Sheffield United in 1988, where he was appointed Football in the

Community co-ordinator.

QPR Apps: 81 Gls: 5

1979-82

SUFC Apps: 313 Gls: 54

1968-76

SHEFFIELD UNITED FAMILIAR FACE

WWW.QPR.CO.UK // @QPR // @OFFICIALQPR // OFFICIALQPRFC 27
---
HOOPS

28 WWW.QPR.CO.UK // @QPR // @OFFICIALQPR // OFFICIALQPRFC
---
HOOPS

FREEZEFRAME

A PICTORIAL LOOK BACK AT A PREVIOUS

CLASH WITH TODAY'S OPPONENTS…

QPR midfielder Shaun Derry and Sheffield United's

Stephen Quinn are taking no prisoners as they clash here

in April 2011. Rangers triumphed 3-0 to close in on the

Championship title, while the Blades plunged into League

One that season.

WWW.QPR.CO.UK // @QPR // @OFFICIALQPR // OFFICIALQPRFC 29
---
HOOPS

Keeping

PERSPECTIVE

QPR GOALKEEPING COACH GAVIN WARD SPEAKS TO BEN KOSKY

ABOUT THE ESSENTIAL TASK OF NURTURING THE CLUB'S NEXT

GENERATION OF POTENTIAL NUMBER ONES…

Blighted by a staggering sequence of injuries,

it's probably an understatement to describe

this season as a challenging one for QPR's

goalkeeping department.

Yet its future is bright, according to goalkeeping

coach Gavin Ward – not least due to the calibre

of youngsters emerging through the R's ranks to

press their claims for first-team football.

Twenty-year-old Murphy Mahoney impressed after

making his debut at short notice against Preston

earlier this month, while Joe Walsh, three months

his junior, would also have been blooded by now

but for a freak hand injury sustained in training.

"I can't speak highly enough of those two, they've

got so much humility and they're very affable

young men," Ward told Hoops. "There are no bigtimers

in this department, that's for sure.

"Their appetite to learn isn't in question. Have we

got two potential first team goalkeepers for QPR?

Yes, without a doubt!

"They've got all the tools, they just need to go out

and play football and that'll stand them in good

stead, playing week in week out.

"It's so important that the second goalkeeper

maintains a mentality of preparing as if he's

playing. You have to get yourself into the right

mental headspace, knowing you could come on in

the first minute, the 40th minute or whatever it is.

"That's what we've been drilling into Murph.

There was no fear in his eyes when he learned

he'd be making his debut and I was delighted with

how he performed."

Mahoney became the fifth player to pull on

the first-team goalkeeper's jersey this season,

following an extraordinary sequence of injuries that

began when Jordan Archer dislocated his shoulder

making the decisive save in January's FA Cup third

round penalty shoot-out against Rotherham.

First choice Seny Dieng, having returned from

Africa Cup of Nations duty, played just three

more games before picking up a thigh injury at

Blackburn.

Weeks later, David Marshall – having joined from

Derby to replace Archer – was ruled out after tearing

a hamstring at Nottingham Forest, with free agent

Keiren Westwood hastily signed in his place.

With Walsh also sidelined by injury, that left Mahoney

as Rangers' only available keeper when Westwood

fell ill in the build-up to that match at Deepdale.

"It is a rarity," Ward admitted. "Usually you'll

only use two keepers through a season. But I can

only applaud the lads who have come in and done

the job.

"David Marshall was a fantastic addition to the

group and Westy's a different type of person but

he's got the same experience and he's a real help

to the youngsters, encouraging them.

"In a strange way, it's probably helped Murphy to

be working with three or four keepers because

you take different things from different people."

30 WWW.QPR.CO.UK // @QPR // @OFFICIALQPR // OFFICIALQPRFC
---
HOOPS

Ward cites the career progression of Dieng – who

gradually gained senior experience during a series of

loan deals during his first four years at QPR – as the

ideal template for developing a young goalkeeper.

The Senegal international featured at non-league

level before playing for Stevenage and then

Doncaster, sandwiching a loan spell in the Scottish

Premiership with Dundee which exposed him to

sizeable crowds for the first time in his career.

Ward recalled: "When I saw Seny play at Rangers

and Celtic away, I knew he had that special

mentality and I thought 'we've got a keeper on

our hands here'.

"If he can stand in front of 40-50,000, probably

screaming obscenities at him, that's when the

concentration levels have to be so high.

"He may have to do that one thing, produce that

one match-winning save and it's so important

we know our goalkeepers have that confidence

to do it."

One of the unsung heroes in the Rs'

flourishing goalkeeping department is Erbil

Bozkurt, whose primary role is to coach the

Under-23 and B team keepers, but has also made

his mark beyond that remit.

Following the outbreak of the Covid-19 pandemic

two years ago, Bozkurt – being based far closer to

the QPR training ground than Ward – was able to

take on a more significant role in working face to

face with players.

Now Ward is keen to expand the department,

ideally with another coach alongside himself and

Bozkurt, 32, as well as ex-Rangers player George

Bankole who works with the Academy keepers.

He added: "Getting Erbs in has been fantastic,

we've dovetailed perfectly with one another and

he's worked seamlessly to bring these kids up

through the system. He shows maturity beyond

his years and his knowledge of goalkeeping is

second to none.

"Going to the new training ground will help in

terms of what we can do, all being in the same

venue and having better facilities, but it's also

about having a structure in place to move hand in

hand with that.

"You have to have that behind you, to keep

producing and developing goalkeepers. We're

trying to identify the right talent, nurture the

talent and get them where we want them to be."

WWW.QPR.CO.UK // @QPR // @OFFICIALQPR // OFFICIALQPRFC 31
---
HERE'S

A ST AT

I BET

YOU

DIDN'T

KN

W
---
OVER HALF A MILLION

SKY BET CUSTOMERS USE DEPOSIT LIMITS

TO MANAGE THEIR BETTING BUDGET.

THAT'S ENOUGH TO FILL:

6 WEMBLEYS.

201 ALLY PALLYS.

OR 8 CHELTENHAM GOLD CUP DAYS.

(THAT'S A LOT OF TWEED)

ALL GOOD BOOKMAKERS

HAVE DEPOSIT LIMITS.

SO WHOEVER YOU BET WITH,

SET AN APPROPRIATE ONE FOR YOU

AND THEN ENJOY THE SPORT.

DEPOSIT LIMITS

THAT'S BETTING BETTER.
---
HOOPS

OUR CLUB AMBASSADOR'S

VIEWS ON ALL THINGS QPR…

G

ood evening everyone and welcome

back to the Kiyan Prince Foundation

Stadium for the last home game of

the season against Sheffield United.

United are a big club with a tremendous following

and come here tonight knowing that a top-six

finish is very much in their own hands – two wins

from their remaining games will certainly get

them there. They have had an excellent second

half of the season and will now be determined to

finish the job.

Having gained a very good point up at high-flying

Huddersfield and a hard-earned win here last

time out against Derby County over the Easter

weekend, unfortunately our own hopes of getting

into the top six all but disappeared with our defeat

last Saturday at Stoke. If (such a small word with

huge implications) we had won at Stoke, what a

game we would all be coming to watch tonight!

We are all left disappointed and pondering the ifs,

buts and maybes that come to mind when you

have worked so hard to get into a very promising

position – only for it to fall away. Injuries to key

players at key times in the season, a decision or

two that went against us and might have given

three points instead of one, the missed chances

and opportunities during games, individual

errors that cost us goals and points are all factors

in the poor run we have had over the past three

months. All of these may apply, but every club in

the division will have similar stories to tell.

However, if you look at the facts – and indeed

the results and points accumulated in the last

16 games – we simply have not performed

to the levels we know we can and had shown

in the previous 12 months up until the end of

January. As the season comes to an end, there

is no hiding from the fact that our points return

from those 16 games has brought us up short

of a play-off position – unless an extraordinary

sequence of results in our favour takes place. I

do believe over 46 games the league table does

not lie!!

So with two games to go, what can we do?

My answer is simple – WIN both games that we

have left, tonight and next weekend at Swansea.

Our players have plenty to play for and I am

sure they will want to finish the season off with

performances and wins, especially here tonight,

and end with as many points as possible and as

high in the table as we can.

At times, you have to take disappointments

on the chin and the aim must be to use the

disappointment that everyone at the club shares

34 WWW.QPR.CO.UK // @QPR // @OFFICIALQPR // OFFICIALQPRFC
---
HOOPS

and attempt to come back stronger and better

from it. Sometimes that is hard, but it is the only

way – dust yourself down and get ready to go

again. In every aspect of life, sport and football

you have to learn from situations and take the

positives and also learn from and improve on the

mistakes that have been made.

Many congratulations to Chris Willock for winning

both the Player of the Year and the Players' Player

of the Year, which are both very well deserved

in my opinion. Chris has really developed into

a terrific young player and I am sure once he

recovers from his unfortunate injury sustained in

mid-March he will continue to improve, develop

and progress as a player. I sincerely hope the

recovery and rehab from the injury is going well.

Once again, well done Chris for winning these

awards. Also congratulations to Sam McCallum

and Andre Gray for winning the Young Player of

the Year and the Goal of the Season awards.

I am writing these notes prior to the Forever

R's Golf Day, which was held on Wednesday at

The Shire London Golf Club. As always, we have

had tremendous support for the event from

club sponsors, fans and some 18 former QPR

players who attend and play on the day. I am

sure everyone who took part will have enjoyed

themselves and the day itself was a great

success. Once again, Forever R's and the way

we reach out to our former players is something

we are all very proud of here at the club and I

look forward to this continuing in the years to

come. As I have said many times before, it is so

important that we remember and welcome our

former players back to our great club and the

support former players receive from you, our

fans, is just terrific to see when they return here.

On behalf of everyone involved with Forever R's

and indeed, the former players themselves, a

massive thank you to you all for the love, warmth

and support you show them and their families.

I would like to finish these notes by saying a huge

thank you to all our supporters. Your support this

season, both home and away, has been absolutely

incredible – it really has. To have played the whole

of last season without fans in the stadium was

really tough for everyone. So seeing our fans back

in the stadium this season has been brilliant. I can

still hear the noise against Millwall here on the

opening day of the season and that was how it

continued throughout the campaign.

I wish you all a good summer, take care and stay

safe. I very much look forward to seeing you all

again in July when we will be ready to do it all again.

Let's get behind the lads tonight as we look to

win our last home game of the campaign.

Come on you R's!

WWW.QPR.CO.UK // @QPR // @OFFICIALQPR // OFFICIALQPRFC 35
---
HOOPS

36 WWW.QPR.CO.UK // @QPR // @OFFICIALQPR // OFFICIALQPRFC
---
HOOPS

THIS SEASON MARKS 40 YEARS

SINCE QPR REACHED THE 1981/82 FA CUP FINAL.

IN EACH MATCHDAY PROGRAMME, WE SPEAK

TO A MEMBER OF THE SQUAD WHO PLAYED A

ROLE IN THAT UNFORGETTABLE JOURNEY TO THE

TWIN TOWERS. HERE'S PART TWO WITH CENTRE-

HALF ERNIE HOWE…

INTERVIEW: TONY INCENZO

WWW.QPR.CO.UK // @QPR // @OFFICIALQPR // OFFICIALQPRFC 37
---
HOOPS

ERNIE, you grew up nearby so it

must have been good for you to

play in west London for the R's…

Yes, I came from Brentford originally so

it was always nice to stay in London for

most of my playing career. I didn't have

to move away or anything like that. I was

still living at home with my mum and

dad, which was always handy. When you

look at football nowadays, it is all about

money. But I have to say, money was

never something that motivated me to

play football unlike – I assume – current

players. I just enjoyed being a footballer

and that was it. I was qualified in

engineering and I didn't go into football

until I was 21, so I had a back-up if

everything went wrong for me. But the

wages players get in the modern era are

crazy. Someone said to me that, if a

teenage footballer gets a three-year

contract, he won't have to work for the

rest of his life. Therefore the game has

changed and moved forward.

You always gave 100 per cent in every

fixture – a real wholehearted defender…

Well, I like to think so. The way I

approached matches was never any

different – once I got on the pitch I

always tried my best. Sometimes it

didn't work out that way. I just feel that

playing for QPR in some ways was

difficult for me. When I joined the R's

from Fulham in December 1977, I was

brought in to replace senior centrehalves

like David Webb and Frank

McLintock – it was always going to be

tough. From that point of view, I didn't

live up to the expectations of the club

and the Rangers supporters. It was a

hard time when I moved to Loftus

Road as there was a lot of turmoil. The

manager Dave Sexton had just left to

go to Manchester United, a few of the

players were unsettled and there was a

great deal of chopping and changing. It

was challenging for Frank Sibley to take

over as R's boss in that period as he

was trying to hold things together. But

overall, it was enjoyable for me. When I

38 WWW.QPR.CO.UK // @QPR // @OFFICIALQPR // OFFICIALQPRFC
---
HOOPS

look back on it now, I think: "Well, at

least I played there in the top flight and

achieved something." That's the way

you have to reflect on it. Although,

when you view footage of the old

games and some of the tackles that

were going in, modern players wouldn't

have survived in the 1970s! Also

current pitches are like carpets, so

they are perfect to play on. I can

remember QPR facing West Ham in an

FA Cup replay at Loftus Road where

the playing surface was so bad that we

could barely pass the ball, but we

ended up beating them 6-1. I wonder

how the game took place as we were

all ankle-deep in mud!

You made your debut for Rangers

away to Liverpool on 17th

December 1977. Do you remember

that game at Anfield?

I certainly do! I have a photo from the

match of me bringing down Kenny

Dalglish for the decisive penalty. We lost

1-0 and I'm still convinced that Kenny

dived! The week before I was playing for

Fulham at Millwall in Division Two, then I

signed for QPR on the Thursday. So it

was fantastic for me to then travel up to

Liverpool to make my debut. It's not

every day you get the chance to play at

a place like Anfield. It was a wonderful

experience and totally different to what

I had been used to with Fulham – part

and parcel of learning as a professional

footballer. It was lovely to appear at a

fantastic stadium against a very good

Liverpool side in that era. But then

again, it wasn't that great for me giving

away the penalty! Luckily I went up to

Liverpool again the following season

with QPR and that was a big plus as well.

Apart from Liverpool, you

played against a number of other

top teams for us…

I appeared against most of the big

sides for Rangers in the 18 months I

had playing in Division One before we

got relegated. There were many

WWW.QPR.CO.UK // @QPR // @OFFICIALQPR // OFFICIALQPRFC 39
---
HOOPS

exciting games against really good

players. I can remember marking Joe

Jordan of Manchester United and

other leading centre-forwards. There

was some massive talent out there.

When Loftus Road was full for those

major home fixtures, the atmosphere

was incredible…

Yes, it was because everything was so

close-knit. The fans were tight to the

touchline. In fact, a lot of teams didn't

like coming to play Rangers because

everyone was on top of you! QPR have

great supporters who are very loyal.

The nice thing was that it was a small

ground but it had a big atmosphere.

That was the important thing that

stood out for me.

It was a rebuilding period for us when

you first joined, but we still had some

really good players here at Rangers…

I think a lot of young lads were coming

through the ranks. I also played with

experienced stars like Stan Bowles, Gerry

Francis and Tony Currie. They were all

outstanding players. John Hollins was

another one and I just thought 'Holly'

was a great person too. When things

weren't going well, he was always full of

life and kept everyone buzzing.

Breaking your leg in September 1979

was a very traumatic moment – you

were out of action for 14 months. In

those days, it was a careerthreatening

injury, wasn't it?

The medical side of things is so

different for modern footballers. Back

then, I suffered the injury at Notts

County and they just put me on the

team coach afterwards to bring me

back to London. Then my wife had to

come down to get me in the car and

take me to Charing Cross Hospital,

where I found out I had a broken leg.

After that, I had to do all my own rehab.

I made it back to fitness through the

help of the physios at the hospital until

I was ready to return to QPR and start

40 WWW.QPR.CO.UK // @QPR // @OFFICIALQPR // OFFICIALQPRFC
---
HOOPS

QPR have great

supporters who are very

loyal. The nice thing was

that it was a small ground

but it had a big atmosphere.

That was the important thing

that stood out for me.

running in training. My recovery was

very basic – that just wouldn't happen

to footballers nowadays. Current

players don't realise how lucky they are.

In your five years at QPR, you played

under several different managers…

I almost had one a season, didn't I?!

Was it four managers in five years? Yes,

I think it was Frank Sibley, Steve

Burtenshaw, Tommy Docherty then

Terry Venables. I was always grateful to

Frank Sibley because he signed me. He

was a QPR lad through and through.

He gave me the chance to join the club

and I always had a lot of respect for

Frank – he was honest as the day was

long. I don't know if he actually enjoyed

the job of being first-team manager

though. Results didn't go well, so Frank

left and Steve Burtenshaw took over.

Again, he didn't last long. Then it was

Tommy Docherty before Terry

Venables came in and I thought he was

a breath of fresh air from a coaching

point of view. I wish I had been under

Terry when I was younger because I

think I would have been a better player.

His philosophy was very good and he

organised us very well. Terry proved

that as he went on to manage

Barcelona, Tottenham and England. I

would always listen to him because he

just spoke common sense – even if I

wasn't playing, I would pay attention to

his ideas. I still have notes now that I

took on Terry's training sessions as I

always planned to go into coaching

after I had finished playing. Therefore I

had a very good background to work

from and Terry encouraged me to get

my coaching badges, which I took on

board. I eventually ended up coaching

in non-league football at several clubs

including Wokingham Town, Woking,

Basingstoke Town and Sutton United.

Looking back, it sounds as if you have

mixed emotions about your time at

QPR?

I suppose they are mixed really. I just

wanted to go and play football, but then

I suffered a lot of injuries. When you get

those setbacks your form goes downhill

– it wasn't easy coming back to fitness

sometimes. But overall, it was enjoyable.

I can't knock the amount of games I

played for Rangers at the highest level. I

have to appreciate the fact I was given

that chance.

WWW.QPR.CO.UK // @QPR // @OFFICIALQPR // OFFICIALQPRFC 41
---
HOOPS

1981/82

QPR 0

TOTTENHAM 1

Date: Thursday 27th May 1982

Competition: FA Cup final replay (Wembley

Stadium)

Attendance: 90,000

Gate receipts: £605,000

A PENALTY by Glenn Hoddle sealed victory

for Tottenham but Division Two underdogs

QPR covered themselves in glory, courtesy

of a fabulous battling performance.

Rangers reshuffled their ranks for this replay

after drawing 1-1 in the original game five days

beforehand. Ace marksman Clive Allen was ruled

out with an ankle injury, so Gary Micklewhite was

drafted in. In addition, Warren Neill replaced

captain Glenn Roeder, who was suspended after

being sent off in the penultimate league game of

the season at Luton Town.

Hoddle made the breakthrough after just six

minutes from the penalty spot. This followed a

trip by QPR's replacement skipper Tony Currie

on Graham Roberts in the box.

After that, it was all Rangers, with wave after

wave of attack. Micklewhite had a perfectly

good-looking goal disallowed and John Gregory

rattled the crossbar with a delicious volley that

flew over England keeper Ray Clemence.

But top-flight Spurs rode their luck to win the

trophy. After the final whistle, fans of both

teams gave a standing ovation to the plucky

Rangers players on their lap of honour.

In his Daily Mirror newspaper match report,

Frank McGhee wrote: "Queens Park Rangers did

everything to rescue the 1982 FA Cup Final

from mediocrity – except win it. They

completely outplayed their conquerors

Tottenham in last night's replay at Wembley.

They had a clear penalty appeal rejected. They

hit the bar. They had a shot cleared from the

line. They brought Tottenham's great

goalkeeper Ray Clemence as close to panic as

he has ever been in his distinguished career. But

somebody up there did not love them last night.

"The crowd did at least get some of their

money's worth in excitement and action last

night – and the depleted Rangers team played a

full part in providing it.

"After a cruel foul on Gary Waddock which

brought Tottenham's Paul Miller a well-deserved

booking from referee Clive White, Rangers had

the ball in the net from a shot by Micklewhite

– but Stainrod was so blatantly offside at the

time there wasn't even an argument.

42 WWW.QPR.CO.UK // @QPR // @OFFICIALQPR // OFFICIALQPRFC
---
HOOPS

"Rangers started the second half in the mood

they had ended the first – undismayed by

Tottenham's lead…Rangers' pressure

increased, with Spurs keeper Clemence

stranded yards from his line as Hoddle cleared

from under the bar a cross from John Gregory

that was floating towards the net.

"Rangers should, in my opinion, have had a

penalty of their own when Garth Crooks cut

down Terry Fenwick. But although the linesman

signalled frantically and Rangers players

appealed frantically, referee White remained

unmoved. Spurs were under intense pressure.

Clemence was lunging and plunging like a

beginner at the game to make desperation

saves from Stainrod and Waddock…But

Rangers went even closer in the 63rd minute

when Gregory clipped the top of the bar after a

pass from Stainrod."

RANGERS: Hucker, Fenwick, Gillard, Waddock,

Hazell, Neill, Currie, Flanagan, Micklewhite

(Burke 82), Stainrod, Gregory.

WWW.QPR.CO.UK // @QPR // @OFFICIALQPR // OFFICIALQPRFC 43
---
HOOPS

Other Uses Of

LOFTUS ROAD

CRICKET, HOCKEY, RUGBY, BOXING, CONCERTS AND MORE

- LOFTUS ROAD HAS SEEN IT ALL DOWN THE YEARS. WE

EXAMINE THE OCCASIONS WHEN OUR FAMOUS GROUND

PLAYED HOST TO SOME VERY DIFFERENT EVENTS…

AUSTRALIA V

SOUTH AFRICA

AN ENTERTAINING

international friendly was

staged at Loftus Road on

Tuesday 19th August 2008

with Australia and South

Africa sharing four goals

before an enthusiastic

crowd of 7,071.

A match report by Fred Atkins

of Associated Press read:

"South Africa drew 2-2 with

Australia after a second-half

equaliser by Teko Modise in

a friendly match on Tuesday.

Modise produced a blistering

strike from a pass by Bryce

Moon.

"South Africa scored first

through Siyabonga Nkosi but

Australia led 2-1 at half-time

with goals by Mile Sterjovski

and Joshua Kennedy. The

match was played at Loftus

Road, home of English second

tier club Queens Park Rangers.

"At first the South Africans

struggled to create anything

against a more experienced

Australian side selected

entirely from Europeanbased

players, but a moment

of inspiration from Benni

McCarthy gave them the lead.

"McCarthy, one of the few

players in the South African

starting line-up with European

experience, made a clever

backheel in the 21st (minute)

to release Nkosi in the area.

Nkosi drilled an angled shot

past Mark Schwarzer into the

bottom corner.

44 WWW.QPR.CO.UK // @QPR // @OFFICIALQPR // OFFICIALQPRFC
---
HOOPS

"Australia's response four

minutes later was equally

impressive. Torino midfielder

Vincenzo Grella sent a lob to

the edge of the South African

area. With the defence waiting

for an offside flag, Sterjovski

allowed the ball to drop over

his shoulder and equalised

with a superb volley.

"Australia's greater experience

began to tell and, seven

minutes from the interval,

Joshua Kennedy headed home

Mark Bresciano's cross to put

the Socceroos in front.

"Unsettled by a trio of halftime

substitutions, Australia

surrendered the initiative

in the second half. Moon's

manoeuvres began to cause

Australia problems and, in

the 58th minute, he cut the

ball back to Modise, whose

blistering shot flashed into the

top corner, beating Schwarzer

at his near post.

"Dean Carney responded for

Australia, with a fierce shot

from 20 metres that went just

wide. At the other end South

Africa's MacBeth Sibaya shot

from 40 metres out and just

missed the target."

Meanwhile, a report on the Goal.

com web site read: "Playing at

QPR's Loftus Road Stadium,

the teams gave the locals an

entertaining match that could

have gone either way.

"The South Africans took the

lead midway through the first

half as Siyabonga Nkosi shot

past Mark Schwarzer. Soon

after the Socceroos, preparing

for next month's final round of

2010 World Cup qualification,

were back on level terms.

Vince Grella, reported to be on

the verge of joining Blackburn

Rovers from Torino, freed

Mile Sterjovski and the striker

finished in style.

"Pim Verbeek's men didn't

stop there and were ahead

after 38 minutes as Germanbased

Josh Kennedy headed

home a Mark Bresciano freekick.

Just before the hour, Teko

Modise equalised for the 2010

World Cup hosts.

"Australia start the final

stage of qualification against

Uzbekistan on September 10."

QPR received a facility fee

of £35,000 for hire of the

stadium. All four stands

were opened on the night,

with Australia supporters

outnumbering their South

African counterparts by a ratio

of 10 to one.

WWW.QPR.CO.UK // @QPR // @OFFICIALQPR // OFFICIALQPRFC 45
---
HOOPS

46 WWW.QPR.CO.UK // @QPR // @OFFICIALQPR // OFFICIALQPRFC
---
HOOPS

Columnist

talkSPORT REPORTER AND RANGERS FAN

TONY INCENZO RECALLS SOME WEIRD AND

WONDERFUL STORIES...

A RIGHT EYEFUL!

THE funniest incident I have ever witnessed

concerning a non-league footballer happened

four years ago. I won't name the club or the

player involved to protect his modesty. And it

does need to be protected!

I had driven to watch a match in the Hellenic

League on a Tuesday night and my heavily

pregnant wife decided to come along for an

evening out. We arrived about 15 minutes before

the kick-off and found a space in the car park.

My wife said she would stay warm in the car

while I bought a match programme and

obtained the team line-ups. All seemed good

up until that point.

But just after I disappeared towards the main

entrance, a van pulled up right next to our

car. Out jumped a rather flustered-looking

gentleman in his work overalls, covered in paint.

He had obviously been delayed at a job and

was in a frantic hurry to take part in the match.

Not realising that there was anyone else in the

car park, he decided to strip totally naked – yes

TOTALLY NAKED – beside his van and then get

changed into his football kit before jogging off

over to the pitch.

At that point, I returned to the car and my wife

was visibly blushing.

"I've just had a right eyeful! It was like a scene

from the Full Monty!" she gasped.

Anyway, my wife and I both saw the funny side of

things and we enjoyed the match that evening.

In hindsight, my good lady probably relished

events more than I did as she kept a keen eye on

one particular player all evening!

Follow Tony Incenzo on Twitter at

@TonyIncenzo

WWW.QPR.CO.UK // @QPR // @OFFICIALQPR // OFFICIALQPRFC 47
---
HOOPS

JUNIOR

HOOPS

FUN, GAMES, TRIVIA & MORE!

Hello everyone!

Hey guys, it's your

favourite feline friend

here! Over the next

couple of pages you'll

get the chance to

test your footballing

knowledge! Challenge

your family and friends

to see who comes out

on top!

Jude

JUDE'S JOKE

Why did the manager give all his players coloured pencils?

A: He wanted them to play for a draw!

GROUND HOPPER

Which London stadium is this?

Follow me on Twitter

@QPRJudeTheCat

48 WWW.QPR.CO.UK // @QPR // @OFFICIALQPR // OFFICIALQPRFC
---
BIRTHDAYS!

Big birthday wishes to

all Junior Hoops

celebrating in April…

Nathan Backer – 1st

Ryan Jones – 1st

Owen Perry – 1st

Skye Taylor – 1st

Violet Barbour – 2nd

Otis Caron-Delion – 2nd

Reanna Davidson – 2nd

Kenziie Dunn – 2nd

Mehdi Laouira – 2nd

Robert Mayhew – 2nd

Thomas McGuire – 2nd

Charlie Rouse – 2nd

Finley Dawes – 3rd

Lewis Duke – 3rd

Myrna Goodger – 3rd

Louis Harrison – 3rd

James King – 3rd

Thomas King – 3rd

Stanley Whitehart – 3rd

Alfie Brodrick – 4th

Sam Durrant – 4th

Nathan Fraser – 4th

Tyler Paul Hedges – 4th

Isaac Hopkins – 4th

Nikhil Shah – 4th

Jack Church – 5th

Liam Collins – 5th

Madeleine Humphreys – 5th

Conor Maher – 5th

Finton McLaughlin – 5th

Stefan Passera – 5th

Thomas Rule – 5th

Rebecca Cox – 6th

Charlie Green – 6th

Albie Hubbard – 6th

Orla Larkin – 6th

Olivia Lewis – 6th

Hannah O'Halloran – 6th

Charlie Puddifoot – 6th

Evan Strong-Anderson – 6th

Joshua Whitley – 6th

Ryan Allen – 7th

Daisy Rowe – 7th

Billy Green – 7th

Charlie King – 7th

Bella Lewis – 7th

Robin Murray – 7th

Alexander Pavlou – 7th

Thomas Rank – 7th

Jack Rowland – 7th

Freddie Winter – 7th

Buddy Baverstock – 8th

Dominic Daly – 8th

Dolly Disson – 8th

Harrison Lovelock – 8th

Annie O'Connell – 8th

Payton Ryan – 8th

Amy Batt – 9th

Isaac Davies – 9th

Reece Hearn – 9th

Matthew Kassir – 9th

Louis Leonard – 9th

James Damasik-Dixon – 10th

Oliver Dovey – 10th

Lily Hawkes – 10th

Niall Lydon – 10th

Max Newman – 10th

Leo Palmer – 10th

Thomas Bailey – 11th

Pearse Cole – 11th

Jack Healy – 11th

Ben Jacobs – 11th

Beatrix Kosanovic – 11th

Harry Lovell – 11th

Frankie Moule – 11th

Gustav Peterson – 11th

Abbie Taylor – 11th

Zachary Rank – 12th

Sam Slocombe – 12th

Martin Banks – 13th

Max Chambers – 13th

Jack Fryer – 13th

Grace-Marie Oliver – 13th

Nathan Magorrian – 14th

Laike McCarthy – 14th

Jake McGinley – 14th

Finn Miller – 14th

Luke O'Loughlin – 14th

Joseph Opalka – 14th

Johnny Taggert – 14th

Dominic Wall – 14th

Shaylea Fitzgerald – 15th

Louie Kelly-Smith – 15th

Maddalyn Diggons – 16th

Joshua Hepner – 16th

Jasper Lee – 16th

Federico Tovazzi – 16th

William Woolacott – 16th

Benjamin Aldridge – 17th

Samuel Bernardout – 17th

Benjamin Esfandi – 17th

Jack Franklin – 17th

Matthew Knight – 17th

Reggie Lawrence – 17th

Avraj Rai – 17th

Samuel Smith – 17th

Stanley Sullivan – 17th

Charlotte Groocock – 18th

Natalie Matthews – 18th

Oliver Maycock – 18th

Riva Turan– 18th

Luca Bouge – 19th

Freddie Howe – 19th

Toby Jackson – 19th

Guy David Keen – 19th

Giorgio McNaughton – 19th

Owen Perry – 19th

Arin Popat – 19th

Joshua Potter – 19th

Ethan Walsh – 19th

Daniel West – 19th

Luca Whibley – 19th

Joshua Death – 20th

Jack Devaney – 20th

Jack Elliott – 20th

Dixie Finch – 20th

William Forde – 20th

Zach Harper – 20th

Isobel Kelly – 20th

Joshua Stacey – 20th

Danny Lovell-Shanahan – 21st

Ben Challis – 22nd

Archie Flaum – 22nd

Paige Hopkins – 22nd

Jake Lovell – 22nd

Guy Marchant – 22nd

Emily Skinner – 22nd

Harvey Speirs – 22nd

Natasha Cox – 23rd

Josh Crossley – 23rd

Frankie Flaum – 23rd

Albert Longlade – 23rd

Grace O'Brien – 23rd

Olivia Allen – 24th

Josh Hills – 24th

Aidan Malhotra – 24th

Freddie Barton – 25th

Charlie Crossman – 25th

James Fraser – 25th

Charlie George – 25th

Scott Green – 25th

Emily Jelley – 25th

Molly McEvoy – 25th

Eloise Roohan – 25th

Joshua Weller – 25th

Maisie Asbridge – 26th

Alexander Carroll – 26th

Jack Clarke – 26th

Amy Darling – 26th

Charlie Guy – 26th

Zach Hebditch – 26th

Imogen Kinnell – 26th

Amal Sabir – 26th

Callum Silvester – 26th

James Todd – 26th

Callum Breden – 27th

Daisy King – 27th

Vincent Saunders – 27th

Charles Barakat – 28th

Teddy Billing – 28th

Logan Ensoll – 28th

Lennie Kent – 28th

Lucas Munford – 28th

Joshua Phillips – 28th

Cooper Thomas – 28th

Adam Trussell – 28th

Callum Barnes – 29th

Harry Edmondson – 29th

George Finch – 29th

Ryan Franklin – 29th

Keith Godfrey – 29th

Georgie Lewis – 29th

Stanley Shanahan – 29th

Oscar Shenton – 29th

Daniel Stoddart – 29th

Nabil Chowdhury – 30th

Max Cole – 30th

Joshua Impey – 30th

Olivia Kelly – 30th

Harry Notten-Brown – 30th

Theo Peroulis – 30th

KNOW YOUR

HISTORY

Which former QPR ace is this?

YOUNG

GUN

Name this

current Premier

League star in his

early days

JUDE'S

LOOKALIKE

Lukasz Fabianski/Matt LeBlanc

HOOPS

Answers: Groundhopper:Brisbane Road (Leyton Orient), Know Your

History: Dave Thomas, Young Gun: Jamaal Lascelles (Newcastle United)

WWW.QPR.CO.UK // @QPR // @OFFICIALQPR // OFFICIALQPRFC 49
---
QUEENS PARK RANGERS FC QUEENS PARK RANGERS FC QUE

QUEENS PARK RANGERS FC QUEENS PARK RANGERS FC QUEENS PARK RANGERS FC

FC QUEENS PARK RANGERS FC QUEENS ERS FC
---
ENS PARK RANGERS FC QUEENS PARK RANGERS FC

QUEENS PARK RANGERS FC QUEENS PARK RANGERS FC Q

MIDFIELDER

ANDRE

DOZZELL

D.O.B: 02.05.1999

NATIONALITY: ENGLISH

EENS PARK RANGERS FC QUEENS PARK RANGERS
---
HOOPS

|| MEMORY LANE||

AS A SPORTS JOURNALIST WITH THE EALING GAZETTE,

MIKE DONOVAN WAS A MAINSTAY OF THE LOFTUS ROAD

PRESS BOX IN THE 1970S AND 1980S. IN EACH MATCHDAY

PROGRAMME, HE LOOKS BACK ON THOSE UNFORGETTABLE

DAYS OF COVERING QUEENS PARK RANGERS…

AN EMAIL exchange with your

esteemed programme editor,

the ever-youthful Ben Kosky,

got me thinking there may be

some mileage in comparing

the life of a journalist covering

English league football in

general – having no wish to

specify QPR – in the 1970s and

1980s to now.

It's almost night and day. There

are pros and cons. Let's take

laptops, for starters. Wi-Fi

enables each one to send

'copy' – a report – by the click

of a 'mouse' – a cursor for

sending text via email – so

sub-editors can read your

creation within a minute or

so on their own screens.

Eminently preferable to, back

in the day, being asked by an

inexperienced copy taker over

a clunky landline phone how

QPR goalkeeping legend Phil

Parkes spells his surname,

while a noisy crowd and a

whipping wind is muting your

ability to hear what the voice

at the other end of the line is

saying.

The internet websites installed

on your multi-purpose

machine can also be a boon

in obtaining information by

the same process. In the

Dark Ages whence I came,

you would have to either

thumb through reference

books or ask the Sage Of

The Press Box – don't look

at me! – sitting close by the

size of Stan Bowles' transfer

fee when he came to Rangers

from Carlisle United. Or, if your

match programme had gone

walkabout, whether Ian Gillard

had missed either the last

three or four games. These

days you are rather more

enabled, of course, and your

publishers receive your words

of wisdom or otherwise that

much quicker. Certainly handy

with a tight deadline.

But – and there had to be

'buts' – relating to the new

technology on your 'lap'.

Pertinently, the facts displayed

on its screen might be plain

wrong. Also, and this is a

more general, sociological

point, staring at the images

and data displayed seems

to give its users more of an

excuse to avoid talking to

another human being, even

the Sage. It is, perhaps, an

'old git' observation (and hints

at possible paranoia!), and

might not even be necessarily

relevant, but the art of

conversation certainly appears

diluted by the propensity

of laptop users to focus on

their screens rather than

engage with anyone else.

The same way commuters

are mesmerised, close to

hypnotised, while gazing at

their smartphones – while

thumb-flexing keys – on the

Tube.

Ah, the smartphone. In itself

an essential journalists'

tool, enabling instant

communication – in the

52 WWW.QPR.CO.UK // @QPR // @OFFICIALQPR // OFFICIALQPRFC
---
HOOPS

absence of a landline

instrument – to either a

contact or sports desk rather

than the reporter ferreting in

deep pockets for coins to feed

the slots below the chunks

of Bakelite in those red boxes

which were once all the rage.

Besides, of course, acting as

a mobile laptop. It seems all

life is squeezed into a light

device you can stuff into your

vulnerable, thin pockets in

place of those weighty bits

of silver and copper. (Either

way, though, you wreck the

material).

Stage-managed press

conferences – with

moderators diverting awkward

questions from 'pesky'

inquisitors – make things

easier, less stressful for the

journalist in that they know

rivals would be limited in finding

alternative sources for stories

and thus 'outscooping' them.

It makes these get-togethers,

though, more anodyne. The

same way media training has

made players often avoid

putting feet in mouth and

spoiling the 'positive' image

their club is trying to give out

to its supporters.

Media individuals skulking

around training grounds or

stadiums trying to pick up

exclusive titbits and developing

contacts with – dare I say –

players seems frowned upon

these days in quarters where

trust is thin on the ground.

Instead, journalists appear

confined, generally, to securing

the same pre and post-match

tales for their employers from

gatherings in environments

more tightly-controlled than

they once were.

Move outside these

parameters at your peril. Want

to speak to a specific player?

Depends on whether you have

the charming, understanding

Rangers folk or their ilk

running the show or – and

I'm generalising here – the

odd 'jobsworth' whose sports

knowledge does not appear to

extend beyond what they have

gleaned more from remote

Stage-managed

press conferences - with

moderators diverting

awkward questions from

'pesky' inquisitors - make

things easier, less stressful

for the journalist.

rather than direct sources and

whose social skills need a little

honing. The latter type would

probably dismiss any request

of an alternative to the chosen

interviewee…um...dismissively.

Although to be fair to them,

the role of the press officer –

or, if you will, media manager

– has altered and expanded.

Now, instead of just developing

relationships with journos and

broadcasters, there are the

multi-media tasks they have to

undertake.

I also have sympathy in that

their profession puts them

and all those in the 'press'

offices of clubs in an invidious

position. Always has done.

Caught in the middle of

serving the various media AND

the club that pays their wages.

As in all walks of professional

life, not everyone has the

ability to keep everyone happy.

But the relationship has to

survive for the sake of keeping

the public informed.

I'm sure it will thrive as Rangers

take on Sheffield United this

evening – and hopefully next

season too.

Thanks for reading my efforts

this term. Come on you R's!

WWW.QPR.CO.UK // @QPR // @OFFICIALQPR // OFFICIALQPRFC 53
---
HOOPS

54 WWW.QPR.CO.UK // @QPR // @OFFICIALQPR // OFFICIALQPRFC

Mind is a registered charity in England (no. 219830) and

a registered company (no. 424348) in England and Wales.
---
HOOPS

Sinclair Armstrong

ONE OF

'R' OWN

COMPLETING OUR SERIES ON QPR'S POTENTIAL

STARS OF TOMORROW, WE SPEAK TO 18-YEAR-

OLD SINCLAIR ARMSTRONG, CURRENTLY ON

LOAN AT ALDERSHOT TOWN.

INTERVIEW: LENNIE HARVEY

SINCLAIR ARMSTRONG

CENTRE FORWARD

From: Dublin, Ireland

Joined QPR: Age 17

Pre-Match Meal: I eat

anything before a game.

How did you come to

play for QPR?

I came to QPR on trial as I was

looking to play in England –

that's been my dream since

I was a little kid and after a

few days, they signed me.

Before that, I played for Cherry

Orchard and Shamrock Rovers.

What are your strengths as a

player and what do you need

to work on?

I haven't always been a

centre-forward, I used to play

right wing and I'd say my main

strength is my ability to run in

behind. But I'd say I need to

work on staying alert and being

on my toes at all times. Also,

my first touch! But it's getting

better, step by step.

What have you learnt from

your loan spells this season

(at Torquay and Aldershot)?

I learnt a lot about myself

because I was living in a house

with a few lads, everyone was

cooking, washing and cleaning

for themselves and that's

something I never knew how

to do... so I think I learnt a lot

more about myself off the

pitch than on it!

What's the highlight of your

career so far?

Probably my first international

goal at U17 level. My

international debut was against

Northern Ireland at U16 level

and my first goal was against

Russia at U17.

Who's your favourite player

or inspiration?

My favourite player right

now is Kylian Mbappé.

Because Mbappé is just

Mbappé! He's fast, skilful, he

gets goals and assists… I think

he has it all and for me he's the

best in the world.

Where do you see yourself in

five years' time?

Hopefully alive! Playing in a

first team, hopefully at a

decent level.

Which stadium in the world

would you most like to play in?

I'd like to play at Anfield

because the atmosphere looks

absolutely incredible and the

crowd don't stop, they go on

for the full 90 minutes.

WWW.QPR.CO.UK // @QPR // @OFFICIALQPR // OFFICIALQPRFC 55
---
HOOPS

PUTTING THE SPARK

INTO MATCHDAY

PROGRAMMES...

PROUD PROGRAMME

PARTNERS OF

QUEENS PARK

RANGERS

www.ignitionsportsmedia.com

56 WWW.QPR.CO.UK // @QPR // @OFFICIALQPR // OFFICIALQPRFC
---
HOOPS

2019-22

qprcommunitytrust.co.uk e: community@qpr.co.uk t: 020 8740 2509

@QPRtrust

MENTAL HEALTH WORLD CUP 2022

NEXT month, 32 teams will battle it out at Kiyan

Prince Foundation Stadium to be crowned champions

of this year's Mental Health World Cup – and raise

more than £30,000 in the process.

The tournament, which is now in its 10th year and has

been staged in W12 since 2019, will benefit Campaign

Against Living Miserably (CALM), as well as DEC

Ukraine and QPR in the Community Trust.

Founder Giancarlo Gaglione set up the Mental Health

World Cup, initially held at Downhills Park in Tottenham,

just months after losing his brother Lanfranco to

suicide.

Since then, Giancarlo and his family have been

working to change the stigma around mental health

and help reduce suicide rates among young men.

QPR in the Community Trust's multi activities

manager Justin Stone, who attended the tournament

in 2018, decided to help by holding the following

year's edition at Kiyan Prince Foundation Stadium –

and it has since raised over £100,000 for both CALM

and the Trust.

He said: "Having been asked to take part in the

tournament shortly after my brother-in-law Craig

sadly passed away and having seen the effect of

suicide on my whole family, I was keen help the event

grow in whatever way I could.

"By hosting it at the stadium, we have been able to

grow it every year and raise some vital funds for both

CALM and the Trust."

For more information about the Mental Health World

Cup, which takes place on Thursday 19th May, visit

https://www.mentalhealthworldcup.org.uk/ where

you can buy tickets to watch the tournament or get

involved next year.

WWW.QPR.CO.UK // @QPR // @OFFICIALQPR // OFFICIALQPRFC 57
---
HOOPS

QPR FC

WOMEN

STEVENAGE WOMEN 2

QPR FC WOMEN 2

Katie Akerman's late free-kick salvaged a point

for Rangers despite being a player short for

most of the second half following goalkeeper

Katie McLean's red card.

Although McLean's dismissal left Steve

Quashie's side short-handed – and then trailing

2-1 – they fought hard to claim a share of the

spoils as Akerman's long-range effort found its

way into the roof of the net.

Jodie Bellinger slotted home to put Stevenage

ahead in the sixth minute, but Brogan Moore

cancelled that out with the equaliser just two

minutes later.

The contest remained all square at the break,

but 12 minutes after the restart McLean was

adjudged to have brought down Bellinger in the

box and was shown a straight red.

Substitute Lucie White was unable to keep out

the resulting spot-kick by Holly Greenwood

to restore the home side's lead, but QPR

continued to press for a second equaliser.

Sue Kumaning went close, hitting the

Stevenage crossbar before Akerman fired

home from distance to make it 2-2.

The R's finish their campaign on Sunday, when

they take on Norwich City at the Powerday

Stadium (kick-off 2pm).

QPR: McLean, Redhead-Ling (White 58),

Maloney (Akerman 84), Jordinson, Carolan

(Wardlaw 58), Searle, Kumaning, Hennessy

(Pope 70), Edwards (Curr 84), Hall, Moore.

58 WWW.QPR.CO.UK // @QPR // @OFFICIALQPR // OFFICIALQPRFC
---
HOOPS

ELLIE SEARLE

NATALIE SKIVERTON

SUE KUMANING

EMILIA NYGAARD-PARSONS

ERIN POPE

ESHE DAVIES

VICKY GRIEVE

DANIELLE MALONEY

KATIE MCLEAN

HAYLEY PEACOCK

GEORGIE LEWIN

JO BLODGETT

KASHA PETIT

KATIE AKERMAN

LAUREN JORDINSON

LAURA HENNESSY

AILISH CAROLAN

ALICE CURR

BROGAN MOORE

DEMI EDWARDS

ELLEN WARDLAW

SPONSORED BY:

ST ANREWS

SCHOOL, WOKING

SPONSORED BY:

RUSSELL BREMNER

SPONSORED BY:

SPONSORED BY:

RUSSELL BREMNER

SPONSORED BY:

STEVE RUSSELL

SPONSORED BY:

SPONSORED BY:

LONDON FITNESS

MAMAS

LUCIE WHITE

MELANIE HALL

SPONSORED BY:

MERLE REDHEAD-LING

MOLLIE DENCH

SPONSORED BY:

For more information on how to sponsor QPR FC Women's players this season, please contact Sarah Holt at sarahh@qpr.co.uk

WWW.QPR.CO.UK // @QPR // @OFFICIALQPR // OFFICIALQPRFC 59
---
HOOPS

TOGETHER AGAINST

DISCRIMINATION

AS THE EFL AND CLUBS ACROSS THE LEAGUES CONTINUE TO

COMBAT DISCRIMINATION IN ALL ITS FORMS, QPR ARE KEEN

TO TELL YOU A LITTLE BIT ABOUT THE CLUB'S RECENT WORK.

FOOTBALL WELCOMES

Football collectively comes

together this month to celebrate

'Football Welcomes', a campaign

now in its fifth year. It recognises

the contribution players from a

refugee background make to the

game, as well as highlighting the

role football can play in bringing

people together and creating

more welcoming communities

for refugees.

Football Welcomes coincides

with the biggest refugee crisis

Europe has seen since the

Second World War. Images and

stories of people fleeing Ukraine

have once again shown the

plight of refugees, the trauma

they face when fleeing conflict,

and the need for countries and

communities around the world

to welcome them.

QPR is one of many clubs from

across the EFL, Premier League,

FA Women's Super League,

Championship and National

League, Cymru North and South,

and grassroots teams that have

signed up to take part.

FEMALE FANS –

HAVE YOUR SAY!

QPR continue to strive towards

tackling discrimination and

this month has witnessed the

formalisation of a female fan

focus group.

In less than a year the

#HerGameToo movement has

been a driving force in tackling

discrimination experienced

by women attending football

matches. By creating awareness

of the harassment women can

face at games and through

education and research,

the hope is to create an

environment in which everyone

is welcomed and respected.

QPR are asking female

supporters for their experiences

of attending matches by

completing the 'Female Fans

Survey' which will be released

across club channels very soon.

The survey will only take five

minutes and your feedback

really does matter, so please

fill it in.

RAMADAN AND

OPEN IFTAR EVENT

For the past two seasons QPR

have been working with Nujum

Sports and the Zesh Rehman

Foundation to run workshops

for staff and partners across

the club about the holy month

of Ramadan and how fasting

during this time can affect

Muslim athletes.

The club has pledged its

support to the Muslim Athlete

Charter earlier, which creates

a framework to challenge

organisations to make progress

on recognising and providing

support for Muslim athletes and

their fans.

The first football stadium Open

Iftar was hosted by the Kiyan

Prince Foundation Stadium on

Tuesday 12th April. Working

closely with the Ramadan Tent

Project, the stadium opened

its doors to 200 local residents

who came to enjoy a magical

evening under the lights of W12.

For a full report on the evening,

visit www.qpr.co.uk

We encourage our

supporters and anybody inside

the stadium on matchday to

report abuse or discrimination

to our stewards, through our

dedicated club phone/text

number 07557 435421 or via

the 'Kick it Out' app.

60 WWW.QPR.CO.UK // @QPR // @OFFICIALQPR // OFFICIALQPRFC
---
HOOPS

Tel: 020 8740 2560 | E-mail: corporate@qpr.co.uk | @QPR_Corporate | www.qprcorporate.co.uk

M Mark WARBURTON

SPONSORED BY:

Phyl & Tina

# 1 Seny DIENG

SPONSORED BY:

Sindy Grewall

Apps: 29 Gls: 0

YC: 1 RC: 0

# 2 Osman KAKAY

SPONSORED BY:

Richard &

Vivienne

MacLennan

Apps: 7+8 Gls: 0

YC: 1 RC: 0

# 3 Lee WALLACE

SPONSORED BY:

Trish Phillips

Apps: 22 Gls: 0

YC: 3 RC: 0

# 4 Rob DICKIE

SPONSORED BY:

Jakson Buhaj

Apps: 42 Gls: 5

YC: 12 RC: 0

# #

Marco 6 RAMKILDE Yoann BARBET 27

SPONSORED BY:

Martin & Kieran

O'Brien - True

Potential Wealth

Management

Apps: 42 Gls: 2

YC: 4 RC: 0

# 7 Stefan JOHANSEN

SPONSORED BY:

David Loveland

& Nik Cameron

Apps: 31+4 Gls: 1

YC: 8 RC: 0

# 8 Luke AMOS

SPONSORED BY:

Tyler Buhaj

Apps: 13+16 Gls: 6

YC: 3 RC: 0

# 9 Lyndon DYKES

SPONSORED BY:

Ron Hill

Apps: 27+2 Gls: 9

YC: 1 RC: 0

# 10 Ilias CHAIR

SPONSORED BY:

In memory of

Keith Porter

Apps: 37+1 Gls: 9

YC: 6 RC: 0

# 11 Charlie AUSTIN

SPONSORED BY:

Phil Newman &

Billy Maguire

Apps: 19+20 Gls: 5

YC: 4 RC: 0

# 12 Dominic BALL

SPONSORED BY:

Dave, Di &

Nathan Smith

Apps: 14+8 Gls: 1

YC: 4 RC: 0

# 13 Jordan ARCHER

SPONSORED BY:

Apps: 4 Gls: 0

YC: 0 RC: 0

# 14 George THOMAS

SPONSORED BY:

Apps: 7+13 Gls: 0

YC: 0 RC: 0

# 15 Sam FIELD

SPONSORED BY:

Amanda Dixon

Apps: 22+3 Gls: 0

YC: 12 RC: 0

# #

Marco 16 RAMKILDE Sam McCALLUM 27

SPONSORED BY:

Apps: 15+1 Gls: 2

YC: 1 RC: 0

# 17 Andre DOZZELL

SPONSORED BY:

KS Roofing and

building Ltd

Apps: 20+9 Gls: 0

YC: 8 RC: 1

# 19 Andre GRAY

SPONSORED BY:

Deb and

Marc Buhaj

Apps: 15+13 Gls: 9

YC: 1 RC: 0

# 20 Jimmy DUNNE

SPONSORED BY:

Trent Buhaj

Apps: 35+4 Gls: 3

YC: 6 RC: 0

# 21 Chris WILLOCK

SPONSORED BY:

Richie Dixon

Apps: 36+2 Gls: 6

YC: 1 RC: 0

# 22 Moses ODUBAJO

SPONSORED BY:

Phil & Harry

Newman

Apps: 25+7 Gls: 0

YC: 5 RC: 1

# 24 Charlie OWENS

SPONSORED BY:

Apps: 0 Gls: 0

YC: 0 RC: 0

# 25 David MARSHALL

SPONSORED BY:

Riley and

Nathan Hayes

Apps: 10+1 Gls: 0

YC: 0 RC: 0

# 27 Jeff HENDRICK

SPONSORED BY:

Apps: 6+4 Gls: 0

YC: 0 RC: 0

# 28 Dion SANDERSON

SPONSORED BY:

http://

spanishpractice

club.com

Apps: 7+2 Gls: 0

YC: 0 RC: 1

# 33 Dillon BARNES

SPONSORED BY:

Apps: 0 Gls: 0

YC: 0 RC: 0

# 34 Stephen DUKE-McKENNA

SPONSORED BY:

Apps: 0+3 Gls: 0

YC: 0 RC: 0

# 37 Albert ADOMAH

SPONSORED BY:

Martin & Kieran

O'Brien - True

Potential Wealth

Management

Apps: 22+13 Gls: 2

YC: 3 RC: 0

# 39 Joe GUBBINS

SPONSORED BY:

Apps: 0+1 Gls: 0

YC: 0 RC: 0

# 40 Ody ALFA

SPONSORED BY:

Apps: 0+1 Gls: 0

YC: 0 RC: 0

# 32 Joe WALSH

SPONSORED BY:

Apps: 0 Gls: 0

YC: 0 RC: 0

WWW.QPR.CO.UK // @QPR // @OFFICIALQPR // OFFICIALQPRFC 61
---
HOOPS

DATE KO OPPOSITION SCORE POS. STARTING XI

AUGUST

Sat 7 15:00 Millwall D 1-1 15 DIENG ODUBAJO DICKIE 1 DE WIJS BARBET WALLACE

Wed 11 19:45 Leyton Orient CC R1 D 1-1* N/A ARCHER KAKAY DICKIE 1 DUNNE BARBET WALLACE

Sat 14 15:00 Hull City W 3-0 2 DIENG ODUBAJO DICKIE 1 DE WIJS BARBET WALLACE

Wed 18 19:45 Middlesbrough W 3-2† 3 DIENG ODUBAJO DICKIE DE WIJS BARBET WALLACE

Sat 21 12:30 Barnsley D 2-2 3 DIENG THOMAS DICKIE DE WIJS BARBET KAKAY

Tue 24 19:45 Oxford United CC R2 W 2-0† N/A ARCHER ODUBAJO KAKAY DICKIE 1 DUNNE McCALLUM

Sat 28 15:00 Coventry City W 2-0 3 DIENG BALL ODUBAJO DICKIE DE WIJS McCALLUM

SEPTEMBER

Sat 11 15:00 Reading D 3-3 4 DIENG ODUBAJO DICKIE DE WIJS BARBET McCALLUM

Tue 14 19:45 AFC Bournemouth L 1-2 6 DIENG KAKAY DICKIE DE WIJS BARBET McCALLUM 1

Sat 18 15:00 Bristol City L 1-2 8 DIENG ODUBAJO DICKIE DE WIJS BARBET McCALLUM 1

Tue 21 19:45 Everton CC R3 D 2-2** N/A DIENG ADOMAH DICKIE DUNNE BARBET McCALLUM

Fri 24 20:00 West Bromwich Albion L 1-2 8 DIENG ODUBAJO DICKIE DE WIJS DUNNE BARBET

Tue 28 19:45 Birmingham City W 2-0 8 DIENG ODUBAJO DICKIE DUNNE BARBET BALL

OCTOBER

Sat 2 15:00 Preston North End W 3-2 6 DIENG ODUBAJO DICKIE DUNNE 1 BARBET BALL

Sat 16 12:30 Fulham L 1-4 8 DIENG ODUBAJO DICKIE DE WIJS BARBET McCALLUM

Tue 19 19:45 Blackburn Rovers W 1-0 5 DIENG ADOMAH DICKIE DUNNE BARBET McCALLUM

Sat 23 15:00 Peterborough United L 1-2 7 DIENG ADOMAH DICKIE DUNNE BARBET McCALLUM

Tue 26 19:45 Sunderland CC R4 D 0-0*** N/A DIENG KAKAY DICKIE DE WIJS BARBET ODUBAJO

Fri 29 19:45 Nottingham Forest D 1-1 5 DIENG DICKIE DE WIJS BARBET ADOMAH JOHANSEN

NOVEMBER

Wed 3 19:45 Cardiff City W 1-0 5 DIENG DICKIE DUNNE BARBET ADOMAH DOZZELL

Sat 6 17:30 Blackpool D 1-1 6 DIENG DICKIE DUNNE BARBET ADOMAH AMOS

Fri 19 19:45 Luton Town W 2-0 6 DIENG DICKIE DUNNE BARBET ADOMAH DOZZELL

Wed 24 19:45 Huddersfield Town W 1-0 4 DIENG DICKIE DUNNE BARBET ADOMAH DOZZELL

Mon 29 19:45 Derby County W 2-1 3 DIENG DICKIE DUNNE BARBET ADOMAH JOHANSEN

DECEMBER

Sun 5 14:30 Stoke City L 0-2 5 DIENG DICKIE DUNNE BARBET KAKAY JOHANSEN

Mon 27 17:30 AFC Bournemouth L 0-1 7 DIENG DICKIE DUNNE BARBET KAKAY FIELD

Thur 30 19:45 Bristol City W 2-1 7 DIENG DICKIE DUNNE BARBET 1 ADOMAH FIELD

JANUARY

Sun 2 14:00 Birmingham City W 2-1 5 DIENG DICKIE DUNNE BARBET ADOMAH 1 FIELD

Sat 8 15:00 Rotherham FAC R3 W 1-1 **** N/A ARCHER DICKIE DUNNE BARBET ADOMAH BALL

Sat 15 15:00 West Bromwich Albion W 1-0 4 MARSHALL DICKIE DUNNE BARBET ADOMAH JOHANSEN

Sat 22 15:00 Coventry City W 2-1 4 MARSHALL DICKIE DUNNE BARBET ADOMAH 1 DOZZELL

Tue 25 19:45 Swansea City D 0-0 4 MARSHALL BARBET DUNNE DICKIE WALLACE FIELD

Sat 29 15:00 Reading W 4-0 4 MARSHALL DICKIE DUNNE 1 BARBET ADOMAH FIELD

FEBRUARY

Sat 5 15:00 Peterborough United FAC R4 L 0-2 N/A MARSHALL SANDERSON DICKIE DUNNE ODUBAJO AMOS

Wed 9 19:45 Middlesbrough D 2-2 4 MARSHALL DICKIE DUNNE BARBET ADOMAH JOHANSEN

Sat 12 15:00 Barnsley L 0-1 4 MARSHALL DICKIE DUNNE BARBET ODUBAJO HENDRICK

Tue 15 19:45 Millwall L 0-2 4 MARSHALL DICKIE DUNNE BARBET ADOMAH JOHANSEN

Sat 19 15:00 Hull City D 1-1 4 DIENG SANDERSON DUNNE BARBET ADOMAH HENDRICK

Wed 23 19:45 Blackpool W 2-1 3 DIENG SANDERSON DUNNE 1 BARBET ADOMAH HENDRICK

Sat 26 12:30 Blackburn Rovers L 0-1 5 DIENG DICKIE DUNNE BARBET ADOMAH HENDRICK

MARCH

Sat 5 15:00 Cardiff City L 1-2 5 MARSHALL DICKIE DUNNE BARBET ODUBAJO FIELD

Sun 13 12:00 Luton Town W 2-1 4 MARSHALL DICKIE 1 DUNNE BARBET ODUBAJO HENDRICK

Wed 16 19:45 Nottingham Forest L 1-3 6 MARSHALL DUNNE DICKIE SANDERSON ODUBAJO AMOS

Sun 20 12:30 Peterborough United L 1-3 8 WESTWOOD SANDERSON DICKIE DUNNE ADOMAH FIELD

APRIL

Sat 2 15:00 Fulham L 0-2 9 WESTWOOD SANDERSON DICKIE BARBET ODUBAJO FIELD

Tue 5 19:45 Sheffield United L 0-1 9 WESTWOOD DUNNE DICKIE BARBET ADOMAH HENDRICK

Sat 9 15:00 Preston North End L 1-2 10 MAHONEY ODUBAJO SANDERSON DUNNE MCCALLUM AMOS

Fri 15 17:30 Huddersfield Town D 2-2 12 WESTWOOD ODUBAJO DUNNE BARBET MCCALLUM FIELD

Mon 18 15:00 Derby County W 1-0 10 WESTWOOD ODUBAJO SANDERSON DUNNE MCCALLUM DOZZELL

Sat 23 15:00 Stoke City L 0-1 10 WESTWOOD SANDERSON DUNNE BARBET MCCALLUM DOZZELL

Fri 29 19:45 Sheffield United

MAY

Sat 7 12:30 Swansea City

All fixtures subject to change. *Won 5-3 on penalties **Won 8-7 on penalties ***Lost 1-3 on penalties **** Won 8-7 on penalties

62 WWW.QPR.CO.UK // @QPR // @OFFICIALQPR // OFFICIALQPRFC
---
HOOPS

SUBSTITUTES

REFEREEE

JOHANSEN BALL WILLOCK AUSTIN DYKES ARCHER, KAKAY, THOMAS, DOZZELL, DUNNE, BETTACHE, ADOMAH LANGFORD

DOZZELL BETTCAHE ADOMAH THOMAS DYKES WALSH, BALL, KELMAN, WILLOCK, ODUBAJO , MASTERSON, DUKE-McKENNA HICKS

JOHANSEN BALL CHAIR WILLOCK 1 DYKES 1 ARCHER, KAKAY, THOMAS, DOZZELL, KELMAN, DUNNE, ADOMAH DONOHUE

JOHANSEN BALL CHAIR DYKES 1 WILLOCK 1 ARCHER, KAKAY, AUSTIN, THOMAS, DOZZELL, DUNNE, ADOMAH MARTIN

JOHANSEN DOZZELL WILLOCK CHAIR 1 AUSTIN 1 ARCHER, BALL, KELMAN, DUNNE, DUKE-McKENNA, ADOMAH WARD

THOMAS DOZZELL WILLOCK CHAIR KELMAN WALSH, DUKE-McKENNA, ALFA, GUBBINS NIELD

JOHANSEN BARBET 1 WILLOCK CHAIR AUSTIN ARCHER, KAKAY, DYKES 1, THOMAS, DOZZELL, DUNNE, ADOMAH WHITESTONE

BALL 1 JOHANSEN 1 CHAIR AUSTIN WILLOCK ARCHER, KAKAY, THOMAS, DOZZELL, GRAY 1, DUNNE, ADOMAH ELTRINGHAM

BALL JOHANSEN CHAIR DYKES WILLOCK ARCHER, AMOS, THOMAS, DOZZELL, GRAY, DUNNE, ADOMAH STROUD

JOHANSEN CHAIR WILLOCK GRAY DYKES WALSH, AUSTIN, BALL , THOMAS, DOZZELL, DUNNE, ADOMAH DOUGHTY

DOZZELL BALL CHAIR WILLOCK AUSTIN 2 WALSH, KAKAY, AMOS, DYKES, THOMAS, GRAY, DUKE-McKENNA FRIEND

BALL JOHANSEN CHAIR WILLOCK GRAY 1 WALSH, KAKAY , DYKES, AUSTIN, THOMAS, DOZZELL, ADOMAH LININGTON

CHAIR 2 DOZZELL WILLOCK AUSTIN DYKES WALSH, KAKAY, DE WIJS, AMOS, THOMAS, GRAY, ADOMAH SALISBURY

JOHANSEN WILLOCK CHAIR 1 DYKES 1 GRAY ARCHER, KAKAY, DE WIJS, AMOS , AUSTIN, DOZZELL, ADOMAH SIMPSON

BALL JOHANSEN CHAIR WILLOCK AUSTIN ARCHER, AMOS, DYKES 1, GRAY, DUNNE , DUKE-McKENNA, ADOMAH LANGFORD

BALL DOZZELL WILLOCK CHAIR 1 DYKES ARCHER, KAKAY, DE WIJS, AMOS , AUSTIN, GRAY, DUKE-McKENNA WEBB

BALL JOHANSEN CHAIR 1 DYKES AUSTIN ARCHER, KAKAY, DE WIJS, AMOS, DOZZELL, GRAY, WILLOCK GILLETT

AMOS CHAIR WILLOCK DYKES GRAY ARCHER, JOHANSEN, AUSTIN, BALL, DOZZELL, DUNNE, DUKE-McKENNA, ADOMAH, DREWE STROUD

DOZZELL MCCALLUM CHAIR WILLOCK DYKES 1 ARCHER, DUNNE, ODUBAJO, AMOS, AUSTIN, BALL, GRAY DAVIES

JOHANSEN ODUBAJO CHAIR DYKES GRAY 1 ARCHER, AUSTIN, BALL, AMOS, KAKAY, THOMAS, DUKE-MCKENNA WOOLMER

DOZZELL ODUBAJO CHAIR WILLOCK DYKES ARCHER, AUSTIN, BALL , KAKAY, THOMAS, FIELD, DUKE-MCKENNA SMITH

JOHANSEN WALLACE WILLOCK 1 AUSTIN 1 CHAIR ARCHER, FIELD, KAKAY, AMOS, BALL, THOMAS, DUKE-MCKENNA DONOHUE

JOHANSEN WALLACE CHAIR AUSTIN WILLOCK ARCHER, AMOS 1, FIELD, BALL, KAKAY, THOMAS, DUKE-MCKENNA SCOTT

DOZZELL WALLACE CHAIR AUSTIN WILLOCK 1 ARCHER, ODUBAJO, GRAY 1 , FIELD, AMOS, BALL, THOMAS SIMPSON

DOZZELL FIELD CHAIR WILLOCK AUSTIN ARCHER, AMOS, GRAY, THOMAS, BALL, DUKE-MCKENNA HARRINGTON

JOHANSEN WALLACE CHAIR WILLOCK DYKES ARCHER, DOZZELL , ADOMAH, GRAY, AMOS, AUSTIN, THOMAS, STROUD

JOHANSEN WALLACE AMOS AUSTIN 1 WILLOCK ARCHER, DYKES , THOMAS, BALL, KAKAY DAVIES

WILLOCK 1 AMOS WALLACE GRAY DYKES ARCHER, JOHANSEN, AUSTIN, KAKAY, BALL, THOMAS DONOHUE

JOHANSEN WALLACE THOMAS AUSTIN GRAY DUKE-MCKENNA, ODUBAJO #, DYKES 1, AMOS, DOZZELL, DREWE, FIELD, WALSH, ARMSTRONG SALISBURY

FIELD WALLACE WILLOCK DYKES GRAY WALSH, AUSTIN 1, BALL, AMOS, THOMAS, DOZZELL, ODUBAJO HOOPER

FIELD WALLACE WILLOCK DYKES GRAY 1 WALSH, AMOS, THOMAS, AUSTIN, DE WIJS, BALL, ODUBAJO WOOLMER

ODUBAJO AMOS JOHANSEN WILLOCK AUSTIN WALSH, ADOMAH, DYKES, THOMAS, DE WIJS, BALL, DOZZELL DAVIES

JOHANSEN WALLACE AMOS 1 WILLOCK DYKES 2 WALSH, THOMAS, SANDERSON, AUSTIN, BALL, DOZZELL, ODUBAJO SIMPSON

JOHANSEN WALLACE CHAIR AUSTIN DYKES WALSH, HENDRICK, ADOMAH, DOZZELL , THOMAS, KAKAY, BARBET, BALL WEBB

FIELD WALLACE CHAIR 1 WILLOCK 1 DYKES MAHONEY, HENDRICK, GRAY, ODUBAJO, AMOS, AUSTIN, SANDERSON WHITESTONE

FIELD WALLACE CHAIR GRAY DYKES DIENG, JOHANSEN, AUSTIN, ADOMAH, AMOS, THOMAS, SANDERSON SALISBURY

FIELD WALLACE CHAIR WILLOCK DYKES DIENG, ODUBAJO, AMOS, AUSTIN, GRAY, HENDRICK, SANDERSON LININGTON

FIELD WILLOCK AMOS AUSTIN CHAIR 1 MARSHALL, ODUBAJO, GRAY, JOHANSEN, BALL, THOMAS, DOZZELL ROBINSON

FIELD ODUBAJO JOHANSEN CHAIR WILLOCK MARSHALL, BALL , AMOS 1, THOMAS, AUSTIN, DOZZELL, GRAY WARD

FIELD ODUBAJO JOHANSEN CHAIR WILLOCK MARSHALL, GRAY, MCCALLUM, AMOS, BALL, THOMAS, DOZZELL SIMPSON

HENDRICK WALLACE WILLOCK CHAIR GRAY 1 MAHONEY, ADOMAH, AMOS, DOZZELL, KAKAY, BALL, MCCALLUM SALISBURY

FIELD WALLACE JOHANSEN CHAIR GRAY 1 MAHONEY, AUSTIN, AMOS , WILLOCK, MCCALLUM, DOXXELL, ADOMAH SMITH

FIELD DOZZELL WALLACE WILLOCK GRAY 1 MAHONEY, CHAIR, JOHANSEN, HENDRICK, BARBET, AUSTIN, ADOMAH BANKES

DOZZELL MCCALLUM AMOS 1 CHAIR GRAY MAHONEY, HENDRICK, AUSTIN, THOMAS, BARBET, BALL, ODUBAJO WEBB

JOHANSEN WALLACE AMOS THOMAS DYKES MAHONEY, CHAIR, AUSTIN, DOZZELL, MCCALLUM, DUNNE, HENDRICK WARD

FIELD WALLACE CHAIR GRAY DYKES MAHONEY, DOZZELL, THOMAS, MCCALLUM, AMOS, AUSTIN, SANDERSON BOND

FIELD JOHANSEN DOZZELL DYKES CHAIR THOMAS, AUSTIN, GRAY 1, KAKAY, BALL, ADOMAH HARRINGTON

DOZZELL AMOS 1 CHAIR 1 DYKES THOMAS GRAY, AUSTIN , ADOMAH, JOHANSEN, BALL, SANDERSON, MAHONEY DOUGHTY

FIELD AMOS 1 CHAIR THOMAS DYKES KAKAY, AUSTIN, JOHANSEN, BALL, GRAY, ADOMAH, MAHONEY SMITH

FIELD AMOS CHAIR DYKES THOMAS ADOMAH, AUSTIN, GRAY, KAKAY, BALL, HENDRICK, MAHONEY WOOLMER

WWW.QPR.CO.UK // @QPR // @OFFICIALQPR // OFFICIALQPRFC 63
---
HOOPS

Football is a game of many opinions, but

there is one that we must all share. There is

no place for discrimination in our game. If

you do not agree, then you are not welcome.

If you see or hear discrimination in this

stadium, please report it to the nearest

steward or via the Kick it Out App.

Because we are all

#TogetherAgainstDiscrimination

Download the Kick it Out app for free from your app store.

EFL.com

64 WWW.QPR.CO.UK // @QPR // @OFFICIALQPR // OFFICIALQPRFC
---
LEAGUE TABLE

2o21 /22

# CLUB P W D L F A +/- PTS

1 FULHAM 44 26 9 9 99 39 60 87

2 AFC BOURNEMOUTH 43 22 13 8 69 39 30 79

3 NOTTINGHAM FOREST 43 22 10 11 67 37 30 76

4 HUDDERSFIELD TOWN 44 21 13 10 60 46 14 76

5 LUTON TOWN 44 20 12 12 62 48 14 72

6 SHEFFIELD UNITED 44 19 12 13 56 44 12 69

7 BLACKBURN ROVERS 44 18 12 14 57 46 11 66

8 MILLWALL 44 17 15 12 50 44 6 66

9 MIDDLESBROUGH 43 18 10 15 53 45 8 64

10 QUEENS PARK RANGERS 44 18 9 17 58 56 2 63

11 COVENTRY CITY 44 17 12 15 58 56 2 63

12 STOKE CITY 44 17 10 17 55 48 7 61

13 WEST BROMWICH ALBION 44 16 13 15 47 45 2 61

14 SWANSEA CITY 44 16 13 15 57 62 -5 61

15 BLACKPOOL 44 16 12 16 54 51 3 60

16 PRESTON NORTH END 44 14 16 14 45 54 -9 58

17 BRISTOL CITY 44 14 10 20 57 75 -18 52

18 HULL CITY 44 14 8 22 40 48 -8 50

19 CARDIFF CITY 43 14 7 22 48 65 -17 49

20 BIRMINGHAM CITY 44 11 13 20 48 72 -24 46

21 READING 44 13 8 23 54 85 -31 41

22 PETERBOROUGH UNITED 44 8 10 26 38 84 -46 34

23 DERBY COUNTY 44 13 13 18 43 52 -9 31

24 BARNSLEY 44 6 12 26 32 66 -34 30

LAST UPDATED: 26.04.2022

TODAY'S

Fixtures

HOOPS

CHAMP STAT PACK

KICK-OFF 3PM UNLESS STATED OTHERWISE

VS

VS

VS

VS

(12:30)

VS

VS

VS

PP

VS

VS

VS

TOP FIVE

Goalscorers

ALEKSANDAR MITROVIC

FULHAM 41

DOMINIC SOLANKE

AFC BOURNEMOUTH 28

JOEL PIROE

SWANSEA CITY 22

BEN BRERETON DIAZ

BLACKBURN ROVERS 21

ANDREAS WEIMANN

BRISTOL CITY 20

TOP FIVE

Assists

HARRY WILSON

FULHAM 16

JOHN SWIFT

READING 13

CHRIS WILLOCK

QUEENS PARK RANGERS 11

SORBA THOMAS

HUDDERSFIELD TOWN 11

JED WALLACE

MILLWALL 11

TOP FIVE

Clean Sheets

LEE NICHOLLS

HUDDERSFIELD TOWN 18

WES FODERINGHAM

SHEFFIELD UNITED 17

MARK TRAVERS

AFC BOURNEMOUTH 17

SAM JOHNSTONE

WEST BROMWICH ALBION 15

BRICE SAMBA

NOTTINGHAM FOREST 14

WWW.QPR.CO.UK // @QPR // @OFFICIALQPR // OFFICIALQPRFC 65
---
HOOPS

Columnist

THE JOURNALIST AND BROADCASTER PENS HIS

LATEST COLUMN…

I

had hoped that today's column

wouldn't be my last of the season.

Sadly, it is.

The last few months haven't gone to plan,

to say the least – but the summer offers the

chance of a reset.

We still have some fine players, many of whom

will learn lessons from this season. One sobering

note to us supporters is that being third in the

Championship in February with a game in hand

doesn't count for a whole lot in a 46-game season.

We had some cruel luck when five of our

goalkeepers were sidelined through injury. I think

it dawned on us just how vital Seny Dieng is to

the way we play.

I believe AFCON in January impacted us, too.

Ilias Chair was perhaps our most important

player before Christmas. He went to the

tournament, played a bit-part role for Morocco

and was expected to re-adjust to the rigours of

the Championship on his return. That's often

not easy. There were also injuries to Chris

Willock and Lyndon Dykes at key times.

Nonetheless, the football we've watched has

been the best quality we've seen in years. Away

support throughout the campaign has been

superb. We've also seen Jimmy Dunne, Luke

Amos and Sam Field develop into outstanding

players. So let's not be too downbeat going into

the summer.

I'd like to welcome some guests to QPR. Kaveh

Solhekol is a Rangers fan joining me in W12.

He's a veteran of the Milk Cup semi-final trip

to Anfield in 1986 and never misses a chance

to recount his tales of following the club in his

youth. You can see his membership card for the

1989/90 season. Lovely hair.

Another former Sky colleague is diehard Blade

Mr Keith James, who'll be in the School End. He

was great fun to work alongside for many years

and a pleasure to make tea for. He is sorely

missed behind the scenes at Sky Sports News

and it will be great to see him this evening.

I hope you all have a fantastic summer.

66 WWW.QPR.CO.UK // @QPR // @OFFICIALQPR // OFFICIALQPRFC
---
Type 1 Limestone • Sharp Sand • Building Sand • Shingle

Ballast • Topsoil • Type 1 Recycled • 6F5

Quality Materials, Delivered Loose or Bagged!

We Serve: London, Hillingdon, Slough, Hertfordshire,

Berkshire, Buckinghamshire, Surrey and Surrounding Areas!

CALL US TODAY ON 020 7736 0355
---
QUEENS PARK

RANGERS

MANAGER Mark Warburton

SHEFFIELD

UNITED

MANAGER Paul Heckingbottom

#

1 Seny DIENG GK

#

2 Osman KAKAY

#

3 Lee WALLACE

#

4 Rob DICKIE

#

6 Yoann BARBET

#

7 Stefan JOHANSEN

#

8 Luke AMOS

#

9 Lyndon DYKES

#

10 Ilias CHAIR

#

11 Charlie AUSTIN

#

12 Dominic BALL

#

13 Jordan ARCHER GK

#

14 George THOMAS

#

15 Sam FIELD

#

16 Sam McCALLUM

#

17 Andre DOZZELL

#

19 Andre GRAY

#

20 Jimmy DUNNE

#

21 Chris WILLOCK

#

22 Moses ODUBAJO

#

24 Charlie OWENS

#

25 David MARSHALL GK

#

27 Jeff HENDRICK

#

28 Dion SANDERSON

#

29 Keiren WESTWOOD

#

30 Kiyan PRINCE

#

1 Adam DAVIES GK

#

2 George BALDOCK

#

3 Enda STEVENS

#

4 John FLECK

#

5 Jack O'CONNELL

#

6 Chris BASHAM

#

7 Rhian BREWSTER

#

8 Sander BERGE

#

9 Oliver McBURNIE

#

10 Billy SHARP

#

12 John EGAN

#

16 Oliver NORWOOD

#

17 David McGOLDRICK

#

18 Wes FODERINGHAM GK

#

19 Jack ROBINSON

#

20 Jayden BOGLE

#

22 Ben DAVIES

#

23 Ben OSBORN

#

24 Conor HOURIHANE

#

25 Filip UREMOVIC

#

26 Charlie GOODE

#

27 Morgan GIBBS-WHITE

#

29 Iliman NDIAYE

#

31 Jake EASTWOOD GK

#

33 Rhys NORRINGTON-DAVIES

#

36 Daniel JEBBISON

#

31 Ray JONES

#

32 Joe WALSH GK

#

33 Dillon BARNES GK

#

37 Albert ADOMAH

#

38 Murphy MAHONEY GK

#

39 Joe GUBBINS

#

42 Sinclair ARMSTRONG

#

44 Harry HALWAX

#

45 Prostate Cancer UK MAN OF MEN

REFEREE: Peter Bankes

ASSISTANT REFEREE: James Mainwaring

ASSISTANT REFEREE: Robert Hyde

FOURTH OFFICIAL: James Linington

REPORTING ANTI-SOCIAL

BEHAVIOUR

There is no place for anti-social

behaviour at Kiyan Prince Foundation

Stadium. If you see it, please report

it. There are many ways you can get

in touch. Tweet: You can reach our

operations team on Twitter; you can

follow and report incidents by tweeting @

QPROperations. Email: You can also

report anything you see to the team via

email at operations@qpr.co.uk. Call: You

can call 07557 435 421 to report anything

you see or hear. Please note you can

remain anonymous if you wish.