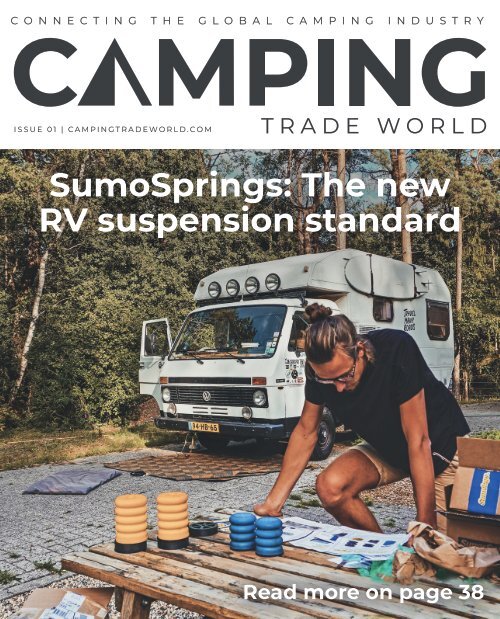 Camping Trade World – Issue 01
You also want an ePaper? Increase the reach of your titles
YUMPU automatically turns print PDFs into web optimized ePapers that Google loves.
C O N N E C T I N G T H E G L O B A L C A M P I N G I N D U S T R Y

ISSUE 01 | CAMPINGTRADEWORLD.COM

SumoSprings: The new

RV suspension standard

Read more on page 38
---
WELCOME

WELCOME TO

■

new digital B2B media platform for the international camping

and leisure vehicle industries. We cover tents, caravans,

A

motorhomes, awnings, accessories, components and just about

everything else in between. If it happens in the international trade, it

happens in Camping Trade World.

Our aim is to help you grow your business by creating new

connections within the industry. This digital magazine will be released

six times per year and in between you can stay current with our upto-the-minute

website, www.campingtradeworld.com, our social media

channels, our industry podcast and our email newsletters. It's the full

package and it could help you:

• Gain partners in new countries and territories

• Put your products/services in front of buyers around the world

• Build your brand

• Communicate your message to the industry

• Source new products, services and components

• Learn about market trends and insight

• Get the latest news and opinion from the industry

• Get your voice heard

02 | www.campingtradeworld.com
---
WELCOME

WHY WORK WITH US?

Our average online

audience per month is

more than 1,000 industry

professionals and growing.

We can break your news or

product launches via our

website, including videos

and multiple images.

We can send targeted

content to specific sectors

of the industry via our

email newsletters.

We can tell your story in

detail via this magazine or

our podcast.

We have camping and

leisure vehicle industry

professionals already

subscribed from:

UK

India

Belgium

USA

Denmark

Russia

France

Germany

Switzerland

Sweden

Austria

Italy

Latvia

Australia

Slovenia

New Zealand

Spain

Netherlands

Ireland

Poland

Why not join them and

subscribe today?

www.campingtradeworld.com | 03
---
WELCOME

MEET THE TEAM

DAVID GUEST

EDITOR

David has worked in B2B publishing since 2006 and has edited several

major titles in that time. He has also worked as assistant editor on the

UK's biggest consumer camping magazine, Camping & Caravanning.

A keen camper and outdoorsman, David will bring you the very latest

international industry news.

david.guest@dhpub.co.uk

JUSTIN FOX

PUBLISHER

Justin is hugely experienced in publishing and oversees the running of

all of David Hall Publishing's titles, which includes not only B2B titles

but also several enthusiast consumer brands. Justin's organisational

and sales skills are invaluable to the business.

justin@dhpub.co.uk

WILLEM BONNEUX

BUSINESS DEVELOPMENT MANAGER

Fluent in several languages, Willem is hugely experienced in

helping outdoor industry brands realise their global communication

ambitions. He has a broad background in sales, marketing and key

account management.

willem.bonneux@dhpub.co.uk

GUIDO KNEGT

BUSINESS DEVELOPMENT MANAGER

Guido has a wealth of experience in helping companies grow

their international export businesses. He speaks numerous

languages and is well-known for going that extra mile for all of his

international customers.

guido.knegt@dhpub.co.uk

MARK GRAFTON

FREELANCE DESIGNER

Mark is the man who takes our essential trade info and turns it into

something beautiful. With more than 20 years of experience as a

magazine and digital designer, we trust him to make us look good.

PAUL EVANS

ART EDITOR

Paul is the Art Editor of David Hall Publishing and he runs the

rule over the creative direction of our titles. He has worked at the

company since 2008 and keeps our vision in focus.

WELCOME TO CAMPING TRADE WORLD

H

■ello, hola, bonjour, hallo,

hej, ciao, ni hao, and

konichiwa. Welcome to

Camping Trade World wherever

you are on this wonderful

planet we call home. What is

Camping Trade World, I hear

you ask? Well, as the founding

Editor, allow me to enlighten

you. Camping Trade World (or

CTW) is a brand-new, omnichannel

business-to-business

media platform aiming to serve

the camping, caravanning,

motorhome, RV, glamping

and outdoor leisure industries.

While we may be 'new kids on

the block' to these industries,

we are very experienced

old hands with this type of

platform. Our publisher, David

Hall Publishing, has a long

history of international B2B

magazines – with Tackle Trade

World, established in 2000, and

Gun Trade World, established

in 2010, both hugely wellrespected

titles in the fishing

tackle and hunting industries

respectively.

Our mission at CTW is to be

an invaluable resource to anyone

who works in the thriving and

exciting industries relating to

camping. So far, we already

have readers signed up from

20 different countries and our

subscriber database is growing

every day. Whether it's through

this very digital magazine our

regular email newsletters, our

up-to-the-minute website, our

podcast, or our social media

channels – we want to help you

grow your business. Because

business growth is our speciality

as a B2B publisher. CTW will

put sellers from one country in

front of buyers from another –

it's a simple recipe, but one that

we know works well and delivers

results. If you are looking to

increase your export, make new

partners, source new products or

components, get your message

out to the international industry,

or promote your products and

services, you've come to the

right place. We have a host of

different ways we can help you

achieve your business goals.

Whatever your product, service

or business, talk to us about how

we can help you. All you need to

do is ask.

But first, please take a look

through this first edition of

CTW to get more of an idea

of what we are about. I hope

that you enjoy it, and if you

do, please feel free to direct

anyone else you know in the

industry towards us – our

website is the best place to

start: www.campingtradeworld.

com. Signing up to our digital

subscription could be the

smartest thing you do for your

business this year.

Happy camping,

David Guest

04 | www.campingtradeworld.com
---
WELCOME

18

Contents

28

34

38

58

BASECAMP

06-13 Enrich your brain with the latest goings-on in the camping

and leisure vehicle industries. Locked on and ready to do

better business.

THE DETAIL

14-15 The German leisure vehicle industry is setting records like

they're going out of fashion. Just what are they doing so

right and how do we learn from it?

16-17 One of the hottest properties in the luxury campervan

market, Alphavan, has plenty to show off including a new

company focussed on OEM seating.

18-21 Two years on since one of the biggest acquisitions the

leisure vehicle industry has ever seen, how is Erwin Hymer

Group handling life as part of Thor Industries?

22-25 Missed the CMT Digital show? Catch up on what went

down during the Messe Stuttgart's virtual holiday and

caravanning expo.

26-27 Are we doing enough to ensure the current wave of new

campers stick with the hobby for life? How do we make

sure this isn't a flash in the pan?

FEATURES

28-33 In the first of our regular Doing Business With… articles,

we focus on the camping and leisure vehicle industry in

New Zealand. You're going to love this series.

34-37 90 years is a long time. That's how long the world has been

blessed with the silver bullet, the Airstream. What are its

plans for the future on this epic milestone?

38-43 If you don't already know about SuperSprings

International, it's about time you did. And the company's

CCO Adam Weisner is here to fill you in.

44-49 The campervan market is growing almost faster than it

can keep pace with. What are the opportunities in this

segment and how do you get a piece of the action?

50-53 One of the UK's fastest growing tent brands OLPRO has

lots to shout about on its 10th anniversary. Founder Daniel

Walton talks us through the company's strategy.

54-57 Improve your social media game with the first in this series

of articles aimed at helping you become a better business.

MAKING CONTACT

58-63 The latest and greatest products from the worlds of

camping, caravanning, motorhomes and just about

everything else in between.

www.campingtradeworld.com | 05
---
BASE CAMP

RISE OF THE RED DRAGON?

Any self-drive staycation

boom is bound to switch your

attention to your own nation

and domestic market – an

internal-focused strategy is

the only sensible thing to do

in such times in our industry,

right? Perhaps, but it's also

worth considering that the

phenomenon is happening

almost everywhere, and maybe

most notably of all in the

biggest source of tourists on the

planet: China. A recent report

by China Daily has reported

that China's tourists are taking

up recreational vehicle self-drive

holidays in their droves – 20

per cent year-on-year growth in

bookings for the five-day May

Day holiday alone. Internet

searches for such holidays in

China have risen a staggering

80 per cent. As China Tourism

Academy's Dai Huihui put it:

"Its popularity comes mainly

from travellers' prudence,

knowing the outbreak could

resurge. They prefer safer and

more private trips at this time."

China has long been the market

the rest of the global industry

has been waiting to burst into

life, perhaps the time has come?

Maybe you should be focussing

on export after all?

CHEAP THRILLS

A recent study by CBRE

Hotels Advisory Group in the

United States has uncovered

that holidaying in a recreational

vehicle – no matter what type

– is the cheapest way to do it.

According to the CBRE study,

a four-person travel party can

expect to save (by unit type):

Folding camping trailer: 50-64%

Lightweight travel trailer: 31-50%

Compact motorhome: 31-50%

Type C motorhome: 21-43%

Type A motorhome: 41%

A two-person travel party

saved, according to the CBRE

analysis:

Folding camping trailer: 43-53%

Lightweight travel trailer: 20-34%

Compact motorhome: 20-34%

Type C motorhome: 8-24%

Type A motorhome: 19%

SEEKING AUTHENTICITY IN SUSTAINABILITY

■ustainability is more than just a buzzword in

modern business, it's something to build a business

S

on. No longer is having a green message just

something you can put out there to try and appeal to a wider

audience, it's something consumers increasingly expect and

seek out. It has to be genuine. We all care more about our

impact on the environment, and it shows in the camping

industry too. Whether that's apparel and footwear giant

VF Corporation vowing to eliminate single-use plastic

packaging, Swedish camp stove expert Primus offering to

repair broken products for free to stop people buying new

ones, or American trailer giant Airstream paying for the

planting of almost 120,000 trees – these days decisions

like these are made because companies care about their

environmental impact, and not just as PR stunts. Even

the moves towards electric vehicles are based on reducing

environmental damage first, before considerations on

reputation boosting. Authenticity is the key with any green

or eco message, and long may it continue.

▲ The Chinese RV market is ready to burst into life.

Photo: All In Caravaning

06 | www.campingtradeworld.com
---
BASE CAMP

INDUSTRY INSIDERS

IN THIS ISSUE

The German leisure

vehicle industry seems to

be having the best time

of things out of almost

any other on the planet,

Daniel Onggowinarso,

managing director of the

country's caravan industry

association CIVD, explains

why. P14-15.

▲ Glamping should not be a forgotten element of the current camping boom.

GLAMPING:

AN UNDERDOG STORY

In all the furore over how well

the camping and leisure vehicle

industries are doing in response

to the global pandemic, one of

the perhaps forgotten sectors

of our market has been that

of glamping. A sector that

was already enjoying a strong

and steady growth curve as an

excellent entry point for new

or novice campers has also

been further boosted by the

staycation boom happening in

almost every country around

the world. Reports from a

recent study on the European

glamping market predict that

revenue in glamping is expected

to grow by around 11 per cent

a year over the next four years.

The UK is said to be one of

the markets leading the way

in the glamping revolution, its

market was already reporting an

average growth of 7.6 per cent

each year from 2011 to 2016.

Now other European countries

are getting in on the action

such as France, Italy and the

Scandinavian nations. A huge

majority of companies in the

glamping sector, whether that be

suppliers or glamping campsites,

are relatively new or start-up

companies that have been in

operation less than 15 years. This

kind of youthful enthusiasm is

certainly something to be taken

seriously – perhaps glamping

is the next logical evolution for

your business too?

WORKING FROM

(MOBILE) HOME

We're all well acquainted

with the home office by now,

but have you ever considered

putting that office on wheels?

Iconic American trailer

brand Airstream is one of the

companies putting that forward

as a viable future solution for

home workers with the launch

of its Flying Cloud 30FB

office travel trailer. The fullyequipped

office space floorplan

was something the company has

always had on the back-burner

as a way to attract digital nomads

who were already working on the

road. Now many more of us have

this option, it seemed like a nobrainer

to get this caravan office

out into the market. An office

window with a different view

every day? Sounds ideal.

READ ALL ABOUT IT

Times have changed, we know

all about it. Nobody consumes

their news in paper format

anymore, so why should you?

That's why our website – www.

campingtradeworld.com – is

the place to go to get your

news fix. Whether you're on

your home computer, or on the

go with your smartphone or

tablet, our responsive website

will keep you up to speed with

what's happening in the global

camping and leisure vehicle

industries. Got a story you

need to tell the trade? Email

Editor David Guest at david.

guest@dhpub.co.uk to get your

story printed (or should we say

digitally published?).

New Zealand handled

COVID-19 arguably better

than any other nation,

but how is its tourismdependent

camping

industry doing? Bruce

Lochore, CEO of the New

Zealand Motor Caravan

Association gives us the

scoop. P28-33

Campervans are one of

the real hot markets in

the industry right now –

will that trend continue

to grow? What is driving

it? David Elliott, CEO of

leading UK campervan

conversion specialist

Wellhouse Leisure

(pictured) gives us his

insight. P44-49

www.campingtradeworld.com | 07
---
BASE CAMP

08 | www.campingtradeworld.com

Photo: Messe Düsseldorf/ctillmann

IS SHOW BUSINESS BACK?

■o doubt the hardest hit sector of all by the COVID-19

pandemic is that of events. Shows, exhibitions, sports

N

events, even weddings – they have all either had to

be cancelled, postponed or run in a hugely reduced way to

normal. And as this pandemic drags on and on longer than

most anticipated it would, it begs the question: what will be

normal for shows and exhibitions in 2021 and beyond? In the

camping fraternity, it has been a truly mixed bag. Back in the

summer when it seemed like things were getting under control

the biggest trade fair for our industry in Europe, Caravan Salon

Düsseldorf, managed to host more than 100,000 exhibitors

and 337 exhibitors coming from mostly local countries such

as the Netherlands, Belgium and Switzerland. However, just

months later and the Swiss Caravan Salon was cancelled by

the Government there halfway through, despite having similar

number limitation, sanitising and social distancing measures.

In the UK, the shows never even got the chance to have a try,

with the two large shows at its National Exhibition Centre in

Birmingham cancelling in 2020 (though promising to bounce

back better than ever in October 2021). In the United States,

many shows took the virtual option (some better than others),

while a couple of more local shows like the Florida RV Super

Show took place with strict COVID-19 measures and in an

outdoor location.

So, what is our future? It seems as though there are a few

options available to us until the rollout of COVID-19 vaccines

reach a level where international travel is more possible.

VIRTUAL SHOWS

Pros: quick, easy, cheap

and you can attend in

your pyjamas.

Cons: you don't get the

same feel for a product

and in a world of Zoom

meetings and working from

home, screen fatigue is a real

issue.

MANAGED SHOWS

Pros: as safe as they can

possibly be, surely the

future for the short term at least

Cons: world

governments will not be

keen, exhibitors don't see as

much traffic

OUTDOOR SHOWS

Pros: outside is in theory

a safer environment,

exhibition space can be huge

and almost endless depending

on the venue

the weather

Cons: only certain

products work outside,

HANG TIGHT FOR NOW

Pros: we won't be

wasting money on trying

shows people aren't keen on.

Cons: lack of

communication with

partners and customers, feels

like a halt on progress.

SHOWS AS THEY

WERE PRE-COVID

Pros: what we all want,

face-to-face contact,

ability to happen upon chance

networking opportunities, see

things in the real

Cons: can be expensive,

they seem a long way off

at this moment in time.

SAFE AS HOUSES

Safety on the roads is absolutely

paramount in the modern

world, with traffic numbers

higher than ever, so imagine

the delight among campervan

converters when the hugely

popular Volkswagen T6.1 was

named as Euro NCAP's safest

van for 2021. A statement by

the road safety authority said

that: "The Transporter offers

consumers the option to buy a

wide range of good-performing

safety features," such as lane

assist, front assist with city

emergency braking function

and adaptive cruise control with

speed limiter. Sounds pretty safe

to us.

VAN LIFE IS HERE TO STAY

You don't have to be a genius

to work out that campervans

are one of the key growth areas

of the camping industry. Even

before the dreaded pandemic,

more and more young people

were showing an interest in

camping, and campervans were

the obvious entry point, with

their more adaptable size, looks

and weight constrictions. This

trend has been highlighted

recently by Mercedes-Benz

Vans, creator of the premium

Marco Polo campervan and base

vehicle supplier to thousands

of converters. They say they

want to increase their sales of

campervans by 25 per cent in

2021, and with industry figures

showing a continuing surge

of interest in the sector, they
---
BASE CAMP

Photo: Mercedes-Benz AG

believe they can do it. They

won't be the first to reach this

conclusion and adapt their

business plans and don't expect

them to be the last.

KNOCK ON WOOD

The old 'white box' image of

caravanning and motorhoming

has been changing slowly

over the last decade, but only

gradually. Big brands have

been hesitant to move away

from what people know or are

familiar with, but one German

company has decided to take

things to a new, more natural

level. Meet Holzmobil, and yes,

that motorhome is made from

wood. Not only is the material

lightweight, strong and looks

incredible, you also get the

wonderful scent of being in log

cabin while you are out on the

campsite. Who wood've believed

it? (Read more on page 23)

MOVERS AND SHAKERS

The who's who of hires and promotions

Tom Montague has joined Dometic North America as

its new director of RVOE having previously worked for

Heartland RV, Crosslands RV, Redwood RV and Keystone

RV. German outdoors brand Jack Wolfskin appointed André

Grube as its new chief financial officer, joining from Swiss

rival Mammut. The Australia and New Zealand division

of AL-KO Vehicle Technology has announced that Grant

Douglas will be its new managing director, succeeding

Peter Mannfolk who recently stepped down from the

position. Long-standing members of the board at the

Trigano Group, Marie-Héléne Feuillet and François Feuillet

have resigned from their positions, while Stéphane Gigou

has joined as a member and president of the executive

board. After almost 20 years of service, Jan Suwinski

has retired from the board of directors at American

brand giant Thor Industries, while William J Kelley Jr.

has joined, adding more than 30 years of financial and

operational experience. The hugely experience duo

of Kate Meldrum and Gerard Waldron have joined the

Caravan Industry Association of Australia's national board.

American RV component and equipment expert Lippert

has announced that Vince Doepker has been promoted

to chief information officer at the company, while Jamie

Schnur has become group president of aftermarket. Jeff

Rutherford, the CEP of Airxcel, has been appointed as the

chairman of the board at the RV Industry Association in the

United States. German leisure vehicle brand Hymer has

strengthened its management team with the appointment

of Markus Dorner as commercial director. Lastly, Swedish

motorhome and caravan heating system expert Alde has a

new CEO in the shape of Peter Jocic.

SOUND ADVICE

Want to get the inside track on the industry from some

of the key players? Connect your Bluetooth, plug in your

headphones, sit back and relax, the Camping Trade World

podcast has you covered. You can find us on Spotify or Apple

Podcasts simply by searching for Camping Trade World.

ON THE AIRWAVES NOW:

• Industry views: Daniel Walton, OLPRO

• Industry views: Adam Weisner, SuperSpring International

• What's it like to run an exhibition in a pandemic?

Daniel Walton

Adam Weisner

www.campingtradeworld.com | 09
---
BASE CAMP

BUILDING FOR THE FUTURE

■

boom in camping

and leisure vehicle

A

industry sales is all

well and good, but brands and

manufacturers have been left

scrambling to meet demand

in late 2020 and early 2021.

Two of Germany's biggest

players have responded by

ploughing investment into

improving their headquarters

and production capacity. Both

Morelo and the Cathargo

Group recently revealed

plans at different stages of

completion to boost their

output and increase their

production teams – investing

millions of Euros. A sure sign

that this market boom is no

flash in the pan.

▼ The recent renovation work at Cathargo City.

IS IT A BIRD? IS IT A PLANE?

NO, IT'S A SHOW

Hard to believe it but a real-life,

in-person show happened in the

industry in early 2021, despite

the ongoing pandemic. The

Florida RV Supershow pulled

out all the stops to host a safe

and successful show in Tampa

Bay from 13 to 17 January with

some of the industry's biggest

names in attendance including

Lippert, Tiffin Motorhomes,

Jayco, Heartland, Lazydays RV,

SuperSprings International,

Coachmen and more. The show

attracted around 60,000 visitors,

which is down on its usual

75,000, however organisers

put that down to the lack of

people traveling from Canada.

It seems that everyone who was

able to attend, did. And they

felt safe doing so thanks to an

outdoor exhibition environment,

temperature checks for all

visitors, regular sanitising of

surfaces, face masks made

mandatory inside any buildings

and an advanced entry system

▲ The Florida RV Show 2021 (pics courtesy of SuperSprings Int).

to avoid crowds. Thanks to

SuperSprings International for

the pics.

WHAT'S IN A NAME?

Quite a lot, it turns out. So much

so that RV industry accessory

and component expert Lippert

Components decided to change

its own name to simply Lippert,

as part of a wider re-brand.

The company actually stated

that so many of its customers

and partners around the world

already refer to the company as

simply Lippert, that it just made

sense to simplify things. Jason

Lippert, CEO and president of

the company, said it was "time

to trim down the hundreds of

brands it has developed and

acquired over the years and

simplify it for the consumer".

This is a general marketing

trend that has been applied to

varying degrees of success in a

number of industries. Think you

10 | www.campingtradeworld.com
---
BASE CAMP

know Dunkin' Donuts? Well, it's

actually just Dunkin' now, as the

company looks to expand and

evolve what it is known for. Others

have become more seamless, for

example, when was the last time

you said you were going to a

Starbucks Coffee, Tea and Spices?

COMPULSORY

CONNECTIVITY

German caravan and

motorhome firm Hobby was the

latest company to recently reveal

its own app, HobbyConnect,

that helps end users control the

many different aspects of their

leisure vehicle from their mobile

device. They are, of course,

not the first, with the likes of

Swift, Adria, Truma and many

others already doing so, and will

by no means be the last. But

it begs the question: has the

caravanning public now reached

a level of assumption where

having such connectivity is the

minimum they expect? Are we

now so in-tune with being able

to control every aspect of our

lives through a mobile phone

that we assume this will be

possible in the camping world

too? The evidence suggests that

we are at that stage. Having

such technology is no longer a

selling point to put you ahead

of the rest, it's now something

conspicuous when absent.

DEALS ON WHEELS

It's been a busy few months

for acquisitions in our industry,

with a particular spate of

activity occurring in North

America. Probably the deal

with the most bells and

whistles attached was that of

American brand house Thor

Industries adding another

esteemed name to its portfolio

with its acquisition of Tiffin

Motorhomes. A family business

since 1972, Tiffin becomes

part of a huge group of brands

and companies at Thor with

▲ Do leisure vehicle owners now expect connectivity?

founder Bob Tiffin stating: "I

am not going anywhere as I

will continue to operate the

Tiffin companies as I have with

no timeline for change. My

sons, Van and Tim, as well as

my grandson, Leigh, will also

continue to have major roles in

the Tiffin business. Instead of

feeling like I sold a business, I

feel like we have aligned with a

great company that will enable

us to take Tiffin to a new level."

Meanwhile DexKo, owner

of Dexter and AL-KO Vehicle

Technology, made a couple

of significant acquisitions

that should significantly

and strategically expand its

business. First off it bought

Italian electronics specialist

Nordelettronica, swiftly

followed by American trailer

expert Redneck Inc and Redline

Products LLC.

In Europe, Swedish leisure

vehicle brand Kabe has fully

acquired British caravan firm

Coachman in a major deal.

In retail, American firm

Lazydays Holdings expanded its

network of RV dealers with the

purchase of Sprad's RV in Reno,

Nevada.

Meanwhile the recently

rebranded Lippert looks set to

boost its RV and leisure vehicle

door game with the acquisition

of fellow American firm

Challenger Door. Ryan Smith,

group president for Lippert in

North America said: "Despite

the challenging pandemic

economy, we believe that this

acquisition will continue to

strengthen our ability to provide

exceptional service and speed to

our customers."

FIVE STATS TO MAKE

YOU THINK

The USA's RV

01 Industry Association

together with ITR

Economics is predicting

that RV shipments in 2021

will smash the half-amillion

barrier, a rise of as

much as 20 per cent.

Dometic is aiming

02to reduce its energy

and water consumption

by 10 per cent each in 2021,

as well as recycling 75

per cent of its waste and

reducing its CO2 emissions

by 40 per cent.

8.4 million holiday

03nights were

camping-based in Australia

during the last quarter of

2020, that's 44 per cent of

all holiday nights. While it's

good news, it's actually a

decline on 2019's figures.

The outdoor or

04 camping stove was

named as the årets julklapp

for 2020 in Sweden (most

popular Christmas gift of

the year) – a sure sign that

people are rediscovering a

love of being outdoors.

American camping

05and outdoor gear

brand Nemo has donated

1,600 sleeping bags to

Big City Mountaineers, an

organisation devoted to

helping kids from cities get

into the outdoors and reap

the mental and physical

benefits.

www.campingtradeworld.com | 11
---
AROUND THE WORLD

CANADA

Going on vacation in an RV is the cheapest way to holiday according

to a study conducted by the Canadian RV Association, Recreational

Vehicle Dealers Association of Canada and Go RVing Canada. The

Portage Group study showed that, based on a few typical hypothetical

Canadian holidays, that going in an RV is cheaper overall compared to

hotels or AirBnbs. The full study is available online at www.rvda.ca

01

UNITED STATES

The RV boom in the United States shows

no signs of slowing as January recorded its

highest number of RV registrations since

records began, according to the RV Industry

Association. More than 45,000 wholesale

vehicles were registered, with forecasts

from the RV Industry Association and ITR

Economics predicting that the total number

will exceed 500,000 in total for 2021. In some

parts of the country events and shows have

been able to take place in some way with

relevant COVID-19 protocols in place, which

has hugely helped an already buoyant market.

02

Around the world

Camping and leisure vehicles are a global business, but

each corner of the world faces it own unique challenges

and enjoys its own successes. Here's a snapshot of what's

been happening on planet camping this year so far.

03

What's happening

in your part of the world?

Contact us today and

tell us your story:

david.guest@dhpub.co.uk

GERMANY

Things have never been better in the

German industry with 2020 reported

as a record year for revenue and

members of the German Caravan

Industry Association (CIVD) almost

all exclusively predicting a bright 2021.

Read more detail on pages 14-15.

12 | www.campingtradeworld.com
---
AROUND THE WORLD

04 UNITED KINGDOM

05

The industry's biggest show here, the Motorhome and Caravan

Show, is set to go ahead in October according to the UK's National

Caravan Council. CEO John Lally said: "The exhibitions industry

is widely anticipating that indoor events will recommence in the

middle of next year. After the postponement of the 2020 show,

our team is committed to making sure the October 2021 show

is outstanding, and continues to deliver, indeed exceeding the

expectations of visitors and exhibitors alike."

JAPAN

The 2021 edition of the Japan Camping Car Show in

Chiba City sadly had to be postponed from its planned

dates of 11 to 14 February due to the coronavirus

restrictions and subsequent state of emergency

still in effect in many parts of Japan. The organisers,

the Japan Recreational Vehicle Association, have

proposed new dates of 2 to 4 April at the same venue

of the Makuhari Messe and will allow attendees who

purchased tickets for the original dates to be able to

use those tickets for the new dates. You can also apply

for a refund if you no longer wish to attend.

06

NEW ZEALAND

The New Zealand Motor Caravan

Association tells us that New

Zealand's camping industry is

going great guns, aided by the

resurgent of interest in the hobby

and the general lack of need for

COVID-19 restrictions for much of

the Kiwi summer. Read full detail

on the current state of the market

in New Zealand by heading

to pages 28-33 for our Doing

Business With New Zealand

special feature.

07

AUSTRALIA

Two of the hottest topics in Australia in the

moment include increased demand for

caravan and RV products and increased

participation in camping in general. The

Caravan Industry Association of Australia

(CIAA) told us that despite initial challenges

in the supply chain due to the COVID-19

pandemic, the ability to handle increased

demand for leisure vehicles is stabilising and

ramping up. Like many nations Australia

has experienced a boost in new campers

who have never previously considered the

hobby but have turned to it with a lack of

international travel. The Australian industry

has put sharp focus on ensuring those new

to camping have a good experience and

have their expectations managed. This

includes everything from warm welcomes at

campsites, to educational information being

supplied on safe towing etc.

Keelan Howard, general manager of

marketing and communications for CIAA

said: "Australia in comparison to other

countries is very lucky and the outlook is

increasingly positive for the industry with

many consumer caravan and camping

shows planned in the coming months. The

ability for consumers to attend shows is

amazing, especially when you consider the

challenges created in the past 12 months."

www.campingtradeworld.com | 13
---
GERMAN INDUSTRY THE DETAIL

Vital signs looking

strong in Germany

After a record-breaking year for turnover in the German caravan

and leisure vehicle industry in 2020, optimism is sky high

among the country's manufacturers and producers.

T

■he year 2020 will

be credited as being

responsible for many

unwanted catchphrases. Social

distancing. The new normal.

Unprecedented. But one phrase

it could well be known for in our

industry is fast-forward. 2020

was the year that the gradual

upward trends of sales and

interest in the camping market

received a very firm press of the

fast-forward button. And things

don't look like returning to a

normal pace anytime soon.

The most recent evidence of

this was revealed by Germany's

Caravan Industry Association

(the Caravaning Industrie

Verband Deutschland or

CIVD), whose president

Herman Pfaff proudly stated

that 2020 had been a record

year in the organisation's

annual press conference. In

true 'unprecedented' style, the

conference was hosted virtually

over video call on the CIVD

website, but the revelations were

very, very real. €12.5 billion was

the announced turnover by the

German industry in 2020, a

six per cent increase year-onyear

and a record figure for the

seventh consecutive year. New

vehicle sales brough the largest

Photos: CIVD

14 | www.campingtradeworld.com
---
THE DETAIL GERMAN INDUSTRY

WHAT THEY SAY

▲ Nearly all CIVD members are confident 2021 will be even better than 2020.

chunk of that turnover at €6.5

billion, although that figure was

down slightly on the all-time

record set in 2019. The market

for used leisure vehicles grew

strongly with an impressive rise of

18.2 per cent to €4.9 billion. The

accessories business also showed

a strong year, reporting a 7.6 per

cent increase to €1.1 billion.

NOBODY EXPECTS A

DECLINE IN 2021

Herman Pfaff also revealed

that optimism in Germany,

which is such a key indicator

market for the health of the

European industry, remains

very high as we enter 2021. A

recent survey of CIVD members

showed that 87 per cent of

motor caravan companies are

expecting yet another increase

on turnover figures in 2021. The

remaining 13 per cent said they

would expect similar results to

2020. Not a single company is

predicting a decline.

Now, this shouldn't paint a

perfect picture of the German

market. Naturally, it suffered in

Newly registered

caravans

29.148

▲ +8.2%

some ways due to the pandemic,

and there were challenges to

overcome. Most notably was

the slowdown in production.

CIVD reports that production

was hampered to the tune of

a 6.9 per cent reduction – not

ideal when demand is at an

all-time high. But this gap looks

set to be made up in 2021, with

exports looking like one of the

key areas in which to do so.

Despite exports taking an almost

10 per cent fall in 2020, four

out of every 10 leisure vehicles

manufactured in Germany still

end up being exported and

it's hoped that as coronavirus

restrictions ease as the year

goes on, other neighbouring

markets in Europe will start to

improve to meet the levels seen

in Germany.

WHAT CAN WE LEARN

FROM GERMANY?

The parties with interest in the

camping industry in Germany

are not just sitting back and

letting the good times roll. They

are keen to capitalise on the

Newly registered

motor caravans

78.055

▲ +44.8%

potential of this growth spurt for

camping and are calling for an

improvement in the framework

conditions in Germany, such as

a simplification of the Federal

Registration Act and greater

support for the construction

and expansion of motor caravan

pitches. The German Tourism

Association conducted a

quantitative survey in 2020 of

the 4,200 motor caravan pitches

in Germany. In total, these

offer capacity for 67,230 motor

caravans – 8.4 per cent more

than three years ago. However,

the number of overnight stays

increased by 19.5 per cent in

the same period, followed by an

increase in capacity utilisation.

CIVD is currently engaged

in dialogue with the country's

politicians to work to find long

term solutions to meet the surge

in demand for motor caravan

tourism. It seems clear then,

that a strong, autonomous and

proactive industry association

is one of the key ways in which

a country can protect its leisure

vehicle and tourism industry.

2020 RECORD YEAR FOR THE GERMAN CARAVANNING INDUSTRY

RECORD

Newly registered

leisure vehicles

107.203

▲ +32.6%

RECORD

"Last year, the coronavirus

pandemic significantly

reduced output in

production due to

temporary plant closures

and faltering supply chains.

We assume that we will

be able to increase the

production volume again

in 2021 and, thus, meet the

enormously high demand

for motor caravans and

caravans in Germany and

almost all parts of Europe.

"The Corona pandemic has

significantly hampered

production in our industry.

To protect the workforce,

many plants had to close

temporarily in the spring

and numerous components

from suppliers were not

available, which cost us a

month's output. As a result,

we were partly unable to

meet the high demand

for motor caravans and

caravans. For 2021, we expect

a further normalisation and

a significant increase in

production, which will also

have a positive effect on

the export business. New

registrations in large parts

of Europe are rising again

or will remain high, and

German manufacturers in

particular will benefit from

this, as they are the market

leaders in Europe."

Daniel Onggowinarso,

managing director of CIVD.

Source: CIVD surveys, estimates

www.campingtradeworld.com | 15
---
ALPHAVAN THE DETAIL

More to come from Alphavan

after promising debut year

Premium quality approach and a boom in camping market

have combined to help German campervan manufacturer

Alphavan get off to a flying start – it is even launching a new

division to its company.

A

■fter more than 10 years

working for a premium,

high-quality brand

such as Mercedes-Benz, you

tend to think about things a

little differently to the average

person. Phillip Wex is a man

with such experience, and after

he decided to leave the German

automotive giant just over a

year ago and start his own

premium quality campervan

company, he had some pretty

specific ideas about what he

wanted to achieve with it. After

a chance meeting at Caravan

Salon Düsseldorf with technical

design wizard Stefan Krause

and CEO of GETA Tobias

Buhmann who would both

eventually become his business

partners, Phillip launched his

company Alphavan, with a focus

on creating something special.

"What we have created with

Alphavan, I believe no one else is

really doing in the market right

▲ The Alphavan is as versatile

as it is well designed.

▼ Premium quality is the

name of the game.

ALPHAVAN

E: kontakt@alphavan.de

W: www.alphavan.de

W: www.alphaseat.de

16 | www.campingtradeworld.com
---
PLAY VIDEO * PLAY VIDEO *

THE DETAIL ALPHAVAN

ARE YOU SITTING

COMFORTABLY?

▲ Phillip Wex and his team wanted the interiors of the vans to ooze quality.

now," Phillip told Camping Trade

World.

"Alphavan is a premium

product where we have paid

very close attention to quality,

technology, innovation and

sustainability throughout the

entire process – from the idea

through to the finished van."

So, what kind of innovations

are we talking about? Well, for

starters the van is designed to

be as lightweight as possible.

It remains under the 3,500kg

weight limit, which immediately

makes it more accessible to

more people, and to more roads.

The vans have also been put

together with some incredibly

sleek, modern and stylish design

language, that not only looks

good but also performs in a

premium way.

"The novel production process

and material "Vunder Tech" does

also enable a new interior design

language: rounded edges in large

single-cast furniture pieces, flush

mount integration of caravan

system and surfaces with natural

haptics are just some of the

benefits of this new technology,"

adds Phillip.

Much of Phillip's background

at Mercedes was working in

the electronics and technology

side of the business, so his aim

with Alphavan was to set new

standards of digitisation in the

caravan industry. Examples of

that can be seen all over the

campervan – it uses Mercedes-

Benz User Experience (MBUX),

Mercedes-Benz Advanced

Control (MBAC), and Mercedes

ME Connect, all of which can

be used to monitor and control

all systems on board including

heating, water tank levels,

electric awning, air conditioning

and battery levels. The

digitisation also extends to the

living functions of the Alphavan

– it has no gas, everything is run

on electricity thanks to a 110Wp

solar panel, 210 Ah Lithium ion

battery and 2,300 Watts power

inverter. This, Phillip says, also

makes the van more sustainable.

There's also a Truma Combi

6D E Diesel heater for when

camping in very cold conditions.

A plethora of other smart

innovations such as premium

insulation technology and

intelligent adapter frames all

point towards a campervan that

is offering an experience like

nothing else. And after just

one year of being in business,

the surge of interest in camping

in general has meant a very

promising and successful start

to life for Alphavan, with much

more on the horizon…

Some of the solutions

Alphavan came up with

during its development

have led to new avenues

being explored by Phillip

and his team. While they

were in the process of

specifically engineering

the highest quality interiors

they could make, they

searched long and hard

for a premium upholstery

offering that would

mirror the levels of quality

throughout the rest of

the van. Phillip explains:

"Just like premium leather

seats in passenger cars, we

thought we'd be able to

find a supplier who made

such solutions for premium

campervans. However, we

could not find any which

met our quality standards,

so we have now decided to

start a new branch to our

company by designing and

making our own. We make

quilting patterns and select

premium leather directly

from a leather producer

here in Germany."

This new division of the

company with be called

AlphaSeat and will be

offering these high quality

leather seating solutions

for campervan and

motorhome makers around

the world. Starting with the

original Mercedes-Benz

seats, the team offers high

end leather upholstery

so far only know from

premium passenger cars.

www.campingtradeworld.com | 17
---
ERWIN HYMER GROUP THE DETAIL

Photos: Erwin Hymer Group

18 | www.campingtradeworld.com
---
THE DETAIL ERWYN HYMER GROUP

A seamless transition

Two years on from one of the biggest trans-Atlantic acquisitions in the

leisure vehicle world, has everything gone to plan for German giant the

Erwin Hymer Group now that it's part of the Thor Industries empire?

I

■t was a deal the likes

of which the industry

had never seen before,

and one it probably won't see

again for some time to come.

Almost two years ago to the day,

American recreational vehicle

giant Thor Industries, owner of

Airstream, Highland RV, Jayco

and countless others, stretched

its influence across the pond

and wrapped up the acquisition

of huge European leisure

vehicle operation the Erwin

Hymer Group (EHG). In one

move, Thor Industries had

essentially created the world's

largest recreational vehicle

manufacturer with huge and

well-established businesses and

brands in both North America

and Europe. The shockwaves

in the industry were felt for

some time, and even now, two

years on from the move, the full

extent of its potential have yet

to be fully realised.

PANDEMIC INTERFERENCE

2020 was the first full calendar

that EHG had been part of

Thor Industries and on the

face of it, the success came

almost instantly. It was a record

year for sales of recreational

vehicles in Europe and the

growth of particular sectors

such as campervans played a

central role to that. RV sales in

the United States too reached

unprecedented levels – but all

of this happened against the

backdrop of the coronavirus

pandemic. The initial disruption

this caused followed by the

explosion of interest in camping

and leisure vehicles meant both

sides of the pond were feeling

www.campingtradeworld.com | 19
---
ERWIN HYMER GROUP THE DETAIL

the strain.

"The entire capacity of

our companies was taken up

by handling lockdown and

maintaining supply chains,

meaning larger joint projects

were postponed because of

the COVID-19 pandemic,"

explained Thor Industries CEO

Bob Martin. Not to mention

the fact that travel between the

USA and Germany has been

all but impossible since March

2020 – a lot of the simple, quick

and logistical aspects of the

transition have been hindered

by this. Despite this, and the

size of the task at hand, the

individual parts were given

the autonomy to handle the

challenges in their own ways,

which was critical to surviving

a tough situation according to

EHG CEO Martin Brandt. He

said: "The way we have come

through the pandemic so far

shows that Thor Industries and

EHG are cut from the same

cloth. In both companies, a

lean holding structure gives

the brands plenty of room to

manoeuvre and implement

their own ideas. It's how we

accommodate the different

circumstances in the respective

markets, where lockdown was

handled very differently at

different times."

TACKLING THE FUTURE

WITH SYNERGY

Now that the initial shock

and impact of the pandemic

has been absorbed by both

companies and the industry at

large, what of the future and

those integrations that were

planned from the very start of

this acquisition? Expect to see

them become more apparent,

with the implementation of

large and ambitious projects set

to come to the fore with the

assistance of newly appointed

chief innovation officer Josef

Hjelmaker.

▲ Erwin Hymer Group CEO Martin Brandt and Thor Industries CEO Bob Martin.

"Future topics such as

autonomous driving, alternative

powertrains and connected

travel will be addressed on a

global basis and implemented

on both sides of the Atlantic,"

said Bob Martin. "We are

also continuing our work on

synergies in procurement and

product development." When

you think about it, this really

makes sense. If you find a

system that works for tackling

one of these huge issues facing

the industry, then it can be

applied to both parts of the

business in the two major

markets of the world at once.

There will also be more

practical nuts and bolts-type

projects undertaken once

international travel becomes

more possible – European

models making their way into

the USA or the marketing of

the Airstream brand in Europe

as examples. Martin Brandt

explained: "To implement

complex projects in working

groups of workshops, people

need to be able to get together

in person and overcome time

differences. That won't be

possible until we can travel

again. We're convinced that we

are in the best possible shape

to progress the current boom in

our sector and lead caravanning

into a sustainable and connected

future."

TREND-FOCUSSED

You might think that with

the camping and RV industry

experiencing a significant

boom that it would be a fairly

straightforward task to grow

businesses with brands as

well-known as that of Thor and

EHG. It might make things a

little smoother, but riding that

wave has to be planned and

strategized correctly in order

for continued and long-term

success. Martin explained:

"Compact vehicles are trending

strongly. More and more

people are combining their

suitability for spontaneous

weekend trips as well as the

annual vacation with everyday

transport." The numbers back

this up: in Germany almost

65,000 customers (45 per cent

more than 2019) purchased

campervans, with vehicles

measuring around five metres

in length and two metres in

height being most popular.

EHG is already ahead of the

curve with this market and in an

excellent position to capitalise

on it with the launch of its

Crosscamp brand. Who knows,

the expertise of EHG in this

20 | www.campingtradeworld.com
---
THE DETAIL ERWYN HYMER GROUP

BRAND POWER

Between Thor Industries

and Erwin Hymer Group

there is a hugely impressive

leisure vehicle brand

portfolio, including:

▲ Much of the planned cohesion between EHG and Thor has yet to be fully realised.

area could be something that

makes its way back across the

Atlantic into the USA to preempt

a similar trend starting in

the market there?

WHAT NEXT?

It seems clear that the best is

yet to come from this super

acquisition. It has been hindered

by global challenges that every

company has faced but looks

well set to adapt and push on

into the future. Both companies

have been in holding patterns

for most of 2020 simply trying

to meet the demand that has

been stoked up by the pandemic

– but the important thing is that

both companies' figures have

been extremely healthy through

all of this time. The semi-pause

of the last 12 months may also

have given both sides of the

party more time to think about

how they might be able to best

work together and integrate

into each other's businesses.

One thing is certain, this RV

manufacturing superpower is

only just getting started.

"It's about giving freedom

to our customers. It's about

helping them create memories

that will last a lifetime. And it

truly is about creating a special

way of life. And as we look to

the future, we see technologies

and innovations to just make

it easier to live that way of

life that we promise to our

customers."

It's easy to look back and

be nostalgic upon reaching

such a historic milestone

as a company, but what of

the future? Well, Airstream

says it is making significant

investments into improving

its customer experience, which

will include the Five Rivet

dealer standards program that

is driven entirely by customer

satisfaction scores. It will

also be investing in digital

tools to provide greater levels

of after sales care as well as

helping more dealers become

Airstream exclusive dealers.

Airstream vice president

Justin Humphreys said: "We

understand the need to be

better tomorrow than we

were today, every day. There's

so much opportunity for

this company. We have the

opportunity to inspire people

to travel and get out of their

comfort zones and have new

adventures and meet new

people. We honour our past, but

we're not constrained by it. It's

kind of in with the old and in

with the new as we look forward

to the next 90 years."

Erwin Hymer Group

Buccaneer

Bürstner

Carado

Crosscamp

Compass

Dethleffs

Elddis

Eriba

Etrusco

Hymer

Niesmann+Bischoff

Laika

LMC

Sunlight

Xplore

Thor Industries

Airstream

CrossRoads

CruiserRV

D RV

Ducthmen

Entegra Coach

Erwin Hymer Group

Heartand

Highland Ridge RV

Jayco

Keystone

KZ Recreational Vehicles

Postle Aluminum Co

Redwood

Roadtrippes

Starcraft

Thor Motor Coach

Tiffin Motorhomes

Togo RV

Vanleigh

Venture

www.campingtradeworld.com | 21
---
PLAY VIDEO * PLAY VIDEO *

CMT DIGITAL THE DETAIL

Listen to our

exclusive podcast

with CMT

department director

Alexander Ege.

▲ The CMT Show in a normal year.

What happened at

CMT Digital?

Over the course of a day in January, camping professionals around Europe were glued

to their computer screens for the first ever digital version of CMT show. Just in case

you missed it, here's a rundown of the innovations showcased during the event.

F

■or the first time in

its history, leading

leisure, tourism and

caravanning show CMT was

forced to take its hugely popular

event online in 2021. Initially

organisers of the Stuttgart,

Germany-based show had

decided to postpone the event,

which was supposed to take

place in January. However,

with the continuing hindrance

of coronavirus restrictions

in Germany and many

other European nations, the

organisers decided to go down

the virtual show route. It's not

a route any of us really want to

use, but with the case of CMT

Digital it was handled in a

slightly different way to others

that have taken place over the

last year. For starters, there were

actually people and products at

the Messe Stuttgart exhibition

hall, though in very limited

numbers. Most of these people

were the exhibitors, who each

took a turn on the main stage

to give presentations about

the latest innovations being

revealed by their respective

companies. These presentations

were broadcast to a live virtual

audience who were all able

to ask questions and interact

with exhibitors via either live

messaging or by getting details

from their respective exhibitor

spaces. It was a smooth and

successful system, which given all

the current restrictions on events,

made up for a lack of face-toface

meetings in one of the best

ways we've seen so far. But, just

in case that Zoom fatigue meant

you couldn't face sitting through

the whole show, we did – and

we have gathered a selection

of highlights of the interesting

companies and products

showcased at CMT Digital.

22 | www.campingtradeworld.com
---
THE DETAIL CMT DIGITAL

CHALLENGER

Trigano-owned motorhome brand Challenger revealed one of the most

eye-catching models of the event – a leisure vehicle it claims brings

together the best of both a van and a motorhome. The X150 is what

Challenger is calling a combo vehicle that brings together the best of

both of these worlds – the style of a car, the size of a van and an amazingly

efficient living area that offers a huge amount more than you'd think. Built

on the trusty Fiat Ducato, the X150 is just 5.99m long by 2.10m wide and

2.75m high, making it incredibly

nimble and adaptable. It drives four

and sleeps five and features a wealth

of modern and stylish attributes such

as alloy wheels, LED lighting inside

and out including day running lights,

an electric hideaway bed, 100ltr

freshwater tank and stylish modern

fittings and design.

www.challenger-combo.com

HOLZBMOBIL

Another eye-catching product, but for very different reasons to the usual ones. The

Holzmobil motorhome is constructed from wood that has been sourced from certified

sustainable woodland and then sculpted by German craftsmanship both inside and

out. The motorhome utilises technology from the boating industry to ensure resilience

and durability and the patent-pending roof construction technology is designed so

that moisture can escape the unit, but heat remains. The motorhome is 4.5 tonnes

with a payload of 800kg within that, it features a four-wheel-drive MAN TGE 4.180 as a

base vehicle, a Mastervolt power system with two solar panels, 90ltre freshwater tank,

two good-sized beds and a 50ltr refrigerator. Imagine if that idyllic log cabin from your

dreams was on wheels – that's what Holzmobil has delivered.

www.holzmobil.de

LIONTRON

Power on the move is one of the

areas in camping where advancing

technology is rapidly improving the

products and ideas available both to

manufacturers and to end users. A

great example of that was showcased

by Liontron, producer of innovative

LiFePO4 batteries. Claiming to be

a fully-fledged replacement to lead

batteries with all the advantages of

lithium iron phosphate, the Liontron

batteries promise long and safe

usability, as well as other smart

features like Bluetooth connection

for monitoring, and a much more

sustainable construction than other

leisure batteries. The company

makes standalone batteries for cars,

motorhomes and plenty of other

applications.

www.liontron.com

www.campingtradeworld.com | 23
---
CMT DIGITAL THE DETAIL

CROSSCAMP

New kid on the block

Crosscamp, part of the Erwin

Hymer Group, has revealed

a new even more compact,

even more versatile, urbanstyle

campervan into its

range: the Crosscamp Lite.

Using two different compact

and nimble vans, the Opal

Zafira and the Toyota

Verso, as base vehicles, the

Crosscamp Lite doubles

down on the recent increase

in demand for campervans

to be useable as everyday

vehicles. The van is perfectly

at home transporting bicycles

or other extensive adventure

luggage, but also works

perfectly as a living and

sleeping area with 140cm

x199cm dimensions across the

entire width of the vehicle.

A pop-up roof, fold-away

kitchen at the rear, auxiliary

heater, and a coolbox neatly

stowed between the front

seats are just some of the

smart, space-saving features

that mean this van doesn't

make compromises.

www.crosscamp.com

DOMETIC

As always, Dometic didn't disappoint with what it showcased at CMT, with

plenty of adaptable and innovative products designed to make camping

in all its forms more comfortable for end users and to give manufacturers

and extra selling point for their models. It gave viewers the chance to

get a closer look at its recently launched FreshJet 3000 air conditioning

unit for leisure vehicles that promises amazing energy efficiency and

precise temperature control. It also displayed the benefits of its 10 series

of refrigerators designed for leisure vehicles with smart innovations like

double-hinged doors, best-in-class cooling performances (tested in the

Australian outback), soft-touch controls and two-point locking systems for

increased safety.

In awnings, Dometic showed off its new versatile Hub inflatable activity

shelter that is designed to offer quick and fuss-free additional space when

attached to a wide range of vehicles, even regular SUVs. It also showcased

its more traditional Ace AIR Pro Series, designed for campervans,

motorhomes and caravans.

www.dometic.com

24 | www.campingtradeworld.com
---
THE DETAIL CMT DIGITAL

VANDERER

Described as urban campers with outdoor genes, Vanderer are a young

and agile German company with plenty to offer. The company's launch

for CMT Digital was the Minicamper, a perfect vehicle for combining

outdoor sports trips with camping. Based on the very manoeuvrable

Citroen Berlingo XL, the van is not only compact and adaptable, but also

relatively cheap with a base price of under €29,000. The van is packed

with clever storage solutions and features a gas cooker and induction

hob as well as sink, wash basin, 16ltr fridge between the front seats.

The height-adjustable kitchen unit can be used as both a kitchen work

surface, coffee table and at night part of the sleeping arrangement. The

van even manages to squeeze two extra sleeping berths into the poptop

roof and can transport five people when driving.

www.vanderer.eu

FLOW CAMPER

A couple of smart new vans were

showcased by German maker

Flow Camper. The first was the

Casper, a feature-rich campervan

built on the Volkswagen T6.1. This

van resonates with many of the on

trend themes of being adaptable

and useable as an everyday vehicle

as well as a camping car, but it also

features an all-wheel drive options,

solar panels to keep the lithium

battery topped up, a unique foldout

sun terrace awning that also

offers two additional sleeping

berths, an outdoor shower and

a surprisingly well-equipped

kitchen. For those looking for

a larger and more specificallydesigned

campervan then the

Max is probably more suitable.

Available in four different sizes and

layouts, this van is full of practical

solutions like a refrigerator that

can be accessed from inside and

outside, floor-to-ceiling cabinets

for generous storage, sliding and

folding doors, and creative drawer

storage solutions for the water

tanks and gas.

www.flowcamper.de

SEE YOU NEXT YEAR? WWW.MESSE-STUTTGART.DE

According to organisers, CMT hopes

to be back in its normal state next

year, though no official dates have

been announced. Check out our

podcast to hear an interview with

the Stuttgart Messe team to find out

how they managed to pull off such a

successful online show and what the

future holds for them.

www.campingtradeworld.com | 25
---
RETENTION THE DETAIL

Is the industry focussing

enough on retention?

A huge surge in interest in camping can only be a good thing for the industry, right?

Not if we can't satisfy the demand of that surge – we could be sleepwalking into

losing one of the biggest opportunities we've ever faced.

O

■f all the things that the

COVID-19 pandemic

brought to the world,

the one none of us was really

expecting was a huge surge

of interest in the camping,

caravanning and RV industries.

If you think about it purely from

a business point of view as a

company within our industry, it

has actually been quite a good

thing, as weird as that sounds.

Orders are up, campsites were

booked out for large parts of

2020, and with international

travel not looking like returning

to its former levels any time

soon, the wave looks set to

continue. Surely there has never

been a better time to be in this

industry? Well, yes and no.

The spike of interest in

camping and leisure vehicles

came thick and fast – many

companies reported demand

going from normal levels to

almost 200 per cent higher than

that in just a few weeks. Curves

like this, whether positive or

negative, can never be a good

thing. This was also off the back

of at least a couple of months

where spending and interest

dropped off a cliff in the initial

uncertainty period. So within

just a few months, demand

dropped to almost nothing and

then to double, or even triple

its usual levels. In any industry

on Earth, this kind of jumping

around could easily cause

problems.

▲ New campers are coming… but how do we ensure we hook them for life?

SUPPLY AND DEMAND

One of the first rules that any

small or growing business will

abide by is not wanting to create

an excess of demand that they

cannot meet – but that could

also be very applicable to longstanding

or larger companies

with that has happened with

camping. We are seeing a surge

of consumers wanting to go

camping – the Caravan Industry

Association of Australia say

camping and caravanning is

currently accounting for 44

per cent of all holiday nights,

while the German Caravan

Industry Association and USA's

RV Industry Association both

report that their members are

expecting 2021 to be one of the

best years on record in terms of

sales/shipments. But the sudden

turning on of the tap to almost

unlimited customers will not last

forever – it cannot. Eventually

campers, both new and

returning, will have the chance

to do the kind of holiday that

they normally do. And when that

chance arrives, what will their

impression of camping be? Will

it be that they had to buy a substandard

second-hand caravan

because they couldn't get the new

one they wanted? Will it be that

the campsite they chose to visit

was fully booked, so they had to

go to a less well-developed one

that gave them a bad experience?

Will their lack of education

about how to get the best out of

the hobby and conduct it safely

result in them having an incident

that puts them off for life? These

are all things we need to consider

as an industry. While this sales

surge is great for the numbers,

we have a responsibility to act

now to ensure new campers

have a good experience and that

we retain them. We won't get a

chance as good as this again.

TRADING TIMEBOMB?

In the United Kingdom, the

problem of stock has been

26 | www.campingtradeworld.com
---
THE DETAIL RETENTION

WHAT CAN WE DO?

Manufacturers: Sometimes there isn't much we can

do about supply issues, but perhaps you could use this

opportunity to examine your supply chains. Stay receptive

to potential new suppliers, and perhaps even work

together with your competitors to see how you can help

each other in a mutually beneficial way. We can always

work smarter with our production – hiring new staff, even

if it's just temporary could help you overcome the backlog.

▲ Ensuring campers have a good experience is vital.

exacerbated by a hesitancy to order

new motorhomes from Europe

due to an uncertainty over what

changes Brexit would bring.

"Motorhome manufacturers

were very cautious about

ordering the European chassis at

the end of 2019 as there was still

huge uncertainty around Brexit

tariffs which, for consumers,

could have placed an additional

£8,000 on the cost of a new

motorhome," said Matt Sims,

managing director of motorhome

hire firm The Motorhome

Holiday Company.

"We're looking at up to one

third of the UK motorhome

hire businesses reducing their

capacity with some businesses

closing their doors altogether

this season as they simply won't

be able to acquire motorhomes

for hire in time for Spring when

we hope the season will start.

In line with customer demand,

we had invested in twelve new

motorhomes for 2021 but we

won't see delivery of those

until October at the earliest

which will mean we miss the

summer season entirely and

lose approximately £200,000.

What's frustrating is that we

could have seen a growth of 33

per cent with our additional new

motorhomes – but that is income

we now won't see until next year."

While the big British brands

are doing their best to build new

leisure vehicles at breakneck

speed, there was always bound

to be a lack of supply, and with

many hire companies source

their vehicles and motorhomes

from Europe. This could again

create a serious retention

problem – if new or returning

campers eager to get into the

hobby are not even able to try it

out by renting a leisure vehicle,

then what are the chances

they will want to try again

in the summer of 2022 when

international travel could well be

back on their radars?

CONCLUSION

This article isn't intended to push

doom and gloom, far from it.

We have been gifted a wonderful

opportunity as an industry to

push things onto the next level.

But it is hugely important that

everyone at every level realises

that and doesn't get complacent.

These are new challenges, and we

must face them together to ensure

that this shot in the arm is not

just a short-term booster.

Camp sites: Try limiting the length of bookings so that

more people can enjoy what you have to offer. Consider

whether you can obtain temporary expansion on

neighbouring land. Again, hiring temporary staff could

help – you should also be aware that you may have many

first-timers on your sites. Be patient with them, be friendly,

be helpful. You want them to come back.

Dealers: Your sales team shouldn't have to work as hard

as usual for sales, so instead have them focus on helping

people to get to grips with what owning a leisure vehicle

is all about. Offer workshops to new customers and keep

communication channels open. Lastly, don't push sales too

hard when you aren't sure you'll have the stock to meet

the demand.

Associations: Engage with this new audience and

encourage all your members to do the same. You have an

important role to help coordinate the way we welcome

newcomers into the industry. Why not consider running

some online workshops or seminars for people new to

camping or owning leisure vehicles. Education is going to

be key to ensure newcomers are responsible and lifelong

campers for the future.

Show organisers: Hopefully, if shows can go ahead at

some point in 2021, consider having newcomer villages.

Set up Q&A sessions for beginners with questions about

things. Imparting knowledge into new or potential leisure

vehicle owners is essential to ensuring they have a good

experience.

Press: Make sure the content you provide has the right

amount of detail for beginners. Don't be afraid to push

the unexpected benefits that camping brings so they

know what to expect. The right mix of content that is both

inspiring and instructional is going to be key.

www.campingtradeworld.com | 27
---
NEW ZEALAND DOING BUSINESS WITH...

DOING

BUSINESS

WITH...

New Zealand

The incredible scenery, quiet roads and well-developed tourism

industry of New Zealand make it the perfect host for a thriving

camping and caravanning market. While it is only a small

nation, it's a big player in the international scene.

Y

■ou don't have to

travel far within the

boundaries of the

beautiful and wild land of New

Zealand before you see evidence

that this a country where

camping is just built into the

fabric of life. The long, winding

roads through remote country

are very well punctuated by

caravans and motorhomes, and

campsites at the roadsides –

New Zealand is a place simply

built for our industry to thrive,

and it knows it. Not only is it a

place with a wealth of campsites

and holiday parks in stunning

locations, but it is also one of

28 | www.campingtradeworld.com
---
DOING BUSINESS WITH... NEW ZEALAND

the few nations on Earth that

allows and actively promotes

wild camping or 'free camping'.

This means, as long as your

camping unit is what is known

as self-contained (meaning

it has toilets and meets a few

other requirements), you can

pull up and spend the night in

truly magical places all around

both islands of the country.

All this points towards a

successful market in New

Zealand – camping is a hugely

popular pastime for locals in

all forms, whether that be in a

tent, a caravan, a campervan, a

motorhome, or just about any

other type of unit. A recent report

by the New Zealand Herald

estimated that freedom campers

spend an impressive $530million

(NZD) a year and that the

number of people freedom

camping in the country stands at

well over 100,000 per year. But

this market does not just concern

New Zealand natives – visitors

from Germany, the United

Kingdom, France and Australia

were some of the most likely

take part in camping of some

type while visiting the country.

It is a simply huge industry for

tourists, with camping considered

one of the best and easiest ways

to see everything the country

has to offer. Because of this,

there are a wealth of caravan and

motorhome rental companies

in New Zealand that are usually

booked solid throughout the

summer season. Of course, in the

Southern Hemisphere summer

of 2020/2021, the world was

largely still in the grip of the

COVID-19 pandemic, meaning

international visitors were still

unable to visit New Zealand due

to its border closure. However,

domestic camping tourism has

stepped up and helped fill the

large void left by the absence of

overseas tourists.

FACT FILE

Capital: Wellington

Population: 5,000,000

Dialling code: +64

Prime Minister:

Jacinda Arden

Official languages:

English, Maori

Time zones: GMT+12

Currency: NZ Dollar

Internet domain: .nz

ECONOMY IN FOCUS

$203.127

billion GDP (USD)

$41,096

GPD per capita (USD)

2.2%

GDP growth

(pre-COVID-19)

9.2%

unemployment

(2020 estimate)

TOP IMPORT PARTNERS:

European Union

Australia

China

United States

Japan

TOP EXPORT PARTNERS:

China

Australia

United States

European Union

Japan

www.campingtradeworld.com | 29
---
NEW ZEALAND DOING BUSINESS WITH...

ECONOMY IN FOCUS

New Zealand is a very free

and highly-developed

economy. The country

generally relies on exporting

agricultural goods and

services it produces – things

such as meat, fairy, fruits

and vegetables. It also

exports a significant amount

of wood and paper. The key

industries in New Zealand

in more recent years are

service based. Tourism has

been a huge boon for the

country in recent years.

This industry has clearly

taken a significant hit in

2020 and 2021 with the

country opting to close

its borders in light of the

global COVID-19 pandemic.

Domestic tourism is helping

to keep things afloat as well

as a significant amount of

Government financial help

for businesses. .

New Zealand is party

to several free trade

agreements with countries

around the world including

with Australia, China,

Malaysia, Singapore, South

Korea, Thailand, Hong Kong

and Taiwan.

New Zealand is regarded

as having a high quality of

life for its residents, although

income levels have dropped

in relative terms meaning

poverty is still a problem

in some communities. The

country officially entered

a recession in September

2020, however this is in-line

with most other countries

affected by the global

pandemic.

WHO'S WHO

In terms of market split, campervans and motorhomes are certainly the most popular types of

recreational vehicles in New Zealand, for both locals and international tourists. Tents are also hugely

popular, with caravans and trailers slightly less popular with the mass market compared to many other

countries. There are a few manufacturers, many of whom work across both New Zealand and its close

neighbour Australia. There is also a strong retail network for RVs and camping across both islands of

the country. Here are a few (not all) of the industry's key players:

TALVOR

Owned by Australian tourism company Apollo, TALVOR manufactures a range of

motorhomes and campervans in both Australia and New Zealand, both for rentals and

for permanent sales. It has been in the business since 1985, and manufacturing since

2005 and it claims its models are specifically designed to handle the unique weather and

road conditions of Australia and New Zealand.

www.talvor.com

ZEMPIRE

Probably the country's most well-known tent camping export, Zempire started off as a

husband and wife team and has become a brand seen on campsites around the world.

It prides itself on producing tents that are durable and comfortable in a whole range of

weather conditions and also focus on attention to detail with features.

www.zempire.co.nz

LEISURELINE

Designed and built for New Zealanders, by New Zealanders – Leisure Line caravans have

been in business since 1973 and claim to offer spacious and well-designed trailers that are

designed for helping customers enjoy the outdoors. The one-piece roof on many of the

caravans is one example of how this company thinks outside the box.

www.leisureline.co.nz

TRAILLITE

What began as a humble cabinet making factory in the 1950's quickly evolved into a caravan

interiors manufacturer and then a caravan producer in its own right by 1954. TrailLite lays

claim to being one of the oldest motorhome and caravan manufacturers in New Zealand

and prides itself on quality and exquisite attention to detail with all its products.

www.traillite.co.nz

30 | www.campingtradeworld.com
---
DOING BUSINESS WITH... NEW ZEALAND

SHOW BUSINESS

▲ Zempire is one of New Zealand's best-known camping industry exports.

LIFESTYLE MOTORHOMES

A custom motorhome and caravan builder that has been around since 2001. The

company offers a wide range of custom build options, refurbs and repair on pretty much

any kind of camping unit you can possibly throw at them. The business was founded by

Marray and Margaret McPherson and it remains a proud family business that has grown

to a considerable size in recent times.

www.life-style.co.nz

KEA MOTORHOMES

Made by the Action Manufacturing group, which makes motorhomes for popular Australian and

New Zealand motorhome hire brands Britz and Maui, KEA is the sales brand for this group. Built

on a wide range of vehicle chassis including Volkswagen, Mercedes and Toyota, KEA has been

around since 1048 and prides itself on the best technology, innovation and customer comforts.

www.keamotorhomes.com

OVALAND MOTORHOMES

Based in Hamilton, this 100 per cent New Zealand owned company is a specialist in

many different aspects of motorhome manufacture and servicing. The company has a

skilled and experienced staff that offers conversions, alterations, repairs and servicing for

just about any type of bus, camper, trailer or motorhome you can think of. It even offers

overnight stays for customers while it works on their units.

www.ovaland.co.nz

NEW ZEALAND MOTOR CARAVAN ASSOCIATION

Started in 1956, the NZMCA is the country's main camping membership organisation, which

regularly hosts rallies, exhibitions and events. It also runs a campsite pass programme and

works hard to support the interests of private motorhome and caravan owners in the country. It

provides relevant services and information to promote the camping industry and protect it.

www.nzmca.org.nz

Shows and exhibitions have

of course taken the brunt

of the economic suffering

caused by COVID-19, but

despite that plans are

still being made by New

Zealand organisers to offer

an enriching and useful

range of shows for 2021.

Two of the main events are

run by the country's New

Zealand Motor Caravan

Association (NZMCA) – one

in Hamilton on the North

Island in October, and

the other in Christchurch

on the South Island in

July (moved because of

the pandemic). They go

under the title the NZ

Motorhome Caravan and

Leisure Show, and usually

attract attendances of

up to 20,000 across the

two events, even offering

visitors the option to camp

on-site at the show (around

1,500 did so at the last

event in Hamilton).

Another big show in

New Zealand is the Covi

Motorhome, Caravan and

Outdoor Super Show,

which is due to take place

from 19-21 March 2021 at

the ASB Showgrounds,

just outside Auckland on

the North Island. Again,

this show boasts large

attendances and is well

supported by the industry

and consumers alike.

Learn more about these

shows at:

nzmotorhomeshow.co.nz

supershow.co.nz

www.campingtradeworld.com | 31
---
NEW ZEALAND DOING BUSINESS WITH...

INSIDER

INSIGHT

BRUCE LOCHORE, CEO of the New Zealand Motor Caravan Association

"The camping and RV market

in New Zealand is strong

right now. The industry was

already enjoying strong growth

prior to COVID-19, with

NZMCA having double digit

growth for the past 10 years.

What COVID-19 did was

focus people's attention on an

already popular tourist option

to create a boom. The NZMCA

is currently experiencing double

the growth rates compared

to the same period last year.

This has been happening since

August. Dealers have enjoyed

huge sales and the suppliers

of accessories and repairers/

installers are struggling to keep

up with the workload.

"Necessity creates opportunity

and with the huge growth

in New Zealanders

taking up this

lifestyle option,

the attention

dumped on freedom

campers moves to

creating marketing

strategies to cater

for them. The difference

is everyone now knows the

difference from a responsible

camper in a Certified Self-

Contained vehicle and one

that isn't. Clearing some of the

bureaucratic blockages around

the campground regulations

would create opportunities for

communities and businesses to

create low cost camping sites

to capitalise on this

market.

"There are two

main challenges

for the industry

here right now. The

first I have already

mentioned. If you

buy one of these things

(Motorhome or Caravan)

you want to be able to go

somewhere with it. Commercial

campgrounds are one option

but that doesn't always allow

for people to experience the

real NZ or all of NZ and that's

what people are looking for. The

opportunity is a direct result

of the current constraint. The

second challenge is stock. While

NZ is doing well with Covid-19,

most countries haven't. Countries

where NZ relies on its supply

of motorhomes and caravans

have had significant periods of

lockdown severely restricting

the supply. Some dealers have

significant orders already sold

and waiting to be supplied from

Europe and Australia.

"I think 2021 will be the

much the same as 2020 in New

Zealand, which was not a bad

year at all from the industry's

point of view."

32 | www.campingtradeworld.com
---
DOING BUSINESS WITH... NEW ZEALAND

SHAUN NEWMAN, general manager of TrailLite

"The motorhome and caravan

market in New Zealand is

going through a phase of record

growth with new motorhome

registrations up 30 per cent on

the same time last year.

"With international

travel off the cards

for some time

and COVID19

eliminated in New

Zealand, Kiwis are

rediscovering their

country. Many

are choosing to do

that in a motorhome or

caravan. Getting new buyers

into the industry and proving

to them that this is a great

lifestyle that they will want

to continue with after the

pandemic is one of the greatest

opportunities our industry

has had. Private motorhome

and caravan ownership isn't as

high in New Zealand as it is in

other parts of the world, so this

feels like a great opportunity

to address that. However,

supply is a significant

issue at the moment.

Both of finished

motorhomes and

caravans from

other markets, as

well as components

for manufacturing

our own range of

motorhomes. The labour

market is also tight and

finding good staff is also an

issue.

"In New Zealand, locally

manufactured products make

up only around 10% of the total

market. The RV manufacturing

industry was decimated during

the GFC and never recovered

as lower cost motorhomes from

Europe flooded the market.

It would be good to see New

Zealand manufactured products

making up more of the market.

We have plans to increase

our output of New Zealand

made TrailLite motorhomes,

but it would be good to see

others doing the same. As a

New Zealand manufacturer

of motorhomes we are also

required to meet different and

more stringent compliance

standards than products that

are imported from Europe and

other markets. This is a source

of great frustration and cost.

"Having said that, we're

seeing signs that 2021 will

be another great year for the

"With international travel off the cards for some time and COVID19

eliminated in New Zealand, Kiwis are rediscovering their country.

Many are choosing to do that in a motorhome or caravan."

SHAUN NEWMAN, GENERAL MANAGER OF TRAILLITE

industry. Interest is high, the

economy is showing signs of

strengthening, borders are

likely to remain shut for most

of 2021 and anyone with

enough inventory to supply

the market should do well.

We have strong growth plans.

On the manufacturing side of

our business we are close to

launching updated models as

well as some new products in

different segments. We intend

to invest more in technology

and real estate to help us meet

demand. The retail side of

our business also has strong

growth plans and we intend to

open new branches, improve

our service department and are

looking for acquisitions and

new products to help us with

that growth."

www.campingtradeworld.com | 33
---
AIRSTREAM COMPANY PROFILE

YEARS OF A TRUE CAMPING ICON

From a humble trailer factory in Culver City, California to an iconic

outline that is instantly recognisable to campers all over the world

some 90 years later – this is the story of Airstream.

W

■hen Wally Byam first

opened his small trailer

factory in Culver City,

just west of Los Angeles in

California in 1931, he probably

never envisaged just what

was in store for the brand he

created almost 100 years later.

Airstream has become an iconic

caravan and trailer brand that

almost transcends the industry

itself, being recognisable not

just to campers, but to those

outside the pastime too. Just

how did it happen?

Airstream's starting point

in the 1930s coincided with a

boom in trailers and caravans in

the United States, but it already

stood out thanks to its rivetted

aluminium design. There were

an estimated 400 manufactures

of this kind in 1937, but

financial trouble and the Second

World War meant that pretty

much only Airstream survived.

Aluminium was hard to come

by in the war, so production

had to take a hiatus until the

war ended and Wally persuaded

the management at Curtis

Wright Industries, where he was

working, to produce a range of

Clipper trailers. Shortly after

Wally left and began making

the trailers again of his own

bat, with the Airstream Liner

coming into the world.

Throughout the history of the

Airstream brand, it has been

Photos: Airstream and imre

34 | www.campingtradeworld.com
---
COMPANY PROFILE AIRSTREAM

ANNIVERSARY SPECIALS

one of the first to come up with

new inventions and innovations,

which helped keep it in such

high regard. In the 1950s,

Wally and his team created

the Airstream International

which was one of the first ever

'self-contained' travel trailers

with a hot water system and

hook-up points. It has also been

involved in many high profile

projects that only helped to

further enhance its reputation,

such as creating an aluminium

quarantine facility for NASA

astronauts and leading a convoy

of more than 60 Airstream

trailers on an adventure into

Nicaragua.

Natural expansion of the

company lead to it creating a

new factory in Jackson Center,

Ohio and then in 1978 it closed

its operations in California

and reunified the company in

Ohio where it still produces

Airstreams today. In fact, in 2018

the company broke ground on

a brand new facility in Jackson

Center for the first time in almost

50 years. The 750,000-square foot

facility is as modern, efficient

and technologically advanced as

factories can get, yet it still retains

that tradition and heritage that

was instilled in the brand by

Wally all those years ago.

Airstream's current president

and CEO Bob Wheeler said:

"We didn't build this new

facility to completely reinvent

how we build Airstreams.

They are still built by hand.

But the environment in which

we build them can be better:

it can be better lit, it can be

more efficient, it can be built to

promote better product quality.

That's really what this new

facility is about."

The current facility is set to

help Airstream be set up for

not only trailer production but

also touring coach production

with several new innovative

features and upgrades expected

to be revealed very soon –

including seamless composite

flooring, battery and solar

power upgrades and a rear hatch

feature.

"Our mission and our purpose

hasn't changed for the first 90

years of the company. It won't

change for the next 100 years,"

said McKay Featherstone,

Airstream's vice president of

product development and

engineering.

To honour the generations

of hard-working women

and men who have poured

their time, energy and

enthusiasm into making

Airstream trailers and

caravans over the last 90

years, the company is set to

adorn all units made in 2021

with a commemorative

90th anniversary badge

and insignia. The badge,

which will be located on

the unit's main door will

celebrate the hard work

and care that the Airstream

team put into every

product that rolls off its

production line.

Airstream vice president

Justin Humphreys said:

"Airstream associates take

great pride in working for a

company that has been in

business for 90 years. Not

only is it a testament to all

of the men and women

who worked here before us,

but it sets a high standard

for us to meet as we keep

evolving."

www.campingtradeworld.com | 35
---
AIRSTREAM COMPANY PROFILE

Wally Byam

Wally Byam was born, perhaps

appropriately, on 4 July in 1896 in

Baker City in north-eastern Oregon.

He was named after his uncle Wallace,

who died shortly before his birth and

was just the tender age of three when

his parents Dr Willis Bertram Byam

and Carrie Biswell Byam divorced.

Wally's love for the great outdoors

and sense of adventure was cultivated

in rural Oregon throughout his youth

and at the age of 20, shortly after the

death of his mother and his stepfather

David Davis, he began studying at

Stanford University, before graduating

with honours in 1921.

After college, Wally went into

journalism and publishing and owned

a successful portfolio of magazines

before the stock market crash of 1929.

His magazines went under, so he

began working on an idea for a travel

trailer – inspired by his childhood

spent in old mule wagons and his

wife's enjoyment of their camping

trips being spoilt by her not really

enjoying sleeping on the ground

in a tent. He first started building

his Airstream trailers on request for

neighbours and was soon able to

open his first production facility.

Wally lead Airstream until 1955

when he survived a heart attack and

decided to retire. He sadly passed

away in 1962 in his California home

after a battle with cancer, but the

legacy he left behind endures, not

just in the United States, but around

the world.

1920s 1930s 1940s 1960s 1960s

Airstream founder

Wally Byam puts a

tent contraption on

top of a Ford Model T

chassis as he begins

experimenting.

Airstream's first factory

in Culver city opens and

the trailer boom begins.

The Second World War

halts progress until

1945 when Wally starts

making trailers with

Curtis Wright and then

on his own as Airstream.

Airstream opens a facility

in Jackson Center, Ohio

and works with NASA on

the space program.

Wally Byam sadly dies

and Andy Charles

becomes chairman of

the board.

36 | www.campingtradeworld.com
---
COMPANY PROFILE AIRSTREAM

"Adventure is where you find it, any place,

every place, except at home in the rocking chair."

AIRSTREAM FOUNDER WALLY BYAM.

"It's about giving freedom

to our customers. It's about

helping them create memories

that will last a lifetime. And it

truly is about creating a special

way of life. And as we look to

the future, we see technologies

and innovations to just make

it easier to live that way of

life that we promise to our

customers."

It's easy to look back and

be nostalgic upon reaching

such a historic milestone

as a company, but what of

the future? Well, Airstream

says it is making significant

investments into improving

its customer experience, which

will include the Five Rivet

dealer standards program that

is driven entirely by customer

satisfaction scores. It will

also be investing in digital

tools to provide greater levels

of after sales care as well as

helping more dealers become

Airstream exclusive dealers.

Airstream vice president

Justin Humphreys said: "We

understand the need to be

better tomorrow than we

were today, every day. There's

so much opportunity for

this company. We have the

opportunity to inspire people

to travel and get out of their

comfort zones and have new

adventures and meet new

people. We honour our past,

but we're not constrained by it.

It's kind of in with the old and in

with the new as we look forward

to the next 90 years."

1970s 1980s 1990s 2000s 2010s

Airstream closes its

operations in California

and reunifies in Ohio.

Thor Industries acquires

Airstream thanks to

the foresight of Wade

Thompson and Peter

Orthwein.

The first redesign in more

than 30 years was made,

adding about five-and-ahalf

inches to the width

of the Airstream trailer

and totally changing the

interior.

Airstream expands its

motorhome range with

the Touring Coach,

in collaboration with

Mercedes-Benz. Its

first motorhome was

launched in 1979.

Airstream opens its new

750,000 sq ft facility in

Jackson Center, Ohio, its

first new custom facility

for more than 50 years.

www.campingtradeworld.com | 37
---
ADAM WEISNER INDUSTRY VIEWS

Adam Weisner

Chief Commercial Officer of SuperSprings International

Sometimes being an 'outsider' to the industry has some distinct

advantages, at least that's according to Adam Weisner. He lets us in on his

business philosophy and gives us some insight into life at one of the RV

industry's key components suppliers.

S

■uspension is something

most of us hardly think

about day to day when

driving our cars, caravans,

campervans or motorhomes.

It's one of those things we

all just take for granted – it's

there and it does its job. But

what if the job it does could

be so much better? That's what

SuperSprings International

wants end users to think about.

The California-based company

has been supplying high quality

suspension solutions to a wide

range of industries over the past

23 years, with recreational and

leisure vehicles now taking up a

large proportion of its business.

Often in the company's own

experience, it's products are one

of those things that people didn't

realise they needed until they

tried them. We spoke to the

company's young and dynamic

chief commercial officer Adam

Weisner to find out about its

ethos, its business connections

and its plans for the future.

By your own admission you are

not an RV industry veteran

Adam, so how did you end up

here?

I spent the better part of 15

years in financial services. I've

always been in some sort of

sales role, I've been working

since I was very young. I got

into management when I

was 20. I managed in retail

banking, then got into mergers

and acquisitions. Then I made

my up the ladder and became

managing director for Los

Angeles Metro – we launched

a digital bank during my time

there. Not long after that I

was approached by an old

friend about helping out with

SuperSprings International.

At the time I was looking

38 | www.campingtradeworld.com
---
INDUSTRY VIEWS ADAM WEISNER

www.campingtradeworld.com | 39
---
ADAM WEISNER INDUSTRY VIEWS

▲ SuperSprings products can make a real performance difference to trailers and caravans, as well as vehicles.

"The strength of our products made them a natural fit for the

RV world – we are now standard equipment on big names."

CHIEF COMMERCIAL OFFICER OF SUPERSPRINGS INTERNATIONAL ADAM WEISNER

for a change of pace, it was

an opportunity to consider

something different for my

family. At the time, we were

big into camping. We owned

a trailer and we loved it, so I

wasn't familiar with springs or

suspension or the RV industry

but was very familiar with the

pastime. We decided to give it

a shot, you normally only get

one opportunity to make a shift

like this. So, I met with Gerry

Lamberti, the CEO, and joined

the company as chief operating

officer. Fast forward to now, it's

been two-and-a-half years or

so and it is the best decision we

ever made.

It's an interesting thing to work

in an industry that is a hobby or

a passion – how have you found

that?

Yeah, it is. When I was a young

man growing up we didn't have

a lot, so the focus was always to

hustle and work hard and make

as much money as possible. I

was raised by a single mom, she

always had two or three jobs

and I can remember helping

her out at her cleaning job as a

kid. There was this dedication

and work ethic that was a large

part of my identity – sales

naturally became the bend.

I think once you experience

that and you taste some of the

success, you also become aware

of the shadow side of that

world. Realising that there was

an opportunity to do work in

something that I am genuinely

passionate about was exciting.

My passion fuels what I do

now. I am genuinely excited to

get up and go to work. One of

Gerry's famous sayings is on a

Friday he'll say "only two days

'till Monday" – it's a different

mentality, there's a genuine love

and passion for what we're doing.

Tell us about SuperSprings

International. What are you all

about and how did you get into

the RV market?

At our broadest, we design,

develop and manufacture

suspension solutions to make

the journey better. That crosses

the work truck industry, the

recreational industry and

the RV industry. We've been

around since 1998 and we got

our start in our namesake, the

SuperSpring – it's a product, a

steel helper spring that really

is an alternative to adding a

leaf. So, rather than breaking

a spring pack and adding a

leaf, we put a spring in that

gives you lift, reduces body

roll and is self-adjusting – it's

cheaper, easier and made

right here in the US. We also

40 | www.campingtradeworld.com
---
INDUSTRY VIEWS ADAM WEISNER

produce another product

line, the SumoSpring, which

offers shock absorption,

dampening, reduction of sag,

body roll and sway and it is

totally maintenance free and

progressive. The strength of

our products made them a

natural fit for the RV world

and we are now standard or

optional equipment on some

of the biggest names in the

world: Winnebago, Coachmen,

PleasureWay, Tiffin, just to

name a few. We're very proud of

the hard work we've done since

our inception.

The performance and quality

that your products deliver is one

of the key selling points, but how

do you market something that is

traditionally a non-sexy product?

We understand that our

product isn't sexy. It's not only

not an exciting thing, but also

you don't see it. It's not flashy.

It's not like bumpers or grill

guards or something that can

be physically seen. It's a unique

challenge, we sell something

Want to enjoy this interview in realtime?

Scan the QR code to listen to the

Camping Trade World podcast, also

available on Spotify and Apple Podcasts.

that once people put on nobody

will see, and also we don't

want to hear back from that

customer – it's maintenance

free. We use the phrase 'fit

it and forget it' – which is

perhaps not the best marketing

strategy you could possibly get.

But that means our product

works. After a short time at the

company, I was asked to take

over marketing. Not coming

from the industry, I think it

helped me see things a little

differently – I wasn't attached

to any preconceived ideas. Once

I started hearing customer's

stories and talking to companies

we worked with, I thought these

are really interesting stores. And

in my view, story transcends

all. You can understand the

story of someone, rather than

of their suspension. We're on

food trucks that help deliver

food around the country, we're

on RVs that help families create

incredible memories – they

are the stories we need to tell.

We started to create a series

of videos to do that, to share

the genuine passion of these

stories – our Journey Better

series. The one we did with

Winnebago is a great example.

We could have gone in and

walked around talked about

how they built their product

and the nuts and bolts of it.

But it was way more interesting

for the intro of that to be Russ

Garfin, who manages Class B

and Class C motorhomes for

Winnebago speaking Japanese.

Because you immediately say

WHO ARE YOU?

Company: SuperSprings

International

Founded: 1998

Location: Carpinteria,

California, United States

Products: Innovative

suspension solutions with

excellent applications for

RVs and leisure vehicles.

Other: Already standard

issue on many of the

biggest RV names,

SuperSprings International

makes its products in

the USA and has plans to

expand its business into

Europe and beyond in the

coming years. It caters for

Class A, Class B and Class C

motorhomes, plus trailers.

▲ SuperSprings International at the recent Florida RV Show in Tampa Bay.

www.campingtradeworld.com | 41
---
PLAY VIDEO * PLAY VIDEO *

ADAM WEISNER INDUSTRY VIEWS

▼ From a simple idea to

fruition: SuperSprings

International has

revolutionised user

experience for many RV

enthusiasts.

42 | www.campingtradeworld.com
---
INDUSTRY VIEWS ADAM WEISNER

JOURNEY BETTER

▲ SuperSprings International products offer a maintenance-free solution for a better ride for RVs.

"There will always be industries that do well

in tough times, you just need to be nimble

to adapt to change... we could achieve that."

SUPERSPRINGS INTERNATIONAL CCO, ADAM WEISNER

"what's going on here?" – this

is a guy from Forest City, Iowa,

why is he speaking Japanese?

Then you learn that he majored

in Japanese in college and that

gave him the opportunity to

go to Japan and help develop

product for Winnebago. That's a

way more interesting story.

2020 was an unforgettable year

for a whole raft of different

reasons. How was it for

SuperSprings International?

In modern society with

communication the way it is

now we hadn't experienced

anything like this. But we

had experienced the financial

crash of 2008 and I think

that taught people a lot of

lessons about resilience and

how to adjust your business

for a slower economy. That is

what we learned at the time,

we knew we needed to be able

to adjust and the pivot. There

will always be industries that

do well in tough times, you

just need to be nimble to adapt

to change. We're not a large,

stuffy corporation so we could

achieve that. What we knew

was that camping was going to

be something people wanted

to do with the restrictions of

the pandemic. There was an

appetite right off the bat when

this started for RV and camping

products. We worked tirelessly

with new product but also

with dealers and ecommerce

partners, and so 2020 for us

was a historic year, despite its

challenges. In an international

community that was slowed,

we added nine new countries.

I think 2021 will be another

historic year in camping, but

you will find a dip at some

point. Some people who bought

a camper will decide they don't

like it or it's not for them. We're

riding a wave right now but

we always have to prepared for

what's next and how best to

take it on.

SuperSprings International

and its products are

fast-becoming the

industry standard in the

American RV industry to

help enthusiasts make

the journey better. But

the company is looking

beyond its own borders

to help extend the

unrivalled maintenancefree

stabilising benefits

of its products to a wider

audience. Whether

you are involved in the

manufacture of caravans,

motorhomes, campervans,

trailer tents or even regular

trucks, SuperSprings has a

solution that could make

your product even better

than it already is. Some

of its products such as

SumoSprings would even

be ideal to stock as aftermarket

add-ons for your

customers. There are many

reasons why paying a little

closer attention something

as humble but vital as

suspension could seriously

improve the performance

of your product and

enhance the reputation of

your brand.

For a better understanding

of the products and the

ethos behind the company

that is truly geared towards

making the journey better

for all RV and leisure

vehicle users, check out:

www.youtube.com/

Superspringsinternational

www.SuperSprings.com

www.campingtradeworld.com | 43
---
CAMPERVANS SECTOR SPOTLIGHT

SECTOR

SPOTLIGHT

Campervans

Unless you've been living under a rock for the last

year, you'll know that the campervan market is

booming right now. But how can you get a piece of

the action? What are the opportunities? Our Sector

Spotlight feature shall guide you through.

Photo: Volkswagen AG

44 | www.campingtradeworld.com
---
SECTOR SPOTLIGHT CAMPERVANS

T

■here's no other way of

putting it, the campervan

market is absolutely

flying. What was already a sector

of the market enjoying a growth

in sales and interest from the

public has only been further

boosted by the coronavirus

pandemic. That need to have a

nimble, easy-to-drive vehicle

that you can quickly escape

in to enjoy a quick domestic

break is growing in the mind of

campers throughout the world.

The evidence is everywhere you

look. Dive a little deeper into the

stories about huge rises in leisure

vehicle registrations in Europe,

the United States and Australia

and you will see campervans

making up a large proportion of

those figures. Campervans are

an unbeatable entry point into

owning a leisure vehicle for many

people – they are easier to drive

than large motorhomes, they are

almost always under 3.5 tonnes

so you can drive them with any

driving licence, and they perform

well as every-day vehicles,

meaning many people actually

sell their normal cars and just use

their campervan for everything.

Campervans are also, in some

cases, much cheaper than larger

motorhomes – another appealing

factor to the hordes of people

relatively new to the hobby of

camping. At the various shows

and exhibitions that were able to

happen in the last year, plus the

many virtual events, you will have

noticed new campervan brands

and companies popping up

everywhere – there is a definite

sense that this sector represents a

major opportunity.

BIG BRANDS BUYING IN

One indicator of the strength

of the campervan market is the

amount of major leisure vehicle

brands who are either getting

into the sector or expanding their

offerings within it. Manufacturers

as varied as Airstream, Adria,

Global interest in Google search term 'campervan' in last year

100

75

50

25

1 MAR

2020

28 JUN

2020

Swift and Winnebago are all

noticeably paying more attention

to this market. There are even

examples of companies setting

up entire new brands to tap

into not only the market sector

itself but the culture of it too – a

prime example is Crosscamp,

part of the Erwin Hymer Group.

Launched in 2019, this is a brand

clearly made with a younger and

more dynamic demographic in

mind than the traditional leisure

vehicle owners. And why not,

when companies around the

world are reporting that people

who had always planned to buy

a leisure vehicle someday are

bringing that decision forward

to a much earlier part of their

life than originally planned.

Elsewhere, all the usual names

in motorhomes, panel vans and

Class B motorhomes are doing

everything they can to make their

vehicles lighter, more modern and

more versatile, often linking them

to other outdoor pursuits such as

hiking, kayaking and cycling.

CONVERSION EVOLUTION

As well as companies who

manufacture campervans under

their own brands from start to

finish, there are a huge number

of companies out there who

do very capable conversions

from standard vans. This is a

popular method of purchase

for many because it gives them

some customisability with the

campervan they end up with.

25 OCT

2020

21 FEB

2021

There are hundreds of these kinds

of companies throughout Europe

and the United States, with many

more that seem to have sprung up

in the last year or so. One issue

with this sector is the standards to

which the conversions are done.

Different countries have different

rules around the safety standards

that have to be met when adding

things such as gas works or water

works to van in order to turn it

into a campervan.

OEM EXPLOSION

As with any leisure vehicle, the

OEM opportunities are also vast

with campervans. Companies

that make everything from seat

coverings to portable kitchens to

heating and water tank systems

can make big money out of

arranging supply deals with

manufacturers around the world.

The key to being successful as an

OEM is to either do something

new or do something well – or

both if possible. If you can create

an industry standard product

(examples like Truma's Combi

heating or Dometic's fridge

collection), you will become

the thing that adds value to a

campervan both for the seller and

the buyer. As a manufacturer, it

definitely pays to assess the OEM

companies you are working with on

a regular basis to make sure they are

adding the most they possibly can

to your end product. The trends in

campervans are fast-moving, as we

shall see later in this feature.

THE STATISTICS

71%

The increase in UK

campervan and

motorhome registrations

for July 2020, compared to

July 2019

78,055

Motorhomes/campervans

registered in Germany in

2020

7,222

Class B type RVs

(campervans) registered

in the USA in 2020, a 70%

increase on 2019

72,062

Campervan and

motorhome registrations

in Australia in 2020, a 3.4%

increase on 2019

Average price of a new

campervan

Top five countries with

highest Google search

interest for the term

'campervan' in 2020

New Zealand

Ireland

United Kingdom

Australia

Belgium

€52,000

to

€62,000

www.campingtradeworld.com | 45
---
CAMPERVANS SECTOR SPOTLIGHT

TRENDING

While the campervan market

in general is taking off, within

that there are several trends that

are becoming more prominent

and popular, which are being

latched on to by manufacturers

and users alike. Pop-up roofs

appear to be one of the biggest

trends in the market at the

moment, with larger panelstyle

campervans starting to

use them for the first time with

examples such as the Adria

Twin Sports. Another trend

is that of campervans that

can take you off-road in some

capacity, probably to tie in with

the general theme of them

being perfect adventure vehicles.

The Hymer Crossover is a good

example of this, and there are

plenty of others from smaller

manufacturers in Germany and

the UK. The overriding trend

with campervans is the fact that

they are not simply white boxes

on wheels. They offer something

more contemporary and

more appealing to a younger

Photo: Stellantis/Fiat Professional

▲ Is electric the future of campervans? The e-Ducato could be a strong indication that it is.

While almost everyone agrees that electric vehicles are the

future, for campervan makers they represent some challenges.

section of campers. Brands like

Crosscamp are good examples

of this, as is the recent launch

of the campervan/motorhome

hybrid the Challenger X150.

Campervans will continue to

shrink, to innovative and to be

stylish.

But perhaps the broadest of

the trends that the campervan

industry is heading towards with

ever-increasing pace is that of

electric vehicles. More and more

vehicle manufacturers are creating

fully electric versions of their

vans – from Mercedes through

to the faithful Fiat Ducato – so it

seems obvious that campervans

of the future will be at least

partly electrically powered.

The main thing slowing this

development down at present is

the reduction in journey distances

and also the lack of electric

charging infrastructure. Some

countries such as Norway already

have a good electric vehicle

infrastructure and have had an

uptake in people choosing electric

cars in general, others have not

been as quick out of the blocks.

While almost everyone agrees

that electric vehicles are the

future, for campervan makers they

represent challenges. The freedom

that campervan users enjoy could

be reduced by not being able to

travel as far or to places as remote

as they normally would go. There

is also the problem of weight.

Campervans are heavy and have

heavy loads, this will further

reduce the distance they can

travel per charge.

The Fiat E-Ducato is

arguably the vehicle most of the

industry will be keeping a close

eye on. It offers a full line-up of

versions and a modular choice

of battery size, with ranges from

235 to 370 km in the urban

cycle (WLTP City Cycle), in

the typical cycle of a city-based

delivery "mission" in normal

environmental conditions,

depending on battery size. It

also comes with high-potential

performance, with a focus on

the Ducato's strength: best-inclass

load volume from 10 to

17 m3, with a similarly bestin-class

payload of up to 1,910

kg. It will also have a 10 year

warranty and Fiat is providing

three different AC battery

chargers with the option of a

DC fast charge too. But this

new world of electric vehicles

means we may well see some

new players entering the world

of campervan base vehicles.

Could Tesla create a serious

campervan base in the future?

Or is a new start-up electric

vehicle company we don't know

about yet set to take centre

stage? One thing is certain, the

EV trend is something that will

only grow in the campervan

segment as time goes on.

46 | www.campingtradeworld.com
---
SECTOR SPOTLIGHT CAMPERVANS

INDUSTRY INSIGHTS

SPOKESPERSON,

MERCEDES-BENZ VANS

"Vanlife is trendy, the market is generally booming worldwide. However, compact

campervans are especially popular right now. In our experience, new customers in particular

value compact campervans. They are easier to drive and manoeuvre than larger motorhomes

of eight metres or more. In addition, thanks to their compact external dimensions, they are

as suitable for travelling as they are for everyday use. Thus, they often have the potential to

replace the passenger car.

"We see a promising growth potential for compact campervans, from which we are highly

confident to be able to generate additional sales. In regards to our compact 'in-house' Marco

Polo campervan family, we plan to sell around 25 percent more of these vehicles in 2021. And

we want to keep growing in the years to come. Therefore, we will continuously surprise our

customers with new product features, among other things. But that's not all! As an OEM, we

also intend to meet the growing demand for compact campervans increasingly with suitable

base vehicles. Here our midsize vans, the Vito and the V-Class, play an important role due to

their compact external dimensions. One 'new' upfitter now relying on our midsize vans is, for

instance, Pössl.

"EDrive is a key issue for Mercedes-Benz Vans. Our portfolio now includes the eSprinter,

eVito and EQV. With these products, we are already able to cover a wide range of

applications with a locally emission-free drive system. And we recently announced the next

generation of the eSprinter based on a newly developed "Electric Versatility Platform". Of

course, we are constantly examining potential for further development, also with a view to

the motorhome market."

www.mercedes-benz.com

"Through 2019 and the first part of 2020 we had already seen a year-on-year rise in campervan

sales. When we started Wellhouse in 2002, there was around 100 converters in the UK and as of

2021 there are around 1,500 and it's still rising. All COVID-19 has done is convert many customers

who were debating as to whether to get one or not to say: 'yes let's do it'.

DAVID ELLIOTT, CEO OF

WELLHOUSE LEISURE

"I predict this trend will continue for a while and then it will calm down, but this will see the

biggest change for many years. For caravans and large motorhomes they had started to

decline, so this boost will be welcome for certain parts of the market.

"As mentioned there has been an explosion of campervan converters, which is good to a point

but the standards have not improved. There needs to be more standards for type approvals, gas

and electrical certification and unfortunately our industry body still doesn't understand the size

of the market for used vans being converted, which is probably bigger than the total of new vans

sold. In many European countries you can't just cut a hole in a roof and convert it, but in the UK

you can. We do need more regulations on gas and electrical installations. Customers are slowly

waking up to why some conversions are £15,000 and some on the same base van are £25,000.

The UK's Driver and Vehicle Licensing Agency (DVLA), Vehicle and Operator Services Agency

(VOSA) and the National Caravan Council (NCC) should and could do more on this sector.

"[The future is] going to be interesting as at the same time as we have a boom in campervans

we also have many new customers coming into the market and also the introduction of electric

vehicles (EV). The issues are that peoples' expectations will have to change as in they will no

longer be able to do big distances in one day as the EV's don't have the range. At Wellhouse

we have the Ford PHEV and soon the LEVC VN5 (London Taxi van) and both these have a 3 cyl

petrol engine/generator so there is no issues with ranges."

www.wellhouseleisure.com

www.campingtradeworld.com | 47
---
CAMPERVANS SECTOR SPOTLIGHT

Photo: Crosscamp

BUSINESS CONNECTIONS

The campervan market is

jam-packed with business

opportunities including

everything from vehicle

manufacturers through to

material providers. Here's a

snapshot of more than 50

companies that could help you

make your next meaningful

business connection in

campervans…

BASE VEHICLES

Base vehicles for campervans

come in all shapes and sizes.

Perhaps one of the most iconic

brands is Volkswagen, which not

only provides countless numbers

of its T6 for converters, but also

makes its own campervans such

as the California. It's a similar

story at Mercedes-Benz with its

Marco Polo range. Nowadays,

the variety in base vehicles in the

widest it's ever been with names

like Citroen, Fiat, Ford, Nissan,

Renault, Toyota, Vauxhall and

many others not uncommon.

FINISHED CAMPERVANS

Airstream

www.airstream.com

Adria Mobil

info@adria-mobil.si

www.adria-mobil.com

Ahorn Camp

info@ahorn-camp.de

www.ahorn-camp.de

Alphavan

kontakt@alphavan.de

www.alphavan.de

Apollo

www.apollocamper.com

Auto-Sleepers

www.auto-sleepers.com

Benimar

info@benimar.es

www.benimar.es

Bilbo's

sales@bilbos.com

www.bilbos.com

Bürstner

www.buerstner.com

Challenger

info.challenger@trigano.de

www.challenger-motorhomes.

com

Chausson

contact@chausson.tm.fr

www.chausson-motorhomes.

com

Coachmen

www.coachmenrv.com

Crosscamp

www.crosscamp.com

Elddis

www.elddis.co.uk

Ford

www.ford.co.uk

Freedom Vans

hello@freedomvans.co

www.freedomvans.co

Giottiline

info@giottiline.com

www.giottiline.com

Globe Traveller

info@globe-traveller.eu

www.globe-traveller.eu

Hillside Leisure

sales@hillsideleisure.co.uk

www.hillsideleisure.co.uk

Hobby

www.hobby-caravan.de

Kea Motorhomes

www.keamotorhomes.com

Knaus

info@knaustabbert.de

www.knaus.com

Laika

www.laika.it

Malibu

info@malibu-carthago.com

www.malibu-carthago.com

48 | www.campingtradeworld.com
---
SECTOR SPOTLIGHT CAMPERVANS

Photo: Volkswagen AG

PARTS & ACCESSORIES

Alphaseats

kontakt@alphavan.de

www.alphavan.de

AL-KO

www.al-ko.com

CaraControl

info@caracontrol.eu

www.caracontrol.eu

Dometic

www.dometic.com

Lippert

www.lci1.com

Miriad Products

Mercedes-Benz

www.mercedes-benz.com

Nomad Vanz

www.nomadvanz.com

Outside Van

info@outsidevan.com

www.outsidevan.com

Randger

www.randger.com

Rapido

www.corporate-rapido.com

www.rapido-camping-car.fr

Reimo

www.reimo.com

Rimor

www.rimor.it

Roller Team

www.rollerteam.it

Rossmonster Vans

www.rossmonstervans.com

Swift

www.swiftgroup.co.uk

Talvor

sales@talvor.com

www.talvor.com

Thor Motor Coach

www.thormotorcoach.com

TouRig

info@mytourig.com

www.mytourig.com

Van Tourer

info@eurocaravaning.de

www.vantourer.de

Vanderer

info@vanderer.eu

www.vanderer.eu

Van Specialities

info@vanspecialties.com

www.vanspecialties.com

Volkswagen

www.volkswagen-vans.co.uk

Wellhouse Leisure

info@wellhouseleisure.com

www.wellhouseleisure.com

Westfalia

info@westfalia-mobil.com

www.westfalia-mobil.com

Wildax

www.wildaxmotorhomes.com

Winnebago

www.winnebago.com

*Note: We know this isn't

every company that deals in

campervans on the planet,

but we hope you can make

a meaningful business

connection through it. If you

feel we've missed you out,

contact us today to talk about

editorial opportunities.

www.miriad-products.com

Ofolux

info@ofolux.it

www.ofolux.it

Teleco

www.telecogroup.com

TenHaaft

info@ten-haaft.de

www.ten-haaft.com

Thetford

www.thetford-europe.com

www.thetford.com

Truma

www.truma.net

SuperSprings International

support@supersprings.com

www.supersprings.com

www.campingtradeworld.com | 49
---
DANIEL WALTON INDUSTRY VIEWS

▲ Daniel Walton in his element: camping!

50 | www.campingtradeworld.com
---
INDUSTRY VIEWS DANIEL WALTON

Daniel Walton

Founder and managing director of OLPRO

We speak to Daniel about how he went from climbing in the UK's Peak

District to a lifetime career in the outdoors industry. He explains how his

company navigated COVID-19, its environmental plans and the responsibility

the industry has to help capture new campers.

E

■very company has a

unique story to tell,

and in the case of

OLPRO that story starts off

with one man's frustration

over the quality of products

in the camping and outdoor

industry and ends with a

hugely successful, growing cult

brand, via a pleasing amount of

melamine camping tableware

along the way. In this, its 10th

anniversary year, OLPRO has a

lot to look forward to, according

to founder and managing

director Daniel Walton. From

navigating the COVID-19

crisis, to doing its bit for the

environment, this is a focused

brand with a small, but hugely

passionate and engaged team.

Thanks for talking to us Daniel.

So, how did you end up in this

crazy game?

I suppose many of us don't end

up where we think we're going

to end up in life. As a kid, I

was a big climber. I grew up

in Sheffield, close to the UK's

Peak District national park and

my uncle owned a climbing

shop in the city. That was my

first outdoors love, I used to

go climbing and camping most

weekends. I didn't guess that

would be the world that I'd end

up in, though I'm happy I have.

Weirdly enough, my first job

was working for Lastminute.

com – so I was actually trying to

get people to travel abroad and

not stay local and go camping.

My first job in this industry was

with camping and caravanning

retailer Towsure, after that I

worked for several other brands

in the industry including

Outdoor Revolution, Discover

Leisure and Maypole, all in

directorial positions. I've been

in the industry for more than 20

years now, which is a bit mad.

So, then how did OLPRO come

about?

After 11 years in the industry,

there were a lot of things I

saw that I kept seeing being

repeated – I didn't think product

was particularly exciting. I had

other ideas about what people

who were going camping would

want to use. Part of me was

always going to work for myself

and set up my own business. So,

these two elements combined

and I founded OLPRO in 2011.

I had some ideas of products I

wanted to design and bring to

market and I knew how to do

that, thanks to some of the great

businesses I'd worked for in the

past.

How were those early, formative

years for the business?

At the start we saw ourselves

as a brand that would go out

there and sell to lots and lots of

retailers and be different to other

businesses. Building a business

on a passion is interesting –

your head initially holds you

back. But after making the leap,

you soon realise that it's worth

it, even if it's just getting by.

Then it becomes about your

brand – making sure its seen in

a positive light. We moved very

quickly from a survival stage to a

position where we were making

money and thinking "this is

really going to work" – and the

way to make it work, is to make

it good.

www.campingtradeworld.com | 51
---
DANIEL WALTON INDUSTRY VIEWS

▲ The OLPRO Gemini tent, just one of a large number of products the company now makes.

"The one thing we did, I will always look back on as the

saviour, was that we didn't cut back on marketing at all. Of all

the things we did, we didn't stop talking to people."

FOUNDER AND MANAGING DIRECTOR OF OLPRO DANIEL WALTON.

How big are you now, compared

to when you f irst started?

It's a world apart. The movement

of the business, particularly in

the last five years have been

considerable. The first five years,

we had to change as a business

quite quickly. We had to work

hard to get investment and

then one of my old customers

approached me and asked to

wholesale our products. We

started selling our initial products

including melamine tableware,

toilet chemicals and some fabric

products to them, so we were

effectively selling things straight

off the bat. Good connections

in this industry works in your

favour. After 18 months, we

decided we wanted to bring that

in house. We took on board some

agents and went out to sell to

retailers ourselves. At that point

we had introduced tents and

awnings (arguably what we are

best known for now). Then, a few

years ago, we decided to change

again because it was obvious the

industry was changing.

How so?

The camping industry, along

with general retail, was

changing. A lot of people

were making purchases online,

far more than people going

into stores and buying things

in there. Perhaps the only

exception at the time was chain

store GO Outdoors, but a lot of

other retailers and the industry

in general was shrinking. There

are very few independent stores

left compared to even ten years

ago. We had the opportunity

to sell to these people. We

wanted full control over how

our products were displayed to

customers, we felt we could do a

better job of representing what

OLPRO meant to us. We still

supply some big retailers, but we

mainly sell direct through our

online shop.

You mentioned that the business

has always had a mantra to stand

out. Do you have some examples

of that ethos?

The very first products we did,

we wanted to make sure they

weren't just iterations of what

was out there. We started with

melamine table sets that we

still sell now, we designed them

from scratch. I knew of some

producers who were taking

wallpaper designs from Chinese

factories and just printing them

on melamine. A lot of our

original colours and designs

from that product helped form

the image for OLPRO going

forward, it was a real break

point. We wanted to make

something of real quality, which

went against the grain of trying

to do things on the cheap at the

time.

When we have product

meetings, which we have on a

regular basis to discuss new and

existing products, there is a list

of questions and criteria we go

through. The main question is,

is this innovative enough? If it's

not then we leave it alone.

52 | www.campingtradeworld.com
---
PLAY VIDEO * PLAY VIDEO *

INDUSTRY VIEWS DANIEL WALTON

The last 12 months have been

interesting to say the least. How

has OLPRO handled it?

It was an odd year for us as

we'd been building up to 2020

as a real catalyst year for us – we

were planning to launch a lot,

we'd increased our team – it was

always going to be a different

year for us. COVID-19 went

from a situation of looking

like it may just affect some

of our sourcing and escalated

so quickly to what we know

it to be now. From a business

point of view, the nosedive was

incredible and quite scary. We

were just into March and sales

were going very well, and then

people just stopped buying. The

one thing we did, I will always

look back on as the saviour,

was that we didn't cut back

on marketing at all. Of all the

things we did, we didn't stop

talking to people. We tried to

promote people camping in

their gardens, we continued

advertising and we noticed a big

increase in web traffic despite

the lack of sales.

Want to enjoy this interview in realtime?

Scan the QR code to listen to the

Camping Trade World podcast, also

available on Spotify and Apple Podcasts.

Our entire team were very

good and worked so hard, and

once camping was allowed again

later in the summer it just took

off again. It ended up being a

massive boom for the industry.

Do you believe camping can make

the most of this unlikely shot in

the arm through the crisis?

It was great that so many

new or returning people came

to camping. Of course, we'd

rather this boom come under

better circumstances, but it is a

good thing for the industry in

general. In our industry there

will be an opportunity in the

not too distant future for people

to go away. From that point of

view, we've got to capture them

now – it's our responsibility as

an industry to make sure people

enjoy camping."

And what of the future?

Things have moved on maybe

two years in terms of online

retail, much more than they

would have done if the

COVID-19 lockdowns hadn't

happened. We hope that we can

build on what we've achieved

in the last five years and be a

bigger company in the next five

with a wider product range. We

want as a company to more for

our staff and for our customers.

The big thing I see changing is

the way in which customers buy.

That's already changed so much

in the last five years, who knows

where it will lead. Wherever it

does, we will follow and hopefully

be ahead of the trend.

WHO ARE YOU?

Company: OLPRO, which

stands for outdoor leisure

products

Founded: 2011

Location: Little Witley,

Worcestershire, United

Kingdom

Products: Awnings, tents,

melamine tableware and

other camping accessories

Other: Winner of no less

than 10 awards in the

last three years OLPRO's

mantra is that its products

stand out against the

crowd. It is also pushing

to become carbon neutral

by planting trees with new

products sold in 2021.

▲ Family camping is one of the key markets that OLPRO has honed in on.

www.campingtradeworld.com | 53
---
SOCIAL MEDIA BECOME A BETTER BUSINESS

BECOME

A BETTER

BUSINESS

Social Media

We all know you have to have a social media presence for your brand, but do you

understand why? And how do you use to it deliver tangible results for your business? Our

marketing guru gives you a quick 101 on how you can make the most of social media.

J

■ust 15 years ago, the

words social and

media were completely

independent of each other. Just

two happy-go-lucky words

going about their business

until one day in around 2005

they were smashed together by

an American guy named Tom

and his website MySpace. Fast

forward to today and pretty

much everyone you know has

a personal account on at least

one social media platform. It

has become a part of everyday

life and a way in which we

communicate with each other

around the world – not only

in a personal level, but also in

a business to consumer and

business to business level too.

Because of this, most modern

businesses now understand that

they need to have some kind of

presence on social media if they

want to engage with and market

to their audience and potential

new customers in a relevant way.

But where do you start? Sure,

setting up a Facebook page or a

Twitter or Instagram account is

easy enough, but without some

kind of strategy and measurable,

attainable goals, you will be

doing little more than trying to

nail jelly to a wall.

WHAT DO YOU WANT?

The absolute worst reasons to

create a social media presence

for your brand are 'because

you think you should' or 'my

competitors have one'. Think of

social media as a relatively new,

54 | www.campingtradeworld.com
---
BECOME A BETTER BUSINESS SOCIAL MEDIA

but no less important branch to

your already existing marketing

tree. You need to set some

realistic goals and targets for

what purpose you want social

media to serve. It could be

about brand awareness, building

a community, announcing

new products and services,

promoting events, increasing

traffic to your website, creating

leads or just adding value to

your existing customers. It

really helps to have a clear idea

of what you want to achieve

and the priority of those things

before you start. Social media

is what it says on the tin: social.

It is a direct link to your brand

for customers and gives them

a way to interact with you in

a way they never could before.

Because of this, your goal will

be transparent. Customers

know you have a page to help

your business, so you need

to be up front with that and

make it more about building

connections and relationships

first and foremost, rather than

making it a hard sales pitch.

WHERE SHOULD I BE?

Once you have an idea of what

you want to achieve, this should

help inform your decision about

which social media platforms

are most important for you. If

you are a brand with a product

that is something people are

proud to own, then Facebook

is a great place to start. It gives

people the opportunity to share

their pictures, videos, reviews

and comments with you. It

can also become a fan club

for your company. If you are a

company that won't be selling

to end consumers, but to other

businesses, then LinkedIn is

probably the best way to start.

If you have a product that is

shown best via videos, consider

YouTube. If beautiful imagery is

in your marketing arsenal, then

try Instagram. One of the best

things you can do is explore the

different social media platforms

yourself with a personal account

before you dive in with a

company presence. One other

thing to remember is that each

social media platform will

demand time and attention for

it work effectively, so sometimes

less is more. Focus on the ones

that work best for you and put

more time and effort into those.

HOW DO I MAKE THE

MOST OF IT?

Once you have identified which

social media platforms you

think will work best for you and

chosen what it is you want to

achieve, then it's time to create

a content schedule. There are a

host of different ways you can

do this – plenty of scheduling

tools exist on the internet

already and some social media

platforms like Facebook have

their own built in. Think about

what kind of content you like to

see from the companies, brands

and products you already follow.

What do you get out of them?

QUICK SOCIAL

MEDIA TIPS

Use live events –

nothing is more interactive

and transparent than a live

event, think about how you

could do one.

Be prepared to spend –

most social media platforms

don't give you the maximum

exposure unless you place

some ads, this is no bad thing

Master storytelling –

don't just say 'here is

our product', instead try

taking people behind the

scenes, use stories or other

temporary posts for this.

Treat them differently –

not all social media was

created equal, you need an

individual strategy for each

of them.

Don't go hashtag crazy –

hashtags are one way to

spread your reach, but

evidence suggests that

too many will dilute your

message. Focus in on five

to 10.

Research what works –

take a look at what you

consider to be successful

social pages, how do they

do it and why are they good

at it?

▲ Good use of social media can really help amplify your presence at a live event.

Constant contact –

you need to post regularly to

succeed but consider how

often is the optimum. Too

much is spam, too little and

you will go missing.

www.campingtradeworld.com | 55
---
SOCIAL MEDIA BECOME A BETTER BUSINESS

Alternative social media channels

Pinterest LinkedIn TikTok WeChat Quora

With 442 million

monthly active users,

Pinterest is still a very

relevant social media

platform, and is in

fact geared towards

ecommerce. The

site allows people

to create virtual

pinboards which are

often used for projects

or plans – you can

post images, videos,

product purchase

links and more. It

has an interesting

demographic with a

reported 60 per cent

of its users being

female.

Widely regarded

as the social

media platform for

businesses, LinkedIn

is a pretty good way

to promote your

company to a truly

global audience

– the USA, China,

India, Brazil and the

UK are the biggest

users. While the

numbers might

not reach the same

levels of Facebook

or Instagram, the

key decision makers

spend time here.

Still a platform being

explore by businesses,

TikTok has grown

exponentially with

users in more than

150 countries. It boasts

an incredible 800

million active daily

users worldwide with

a huge market in

China and India. It

also claims to have

the highest active

engagement rate of

social media apps,

particularly among

influencer accounts.

There's no doubt this

is where the younger

generation are using

social media and it

would be crazy not

to consider how your

company might be

able to use it.

With an unbelievable

902 million daily

active users, WeChat

is China's number one

social media platform.

It is essentially a

messaging app

but does give you

the opportunity to

advertise products

and services. With

China's population

rapidly becoming

a large consumerbased

society and

the growth of

camping there well

documented, this

could be another

interesting alternative

social media platform.

This is sort of like a

giant forum where

users can seek out

the information and

advice they need

about just about

anything. The way

it could benefit

your company is

by allowing you

to advertise with

sponsored answers

to questions – so if

someone is asking

a question specific

to your camping or

caravanning product,

you can pop up as the

number one answer.

56 | www.campingtradeworld.com
---
BECOME A BETTER BUSINESS SOCIAL MEDIA

▲ High-quality, stylised content can work better on some social media platforms compared to others.

An absolutely key attribute to successful social media marketing is

to constantly monitor what is going on and stay agile.

Why do you engage with them?

Investigate what world events

are occurring that you can

piggyback onto in a way that

will help you get your message

out there (examples like is there

a national camping day in your

country etc). Look seriously into

influencers and other content

providers on social media. If

they don't compete, how can

you work together to make the

most of each other's audiences.

Let's say a famous sports person

is undertaking a big challenge,

can you supply them with useful

camping equipment so they can

share it on their social media

platforms?

DON'T STAY STATIC

An absolutely key attribute

to successful social media

marketing is to constantly

monitor what is going on and

stay agile. Don't keep posting

the same kind of posts and

content at the same times if the

result is always the same. Mix

things up, try different things.

Think about social media for

what it is: marketing. You

wouldn't continue to advertise

in a magazine that wasn't

working for you or exhibit

at a show that wasn't getting

results for you, so why would

you with social? Also remember

that social trends come and go.

Whether it's the rise and fall

in popularity of social media

platforms (think Snapchat or

Myspace), or changes in how

platforms allow business to

promote themselves (Google

and Facebook are notorious for

moving the goalposts here), you

need to keep an eye on what's

going on.

Hiring someone to manage

your social media is a good

idea, however you should

be wary about whether

people have actual marketing

experience too. Most young

people know how to use social

media, that doesn't necessarily

mean they know anything

about marketing. Treat social

media as a marketing position

and hire accordingly.

CONTENT IS KEY

One thing to remember about

social media is that it is merely

a vehicle for your content.

If you don't have interesting

or engaging content, or the

means to create it, then you

may find you won't get out of it

what you want. An Instagram

account won't look very good

without high quality, stylised

images to create a nice-looking

page. The same with video, if

you don't have any, then you

won't create the impression

you want. You wouldn't buy

an advert in a magazine if you

didn't have a photographer and

a designer at your disposal, so

don't think that just by having

a social media page you will

suddenly tap into a new wave

of customers without good

content to share with them.

KEEP IT IN PERSPECTIVE

Remember that social media

is just one platform. It should

not replace existing marketing

strategies, but instead it

should complement them. Use

everything you already know

about marketing and simply add

social media into that mix as an

extra vehicle. There has been a

clamour for brands to use it as

it is seen as the 'done thing', but

you should really just consider it

an extra weapon in your arsenal.

It is important for sure, but it

is not the only way to promote

your business.

www.campingtradeworld.com | 57
---
MAKING CONTACT

NIESMANN+BISCHOFF GMBH

ISMOVE

It's quite amazing that the Niesmann+Bischoff iSmove is

under 3.5 tonnes, making it far more accessible to a wider

range of campers. It's in no short part down to its thoughtful

and tasteful interior, which saw it collect the Interior Design

award. The felt-lined walls, innovative lighting and modern

glass control panels create a truly unique feeling.

www.niesmann-bischoff.com

Making Contact

EUROPEAN INNOVATION AWARDS SPECIAL

At the recent virtual CMT Digital show the results of the annual

European Innovation Awards for the caravanning industry

were announced. As voted for by numerous caravan industry

journalists around Europe, these are prestigious accolades

indeed. Here's a rundown of who's who…

ADRIA MOBIL

ADORA

On first glance at the Adora, it's no surprise it claimed the

Exterior Design prize – sleek aesthetics that at times look

more like a stylish saloon car than a caravan, it stands out. But

the design is not just to look pretty, it's the most aerodynamic

caravan Adria has ever made and more light gets in than ever

thanks to the large panoramic window.

www.adria-mobil.com

58 | www.campingtradeworld.com
---
MAKING CONTACT

CATHARGO

LINER-FOR-TWO

One of the more prestigious awards is that of Audience Focus, which was

claimed by Cathargo's excellent Liner-for-two motorhome. It features a

rear lounge seating group: electrically lowering lengthways single beds at

the front with spacious, continuous sleeping area, exclusive round lounge

seating group at the rear, and an extra-wide kitchen with an elegantly

curved kitchen work surface and comfort luxury washroom in between.

www.carthago.com

CATHARGO

MALIBU VAN

FAMILY-FOR-4

Overall Concept Van winner

was the Malibu family-vanfor-4,

a camper with a hybrid

construction, pop-up roof and

developed fully in-house by

the Cathargo team. The popup

roof features unique

materials and design

providing excellent

insulation against the

cold and unrivalled

headroom.

www.malibu-carthago.com

EASYCARAVANNING BV

TAKEOFF

There can't be many in the industry who haven't seen the diminutive

yet clever TakeOff from EasyCaravanning. This foldable camper is

lightweight at below 750kg and doesn't restrict your driving view or

experience. It's also easy to reverse and has a huge range of add-ons and

expansions to easily create a large living and sleeping space.

www.easycaravanning.com

www.campingtradeworld.com | 59
---
MAKING CONTACT

KNAUS TABBERT

WEINSBERG

CARACITO

This all-electric caravan has

turned a few heads since its

launch, including the judges

of these awards, taking home

the Overall concept Caravan

prize. No gas on board means

the caravan has taken on a

completely new style with

air conditioning and heating

as standard and a modern

look targeted at appealing to

younger caravanners.

www.weinsberg.com

CARAWARN

BLIND SPOT

ASSISTANCE +

ALARM

SECURESLEEP

DELUXE 6

With more and more

people getting into

caravanning, security

and safety are top

priorities – CaraWarn has

it covered with its Safety

award-winning system

that provides blind spot

assistance, lane change

assist, a shunting aid for

reverse driving or parking

and an alarm system

which offers 'secure sleep'

at night. There's no margin

for error with your safety.

www.carawarn.com

FENDT

CARAVAN

BIANCO ACTIV 720 SKDW

Best Layout might seem like a less exciting award, but what is

the first thing new buyers want to ask about or investigate when

buying a new caravan? You guessed it, layout. German brand

Fendt seems to have hit the sweet spot with its family caravan

design that offers over 7 metres of internal, useable length.

www.fendt-caravan.com

EURA MOBIL

CONTURA WITH MERCEDES-BENZ

Winner of the Overall concept Camper was the Eura

Mobil Contura, offering what the company calls mobile

luxury and exciting features such as generously open cab

design, starlight panoramic dome glass roof with smartlift

and soft-close functions and extensive driver safety and

assistance tools.

www.euramobil.de

60 | www.campingtradeworld.com
---
MAKING CONTACT

PROTOTYPENBAU DIPL.ING. S. GERNER

BIOTOI

Designed and developed in Germany, the Sustainability/Enviornment award

winner was the BioToi – a compact, dry-seperating toilet with composting

function that can offer versatility to any camping unit. It can be used both

as a fixed toilet unit or a mobile one and weighs only 6.5kg.

www.biotoi.de

TEN HAAFT GMBH

OYSTER CONNECT

The Overall concept Equipment must

be one of the hardest categories to

judge because it encompasses so many

products, but Ten Haaft came out on

top with its excellent Oyster Connect. It

provides a stable internet connection to

any leisure vehicle, even when driving

and its sleek and aerodynamic design

won't affect your unit.

www.ten-haaft.com

THETFORD EUROPE

INDUS SMART SANITATION SYSTEM

More than just one new product, Thetford's iNDUS is a complete sanitation

system that delivers better hygiene and convenience to leisure vehicles,

winning the Technology award. It allows users to be off-grid for an

average of 7 days by dosing the exact amount of additive needed. It's also

controllable and monitorable via an app.

www.thetford-europe.com

TRUMA GERÄTETECHNIK

GMBH & CO KG

TRUMA COOLER BOXES

Designed for adventure, it's perhaps no

wonder the new cool box collection from

Truma picked up the Camping Equipment

award. Featuring a host of innovations such as

accurate temperature setting, USB charging

points, removable to adjust contents and

smart Bluetooth app control, these cool boxes

have a bit more going on than the ones you

remember from childhood.

www.truma.net

Other notable wins went to EasyCaravanning BV – Take Off for the Bloggers

Favourite, Truma for the Vision Award and AL-KO for Marketing Campaign.

Want your products seen by key players in the camping and leisure vehicle industry around the world?

Contact Editor David Guest today via email david.guest@dhpub.co.uk

www.campingtradeworld.com | 61
---
MAKING CONTACT

ROBENS

ICEFALL PRO 900

With a redefined neck baffle

position, 3D hood profile

and centre zip for ease of

access, the Robens Icefall

Pro 900 has been made

with user comfort in mind. It

features a newly developed

MicroThermo Ball fill for a

down-like properties with

maximum loft and insulation.

It can also be packed down

to just 42cm by 18cm and has

a temperature extreme limit

of -23C.

www.robens.de

THULE

TEPUI FOOTHILL

Casual campers and general outdoors consumers will

surely be a large part of the target market for a brand-new

compact roof tent from Thule: the Tepui Foothill. Measuring

just 24 inches (70cm) in width, the Tepui Foothill is about

half the typical width of most roof tents on the market,

which frees up space on the roof of the vehicle to carry a

kayak, a bicycle or other rooftop luggage. When packed

down, the Tepui Foothill is also only 9.5 inches in height

(24cm), meaning it won't drastically extent the height of the

vehicle you mount it on.

www.thule.com

PRIMUS

LITE +

Owning a Primus

stove is on the

bucket list for

many campers

and backpackers,

and the Swedish

firm just made it

even more enjoyable

thanks to its new Lite

Plus stove. Weighing

just 402g, the stove

is designed to be

super compact and

transportable, with

Primus' 100g gas

cartridge fitting right

inside. It also benefits

from a lid made from

eco-friendly bio-plastic

and a sleeve made from

G-1000 Eco Lite fabric.

www.primus.eu

IGNIK

HEATED SLEEPING BAG LINER

Turn pretty much any sleeping bag into a winterproof, cosy

haven with this smart heated sleeping bag liner from Ignik.

Utilising a material known as Radiant Carbon Strand it is

able provide directional heat aimed at your body but while

retaining a soft cotton-like feel. It is compatible with any 5V

or 12V power source and offers three heat modes via a builtin

waterproof smart control.

www.ignik.com

62 | www.campingtradeworld.com
---
MAKING CONTACT

OUTWELL

LAKECREST DRIVE-AWAY AWNING

The Lakecrest provides ample living space with a detachable bathtub

groundsheet in a surprisingly small footprint. While entry is normally by

the front door, wet weather access is via the doors located in the large Link

Access Zone that connects the awning to the side of the vehicle, creating

a useful area in which to leave wet, muddy gear before entering the

campervan or awning living area.

www.outwell.com

NITE IZE TRU ZIP

The zipper is an innovation that has

remained largely unchanged since

its inception back in 1893, but Nite Ize

reckons it has just brought it on a level

with its TRU Zip. This sliding, toothless,

waterproof, dustproof and submersible

(IP67) zipper system has been created

for use on all kinds of soft or hard goods,

apparel and accessories to help push your

products onto new boundaries.

www.tru-zip.com

OLPRO

ASTLEY MELAMINE SET

Melamine crockery sets are perfect for all

kinds of camping, not only do they look great

but they are also far more durable. OLPRO

happens to be an expert in the field and

this custom-designed Astley set is ideal for

campers of any kind. It features the company's

own signature tree design pattern.

www.olproshop.com

DECATHLON

2 SECONDS EASY TENT

An affordable and lightweight tent that's main feature is the speed at which

it can be erected and taken down. Decathlon has poured more than 15

years of research and development into this model testing it in the French

Alps, but it's likely to be more popular with casual car campers looking

for a hassle-free home from home. It features Decathlon's Fresh & Black

blackout technology and has been made with a more environmentally

friendly dope-dyeing process.

www.decathlon.com

Want your products seen by key players in the camping and leisure vehicle industry around the world?

Contact Editor David Guest today via email david.guest@dhpub.co.uk

www.campingtradeworld.com | 63
---
www.campingtradeworld.com