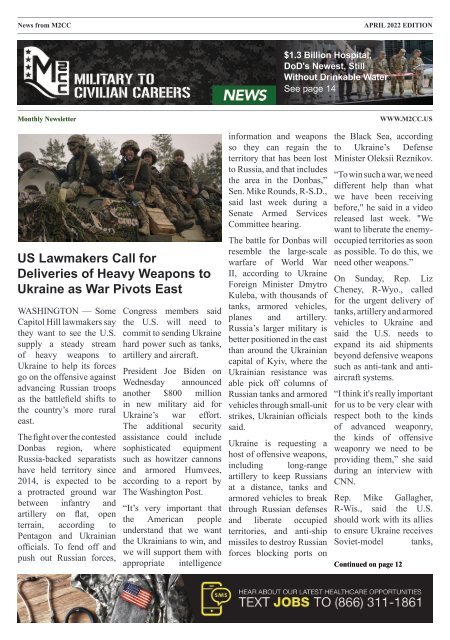 April 2022 — M2CC Newsletter
Create successful ePaper yourself
Turn your PDF publications into a flip-book with our unique Google optimized e-Paper software.
News from M2CC

APRIL 2022 EDITION

$1.3 Billion Hospital,

DoD's Newest, Still

Without Drinkable Water

See page 14

Monthly Newsletter

US Lawmakers Call for

Deliveries of Heavy Weapons to

Ukraine as War Pivots East

WASHINGTON — Some

Capitol Hill lawmakers say

they want to see the U.S.

supply a steady stream

of heavy weapons to

Ukraine to help its forces

go on the offensive against

advancing Russian troops

as the battlefield shifts to

the country's more rural

east.

The fight over the contested

Donbas region, where

Russia-backed separatists

have held territory since

2014, is expected to be

a protracted ground war

between infantry and

artillery on flat, open

terrain, according to

Pentagon and Ukrainian

officials. To fend off and

push out Russian forces,

Congress members said

the U.S. will need to

commit to sending Ukraine

hard power such as tanks,

artillery and aircraft.

President Joe Biden on

Wednesday announced

another $800 million

in new military aid for

Ukraine's war effort.

The additional security

assistance could include

sophisticated equipment

such as howitzer cannons

and armored Humvees,

according to a report by

The Washington Post.

"It's very important that

the American people

understand that we want

the Ukrainians to win, and

we will support them with

appropriate intelligence

information and weapons

so they can regain the

territory that has been lost

to Russia, and that includes

the area in the Donbas,"

Sen. Mike Rounds, R-S.D.,

said last week during a

Senate Armed Services

Committee hearing.

The battle for Donbas will

resemble the large-scale

warfare of World War

II, according to Ukraine

Foreign Minister Dmytro

Kuleba, with thousands of

tanks, armored vehicles,

planes and artillery.

Russia's larger military is

better positioned in the east

than around the Ukrainian

capital of Kyiv, where the

Ukrainian resistance was

able pick off columns of

Russian tanks and armored

vehicles through small-unit

strikes, Ukrainian officials

said.

Ukraine is requesting a

host of offensive weapons,

including long-range

artillery to keep Russians

at a distance, tanks and

armored vehicles to break

through Russian defenses

and liberate occupied

territories, and anti-ship

missiles to destroy Russian

forces blocking ports on

Continued on page 12

WWW.M2CC.US

the Black Sea, according

to Ukraine's Defense

Minister Oleksii Reznikov.

"To win such a war, we need

different help than what

we have been receiving

before," he said in a video

released last week. "We

want to liberate the enemyoccupied

territories as soon

as possible. To do this, we

need other weapons."

On Sunday, Rep. Liz

Cheney, R-Wyo., called

for the urgent delivery of

tanks, artillery and armored

vehicles to Ukraine and

said the U.S. needs to

expand its aid shipments

beyond defensive weapons

such as anti-tank and antiaircraft

systems.

"I think it's really important

for us to be very clear with

respect both to the kinds

of advanced weaponry,

the kinds of offensive

weaponry we need to be

providing them," she said

during an interview with

CNN.

Rep. Mike Gallagher,

R-Wis., said the U.S.

should work with its allies

to ensure Ukraine receives

Soviet-model tanks,
---
2 | M2CC - News www.m2cc.us APRIL 2022 EDITION

3 Ways Veterans Can Help Themselves Choose a

Post-Military Career

There's no easy roadmap to a career, and it's

not something that we learn in school as young

people. Joining the military puts us in a career

field and trains us for that military-specific

career, but that doesn't mean it's our dream job.

As we learn our military specialty, we are also

given unparalleled access to free education

and training opportunities. That kind of access

isn't helpful if we are unsure of what kind of

work we want to pursue in the future. Worse

still, some of us get degrees or start degree

programs, only to discover that the kind of

work we're learning isn't all we thought it was

cracked up to be.

If you're in the military, don't think your

military occupation is for life and are unsure

of what to do next, you aren't alone. Roughly

half of the militarygoes in without knowing

what they want to do, and a smaller fraction

stays in until retirement. There are resources

available to help college graduates, civilians

switching careers and anyone else who might

be thinking of a change.

Here are just a few options available to veterans

and anyone else looking for their calling.

1. Career Assessment Tools

There are hundreds of career assessment and

career aptitude tests available, both on and

offline. A quick Google search will show so

many, both free and for a price, but be warned:

they're not all exactly scientific. Military.com's
---
WWW.M2CC.US Monthly Newsletter | 3

parent company, Monster, has a good rundown

of 10 free career tests if you're interested in

using them as a starting point.

Psychologist John Holland developed a system

of placing people into six categories: ​Doers,

Thinkers, Creators, Helpers, Persuaders and

Organizers. He then created Self-Directed

Search (SDS), an assessment based on

his research to help those categories find

successful career paths. It comes with a fee,

but is generally acknowledged as one of the

best career assessment tests.

2. A Career Coach or Mentor

Career coaches specialize in helping people

find the jobs and careers that will bring them

fulfillment. Since their job is to connect

people with sectors, industries and individual

businesses, they also often have a wide network

of individuals and resources to help connect

you. These, too, can come with a wide range

of fees, but the money might be well-spent.

Your local base education office might also

have a career counselor you can talk to about

your transition.

Mentors are another form of career coach. Who

better to help a service member transition out

of the military and into a fulfilling civilian job

than someone who has been there, done that?

Although it might be more helpful to figure out

your career path first if your goal is to land a

job, a mentor might have been facing the same

career uncertainty and can help you find a path

that works for you.

3. Interviewing Professionals

If you think you found an industry or career

that interests you, but still hesitate, there's

nothing wrong with setting up an informational

interview with someone already working in it.

It's not a job interview, so there's no reason

the person you're talking to can't have a frank

discussion about their job, their life and their

future prospects.

This person might be someone you already

know, someone you're connected to or someone

you met at a career fair. It's just a simple matter

of reaching out to them, setting up a quick 15-

to 20-minute conversation and then sending

them a heartfelt thank you afterward. Even if it

doesn't give you the warm fuzzy you hoped for,

it will still help narrow down your decision.

VISIT OUR WEBSITE

AT M2CC.US

HAPPY

SPRING!

m2cc.us
---
4 | M2CC - News www.m2cc.us APRIL 2022 EDITION
---
WWW.M2CC.US Monthly Newsletter | 5

Focus on Oversight a Key for Success at

CoreCivic

In the corrections industry, maintaining high standards of

operation is imperative to meeting the needs of the individuals

in our care. That's why CoreCivic adheres to a stringent set of

guidelines set forth by our own standards, as well as those of our

government partners and the American Correctional Association

(ACA).

Founded in 1870, the ACA is considered the national benchmark

for the effective operation of correctional systems throughout

the United States. To become accredited, a facility must achieve

compliance with ACA mandatory standards and a minimum of

90 percent non-mandatory standards. CoreCivic facilities adhere

to ACA standards, and in 2020, CoreCivic earned an average

ACA audit score of 99.6 percent across all facilities.

Key ACA audit areas include facility personnel, resident reentry

programs, resident safety, health care, and more.

holds our facilities and staff to a high standard. To be able to

represent our facility and receive reaccreditation in person is an

honor."

Adhering to ACA standards is only one part of CoreCivic's

commitment to robust oversight. When government partners

utilize CoreCivic's services, we are held not only to our own

high standards and those of the ACA, but we are often held to

the same or higher accountability of our public counterparts

through stringent government contracts, unfettered access to

our facilities for our partners, and hundreds of on-site quality

assurance monitors.

We provide access to our government partners, with most of

our facilities having government agency employees known as

contract monitors who are physically on-site to ensure we are

operating in line with partner guidelines.

Recently, the ACA held in Nashville, Tennessee, its 151st

Congress of Corrections, an annual convention that brings

together corrections professionals from across the country. In

addition to various workshops and events at the convention, the

ACA Commission on Accreditation also held panel hearings to

award accreditation to correctional facilities that meet the ACA's

rigorous requirements. Listed below are the seven CoreCivic

facilities that earned reaccreditation this year, with mandatory/

non-mandatory scores:

• Bent County Correctional Facility - 100/99.0

• Citrus County Detention Facility - 100/100

• Eloy Detention Center - 100/100

• Lake Erie Correctional Institution - 100/99.3

• Saguaro Correctional Center - 100/99.8

• Stewart Detention Center - 100/100

• Tallahatchie County Correctional Facility - 100/100

"The accreditation process is very important," said Warden

Fred Figueroa from Eloy Detention Center, one of the seven

CoreCivic facilities that was awarded reaccreditation. "ACA

To maintain our own high standards, annual on-site audits covering

all operational areas are administered to ensure compliance with

contractual and regulatory obligations and corporate-mandated

requirements. Each CoreCivic Safety facility is audited by our

internal quality assurance division, which is independent from

our operations division. Facilities are expected to be audit-ready

year-round, maintaining continuous compliance with numerous

applicable standards.

CoreCivic employs 75 staff members dedicated to quality

assurance, including several subject matter experts with extensive

experience from all major disciplines within our institutional

operations.

"A lot of hard work goes into preparing for these audits,"

Figueroa said. "Once they're complete, the staff can see their

accomplishments and feel proud."

Having multiple levels of oversight helps CoreCivic maintain

a safe environment for those in our care. By holding ourselves

accountable to our own high standards, along with our

government partners' and ACA's standards, CoreCivic continues

to be a trusted partner working to better the public good.
---
6 | M2CC - News www.m2cc.us APRIL 2022 EDITION
---
WWW.M2CC.US Monthly Newsletter | 7
---
8 | M2CC - News www.m2cc.us APRIL 2022 EDITION

New Air Force Leave

Policy Allows up to 35

Days Off for Infertility

Treatments

Airmen and guardians struggling to conceive are now afforded extra

time off to undergo fertility treatments at a military hospital, under a

revised Air Force policy adopted earlier this month.

Male and female service members participating in a fertility treatment

program can take up to 35 days of permissive temporary duty, which

can be divided into separate trips if approved by a medical provider.

It's the first time the Air Force has authorized permissive TDY for

fertility treatment.

The benefit allows military members to travel at no cost to the

government while conserving earned leave days.

The Air Force's women's initiative team championed the new policy,

a service statement said. Members of the team said the change is

significant for everyone dealing with infertility.

"I have had several members struggle with fertility issues and can

attest to the rippling effects it has across the military," said U.S. Space

Force Chief Master Sgt. Martha Burkhead, the women's team lead for

the initiative.

There six military medical centers where service members may seek

infertility treatments are Tripler Army Medical Center in Hawaii;

Walter Reed National Medical Center, Bethesda, Md.; Womack Army

Medical Center, Fayetteville, N.C.; San Antonio Military Medical

Center, Texas; Madigan Army Medical Center, Tacoma, Wash.; and

Naval Medical Center San Diego, Calif.

Other updates include permission for commanders to authorize up to

30 days of convalescent leave for sexual assault victims to receive

support or allow time for recovery. The authorization was directed by

the Pentagon following an independent review of sexual assault in the

military.

Convalescent leave is a nonchargeable absence typically granted to

help service members return to duty after illness, injury or childbirth.

Another change allows service members within a year of retiring to

attend Defense Department-sponsored employment seminars that

aren't available locally.

VISIT OUR WEBSITE AT M2CC.US
---
WWW.M2CC.US Monthly Newsletter | 9

HAPPY

SPRING!

m2cc.us

VISIT OUR WEBSITE AT MHCE.US
---
10 | M2CC - News www.m2cc.us APRIL 2022 EDITION
---
WWW.M2CC.US Monthly Newsletter | 11

HAPPY

SPRING!

m2cc.us

VISIT OUR

WEBSITE AT M2CC.US
---
12 | M2CC - News www.m2cc.us APRIL 2022 EDITION

artillery and planes as well

as small-arms ammunition

and real-time intelligence

about the Russian army.

"Anti-tank and antiaircraft

systems are still

critical to protecting

Ukrainian troops on the

offense and we should

continue to supply them

as needed. That said,

there is more the U.S. can

and should do to ensure

President [Volodymyr]

Zelenskyy is in as

strong of a position as

possible," Gallagher, a

former Marine, said in a

statement.

The U.S. is constrained

in the kind of heavy

equipment it can provide

Ukraine, said Mark

Cancian, a former Marine

and senior adviser with

the Center for Strategic

and International Studies,

a Washington think

tank. Most, if not all,

the weapons will need

to be Soviet-made and

sent through Eastern

European allies who will

then receive replacements

from the U.S. Recent

appeals by Reznikov and

Zelenskyy to purchase

NATO-standard heavy

weapons are not practical,

he said.

"If we send them M1

tanks, they wouldn't know

what to do with them, they

don't have anybody that's

trained on them and to

make an M1 tank effective

would take at least a

year," Cancian said. "And

that's true of F-16 aircraft

or anything else like that

that they don't already

operate."

Slovakia received a Patriot

missile system from the

U.S. after sending its

S-300 air defense system

to Ukraine last week.

Only the Czech Republic

has supplied Ukraine with

tanks, sending Soviet-era

T-72s.

Rep. Stephanie Bice,

R-Okla., said tanks

should be sent to Ukraine

"in a swift manner"

but acknowledged that

brokering the delivery of

aircraft, which Ukraine

has repeatedly asked for to

"close the sky" to Russian

bombardment, will be

difficult. The White House

nixed a deal to transfer

MiG fighter jets from

Poland to Ukraine last

month, fearing it would

provoke Russia.

"Unfortunately, we are not

able to provide the types

of planes that Ukrainian

pilots can immediately

fly," Bice said in a

statement. "We are

relying on other nations to

supply those, and so far,
---
WWW.M2CC.US Monthly Newsletter | 13

that hasn't been possible

either."

Sen. Richard Blumenthal,

D-Conn., said he has

strongly supported

providing more lethal

weapons, including

fighter jets, to Ukraine

since Russia first invaded

in 2014 and annexed

the Crimean Peninsula.

He suggested during a

hearing with top military

officials last week that

the U.S. consider sending

A-10 Thunderbolt II

attack aircraft, known as

Warthogs, which the Air

Force wants to retire.

"It's going to be a long

slog," Blumenthal said.

"This is a protracted war

going to the east, but we

need to be there for the

Ukrainians in the midst of

this long slog."

The most critical element

of supporting Ukraine's

offensive is maintaining

a consistent influx of

munitions, Cancian said.

Even lighter weapons such

as shoulder-fired, antiaircraft

Stingers missiles

and anti-tank Javelins

missiles can be effective

in a drawn-out fight, he

said.

Defense Secretary Lloyd

Austin told senators last

week that those weapons,

as well as drones

and communications

equipment, have proved

"somewhat decisive" in

Ukraine's stiff resistance.

Ukraine continues to deny

Russia air superiority

through tens of thousands

of anti-aircraft systems

from the U.S., added

Army Gen. Mark Milley,

chairman of the Joint

Chiefs of Staff.

"The biggest thing is that

they need this flow of

supplies and equipment

to continue because that

is what has allowed them

to maintain a continuous

combat capability that's

defeated the Russians so

far," Cancian said.

Republican Sens. Joni

Ernst of Iowa and Jim

Inhofe of Oklahoma said

the U.S. should equip

Ukraine with the ability

to trounce Russian forces,

not just repel them. But

they agree the speed of

heavy weapons delivery

will be a major deciding

factor in whether Ukraine

can boot Russia from its

territory.

"President Zelenskyy,

and all of the Ukrainians

I've met with over the

last month, have said

weapons are not being

delivered fast enough —

particularly with their high

burn rate," Ernst, a former

Army officer, said in a

statement. "The U.S. can

deliver more capability

quicker, and Congress

will continue to pressure

this administration."

Russia has warned that it

will treat arms convoys

from NATO countries to

Ukraine as "legitimate

targets" for military action

and deliveries of more

sophisticated weapons

will not go unnoticed,

Cancian said. The risk of

Russia making good on

its threat, however, is not

likely for now, he said.

"The Russians have their

hands full," Cancian said.

"In terms of shipping

equipment, they seem to

have accepted that, they

really haven't even struck

the supply lines."

Sens. Jacky Rosen,

D-Nev., and Jeanne

Shaheen, D-N.H., said

they will work with their

Republican colleagues in

the coming weeks to shore

up Ukraine's military

capabilities for a renewed

Russian onslaught. Before

leaving for spring recess

last week, the Senate

passed a bipartisan bill

to expedite U.S. arms

transfers to Ukraine

through a World War IIstyle

lend-lease program.

The legislation has moved

to the House.

"As the military situation

in Ukraine evolves, so

must our global response,"

said Shaheen, the bill's cosponsor.

VISIT OUR

WEBSITE AT

MHCE.US

HAPPY

SPRING!

m2cc.us
---
14 | M2CC - News www.m2cc.us APRIL 2022 EDITION

$1.3 Billion Hospital, DoD's Newest, Still Without

Drinkable Water

Water restrictions have

continued this week at

the William Beaumont

Army Medical Center at

Fort Bliss, Texas, just nine

months after the facility

opened its doors.

As of Wednesday, hospital

employees and patients

were able to use the water

for handwashing and

showering, but restrictions

continued on its use for

drinking or medical needs

such has sterilization and

surgery after sediment and

discoloration was found

throughout the facility last

week.

out of "an abundance of

caution" on April 7.

They noted, however,

that the installation's

environmental health team

found no "pathogenic or

environmental concerns,"

and also determined, via

testing, that the problem

did not stem from the

water supply, which is

drawn from the city of El

Paso.

"Hospital officials suspect

the root cause ... lies within

the hospital's internal

plumbing," they wrote in

a press release.

A replacement for an

aging medical center 10

miles away, the hospital

was scheduled to open in

2017 at a cost of $740.4

million. The opening was

pushed to September 2020

and again to this year as

a result of the pandemic,

with the cost exceeding

$1.3 billion.

The seven-story complex

serves thousands of

patients with 30 specialty

clinics, 10 operating

Employees noticed there

was debris in the water in

one department on March

25, according to a base

press release. Officials

thought the problem was

limited to that section,

but hospital-wide testing

found the sediment

elsewhere.

Hospital leaders declared

the water unsafe to drink
---
WWW.M2CC.US Monthly Newsletter | 15

rooms and an emergency

department and trauma

center.

A Fort Bliss spokesperson

told Military.com that

water test results are

expected Thursday. In the

meantime, the installation

has brought in stand-alone

eye-washing facilities and

"exterior water storage

solutions."

It flushed the pipes last

week and shut off the main

water line for inspections

before allowing limited

use over the weekend.

According to officials,

experts from U.S.

Army Environmental

Command, the Defense

Health Agency, the Corps

of Engineers, Army

Installation Management

Control and Army

Medical Command have

responded to the problem.

"We have the right

experts on the ground,

and everybody's working

around the clock. I am

in no way a scientist, but

to these folks work, it's

pretty awesome," said

Lt. Col. Allie Scott, the

spokesperson.

No patients have been

moved from the hospital,

she added.

The 6-building hospital

complex, with a 135-bed

inpatient capacity and

two large outpatient clinic

buildings, opened last

August following years

of construction delays and

cost overruns.

The U.S. Army Corps

of Engineers managed

the project, which

was designed by HDR

Inc., a Nebraska-based

architectural firm, and

built by Clark McCarthy

Healthcare Partners II,

a joint venture between

Clark Construction in

Bethesda, Maryland,

and McCarthy Building

Companies in St. Louis.

The Corps of Engineers

also is managing

construction of a

replacement for Landstuhl

Regional Medical Center

in Germany. The Defense

Health Agency announced

earlier this year that it had

awarded a $969 million

contract to joint partners

Züblin, a Stuttgart-based

company, and Gilbane

Building Company, which

constructed Fort Belvoir

Community Hospital in

Virginia.

That facility is expected to

open in late 2027.

The water issues appear to

be confined to the William

Beaumont Army Medical

Center campus and do not

affect any base housing or

work spaces other than the

hospital facilities.

"WBAMC and Fort Bliss

place the safety of patients

and the hospital staff first.

Technical experts continue

to troubleshoot systems

and develop both near and

long-term solutions," Fort

Bliss officials said in a

press release.

In November, residents

of U.S. Navy housing

in Honolulu reported

fuel contamination in

their tap water leading

to the displacement of

thousands of families

from their homes for

more than three months.

The fuel spill that caused

the contamination and

subsequent investigation

led the Navy to shut

down the largest Defense

Department fuel depot in

the Pacific Region.

William Beaumont

officials advised any

Tricarebeneficiaries who

have health concerns

about the facility's water

to contact their primary

care provider; call the

Tricare Nurse Advice

Line, 1-800-874-2273; or

go to an urgent care clinic

in El Paso.

As a result of the issues,

the hospital is sending

new trauma patients to

local facilities and has

postponed all elective

surgeries. Equipment

sterilization is being

conducted in various

locations off-site,

according to Scott.
---
16 | M2CC - News www.m2cc.us APRIL 2022 EDITION

HAPPY

SPRING!

m2cc.us
---
WWW.M2CC.US Monthly Newsletter | 17

Man Sentenced to Prison

for Derailing Train Near

Hospital Ship at LA Port in

Pandemic's Early Weeks

Eduardo Moreno, 46, pleaded guilty in December to committing a terrorist

attack and other violence against railroad carriers and mass transportation

systems in connection with the incident, which came as the Mercy was

docked in L.A. to relieve healthcare systems strained by skyrocketing

COVID-19 cases in the early weeks of the pandemic.

In addition to his prison sentence, Moreno was ordered to pay over $755,000

in restitution for the damage caused by the derailment, according to the U.S.

attorney's office for the Central District of California.

On March 31, 2020, Moreno drove the train off the tracks at high speed,

crashing through barriers before it came to a stop 250 yards from the Mercy.

The ship was not damaged, and no injuries were reported, although the

incident caused a diesel fuel leak of approximately 2,000 gallons.

A California Highway Patrol officer saw the crash and detained Moreno at

the scene.

VISIT OUR WEBSITE

AT MHCE.US

The Mercy had docked in the Port of L.A. a week before the crash. With

1,000 beds, the ship was meant to take patients who did not have COVID-19

to ease the burden of Los Angeles County hospitals that had quickly reached

capacity.

Moreno told Los Angeles Port Police that he had caused the derailment

because he was suspicious of the Mercy and believed it was docked for a

"government takeover," not pandemic assistance, the U.S. attorney's office

said.

Moreno said that he had acted alone and that the act was not premeditated.

At the time of the crash, he was an employee of Pacific Harbor Line, which

operates in the L.A. and Long Beach port complex.

"While admitting to intentionally derailing and crashing the train, he said he

knew it would bring media attention and 'people could see for themselves,'

referring to the Mercy," the U.S. attorney's office said.

Seven weeks after arriving in Los Angeles, the Mercy left to return to its

home port in San Diego, having treated only 77 patients.
---
18 | M2CC - News www.m2cc.us APRIL 2022 EDITION

Join Our Team!

Embark on a new career

with Central New York

Psychiatric Center!

Our Team Promotes

Hope, Resilience and Recovery!

Central New York Psychiatric Center is seeking

candidates to fill the following positions;

Psychiatrists, Psychiatric Nurse Practitioners,

Psychologists, and Registered Nurses.

These positions are available at our Inpatient

Forensic Hospital in Marcy, New York, as

well as our Corrections Based Satellite Units

across the State.

Benefits Include:

HAPPY

SPRING!

• NYS Pension

• Competitive Salaries

• Comprehensive Health Insurance

• Flexible Spending Accounts for

Healthcare & Dependent Care

• Generous Paid Time Off

Contact Us:

315-765-3375 or by e-mail

CNpersonnel@omh.ny.gov

m2cc.us
---
WWW.M2CC.US Monthly Newsletter | 19

VISIT OUR WEBSITE AT MHCE.US
---
20 | M2CC - News www.m2cc.us APRIL 2022 EDITION

Republican Lawmakers Call for Reopening US

Embassy in Ukraine's Capital

WASHINGTON — Some Republican

lawmakers are calling for the U.S.

to resume its diplomatic presence in

Ukraine and reopen its embassy in the

capital Kyiv now that Russia's invading

forces have withdrawn from the city's

surrounding areas.

Multiple countries recently announced

plans to reopen embassies in Kyiv,

including Italy, Portugal, Belgium,

Austria and Turkey. The embassies

of Slovenia, the Czech Republic and

Lithuania have already opened their

doors, as has the diplomatic office of

the European Union. The U.S. needs to

quickly follow suit, Republicans said.

"It's time," said Sen. Joni Ernst, R-Iowa,

an Army veteran. "We have numerous

American [non-governmental

organizations] operating in Ukraine,

thousands of Americans who never left,

and American news operations in the

country. It's time to return — and show

Ukraine, and the world, our enduring

commitment to their freedom."

The U.S. Embassy moved its consular

operations to the western Ukrainian city

of Lviv, near the Polish border, days

before Russia's invasion and shuttered

its Kyiv office entirely on Feb. 28.

Diplomats and staff have been working

from Poland ever since.

White House Press Secretary Jen Psaki

on Monday declined to set a timetable

for a return this week. Jake Sullivan,

the national security adviser, said

Sunday that U.S. officials are "working

through" when to send diplomats back

to Kyiv. The State Department said it

is constantly evaluating safety in Kyiv

and does not have specifics on when

the U.S. Embassy there could reopen.

"In the meantime, we continue to stay

in close touch with the government of

Ukraine and its leadership at all levels

and engage in conversations with our

Ukrainian counterparts every day," a

spokesperson said Thursday.

Ernst criticized the administration of

President Joe Biden for being "far

too risk-averse" about restoring a

diplomatic presence in Ukraine and said

a U.S. diplomat she met in Poland last

month "tearfully told me she wanted to

return."

Ukrainian President Volodymyr

Zelenskyy has urged governments to

send back their embassy staff, saying

the return of foreign missions would

signal to Russia "that Kyiv is ours."

Russian forces retreated from the

northern part of the country earlier this

month after failing to seize the capital.

"We need your support, even at the level

of symbols and diplomatic gestures,"

Zelenskyy said last week in a video

address. "Please come back, everybody
---
WWW.M2CC.US Monthly Newsletter | 21

who is brave, please come back to our

capital and continue working."

Sen. Jim Inhofe, R-Okla., and Rep.

Rob Wittman, R-Va., praised foreign

governments for heeding that call and

said the U.S. must now back up its

commitment to Ukraine and diplomacy

with on-the-ground action.

"We must safely reopen the U.S.

Embassy in Kyiv as quickly as possible,"

Wittman said. "To do so will send a clear

message of our support for Ukraine,

emphasize the country's unquestioned

sovereignty, and support and facilitate

critical diplomatic channels between

the U.S. and Ukrainian governments at

various levels."

der Leyen toured the nearby town of

Bucha, where Russians are accused of

committing mass atrocities. The United

Kingdom's prime minister, Boris

Johnson, walked the streets of Kyiv

with Zelenskyy in a surprise visit on

Saturday.

Rep. Stephanie Bice, R-Okla.,

described Johnson's visit as a "powerful

demonstration of support for the people

of Ukraine." There are no plans for

President Joe Biden to make a similar

trip, White House officials have said,

though there are reportedly discussions

of sending another high-level official to

the Ukraine capital.

On Tuesday, Rep. Victoria Spartz,

the first Ukrainian-born member of

Congress, asked Secretary of State

Antony Blinken to consider redeploying

diplomats to Lviv, a city largely

untouched by Russian artillery that has

served as a hub for people displaced by

the war.

"As the single largest provider of

military and humanitarian assistance to

Ukraine, it is past time that the United

States follow our European allies in

kind," Spartz, R-Ind., wrote in a letter.

Sen. Jacky Rosen, D-Nev., cautioned

that a diplomatic return to Kyiv would

need to be carefully vetted for security.

Embassy personnel in Poland have

continued to perform their "important

work" even outside the country, she

said.

"While it is valuable to have a

diplomatic presence on the ground in

Ukraine, the State Department will

have to determine when our diplomats

are able to safely carry out their mission

in Kyiv," she said.

Top politicians, as well as envoys, have

poured into the city in recent days.

The presidents of Poland, Lithuania,

Latvia and Estonia traveled by train

into Kyiv to meet with Zelenskyy

on Wednesday. Last week, European

Commission President Ursula von

Advance Your Nursing Career

Move Beyond

Patient Care

Become a

› Medical Case Manager

› Forensic Nurse

› Legal Nurse Consultant

› Nurse Death Investigator

Earn a Professional Certificate ONLINE

from the prestigious University of California.

Discover how to grow your nursing career

online at www.extension.ucr.edu/nurse

or call (951) 827-5104.
---
22 | M2CC - News www.m2cc.us APRIL 2022 EDITION

Biden Approves

Another $800M in US

Military Aid to Ukraine,

Including Howitzers,

Helicopters and

Armored Vehicles

WASHINGTON — The U.S. will send another $800

million in weapons that includes artillery, helicopters

and armored vehicles to Ukraine as its forces prepare

for a new Russian attack in the country's eastern region,

President Joe Biden announced Wednesday.

"This new package of assistance will contain many of

the highly effective weapons systems we have already

provided and new capabilities tailored to the wider

assault we expect Russia to launch in eastern Ukraine,"

Biden said in a prepared statement.

Those additional weapons will include 300 Switchblade

tactical drones, 11 Mi-17 helicopters, 18 155mm

howitzer artillery systems, 200 M113 armored personnel
---
WWW.M2CC.US Monthly Newsletter | 23

carriers and 100 armored high-mobility multipurpose

wheeled vehicles, according to the Pentagon.

"The steady supply of weapons the United States and

its allies and partners have provided to Ukraine has

been critical in sustaining its fight against the Russian

invasion," Biden said. "It has helped ensure that Putin

failed in his initial war aims to conquer and control

Ukraine. We cannot rest now."

Pentagon officials have said they believe Russian

forces are preparing an onslaught of the Donbas region

in eastern Ukraine.

The new aid to Ukraine comes as Russia has been

adding helicopters, additional artillery systems and

troops to infantry units that recently left the capital

of Kyiv and Chernihiv in northern Ukraine "for what

we continue to believe is going to be a renewed push"

toward the Donbas, a senior U.S. defense official said

Wednesday.

"We continue to see movements and activity of Russian

forces in Belarus and in Russia as they continue

to reassemble their forces, stage them, [and add]

equipment and material support," said the official who

spoke on condition of anonymity.

Biden made the announcement after telling Ukraine

President Volodymyr Zelenskyy of his plans by phone

Wednesday afternoon, according to the statement.

The expected new Russian offensive on the Donbas

region could prove to be easier for Russian forces than

prior assaults in northern and southern Ukraine, chief

Pentagon spokesman John Kirby said Wednesday.

That's because Russia is more familiar with the terrain

there after fighting in the region since it last invaded

Ukraine in 2014.

"The other aspect of this is the topography [of eastern

Ukraine.] It's been described to me [as] a bit like

Kansas — a little bit flatter, it's a little bit more open,"

he said. "It's the kind of place where we can anticipate

[Russia] to use tanks and long-range fires, artillery and

rocket fire to achieve some of their objectives before

committing ground troops."

The range of weapons in the latest military aid

package was chosen, in part, based on that assessment.

The security package also includes 10 AN/TPQ-36

counter-artillery radars, 2 AN/MPQ-64 Sentinel air

surveillance radars, 500 Javelin missiles and thousands

of "other anti-armor systems," 40,000 artillery rounds,

30,000 sets of body armor and helmets, and more than

2,000 optics and laser rangefinders, according to the

Pentagon.

An undisclosed number of "unmanned coastal-defense

vessels" is also being sent to Ukraine, along with C-4

explosives and demolition equipment for clearing

obstacles, M18A1 Claymore anti-personnel munitions,

medical supplies and protective equipment to guard
---
24 | M2CC - News www.m2cc.us APRIL 2022 EDITION

VISIT OUR WEBSITE AT MHCE.US
---
WWW.M2CC.US Monthly Newsletter | 25

against chemical, biological,

radiological and nuclear

exposure, the Pentagon said.

U.S. troops will need to train

Ukrainians on some of the

systems in the new package,

Kirby said, such as the howitzers,

counter-artillery and air

surveillance radars, rangefinders

and Claymores.

"We're still working on what

that's going to look like," he

said. "Because they are in an

active fight, [we may conduct]

a train-the-trainers program —

pull a small number of Ukrainian

forces out so they can get trained

on these systems and then send

them back in."

The additional weapons for

Ukraine come as Defense

Secretary Lloyd Austin met

with defense industry leaders

Wednesday regarding "the kinds

of systems that had been involved

in the security assistance

program," a senior U.S. defense

official said.

"[Austin] wanted to focus this

particular meeting on … making

sure that we have a good sense of

where industry is in transactions

and that they have a good sense

of where we are in terms of our

production needs," the official

told reporters at the Pentagon.

While Austin was "very

adamant" about discussing

equipment sent to Ukraine,

"we're not having this meeting

with them because our stocks

are so low that our readiness is

impaired," the official said.

"We have been giving an awful

lot of stuff to the Ukrainians, and

so it would be the prudent thing

to do before it becomes a crisis

issue for our own readiness to

have a discussion with them

about accelerated production

and advanced production," the

official said.

Since taking office in January

2021, Biden has now sent

Ukraine about $3.2 billion in

military aid — an amount that

"equates to more than half of

Ukraine's defense budget for

last year, which was about $4.2

billion," the official said.

"The Ukrainian military has used

the weapons we are providing to

devastating effect," Biden said

in his statement Wednesday.

"As Russia prepares to intensify

its attack in the Donbas region,

the United States will continue

to provide Ukraine with the

capabilities to defend itself."

About $2.5 billion of the U.S.

aid has been sent since Russia

invaded Ukraine less than

seven weeks ago, according to

the Pentagon. The contents of

the packages have ranged from

small arms and ammunitions to

anti-aircraft systems and 100

Switchblade tactical drones.

By the end of Thursday, the U.S.

expects to have delivered all

the previously approved drones,

the official said. Switchblades,

dubbed "kamikaze drones," are

portable loitering munitions

that crash into targets while

detonating explosive warheads,

according to AeroVironment,

which makes the weapon.

Most Ukrainian troops are not

trained on the system, though

"a small number" recently

completed Switchblade training

with U.S. troops at the Naval

Small Craft Instruction and

Technical Training School in

Biloxi, Miss., Kirby said Sunday.

Those forces, which had been

in the U.S. since before the

Russian invasion, returned to

Ukraine on Monday and are

expected to train their fellow

Ukrainian troops to operate

Creating a Culture

of Caring

Offering master's

and doctoral

degrees for

Registered Nurses

Specialties Offered:

Nurse-Midwife

the systems. But American

troops in neighboring NATO

countries also could be called

upon to train Ukrainians on the

systems, the official said.

"We are looking at options

for additional switchblade

training," the official said.

"Certainly, one option that

would be available to us would

be to utilize [U.S.] troops that

are closer to Ukraine."

The U.S. has more than

100,000 troops stationed in

Europe — the most it's had

on the Continent since 2005.

More than 14,000 of them

are deployed to countries on

NATO's eastern flank, such

as Poland, Romania, Slovakia

and Hungary.

Family Nurse Practitioner

Women's Health Care NP

Psychiatric-Mental Health NP

Learn more at frontier.edu/military
---
26 | M2CC - News www.m2cc.us APRIL 2022 EDITION

TO ADVERTISE

contact Kyle.Stephens@mhce.us

VISIT OUR WEBSITE AT MHCE.US
---
WWW.M2CC.US Monthly Newsletter | 27

TO ADVERTISE

contact Kyle.Stephens@mhce.us
---
28 | M2CC - News www.m2cc.us APRIL 2022 EDITION

Schriever Space Force Base Receives $30 Million for

New Fitness Center

A project for a $30 million renovation of

the fitness center at Schriever Space Force

Baseoutside of Colorado Springs, Colorado,

was approved last month, giving Guardians

stationed in the rural area access to a more

modern gym after several years of fighting for

updates to the building.

U.S. Sen. Michael Bennet, D-Colo., earmarked

the project in the fiscal 2022 omnibus funding

bill. The funding was secured last month,

and will be crucial for maintaining morale,

recruitment and readiness.

Our service members at Schriever are on

watch 24/7 -- and the $30 million we secured

in the government spending bill will meet the

demands of the growing population on base

and support their readiness," Bennet said in an

emailed statement.

In the 1980s, a little more than 200 Air

Forcepersonnel called Schriever home. Now,

more than 8,000 Guardians, contractors and

other military personnel work out of the Space

Force base.

An aide for Bennet said the rural location of

the base makes it hard for Guardians to easily

access a gym outside of the fence line and the

one at Schriever is too small with the recent

influx of service members at the installation.

The nearest private gym options are in

Colorado Springs, about 30 minutes away.

Prior to becoming a Space Force installation

last year, Schriever was an Air Force base

focused on missile defense and satellite

logistics.

When it was an Air Force base, Schriever's

fitness center had been undergoing small

renovations for half a decade.

In 2017, rot and corrosion were found behind

the walls when the base began renovating the

locker room showers. Prior to that, there had

been no changes made to the building since

2001, according to an Air Force press release

at that time.

With the $30 million funding secured, a

government contract seeking bids for the

renovations was posted online late last month.

Details of the project show lofty plans for the

gym.

The more than 5,000 square meters being added

to the gym will include new construction and

renovations for "an indoor running track, two

large multi-use basketball courts, racquetball

court, fitness areas, group exercise area," as

well as updated men's and women's locker

rooms.

Bennet told Military.com that securing the

funding for the project "was an opportunity

for Colorado communities, including our

military communities, to tell Washington

directly about their needs and concerns."

A timeline for the completion of the

renovations has not yet been released.

In 2023 budget documents released last

month, Space Force -- which falls under the

department of the Air Force -- requested $24.5

billion, which marked a nearly 40% increase

from the previous year.

There were no construction estimates in the

2023 budget request for the Space Force, but

the Air Force budget did ask for $68 million to

build a dormitory at Clear Space Force Station

in Denali, Alaska.

Many construction projects for the Space

Force, such as the fitness center renovations

at Schriever, will be picked up by state or

congressional funding.

The construction of the fitness center at

Schriever also comes as the Space Force

makes plans to scrap an annual physical

fitness test and will rely mostly on wearable

fitness trackers by 2023.

As Guardians await beta-testing and rollout of

the program, they will be required to complete

an Air Force physical fitness test in 2022 if

they haven't done so already.