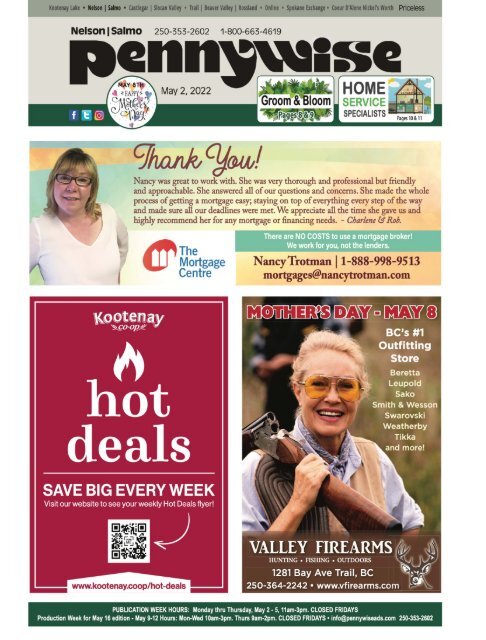 May 2, Pennywise – Nelson, Salmo
Complete coverage of the City of Nelson, Blewett, Taghum, Ymir & Salmo.
Complete coverage of the City of Nelson, Blewett, Taghum, Ymir & Salmo.
SHOW MORE
SHOW LESS
You also want an ePaper? Increase the reach of your titles
YUMPU automatically turns print PDFs into web optimized ePapers that Google loves.
Hosted by

Mason

Jim Van Horn

Jar Full of Tunes

TOTALLY ORGANIC

Th e

Old Tyme Couny

Sing Band

presents

The Incomplete History

of Country Music Part 4

Langham Theatre

Thursday, May 12, Friday May 13

Saturday May 14

7pm

Tickets $15

at Sunnyside Naturals

250-353-9667

On Stands Now...

The West Kootenay Regional Visitor Magazine

Stay & Play

Go & Do

Spring/Summer

Edition 2022

This guide is

loaded with

information on

recreation,

accommodation,

dining and events.

Featuring hiking,

biking, hot springs,

markets, festivals

and local craft

beers in the West

Kootenay!

YOUR

Ainsworth • Balfour • Castlegar • Creston • East Shore • Kaslo • Nakusp • Nelson • New Denver • Rossland • Salmo • Sandon • Slocan Valley • Trail

WEST KOOTENAY Magazine

SPRING

SUMMER 2022

FREE

#gokootenays

BC ❤ Canada

The Go & Do is made for visitors

and used by locals too.

Find your copy at a business or InfoCentre near you!

Regional

s t ay

West Kootenay Go & Do gokootenays.com

&

p l ay

www.gokootenays.com • IG #gokootenays

www.facebook.com/WestKootGoAndDo

&

FREE

For Locals

& Visitors

INTRO

How to avoid spring cleaning stress

Many of us dread the pressure to do a major clean of your

home at this time of year. Although it's a great way to boost

your confidence and gain pride in your space, it can feel like

a lot to take on. In fact, according to a recent survey commissioned

by Libman, a quarter of all respondents admitted that

spring cleaning overwhelms them.

Fortunately, there are some steps you can take to make

cleaning less distressing.

Plan your attack

It doesn't matter where you start or end your spring cleaning

so long as you create a rough plan before you begin. That way

it's easier to stay on task and avoid getting overwhelmed since

you know what you've done and where you'll clean next.

Be realistic about the time you need for each task, and don't

be afraid to schedule some of the larger ones across separate

days. This will give you more breathing room, so you're not

stressed out trying to complete an impossible list in one go.

Get ready to compete

Whatever you can do to up the fun when it comes to cleaning

is fair game. It could be as elaborate as a family wide competition

for the most streak-free windows cleaned or as simple

as putting on your favourite tunes. Keeping your mood up and

your pace moving will take your mind off how much more you

still need to accomplish, and it will help you finish faster.

Reject perfection

Hailed as a time to refresh and reset, spring cleaning sometimes

feels like the one chance to get your home in order for

the rest of the year. But if that feeling leaves you overwhelmed,

remember that any cleaning you get done is better than not

cleaning at all; it doesn't have to be done perfectly.

Assemble your tools

Having the right tools on hand helps ensure you'll get the

job done with confidence. So, do an inventory of your supplies

and stock up before you begin. Look for environmentally sustainable

supplies and tools that are built with ergonomics and

efficiency in mind.

www.newscanada.com

Mother's Day

Bouquets!

We have a

wonderful assortment

of fresh cut flowers

to make her smile!

Store Hours:

Mon-Sat 9am-7pm

Sun 10am-6pm

411 Front St, Kaslo, BC

250-353-2331

Next Pennywise Publication Date: Monday, May 16

Next Ad Deadline Wednesday, May 11 • 3 pm 1-800-663-4619

Animals/Pets ....................................................................................................................... 15

Antiques ................................................................................................................................ 5

Automotive ...................................................................................................................15, 17

Auto Parts/Service .......................................................................................................17, 18

Boats/Watercraft ................................................................................................................ 17

Building Supplies ................................................................................................................. 5

Bulletin Board.................................................................................................................... 2-5

Business Opportunity.......................................................................................................... 7

Cars ...................................................................................................................................... 15

Computers/Electronics ........................................................................................................ 5

Services, Contractors/Trades ......................................................................................7 - 14

Classes/Workshops ............................................................................................................ 15

Education ............................................................................................................................ 15

Employment ..................................................................................................................... 6, 7

Events .................................................................................................................................... 4

Free for Free ......................................................................................................................... 4

Furniture & Appliances ....................................................................................................... 5

Gardening/Landscaping ..............................................................................................13, 14

Garage Sales ......................................................................................................................... 4

Health/Personal Care ........................................................................................................ 14

Heavy/Farm Equipment .................................................................................................... 17

Help Wanted ......................................................................................................................... 7

Hiring ................................................................................................................................. 6, 7

Markets/Fairs ........................................................................................................................ 4

Merchandise ..................................................................................................................... 5, 6

Notices/Legal/Found ...................................................................................................14, 15

Puzzles ................................................................................................................................... 6

Real Estate, Agents ............................................................................................................ 18

Rentals/Commercial Rentals ......................................................................................18, 20

RVs/Campers ...................................................................................................................... 17

Seniors Discounts .............................................................................................................. 20

Sporting Goods .................................................................................................................... 7

SUVs ..................................................................................................................................... 15

Tools ...................................................................................................................................... 6

Trucks .................................................................................................................................. 15

Wanted/Looking For ............................................................................................................ 7

OBITUARIES/IN MEMORIAM

Marianne Scoular-Amatto ............................................................................................. 4

Karma Halleran

karma@pennywiseads.com

Kaslo Area - Ainsworth

250-353-2602

This Week's Puzzle Answers

Double Doubles

May 2

Larger solution online

https://www.pennywiseads.com/

puzzle-solutions/

Advertising Strategists

Adam Prisciak

adam@pennywiseads.com

Castlegar/Nelson/Trail Area

250-505-2921

Larissa Scott

larissa@pennywiseads.com

WK Features/Sales Support

250-353-2602

email: info@pennywiseads.com editorial@pennywiseads.com

Box 430, #209 312 4th St, Kaslo, BC V0G 1M0

Pennywise also publishes the Go & Do Regional Guide, Visit Kaslo Guide, 4 Seasons in Salmo

the Central Kootenay Farm & Food Directory, Discover Sixty-Five

Printed in Canada. All Rights Reserved. © 2022 by KS•Perry Publishing Ltd.,

Karma Halleran, Publisher. We reserve the right to edit or reject submissions or

advertising that are not within our guidelines, see at www.pennywiseads.com

Bulletin Board Bulletin Board Bulletin Board Bulletin Board Bulletin Board

LOOKING FOR A COPY OF THE

MAY DISCOVER SIXTY-FIVE? Find

the distribution list on page 17. If

they have run out of copies too

quickly, let us know! seniors@pennywiseads.com,

1-800-663-4619.

AFFORDABLE & SECURE HOUSE-

HOLD STORAGE CONTAINERS:

20´ & 40´ units for sale or rent. Kootenay

Containers, Castlegar. 250-365-

3014.

ALL UKRAINIAN FUNDRAISING

CLASSIFIED ADS ARE FREE: Call

Pennywise 1-800-663-4619, 250-353-

2602 in Kaslo, or email to info@pennywiseads.com

APPLEWOOD MASSAGE THERAPY:

Paul Chernoff, Registered Massage

Therapist, injury related treatments,

deep tissue therapy, ICBC, RCMP, VA,

MSP. Appointments, please call 250-

365-7752. 785 Silverbirch Lane, in the

Oglow Subdivision, Castlegar.

ATTENTION NEW CANADIANS:

Building suitable for cultural gatherings

and/or worship. 3200sq.ft.

nicely finished building in Trail on

.50 acre lot. Easy access, level entries,

ample parking, washrooms,

large common area, a/c. 250-368-

1312, 250-364-0352.

BOIL WATER NOTICE for Fletcher

Creek Improvement District water

users. Please inform all renters &

guests. FCID has a moratorium on all

connections until further notice. Visit

www.fletchercreekwater.com

BREATHE EASIER WITH OUR SU-

PER INTELLIGENT AIR PURIFI-

ER! Smart enough to monitor your

air quality in real time, filters up to

99.99% of the bad stuff! Nothing but

360 degrees of fresh and clean air for

your home and office!! CALL/TEXT/

EMAIL. 250-505-3321, gottaspin@

hotmail.com

SHARPENING SERVICE: Saws, tools,

scissors, knives, clipper blades. C&D

Sharpening Service, 250-365-3658.

BORED TEENAGERS LOOKING

FOR SOMETHING TO DO? Castlegar

Youth Action Network has Youth

Led programming, community leadership,

educational and mentorship

opportunities for youth in the Castlegar

area. Regular programming

and Drop-ins on Mondays, Wednesdays

and Thursdays between 3-6pm

and additional activities and events

scheduled monthly with zoom options

available. Contact Zoe Mackay

at youth@cdcss.ca or call 250-365-

2104 extn#226 for more info.

BUYING ALL GOLD & SILVER!

Coins, 9999 Bullion, Bars, Rounds, Ingots,

Jewelry, Nuggets, Etc. Also buying

Coin Collections, Old Coins, Royal

Canadian Mint Coins +++. Todd, 250-

864-3521.

CEDAR LUMBER: Fencing, fence

posts, siding, decking, tongue and

groove, garden beds, etc. 250-505-

4207.

CHECK OUT DISCOVER SIXTY-FIVE

Kootenay Seniors Living Magazine at

www.discoversixty-five.com

CHIROPRACTOR in KASLO: 409

Water St, (behind Figments), DR. McK-

ENZIE, Tuesdays, 250-551-3225. For

appointments, 250-352-1322.

CHIROPRACTOR, DR. McKENZIE,

SALMO: Thursdays, Willow Healing

Arts Centre. Call 250-551-3225. NEL-

SON, M.W.F, Community First Health

Co-op, 250-352-1322.

DID YOU KNOW... Pennywise ad

payments (cash or cheques) can be

dropped off at And More Second

Hand Store, 1398 McQuarrie St,

Trail during regular store hours.

Questions? Call 1-800-663-4619.

Thank you, Pennywise.

DR. McKENZIE, CHIROPRACTOR

has closed his Slocan office and is

accepting patients in his Nelson or

Salmo offices. Call 250-352-1322 for

appointments.

IDIDARIDE & RUN KASLO: Sunday,

July 3, 2022. www.ididaride-kaslo.ca

In-stock WALLPAPER is back at

OGLOW'S PAINT in Castlegar! We

have 100's of new rolls! Stop by 611

Columbia Ave. 250-365-6214. Open:

Monday-Friday, 9am-1pm. Expanded

hours coming soon!

JB'S WELCOMES YOU BACK FOR

OUR SPRING SEASON! Hours

Wednesday-Sundays, 3pm till closing.

Happy Hour 3-6pm! 250-353-7717.

2 May 2, 2022 Your local shopper N picture online: www.pennywiseads.com
---
Walk for Alzheimer's

National Volunteer Week at the end of April provides an

opportunity to recognize the key role volunteers play in Nelson

and other communities around the province.

This is especially true of the Alzheimer Society of BC's flagship

fundraiser, the IG Wealth Management Walk for Alzheimer's.

Every year, volunteer committees – including one in

Nelson – organize, promote, fundraise and build awareness

of the Walk and the cause. It is because of their commitment

and passion that the Alzheimer Society can run this successful

event to support crucial programs and services for British

Columbians affected by dementia.

"We are so grateful to all the volunteers who help with the

Walk. Every year, we are deeply impressed by the generosity

and dedication they display when it comes to supporting

British Columbians on the dementia journey," says Cathryn

France, Director of Resource Development at the Alzheimer

Society of BC. "Our volunteers are the main force behind our

event. They raise awareness about the disease and they help us

make a difference in the lives of people affected by dementia."

your own way" at a time and date of your choice. And until

May 29, registrants will have the opportunity to win $1000.00.

Visit alzbc.org/walk for details. Who will you walk for?

If you are affected by dementia, the Alzheimer Society of BC

can help. Call the First Link® Dementia Helpline at 1-800-936-

6033 or visit alzbc.org to learn more.

Sunday, July 3, 2022

Alzheimer Society of BC

We're back! May 21-23 - with all the fun and

excitement you expect from Kaslo May Days!

KASLOCHAMBER.COM/KASLO-MAY-DAYS

After a two-year hiatus on in-person events, Nelson participants

will be walking in person again to raise funds and awareness

on Sunday, May 29. Thousands of British Columbians

will join the IG Wealth Management Walk for Alzheimer's and

raise funds to ensure that people affected by dementia have the

tools to live their best life possible.

To register for an event near you or make a donation, visit

alzbc.org/walk. The site will also give you the option to "walk

Kaslo

iDIDaRide.ca

The Kootenays' Triple Threat!

is the BEST! $ 249

Now in stock and on display!

Support for unpaid caregivers

caring for someone 55+

1-888-212-2337 wkbcaregiver.org

Caregivers can access:

• Support navigating

healthcare system

• Emotional support

• Home visits

• Phone support

• Support groups

• Social activities

Over 1 million people in British Columbia provide

physical and/or emotional care to a family member,

partner, friend or neighbour.

Our program supports the West Kootenay and

Boundary area, including Grand Forks, Trail, Castlegar,

Salmo, Nelson, Kaslo, Slocan and New Denver.

pennywise office

#209 312 Fourth St, UPSTairs in the Kemball, Kaslo

Open to

serve you

If you need us and can't make the stairs, we'll come down to you! 250-353-2602

Bulletin Board Bulletin Board Bulletin Board Bulletin Board Bulletin Board

KASLO E-KRUISE SERVICE CENTRE

NOW OPEN! We service all traditional,

mountain and e-bikes. 423 Front

St. 250-300-7923, www.eKruise.com

KASLO FRONT ST MARKET: Full

service grocery store with in-store

bakery, meat shoppe, fresh produce

and full service deli. 411 Front St Kaslo,

250-2331.

MIRROR LAKE WATER USERS

COMMUNITY: Boil water advisory

for all users. Inform renters and

guests.

NEW AT FIGMENTS: "Connecting

the Kootenays" (about ferries), and

"Lost Kootenays" now back in-store.

250-353-2566, Kaslo.

REMEMBER FIGMENTS FOR SPE-

CIAL GIFTS & CARDS for Mother's

Day, May Days, and more! Visit us

Monday-Saturday until May 14; from

May 16 on we are open every day.

250-353-2566, www.figmentscanada.

com

North Kootenay Lake Community

Services Society (NKLCSS)

with the support of the United Way

and the Province of BC, offers a FREE

Senior's Meal Program for Kaslo and

area residents. Once per week a meal

will be delivered to the senior's door

by a NKLCSS staff person. If you or

someone you know is 55+ and would

benefit from this program or would

like more information, please call

Kathy, 250-353-7691 extn#204 or

email kathyallaire@nklcss.org

OGLOW'S PAINT IN CASTLEGAR

now has ECOCOAT - 100% recycled

latex paint. (Limited colours). 250-

365-6214.

SELKIRK TRUSS, can provide all

your custom trusses for your reno

or new build. Visit our website www.

selkirktruss.com and get the answers

to many of your questions. Selkirk

Truss, 2894 Sentinel Rd, South Slocan.

250-359-7000.

SHIPPING CONTAINER SALES,

RENTALS & SELF-STORAGE: Call

250-304-5955. MKV International

Trading, 2812 Popoff Rd, South

Slocan, BC.

SLOCAN COMMUNITY LIBRARY

HAS EXPANDED HOURS! New

hours are SATURDAY and SUNDAY,

11am-3pm; THURSDAY 1-5pm and

FRIDAY, 7-9pm which is our tea and

chat. Keep updated at www.slocan

library.ca

SPECIAL DELIVERY ClassiCanadian

Crosswords. Brand new, straight to

you. Check your inbox, Wednesday's

the day. For weekly delivery subscribe

at www.ClassiCanadianXwords.ca

THE BOMBI RESTAURANT: Licensed

family restaurant serving

breakfast all day. Kootenay Crossing

Mall, 100-1983 Columbia Ave, Castlegar.

778-460-2644.

THE TREASURE SHOP CASTLE-

GAR IS OPEN Tuesday, Thursday,

Saturday, 11am-3pm. Donations accepted

Tuesday & Saturday, please

call 250-365-7317 before bringing

your donations. Check out our

summer clothing and our auction.

www.castlegarhospitalauxiliary.org

Looking for volunteers, apply on our

website or stop by the shop! See you

there!

THRIFT STORE KASLO: Wednesday

through Saturday, 11:30am-2pm. Lots

of new spring items. Longer hours

possible if we have more volunteer

staff. 250-353-1037.

WANECO ENTERPRISES CUSTOM

SAWMILLING: Fir, cedar, clears,

decking, timbers. 250-353-7126, wanecoent@gmail.com

USA - BECOME A PUBLISHED AU-

THOR. We want to read your book!

Dorrance Publishing trusted since

1920. Consultation, production, promotion

& distribution. Call for free

author's guide 833-719-3029 or visit

dorranceinfo.com/acp

VICTORIAN HOSPITAL OF KASLO

AUXILIARY SOCIETY BURSARY:

$1500 bursary applications may be

submitted by any citizen of Kaslo.

Proof of accepted enrollment at an

accredited Canadian College/University

in a healthcare related field is required.

The bursary application form

is available by contacting mterlinger@

sd8.bc.ca or J.V. Humphries School.

Mail applications to: Bursary Committee,

VHKAS, Box 607, Kaslo BC V0G

1M0. Deadline May 27.

WE OFFER SUPPORT FOR UN-

PAID CAREGIVERS caring for

someone 55+. West Kootenay

Boundary Caregiver Support, 1-888-

212-2337 or email wkbcaregiver.org

N picture online: www.pennywiseads.com Your local shopper • Pennywise May 2, 2022 3
---
BIG INVENTORY

means

BIG SAVINGS!

Pre-pandemic Furniture Inventory Levels!

50% OFF ALL MATTRESSES!

Quidditch, anyone?

It is certainly rare that a student can

read a book, and then fully immerse

themselves into that very fantastical

story-world.

'Haghum School of Magical Beings'

offers youth aged 11-17 just such an

experience. Students engage in Harry

Potter themed activities based on JK

Rowling's award-winning, world-renown

book series. While competing

for the prestigious 2022 HOUSE CUP

award, students rely on multi-aged

team-building to achieve success.

This year, based primarily on Book

II, Harry Potter and the Chamber of Secrets, event organizers

present activities very close to 'the real thing', including wandwork,

quests, House Elves, and Quidditch!

All fully-registered students receive precise event info via

Owl-POST in early June. Magical-school themed group activities

occupy the afternoon. Students celebrate together with an

evening vegetarian banquet in the Great Hall.

This is a popular annual dress-up event used as a fundraiser

for the Taghum Hall kitchen renovation project. Pre-registration

required before May 15. Event is scheduled for June 18,

1 – 7pm. For more details and registration form, visit "Special

Events" page at: taghumhall.ca

...mischief managed.

Taghum Community Society

Open

7 days

a week

WE DELIVER

RIGHT INTO

YOUR HOME!

Located halfway between

Trail and Castlegar

1790 HomeGoods Rd, Genelle BC

250-693-2227

Check out our website HomeGoodsFurniture.com and see us on Facebook!

Come and see

our new working

kitchen designed by

JMK Kitchens

Kitchens & Custom

Woodworking Ltd

Marianne Iris Scoular-Amatto

It is with great sadness and loss that we must say goodbye

to Marianne Iris

Scoular-Amatto who

passed away battling

pancreatic cancer

on the 25th of April.

She has moved on to

greener horizons at

the age of 64.

Marianne is survived

by her loving

daughter Jaime

(Greg) Bratland and

her grandchildren

Jack and Georgia, her

sister Linda Scoular

(Peter) and niece Erin

(Greg) and a fondly

remembered brother-in-law, Dan Frayne. Her husband Tom

Amatto predeceased her in 2020.

She will be sorely missed by her extended family at Greene

Horizons, especially her "adopted" Mexican family and

many more. Marianne made friends wherever she went

with her wicked sense of humour and sharp tongue; many

remained good and loyal friends for life.

Cremation has taken place in Cambridge, Ontario.

Bulletin Board Bulletin Board Bulletin Board Bulletin Board Bulletin Board

WE NEED YOUR HELP! The Hansell

family has faced several expensive

medical bills this year; asking for

kind financial donations of any size.

A lunch with music is happening

Sunday, May 8, 12pm, at the Covenant

Church, Balfour. We will also

accept eTransfers to jennyhansell@

gmail.com. All are welcome!!

Events

BLUE JAYS BUS TOUR 2022: July

8 to July 11. Package includes round

trip bus to Seattle, 3 nights accommodation,

breakfast, tickets to 3

games, $1069/person. Call Karen at

West's Travel, 250-304-2000. BC reg

23776.

Events

BROADWAY PARFAIT June show

has been cancelled. Watch for revival

in the fall. Apologies to all.

GILL & GIFT'S OPEN RAINBOW

DERBY, MAY 21-23: Prizes 50%, 30%

and 20% of Net. Tickets available at

Woodbury Resort and Gill & Gift, Balfour.

250-229-2113.

KASLO COMMUNITY GARDEN

PLANT SALE: Saturday, May 28,

9am–12noon at the Community Garden,

Ave A and Washington. Plant

donations welcome. All sales by donation.

Growing plots still available

at the garden. Contact cgmcc351@

gmail.com Learn more at www.

kaslogarden.blogspot.com

MOTHER'S DAY BREAKFAST at the

Slocan Valley Legion, 502 Harold St.

Slocan, 8:30-11:30am. Cost $12 (children

6 & under $6). Pancakes, Strawberries

& Whip Cream, Scrambled

Eggs, Ham, Sausages, Hash Browns,

Fruit Salad, Coffee, Tea, Juice. Everyone

welcome!

Events

RUN FOR REFUGEES UKRAINE

FUNDRAISER: 5km run/walk, May

7, Millennium Park Castlegar. Can

you Volunteer? Donate? Organize

a Pledge Challenge? Email inforun-

4refugees@gmail.com Visit www.

run4refugees.com On Facebook Run

4 Refugees.

Markets/Fairs

SLOCAN VALLEY BLACK ANGUS

BEEF: Sides $4.99/lb; ground beef

special, $100 freezer packs; 50lb

dog bones, $49.99, soup bones and

organs. Government inspected.

Home of the Happy Cows. Wayne

Savinkoff, 250-226-BEEF.

TARZWELL FARMS: Top grade,

locally grown & naturally raised

beef. Grain & grass finished, available

year-round. Delivery to Nelson,

Castlegar & Trail available. 250-428-

4316 or find us on Facebook!

Markets/Fairs

THE SALMO VALLEY YOUTH &

COMMUNITY CENTRE is hosting

their first annual Dandelion Festival

May 21, 2022. This will be a

celebration of Spring, community

and well-being. Vendor Applications

are available through our website

www.svycc.ca Email info@svycc.ca

or phone 250-357-2320 for more

information.

Garage Sales

GARAGE SALE: Mon-Wed, 10am-

4pm, Sat, 10am-4pm, 2000 Topping

St, Trail.

NEIGHBOURHOOD GARAGE

SALE: TADANAC, Saturday, May 14,

10am-2pm.

YARD SALE MAY 6 & 7: Friday-Saturday,

8:30am-4:30pm, 7804 Woodside

Ave, Proctor. Early bird free, $10.

Garage Sales

HUGE COMMUNITY TAILGATE/

GARAGE SALE: Saturday, June 11,

9am at the Appledale Hall, 6841 Appledale

Park Rd. Sell unused household

items, crafts, produce, tools,

art, etc. (nothing illegal). $20/per

spot, (pickup, trailer, car trunk full).

One table and two chairs provided

for each spot. Homemade borscht,

hotdogs, coffee and soft drinks

available. Bring your own rain cover.

Call Mabel Kabatoff, 250-226-

7577 or Ted Okkerse, 250-226-0030

to preregister.

Free for Free

TV STAND: W/drawers and shelves,

50˝Hx54˝W, photo available. 250-

353-7128, Kaslo.

VINTAGE DEWALT RADIAL ARM

SAW: Deluxe power-shop, 3˝ cut,

works but needs TLC. 778-460-1567,

Castlegar.

4 May 2, 2022 Your local shopper N picture online: www.pennywiseads.com
---
Authors Maureen Brownlee and

Deryn Collier

In the spring of 2020, Valemount

novelist, Maureen Brownlee was

planning a book tour to promote

her new novel due out in the fall

of that year. Like many things,

the pandemic put a pause on it

all. Now after almost two years,

Brownlee celebrates the launch of

her new novel, Cambium Blue with

an author reading and chat at the

Nelson Library on Wednesday,

May 4 at 7 pm.

Cambium Blue is set in the

British Columbia Interior. The

story follows three residents as their lives intertwine and it's

an homage to resource towns, independent women and local

newspapers.

Brownlee is forgoing the usual format of lone author reading

at a podium and has invited Nelson mystery writer, Deryn

Salmo Community

gets upgrades

The Salmo Community Resource Society

is improving its programs and office building

by adding LED lighting and occupancy

sensors; replacing the metal roof and exit

stairway; replacing the air conditioner with

a high efficiency unit; adding attic insulation;

and repairing the cracked foundation.

"We appreciate the Trust's support as

we upgrade our 311 Railway office," said

Maureen Berk, executive director. "We

moved into the space in 2005 and the

years have taken a toll and upgrades are

necessary. As well as making the building

Collier to join her in conversation. Brownlee explains, "We'll

each read a bit, and chat about writing, and then open it up for

questions about the books, writing and publishing." Brownlee

thinks readers and writers will enjoy the format, "I always say

that the only thing better than writing is talking about writing."

Deryn Collier is the author of the Bern Fortin novels Confined

Space and Open Secret. "I'm really looking forward to talking

with Maureen about her new book and about how writing and

publishing went for

each of us during

the pandemic," Courses Coming up in Nelson

says Collier. Collier

will read a never-before

shared

excerpt from her

manuscript A Real

Somebody, a historical

mystery set in

Montreal in 1947.

Brownlee is

also leading a free

mini-workshop for

more sustainable and providing a level of

comfort, the improvements will enhance

safety and reduce costs."

Columbia Basin Trust supports the

ideas and efforts of the people in the

Columbia Basin. To learn more about

the Trust's programs and initiatives, and

how it helps deliver social, economic and

environmental benefits to the Basin, call

1.800.505.8998 or

visit ourtrust.org

CBT

Occupational First Aid Level 1 ................. May 5, 24

Cold Process Soap Making: Introduction .......May 7

Occupational First Aid Level 3 .......................May 9

Fall Protection ............................................May 13

Getting Started with Medicinal Cannabis

(Join by Zoom or in Person) .......................May 14

Creative Land-based Decision Making

in the Workplace .......................................May 16

Exploring Gratitude Through Photography ..May 19

Psychological First Aid ................................May 19

OFA Transportation Endorsement ...............May 25

Standard First Aid with CPR C

(OFA 1 Equivalent) .....................................May 26

Foodsafe Level 1 .........................................May 27

selkirk.ca/ce 250-354-3220 for more info

www.facebook.com/SelkirkCommunityEducation

Community Education & Workplace Training

For All Your Currency Exchange Needs

Better Than

Bank Rates

when buying or

selling US dollars

kootenay currency exchange

• foreign exchange • drafts

• gold • silver

715 Vernon St., Nelson •250-354-1441

Hours: Monday - Friday 9 am – 5 pm

beginner and experienced writers entitled, "Write Where You

Are" on May 4 from 1 pm to 4 pm at the Nelson Library. Brownlee

will take participants through a series of exercises to help

explore their writing habits and develop a sustainable creative

practice. To register for the workshop email hgoldik@nelson.ca

or call the library at 250-352-6333.

Brownlee is the author of two novels, Cambium Blue (Harbour

Publishing, 2022) and Loggers' Daughters (Oolichan

Books, 2013). A former journalist, she has also worked as an

outfitter's cook, a trail guide, a bookkeeper and an employment

counsellor.

Nelson Public Library

2 FOR

FOR 1

Frames & Lenses

or 40% OFF 1 Pair*

Good for 2 Prescriptions – Share the Savings.

*See in store for details. Some restrictions apply.

Tuesday-Friday 10am-5pm

Saturday 10am - 4pm

WE NOW HAVE

SNOW GOGGLES!

701 Front St, Nelson

250.354.EYES (3937)

Unit 2, 688 18 th St,

Castlegar 250.365.2026

Next to Common Grounds

Coffee Shop

$

$

Free sight testing both locations

PHILIP KANIGAN BSc, DMD

Notary Public Inc. A Name You Can Trust

WE ARE OPEN FOR BUSINESS by appointment

Please call 250-365-2289. Ask us about our safety procedures!

2009 Columbia Ave, Castlegar, BC Tel. 250-365-2289 Fax 250-365-2275 www.castlegarnotary.com

Wills & Power of Attorneys

Representation Agreements

Real Estate Purchases & Sales

Real Estate Contracts

Mortgages/Refinances

Changes to Land Titles

Subdivisions

Easements

and more

SOLD

Bulletin Board Merchandise Merchandise Merchandise Merchandise

Thank You

A BIG THANK YOU to all who donated

& supported our Ukraine

Fundraiser, in any way. We raised

$3461.65 and this will be sent to

the Red Cross for the Ukraine Crisis.

Slocan Valley Legion.

Merchandise

Antiques

OLD SCHOOL FURNITURE: Stop

into our shop at 434 Rossland Ave

in Trail. Open Thursday-Saturday

12-4pm or book an appointment

to view our WAREHOUSE or all. We

BUY, SELL & TRADE furniture! Follow

us on Facebook or Instagram

for exclusive offers and behind the

scenes! 250-521-3028.

Building Supplies

COME IN AND EXPERIENCE

WHAT WE CAN DO FOR YOU!

Nelson Home Hardware Building

Centre, 101 McDonald Dr,

250-352-1919.

Building Supplies

FREE ON-SITE CONSULTATION:

Bob's Doors Service offering commercial,

industrial and residential

garage door sales, service, repair

and installation. 236-972-2627.

HARROP-PROCTER FOREST

PRODUCTS: Your local source for

sustainably harvested building materials.

A wide variety of cedar/fir lumber

for every project. We also custom

cut to order. Go green by supporting

BC's only Eco-Certified Community

Forest. Check out our products at

http://www.hpcommunityforest.org

Call 250-551-5452 or email sales@

hpcommunityforest.org for a quote.

Monday-Friday, 8am-4:30pm & Saturday,

9am-3pm.

PERRY RIDGE PANELLING: Manufacturer

of cedar, pine, knotty fir/

clear fir, edge or flat grain into siding,

molding, panelling, flooring,

decking and trim. 250-226-7530.

Building Supplies

WANECO ENTERPRISES CUSTOM

SAWMILLING: Fir, cedar, clears,

decking, timbers. 250-353-7126,

wanecoent@gmail.com

WOOD I BEAMS: 11´7/8˝Hx22´L,

35 in total, $5500. 250-687-1443.

Computers/Electronics

HEXA-TEK REPAIR: Computer repairs,

upgrades, maintenance, diagnostics,

406 Baker Ave, Salmo. 250-

357-9271, www.HexaTek.ca

WINLAW FINE COMPUTING.....

www.winlawtech.com, Windows,

Apple, Linux. Pat, 250-226-7215.

Furniture & Appliances

HOME GOODS FURNITURE: A family

business serving Kootenay families

since 1950. 1790 HomeGoods

Rd, Genelle, BC. www.homegoods

furniture.com and on Facebook.

Furniture & Appliances

HOSPITAL BED FOR SALE: Mattress

like new, you pickup, $500obo,

Castlegar. 250-365-3873.

MAKE IT LAST EVENT! Save up to

$600 on select Electrolux laundry

pairs. Bears Furniture & Appliances,

612 Lakeside Dr, Nelson, BC. www.

bearsbrandsource.ca

Misc Merch

8´X6´ PALRAM GREENHOUSE,

complete, $100; two Dewalt electric

drills, $25/ea; Dewalt electric skill

saw, $35. 780-518-7109.

ARIENS RIDE ON MOWER: Excellent

condition, maintained regularly,

Kohler 19hp Courage engine,

$1250. 250-353-2258.

BLACK & DECKER ELECTRIC

LAWN MOWER: 36V, 18˝, great

condition, $150. 250-551-1525.

Misc Merch

BRIGGS & STRATTON 8.75HP

MOTOR, Weed Eater trimmer,

Homelite trimmer, $130obo for all.

250-365-6759.

CERAMIC TILES, 170+, indoor use,

6˝x2´, light multi-brown, $300;

countertop oven, $60; food processor,

$50; video cassette recorder,

$20; 58 cake decorating tips, $30.

FREE: new, single bed frame & pint

jars. 250-367-7907.

DO YOU HAVE YOURS? Call the

Pennywise at 250-353-2602 or

1-800-663-4619 for copies of the

2022 VISIT KASLO GUIDE!

FOUR INK EPSON PRINTER, new,

(wrong purchase) $190obo; engine

hoist, new, $280obo. 778-461-0120.

HOUSEHOLD STORAGE: Steel

shipping containers for sale/rent.

20´ & 40´ units. Kootenay Containers,

Castlegar. 250-365-3014.

N picture online: www.pennywiseads.com Where locals shop. N May 2, 2022 5
---
Local shoppers

read the

"Every

problem

is a gift—

without

problems we

would not

grow."

Anthony Robbins

Advertising

will help get you there.

1-800-663-4619

Invest in

yourself,

advertise!

ACROSS

1 Non-drinkable six-pack

4 Flailing dancer's pit

8 Get all set

14 "Fat" day: Abbr.

15 Economical Chevy

16 Suffer through

17 Birdie flight path

18 Nicholson/Barber duo?

20 Speedwagons, e.g.

22 Nice noggins?

23 Rubber cheque letters

24 Fleming/Plath duo?

28 Milk bag?

29 "Ritardando" reversal

33 Opposite of Dn.

34 Nuptial coverups

38 Scull propellers

39 Kelly/Valli duo?

43 ___-tat (toy gun sound)

44 Stuck together, maybe

45 Zeds tipped over

46 Pied-___ (temporary home)

49 Ill-fated rapper Shakur

51 Lahr/Coombs duo?

56 Words with dare or tear

59 Critter on an Aussie keepsake

60 Informal agreements?

61 Cochrane/Garcia duo?

65 ___ in "xylophone"

66 Tip jar toss-in, maybe

67 Canadian Club products

68 ___ d'Orléans, Québec

69 Beginning stages

70 Starbucks size below "grande"

71 Bay St. trading place

DOWN

1 Centipede company

2 Petty government official

3 Passable, but not primo

4 Rank with a crown insignia:

Abbr.

5 Eggs, to a biologist

6 Splinter groups

7 Laughably lame

8 Swiss city or U.S. watch maker

9 Says "We're through"

10 Curly, but not Larry or Moe:

Abbr.

11 Partner of wrack

12 Surfing destinations?

13 Ill-gotten gains

19 Ocean called "the pond": Abbr.

21 Like a basset hound's look

25 Guelph-born Campbell of

"Scream"

26 "The Sopranos" actress de

Matteo

27 Ages and ages: Var.

For brand new puzzles by email, sign up at

www.ClassiCanadianXwords.ca

Double Doubles

30 Take one's leave

31 Weatherbee and Skinner,

for two

32 Sugar suffixes

33 Northern India tourist city

35 Having one sharp, as a key

36 The "bad" cholesterol: Abbr.

37 Van. school named for an

explorer

40 ___-loading (runner's

strategy)

41 Collecting the C.P.P., maybe

42 Together, on sheet music

47 Make a new mitten, maybe

48 Chews away at

50 Ask too much of, in a way

Barbara Olson

© ClassiCanadian

Crosswords

May 2

52 ___ Mahal (blues musician)

53 Weather station locale in

Nunavut

54 ___ one (zero)

55 British-sounding Lake Erie

county

56 Palindromic name

57 Hands-up time?

58 "Cornflake Girl" singer Tori

62 CBC TV's "Anne With ___"

63 Seminary subj.

64 French couturier, initially

CKISS seeking new board member

We're looking for a new board member for the Central Kootenay

Invasive Species Society (CKISS) board—someone who

is interested in protecting the environment, working as a team

member, and can make a two-year commitment. As a member

of our board, you will attend quarterly board meetings, stand

on a committee and join other board members in guiding the

work of CKISS.

For more information and to download an application, visit

https://ckiss.ca. If you are not a member then register here

and indicate your interest in the board. If you are already a

member email or send in your application to info@ckiss.ca.

The deadline to apply is Friday May 6, 2022, at 5 pm.

Would your acreage benefit from soil amendment?

Mercer Celgar is looking for landowners with 2 or more acres within 55 km

that would benefit from using their Celgrow soil amendment. Pastures and

hay fields are good options.

Mercer Celgar will cover the costs of a Qualified Professional performing

soil sampling, obtaining government authorization and delivery costs of Celgrow

soil amendment based on access with a large truck/pup combination.

Acreage should be able to accommodate at least 6 truck/pup loads. The two

major components of Celgrow are individual wood fibres lost from the pulping

process and surplus bacteria from the wastewater biological treatment

facility. Wood fibres enhance soil moisture retention and bacteria are a good

source of soil nutrients. The landowner is responsible for spreading and incorporating

Celgrow into their soil.

If interested, please contact Len Hewat

Email: leonard.hewat@mercerint.com • Phone: 250-608-3513

CKISS

Do you want

to sponsor

our popular

Sudoku/

Crossword

puzzle page

in the Castlegar/

Slocan Valley

Pennywise?

Contact:

Adam Prisciak

Ph 250-505-2921

1-800-663-4619

adam@pennywiseads.com

SUDOKU

Sudoku puzzles are formatted as a 9x9 grid, broken

down into nine 3x3 boxes. To solve a sudoku, the

numbers 1 through 9 must fill each row, column and box.

Each number can appear only once in each row, column

and box. You can figure out the order in which the

numbers will appear by using the numeric clues already

provided in the boxes. The more numbers

you name, the easier it gets to solve the puzzle!

Solutions on Page 2 or

pennywiseads.com/local news/puzzles&solutions

WIN A NEW $15,000 BOAT!

2021 Marlon SWV16L Boat with a Mercury 25ELH Outboard & Karavan Trailer

Merchandise Merchandise Merchandise Employment Employment

Misc Merch

NEW DEALS WEEKLY AT KOO-

TENAY CO-OP: Organic produce,

groceries, meat, cheese & supplements.

777 Baker St, Nelson, BC.

www.kootenay.coop

QUEEN SIZE BED AND MATTRESS,

headboard has shelf, $200; Pentax

35mm camera, many attachments,

$500. 250-229-4431.

SHELTER LOGIC ROUND TOP POR-

TABLE SHELTER: 24´x12´x10´, used

one season, $500. 778-205-4800.

VINCE DEVITO SHOES AND OR-

THOTICS: We carry Blundstone,

Cobb Hill, Dunham, Muck Boot

Company, New Balance, Red Wing

Shoes, Royer, Saucony and Viberg.

411 Hall St, Nelson. 250-352-6261,

www.vincedevito.ca

WE KNOW OUR STUFF! Mallard's

Source for Sports, Castlegar

& Nelson locations. 250-365-5588,

250-352-3200.

Sporting Goods

BUYING, SELLING & TRADING

FIREARMS: BEST PRICES PAID.

Call Wally, 250-231-3721.

EXCALIBUR ASSASSIN CROSS-

BOW: Excellent condition,

$1100obo. Phone 250-512-9455.

TEETER INVERSION TABLE,

new, paid $450 selling $300; Pilates

Pro Chair, new near, complete

w/six instruction DVDs, $175.

250-359-7476.

VALLEY FIREARMS: BC's #1

outfitting sore. Shipping across

Canada. 1281 Bay Ave,Trail.

www.vfirearms.com

Tools

CRAFTSMAN RADIAL ARM SAW

with stand, $250. 780-668-8149.

Tools

LINE MARKING EQUIPMENT:

2009 Haulmark enclosed trailer

with ramp and side door; Lemmer

line paint pump and Wagner

pump; large & small cones; stencils-

no parking, alphabet letters,

numbers; tool box; counter wheel;

some paint; asking $14000obo. Will

sell just paint stuff, NO trailer for

$6500obo. Call Bill, 250-354-8441.

Employment

Hiring

DEBRI RESOURCES LTD IS

HIRING power saw operators for

brushing/slashing projects. Send

resumes with experience and certifications

to: debri_resources@shaw.

ca or fax to 778-463-0091.

WANTED EXPERIENCED YARD

AND GARDEN MAINTENANCE

PERSON: Part-time basis, Castlegar.

250-365-3014.

6 May 2, 2022 Your local shopper N picture online: www.pennywiseads.com

Hiring

HADEAN AGGREGATE SOLU-

TIONS IS HIRING A DUMP TRUCK

& PUP DRIVER for our gravel

pit operations near Nelson. Must

have 2yrs experience driving dump

truck and valid Class 1 driver's licence

with clean abstract. Apply

online at www.bit.ly/DmpTrk or call

778-754-4021 extn#129.

HAMILL CREEK TIMBER HOMES

in Meadow Creek is hiring full-time,

part-time year-round timberframers/labourers,

machine operators

and designers. Please apply to

info@hamillcreek.com

KORTS/KMBC TRAIL CREW IS

HIRING CREW for maintenance

and new builds. Tuesday-Saturday,

6am-3pm. $20-$22/hr depending

on experience. Apr.19-Oct. 31.

Check out www.facebook.com/

KasloTrailCrew for details and or

call/text Steve D. at 250-353-1657.

Hiring

HADEAN AGGREGATE SOLU-

TIONS IS HIRING A STONE

SLINGER OPERATOR for our

gravel pit operations near Nelson.

Must have 2yrs experience

operating stone slinger and valid

Class 3 driver's licence with clean

abstract. Apply online at www.

bit.ly/slingr or call 778-754-4021

extn#129.

TRAIL HOME HARDWARE IS

NOW HIRING for multiple positions.

Please apply via email, send

resumes to tharding@homehbc.ca
---
4 Seasons

in

You'll

want to be

included

in this

publication

featuring

all the

area's

attractions...

all year

long!!

■ Canada Day

■ Shambhala

■ Camping

■ Hiking

■ BMX Racing

■ Mountain Biking

■ Local Trails

& Ymir

At Deadline

■ Restaurants

■ Accommodation

■ Fishing

■ Hunting

■ Snowmobiling

■ Skiing

■ Snowshoeing

Guide comes out in early June!

Advertising Deadline April 26

Adam Prisciak cell 250-505-2921

adam@pennywiseads.com

Sales Support: Larissa Scott 1-800-663-4619

larissa@pennywiseads.com

Grizzly Bear Safety Workshop

with Grizzly Bear Solutions

May 17th, 7:00 - 9:00 pm

Nelson District Rod & Gun Club

801 Railway Street, Nelson

FREE - Everyone welcome! Doors open at 6:30

Are you heading into an outdoor summer? This free workshop is geared towards

hikers, mountain bikers, runners, dogwalkers, hunters, campers, berry pickers,

birdwatchers and anyone living, working, or recreating in grizzly bear habitat.

Learn how to prevent bear conflicts and how to respond safely if/when you

encounter a bear. Safety training will include hands-on practice with inert bear

spray. Workshop leader Gillian Sanders has 21 years of field experience in grizzly

bear conservation. For more info email grizzlybearsolutions@gmail.com

Thank you Kaslo,

for so many

great years!

We wish to Thank Kaslo, and all our Cornucopia

customers for their support since 2008. We took

over Cornucopia from our parents, Paul & Molly.

who started the business in 1985.

It has been a pleasure to be part of downtown Kaslo.

We would especially like to thank our parents Molly

and Paul, sisters Karen and Gail, daughter Danica,

and our nieces Kayda, Casey – and Amber who

has always been there for us. They have all been an

important part of this family-run business.

And to all the rest of our employees, past and

present, who we have been blessed to work with

– a very big Thank You as well. You are all part of

our larger Cornucopia family.

We are so happy to be leaving the store in the

good care of another longtime local family,

Jon & Dana Carlson.

We wish them all the best. May they find joy and

success in their new venture.

Russell & Leona

Do You Have Sleep Apnea?

Are you currentluy using a CPAP device? Are you on Home Oxygen?

New patients welcome

Suite 810 #201- Vernon 402 Baker St, Nelson, St, BC 250-352-5012

V1L 4G4

250-352-5012

RedCloverDental.net

• http://redcloverdental.net

Office hours: Monday -Thursday 8:30am - 4:00pm

The only locally owned and operated Respiratory Therapy Office with Clinics throughout the

Kootenay Boundary including Trail, Nelson and Grand Forks.

Contact our office for a consultation with a Respiratory Therapist. NO REFERRAL REQUIRED.

Employment Employment Employment Wanted Services

Hiring

LOOKING TO HIRE IMMEDIATE-

LY: Operations Manager; Dismantlers;

and Tow Truck drivers. Please

apply w/resume and phone number.

Scrap King Auto Wrecking &

Towing Ltd, 1660 Airport Rd, Salmo.

scrapking@telus.net

GALENA CONTRACTORS LTD. is

seeking a heavy-duty mechanic, experienced

with logging equipment.

This is a permanent full-time position

that offers competitive wages

and a health benefit plan. To apply

please contact Kevin by email at

shop@galenacontractors.com

MULTI-SERVICE WORKER: April's

Caregiving for Seniors in Trail is looking

for an individual who loves cleaning,

gardening and cooking. 24-32

hrs/wk. Foodsafe is an asset. Must

have a reliable vehicle, be physically

fit and have good organizational and

time management skills. Criminal

Record check required. Please send

resume to acahman@telus.net

Hiring

REGISTERED CARE AIDE: April's

Caregiving for Seniors in Trail, is

looking for a home support worker

for weekends. 12-16 hrs/wk. Memory

Care is an asset. Must have a reliable

vehicle, be physically fit, enjoy detailed

and methodical work. Criminal

Record check required. Please send

resume to acashman@telus.net

Business Opportunity

COMMERCIAL KITCHEN RENTAL:

Fully equipped, Acorn+Oak cafe and

kitchen, Nelson. www.acornandoakcafe.ca/kitchen-rental,

skyelea@

acornandoakcafe.ca, 778-836-3012.

FREE BUSINESS COUNSELLING

FOR BUSINESS STARTUPS: Free

appointments for startups on Apr.

28, May 12 & 26. Email: info@futures.

bc.ca to book a time (phone or in person).

Community Futures also offers

business loans, business workshops,

resource library and the Self-Employment

Program. www.futures.bc.ca

Help Wanted

CAREGIVER REQUIRED FOR

HOME CARE IN KASLO: 8am-1pm,

Monday-Friday, starting May 1, $22/

hr. Contact France, 250-661-5268 or

flachmoi@yahoo.com

Wanted

Looking For

16´-18´ CATAMARAN, in good

shape. 250-353-2427.

$$$ COIN COLLECTOR LOOKING

TO PURCHASE COLLECTIONS, Accumulations,

Royal Canadian Mint

Coins & Sets, Olympic, Gold and Silver

Coins, Paper Currency, etc. Please

call Chad 250-863-3082 cell, 250-499-

0251, Kootenays.

FIREARMS: Call John Urquhart in

confidence anytime. I will come to

your home. 250-367-7540.

Looking For

MOBILE HOME TO BUY: Cash sale,

2+ bedrooms, save real estate fees!

Email: westkootenaymobilehome@

gmail.com

OLD BEER/POP SIGNS, wooden/

metal crates, old gas/service station

items, old Coke/pop machines. 250-

231-9397.

USA - !!OLD GUITARS WANTED!!

GIBSON, FENDER, MARTIN, Etc.,

1930's to 1980's. TOP DOLLAR PAID.

CALL TOLL FREE 1-866-433-8277.

USA - PAYING TOP CASH FOR

MEN'S SPORTWATCHES! Rolex,

Breitling,Omega, Patek Philippe, Heuer,

Daytona, GMT, Submariner and

Speedmaster. Call 833-603-3236.

USA - WANTED TO BUY: Wants to

purchase minerals and other oil and

gas interests. Send details to P.O. Box

13557 Denver, CO 80201.

Contractors/Trades

A.D. CONTRACTING: Residential

Renovation and Construction, Windows,

Doors, Kitchens, Bathrooms,

Decks, Rot Repair, Laneway Homes

and more. Red Seal. acrrodesign@

gmail.com 778-962-0707.

A&A PAINTING LTD. 32 YEARS

IN BUSINESS: Professional and

best service guaranteed. Bonded,

licenced and insured. Call

now 250-354-9015 Nelson; 250-

304-5237 Castlegar; 250-368-

1044 Trail. office@aapainting.ca

www.aapainting.ca

N picture online: www.pennywiseads.com Where locals shop. May 2, 2022 7
---
Yard & Garden Waste ‐ Seasonal Free Tipping

During the month of MAY the following

Resource Recovery Facilies accept Yard & Garden Waste

for FREE:

Balfour / Burton / Salmo / Edgewood / Marblehead / Kaslo

Grohman Narrows / Nakusp / Ooschenia / Rosebery / Slocan

Quanes greater than 2.5 m3 must go to the Ooschenia Landll or the Nakusp Landll.

Site Staff reserve the right to limit the number of loads disposed by any customer, based on available space.

Visit our website for more details.

Hanging Baskets

for Mother's Day

Ceramic Birdbaths

$99 99

Ceramic Pots starting

at $72 99 3 pc set

Over 300 Perennials

starting at $6 99

• 4" flowers $3 59

Many Petunia varieties

including EZ Waves,

Crazys, Starlet, Mainstage

• Flowers & veggies

4 pac $2 99 – 6 pac $5 99

• Single 3 1/2" veggies $2 19

• 1 gal tomato plants $12 99

Four Seasons

Greenhouse & Nursery

5531 SLOCAN RIVER RD, WINLAW 250-226-7254

Turn left at Mama Sita's Café, left off Winlaw bridge 1.5 km

Only 45 minutes from Nelson or Castlegar

OPEN 9-5 DAILY

rdck.ca/gardenwaste

250.352.8161 | wastedept@rdck.bc.ca

Our Greenhouses are bursting with

beautiful colour & varieties of plants.

Best selection & price in the Kootenays.

• Fruit & shade trees

• David Austin, fragrant

shrub roses, climbing

roses

• Shrubs & evergreens

• Wasabi & horseradish

root

• Many small fruits

Soils, manures, fertilizers, grass & clover seed

Friendly, knowledgeable

advice backed by 37 years of

growing experience.

Bloom & Groom

Besides being a fun word to

say, this permaculture technique

may be just what you

need to apply in your garden.

Chances are you live on a lot

that was once marginal forest

land, or the topsoil was scraped

away in an attempt to create a

'Kootenay level' lot. Whatever

the reason, if you have poor

soil, and not enough of that,

hugelkultur might be your

solution. Permaculture advocates

claim that the technique

Lawn &

Garden

Tools

What is Hügelkultur?

Slocan Valley

Dahlia, Gladiolus bulbs

Begonia tubers and more for

beautiful summer gardens!

• lawn seed

• soil

• manures

New Shipments of

fencing and posts

have arrived!

Bundle pricing on posts available

5763 Hwy 6, Winlaw | 250-226-7771

Open 9-5 Monday-Friday, 10-4 Saturday

Closed Sundays

improves soil fertility, water

retention, and the soil will warm

earlier in spring and retain its

warmth later in the fall.

Hugelkutur is also known

as mound culture or hill culture.

Simply put, one creates

a mound of materials that will

slowly decompose. Your crop is

planted on top of the mounds.

In its basic form, mounds are

constructed by piling branches,

plant waste, compost and

"Spring has

sprung and we

have everything

you need to tackle

your garden!"

Flower & vegetable

seeds, flats, inserts,

pots, domes & more!

Potatoes

Seed

& Onion Bulbs

LARGEST SUPPLIER

OF FENCING, POSTS,

CORRAL PANELS

IN THE KOOTENAYS!

additional soil directly on the

ground. If you're hugel-ling a

lawn area, cut the sod away,

and place sod blocks upside

down over the wood.

If your yard is sloped, the beds

need to follow the contours.

You can also have some fun and

design mazes or wheels – go all

free-form!

The first year of break down

means the wood (and fungi)

steal a lot of the nitrogen out of

the surrounding environment,

so plant crops that add nitrogen

Great advice

Great selection

Great products

It's all here!

Ace Building Centre Kaslo

Hwy 31 250-353-7628

www.kaslobuilding.com

Services Services Services Services Services

Contractors/Trades

AINSLO ELECTRIC LTD.: Fully Licenced,

Bonded & Insured. Residential,

Commercial, Industrial. Technical

Safety BC Licence # LEL0211358.

Serving Kaslo, Nelson and Area. Give

us a Call at 250-353-1888.

ALERT, PHONE NUMBER SCAM:

Please be aware of a phone number

scam using 1-800-353-2602. This is

NOT the Pennywise toll free number

and if you call it in error, do not follow

the instructions, hang up. Pennywise.

ALL AROUND SEPTIC SERVICES

LTD.: Offering sewage pumpouts,

septic system evaluations

& installations, and commercial

grease trap services. 250-354-3644,

www.allaroundsepticservices.com

ALL PHASES HOME RENOVA-

TIONS: Kitchens, bathrooms,

windows & doors. Licensed, registered,

insured. Photos, references.

Book in advance. Michael Nesbitt

Contracting, 250-825-4771.

Contractors/Trades

ALL TYPE ROOFING & RENOVAT-

ING: For all your general contracting

needs, since 1993. 250-368-8857.

ALUMINUM RAILINGS AND VI-

NYL DECKING: Free estimates. Call

Royal Vinyl Decking at 250-231-7905

or email royalvinyl@shaw.ca

BASED IN HARROP, SERVING

KOOTENAY LAKE AND NELSON:

EAE Electrical Contracting offers affordable

rates for any size of job. Call

or text 250-551-5511.

BILSKI MASONRY: Serving the

Kootenays since 1992. For high

quality tile work, custom showers,

stone work, etc. Call Peter Bilski,

250-229-2157 or 250-505-3005 (cell).

Contractors/Trades

BRENTON INDUSTRIES LTD: Kaslo

Excavation Contractor, Septic & Utility

Installations, Land Clearing & Tree

Trimming. Call Sean, 250-551-4058,

www.brentonindustries.ca

BULLDOG CONCRETE FINISH-

ING: Your Kootenay Concrete Specialist!

Basement/garage floors,

patios, driveways, form to finish. Organized

journeyman. 250-365-5573,

www.bulldogconcretefinishing.ca

CASCADIA ROOFING: 25 years contracting

in West Kootenays. Reroofing,

new installations, repairs. Roof

inspections/reports. Asphalt/fibreglass

laminate shingles, metal roofing

& cedar shake conversions. WSBC &

liability insurance. Quality workmanship

guaranteed. 250-354-2999.

CURRY'S EXCAVATING: EX-120

and 5T Mini for all your digging

needs!! WAYNE CURRY, 250-226-

7661, valhallacur@hotmail.com

Contractors/Trades

CLELAND ROOFING & REPAIRS:

30yrs experience, 23yrs certified. Certified

roofers are the only way to get

your manufacturer's warranty, 10yr

transferable warranty. Old-fashioned

service. Call 250-231-0142.

CRESTVIEW PAINTING: 25yrs+ experience,

reliable/quality work that

lasts, new construction, residential,

repaints, certified journeyman. Fully

insured. 250-304-5197.

EAS ELECTRIC: Rewires, service upgrades,

renovations and more. No

job too small. Free estimates. Fully

licensed, insured and bonded. Call

Eddy, 250-231-9950.

ELECTRICIAN FOR HIRE: Licensed,

experienced, semi-retired. Back-up

power generator install, renos, small

jobs, serge protection. Reasonable

rates. Jim Rogan, 250-353-9638,

250-354-8910.

Contractors/Trades

FLOW PLUMBING & HEATING

LTD: We make it drain! Competitive

pricing, no job too small.

250-685-8177.

HEAT-CHECK: WETT Inspections,

chimneys, woodstoves, liners, duct

work, HRV. Call 250-355-2338.

HIM N HER CONTRACTING:

Home renovation, maintenance &

repair, licensed and insured, over

32yrs in construction industry. Excellent

references and photos available,

check us out on Facebook. For

fast, friendly and courteous service

please call Vanessa or Dusty,

250-212-2384.

8 May 2, 2022 Your local shopper N picture online: www.pennywiseads.com
---
to the soil like legumes. After the

wood absorbs nitrogen to its

fill, the wood will start to break

down and start to give nitrogen

back in the process. In the end

hugelkulture garden bed

after one month

Come in and explore

KOOTENAY

CRITTERS

CASTLEGAR

Discover the Tranquil

World of Ponds and

Water Gardening

502 Columbia Avenue

Castlegar 250-365-7370

you will be left with a beautiful

bed of nutrient rich soil.

There are many great videos

online that explain this process

very well... and help you

after one

year

after two years after twenty years

images courtesy Paul Wheaton/RichSoil.com

learn to say the word correctly!

• https://youtu.be/JrPcc7p-XVc

• https://www.youtube.com/

watch?v=Ukmr8PsQMhI

Planting Guide

OUR GREENHOUSE IS OPEN!

Get Your Hanging Baskets

for Mother's Day

Come see US for your

Asparagus Roots

Rhubarb

Strawberries

Blueberries

Raspberries

Seed Potatoes

Dahlia Bulbs

Onion Sets

Gladiolus Bulbs

Veggie Starts

So Much More!

NELSON FARMERS SUPPLY

Serving the region for over 80 years

524 Railway St., Nelson 250-352-5375

WATER

GARDENING

WET PETS & SUPPLIES

~ Koi & Fancy Gold Fish

~ Preformed Ponds & Liners

~Water Plants: Lilies, Marginal & Bog

~ Pumps, Filters & Lights

~ Fountains

~ Lawn & Water Ornaments

Knowledgeable Staff

Services Services Services Services Services

Contractors/Trades

HOOVER MASONRY, CERTIFIED

EXPERIENCED MASON: Stonework,

Bricklaying, Tile Setting, Custom

Masonry Fireplaces, Restoration,

Chimney Re-pointing, Stone

Patios & Stairs, Retaining Walls, Manufactured

Stone. Communication...

Service...Satisfaction! 250-551-3245,

hoovermasonry@gmail.com

INTERIOR PAINTING: Quality

workmanship guaranteed. Have

excellent local references. Paige,

250-551-0982.

JUSTHINK PAINTING: Serving Kaslo

& Area. Residential, commercial, interior

& exteriors. Seniors discount.

Free estimates. 25+ yrs experience.

All work guaranteed. Call Stephan

250-353-7128, 250-353-8763.

LOON PLUMBING, HEATING AND

GAS FITTING: Reliable service for

Nelson and the Kootenay Lake area.

Call or email levon@loonplumbing.ca

250-354-9299.

Contractors/Trades

LOKI TREE SERVICE: Complete tree

& forest services. Certified Arborists

& Fallers. Hazardous Tree Removal,

Pruning, Chipping, Stump-Grinding,

Forest Management, FireSmart. No

job too big or small. 250-353-2405,

www.lokitree.com

MONASHEE CONSTRUCTION:

Serving the community for over 30yrs.

Home renovations, bathrooms, kitchens,

basements, etc. Fully insured &

licensed. 250-368-1850.

MS STEEL DESIGN LTD: Steel shelters,

carports and more. 250-365-

2971, www.mssteeldesign.com

MY PLUMBER: No job too small.

Maintain, service, install, plumbing

systems, blocked sewer lines. 250-

521-0206, 250-687-9041 (cell), email

columbiamyplumber@gmail.com

WITH AN ACCENT FINE CARPEN-

TRY: Specializing in interior finishing,

built-ins and railings. 250-551-1842.

Contractors/Trades

PARADISE VALLEY PLUMB-

ING: Plumbing contractor serving

the Kootenay area, www.

paradisevalley plumbing.ca 250-

226-7947, 250-777-3588 (cell) or

schaferspeare@gmail.com

R.J. EARTHWORKS EXCAVATING

AND CONTRACTING: E50 Bobcat,

dump trailer. Land development,

site prep, land clearing, driveways,

boulder walls, retaining walls, basements,

septic, underground utilities,

fencing, hauling. Fully insured, fast,

efficient. Call/text 250-551-7347,

r.j.earthworks@gmail.com

Contractors/Trades

R&S ROOFING: Seamless Gutters

too! Call for free estimate. WCB/insured,

licensed, workmanship guaranteed

on labour. Booking for 2022!

Richard, 250-367-9404.

RENK MASONRY & TILE: High quality

stonework, tile, bricks, blocks, etc.

Call Brian Renk, 250-354-8439 (cell) or

email brianrenk@shaw.ca

RNR ELECTRIC & CONTROLS: Your

local Kaslo & Area electrician for residential,

commercial and industrial

projects. Call Randy, 250-366-0087.

SELKIRK INSULATORS a division

of Seib Contracting: For all your

residential and commercial insulation

needs. Certified spray foam installation,

conventional & blown-in

residential. Licensed, Insured, and

WorkSafeBC. Serving Trail, Rossland,

Castlegar, Fruitvale, Nelson and

Grand Forks area. 250-231-2837.

Contractors/Trades

SAMURAI HARDWOOD FLOOR-

ING: Residential/Commercial Flooring

and Tiling Services, Professional

Installations, Custom Stairs, Refinishing

Services. 295 Baker St, Nelson,

778-463-5388.

SERVING ALL YOUR ELECTRICAL

NEEDS in Nelson, Kaslo and Area.

AINSLO ELECTRIC LTD. Fully Licenced,

Bonded & Insured. Residential,

Commercial, Industrial. Technical

Safety BC Licence # LEL0211358.

Give us a Call at 250-353-1888.

WOLFGANG'S PLUMBING: Serving

the Slocan Valley and surrounding

area. Qualified pump installer. 250-

226-7320, wteiner@netidea.com

N picture online: www.pennywiseads.com Where locals shop. May 2, 2022 9
---
Pre-Sale Beautification

Installations

Firesmart Yards

Waste Removal

Beach Cleaning

Small Engine

Service

betterlawnandgarden.com

Hamill Creek

Timber Homes

Meadow Creek, BC

250-366-4320 • 1-888-713-1800

sales@hamillcreek.com

HamillCreek.com

Green and Clean

We're your best decision for

heating and cooling!

Serving the Kootenays over 15 years

250-304-0455 or 250-505-8209

www.canadianaerothermal.ca

Underground to overhead

Residential or commercial

All your electrical needs

250-304-8930

Flooring

250.352.7447

Lighting Layout & Design

Residential and Commercial

Traditional Fixtures or the Latest in Trends and LED

Great selection of table & floor lamps

Repairs to favourite old lamps

301 11 th Ave, Castlegar

250-365-0500 • www.mhlighting.ca

Designing and

crafting unique

timber frame

homes since 1989

Landscaping Specialists Lighting

Timber Framing

Heating/Cooling

Electrical

Window Cleaning Specialist

Garage Door Specialist

Home Service Specialists

Contracting Specialist

Painting

We are your newest

ALTERNATIVE CHOICE

for all your glass needs.

With 27 years in the industry,

we specialize in commercial &

residential buildings; interior

& exterior design; custom showers & mirrors; deck

railings; windows & doors; even automotive.

Call us today to discuss your next project.

250-551-3446

sales@acglass.org • www.acglass.org

Glass Specialist

Building Supplies

Water Heaters Deck & Rail Specialist

Gutter Specialist

Roofing Specialists

Heating Specialists

HEATING SPECIALISTS

Wood • Gas • Pellet

Sales & Service

WETT Inspections

250-227-9315

graycreekstoves@gmail.com

Trail Roofing

Trail Roofing

• Gov't Certified

• Commercial

• Industrial

• Residential

Free Estimates

8110 Old Waneta Rd

Excavation Specialist

ltd

Specializing in:

- Torch on - TPO

- Single Ply

- Shingle & Steel Roofing

- Custom Sheet Metal Fabrication

www.trailroofing.ca

BONDED & INSURED

250-364-2900

ltd

trailroofing@telus.net

For a free estimate call 250-859-3088

Or email us at

info@treelinedeckandrail.com

"Your West Kootenay waterproof deck

and aluminum railing specialists"

www.treelinedeckandrail.com

SAME DAY

SERVICE! *

*when possible

Clip this ad

and keep it on

your fridge…

FREE

QUOTES!

…you may

need it

some day

- Gas & Electric Water Heaters

- On Demand Units

250-362-5665

• Refinishing Services • Staircases

• ENG/Solid Hardwood • Cork/Vinyl/Tile

• Sales/Installation • Flooring Design

www.samuraihardwood.com

295 Baker Street, Nelson

778-463-5388

Commercial, Industrial and Residential

Garage Door Sales, Service, Repair & Installation.

24 hour emergency service

bobsdoorserviceinc.com

bobsdoorservicerh@gmail.com

236-972-BOBS (2627)

Over 30 years

in business!

Residential and commercial

repaint and coating specialists.

Interior and exterior.

Bonded, licensed, insured.

All personnel police

Nelson 250-354-9015

background checked. Castlegar 250-304-5237

Trail 250-368-1044

email: office@aapainting.ca

Website: www.aapainting.ca

Visit the friendly,

knowledgeable

staff at your

local building

supply dealer.

Ace Building Centre

Kaslo

250-353-7628

www.kaslobuilding.com

email kaslo.building@telus.net

6521 Highway 31 Kaslo

←

Your Ad Here

←

looking for:

Excavation Specialist

Contact Larissa Scott

250.353.2602

larissa@pennywiseads.com

10 May 2, 2022 Your local shopper N picture online: www.pennywiseads.com N picture online: www.pennywiseads.com Where locals shop. May 2, 2022 11
---
You're needed on the farm!

The outlook for the

Canadian Agricultural

industry continues to

be a cornerstone of

our economy, directly

employing 2.3 million

Canadians. The agriculture

and food sector

is leading research and

innovation to address

global challenges. Various

opportunities will

allow you to make a

difference – feed the growing population, protect the environment,

care for animals, and support your community!

Employment professionals at WorkBC Centres can support

you in conducting a successful job search and applying to

local farms in your area.

Visit your centre today!

• WorkBC Centre Castlegar- 1016 – 4th Street, 8:30 am

to 4:30 pm – Monday to Wednesday | 8:30 am to 6:30

pm – Thursday | 8:30 am to 4:30 pm – Friday

• WorkBC Centre Nelson- Suite 203-514 Vernon Street.

8:30 am to 6:30 pm – Monday to Thursday | 8:30 am to

4:30 pm – Friday |

• WorkBC Centre Trail- 1499 Bay Avenue. 8:30 am to

5:30 pm – Monday, Tuesday & Thursday | 8:30 am to

6:30 pm – Wednesday | 8:30 am to 4:30 pm – Friday

WorkBC

Here's to all the moms -

keeping the wheels turning!

8000 Hwy 3B

next to Waneta Plaza

2795 Hwy Drive

1-800-961-0202

2022 Explorer

2022 Edge

2022 Edge

Standard Ford

Co-Pilot360 +

and Intelligent

All-Wheel Drive

JEB JEBGROSSUT

SALES ASSOCIAT

2022 Escape

Available

Foot-Activated

Liftgate ˆˆ

2022 Explorer

Available

7 Passenger Seating

2022 Escape

AM FORD EXPERIENCE

Images are for illustration purposes only. DLN#30770 / DLN#7336

Always the best inventory, always the best

prices, always a team that works hard for you

building centre

Nelson Home Building Centre 101 McDonald Dr, Nelson • 250.352.1919

Hipperson Hardware 395 Baker St, Nelson • 250.352.5517

2795 Hwy Dr

Trail BC

DL# 7336/30770

ALL MAKE SERVICE WITH 10 AUTO TECHNICIANS

Visit us at

AMFORD.COM

LOAN BY

PHONE

1-800-961-0202 250-364-0202

8000 Hwy 3B

Trail BC

DL# 7336/30770

279

Services Services Services Services Services

Contractors/Trades

SEVEN REFRIGERATION: Serving

Kaslo and area. 35 years experience.

Commercial Refrigeration,

Heating and Cooling, Heat Pumps.

Cell 250-551-2152. House 250-

353-2965. E-mail sevenrefrigeration77@gmail.com

You can depend

upon Pennywise

advertising to get

you results.

Just ask any of the

businesses you see in these

pages, week after week! Next

deadline 3pm Wednesday

May 11 for the May 16 edition.

1-800-663-4619.

Contractors/Trades

TRIXIE'S CLEANING AND JUNK

REMOVAL IS NOW BOOKING

junk removal and demolition jobs.

Have a garage or shed that's broken

and need it gone? Moving and

need to get rid of stuff? We can

get rid of it for you! Also hiring for

a house cleaning position in Castlegar.

Email trixiejennifer@gmail.

com or text 250-365-9313. www.

trixiecleaners.ca

WATER FEATURES, excavation

services, paver installations, decks,

fences, retaining/garden walls, stone

work -natural/faux. 250-505-6004,

www.cascadialandscaping.ca

General Services

A HANDY HUSBAND: Repairs, replace,

maintenance, decks, fences

and most everything else. 250-354-

8598.

ALL-HOME & COMMERCIAL RE-

PAIR: Handyman services, roofs, gutters

and more. Light deliveries/small

moves. 250-267-8591.

ASK OUR EXPERTS for your home

furnishings and appliance deliveries.

We deliver for Bears, Floyds and Kootenai

Moon. Found it on Facebook?

We will pick it up and deliver it to you.

Call Positive Apparel, 250-505-5444.

BEAVER'S SEPTIC TANK CLEAN-

ING SERVICE: Serving the Kootenays.

Goes the distance! 250-354-3508 (cell)

or 250-357-9724.

BEKKER TRUCK WORX: Towing &

Hauling Vehicles, Sea Containers,

Light Equipment, Building Supplies.

Roll-back truck with 20´ tilt deck. Call

Niko, 250-353-1091.

General Services

CHILD CARE SERVICE: Stay-athome

mom, interested in babysitting

babies up to 2yrs old, in my

home. Weekdays only. I have 18yrs

of experience with children and

would provide a loving, structured

atmosphere for your little one.

Located in Ootischenia. $15/hr or

$100/day. Call/text Martha, 250-

833-5067.

GW CONTRACTING: For All Your

Building Needs! 250-231-4532, bit.

ly/3ilFCIp

GOT A 'NO FLYERS' ORDER ON

YOUR MAIL? If so, Canada Post

will not put a Pennywise in your

mail box. However, digital copies

of all 4 Pennywise Editions are

available online at www.pennywiseads.com

THANK YOU FOR

READING PENNYWISE!

General Services

CLEANING GENIES: Professional

Clean Team. You've tried the rest,

now call the best! Fully insured, Work-

SafeBC. All employees on payroll. Call

Marilyn, 250-505-8346. www.cleaninggenies.ca

COOL BEAMS MOBILE SAWMILL

SERVICE: Turning your logs into lumber

on-site. 250-777-7366.

FOR ALL YOUR DRYWALL AND

PAINTING NEEDS: Steel stud and

suspended ceilings. No Job Too Small!

Serving Trail & Castlegar areas. Rob,

604-551-8554, Fruitvale.

IS YOUR MORTGAGE UP FOR RE-

NEWAL? Before you sign, why not

compare all the options? The Mortgage

Centre, Nancy Trotman. 1-888-

998-9513, mortgages@nancytrotman.com

SHARPENING SERVICE: Saws, tools,

scissors, knives, clipper blades. C&D

Sharpening Service, 250-365-3658.

12 May 2, 2022 N Pennywise Publishing every 2nd week N picture online: www.pennywiseads.com
---
202

WE WANT TO

BUY YOUR

2008 FORD F-150 XLT

4WD, SuperCrew, 235,607km,

STK#64460

$16,989

2013 HYUNDAI SANTA FE

Sport, AWD, 4 dr, 2.0T, auto, premium,

175,100km, STK#036624

$

15

DAILY

$

200

BI-WEEKLY

2019 GMC CANYON

$17,989

2020 FORD F-150 XLT

4WD, SuperCrew, 6.5' box, 3.5L V6,

28,555km, STK#63121

$

26

DAILY

$

369

BI-WEEKLY

$51,989

TRUCKS, SUVS OR CARS

1-800-961-0202 OVER 40 PRE-OWNED IN STOCK

2008 JEEP WRANGLER

4WD, Rubicon, 3.8L V6, 259,358km,

STK#0637

$17,989

2017 TOYOTA TACOMA TRD

4WD, double cab, V6, off road,

106,433km, STK#024905

$

28

DAILY

$

385

BI-WEEKLY

$47,989

2019 DODGE GRAND CARAVAN

GT 2WD, 3.6L V6, 87,629km,

STK#15571

$

17

DAILY

$

238

BI-WEEKLY

2018 FORD F-150 XLT

1-800-961-0202

$34,989

2018 FORD FOCUS SE

Hatch, charcoal black, 74,023km,

STK#7998

$

11

DAILY

2017 HYUNDAI SANTA FE

SE, Sport, AWD, 4 dr, 2.0T, 2.0L 4 cyl,

103,802km, STK#475311

$

15

DAILY

$

143

BI-WEEKLY

$

207

BI-WEEKLY

$19,989

2018 FORD F-150 LARIAT

4WD, SuperCrew, 5.5' box, 55,951km,

STK#64855

$

31

DAILY

2016 TOYOTA SIENNA

$

434

BI-WEEKLY

$55,989

$26,989

2010 FORD F-250 XLT

4WD, SuperCab, white, 158", 151,316km,

STK#2847 Image for illustration purposes only

$

21

DAILY

$

290

BI-WEEKLY

$19,989

2018 FORD F-150 XLT

4WD, SuperCrew, 5.5' box, 40,432km,

STK#20850

$

25

DAILY

2021 FORD BRONCO SPORT

$

347

BI-WEEKLY

$45,989

2019 GMC TERRAIN SLT

$

25

DAILY

AWD, 4 dr, 25,814km,

STK#64455

$

347

BI-WEEKLY

DIESEL

$45,989

2018 FORD EDGE

PROTECT YOUR INVESTMENT

with an

engineered

steel shelter

Single/Double/Custom

24

HR

EMERGENCY

SERVICE

FREE estimates

SPRING SALE!

LTD

mssteeldesign.com

USES: Cars/RVs/Boats • Storage • Picnic Areas & more

250-505-4703 1745 Hwy 3A Castlegar solutions@mssteeldesign.com

After winter is before winter!

4WD, crew cab, all terrain, leather, 3.6L

V6, 79,545km, STK#93906

$

23

DAILY

$

317

BI-WEEKLY

$45,989

2017 FORD FUSION SE

SuperCrew, 4WD, 5.5' box, 3.5L V6,

32,620km, STK#42085

$

25

DAILY

$

350

BI-WEEKLY

$45,989

2017 FORD F-350 SRW

XLE, 5 dr 7 passenger, AWD, 3.5L V6,

107,101km, STK#145888

$

24

DAILY

$

340

BI-WEEKLY

$39,989

2018 CHEVROLET CRUZE

Outer Banks, 4x4, 1.5L 3 cyl, 5,301km,

STK#4441

$

23

DAILY

$

323

BI-WEEKLY

$46,989

2019 HONDA RIDGELINE

AWD, Titanium, 2.0L 4 cyl, 111,119km,

STK#92304

$

19

DAILY

$

270

BI-WEEKLY

$35,989

2017 FORD F-150 XL

Commercial, Industrial and Residential

Garage Door Sales, Service,

Repair & Installation

JEB JEBGROSSUTTI

SALES ASSOCIATE

4 dr sdn, FWD, 2.5L 4 cyl, 119,969km,

STK#19954

$

11

DAILY

$

144

BI-WEEKLY

$18,989

$

42

DAILY

$

588

BI-WEEKLY

DIESEL

SuperDuty, Lariat, 4WD, crew cab, 6.7L

8 cyl, 72,220km, STK#88541

$69,989

LT, 4 dr sdn, 1.4L 4 cyl, 39,332km,

STK#38175

$

14

DAILY

$

192

BI-WEEKLY

$25,989

$

27

DAILY

Sport, AWD, 41,050km,

STK#502223

$

371

BI-WEEKLY

$48,989

4WD, reg cab, 5.0L 8 cyl, 307,511km,

STK#D36033

$

12

DAILY

$

161

BI-WEEKLY

$20,989

bobsdoorserviceinc.com

bobsdoorservicerh@gmail.com

236-972-BOBS (2627)

2017 JEEP GRAND CHEROKEE

2020 FORD F-150 XLT

2017 FORD ESCAPE SE

2017 FORD ESCAPE

2017 FORD F-150

Is there untapped value in your land?

Trailhawk, 4WD, 5.7L 34,599km,

STK#53888

$

26

DAILY

2018 FORD EDGE AWD

Titanium, 2.oL 4 cyl, 70,054km,

STK#82440

$

19

DAILY

$

367

BI-WEEKLY

$

263

BI-WEEKLY

$45,989

$34,989

SuperCrew, 4WD, 6.5' box, 5.oL 8 cyl,

111,017km, STK#93358

$

24

DAILY

2016 FORD EDGE AWD

Titanium, 2.0L 4 cyl, 46,660km,

STK#69110

$

20

DAILY

$

339

BI-WEEKLY

$

278

BI-WEEKLY

$48,989

$32,989

4WD, 2.oL 4 cyl, 4 dr, 115,032km,

STK#B47524

$

17

DAILY

2016 FORD F-150 XLT

SuperCrew, 4WD, 5.0L 8 cyl, 75,758km,

STK#29051

$

26

DAILY

$

236

BI-WEEKLY

$

359

BI-WEEKLY

$29,989

$41,989

LOAN BY

PHONE

1-800-961-0202

4WD, Titanium, 2.0L 4 cyl, 78,473km,

STK#0540

$

18

DAILY

2016 HYUNDAI ELANTRA

GLS, 4 dr sdn, 2.0L 4 cyl, 62,489km,

STK#58634

$

9

DAILY

$3000 Down or trade equity/7.49%/OAC, all administration / documentation fees of $789 included in stated bi-weekly/daily payment. DL#7336/30770

$

253

BI-WEEKLY

$

117

BI-WEEKLY

$31,989

$14,989

NO PAYMENTS

FOR 90 DAYS

4WD, SuperCrew, Lariat, 3.5L V6,

93,296km, STK#68298

$

28

DAILY

$

396

BI-WEEKLY

$

555

BI-WEEKLY

2795 Hwy Dr Trail BC 8000 Hwy 3B, Trail BC

DL# 7336/30770

DL# 7336/30770

$48,989

2018 FORD F-350 SRW

SuperDuty, XLT, 4WD, 6.75' box, 6.7L,

52,563km, STK#50872

$

39

DAILY

DIESEL

$69,989

We buy cedar poles

Contact us today to discuss selling

your private timber.

LUMBER & POLE

SINCE 1909

Contact: Colin Roy 250-908-7337

Bell Lumber & Pole Canada,

ulc Rossland, BC

Services Services Services Services Services

General Services

KERRY'S STITCHERY: Custom sewing,

alterations & repairs, including

denim, leather, canvas & drapery. In

Kaslo, 250-353-7722.

KOOTENAY CURRENCY EX-

CHANGE: For all your foreign currency

needs. Better than bank rates

when buying or selling US dollars.

Canadian Gold and Silver. Call

250-354-1441.

LOCAL MOVING & SPRING CLEAN-

ING: Residential. Commercial. Long

Distance moving. Brush clearing and

junk removal. 250-777-3454.

NELSON MINI-STORAGE: 1.6kms

from City Centre, heated, easy access,

18yrs of friendly, personalized

service. 1393 Knox Rd, 250-354-8289,

www.nelsonministorage.ca

PASS CREEK TOOL REPAIR: Air and

electric tools, small compressors, quality

repairs, fair price. 250-304-4811.

General Services

PHILIP KANIGAN BSC. DMD NO-

TARY PUBLIC INC: Offering residential

& commercial property services,

estate planning, notarizations, legal

advice and mediation. 250-365-2289,

www.castlegarnotary.com

PROFESSIONAL DELIVERIES,

Junk Removal, Plumbing, Sewer

Backups, Dry Cleaning, Laundry

Service, Furnace/ Air Duct Cleaning,

Carpet Cleaning. 24/7 Emergency

Service. 250-231-8529, 250-

921-4356, 250-364-0145. http://

kootenaymoveandjunk.vpweb.ca

http://dirtbusters.vpweb.ca

PROFESSIONAL PLUMBING

SERVICES: 24/7 EMERGENCY! Licensed,

WCB, Bondable, work and

materials guaranteed C.V.M.S. 250-

921-4356. facebook.com@CVMS/

CVMS.vpweb.ca.

General Services

RBT ACCOUNTING SERVICES:

Accepting New Clients. Bookkeeping,

Personal and Corporate Taxes,

GST, Payroll and Other Services.

Call 250-354-7107 or email rbtcpa@

outlook.com

RUBBISH REMOVAL & RECYCLE,

SNOW REMOVAL, estate removal,

gutter cleaning/sealing, moving, deliveries,

building demoliti on. 250-

231-9397.

VALHALLA SEPTIC SERVICES

LTD.: Fully insured for all your

residential and commercial septic

pumping needs. 778-454-2221.

General Services

TREE SERVICE: Certified, Licensed,

Insured. Pruning to removal of hazardous

trees. Free Estimates. 250-

505-6114, www.fallguy.ca

Gardening/Landscaping

*GLACIER VALLEY TREE CARE:

Local danger tree professionals.

Utility certified lift trucks. Whole

tree chippers. Stump grinding.

Pruning. Land clearing. Certified

arborists, fallers, assessors. Free

same day assessment and advice.

Certified & insured WCB. Jim Sipkes,

25yrs experience. 250-304-

3774, jim@glaciertree.com

BARLEY OR WHEAT STRAW

BALES, regular size. 250-777-1737

for pricing and arrangements.

BEETLE'S STUMP GRINDING:

Why dig it when you can grind it!

Best rates, insured, free estimates.

Ben, 250-304-6963.

Gardening/Landscaping

CALL NOW TO BOOK YOUR

SPRING YARD WORK: Pruning,

aeration, and power raking. We also

provide scheduled seasonal mowing

and hedge trimming. Rick, 250-

687-1345 Bauman Enterprises.

COLUMBIA TREE SERVICES/SIMS

CONTRACTING LTD: Call Pat Sims

for a free estimate for 60´ bucket

truck, chipping, climbing/rigging,

stump grinding, soil delivery. Certified,

Insured, WorkSafe. Thousands

of satisfied customers since 1980.

250-367-7939.

COW MANURE: Delivered by the

truck load, fresh and aged. Also

straw. Wayne Savinkoff, 250-226-

BEEF.

EXPERIENCED LANDSCAPER:

Spring yard cleanup and pruning,

you supply the tools and dispose

of cuttings, $16/hr. Albert, 778-828-

6333.

N picture online: www.pennywiseads.com Where locals shop. May 2, 2022 13
---
Run like a mother for a good cause

Did you hear? Are you ready for it? The first annual Run

Like A Mother Half Marathon, 10 km and 5 km road race

is coming to Nelson on May 5. And the event will support a

good cause – the Kootenay Kids Society.

The Half Marathon is a beautiful course that takes you to

all the gems of Nelson. You will experience Baker St, B.O.B

(our big orange bridge), Horlick Point, and the historic Great

Northern Rail Trail. This race starts and finishes at Hall St

Plaza. Nelson is known for its hills so be prepared to climb

1700 feet throughout the 21 km.

This 10 km race has some epic waterfront views along

Bealby rd where you turn around at Horlick Point and head

back downtown along the Fairview neighbourhood bikeway.

The 5K is a fun out-and-back run along Nelson's new Fairview

to downtown neighbourhood bikeway.

For more info and to register,visit https://runlikeamothereven.wixsite.com/info

Kootenay Kids Society

The new 2022 Hyundai KONA

info@hadean.ca | 778.774.7625

Locally owned and operated, we strive to

achieve superior customer service.

Discover the new 2022 Hyundai KONA. Enjoy the same compact size, fuel efficiency, and agile

manoeuvrability, paired with a recently redesigned exterior that's bolder and more exciting than ever

before. The new KONA, available with all-wheel drive, is filled with even more available technology.

Contact Castlegar Hyundai today to learn more about the 2022 KONA and to arrange a test drive.

CASTLEGAR

713 - 17th Street, Castlegar

(250) 365-5200

sales@castlegarhyundai.com

MVSA #30959

We have the aggregates you need to

complete your project!

• Stone slinging services

• Gravel delivery services

• Road gravel

• Sand • Drain rock

CLOSE, CONVENIENT, LOCAL, OPEN TO PUBLIC

2306 Crystal Springs Road, Nelson

Get a NEW START this SPRING!

QUALITY PRE-OWNED AT NELSON FORD

2019 Ford Edge

SEL Moonroof, Navi

49,477 kms #22EX9108A

SALE PRICE $37,874

2020 Ford F-150

XLT Longbox,

3.5L V6 EcoBoost, 71,575 kms #PW0797

SALE PRICE $51,464

2019 Ford

Ranger 4x4

Lariat, leather, loaded

47,836 kms #PW0776

SALE PRICE $46,444

DROP IN

TODAY

and

take

one

for a

TEST

DRIVE!

2018 Ford Escape Titanium

102,110km, 4WD

#21BR3263A

SALE PRICE $28,467

2019 Hyundai Santa Fe

leather, loaded

43,524 kms #PW0784

SALE PRICE $37,963

2018 Ford F-150 4x4

5.0l V8, auto,

78,198 kms #PW0769

SALE PRICE $41,779

Nelsonfordsales.com

623 Railway Street, Nelson BC DL 28082

2017 Ford

Explorer

Auto, twin panel moonroof

49,120 kms #PW0789

SALE PRICE $41,897

2018 Jeep

Trailhawk

Sunroof, tow pkg, navigation

97,995 km #PW0783

SALE PRICE $35,979

2016 Ford Focus SE

2.0l , auto, hatchback

95,740 kms #PW0772

SALE PRICE $15,787

250-352-7202

1.888.955.5528

Prices are + taxes & $699

admin fee. Financing

rates from 4.99% OAC

Services Services Services Services Notices Page

Gardening/Landscaping

Gardening/Landscaping

Health/Personal

Health/Personal

Notice

FARM STAND FOR SALE: Lockable

produce stand w/self-serve honour

system in place, pictures available,

located in Harrop, $1500. 250-229-

5481.

LOKI TREE SERVICE: Complete tree

& forest services. Certified Arborists

& Fallers. Hazardous Tree Removal,

Pruning, Chipping, Stump-Grinding,

Forest Management, FireSmart. No

job too big or small. 250-353-2405,

www.lokitree.com

LOT 3 LANDSCAPING: Creating

beautiful outdoor spaces. Paver Patios,

Allen Block & Sierrascape Walls,

Planting. Call Geoff, 250-777-3228.

GARDENING HELP AVAILABLE:

For seniors, reasonable rates. 250-

551-3279.

SPRING HAS SPRUNG, and it's

spring yard cleanup again. Add

in some new soil or mulch! Thinking

of adding some new trees or

shrubs? Or a landscape redesign?

Please call for a free onsite quote.

Carrie @ Creative Cut Landscaping,

250-809-8971.

TOPSOIL & BEAUTY BARK

MULCH: $55/yd. Delivery available.

250-365-1632.

WINLAW EARTHWORKS: Excavating,

ditching, site/garden prep,

landscaping, ponds. Wildfire interface

fuel removal and access trails.

No job too small. Seniors Discounts.

Call 250-505-6042.

THANK YOU FOR READING

PENNYWISE!

ARE YOU TIRED? DO YOU

SNORE? You may have sleep apnea.

Call Columbia Respiratory for

your free consultation, no referral

required. 1-844-440-0277.

ASSISTED LIVING IN AN EX-

CLUSIVE PRIVATE COUNTRY

SETTING! A brand new spacious

and sunny apartment w/patio and

excellent view. Professional and

caring support with an acute care

orderly/registered care aid on

site. Borders Salmo BC with easy

access to the Nelson-Salmo Rail

Trail. For more info: 250-307-6043

or ron@bigbeartours.ca

GLASS HOUSE OPTICAL: 701

Front St, Nelson, 250-354-3937 and

Unit 2, 688 18th St, Castlegar, 250-

365-2026. Free sight testing at both

locations.

NEW LOCATION: Red Clover Dental

is now located at 810 Vernon

St. Nelson. Accepting new patients.

250-352-5012.

SHADE TREE MASSAGE THERAPY

NOW WELCOMING new and returning

clients for therapeutic and

relaxation treatments. Clean, quiet,

professional office located in Winlaw.

Jessica Coonen, RMT 250-226-

6887, shadetreemassagetherapy@

fastmail.com

Notices Page

Notice

ABBEY MANOR AGM: Monday,

May 9, 6pm in the common room at

Abbey Manor, Kaslo.

ALL UKRAINIAN FUNDRAISING

CLASSIFIED ADS ARE FREE: Call

Pennywise 1-800-663-4619, 250-

353-2602 in Kaslo, or email to info@

pennywiseads.com

DID YOU KNOW... Pennywise ad

payments (cash or cheques) can be

dropped off at And More Second

Hand Store, 1398 McQuarrie St,

Trail during regular store hours.

Questions? Call 1-800-663-4619.

Thank you, Pennywise.

THE ANNUAL GENERAL MEET-

ING for the Ootischenia Improvement

District will be held Tuesday,

May 10 at 7pm at the Ootischenia

Community Hall. Please attend.

THE KASLO BOAT CLUB AGM will

be held Wednesday May 25, 7pm at

Kaslo Seniors' Hall.

YEARNING FOR FACE TO FACE

CONTACT? TIRED OF ZOOM? Victorian

Hospital Of Kaslo Auxiliary

Society (VHKAS) AGM. Monday,

May 9 at VIMY PARK. More Info:

Facebook. Ad elsewhere in this issue,

and 250-353-1037.

14 May 2, 2022 N Your local shopper N picture online: www.pennywiseads.com
---
THE TIME IS NOW!

Ordering for Summer/Fall 2022!

Come see our exceptional

model homes!

WE'RE

OPEN!

4460 Minto Rd, Castlegar, across from the Brick

Give Wayne a call! 250-365-0048

Professional, Reliable, Quality Service Providers

Septic system installation,

maintenance and repair

Grease trap servicing

Sump pits and

lift stations

Drain auguring

and flushing

Call Today!

Registered Onsite Wastewater Practioner

All-Around Septic Services Ltd.

250-354-3644 • 250-359-8282

allsepticvac@gmail.com

www.allaroundsepticservices.com

SERVING the KOOTENAYS: 24 hr towing

Heavy Duty Recovery & Rigging Specialists

FREE CAR REMOVAL

(Some exceptions)

AND SOME WE BUY

Full Service Shop

Used and

aftermarket parts

We'll Get You Hooked

Any Time, Anywhere

Salmo Area 250-357-2091 • Creston Area 250-428-2323

Just added

to our fleet:

50 TON TRI-DRIVE

WRECKER!

All other areas toll free 1-888-357-2091 Open Mon to Frid 8am to 5pm

Free to roam in your new home

sleeps 3, 1 slideout,

backup camera prep

Bi-Weekly $135 Was $44,995

NOW ONLY $39,995

VIN #12343

PLUS TAX

2021 Dutchmen Coleman

Rubicon

1628 BH

Travel Trailer

Sleeps 5,

Weight 3,560 lbs

Bi-Weekly $130 Was $44,995

NOW ONLY $38,995

on

wheels...

See Rock Island RV for

NEW, USED Parts & MORE!

250-364-2323 Parts 250-364-1267 Toll Free 1-888-817-2323

2021 Dutchmen Coleman

Rubicon 1608

Travel Trailer

NEW

VIN#11221

PLUS TAX

NEW

2021 Forest River

2251 LE Class C

Motorhome

Sleeps 4 , 1 slideout,

backup camera, cruise control,

only 14,000 km!

Bi-Weekly $350

NOW ONLY $119,995

2022 Keystone Cougar

5th Wheel

Sleeps 4,

2 Slideouts

weight: 7350 lbs

28.11 ft

Bi-Weekly $237 Was $74,995

NOW ONLY $69,995

VIN #U99990

PLUS TAX

VIN #02085

PLUS TAX

2022 Forest River

Surveyor Legend 19 BHLE

Travel Trailer

1 slideout

Sleeps 6,

Length: 23.7 ft.

2019 Forest River

Sunseeker 2650 S

Class C

Motorhome

Sleeps 6,

1 slideout

NOW ONLY $48,995

Bi-Weekly $330

NOW ONLY $99,995

VIN#112114

PLUS TAX

VIN #U4587

PLUS TAX

NEW

2022 Keystone

Cougar 22 MLSWE

Travel Trailer

Sleeps 4

1 slideout

Weight 5,700 lbs

NEW

2022 Keystone

Hideout 25 DBWE8

Travel Trailer

Sleeps 6

1 slideout

Weight 6,000 lbs

NEW

2011 Tiffin Allegro

Bus Class A

Motorhome

Diesel

Only 34,500 km!

Sleeps 6, 37 ft.

2020 Dodge Ram 3500

Bighorn

Diesel, 43,000 km

6 passenger

Was $69,995

NOW ONLY $63,995

VIN#009876

PLUS TAX

Bi-Weekly $164

NOW ONLY $47,995

VIN#45468

PLUS TAX

NOW ONLY $269,995

VIN#U87251

PLUS TAX

NOW ONLY $78,995

VIN#45211

PLUS TAX

Rock Island RV

8023 Old Waneta Road, Trail

www.rockislandrv.com DL#9096

Notices Page Animals Animals Automotive Automotive

Announcement

CHECK OUT DISCOVER SIXTY-FIVE

Kootenay Seniors Living Magazine at

www.discoversixty-five.com

Education

Classes/Workshops

COMMUNITY EDUCATION &

WORKPLACE TRAINING: Selkirk

College,1-866-301-6601.

www.selkirk.ca/ce

COMMUNITY FUTURES SMALL

BUSINESS WEBINARS: "Me Inc –

How To Start a Business", May 17;

"Start a Knowledge Based Business

Online", May 31; "Business

Plan Writing 101", June 14. Check

out our full schedule: www.mycfck.ca

Pets

BEAUTIFUL GERMAN/CAUCASIAN

SHEPHERD CROSS PUPPIES: Puppies

will come with first vet check,

vaccination and deworming. Available

after May 1, $800/ea. serious

inquiries only. 250-304-7904.

CERTIFIED PET GROOMER: And

certified in Animal Care Expert Training.

250-512-9513, Trail.

DACHSHUND PUPPIES: Ready to

go May 10, will have vet check, shots

and deworming. Beautiful markings,

2 males and 1 female still available.

250-368-1960.

Pets

USA - BERNESE MOUNTAIN

DOG PUPPIES: Born December

24, 2021, ready for their forever

homes, 2 males, 5 females. Find

us on Facebook at "Berners in the

Woods"; or call/ text 509-370-7799 or

509-226-1223.

Automotive

Cars

1977 VEGA STATION WAGON:

Safety inspected, runs, $1000obo.

250-365-7565.

2004 MUSTANG GT CONVERT-

IBLE: 40th anniversary edition, V8,

automatic, pw/ps, Mach 1 stereo

system, low profile tires, low mileage,

always stored inside, excellent

shape, $12,000obo. Call Gerry,

250-367-0097.

Cars

2008 FORD FUSION: 6cyl,

220,000kms, silver/grey, leather/

heated seats, winter tires, lady driven,

very good condition, $3500obo.

250-367-0228.

2009 MITSUBISHI LANCER: Black,

4dr, loaded w/leather, heated seats,

sunroof, sub-woofer, 160,000kms, includes

winters, $8000. 250-304-4445

(day cell), 250-304-2069 (eves).

2010 CADILLAC AWD SPORT: 6.3L,

66,000kms, new tires, mint, $19,000.

250-365-5481.

Trucks

1985 FORD F150: Super-cab,

shortbox, 5L fuel injection, auto,

280,000kms, daily driver, $3000obo.

250-365-7565.

1995 TOYOTA TACOMA 4X4: Extended-cab,

canopy, extra set of tires,

$3000. 250-304-9648.

2014 DODGE RAM 2500: Gas,

145,000kms, needs motor, first

$5000 owns it. Please contact

250-608-2695 for viewing.

N picture online: www.pennywiseads.com Where locals shop. May 2, 2022 15
---
LIKE US ON FACEBOOK TO KEEP UP TO DATE ON ALL THE LATEST HOMES ON THE MARKET:

www.facebook.com/PropertyGuys.comWestKootenays

1-778-738-1697

SANCA 198522

$749,777

Country living! Beautiful 3 bed

2 bath home on 4.29 acres.

Martell Creek runs through!

Sun porch, gardens, garage

and close to Kootenay Lake to

launch your boat!

GRAND FORKS 199101

1-778-738-1697

SILVERTON 199059

$765,000

Wow! Awesome acreage,

panoramic views on nearly

35 acres, 20 minutes to town.

4 bed, huge shop & barn with 2nd

story loft. Tastefully upgraded.

Sub-irrigated hay field.

CRESCENT VALLEY 198942

CASTLEGAR 199128

1-778-738-1697

$725,000

Amazing one of a kind

engineered post & beam home

with fabulous views! 3 bed

2 bath, garage and multiple

options to redesign.

Barrier free, all one level.

250-304-2269

CRESCENT VALLEY 198963

CRESTON 198472

CHRISTINA LAKE 198977

1-778-738-1697

KASLO 198937

1-778-738-1697

NELSON 199127

$599,999

Cozy barn style post and beam

home with 3 beds, 2 baths,

2 decks and view of Christina

Lake through trees. Private

2.5 acre lot with gardens and

a great back deck.

$699,999

Lovely quiet location in Kaslo,

this 5 bed 3.5 bath 2 storey

family home is on a large

landscaped lot. Fabulous

mountain views! Close to

school, hospital and trails.

CASTLEGAR 199129

$559,000

In Silverton just steps from pristine

Slocan Lake! Beautiful 2 bed 2 bath

home is ideal for small family or couple.

1-778-738-1697

$699,000

Between Nelson and Castlegar and

minutes to the Rail Trail and Slocan

River. Choose your own home style!

1-778-738-1697

$1,100,000

3 bed 2 bath home in private location,

minutes to Slocan amenities. Brand

new windows, lighting & ventilation

upgrades, air conditioned shop, vaulted

ceiling, central vacuum system.

1-778-738-1697

$135,000

Fantastic but quiet Creston location

for this 0.16 acre vacant lot. Peaceful

neighbourhood and lovely views.

1-778-738-1697

$1,199,000

One of a kind Linwood custom home in

one of Nelson's best neighbourhoods

with panoramic views.

1-778-738-1697

$255,000

Wonderful lot location just above

Castlegar. 1.32 acre vacant lot on Crestview

crescent. Great city & valley view!

1-778-738-1697

ROSS SPUR 198504

NELSON 199104

WINLAW 199095

ROSSLAND 198517

CASTLEGAR 199119

GRAND FORKS 199115

$974,500

Private executive 4 bed 3 bath home

on 2+ acres next to Beaver Creek, with

water rights. Detailed high-end build.

1-778-738-1697

$699,000

Anderson Creek Front. Cozy 3 bed 1 bath

family home in Nelson-Fairview area!

Creek on property line, corner lot.

1-778-738-1697

$465,000

LOCATION! Unique property at the edge of

Valley View Golf Course! 5 acres with 600

ft of river frontage & 2 bed 1 bath home.

1-514-591-3939

$1,480,000

Right in the heart of ski country! 5 bed 3

bath chalet style home on 6.1 acres with

lots of privacy, hobby farm, rental suite.

1-778-738-1697

$259,000

A 2 bed 1 bath home that comes with

a park! Corner lot backs directly onto

Millennium Park. Perfect starter home.

1-778-738-1697

$335,000

Charmer with promise! This 2 bed 1 bath

home is situated on a level lot in quiet

neighbourhood. Ideal for small family.

1-778-738-1697

CRESCENT VALLEY 198943

BALFOUR 198929

WINLAW 198891

CHRISTINA LAKE 198921

CRESTON 198520

BALFOUR 199113

$179,900

1.317 acres ready for you to build your

dream home! Power and water to the lot

line and telephone is available.

1-778-738-1697

$309,900

Unique turn key vacation property or new

home build lot! Several options to consid-

er. Power, water, septic, mins to lake.

1-250-229-4137

$539,000

$20K+ in upgrades! 5 beautiful acres

ready for livestock/horses! 4 bed 2 bath

home, quonset shop, fenced & landscaped.

1-778-738-1697

$999,999

1 block from Christina Lake beaches!

Stunning 5 bed 3 bath log style home

with views, open concept floor plan.

1-778-738-1697

$174,300

Ideal home for 55+. Rare double wide

modular in Creston Estates. 3 bed 1 bath

well kept home w. deck, carport, garden.

1-778-738-1697

$1,124,000

WOW! Kootenay lakefront! Shared sandy

beach & boat dock. Fabulous 4 bed 3

bath home, recently renovated.

1-778-738-1697

CRESCENT VALLEY 198944

CRESTON 197924

CASTLEGAR 198109

KASLO 199108

BURTON 198997

MONTROSE 198500

$699,900

1.517 acres between Castlegar and

Nelson and minutes to the Slocan River.

Choose your own home style!

1-778-738-1697

$234,900

Opportunity is knocking with this turn-

key outdoor sports business, located

right in the heart of Creston's bustling

downtown core.

855-742-4539

$1,100,000

Log home on 3.24 acres in Pass Creek.

Large master suite, large rooms,

expansive views. Hot tub, central vacuum.

1-250-365-6427

$685,000

Gorgeous solar powered log home in

secluded portion off Kootenay Lake!!

200' lake frontage. Boat access only.

1-778-738-1697

$199,999

Lakeview acreage! 9.02 acres with water

license to creek and amenities to lot

line. Adjacent 11.21 acre lot available.

1-403-499-9139

$399,800

3.25 acre lot with build site! Great views.

All services at lot line, mature trees,

private yet close to all amenities.

1-250-485-8988

CHRISTINA LAKE 198904

MONTROSE 198538

NAKUSP 198859

ARROW CREEK 198519

BURTON 198897

199111

$499,900

3 bed, 2 bath home is move-in ready!

Walk to Christina Lake Provincial Park,

you have everything at your fingertips.

1-778-738-1697

$399,800

Fantastic one level 1 bed 1 bath home in

Montrose! Large corner lot with ample

privacy and room to expand!

1-250-485-8988

$1,049,000

Completely private with lake and moun-

tain view, 4 bed home with separate guest

suite, 12.73 acres on edge of town.

1-778-738-1697

$399,700

Private! Build new and live in mobile 2 bed

1 bath unit! 2.84 acres backs onto Crown

Land. Easy access, level property.

1-778-738-1697

$799,000

Located on Arrow Lake Reservoir, this

3 bed 2 bath home/hobby farm offers

a great opportunity! Private, level

property on 5.54 acres.

1-778-738-1697

SOLD

$9,300 IN

COMMISSION SAVED!

Legal disclaimers - propertyguys.Com inc. (Collectively 'us' or 'we') is a private sale marketing company and we represent neither the buyer nor the seller. We do not trade in real estate. We neither warranty nor make any representations as to the outcome of a property sale. *Our pro approach

may include services which are performed for our customers by third party service providers. Such services are not performed or provided by us. * "List now. Pay later." (Our "pay nothing upfront" program) is a payment program offered through a third party provider, and is only available in

participating franchise areas. The program is offered on approved credit, certain conditions do apply. The telephone numbers associated with these listings are those of the private sellers or their personal answering service. Any amount of commission saved referenced above is for illustrative

purposes only. It represents the potential money saved if the private seller had paid commission to a real estate agent instead of using propertyguys.Com. *© 2015 Propertyguys.Com inc., All rights reserved.

16 May 2, 2022 Your local shopper N picture online: www.pennywiseads.com
---
Tick talk

Spring is here and the warmer weather means more people will

be out hiking in tall grass or wooded areas which can also mean

an increased chance of getting tick bites. Ticks are small bugs

that bite and feed on the blood of humans and animals and can

sometimes transmit disease. Fortunately, there are precautions

people can take to prevent illnesses that may be transmitted from

tick bites.

"There are easy things you can do to protect yourself from ticks

such as covering up before you head outdoors and checking for

ticks when returning from a walk, hike or bike ride," said Dr.

Fatemeh Sabet, Interior Health medical health officer. "Most tick

bites do not result in illness; however, any bite from a tick should

be cleaned because infection can occur whenever there is a break

in the skin."

Ticks also have toxins that can cause temporary muscle weakness

and paralysis if they are attached for several days – especially

in children or seniors – but the symptoms fade once the tick is

removed from the skin. The signs of many tick-borne infections

can be quite similar and include fever, headache, muscle pain and

rash.

One of the most important ways to reduce the risk of tick illnesses

is to do a skin check on yourself and your children after

being outdoors. As well, follow these additional precautions:

• Walk on cleared trails when in tall grass or wooded areas.

• Wear a hat, long sleeves, pants and light-coloured clothing.

• Tuck pant legs into socks or boots.

• Apply insect repellent containing DEET on uncovered

skin.

• Carefully check clothing and scalp (covered or not) when

leaving an area where ticks may live.

• Regularly check household pets for ticks.

If you find a tick on yourself, a family member or pet, wear

gloves when removing it and be careful not to crush the tick as

this could cause it to inject its stomach contents into your skin.

Other tips to remove ticks safely include:

• Use needle-nose tweezers to gently grasp the tick close to

the skin.

• Without squeezing, pull the tick straight out.

• After removal, clean the area with soap and water.

• If you find a tick, check very carefully for others.

You can report a tick and submit a photo to eTick.ca to have

it identified.

Most individuals with acute Lyme disease do not notice the

biting tick that precedes the illness. If you have concerns or need

assistance removing a tick, please contact your family doctor or

visit a walk-in medical clinic.

Quick facts:

While ticks are common in the Interior Health region, most

are the wood tick (Dermacentor andersoni) which do not carry

the Lyme disease bacteria. The wood tick can carry other diseases

such as Rocky Mountain spotted fever, although it is rare.

Lyme disease-carrying ticks (I. pacificus) are more common

in the coastal areas of BC. Anyone who has the typical bull's-eye

target skin rash of Lyme disease, or other symptoms compatible

with Lyme disease, should see their physician.

More information is available at HealthLink BC: www.healthlinkbc.ca

and search "ticks" or through BCCDC https://tinyurl.

com/3crewn6r

KS Perry Publications (dba Pennywise)

Want to Distribute? Want to Contribute? Want to Advertise?

email us seniors@pennywiseads.com • 1-800-663-4619, Kaslo

BALFOUR - HARROP -

PROCTER

Balfour Superette

Balfour Seniors

Citizens Branch

Gill & Gift

Old World Bakery

Procter/Harrop Seniors Centre

BEAVER VALLEY/

FRUITVALE

Beaver Valley Residents

Seniors Gym

Beaver Valley

Beaver Valley Library

Beaver Valley Manor

Canco Gas

Fruitvale IDA Pharmacy

Liberty Foods

You can pick up your copy at these locations -

the distribution list is still growing!

CASTLEGAR

Castlegar & District Community

Health Centre

Castlegar & District

Recreation Centre

Castlegar Library

Castlegar Community Sevices

Castle Wood Village

Castleview Care Centre,

Castlegar Medical Clinic Inc

Columbia River Estates

Common Grounds Coffee

Hearing Clinic Castlegar

Humble Bean Coffee Co.

Johnny's

Kootenay Market

Legion

Pharmasave

Rosewood Manor

Rota Villa Apts

Senior Citizens Assoc. Br #46

Shoppers Drugs Mart

Talarico place

T.H.E. Pharmacy

KASLO

Abbey Manor

Cornucopia

Eric's Meat Market

Husky Gas

NKLCSS

Selkirk College

Sunnyside Natural Foods

T.H.E. Pharmacy

Treehouse

Victorian Community

Health Centre up & down

KOOTENAY LAKE

Kokanee Park Marine

NAKUSP

Arrowtarian Rotary Villa

Anderson's Gas

Petro-Can

Halcyon House

Hilltop Convenience

Hoss & Jill's Deli Bistro

Legion

Minto House

Mountain Top Coffee Co

Nakusp Hospital

Nakusp Pharmachoice

Phase 3

Red Cross/behind Legion

Save-On Foods

Valley Foods

What's Brewing on Broadway

NELSON

7-11 Convenience Store

Husky Gas

Kootenay Co-op Bakery

Kootenay Co-op

Kootenay Lake Hospital

Kootenay Seniors

Lakeview Village

Mountain Lake Seniors

Community

Nelson Box Office

Nelson and District Seniors

Coordinating Society

NELSON

Nelson Kiwanis Projects

Society (Villa)

Nelson Medical Associates

Clinic

Nelson Remedy's RX

Share Nelson

Pharmasave Nelson

Polished

Safeway at main door

Safeway by Starbucks

Shoppers Drug Mart

Wait's Diner

Waves Hair Salon

NEW DENVER

Apple Tree Restaurant

Canco Gas

New Market Foods

Rutabagas

Sew Much More

Slocan Community

Health Centre

T.H.E. Pharmacy

ROSSLAND

Alpine Drug Mart

Rossland Senior Citizens Assn

Seven Summits Gas

Subway

Ferraro's

SALMO

Salmo Pump

Subway

Dragonfly Cafe

Salmo Drugs

Salmo Library

Skyway Hardware

Salmo Foods

Willow Healing Arts

Salmo Community Services

SILVERTON

Camp Cafe

Silverton Building Supply

Sixty-Five

Cycling

Without

Age Page 4

Walk for

Alzhimers

SLOCAN VALLEY

Evergreen Natural Foods

Slocan Valley Co-op

SLOCAN

Art & Craft Shop

Harold Street Cafe

Mountain Berry Foods

Silvery Slocan Social Centre

Slocan Village Market

W.E. Graham Community

Service Society

WARFIELD

Petro Can

TRAIL

Cafe Americano

Cedar Ave Dental

Chateau Manor

Ferarro's

Husky

Info Centre/ Library

Jubilee Place

Pharmasave Trail

Rose Wood Village

Safeway

Senior Citizens Villa

Shoppers Drug Mart

South Kootenay Seniors

Subway

Stitching Arts/And More 2nd

Hand Store

Tim Hortons

Town Pantry Chevron

Trail Coffee Co

Trail FAIR Society

Tim Hortons

Trail Aquatic & Leisure Centre

Trail Home Hardware

Trail Legion

Trail Remax

Valley Firearms

Waneta Mall

If you can't find a copy to read, all editions are available online to our flip book.

www.discover65.com

Page 6

Create a Bee

Sanctuary

Page 13

Discover

May 2022

Kootenay Seniors Living

Discover Sixty-Five - Want to distribute these magazines? Ca l 1-800-663-4619 May 2022

A

FREE

Automotive Automotive Automotive Automotive Automotive

SUVs

RVs/Campers

RVs/Campers

Boats/Watercraft

Auto Parts/Services

CASTLEGAR HYUNDAI: Offers a

wide array of new & used vehicles.

We are a smaller lower-cost dealership

with big city selection. 713 17th

St, Castlegar. 250-365-5200.

ROCK ISLAND RV: Not only do

we have RVs but we also have

used vehicles and boats! 8023

Old Waneta Rd, Hwy 3B, Trail BC.

www.rockislandrv.com

TWO SUZUKI SIDEKICKS FOR

PARTS: 1991, std, locking hubs. Engine,

running gear and brakes all

good, frame shot; 1997 body ok,

doesn't start, offers. 250-357-2563.

RVs/Campers

18.5´ 1989 YUKON 5TH WHEEL:

Nice shape, $3000obo. 250-365-7565.

CUSTOM FLOW 5TH WHEEL

TAILGATE, fits 2009-2016 Ford,

$325; Husky 16T 5th wheel hitch,

$225. 250-365-3841.

EAZ-LIFT WEIGHT DISTRIBU-

TION HITCH w/Sway Control unit

and 2-5/16˝ ball hitch, 1200lb hitch

weight, brand new in box, complete,

$340. 250-231-7671, Fruitvale.

2009 30' TRAIL-LITE TRAILER

(30RKU): Good condition, $15,000.

250-608-2695, Castlegar.

USA - 2021 GRAND DESIGN Reflection

29RS fifth wheel. Like new

condition, sparkling clean! No road

miles, has been parked! Walkaround

queen bed, pullout trifold

sofa, 2 recliners; sleeps 5, refrigerator,

freezer, micro/ convection

oven combo, 3-burner stove with

oven below also, fireplace, AC plus

forced air heat, 3 slideouts, awning,

full bath, separate outdoor entertainment

area with refriger-ator/

TV, $48,000USD. Text only, 559-760-

5896, located in CdA

WATERFRONT RV SITE AVAIL-

ABLE for rent at Sunshine Bay in

Harrop, 60+ seniors only. 250-229-

5359.

Heavy/Farm Equipment

HALVERSON 120 SKID STEER

MOUNT WOOD PROCESSOR:

Cut, splits a cord/hr, $13,000; 2016

JD320E Skid Steer, 1200 hours,

$42,000. Take them together for

$53,000. 250-777-1621.

Boats/Watercraft

PONTOON BOAT: Never used,

still in backpack, $270obo.

778-461-0120.

CUSTOM UTILITY TRAILER WITH

boat rack and 14´ heavy aluminum

Lund boat, 15hp Johnson motor,

fuel tank, oars, anchor, life jackets,

$3600. Contact Chic, 403-271-8587.

Auto Parts/Services

16˝ ALCOA RIMS: Ford Ranger

factory rims, set of 4, $400.

250-304-8760.

BORDERLINE TRANSMISSIONS

is your automatic transmission specialist.

Ed Batt Owner/Operator has

over 45 years of rebuilding experience.

250-368-3231.

C & G TRANSMISSIONS: Your local

West Kootenay transmission

shop. Services all transmissions,

transfer cases & differential repairs.

Bonnington, 250-505-7632.

FOUR GOODYEAR TIRES:

235/75R15, very good condition,

$260. 250-231-5931.

FROM OIL CHANGES TO FULL-ON

ENGINE REPAIR with everything

in between. Nelson Ford, 250-352-

7202. We are THE Ford Dealer in

Nelson. www.nelsonfordsales.com

N picture online: www.pennywiseads.com Where locals shop. May 2, 2022 17
---
JONI ASKEW

365-4731

REALTOR®

Office 250-365-2170

PROFESSIONALS

GET RESULTS

#110-1983 Columbia Avenue Castlegar, BC V1N 2W8

NIKKI JENSEN

365-2170

Unlicensed Assistant

Joni Askew Homeselling Team www.kootenayhomesales.com

NEW DENVER HOME with

WATERFRONT ACCESS $535,000

200 Lower Arrow Lake

Castlegar

Cabin in the woods, off the grid,

great sun exposure on 14.26 acres!

MLS 2463880 $239,900

HOT

NEW

LISTING

1686 Mountain Ridge Road

Castlegar

High plateau above Robson,

12.74 acres, level, amazing views,

dissected by 3 roads.

MLS 2463881 $359,900

2015 Hwy 3A, Castlegar

Hobby farm between Nelson and Castlegar, sprawling rancher,

level 4.69 acres, plus great shop.

MLS 2463999 $899,900

SOLD

1030 Frances Street

Castlegar

One level living, fully fenced yard,

massive shop

MLS 2462269 $349,000

SOLD

2608 Columbia Avenue

Castlegar

Newer home with suite, great for a

home based business, lots of parking,

move in ready.

MLS 2462340 $629,900

SOLD

131 100th Street

Castlegar

Charming character home,

nice lot, double garage,

quiet neighbourhood.

MLS 2463441 $449,000

SOLD

6619 Appledale Lower Road

Winlaw

Close to public beach, equestrian ready,

perfect for a large family, double

garage, hay barn, riding ring.

MLS 2461307 $699,900

595 Hwy 3A

Ootischenia

4.47 Acres, drilled well, foundation in

place, great views

MLS 2457080 $399,900

C O MMERCIAL

2565 Hwy 3A

Castlegar

Great commercial property close to

Playmor junction and shore acres

MLS 2460479 $429,900

SOLD

709 28th Street

Castlegar

Nicely renovated, large family room, 2

bedroom suite, garage.

MLS 2462431 $539,900

SOLD

969 Edgewater Place

Castlegar

Executive home, dream kitchen,

almost half acre level lot,

fully fenced back yard

MLS 2463659 $899,900

WE HAVE BUYERS!

1. Large home with suite

2. Acreage between Castlegar and Trail

3. Townhome or Condo

4. Home in Castlegar or Nelson up to $500,000

5. Executive home in Castlegar

705 30th Street

Castlegar

Potential plus, great square footage,

.99 acres.

MLS 2463070 $419,900

HOT

NEW

LISTING

SOLD

525 4th Avenue

Castlegar

Newer North Castlegar home,

move in ready, lane access, large deck

MLS 2462286 $549,900

259 35th Street

Castlegar

4 bedrooms, 2 full baths,

oversize garage, level lot.

MLS 2463792 $649,900

C O MMERCIAL

2513 Granite Road, Nelson

Mobile home park on 13.72 acres. Excellent long term tenants.

Unzoned property has a multitude of possibilities for future development

MLS 2464134 $1,100,000

C O MMERCIAL

330 Columbia Avenue

Castlegar

Well established hotel and restaurant,

great bottom line, downtown core

MLS 2462589 $1,300,000

FOR A FREE 30 MINUTE

IN PERSON CONSULTATION

PLEASE CALL 250-365-2170.

NO UP FRONT FEES!

YOU ONLY PAY

WHEN WE GET

RESULTS.

Brandy

A rare opportunity to own a 2 bedroom,

2 bathroom home in the Orchard steps to

the beach. Just cross the road and you are

at the beach! This home includes a bonus

detached studio with power off of the

detached single car garage.

The main level is warm and inviting with

vaulted ceilings in the entryway with an

open floorplan to the living and dining

room. There is quality woodwork and

exposed beams in the ceiling with a lot of

character and parquet wood floors.

SARAH RILKOFF

REAL ESTATE | VALHALLA PATH REALTY

sarah@valhallapathrealty.com

kootenay-realestate.ca

C: 250.509.0006 | O: 250.354.4089

VALHALLA

PATH REALTY

280 BAKER STREET

NELSON

❤❤ ❤

sponsored by

Brandy is beautiful brindle 2-year-old girl that came in as a stray

from our area. We do not have any history on her as an owner

never came forward. She is very playful and full of energy.

She is good with dogs and kids, although she might be too

rambunctious for smaller children. She is a strong girl so we do

recommend some leash training, but she does well once you get

going. She loves spending time with people and would make a

lovely companion.

250 509 0297 BC SPCA

West Kootenay Community Animal Centre

124 Heritage Way, Castlegar • https://adopt.spca.bc.ca

Automotive Automotive Real Estate Real Estate Real Estate

Auto Parts/Services

FOUR KUMHO SOLUS TA11

ALL-SEASON TIRES: 195/65R1591T

on Honda Civic rims, bought in

2021, used one summer, car totaled

in March, $550. 902-308-0427.

IS IT TIME TO BRING YOUR CAR

IN FOR SERVICE? AM Ford has you

covered. We have a wide range of

maintenance and services available

in our service center. 2795 Highway

Dr, Trail, BC. 1-800-961-0202.

SCRAP KING AUTO WRECKING

AND TOWING: Salmo's one-stop

shop for any used auto part. www.

scrapkingauto.com

Auto Parts/Services

SET OF FOUR 19´ CHROME

RIMS: Good condition, $800obo.

250-365-6759.

Real Estate

Agents

BUY AND SELL ON YOUR OWN

TERMS! Explore how you could

save thousands on commission.

www.propertyguys.com

DID YOU KNOW THERE IS A WAY

TO SELL YOUR HOME conditional

on finding and securing your future

home? Call for a free no obligation

market valuation of your home.

Thinking of buying or selling? Contact

Sarah Rilkoff Valhalla Path Realty,

250-509-0006.

OUR DEDICATED AND HIGHLY

SKILLED AGENTS specialize in offering

an array of resources to help

you with all your real estate needs.

www.castlegarrealty.ca

Agents

DID YOU KNOW THERE IS A WAY

TO SELL YOUR HOME conditional

on finding and securing your future

home? Call for a free no obligation

market valuation of your home.

Thinking of buying or selling? Contact

Sarah Rilkoff Valhalla Path Realty,

250-509-0006.

THINKING OF SELLING? Leverage

my experience and marketing tools to

turn 'Selling into Sold'. Greg Gritchin,

Fair Realty, 250-365-9791.

WHAT'S YOUR HOME WORTH?

Free, quick, over the net home evaluation.

www.joniaskew.com/homeeval

Residential

2BDR 2BATH CONDO: Located in

Castlegar, BC. Serious inquiries only,

$399,000. Call 250-365-3777.

Residential

PINNACLE HOME SALES: Offer a

diverse range of floor plans from 900

to over 1800sq.ft. 4460 Minto Rd, Castlegar.

250-365-0048.

ALERT, PHONE NUMBER SCAM:

Please be aware of a phone number

scam using 1-800-353-2602. This is

NOT the Pennywise toll free number

and if you call it in error, do not follow

the instructions, hang up. Thank you.

Pennywise.

Commercial

SKYWAY HARDWARE SALMO,

BC: Serving since 1985. Flowers

to Building Supplies, $1,000,000+

sales. Real Estate and Business:

$1.15 million. Larry Martin, 250-

357-9911. www.skywayhardware.

wixsite.com/mysite

18 May 2, 2022 Your local shopper N picture online: www.pennywiseads.com

Land

USA - WATERFRONT LOT FOR

SALE on Lake Cocolalla. 1.7 acres

with 104' of lake frontage, has power

and community septic hookup

on lot line and private well. Easy access

off Hwy 95 at mile marker 461.

Level building site, conveniently located

between Sandpoint and CdA.

Great lake and mountain views,

$399,000USD. 208-610-5605.

Rentals

Residential Rentals

HELLO OUT THERE! NEEDING

a 2bdr home/suite/loft in Nelson

area, (not in town) for June 1. Artist

mom 62, daughter & son 17 &

20, loves life's beauty, gardening,

light, forest and quiet. In Kootenays

21yrs, 9yrs at previous home, excellent

references, ns/np. Please call

Lisa, 250-352-5898. Tx.
---
1761 Columbia Ave.

250 365 2166 • 1 877 365 2169

www.castlegarrealty.ca

We service Slocan Valley, Nelson, Castlegar,

Trail and everywhere in between!

1445 Columbia Avenue, Castlegar MLS 2462091

Commercial Development

Property!

Fully serviced 0.83 acre property

overlooking the Columbia River.

$699,000

Lot S Broadwater Road, Deer Park MLS 2459519

Dream property to get away

from it all!

2.32 acres with custom summer

cottage in stunning Broadwater,

mostly surrounded by Crown

land.

$419,000

3839 5th Avenue, Castlegar MLS 2462316

Strata Development Property.

Castlegar needs more condos,

apartments and townhouses.

This is the property for it. Fully

serviced already!

$999,000

477 Selkirk Avenue, Castlegar MLS 2463916

Very solid three bedroom

home with full basement

in ultra convenient location

just steps to services!

$429,900

120 Jesse Road, Fairview MLS 2463977

37 Gorgeous acres

on the edge of town!

$479,000

2126 Crestview Crescent, Castlegar MLS 2464406

Stately two storey home!

Amazing 5 bedroom

4 bathroom home with parklike

private yard and stunning

in-ground pool!

$659,900

147 Columbia Avenue, Castlegar MLS 2463172

Truly one of a kind!

3 bedroom 3 bath home with

numerous updates situated on

a 0.58 acre waterfront property,

triple detached garage,

subdivision potential.

$699,000

Lot 33 Thompson Avenue, Castlegar MLS 2461858

Welcome to Twin Rivers on

the Water,

Castlegar's most desirable

subdivision! 46 exclusive lots

with full services.

$209,000

1653 Tower Ridge Road, Ootischenia MLS 2463606

Breathtaking 4 bed

4 bath custom home

in the top subdivision of

Castlegar right beside the golf

course.

$989,000

1516 Eagle Point Lane, Pass Creek MLS 2464074

Executive 4 bedroom home

on just over 12 acres, gourmet

kitchen, hardwood floors, over

3,500 sq ft of finished living,

close to Castlegar.

$949,900

#41 - 2210 Columbia Avenue, Castlegar MLS 2464144

Carefree living!

Fantastic rancher style unit

with full basement next

to beautiful green space in

Stellar Place!

$439,900

740 Woodland Drive, Castlegar MLS 2464245

Opportunity Knocks!

Great investment property

with two unit revenue.

Awesome location and

excellent location!

$575,000

Tyler Gienger

250-304-7865

Simon Laurie

250-365-1585

Connor McCarthy

250-304-4781

Marnie Pettit

250-304-3564

Florence Padilla

250-608-2104

PJ Poznekoff

250-365-4679

Luke Walker

250-687-0855

Sheena Albrecht

250-608-2741

N picture online: www.pennywiseads.com Where locals shop. N May 2, 2022 19
---
Special Feature in

and

summer

MARKETS

IDIDaRide Deets!

Trails for two of the three races are confirmed for July 3

iDIDaRide in Kaslo.

17 km: the mid range course, for both riders and runners.

Kaslo arena is the staging point this year and participants will

head west down Arena Ave and climb up into the True Blue

Trail system via the Hemlock network to the gravel pit. From

there you will follow Bjerkness Road and jump back onto

the trail system at Sourdough, through to Destiny Ridge,

the Connector and climb up to Strawberry Ridge. You will

descend from there and connect with Straight Face, on to

Look Waaay Up, and I'll Call Rusty. You pop out on Lettrari

Loop and back to the Arena via Arena Ave.

This will be somewhat challenging – and full on fun! There

will be an aid station with food and drinks at the bottom of

Strawberry Ridge

30 km: the long race is for riders only. It too will start at

the Kaslo Arena and head west on Arena Ave climbing the

Hemlock network to the gravel pit. Riders will then cross the

gravel pit to climb the short dirt road to 'N' Zone, continuing

up Spanish Moss to Sleepy Hollow, onto the Connector,

Strawberry Ridge, Straight Face, then bounce out onto Bjerkness

Road. There is more excitement to be experienced after

this point, which will remain a secret until it is ready to be

revealed! It will include some black diamond rated sections –

not overwhelming but a bit gitchy. There will be at least one

aid station with food and drinks on this course.

5-8 km: Head scratchin' for the short course is still under

way. The plan is to have a user friendly (ride & run) 5 – 8

km route with limited climbing. Stay tuned for more info or

monitor the website if this is the event you are interested in.

www.iDIDaRide-kaslo.ca

Folks should know that iDIDaRide is a race but in fact

about 2/3 of participants are just looking to have a nice ride

or run on Kaslo's amazing trail system. Everyone is welcome

no matter what your goal is!

Registration is open, just visit www.iDIDaRide-kaslo.ca

Details will continue to be updated.

Glen McRae

~

Consulting • Market Evaluations • Buyer & Seller Agency • FULL MLS Services

15+ Years Local Area Real Estate Buying & Selling Experience.

Your Guide to the Kootenays Residential/Commercial/Recreational.

Greg Gritchin • 250-365-9791 • KootenayConnection@gmail.com • KootenayConnection.ca

K O O T E N A Y S

Publishing in the May 30 Pennywise

and June Discover Sixty-Five Magazine

✔ Pull out section in centre of Pennywise

✔ All 4 Pennywise Area Editions

✔ Centre Spread of the Discover Sixty-Five

✔ Includes Free Full Colour in each publication

✔ Only $415+tx for both publications, 1/4 pg

Run in one or the other, $299+tx

Larissa Scott

office 250-353-2602

larissa@pennywiseads.com

Karma Halleran

office 250-353-2602

karma@pennywiseads.com

1-800-663-4619, local Kaslo 250-353-2602

7th Annual Spring Kootenay Artisan Fair

Prestige Lakeside Resort Nelson

Saturday May 7th, 2022

10am - 5pm

www.kootenayartisanfair.com

58 Vendors

$2 at the Door

Local Sponsor

kootenaychristmasfair@outlook.com

Rentals Rentals Seniors

Residential

1BDR LARGE FULL BASEMENT

SUITE Woodland Park, Castlegar.

Office & den, w/d, ns/np, suited for

single occupancy, available May. 1,

$850/mo. WiFi & utilities included.

Call/text 250-365-6327.

Commercial Rentals

3200SQ.FT. NICELY FINISHED

BUILDING, TRAIL: .50 acre lot,

easy access. level entries, ample

parking, large open area plus office

areas, a/c, multi-functional use;

commercial, medical, warehousing,

worship, daycare, & much more.

250-368-1312, 250-364-0352.

4200SQ.FT OFFICE AND SHOP

AREA in Genelle, BC. Available May

2022. Please call 250-231-2346 for

more information.

THANK YOU FOR READING

PENNYWISE!

Commercial Rentals

NEW COMMERCIAL KITCHEN

FOR RENT IN SALMO: Half day or

full day rates. Discount for regular

bookings. www.for-rest.ca/commercial-kitchen

Seniors

Discounts

SENIORS DAY 2/1 ELECTRIC

BIKE RENTALS EVERY MONDAY:

Please book by Saturday so we can

have a bike ready to go. Call Neil

at 250-300-7923 or book online at

www.kaslo E-Kruise

Discounts

SENIORS RECEIVE 10% OFF supplement

purchases at Sunnyside

Naturals everyday. 404 Front St,

Kaslo, 250-353-9667.

SENIORS! SHOP THE FIRST

WEDNESDAY OF EVERY MONTH

and receive 10% off your purchase.

Some exclusions apply. Kaslo Front

Street Market, 411 Front St, 250-

353-2331.

SMALL ENGINE TUNE-UPS AND

REPAIRS: All makes and models.

Mowers/riders, chainsaws, etc.

Senior Discount offered. 250-365-

0005.

Notice to Nelson

and RDCK residents.

Expect a TEST of the Voyent

Alert! Emergency Notification

System on Tuesday,

May 3rd at approximately

12:00 pm.

Victorian Hospital of

Kaslo Auxiliary Society

ANNUAL GENERAL

MEETING

Monday, May 9, 1pm

Picnic Shelter, Vimy Park

Agenda:

• Reports on the year's events

• News from recent conference

• Treasurer's report

NEW DATE!

• Election of new board

email diannasmith75@gmail.com or

phone 250-353-1037 to register

VOLUNTEERS NEEDED!

We have board positions opening up

and need more helpers at the Thrift Store

Everyone welcome to attend

20 May 2, 2022 Your local shopper N picture online: www.pennywiseads.com