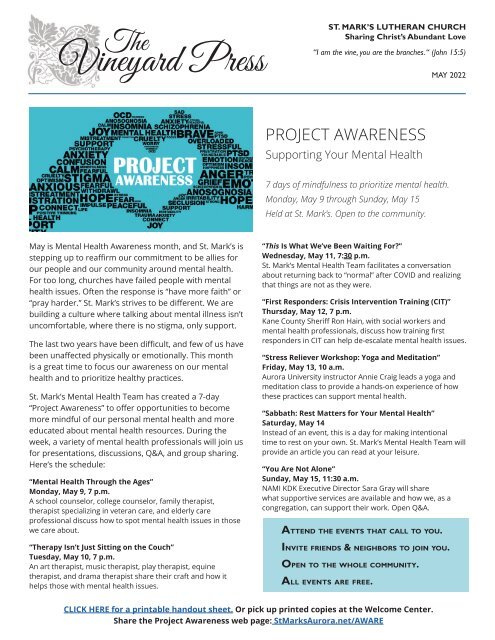 May 2022 Vineyard
Monthly newsletter of St. Mark's Lutheran Church (Aurora, IL)
Monthly newsletter of St. Mark's Lutheran Church (Aurora, IL)
SHOW MORE
SHOW LESS
Create successful ePaper yourself
Turn your PDF publications into a flip-book with our unique Google optimized e-Paper software.
The

Vineyard Press

ST. MARK'S LUTHERAN CHURCH

Sharing Christ's Abundant Love

"I am the vine, you are the branches. " (John 15:5)

MAY 2022

PROJECT AWARENESS

Supporting Your Mental Health

7 days of mindfulness to prioritize mental health.

Monday, May 9 through Sunday, May 15

Held at St. Mark's. Open to the community.

May is Mental Health Awareness month, and St. Mark's is

stepping up to reaffirm our commitment to be allies for

our people and our community around mental health.

For too long, churches have failed people with mental

health issues. Often the response is "have more faith" or

"pray harder." St. Mark's strives to be different. We are

building a culture where talking about mental illness isn't

uncomfortable, where there is no stigma, only support.

The last two years have been difficult, and few of us have

been unaffected physically or emotionally. This month

is a great time to focus our awareness on our mental

health and to prioritize healthy practices.

St. Mark's Mental Health Team has created a 7-day

"Project Awareness" to offer opportunities to become

more mindful of our personal mental health and more

educated about mental health resources. During the

week, a variety of mental health professionals will join us

for presentations, discussions, Q&A, and group sharing.

Here's the schedule:

"Mental Health Through the Ages"

Monday, May 9, 7 p.m.

A school counselor, college counselor, family therapist,

therapist specializing in veteran care, and elderly care

professional discuss how to spot mental health issues in those

we care about.

"Therapy Isn't Just Sitting on the Couch"

Tuesday, May 10, 7 p.m.

An art therapist, music therapist, play therapist, equine

therapist, and drama therapist share their craft and how it

helps those with mental health issues.

"This Is What We've Been Waiting For?"

Wednesday, May 11, 7:30 p.m.

St. Mark's Mental Health Team facilitates a conversation

about returning back to "normal" after COVID and realizing

that things are not as they were.

"First Responders: Crisis Intervention Training (CIT)"

Thursday, May 12, 7 p.m.

Kane County Sheriff Ron Hain, with social workers and

mental health professionals, discuss how training first

responders in CIT can help de-escalate mental health issues.

"Stress Reliever Workshop: Yoga and Meditation"

Friday, May 13, 10 a.m.

Aurora University instructor Annie Craig leads a yoga and

meditation class to provide a hands-on experience of how

these practices can support mental health.

"Sabbath: Rest Matters for Your Mental Health"

Saturday, May 14

Instead of an event, this is a day for making intentional

time to rest on your own. St. Mark's Mental Health Team will

provide an article you can read at your leisure.

"You Are Not Alone"

Sunday, May 15, 11:30 a.m.

NAMI KDK Executive Director Sara Gray will share

what supportive services are available and how we, as a

congregation, can support their work. Open Q&A.

Attend the events that call to you.

Invite friends & neighbors to join you.

Open to the whole community.

All events are free.

CLICK HERE for a printable handout sheet. Or pick up printed copies at the Welcome Center.

Share the Project Awareness web page: StMarksAurora.net/AWARE
---
youth

"Tree of Healing"

Vacation Bible School

Monday, July 11

through

Friday, July 15

9:00 a.m. to 12:00 noon each day

This year's VBS program title, "Tree of Healing," comes

from the Book of Revelation, which tells us that "the

leaves of the tree are for the healing of the nations."

The tree is a symbol of God's promise and a reminder

of God's desire for all nations to experience healing.

This summer's "Tree of Healing" VBS is a chance for

children to consider what health means and how

God invites us to share in the building of a just world

where all can enjoy the gifts of God's creation. As

in previous years, each day will focus on a different

country and how our daily theme applies there.

Day One – Roots of Creation (Psalm 104)

Day Two – Healthy Minds and Bodies

(3 John 1:1-5, 11-14)

Day Three – Different Bodies, Different Gifts

(Psalm 139: 1-18)

Day Four – Being Filled (Exodus 16:11-16, 21-26)

Day Five – Bearing Fruit (John 13:3-15, 33-35)

Each day begins with a skit to introduce the daily

theme, plus lively VBS music. Then participants

"travel" through six rotations: Crafts, Games, Bible

story, Around the World, Simulation station (an

interactive and hands-on activity) and, of course,

Snacks!

The "Around the World" stories each day are based on

projects supported by ELCA World Hunger. Not only

will children hear about the work our church is doing

around the world, but through "Tree of Healing," they

will be part of the response.

It's going to be a great week! Register your kids now.

Sign up to volunteer. We NEED your help to make VBS

a success!

CLICK to register your kids

(age 3 through grade 5)

CLICK to sign up

to volunteer

LOMC retreat 2018

Confirmation retreat @ LOMC

Saturday, May 7

Our Confirmation students are finally getting a chance to head out to LOMC

(Lutheran Outdoor Ministries Center)! They'll be participating in a one-day

retreat on May 7th that includes a Bible study about teen anxiety, teambuilding

ropes course, small groups, and games, such as Human Foosball

and GaGa. It has been several years since we were able to do a LOMC

confirmation retreat, and we are so excited for this opportunity.

2
---
youth

HS Senior Recognition

Sunday School wrap up

St. Mark's could not provide the amazing

programming for children and teens that we do

without SOOO much help! We thank our volunteers

for their dedication and hard work to support our

kids and enrich their faith formation each week. We

held a celebration on May 1st, our last Sunday of

the school year, for kids, teachers, and parents with

treats, crafts, and games!

FDL wrap up

Over 20 volunteers commit to helping on Wednesday

nights during the school year, and we couldn't do

it without them. The FDL teachers, Confirmation

teachers, Youth Group leaders, and our kitchen crew

are an amazing group! On the last Wednesday night

of the school year, May 4th, we celebrated them on

Step-Up Night. We also recognized our 5th-grade

students "stepping up" into Confirmation and our

8th-grade students "stepping up" into HS Youth

Group.

HS Youth Group wrap up

What a year it has been! Every Wednesday evening

from 6 to 7:30 p.m., our HS students gather with

Pastor Patrick in the Luther Room to discuss faith,

grow through fellowship, and engage in fun. We thank

Anna Themanson, LaVern Allen, and Emily Nadler for

joining us on Wednesday nights. They have been such

a blessing to our young people! On Wednesday, May

4, we thank our HS ministry leaders during Step-Up

Night, with gifts and a celebration of a great year

together, and we honor our HS seniors.

3

On Sunday, May 15, we will recognize and

celebrate our St. Mark's HS seniors. This group

of seniors has been such a blessing to our

church and have set such a high bar for our

younger saints. Each senior is destined for

incredible things, and we will affirm that during

our worship service on the 15th. Here are our

HS seniors graduating this May:

Jillian Bantz

Cara Davenport

Madeline Drafall

Grace Friend

Ava Gonzales

Aiden Hobson

Katie Mabrey

Josh Munson-Rodriguez

Jacob Nowak

Brady Reiseck

David Simpson

Katie Ulrich

Gavin Williams

Thank you, HS seniors, for the blessing you've

been! We pray you know St. Mark's will always

support you and be a place you can call home.

Blessings on the next chapter in your life story.

Mission Trip

July 24-29, 2022

Currently, 21 people

(adults and students)

are signed up for our

summer mission trip to Minneapolis, MN. It

is not too late to sign up. Final signup date is

Friday, May 13th, when our paperwork is due

to YouthWorks. If you have questions, contact

Pr. Patrick.

Wednesday, May 25, 6 – 7 p.m.

Parent/student mission trip meeting

This is an important meeting with many

details for the trip. Participants and parents,

mark May 25th on your calendar!
---
thank yous

Thank you from Deb

Dear St. Mark's friends,

It has been an honor and a

privilege to serve St. Mark's

Lutheran Church for the

last twenty years. During

those years, I have served

with three senior pastors,

one interim senior pastor,

four associate pastors, three

interim associate pastors,

two interns and multiple

staff and volunteers in all

areas of ministry.

I can say that no day was the same, although during

the pandemic it sometimes felt that all the days

blurred together during the lonely months that we

worked from home.

I have so enjoyed my connections with you, the

people of St. Mark's, and the people of the community

who have touched my life through the years. I will

always remember and treasure the love, comfort, and

support you shared with my family and me during the

shocking loss of my beloved husband, Ben, ten years

ago in March.

In my retirement I plan to spend more time with my

family and friends, do some traveling both around

the country, and the world. (I still have about twelve

states that I have not visited yet, that are on my

bucket list.)

I plan to downsize and move to a condo in the area by

the Spring of next year. I also look forward to signing

up for some of the volunteer opportunities here at St.

Mark's and in the community that I couldn't do while

working full-time.

Thank you to Randy and Debbie Steinheimer and the

Church Council for the wonderful Celebration and

Godspeed event on April 2/3. Thanks for the beautiful

reception, sweet treats, punch, beautiful flower

bouquets and the vintage china pendant necklace.

The pendant was cut from the border of a classic

Japanese Noritake pattern called "Remembrance"

from the 1950s. Since I was born in the fifties, that is

so special to me, and I will treasure it forever.

Thank you for all the cards with such kind words and

encouragement, gifts, gift cards, and monetary gifts.

Also, thank you to Pastor Patrick, Kari, and Marcia

for all the work in putting together the video tribute.

It was overwhelming to watch and hear all the kind

words and love expressed for me by so many!

Thank you to Pastor Patrick, Kristin, Kari, Marcia,

John, and Al for your support, love, teamwork, the

fun retirement/ birthday lunch at Panchos, and the

generous gift.

Thank you all so much for your support and kindness

to me as we all worked together to share Christ's

Abundant Love to our community both near and far.

With love and gratitude,

Deb Arcilla

Let there be light!

Have you noticed how bright the sanctuary

is looking these days? We owe a huge thanks

to the brave souls who got up on scaffolding

to clean the lights! Thank you Rob Creaney,

Roger Shields, Matt Greising, and Al Lettow!

4
---
Welcome, Joni!

congregational life

Our new Office Manager,

Joni Ackley, officially began

working at St. Mark's on

Tuesday, April 19th. We're

so grateful that she has

stepped in and is learning

the ways and means of how

St. Mark's works.

Please stop by and introduce yourself, if you're in

the building during the week. We also asked Joni to

introduce herself to you. Here's what she said:

"I grew up in north-central Kansas in the town of

Beloit. I attended Fort Hays State University and

moved to Chicago in the late nineties. My mom,

brother, and his family still reside in Kansas.

After working in Chicago and Naperville, I moved

to Aurora in 2002, where I met my fiance, Warren

Thomason. We were together almost 19 years until

he passed unexpectedly in January 2021. We shared

a mutual love of Halloween and put up a whole yard

display every year.

While I don't have kids of my own, Warren has three

adult sons—Michael, David, and Matthew —and a

grandson Benjamin, whom I stay in contact with,

along with the rest of his family.

I enjoy gardening, billiards, almost any kind of

music, and spending time with family and friends.

My Rottweiler named Reaper, who thinks he is a

90-pound lap dog, and a cat named Brat keep me

busy as well. As the new St. Mark's Office Manager,

I am very much looking forward to getting to know

everyone better."

Congregation Support Ministry

St. Mark's takes our role in caring for our own seriously.

During COVID, we created an entirely new care ministry

called "WeCare" to provide support for our people during

the pandemic. That concern and creativity to provide care

hasn't stopped.

Yes, we have one less pastor; however, care is never just

the job of the pastor(s). Here at St. Mark's we approach

care differently. Rather than one person providing all the

care, we have a systems approach to care.

There are many branches of our Congregation Support

Ministry (CSM), which we will be highlighting during the

month of June. They include:

Card Ministry

Care Ministry

Deacons

Health & Wellness

Mental Health Team

Prayer Ministers

Fellowship

Connections

Shepherds

Meal Train

Prayer Team

Funeral Luncheons

Wedding Hosts

Transportation

As you see, there are lots of ways caring takes place! Each

branch has a chair person and team that make each

ministry happen within our congregation. If you are

interested in joining our CSM team and providing care

to our people, contact Pr. Patrick. Next CSM leader

meeting is Wednesday, May 18, 7 p.m.

Mother's Day offering: "Help Feed a Refugee Family"

The last day for "Feed a Refugee Family" donations is Mother's Day, May 8th.

Galvanized by the crisis of Ukrainian refugees, we are participating in the ELCA

Good Gifts project to help feed refugees all over the world. When people are

forced to flee war and violence in their homeland, one of the most pressing

needs is food. Every $50 we collect feeds a refugee family for a week, and $200

feeds them for a month. Your donation, of any amount, will help! You can pick

up a donation envelope at the Welcome Center or give online.

5
---
adult opportunities

New member exploration

Sunday, June 5, 11:15 a.m. to 1:00 p.m.

Interested in St. Mark's? Looking for a faith community where every

individual is welcomed and affirmed? Want to participate in God's work?

Wondering what it means to be a member of this congregation?

If any one of these questions describes you, join us for our Spring New

Member Exploration meeting on Sunday, June 5. The meeting will be held from 11:15 a.m. to 1 p.m, and

lunch will be provided. The New Member Exploration provides an opportunity for you to ask questions, build

relationships, and gain clarity about St. Mark's mission. We'll also have a chance get to know each other and

share our congregational story. If you are interested in attending the New Member Exploration, contact

the church office (630-897-6891) or email Pr. Patrick. We look forward to engaging with you on June 5th!

Adult Study

Tuesdays at 10 a.m. in the Community Room

"The Bible According to …" series

Starting in Lent, the Tuesday morning Adult Study began a deep dive into

Scripture, covering topics such as:

• Women in the Bible

• Homosexuality: What the Bible really says

• Divine Judgment: How to approach God's wrath

• Divine agency: Why does God choose to act in and through humanity?

• Difficulty passages in the Bible: How do we approach these stories?

• Historical Critical Interpretation: How to read the Bible

• Approaches to the Bible: It matters!

Each week we build on our understanding of Scripture and have a deeper and richer approach in how we

interpret the Bible. Too many churches claim there is only one way to read Scripture! During the Tuesday

morning Adult Study, we are making a different claim and getting more comfortable in how we talk about the

Bible. Together, we are seeing the beauty and gift that the Bible is for our community. Join us on Tuesday

mornings at 10 a.m. Anyone is welcome.

Adult Fellowship

Thursday, May 26 (sign up by Monday, May 16)

Tour of the Mausoleum in Justice, IL

The Adult Fellowship group is headed to Justice, IL, for a guided tour of

the Mausoleum, a Polish religious history museum. One of the museum's

highlights is the world's largest stained-glass window. It's also home to

Chicago's most famous ghost, "Resurrection Mary." Sign up at the Welcome

Center or call Peggy Shields (630-907-1361). The group will leave St. Mark's

at 9 a.m. (sharp), and arrive at 10 a.m.

6
---
save the dates

Pride Parade 2018

Pride Parade

Sunday, June 12

The Aurora Pride Parade is BACK! The past two

years, we have participated in Aurora's Pride Drive

by waving at cars from our front lawn. So we are

excited to hear the Pride Parade is returning! This

year, we'll once again have an opportunity to walk

in the parade together.

The date of the Pride Parade is Sunday, June 12.

St. Mark's will be there, proudly proclaiming that

we welcome and affirm our LGBTQIA+ siblings!

It's our way of expressing our priority to be a

community leader. It's our way of living out our

RIC (Reconciling in Christ) designation.

The RIC Team is gathering plans and preparations

for the Pride Parade. Logistics and details on how

to sign up for the June 12 Aurora Pride Parade will

be coming out this month. Look for details at the

Welcome Center and in future communications.

Music Sunday

Sunday, May 22, 10 a.m.

You are invited to a special Sunday morning

worship on May 22nd. It will be a celebration

of thanks and praise for our adult vocal and

handbell choirs, and our kids' music and

choirs. We're grateful for their gifts of music

and the time commitment they have shared

with us this year.

We celebrate all the ways these musicians

made music this year—COVID or no—and

look forward to the future to see what God

can do in us and through us as we continue to

grow in faith and love here at St. Mark's.

Family Fun Sundays

• Sunday, June 26 - intergenerational theme

• Sunday, July 17 - extension of VBS health/wellness theme

• Sunday, August 28 - water theme

Remember all the fun we had last summer? Our Family Fun

Sundays were a hit with churchgoers of all ages! We enjoyed

a magician, princesses, hot dogs, popcorn, ice cream, and

wildlife. Plans are now underway to bring back the fun for

three Family Fun Sundays this summer. Mark these dates on

your calendar:

We hope you can attend all three events! Stay tuned for more info as the plans shape up.

7
---
neighbor news

Sunday team

St. Mark's and the Dominican Literacy Center

Forging a new partnership

St. Mark's is incredibly blessed to have formed

partnerships that make a difference in our

community. From The Neighbor Project and McCleery

Elementary School to PADS, Hesed House, and so

many more, our congregation has made a huge

impact.

About a year ago, the Outreach Team began a search

for another community partner that would allow St.

Mark's to make an impact through the Hansen Fund,

a fund set aside for community outreach on behalf of

the church. After many site visits, conversations, and

discernment, the Outreach Team recommended a

one-time $10,000 donation to the Dominican Literacy

Center in Aurora, which the Council confirmed in

March.

Programs at the Dominican Literacy Center help

women learn to read, write, and speak English, as

well as help immigrant women and men prepare to

pass their naturalization tests and become new U.S.

citizens. The permanent staff along with hundreds of

volunteers believe that helping our immigrant siblings

is a worthwhile and noble venture!

You are invited to join in this outreach venture. On

the weekend of May 7 and 8, we will talk more about

the Dominican Literacy Center and ways that our

congregation can be involved in this partnership.

Watch the video above to see highlights of the

important work of the Dominican Literacy Center.

Dinner at PADS

Saturday, May 14, 6 to 9 p.m.

Our next dinner service date at PADS is Saturday,

May 14, and we are looking for volunteers. If you

want to cook, you can make up some Sloppy

Joes (click here for the recipe) and drop off your

food at Hesed House at 6 p.m. or contact Janet to

coordinate a hand-off. If you want to volunteer,

we serve about 200 guests for dinner and prepare

100 sack lunches for the next day. Sign up at the

Welcome Center or contact Janet Guinanne.

Aurora Food Pantry

shelf stocking

Monday, May 9 and May 23, 3 to 4 p.m.

As food prices continue to rise, food insecurity

increases. The Aurora Interfaith Food Pantry is

getting new families signing up each distribution

day! On the 2nd and 4th Mondays of the month,

a team from St. Mark's helps stock the shelves

to get ready for distribution. If you'd like to

join the team, contact Linda Pfeiffer or sign

up at the Welcome Center. The need-—and our

work—will continue through the summer!

8
---
neighbor news

The Neighbor Project

Lydia's Piecemakers

Maintenance workshop

Earlier in 2022, The Neighbor Project hosted a

maintenance workshop for participants in its

Networked Saving program. The workshop focused

on indoor home maintenance to help prepare

families for homeownership. Austin Bredow led

the two-hour workshop, which covered HVAC

maintenance, safety/security within the home,

minor plumbing problems and fixes, mold/mildew

prevention, and pest control. Participant feedback

was incredibly positive, as maintenance training is a

topic families are always requesting!

If you are particularly handy and would like to

volunteer to lead a future maintenance workshop,

please contact Sarah Bredow for more information.

Family support

St. Mark's support of Lizbet and her family was

completed when she graduated from the Networked

Saving program and was able to purchase her own

home. We are now sponsoring the Thang family at

the Oak Avenue property. This is a Burmese family

who learned of the program through family members

who completed the program five years earlier! Wordof-mouth

referrals continue to be a strong source of

excellent program candidates.

The Thangs have been steadily completing the

program requirements and hope to purchase a home

in late 2022/early 2023. Thank you, St. Mark's people,

for the continued support that helps make this

possible!

Lydia's Piecemakers have joyfully resumed weekly

Monday activities in the St. Mark's building. All people

interested are welcome to join their efforts, either

from your home or at the church.

Quilt kits

Like to sew? You can help by picking up a quilt kit.

Look for the two baskets on the bench near the

kitchen unit in the narthex. One basket has quilt kits

ready to sew, and one is for returned quilt tops ready

and waiting for Monday-morning quilt assembly.

All are welcome to work at home on these kits and/or

join us on Monday morning. Even with all the laughter

and chatter Lydia's Piecemakers engage in, we have

shipped hundreds and hundreds of quilts to those

parts of the world needing a warm and caring touch.

Hat and scarf ministry

We are currently looking for someone to help

coordinate the hat and scarf ministry. We have LOTS

of yarn ready to use, and even looms for people

who do not knit or crochet. Last Fall, St. Mark's

distributed over 200 articles of warmth, including

hats, scarves, and mittens for use in Aurora at Hesed

House, McCleery Elementary School, and Mutual

Ground. This will not be possible in 2022 without a

coordinator. If you are interested, call Laurel Haase at

630-892-9525.

Baby bundles

Another very active part of Lydia's ministry consists of

building baby bundles used in third-world countries

to encourage mothers to seek pre-natal care. Call

Debbie Steinheimer at 630-712-2052 for more

information.

9

—Betty Lankers
---
church matters

Transition update

Council Happenings at St. Mark's

Greetings from St. Mark's Council!

c

The St. Mark's Church Council has

decided to pursue the hiring of a

part-time pastor. After consulting

with the Metro Chicago Synod, the

Council and Synod support the

action of hiring a part-time pastor

to ease some of Pastor Patrick's

responsibilities, such as leading

weekly worship and assisting with

pastoral care of our members. In

addition, a part-time pastor would

keep St. Mark's finances in line with

or lower than the existing budget for

personnel expenses and allow St.

Mark's the autonomy to select and

interview its own candidates for the

position.

At its Sunday, April 24 meeting, the

St. Mark's Council approved a job

description for a part-time pastor.

The job description extends a sixmonth

contract seeking a part-time

pastor to faithfully provide and

facilitate a ministry of care and

nurture, including two weekends

per month of worship leadership,

including preaching.

The job description is being sent

to potential candidates at this

time, and we await responses with

cautious optimism. The pool of

potential candidates comes from

the Metro Chicago Synod's roster of

retired pastors who have expressed

interested in pulpit supply.

It is the Church Council's desire

to keep you informed of the

incremental steps it is undertaking.

The Council asks for your continued

prayers for St. Mark's as we move

through this transition together.

—Randy Steinheimer, Council President

This month's Council meeting was yet another packed agenda. We

started by welcoming our newest staff member, Joni Ackley—and

celebrating her birthday! As Recording Secretary for the Council, Joni

will be taking minutes at each Council meeting.

Highlights from the April 24th meeting include:

• the formation of a committee to explore data about our return

to worship. This will assist us as we consider our future pastoral

needs based on the number of worshipers and their needs. If you

are interested in this committee, please talk with Jon Miller.

• the approval of a job description to assist in hiring a part-time

pastor. This pastor, on a short-term contract, will assist with

worship and pastoral care.

• the approval of Mike Bauman to a term on St. Mark's

Endowment Team.

• updates on our congregational care initiatives. Look for much

more information to come throughout the month of June, as we

re-introduce our various care ministries and show how they all fit

together.

• budget and treasury updates as we continue to track our

finances. Treasurer Rob Creaney is happy to answer budget

questions.

• plans for a congregation-wide survey in early June to gather

ideas for fostering connections between St. Mark's members as

a follow-up to our "walking together" sessions. In these sessions,

participants cited the need for members to be committed to caring

for each other, and to ensure St. Mark's as a welcoming church.

• updates on our new computer software that will allow for more

streamlined operations, better communication, and financial

management.

• plans to better communicate St. Mark's outreach activities to

allow our congregation to find opportunities to participate in these

ministries and to connect what we do with the "why" behind our

efforts. Council approved an outreach budget that utilizes monies

from the Hansen Fund to support new outreach initiatives.

"Chats with Council": Council members have enjoyed increased

opportunities to talk with congregation members and listen to

suggestions and concerns. Please continue to join our monthly "Chats

with Council." Our next chat is Sunday, May 15 before the 10 a.m.

service. Also, look for Council members at the Welcome Center before

both Saturday and Sunday services. Your feedback has resulted in

many positive changes—we're here for you!

—Lynnette Brent, Council Secretary

10
---
church matters

St. Mark's

Council

Randy Steinheimer, President

rsteinheimer@sd129.org

Emma Albers, Vice-President

emma.albers@kimley-horn.

com

Rob Creaney, Treasurer

rob.creaney@sbcglobal.net

Lynnette Brent, Secretary

lynnettebrent@gmail.com

Mike Bauman

jmb15mjb4@gmail.com

Matt Greising

mpgreising@gmail.com

Izzy Jones

isabellemjones06@gmail.com

Tyler Mabrey

yerbam719@gmail.com

Monthly Information

St. Mark's monthly financial recap

for March 2022

Monthly Budget Goal $ 76,213.92

Monthly Offering information

Envelopes – General Fund $ 61,372.90

LSSI Rent $ —

Miscellaneous $ 20.00

Other (loose, Sunday School, interest) $ 474.74

Total General Fund Income $ 61,867.64

Monthly Surplus (Shortfall) $ (14,346.28)

Summary General Fund Information as of 03/31/2022

Annual Budget $ 914,567.00

Percent of Year Completed 25%

Offerings/Commitments/Other Income $ 175,120.18

received year to date

Actual Expenses year to date $ 271,663.94

Actual Expense Surplus (Shortfall) year to date $ (96,543.76)

Budget Surplus (Shortfall) year to date $ (54,521.57)

Debt Balances as of 03/31/2022

Principal Remaining on Church Building $ 1,180,678.23

Principal Remaining on CDC $ 420,892.89

General Fund owes Special Fund $ 15,000.00

Jon Miller

jgmiller6836@gmail.com

Mark Mueller

mueller1110@comcast.net

Anna Themanson

acthemo@gmail.com

Patrick Fish, Pastor

pfish@stmarksaurora.net

Joni Ackley, Recording Secretary

jackley@stmarksaurora.net

Thrivent Choice

Each Thrivent member can allocate

"Choice Dollars" to go to their home

church. In the past two months, we

are grateful to Thrivent members Al and Phoebe Bergh, David and

Kathy Bloom, Allen and Mary Close, Judy Conant, Caryl Sue Farnum,

Martha Hosler-Fitzgerald, George Huensch, Carol and Jens Jensen,

Phyllis Jessick, Susan Koepke, Fred and Phyllis Krueger, Sheryl

Murphy, and Maybelle Rygh for directing a total of $2,486 of their

"Choice Dollars" to St. Mark's.

Talk to Pr. Patrick if you are a Thrivent member and have questions

on how to make this designation of your Choice Dollars.

11
---
Glorious Easter!

For the first time since 2019, St. Mark's members and friends

were able to gather in person to celebrate Easter. What a joyous

occasion it was! From the processional to the recessional, from

kids laughing to adults waving colors, we gave thanks for new

life and praised our Risen Lord. Alleluia!

Photos: Tom Short, Shortpics.com

St. Mark's Lutheran Church, 27 S Edgelawn Dr, Aurora, IL 60506 StMarksAurora.net 630-897-6891 office@stmarksaurora.net