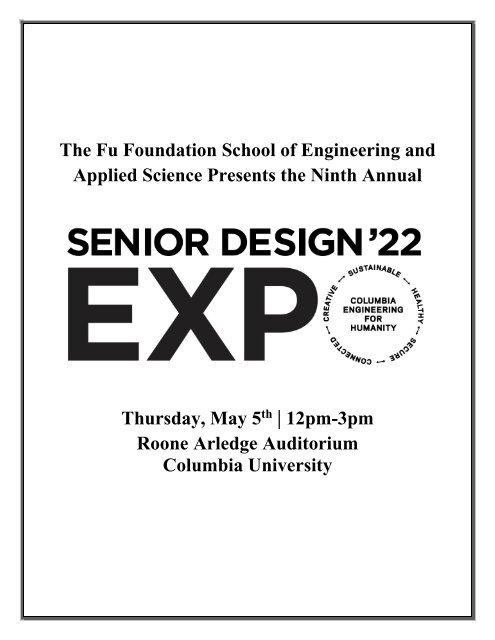 Create successful ePaper yourself
Turn your PDF publications into a flip-book with our unique Google optimized e-Paper software.
The Fu Foundation School of Engineering and

Applied Science Presents the Ninth Annual

Thursday, May 5 th | 12pm-3pm

Roone Arledge Auditorium

Columbia University
---
Table of Contents

Applied Physics & Applied Mathematics

Laser-Induced Crystallization of Multilayer Amorphous Si Thin Films (p.5)

Laser Synthesis and Processing of Silicon Carbide (p.5)

Characterizing nano-ceria particles by Pair Distribution Function analysis (pg. 6)

Thermoreflectance based thermal microscope (p.6)

Indigo as an ecofriendly electrode material in lithium-ion batteries with graphene oxide coated

separator (p.7)

NeuroNotice (p. 8)

Biomedical Engineering

deSTIgma: A Digital STI Test Recommendation Platform (p. 8)

budDLS: Buddy for Daily Living Skills (p .9)

LUMA (p.9)

CAUTIcare (p .10)

JawLign (p. 10)

SleepSense (p. 11)

CERV (p.11)

Stabilitek (p.12)
---
The Inferno Arch Bridge (p. 13)

Civil Engineering & Engineering Mechanics

Governors Island Center for Climate Solutions (p. 14)

The Lodge at Gore Mountain: Skiing Reimagined (p. 15)

Lion's Den Fitness and Wellness Center (p. 16)

Earth & Environmental Engineering

Feasibility of PFAS Destruction Through Catalytic Incineration (p. 17)

Moss Could Save the Subway (p. 17)

Hydrogen in the Transportation Sector: A Feasibility Study of Long-Haul, Hydrogen Fuel Cell

Freight Trucks in the US & Southern California (p. 18)

Electrical Engineering

Obstacle Avoidance and Autonomous Landing Systems (p. 19)

A Programmable Switched-Capacitor Analog Equalizer for Audio Signals (p. 20-21)

Resilient Raspberry PI Power Backup (p. 22)

Smart Pet Door System (p. 23)

Digital Tug of War Game: Using Electromagnetic Resistance to Replicate Human Force (p. 24)

Wired-to-Wireless Converter (p. 25-27)

EMG Wrist-Set (p. 28-29)

Wizard's Chess (p. 30)
---
Mechanical Engineering

Super Cool Underwater Frequency Emitter (p. 31)

Rocket Payload Bay (p. 31)

Chicken Friend (p. 32)

Beach Cleaner Pro (p. 32)

Adjustable Shelving (p. 33)

KnitFix (p. 33)

RollControl (p. 34)

HydroHand (p. 34)

CuttingBoard+ (p. 35)

Calypso (p. 35)

Equi-Table (p. 36)

Speed-Star (p. 36)

Boat Bath & Beyond (p. 37)

TruckStop (p. 37)

Small Oil-Spill Cleaner (p. 38)
---
Applied Physics & Applied Mathematics

Laser-Induced Crystallization of Multilayer Amorphous Si Thin Films

Jonathan Katz

Laser recrystallization of amorphous silicon shows promise as an alternative pathway of GAA-

FET manufacture, but further questions need to be answered to fully assess the viability of the

approach. It appears that recrystallization of the silicon layers within a multilayer substrate is

possible and could be consistently achieved with greater control of conditions and parameters. This

process would further the development of transparent or in-situ display transistors, as well as

providing an alternative pathway for GAA-FET manufacture within a laboratory environment.

Laser Synthesis and Processing of Silicon Carbide

Alexander Killips

Advisor: James S. Im

Laser induced synthesis and processing of silicon carbide (SiC) was studied by irradiating a thin

carbon layer on top of silicon, as well as amorphous SiC (a-SiC). The carbon coated silicon was

prepared by evaporating carbon threads onto amorphous Si. The amorphous SiC was procured by

sputtering SiC onto a glass substrate. Each sample was then laser irradiated and studied via Optical

and Raman spectroscopy. The carbon layer was delaminated when irradiated by the laser.

Therefore, we were unable to synthesize SiC from the starting material. When the a-SiC was

irradiated with the laser, above a threshold energy density, a color change and Raman spectral shift

was observed. We suggest that the SiC underwent some crystallization to a nano-crystalline

microstructure, based on what the observations indicate. Further research is required to

demonstrate the feasibility of laser annealing of SiC for device use.

Keywords: Silicon Carbide, Laser Irradiation

5
---
Applied Physics & Applied Mathematics

Characterizing nano-ceria particles by Pair Distribution Function analysis

Haolan Sun

Advisor: Prof. Siu-Wai Chan

Cerium oxide, also known as ceria, has attracted serious consideration due to its utility in industrial

and technical applications. In catalytic systems, ceria is used as an oxygen storage element in

automotive converters. Over the years, it has become an essential component of three-way

catalysts for the conversion of exhaust emissions in automobiles. In addition, cerium oxide has

some specific chemical defects, including oxygen vacancies. Due to these vacancies, the material

has a high oxygen ion conductivity, which is an important factor affecting the performance of solid

oxide fuel cells. Doping of the ceria with different elements can vary the structural, electrical, and

optical characteristics of nano-ceria particles. In this research, ceria was doped with different

concentrations of Copper (Cu). The characterization technique used for the analysis of Cu doped

ceria nanoparticles was the pair distribution function (PDF). PDF, which is obtained from Sine

Fourier transformation of powder diffraction data, is the density function of atomic pair distance.

Our samples were prepared by the co-precipitation method. The fitting algorithm is generally the

Levenberg-Marquardt algorithm. We are fitting the data with the perfect crystal in 20Å and 50Å.

The PDF analysis on our samples shows that the particle size of our nano-ceria decreases as we

increase the doping concentration of Copper. Interestingly, the lattice parameters decrease from

0% concentration of copper to 1% concentrations of copper, and then increase monotonically. We

can observe that the data fits very well with the difference between the observed PDF and the

calculated PDF. Rw is a metric to describe how two PDF curves on the same r-grid are alike. In

our fitting, Rw are 0.11 and 0.13 which are relatively small showing the goodness of fit. As the

doping concentration increases, the fitting gets worse and worse. The relationships between the

particle size, lattice parameters, and doping the concentration of Copper came out very well as we

expected.

Keywords: Nano-particles, Ceria, Cu-doped ceria, Pair distribution function

Thermoreflectance based thermal microscope

Shiyi Yuan, Yuxin Wang, Zicong Huang

Advisor: Ioannis (John) Kymissis

Thermoreflectance based thermal imaging is a technique to map the temperature distribution of

small devices in a micro scale. This thermography technique, which is based on measuring the

relative change in reflectivity of the device surface as a function of change in temperature, provides

high-resolution thermal images that are useful for hot spot detection and failure analysis, mapping

of temperature distribution, measurement of thermal transient, optical characterization of photonic

devices and measurement of thermal conductivity in thin films. We used a 12-bit CCD camera to

detect the changes in reflectivity from 333K to 393K of a gold sample. MATLAB is used in the

process of calibration to produce the coefficient. It also contributes to overcome misalignment and

use masks to separate areas of pictures. We got a thermoreflectance coefficient at the scale of 10 -

4

for gold.

Keywords: Thermal Imaging, Heat profile, Gold, Electronic

6
---
Applied Physics & Applied Mathematics

Indigo as an ecofriendly electrode material in lithium-ion batteries with graphene oxide

coated separator

Ruiwen Zhang

Principal investigator: Prof. Yuan Yang

As Lithium-ion batteries (LIBs) become more and more attractive as energy storage

devices, they also raise many environmental concerns. The currently popular active materials in

batteries' cathodes involve elements like cobalt which are both toxic and expensive. In this way,

the batteries are not only costly to be manufactured, but also harmful to the environment. Indigo

carmine can be a solution to such problems. Indigo carmine, also called indigo, is an organic dye

that can be obtained from plants and used for coloring objects like clothes. Indigo is a powerful

candidate for the organic cathode material in lithium-ion batteries because it is cheap and eco

friendly.

One challenge of using indigo in batteries is that the reduced indigo ions dissolve in the

liquid electrolyte. As the indigo ions diffuse in the electrolyte and are reduced and oxidized at

different electrodes, energy is consumed. This internal consumption of energy can cause the

coulombic efficiency of the batteries to be lower than 80% for the first 10 charging and discharging

cycles. The discharging specific capacity would also drop to 15.5 mAh/g after 100 cycles, which

is only 23.4% of the initial value. To solve this issue, a graphene oxide coated separator is used

when building the cell. The negatively charged graphene oxide can produce an electric field to

prevent the indigo ions from diffusing. The coating of graphene oxide nanosheets onto a polymer

separator is done by vacuum filtration. The batteries with indigo as the active material and the

graphene oxide coated separator show excellent performance. The coulombic efficiency is

typically above 97%, and the discharging specific capacity after 100 cycles increases to 69.4

mAh/g. Therefore, the graphene oxide coated separator allows the performance of batteries with

indigo as the active material to be greatly improved. With this method, indigo, a cheap and eco

friendly material, becomes more applicable in energy storage devices.

Keywords: organic cathode material, indigo dye, graphene oxide, batteries, sustainable.

7
---
Biomedical Engineering

NeuroNotice

Golda Daphna, Luis Muncharaz Duran, Kalsoum Mbacke,

Rhea Sablani, Elaine Tan

Peripheral neuropathy (PN) is a common consequence of diabetes marked by damage to peripheral

nerves. PN usually originates in the extremities (hands and feet,) and if left undiagnosed can lead

to infections, amputation, and life-threatening illness. Current diagnostic procedures include

electromyograms and nerve conduction studies. However, the high cost, inconvenience, and

invasiveness associated with these procedures may deter at-risk patients from regularly getting

checked for PN. We propose NeuroNotice, an affordable, at-home, and user-friendly solution that

allows patients to monitor symptoms of PN. NeuroNotice is a size-adjustable device that randomly

stimulates, via vibration, regions of the foot. Users respond based on whether they detect the

stimulation, indicating potential loss of sensation that would occur with PN. Acquired data will be

presented in a simple graphical interface. Initial prototype testing demonstrates that NeuroNotice

can successfully determine a difference between healthy and simulated symptomatic feet, thereby

allowing for frequent tracking of PN and supporting physicians' continuous monitoring of

neuropathy.

deSTIgma: A Digital STI Test Recommendation Platform

Susanna Baek, Katharyn Fatehi, Andy Garcia, Vivian Shi, Ruxandra Tonea

Despite the many medical advances of the last decade, sexually transmitted infections and diseases

(STIs) continue to pose a significant public health issue, with cases increasing continuously for 7

years up to 2020. STI testing, which typically requires an in-person clinic visit, can be inaccessible

due to time, travel, and financial limitations. Due to a lack of education and awareness, STIs are

also highly stigmatized. The deSTIgma STI Test Recommendation Digital Platform streamlines

the STI test-seeking process with a test recommendation questionnaire, clinic map, and educational

resources in an app and website. The questionnaire uses relevant medical history, sexual activity

history, and symptoms to inform and guide users to appropriate tests and resources in NYC. The

machine-learning-based algorithm, stored on a HIPAA approved platform, may be trained with

real patient data, pending IRB approval. deSTIgma aims to make STI testing an easily accessible

component of regular healthcare for all.

8
---
Biomedical Engineering

budDLS: Buddy for Daily Living Skills

Kaitlin Abrantes, Amy Jang, Hyunjee Lim, Kelly Pu, Joa Yun

Autism Spectrum Disorder (ASD) is a developmental disability affecting 1 in 44 children in the

U.S. Although symptoms vary, ~90% of children with autism struggle to learn daily living skills

(DLS) like hand washing and toileting due to difficulties with task sequencing, transferring skills

from school to home, and initiating independently. In particular, atypical sensory behavior can

result in excessive playing or avoidance of household liquids. The burden is on caregivers to

supervise or use hand-over-hand assistance to ensure successful and safe completion of DLS.

Children with ASD and their caregivers need a solution that enhances independence during

household tasks requiring the use of hygienic liquids. The budDLS dispenser provides a

multimodal solution: (1) a dispenser that locks to prevent excess pumping, (2) combination-locked

liquid reservoir to prevent pouring liquids out of a bottle, and (3) built-in screen that displays stepby-step

instructions and responds to user interactions to teach DLS.

LUMA

Jui Buamahakul, Leanne Pichay, Justin Saintil,

Pavin Sethbhakdi, Joanne W. Wang

A root canal procedure is a mechanical and chemical intervention that treats dental pulp infections.

It relies on chemical irrigants such as sodium hypochlorite (NaOCl) to sterilize the canal after the

removal of infected material. However, NaOCl's cytotoxicity prevents dentists from irrigating

within 2-4 mm of the tooth's apex, where the majority of bacteria resides, leading to a 35%

reinfection and retreatment rate. To address these shortcomings, our Luma device leverages

photodynamic therapy, using the combination of a photosensitizer with a high-powered laser to

eradicate bacteria. The Luma device seamlessly integrates into the root canal protocol, clamping

onto the dental dam isolating the tooth. Here, it irradiates the root canal over a period of minutes,

effectively disinfecting the tooth without adverse effects to surrounding tissue. Initial testing

indicates that Luma is capable of reaching the energy density required to eliminate more than 97%

of most reinfection-causing dental bacteria.

9
---
Biomedical Engineering

CAUTIcare

Ozgenur Celik, Michaela O'Donnell, Neil Kennedy,

Prithi Chakrapani, Emma Glajchen

The most common and severe complication of indwelling catheterization is the inoculation of

bacteria into the body, leading to catheter-associated urinary tract infections (CAUTIs). Patients

are not regularly tested for CAUTIs due to time and resource restrictions. Undetected CAUTIs

cause further kidney and bladder infections and lead to increased length of hospitalization, excess

healthcare costs, and increased mortality: The estimated cost per year for CAUTIs in the United

States is $340 – $450 million. CAUTIcare proposes a way to provide automated screening to detect

CAUTIs earlier in the infection progression. Our system uses a bimodal approach for the rapid

detection of infections. First, we measure urine cloudiness (turbidity),, which is an early clinical

indicator of infection. Turbid urine is then directed to a testing chamber, where a secondary,

analyte-based test is performed to confirm infection. Turbidity detection triggers alarms to notify

healthcare providers that a possible infection is present, drawing attention to the results of the

dipstick test and requiring further medical care if needed.

JawLign

Joshua Fuller, Isabella Leite, Joseph Borison, Yeji Cho, Miranda Wang

Up to 5% of the United States population has facial deformities such as temporomandibular joint

disorders and cleft palates, which require orthognathic surgery to correct. Orthognathic surgery

can have a relapse rate of 10% - 40%, in which the jaw moves back into the pre-surgical position.

Relapse often occurs after patients have stopped coming in for frequent checkups, but can be

remedied through orthodontics if identified early. Therefore, there is a need for patients to monitor

their relative jaw position post-surgery without coming into the physician's office. JawLign aims

to create a platform to allow patients to track their jaw position at home, allowing for early

detection of relapse. The JawLign platform uses dental impressions which can be analyzed in an

app to track relative jaw position over time. Initial tests have demonstrated that wax molds can

accurately measure jaw displacement, underlying their ability to be used in our device.

10
---
Biomedical Engineering

SleepSense

Keni Chen, Eileen Choi, Olimpia Gavaudan, Michelle Kim, Michael White

Excessive Daytime Sleepiness (EDS) is characterized by falling asleep in an uncontrollable

fashion, and is a major cause for accidents in high-risk situations. A reported 16.5% of fatal car

crashes are attributed to people falling asleep. Uncontrollable sleepiness can often lead to

unpredictable incidents, such as falling down while walking. However, current sleep pattern

monitors focus primarily on recording and predict behaviors during nighttime. Safety devices

related to EDS are only applicable to limited activities. SleepSense addresses the ambulatory need

to track fatigue and uncontrolled sleeping throughout the day and alerts when sleepiness is

detected. From our prototype testing, SleepSense was able to identify potential bouts of daytime

sleepiness through changes in heart rate variability (HRV) and detection of stereotypical

movements when falling asleep. As a lightweight, wearable, our device will allow for ambulatory

monitoring and alerting of unregulated sleep, helping users combat falling asleep during critical

activities

CERV

Hannah Ballard, Aala Nasir, Kiarra Lavache, Joyce Liu, Emme Pogue

In the United States, 12% of children are born preterm, a leading contributor to infant mortality.

During pregnancy, the cervix remodels to prepare for vaginal delivery by softening and shortening.

Although cervical length is the clinical standard for diagnosing cervical insufficiency, research has

shown premature cervical softening to be a more consistent indicator. We propose a biomechanical

device to measure cervical stiffness, allowing patients the ability to monitor their risk of preterm

birth more confidently and affordably. Our speculum-free device entails small-scale cervical

compression to determine tissue stiffness. Proof of concept testing for circumferential compression

of cervix phantoms has produced promising results for statistically distinguishing between

different stiffnesses. We are confident that the successes of our proof of concept will translate

directly into our final design and support risk detection of preterm labor.

11
---
Biomedical Engineering

Stabilitek

Erik Emsbo, Shivanni Ramdass, Adi Shastry, Elizabeth Thomas, Micah Woodard

Falls are the leading cause of injury death for the geriatric population, resulting in 3,000,000 older

adults being hospitalized each year. With only 37% of physicians assessing fall risk and standard

assessments being time-intensive, there is a lack of evaluation for severity over time. This limits

understanding of patient stability, progression of neuromuscular diseases and cognitive decline,

and effects of medication changes, all of which can put patients at an increased risk for falls and

hospitalization. Stabilitek aims to address this limitation by measuring a person's fall risk at home

over an extended period of time through the use of motion sensing insoles. By integrating force

sensors and an inertial motion unit, Stabilitek provides an innovative wearable that can be

integrated into the patient's daily life. The detection device records data in a format that is able to

be easily interpreted by users and physicians in order to quantify how fall risk is changing over

time.

12
---
Civil Engineering & Engineering Mechanics

The Inferno Arch Bridge

Joelle Sherlock, Julian Briggs, Haya Ghandour, Luke Ciarelli, Devin Hart

Advisor: Tom Panayotidi

Within the context of New York City, over 6.6 million people are underserved by the

existing transit structure due to living in boroughs other than Manhattan. Having safe, efficient,

and reliable public transportation is proven to have numerous benefits on the mental and physical

wellbeing of commuters, increasing their access to resources—such as healthcare centers and

educational facilities—and opportunities. Thus, in assessing this pressing need for more

comprehensive and accessible public transport in New York City, fast and reliable connections

between the Bronx, Queens, and Brooklyn are a priority. The proposed design is that of a threetrack,

network arch bridge between Queens and Ward and Randall's Island northeast of the

existing Hellgate Bridge in order to facilitate the construction of subway lines that would connect

Astoria, Queens to the South Bronx and present an opportunity for the creation of an inter-borough

line that connects Brooklyn, Queens, and the Bronx without relying on Manhattan transfers.

Hence, the Inferno Arch bridge will provide the needed infrastructure to proceed with the proposed

subway line construction project that aims to benefit underserved communities.

The Inferno Arch Bridge was designed to carry three additional railroad tracks in parallel

to the existing tracks on the Hellgate Bridge. Seeing as the design is for a railroad bridge, a network

arch bridge was chosen for this project due to the increased torsional and lateral stiffness provided

by the structure in comparison to something like a cable-stay or suspension bridge. The structure

spans the width of the Hellgate strait from Astoria, Queens to Randall's Island with a span length

of 1000 ft. Following AASHTO guidelines in determining the necessary clearances between

tracks, the three-track bridge will have a width of 72 ft. The bridge will be placed on land using

delta frames, adjusting for the height difference between the two sides with a concrete cap on the

Astoria end.

Therefore, the construction of the Inferno Arch Bridge will have a myriad of benefits both

on the human and environmental levels. Shifting the focus to a safe, efficient, and reliable railroad

promotes more eco-conscious decisions while also prioritizing the needs of the local communities

that the bridge connects. The Inferno Arch Bridge will play an integral role in the historic creation

of subway lines connecting the boroughs of Queens, Brooklyn, and the Bronx.

13
---
Civil Engineering & Engineering Mechanics

Governors Island Center for Climate Solutions

Christine Roa, Selena Tan, Chana Tropp, Elisha Zhao

Advisor: Tom Panayotidi

In September 2020, then-Mayor Bill de Blasio announced plans to develop a Center for Climate

Solutions on Governors Island to place New York City at the forefront of the race to combat

climate change. The center would house labs, classrooms, a convention center, and other facilities

to conduct research, develop sustainability solutions, and engage the visiting public with

pioneering findings. Our Columbia Climate School Research Center is our response to the City of

New York and the Trust for Governors Island's allocation of $150 million to a global competition

to design, build, operate, and maintain an imperative facility. Our building will be situated on the

Island's Western Development Zone, a prime location with views of the New York Harbor and

the Statue of Liberty and immediate ferry access to Manhattan and Brooklyn. As part of our efforts

to make our building as environmentally conscious as possible, our design includes a cumulative

footprint of 25,600 square feet of tiered rooftop gardens and green decks to mitigate stormwater

runoff and reduce the heat island effect. This, along with a water harvesting and reuse system, onsite

solar production, optimization of energy performance via demand response and energy

metering, and life-cycle impact analyses of construction materials, have allowed us to certify our

building with LEED Gold. We also emphasized flood mitigation in our design, due to the

building's location directly on the shore of the Upper New York Bay. Sitting atop an artificial hill

constructed with imported soil, the facility will be raised to a design flood elevation of 14 feet over

the 100-year floodplain, with sloped landscaping buffered by seawalls to provide a dual use of

public recreational space.

The structure is three stories tall with a 33,200 square footprint, rendering it flat and wide to

minimize the stress on the low quality soil in Governors Island. It contains a steel frame with

diagonal bracing to protect the building from seismic, wind, rain, and snow loads. Supporting the

loads beneath the structure is a 100-feet-deep end-bearing pile foundation consisting of 136 steel

pipe piles. The exterior walls are made from high performance Low-E glass to offer the facility's

occupants abundant sunlight and views of the surrounding greenery in addition to improving the

building's energy efficiency. Given the facility's maximum occupancy rate of approximately 300

people at any given time, we incorporated a large auditorium in our building to host conferences

and gatherings. We also included glass interior walls, modern offices and classrooms, and outside

workspaces on the green decks, giving occupants convenient access to greenery. The structure was

conceptualized in AutoCAD and then designed and analyzed in SAP2000. Scheduling was

determined using a work breakdown structure, critical path network diagram, and Gantt Chart.

Construction is expected to commence in 2023. Keywords: Governors Island, research facility,

green roof, LEED, flood mitigation, end-bearing deep foundations, water reuse system,

concentrically braced frame, high-performance glass, hill

14
---
Civil Engineering & Engineering Mechanics

The Lodge at Gore Mountain: Skiing Reimagined

Maria Talero (Team Captain), Ricardo Aguilar, Daniel (Tak) Sohn, Andrew Zhang

Advisor: Tom Panayotidi

Our group proposes the redevelopment of the Gore Mountain base village in North Creek,

New York. Gore Mountain ski resort is owned by New York State and operated by the Olympic

Regional Development Authority. As the demand of new purpose-built ski resorts rises, this alpine

resort in the Adirondack Mountains is redesigned to not only meet the future needs of skiers but

also to support year-round operations. Our ski resort consists of upscale overnight

accommodations for an unparalleled experience alongside daily regular ski operations, including

ski rentals, a diner-style café, and gathering areas for taking a break from the slopes. The new ski

resort will be roughly 225,000 square feet and contains state-of-the-art amenities, such as a spa,

infrared sauna, remote work spaces, and yoga studios.

Our proposal was developed considering the following fundamental aspects of civil

engineering: Structural Engineering, Geotechnical Engineering, Environmental Engineering, and

Construction Management. The structural components adhere to the applicable building codes and

design requirements outlined in ASCE/SEI 7-16 and the Building Code of New York State. In

addition, various loading configurations were considered to provide a resilient design to meet

service life needs. The geotechnical slab foundation was designed based on an analysis of the

strength of the area's existing bedrock and soil components. The ski resort is compliant with a

LEED Gold Certification and contains a rainwater harvesting system. Lastly, the construction of

the resort used a Design-Build delivery method and leveraged the use of technological advances,

such as a Building Information Modeling (BIM) execution plan, 4D construction scheduling, and

virtual reality (VR).

Keywords: Building Information Modeling (BIM), Virtual Reality (VR), LEED Certification, Ski

Resort, Steel Structure, Slab Foundation, Infrastructure, New York State, Structural Design,

Geotechnical Design, Construction Management, 4D Modeling, Design-Build

15
---
Civil Engineering & Engineering Mechanics

Lion's Den Fitness and Wellness Center

Noufel Benteftifa, Spencer Good, Alison Selman, Rachel Wolf, Maen Yusuf

Advisor: Tom Panayotidi

New York City is recovering from the global pandemic, and people are moving back to New York

with a renewed dedication to maintaining their personal health. Wellness is coming to the forefront

of people's priority lists, and fitness classes and gym memberships are recovering after fitness was

moved online. In an effort to capitalize on the health craze, we propose constructing a high-end

fitness and wellness center on the west side of Manhattan. In the heart of Hell's Kitchen at 354 W

52nd St, there is currently an available lot of .35 acres. The plot has a frontage on 51st and 52nd

street, and the proposed gym will be a 4 story building with a rock wall extending to the roof.

There will be a basement with a pool, as well as a green roof with a small garden, and a soccer

field.

The objective of this project is to develop a profitable fitness center, while also considering

sustainability in construction and operations. The main structure dimensions are 75 ft by 102 ft

and the height above ground will be 56 ft and 13 ft extending below ground. This totals 527,850

square feet of gym space. A main feature of the gym is the 4-story rock wall, which will be one of

the tallest rock walls in New York City. The basement houses a pool and mineral baths, while the

first floor houses a smoothie bar and cafe area, as well as a beautiful lobby check-in space. The

second floor will be the locker rooms, and the third floor will contain the cardio machines, weight

area, and gym equipment. The fourth floor will house the studios that will be used for spinning,

yoga, dance, and pilates classes. The main floor will have a walkway extending from the 51st street

frontage and the walkway will be a 99 ft glass archway that is 20 feet in diameter with greenery

and seating for the smoothie bar.

The structural design was executed using the software SAP2000 for the structural component. The

structure consists of steel framing and bracing with concrete slabs. The geotechnical component

was completed using hand calculations. For the environmental component, LEED standards will

be met. A component of this is the green roof that was designed to capture rainwater as well as

vertical hydroponic greenery that is placed throughout the building. Construction Management

components of the schedule, cost estimate, and delivery method were completed and detailed in

the report. A physical model of the building was constructed using a scale of 1:25, with the main

building dimensions being approximately 3'x4'x3'.

Keywords: structure, steel frame, concrete, combined footing, LEED, green roof

16
---
Earth & Environmental Engineering

Feasibility of PFAS Destruction Through Catalytic Incineration

Isabela Yepes, Brooke Bakish, Charmane Gabriel, Griffin Deans

Per- and polyfluorinated alkyl substances (PFAS) are a group of man-made chemicals that

contain a fluorinated carbon backbone which makes them exceptionally resistant to degradation,

resulting in their widespread use in water, heat, and stick-resistant consumer products. Despite

the fact that they present a direct risk to human health and ecosystems, these chemicals continue

to be manufactured and accumulate in the environment. Thermal destruction at temperatures above

900 o C is currently the only commercially viable method to destroy PFAS at scale. Unfortunately,

such higher temperatures result in higher energy consumption, costs, and greenhouse gas

emissions. Drawing from research on the use of calcium compounds to catalyze PFAS destruction,

we propose the use of a catalytic oxidizer with a calcium oxide bed and 500-700 o C operating

temperature to destroy fluorotelomer alcohols (FTOHs) volatilized from an industrial fabric

coating process. This design is compared to a conventional, non catalytic thermal oxidizer with a

750-1000 o C operating temperature using a simplified life cycle matrix analysis (SLCA). Results

show that the use of calcium oxide would lead to reductions in energy consumption and produce

a less hazardous final fluorine residual (calcium fluoride as opposed to hydrogen fluoride). As for

costs, the catalytic system requires greater capital investment than the non catalytic system,

indicating that further research is required to lower calcium oxide catalytic oxidizer system costs.

Finally, more research is needed to determine the effectiveness of calcium compound-catalyzed

thermal destruction for a greater diversity of PFAS and characterize the effects of co-contaminants

and operating parameters. This would enable the design of systems for catalytically treating PFAS

volatilized from contaminated soils and other media.

Moss Could Save the Subway

Abigail Cawley, Justin Paik, Melissa Emerson, Zico Gharrafi, Perfect Eadric

As one of the world's most frequented subway systems, the air quality in the NYC subway stations

is of utmost importance. High levels of particulate matter in the stations may put the health of

riders and MTA employees at risk. In most stations, filtration is reliant on the mechanical air

circulation caused by the movement of the trains; however, researchers and anecdotal evidence

suggest that ambient circulation might not be enough. In this project, we explore the viability of

moss, a nature-based solution as a more environmentally friendly filtration method in the subway

system. Within the Union Square subway station, we first conducted air quality testing for heavy

metals in the air at various sample locations. Analyzing this data showed that heavy metals were

not the PM category of most concern, so we requested additional testing in the future for the

PM2.5 category. We followed these results with comparative designs of moss filtration and

conventional filtration where we looked at required materials and filtration rates of PM2.5 in the

station air. Our findings suggest that moss is a potentially suitable filtration method in terms of

filtering ability and cost; however, limited literature on the efficacy requires additional lab testing.

Therefore, our report also outlines lab modeling and proposes simulation designs to test the

efficacy of moss in the future.

17
---
Earth & Environmental Engineering

Hydrogen in the Transportation Sector: A Feasibility Study of Long-Haul, Hydrogen Fuel

Cell Freight Trucks in the US & Southern California

Peter Cruz-Grace, Madison Ingling, Joshua Solomon, Alexandria Urbina

As the world progresses towards its decarbonization goals, the transportation industry is a key

sector in need of zero-emissions technologies. The trucking sector, because of the higher power

vehicles and demand for faster fueling, requires additional technologies than traditional battery

vehicles. Hydrogen fuel cell trucks are a developing technology to meet industry demand. This

study investigates the underlying technology for hydrogen fuel cells, analyzes the potential market,

and considers the California market as a case study to investigate hydrogen fuel cell integration

into the trucking industry.

18
---
Electrical Engineering

Obstacle Avoidance and Autonomous

Landing Systems

Michael McGrath, Zhenguo Sun, Muhammad

Faseeh Farrukh

Professor David Vallancourt, Department of Electrical

Engineering, Columbia University

Introduction

Drones are currently being used in many

applications, including delivery services,

emergency rescue, agriculture, and military

applications to name a few. Drone

technology has evolved from the simple

remote-control drone to models

incorporating more complex autonomous

designs. For this project we explored

different autonomous systems, such as

object avoidance and autonomous landing.

Drone

Our first task was to construct the drone. We

assembled the motors, propellers, remote

controller, the remote controller receiver,

compass, frame, electronic speed controllers

(ESCs), battery, and flight controller (FC).

The battery powers all of the drone's

components. In most drones, when the user

moves the joystick of the remote controller,

instructions are sent via radio waves to the

remote controller receiver, which then sends

these instructions to the FC. The FC's

software creates a new set of commands

which are sent to each motor via the ESCs.

In our implementation, we insert an Arduino

micro-controller between the remote

controller receiver and the FC.

Obstacle Avoidance System

The Arduino has object-avoidance software

installed and six HC-SR04 ultrasonic

distance sensors, which use ultrasonic waves

to measure the distance between that sensor

and the nearest obstacle (detects obstacles

up to about half a meter away). As an input,

the Arduino takes the outputs of all six

sensors and the output of the remote control

(RC) receiver, which outputs the instructions

given by the RC controller (controlled by

the user on the ground). Each sensor points

in a specific direction of the drone (front,

back, left, right, up, and down). These

sensors output their results to the Arduino

and the software decides if there is an

obstacle at any side of the drone and then, if

necessary, alters the instructions given by

the user on the ground on how the drone

should move. It then sends these altered

instructions to the FC which controls the

motors. If the user directs the drone too

close to an obstacle, the Arduino will force

it to move in the opposite direction to avoid

contact. Our obstacle avoidance system is an

alternative implementation of the idea

presented by DIYLIFEHACKER. [1]

Autonomous Landing System

The autonomous landing system uses a

camera, a landing zone (LZ), autonomous

landing software and an altitude sensor. The

camera is attached to the bottom face of the

drone, aiming downward. The LZ can be

constructed from any material, but must be

one solid color, circular, and flat. The LZ

must be placed on level ground and its color

should be different than the ground on

which it sits. The autonomous landing

software is a program which uses an open

source computer vision algorithm to identify

any circles in images captured by the

camera. [2] The program uses functions from

the Image Processing OpenCV library. [3]

When more than one circle appears in an

image, the altitude sensor is used to

determine which circle's radius matches the

landing zone.

References

[1] DIYLIFEHACKER. Obstacle Avoidance

(part 1). (Jan. 18, 2020). Accessed: Apr. 14,

2020. [Online Video].

[2] HK Yuen, John Princen, John Illingworth,

and Josef Kittler. Comparative study of hough

transform methods for circle finding. Image and

Vision Computing, 8(1):71–77, 1990.

[3] Image Processing. (4.5.5). OpenCV.

Accessed: Apr. 14, 2022. [Online]. Available:

https://docs.opencv.org/4.x/d7/dbd/group__imgp

roc.html

19
---
Electrical Engineering

A Programmable Switched-Capacitor Analog Equalizer for Audio Signals

Cade Gleekel (cdg2159), Ethan Roberts (edr2126)

I. ABSTRACT

This design aims to implement a programmable analog audio

equalizer with a second order switched capacitor filter. There

are several advantages to utilizing switched capacitor

technology for analog filter design, including higher power

efficiency, smaller size requirements, and frequency dependent

transfer function parameters. Specifically, the filter transfer

function is characterized by the equivalent impedance of the

switched capacitors; when the switching frequency f s is much

larger than the signal frequency f (a condition given by Equation

1), the switched capacitor impedance appears approximately

resistive, with an equivalent resistance given by Equation 2.

f s >>2πf (1)

When the condition given by (1) holds, one may utilize the

switching frequency of the switched capacitors as a means of

programming the analog filter.

In light of this important relation, a programmable audio

equalizer is proposed. A high level overview of the design can

be seen in figure 1 1 . The design includes a first-order

antialiasing filter that will suppress any high frequency

components from contaminating the signal, a second-order

equalizer that utilizes the switched capacitor technology

aforementioned, and another low pass filter for the purpose of

smoothing the signal before it is sent out to its next destination.

The design provides amplification to a variable band of

frequencies specified in the design of the EQF filter, while

passing all other frequencies at unity gain. By utilizing switched

capacitors in the design, this amplification, or "boost" band can

be shifted by changing the frequency at which the capacitors are

switched. When the boost band is shifted, the bandwidth f b and

quality factor Q of the filter stay fixed. Consequently, varying

the switching frequency serves to shift the boost band without

changing its shape, thus providing uniform function relative to

every band within the programmable range.

(2)

There are several filter topologies to choose from when

implementing an analog filter. For the sake of versatility, and

its wide variety of implementations, the design of the EQF

component of the system was implemented using a TowThomas

configuration (general topology given in figure 2). Figure 3

shows the specific topology used, where the two phi values are

two non-overlapping clock signals (square waves) of the same

frequency (physical implementation of this is shown in figure

4). This form of the biquad utilizes switch sharing, and a

property of switched capacitors that approximates a negative

resistance, allowing for only two op amps to be used for an

efficient design (eliminating the need for the inverter at the end

of the more traditional configuration in figure 2) [1]. Capacitor

values were calculated in order to produce an equalizer with a

center frequency gain of 12 dB, a quality factor of .667, and a

two-octave bandwidth symmetrical about the center frequency.

With a default switching frequency of 10 kHz, the center

frequency of the equalizer rests at 125 Hz, and increases with a

linear proportionality to the switching frequency. All values

were chosen to boost frequency bands characteristic of standard

audio equalizers. In order to ensure a desirable output sound,

the filter's effect on audio signals was simulated and listened to

in Matlab prior to design implementation.

The design was simulated in LTSpice, realized on a

breadboard, and implemented physically on a 4 layered printed

circuit board (PCB). Figures 3, 4, and 5 give an overview of the

simulation, and realization process of the design.

II. REFERENCES

[1] Schaumann, R., Xiao, H., amp; E., V. V. M. (2011).

Analog filter design. Oxford University Press.

[2] Dickson, T. (2021, November). Integrator-Based

ActiveRC Second Order Filters. Columbia University.

[3] Two-phase non-overlapping clock generator. (n.d.).

Retrieved April 13, 2022, from

://tams.informatik.unihamburg.de/applets/hades/webdemos/12

-gatedelay/40tpcg/two-phase-clock-gen print.html

1

All figures are displayed in their own section at the end of the paper.

20
---
Electrical Engineering

III. FIGURES

Fig. 5. Design Simulation Schematic

Fig. 3. Non-Overlapping Clock Signals [3]

Fig. 4. Design Block Diagram

Fig. 7. Schematic of Component Layout on PCB

21
---
Electrical Engineering

Resilient Raspberry PI Power Backup

Jules Gaston Comte

Prof. Vallancourt, Electrical Engineering

Following a turbulent time in Bitcoin history

known as the "Blocksize War", it became

widely understood that the best defense

against malicious actors in Bitcoin is having

as many users as possible running their own

nodes to interact with the peer-to-peer

network. As a result, since the conclusion of

that period, the number of reachable Bitcoin

nodes has more than doubled, to reach 15'000

today. A significant fraction of these consists

of the reference software implementation of

Bitcoin running 24/7 on the well-known

Raspberry PI hardware platform in

residential settings, to which is attached a

1TB SSD for the storage of Bitcoin data.

While this network is strong and healthy

today, a major vulnerability of these setups

comes from sudden power outages. The

Bitcoin software running on these Raspberry

PIs is very robust, but no amount of software

engineering can completely erase the

possibility of memory corruption as a result

of a sudden power cut. And in the case of

Bitcoin, such a failure can be very impactful,

as it would require the software to download

about 450GB of data in order to be

synchronized once again with the Bitcoin

network.

In order to solve this issue today, most

Bitcoiners resort to buying an uninterruptible

power supply from a well-known

manufacturer, including a special-purpose

proprietary battery. Nevertheless, the product

literature clearly shows that these have been

engineered with the goal of having

downstream devices outlast the power outage

entirely. This yields to very bulky and costly

designs, and in the case of a prolonged power

outage, results in the complete drain of the

battery. Eventually, the user has to contact

the manufacturer in order to have their

specific battery shipped to them. In a time of

increased power outages, and stressed supply

lines, this isn't a sustainable situation. Even

more importantly, the main worry of Bitcoin

node runners isn't to outlast a power outage,

but rather to avoid the memory corruption of

their Bitcoin data.

This project is an attempt to build a device

that addresses this use case. The main design

requirements are the following: first, the

device should send a signal to the Raspberry

PI whenever the mains power line is cut, so

that the board may initiate the shutdown

sequence. Second, the battery of the device

should supply enough power to the

Raspberry PI for two minutes, which is a

conservative upper bound on the time it takes

for a Bitcoin node to shutdown cleanly. And

finally, the battery should be of a well-known

and widely available standard, such that it

can be easily replaced with a trip to a nearby

convenience store. At every step in the design

of this device, this project has sought to avoid

manufacturer lock-in by using the most

generic and elementary parts possible.

This results in a project with two main

components. The first is a voltage regulator

that will take the variable 9V coming from

the battery unit, and step it down to a constant

5V supply needed by the Raspberry PI. And

the second is a power multiplexer, which

watches the mains power line, and

immediately switches the drawn power to the

battery unit as soon as a power outage is

detected. With this device, this project hopes

to offer a resilient, cheap, and reliable device

that will help Bitcoiners power their nodes

during the turbulent times ahead.

22
---
Electrical Engineering

Smart Pet Door System

Leoni Lu, Mingyuan Zhang

David Vallancourt, Electrical Engineering

This system is an appliance designated for

domestic use. It provides a secured gate for

recognized pets to enter or exit the residence.

The system has two major divisions: a

powered part and a remote part. The powered

part is to be installed indoors onto the pet

door. The remote part is a pet identifier

operating outside of the residence in

proximity to the gate. This allows the lowpower

outdoor sensor part to be fully battery

powered, while the indoor higher-power

processing and door activation part (locking

or automatically opening the door using a

high-torque brushless DC motor controlled

by a Raspberry Pi) is run from a wall outlet.

To utilize the system, the pet shall be tagged

with Radio-frequency identification (RFID)

transponder, which is a small-size device that

can be easily integrated into a dog collar. The

pet identifier will read the RFID tag and

transmit that information to the other part

which will lock or open the pet door

depending on whether the animal was

identified to be one of the registered pets. The

two divisions of this system communicate

wirelessly in order to enable installation

without altering or damaging the structure of

the building, which makes this system

particularly attractive for rental residences.

last long on battery to operate continuously

for at least two week without charging.

The wireless communication between two

divisions of the system utilizes a radio system

operating at medium frequency (~475kHz)

within the amateur service band [1]. Each

division of the system is equipped with a

customized loop antenna with a diameter of

25cm for signal transmission and reception.

The radio system utilizes amplitude shift

keying modulation to transmit serial data

from the remote part to the powered part

indoors. After demodulating the received

signal by analog circuitry, the transmitted

serial data would be sent into a Raspberry Pi

for decision making, whether sending the

opening or locking control signal to the

motor.

The indoor division contains a central

controller implemented with Raspberry Pi

which offers great future expansion

capabilities. Modular add-ons such as feeders

or water dispensers may be designed and

installed in the future.

References:

[1] Report and Order, F.C.C. 17-33 (2017).

The pet identifier reads EMID and

ISO11784/11785 compliant transponder at

134.2 kHz and transmits tag information

wirelessly to the indoor division. This part of

the system does not rely on microcontrollers

and is implemented mostly by analog

circuitry and therefore has minimal power

consumption. The pet identifier is designed to

23
---
Electrical Engineering

Digital Tug of War Game: Using

Electromagnetic Resistance to

Replicate Human Force

Jewel L Day, Morgan U Bakker

Many companies including Tonal [1] are

bringing exercise products to the market that

use "digital weight." These systems employ

a combination of electromagnetic forces and

a pulley system to accurately produce a

force equivalent to a weight value.

The natural progression of a technology like

this is to eventually employ in a virtual

reality system, used to digitally reproduce

the resistances of motion. In doing so,

games and other virtual reality applications

can be made to replicate reality closely.

As a proof of concept for the idea of digital

weights in a game application, our project

aims to replicate the childhood game of tugof-war

through the use of electromagnetic

resistance. In a multiplayer environment

each player pulls on a rope attached to a

digital system connected to the internet.

This allows the systems and players to be

distant from each other and still participate

in the same game. When one player pulls

the other receives resistance and the end

goal is to fully pull the rope in your

direction ala traditional tug-of-war.

Each player's system is composed of a rope,

light sensor, electromagnet, metal wheel,

crank attached to this wheel, power supply,

and raspberry pi microcontroller all attached

to a firm base to ensure no sliding of the

system.

crank, used to rewind the rope after every

game.

The portion of the rope inside the casing

then connects to the metal wheel acting as

the force generating object. Attached to this

wheel are two instruments. First the

electromagnets, which when current driven

generate resistance for the pulling player.

The second instrument is a light sensor used

to detect the speed of the wheel which is

then transmitted to the other system. The

light sensor operates due to a consistent

pattern of colored dots on the wheel, which

the light sensor tracks. A dot per second

count can then be calculated on the

raspberry pi and transmitted to a competing

system to determine resistance force.

To generate necessary current through the

electromagnet for resistant forces, a power

supply is used and controlled by the

raspberry pi system. The raspberry pi

system is mounted with PiPython software

to interact with IO pins. Python is also used

to establish a server connection with the

other system to generate a game.

Altogether the individual pieces interact to

create a fun proof of concept game for the

power of digital weights

References

[1] Zavadsky V., Sherstyuk M. (2012).

Method and apparatus for facilitating

strength training (U.S. Patent No.

8287434B2). U.S. Patent and Trademark

Office.

The outwards casing has two openings. The

first opening is for the rope that interacts

with the player. The second opening is for a

24
---
Electrical Engineering

Wired-to-Wireless Converter

Jakob Hutter, Jakob Stiens, James Zeng,

Richard Mouradian, Richard Thomson

Prof. Vallancourt Columbia University,

Department of Electrical Engineering

The premise of our project is that, for a given cable,

if we cut the cable in half and randomly route the

exposed wires into both halves of the device, the

device will automatically detect the identity of the

individual wires and wirelessly transmit the signal

from one end of the cable to the other. The first half

collects the signals and wirelessly transmits them to

the second half which reconstructs them (Figure 1).

This allows us to wirelessly join two cables via

WiFi without knowing what the specific wires are,

nor having to worry about the specific type of data

being sent over the wires. We have specifically

focused on demonstrating the transmission of USB

2.0 cables.

The detector circuit (Figure 2) is designed with the

USB 2.0 protocol in mind. This protocol has 4

wires, 5V, D+, D-, and GND. These four wires are

routed from the USB port of the host device (via a

cut cable) into the detector circuit. During the

detection phase, we take advantage of electrical

properties (such as the added resistance to ground

on the data lines) of these 4 wires to distinguish the

identity of each unknown wire. The major detection

components include multiplexers, comparators and

a simple voltage divider. The voltage divider allows

us to compare each of the mystery wires to a known

voltage. We feed these known voltages and mystery

wires into comparators and then a digital circuit to

identify and interpret each mystery wire as a unique

4 bit sequence. These 4 bit sequences contain at

most one high bit which corresponds to the

identification in this order: 5V, D-, D+, and GND.

Each Nth bit (ex: first bit from each wire test) is fed

into one of 4 encoders which output a unique 2 bit

sequence. Each sequence is used to control the wire

routing that maps the unknown wire inputs to

known wire outputs. Additionally, this 2 bit

sequence is stored in D-Flip-Flops so that we can

maintain the connection mapping after the detection

circuit turns off and transmission begins over the

USB wires.

Once the unknown wires are identified, the wires are

passed to the WiFi chip. The WiFi chip is running a

server written in C which reads the values on the

datalines (such as the data seen in Figure 3) and

packs these individual high and low values into

packets. These packets are transmitted over a

2.4GHz WiFi connection to another WiFi chip

running a client. We choose to utilize a TCP

connection for transmission to minimize the packet

loss and resolve any out of order packets. Since TCP

packets contain 30 byte headers, it is much more

efficient to transmit a large number of samples

within a single TCP packet instead of having a

smaller packet size. Once the client receives the data

packets, it then recreates the waveform at the

required clock frequency and transmits it to the

USB device. Because the USB data rate is

~1.5Mb/s, we require a sampling rate of at least

3MHz to prevent any aliasing effects. The TCP

packet transmission is also done at around 4 times

the packet decoding and USB signal rate which

provides us room for dropped packets. This ensures

a smooth and reliable wired to wireless connection.

References:

[1] Compaq, Hewlett-Packard, Intel,

Lucent,Microsoft, NEC, and Philips. "Universal

Serial Bus Specification", 27-Apr-2000.

[2] Postel, J., "Transmission Control

Protocol",STD 7, RFC 793, DOI

10.17487/RFC0793, September 1981.

25
---
Electrical Engineering

Figure 1: Block Diagram

26
---
Electrical Engineering

Figure 3: Sample Packet

27
---
Electrical Engineering

EMG Wrist-Set

Daniel Addison, Ji Ku, Saul Partida,

Talaya White, Marc Sorrentino

David Vallancourt, Electrical Engineering

EMG or Electromyography is a technique that

evaluates and records the electrical activity

resulting from skeletal muscle movement.

Utilizing EMG has been useful to comprehend

nerve dysfunction, muscle dysfunction or

dysfunction between nerve

and muscle [1,2] .

This project aims to develop a wearable, sensing

wristband that can avail the electrical signaling

taking place near the wrists—a heavily

innervated region of our bodies—to manipulate

an external device. Potentially, we can transduce

EMG sensors [3] (Fig.1.) into a digital signal—to

be wirelessly transmitted to a computer (for

processing and interpreting)—that we then relay

to an arrow-based keyboard for applications such

as video games. This wristband can also be used

for early detection of abnormalities in motor and

sensory nerves.

The project begins with placement of electrodes

on both sides of the forearms and retrieving

measurements of arm muscles. Then, a switching

circuit and Analog to Digital Converter (ADC)

are used to convert analog electrode signals to 8

bit digital signals to be read to an arduino device.

The switching circuit multiplexes four

independent signals into a single ADC.

After digital conversion, signals are classified

using a three-layered neural network

(implemented using Tensorflow) [4] . The trained

model is packaged into an arduino header file to

be accessed in the arduino IDE and uploaded to

the Machine learning enabled Arduino Nano 33

BLE

Sense. The classified signals are broadcasted to a

videogame of choice for a comprehensive

demonstration.

Testing of the circuit shows successful

discrimination of two key movements of the

wrist: wrist flexion and extension (Fig. 2). The

multiplexor cycles promptly and cleanly through

multiple different waveforms (Fig. 3) passed

simultaneously into the MUX-ADC circuit (Fig.

4). These results demonstrate the feasibility and

scalability of the intake of several sensors using

limited resources (e.g. the use of a single ADC

and 8 digital I/O pins of the arduino).

Reference

[1] D. Moores, "Electromyography (EMG):

Purpose, procedure, and results," Healthline,

20-Mar-2018. [Online]. Available:

https://www.healthline.com/health/electrom

yography. [Accessed: 13-Apr-2022].

[2] "Electromyography (EMG)," Mayo Clinic,

21-May-2019. [Online]. Available:

https://www.mayoclinic.org/testsprocedures

/emg/about/pac-20393913.

[Accessed: 13-Apr-2022].

[3] AdvancerTechnologies, "Hack your

muscles! A muscle (EMG) sensor for a

Microcontroller," Instructables Workshop,

06-Jul-2011. [Online]. Available:

https://forum.arduino.cc/t/hack-your-muscle s-amuscle-emg-sensor-for-a-microcontrolle

r/65475. [Accessed: 13-Apr-2022]. [4] S. Mistry

and D. Pajak, "Get started with machine learning

on Arduino: Arduino documentation," Arduino

Documentation | Arduino Documentation, 11-

Apr-2022.

[Online].

Available:

https://docs.arduino.cc/tutorials/nano-33-ble -

sense/get-started-with-machine-learning.

[Accessed: 13-Apr-2022].

28
---
Electrical Engineering

Fig. 1. EMG circuit

Fig. 2. Demonstration of MUX circuit

alternating between the capture of a 1 Hz

sine wave and the EMG output.

Fig. 3. switching and Analog to

Digital Converter (ADC) circuit

Fig. 4 Demonstration of channel 2

(green) spiking after wrist extension and

channel 1 (yellow) spiking after wrist

flexion.

29
---
Electrical Engineering

Wizard's Chess

Victor Sanchez, Tanvi Pande, Aisha

Malik, Callan Hall, & Charles Escott

David Vallancourt, Electrical Engineering

Department, Columbia University

Wizard's Chess is a fully voice automated

and touchless chess board. From set up to

the end of the game, all the pieces will be

controlled by the board, and involve no need

for human intervention.

The board is a standard 36" x 36" board,

with a graveyard on one side to keep track

of the pieces that have died. The pieces have

small neodymium magnets a xed to the

bottom of these personally designed pieces,

and there is an accompanying magnet on the

opposite side of the board to keep the piece

steady. The magnet below is the primary

method of moving the pieces across the

board. They are moved via a CNC laser

engraver that has been repurposed to move

pieces magnetically. The head latches onto

the magnet below, and moves the piece as

need be.

The computer system, controlled by a

Raspberry Pi, is responsible for controlling

the movements of the pieces, along with

keeping track of the positions of the pieces

and the validity of the moves. Through

voice recognition, also powered by the Pi,

the system will interpret the player's moves,

and if valid, move the piece accordingly.

The board also features an interactive LED

set up, which shows the users the status of

the piece. Each corner has a LED, and if a

piece in that square has been killed, the

square lights up red to con rm the kill. Fun

sound e ects accompany the killing move,

and discarded pieces are moved to the

graveyard until the end of the game. A timer

system also exists on the board, and assists

to create an immersive chess experience.

Controlled via an FPGA, the timer keeps

track of turns. When the game is over, the

board is capable of resetting itself, and

placing the pieces back in starting position.

The aim of providing chess in this manner is

our desire to o er users a unique experience

while playing the classic board game, and

open the doors for physically disabled folks

to play as well by eliminating the need for

phy human intervention in any aspect of the

game.

References:

1. IEEE Standard for Measuring

Accessibility Experience and

Compliance.

2. Square O

30
---
Mechanical Engineering

Super Cool Underwater Frequency Emitter

Thomas Danza, Ian Irish, Joseph Licht, James Haddad

Advisor: Yevgeniy Yesilevskiy

SCUFE is the Super Cool Underwater Frequency Emitter that was designed and created in order

to direct fish towards specific directions underwater. The top portion has a solar panel on the very

top to generate power. The solar panel rests on top of a buoy that houses the control system. The

bottom portion is the waterproofed frequency emitter that's connected to the top portion using an

insulated wire.

Keywords: Mechanical Engineering, acoustics, frequency, buoy

Rocket Payload Bay

Eduardo Mintzias, Alfonso Ussia, Talha Özemre

Advisor: Yevgeniy Yesilevskiy

Rocket Payload Bay is a cost-effective mechanical device which hosts small-scale biological

experiments that fly on rockets to space to make student-led space biological experimentation more

accessible. Our user-friendly design employs active temperature control to maximize research

reliability and success, as well as extensive modularity to adapt to the dimensional constraints of

space payloads. We hope that our project will make space research more ubiquitous and cut the

high-cost barriers to small space research groups.

Keywords: Mechanical Engineering, rocket, payload, space, research

31
---
Mechanical Engineering

Chicken Friend

Augustus Devaul, Arachelle Harrison, Jessica Hernandez, Catherine Schmidtberger, and Simon

Weisberg

Advisor: Yevgeniy Yesilevskiy

Chicken Friend is an all in one food and water system designed to meet the needs of both urban

and rural chickens, while considering the threats of weather and pests. Chicken Friend provides

access to clean water 24 hours, 7 days a week, while also warming the water to prevent freezing.

The device also dispenses food at regular intervals, and then hides leftover food in a sealed

compartment to keep pests out. With both battery and wall plug in options, Chicken Friend is

versatile enough to serve the needs of chickens everywhere.

Keywords: Mechanical Engineering, chicken, feeder, water, sealed

Beach Cleaner Pro

Evan Lien, Mik Lei, and Qingchen Zhang

Advisor: Yevgeniy Yesilevskiy

Beach Cleaner Pro is a novel device designed to assist humans in efficient beach clean-up.

Equipped with innovative technological features, Beach Cleaner Pro is built to not only quickly

dig through large amounts of sand, but also filter out and collect trash simultaneously. While a

powerful screw picks up and moves sand along a tube, numerous holes at the bottom of the device

filter out the sand, and a bag attached to the end of the tube collects sand-free trash for easy

disposal. A green technology, Beach Cleaner Pro is powered through rechargeable batteries,

making it an environmentally-friendly choice.

Keywords: Mechanical Engineering, beach, cleaning, auger, pollution

32
---
Mechanical Engineering

Adjustable Shelving

Cam Dillon, Joe Franzese, Michael Roussos

Advisor: Yevgeniy Yesilevskiy

This shelving unit is a manually operated device designed to increase storage in small living

spaces. The user has the ability to raise and lower shelves at any desired height. Two support rods

are included in order to hold the shelves in place as additional ones are raised and lowered.

Keywords: Mechanical Engineering, shelving, adjustable, raise, lower, support

KnitFix

Nicole Harr, Lucinda Cahill, Blossom Parris, Agnes Thornberg, Mary Zaradich

Advisor: Yevgeniy Yesilevskiy

The KnitFix is the quick fix easy to use sew-lution that can alter the size of your clothing by swiftly

adding an almost invisible elastic seam, ensuring flexibility and adjustability. The KnitFix is an

at-home sewing device that is as easy and intuitive to use as a stapler. The KnitFix secures the

thread with two crimped beads on each side of the thread, allowing the thread to stay in place.

Keywords: Mechanical Engineering, knit, tailor, clothing, adjust

33
---
Mechanical Engineering

RollControl

Delphine Lepeintre, Eric Xue, TaeHyung Kwon, William Xie

Advisor: Yevgeniy Yesilevskiy

RollControl is an assistive walking device that helps its users as they navigate through daily life,

providing convenience through its modularity. The design is based on an existing push down

rollator, with three main additional features. A set of modular handles allows users to switch

between two walking positions, one with handles near the waist and another with handles that your

arms rest on. Users can also adjust the braking force required to stop with a built-in spring

tensioner, which is useful when the rollator is supporting heavy loads like laundry or groceries.

Lastly, the eddy-current brake modules attached to the wheels prevent the device from rolling

away too quickly, preventing accidents and falls stemming from this issue.

Keywords: Mechanical Engineering, assistive, rollator, braking, adjustable

HydroHand

Nick Hall, Ben Klassen, Armand Pappas, Andrew Pomposelli

Advisor: Yevgeniy Yesilevskiy

HydroHand is an easily attached device in the reservoir of a hydroponics system that solves leaking

problems and automates the tedious tasks of managing a hydroponics system. Community

hydroponics operators can spend less time and money monitoring their systems and provide more

fresh produce to local communities.

Keywords: Mechanical Engineering, hydroponics, monitoring, pH, nutrients

34
---
Mechanical Engineering

CuttingBoard+

Arielle Feder, Ahmet Karadeniz, Yehuda Lehrfield, Andrea Quinones

Advisor: Yevgeniy Yesilevskiy

CuttingBoard+ is a device which helps people slice food using the proper cutting technique. The

device guides the user's knife to cut in the proper slicing motion, increasing safety and efficiency

during food preparation. The user simply clamps their own chefs knife to the guide, applies the

cutting force and can cut like an expert. If desired, the user can remove the cutting guide and the

CuttingBoard+ functions as a regular cutting board.

Keywords: Mechanical Engineering, cutting board, knife, assistive

Calypso

Rohin Modi, Jayson King'ori, Pol Bernat

Advisor: Yevgeniy Yesilevskiy

Calypso is a solution to the problem of loud noises in apartments of New York City. It consists

of a panel with an array of acoustic metamaterials that is meant to attach over your window to

block out sound at specific frequencies while still letting air and light in. It works mechanically

by Fano-like interference, a phenomenon that manipulates the phase of sound waves to force

destructive interference.

Keywords: Mechanical Engineering, acoustics, window, metamaterial

35
---
Mechanical Engineering

Equi-Table

Estevan Mesa, David D'Ambrisi, Tzipora Hirsch, and McKenna Gillard

Advisor: Yevgeniy Yesilevskiy

The Equi-Table is a unique, space-conscious adult changing table that gives individuals with

disabilities a private, safe, and sanitary public restroom experience. Not only can the Equi-Table

fit in any ADA-compliant public restroom or stall, but also it is designed such that a caregiver has

space to move in the bathroom and position a wheelchair for transfer. Operation for a caregiver is

simple. The caregiver deploys the device with a light, consistent pull; gas springs return the Equi-

Table to its unobtrusive storage location on the wall.

Keywords: Mechanical Engineering, assistive, adult changing table, bathroom

Speed-Star

Deanna Duqmaq, Sophia Ladyzhets, Luis Pupo, Andrew Song, Nadine Wong

Advisor: Yevgeniy Yesilevskiy

Our game is a playground structure that allows children in wheelchairs to race mini car pieces

around a game track. Children turn their wheels and transmit energy to rollers underneath that are

coupled to the car pieces that progress forward. This solution takes inspiration from wheelchair

treadmill designs and applies it in a fun, accessible way for kids to play with each other.

Keywords: Mechanical Engineering, assistive, wheelchair, racing, playground

36
---
Mechanical Engineering

Boat Bath & Beyond

Vittorio Bottoli, Rushawn Childers, Justin Donovan, Sean Dugan, Aidan O'Hara

Advisor: Yevgeniy Yesilevskiy

BoatBath&Beyond is an autonomous, easy-to-set up, robotic system designed to clean the hulls of

boats ranging between 30ft to 150ft in length. The robotic system is comprised of 3 parts: a cabling

system the extends around the edges of the boat, a robotic cleaning head that removes biofouling

from the hull, and a slider that moves along the cabling system and control the position of the

robotic head. This system was designed for affordability, portability, ease-of-use, and, most

importantly, effective cleaning.

Keywords: Mechanical Engineering, boat, clean, biology, robotics

TruckStop

Nate Coulibaly, Tobias Eegholm, Sabrina Guedes, Sarah Wilkinson

Advisor: Yevgeniy Yesilevskiy

TruckStop is a custom truck that has a built-in skateboard braking system for use on non-electrified

skateboards. It consists of four servo motors and is controlled by a central computer. When the

user presses the brake button on the handheld remote, the brake system will activate and gradually

decelerate the rider to a stop. TruckStop was designed to make skateboarding safer and more

enjoyable for beginners.

Keywords: Mechanical Engineering, skateboard, braking, motors

37
---
Mechanical Engineering

Small Oil-Spill Cleaner

Derek Jackson, Sakib Ahmet, Denver McCollum, Jonathan Cator

Advisor: Yevgeniy Yesilevskiy

The Small Oil-spill Cleaner(SOC) is a folding mechanism that uses absorbent pads to clean small

oil accidents. SOC is a spring-loaded mechanism attached with these absorbent pads to soak oil

that'll automatically unfold when ready for deployment. SOC is then retracted using a winch to

collect the oil filled pads and fold the mechanism compactly for storage.

Keywords: Mechanical Engineering, oil spill, deployable, spring-loaded, cleaner

38
---
Table Key