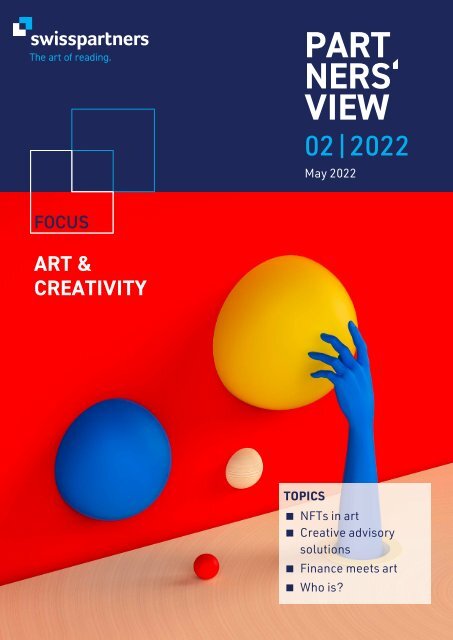 Partners' View May 2022
Issue 02|2022 of our magazine Partners' View on Art & Creativity. Request your personal copy of the print edition by sending an E-mail to: marketing@swisspartners.com
Issue 02|2022 of our magazine Partners' View on Art & Creativity. Request your personal copy of the print edition by sending an E-mail to: marketing@swisspartners.com
SHOW MORE
SHOW LESS
Create successful ePaper yourself
Turn your PDF publications into a flip-book with our unique Google optimized e-Paper software.
The art of reading.

PART

NERS'

VIEW

02|2022

May 2022

FOCUS

ART &

CREATIVITY

WIE STABIL IST DIE WELT?

THEMEN

< Politik &

Gesellschaft

TOPICS < swisspartners-

< NFTs Mission in art

< Creative < Finanzmarkt advisory

solutions < Versicherungen

< Finance < Human meets Resources art

< Who < Who is? is?
---
ART &

CREATIVITY

PART

NERS'

VIEW

ISSUE 04
---
EDITORIAL

F

Francis Picabia (1879–1953) was one of

the most exciting and influential figures

of classical modernism. A painter,

writer and provocateur, Picabia is

famously quoted as saying "Our heads

are round so our thoughts can change

direction".

Especially in challenging times, it was

often artists who creatively reflected

contemporary events and significantly

influenced society through their art.

Times of crisis call for creative

solutions and courageous action.

At swisspartners, art has a

longstanding tradition. We have

therefore dedicated the current issue

of Partners' View to a topic that is a

constant source of food for thought:

Art & Creativity. You are cordially

invited to join our editorial team on a

tour through the artistic world – from

the perspective of swisspartners and

the art experts with whom we

collaborate.

Everyone seems to be talking about

NFTs these days. Digital assets expert

Alexander Brunner shares a profound

insight into the topic of NFTs in the art

world and we ask ourselves the

provocative question: Yes, but is it art?

"Creative solutions in wealth advice

need to be custom-tailored to people's

needs", says our CEO Asset Management

Christian Dietsche. This point is

clearly demonstrated by two innovative

services: ONE by swisspartners and our

comprehensive stress-free package.

Under the motto 'Finance meets art',

we speak with our CEO Markus

Wintsch and our cooperation partners

Claudius Ochsner and Daniel

Wahrenberger from the Gallery WOS

in Zurich about their love of art and

the importance of creativity.

To round off this issue, in the 'Who is?'

column, we introduce Bernhard

Schürmann, a long-standing

relationship manager and a passionate

art lover.

I wish you a creative read.

Yours

Simone Töllner

Head Marketing

PARTNERS' VIEW | Editorial 3
---
CONTENTS

4 Contents | PARTNERS' VIEW
---
YES, BUT IS IT ART? 6

Alexander Brunner on NFTs in art

CREATIVE ADVISORY

SOLUTIONS 10

Innovative services from swisspartners

FINANCE MEETS ART 12

swisspartners in conversation with Claudius Ochsner

and Daniel Wahrenberger from the Gallery WOS

WHO IS? 18

Profile: Bernhard Schürmann

PUBLISHING

INFORMATION 19

PARTNERS' VIEW | Contents 5
---
YES, BUT IS IT ART?

BETWEEN FASCINATION AND IRRITATION:

NFTS IN THE ART WORLD

Guest commentary by Alexander Brunner

Digital art has become "socially acceptable."

6 NFTs in art | PARTNERS' VIEW
---
"

Back in 2017, software developers Hall and Watkinson

issued 10,000 NFTs: virtual certificates of ownership

recorded on the blockchain and linked to algorithmically

generated portraits of characters inspired by the London

punk scene, for free. In February 2022, Sotheby's planned

to sell 104 of these 'CryptoPunks' for a total of USD 30

million. A year earlier, in March 2021, Christie's auctioned

an NFT by artist Mike Winkelmann for USD 69 million. In

2019, Swiss artist Johannes Gees created 360 NFTs

based on a laser platform. These too were valued in the

millions in 2021. As a new form of digital art, NFTs have

undeniably made it on the mainstream art scene – and

have become a hotly sought-after investment.

With NFTs, the

traditional concept

of art is reaching

its limits."

The generally technology-averse and slow-to-change art

world is now seeing rapid innovation driven by accelerating

technological advances based on blockchain. It is a

familiar phenomenon from the business world: Wherever

new technologies disrupt the established way of doing

things, they create momentum for rapid change. We only

need to think here of how Amazon transformed the book

trade or how Spotify revolutionised how we listen to

music.

DIGITAL WORLD MEETS THE ART WORLD

An NFT is a non-fungible token – essentially a digital code

that points to a digital or physical object, similar to a

digital certificate of ownership. The token is stored,

immutably and publicly, on the blockchain.

For many years, 'digital' or 'generative' art – art generated

via computer algorithms – eked out a niche existence.

This was mainly because digital objects are easy, cheap,

and quick to copy – and thus of little value to collectors

or investors.

Combining digital artworks with manipulation-proof

digital certificates in the form of NFTs proved an immediate

game changer, giving a huge uplift to digital art and

propelling it into the realm of respectability. Auction

houses and galleries are not the only ones to profit from

the digital art gold-rush. For artists, too, it has opened up

a completely new market.

A NEW CONCEPT OF ART?

When the first NFTs were pitched onto the art market,

tempers flared: Can digital art be considered art? Can't

digital artworks simply be copied at will? Something that

is digitally reproducible and consequently anything but

unique surely can't be valuable in the conventional sense

– or can it?

How does art define itself? And is art only 'good' art if it

costs a lot of money? At what point does the physical (art)

world transition to the digital world? Question upon

question, but one thing is clear: with NFTs, the traditional

concept of art is reaching its limits. At the same time, it

has always been the task of art to critically reflect

contemporary events and to play with traditional ideas.

The connection between NFTs and art shows once again

that wherever there is innovation, there are also breaks

with tradition. In my view, the beauty of technological

acceleration is that it generates a wealth of new ideas

and projects in rapid succession. It promotes iteration as

an intrinsic feature of creative work. At the same time,

rapid reproduction raises the question of whether

generative art is artistically substantial and of lasting

value whatsoever. What constitutes quality in digital art?

What will stand the test of time?

PARTNERS' VIEW | NFTs in art 7
---
I am fascinated by the interface "between digital and physical."

DIGITAL ART AS A STATUS SYMBOL

Top-priced NFTs today include the well-known Bored Ape

(Yacht Club) and the CryptoPunks mentioned earlier.

They enjoy cult status in the crypto world and attract

strong media attention. Their high prices (several hundred

thousand USD) result in people showing them off in

social media. This brings another important function of

digital art into focus: Owners use it to burnish their social

status and prestige, and to gain access to an exclusive

coterie – just as with traditional art.

In this context, it is quite legitimate to ask if the focus

here is on art at all – or if it is all about investing and

media self-promotion. Some hail generative art as visionary,

iconic and trailblazing while others denounce it as trashy

and over-hyped.

Another area of tension is the relationship between capital

and art. While artists are all too quick to say they have

nothing to do with the commercial art world, they still

profit from the enormous value development of their

artistic output. Both aspects collide with great force in

NFTs.

FUSION OF DIGITAL AND PHYSICAL ART

I have worked together with the Zurich artist Christian

Etter for a number of years. He is the founder of the

Museum of Digital Arts in Zurich and designed my book,

Crypto Nation Switzerland. Right now, he is working on

a physical sculpture that incorporates digital, NFT

elements. His aim is to transport predominantly digital

art into the physical world. And it is important to him that

his artwork remains aesthetically compelling, both

digitally and physically. As the co-initiator of this art

project, I am fascinated by the creative process and the

challenges of the interface between digital and physical

art.

8 NFTs in art | PARTNERS' VIEW
---
Foto © Filipa Peixeiro

DIGITAL ART: A GOOD INVESTMENT?

Even the Swiss Art Market Association is grappling with

the question of how the digital transformation will affect

the art world. The question is, where is all this going? Are

NFTs in art no more than a flash in the pan, or do they

have sustainable future potential? Are they worth

investing in?

The current hype around NFTs reminds me of the initial

coin offering (ICO) boom in 2017. Back then, countless

blockchain start-ups raised huge sums in fundraising

campaigns. Shortly thereafter, the crypto market

corrected sharply. Most of the projects turned out to be

pump-and-dump schemes, and in some cases, investors

lost a lot of money. I can imagine a similar situation with

NFTs. In fact, no one can give a reliable prognosis at the

present time.

ART AS MIRROR OF SOCIETY

Digital art has found its way into the classical art world

within a few years due to blockchain technology. High

auction prices and strong media attention have put an

end to generative art's niche existence. Whether that

makes lasting sense is something only time will tell. But

ultimately, art is expected to mirror society, thereby

promoting critical discourse. This is precisely the contribution

that NFTs can make in view of the rapid digital

transformation in business and society.

THE ART OF ABOUT REAL ESTATE THE AUTHOR

Alexander E. Brunner is from Zurich and works as a

consultant for international technology companies. He

also writes about digital assets and is a member of the

Zurich City Council. As an art lover, he has long taken a

personal interest in the arts and promotes artists in

Switzerland and abroad.

Before working for Ben & Jerry's, the cult ice cream

brand, Alexander studied business administration at the

University of St. Gallen in Switzerland. He later worked

for over a decade in alternative investments, hedge funds

and impact investing before becoming a senior executive

at a Swedish-Swiss big data start-up.

Alexander is the author of Crypto Nation Switzerland, the

first book about the Swiss Crypto Valley (2019). He also

authored the first Swiss Digital Asset and Wealth

Management Report (2021).

" Art is expected to mirror

society, thereby promoting

critical discourse."

PARTNERS' VIEW | NFTs in art 9
---
CREATIVE ADVISORY

SOLUTIONS

FLOATING ON CLOUD NINE

Innovative advisory services

from swisspartners

THE STRESS-FREE PACKAGE

FFurther

enhancing the ability to meet clients' needs with

creative solutions in extraordinary times, swisspartners has

developed two forward-looking advisory solutions: ONE by

swisspartners, and the stress-free package.

Both of these solutions are tailor-made, leaving clients free

to choose what is important to them. "We focus on structured

wealth advice with clear objectives," says Christian Dietsche,

CEO Asset Management at swisspartners. "This enables us

to prepare creative solutions geared to individual needs."

Alongside this focus on individual requirements, Dietsche

says, another key aspect when advising clients is being open

to new developments: "We always keep up with the times, so

we make sure we also have new markets like crypto and

other current themes on our radar."

Featuring six building blocks, the stress-free package takes the

pressure off clients across all aspects of wealth, financial

planning, taxes, forward planning & inheritance, property and

lifestyle services. Diverse service modules can be combined

to deliver maximum flexibility. Interested clients can make a

preliminary selection of the stress-free services on the

swisspartners website. In the next stage, swisspartners

specialists work with clients to put together a bespoke package

of services – remotely by video conference if required.

" We focus on structured

wealth advice with clear

objectives."

10 Creative advisory solutions | PARTNERS' VIEW
---
ONE BY SWISSPARTNERS

Your wealth at a glance: The comprehensive ONE by swisspartners

service digitally consolidates and structures all assets, from

equities and foreign currencies through to property, works of

art, vintage cars and antiques. Not only does ONE enable the

transparent documentation of how assets are structured and

owned, it also offers digitalised performance and cost analyses

as well as macroeconomic assessments. The encrypted,

blockchain-based client portal with cloud servers in Switzerland

meets the highest demands in terms of data

security.

" Creative solutions in

wealth-advice have to be

tailored to meet individual

needs."

YOUR CONTACT:

Christian Dietsche

CEO Asset Management

christian.dietsche@swisspartners.com

Learn more about our innovative

solutions:

swisspartners.com/das-sorglos-paket

onebyswisspartners.com/en

PARTNERS' VIEW | Creative advisory solutions 11
---
FINANCEMEETSART

MARKUS WINTSCH, CEO OF THE SWISSPARTNERS GROUP,

AND SIMONE TÖLLNER, HEAD MARKETING, EXCHANGE IDEAS

WITH GALLERY OWNERS CLAUDIUS OCHSNER AND DANIEL

WAHRENBERGER FROM THE GALLERY WOS ON THEIR LOVE

OF ART AND ON THE IMPORTANCE OF ART AND CREATIVITY

AT SWISSPARTNERS.

The discussion was moderated by Kathrin Meister.

" Our affinity to art is also

expressed in our slogan,

'The art of finance'."

Markus Wintsch

12 Finance meets art | PARTNERS' VIEW
---
ART HAS ALWAYS FEATURED LARGE AT

SWISSPARTNERS. THE SWISSPARTNERS SLOGAN,

"THE ART OF FINANCE", WAS CREATED IN 2016. HOW

DID THIS STRONG AFFINITY TO ART COME ABOUT?

MARKUS WINTSCH: Art plays a central role at swisspartners

and has done for the past 29 years. The founding partners, as

well as the partners who joined through to the end of the

1990s, are all art lovers. They all share close connections with

art. And the same partners have a long track record of

erving clients who also have an affinity to art.

In some cases, partners have brought their own private

artworks into the office. Building on this, we have gradually

expanded our art collection in collaboration with various art

dealers. When selecting works for this purpose, we have

always insisted on them having a connection to the world of

finance. We have also commissioned painters to create works

of art exclusively for swisspartners. One picture, for example,

embodies the swisspartners values. (see page 12)

Our affinity to art is also expressed in

our slogan, "The art of finance". This

was created during the last makeover of

our corporate identity. Today, it is an

integral part of our corporate design. It

is a highly versatile slogan that we mix

and match in a variety of ways. In the

case of Partners' View, for instance, we

have picked "The art of reading".

WHAT ROLE DOES ART PLAY IN YOUR CLIENTS' ASSET

PORTFOLIOS?

MARKUS WINTSCH: Just like real estate or collectible cars,

art has long been firmly established as an asset class in the

investment portfolios of wealthy private clients.

Many clients of swisspartners have been collecting art for

decades. This is something we frequently only learn about

when we visit them in their own homes. In their home

surroundings, we are not only able to gain a better picture of

our clients and their families, but also get to see how they

live and what is important to them. Art often plays a

prominent role here.

"

I see my role as

an opportunity

to combine the

fields of art and

marketing."

Simone Töllner

THE PARTNERSHIP BETWEEN THE GALLERY WOS AND

SWISSPARTNERS GOES BACK A LONG WAY. HOW DID IT

COME ABOUT?

CLAUDIUS OCHSNER: Through my former gallery Barr &

Ochsner, I have been in close contact with Ralph Schuler ever

since early 2000. Our collaboration took on a more concrete

form when Simone Töllner came in.

SIMONE TÖLLNER: Art in our organisation is a subject that

is very close to my heart. Shortly after I joined swisspartners

in July 2019, I met with the three owners of the Gallery WOS

to set up a working partnership. This covers, on the one hand,

the swisspartners art events and, on the other, support for

our in-house art exhibitions. We enjoy a great degree of

freedom and trust on the part of swisspartners' management

in advancing our art projects. This has naturally added to the

success of our partnership to date. Thanks to art, we are able

to bring new creative flair to our office premises and to inspire

our clients at art events.

PARTNERS' VIEW | Finance meets art 13
---
WHAT DO THE THREE LETTERS WOS STAND FOR AND

HOW ARE YOU SPECIALISED?

DANIEL WAHRENBERGER: The letters stand for the gallery's

three owners, Wahrenberger, Ochsner and Schafflützel. Its

'predecessor' galleries, Barr & Ochsner and Wahrenberger,

boast over 50 years of combined experience in the art market.

Back then, Thomas Schafflützel helped out in my gallery. At

a meeting with Claudius Ochsner, we came up with the idea

of presenting a combined booth at the next art fair. Shortly

after that, Thomas Schafflützel moved to Barr & Ochsner. We

then launched our joint gallery, the Gallery WOS, in September

2019. You can find us in Zurich's beautiful Kirchgasse, where

we opened our premises in mid-2020. We inaugurated another

showroom in Pfäffikon this March.

CLAUDIUS OCHSNER: Due to the merger of two galleries,

we are naturally very broadly positioned. On the one hand,

we represent the programme of the former Barr & Ochsner

gallery: classical modernism with a

focus on German expressionism, American

pop art and European art of the 1940s

and 1950s. Daniel Wahrenberger traditionally

has a different approach to art:

He primarily represents a small circle of

contemporary artists with whom he

maintains personal contact.

"

Only together with his

friends could someone

like Picasso become a

person who influenced

generations of artists."

Claudius Ochsner

SIMONE TÖLLNER, YOU ARE HEAD MARKETING AT SWISSPARTNERS AND

OVERSEE THE IN-HOUSE ART EXHIBITIONS AND ART EVENTS. WOULD YOU

LIKE TO TELL US SOMETHING ABOUT YOUR CONNECTION TO CREATIVITY

AND ART?

SIMONE TÖLLNER: I was given the opportunity to join swisspartners as Head

Marketing in 2019. My background is actually in the humanities: I studied art history,

philosophy and German literature and followed up with a master's in cultural

studies and media conception in Zurich. After that, I qualified in marketing in

part-time study. That makes me quite the odd one out in finance (laughs).

Creativity is literally something I was born into, as my grandfather was a landscape

painter of the classical Munich school at Munich Academy of Fine Arts. I spent my

childhood between canvases and the smell of turpentine and linseed oil (painting

materials – ed.). Before swisspartners, I worked for about 12 years in sales and

marketing at several prestigious Swiss art galleries. As many of my former gallery

clients were from finance, I was able to develop a high affinity for the finance sector

during that time. I see my role at swisspartners as an opportunity to combine the

fields of art and marketing. The working atmosphere in our organisation is characterised

by individuality and creativity. That's probably why I feel so at home here.

14 Finance meets art | PARTNERS' VIEW
---
SWISSPARTNERS IS CURRENTLY REDESIGNING ITS

ZURICH OFFICE. MEANWHILE, THE GALLERY WOS HAS

OPENED A NEW SHOWROOM IN PFÄFFIKON, SCHWYZ.

HOW BIG A ROLE DO SPACES PLAY IN UNLOCKING

CREATIVITY?

MARKUS WINTSCH: Certainly a big one! The only thing I

regret about the remodelling of our office premises is that art

will probably have to take a back seat. But together with the

Gallery WOS or our artist friends, I'm confident that we will

find a way to integrate art into our open-plan layout. We

would like to continue to give our team the opportunity to

identify themselves through art and to create a creative

atmosphere of well-being in our premises.

SIMONE TÖLLNER: At swisspartners, we had two different

permanent exhibitions in the past, each with a completely

different ambiance. We are also noticing how strongly our

employees have identified with 'our' art over time. As already

mentioned, works of art that hung in our corridors and offices

for many years were sold because of the redesign – in some

cases triggering strong emotions.

MARKUS WINTSCH: Clients have frequently picked up on our

artworks as a talking point over the last 29 years. Often

enough, we spoke at greater length about the art in our

premises than about the performance of their portfolios

(laughs). Because our redesigned offices will have an openplan

layout, it's going to be a challenge to hang art here. In

future, we will make more flexible use of the space

we have available for creativity and art – among

other things with loans from the Gallery WOS.

Accordingly, we are now in the process of selling a

large part of our art collection.

DANIEL WAHRENBERGER: Not long after opening

our gallery in July 2020, we had to go into lockdown.

One positive outcome of the pandemic has been that

because people had to spend more time working

from home, they wanted to make their home

surroundings more attractive. It goes without saying

that art is an important part of this. Art also plays a

major role when it comes to receiving visitors, whether

at home or in the office. As the saying goes, you never get

a second chance to make a first impression.

WHAT DO YOU HOPE THAT THE OPEN-PLAN LAYOUT

WILL DO FOR THE CREATIVITY OF YOUR WORK AT

SWISSPARTNERS?

MARKUS WINTSCH: My great wish is that after the pandemic,

people will be happy to come back to the office to exchange

ideas and maintain social contacts. All of that has suffered

over the last two-and-a-half years. Getting people to return

to work from the office isn't at all easy. But the remodelling

of our office premises is bound to motivate our team to come

and work in a superbly designed office environment and

finally meet colleagues again. After all, we spend around twothirds

of our waking hours at work.

As part of the redesign, we hope to incorporate ideas that

were previously unthinkable, such as living green walls. So

as well as promoting art and creativity, we will also to an

extent be bringing nature into the office.

"

We would like to

continue to give our

team the opportunity

to identify themselves

through art."

Simone Töllner, Markus Wintsch

Markus Wintsch

PARTNERS' VIEW | Finance meets art 15
---
" At some point, you embark on your

own 'art journey', and that ends up

resembling a tree that branches out

in all sorts of directions,

again and again."

Daniel Wahrenberger

ON 5 MAY, THE GALLERY WOS OPENED A NEW

EXHIBITION, PICASSO & FRIENDS. THE EXHIBITION

SHINES THE LIGHT ON PICASSO'S WORK IN

CONNECTION WITH A CIRCLE OF OTHER OUTSTANDING

ARTISTIC PERSONALITIES. TO WHAT EXTENT DOES THE

PRINCIPLE OF "INDIVIDUALITY AND MUTUALITY" ALSO

APPLY TO THE FINANCE SECTOR?

MARKUS WINTSCH: As our client base gets younger, the

more important the team approach to customer service

becomes for us as a financial boutique. Today, flexible advisory

approaches are needed from different people with different

know-how, strengths and weaknesses. In the past, you could

cover all bases with a one-man or one-woman show – one

Picasso, if you will. But growing specialisation has massively

changed the game over the last ten years. Nowadays, no one

person can know everything, or provide all services. It always

takes a strong team.

In the Picasso & Friends exhibition, it is the 'friends' who are

the team. At swisspartners, we not only need friends from

within our own ranks, but also friends from outside the

company.

Claudius Ochsner, Daniel Wahrenberger,

Thomas Schafflützel (left to to right)

IS OUR INTERPRETATION OF THE PICASSO & FRIENDS EXHIBITION AT THE

GALLERY WOS ACCURATE?

CLAUDIUS OCHSNER: Picasso was, of course, an outstanding personality. Together

with Georges Braques and Juan Gris, he founded Cubism. But if his circle of friends –

other artists who were also productive at the time – had not taken up the movement,

it would have remained a flash in the pan. Only together with his friends could someone

like Picasso become a person who influenced generations of artists.

In the other direction, his friends also influenced Picasso's own work. He too took up

elements from other artists and reinterpreted them. A good artist doesn't live and work

in isolation from the outside world. He or she goes out to see, hear, read and visit

exhibitions. The result is either a poor impression of the collected elements – or something

brilliant. In Picasso's case, it was the latter.

16 Finance meets art | PARTNERS' VIEW
---
WHICH ART MOVEMENT OR ARTIST HAS SHAPED AND

INSPIRED YOU MOST OVER THE YEARS?

CLAUDIUS OCHSNER: Paul Cézanne never fails to fascinate

me as an artist. He is one of the founders of modernism,

redefined the artistic eye for detail, played with light and

shadow, left unfinished works that as far as he was concerned

were finished, and anticipated Cubism and abstraction.

Without him, 20th century art would simply not have happened.

DANIEL WAHRENBERGER: My background is in contemporary

art, as you know, and I have always actively worked with

artists and also coached them. After we merged our two

galleries, for example, I discovered modernist cynicism for

myself. Committing to a single art movement would definitely

be too narrow. At some point, you embark on your own 'art

journey', and that ends up resembling a tree that branches

out in all sorts of directions, again and again. There is always

something new to discover, but everything goes back to the

same roots.

SIMONE TÖLLNER: My roots without question are drawn

from the old masters. At the same time, out there in the

fringes, there are many artists that I admire very much. But

the common thread that has followed me through my entire

life is figurative art. I am fascinated by art that depicts, or that

completely distorts reality. At home, I have lots of portraits

and full-length works – I like to surround myself with people

and faces. I live with my 'friends' on the canvases and am

happy in their company.

MARKUS WINTSCH: When collecting, I focus on modern art,

which is atypical for the finance sector. An important factor

for me is to know the artists personally. For example, I have

acquired 50 artworks from one artist, because supporting the

livelihood of this artist and his family is a project close to my

heart. I also love large-format paintings and value harmonious

colours. Art has to flow as part of the contextual

environment – the frame, the surroundings and the people

who live there.

WOULD YOU DESCRIBE YOURSELF AS CREATIVE?

DANIEL WAHRENBERGER: We are not short on creativity.

The important thing is to channel it in an organised way.

When you own a gallery and deal with different artists, art

movements, projects, art fairs and so forth on a daily basis,

creativity just flows of its own accord. It is important to find a

common thread while staying open to new projects, such as

with swisspartners.

CLAUDIUS OCHSNER: Another facet of creativity is that we

seek creative financing solutions for collectors who would like

to buy something but do not have enough money at that

moment.

SIMONE TÖLLNER: Sure I'm creative, or I wouldn't be where

I am today. I might not create art as such in the way that an

artist does, but I always try and find creative solutions.

MARKUS WINTSCH: I like to bring my creativity to bear in

the interior and exterior of investment properties – that's my

passion. Creativity is particularly needed in the property

sector because buildings are often so monotonous. When it

comes to the interior design of our offices, though, I'm happy

to leave the creativity to Simone Töllner and Vanessa Burkart

(Head Human Relations). They do a great job here on their

own! I look forward to finally getting back together in person

with the swisspartners team and harnessing our mutual

inspiration in our redesigned premises.

MORE ABOUT

THE GALLERY WOS:

galerie-wos.com/en

"

Art has to flow as part

of the contextual

environment – the

frame, the surroundings

and the people who live

there."

Markus Wintsch

PARTNERS' VIEW | Finance meets art 17
---
WHO IS?

A COMPANY IS ONLY AS GOOD AS ITS

EMPLOYEES. IN THIS COLUMN, WE

PRESENT TALENTED MEMBERS OF

THE SWISSPARTNERS TEAM.

Bernhard Schürmann (right) and Simone

Töllner with a sculpture by Swiss artist

Ludwig Stocker.

BERNHARD

SCHÜRMANN

Partner

bernhard.schuermann@swisspartners.com

Bernhard Schürmann

describes himself with a quote attributed to

Confucius: "To get to the source, you need to

swim against the current." Having been with

swisspartners for 25 years, he is one of the

longest-standing members of the team. As

well as being an expert in asset management,

Bernhard has always had a great interest in

the arts and culture.

He began his education with a commercial

apprenticeship at Union Bank of Switzerland

in Lucerne. Subsequently, he completed his

secondary schooling at the Cantonal school

of Lucerne. To finance his studies at the

University of Zurich, he taught part-time at a

commercial school in Lucerne – characterwise

a major challenge for him, as he says today.

After completing his studies, he took his first

steps in asset management at Privatbank

und Verwaltungsgesellschaft in Zurich (a part

of the Schmidheiny Group) and spent a year

in New York for training and further education.

The Schmidheiny family was very fond of art

and he had the privilege of being present

when Alexander Schmidheiny built up his

large collection of works by American pop

artists.

Later, Bernhard was appointed Director of

the group's publicly listed Allgemeine Finanzgesellschaft.

Then followed ten years at

Cantrade Privatbank as a relationship manager

and curator of the bank's art collection.

Finally, he joined swisspartners, together

with some of his colleagues from Cantrade

Privatbank. In advising clients, Bernhard has

always believed the saying "If the client is

happy, then the relationship manager is

happy," pointing out that happiness is the

only thing that doubles when you share it.

5

5 QUESTIONS TO BERNHARD SCHÜRMANN

WHAT'S THE BEST THING YOU HAVE TO GIVE AT

SWISSPARTNERS?

The network that I have built up over the years. I might be a bit of an

individualist, but I have always enjoyed networking. I was on the

Board of Directors of Private Equity Holding for a number of years.

That gave me the opportunity to forge contacts with interesting people

and companies from fields such as medicine and engineering. I also

look after a number of clients from the arts and culture sector, which

lets me combine my hobby with my profession.

WHAT IS YOUR GREATEST STRENGTH?

The fact that I have been able to retain almost all of my clients over

the last 25 years. I'm not a one-size-fits-all relationship manager and

have always looked after clients and their portfolios personally. Client

service in my mind encompasses comprehensive support for all

situations and problems.

WHAT DOES ART MEAN TO YOU?

I appreciate beautiful things and I especially love collecting art. But I

have never fallen for the mainstream. I own works of art from

classical modernism, Swiss art, as well as works by internationally

renowned artists (including China). One of my best friends, a major

collector of Chinese art, is a constant source of inspiration for me. I

have never sold any of the works in my collection. For me, art is not

a financial investment, but is something close to my heart.

WHAT KEEPS YOU YOUNG?

My family, sports and culture. I work out once a week with a personal

yoga instructor and play tennis (doubles only nowadays) as well as

golf. Aside from that, I am passionately involved in a cultural foundation

and sit on the advisory board of an international art collection.

WHERE DO YOU SEE THE BRIDGE BETWEEN THE ARTS AND THE

WORLD OF FINANCE?

Both areas need serious, competent analysis and advice. Because no

one person can do everything and know everything themselves, good

contacts and networks are indispensable.

Interview by Simone Töllner.

18 WHO IS? | PARTNERS' VIEW
---
IMPRESSUM

EDITORIAL TEAM

Kathrin Meister | wordflow.de

Simone Töllner | swisspartners.com

LAYOUT & DESIGN

Angelika Plag | corporate-concepts.de

© PHOTOS

Getty Images: cover, pages 2, 10, back

Adobe Stock: pages 2, 4, 6–9

Karin Bischof: Employees pages 3, 11,18

Filipa Peixeiro: Alexander Brunner, page 9

Gabriela Dumitrescu: pages 11, 19

Daniel Chardon: Gallery WOS pages 15, 16

ARTWORK

pages 12, 18: "Verpflichtung", triptych,

oil on canvas, 80 x 360 cm

PARTNERS' VIEW | Publishing information 19
---
The art of reading.

swisspartners Group AG

Am Schanzengraben 23

P.O. Box

CH-8022 Zurich

Phone +41 58 200 00 00

swisspartners.com

swisspartners-group-ag

swiss.partners

swisspartners