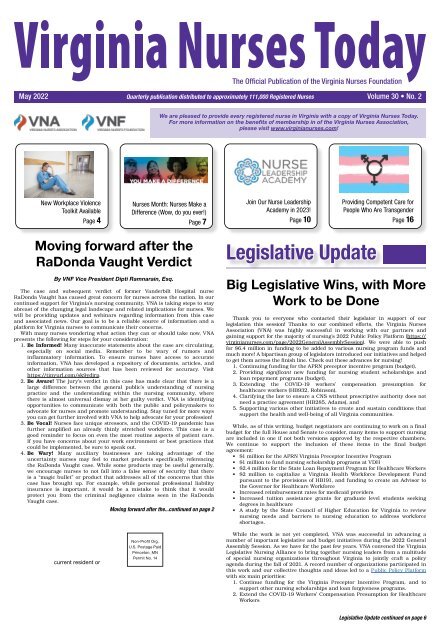 Virginia Nurses Today - May 2022
You also want an ePaper? Increase the reach of your titles
YUMPU automatically turns print PDFs into web optimized ePapers that Google loves.
The Official Publication of the Virginia Nurses Foundation

May 2022 Quarterly publication distributed to approximately 111,000 Registered Nurses

Volume 30 • No. 2

We are pleased to provide every registered nurse in Virginia with a copy of Virginia Nurses Today.

For more information on the benefits of membership in of the Virginia Nurses Association,

please visit www.virginianurses.com!

New Workplace Violence

Toolkit Available

Page 4

Nurses Month: Nurses Make a

Difference (Wow, do you ever!)

Page 7

Join Our Nurse Leadership

Academy in 2023!

Page 10

Providing Competent Care for

People Who Are Transgender

Page 16

Moving forward after the

RaDonda Vaught Verdict

By VNF Vice President Dipti Ramnarain, Esq.

The case and subsequent verdict of former Vanderbilt Hospital nurse

RaDonda Vaught has caused great concern for nurses across the nation. In our

continued support for Virginia's nursing community, VNA is taking steps to stay

abreast of the changing legal landscape and related implications for nurses. We

will be providing updates and webinars regarding information from this case

and associated news. Our goal is to be a reliable source of information and a

platform for Virginia nurses to communicate their concerns.

With many nurses wondering what action they can or should take now, VNA

presents the following for steps for your consideration:

1. Be Informed! Many inaccurate statements about the case are circulating,

especially on social media. Remember to be wary of rumors and

inflammatory information. To ensure nurses have access to accurate

information, VNA has developed a repository of documents, articles, and

other information sources that has been reviewed for accuracy. Visit

https://tinyurl.com/sk9ydjrp.

2. Be Aware! The jury's verdict in this case has made clear that there is a

large difference between the general public's understanding of nursing

practice and the understanding within the nursing community, where

there is almost universal dismay at her guilty verdict. VNA is identifying

opportunities to communicate with both the public and policymakers to

advocate for nurses and promote understanding. Stay tuned for more ways

you can get further involved with VNA to help advocate for your profession!

3. Be Vocal! Nurses face unique stressors, and the COVID-19 pandemic has

further amplified an already thinly stretched workforce. This case is a

good reminder to focus on even the most routine aspects of patient care.

If you have concerns about your work environment or best practices that

could be implemented, be sure to speak out.

4. Be Wary! Many auxiliary businesses are taking advantage of the

uncertainty nurses may feel to market products specifically referencing

the RaDonda Vaught case. While some products may be useful generally,

we encourage nurses to not fall into a false sense of security that there

is a "magic bullet" or product that addresses all of the concerns that this

case has brought up. For example, while personal professional liability

insurance is important, it would be a mistake to think that it would

protect you from the criminal negligence claims seen in the RaDonda

Vaught case.

Moving forward after the...continued on page 2

Legislative Update

Big Legislative Wins, with More

Work to be Done

Thank you to everyone who contacted their legislator in support of our

legislation this session! Thanks to our combined efforts, the Virginia Nurses

Association (VNA) was highly successful in working with our partners and

gaining support for the majority of nursing's 2022 Public Policy Platform (https://

virginianurses.com/page/2022GeneralAssemblySession). We were able to push

for $6.4 million in funding to be added to various nursing program funds and

much more! A bipartisan group of legislators introduced our initiatives and helped

to get them across the finish line. Check out these advances for nursing!

1. Continuing funding for the APRN preceptor incentive program (budget),

2. Providing significant new funding for nursing student scholarships and

loan repayment programs (budget),

3. Extending the COVID-19 workers' compensation presumption for

healthcare workers (HB932, Robinson),

4. Clarifying the law to ensure a CNS without prescriptive authority does not

need a practice agreement (HB285, Adams), and

5. Supporting various other initiatives to create and sustain conditions that

support the health and well-being of all Virginia communities.

While, as of this writing, budget negotiators are continuing to work on a final

budget for the full House and Senate to consider, many items to support nursing

are included in one if not both versions approved by the respective chambers.

We continue to support the inclusion of these items in the final budget

agreement:

• $1 million for the APRN Virginia Preceptor Incentive Program

• $1 million to fund nursing scholarship programs at VDH

• $2.4 million for the State Loan Repayment Program for Healthcare Workers

• $2 million to capitalize a Virginia Health Workforce Development Fund

pursuant to the provisions of HB191, and funding to create an Advisor to

the Governor for Healthcare Workforce

• Increased reimbursement rates for medicaid providers

• Increased tuition assistance grants for graduate level students seeking

degrees in healthcare

• A study by the State Council of Higher Education for Virginia to review

nursing needs and barriers to nursing education to address workforce

shortages.

current resident or

Non-Profit Org.

U.S. Postage Paid

Princeton, MN

Permit No. 14

While the work is not yet completed, VNA was successful in advancing a

number of important legislative and budget initiatives during the 2022 General

Assembly Session. As we have for the past few years, VNA convened the Virginia

Legislative Nursing Alliance to bring together nursing leaders from a multitude

of special nursing organizations throughout Virginia to jointly craft a policy

agenda during the fall of 2021. A record number of organizations participated in

this work and our collective thoughts and ideas led to a Public Policy Platform

with six main priorities:

1. Continue funding for the Virginia Preceptor Incentive Program, and to

support other nursing scholarships and loan forgiveness programs.

2. Extend the COVID-19 Workers' Compensation Presumption for Healthcare

Workers

Legislative Update continued on page 6
---
Page 2 | May, June, July 2022

Virginia Nurses Today | www.VirginiaNurses.com

is the official publication of the Virginia Nurses

Foundation: 2819 N. Parham Road, Suite 230,

Richmond, Virginia 23294, VNF's affiliate, the

Virginia Nurses Association, is a constituent of

the American Nurses Association.

www.VirginiaNurses.com

admin@virginianurses.com

Phone: 804-282-1808

The opinions contained herein are those of the

individual authors and do not necessarily

reflect the views of the Foundation.

Virginia Nurses Today reserves the

right to edit all materials to its style

and space requirements and to

clarify presentations.

THE TIME FOR CHANGE IS NOW!

The Virginia Nurses Association invites you to

join us IN-PERSON for our 2022 Fall Conference,

The Time for Change is NOW! This program will be

held September 9-10, 2022 at the Westfields Marriott

in Chantilly, Virginia. We hope you'll join us for

what will be our first IN-PERSON event since prepandemic!!

Nursing is at a precipice. The pandemic has

debilitated an already failing and antiquated

structure. We continue to struggle with appropriate

staffing, unhealthy work environments, and

developing the workforce we need for the future.

All of this leaves the nurses disengaged and our

patients disadvantaged. How can we change this?

The Time for Change is NOW! During this

conference, we will address how nurses can and

must lead the next evolution of healthcare through

innovation and collaboration. Dr. Oriana Beaudet,

Moving forward after the...continued from page 1

For more information on the reason nurses

may be sued and the types of liability

insurance available, we encourage you to read

this article published in ANA's American Nurse

Journal, myamericannurse.com/individualnurse-liability-insurance.

5. Do Not Panic! We recognize that many in the

healthcare community have found the outcome

of this case disheartening, if not alarming,

and now have increased concerns for their own

Vice President of Innovations at the American

Nurses Association Enterprise, will help us explore

how every nurse can contribute to transforming

nursing so that we can better serve the people

behind our purpose. We will hear from innovators

in nursing and healthcare that are taking chances,

trying new approaches, and transforming the work

we do. After we learn from change makers, Dr.

Oriana Beaudet will lead conference participants

through a Design Challenge where we will develop

big solutions to address nurse staffing and

unhealthy work environments. Let's work together to

change the future of nursing!

The Time for Change is Now!

More information, including registration rates and

the program agenda, will be available soon at www.

virginianurses.com.

professional practice and licensure. Be assured

that VNA will continue to update you on

developments regarding the issues surrounding

this case, as well as steps you can take to

advocate and protect your practice.

Your input and perspectives will be invaluable

in helping us shape our policy work, educational

programming, and community outreach.

Please complete our brief survey (https://www.

surveymonkey.com/r/SZ9H5WK) to let us know what

specific concerns and questions the case raises for

you and what related issues you would like covered

via webinars and other forums.

The RaDonda Vaught case has affected many

aspects of the nursing profession and is a dynamic

situation. Stay connected to receive verified

information from VNA, as well as educational

opportunities and advocacy forums regarding this

case!

VNF Mission Statement

VNF is committed to improving the health

of Virginia's communities by developing an

educated and diverse nursing workforce

through leadership development, research,

and innovation.

VNT Staff

Janet Wall, CEO

Elle Buck, Managing Editor

Virginia Nurses Today is published quarterly

every February, May, August and November by

the Arthur L. Davis Publishing Agency, Inc.

Copyright © 2020, ISSN #1084-4740

Subscriber rates are available, 804-282-1808.

For advertising rates and information, please

contact Arthur L. Davis Publishing Agency,

Inc., PO Box 216, Cedar Falls, Iowa 50613.

(800) 626-4081, sales@aldpub.com.

VNF and the Arthur L. Davis Publishing

Agency, Inc. reserve the right to reject any

advertisement. Responsibility for errors in

advertising is limited to corrections in the

next issue or refund of price of advertisement.

Acceptance of advertising does not imply

endorsement or approval by the Virginia

Nurses Foundation of the products advertised,

the advertisers or the claims made. Rejection

of an advertisement does not imply that a

product offered for advertising is without

merit, or that the manufacturer lacks

integrity, or that this association disapproves

of the product or its use. VNF and the Arthur

L. Davis Publishing Agency, Inc. shall not be

held liable for any consequences resulting

from purchase or use of advertisers' products.

Articles appearing in this publication express

the opinions of the authors; they do not

necessarily reflect views of the staff, board, or

membership of VNF, or those of the national

or local chapters.

Stafford County Public Schools is actively seeking qualified

applicants for the following position:

School Nurse

Under the supervision of the Building Administrator and/or other designated

administrator, the school nurse provides health services and leadership in establishing a

complete and effective program of school health.

Qualifications:

- Must be a graduate of an accredited program of registered nursing and hold a current

license to practice nursing in the Commonwealth of Virginia; Bachelor of Science in

Nursing preferred.

- Current certification in First Aid, CPR, and AED required.

- Must have at least two years of successful nursing experience. Pediatric and

community health experience preferred.

Salary $32,235.00-$92,152.00

Please visit our website at:

www.staffordschools.net

to submit our on line application

Visit nursingALD.com today!

Search job listings

in all 50 states, and filter by location and credentials.

Browse our online database of articles and content.

Find events for nursing professionals in your area.

Your always-on resource for nursing jobs, research, and events.
---
www.VirginiaNurses.com | Virginia Nurses Today May, June, July 2022 | Page 3

VNA President's Message

The complexities of nurse staffing

Nurse staffing is a highly complex issue.

Consideration must be given to matching the

right nurse with the needs of the specific patient,

workflows, access to resources and organizational

culture. In the context of the COVID-19 pandemic

and the post surge environment, staffing concerns

continue to grow as demand has been met by a

diminishing supply of nurses, capacity for care,

and the necessary improvements to provide the

highest level of quality care and experience to

patients and those who care for them. This supply

and demand equation has been based on multiple

factors including expanded job opportunities for

nurses outside of traditional settings creating

a shift in the workforce, availability of nursing

faculty, aging populations of nurses and patients,

generational and societal factors, and workplace

conditions as well as those choosing to leave the

profession.

The solutions to these issues are multifaceted,

making decisions regarding how to approach

each neither quick or easy. Ratios, which focus on

numbers of patients and nurses do not take into

consideration the acuity of the patient, experience

of the staff, skill mix availability, patient turnover,

managerial issues, and other elements. Studies

on an international level have shown that ratios

do show a reduction in cost and improvement in

quality as it relates to length of stay, readmissions,

and mortality. Correspondingly, acuity models

have shown similar outcomes, while improving

nursing satisfaction.

The Virginia Nurses Association continues to

work as a convener to create meaningful strategies

to address staffing. In a recent Nurse Staffing

Deep Dive meeting, led by Dr. Pam Cipriano,

Teresa Haller, Janet Wall, CEO VNA/VNF and

myself, with representation from the areas of

academia, public health, long term care and other

nursing entities, we examined both short-term and

long-term strategies to address nurse staffing.

Short-Term Strategies Currently being

Addressed

Legislation & Policy

Loan Forgiveness: Pursue loan forgiveness

for nurses and adequate funding of existing

commonwealth scholarships for nurses.

VNA advocated for the following proposed

budget amendments:

• $800,000 for SCHEV to enable nursing

students eligible to receive the two-year

college transfer grant to receive an additional

$1000 supplement

• $7.6 million to award full TAG grant for

graduate students pursuing advanced

degrees in nursing, mental health counseling,

pharmacy, and other medical fields, with the

goal of preparing new workers for careers in

areas facing workforce shortages in Virginia.

• $1 million each year to capitalize four

existing nursing scholarship programs at

VDH that have been unfunded since 2015

• Expand eligibility for the G3 program to

include high school students

* G3 is the acronym for Get Skilled, Get a

Job, & Get Ahead." It is a tuition assistance

program for any Virginia resident who

qualifies for in-state tuition and whose

family income falls below an identified

threshold. Students pay little to no tuition.

Tangentially, we also advocated for:

• $100,000 for SCHEV to conduct a study to

evaluate the growing needs of schools of

nursing so they may more comprehensively

and effectively address the extensive nursing

shortages in VA.

Mandatory Regulations: Explore with the Dept.

of Health Professions (DHP) Mandatory Reporting

regulations to ensure they don't serve as a barrier

to nurses seeking help for the mental health &/or

substance abuse.

• DPH Director Dr. David Brown is currently

addressing this for physicians, nurses, and

others.

Staffing Committees:

Advocate for staffing committees intended to

support nurses' meaningful engagement in shared

governance and staffing discussions.

• VNA's Nursing Practice Commission will

develop a best practice model we can advance

that includes collection and utilization of

meaningful data

Work Environment:

Joint statement from VNA and Virginia Hospital

& Healthcare Association (VHHA) about standards

required to create a healthy work environment for

nursing.

• The Workplace Violence Workgroup discussed

the potential and timing of a joint statement

with the VHHA.

• Establish an online repository for best

practices of short-term staffing relief

strategies in collaboration with the Virginia

Organization of Nurse Executives and

Leaders (VONEL). Once completed, the

repository will live on the VNA's website and

other organizations will be encouraged to

include links from their websites.

Partnerships

Ensure capacity building through inclusion

of organizations representing underrepresented

nurses.

* LGBTQ+, nurses of color, etc.

• Collaborations and partnerships have long

been at the core of who VNA is and how we

operate. A growing number of niche nursing

organizations engage in the VNA-spearheaded

Virginia Legislative Nursing Alliance (VLNA)

and are eager to work with us to address

the nurse staffing crisis. Nurse leaders

representing diverse organizations also

participate on the joint VNA & VNF Diversity,

Equity, & Inclusion (DEI) Council, and VNA

and VNF have great working relationships

with many other organizations, including

state administration and the VHHA.

Long-Term Strategies:

The following long-term strategies generated

from the meeting include three primary bodies

of work: Improved work environment, innovative

staffing models while optimizing scope of

practice, and advocating at the federal level for

reimbursement for nursing services.

Improved work environment

• Address onboarding and retention strategies

• Innovate to create/discover flexible staffing

and scheduling models

• Promote and innovate in job sharing

initiatives

• Promote Mentorship Programs for new team

members – engaging with new team members

prior to their first day.

• Focus on workplace violence

• Harness best practices regarding safety of

staff

• Promote resources inclusion within

organizational systems to cultivate a culture

of wellness through the prioritization of

psychological needs of nurses and other

healthcare workers to address and mitigate

factors that contribute to moral distress,

moral residue, and moral injury

• Investigate salary

compensation models

for nurses. While

we can't control

Linda M. Shepherd,

what employers pay

MBA, BSN, RN,

nurses, conducting

NEA-BC

this research will be

crucial as we further strengthen & broaden

our sphere of influence.

• Ensure a diverse workforce with

consideration to equality in order to ensure

nurses represent their service population

• Elevate awareness and respect for disabilities

and equity throughout nursing practice

Create Innovative Staffing Models while

Optimizing Scope of Practice

• Integrate other levels of nursing professionals

(unlicensed assistive personnel, LPNs, APRNs

and interprofessional partners to collaborate

on responsibilities.

Incorporate mindfulness of nursing scope

of practice, supervision, and insurance of

positive patient outcomes as supported by

evidence

• Promotion and push for acute care nurses

working to the top of their license

• Provide education related to scope of practice

for each role so that all remain in their scope

of practice

• Explore opportunities for tele/remote/

virtual health options as part of nursing care

delivery.

Advocate at the Federal Level for

Reimbursement for Nursing Services

• Support ANA and the national work being

done around this issue.

The Nurse Staffing Deep Dive group will

continue to meet and further develop tactics

associated with the above strategies. In a recent

call with Senator Kaine's aid, discussions around

the challenges within academia which contribute

to nursing shortages were discussed as a means

of educating our legislative representatives on the

issues and how they can help.

As we move forward, we will continue to work to

assist in building a better tomorrow for the nurses

within the commonwealth and the populations

they serve.

Under investigation

by the Virginia

Board of Nursing?

Eileen M. Talamante, Esq., R.N.

Eileen is a nurse and an attorney, and is

here to help you with licensing issues,

investigations, and disciplinary matters

before the Virginia Board of Nursing.

2020 Outstanding

Advocate Award

goodmanallen.com

ETalamante@goodmanallen.com

(804) 565-3526

DEDICATED TO SERVING THE LEGAL

NEEDS OF VIRGINIA NURSES.
---
Page 4 | May, June, July 2022

Save the date for VNA's 2022

Legislative Summit

Virginia Nurses Today | www.VirginiaNurses.com

VNA Encourages Utilization of

New Workplace

Violence Toolkit

By VNA Commissioner on Nursing Practice Erin

Keister, MSN, CPPS, CPHQ

VNA's annual Legislative Summit will give you the best legislative tools

and insights to become a powerful advocate for nursing and for the health

of all Virginians. Plus, we'll examine the critical issues facing nursing and

healthcare and discuss the statewide impact of the results of the November

election. You'll get a detailed look into upcoming nursing legislation and

nursing's 2023 legislative. We'll be talking about legislative solutions for our

nurse staffing shortage, school nurses, APRN issues, and more! Be sure to

check our website regularly for agenda updates at www.virginianurses.com.

Today more than ever, the health of our healthcare

workforce across the Commonwealth of Virginia is a

top priority. Daily, workers in the healthcare industry

experience workforce violence through a variety of

different avenues including intimidation, threats,

physical or verbal abuse, and disruptive behaviors just

to name a few. Violence can involve employees, patients,

co-workers, clients, families and visitors. These acts of

violence, intentional or not intentional can leave long

lasting psychological, emotional or physical harm to Erin Keister

staff that are involved.

In recognition of National Workplace Violence Awareness Month in April, the

Virginia Hospital & Healthcare Association (VHHA) released a Workplace Violence

Toolkit aimed at providing hospitals, healthcare providers and staff new tools to

protect themselves from violence. This toolkit is a comprehensive document that

supplies employers with a strategic plan to increase the safety of the workplace,

minimize workplace violence events, and respond appropriately and supportively

if a workplace violence event occurs. During a time when healthcare workers are

weary, the release of this toolkit could not be more appropriate or more important.

The toolkit also aims to educate the general public on violence against healthcare

workers and the struggles they endure every day. It promotes a respectful

collaboration between healthcare workers and the patients they serve.

VNA's Commission on Nursing Practice has taken an active role of support

and collaboration with VHHA to encourage all healthcare workplaces to adopt

the best practices laid out in the Workplace Violence Toolkit. The toolkit is clear,

concise and designed for easy adoption. It provides the necessary information

and tools to educate employees while creating a zero-tolerance culture towards

workplace violence. Violence against healthcare workers is a crime in Virginia.

All healthcare workers should be working in a safe environment, free from

violence, allowing them to deliver the best possible care they can. Those

interested can access the toolkit on VNA's Workforce Issues webpage at https://

virginianurses.com/page/WorkforceIssues. VHHA's press release for the toolkit

can be read here: https://tinyurl.com/5n863w9x.
---
Page 6 | May, June, July 2022

Virginia Nurses Today | www.VirginiaNurses.com

Legislative Update continued from page 1

3. Reduce unnecessary practice restrictions, especially those related to

autonomous practice for Nurse Practitioners

4. Supporting Registered Nurses in Public Schools

5. Clarifying the Prescriptive Authority Law for Clinical Nurse Specialists, and

6. Advance legislative solutions that create and sustain conditions that support

the health and well-being of all Virginia communities

Give the Gift of Nursing Pride

for 2022 Nurses Week!

The Virginia Nurses Foundation's license plate honoring and supporting

the important work of nurses in our commonwealth makes the perfect gift for

the nurse in your life (or for you!). More than 4,300 of the license plates are

currently on Virginia's roads! Even more exciting, the $15 VNF receives from

each plate fee supports our scholarships and nursing education initiatives.

Plates are on sale now at the DMV's website! $25 for regular plates or $35

for personalized plates.

Can my family and friends purchase a nursing car license plate if they are

not a nurse? YES! You do not need to be a nurse to purchase the license plate.

Plates can be purchased at this link: https://tinyurl.com/yb2wsd7e

Learn more!

Unfortunately, we and our partners were not successful in reducing the

transition to practice for APRNs. While the House passed legislation continuing

the two year transition period for a nurse practitioner to practice autonomously,

the Senate refused to do so and instead preserved the five year transition period

that was established in 2018. We will continue to support legislation removing

this barrier to practice and support full practice authority for all nurses. The

legislature also failed to make progress on the important issue of providing for

a registered nurse in all public schools. The importance of having a nurse in

schools has never been more important than it is now as we work to emerge from

the COVID-19 pandemic, and we will continue to work on this important issue.

During this year's 60-day session, which began back on January 12, the

legislature ultimately considered more than 2,100 bills. Of those, more than

800 bills passed the General Assembly and went to Governor Youngkin for

his consideration. He has signed 701 bills so far, vetoed 26, and proposed

amendments to the rest. The legislature will reconvene to vote on the governor's

proposed amendments and vetoes as scheduled on Wednesday, April 27. If the

legislature adopts the governor's amendments to bills by a majority vote in both

chambers, the bill becomes law. If they are rejected, the legislation returns to

the governor for his signature, or he may veto the bill. To override a veto, both

chambers must pass the bill notwithstanding the governor's veto with 2/3

support in both the House and Senate.

Aside from the reconvened session, the legislature is technically in a special

session at the moment. Because the General Assembly had not completed

negotiations on a final budget bill by the scheduled March 12 adjournment, they

adjourned the regular session and agreed to come back in a special session to

complete the budget and another 46 pieces of legislation that were still being

finalized. As of this writing, there is still no agreement on the budget and so the

date for completion of the special session is still undetermined. Technically, the

current budget remains in place through June 30, so there is no hard deadline

until that point. However, local governments must plan their own budgets based

on state resources and so the pressure will continue to rise on budget conferees to

complete their work in the coming days.

VNA will continue to advocate for nurses throughout the reconvened and

special sessions and then continue to educate lawmakers on our issues as we

look ahead to the 2023 session of the Virginia General Assembly. We appreciate

your interest and participation in this work, whether through our policy

committees, town hall meetings, lobby days, or even writing or calling your

legislator on these important issues.

Are you a nurse who wants to make a difference in the

health and well-being of an incarcerated population?

Join the Fairfax County Sheriff's Office as a

Correctional Health Nurse with a $2,000 signing bonus!

We are an equal opportunity employer. Call 703-246-4105 or scan QR Code with phone camera.

Virginia Cancer Specialists is

devoted to treating patients with the

best, most effective and advanced

therapies available today. As a part

of The US Oncology Network, we

deliver high-quality, evidence-based

care to patients close to home.

• 10 Convenient locations in northern Virginia

• State-of-the-art technology, innovative treatments, and extensive research

• Specializing in medical oncology, radiation oncology, palliative care, genetic

risk assessment, hematologic, social work and nutritional services

• Monday-Friday schedule

• 401K

• Medical, Dental and Vision

Hiring Infusion Nurses and Nurse Navigators,

as well as experienced Oncology Nurse Practitioners

Join our team!

Please visit our website at

www.virginiacancerspecialists.com for our job postings.
---
www.VirginiaNurses.com | Virginia Nurses Today May, June, July 2022 | Page 7

Nurses Month: Nurses Make a Difference (Wow, do you ever!)

For all you do, for all you are… Thank You! While

Nurses' Week and Nurses Month are a great time

to celebrate you and your peers, your expertise and

knowledge, the length to which you go to advocate

for your patients and clients, your professionalism,

and your compassion are invaluable and appreciated

beyond measure every day. Take time to celebrate

your profession and remember the lessons learned

from nursing pioneer Florence Nightingale, born on

May 12, and other nurse leaders, past and present,

who have fought to advance nursing throughout the

decades.

2022 Nurses Month Theme - Nurses Make a

Difference

Whether it is a national health emergency or

routine daily care, nurses' vital contributions impact

the health and well-being of our communities, which

is why the American Nurses Association selected

the theme for May as Nurses Make a Difference. To

honor nurses and support the nursing profession,

VNA and ANA are promoting weekly themes and

activities. While continued physical distancing may

limit face-to-face activities, we encourage everyone to

think of creative ways to engage!

Week 1: Self-care (May 1–7)

• This week is dedicated to cultivating and

maintaining optimal mental health and

physical well-being.

Week 2: Recognition (May 8–14)

• Honor the work of nurses who lead, excel, and

innovate, not only in our health care systems,

but also in our communities which makes

them vital to transforming the future of health

care.

Week 3: Professional Development (May 15–21)

• Access resources and insights to guide you in

your professional development. Focus on how

you can excel and lead in your nursing career

or inspire and help others in their professional

nursing journey.

Week 4: Community Engagement (May 22–31)

• Focus on Engaging with your community this

week, whether virtually or in-person. Educate

members of your community on what nurses do

beyond the bedside — advocacy, shaping public

policy, or serving as organizational board

members, among other duties. Encourage them

to support current and future nurses.

If you or your facility had or has planned an

exciting Nurses Week event, please share your

celebrations with us!

We'd love to know more about your:

• Florence Nightingale's birthday anniversary

celebrations

• Nurses Month celebrations

• Nurses in action

• Donations and gifts from the community for

nurses

You can share the photos on Facebook, and tag us

@Virginia Nurses Association, or on our Instagram,

@virginianurses. You can also send photos of your

celebrations and events to VNA Communications

Manager Elle Buck, at ebuck@virginianurses.com.

Make sure to frequently check our website, www.

virginianurses.com, for updates, resources, and

nurse specific discounts!

If there is a nurse (or nurses!) you'd like to

publicly honor during Nurses Week, you can fill out

the Virginia Nurses Foundation's Honor a Nurse form

at https://tinyurl.com/u76zro6. This is the perfect

opportunity to celebrate a nurse friend, colleague, or

family member or to say thank you to a nurse that

has made a difference. We will publish the names

of honored nurses on our website on the Honor a

Nurse Tribute Wall and in our quarterly publication,

Virginia Nurses Today. Additionally, all honorees

will receive an email letting them know you wanted

to say thank you. Your donation of $10 or more

will support the launch of the Nurse Leadership

Academy. For check donations, go to https://tinyurl.

com/y9bvcuy2 to download the form to be mailed

with your check.

To learn more about the history behind National

Nurses Week, visit ANA's webpage at https://www.

nursingworld.org/education-events/national-nursesweek/history/.

Mid June - Mid August

Premier Summer Camp in PA is hiring

RNs & LPNs

Full Season or Flexible 1-4 weeks

• Private Room

• Travel & Licensure Reimbursement

• Beautiful Activities to Enjoy

Kids Go Free! Competitive Salary

Online application! www.poyntelle.com

Call Adam Popper at 718-490-7268 with questions.

W e're H iring!

RNs, LPNs, CNAs, and more!

Various shifts (full time, part-time, per diem)

5 Star Staffing, First Day Benefits, Tuition Assistance

www.wcbay.com/careers

3100 Shore Drive,

Virginia Beach, VA 23451
---
Page 8 | May, June, July 2022

Virginia Nurses Today | www.VirginiaNurses.com

Meeting the nurse staffing challenge, part one: Recruitment tips

Georgia Reiner, MS, CPHRM,

Risk Specialist, NSO

The COVID-19 pandemic has prompted nurses

to rethink their careers and reinforced the need for

healthcare and nursing leaders to shift their approach

to nurse recruitment and retention. A 2021 survey

by the American Nurses Foundation found that 18

percent of 22,316 respondents planned to leave their

current position in the next six months. When the

data are sorted by nurses working in hospitals (8,524),

that percentage rises to 21 percent. These pandemicrelated

staffing problems are intensified by factors

that existed before COVID-19 and that still plague

leaders. For example, hospitals in rural areas continue

to struggle more with nurse staffing than those in

urban locations. Generational differences also exist,

with Generation Zers and Millennials more likely to

leave positions compared to Generation Xers and Baby

Boomers. The exodus of bedside nurses takes its toll

on remaining staff and, in some cases, quality of care.

Too often, organizations have viewed nurses

primarily as an expense, failing to understand that

investing in this workforce yields financial rewards.

High-quality nursing care helps to reduce the

likelihood of patient safety events and costly medical

malpractice lawsuits related to missed errors. Savvy

leaders know that ensuring appropriate staffing levels

is key to the financial health of the organization,

which means engaging in effective recruitment and

retention strategies. This article, the first in a twopart

series on nursing recruitment and retention, will

address recruitment strategies that leaders can utilize

to help attract new nurses to their organization.

Recruitment

Nursing and other organizational leaders need to

work closely with human resources staff to ensure

recruitment processes are efficient and effective:

Craft ads that work. First impressions count.

Everyone is your competitor for a limited pool of

nursing talent, so do what you can to make your

organization stand out as an attractive place to

work. Be sure images in recruitment ads reflect

the organization, particularly when it comes

Southeastern Virginia Training Center

We are a 75 bed intermediate care

facility for individuals with intellectual

and developmental disabilities in Chesapeake, VA. We are state

operated through the Department of Behavioral Health and

Developmental Services.

We are looking for RN's (FT and PT)

* $5,000 sign on bonus or student loan repayment for full-time

RNs w/1 year agreement

* state employee benefits for FT positions

To apply online, go to:

https: //virginiajobs.peopleadmin.com

(and select Agency 723)

to diversity. Many organizations feature their

own nurses in ads, which has the additional

benefit of employee recognition. Try to make your

messaging as personalized as possible, emphasizing

your organization's culture and authentically

communicating why nurses should want to be a part

of your organization.

Reach out early. Ask staff who work with students

completing clinical rotations to identify those who

might make good employees when they graduate.

Then get to know the students and encourage them

to apply when the time comes. If you lead a specialty

unit, invite students to attend meetings (onsite or

virtual) of local chapters of the national specialty

nursing association so they can learn more about the

role. You also may want to partner with local schools

to teach a class or workshop so you can connect with

students.

Promote digital efforts. Organizations' websites

often miss the opportunity to feature nurses. Your

facility's website should have a special section

highlighting nursing, including stories that feature

individual nurses. You can ask staff to record

video testimonials that highlight what they enjoy

about working for your organization. In addition,

your organization's job portal and job application

process should not be so cumbersome that potential

employees give up in frustration.

Individualize benefits. Avoid a "one size fits

all" approach to benefits. Instead, offer a menu

that nurses can choose from. For example, a latecareer

nurse may be more interested in retirementmatching

funds, but a newer-to-practice nurse may be

attracted to a flexible schedule, tuition or student loan

assistance, or child-care benefits.

Obtain Magnet® status. Becoming a Magnet®designated

facility can be expensive, but many nurses

prefer organizations with this designation, so it can be

well worth the investment. Magnet® status also may

help reduce turnover and decrease patient morbidity

and mortality.

Provide optimal onboarding. This is often

discussed as a retention tool, but it also falls under

the recruitment category, as potential employees want

to know how supported they will be in their new role.

This is particularly true of new graduate nurses,

who have seen their recently graduated colleagues

rushed into practice as a result of the pandemic. Many

organizations are being shortsighted in cutting back

on nurse residency programs, which not only attract

staff, but also promote a smoother transition into

practice, thus increasing retention.

Preceptors should be chosen based not only on

their level of expertise, but their effectiveness as

educators. Orientees (and preceptors) should know

that they can speak up if the match isn't working.

Be sure staff feel warmly welcomed. For example,

some organizations send a signed welcome card to the

employee's home before their start date. Others post

the employee's name and photo in a visible location on

the unit.

Check in regularly with new staff to see how they

are adjusting, such as weekly for a month, then every

other month or so, and then after 6 months.

Meeting the challenge

Finding creative solutions to recruit nurses is

more important than ever. However, it is only the

first piece of the puzzle to building a robust nursing

team. Creating a safe, supportive work environment

that recognizes nurses' meaningful contributions is

essential to encourage nurses to want to keep working

for your organization. Part two will discuss retention

strategies that healthcare and nursing leaders can

employ to help increase the likelihood that they retain

current nursing staff.

References

American Nurses Credentialing Center. Magnet benefits. n.d.

https://www.nursingworld.org/organizational-programs/

magnet/about-magnet/why-become-magnet/benefits/

American Nurses Foundation. COVID-19 impact assessment

survey – the first year. 2021. https://www.nursingworld.

org/practice-policy/work-environment/health-safety/

disaster-preparedness/coronavirus/what-you-need-toknow/year-one-covid-19-impact-assessment-survey/

CNA & NSO. Nurse Professional Liability Exposure Claim

Report: 4th Edition: Minimizing Risk, Achieving

Excellence. 2020. https://www.nso.com/Learning/

Artifacts/Claim-Reports/Minimizing-Risk-Achieving-

Excellence

Malliaris AP, Phillips J, Bakerjian, D. Nursing and Patient

Safety. Agency for Healthcare Research and Quality.

2021. https://psnet.ahrq.gov/primer/nursing-and-patientsafety

Pink D. When: The Scientific Secrets of Perfect Timing.

Riverhead Books; 2019.

Reitz O, Anderson M, Hill PD. Job embeddedness and nurse

retention. Nurs Admin Q. 2010;34(3):190-200.

Sherman RO. The Nuts and Bolts of Nursing Leadership:

Your Toolkit for Success. Rose. O. Sherman; 2021.

Wolters Kluwer. Ten recruiting strategies to attract nurses.

2019. https://www.wolterskluwer.com/en/expertinsights/ten-recruiting-strategies-to-attract-nurses

Disclaimer: The information offered within this article

reflects general principles only and does not constitute legal

advice by Nurses Service Organization (NSO) or establish

appropriate or acceptable standards of professional conduct.

Readers should consult with an attorney if they have specific

concerns. Neither Affinity Insurance Services, Inc. nor NSO

assumes any liability for how this information is applied in

practice or for the accuracy of this information.

This risk management information was provided by

Nurses Service Organization (NSO), the nation's largest

provider of nurses' professional liability insurance coverage

for over 550,000 nurses since 1976. The individual

professional liability insurance policy administered through

NSO is underwritten by American Casualty Company of

Reading, Pennsylvania, a CNA company. Reproduction

without permission of the publisher is prohibited. For

questions, send an e-mail to service@nso.com or call 1-800-

247-1500. www.nso.com.
---
www.VirginiaNurses.com | Virginia Nurses Today May, June, July 2022 | Page 9

Virginia Nurses Association Achieves ANCC Reaccreditation as

an Approver for Nursing Continuing Professional Development

• Increasing demand to offer continuing

professional development contact hours that

are essential to building professional portfolios,

and maintaining certification and accreditation

from ANCC and other licensing boards and

regulatory bodies

The ANCC Accreditation Model is based on

the original Donabedian framework of structure,

process, and outcome measures to evaluate quality.

The ANCC standards provide organizations with

a structured, evidence-based framework to design

and implement NCPD activities. The development

of quality outcomes ensures that accredited

organizations are continuously evaluating processes

and their impact on the professional development of

nurses. www.nursingworld.org/ncpd

If your organization is interested

in planning continuing education

activities and awarding nursing contact

hours, you can learn more about how

you can be approved as an individual

activity applicant or approved provider

organization through the Virginia Nurses

Association at

https://virginianurses.com/page/Education.

The Virginia Nurses Association was granted

reaccreditation as an Approver for nursing

continuing professional development (NCPD)

in February 2022 from the American Nurses

Credentialing Center (ANCC). This reaccreditation

demonstrates our commitment to using evidencebased

criteria when approving other organizations

to provide educational activities. This ensures highquality

educational activities are provided that

promote the professional growth of nurses.

With this reaccreditation, the Virginia Nurses

Association continues to be part of an influential

global community of practice of accredited

organizations. The reaccreditation allows VNA to

approve both individual activity applicants and

approved provider organizations.

Achieving reaccreditation as an Approver of

Nursing Continuing Professional Development

supports VNA in its mission to promote advocacy

and education for registered nurses to advance

professional practice and influence the delivery

of quality care. The Accredited Approval Unit

expands access to nursing continuing professional

development activities across the commonwealth and

our country.

NCPD accreditation from ANCC elevates

educational offerings that benefit our nurses, and

the patients and communities we serve, by:

• Promoting the highest professional standards

to sustain effective strategies that improve

professional nursing practice

• Improving curricula for nurses to provide

evidence-based education that strengthen

professional development programs

• Increasing credibility to adhere to evidencebased,

global standards that deliver quality

professional education

• Expanding visibility to be included among other

accredited organizations that are listed in a

nationwide, searchable directory

Bachelor of Science

in Nursing (RN to BSN)

[6

For practicing RNs who

wish to obtain their BSN

Finish in 5 semesters

part-time

Financial aid available

for those who qualify

Clinical Nurse

Leader (MSN)

For RNs with their BSN who wish

to become advanced practitioners

✓

Two starts per year

(Jan., Aug.)

Online format with

two clinical courses

Now Hiring:

Public Health Nurse II

To Apply:

https://www.governmentjobs.com/careers/fairfaxcounty/jobs/3359252/

school-health-public-health-nurse-ii?department[0]=Health%20

Department&sort=PositionTitle%7CAscending&pagetype=jobOpportunitiesJobs

The Fairfax County Health Department is a progressive public

health leader serving 1.2 million residents from diverse ethnic,

cultural and economic backgrounds. With more than 100 years of

leadership in the field, we are committed to promoting population

health, protecting public health and the environment, and ensuring

residents' equitable access to health services and information.

Among the state's

most economically

priced programs

Accreditations & Certifications:

Part-time curriculum

for busy RNs

Certified by SCH EV to operate in Virginia,

accredited by ABHES & approved by NC-SARA.

The School Public Health Nurse works in the school health program

assigned to school sites. Provides a variety of community services

using a multi-disciplinary approach serving diverse populations in

the school community. Services and interventions include outreach

which include home/school visits, community assessment, health

promotion, education, case finding, care coordination and disease

prevention for students, families and communities. Must have

strong working knowledge of computers (Microsoft Office Suite

and other software applications). Must participate in the training,

supervision and evaluation of unlicensed assistive personnel.

This position includes a signing bonus of

$2,000 for new hires.
---
Page 10 | May, June, July 2022

Virginia Nurses Today | www.VirginiaNurses.com

Join Our Nurse Leadership Academy in 2023!

Lindsey Cardwell, MSN, RN, NPD-BC, Director of

Professional Development

As you read in Janet Wall's CEO Report in the

February edition of Virginia Nurses Today, the Nurse

Leadership Academy kicked off its inaugural year in

January of 2022 with some fabulous presenters and

content!

"Most training offered by

my organization is aimed at

discussing tools or strategies

for specific programs. The NLA

reaches us on a personal level to

develop our professional skills!"

The Academy's flagship year has continued

flawlessly with four additional virtual sessions

to develop the 39 nurse fellows. This content has

been presented by healthcare leaders with amazing

expertise and knowledge! Our fellows have examined

their personal leadership and communication styles

through a DiSC Leadership Profile assessment and

explored topics such as providing and receiving

effective feedback, authentic leadership in

healthy work environments, leading with cultural

humility, facilitating a high reliability environment

through patient safety, a spirit of inquiry, and

process improvement, and the influencer role in

change management. Fellows will participate in

a final virtual session in June focused around

examining the finances of healthcare. Following

this session, the 39 fellows will embark on their

individual applied leadership projects within their

organizations under the guidance of their chosen

mentor. In December 2022, all nurse fellows will

share their leadership projects and the outcomes

they have achieved and we plan to have an

opportunity for the Academy fellows to disseminate

their work to you!

Nurse Leadership Academy fellows have shared

that the Academy goes well beyond the development

provided by their organizations and "reaches us on a

personal level to develop our professional skills!". The

feedback underscores that the program has been

meeting and exceeding professional development

needs and that all nurse leaders should attend the

Academy!

"I am really enjoying reflecting

on myself and seeing my

opportunities to grow and lead

my team in a positive, effective

manner!"

If you are a new or emerging nurse leader, we

encourage you to learn more about the Nurse

Leadership Academy at https://virginianurses.com/

mpage/VNFNLA! This program was meticulously

designed by experienced nurse leaders of varying

backgrounds across the commonwealth to meet

the professional development needs of nurses

transitioning into leadership roles across ALL

healthcare practice environments. The first six

months of this year-long program are dedicated to

live virtual didactic sessions focused on the following

core topics:

• Fundamentals of effective leadership

• Organizational culture

• Facilitating a high reliability environment

• Influencing change: Driving outcomes through

strategic action

• No margin no mission- Examining the finances

of healthcare.

"I am absolutely enjoying every

single session and find myself

looking forward to the next."

The second six months are focused on applying

the concepts learned in an applied leadership project

in the fellow's organization under the direction

of their mentor. The goal of this program is to

prepare emerging and new nurse leaders with the

foundational leadership skills needed to lead change

and teams in their organizations.

VNF's Nurse Leadership Academy inaugural

launch was kicked off with ANA Enterprise CEO

and past VNA President Dr. Loressa Cole, with her

compelling story of her leadership path from her

childhood in the Appalachians of West Virginia to

her present-day success.

Next Rose Markey, senior learning and

development consultant at the University of Virginia,

discussed the four skill sets of courage during her

"Introduction to Courageous Leadership." Rose

is also a member of the global team of Certified

Dare to Lead Facilitators based on the work of

researcher and New York Times best-selling author

Dr. Brené Brown, and the learning and dialogue

was fascinating! We discussed "Armored vs. Daring

Leadership," how to practice our values, not just

profess them, and why "vulnerability" has gotten a

bad rap! Rose also examined how to master difficult

conversations; a discussion the Academy's Nurse

Fellows examined in greater depth during the

February program.

"It's hitting all the topics I need

in my leadership role."

The ever-popular Dr. Eileen O'Grady closed the

day for us with a focus on how Nurse Leadership

Hinges on Well-being. Dr. O'Grady is a certified Adult

Nurse Practitioner and ICF-Certified Wellness Coach.

She is Founder of The School of Wellness, and holds

a master's degree in public health from The George

Washington University, as well as a master's degree

in nursing and a PhD in nursing from George Mason

University.

Dr. O'Grady is also author and editor of six

books, most recently, Advanced Practice Nursing:

An Integrative Approach and Intentional Therapeutic

Relationships: Advancing Caring in Health Care, a

how-to book on placing relationships at the center

of health care. Her most recent book is her most

personal, Choosing Wellness: Unconventional Wisdom

for the Overwhelmed, the Discouraged, the Addicted,

the Fearful or the Stuck, (2021).

"I feel that every leader should

take this course!"

Registration Now Open!

If this has piqued your curiosity, or you think a

colleague might be interested, learn more on our

Academy web page, https://virginianurses.com/

mpage/VNFNLA.

Register today for the 2023 virtual Nurse

Leadership Academy!

Questions? Contact our Director of Professional

Development Lindsey Cardwell who, along with

the Steering Committee, was instrumental in

creating this highly dynamic program! lcardwell@

virginianurses.com.
---
School of Nursing – MSN – PMHNP

Psychiatric Mental Health

Nurse Practitioner

Psychiatric Mental Health Nurse Practitioner is an advanced practice nursing role. Graduate

education prepares the Psychiatric Mental Health Nurse Practitioner (PMHNP) to become a

licensed independent health care provider with prescriptive authority. The PMHNP provides

mental health care throughout the lifespan. This program provides the knowledge, skills, values

and experience to assume the role of PMHNP in a variety of settings. Preparation includes

content necessary to provide psychotherapy and medication to individuals, families and groups

within hospitals and community settings. This role incorporates skills to:

• Assess, diagnose and treat individuals and families with mental health challenges or

psychiatric illnesses

• Identify risk factors for psychiatric illness

• Contribute to policy development, quality improvement, practice evaluation and

healthcare reform

Completion of a graduate nursing program allows for certification by the

American Nurses Credentialing Center (AACN) to obtain a PMHNP

certification which is required to obtain a state license to practice.

Learn More

https://odu.edu/nursing/graduate/msn/nurse-practitioner

MSN – Family Nurse Practitioner

Innovative

Healthcare

Providers

Enhance your expertise in theory, research, and advanced nursing

practice through academic courses and clinical experiences that take a

holistic approach to health and nursing care. You will be taught by ODU

faculty who bring innovative solutions to improve healthcare in rural

and underserved communities through telehealth and interprofessional

education. The program bridges to the Doctor of Nursing Practice (DNP)

program. Full-time and part-time options.

Learn More

https://odu.edu/nursing/graduate/msn/nurse-practitioner/fnp
---
Page 12 | May, June, July 2022

VNF President's Message

Good Brain Health Improves Our Mental Wellness

Phyllis Whitehead,

PhD, APRN/CNS, ACHPN, FNAP, FAAN

As we enter into spring, it is a great opportunity to start healthy lifestyle

changes. At our latest Mental Health Roundtable meeting on February 17, we had

NOW HIRING!!

• Registered Nurses (Night Shift) with a

$7,500 sign-on bonus

• Certified Nursing Assistant (Evening or

Night Shift) Full Time

• Certified Nursing Assistant

Part-Time/PRN

• Licensed Practical Nurse Full Time and

Part Time positions available

• Personal Care Attendants Full- and Part-Time

Currently offering $3,000 sign-on

bonus for full time CNAs and LPNs

For more information, call 804-524-7600.

To learn more and apply, please visit

https://virginiajobs.peopleadmin.com/

HIRAM W. DAVIS MEDICAL CENTER

26317 WEST WASHINGTON STREET

PETERSBURG, VA 23803

Virginia Nurses Today | www.VirginiaNurses.com

a special focus on Brain Health. We are fortunate to have

among our many resources, a colleague who has been

advocating for good brain health for many years.

David DeBiasi, BSN, RN is Associate State Director at

AARP Virginia and in this role has been a Virginia Action

Coalition (VAC) co-lead since 2012. David launched

AARP's brain health program in Virginia in 2015, and it

has since spread nationwide.

At the meeting, David discussed the connection

Phyllis Whitehead,

PhD, APRN/CNS,

ACHPN, PMGT-BC,

FNAP

between brain health and nursing. There is much we can do to take charge of our

brain health and improve our quality of life. Nurses have unique opportunities

to foster improved brain health by becoming brain health presenters within our

communities.

Dr. Rebekah Dailey, DNP, RN, CEN, CPE, AARP Virginia Community

Ambassador, continued this dialogue by presenting the Six Pillars of Brain Health:

https://www.aarp.org/health/brain-health/

These pillars follow guidance from the Global Council on Brain Health

(https://www.aarp.org/health/brain-health/global-council-on-brain-health/),

independent group of researchers affiliated with AARP.

The six pillars include:

1. Engage Your Brain

2. Stay Socially Engaged

3. Manage Stress

4. Exercise

5. Get Restorative Sleep

6. Eat Right

Mental Health Roundtable participants had the exciting opportunity to schedule

a presentation of the Six Pillars of Brain Health in their community or become an

AARP Virginia brain health presenter. This is just one of the many ways nurses

are serving our communities while improving the mental and brain health of the

citizens of the commonwealth.

Dr. Kathy Baker, RN, PhD, NE-BC, VAC Co-Lead, ended the day with a

discussion of how Virginia nurses are leaders in well-being and health equity. If

you are interested in learning more about these initiatives, please contact VNA

Administrative Coordinator India Woolfolk at Iwoolfolk@virginianurses.com.

With the beauty of spring among us, remember to be good "Self-Stewards" and

engage your brain and improve your overall well-being. We (VNF & VNA) are here

with excellent resources to support you.

an
---
Page 14 | May, June, July 2022

CEO Reflections

Virginia Nurses Today | www.VirginiaNurses.com

We Hear You!

Highlights of VNA's Current Member Insights & Needs Assessment

Every few years, VNA asks members to complete a comprehensive survey

to reflect on their membership, and to share what they value most in their

membership, as well as what direction they would like us to take as nursing's

premier professional association in Virginia.

The timing of the survey was quite intentional. The bulk of our survey

results will have been received prior to our board's May/June joint (VNA and

the Virginia Nurses Foundation) Strategic Planning Retreat, and will serve as

the foundation for much of the conversations that take place that day. While

we can't set the table for all 5,000 members to be in attendance at our retreat,

know that you will be very much present. Your survey responses, considered

in aggregate, are incredibly important to our work and will be central to our

discussions throughout the day.

So, a little about the VNA members who completed the survey …

Nursing positions held by respondents

• The largest segment of respondents was direct

patient care/clinical nurses (31%), followed Janet Wall, MS

by management (20%), Advanced Practice

(14%), Faculty (9%) and executives (8%). Others work in professional

development, case management, and quality improvement.

• Not surprisingly, nearly 51% of respondents work in a hospital setting,

while more than 14% work at a college or institution of higher learning.

Another 7% work in public health, 6% in ambulatory care, and 5% in

long-term care. Home/health hospice nurses, k-12 school nurses, and

nurse entrepreneurs make up another 8% of our membership. Retired

nurses, an invaluable resource, make up another 16% of licensed

nurses responding to our survey, while another 4% are currently

unemployed. *

* We are concurrently conducting another survey of all nurses in the

commonwealth whose licenses are either inactive or have expired in

the past four years to understand what it would take – if anything

– to appeal to them to return to the workforce. This information will

also be shared with VNA and VNF board members during our joint

strategic planning retreat and in ongoing Nurse Staffing Deep Dive

meetings spearheaded by VNA. We will let you know what we learn.

• Seventy percent have been working on the frontlines of the pandemic.

Sadly, but anticipated, 38% of responding members said the pandemic

has prevented them from participating in our virtual conferences,

webinars, legislative advocacy efforts, and chapter events.
---
www.VirginiaNurses.com | Virginia Nurses Today May, June, July 2022 | Page 15

Do you envision yourself continuing to work as a nurse in your current or a

similar practice setting…

Continuing Education/Professional Development. Creating Community trailed at

50.3%, which we believe is due in great part to the limitations of the pandemic.

Survey respondents ranked their needs of the chapters, with professional

development dominating the responses (65%), and government relations (25%),

networking (16%), student nurse mentoring (15%), and social events (8%)

following. We're working on re-energizing our chapters post-pandemic and

welcome MJ Gearles to the role of Membership Manager, in which capacity she

will focus much of her time on chapter engagement.

• Eighty-eight percent are confident they will be working in their current or

a similar position one year from now, while that confidence drops to 50.5%

in five years. 25.5% of respondents do not believe they will be working as a

nurse in their current or a similar practice setting, while another 24% are

unsure.

• The highest degree earned by responding nurses: 41% have an MSN/MS,

30% earned a BSN, 14.4% earned their DNP and another 5% their PhD,

7.8% have an associate degree, and 1% earned their diploma in nursing.

Survey highlights

People generally join their professional association for one of four reasons:

1. Advocacy, 2. Networking/Community, 3. Education and 4. News and

Information. What can change from year to year – and the reason why this

survey is frequently illuminating – is the way in which members prioritize these

areas. As an organization that hangs its hat on representing the interests of this

state's approximately 115,000 RNs, it's exciting to see that 96% of our members

rank advocacy as extremely or very important (and that more than 90% agree

that VNA is the Voice of Nursing in Virginia), while 87% rated Updates on

Nursing Issues as extremely or very important, and 78% gave the same high

level of importance to Continuing Education & Professional Development,

followed at 77% by Creating Community (chapters, networking, online groups…).

When asked how well we are meeting members' expectations in the above

areas, and recognizing that there is always room for improvement, respondents

gave us generous marks ("excellent" and "very well") in Updates on Nursing

Issues, which ranked first, followed by Legislative & Regulatory Advocacy, and

Top Issues Members Want VNA to Address

While we haven't yet sifted through all of the results (and more surveys

continue to be completed), staffing is clearly the front runner. Responses

mentioned frontline nursing support, adequate/safe staffing, staffing ideas

for semi-retired nurses, and ratios. One respondent wrote, "I know this is

VERY difficult to legislate, yet I look at what is happening around Virginia

and elsewhere and wonder what it will take (i.e., another sentinel event) before

hospital and LTC systems realize they cannot work nurses to death."

Staffing concerns also extended to the faculty shortage and the "need to

better quantify nursing faculty workload with comparable [competitive] pay."

Retention and the "stabilization of manpower" also ranked high.

A myriad of workplace issues arose; most significantly the need to ensure

a safe workplace for nurses and other healthcare professionals, and to finally

bring an end to the bullying and incivility that has plagued the profession for

far too long.

Top Continuing Education Requested

While staff needs to take more time to thoughtfully review all of the

responses, I wanted to share that Leadership (Development, Resilience,

Mentoring) was a recurring theme in response to professional development

needs. For those of you who may not be aware, the Virginia Nurses Foundation,

in partnership with VNA, recently launched the first cohort of our Nurse

Leadership Academy, with a class of nearly 40 fellows. This year-long program,

which includes six months of virtual didactic learning and six months spent

developing a leadership project with mentor and coaching support, is geared

toward new and emerging nurse leaders. The Academy's next class will begin

January 2023. Look for more information at VirginiaNursesFoundation.org and

in upcoming issues of VNA News Brief. Registration will open shortly. While this

will not be the only avenue for leadership development programming, you may

find that becoming an Academy fellow is "just what the nurse ordered."

I'm so thankful for everyone's input in this survey process, as is our board,

and believe you will be excited to read more in the next issue of Virginia Nurses

Today about how we're going to respond in order to better meet – and exceed –

your expectations via our new strategic imperatives. Until then, please consider

helping us grow our voice further by joining VNA/ANA if you haven't already

done so. The larger our numbers, the greater our impact, and at $174/year for

the combined membership, we believe it's a great value! To learn more, click the

"Join VNA" button at the top of our website, www.virginianurses.com.
---
Page 16 | May, June, July 2022

Virginia Nurses Today | www.VirginiaNurses.com

Providing Competent, Supportive Care for People

Who are Transgender

F. Patrick Robinson, PhD, RN, ACRN, CNE, FAAN

Sherry L Roper, PhD, RN

Reprinted with permission from

Illinois The Nursing Voice, June 2021 issue

The idea that gender is binary (male or female) and determined at birth

predominates Western cultures. However, research evidence and lived

experiences suggest that gender exists on a spectrum with many options.

Some people identify as a gender different from their gender determined at

birth (Deutsch, 2016). Our traditional understanding of gender, based on

chromosomes and primary (genitalia) and secondary sex characteristics, is

often called biological sex or gender (or sex) assigned at birth. Gender identity,

on the other hand, is the innermost concept of self as male, female, a blend of

both, or neither (Lambda Legal, 2016.).

The majority of people are cisgender, which occurs when gender assigned

at birth and gender identity are the same. However, the best available data

suggest that approximately 1.4 million adults do not self-identify with their

gender assignments (e.g., someone assigned female at birth but identifies as

male) (Flores et al., 2016). Transgender is an umbrella term for this population.

A visibly growing segment of the U.S. population does not identify with the

binary notion of gender. Nonbinary is a collective term for this population, but

individuals may use terms such as genderqueer, gender fluid, or gender nonconforming.

There is no standard or correct way to be (or be seen as) transgender.

Some people who are transgender choose gender-affirming hormone therapy

to achieve masculinizing or feminizing effects; others do not. Surgery that

revises genitals to conform to gender identity is a critical part of the transition

for many people who are transgender (Deutsch et al., 2019). Others do not

feel that genital surgery is a necessary part of transition but may opt for

non-genital surgeries to produce desired characteristics, including breast

augmentation or removal and body contouring procedures. In other words,

the importance of therapy related to the quality of life varies by individual.

Also, some people who are transgender may want these services but do not

have access to them because they are (a) unavailable in the community; (b) not

covered by insurance (even if the individual has insurance, and many do not),

and (c) too expensive.

Remember: there is no one way to "be" transgender or cisgender. People

choose to express their gender identities in personally satisfying ways, which

may or may not match social expectations of what it means to look and behave

Choose from four concentrations:

– Advanced Practice

– Nurse Executive

– Psych-Mental Health Nurse Practitioner

– Post-master's Nurse Anesthesia

as a male or female. Some transgender women choose not to wear makeup or

dresses, and some cisgender men choose to wear their hair long and earrings.

Health Disparities in People Who are Transgender

Negative attitudes and discrimination toward the transgender community

create inequalities that prevent the delivery of competent healthcare and

elevate the risk for various health problems (Grant et al., 2011). In comparison

to their cisgender counterparts, people who are transgender experience higher

incidences of cancer, mental health challenges, and other health problems

(Department of Health & Human Services, n.d.). For instance, transgender

women, compared to all other populations, are at the highest risk of injury

from violence and death by homicide. People who are transgender are also

more likely to smoke, drink alcohol, use drugs, and engage in risk behaviors

(Institute of Medicine, 2011).

Furthermore, discrimination and social stigma increase poverty and

homelessness in people who are transgender (Safer et al., 2017). The

inability to afford basic living needs may lead to employment in underground

economies, such as survival sex work or the illegal drug trade, which place the

person who is transgender at an even higher risk for violence, drug use, and

sexually transmitted infections (Deutsch, 2016).

People who are transgender are more likely to rely on public health

insurance or be uninsured than the general population. Even those insured

report coverage gaps caused by low-cost coverage that does not include

standard services for preventative, behavioral health, or gender-affirming

therapies, including hormones (Deutsch et al., 2019). Lack of access to

comprehensive health care leads some people who are transgender to seek

hormones from the community and social networks without clinical support

and monitoring, putting them at additional risk for adverse reactions and

complications.

Researchers suggest that healthcare providers' inability to deliver

supportive and competent care serves as a powerful mechanism underlying

health disparities (Fenway Institute, 2016). The experiences of people who

are transgender are often not included in healthcare provider diversity and

inclusiveness training. While transgender-related content in health professions

basic education programs would effectively improve provider knowledge,

skills, and attitudes, transgender health has not been prioritized in nursing

education. The result is a nursing workforce inadequately prepared to care for

people who are transgender (McDowell & Bower, 2016).

Nursing Care of People Who Are Transgender

Competent, supportive transgender care requires nurses to recognize

potential biases and understand gender that may differ from their current

beliefs and social norms. Honest reflection on these feelings is an essential

step in providing competent transgender care. Using a lens of cultural

humility, where cisgender nurses acknowledge that they do not adequately

know about being transgender while also being open to learning, is helpful. In

this spirit, open, transparent inquiry on the part of nurses when they do not

know something (When I speak to your children, what name should I use to

refer to you?) or how to proceed with care (I need to place a catheter into your

bladder, and I know you have had gender-affirming surgery. Do you want to

give me any special instructions?) can build trust.

While gender-affirming care such as hormones, androgen-blocking agents,

and surgeries require specialist care management, nurses will encounter

transgender patients in all healthcare areas. Assessing the history and

current status of gender-affirming therapies is critical to inform safe care.

For example, hormone-induced changes in muscle and bone mass, along

with menstruation or amenorrhea, can alter gender-defined reference ranges

for laboratory tests such as hemoglobin/hematocrit, alkaline phosphatase,

and creatinine (Deutsch, 2016). Nurses should consider the gender assigned

at birth (especially if it is the only gender information to which the lab has

access) and gender-affirming therapy-induced physiological changes to make

valid inferences about lab values. Nurses should also ensure that a complete

history of the use of hormones and androgen blockers (including those

obtained from non-licensed providers) is taken. Nurses should work with other

providers to ensure that hormone therapy does not stop with hospitalization

unless contraindicated by current pathology or prescribed medications. Abrupt

cessation of hormone therapy can have a significant and negative impact on

emotional and physiological health.

Systems-Level Policies, Processes, and Advocacy

Professional nurses can play a crucial role by advocating for policies and

processes that promote safe, effective, and supportive care for people who are

transgender. Misgendering a patient (making an incorrect assumption about

gender identity) can cause emotional distress and erode patient-provider trust.

Unfortunately, electronic health records (EHR) often do not support competent

care for people who are transgender. For instance, healthcare providers should

use a 2-step gender identification process (Deutsch, 2016). However, many do

not, and EHR systems rarely provide prompts for the processor space for easy

documentation and access to information derived from the process. Asking

about a patient's current gender identity can result in several responses. The

EHR should make checkboxes for a reasonable number of those responses,

including male, female, transgender male, transgender female, and nonbinary.

A fill-in-the-blank is needed for other identifies. The gender assigned at

birth also requires options beyond male or female; people born with external

genitalia, gonads, or both that do not conform to what is typically male or

female (intersex) may have been identified incorrectly at birth. The EHR should

provide an intersex option to this question. Some people who are transgender

are uncomfortable revealing gender assigned at birth, so decline-to-state

should be another option. Note that this process should be the standard for all

patients, not just those assumed to be transgender.

People who are transgender may use names other than their legal names

(Lambda Legal, 2016). Navigating a legal name change is complicated and
---
www.VirginiaNurses.com | Virginia Nurses Today May, June, July 2022 | Page 17

costly. Some people who are transgender do not

have the resources for a legal name change; for

others, it may not be safe, given current social or

legal circumstances. Using a patient's chosen

name and pronouns is critical to patient-centered

care. The EHR should prominently document

the patient's chosen name and pronouns, which

should also be used outside the EHR, including

for appointments and prescriptions. Patients

should only have to provide the information once,

decreasing the need to correct providers and

improving patient-provider relationships. EHRs

should also contain an organ inventory, perhaps

as part of surgical history, as providers will

need to know about the presence or absence of

reproductive and gonadal organs to inform clinical

decision-making. This information must be clear,

unambiguous, and easily accessible in the EHR

to inform care and prevent medical and surgical

errors.

Nurses should work within governance

processes to ensure that all institutional policies

support transgender patients, staff, and visitors.

Nondiscrimination statements should include

gender identity. Policies about restrooms and staff

changing rooms (usually labeled in gender-binary

terms) should state that a person's gender identity

rightly determines the room to be used and that

that right should not require any proof (e.g., health

provider confirmation) related to gender or gender

identity. Finally, clear guidelines concerning nonprivate

room assignments should include assigning

roommates based on gender identity rather than

gender assigned at birth.

Deutsch, M.B, Bowers, M.L., Radix, A., & Carmel, T.C.

(2019). Transgender medical care in the United States:

A historical perspective. In J.S. Schneider, V.M.B.

Silenzio, & Erikson-Schroth, L. (Eds.). The GLMA

Handbook on LGBT Health (1, 83-131). Santa Barbara,

CA: Praeger.

Fenway Institute, National LGBT Health Education

Center. (2016). Providing inclusive services and care for

LGBT people. https://www.lgbtqiahealtheducation.org/

publication/learning-guide/

Flores, A.R., Herman, J.L., Gates, G.J., & Brown, T.N.T.

(2016). How many adults identify as transgender in the

United States? UCLA School of Law, William Institute.

https://williamsinstitute.law.ucla.edu/publications/

trans-adults-united-states/

Grant, J. M., Mottet, L. A., Tanis, J., Harrison, J.,

Herman, J. L., & Keisling, M. (2011). Injustice at

every turn: A report of the National Transgender

Discrimination Survey. https://www.transequality.org/

sites/default/files/docs/resources/NTDS_Report.pdf

Institute of Medicine. (2011). The health of lesbian,

gay, bisexual, and transgender people: Building a

foundation for better understanding. http://www.

Western State Hospital

nationalacademies.org/hmd/Reports/2011/The-

Health-of-Lesbian-Gay-Bisexual-and-

Lambda Legal. (2016). Transgender rights toolkit. https://

www.lambdalegal.org/issues/transgender-rights

McDowell, A. & Bower, K. (2016). Transgender health care

for nurses: An innovative approach to diversifying

nursing curricula to address health inequalities.

Journal of Nursing Education, 55(8), 476-479. DOI

10.3928/01484834-20160715-11

Safer, J. D., Coleman, E., Feldman, J., Garofal, R.,

Hembree, W., Radix, A., & Sevelius, S. (2017). Barriers

to health care for transgender individuals. Current

Opinion in Endocrinology, Diabetes, and Obesity, 23(2),

168-171. DOI: 10.1097/MED.0000000000000227

Singh, S., & Durso, L. E. (2017). Widespread

discrimination continues to shape LGBT people's

lives in both subtle and significant ways. Center for

American Progress. https://www.americanprogress.

org/issues/lgbt/news/2017/05/02/429529/

widespread-discrimination-continues-shape-lgbtpeoples-lives-subtle-significant-ways/

Power to Make a Difference

The ANA Code of Ethics obligates nurses to

practice "compassion and respect for the inherent

dignity, worth, and unique attributes of every

person" (ANA, 2015, para 1). While some nurses

may intentionally discriminate against people

who are transgender, it is more likely that a lack

of knowledge and experience leads to nursing

actions that result in suboptimal care. Nurses play

critical roles in transgender care by (a) providing

supportive, affirming care, (b) creating an inclusive

environment, and (c) leading interprofessional

teams toward gender-affirming care. Education

and a commitment to understanding the lived

experiences of people who are transgender is,

therefore, essential for all nurses.

References

American Nurses Association. (2015). What is the nursing

code of ethics? https://nurse.org/education/nursingcode-of-ethics/

Department of Health and Human Services, Office

of Disease Prevention and Health Promotion.

(n.d.). Healthy people. Lesbian, gay, bisexual, and

transgender health. https://www.healthypeople.

gov/2020/topics-objectives/topic/lesbian-gay-bisexualand-transgender-health

Deutsch, M.B. (2016). Guidelines for the primary and

gender-affirming care of transgender and gender

nonbinary people (2nd ed.). Center of Excellence for

Transgender Health, University of California at San

Francisco. https://transcare.ucsf.edu/sites/transcare.

ucsf.edu/files/Transgender-PGACG-6-17-16.pdf

We're Hiring!

Opportunities available for RNs,

LPNs, & Psychiatric Nursing Assistants

• Psychiatric acute admissions units

• Psychiatric longer term units

• Med/Psych unit

Conveniently located in the Shenandoah

Valley, WSH affiliates with 9 Schools of

Nursing and major universities.

Nursing at Western State Hospital

Offers Excellent Benefits Including:

• Up to $7500 RN Sign On Bonus for New Hires

• $3500 LPN sign on bonus

• $3000 CNA sign on bonus

• Eligibility for Nursing Loan Repayment

Programs under Dept of Health & Nurse

Corps programs

• Moving/Relocation Expenses

Reimbursement will be considered

• Unique Clinical Care Opportunities

• Ongoing Training Opportunities

• Educational Assistance

• Comprehensive Healthcare Benefits

• Group & Optional Life Insurance

• VRS Retirement Benefits

• Flexible Spending Account

• Paid Holidays, Vacation, Sick Leave,

Parental Leave and Comp Leave

• Short & Long Term Disability Benefits

• State Employee Discounts

Ends June 30, 2022 Quarterly Retention Bonuses available for FY 2021-

2022, up to $3,000 for direct care and $5,000 for RN's (stipulations apply)

To submit your credentials for a career enhancing position, simply...

Visit https://virginiajobs.peopleadmin.com/

NOW

HIRING

NURSES

www.saintmaryshome.org

Western State Hospital : State psychiatric hospital licensed and operated

by the Virginia Department of Behavioral Health and Developmental Services.
---
Page 18 | May, June, July 2022

Virginia Nurses Today | www.VirginiaNurses.com

Case Study in Innovation:

Pioneers' Program Addresses Staffing Shortage

By Eileen L. Dohmann, MBA, BSN, RN, NEA-BC SVP, CNO Mary

Washington Healthcare Fredericksburg, VA

&

Patti Lisk, DACCE, MS, BSN, RN Dean Germanna Community College,

Nursing and Health Technologies Fredericksburg, VA

In November 2022, at the beginning of "The Great Resignation," Mary

Washington Healthcare (MWHC) was experiencing an increase in RN and

CNA vacancies. The plea from RNs was for more CNAs, at the bedside. The

MWHC CNO was searching for workforce resources to answer this plea.

At the time, nursing students were not allowed to be in hospitals for

clinical rotations due to PPE shortages and COVID concerns. The MWHC

CNO contacted the Dean of the Germanna Community College's (GCC)

Nursing & Health Technologies with a plea, "Can I hire your nursing

students to assist us at the bedside?" The rationale was twofold:

1. An immediate relief/source for bedside patient care

2. An opportunity for nursing students to be in the clinical setting and

to increase their "comfort and confidence" in the clinical environment

(long standing feedback on what new Grad RNs were lacking ("They

need more hospital clinical experience to increase their comfort and

confidence which will support development of critical thinking skills.")

Within three weeks of the "plea," MWHC had announced, interviewed,

competency validated, hired and started 30 GCC nursing students as

Nursing Assistants (in Staffing Office prn role). This was the shortest "time

to file" turnaround ever experienced by MWHC HR Recruiters!

Onboarding had to be considered as the shortage of CNAs challenged the

usual onboarding process with CNA Preceptors. MWHC Nurse Educators

utilized the traditional "faculty:student" approach (one nursing students

were already comfortable with) of having 1 Nurse Educator: 6 Nursing

Assistants who took them on the units to onboard them to the role which

included "shadowing" a CNA. Onboarding occurred over the first two weeks

of the nursing students Winter Holiday school break. By January 1, 2021,

MWHC had 30 Nursing Assistants available on the units. Nurse feedback

included "You (CNO) said help was coming. Today, help arrived and it's called

a Nursing Assistant. We LOVE them. Please send more!"

Nursing Assistants work a minimum of 10 hours/week and a maximum

of 20 hours/week while in school. When school is not in session, they can

work as much as needed. MWHC has been flexible in lowering/eliminating

the minimum hours if students need it. During the early months of 2021,

the success of the Nursing Assistant role was clearly evident. MWHC has

continued to hire Nursing Assistant cohorts three times/year in May, June,

and December. In spring 2021, MWHC brought on a cohort during students'

spring break. This was successful but was more challenging as it was only

one week and students were in the midst of semester work. The CNO again

approached the GCC Dean, "How can these Nursing Assistant students' get

clinical academic credit for the NA role?"

The GCC Dean shared a passion for nursing students to be paid for

hospital clinical rotation hours. A team of MWHC Nurse educators and

GCC faculty came together and created a clinical rotation pilot for the first

cohort of NAs. In fall 2021, these NAs were in their 3rd semester at GCC.

They were required to do 64 hours of med surg clinical rotation. The pilot

took 36 of those hours and scheduled each NA student with a hospital RN,

as an RN Mentor, to work (3) 12-hour shifts with the RN Mentor. The RN

Mentors, selected by the Nurse Manager and Nurse Educator on unit, were

trained in the students' learning and clinical competencies (unfortunately,

new information for our RN Mentors). The NA students were scheduled on a

Monday or Tuesday, which are the busiest days of the week in the hospital

unit. The GCC faculty rounded continuously on the Nursing Assistant

Student and RN Mentor partners. The feedback was astounding. RN Mentors

enjoyed their focused teaching ("I never knew what students were supposed

to learn with me so I just taught them what I thought they needed to learn")

and the help of "their own NA" for the shift. NA Students learned more in a

12-hour shift ("I've done more clinically in this shift than in all of my other

clinicals"). The most astounding and gratifying observation was to watch and

hear the student nurse evolve from "I helped the nurse" to "My RN Mentor

expected me to answer "If you were the RN…what would you do? I knew the

answer. I was the RN!"

In December, these Nursing Assistant Students (our PIONEERS) and

RN Mentors completed their 3rd semester with a celebration at MWHC. All

recognized the RN Mentors with a GCC/MWHC lab jacket. The Nursing

Assistant/Student RN were given a "golden ticket"…a written job offer for

the MWHC New Grad RN Residency cohort in July 2022, on the unit of their

choice! Of the 16 job offers, 14 have been accepted!

For the PIONEERS 4th semester, they again will do a 36-hour pilot with (3)

12-hour shifts with the RN Mentor on night shift (the most likely shift they

will work as a New Grad RN) on the unit where they will be a New Grad RN,

starting July 2022.

We are excited to measure the transition to RN practice (time and

intensity) for these 14 PIONEERS.

The hiring of NAs continues with the 5th cohort starting in May 2022.

Mary Washington Hospital hopes to hire 50+.

The clinical rotation pilots also continue with new 3rd semester NA/

Students doing (3) 12-hour shifts with RN Mentor in spring 2022.

The "secret to success"…a strong academic/clinical partnership with a

team that understands the "rules" and is willing to try new approaches to

creating excellent nurses.
---
Page 20 | May, June, July 2022

Virginia Nurses Today | www.VirginiaNurses.com

VNA & VNF's spring conference reaches record numbers

• Bon Secours

• Carilion Clinic

• Centra Health

• Inova Health System

• Mary Washington Healthcare

• Riverside Health System

• UVA Health

• VCU Health.

VNA and VNF's spring conference, Calling All Disruptors for the Future

of Nursing, was a smash hit! We couldn't be more thrilled to report that eight

health systems and four schools of nursing across Virginia took advantage of

our group registration to provide ALL of their nurses access to integral topics

related to positive disruption and the future of the nursing profession! If you are

employed at one of the following health systems, please contact your employer

for access to this important content:

Participant feedback included, "Overall an excellent conference with

great speakers and important content. All issues were well presented in a

comprehensive way with practical suggestions for improving practice."

Calling All Disruptors for the Future of Nursing featured an impressive lineup

of expert speakers in the nursing industry such as: Dr. Susan Hassmiller, Dr.

Katie Boston-Leary, Dr. Peter Buerhaus, and Dr. Tener Goodwin Veenema.

Conference speakers challenged participants to become positive disruptors in

their work environments by highlighting both best practice and 'fail forwards.'

The conference concluded with a robust discussion of the challenges that the

nursing workforce, organizational leaders, nursing educators, and policymakers

need to overcome so that the future nursing workforce will be prepared to

address the health needs of society.

One participant wrote of what they learned from Calling All Disruptors for the

Future of Nursing saying, "What we would have considered traditional issues

for the nursing profession, even five years ago, has expanded. We must not shy

away from confronting issues affecting our patients and the communities in

which they live, work and learn. That includes social determinants of health,

racism, implicit bias and resulting health inequities."

VNA and VNF's ultimate goal was to have nurses attending be able to walk

away with strategies, tools, and resources to support their nursing practice as

they move to a greater understanding of the power of positive disruptors in the

nursing field.

Participants noted, "This conference was one of the best conferences I have

attended with VNA. All of the speakers were excellent, information and content

was relevant and had takeaways that could be put into action. It served as a

launch of gaining momentum to get the nursing profession on the move as one."

Intrigued? There's still time to view the conference and access 8.75 hours of

continuing education! If you registered but were unable to view the program live,

check your email for the link to access the content on demand. If you missed the

registration window, you can still sign up at https://virginianurses.com/store/

default.aspx and access your CE until 11:59pm July 31, 2022.
---
a

Nurses (RNs and LPNs), Psychiatric Technicians/

Direct Care Associates, CNAs, and NEW GRADS -

Is it time to take your career to the next level?

Who are we?

VIRGINIA DEPARTMENT OF BEHAVIORAL HEALTH AND DEVELOPMENTAL SERVICES

A department with a vision of a life of possibilities for all Virginians by supporting individuals, promoting

recovery, self-determination, and wellness in all aspects of life through 8 Joint Commission TM Certified

Inpatient Psychiatric Hospitals, 1 CMS ® certified 5 Star Medical Center, 1 Children's Inpatient Psychiatric

Facility, 1 CMS ® Certified ICF, and 1 Behavioral Rehabilitation Center for a comprehensive system of care.

Do you desire to be near cultural

attractions?

- Central State Hospital

- Hiram W. Davis Medical Center

- Northern Virginia Mental Health Institute

Love the country, but still

want to be close to the city?

- Piedmont Geriatric Hospital

- Southern Virginia Mental Health Institute

- Virginia Center for Behavioral

Rehabilitation

Nature lover? Move to the mountains:

- Catawba Hospital

- Commonwealth Center for Children and

Adolescents

- Southwestern Virginia Mental

Health Institute

- Western State Hospital

Coast calling? We are here, too!

- Eastern State Hospital

- Southeastern Virginia Training Center

(ID/DD Intermediate Care Facility (ICF)

We offer:

• The ability to make a

difference in citizens' lives

every day!

• Excellent compensation

packages – state employee

benefits

• Sign-on & Retention bonuses;

VA529 contributions, up to

$10,000+

• Flexible work schedules

• Tuition assistance and tuition

reimbursement

• VA student loan repayment

program (VA SLRP) up to

$140,000 for RN's

• Comprehensive orientations

• Electronic Health Records

• Opportunities for growth and

development

• Work as part of a multidisciplinary

team

• Variety of clinical experiences.

There is something for

everyone!

Visit us on Facebook!

Virginia Dept. of Behavioral

Health and Development Services

(DBHDS)

To apply, please search for DBHDS positions at http://jobs.virginia.gov/

For additional information, please contact

Almas.Floyd@dbhds.virginia.gov

DBHDS is an Equal Opportunity Employer
---
Page 22 | May, June, July 2022

Courage in Everyday Nursing Practice

Virginia Nurses Today | www.VirginiaNurses.com

Carol Dobos PhD, RN-BC, NEA-BC

Reprinted with permission from

Arizona Nurse, July 2021 issue

Courage is an important attribute in life and in

your nursing practice. As Helen Keller said,

"Security is mostly a superstition. It does not exist

in nature nor do the children of men as a whole

experience it. Avoiding danger is no safer in the long

run than outright exposure. Life is either a daring

adventure, or nothing."

Nursing is a noble profession that is not for the

faint of heart. Opportunities to choose courageous

acts present themselves on a regular basis because

risk is everywhere. You can attempt to minimize the

risks by playing it safe. However, there are risks to

yourself, your colleagues, your profession, and those

you serve when you don't take risks in showing up,

speaking up, or practicing according to the highest

standards of evidence-based practice.

Choosing to practice courageously, consistent

with your personal and professional values, will

cause some discomfort, bumps, and bruises to you

and your career. It will also bring professional and

personal fulfillment, strengthen the profession, and

improve patient outcomes. You will know that you

are making a difference in your daily practice and

throughout your nursing career.

One way to cultivate courageous behavior is

through personal risk-taking (PRT), but first you

need to understand the nature of risk and its related

concept, positive deviance.

What is Risk?

Risk is defined as the possibility of losing

something of value, which could be physical,

psychological, or economic. Common risks include

falling out of favor with others in authority, losing

support, or damaging essential relationships. Any of

these events could lead to losing status or influence

at work, or even losing one's position or employment.

A related concept called "positive deviance" refers

to an intentional act of breaking the rules to serve

the greater good. Positive deviance is intentional and

honorable behavior that departs or differs from an

established norm. It contains elements of innovation,

creativity, adaptability, or a combination thereof; and

it involves risk for the nurse.

For most nurses, whether a particular action

is right or wrong will often be judged by others in

charge of rules enforcement. The decision to engage

in positive deviance, however, lies entirely with the

nurse.

Personal Risk-Taking

PRT is behavior that is consciously and freely

chosen among available alternatives, some of which

are known to incur less risk than the chosen action.

It is supported by the strength and belief of personal

convictions. Courageous action upholds principles.

Calculated inaction due to fear leaves one powerless,

with values compromised.

Nurses promote courageous action by sharing

courageous behavior, also called hero stories. This

can be done formally and informally, verbally and

in writing, one on one or in groups, during staff

meetings, during change of shift report, or rounds.

We create a culture based on what we talk about,

what we value, and what we support and reward.

Sometimes we stand alone, and sometimes we

influence others to follow our lead and take their

own personal risks. In one study, risk taking was

found to be one of the key elements in attaining

expert nursing practice, which supports effective

and quality-based healthcare outcomes. Risk taking

also was found to enhance clinical and professional

development.

Rather than sitting on the sidelines and hurling

judgment or advice at others (for example, "Someone

needs to do something about this."), we must dare to

show up and let ourselves be seen, which can result

in change. (See Success story.)

We pay a price when we shut down and disengage,

failing to take action. I have heard nurses talk about

"staying under the radar." In doing so they pay a

dear price. Their talents, wisdom, knowledge, and

values are not being shared to positively influence

care and support the development of new nurse

graduates and other colleagues through courageous

role modeling. Vulnerability occurs in sharing an

unpopular opinion, standing up for oneself or others

such as a colleague who is being bullied, being

accountable, asking for help, trying something new,

admitting uncertainty, and asking for forgiveness.

When courage and fear meet, it often feels awkward

and scary; however, "being all in" is to be alive. To

act in alignment with your values is key to personal

and professional happiness.

Success story

When residents were not interacting appropriately

with pediatric patients, risking psychological harm,

I discussed this with the chief and arranged

education. I advised our team that in identifying

this issue, relationships might become strained,

but we had an obligation to our patients to address

this problem. I often used the mantra "I am doing

the right thing for the right reason" stating it over

and over in my head to help me stay the course

and follow through with my convictions. As feared,

the residents and even an attending physician

demonstrated passive aggressive behavior towards

us. The care of the children did improve, however,

and we knew we had made the right call.

PRT and Promoting Patient Safety

Failing to take risks and practice courageously

can lead to threats to patient safety. Focusing on

my obligation to "First do no harm," I made the

decision not to deploy a transport team until all

the team members demonstrated competency. I

was transparent in discussing my concern and

contingency plan to send another team with my

medical and administrative colleagues. I was told

that this was a "career-limiting move." I simply

stated, "I have to be able to sleep at night."

In another organization, I disagreed with a

plan to move critically ill patients multiple times

to accommodate unit renovation. I identified an

alternative that required only one move. Although

my plan was successfully implemented, my action

caused me to fall out of favor with the administrator

and eventually resulted in my having to move on to

another position. In both instances, I had to put my

patients first because when I became a member of

the nursing profession, I made a promise to protect

them.

Why We May Not Take Personal Risks

Understanding scarcity is key to understanding

why nurses may not take justified risks. The three

components of scarcity are shame, comparison, and

disengagement.

Shame is the fear of ridicule and belittling

often used to control people and to keep them in

line. Shame-based cultures are very unhealthy

for nurses and patients. The killer of innovation

is shame. In these cultures, covert or sometimes

overt messages are common, such as to dare not,

you're not good enough, who do you think you are,

don't you dare get too big for your britches." Shame

becomes fear, fear leads to risk aversion, and risk

aversion kills innovation and can lead to unsafe

patient care. Shame is the intensely painful feeling

or experience of believing that we are flawed and

therefore unworthy of belonging. Shame makes us

feel unworthy of connection. Resilience to shame

occurs when recognizing and speaking openly about

shame, practicing critical awareness, and reaching

out to others.

Healthy competition can be beneficial, but

constant overt or covert comparing and ranking

suffocates creativity and risk taking. If nurses are

held to one narrow standard, they may not question

the relevance of a course of action to a specific

situation and embrace evidence- based practice.

Disengagement occurs when people are afraid to

take risks and try new things. Too often it is easier

to stay quiet than to share stories, experiences, and

ideas. It is important to do what is right, not what

is easy. The best way through a difficult situation is

to address the situation directly with honesty and

integrity, sharing your story and asking for what you

need. An excellent resource for nurses is the book

Crucial Conversations. Often what we fear does not

happen, but even if it does, we have retained our

self-respect and commitment to professional values.

Courageous Practice

I hope you choose to practice courageously, doing

the right things for the right reasons. As Theodore

Roosevelt said,
---
www.VirginiaNurses.com | Virginia Nurses Today May, June, July 2022 | Page 23

"Far better it is to dare mighty things, to win glorious

triumphs, even though checkered by failure, than to

take rank with those poor spirits who neither enjoy

much nor suffer much, because they live in the gray

twilight that knows not victory nor defeat."

Selected references

Dobos C. Defining risk from the perspective of nurses in

clinical roles. J Adv Nur. 1992;17:1303-9.

Dobos C. Understanding personal risk taking among staff

nurses: critical information for nurse executives. J Nurs

Adm. 1997;27(1):1-2.

Gary JC, Exploring the concept and use of positive

deviance in nursing. Am J Nurs. 2013;113(8):26-

34. Haag-Heitman B. The development of expert

performance in nursing. J Nurses Staff Dev.

2008;24(5):203-11.

Brown B. Daring Greatly: How the Courage to be

Vulnerable Transforms the Way We Live, Love, Parent,

and Lead. Gotham Books; 2012.

Patterson K, Grenny J, McMillan R, et al. Crucial

Conversations: Tools for Talking When Stakes are High,

2nd ed. New York, NY: McGraw-Hill; 2011.

Carol Dobos lives in Phoenix Arizona and is the

past-president of the Arizona Association for Nursing

Professional Development, a state affiliate of the

Association for Nursing Professional Development.

NursingALD.com can point you

right to that perfect NURSING JOB!

NursingALD.com

Free to Nurses

Privacy Assured

Easy to Use

E-mailed Job Leads
---
SHOW COMMITMENT TO YOUR

1.

PROFESSION!

NETWORKING OPPORTUNITIES

2.

have opportunities for networking on the

Members

CAREER AND LEADERSHIP

3.

DEVELOPMENT

TWO MEMBERSHIPS FOR THE PRICE OF

4.

ONE!

SIGNIFICANT DISCOUNTS ON

5.

EDUCATION!

CONTINUING

WE ADVOCATE FOR NURSES!

6.

make up the largest group of healthcare

Nurses

STAY INFORMED!

7.

up to date on the news and issues affecting

Stay

TOP SEVEN REASONS TO BECOME A VNA MEMBER

As a VNA member, you will have access to free and

discounted continuing education, specialty journals,

and our highly acclaimed conferences! You already

know how critical these can be to your continuing

competency, which in turn can lead to better patient

outcomes, systems improvements, and personal

career advancement.

VNA has a variety of high quality educational

nursing through our free, members' only publications

programming options to fit your busy schedule. Much

and members' only website areas. Members receive

time and effort has been dedicated to offering

exclusive access to interviews, evidence based

web-based CE modules available on demand, and

research, and much more.

we also offer live-stream distance-learning

programs. All of these learning opportunities are in

TOP SEVEN REASONS TO BECOME A VNA MEMBER

Here's a sampling of what our members receive:

addition to our in-person conferences and chapter

VNA News Brief, our weekly e-news – a

compilation of important national and statewide

meetings. As a CE provider, we continue to look for

Becoming actively involved with VNA opens up

Membership in VNA makes a powerful statement

ways to offer our members CE at a reasonable cost

news, relevant articles, and the latest goings on

about you. It shows employers, colleagues and your

educational and networking opportunities and can

at VNA.

(and in many cases, free).Don't forget: members

patients/clients

your commitment to nursing.

also help you hone valuable leadership skills.

receive a significant discount on all continuing

Membership identifies you as a nurse who is serious

Virginia Nurses Today - Print and Digital -

Leadership roles are available at both the local and

education opportunities and receive access to

beginning in February 2020, Virginia Nurses

about the profession as well as purposeful about

state level, as providing a variety of opportunities to

Today is going green! All RNs will continue to

members-only free online continuing education

staying informed, educated and involved. Joining

enhance leadership skill development. We're also

through VNA and ANA.

leadership development

constantly expanding our

VNA gives you an immediate connection to other

receive a digital version, but we will continue to

Virginia nurses, and a real sense of community.

provide a print version of VNT for members only!

opportunities through programs like our soon-to-be

Legislative Updates – weekly email briefs

launched Nurse Leadership Academy and the SYNC

interprofessional leadership program, both offered

during the legislative session with up-to-theminute

news on our legislative activities.

providers in the state, and so it's essential that we

through the Virginia Nurses Foundation.

American Nurse Today — Monthly journal (six

have a voice in policy making and engage in the

local level at chapter meetings and on the state

political process. The perceived time needed to

print/six electronic) featuring peer-reviewed

level at our conferences throughout the year. VNA

clinical, practical, practice-oriented, career and

engage in policy involvement or development

offers many events throughout the year allowing

outside of daily "nursing work" as well as the

personal editorial.

When you join VNA, you also become a member of

nurses across all spectrums to network with their

OJIN — The Online Journal of Issues in

resources to develop skills in policy participation has

peers at a discounted (and sometimes free) rates.

the American Nurses Association. For one

often hampered nursing from becoming involved in

Nursing — Peer-reviewed, posted online three

These include local chapter meetings and other

times a year.

membership rate, you receive the membership

advocacy. Yet, when it comes to advocating on

benefits of both organizations! More importantly,

regional events, as well as our three annual

behalf of nurses, VNA makes advocacy easy. We are

to a database with more

CINAHL® - access

you join with nurses across the country as well as in

conferences. These events provide both continuing

than 2.6 million records dating back to 1981,

the only organization speaking for the 110,00+ nurses

education and opportunities for members to

Virginia, speaking with one strong voice on behalf of

throughout Virginia. Our lobbyist, leadership, and

covering nursing, biomedicine, health sciences

your profession and your patients.

connect with local and national leaders within the

alternative/complementary

members work passionately to educate our

librarianship,

healthcare industry to expand their professional

medicine, consumer health and 17 allied health

legislators and state policymakers on issues crucial

networks. We also have an online community our

disciplines.

to the advancement of the nursing profession. We

members can utilize to network with their fellow

nurses without having to leave home!

JOINANA.ORG

update our members weekly during our legislative

Navigate Nursing webinars – webinars on

calls and send legislative e-blasts with breaking

current and emerging topics provided free or at

news during the legislative session.

significant savings to members.