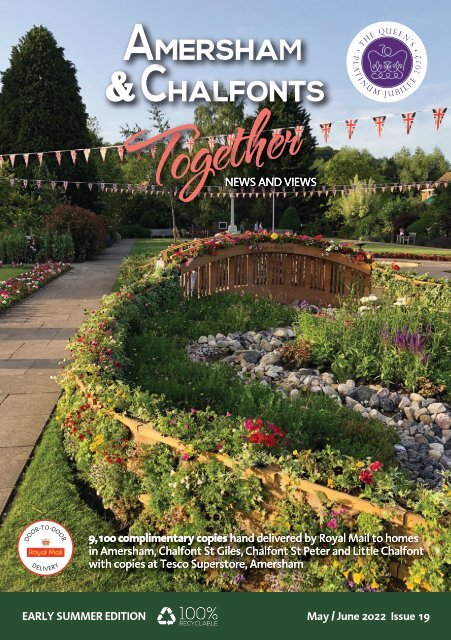 Amersham and Chalfont's Together May and June 2022
#Community publication hand delivered to 9,000 homes and businesses via Royal Mail distribution in Amersham, Chalfont St Giles, Chalfont St Peter and Little Chalfont. News and views from non profit organisations, communities, charities, schools, with features on health, food, lifestyle, financial and much more. Please email us with latest news to: marketing@communitytogether.co.uk
#Community publication hand delivered to 9,000 homes and businesses via Royal Mail distribution in Amersham, Chalfont St Giles, Chalfont St Peter and Little Chalfont. News and views from non profit organisations, communities, charities, schools, with features on health, food, lifestyle, financial and much more. Please email us with latest news to: marketing@communitytogether.co.uk
SHOW MORE
SHOW LESS
You also want an ePaper? Increase the reach of your titles
YUMPU automatically turns print PDFs into web optimized ePapers that Google loves.
NEWS AND VIEWS

DOOR-TO-DOOR

DELIVERY

9,100 complimentary copies hand delivered by Royal Mail to homes

in Amersham, Chalfont St Giles, Chalfont St Peter and Little Chalfont

with copies at Tesco Superstore, Amersham

EARLY SUMMER EDITION May / June 2022 Issue 19
---
2 Amersham & Chalfonts Together is part of Community Together
---
Memorial Gardens, Old Amersham

Useful Numbers

Mental Help Helpline 24/7

t: 0800 783 0119 / 01865 904 997

National Domestic Abuse Helpline 24/7

t: 0808 2000 247

Chilterns Dial-a-ride for those with

mobility problems t: 01494 766 123

Alcoholics Anonymous

Call confidentially on: t: 0800 917 7650

Age UK's Befriending service matches older

people with volunteers who have similar interests.

t: 01296 431911e: age@ageukbucks.org.uk

RED KITE CRAFT MARKET

Saturday 14th May | 9am - 1pm

Saturday 11th June | 9am - 1pm

FREE ENTRY

www.facebook.com/redkitecraft

email : redkitemarket@gmail.com

Little Chalfont Village Hall, Little Chalfont,

HP8 4UD

Meet the Team

Publisher, Editor & Sales

Therese Cooklin - 07786 735 711

Magazine Designer

Mathew Peet, Digital Bear Design - 01949 839 206

Content is accurate to the best of our knowledge, however Amersham &

Chalfonts Together part of Abstract Niche Ltd cannot be held liable for

loss or damage, caused by errors or omissions. Inclusion of advertisers

does not indicate our endorsement of their products or services.

The opinions and findings expressed in articles submitted to this

publication are solely those of the authors and should not be assumed

to be those of Amersham Together or its affiliates.

Hello & welcome!

Welcome to this special Queen's Platinum

Jubilee issue. Queen Elizabeth II is the first

British monarch to reach the 70 year milestone

so we hope you have organised your street party!

Chalfont St Giles have organised a novel fun

activity, check it out on p14.

Volunteers from Amersham and Chalfonts St

Peter have got together to help Ukraine families

in need, see p4 if you are able to host. We have

news from our Young Journalists on p18/19, if

you're looking for some time out a garden retreat

may be what you are looking for (p20).

As a thank you from Affinity Water for conserving

water to help save our chalk streams, they are

giving away one of these stylish water saving

planters. See p13 to enter. If you want a wonderful

family day out, don't forget to enter the GX Fun

Run 5km family run. There will be plenty to do

with lots of stalls for the whole family to enjoy plus

you'll be raising for 3 great charities.

With love,

Therese

Next Copy Deadlines -

July / August 2022

Editorials: 4th June

Advertisers: 6th June

t: 07786 735 711

e: therese@amershamtogether.co.uk

w: www.amershamtogether.co.uk

Get your business noticed

for as little as £38

Royal Mail door-to-door delivery and

drop-off sites to over 17,000 homes in

Beaconsfield, Amersham & Chalfonts

e: sales@communitytogether.co.uk
---
COMMUNITY NEWS

Giving Ukraine

families a

helping hand

Last night I attended the first meeting of a

group called Be a Buddy Bucks. It was an

informal get together of like-minded people

who were offering themselves to help with the

unfolding crisis in the Ukraine.

A large number of

community groups

and charities have

been working to

send supplies of

food, medical

equipment and

warm clothing to

refugee points.

Last night's meeting

was different in that

it had come together

organically after

Amersham resident

Wendy Donavan

had posted a plea

Organiser Wendy Donavan, Malcolm

Foster and Karen Dickson

on the community platform Nextdoor for

volunteers to support local residents who have

opened their homes to host Ukranian families.

Volunteers were able to pool knowledge, and

share tips that could help families in need.

Local authority resources were signposted,

groups already established in other areas were

Prospective host families

highlighted, and contact details were shared of

residents who could speak Ukranian and Russian,

teachers and therapists who were offering free

services, sports clubs and coffee shops who

wanted to share their facilities, free, and

residents offering themselves as drivers, cooks,

administrators and befrienders who could step in

for host families who needed to take a break.

"If you will be

hosting a family,

supporting a host

or wanting to offer

practical assistance,

please make

contact with one

of the volunteer

groups in your

community. These

are desperate times,

and no offers of

help can go to

waste."

Please contact Malcolm Foster

th3rdroc@virginmedia.com if you can help.

Karen Dickson

Ukranian volunteer Natalie Lebednko

Make a difference to an older person in your community

We offer volunteering opportunities across Chilterns and South Bucks

to anyone who feels they could offer someone support within the local

community, even a few hours a month.

Based in Chesham, we're a charity providing free information from our

trained volunteers. This could be over the phone, or face to face during

a home visit.

Helping others through volunteering can help you with a sense of

purpose and connection to others. Training & support is available.

For more volunteering information see website voicesandchoices.org.uk/volunteering/

t: 01494 784566 | e: info@voicesandchoices.org.uk

4 Amersham & Chalfonts Together is part of Community Together
---
Amersham & Chalfonts

Chimney Sweep

Manual and Power Chimney Sweeping

Open Fires, Stoves and Gas Fires

Certificates Issued

Professional and Reliable

Pay by Card

Chimney Caps and Cowls

Call JOSH: 07549 422 465

Or Book Online Today:

www.TheLocalChimneySweep.co.uk

To advertise please call 07786 735 711 or email marketing@amershamtogether.co.uk 5
---
Now open in Beaconsfield, Riwaz by Atul Kochhar

A new restaurant by Atul Kochhar with a menu inspired by history and cultural stories and

practices, Riwaz is the place to go for an exhilarating Indian meal in Beaconsfield.

With an adventurous menu that remains true to tradition - featuring dishes created and

cooked by Kochhar's grandmother, Riwaz pays homage to the lesser-known Indian states.

Explore and enjoy a traditional gastronomical experience.

Opening hours

Wednesday - Sunday: 12pm – 2:15pm | 5pm - 10pm

Sunday: 12pm – 3pm | 6pm -10pm

Tel: 01494 728 126

www.riwazrestaurants.co.uk

info@riwazrestaurants.co.uk

41 Aylesbury End, Beaconsfield, HP9 1LU @riwazbyatulkochhar @riwazbucks

6 Amersham & Chalfonts Together is part of Community Together
---
Counties Loft Ladders tradesmen, so our customers lead to more happy to pop round and

come in.

customers are assured happy customers is true give you a no obligation

of the best job.

and we work hard to quote BUSINESS so you NEWS too can

The company,

make that happen for make use of your loft!

based Home locally, offers Counties Integrity in that we Loft Ladders,

homeowners the will turn up at the time

Home Counties Loft

opportunity to maximise we say and make sure

their storage space Quality the house is spotless You Can Trust!

with

Ladders,

a loft ladder,

Quality when we leave, You and

These days most

watchwords are Quality, - that simply wouldn't every installation we

50sqft

homeowners

of boarding

suffer

and value in that we offer

from Integrity and Value. happen if we didn't carry out!'

a light Can

a lack - of all storage fully Trust! fitted space.

our

Quality

services

in the

at

materials

a price

adhere to our overriding

in So many precious items that we use for all our principles.

So, if you want to make

These

less than

days

a day

most

from people can afford.

homeowners suffer

just that £355! need But to be it's kept not installations and the fact

use of your loft space,

from a lack of storage space. So many

just – but the where affordability

Our business relies on

to store it that all our loft packages At the end of the day the call Jamie free on 0808

of all?

precious the That's package where

items that Home

that need referrals to be and kept we get a old adage that happy 301 9558 and he'll be

makes Counties – but Home where Loft Counties Ladders to store it huge

tradesmen, all? amount That's so where of our calls

our customers lead to more happy to pop round and

Loft come Home Ladders in. Counties stand

from

Loft Ladders customers

people

come are

who

assured

have

in.

happy customers is true give you a no obligation

out, as manager Jamie

been of the referred best job. to us by and leave, we and work value hard in to that we quote offer so our you services too can at a

The company, based locally, our offers existing homeowners customers

Oakley explains: 'Our

make price that people happen can afford. for Our make business use of your relies loft! on

based the opportunity locally, offers to maximise Integrity their storage in that space we referrals and we get a huge amount of our calls

homeowners with a loft ladder, the 50sqft of will boarding turn up and at the a light time - from people who have been referred to us by our

opportunity all fully fitted to in maximise less than a we day say from and just make £444! sure But existing customers - that simply wouldn't happen

their it's not storage just the space affordability the of the house package is spotless

Need more that if we didn't adhere to our overriding principles.

with makes a loft Home ladder, Counties Loft when Ladders we leave, stand and out, as

50sqft manager of boarding Jamie Oakley and explains: value in 'Our that watchwords

we offer At the end of the day the old adage that happy

are Quality, Integrity and Value. our services Quality at in a the price

storage in materials less than that a day we from use for all

people space?

customers lead to more happy customers is true

our installations

can afford.

and and we work hard to make that happen for every

just the fact £355! that But all it's our not loft packages

just the affordability

Our business are fitted relies by on time installation we carry out!'

served tradesmen, so our customers package that

referrals and are we assured get a

of INSTALL the best job. A LOFT LADDER

makes Home Counties

huge amount of our calls So, if you want to make use of your loft space,

Loft Ladders stand

from people who have call Jamie free on 0808 301 9558 and he'll be

Integrity in that we will turn

out, as manager Jamie

been up at referred the time to we us say by happy to pop round and give you a no obligation

and

AND

make sure

USE

the house is

YOUR

our spotless existing when customers we

LOFT!

quote so you too can make use of your loft!

Oakley explains: 'Our

STARTER PACKAGE: Aluminium loft

ladder, light plus 50 sqft boarding, fully

fitted in less than a day from £355

storage space?

• Loft Ladders • Hatches

• Boarding • Insulation

• Lights • Fully Guaranteed

CALL FREE: 0808 301 9558

: Aluminium loft

ladder, light plus 50 sqft boarding, fully

from £444

Loft Ladders Hatches

Boarding Insulation

Lights

CALL FREE: 0808 301 9558

To advertise please call 07786 735 711 or email marketing@amershamtogether.co.uk 7
---
COMMUNITY NEWS

Wear it blue for MPS Society

The MPS Society, a national rare disease

charity based in Amersham, are celebrating

their 40th anniversary this year.

They were established in 1982 by Christine Lavery

MBE and provide support to families affected by rare

genetic conditions. They're the only registered charity

in the UK that focuses on MPS (Mucopolysaccharide),

Fabry and related diseases. These diseases cause a

range of progressive disabilities and sadly, there is

no cure. They raise money and awareness of these

conditions through fundraising, information, research

and support.

This year, they're

continuing to help

their 1,500 members

affected by MPS,

Fabry and other

related rare diseases.

All profits raised this

year for their 40th

anniversary will help to fund

the specialised support that

we provide to their members.

It's MPS Awareness Week from

9-15 May 2022 and they need your

help to raise awareness of the signs of MPS.

There are many ways that you can help them.

You can wear something blue, hold a blue-themed

event such as a blue bake sale, donate to them -

www.mpssociety.org.uk/donate-now, follow them

on social media - @MPSSocietyUK and share

their posts using #MPSAwareness or read their

inspiring members' stories on their website –

www.mpssociety.org.uk.

They have lots of exciting events planned for their

members and the wider public for this year. Keep

an eye on their website and our social media

channels for updates. If you would like to hold

your own event, you can register for a fundraising

pack here - www.mpssociety.org.uk/holdingyour-own-event.

If you have any questions, please email

fundraising@mpssociety.org.uk. Thank you and

they look forward to wearing it blue with you!

Chiltern Embroidery and Textile Group (CETG)

Our meetings are held at 7.30pm

for 8pm on the second Monday of

the month in Tylers Green Village Hall

HP10 8LN.

Whether a beginner, an improver, or an

experienced stitcher, you will always receive

a warm welcome to this friendly, supportive

and enthusiastic group.

At our meeting on 9th May will be a Social

Meeting open to all members and visitors.

There will be a number of activities on the

theme of using recycled textiles and clothing.

We will also be collecting in bunting made

by our members to celebrate the Queen's

Platinum Jubilee.

On Monday 13th June we will have a talk on

'Buckinghamshire Lacemaking' by the Risboro'

Lacemakers and there will be a chance to

see a live lacemaking demonstration plus

the opportunity to have a go!

The charge for visitors is £8 per meeting,

half price for students.

Please see our website

www.chilterntextiles.co.uk for further details.

8 Amersham & Chalfonts Together is part of Community Together
---
A family run business with over 25 years experience

providing re-roofing, roof restoration and roof repair

services, making us industry experts

• Roofing repairs and cleaning

• UPVC fascia boards and guttering

• Gutter repairs

• Flat roofing system repairs

• New roofs

• Repairs following weather damage

• Chimney maintenance & repairs

• Public liability insurance and site

safety qualified

Contact: William Smith

m: 07735 065 555 t: 0208 485 6402 e: buildrightconstruction365@gmail.com

www.buildrightconstructionuk.co.uk

To advertise please call 07786 735 711 or email marketing@amershamtogether.co.uk 9
---
COMMUNITY NEWS

A REWARDING CAREER AT AMERSHAM SCHOOL

Join us as a TEACHING ASSISTANT

• Are you a caring individual with the desire to help enable others?

• Do you want to help children to enjoy school?

• Do you want every day to be joyous? • Do you wish to try a career in education?

Then join Team Amersham as a Teaching Assistant!

Rewarding work comes in no better form than

helping the younger generations through their

school life. As we all know, it can be a joyous but

challenging time in anyone's life, but you could

make the years a little easier with your care and

support.

Being compassionate and personable is integral to

the role of a Teaching Assistant; it's a real insight

into the rapidly changing world around us, as well

as the mental health of the next generation. Make

an impact on the future of this country by helping

our students to further themselves not only in their

education but also socially.

Some feedback from our current

Teaching Assistants

" is like no other.

The connection you make with the students

"

It's been a great experience to see the other

" side of school life, really enlightening.

"

When you get that breakthrough moment, you

" can really feel the difference you're making.

"

I gained lots of experience in areas I didn't

" expect to, and the other staff are really helpful.

"

APPLY

NOW

Join us as a TEACHING ASSISTANT

Immediate start

Term time only

33.75 hours per week

AMER AM

visit the website for more details

amershamschool.org.uk/vacancies

10 Amersham & Chalfonts Together is part of Community Together
---
DOMESTIC & COMMERCIAL ELECTRICIANS

Family run business

Full and partial rewires

Safety electrical testing

Landlords reports (PRS)

Fuse board upgrades

Garden lighting

All electrical work undertaken

Adam: 077251 72878 Craig: 077305 75633

w: www.alconelectrical.co.uk

e: info@alconelectrical.co.uk

Find us on instagram: @alcon_electrical

Experienced, Friendly

& Professional Internal

& External Decorators.

We have been

working in & around

Beaconsfield,

Gerrards Cross,

Amersham &

surrounding areas

since 1993.

Please call to discuss

your requirements.

Call Nigel:

01494 681 794 or 07771 521 263

www.ngilliedecoratingservices.co.uk

To advertise please call 07786 735 711 or email marketing@amershamtogether.co.uk 11
---
LOCAL BUSINESS

Cleaning your

home:

Going toxin-free has

never been easier.

Many of us have become a little obsessed

with hygiene and cleanliness during the

pandemic, this has meant focusing on

keeping our homes cleaner than ever. There's

nothing quite as satisfying as a clean house:

fresh- smelling, sparkling and virus free. But

have you ever thought about what's actually in

your cleaning products and whether they leave

more than just a nice smell?

Why should we be concerned?

Common ingredients in conventional household

cleaning products can pollute the air in our homes

and there is growing concern that this is affecting our

health, with incidences of cancer and asthma.

According to the

U.S. Environmental

Protection Agency,

the air inside the

typical home is on

average 2-5 times

more polluted than

the air outside and,

in extreme cases,

100 times more

contaminated

largely because of household cleaners and

pesticides.

In the EU and the UK the only ingredients that are

required to be biodegradable in cleaning products

are "surfactants" (agents used to increase spreading

and wetting properties) – all other substances

(including microplastics) are not restricted

(Ethical Consumer, 2021). This is evident

when you look at your cleaning product labels

and find "hazardous" or "corrosive" warnings.

What is the solution?

Happily, there are a growing number of nontoxic

cleaning products available. The Ethical

Consumer recommends the products to look out

for are those that do not contain toxic chemicals

such as chlorine, triclosan, parabens or phthalates.

Which non-toxic products actually work?

Eco-Homemaker, an online shopping platform,

makes your life easier when it comes to eco-friendly

shopping for your family. They stock refillable

non-toxic cleaning products such as a bleach

alternative, anti-bac surface cleaners, oven cleaner,

glass cleaner and floor cleaner – all have been

thoroughly tried and tested so you can be assured

of their effectiveness.

12 Amersham & Chalfonts Together is part of Community Together
---
ENVIRONMENTAL

Thank you for

saving 1 billion

litres of water!

Last year, your local water supplier Affinity

Water launched SOS: Save Our Streams,

a movement asking us to waste less water

to save our local rare and endangered

chalk streams. Thousands of you signed

up and it has become the UK's biggest

ever water-saving initiative to date.

One billion litres of water were saved last summer,

an incredible achievement.

To say thank you, Affinity Water is giving away

this beautiful 255 litre water butt with planter.

Water butts help keep your garden blooming

by using rainwater instead of tap water through

a hose, making a huge difference to how much

water you use.

WIN!

To win one of these beautiful water saving planters go to:

www.amershamtogether.co.uk/competition and answer this simple question.

How much water was saved last summer.

a) 1 million litres b) 2 million litres c) 1 billion litres d) 2 billion litres

Closing date: 3rd June.

To help us save even more water in 2022, sign-up at www.saveourstreams.co.uk

to receive a free water-saving kit.

Join in the Platinum Jubilee Celebrations - celebrate

with the Queen on her 70th anniversary of her reign.

Hold a Big Jubilee Lunch or Tea Party on Sunday 5th June - Eden Project Communities in

Cornwall founded the simple concept of bringing communities together with the simple idea

of holding a lunch. For more information: bit.ly/BigJubileeLunch2022

Or Light a Beacon on Thursday 2nd June - For more info: bit.ly/Platinum-Jubilee-Beacon-info

To advertise please call 07786 735 711 or email marketing@amershamtogether.co.uk 13
---
COMMUNITY NEWS

Celebrate the Queen's Platinum

Jubilee with a free family storytrail

in Chalfont St Giles

To celebrate the Queen's Platinum

Jubilee, from April 30th until June

12th, Chalfont St Giles Parish

Council has teamed up with High

Street Safari to run a free story-trail

in Chalfont St Giles village centre.

This innovative experience let's families choose

what happens in the story and is completely

contactless, with anyone with a smartphone being

able to take part. Players will not only discover

cute characters along the route, but they also

get to see them burst to life in augmented reality

and take selfies and record videos with them!

The Queen's Platinum Jubilee Beacon Trail is

located at seven stops around the village centre.

Little Chalfont

Parish Council

news

Families will be guided on

their trip by Sir Barnaby

Beacon as he visits seven

memorable and magical

friends, like Charlie Crown

or Theadora Throne, who

have come to life from Buckingham Palace and

gone on a trip to see Chalfont St Giles.

The trail is completely free for families and

groups that take part, win a free, digital fun pack

at the end.

Other Jubilee Activities in Chalfont St Giles:

Band on the Green Saturday 5 June 2022

Village Street Party Sunday 6 June 2022

www.csgparty.org

Auction for Ukrainian appeal – help

required

An auction is being planned to sell donated items

with all profits handed to one of the Ukraine aid

agencies. The auction is scheduled to be held in

Little Chalfont, possibly Saturday 28 May 2022.

To make this work, a small group of volunteers

is required. It would be especially helpful if

someone with specialist knowledge, perhaps a

retired auctioneer, could be part of this team.

This initiative requires considerable planning and

some hard work, but if you would like to be part of

what should be a worthwhile

exercise, please email

lcukraine@virginmedia.com

or phone Brian Drew on

07711 293774.

14 Amersham & Chalfonts Together is part of Community Together
---
To advertise please call 07786 735 711 or email marketing@amershamtogether.co.uk 15
---
COMMUNITY NEWS

What's On

May / June 2022

May

June

Wednesday 11th May - 12.30pm

Beaconsfield Library

We will be joined by members of the Beaconsfield

Fire Safety Team to talk to our older residents about

fire safety in the home – come along to ask any

questions and to hear about measures you can take

to help protect yourselves in the home.

Saturday 14th May & Sunday 15th May -

10.30am - 4.30pm

Demonstration of traditional wood crafting skills

at Bekonscot Model Village. Wood turners and

carvers will be showcasing their skills and offering

items for sale.

www.bekonscot.co.uk

Friday 27th May 2.30pm

Beaconsfield Library

Beaconsfield Town Crier Dick Smith will be coming

to talk to us about the Town during the Coronation

and subsequent celebrations involving The Queen,

also about his many meetings with the Royal

Family. Must be booked in advance.

Saturday 28th May 2.00pm

Beaconsfield Library

A chance for children to hear all about Beaconsfield

during the Queen's coronation and other royal

celebrations. Must be booked in advance.

Thursday 2 June: 8pm, with coffee/tea from

7.15pm

The Arts Society Amersham - Talk on "The Duc de

Berry, a famous arts patron of the Middle Ages"

at the King's Church, Raans Road HP6 6LX.

www.theartssocietyamersham.org.uk

7th June: 1.30pm

Beaconsfield Library will be celebrating

The Queen's Jubilee

Join us for craft activities, See an exhibition of local

interest from the Historical Society. View a visual arts

project Jayantee in association with Alfriston School

together with a talk about the Queen, India and the

Commonwealth.

We will be holding lots of events to celebrate The

Queen's Jubilee at the beginning of June, look out

for more information on our website, facebook or

in the library.

21 May to 5 June - 9th

Chiltern's Walking Festival

…plus map reading courses, pub walks, local

produce tasting, Midsomer on the Misbourne

walks, Hillfort and historic garden tours and much

more. Visit website: https://www.visitchilterns.

co.uk/walkingfest.html. To keep updated join our

Chilterns Walking Festival facebook page.

Saturday 28th May

Beaconsfield Library

Elmer Day – we will have colouring and craft ideas

for children throughout the day.

Monday 30th May - Sunday 5th June

10am – 5.30pm

Celebrate the Queen's Platinum Jubilee at

Bekonscot. Complete the Jubilee trail around the

village, enjoy a Jubilee Cream Tea and then get

creative with some Jubilee crafts (Mon-Fri only).

www.bekonscot.co.uk

Sunday 19 June: 2.00pm – 4.30pm

One Day Farm - Scannappeal Open Garden, HP5 1UN

Tickets £7 available from www.scannappeal.org.uk/

events

This beautiful garden surrounds a delightful

15th century farmhouse. A magnificent display of

roses, kitchen garden, natural pond, surrounded by

woodland and meadow walks.

Sunday 26 June - 11am - 5pm

Chalfont St Giles Neighbours – Scannappeal

Open Garden, HP8 4NS

Tickets £7 available from www.scannappeal.org.uk/

events. Visit three beautiful gardens situated in the

Chiltern village of Chalfont St Giles. Stratton Chase

The information published is correct to the best of Lodge, landscaped with a pergola, sculptures.

our knowledge, but please check with organisers Hilborough is a family garden with a variety of planting

before making plans. To add your event, contact: including vegetables, soft fruit and fruit trees.

16 events@communitytogether.co.uk

Amersham Applewood & Chalfonts is a Together mature is and part well of cared Community for garden. Together
---
Forget fence worries for good

Choose 25 years maintenance free metal fencing*. Choose ColourFence.

Unique ColourFence GUARANTEE

◆ Virtually, maintenance FREE for 25 years*

◆ Won't warp, crack, shrink, rot or peel

◆ Withstands gusts up to 130mph

Why choose anything else?

◆ Metal fencing available in four colours

◆ Established in the UK for over 15 years

◆ Professional installation

25 YEAR guarantee

Brown Cream Blue Green

"We chose ColourFence 15 years

ago and it looks as good as new. "

Mr & Mrs P. Stringer

For a free, no-obligation quote, find out more via:

01494 711 400 | colourfencebucks.co.uk

*T&Cs apply – see website for details

To advertise please call 07786 735 711 or email marketing@amershamtogether.co.uk 17
---
ISSUE 8

THE YOUNG

Bee pollinator friendly!

Our lives are interdependent with plants and

creatures we share the planet with. Every

convenience afforded to us such as water,

energy, clothes and food is provided by

the complex processes of nature. Nature

depends on us too.

Our detrimental impact on species and

ecosystems is crippling nature's ability to survive

and provide for us all. A crucial example is food;

we cannot survive without it but the dramatic

decline in pollinator species due to human

activities faces us with the prospect of food

scarcity.

What are pollinators? These transfer the pollen

of one plant to another causing cross-fertilisation.

This enables the reproduction and survival of

between 75% to 95% plants on Earth, including

our favourite fruits and veg: strawberries,

apples, peas and coffee beans. One in three

mouthfuls of our food is provided by pollinators

such as bees, butterflies, moths, flies and an

extraordinary variety of other animals. In addition,

the beautiful biodiversity of our home relies on

these crucial creatures.

has launched the Healthy Bees Plan 2030 to

'protect and improve the health of honey bees

in England'.

In addition, many organisations are committed

to 'rewilding' projects and creating areas for

pollinators to survive. In our own community,

Little Chalfont Nature Park provides a wildflower

meadow habitat and soon it may be home to a

new beehive!

To make your own garden a sanctuary for

invertebrates, leaving it (or a section of it) unmown

may reveal a wild beauty. A mini meadow or

even some pollinator-friendly plants could serve

as refuge for wandering insects and birds. Native

plants such as primroses, bellflowers and heather

not only provide a habitat for bees and butterflies,

but are also beautiful and easy to grow, according

to the Royal Horticultural Society. For a colourful

summer, foxgloves, poppies, ox-eye daisies and

buttercups are all bee-friendly wildflowers.

Another way to encourage biodiversity in your

gardens is to avoid pesticides, which not only

kill the intended victims but also many other

precious pollinating species. Companion plants

with strong scents (e.g. lavender and marigold)

can deter pests whilst adding brightness to our

gardens.

So why are they dying? To put it simply, because

of us. Urbanisation and intensive farming have

removed sources of food and shelter for

these vital insects, reducing biodiversity and

threatening food production. According to the

Department for Environment, Food and Rural

Affairs (Defra), 97% of flower-rich meadows in

the UK have been lost since the 1930s. This

devastating loss of habitat has led to a decline

of 50% of bumblebees and 71% of butterflies.

The statistics are shocking, there is however

hope for a revival in pollinator abundance. Defra

Building a bug hotel is another fun-activity to

help pollinators thrive and boost biodiversity. No

matter how big or small your gardens is, you can

make space this summer for the brilliant bees and

butterflies that give us life.

Sanchi is a student in Little Chalfont.

The three things she loves most are

nature, people and writing. Uniting

these, she aims to create a brighter,

greener world!

Sanchi

18 Amersham & Chalfonts Giving Together our is future part of the Community freedom of Together speech
---
JOURNALIST

'The Batman'

film review

A glossy, blood-orange sunrise blankets the

gothic city of Gotham in the film The Batman.

Criminals, mob-bosses, corrupt politicians and

serial-killers dressed in green leather run along

the rainy streets; setting the scene for the

three-hour detective saga encompassing the

viewers in a web of intrigue and mystery that

slowly unravels in increasingly unexpected

ways.

Bruce Wayne, two years into his comeback as

the masked vigilante, scowls his way through the

film. No longer is Wayne the eccentric, friendly

millionaire who runs through the streets of the

city at night in a mask: Bruce Wayne is the mask,

Batman his true identity. Forever affected by the

death of his parents, Wayne sees his alter-ego as

less of a vigilante, more an enforcer - a creature

of the night who enacts violence and terror on

all who cross the line. When asked who he is by

an angsty, face-painted criminal, the Bat simply

replies: "I am vengeance."

In a vein similar to the 2019 controversial

blockbuster Joker, and taking inspiration from

the work of Martin Scorsese, The Batman gives

visual and thematic credit to the work of famed

auteur David Fincher (particularly his crime

thriller Se7en). The Batman is anything but a

superhero movie, primarily due to the visual

and narrative style. Shadows, neon-lights and

nightclub lights the stage of this Neo-noir saga,

and mob bosses who talk like Marlon Brando

from The Godfather control the city. Our villain,

the antagonist of the story, is a sadistic serial-killer

with an appearance comparable to the Zodiac

Killer. This picture is enticingly dark and morbidly

bleak, not holding anything back, and not pushing

too much forward to an (annoying) extent.

The mystery of this movie is the brain, the

action being its punch. The will-they? won't-they?

romance between the Bat and the Cat is the heart

of this movie. As with Bruce Wayne, Selina Kyle

is a character who deviates from the conventions

that historically surround her. Selina acts as an

ally to Bruce rather than a foe, and a potential

love-interest makes its course through the film

which - in the context of the story - making Bruce's

character all the more convincing - assisting the

eventual transformation from a husk of the man he

once was to an enforcer of vengeance - a genuine

hero and protector of Gotham.

The Batman is a crime saga of epic proportions,

slowing down in the third act in certain regards,

provides the viewer with an experience that

provides so much more than the surface-level

entertainment that comic book movies are now

expected to supply. Thrilling and unapologetically

maximalist, The Batman has once again proved

that Matt Reeves knows thrillers and how to make

a good movie.

"I never thought I'd feel fear like that again - I

thought I'd mastered all that."

Tom Boyd-Hall

Amersham School student by day, film lover at

every other waking moment. Tom has ambitions

to one day direct film. Until that time arrives, Tom

busies himself watching films, editing and writing.

Tom is currently honing his skills at GCSE, and

endeavouring to make his mark at A level within

the next few months.

To advertise please call 07786 735 711 or email marketing@amershamtogether.co.uk 19
---
A perfect

garden

retreat

Let's face it, who

wouldn't like a retreat in

their garden to play,

relax and free your mind

of the stresses and

worries of life?!

We caught up with Jonathan

at J M Garden Retreats to view

some of his recent garden

design builds. He talks about

some of the client's projects he

has worked on and their needs.

Garden room, Beaconsfield.

One client, two briefs - a Pilates

studio for mum and a separate

hang out space for her four

boys. Completely bespoke and

beautifully finished in Siberian

Larch cladding.

Treehouse / Climbing frame,

Mill Hill

With our bespoke play

structures we like to cram in

as many activities as possible,

catering for children of all

ages. Here we've included

a treehouse, climbing wall,

fireman's pole, wobbly log

bridge, gymnastics rings, spiral

slide and 3 swings.

Playhouse, Seer Green

Our bespoke playhouses often

incorporate a host of fun features

and can include full insulation,

double glazing, heating, lighting

and even charging points for their

devices.. perfect for adventurous

sleepovers!

20

Amersham & Chalfonts Together is part of Community Together
---
Treehouse / Zipwire, Great Missenden

Lets face it, we all love a treehouse - especially

when there's an 80m zipwire attached! A great

place for the kids to hang out, and a nice spot

for mum and dad to enjoy a glass of wine too?

FATHER'S DAY

To get in contact for your garden retreat

ideas telephone: 07855 484 944 or

email: enquiries@jmgardenretreats.co.uk

Reminder!

Father's Day

Sunday 19th June

Fathers day was dreamt up in

1909. This years it's on Sunday,

June 19, 2022 and always falls on

the 3rd Sunday in June.

It was actually initiated by a woman

named Sonora Smart Dodd in 1909. She

"tried to establish an official equivalent

to Mother's Day for male parents," and it

wasn't long before she won support from

local businesses and beyond. On June

19, 1910, the first-ever Father's Day was

celebrated in the state of Washington.

Gifts on a shoe string

The best gifts are free! If you are short

of funds, why not make your own card -

drawing things that are personal to your

dad. Organise a day out and play games,

playing cards, football, french cricket and/

or buy some sandwiches or have a picnic

outdoors if its fine or have a pretend

picnic inside. Whatever you do - he will

appreciate it and you can show your dad

how much you love him.

Happy Father's Day!

21
---
ENVIRONMENTAL

How to reduce heat loss from your

home - the' fabric first' approach

We all know that we are being asked to

do 'our bit' in being more eco-friendly.

How can we achieve this in our homes? A family

asked EcoTiffin to do just that and after enlisting

their help, they commented, "EcoTiffin saved us

37% in energy bills whilst increasing our square

footage by 35%, giving us a warm and welcoming

home."

Moisture in brickwork is the worst possible

ingredient to have in your property and every effort

should be made to prevent the ingress of moisture.

Moisture in the brickwork reduces the brick's thermal

capacity to retain heat and it has a chilling effect like

a fridge on your home. Solid brick walls are by far

the worst. Remember; wet walls are cold walls!

The fabric first approach is essential when improving

insulation to roofs, walls, floors and windows and are

just some of the ways of reducing heat-loss. The use

of thermography (thermal imaging) is an exciting

and relatively new application in the building world.

If you want to identify areas of excessive heat loss

in your home and create an eco-friendly building,

using thermographic equipment, is a good place

to start.

Robert Tiffin (descendant of the original family)

and highly respected building expert and Quantity

Surveyor, has seen a rise in the number of families

wanting to make their homes work more efficiently.

Evidence from thermograms help to provide much

of the data to substantiate Robert's bespoke reports

for each property in "seeing the unseen". To

the trained eye, the results can reveal important

information enabling a clear diagnosis. Home

owners look forward to maximising their comfort

to a warm, cosy and cost effective, healthier

environment for themselves and their families.

22 Amersham & Chalfonts Together is part of Community Together
---
Call Free

0808 168 1616

UPGRADE TO FULL FIBRE BROADBAND

"The service has been

100% reliable and the

speed is Excellent."

Reliable gigafast

connection

Fair prices from

£23 a month

Switching

made easy

Experienced

support team

Check availability

heybroadband.co.uk
---
LEGAL ADVICE

Parental responsibility and unmarried

fathers' rights in England and Wales

The law in England is neutral regarding

parents' rights and responsibilities in relation

to their children. One parent does not have

greater say or responsibility than the other;

nor can one parent act as gate-keeper,

deciding what time or involvement the other

has with the children.

The Children's Court is very practical. It will look at

parents' relationships with the children; what the children

are used to will be central to the court's consideration.

If parents separate and one seeks to exert greater

control or restrict the other parent's ability to spend time

with the children, they need to be reminded that both

parties must have equal say in their children's lives. This is

irrespective of previous behaviour - simply because one

party tended to make decisions in relation to the children

while the other party acquiesced, does not mean that that

pattern continues upon relationship break down.

Similarly one party cannot dictate how children spend

time with the other parent. There is an assumption that

both parents will act correctly in relation to their children

and will keep them safe.

Key decisions - children's education, medical and health

needs, religious training etc need to be made jointly.

The law calls this joint power Parental Responsibility,

defined by the Children Act 1989 as the rights, duties,

powers, responsibilities and authority a parent has in

relation to their child.

The mother of a child automatically holds Parental

Responsibility. The father of a child obtains Parental

Responsibility if registered as the father on the child's

birth certificate or:

• Was married to the mother when the child was born; or

• Subsequently married that child's mother; or

• Was registered as the child's father on the birth

certificate and the child was born after 1st December

2003.

If the father does not have Parental Responsibility this

can be achieved via a simple form filed at court.

If you would like to discuss the issues

raised in this article please contact us in

our Beaconsfield office.

Julian Bremner, Partner Rayden

RS_BEACS_AM_CHAL_CMYK_130X90_OUT_1.pdf 1

Solicitors Beaconsfield

04/10/2021 11:44

C

M

Y

CM

MY

CY

CMY

K

24 Amersham & Chalfonts Together is part of Community Together
---
Get ready for

GX Fun Run on

Sunday 22nd May!

It's already May and the GX Fun Run is just

around the corner! On the 22nd our many

eager participants, young and old, will put on

their trainers and take up the challenge to run

5k round the streets of our pretty village.

This year we are raising money for our chosen local

charities, Hearing Dogs for Deaf People, Liberty's

Legacy and William's Fund. More information

about the charities can be found on our website

gxfunrun.org.uk.

The day is not just for the runners though -

everyone's invited. It's a family occasion – live music,

great food (courtesy of Chris Wheeler, The Ginger

Chef) and a bar to quench your thirst, supported by

the GX Community Association. Enter the 'special

draw' for the chance to have Chris Wheeler cook

for your dinner party of eight guests.

j M garden retreats ltd

~ Bespoke Garden Rooms ~

A Space to Work,

or a Place to Unwind...

Home Office, Summer House, Art Studio,

Gymnasium, Music Room, Gaming Den...

The Choice is Yours!

Whatever you require extra space for, we can

help design and build a garden room tailored

to your needs. Functional as well as beautiful,

your new retreat will be fully insulated,

double glazed and fitted with energy efficient

heating and lighting to ensure its suitability

for use all year round.

© David Moore Photography

There's lots to keep children entertained including

a helter-skelter, bouncy castle, petting zoo and a

chance to beat the goalie!

We have races for children aged 6-8 years in

a timed 1k run, and shorter races for younger

children. From 12:15, Fit House will lead the main

event warmup to prepare older runners for the task.

The starting gun will fire at 12.30 and the race will

begin! Check the website for running order of the

day, road closures and lots of other information.

Come and enjoy this special family day and

we look forward to welcoming everyone.

www.gxfunrun.org.uk

www.jmgardenretreats.co.uk

Email: enquiries@jmgardenretreats.co.uk

To advertise please call 07786 735 711 or email marketing@amershamtogether.co.uk 25
---
COMMUNITY NEWS

Member's Day at

Chalfont St Peter

The sun shone and the weather

warmed up for season-opening

Member's Day at Chalfont St Peter

Tennis Club on Sunday 3rd April,

attracting over 70 members for a

fun tennis tournament, organised

by Head Coach Stephen, followed

by a delicious BBQ organised by

Social Secretary, Annie and her

team of volunteers.

The event was also

used as an Open

Day for the general

public, and several

potential new

members visited

the club to witness

the excellent

facilities for tennis

and social events.

Mario manning the barbecue

There are 4 all-weather, floodlit Tiger-Turf tennis

Annie (middle) with her helpers

courts which makes the club available all year

round. Boasting a modern clubhouse, there is a

calendar of social events throguhout the year.

All standards of play are encouraged, from fun

organised play sessions to competitive LTA

matches and coaches are available for those

wishing to improve their game. The tennis club

prides itself on being a friendly, community-based

club, where everyone is made to feel welcome.

New adult membership is available with 50%

discount in the first year with no joining fee.

If you fancy joining the club, please visit our

website: www.chalfontstpetertennisclub.co.uk

or contact Paul:

membership@chalfontstpetertennisclub.co.uk

for more details.

Scouting - skills for life

I predict that most readers of this article

have had some connection with scouting,

and that many of you are aware that a

major event in the scouting calendar is

a huge international gathering - called

a World Jamboree - which takes place

every four years.

The next Jamboree will be in South Korea in 2023,

and about 40,000 Scouts from 200 countries will

be there. An event which Scouts lucky enough to

attend will remember for the rest of their lives.

Twenty-two scouts from groups in our local

area will either be in South Korea, Northern

Europe and Scandinavia. I hope you will

recognise some of them working hard over the

next year to raise funds for what will be expensive

trips! They will come back very different (young)

people, and I can promise these differences will

be not only for their own good, but good news

for the Buckinghamshire communities in which

they live.

So, if you see them out and about, stop and ask

them about their trips, and hopefully you will

make a small contribution to their funds!

Richard Jones

Asst. District Commissioner

Woodlands District

26 Amersham & Chalfonts Together is part of Community Together
---
COMMUNITY NEWS

Join the Chalfonts and

GX Social Network!

The last two years has affected people in

so many ways; one of the biggest being

socialising.

I moved to the area a year ago and found it hard

to build a new local social circle. I looked online for

social groups that organised causal gatherings like

ones I had joined in other areas. There were walking

groups, book groups, activities for the retired, but

there was nothing involving evening socialising.

I found a group for neighbours called Nextdoor,

and attended an evening meal which introduced

me to a lovely group of people, but nothing

further was organised. Instead of waiting for

someone else to organise what I wanted, I

decided to start a group myself. The Chalfonts

and Gerrards Cross Social Network. We started

with just four people in Merlins Cave, having a

drink just before Christmas 2021 and since then

we have grown to over 600 members, mainly

across Chalfont St Peter, Chalfont St Giles and

Gerrards Cross.

(Some attend from

a little further away).

It's free and my aim

is for it to be its

own community

where people can

organise their own

activities tailored

to their interests.

So far I have organised a number of drinks

evenings and quiz nights at the local pubs.

It's a great way to get to know some new people

in a low-pressure environment. The people

who attend are a mixed bunch of characters,

backgrounds and ages which makes for interesting

and stimulating conversations. For those people

who are shy or anxious about attending bear in

mind that everyone who attends has the same

thing in common, they want to socialise and meet

new people so everyone is friendly.

I know some friendships have already formed from

the get togethers and it would be great to see

some more friendly faces out and about in the local

area, supporting our local venues. Contact Caroline

on 07496 374 130 or 01494 623 121 to learn more.

words by Caroline Franklin

DESIGN AND MARKETING FOR

MAXIMUM IMPACT

LOGOS, ILLUSTRATIONS, ADVERTISEMENT,

BUSINESS STATIONERY, SOCIAL MEDIA

ADVERTS, WEBSITES, LEAFLETS, car livery,

clothing designs

To advertise please call 07786 735 711 or email marketing@amershamtogether.co.uk 27
---
Amersham & Chalfonts

Together Brain Matter

BUY BUY

BUY BUY

Billy wanted a new toy yacht to sail, so visited a seaside souvenir shop, handling

each Billy wanted of the a new different toy yacht boats to sail, in so visited turn before a seaside randomly souvenir shop, replacing handling each them of the after he had

made different his boats choice. in turn before Here randomly are pictures replacing of them after display he had before made his and choice. after Here Billy's are visit. Which

yacht pictures did of the he display buy? before and after Billy's visit. Which yacht did he buy?

Before

After

A

B

C

D

E

(answers

on p30)

F

Left Overs

G

H

Cross off words in the box as indicated by the instructions. The remaining words will form a

common saying when read from left to right and line by line.

LEFT OVERS

Cross off all anagrams of PALES.

Cross off words in the

box as Cross indicated off all names by the of countries.

instructions. Cross off The all colours remaining of the

words will rainbow. form a common

saying Cross when off read all trees. from left

to right Cross and off line all words by line. with the same

first and last letter.

Cross off all fruits.

Cross off Cross all anagrams off all months of PALES. of the year.

Cross off Cross all names off all of words countries. that contain

Cross off all two colours Os. of the rainbow.

Cross off all trees.

Cross off Cross all words off all with animals. the same

first and

Cross

last letter.

off all woodworking tools.

Cross off all months of the year.

Cross off Cross all words off all that planets. contain Tiles

two Os.

Cross off all animals.

Cross off all woodworking tools.

Cross off all planets.

TILES

Cross off all fruits.

In this puzzle, the tiles must be fitted

into the pattern so as to form four

words reading across and five words

LEAPS INDIGO CHINA COCOA

TURKEY SPOON LARCH APRIL

FOX LEMON BETTER MERCURY

EARTH CEDAR LAPSE BANANA

YELLOW JAPAN HAMMER DATED

SAW COMMON RED PLEAS

GOING LATE GRAPE MOUSE

BEAR BLUE FORGOT THAN

MARCH PLANE FRANCE PEALS

NEVER APPLE AUGUST VIOLET

In this puzzle, the tiles must be fitted

Answer:

into the pattern so as to form four words reading across

and five words reading down. No tile may be rotated!

reading down. No tile may be rotated!

A T O

28 Amersham & Chalfonts Together is part of Community Together

F

E L E N D

A

L

A T O

D D B
---
Safe & gentle ear wax

removal at a clinic

near you

What is ear wax?

What is it, why do we have it in our ears and why does it sometimes cause hearing loss. Earwax, also known

as cerumen, is produced inside your ears to keep them clean and free of germs. It usually passes out of the

ears harmlessly, but sometimes too much can build up and block the ears.

It protects the skin of the human ear canal, assists in cleaning and lubrication, and also provides some

protection from bacteria, fungi, insects and water. In other words, ear wax is a good thing!

The amount of ear wax that the body produces differs from person to person, the amount that is retained

within the ear also differs for each of us - these differences are for a number of reasons; Age; Diet; Lifestyle;

Personal anatomy; Genetics; Ethnicity.

Many people will produce a small amount of wax their whole lives, which leaves the ear canal naturally, and

never have any problem with it. For others, their ear will produce a larger amount of wax, which will not

fully leave the ear canal and will become blocked, which leads to them having reduced hearing ability and also

a blocked feeling in the ear.

Are you experiencing any of the following?

• Pressure in the ears

• Blocked feeling in the ears

• Need to pop your ears but can't

• Sudden loss of hearing or muffles sound

• Hearing aids whistling

• Underperforming hearing aids

Call for more information on

Call: 07903 013 123 or 07535 603 744

Email: hearwego.beaconsfield@gmail.com

Web: www.hearwegohearingsolutions.co.uk

Consulting Suite, 19 London End Road, Beaconsfield, Buckinghamshire, HP9 2HN

Consulting Suite, The Studio, 37, Station Road, Beaconsfield, HP9 1QG

To advertise please call 07786 735 711 or email marketing@amershamtogether.co.uk 29
---
Together Trades Directory

- Amersham and Chalfonts

Share your recommendations with us at trades@communitytogether.co.uk

ELECTRICIANS

Alcon Electrical Installations

Family run business. All domestic and

commercial installations, full and partial rewires,

garden lighting, safety electrical testing, fuse

board upgrades. All electrical work undertaken.

t: 07725 172 878 or 07730 575 633

e: info@alconelectrical.co.uk

w: www.alconelectrical.co.uk

Wilkinson Electrical Ltd

Domestic and commercial installations, lighting,

socket outlets, re-wires, power circuits, consumer

units, safety checks and periodic inspections.

t: 07813 205 628 / 07384 892 482

e: wilkinsonelectricalltd@gmail.com

GARDEN AND LANDSCAPING

JM Garden Retreats Ltd

Bespoke garden rooms designed to your needs.

Functional and beautiful!

w: www.jmgardenretreats.co.uk

e: enquiries@jmgardenretreats.co.uk

Precision Garden Services

20 years experience in green keeping and

complete lawn care. NVQ 3 in sports turf

horticulture

t: 07745 499 981

e: dan@precisiongardenservices.co.uk

INTERIOR DESIGN, PAINTERS

AND DECORATORS

Gary Kent Tiling Company

Local, experienced, friendly tiler. Tiling in

bathrooms, kitchens, walls and floors.

t: 07865 071 286

e: garyc_kent@hotmail.com

N. Gillie Decorating Services

Established 1993. Experienced, friendly

professional internal and external decorators.

t: 01494 681 794 / 07771 521 263

w: www.ngilliedecoratingservices.co.uk

PROPERTY MAINTENANCE – EXTERIOR

Build Right Construction (Roofing)

Established for over 25 years, local roofing repairs &

cleaning, gutter repairs, new roofs, chimney repairs

t: 0208 485 6402 / 07735 065 555

w: www.buildrightconstructionuk.co.uk

Eco Tiffin

Property restorations, refurbishments combining

a passion for energy saving and conservation.

t: 01442 819 332 / 07768 005 885

w: www.ecotiffin.co.uk

Colourfence

25 year guaranteed fences that will stand strong

throughout winter and any storm.

t: 01494 711 400

w: www.colourfencebucks.co.uk

PUZZLE

SOLUTIONS

Answer:

BUY BUY

F

LEFTOVERS

Answer:

Better late

than never

TILES Answer:

B A T

A L O N E

D E L T A

O D D

30 Amersham & Chalfonts Together is part of Community Together
---
Taurus Secure Garage Doors

Quality insulated electric garage door

installation. Made from strong and durable

twin walled aluminum.

t: 0800 047 8734 / 07842 330 001

w: www.TaurusSecure.co.uk

PROPERTY MAINTENANCE – INTERIOR

Amersham & Chalfonts Chimney Sweep

Call Josh for professional chimney sweep and fire

services.

t: 07549 422 465

w: www.TheLocalChimneySweep.co.uk

Back to Life Cleaning Services

Carpet and upholstery cleaning services.

t: 0800 2118 387 (Freephone) / 07726 491 580

w: www.backtolifecleaningservices.co.uk

Chalfont Oven Cleaning

First class results every time. Ovens, hobs,

extractors, grills, stoves, microwaves, Aga cookers,

barbecue trays.

t: 01753 889 922 / 07939 539 058

w: www.chalfontovencleaning.co.uk

Home Counties Loft Ladders

Complete loft storage solutions.

t: 0808 301 9558

w: www.homecountiesloftladders.co.uk

Sew Good

Made to measure curtain and blind making

company

t: 07907 439 288 or 01525 717 057

w: www.backtolifecleaningservices.co.uk

Make a difference to an older person in your community

We offer volunteering opportunities across Chilterns and South Bucks

to anyone who feels they could offer someone support within the local

community, even a few hours a month.

Based in Chesham, we're a charity providing free information from our

trained volunteers. This could be over the phone, or face to face during

a home visit.

Helping others through volunteering can help you with a sense of

purpose and connection to others. Training & support is available.

For more volunteering information see website voicesandchoices.org.uk/volunteering/

t: 01494 784566 | e: info@voicesandchoices.org.uk

To advertise please call 07786 735 711 or email marketing@amershamtogether.co.uk 31
---
Your health, your choice.

At Your Doctor we provide the medical advice and treatment

At Your Doctor we provide the medical advice and treatment

need at your convenience.

you need at your convenience.

you

From our team of highly experienced GPs, to our extensive

From our team of highly experienced GPs, to our extensive

of health professionals, you can be assured of the

network of health professionals, you can be assured of the

network

highest level of care right when you need it.

highest level of care right when you need it.

GP Appointments Vaccinations Prescriptions

Referrals

GP Appointments Vaccinations Prescriptions

Referrals

Blood testing

Lifestyle

Proactive

Health screening

Blood testing

Lifestyle

assessments

Proactive

medicals

Health screening

assessments

medicals

Live Well

www.your-doctor.co.uk 0330 088 2020

Live Well

Tring -

Wexham

www.your-doctor.co.uk 0330 088 202