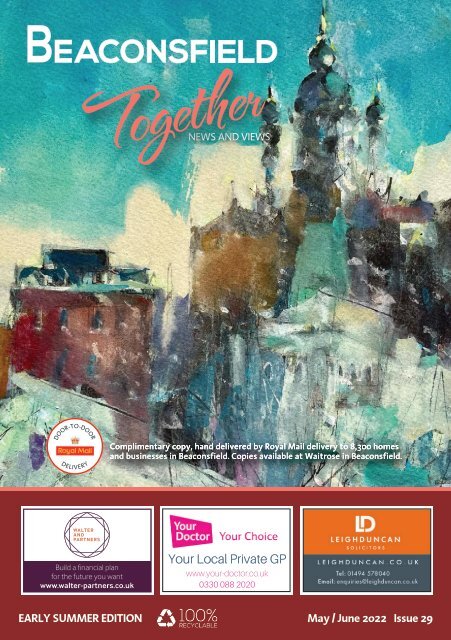 Beaconsfield Together May June 2022
A local #community magazine containing community, business and charitable editorial in the Beaconsfield, Knotty Green, Seer Green and Forty Green area. 8,300 copies printed and hand delivered by Royal Mail to residences and businesses in the HP9 -1 and HP9 -2 businesses in these areas. Copies available at Waitrose Supermarket in Beaconsfield
A local #community magazine containing community, business and charitable editorial in the Beaconsfield, Knotty Green, Seer Green and Forty Green area. 8,300 copies printed and hand delivered by Royal Mail to residences and businesses in the HP9 -1 and HP9 -2 businesses in these areas. Copies available at Waitrose Supermarket in Beaconsfield
SHOW MORE
SHOW LESS
You also want an ePaper? Increase the reach of your titles
YUMPU automatically turns print PDFs into web optimized ePapers that Google loves.
Together

NEWS AND VIEWS

DOOR-TO-DOOR

DELIVERY

Complimentary copy, hand delivered by Royal Mail delivery to 8,300 homes

and businesses in Beaconsfield. Copies available at Waitrose in Beaconsfield.

www.walter-partners.co.uk

EARLY SUMMER EDITION May / June 2022 Issue 29
---
Celebrating

40 years

trading at

Beaconsfield!

2 Beaconsfield Together is part of Community Together
---
'Kyiv' - Ukranian themed

art painted by Paul Bell,

Beaconsfield artist.

Useful Numbers

Better Connected Beaconsfield

hello@betterconnectedbeaconsfield.org.uk

01494 919 232

The Christian Eye Foundation

support@thechristianeye.co.uk

07568 135 308

Alcoholics Anonymous

Call confidentially on: 0800 917 7650

The Beaconsfield Advisory Centre

t: 01494 672987

e: contact@beaconsfieldadvisorycentre.org.uk

Victim support line - help after a crime

t: 08 08 16 89 11

www.victimsupport.org.uk

Age UK's Befriending Service

matches older people with volunteers

who have similar interests. t: 01296 431911

e: age@ageukbucks.org.uk

Be Amazing & Volunteer

Epilepsy Society looking for volunteers in their

new cafe (p8)

Voices & Choices need volunteers (p31)

Beaconsfield Library need volunteers (p39)

Competitions this issue!

We have two fab competitions this issue - win an

amazing 7 course taster meal for 2 at Atul Kochhar's

owned restaurant - Riwaz. See p16 and 17 for details.

Win a stylish water saving planter, courtesy of

Affinity Water (p27)

Meet the Team

Publisher, Editor & Sales

Therese Cooklin - 07786 735711

Magazine Designer

Mathew Peet, Digital Bear Design - 01949 839206

Content is accurate to the best of our knowledge, however Beaconsfield

Together part of Abstract Niche Ltd cannot be held liable for loss or

damage, caused by errors or omissions. Inclusion of advertisers does

not indicate our endorsement of their products or services.

Hello & welcome!

Welcome to this special edition celebrating the

Queen's 70th anniversary as our Monarch. To mark

the occasion we will be enjoying a four-day Bank

Holiday. (p32 & 33)

Our hearts go out to the people of Ukraine in

their suffering. Local artist Paul Bell agreed that his

painting 'Kyiv' can be on the front cover to help us

unite in their plight. Please support his fundraiser,

if you can. (p4)

If you haven't been to Riwaz (owned by 2 starred

Michelin - Atul Kochhar) in Old Town I recommend

you give it a try. Enter the super competition to

win a 7-course taster meal for two. (p16 & 17)

News from Beaconsfield Town Council (centre

pages): Gerrards Cross Fun Run takes place

Sunday 22nd May (p22), check out the, What's

On page and much more! Have a great couple of

months!

With love,

Therese

Next Copy Deadlines -

June / July 2022

Editorials: 6th April

Advertisers: 7th April

t: 07786 735 711

e: therese@beaconsfieldtogether.co.uk

w: www.beaconsfieldtogether.co.uk

Get your business noticed

for as little as £36

Royal Mail door-to-door delivery and

drop-off sites to over 17,000 homes in

Beaconsfield, Amersham & Chalfonts

e: sales@communitytogether.co.uk
---
COMMUNITY NEWS

Art Helps

Ukranians

The renowned Beaconsfield artist Paul

Bell is producing a series of art works

addressing the war in Ukraine. Paul –

who can often be found at the Farmer's

Market and sometimes at the Tuesday

Market in Windsor End - is now working

on his fourth Ukraine-themed painting.

The first, titled 'Kyiv', can be seen on the

front cover of this magazine.

On Monday 28th March Paul's second Ukraine

work, 'We'll Meet Again', was auctioned at a

dinner in London in aid of the charity British-

Ukrainian Aid. After fierce bidding, the winner

secured the painting for an amazing £7,000-

every penny of which will go towards medical

aid in Ukraine and other help to victims of the

Russian invasion. Paul said, 'I was inspired to do

the painting by the spirit of hope and resistance

of the Ukrainian people, which the Mother Land

monument symbolises. I did it over one weekend,

but I could not have anticipated it would raise so

much for the cause.'

Paul has produced a limited edition of 350

prints of 'We'll Meet Again' (see image, above)

at A3 size with a 50 cm mounting. Each will be

numbered and signed by the artist and will have

a certificate of authenticity. They are £200 each,

all of which goes to British-Ukrainian Aid.

If you would like to receive one of the prints, then

please follow these instructions.

1) Donate £200 or more using this link:

www.justgiving.com/fundraising/

UkraineDinner28thMarch leaving your name

and the reference 'print'

2) Email ukraine@istok.co.uk notifying us that

you have paid, and your address

Richard (left) from Glanville Framing at Beaconsfield Tuesday

Market and Paul Bell.

If you have any queries please email contact

Paul on 07837 972 813 or check out his website:

www.paulbellart.com

4 Beaconsfield Together is part of Community Together
---
February 2020 Screenings

May 2022

Screenings

SATURDAY 14 TH

The Hand of God (15)

Italy 2021 Italian with subtitles

SATURDAY 28 TH

The Courier (12A)

UK 2021

at the National Film

& Television School

Doors open 7:15pm • Film starts 8pm

Go online to view the full programme and details on

how to become a member. Guests are welcome.

beaconsfieldfilmsociety.com

To advertise please call 07786 735 711 or email marketing@beaconsfieldtogether.co.uk

5
---
EDUCATION NEWS

Update from

Anita Cranmer

Our schools and our students have had a

very difficult two years.

They have generally adapted and coped brilliantly.

In the latest school inspection round, Ofsted

rated 89% remaining Good or Outstanding.

Other areas, Admissions, Send placements

and Primary to Secondary transfers rated well

also. Many things have changed. We now know

how much children need the social aspect of

school, and how valued our teachers are. Nadim

Zahawi, Minister for Education has produced

a White paper of suggestions for school to

consider in the light of the last two years. Should

the school day be longer? Should there be extra

catch up days added to the end of term? Should

all schools become Academies? These are points

to ponder and for schools to comment on. We

can trust them to do the best for our children.

100% of schools have engaged with the

Council in preparing for and planning options

for providing school places for children from

Ukraine. These "guest" children will share

with our own children the good experiences of

learning and socialising. If they need extra help

we will all make sure that they have it. We are

proud of our schools in Buckinghamshire.

Anita Cranmer

Cabinet member for Education and Skills

Buckinghamshire Council

Chair Community Board Beaconsfield

and Chepping Wye

Councillor Beaconsfield Town Council

Scouting

- skills for life

I predict that most readers of this article

have had some connection with scouting,

and that many of you are aware that a

major event in the scouting calendar is

a huge international gathering - called

a World Jamboree - which takes place

every four years.

The next Jamboree will be in South Korea in 2023,

and about 40,000 Scouts from 200 countries will

be there. An event which Scouts lucky enough to

attend will remember for the rest of their lives.

Twenty-two scouts from groups in our local

area will either be in South Korea, Northern

Europe and Scandinavia. I hope you will

recognise some of them working hard over the

next year to raise funds for what will be expensive

trips! They will come back very different (young)

people, and I can promise these differences will

be not only for their own good, but good news

for the Buckinghamshire communities in which

they live.

So, if you see them out and about, stop and ask

them about their trips, and hopefully you will

make a small contribution to their funds!

Richard Jones

Asst. District Commissioner

Woodlands District

6 Beaconsfield Together is part of Community Together
---
Counties Loft Ladders tradesmen, so our customers lead to more happy to pop round and

come in.

customers are assured happy customers is true give you a no obligation

of the best job.

and we work hard to quote BUSINESS so you NEWS too can

The company,

make that happen for make use of your loft!

based Home locally, offers Counties Integrity in that we Loft Ladders,

homeowners the will turn up at the time

Home Counties Loft

opportunity to maximise we say and make sure

their storage space Quality the house is spotless You Can Trust!

with

Ladders,

a loft ladder,

Quality when we leave, You and

These days most

watchwords are Quality, - that simply wouldn't every installation we

50sqft

homeowners

of boarding

suffer

and value in that we offer

from Integrity and Value. happen if we didn't carry out!'

a light Can

a lack - of all storage fully Trust! fitted space.

our

Quality

services

in the

at

materials

a price

adhere to our overriding

in So many precious items that we use for all our principles.

So, if you want to make

These

less than

days

a day

most

from people can afford.

homeowners suffer

just that £355! need But to be it's kept not installations and the fact

use of your loft space,

from a lack of storage space. So many

just – but the where affordability

Our business relies on

to store it that all our loft packages At the end of the day the call Jamie free on 0808

of all?

precious the That's package where

items that Home

that need referrals to be and kept we get a old adage that happy 301 9558 and he'll be

makes Counties – but Home where Loft Counties Ladders to store it huge

tradesmen, all? amount That's so where of our calls

our customers lead to more happy to pop round and

Loft come Home Ladders in. Counties stand

from

Loft Ladders customers

people

come are

who

assured

have

in.

happy customers is true give you a no obligation

out, as manager Jamie

been of the referred best job. to us by and leave, we and work value hard in to that we quote offer so our you services too can at a

The company, based locally, our offers existing homeowners customers

Oakley explains: 'Our

make price that people happen can afford. for Our make business use of your relies loft! on

based the opportunity locally, offers to maximise Integrity their storage in that space we referrals and we get a huge amount of our calls

homeowners with a loft ladder, the 50sqft of will boarding turn up and at the a light time - from people who have been referred to us by our

opportunity all fully fitted to in maximise less than a we day say from and just make £444! sure But existing customers - that simply wouldn't happen

their it's not storage just the space affordability the of the house package is spotless

Need more that if we didn't adhere to our overriding principles.

with makes a loft Home ladder, Counties Loft when Ladders we leave, stand and out, as

50sqft manager of boarding Jamie Oakley and explains: value in 'Our that watchwords

we offer At the end of the day the old adage that happy

are Quality, Integrity and Value. our services Quality at in a the price

storage in materials less than that a day we from use for all

people space?

customers lead to more happy customers is true

our installations

can afford.

and and we work hard to make that happen for every

just the fact £444! that But all it's our not loft packages

just the affordability

Our business are fitted relies by on time installation we carry out!'

served tradesmen, so our customers package that

referrals and are we assured get a

of INSTALL the best job. A LOFT LADDER

makes Home Counties

huge amount of our calls So, if you want to make use of your loft space,

Loft Ladders stand

from people who have call Jamie free on 0808 301 9558 and he'll be

Integrity in that we will turn

out, as manager Jamie

been up at referred the time to we us say by happy to pop round and give you a no obligation

and

AND

make sure

USE

the house is

YOUR

our spotless existing when customers we

LOFT!

quote so you too can make use of your loft!

Oakley explains: 'Our

STARTER PACKAGE: Aluminium loft

ladder, light plus 50 sqft boarding, fully

fitted in less than a day from £355

storage space?

• Loft Ladders • Hatches

• Boarding • Insulation

• Lights • Fully Guaranteed

CALL FREE: 0808 301 9558

: Aluminium loft

ladder, light plus 50 sqft boarding, fully

from £444

Loft Ladders Hatches

Boarding Insulation

Lights

CALL FREE: 0808 301 9558

To advertise please call 07786 735 711 or email marketing@beaconsfieldtogether.co.uk

7
---
COMMUNITY NEWS

Dance Dynamic

Dance Dynamic was established in 2014

by experienced dance-teacher Clare

Maloney offering classes to both children

and adults in a range of dance styles:

ballet, tap, modern, jazz, musical theatre

and ballet fitness. Whether you are new

to dance or have more experience, you

will find a warm welcome at this friendly,

locally-based, dance school.

The benefits of dance are well-documented and

wide-ranging: increased strength and flexibility,

better coordination and balance, improved mental

focus and concentration, musical appreciation and

increased confidence.

When dancing in 'boxes' via Zoom which became

the norm during the height of the pandemic,

Clare continued to share her love of dance

with her students; she even arranged for a jive

masterclass and a Q & A session with an ex-Strictly

professional, all via Zoom! Now that restrictions

have ended, normal dance life has resumed: in

February, a number of her young dancers took

exams in ballet, tap and modern, with all of

them achieving excellent results. Some of her

adult ballet dancers recently took part in a local

charity event, happy to be able to participate in

community events again. There is also a Dance

Dynamic Show planned for later this year and

students are looking forward to being back on

stage again, performing for friends and family.

Contact us for more information and to book a

free taster class.

e: dancedynamicschool@gmail.com

t: 07756 505 655

w: www.dancedynamicschool.com

Volunteers needed for

new Phoenix Café at

the Epilepsy Society

Could you spare a few hours each week to

volunteer at the Epilepsy Society's newly

re-opened Phoenix Café? The café has

just opened its doors again to customers,

following a grant from the National Lottery.

And its new name pays tribute to the charity's

popular sports club - the Phoenix team.

Now the café is looking for a team of volunteers to

help take orders, serve refreshments and provide

a warm welcome for customers, including many

of the residents who live at the Epilepsy Society in

Chalfont St Peter.

Kate Lamb is the new manager of the Phoenix Café.

"I am looking for friendly, outgoing volunteers who,

as well as ensuring that the café runs smoothly,

would enjoy chatting to residents, many of whom

have epilepsy and learning disabilities," she said.

"The café is a really important part of their lives,

enabling them to meet friends and socialise. It is

also a great place

for staff to come

and escape the office

or take a break from

their computers and enjoy freshly made coffee

and food." In accordance with guidelines, the

café looks forward to welcoming members of

the public.

If you would like to join the team of

volunteers at the Phoenix Café, please

call Kate Lamb on 01494 601450 or email

kate.lamb@epilepsysociety.org.uk

The charity is also looking for a volunteer to

help with admin in its training department.

If you are interested, please email

andree.mayne@epilepsysociety.org.uk

8 Beaconsfield Together is part of Community Together
---
The Curzon Centre

Beaconsfield's premier community facility

Celebrate, fundraise, exercise or party.

This could be the place for you!

Versatile facilities include: Sports Hall with Stage,

one medium sized Hall and a smaller Hall/Meeting Room

with adjoining well-equipped kitchen.

All available at competitive rates.

For further information Tel: 01494 672891

www.curzoncentre.org.uk

Reflexology

To relieve stress, promote

relaxation and well-being

Christine Ashcroft, ITEC level 3

qualified, based in High Wycombe

Tel: 07798 612 993

Email: piedssurterre@icloud.com

Web: piedssurterre.co.uk

To advertise please call 07786 735 711 or email marketing@beaconsfieldtogether.co.uk

9
---
FATHER'S DAY

Fathers Day gifts

and ideas

Fathers day was dreamt up in 1909. This

years it's on Sunday, June 19, 2022 and

always falls on the 3rd Sunday in June.

It was actually initiated by a woman named

Sonora Smart Dodd in 1909. She "tried to

establish an official equivalent to Mother's Day

for male parents," and it wasn't long before she

won support from local businesses and beyond.

On June 19, 1910, the first-ever Father's Day

was celebrated in the state of Washington.

For foodie fathers

The Bangkok Holiday

in a Box is a gift

that gives back.

This adventure

includes a filmed

Thai cookery course

that supports

Bangkok-based

NGO The

Courageous Kitchen,

which supports

marginalised youth develop their leadership,

employment and life skills through cookery.

You'll also get two special cocktail recipes

courtesy of the bartenders at award-winning

137 Pillars Bangkok, a jazz playlist composed by

royals, and the non-negotiable online city tour of

Bangkok, curated by founder Laura Bannister, who

called the city home for over a year prior to the

pandemic. Cost: £45

Go to: www.theholidayinabox.co/shop/

p/bangkok

Give your dad

a gift with a

difference!

Your dad may have moaned to you that he

wants to lose weight, MAN v FAT could be

the ideal present for him. They support, guide

and give you help to lose those pounds. If

your dad was a keen footballer player back in

the day, MAN v FAT Football is football with

a difference. Football is a fantastic way of

improving health – and 90% of players lose

weight. Cost: £28.50 per month For more

details: www.manvfatfootball.org

Enter the competition to win 3 months

free membership in Wycombe see p45

Drive an Aston

Martin Replica DB5

and V8 Advantage

Experience the

epitome of luxury

British motors with

this double blast in

an Aston Martin

Replica DB5 and

V8 Vantage.

James Bond's Aston

Martin DB5 is famed

for its epic car chases

and action scenes

over 50 years of the

iconic movies. Get

behind the wheel

for a three-mile blast round the track, before

continuing the thrills with three miles in a

beautiful Aston Martin V8 Vantage. Renowned for

exceptional handling, performance and all-round

luxury, if your dad loves the thrill of a fast car - this

is a gift he would love. Cost: £59

www.virginexperiencedays.co.uk/product/

drive-the-aston-martin-db5-and-v8-vantage-sp3

Personalized gifts

from Men Kind

There are an array

of online gifts that

you can get your

dad. A personalized

gift is fun, but make

sure you leave

enough time to buy

this one! This made

us laugh.

Cost: £10

www.menkind.co.uk

Free gifts

The best gifts are free! If you are short of funds,

why not make your own card - drawing things that

are personal to your dad. Organise a day out and

play games, playing cards, football, french cricket

and/or buy some sandwiches or have a picnic

outdoors if its fine or have a pretend picnic inside.

Whatever you do - he will appreciate it and you

can show your dad how much you love him.

Happy Father's Day!

10 Beaconsfield Together is part of Community Together
---
Find us at Beaconsfield Market

every Tuesday 8am until 2pm

We stock shrubs, perennials, spring bulbs,

seasonal baskets and bedding plants

Follow us on Facebook and Instagram

finest_plants
---
LOCAL BUSINESS

Cleaning your

home:

Going toxin-free has

never been easier.

Many of us have become a little obsessed

with hygiene and cleanliness during the

pandemic, this has meant focusing on

keeping our homes cleaner than ever. There's

nothing quite as satisfying as a clean house:

fresh- smelling, sparkling and virus free. But

have you ever thought about what's actually in

your cleaning products and whether they leave

more than just a nice smell?

Why should we be concerned?

Common ingredients in conventional household

cleaning products can pollute the air in our homes

and there is growing concern that this is affecting our

health, with incidences of cancer and asthma.

According to the

U.S. Environmental

Protection Agency,

the air inside the

typical home is on

average 2-5 times

more polluted than

the air outside and,

in extreme cases,

100 times more

contaminated

largely because of household cleaners and

pesticides.

In the EU and the UK the only ingredients that are

required to be biodegradable in cleaning products

are "surfactants" (agents used to increase spreading

and wetting properties) – all other substances

(including microplastics) are not restricted

(Ethical Consumer, 2021). This is evident

when you look at your cleaning product labels

and find "hazardous" or "corrosive" warnings.

What is the solution?

Happily, there are a growing number of nontoxic

cleaning products available. The Ethical

Consumer recommends the products to look out

for are those that do not contain toxic chemicals

such as chlorine, triclosan, parabens or phthalates.

Which non-toxic products actually work?

Eco-Homemaker, an online shopping platform,

makes your life easier when it comes to eco-friendly

shopping for your family. They stock refillable

non-toxic cleaning products such as a bleach

alternative, anti-bac surface cleaners, oven cleaner,

glass cleaner and floor cleaner – all have been

thoroughly tried and tested so you can be assured

of their effectiveness.

12 Beaconsfield Together is part of Community Together
---
Kings Head House, 15 London End, Beaconsfield, HP9 2HN

www.conciergegroup.uk

To advertise please call 07786 735 711 or email marketing@beaconsfieldtogether.co.uk

13
---
COMMUNITY NEWS

Bucks Freemasons

fundraise for

Ukrainian refugees

Thousands of Ukrainian refugees as

well as displaced people still inside

Ukraine will be given help and

support, thanks to half a million

pounds raised by Buckinghamshire

Freemasons and other Provinces

across England and Wales

The money is being directed to charities

working on the ground in Ukraine, as well

as organisations helping refugees in

neighbouring countries including Poland,

Moldova, Romania, and in the UK.

The £500,000 was raised in less than three

weeks and the total is still growing as

Freemasons continue to dig deep to help

the refugees.

The war in Ukraine has created by far the

largest refugee crisis in Europe since the

Second World War, and more people are

fleeing Ukraine for countries to the west

every day.

The chosen charities, each of which will

receive £100,000, are:

1. The UK Committee for UNICEF (UNICEF

UK) – which could help setup a 'Blue Dot

Hub' to provide a safe space for up to 5,000

children and families on the move every day.

Blue Dot Hubs offer critical services such

as child-friendly spaces, mother and baby

facilities and a crucial family reunification

support.

2. Plan International UK – which could help

set up 55 temporary learning spaces in

Poland, Moldova and Romania, so children

can learn and play in a safe space away from

the war.

3. The Refugee Council – which could

help to fund two full-time therapists to

provide specialist therapy for hundreds

of traumatised refugees.

4. British Red Cross – to fund work with

hundreds of Ukrainian refugees in the UK

to help them overcome loneliness and

isolation and to offer other practical support

to help ease them into life in Britain.

5. UK for UNHCR, the UN Refugee Agency –

which could help provide essential repairs to

severely damaged homes in Ukraine that

have been damaged by shelling and conflict.

Buckinghamshire Freemasons contributed

to the grant through the Masonic Charitable

Foundation, which is funded by Freemasons,

their families and friends, from across

England and Wales.

14 Beaconsfield Together is part of Community Together
---
To advertise please call 07786 735 711 or email marketing@beaconsfieldtogether.co.uk

15
---
By James Cooklin

Come dine at Riwaz in Beaconsfield

In February this year, Beaconsfield saw the

thrilling opening of the much-anticipated

Indian restaurant "Riwaz". Headed by two-time

Michelin-starred chef, Atul Kochhar, Riwaz was

conceived with the ambition to encompass

the traditional cuisines of India, with a menu

championed by the country's rich history and

cultural practices. Riwaz – meaning "tradition",

was created with the aim to transfer nostalgic

childhood memories to the plate of the diner,

as the menu encapsulates Atul's various

experiences growing up in the different regions

of India. The selection of dishes features

culinary delights cooked by Atul's grandmother,

in combination with his own creations heightened

by his passion, and mastery of the tradition to

this culture. Menus importantly cater for meat,

pescatarian, vegetarian and vegan diners.

Atmosphere & Vibe:

Situated in the original architecture of a building

dating back to the 16th century, the Beaconsfield

based restaurant resembles the designs of the

Art Deco villas of Bandra in Mumbai, built in

1930 - 1950. This British-Indian architectural fusion

offers a warm and vibrant ambience, whilst also

perfectly relaying the cultural setting for this

dining experience.

Menu Highlights:

Amuse Bouche & Tasters:

While we navigated the menu, an array of crisp,

elegant poppadom's were served by our table

host Pankaj, with a sweet chutney and mildly

spiced pickled achaar to pair with them. In

addition, an amuse bouche was presented, which

consisted of a featherweight chickpea sponge

cake, seasoned elegantly with sweet and mild

spices, combined with a delicate sauce drizzled

over the top. A refreshing and mouth-watering

sampler, that really set the tone for the meal.

Starters:

The selection of starters showcased a balanced

variety of appetising vegetarian and meat dishes

to choose from. Inspired by Delhi street food,

the Dilli Ki Aloo Kachaloo Shakarkandi Chaat was

not only a mouthful to say, but also a mouthful

of extremely delicious flavours, as crunchy fried

potatoes with a sweet yoghurt sauce coalesced

seamlessly together. Other highlights included the

buttery smooth Machhi Sofiyani monkfish dish,

in addition to the Tandoori Jalpari scallops which

paired with a fresh pea puree, however, it did

deliver a punchy kick of heat!

Main Courses:

The main courses again provided a nice selection

for both meat and vegetarian diners, with some

16 Beaconsfield Together is part of Community Together
---
Competition Time!

unique courses I had never seen before! One

of these was the Hare Masale Ki Machhi,

which consisted of an edible coastal marine

fish called "John Dory", alongside charred

spinach and neelgiri korma. The dish delivered

a powerful combination of flavours and spices and

is one of the new dishes Atul has created, a must

try for spice lovers! Another favourite was the

Murg Makhani butter chicken, enveloping creamy,

perfectly cooked chicken that melted in your

mouth – simply delicious.

Desserts:

The dessert menu had a range of intriguing

and palate enticing options to choose from. The

Kulfi Falooda was definitely no exemption, as

velvety mango and pistachio ice cream lay on a

bed of rose syrup infused vermicelli noodles! This

combination married up in the most unlikely way,

as the different textures and flavours combined

perfectly together – a must try! The granny smith

apple sorbet must also be given a mention, as I

have never tasted a sorbet so accurate in flavour

to the original food – simply a delicious and

refreshing close to the meal.

If you are looking for an authentic Indian meal -

you should make Riwaz in Beaconsfield your

destination. Service is not rushed and you are

given due care and attention for this magical

culinary experience.

If you want to try the 7 course tasting menu

with matching wines why not enter the fabulous

competition opposite.

To reserve a table go to:

w: www.riwazrestaurants.co.uk.

t: 01494 728 126

e: info@riwazrestaurants.co.uk

Enter this amazing competition to

win a 7 course tasting menu with

pairing wines for 2!

Total prize worth £240

NB: Vegetarian, Pescatarian and Vegan tasting

menus also available

To enter answer this simple question:

Who inspired Atul Kochhar to create some of

the dishes from the menu at Riwaz?

Was it his:

a) father

b) grandmother

c) mother

d) great grandmother

Go online to enter:

www.beaconsfieldtogether.co.uk/competition

or email:

marketing@beaconsfieldtogether.co.uk with

your answer, name, address, email and contact

telephone number.

T's and C's apply. See website for details.

Closing date: 3rd June 2022. The winner will

be picked at random and notified after the

closing date.

Good luck!

To advertise please call 07786 735 711 or email marketing@beaconsfieldtogether.co.uk

17
---
ENVIRONMENTAL

How to reduce heat loss from your

home - the' fabric first' approach

We all know that we are being asked to

do 'our bit' in being more eco-friendly.

How can we achieve this in our homes? A family

asked EcoTiffin to do just that and after enlisting

their help, they commented, "EcoTiffin saved us

37% in energy bills whilst increasing our square

footage by 35%, giving us a warm and welcoming

home."

Moisture in brickwork is the worst possible

ingredient to have in your property and every effort

should be made to prevent the ingress of moisture.

Moisture in the brickwork reduces the brick's thermal

capacity to retain heat and it has a chilling effect like

a fridge on your home. Solid brick walls are by far

the worst. Remember; wet walls are cold walls!

The fabric first approach is essential when improving

insulation to roofs, walls, floors and windows and are

just some of the ways of reducing heat-loss. The use

of thermography (thermal imaging) is an exciting

and relatively new application in the building world.

If you want to identify areas of excessive heat loss

in your home and create an eco-friendly building,

using thermographic equipment, is a good place

to start.

Robert Tiffin (descendant of the original family)

and highly respected building expert and Quantity

Surveyor, has seen a rise in the number of families

wanting to make their homes work more efficiently.

Evidence from thermograms help to provide much

of the data to substantiate Robert's bespoke reports

for each property in "seeing the unseen". To

the trained eye, the results can reveal important

information enabling a clear diagnosis. Home

owners look forward to maximising their comfort

to a warm, cosy and cost effective, healthier

environment for themselves and their families.

18 Beaconsfield Together is part of Community Together
---
DESIGN AND MARKETING FOR

MAXIMUM IMPACT

LOGOS, ILLUSTRATIONS, ADVERTISEMENT,

BUSINESS STATIONERY, SOCIAL MEDIA

ADVERTS, WEBSITES, LEAFLETS, car livery,

clothing designs

When can I

afford to retire?

You may have an idea about the type

of lifestyle you want, but knowing if

your expenditure will be sustainable is

not straightforward.

In terms of budgeting, inflation is a big factor

over 20 to 30 years, and it's easy to overlook

capital expenses like replacing cars or home

refurbishments.

The investment strategies in our pensions are

vital in determining the potential sustainability

of our income. Yet, these are often ignored by

many savers.

The order in which we draw from our assets

in retirement, and the use of available tax

allowances, can also play a significant factor

in our money's longevity, but these are not

simple matters.

Ben Walter, CEO at Walter & Partners,

comments, "Planning for retirement has never

been so important, with people living longer

and more active lives. We help our clients map

out their retirement budgets, recommend

appropriate investment strategies, and advise

on drawing from their assets in a tax-efficient

way. This ongoing process provides clarity,

direction, and peace of mind when planning

for, and living in retirement".

You can find out more about Walter & Partners

and get in touch at www.walter-partners.co.uk

To advertise please call 07786 735 711 or email marketing@beaconsfieldtogether.co.uk

19
---
Holtspur Scarecrow Trail

30th July - 7th August

Holtspur Scarecrow Trail

Holtspur Scarecrow Trail is back

from 30th July – 7th August.

#HoltspurScarecrowTrail

If you'd like to be part in this unique community

event why not enter a Scarecrow?

Scarecrows can be

made from any

materials, be any

shape or size,

the theme is a

character from a

Book, a Story,

Fairy Tale, a

Nursery Rhyme

or Comic. Anyone

can enter and the

entry fee is only

£10.

We welcome entries from Residents, Groups &

Businesses, last year we had entries from Scouts,

Brownies, Beaconsfield WI and Holtspur Fire Station.

Some of the wonderful creations can be seen here...

For more information email:

HoltspurScarecrow@Outlook.com

Follow us on Facebook or Instagram

All money raised will be donated to Holtspur School PTA

The event is kindly sponsored by:

@HoltspurScarecrow

20 Beaconsfield Together is part of Community Together
---
Forget fence worries for good

Choose 25 years maintenance free metal fencing*. Choose ColourFence.

Unique ColourFence GUARANTEE

◆ Virtually, maintenance FREE for 25 years*

◆ Won't warp, crack, shrink, rot or peel

◆ Withstands gusts up to 130mph

Why choose anything else?

◆ Metal fencing available in four colours

◆ Established in the UK for over 15 years

◆ Professional installation

25 YEAR guarantee

Brown Cream Blue Green

"We chose ColourFence 15 years

ago and it looks as good as new. "

Mr & Mrs P. Stringer

For a free, no-obligation quote, find out more via:

01494 711 400 | colourfencebucks.co.uk

*T&Cs apply – see website for details

To advertise please call 07786 735 711 or email marketing@beaconsfieldtogether.co.uk

21
---
COMMUNITY NEWS

Get ready for

GX Fun Run on

Sunday 22nd May!

It's already May and the GX Fun Run is just

around the corner! On the 22nd our many

eager participants, young and old, will put on

their trainers and take up the challenge to run

5k round the streets of our pretty village.

This year we are raising money for our chosen local

charities, Hearing Dogs for Deaf People, Liberty's

Legacy and William's Fund. More information

about the charities can be found on our website

gxfunrun.org.uk.

The day is not just for the runners though -

everyone's invited. It's a family occasion – live music,

great food (courtesy of Chris Wheeler, The Ginger

Chef) and a bar to quench your thirst, supported by

the GX Community Association. Enter the 'special

draw' for the chance to have Chris Wheeler cook

for your dinner party of eight guests.

Wear it blue for MPS Society

The MPS Society, a national rare disease

charity based in Amersham, are celebrating

their 40th anniversary this year.

They were established in 1982 by Christine Lavery

MBE and provide support to families affected by rare

genetic conditions. They're the only registered charity

in the UK that focuses on MPS (Mucopolysaccharide),

Fabry and related diseases. These diseases cause a

range of progressive disabilities and sadly, there is

no cure. They raise money and awareness of these

conditions through fundraising, information, research

and support.

This year, they're

continuing to help

their 1,500 members

affected by MPS,

Fabry and other

related rare diseases.

All profits raised this

year for their 40th

anniversary will help to fund

the specialised support that

© David Moore Photography

There's lots to keep children entertained including

a helter-skelter, bouncy castle, petting zoo and a

chance to beat the goalie!

We have races for children aged 6-8 years in

a timed 1k run, and shorter races for younger

children. From 12:15, Fit House will lead the main

event warmup to prepare older runners for the task.

The starting gun will fire at 12.30 and the race will

begin! Check the website for running order of the

day, road closures and lots of other information.

Come and enjoy this special family day and

we look forward to welcoming everyone.

www.gxfunrun.org.uk

we provide to their members.

It's MPS Awareness Week from

9-15 May 2022 and they need your

help to raise awareness of the signs of MPS.

There are many ways that you can help them.

You can wear something blue, hold a blue-themed

event such as a blue bake sale, donate to them -

www.mpssociety.org.uk/donate-now, follow them

on social media - @MPSSocietyUK and share

their posts using #MPSAwareness or read their

inspiring members' stories on their website –

www.mpssociety.org.uk.

They have lots of exciting events planned for their

members and the wider public for this year. Keep

an eye on their website and our social media

channels for updates. If you would like to hold

your own event, you can register for a fundraising

pack here - www.mpssociety.org.uk/holdingyour-own-event.

If you have any questions, please email

fundraising@mpssociety.org.uk. Thank you and

they look forward to wearing it blue with you!

22 Beaconsfield Together is part of Community Together
---
EYE NEWS

Protect your

children's eyes

Your child's quality of vision has a huge impact

on their life and their eyesight can influence

their ability to learn. If issues with your child's

eyes are not detected early with appropriate

treatment it might possibly result in difficulties

at school and some activities.

How do you know if your child has difficulty seeing?

They can't tell you if something is blurred as they

won't have a comparison to draw upon. Checks on

children's vision at school aren't always carried out at

an early age. So what can you do to help? As soon as

your child is able to sit still for a short period (!) take

them to your optician. The optician will advise you if

they are able to do an eye test. Vision checks can be

done without your child needing to be able to read.

It is helpful to make your child feel comfortable about

having their eyes examined.

You can also look out for signs of visual issues, such

as sitting too close to the television, or squinting

when reading or watching TV.

There are other things you can do to help your

child's developing vision. A healthy diet with lots of

fruit, vegetables and fish. Vitamins C, E, Zinc and

Omega3 are recommended for the general health

of eyes. Limit the time spent on digital devices and

encourage regular breaks away from screens and

swap to activities outside in the fresh air.

Protect their eyes from UV on sunny days and on

holidays with sunglasses that have UV protection.

Above all if you have any concerns ask your optician.

Helen Gilbert FBDO

Dispensing Optician

HARROLDS

opticians & audiologists

2 for 1

Kids & Teens

glasses

Make your digital world easier

... Ask about office lenses

Eye tests are free for kids

The health of your eyes is as important as HARROLD your vision. OPTICIANS With renal photography as standard

Your vision...Our care

* When you buy a frame for £18 or more. Excludes other offers. Assumes Free NHS eye test and NHS voucher subject to NHS guidelines. Ask for details.

and the opon of OCT , you can be assured you're doing the very best for your eyes. We have

office lenses to help with screens and tablets, lenses to protect from UV and lenses that

darken when you drive. As a healthcare seng you will find cleaning protocols and masks

are sll in place. To book an appointment call 01494 672193

www.harroldopticians.co.uk 26 Gregories Rd Beaconsfield HP9 1HQ

To advertise please call 07786 735 711 or email marketing@beaconsfieldtogether.co.uk

23
---
What's been happening

at Beaconsfield Town

Council?

It's great to see the first

signs of spring around

the town and all the

lovely bulbs planted

by various community

groups adding much

needed colour.

We have been receiving

quite a few complaints

about parking in the old

town and specifically

people parking on and

driving along the

pavements. This really

impacts pedestrian safety

and accessibility for

wheelchair users and

buggies, as well as

restricting vision and being

dangerous. We hope

to work with other

organisations to improve

this over the next few

months.

Civic Service

So many things weren't

able to happen during

lockdown, so we were very

happy that we were finally

able to arrange the Mayor's

Civic Service on Sunday 6th

March for Cllr Alastair Pike.

It was a great turnout from

the town and a welcome

opportunity to meet face

to face.

Thanks to Cllr Lorna Shaw

was invited to cut the

ribbon to officially open

the new road which is

now definitely a Road to

Somewhere and we hope

that this will bring about

improvements to the traffic

movements through our

town.

Neighbourhood plan

update

We had a huge response

to our town wide

Questionnaire survey with

around 1000 responses.

Our Neighbourhood Plan

team of volunteers and

Road to Somewhere!

On the 5th April, the Mayor

Cllr Zahir Mohammed (Chair Buckinghamshire Council), Stephen Wicks (CEO

of Inland Homes) and Alastair Pike (Mayor of Beaconsfield).

24 Beaconsfield Together is part of Community Together
---
Left to right: Cllr Jackson Ng (Deputy Mayor Beaconsfield Town Council), Cllr Zahir Mohammed (Chair Buckinghamshire Council),

Cllr Alastair Pike (Mayor of Beaconsfield), Cllr Mark Roberts (Mayor of Amersham) and Cllr Richard Scott (Mayor of Marlow)

councillors held public

exhibitions in each of

the 3 hearts of the town

(Holtspur, Old Town and

New Town) from 17-19

March. Again, we had a

great turnout with lots of

very positive responses

with around 110 people

attending. We are now

analysing all the feedback

received to see how this

shapes our next steps

towards preparing the

Draft Neighbourhood

Plan policies and content,

before we go back to the

public for the next stage

of project later this year.

To keep updated on

progress please visit

our website at

www.beaconsfieldtown

council.gov.uk/community/

neighbourhood-plan/ or

email np@beaconsfield

towncouncil.gov.uk

and ask to go on the

mailing list or write to

Beaconsfield Town

Council, Town Hall,

Cllr Andrea Essery talking with Cllr Sandy Saunders and Rosemary Saunders

To advertise please call 07786 735 711 or email marketing@beaconsfieldtogether.co.uk

Penn Road, Beaconsfield,

HP9 2PP.

What is a Neighbourhood

Plan?

A Neighbourhood Plan (NP)

puts in place a planning

policy for an area. It is about

the use and development

of land and often contains

a vision, aims and planning

policy. It will relate to the

settlement area of the

community (in our case the

Parish boundary) and as the

Town's setting is flanked

with green belt, green belt

will be outside the scope

of our NP. If successfully

adopted, the NP becomes

part of the statutory

development framework

for the area. The NP should

not be confused with a

Local Plan, which will be

produced at a higher level

and relates to a larger area.

Importantly the two must

recognise each other.

25
---
COMMUNITY NEWS

New Water

Refill Station

for Beaconsfield

A new water refill station is being

installed in Beaconsfield, allowing

residents and visitors to fill up their

water bottles.

Situated on the Town Hall Green, next to

Waitrose, the refill station will provide free access

to clean drinking water and, it is hoped, reduce

the number of single use plastic bottles being

bought. The #OneLess campaign estimates that

7.7 billion plastic water bottles are used every year

in the UK. Only 1 in 10 are recycled and about

700,000 are littered every day. It is expected

the refill station will result in an immediate

improvement to the local environment by

reducing litter and plastic waste.

Local resident Michael Mosley says: 'I am really

delighted to see the installation of this free water

refill station outside Waitrose. It is important to

stay hydrated (a subject I have covered on my

recent BBC4 and podcast series, Just One Thing)

and it is also important not to keep on buying lots

of plastic bottles. So a refill is a win-win!'

A petition started at the Beaconsfield Now!

Fair in 2018 to gauge interest for installing a water

refill station in Beaconsfield received enthusiastic

support from the public, community groups and

local Councillors. Since then, the Beaconsfield

Water Refill Station Project Group, a collaboration

between community groups, Beaconsfield WI and

Plastic Free Beaconsfield has been raising funds

and organising the installation of this valuable

community resource.

Planning permission for the

installation has been granted by

The Planning Inspectorate acting

for The Secretary of State (Defra)

and by Buckinghamshire Council.

Members of the Town Council

have supported this.

The group are proud to have

worked with the following

amazing partners who have

enabled this project to go ahead:

• Buckinghamshire Council Local

Area Forum

• Heathrow Community Trust

• Love Your Water Ltd

• Kinetico Urban

• Waitrose and Partners

• Beaconsfield Old Church School Charity

• Beaconsfield WI

• Beaconsfield Community Association

• Heighway Associates Architects

Deborah Sanders, Beaconsfield WI President

and member of the working group said: "The

refill fountain is a simple but effective way to

encourage people to ditch plastic bottles and

instead refill reusable ones."

"Adopting small changes like refilling reusable

bottles with tap water, instead of needlessly

buying new single-use ones, can have a big

environmental impact," says Catherine Rozario, a

member of Plastic Free Beaconsfield.

© Michael Mosley

A launch event to officially celebrate this

community asset is planned for World Refill Day,

Thursday, 16 June 2022, subject to Affinity Water

completing the water supply connection.

26 Beaconsfield Together is part of Community Together
---
Thank you for

saving 1 billion

litres of water!

Last year, your local water supplier Affinity

Water launched SOS: Save Our Streams,

a movement asking us to waste less water

to save our local rare and endangered

chalk streams. Thousands of you signed

up and it has become the UK's biggest

ever water-saving initiative to date.

COMMUNITY NEWS

One billion litres of water were saved last summer,

an incredible achievement.

To say thank you, Affinity Water is giving away

this beautiful 255 litre water butt with planter.

Water butts help keep your garden blooming

by using rainwater instead of tap water through

a hose, making a huge difference to how much

water you use.

WIN!

To win one of these beautiful water saving planters go to:

www.beaconsfieldtogether.co.uk/competition and answer this simple question.

How much water was saved last summer.

a) 1 million litres b) 2 million litres c) 1 billion litres d) 2 billion litres

Closing date: 3rd June.

To help us save even more water in 2022, sign-up at www.saveourstreams.co.uk

to receive a free water-saving kit.

Make a difference to an older person in your community

We offer volunteering opportunities across Chilterns and South Bucks

to anyone who feels they could offer someone support within the local

community, even a few hours a month.

Based in Chesham, we're a charity providing free information from our

trained volunteers. This could be over the phone, or face to face during

a home visit.

Helping others through volunteering can help you with a sense of

purpose and connection to others. Training & support is available.

For more volunteering information see website voicesandchoices.org.uk/volunteering/

t: 01494 784566 | e: info@voicesandchoices.org.uk

To advertise please call 07786 735 711 or email marketing@beaconsfieldtogether.co.uk

27
---
INTERIORS

Designing a

kitchen that

meets the

outdoors

Traditionally, the kitchen was solely

used for preparing and cooking food,

but this is no longer the case. For many

homeowners, their kitchen is the heart of

their home and it is the room that they

spend the majority of their time in. As

we go into the summer months having

a practical yet comfortable kitchen that

is also designed to be a sociable area

is really useful when incorporating your

kitchen and outdoor area.

plenty of natural light flood into your kitchen

which is always beneficial, but if you have children

that will be playing outside or a dog that will be

running in and out, you should make sure your

doors work well in your new layout. Keeping

your space open plan and allowing enough of a

walkway from your garden through the kitchen

will help with this.

Install a kitchen island

One of the easiest ways to turn your kitchen into

a sociable space that flows into your outdoor

area is by installing a kitchen island. This instantly

provides people with a central hub to gather

around and it can also give you additional counter

space and storage space. Having bar stools at

your kitchen island is always a brilliant idea too

Keep the space open plan

When designing your kitchen don't overlook

your outdoor space, especially if the doors to

your garden are in your kitchen area. Creating

a sociable space that runs between your kitchen

and your patio or decking is perfect for the

summer months, so think about installing big

bi-folding doors or sliding doors to make your

outdoor space easily accessible. This also lets

28 Beaconsfield Together is part of Community Together
---
INTERIORS

and it can then become a convenient place for

people to eat as well. Always strategically place

your kitchen island and prep space in a way that

allows you to still speak to others in the room

whilst you're cooking too.

Add a home bar into your design

For the ultimate outdoor entertaining space,

consider creating a home bar in your kitchen.

This doesn't necessarily need to be on display

all of the time and there are lots of ways you

can incorporate drinks storage into your kitchen

design. From wine racks and drinks fridges

under your kitchen island to repurposing a

traditional kitchen larder, there's a solution for

every kitchen.

Have plenty of storage solutions

Ensuring everything in your kitchen has a home

will help you to keep it tidy and clutter-free, ready

to welcome guests at any time. It will also ensure

you're easily able to access the things you need

when cooking and entertaining. Installing a pantry,

pull out larders and additional cabinets nearer to

your outdoor area are just some of the solutions

available.

For more information: www.ashfordkitchensandinteriors.co.uk or go to p47

Help needed for

August's Beaconsfield

Country Fayre

The Beaconsfield Country Fayre was a great

success last year and they raised £13,500 which

will go to a number of charities.

A third to renovations of the parish church,

St Mary's, a third will go to Thames Valley Air

Ambulance, a £1000 to the Dove project and the

rest to the Rotary and the Beaconsfield Society.

Apart from the monies raised their aim is to

bring the town together and this was certainly

achieved as there were around 6000 people

visiting throughout the day. The happiness and

being able to meet up again was wonderful to

see after such a difficult year.

© Better Connected Beaconsfield team and stall at the

Country Fayre 2021

They are now planning for this year and will take

place on Bank Holiday Monday in August. If

anyone is interested in joining the committee -

they are always keen to have fresh ideas. Also if

anyone would like to have a craft stall, or would

like to sponsor them - they would give as much

publicity as possible in return.

Please contact Sylvia on: srlljones@aol.com

To advertise please call 07786 735 711 or email marketing@beaconsfieldtogether.co.uk

29
---
What's On

May / June 2022

May

Wednesday 11th May - 12.30pm

Beaconsfield Library

We will be joined by members of the Beaconsfield

Fire Safety Team to talk to our older residents about

fire safety in the home – come along to ask any

questions and to hear about measures you can take

to help protect yourselves in the home.

Saturday 14th May & Sunday 15th May -

10.30am - 4.30pm

Demonstration of traditional wood crafting skills

at Bekonscot Model Village. Wood turners and

carvers will be showcasing their skills and offering

items for sale.

www.bekonscot.co.uk

Friday 27th May 2.30pm

Beaconsfield Library

Beaconsfield Town Crier Dick Smith will be coming

to talk to us about the Town during the Coronation

and subsequent celebrations involving The Queen,

also about his many meetings with the Royal

Family. Must be booked in advance.

Saturday 28th May 2.00pm

Beaconsfield Library

A chance for children to hear all about Beaconsfield

during the Queen's coronation and other royal

celebrations. Must be booked in advance.

Saturday 28th May

Beaconsfield Library

Elmer Day – we will have colouring and craft ideas

for children throughout the day.

Monday 30th May - Sunday 5th June 10am –

5.30pm

Celebrate the Queen's Platinum Jubilee at

Bekonscot. Complete the Jubilee trail around the

village, enjoy a Jubilee Cream Tea and then get

creative with some Jubilee crafts (Mon-Fri only).

www.bekonscot.co.uk

The information published is correct to the best of

The our information knowledge, published but please is check correct with to the organisers best of

our before knowledge, making but plans. please To add check your with event, organisers contact:

before events@communitytogether.co.uk

making plans. To add your event, contact:

events@communitytogether.co.uk

June

Thursday 2 June: 8pm, with coffee/tea from

7.15pm

The Arts Society Amersham - Talk on "The Duc de

Berry, a famous arts patron of the Middle Ages"

at the King's Church, Raans Road HP6 6LX.

www.theartssocietyamersham.org.uk

7th June: 1.30pm

Beaconsfield Library will be celebrating

The Queen's Jubilee

Join us for craft activities, See an exhibition of local

interest from the Historical Society. View a visual arts

project Jayantee in association with Alfriston School

together with a talk about the Queen, India and the

Commonwealth.

We will be holding lots of events to celebrate The

Queen's Jubilee at the beginning of June, look out

for more information on our website, facebook or

in the library.

21 May to 5 June - 9th

Chilterns Walking Festival

…plus map reading courses, pub walks, local

produce tasting, Midsomer on the Misbourne

walks, Hillfort and historic garden tours and much

more. Visit website: https://www.visitchilterns.

co.uk/walkingfest.html. To keep updated join our

Chilterns Walking Festival facebook page.

Sunday 19 June: 2.00pm – 4.30pm

One Day Farm - Scannappeal Open Garden, HP5 1UN

Tickets £7 available from www.scannappeal.org.uk/

events

This beautiful garden surrounds a delightful

15th century farmhouse. A magnificent display of

roses, kitchen garden, natural pond, surrounded by

woodland and meadow walks.

Sunday 26 June - 11am - 5pm

Chalfont St Giles Neighbours – Scannappeal

Open Garden, HP8 4NS

Tickets £7 available from www.scannappeal.org.uk/

events. Visit three beautiful gardens situated in the

Chiltern village of Chalfont St Giles. Stratton Chase

Lodge, landscaped with a pergola, sculptures.

Hilborough is a family garden with a variety of planting

including vegetables, soft fruit and fruit trees.

Applewood is a mature and well cared for garden.
---
Call Free

0808 168 1616

UPGRADE TO FULL FIBRE BROADBAND

"The service has been

100% reliable and the

speed is Excellent."

Reliable gigafast

connection

Fair prices from

£23 a month

Switching

made easy

Experienced

support team

Check availability

heybroadband.co.uk
---
Let's celebrate the

Queen's Platinum

Jubilee altogether!

On 6th February 2022 Her Majesty

The Queen became the first British

Monarch to celebrate a Platinum Jubilee.

This marks 70 years of service to the people

of the United Kingdom, the Realms and the

Commonwealth. A special extended bank

holiday weekend will provide an opportunity for

communities and people throughout the United

Kingdom to come together to celebrate the

historic milestone. We will be enjoying a four day

UK bank holiday weekend from Thursday 2nd

June to Sunday 5th June. Here are some of the

activities taking place for HRH The Queen and in

your local area.

Overseas Territories.

• Commonwealth Beacons

- beacons will be lit in

all capital cities of the

Commonwealth - 54 in total.

• Principal Beacon - to be lit

on the 2nd June in a special

ceremony at Buckingham Palace.

If you want to host your own community beacon

go to: bit.ly/Platinum-Jubilee-Beacon-info for

more details.

Thursday 2nd June

The Queen's Birthday Parade (Trooping the

Colour): Over 1,400 parading soldiers, 200

horses and 400 musicians will come together

in the traditional Parade to mark The Queen's

official birthday, usually held on the second

Saturday in June.

Platinum Jubilee Beacons

A beacon chain, once used as a tool for

communication, has now become a symbol

of unity across towns, borders, countries and

continents and is often the central point of focus

for any outdoor gathering or celebration. Over

1,500 beacons will be lit throughout the United

Kingdom, Channel Islands, Isle of Man and UK

Overseas Territories.

There are three kinds of beacon events:

• Community Beacons – thousands of

beacons will be lit by communities, charities

and different groups throughout the regions

of the UK, Channel Islands, Isle of Man and UK

Saturday 4th June

The Derby at Epsom Downs: Her Majesty The

Queen, accompanied by Members of the Royal

Family, will attend the Derby at Epsom Downs.

Platinum Party at the Palace: The BBC will

stage and broadcast a special live concert from

Buckingham Palace that will bring together

some of the world's biggest entertainment stars

to celebrate the most significant and joyous

moments from The Queen's seven decade reign.

Find out more at: www.platinumjubilee.gov.uk

Sunday 5th June

The Big Jubilee Lunch: Every year since the

idea began in 2009 The Big Lunch is encouraged

to bring communities together for the Jubilee

celebrations.

People are invited to share friendship, food
---
and fun with neighbours as part of the Platinum

Jubilee celebrations. A Big Jubilee Lunch can be

big or small - street party or picnic, tea and cake

or a garden barbeque. Over 1400 people have

registered to host Big Jubilee Lunches so far,

with events being planned across the length and

breadth of the country.

River of Hope flags focusing on climate change

forms an important part of the Platinum

Pageant. The 'River of Hope' section will comprise

of two hundred silk flags which will process down

The Mall, appearing like a moving river. Primary

and secondary school children are invited to create

a picture of their hopes and aspirations for the

planet over the next 70 years. A selection of

these creations will be transferred on to silk flags,

which will carried by secondary school pupils in

the Pageant.

A message to

the Queen from

Beaconsfield Mayor

"For most of us Her Majesty Queen

Elizabeth II is the only sovereign we have

known during our entire lives. It is an

amazing accomplishment and one that can

only be viewed with the utmost respect. In

common with many households in 1953 my

parents went and bought our first television

and I remember the screen being enclosed

by a wooden cabinet with doors that

opened like the shutters of a window!

Her Majesty's coronation was the first time

that such an event had been televised and

only as a result of the Queen's insistence.

Churchill apparently was against the idea but

our Sovereign demonstrated at a very early age

her ability to make good decisions. We have

seen that quality repeatedly during her superb

reign and all of our lives have been enriched by

her presence during this amazing journey.

Congratulations your Royal Highness! "

Alastair Pike, Beaconsfield Mayor

For more information and to register your

school's interest to take part please go to

riverofhope.co.uk

What is the Queen's Green Canopy?

The Queen's Green Canopy (QGC) is a unique

tree planting initiative created to mark Her

Majesty's Platinum Jubilee in 2022 which invites

people from all groups, communities and clubs

across the United Kingdom to "Plant a Tree for

the Jubilee". Tree planting will commence again

in October 2022, through to the end of the

Jubilee year.

Free trees for schools and

communities

Go to: bit.ly/JubileeTree-Woodlandtrust

Credits go to: www.royal.uk/platinum-jubileecentral-weekend

for all this information

and to: www.royal.uk/resources-platinum-jubilee

Royal Visit

to Bekonscot

Her Majesty the

Queen visited

Bekonscot

Model Village

on several

different occasions

as a child. Her

first visit was on

the eve of her 8th

birthday when she

visited with her

grandmother

Queen Mary.

She visited again

in subsequent

years along with

her sister Princess

Princess Elizabeth and Queen

Mary in 1934

Margaret and parents, the then Duke and

Duchess of York. On each visit she was welcomed

by Bekonscot's founder and creator Roland

Callingham.

In later years, as Her Majesty presented a long

serving member of Bekonscot staff with his

MBE, the Queen recounted her fond memories

of visiting the Model Village.
---
Beaconsfield Farmers' Market

celebrate their 20th Anniversary

Sharon van Geuns

One of the region's longest-running

farmers' markets marked a milestone

birthday with a special celebratory event

including an opera-singing butcher, free

fizz and petting zoo. Beaconsfield

Farmers' Market commemorated its

20th anniversary in March and hundreds

turned up to enjoy the festivities and a

showcase of fresh produce and artisan

goods on display.

Town crier Dick Smith - who has been

officiating at events like this for 53 years -

opened the market with a historic bell

commissioned in 1797 and welcomed

dignitaries from Hall Barn Estates who own

the land where the market is held, as well

as Councillor Alastair Pike, Mayor of

Beaconsfield.

Mayor Pike cut the impressive 20th lemon and

elderflower cake made by stall holder Eleanor

Hyatt from Maplewood Bakery while trader

Binary Botanical invited guests to enjoy a free

cocktail or mocktail from their pop-up bar.

To the delight of children, and back for the first

time in two years was children's petting farm

Appreciating Animals with a menagerie of

goats, lambs, rabbits, geese and even a piglet.

Beaconsfield Farmers' Market is a well

established market running on the fourth

Saturday of every month. It is part of the

Thames Valley Farmers' Market Co-operative

with around 25 regular stalls attending plus

seasonal and guest stalls.

Over the last 20 years, the type of stalls have

become increasingly more diverse. As well

as fruit and vegetables from the Styan Family

Produce stall, cheese from The Marlow Cheese

Co, and brownies from the Maplewood Bakery,

there are also seasonal plants and flowers on

sale. But you can also find Arancini di Riso

(Sicilian Rice Balls) from the Fabulous Italian's

stall; Beef, Chorizo & Cheese Empanadas from

Daise's Kitchen, who specialise in Brazilian and

Portuguese products; and delicious handmade

vegetarian pies from the Mediterranean Pie

Company.

Expect a long wait at Mr Grumps Charcuterie

& Pastries. The ex-chef has a fiercely loyal

following as evidenced by the long queues.

Get there early if you want to try his delicious

Scotch eggs, venison sausage rolls, chicken

pork pies, pates, vegetarian and meat flans, or

Calabrian style Nduja, a spicy, spreadable pork

sausage meat.

Artisan craft is also showcased at the market

with the independent Sunningdale Candle Co

displaying 100% natural candles, melts and

diffusers made with the finest essential oils

and Tine and Floyd who creates beautiful and

colourful hand-dyed & spun yarns.

The Mayor with Eleanor Hyatt from Maplewood

Bakery who made the cake

34 Beaconsfield Together is part of Community Together
---
How it all started

Thames Valley Farmers' Market Co-operative

was set up in Sept 2000 in response to a

government initiative to promote sustainability

and locally grown food. A group of Thames

Valley producers formed themselves in an

association which was incorporated into a

co-operative in October 2003. Within months

they were operating markets in 16 towns

across Berkshire, Oxfordshire and South

Buckinghamshire, including Beaconsfield,

enabling farmers and small producers to sell their

produce directly to local people within a 30 mile

radius. Celebrity chefs were appointed as their

Patrons.

Customers Desmond and Helier Murphy, have

been regulars for 20 years: "We never miss a

market if we can. We always make a beeline for

the fish and vegetable stall, and game when

in season. It is the best farmer's market in the

area."

Sandra King, of Wooburn Green, likes to visit

with her cockapoo Molly, and says: "I like the

fact that everything is locally produced and

that everyone is friendly and happy to chat.

Over the years I've built up a friendship with

some traders and it's great to see them every

month. I don't think it's changed much over

20 years".

The first batch of traders were primarily farmers,

growers and bakers. Jane Bowler, of Dews

Meadow Farm, award-winning pork producer

from Oxford, was a founder member who

helped set up the co-operative recalls that

Beaconsfield was a popular market right from

the get-go when it opened in 2002.

"It's always been a good market and has won

quite a few awards. There were quite a few

meat suppliers, as there still are today, but

selling a variety like rare breed pork and game.

From the beginning there was always a baker,

someone who produced honey, and someone

selling fish, around 20 stalls altogether."

DIck Smith - Beaconsfield Town Crier

To advertise please call 07786 735 711 or email marketing@beaconsfieldtogether.co.uk

35
---
Beaconsfield Together

Brain Matter

BUY BUY

BUY BUY

Billy wanted a new toy yacht to sail, so visited a seaside souvenir shop, handling

each Billy wanted of the a new different toy yacht boats to sail, in so visited turn before a seaside randomly souvenir shop, replacing handling each them of the after he had

made different his boats choice. in turn before Here randomly are pictures replacing of them after display he had before made his and choice. after Here Billy's are visit. Which

yacht pictures did of the he display buy? before and after Billy's visit. Which yacht did he buy?

Before

After

A

B

C

D

E

(answers

on p44)

F

Left Overs

G

H

Cross off words in the box as indicated by the instructions. The remaining words will form a

common saying when read from left to right and line by line.

LEFT OVERS

Cross off all anagrams of PALES.

Cross off words in the

box as Cross indicated off all names by the of countries.

instructions. Cross off The all colours remaining of the

words will rainbow. form a common

saying Cross when off read all trees. from left

to right Cross and off line all words by line. with the same

first and last letter.

Cross off all fruits.

Cross off Cross all anagrams off all months of PALES. of the year.

Cross off Cross all names off all of words countries. that contain

Cross off all two colours Os. of the rainbow.

Cross off all trees.

Cross off Cross all words off all with animals. the same

first and

Cross

last letter.

off all woodworking tools.

Cross off all months of the year.

Cross off Cross all words off all that planets. contain Tiles

two Os.

Cross off all animals.

Cross off all woodworking tools.

Cross off all planets.

TILES

Cross off all fruits.

In this puzzle, the tiles must be fitted

into the pattern so as to form four

words reading across and five words

LEAPS INDIGO CHINA COCOA

TURKEY SPOON LARCH APRIL

FOX LEMON BETTER MERCURY

EARTH CEDAR LAPSE BANANA

YELLOW JAPAN HAMMER DATED

SAW COMMON RED PLEAS

GOING LATE GRAPE MOUSE

BEAR BLUE FORGOT THAN

MARCH PLANE FRANCE PEALS

NEVER APPLE AUGUST VIOLET

In this puzzle, the tiles must be fitted

Answer:

into the pattern so as to form four words reading across

and five words reading down. No tile may be rotated!

reading down. No tile may be rotated!

A T O

36 Beaconsfield Together is part of Community Together

F

E L E N D

A

L

A T O

D D B
---
Safe & gentle ear wax

removal at a clinic

near you

What is ear wax?

What is it, why do we have it in our ears and why does it sometimes cause hearing loss. Earwax, also known

as cerumen, is produced inside your ears to keep them clean and free of germs. It usually passes out of the

ears harmlessly, but sometimes too much can build up and block the ears.

It protects the skin of the human ear canal, assists in cleaning and lubrication, and also provides some

protection from bacteria, fungi, insects and water. In other words, ear wax is a good thing!

The amount of ear wax that the body produces differs from person to person, the amount that is retained

within the ear also differs for each of us - these differences are for a number of reasons; Age; Diet; Lifestyle;

Personal anatomy; Genetics; Ethnicity.

Many people will produce a small amount of wax their whole lives, which leaves the ear canal naturally, and

never have any problem with it. For others, their ear will produce a larger amount of wax, which will not

fully leave the ear canal and will become blocked, which leads to them having reduced hearing ability and also

a blocked feeling in the ear.

Are you experiencing any of the following?

• Pressure in the ears

• Blocked feeling in the ears

• Need to pop your ears but can't

• Sudden loss of hearing or muffles sound

• Hearing aids whistling

• Underperforming hearing aids

Call for more information on

Call: 07903 013 123 or 07535 603 744

Email: hearwego.beaconsfield@gmail.com

Web: www.hearwegohearingsolutions.co.uk

Consulting Suite, 19 London End Road, Beaconsfield, Buckinghamshire, HP9 2HN

Consulting Suite, The Studio, 37, Station Road, Beaconsfield, HP9 1QG

To advertise please call 07786 735 711 or email marketing@beaconsfieldtogether.co.uk

37
---
FINANCIAL NEWS

Your retirement journey

starts right now!

There was a time when retirement seemed

to take care of itself. It was normal to work,

retire and then receive the state pension plus a

company pension scheme.

For most people now, this route simply doesn't

exist. Saving for a "pension" can mean a multitude

of different things and the way your savings are

organised can make a big difference to whether

or not you are able to do what you planned in

your life, and also how your money is treated once

you die.

The 2015 changes to the "at retirement" rules vastly

increased flexibility and brings with it a new era of

personal responsibility in retirement.

Working beyond state pension age is no longer

an exception and it is becoming increasingly

common to consider downsizing or releasing

equity in their home as a part of their retirement

planning.

Far more choices will have to be made and the

answers themselves become less obvious. How do

you best invest your savings? How do you want to

take income in the future and what happens to your

assets when you die?

The new normal requires a plan. Having a plan not

only helps you understand what you are aiming

for, but regularly reviewing that plan

enables you to check you are on track.

Philip Harper

Managing Partner /

Financial Planner

phil@fmifa.com

01494 817151

www.fmifa.com

fm

Equity Release

Accessing your property wealth

30

YEARS

Independent Financial Advice

Contact us: 01494 817151 | vanessa@fmifa.com | www.fmequityrelease.com

Penn Barn, By the Pond, Elm Road, Penn, Bucks HP10 8LB

Financial Management is a trading title of Philip Harper LLP which is

authorised and regulated by the Financial Conduct Authority

38 Beaconsfield Together is part of Community Together
---
WE WILL ALWAYS PUT YOU FIRST

LEIGHDUNCAN.CO.UK

Tel: 01494 578040

Email: enquiries@leighduncan.co.uk

February 2020 Screenings

June 2022

Screenings

Shaun Guard

TV & WIFI SERVICES

■ Aerials - supplied & repaired also poor reception solved

■ Satellite - Sky Q dish upgrades, discreet dish installs

■ Internet / WiFi - blackspots cured, internal & external data cabling

■ TVs - wall mounted or set up & tuned

SATURDAY 11 TH

Only the Animals (15)

France 2019 French with subtitles

SATURDAY 25 TH

Stillwater (15)

USA 2021

at the National Film

& Television School

www.oxfordaerials.co.uk

shaun@oxfordaerials.co.uk

Call Beaconsfield 01628 439115

trev's cycle service

mobile bicycle service and repair

Doors open 7:15pm • Film starts 8pm

Go online to view the full programme and details on

how to become a member. Guests are welcome.

beaconsfieldfilmsociety.com

CALL TREV ON 01753 653185 / 07967 726075

Email – trevscycleservice@outlook.com

To advertise please call 07786 735 711 or email marketing@beaconsfieldtogether.co.uk

39
---
LEGAL ADVICE

Parental responsibility and unmarried

fathers' rights in England and Wales

The law in England is neutral regarding

parents' rights and responsibilities in relation

to their children. One parent does not have

greater say or responsibility than the other;

nor can one parent act as gate-keeper,

deciding what time or involvement the other

has with the children.

The Children's Court is very practical. It will look at

parents' relationships with the children; what the children

are used to will be central to the court's consideration.

If parents separate and one seeks to exert greater

control or restrict the other parent's ability to spend time

with the children, they need to be reminded that both

parties must have equal say in their children's lives. This is

irrespective of previous behaviour - simply because one

party tended to make decisions in relation to the children

while the other party acquiesced, does not mean that that

pattern continues upon relationship break down.

Similarly one party cannot dictate how children spend

time with the other parent. There is an assumption that

both parents will act correctly in relation to their children

and will keep them safe.

Key decisions - children's education, medical and health

needs, religious training etc need to be made jointly.

The law calls this joint power Parental Responsibility,

defined by the Children Act 1989 as the rights, duties,

powers, responsibilities and authority a parent has in

relation to their child.

The mother of a child automatically holds Parental

Responsibility. The father of a child obtains Parental

Responsibility if registered as the father on the child's

birth certificate or:

• Was married to the mother when the child was born; or

• Subsequently married that child's mother; or

• Was registered as the child's father on the birth

certificate and the child was born after 1st December

2003.

If the father does not have Parental Responsibility this

can be achieved via a simple form filed at court.

If you would like to discuss the issues

raised in this article please contact us in

our Beaconsfield office.

Julian Bremner, Partner Rayden

RS_BEACS_AM_CHAL_CMYK_130X90_OUT_1.pdf 1

Solicitors Beaconsfield

04/10/2021 11:44

C

M

Y

CM

MY

CY

CMY

K

40 Beaconsfield Together is part of Community Together
---
Beaconsfield

Chimney Sweep

Manual and Power Chimney Sweeping

Open Fires, Stoves and Gas Fires

Certificates Issued

Professional and Reliable

Pay by Card

Chimney Caps and Cowls

Call JOSH: 07549 422 465

Or Book Online Today:

www.TheLocalChimneySweep.co.uk

GARAGES

TO LET

Available Now

Located in

Beaconsfield Old Town

Price On Application

Flexible Terms

Tel: 01494 673020

Email: hbe@hallbarnestate.co.uk

Experienced, Friendly

& Professional Internal

& External Decorators.

We have been

working in & around

Beaconsfield,

Gerrards Cross,

Amersham &

surrounding areas

since 1993.

Please call to discuss

your requirements.

Call Nigel:

01494 681 794 or 07771 521 263

www.ngilliedecoratingservices.co.uk

To advertise please call 07786 735 711 or email marketing@beaconsfieldtogether.co.uk

41
---
COMMUNITY NEWS

Beaconsfield

Library

We still need volunteers

to help with the following…

Scrabble club – come and partner one of our

friendly players, only an hour a week Wednesday

morning or Thursday afternoon, no need to be an

expert!

Lego club - Our young customers would like

to start a monthly Lego group, (parents of the

children will stay in the library) so we would

need someone to help set up and pack away and

keep an eye on the session.

IT help- we would like someone who is confident

to help people with simple enquiries eg- emails,

shopping on-line, setting up a new phone, finding

online forms etc. (This would be on a one-to-one

basis in the library, by appointment when you

have time)

Artist in the library – are you keen to encourage

others to draw /paint? Could you help on an

occasional basis with ideas and inspiration for

adults in a small group?

Lib-bea@buckinghamshire.gov.uk

www.buckinghamshire.gov.uk/libraries

Library Events

Weekly schedule

Storytime

10.30 – 11.00 am Tuesday

Talking Café

11.00 – 12.30pm Tuesday

Knit and Natter

10.30 – 12.30pm Wednesday

Scrabble - Adults

2.00 – 4.00pm Thursday

Bounce and Rhyme

10.00 – 10.30am Friday

Ukrainian Community Group

11.00 – 12.00 Noon Friday

Chess

2.00 – 3.30pm Saturday

Monthly Activities

Beaconsfield Conservative Councillors surgery

10.30 – 12.30pm

1st Saturday of the month

LEGO

2.00 – 3.00pm

2nd Saturday of the month

Reading group for adults

10.30 -11.30am

3rd Saturday of the month

Many activities can now be booked online

@BucksLibraries

42 Beaconsfield Together is part of Community Together
---
COMMUNITY NEWS

Joint venture

to bring new

Heritage Walks

to Beaconsfield

If you are interested in knowing more

about Beaconsfield's history and want

to get out and enjoy the improving

weather, then please look out for our

new leaflet coming soon.

The Beaconsfield Historical Society and

Beaconsfield Society have worked together

to produce a series of four walks. Enormous

thanks go to Kirsty Godfrey of Quapela Design

who has been patient and skilled, designing

and creating this leaflet.

Any donations to either Society would be

welcome so we can continue to make the

leaflet available for years to come.

Please keep an eye out

for the dark red leaflet

front cover. We hope

you enjoy the walks and

learn more about the

rich history in our town.

Three of the walks are in the Old Town and one

in the New Town. The Old Town walks inform

on the history of Beaconsfield whilst the New

Town walk celebrates the many literary figures

who used to live in the town. The walks, mainly

on firm surfacing so accessible to all, range

from 30 - 45 minutes in length.

Accessing the walks via the Beaconsfield

Historical Society website will enable access via

links in the walk description to more detailed

articles on buildings, people, and events of

interest.

These links will be increased as the Beaconsfield

Historical Society's Archive Group uses the now

ordered, catalogued, and stored Beaconsfield

Town archives to create more articles.

The leaflet will be available as a hard copy

format at various places around town including

the library as well as via the Beaconsfield

Society and Beaconsfield Historical Society

websites under Heritage walks.This leaflet

adds to the Beaconsfield Society's 'Enjoy

Beaconsfield' project which already includes

leaflets on local walks and cycle routes.

Saturday 14th May and Sunday 15th May

10.30am – 4.30pm

Demonstration of traditional wood crafting skills at Bekonscot

Model Village. Wood turners and carvers will be showcasing their

skills and offering items for sale.

www.bekonscot.co.uk

Monday 30th May – Sunday 5th June

10.00am – 5.30pm

Celebrate the Queen's Platinum Jubilee at Bekonscot. Complete

the Jubilee trail around the village, enjoy a Jubilee Cream Tea and

then get creative with some Jubilee crafts (Mon-Fri only).

www.bekonscot.co.uk

To advertise please call 07786 735 711 or email marketing@beaconsfieldtogether.co.uk

43
---
Together Trades Directory - Beaconsfield

Share your recommendations with us at trades@communitytogether.co.uk

BUILDERS

Concierge Property Maintenance

Skilled craftsmen to carry out quality property building works

and maintenance. Part of Federation of Master Builders.

t: 01494 702 099

w: www.conciergegroup.uk

CAR SERVICES

A J Dunlop Car Servicing Ltd

We have provided friendly advice, quality servicing,

repairs and MOTs since 1985. Online booking,

collection and delivery available.

t: 01494 670 510

w: www.ajdunlop.co.uk

PROPERTY MAINTENANCE – INTERIOR

Beaconsfield Chimney Sweep

Call Josh for professional chimney sweep and

fire services.

t: 07549 422 465

w: www.TheLocalChimneySweep.co.uk

Chalfont Oven Cleaning

First class results every time.

Ovens, hobs, extractors,

grills, stoves, microwaves,

Aga cookers, barbecue trays.

t: 01753 889 922 / 07398 341 446

w: www.chalfontovencleaning.co.uk

Eco Tiffin

Property restorations,

refurbishments combining a

passion for energy saving and

conservation.

t: 01442 819 332 / 07768 005 885

w: www.ecotiffin.co.uk

Home Counties Loft Ladders

Complete loft storage solution.

t: 0808 301 9558

w: homecountiesloftladders.co.uk

Oxford Aerials

Local TV aerial and satellite

installation and repair services,

internet/Wifi blackspots fixed.

t: 01628 439 115

e: shaun@oxfordaerials.co.uk

w: www.oxfordaerials.co.uk

PROPERTY MAINTENANCE – EXTERIOR

Asset Roofing Specialists

All roofing repairs, guttering and chimney renovations.

t: 01494 257 595 / 07931 371 003

w: www.assetroofings.co.uk

Colourfence Bucks

25 year guaranteed fences that will stand strong

winds throughout winter and any storm.

t: 01494 711 400

w: www.colourfencebucks.co.uk

J.M Garden Retreats Ltd

Beautiful bespoke garden rooms tailored to

your needs.

t: 07855 484 944 (Jon) / 01494 583 260

(Evenings Only)

e: enquiries@jmgardenretreats.co.uk

www.jmgardenretreats.co.uk

N. Gillie Decorating Services

Experienced, friendly professional internal and

external decorators who have been working in

the area since 1993.

t: 01494 681 794 / 07771 521 263

w: ngilliedecoratingservices.co.uk

Taurus Secure Garage Doors

Quality insulated electric garage door installation.

Made from strong and durable twin walled aluminum.

t: 0800 047 8734 / 07842 330 001

w: www.TaurusSecure.co.uk

Please mention Beaconsfield Together

when contacting any of these trades.

PUZZLE

SOLUTIONS

Answer:

BUY BUY

F

LEFTOVERS

Answer:

Better late

than never

TILES Answer:

B A T

A L O N E

D E L T A

O D D

44 Beaconsfield Together is part of Community Together
---
COMMUNITY NEWS

MAN v FAT is the UK's leading men's

weight loss programme and is now up

and running in Wycombe!

MAN v FAT Wycombe is one of

165 MAN v FAT Clubs across the

UK, supporting nearly 8,000 men

nationally to get in shape and to

improve their mental health.

The weight loss programme

is centred around small sided

football and men not only

score goals on the pitch, but

also bonus goals for their

performance on the scales,

too!

Members also receive support around their

mental health and wellbeing and the average

MAN v FAT member loses around 6% of their

bodyweight.

Head of MAN v FAT, Richard Crick, said:

"We've been really impressed with how the

Wycombe guys have got on so far. They're

already forming a strong community there

and we're looking forward to following their

weight loss journeys in their time with us.

"There are spaces available for interested

parties to get started – most guys join on

their own or with a mate and so you don't

need a full team to get started with us!"

For more details on how to get started, visit

www.manvfatfootball.org/wycombe or

enter the competition for 3 months free

membership, see opposite.

Win a 3 month membership! Worth £85.50

Play football to lose weight

Man v Fat have been helping men lose weight since 2014.

Whether you want to lose 10lbs or 100lbs, they can help.

To win a 3 month football weight loss membership in

High Wycombe answer this simple question:

When did Man v Fat start helping men lose weight ?

Was it:

a) 2011 b) 2017 c) 2014 d) 2015

To enter and for T's and C's go to:

www.beaconsfieldtogether.co.uk/

competition

or email: marketing@beaconsfieldtogether.co.uk

with your name, address, contact number and answer.

To advertise please call 07786 735 711 or email marketing@beaconsfieldtogether.co.uk

45
---
Support Families To Thrive

Volunteer as a Family Mentor

Work alongside parents providing weekly support,

motivation, encouragement and advice.

We are seeking people who can:

• Empower parents to achieve their identified goals.

• Offer guidance and support in an understanding way.

• Visit a family for 2 hours a week, for up to 6 months.

Are you?

Empathetic | Passionate | Non-judgmental | Resilient | Creative

Take the First Step & Apply!

Complete the short form

connectionsupport.org.uk/volunteer

volunteers@connectionsupport.org.uk

01296 484322

Funded by

Charity no. 1049740
---
Local Specialists since 1984

Let us help you find your perfect kitchen, bedroom or home office.

www.ashfordkitchensandinteriors.co.uk

Farnham Common Showroom 1-2 The Parade, Farnham Common, Bucks SL2 3QJ 01753 642362

Ashford Showroom 85 Church Road, Ashford, Middlesex TW15 2PE 01784 245964

To advertise please call 07786 735 711 or email marketing@beaconsfieldtogether.co.uk

47
---
Your health, your choice.

At Your Doctor we provide the medical advice and treatment

At Your Doctor we provide the medical advice and treatment

need at your convenience.

you need at your convenience.

you

From our team of highly experienced GPs, to our extensive

From our team of highly experienced GPs, to our extensive

of health professionals, you can be assured of the

network of health professionals, you can be assured of the

network

highest level of care right when you need it.

highest level of care right when you need it.

GP Appointments Vaccinations Prescriptions

Referrals

GP Appointments Vaccinations Prescriptions

Referrals

Blood testing

Lifestyle

Proactive

Health screening

Blood testing

Lifestyle

assessments

Proactive

medicals

Health screening

assessments

medicals

Live Well

www.your-doctor.co.uk 0330 088 2020

Live Well

Tring -

Wexham

www.your-doctor.co.uk 0330 088 202