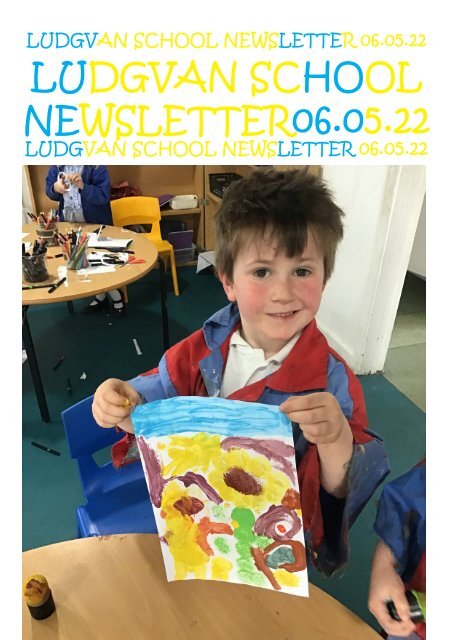 You also want an ePaper? Increase the reach of your titles
YUMPU automatically turns print PDFs into web optimized ePapers that Google loves.
LUDGVAN SCHOOL NEWSLETTER 06.05.22

LUDGVAN SCHOOL

NEWSLETTER06.05.22

LUDGVAN SCHOOL NEWSLETTER 06.05.22
---
A word from the Principal...

Welcome,

And here we are in the final term of the year! I have said it every term for the past two years, but

hopefully we are now on our road back to normality and we can all enjoy the run into summer.

Firstly, I would like to welcome Kirsty Snoxall and Leah Darby to our school team. Kirsty will be

working in our reception class and Leah will be in Y5. They have both made a great start and we look

forward to working with them both.

You may notice that the grass is getting slightly longer around the site – this is not Mr Richards being

lazy, it is as a result of our participation in 'No Mow May' which allows insects and flowers to have a

strong start to the summer months!

You may have seen on the Ludgvan Parents' Facebook page information regarding the Platinum

Jubilee Celebration and Big Picnic, taking place on the 5th June on the Community Field. There will

be competitions, food, entertainment, rides and much more so come along and enjoy the fun, I will

share more details of this through Dojo.

Please be aware that, whilst I appreciate it has been almost impossible to holiday over the past two

years, I am unable to authorise family holidays during term time.

If your child would like to learn a musical instrument, please let Mrs Badcock know and she will

assess the levels of interest and arrange the final details. In the past, we have had a wide range of

lessons taking place including piano, drums, guitar, brass and singing.

Kind regards,

Adam Anderson

Principal
---
Useful information...

Term Dates 22/23

7th Sep – 16th Dec (HT 24-28 Oct)

4th Jan – 31 March (HT 13-17 Feb)

17 April – 21 July (HT 29 May-2 Jun)

Inset Days

5th September

6th September

3rd Jan

24th July

25th July

Scooters

If anyone has any old or unwanted scooters at home, we would be very

grateful for any donations. We have a number in school already that

we use at playtime and lunchtime, but they are incredibly well used!

School Uniform

Please be reminded that when your child has outdoor learning or PE, there are

still school uniform requirements in place. Children should be wearing their

school PE shirt, a school hoodie or jumper and black shorts or tracksuit bottoms.

Term Dates 21-22 and Important Events

Summer Term 25 April - 26 July (Half term 30 May - 3 June)

Inset Days: 25th July and 26th July.

Replacement Platinum Jubilee Bank Holiday: 6th June

Queen's Platinum Jubilee Playground Celebration - 7 June

Sports Day - 4th July
---
Farm School...

This week we have been lucky to start the first of our many planned farm visits. On

Wednesday, Y3 and our Y6 Farm club were welcomed to Trembethow Dairy to learn

about dairy farming and got to see the milking process. We learnt about the cows,

how the cows are cared for throughout the year, how the milk is produced, processed

and where it goes to after the farm. It was great to get up close to cows and learn

first hand. For some children it was the first time they have been able to fully connect

the milk they consume to cows. We're looking forward to getting out to more farms

over the next term!

Eggciting news! You will be aware of our previous success with hatching ducklings.

Last term we hatched three Cherry Valley ducks. They are now 9 weeks old, and if

you have seen them recently, you will have seen they are already towering over our

Campbell ducks who are all a couple of years old! We are now just a week away from

our date for eggs currently in the incubator. When we candled this week, at least 16

eggs were visibly active, with just 2 eggs we couldn't quite see inside. Hopefully we

will be able to welcome lots of little ducklings which will spend much more time growing

outside than our previous bunch so you all get to see them grow.
---
Sports Update...

Football

Well done to our Y3/4 football team who played

in the West Cornwall qualifiers today. The team

performed brilliantly, beating St Hilary, Bodriggy

and Mount Hawke on the way to the final and

qualification for the County Finals next week.

Well done boys!

Quadkids

Some of our KS2 children have represented our

school at a Quadkids athletics event this week.

During the event the children worked as a team

to complete 4 disciplines of sprinting, running,

jumping and throwing. The children worked well

as a team and gave their best.

Well done to Elowyn, Ivy, Harry.C, Kai, Bibi,

Hannah, Sennen, Tommy, Felix, Finley.C, Lexi,

Chloe, Jonny, Riley, Emily and Kyla.

A huge well done to our Year 3 and 4 team who came third overall and to our Year 5

and 6 team who came 4th overall.

Swimming gala

On Wednesday 27th April our Year 5 and 6 swim team went to Penzance Leisure Centre

for the annual swimming gala. The children have not competed in the water for

two years and they were very nervous as they watched others swim. However, they

composed themselves well, supported and encouraged each other and as a result

achieved to the best of their abilities. We came away with many of the team competing

in the final and some children gaining medal positions. Our Year 5 girls came first

overall on points for the gala.

Well done team!

Year 5 - Reenie (Silver in front crawl), Chloe (Gold in breaststroke), Sophie (Bronze in

butterfly), Bella, Adam, Felix, Elijah(Silver in Butterfly), Harry.W and boys came 2nd

in the relay!

Year 6 - Kyla, Gracie, Poppy (Gold in Butterfly), Ena, Darwin, Seth, Rory, Rowan.
---
Exciting and Engaging...

EYFS

This half term we are learning about living things and trying to answer our big

question - how do living things survive? We have been busy planting seeds

and looking after them. We must have been doing a great job because some of

our seeds have started to grow already! Then we wrote instructions to tell other

people how to plant seeds so they can grow their own. We have also been

drawing and painting plants and flowers as well as writing sentences about

what they look like.
---
Exciting and Engaging...

Y1

Our new topic for Year 1 is 'Our Amazing World!'

In science we are learning all about growing and last week the children listened

to the story of The Tiny Seed and they were excited to plant their own sunflower

seeds.

This week we have been focusing on the story of the Little Red Hen. The children

wrote some wonderful sorry letters to the Little Red Hen, and they really

enjoyed making their own bread rolls!
---
Exciting and Engaging...

Y2

Class 2 have had a brilliant first couple of weeks back after Easter. Recently,

they finished a series of work on 3D Art. Year 2 went out into the school

grounds to collect natural tools for their artwork. They then created some fantastic

3D collages with a focus on colour and pattern. To finish their 3D work,

in groups, they created paper models to replicate a famous sculpture. They

had great fun working with paper and painting their creations. Last week, they

started work on Fractions. We have been so impressed by Year 2's work on

halves and quarters so far, taking on a halving shapes challenge as one of their

classroom activities. They have also started a new topic all about Space. Year 2

have loved learning about the history of space travel, the first man and woman

in space, and even the first dog in space! They also read our class book The

Man on the Moon and wrote some amazing sentences about Bob's job cleaning

the Moon. Well done Year 2!
---
Exciting and Engaging...

Y3

Year 3 have had a very adventurous start to the summer term and have already been

on several trips! The children have visited Mousehole School, where they took part in

a choral singing session, as a practise for an event they will be taking part in at the

Minack Theatre in June. They have also visited St Michael's Mount to follow the trail of

the Cornish legend, Jack and the Giant, and to learn about the castle and it's history.

They even found the giant's heart!

Finally, they have visited Trembethow Dairy to learn more about dairy farming. Here,

they met Paul the farmer and explored the dairy, before getting up close to the cows

as they walked in for milking.

The children have represented our school really well throughout all trips and have

learnt so much in a real life context. All within out local community!

Well done Year 3.
---
Exciting and Engaging...

Y4

Year 4 have had a very busy two weeks since returning from Easter! Our English sessions

have been focusing on poetry. We have all been performing and writing a range

of poetry including Kennings and Clerihews. The creativity amongst the class has

been fantastic!

We have begun our new Farming topic by exploring how farming in the UK has

changed over the past 100 years, from machinery, farming practices and how farms

have changed physically to meet the changes and diversify. We've been busy looking

how the changes we can make to our school and environment for the future and have

planted a large number of different trees around our school site.
---
Exciting and Engaging...

Y5

Class 5 started their athletics unit in P.E last week. We investigated the most effective

way to start a sprint race, trialling different starting positions and challenging each

other to short races! In PSHE, we have begun to learn about budgeting. We had lots

of shocked children as they learnt about taxes, interest, pension and national insurance!

This week, we started to learn about income and expenditure and we have

challenged the children to create their own income and expenditure sheets
---
Exciting and Engaging...

Y6

Year 6 have been busy revising for their big week, next week, and have not

managed to take part in our usually creative curriculum activities. We have focused

on measuring angles in maths, working out the missing angles of shapes

and also refined our skills at dividing mixed number fractions.

Our reading comprehension has seen us edge closer to finishing the amazing

story of Wonder and we have also explored VIPERS questions relating to fictional

and non-fiction texts
---
Ludgvan School

Staff profiles...

_____________________

PRODUCTION OF

June 21 – Opening Night, 6pm

June 22 – Second Performance, 6pm

June 23– Final Performance, 6pm
---
A word from the Principal...

Free to attend. A fun and friendly activity for children

with additional needs or disability and their siblings

or friends, aged 6-17

Wednesday 1 June

10am-12pm

Bodmin Leisure Centre

Lostwithiel Road

Bodmin, PL31 1DE

Wednesday 1 June

2-4pm

Cornwall College (Astro)

Trevenson Rd, Pool

TR15 3RD

Booking is essential. For more

information and to book your free

place(s) contact Katie on 01736

759500 or email

katie@disabilitycornwall.org.uk.

Find us on Facebook by searching

"Have a Go Days Cornwall".
---
A word from the Principal...