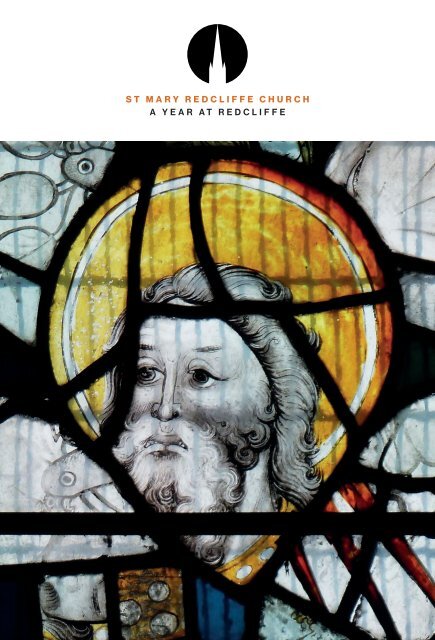 St Mary Redcliffe A Year at Redcliffe Magazine 2022
Create successful ePaper yourself
Turn your PDF publications into a flip-book with our unique Google optimized e-Paper software.
ST MARY REDCLIFFE CHURCH

A YEAR AT REDCLIFFE
---
Contents

Contents

Introduction

03 Welcome

Leadership

04 Letter from Dan

07 Letter from Kat

09 Letter from Aggy

10 Letter from Anthony

12 Letter from Stephen

13 Letter from Simon

14 Churchwardens' report

Governance

16 Parish Office and Electoral Roll

18 Diocesan Synod

20 Deanery Synod

22 Safeguarding report

23 Finance report

Development, buildings and fabric

24 Project 450

26 Fabric report

28 The Canynges Society

30 The Church Lands Charity

32 Temple Ecclesiastical Charity

Worship

34 Sung Eucharist

36 Music

Welcome

40 Stewarding

41 Treefest

Heritage, visitor experience and retail

44 Heritage, tours and shop

Discipleship

48 Families and youth ministry

50 Feminist theology group

51 Theology book group

52 Meditation group

Community outreach

54 Youth & community work in Redcliffe

58 St Mary Redcliffe Primary School

59 Bristol Churches Winter Night Shelter

Marketing and digital

62 Marketing, digital and design

2
---
Introduction

Welcome

4

For as in one body we have many members,

and not all the members have the same

function, 5 so we, who are many, are one body

in Christ, and individually we are members

one of another.

Romans 12:4-5

Welcome to this year's edition of a Year at

Redcliffe, our annual document which offers

an insight into the life, works and ministry

of our church, St Mary Redcliffe.

The range of contributions reflect the richly

diverse nature of who we are and what we

do. However, in contrast to previous years,

this year's A Year at Redcliffe further aspires

to reflect evaluatively on what we have

achieved throughout the year by celebrating

our successes and identifying how we might

build on these as we move forward.

One of my own personal reflections since I

have been a member of St Mary Redcliffe is

that I never fail to discover something new

about the wonders of our church and its life.

There is so much going on, it really is hard

to capture it in one document. We would

like therefore to take this opportunity to

thank EVERYONE for their support, their

gifts, their time and energy which enables

our church to be the place it is. We are truly

blessed.

It has been a pleasure and a joy to collate

the contributions for this year's document,

and I would like especially to thank Rhys

Williams for the time he has taken in putting

it together.

Being a church, it is not just what we do, it is

who we are. As we journey on, we invite you

all to join us in singing the song of faith and

justice, in working together and supporting

each other; we, who are many, are one body

in Christ, and individually we are members

of one another.

Becky James

Families and Youth Church Minister

and Ordinand

3
---
Leadership

Letter from Dan

I am going to focus my comments on 2021

on three things: the worship review, the

North Transept window and people.

As everyone knows, Covid was still rampant

in 2021 and services in church were

happening, when we could, at 10.00am,

which was the time we started doing online

services when we went into lockdown in

2020. They were a hybrid of what we could

pull together: sometimes using recorded

elements, sometimes coming from church,

sometimes with a congregation. As part

of our thinking about "life beyond Covid"

we took the opportunity to reflect, as a

church family, on what our Sunday pattern

of worship should look like. We had such

a huge response (almost 100 individual

returns and 5 groups responding) that it

took far longer to work out how to distil the

wisdom into decisions, into any changes that

we might wish to make. The main changes

have been to switch the time of Matins and

the Eucharist (which makes more sense

liturgically and, in time, will allow for better

social events afterwards), to introduce a

regular pattern of All Age services, to adopt

contemporary language at the Eucharist

and to switch to the BCP for our 8.00am

Communion service. These changes were

finally all introduced in October and, whilst

I know some people would prefer other

arrangements for some elements of this,

they have been well accepted and are now

very much part of the 'normal' SMR Sunday

pattern of worship.

In June 2020, when the statue of Edward

Colston was tipped into the harbour, we

were we were strongly advised, because of

the risk of a similar assault on the church,

to remove four panels of the stained glass

window in the north transept which bore

his name, his emblem and his motto. The

cathedral also took action again its Colston

memorials. It took us a year to work out

what to do next: but, thanks to a great idea

from Kat, we came up with a plan to replace

the four panels (not the whole window ..

there is a rumour out there suggesting that

4
---
Leadership

Technically, this photo is outside the scope of this "Year at Redcliffe" as it was taken at 8.20am on 31

December 2020: but I couldn't resist adding a photo of the moon setting on the last day of the year!

5
---
Leadership

we're wanting to replace the whole window

.. we're not wanting to do .. we're not going to

do that) in a way that not only honoured the

bible story being told, but also allowed for

an explanation of who Edward Colston was,

what he did (both his trafficking of enslaved

Africans and his philanthropy) and how our

understanding has developed since then of

the idea of 'our neighbour'. The plan is to

replace the original panels which have the

statement at the end of the Story of the Good

Samaritan ("Go thou and do likewise")

with the question that prompts Jesus to

tell the story ("Who is my neighbour?").

Following some intensive work by a small

PCC working party we have recently heard

that we have permission from the diocese to

run a competition to find an artist who can

use those four panels to ask that question.

More than that, I am delighted to say that,

thanks to a generous legacy, the competition

and the new stained glass panels are fully

funded. We'll be launching the competition

later this year and we are hoping for entries

from members of the church and from

around the world.

Finally, people.

Elizabeth Shanahan stepped down as

Churchwarden at the APCM in May 2021

and Belinda Phillipson was elected in her

stead. Elizabeth could never have expected

to have such a role at such a time and she

was absolutely superb. Not only did she take

on the role of Warden, she picked up the

role of Treasurer and started the ball rolling

in the very necessary work of re-stitching

how we manage our budgets and do our

book-keeping. Her work has rolled out in

many ways: not least in bringing our bookkeeping

in house.

We also said 'thank you and farewell' to

Roseanna Wood from our operations role and

to Rachel Varley who was our Community

Worker for three years and who ran our

Covid response in the local community; and

'see you later' to Sarah Purdon who went on

maternity leave. Rebecca Rumsey joined us

(working remotely from Stratford on Avon)

to cover Sarah's post and Andy Carruthers

was appointed to the vacant community

development post in December. After

working hard, but failing, to fill two posts

in 2021, in January this year we managed

to fill both posts: Maria Holcombe started

with us as our Finance Officer in March,

and James Rodliff joins us in May as our

new Operations Manager.

Whilst these comings and goings remind us

of some of the changes we have coped with

whilst living with Covid, there is a longer

list of names of people from the heart of

this church family who have died either just

before or during Covid. Each death of each

of these women and men is a sorrow for

their family and friends; and together they

are going to leave a massive hole at the heart

of this community: John and Mary Cooper;

Ernest and Dorothy Green; Eric and Betty

Tyley and Joyce Tyley; Ruth Goodman;

Peter Creed; Iris McCallum; Elizabeth

Molyneaux; Liz Scott; Stephanie Appleby;

Audrey Organ; Corinne Rees; Mary Mould;

Clifford Stock; Alan Stevens; Ruth Roche

and Joy Stevens.

May they rest in peace and rise in glory.

And may their memory inspire us for the

work of the kingdom.

Dan Tyndall

April 2022

6
---
Leadership

Letter from Kat

What has been going well and why?

2021 saw me taking on some different areas

of responsibility at SMR as Aggy developed

her experience by taking on the community

and outreach work I had been leading. It

was sad to let it go but amazing to see how

much it had developed since I started

here in 2014. My new responsibilities are

around "a thriving, inclusive Christian

community" – so about what is happening

inside the church rather than beyond.

This has been such an important and

complex task as we slowly emerged from

the pandemic over 2021. A particular

highlight of the year was our Lenten focus

on prayer. We offered a "school of prayer"

with spiritual accompaniment, and an allage

Prayer Laboratory, all on Zoom. It was

very precious to explore prayer with so

many and deepen our prayer life together. It

was also a real joy to start doing our All Age

services in the churchyard, starting at Easter,

while numbers in church were restricted.

Worshipping with the restrictions of covid

has been challenging but has also given us

opportunities to do things we would never

have thought of before and I've enjoyed the

chance to be more creative.

As restrictions on what we could do in our

services changed over the summer and

autumn, and in response to our liturgy

survey, I led the work on developing our

services into their post-covid pattern. We

didn't want to lose the gifts and opportunities

that the changes due to covid had brought

about. We embraced both our own vision

statement and the Church of England values

of "simpler, humbler, bolder" to make our

services more accessible and inclusive while

retaining the essence of who we are and

what our worship says about God and about

us as a worshipping community.

2021 was a tough year for me personally

with the death of my brother, but I felt

such a wave of support and care from

congregation and colleagues, and I would

like to thank you all for that. I have felt very

loved through some difficult times.

7
---
Leadership

What might you identify as an area of

development for the future?

As we emerge from covid, our church

community looks different. A number of

people have died, a number are no longer

able to come to church, others have retired

from positions and duties they have held for

a long time in church. Many of our teams

are depleted and many people we have relied

on for a number of years are no longer in

a position to hold the responsibilities they

have done. The great news is that many new

members have joined the church which is

a real joy. So an area of development I am

focussing on in 2022 is to nurture members

of the congregation to be able to find their

particular calling within the life of the

church and grow some of those depleted

teams back to healthy and sustainable

numbers, and support others to step up

into some of our leadership roles, leading

volunteer teams within the church.

I'm also keen to develop opportunities for

people to grow in faith – prayer groups,

discussion groups, Bible study groups are

all examples. The Lent 2021 focus on prayer

is something to build on, and the groups

over the summer exploring the "Pastoral

Principles" were well-received. The

challenge will be finding things that people

are able to commit to, as the last couple

of years has left people feeling exhausted

with more limited capacity. The change of

Sunday service times leaves us with a new

opportunity to run groups after the 10.30

service when people are already at church,

and zoom also creates opportunities to meet

in the evening from our homes when some

might prefer not to go out.

It is really encouraging to see not a return to

how things were but a new phase of life at

SMR, with signs of new growth in all sorts

of areas, and I really hope to nurture that

new growth and help us all grow into the

SMR God is calling us to be for a time such

as this.

Rev Kat Campion-Spall

Associate Vicar

8
---
Letter from Aggy

This year we have moved from total

lockdown to partial lockdown and now

we are not even expected to wear masks

anymore... what an extraordinary time

through which we have lived! Our church

community has navigated and found safe

ways to worship, participate in outreach

and have time for fellowship together. I

think we have managed extremely well and

have continued to do our part in sharing the

love of God in our community, in the wider

community and the planet.

During this time, we've worked alongside

the John Ray initiative, this year's Lent

Appeal, which connects us with the

environment, science and Christianity. We

have organized a welcome party for the

newly arrived Afghan families, welcoming

over forty children and twenty adults. And

most recently, we hosted a community fun

day with the help of the 'Noise', joining in

with over 700 Christians across Bristol to

share God's love with others. Around 150

local people came to join us for fun activities

and the PCSO came by to say "hi" as well.

We had so many wonderful conversations,

and it has helped us to be more visible

within our community, sharing the love

of Christ with our neighbours in practical

ways. We have also partnered with Bristol

Churches Winter Night Shelter, where

members of our congregation cooked and

cared for those in need of a home in some

of the coldest days of winter.

working together to bring the best out of our

community. Our Redcliffe Lunch club is

due to restart soon, it used to be ran mainly

by church members, but this time round,

it will be managed solely by local residents

with some input from the church. This fits

in with the ABCD (Asset Based Community

Development) model that the Outreach

team aspires to: To nurture, equip and

empower the people in our community, and

to be there for them to connect and develop

the strengths and assets that are already in

place. I believe we are seeing some of the

fruits from the seeds that were sown in

years past. The fruits being the impact that

we can see in our community and the fruits

in discipleship and the growth in spiritual

maturity in our church congregation, in you

and in me.

So, a big thank you to the SMR congregation,

the Outreach Team and the SMR staff

members who had been instrumental to the

success of the mission of this church.

Rev Aggy Palairet

Curate

Leadership

Someone said to me the other day that she

felt there is a buzz in our church, there is

just a sense that things are happening, and

that God is at work. And I agree with her

statement, as I have seen the members of this

congregation and people of this community

9
---
Leadership

Letter from Anthony

2021; a second year dominated in several

ways by the effects of Covid-19. True,

mercifully not in the quite the same way

as 2020 had been, but for many the fallout

from 2020 continued, indeed continues still.

For most people across the country, and

so also in the parish and our church

community, 2021 has been a year that again

brought with it change. Just as in 2020 some

of the change was rapid, responsive and

short-term. Across society other change

will be more prolonged and maybe was

already likely to happen, but the Covid

period has brought it to pass sooner. In that

way the Covid period has been a pivotal

time just as were the two World Wars, albeit

they to a significantly greater extent. It is

the same across all walks of life, and so

too in churches. For many change is not

welcomed, not pleasant, and can be at the

very least unnerving. Others find change

refreshing. One way or another, I suggest,

for many it is not easy; some find it too

rapid, others too slow.

Which brings me to my year! It has been a

year of change at work in a sector that faces

significant adjustments in coming years. It

has been a year of change within St Mary

Redcliffe as we have sought both to maintain

and develop our tradition and yet also learn

and develop new ways. Ways to re-open

church for all to visit, to open and develop

our worship in ways that are accessible to

increased numbers of differing people,

and to communicate more the gospel in

words, worship and action. Amongst this

year of development the ministry team has

developed and grown again and also more

churches in the Deanery have moved into

vacancy. This has changed how often, when

and where we lead worship and preach;

and how often we are actually in St Mary

Redcliffe at particular services, in the

worshipping community in which we are

placed.

Some institutions and organisations are

used to change on a fairly frequent basis,

others are not. My employer is in the first

group even before the "Covid years", the

Church is definitely in the second. As a

Minister in Secular Employment what can I

bring to the St Mary Redcliffe experience? I

suggest my own experience of change from

the viewpoints of differing groups. Those

finding change significant and not within

their control, those who are proposing

it and introducing it, and those who are

seeking to manage it with least disruption

and most positive effect. Each group faces

their differing particular challenges and

difficulties; the challenge being to realise

the best possible outcome for the work of

the gospel among the existing and potential

congregation, the parish and city in which

we serve.

Rev Anthony Everitt

Associate Vicar

10
---
11

Leadership
---
Leadership

Letter from Stephen

As we have come out of lockdown it has

been a privilege and a pleasure for me to

become part of the Ministry Team at St

Mary Redcliffe.

While I have a full-time job working for the

Anglican Communion Office in London, as

its director for theological education, I am

by training and calling a parish priest as

well as a tutor and have been the incumbent

of a number of different parish churches

over the years.

Soon after my wife and I moved to Bristol,

however, the pandemic started, and I was

confined to home. Then in the Spring of

2021 I was given Permission to Officiate by

the Bishop of Bristol and Dan very kindly

welcomed me onto the team as an extra pair

of priestly hands to help out when available

and wherever needed.

occasions. celebrated at 8am and assisted at

10.30 very occasionally, and been a member

of the Theology Book Club, which has

been enriching. I also write the Prayers for

the Anglican Communion paragraph each

week.

I cannot do much at SMR because of the

constraints of my daytime job but am very

happy to lend a hand and to do so at other

churches around the deanery when needed.

Looking ahead, I hope I can get to know

parishioners better and would like to offer

my teaching skills to the parish in some way

when the time is right.

Revd Canon Stephen Spencer

Asssistant Priest

Since then, I have led Morning Prayer

from church once a week or so, presided

and preached at Choral Evensong on a few

12
---
Leadership

Letter from Simon

Curacy: the first ten months

I was ordained deacon in Bristol Cathedral

on 3rd July last year. I am licensed to SMR,

and Dan is my training incumbent, but I

have also spent time every month with the

chaplain at the St Monica Trust at Cote

Lane, just across the Downs.

being an ordained person – what, come the

summer, being a priest – mean or look like

in the various contexts God has placed me

in? Exciting times!

Revd Simon Goodman

Curate

It has been a year of wonderful "firsts",

including recently my first baptism and my

first memorial service. My first wedding is

in the diary! It has been a real privilege to be

part of the nurturing and supportive teams

at SMR and at Cote Lane, to preach and

help lead worship and study, to be involved

in the whole life of the church in a new way,

and to minister among such wonderfully

supportive people. Thank you all for your

love and encouragement.

But most of my time is spent neither at SMR

nor at Cote Lane. I have not given up the

barristering, and an ongoing challenge has

been and will continue to be how to balance

the various parts of my life. What does

IMAGE Picking up the Vicar on the way to last

July's ordination service!

13
---
Leadership

Churchwardens' report

For the wardens, as for everyone involved

in the running of SMR, this has been a

difficult year. For a good part of it, we have

(once again) had to act as treasurer, but with

nothing like the expertise which Elizabeth

(to whom we said a fond farewell) brought

to the job. Managing services as we began

to open up the church has been a challenge,

starting with only every third pew in use

and booking of seats – easy enough with the

relatively small number of familiar faces of

our regular congregants; but quite another

matter with large numbers of people, almost

all unknown to us and our wonderful

team of welcomers, at the High Sheriff's

Legal Service, and at several funerals and

weddings, when the enforcing of social

distancing and the wearing of face coverings

became quite impossible. By stages we

have got to "sit where you please", masks

only when moving around the church, no

requirement to sign in (but still communion

in only one kind). It's beginning to feel

almost "normal"; and it has been a joy to be

able to greet old friends, to chat over tea or

coffee, to share worship in person.

We have also had to cover other roles

where there have been staff vacancies. But

now that we have a new treasurer, Samuel

Williams; an in-house finance officer, Maria

Holcombe; and a new Head of Operations,

James Rodliff, this should all change. It is

also an opportunity, indeed a requirement,

to look again at what we expect of wardens –

though there will inevitably be fuzzy edges,

we should aim for a proper job description,

perhaps even with an indication of the likely

time commitment. Without this we are

always going to have trouble finding new

wardens, especially among our younger

members with full-time jobs or families (or

both). There's no getting away from the fact

that it's a complex and demanding job, not

least since the PCC took over responsibility

for employing staff, with all that that entails

by way of policies and practices (sickness

absence, pensions, annual leave...). But it is

very rewarding.

We have had great support; from clergy,

from vergers and staff in the office, and

from among the congregation – wardens'

assistants, as we now call sidesmen, and

duty wardens. But that, we suggest, is the

next challenge: we've had some losses from

our band of volunteers, and attracted some

new recruits, but we need more, so that we

can spread the load more widely. It would

be particularly good to have more parents

involved in managing our services, although

we know that juggling family needs with

volunteering at SMR is tricky.

Richard Wallace

Senior Churchwarden

Belinda Phillipson

Junior Churchwarden

14
---
15

Leadership
---
Governance

Parish Office

This year has been one of changes for the

Parish Office. We said goodbye to Roseanna

Wood, our Operation Manager, in May 2021

and Sarah Purdon, our Parish Administrator,

began her maternity leave at the same time.

Heloise, our Head of Administration, has

also begun her maternity leave this year.

We have welcomed Rebecca Rumsey as

temporary Parish Administrator to cover

initially for Sarah and now for Heloise

and our new Operations Manager, James

Rodliff, will be starting with us in early May

2022. Maria Holcombe joined the team in

March 2022 as our Finance Officer, which

is a new role and we currently have Sarra

Dunn working in the office as a temporary

administrator along with Rebecca who

works completely remotely.

We are looking forward to working together

as a team to move St Mary Redcliffe forward.

The Parish Office was physically closed

for most of last year and has only recently

reopened with more staff making the move

to work more from the office again. With

Sarra here we have also been able to open the

Parish Office to external visitors again. The

space itself has had some refurbishment.

Rebecca Rumsey

Parish Administrator

Electoral roll

Electoral Rolls need to be revised annually.

With the new changes to the Church

Representation Rules, names no longer

need to be removed from the roll during

the course of the year; they only need to

be added. Names are still removed, as

appropriate, at the annual revision.

After the completion of a revision of the roll

of a parish, the PCC must publish the roll

(electronically or otherwise) as it decides

for 14 days and make a copy of the roll

available for inspection.

Rolls may be published electronically instead

of in paper form. The roll as published must

include every name entered on the roll but

not other personal data (e.g. addresses).

Once in every six years the preparation

of new church electoral rolls takes place,

which means that everyone must come off

the roll and re-apply. The next occasion for

the preparation of new rolls is in 2025.

Under these rules the Electoral Roll was

created anew in 2019. 2022 is therefore an

in between year so we've removed anyone

who is no longer with us and added in any

new applicants.

The numbers for last year (2021) were: 283

on the roll.

The numbers for this year (2022) are: 282

on the roll with 41 in the parish.

Rebecca Rumsey

Electoral Roll Officer

16
---
17

Governance
---
Governance

Diocesan Synod

My name is Auriol Britton, also known as

the blind lady who sings. I am on the Bristol

Diocesan Synod and Board of Finance Ltd,

and, Ex Officio, on the Deanery Synod and

Parochial Church Council.

The Diocesan Synod is the decision-making

body of the diocese. It is broader than

the standing committee, (also called the

Bishop's Council), and makes decisions,

based on reports which the synod receives

and considers at its meetings. The word

Synod is derived from the Greek, and

means Council. The Church of England is

said to be canonically led and synodically

governed. The diocesan synod, (like the

general synod, which is one level above it),

consists of three houses: laity, clergy and

bishops.

Over the last year, there have been three

main meetings of the Diocesan Synod, and

an introductory evening for new members.

Every full synod has a bishop's address, as

well as considering reports from the General

Synod and Bishop's Council. (I like to sum

up the activities of the latter as follows: they

had meetings).

At the meeting held in June 2021, which

included the Board of Finance AGM, the

accounts from 2020 were approved, and

auditors appointed.

The synod also approved the safeguarding

report. There was an interview with Dr

Andrew Wills, the independent chairman

of the diocesan safeguarding steering

group, about its role, and safeguarding in

the diocese. My now traditional question,

about numbers of new safeguarding cases,

was forwarded to the meeting in advance,

to be asked publicly.

At the meeting held in November 2021, Liz

Townend, diocesan director of education,

gave a presentation on educational work in

the diocese, including the growth in new

Church schools.

Bishop Lee recapped that investing in

curacies, a previous commitment, would

help to bridge the demographic gap

between forthcoming retirements and

the need to increase numbers of people

in ordainedministry. This is in line with

Church of England policy nationally to

meet stipendiary clergy deployment plans.

Clare Fussell, the diocesan environmental

officer, gave an update on what is being done

about the climate emergency declared by

the diocese approximately two years earlier.

The budget for 2022 was approved.

At the meeting held in March 2022, the

principle task was to consider the first

draft of a new diocesan strategy, entitled

Transforming Church Together. Building

on work done in earlier councils, the synod

considered various questions and reflected

on scripture passages in small groups,

before engaging in a plenary debate on

whether the strategy should be adopted.

Many people praised the aspirations set

out in the strategy, but there were questions

over diversity - reflecting all ten protected

characteristics in the Equality Act, the

financing of the strategy - doing more with

less money, and such matters as eccumenical

partnerships and those with other faith

18
---
Governance

groups. The synod voted to accept the draft

report, on the understanding that much

work still needs to be done, and that the

revised strategy will be returned to synod

for consideration in June. The diocese

can now go ahead and apply for funding

to help to implement the strategy. The

diocese always likes to have a strategy, and

usually thefunding follows the project in

the Church of England. The latest strategy,

arguably the best yet, (though none has ever

come to much hitherto), emerged following

extensive consultations with individuals

and groups from across the diocese, making

good use of pandemic time. The synod also

argued about amendments to motions,

and adopted some updates to governance

measures in the Church.

in democratic governance, so please all

do throw your hats into the ring when the

next diocesan synod is chosen, in 2024. We

have a bright group of people at present,

scrutineers, with a range of knowledge

and experience, not merely yes-men and

yes-women, but we still need more, as

well as to keep talent and expertise on the

synod refreshed, give more people a turn

at governance. For best results, we need

people who are astute, and who will read

documents in advance of meetings, ask

difficult questions.

Auriol Britton

I was only able to attend the third synod,

due to other commitments. However, I

enjoy synods, and generally regard it as an

honour and privilege to be involved.

We need lots more people to be included

19
---
Governance

Deanery Synod

Deanery Synod meets on average three times

a year in the spring, summer and autumn

(last summer's meeting was postponed until

September due to Covid). Synod has met in

March this year and further meetings are

planned for July and September. Anyone

interested in the theme or subject being

presented is very welcome to come —

Synods since last year have been based on

the Five Marks of Christian Mission (see

below), with meetings to date taking one of

these as its theme.

A bit of background

In lieu of an open meeting, the first Synod

of last year (March) was a Transforming

Church workshop held on zoom for

Deanery clergy and Lay representatives. The

zoom 'chat' record shows a focus of concern

on relationships, compassion and relating

well in the wake of the pandemic, as seen

in recent reports to church — the Diocesan

Synod report for A Year at Redcliffe 2020

and the Deanery Synod report for the

church APCM 2021 (November 2020

Synod meeting) — all of which is congruent

with the Pastoral Principles for Living

and Learning Well Together introduced at

church last summer.

Two Synods

Last September's Synod took at its starting

point the third Mark, "responding in loving

service", and was billed as an invitation to

explore this area of mission in a creative,

interactive gathering — the images here

show details of work from a short, simple

creative activity designed to encourage

talk and reflection via the use of relevant

words and accessible art materials. The

evening was structured around a reflection

on scripture led by Canon Derek Maddox

(St Andew's Hartcliffe and Withywood)

and facilitated by images of his work;

questions for discussion introduced by

Revd Tim Godden (Assistant Area Dean)

who asked us to reflect on the importance

of 'responding in loving service' — followed

by small group discussion led by Simon

Williams (Licensed Lay Minister, St Luke's

Brislington) and the outlet for creative

expression (creative activity provided by

artists Carrie Farebrother and myself). The

evening concluded with worship led by

Revd Becky Waring, the Area Dean. Many

who came said how much they valued the

discussion time, and how working alongside

each other (on a creative activity) helped

enable both human connection and the to

and fro of ideas.

Going forward, the March Synod this year

explored the fifth Mark, "safeguarding

the integrity of creation and sustaining

and renewing the life of the earth", out

of increasing concern for the state of the

natural world. Synod invited Revd John

White, curate at Hazelnut Community

Farm, to speak to Synod. Hazelnut Farm is

a fresh expression of church with a vision

of "churches and communities flourishing

in the ecological crisis". One of its current

projects is The Creation Project, an

interactive travelling art exhibition on

loan to churches, designed with the idea

of inspiring conversation around ecology,

climate change, and communities growing

together in Christ. St Martin's Knowle

hosted the exhibition for the week of the

Synod, and (based on September's format)

John led an extended scriptural reflection

("inspiring"

20
---
Governance

and "captivating" were common reactions),

with the exhibition providing points for

discussion and creative interaction (some of

its works being interactive).

Also happening

Canon Derek Maddox, an artist, has started

an art group in the Deanery, the idea for

which is to enable people to explore faith

and experience with reference to visual

means. The group is open to anyone;

conversation about pieces produced round

the table is thought-provoking and lively.

Highly recommended (no previous art

experience necessary), and Canon Derek

held a service on Passion Sunday at which

members' works were an integral part of the

expression of worship.

Summing up

I have been asked to reflect on my role and

on developments going forward for the work

of the Synod. Firstly, I am relatively new to

Synod and my role, and am not yet as well

acquainted with either as I might wish — but

with the emerging emphasis on creativity

I have found it absorbing in ways I hadn't

anticipated. Also, the news items above

are but aspects of activity in the Deanery.

Secondly, regarding developments, Becky,

our Area Dean, would like to encourage

more lay participation at Synod given that

there are vacancies across the Deanery.

Lastly, I second that. Besides Synod being

"the place where ... the parish is first heard

beyond the PCC" and its role in considering

"matters referred to it from Diocesan or

General Synod", it is a clear opportunity to

share resources, ideas and good practice

locally and to practise love of neighbours.

Eleanor Vousden

Lay Chair, South Bristol Deanery

The Five Marks of Christian Mission:

1. To proclaim the Good News of the Kingdom;

[Tell]

2. To teach, baptise and nurture new believers;

[Transform]

3. To respond to human need by loving service;

[Teach]

4. To seek to transform unjust structures of

society, to challenge violence of every kind

and to pursue peace and reconciliation;

[Tend]

5. To strive to safeguard the integrity of

creation and sustain and renew the life of

the earth. [Treasure]

21
---
Governance

Safeguarding report

As always, the role of Safeguarding Officer

remains important and potentially even

more so in these uncharted times caused

by Covid 19 and its aftermath and more

recently with the anxieties about the safety

of our world in the light of the war in

Ukraine.

Our church community remains grateful

for the continued support of the many

volunteers, who have been supporting

activities coordinated by Becky James,

Andrew Kirk and David Cousins.

ask all members of the church community to

stay vigilant and be aware of potential risks

to children, young people and vulnerable

adults. And if there are any worries then

please do not hesitate to contact myself or

Dan or Kat. I look forward to carrying on

with this role to the best of my ability and

thank people for their continued support of

this very important area of work.

Esther Keller

Parish Safeguarding Officer

We are grateful that face to face activities have

resumed and our safeguarding procedures

remain strong and unchanged. Anybody

working with children, young people and

vulnerable adults must go through our

safeguarding vetting procedure. We have

carried out in excess of 20 such checks over

the past year.

We have used the Parish Safeguarding

Dashboard to monitor our Safeguarding

Policies and Procedures. Safeguarding

Training remains to be done online for

the foreseeable future and sessions are

organised through the diocese. New

recruits/volunteers will be signposted to the

relevant training and ongoing and refresher

training will also be signposted to relevant

staff and volunteers.

Our policies and procedures can be found on

our website www.stmaryredcliffe.co.uk - we

22
---
Governance

Finance report

This will necessarily be a short report

since, at the time of writing, the financial

statements for the year ending 31 December

are not to hand. Based, however, on the

management accounts for the year, we can

say that it looks as if we shall end up with a

deficit of something less than £50,000, which

is in line with our budgeted expectation.

It is particularly good to report that despite

the closure of the church for a good part

of the year, and therefore much-reduced

income from visitors and other sources such

as weddings and performances, and the loss

of open-plate collections, income has held

up very well, thanks largely to the generosity

of the congregation and others who support

our work from further afield. But visitors

are back, the shop is open, and goods are

now available and selling well on line. We

have also saved money from carrying staff

vacancies, though that is coming to an end.

Our balance sheet remains strong, and our

reserves are more than sufficient to cover us

in the event of a major turn-down. Formally,

this means that we can, hand on heart, state

that we are a "going concern".

We are grateful, as always, to the Church

Lands Charity for their support, particularly

of our staff and fabric costs, and also to the

Temple Ecclesiastical Charity. We are also

very pleased to say that the trustees of the

Redcliffe Parish Charity have undertaken

to give us the greater part of their annual

income, some £6,000 a year, to support the

work of our outreach team in the parish.

During the year we received a most generous

legacy, in the form of the proceeds from the

sale of a flat here in Bristol previously owned

by the late Alberdina Tiemens, a Dutch

woman who came to Bristol every year and

worshipped at SMR. We hope to use some

of this money to fund, for a period, two new

posts to develop our events programme

and our volunteer capacity, with the aim of

increasing our income.

We are also pleased to say that we have

a new treasurer, which will enable the

wardens to lay down this burden so

reluctantly assumed. A warm welcome,

therefore, to Samuel Williams, who has

also joined the PCC. No less encouraging

is the appointment of Maria Holcombe as

our in-house finance officer, to do the bookkeeping

work hitherto done by an outside

firm of accountants, and – to judge from a

few weeks' experience – to do a great deal

more besides. We are very hopeful that these

two, building on the work done by Elizabeth

during 2020, will further transform the

management of SMR's finances.

Richard Wallace

Senior Churchwarden

Belinda Phillipson

Junior Churchwarden

23
---
Development, buildings and fabric

Project 450

Following a difficult few years, the project

team recently begun the final stage

of architectural planning prior to the

submission of a full planning application

for new built facilities, which we expect will

take place during 2023. The next six months

will be spent reviewing information, reanalysing

options, refining the design

scheme and producing architectural

drawings of the final architectural concept,

while preparing a fundraising campaign to

support the creation of the new facilities. This

comes as something of a relief since, prior to

getting going again the team experienced a

difficult couple of years, as project planning

slowed down significantly to take account

of the uncertainties associated with Covid

and a desire, on the part of the project team

and project funders (Church Lands Charity

and Canynges Society), to conduct a project

review in response to these uncertainties.

Over the years, architectural planning

for the new built facilities has responded

to a series of studies commissioned from

consultants with expertise in areas such

as heritage significance, interpretation,

business planning and fundraising. In 2016

Fundraising Consultant Eric Grounds

produced a Fundraising Feasibility Study

and Strategy, which had since been

updated on two occasions, the last iteration

appearing in 2018. In 2019, Glevum Heritage

Consultants produced a Business Plan

for the church. This plan details a phased

approach to business development over

a seven-year period that will drive visitor

numbers from 40,000 to 140,000 through

an enhanced visitor welcome, exhibition

programme and hospitality offer. All of this

will, in turn, drive an increase in income

generation to support the development

of new activities and the creation of new

posts that will, in turn, support long-term

organisational sustainability. While the

Fundraising Strategy and Business Plan in

their original and revised forms are detailed

and robust studies, the onset of Covid cast

doubt on the findings of both: would the

findings be relevant in a post-Covid world?

Potential major donors might be affected by

24
---
Development, buildings and fabric

a decrease in business and a reduction in

the value of investments and so be unable

to donate; visitor numbers might suffer due

to restrictions on international travel and a

reticence on the part of domestic audiences

to visit public spaces due to the threat of

infection. Accordingly, during the first and

second years of Covid, the project team and

funders recognised a need to pause, take a

step back and review these documents to

ensure that the informational foundations

of Project 450 remain strong. This has

meant playing a waiting game while the

impact of Covid has become more clear.

While the world has not yet returned to its

pre-Covid state we feel that it is now viable

to carry out the reviews. This process will

now take place this summer and will help

to inform the final stage of architectural

planning. Following a positive meeting

with the planning department in late 2020

and the submission of a planning pre-app

shortly afterwards, we have received helpful

advice from the planning department about

what the remaining architectural planning

work needs to cover. The two initial pieces

of work that have been requested by the

planners, and which are currently being

worked on by our architects Hall McNight,

are a Statement of Significance and an

Archaeological Review, which will pull

together work that has been carried out

during the life of the project and provide

updates where necessary. These two pieces

of work will provide a foundation for the last

stage of planning. Helpfully, the Planning

Manager who will have responsibility

for our assessing the church's planning

application has committed to a process

of pre-application consultation, that will

involve the the planning department and

other statutory stakeholders, including

Historic England. This process should help

to ensure that the submitted scheme has the

best possible chance of receiving planning

permission in 2023.

Rhys Williams

Project 450 Officer

25
---
Development, buildings and fabric

Fabric report (a)

Once every five years all the CofE churches

in England are required under church law

to have a quinquennial inspection of their

building.

In 2022, the inspection is due for St Mary

Redcliffe and to do this, I have to spend a

number of days inspecting all aspects of

the building. The survey starts with roofs,

rainwater goods and walls, considers each

of the windows, the churchyard and the

entire interior of the church including all

the roof spaces.

The conclusion of the inspection is a report

with recommendations for repairs. High

priority works need to be undertaken within

the next twelve months and lower priority

works need to be scheduled for some

point in the next 5 years. The high priority

works generally relate to Health and Safety

matters. In addition, a longer-term plan is

also being developed to consider the next

20-year period and the associated potential

costs. In addition to the report itself, there

is also a requirement to carry out a fiveyearly

electrical test and this will similarly

be carried out this year.

of the spire, the roped access conservator

abseils down each of the eight sides and

records the condition of the masonry on

survey drawings that have previously been

prepared.

Over the last twelve months, the main

project undertaken has been the re-lighting

of the chancel and this, combined with the

previous phases to relight the Lady Chapel

now means that the east end of the church

has been entirely re-lit.

Other projects undertaken include minor

masonry repairs and footpath repairs.

As always, it is a great privilege to be involved

in the upkeep of this magnificent building

and it is a joy to be able to inspect some of

the rarely visited parts of the church and to

reflect on its remarkable construction.

Marcus Chantrey

Inspecting Architect

Such is the uniqueness of the spire, that a

policy has also been adopted to undertake

a five-yearly detailed inspection of the spire.

As previously, this will be undertaken by

Philip Scorer of Vitruvius - Philip has been

inspecting the spire for approximately 20

years and over this time the condition of each

stone has been monitored and recorded.

Access to the top of the spire is provided by

Dawsons Steeplejacks who secure a ladder

to the outside thereby allowing 'easy' access

for the roped access team. Once at the top

26
---
Development, buildings and fabric

Fabric report (b)

The major project during the year was Phase

Three of the re-lighting of the church with

low-energy fittings and improvements to the

control systems. We have now completed

everything to the east of the chancel

steps; the chancel vault looks particularly

splendid. This required scaffolding, and the

closure of the chancel for a period of weeks;

but we simply reverted to what we had got

used to at an early stage of re-opening, with

the choir in the south transept and services

conducted from the boat altar at the

crossing. Lesser works include: repair and

re-pointing of the north steps; re-bedding

a number of paving-stones on the paths in

the north churchyard; repairs to pews and

pew platforms; replacement of some locks;

improved lighting and the installation of

a handrail to improve safety in the north

aisle stair from the choir vestry, now used

by choir and servers to enter the church;

and various small electrical repairs and

improvements.

In prospect: major works are, first, the

cleaning of the exterior of the south

porch, together with minor repairs to the

masonry; and secondly, the installation of

photovoltaic cells on parts of the high roofs;

there are considerable technical challenges

to be overcome, but we are hopeful of

taking this further step towards lowering

our carbon footprint and making this

response to Bishop Viv's call to make the

diocese carbon-neutral by 2030. The recent

inspection of the spire has revealed a certain

amount of work that needs to be done; and

no doubt the quinquennial review due this

year will throw up many (usually small)

jobs that need to be done, with varying

degrees of urgency. We also expect a report

by the diocese's disability adviser on works

needed to improve access to and within the

building, and to its contents, for those with

disabilities of all kinds. There will also be

some improvements to the ringing chamber.

There is also the vexed question of the

"Colston" window in the north transept.

I am pleased to report that the Diocesan

Chancellor has accepted our proposal to

run a competition to provide a design for

four glass panels to replace those removed

at the time of the Black Lives Matter

protests. Taking its cue from the story of

the Good Samaritan, the theme will be not

"Go, and do thou likewise", the command

with which the story ends, but "And who is

my neighbour?", the question with which

it begins. This competition will be quite

a long process, so it will be in next year's

report that further details will be given.

I record my thanks to the Church Lands

Charity and the Canynges Society for their

continuing support, and to staff at the

Diocesan Advisory Committee for their

ever-ready help and advice. I hope to hand

over in due course much of the work on

fabric to the new Head of Operations, James

Rodliff; but I expect to remain involved to at

least some extent for some time yet.

Richard Wallace

Senior Churchwarden

27
---
Development, buildings and fabric

The Canynges Society

A second year of a new way of living

and meeting. The Canynges Society has

continued in its support of St Mary Redcliffe

in a different way.

Once we started to learn how to work

in a Covid restricted world, many of us

discovered Zoom and Teams. This form

of communication was able to allow work

meetings, social exchanges and even quiz

nights. There was no reason why this could

not extend to the act of worship. When we

could see Rev Dan Tyndall doing a great job

to get the lid of the laptop with its camera

to point the right way, we could all see an

immediate challenge and opportunity.

The Canynges Society was delighted to

fund the installation of the new virtual

equipment into the church. The results

were immediately clear to see and hear.

How has this impacted? – in lockdown the

congregation was still able to join acts of

worship, new congregation from not just

Bristol but across the country and even

overseas. The other new opportunity that

has opened up is to be able to join this via

the recordings at any time of day or night.

Since the Canynges Society was re-formed in

1848 it has provided a support to the fabric

of the Church. We are so lucky to have such

an import landmark building at the heart

of Redcliffe. Much has and will continue

to change around it, but this magnificent

building and the spiritual support it provides

continues.

help us. One such event was the ancient

conduit given to the parish by Lord Robert

de Berkeley in 1190, and we give thanks

for the gift of fresh water. The Pipe route

covers just under two miles from the spring

near St Barnabas Church in Daventry Road

through Lower Knowle and Bedminster to

Redcliffe Hill. It takes in Victoria Park and

the pipe ends just inside the church gate

on Redcliff Hill where a Latin inscription

commemorates Lord Robert de Berkely's

philanthropy. This translates as:

For the health of the soul of Robert Berkeley

who gave to God and the church of St Mary

Redcliffe and its minister the Rugewell and

conduit. AD 1190 erected.

It is with this length of history that we

volunteer our time and knowledge to raise

funds to continue the wellbeing of St Mary

Redcliffe.

We are always looking for new supporters

and members, as old buildings are in constant

need of repair and at times upgrading. We

hope by the end of 2022 there will be new

film showing this building at our centre in

ways never seen before. It will be free for all

to see and appreciate.

Richard Clarke

President of the Canynges Society

It is important that we understand the sense

of place in which we live and while history

is unclear from very early days, some events

28
---
29

Development, buildings and fabric
---
Development, buildings and fabric

The Church Lands Charity

What is the Church Lands Charity?

St Mary Redcliffe Church Lands Charity

(CLC for short) is a historic registered

charity which has for many years provided

support to the church and the PCC for the

funding of fabric repairs and projects, staff

salaries, and church expenses and by making

available premises for use as the Parish

Office and for church staff accommodation.

Where does CLC's funding come from?

CLC's endowment largely dates back to the

gift of Elizabeth Ist who gave back to trustees

the property which had been confiscated by

her father, Henry VIII. At that time and for

several centuries afterwards the endowment

would have been almost entirely land and

buildings, hence the name of the charity.

In more recent times most of the land has

been sold and the proceeds reinvested in

stock market investments which generate

income available for distribution.

Who controls CLC, and is it connected

with the PCC?

CLC is legally separate from the PCC but its

charitable "objects" are in many ways similar

to those of the PCC. CLC is managed

by a board of directors of its corporate trustee

who can include the Vicar and Churchwardens

in an "ex-officio" capacity. This involves

some careful management to avoid a

conflict of interest arising.

CLC have recently appointed seven new

directors, following a recruitment exercise

undertaken through an executive search

agency. CLC's aim had been not only to

identify directors with appropriate skills but

also to increase the overall diversity of the

board and we feel that we have made good

progress in both respects.

What have been the main CLC activities

since the last CLC update in the 2020 edition

of "A Year at Redcliffe"?

CLC has continued to support the PCC by

appropriate grants covering both fabric,

staff and church expenses. The fall in future

income which was predicted at the start of

the pandemic has not so far seriously impacted

on CLC's ability to continue with

this funding.

The largest fabric grant has been directed

to the Phase 2 of the church lighting project.

Some of the other planned funding has

been carried forward as the fabric projects

have taken longer than expected to come to

fruition – at least in part due to the pandemic

– but many other smaller items of work

to the church and churchyard have been

funded. For similar reasons there have been

delays in carrying out some of the planned

repairs to CLC's own properties.

CLC are a major funder of the design costs

associated with the PCC's Project 450. During

the last year while there has been a pause

in design work CLC have commissioned

and shared with the PCC an independent

review of project progress. This has cleared

the way for a resumption of funding for the

design work.

Looking forward to the year ahead.

Most, but not all, of the new director

recruits were not members of the church

congregation but were attracted by the iconic

church building and the opportunities for

charitable works in the parish. This will

30
---
Development, buildings and fabric

perhaps lead to a change of emphasis in the

strategic direction of the charity, which is

now under active discussion.

For the last decade or more CLC and

the PCC has been going through a

process of separating their activities in

accordance with their legal requirements

as independent charities. This process is

now nearly complete. The challenge going

forward for both CLC and PCC is to devise

and implement ever improving methods of

working as closely together as their roles of

funder and beneficiary permit.

Some readers may want to know what has

happened to some of the traditional CLC

events, such as the Easter Vestry and the

Oyster Supper. There has of course been a

hiatus caused by the Covid pandemic which

has presented an opportunity for us to

review these and make them more relevant

to the current operational practices,

including the fact that CLC's financial year

has now been changed to the calendar year

in order to bring it into line with the PCC's

financial year. We hope to complete that

review during the course of this year.

CLC's Annual Business Meeting is scheduled

for this June, at which point Dan Schnurr

will be taking over the chairmanship.

John Dunn

Chair of the Board of Directors SMRCLC

31
---
Development, buildings and fabric

Temple Ecclesiastical Charity

Temple Ecclesiastical Charity is a local

charity that supports the work of the Church

of England in Bristol.

It provides an annual grant to both the

parish of St Mary Redcliffe and the diocese

of Bristol. It also considers and gives grants

to other Church of England projects within

Bristol.

The Charity is an amalgamation of the

Church Lands and other ecclesiastical

charities of the ancient parish of Temple

or Holy Cross in Bristol which includes

the former parish church in Victoria Street

which was gutted in the Second World War.

Despite stock market uncertainties TEC was

able to provide grants in 2021 to support:

• Several CAP (Christians Against

Poverty) debt centres,

• the provisions of Covid measures to

enable use of a children's' soft play area,

• the Bristol Schools Connection Easter

and Christmas in a box schemes,

• the provision of technical equipment to

enable online services,

• a community woodworking project

associated with a local food bank,

• an online marriage course,

• a number of different church roof and

fabric repair projects, and

• A children and families support worker.

For more information about the charity, the

grants they've given and how to apply for a

grant please visit the TEC website at

www.templecharity.co.uk

or talk to Dan Tyndall or Greca Warr, both

of whom sit on the Temple Ecclesiastical

Charity board of trustees.

Greca Warr

Trustee

Temple Ecclesiastical Charity

32
---
33

Development, buildings and fabric
---
Worship

Sung Eucharist

Reading the lesson

We have a number of people who read

the lessons at the 10.30am Sung Eucharist

Service and are always happy to welcome

new readers of all ages.

If you think this might be something you

would like to do please be in touch and you

can be added to the list. Usually the rota

is issued twice a year although currently we

are doing things a little differently and rotas

are covering a shorter period of time.

Readings are e-mailed by the Vergers on

Friday but, if people want to look at it sooner,

the whole service, including the readings,

can be accessed from Friday onwards on the

St Mary Redcliffe website:

www.stmaryredcliffe.co.uk

Intercessions

We also have a small team, which we would

like to expand, of people who prepare the

prayers of intercession each week and, again,

if this is something you might be interested

in doing, do please be in touch. A training

session is going to be organised in the near

future and this is probably a good first step.

Please do be in touch either with a member

of the clergy or with me and we can take the

necessary steps for you to be involved in

either or both the above.

Denise Reynolds

dandtreynolds@blueyonder.co.uk

34
---
35

Worship
---
Worship

Music

It was the best of times;

it was the worst of times

(Charles Dickens – A tale of Two Cities)

Since writing the last APCM music report

in 2019, lots of things had changed due to

the pandemic and the series of lockdowns

from March 2020 onwards. Even tracing

back some of the choir records during the

two world wars in the twentieth century, it

appears that rehearsals and services mostly

continued uninterrupted. I wonder how

historians of future generations will view

the physical closure of church buildings

across the UK, as happened in Spring 2020?

Thankfully in the past six months, the

choirs and other musical elements at SMR

have been able to get back on track, which

is good news. It's taken quite a lot of careful

planning, especially with the boys choir,

where 70% of the boys have joined in the

past two years and are learning from scratch.

The reorganisation of the Sunday services

works well for the choir: the shorter Mattins

(half an hour) is popular with the singers – it

would be good to further develop the reach

of this. There is no doubt that livestreaming

has added to the church staff workload, with

the added pressures, although there are

plenty of benefits too.

Many things are going well again. One

measure of success is numbers in our choirs:

we currently have 18 boys, 22 girls and

16 adults. A recruitment drive in summer

2020 through social media and choir parent

support brought us 20 new boys and girl

choristers- a fantastic result! The spirit

of goodwill in Lockdown One was a real

benefit here. There was a good momentum

at a time when many other things seemed

to stop.

Dan Tyndall and I organised two webinars

for Directors of Music and some clergy at

other major churches to discuss recruitment

and retention of choristers, along with a

separate strand to look at livestreaming. This

was really fruitful, along with the excellent

36
---
Worship

support at this time from the Royal School

of Church Music.

I would as usual like to take this opportunity

to thank my musical colleagues, choristers

and their families, Clergy and the Church

Lands Charity (Vestry) for their continued

support of the music at the church,

especially over the past two years when

things have been so different. The Alsop

family were able to contribute as a family to

the singing at some of our major services,

and extra thanks are extended to them for

their support.

During the pandemic 'the best of times'

included Zoom choir practices when we

were able to get to know each other better.

We could properly celebrate birthdays, news

from home, school or remote learning, as

well as have quizzes. All of this enabled us

to keep the various sections of our choirs

together as a cohesive group. The less

good aspect was that it was difficult to sing

together due to the different connection

speeds on zoom, so learning was mostly

by rote.

The worst bit of the lockdowns was not

being able to meet at all for long periods.

Although it was possible to record some

hymns on the organ, along with a few bits

and pieces of 'virtual choir' for Rush Sunday

2020 (which was professionally produced),

it was a difficult time. On Sundays when

church was closed for public worship,

many of us longed for the SMR sounds of

choir, congregation and organ but we coped

somehow.

Our Thursday Lunchtime at Redcliffe Organ

Concerts 1-1.50pm resumed in February

2022. Instead of 40 concerts per year, we are

now hosting 24 concerts in three series of

eight per year – a simpler, humbler, bolder

approach. At the end of March, we were just

beginning to see audience numbers get back

towards normal. I would like to encourage

more members of the congregation to

support these events – the music is often

37
---
Worship

eclectic, with 'something for everyone'. We

have one of the finest church organs in the

UK – a real heritage instrument.

Looking to the future, I think the past two

years have led to deeper thought about

future areas of development and what our

priorities may be.

Recruitment to all the choirs will remain a

big priority – we have spaces for more boys,

girls and adults. A successful Chorister

Recruitment Day was held on a Sunday

afternoon in September 2021 where we

hoped to swell our numbers further,

but strangely, this didn't really pay huge

dividends, although it was fun.

perhaps needs different methods than were

used a few years ago. Are we nurturing

choristers enough in faith? We have an

open door policy, where choir families are

not expected to be committed churchgoers

in order for their child to enrol.

There aren't really any quick solutions

here, especially when the church is busy

with so many different projects. The social

aspect of the choir, which we were able to

develop remotely in lockdowns, is definitely

something to ensure we invest enough time

in the future. There's plenty to think about!

Andrew Kirk

Director of Music & Organist

One area for development is how our

church and choir might respond to the

increased busyness of Sundays with its

competing elements as a family day, Sunday

sports and other leisure activities. We have

already made some adjustments to the choir

schedule – now almost unrecognisable

from the pattern I inherited in 2003. Should

or could we be looking at more weekday

offerings of sung worship? Attendance at

after school weekday practices is usually

very high, less so on Sundays, so a logical

step forward might be to offer Compline or

other services, not necessarily every week,

but perhaps on a seasonal basis.

There are almost 40 children aged 7-16

involved in our music programme. I believe

there is further scope for working together

with Children's Church, of which our

choristers are of course a part. We had begun

to take some steps towards this before the

pandemic. Time is limited for choristers,

so encouraging them to explore their faith

further through baptism or confirmation

38
---
39

Worship
---
Welcoming

Stewarding

As Head Steward I compile the Stewards'

monthly Rotas and communicate all

information about their roles (by email

if possible or by post if they do not have

computers). In pairs our 35 Stewards

volunteer to welcome visitors into church

either in the morning or afternoon, weekly,

fortnightly or monthly.

Since the last "A Year at Redcliffe" stewarding

has been quite disjointed because the

Church was not open for several weeks

due to Covid restrictions then closed on

Mondays between 3rd August 2021 and 4th

April this year. Sessions have now reverted

to 3 hours (from 10 a.m. to 1 p.m. and 1

p.m. to 4 p.m.) having been reduced to 2.5

hours. All Stewards are to be congratulated

on their willingness to adapt to changing

circumstances and for offering to cover for

others' absence on occasions.

They are encouraged to record in the

Stewards' diary where visitors come from

(UK and abroad) and to use clickers to

count them. We have recently welcomed

visitors from all over the world and some

of the more unusual places of origin

included Kazakhstan, Lithuania, Venezuela,

Zimbabwe, Saudi Arabia and Panama. The

recorded number of visitors between 3rd

August and 20th November 2021 and 21st

February and 9th April 2022 was 10,141.

church but sometimes these are declined if

they just wish to look, to pray or to light a

candle and we must respect their choices.

There is a Handbook under the Stewards'

desk to assist with the answering of many

questions about different aspects of St.

Mary Redcliffe. People often tell us of

connections they have with our church, like

family members being baptised, married or

having funerals there. We are often asked

whether we are the Cathedral and it is good

that we can give visitors the Bristol City

Council tear-off maps showing its location.

Unfortunately some Stewards have

announced that they are no longer able

to continue to welcome visitors to church

so new Stewards would be very warmly

welcomed. If you would like to be part

of this very interesting, valuable form of

volunteering please contact Marion Durbur.

By email: marionatberkeley@talktalk.net

By phone: 0117 9422196

Marion Durbur

Head Steward

Written guides in several different languages

are available for visitors to use while in

40
---
Welcoming

Treefest

After a year's break due to the Covid

Pandemic when Treefest was held online,

it was joyous to see a wonderful display of

decorated Christmas trees in December

2021.

There was a real sense of excitement during

set up day as the makers decorated their

trees. The 45 trees were submitted by local

charities, children's groups, church groups,

businesses and individuals.

The way in which the trees are created

continues to amaze me year after year with

many of the decorations & trees being

handmade, the makers creative skills are

endless. Highlights being a tree made from

a Bell Tent, a tree made of presents, trees

made from recycled wood, cable drums &

recycled books.

Tree entries were lower this year than in

previous years with many organisations

& businesses' unable to submit a tree due

to staff shortages and groups not meeting

to create the trees. Quite a few new

organisations joined us for the first time and

will be entering a tree again this year.

We invited Changes Bristol – a local peer

support mental health charity that provides

a support network for those suffering mental

distress - to be our nominated charity along

with the St Mary Redcliffe Community

project team to support the work they do

within Redcliffe. Both provided displays

about the work they both do and Changes

held an interactive event on the Saturday.

Every day the church was filled with

glorious music provided by local choirs and

musicians, many of whom were so excited

to be performing live for the first time in

2 years. They are all looking forward to

returning in 2022.

As with any event like this there are many

people to thank for their hard work &

support. Treefest would not be possible

without the generous support of our

sponsors, this year being Redcliffe & Temple

Business Improvement District and Queens

Square Chambers. Their generosity helped

to make Treefest 2021 a huge success.

A big thank you must be given to The SMR

Refreshments team who provided tea, coffee

and homemade cake to visitors, every day.

Special thanks to Cakesmiths a local baker

who generously donated cakes for visitors

alongside members of St Mary Redcliffe

congregation.

Special thanks must also be given to all the

people who volunteered to welcome visitors

as stewards during Treefest. It is always a

challenge to get enough people to volunteer

their time to act as stewards and this year

proved really challenging.

Finally thanks to all the SMR staff who

provided support during Treefest.

41
---
Welcoming

To help make Treefest 2022 a success, there

are 3 areas where we need help. We need

more trees – anyone can enter a tree from

1ft to 7ft. It would be wonderful if more

SMR congregation members would enter a

tree, imagine a church full of beautiful trees

made by families and individuals within the

SMR family. Let's all try this year to decorate

a tree for Treefest.

Secondly we desperately need more

volunteers to help greet our visitors, to look

after the trees and help serve refreshments.

Please consider how you might help support

this annual church event.

Thirdly I need more help organising the

event, if you can offer time to work on

planning this year's Treefest please contact

me.

Liz Hewitt

Treefest Coordinator

treefest18@gmail.com

42
---
43

Welcoming
---
Heritage, visitor experience and retail

Heritage, tours and shop

2020 marked the 250 anniversary of the

poet Thomas Chatterton's untimely death

in 1770 at the age of seventeen. Chatterton

and his family had a strong association with

St Mary Redcliffe and the boy poet's faux

medieval verse is said to have been inspired

by medieval manuscripts that were found

in the Muniment Room above the Outer

North Porch.

In 2019, Bristol Cultural Development

Partnership, now known as Bristol Ideas,

won funding from the National Lottery

Heritage Fund, to organise a multi-site

commemoration of the poet's life work

and legacy, involving many of the heritage,

cultural, arts and charitable organisations in

Bristol. The project, named Bristol: A Poetic

City, was geared towards commemorating

Chatterton and his achievements, but also

encouraging engagement with poetry and

other forms of literature - whether through

reading, writing or performing - among

Bristol's various communities.

The church received £10,000 in funding

to deliver a series of outcomes that would

raise the profile of the poet and his main

source of inspiration: the church. The

funding was also geared towards updating

the Chatterton-related interpretation that

can be found in the Chatterton Room. At

the beginning of March 2020, one of the

most pleasing outcomes of this project was

the recruitment of fifteen new volunteer

tour guides to take Chatterton-themed tours

around the church. This group was a made

up from a mixture of university students,

retired heritage enthusiasts, writers and

local historians, as well as members of the

local community.

Unfortunately, due to the intervention

of Covid in March 2020, the Poetic City

project, in most part, had to be paused. This

included the planned programme of tours to

the Chatterton Room. Fortunately, although

some of the new volunteers drifted away

during the enforced hiatus, a smaller group

remained available to volunteer following

the church's reopening in August 2021.

These volunteers have enabled a programme

of Friday Tours and Saturday Chatterton

Room Open Days since then, attracting new

audiences to and broadening awareness of

the church. Initially, while our volunteers

learned about the history of the church

and gained confidence in presenting this

information to visitors, the tours were made

available for free. However, since March, we

have been charging £4.00 per ticket so that

the tours can begin to contribute towards

eventual financial sustainability. We are also

collecting feedback from visitors to find

out what's working well and what might be

improved. Responses have, so far, been very

encouraging. Here's an example of a five star

review from a visitor named Pauline:

We did a guided tour of St Mary Redcliffe

Church, which was informative and very

interesting. We even got to go up to the

Chatterton Room that was used by the young

poet Thomas Chatterton. This was accessed

by going up (and back down) a steep spiral

staircase, so not suitable for all but well

worth a visit. We also learnt about other

notable figures that have memorials in the

church. The guides were knowledgeable and

provided us with good facts without being

boring!

44
---
Heritage, visitor experience and retail

It's important to link this project and other

income-generating departments such as

the shop - more on which later - with the

projections included in the organisational

Business Plan, which was commissioned in

2019 as a Project 450 study, to inform the

design of the proposed new facilities.

The Business Plan is a significant document

that provides a strategy for operational

expansion, including an incremental

expansion of the staff team and an associated

increase in public-facing and incomegenerating

activities. Based on this increase

in activity, the plan projects an increase

in visitor numbers and income that will

support short- to medium-term growth over

a seven year period, broadly coinciding with

the projected opening of the new facilities.

It is intended that - as well as supporting

succeeding phases during the process of

architectural planning and construction -

the various outcomes of this development

will act as a platform for consolidation and

growth in the years following the opening

of the new facilities, promoting long term

organisational sustainability.

What the Business Plan says

The Business Plan identifies a series of

actions that should be taken to increase

visitor numbers and develop new or

enhanced revenue streams:

• Increase donations by developing an

attractive interpretation and visitor

o ff e r

• Introduce heritage tours

• Introduce tower and roof tours

• Increase income by increasing the café

and retail spend per head

• Develop the learning offer

• Return the Hogarth altarpiece to the

church

• Improve the front of house/visitor

welcome

• Develop a well-trained and diverse

volunteer team to help deliver the

visitor offer

Phased expansion and improvements

The Business Plan recommends that the

church should adopt a six-phase approach

to operational expansion taking place over

a 7.5 yr period, as a strategic framework

for carrying out the actions listed above.

This includes the phased employment of

new staff members needed to deliver the

activities that will deliver against the income

projections of the Business Plan.

During the first phase of the operational

development strategy, it is intended that

major improvements should be made to the

church's heritage offer so that the church

can begin to deliver the enhanced visitor

experience that will generate income to

support the second phase. The delivery of

these improvements will be facilitated by

a strong volunteer base and, accordingly,

it is recognised that a significant process

of volunteer recruitment, training and

management will need to be undertaken

during the early phases of the development

process.

So the development of a programme of

tours and the recruitment of new volunteers

to run these tours, is driven by the

recommendations of the Business Plan. The

same can be said of current work to improve

the church's retail offer.

45
---
Heritage, visitor experience and retail

St Mary Redcliffe Shop

Since October 2019, we have been very lucky

to have Jackie James working as an almost

full-time volunteer managing the day-today

operation of the church's gift and book

shop. Prior to Jackie taking on this role,

purchases from the shop were made (almost

at the visitor's discretion) by dropping coins

in the slot on the welcome desk that is also

used for donations. The lack of a dedicated

member of staff meant that we were unable

to stock more valuable items that might

have been stolen at quieter times, while the

informality of the payment process made

it almost impossible to accurately track

purchases and measure profit.

As a dedicated shop volunteer, Jackie fufils

an important role by enabling us to stock

the shop with a wider variety of items and,

because she is present and available to

take payments, we are no longer reliant on

people dropping coins in a donation box.

A knock-on effect of this is that we are now

able to take card payments using a new (to

us) system called Zettle that links a card

reader to a mobile phone or tablet allowing

card payments to be taken more securely,

limiting the amount of cash that needs to

be handled and held in church. The system

tracks payments and sends funds directly

to the church's PayPal account. This system

has also allowed us to create a digital stock

library and product inventory, and generate

reports on sales activity. During the next

six months, I hope to integrate this system

with the online version of the church

shop - currently using a different payment

processing software platform - which will

make stocktaking more straightfoward.

All of this is made possible by having a

dedicated Volunteer Shop Assistant and I

am grateful to Jackie for her role in helping

to build what will become an important

source of income for the church during

the coming years. As indicated in the

aforementioned organisational Business

Plan, income generation from hospitality

and retail will be key as we move towards

long-term financial sustainability.

Redcliffe Talks

In autumn 2021, I launched a series of

online lectures on subjects pertinent to the

history of the church and the surrounding

area. My intention in starting this series

of Redcliffe Talks, as they're known, is to

build awareness of the church's history

and context while providing material for

the growth in exhibition, storytelling and

interpretation that will be a major outcome

of Project 450 .

The first talk, entitled The Real Thomas

Chatterton, was delivered by Professor Nick

Groom, Professor of English Literature

at the University of Macau; probably the

foremost academic expert on Chatterton

and literary gothic.

The talk was well attended and successful

with some positive feedback submitted

following the event, examples of which are

below:

It was interesting to understand just how

influential Chatterton was in his time on so

many poets and writers. It counteracted all

the misinformation we read about him. A

very good lecturer.

It was such a fluent and cogent talk, given

from a standpoint of authority but without

pretension.

46
---
a great lecture - well paced, comprehensive,

pitched right and made me want to read the

book AND visit Bristol

Since then, local historian and author Mike

Manson has delivered the second talk in the

series, Bristol Beyond the Bridge, based on

his book of the same name on the history of

Redcliffe, St Thomas and Temple.

The next talk, on the North Porch, will be

given by Dr Helen Lunnon on Thursday 26

May. Helen is an Honorary Senior Research

Associate at the University of East Anglia,

a Fellow of the Society of Antiquaries

of London, and member of the Faculty

Advisory Committee for Ely Cathedral.

She's also an expert on church porches!

Tickets for this are available via the church

website.

Heritage research

During the last year, I have been carrying

out research to provide material for future

exhibition, interpretation and storytelling

activities that will help to improve the visitor

experience and increase public knowledge

of the church. Alongside this, I have been

building a digital archive of historical

information, images and objects to support

this process and provide a resource for

future use. One of the exciting things about

carrying out online research is that many

historical texts have now been digitised and

made available online, and are, thereofore

searchable by keyword, meaning that we

are in a position to mine hundreds of newly

available documents for information about

the church and its rich history.

Rhys Williams

Heritage, shop and visitor experience

47
---
Discipleship

Families and youth ministry

19

But Mary treasured up all these things and

pondered them in her heart.

Luke 2:19

Whilst recently reflecting on the gift of

ordination and pondering my role as

Families and Youth Minister, I had what I

describe as a Mary's moment. If, back in

2003, when I first worshipped at St Mary

Redcliffe someone had said to me that one

day I would do ordination training here,

I would have replied: "never in a million

years". I was so overwhelmed and addled on

my first visit, if it hadn't been for my mum,

I don't think I would have come back! But

I am very glad that I did. One of the things

I've discovered over the past few years is that

it is truly amazing what you can do when

you have the love of God in your heart and

the love of people by your side.

In Children's Church we are truly blessed

to have such a dedicated and faithful team

who share their time and talents so freely

and generously. Once again, it has been a

real joy to minister alongside them. Indeed,

one of the greatest pleasures of my role is

ministering with the people - you.

What has gone well?

An evaluation of the year.

Adapting our ministry to the changes

brought by coronavirus as we transitioned

to and from life under restriction caused us

to reflect and evaluate the things we do. Our

use of space had been one of the greatest

transformations, and the opportunity to

continue Earth Church and Online Church

as well as reinstating indoor activities has

been truly wonderful, not least as it has

enabled us to cater for more needs. Born out

of the pandemic, Earth Church had been a

great success. However, we were aware that

being outside did not appeal to all children.

Whilst the Undercroft had served us well

with our Children's Church in the past,

with more space, an accessible entrance,

and internal toilets, Faithspace overcame

many of the challenges we had previously

faced. All has not been perfect however,

for the walk to Faithspace impacts greatly

on the time we have together. Initially, I

found this quite difficult to plan. However,

my reflections took me back to my role as a

languages teacher when I taught 30 minutes

lessons. As a result, we have reverted to

some previous teaching methods which

have been well-received.

Whilst Children's Church has continued

to thrive with increasing numbers, I am

always conscious of those on the fringes

of our ministry who can sometimes get

overshadowed – not least Toddler Church

and especially Youth Church. I think the

downside of any flourishing community is

that it can mask those who are disadvantaged,

and as a result they become truly

disadvantaged. In my personal reflections,

I always ask myself: Are we truly serving all

God's people? Toddler Church has grown

steadily since it first began and has provided

a bridge between the local community and

church. A significant point was this year's

Good Friday which welcomed many of our

Toddler Church families.

Whilst I have often heard it said that some

people won't step inside church (and various

reasons are given) my own view is that the

church welcomes everyone – and everyone

might just come if we, as faithful servants of

48
---
Discipleship

God's Kingdom, can get it right. And for me,

getting it right is about prayerful reflection,

fostering relationships, attentive listening

and above all, shaping our ministry to serve

others.

Youth Church has always been my greatest

challenge. Practical factors undoubtedly

play a role in our patterns of worship,

not least as we are governed by time and

resources. Consequently, incorporating

Youth Church into our morning worship

always seemed the ideal solution. However,

despite trialling this in different ways, it has

never taken off. What has proven successful

is running a monthly Youth Church on a

Sunday afternoon at 4pm.

I believe good discipleship needs to

be sincere, and it is important that we

communicate both who and what we are.

We are a church, and whether it be Toddler,

Children's, Earth, Online or Youth Church,

we are Christ-centred. Yes, we play games,

yes, we are creative in our approach, but the

Gospel remains integral to everything we

do. We are growing together in Christ.

Moving forward...

When preparing for ordination training,

I was asked "What will be your greatest

sacrifice?". Ordination means leaving SMR

– the church where I have belonged since

2003, where I am a member and volunteer,

an employee and ordinand. Seeing life from

all these perspectives has without doubt

been a great privilege, and something I

hope to hold onto when I am one day an

incumbent in my own church.

As I approach my final year at Redcliffe,

my aim is not to embark on new ideas and

ventures, for this will be now the joy and role

of my successor. My sole aim for the year

to come is to assist in making the transition

as smooth as possible as our Children's

Ministry prepares for the next stage of its

journey. I have a few dreams of my own for

my future ministry, not least making God's

love known to all God's people, particularly

to those who feel unwelcomed in church.

However, I am learning to trust the call to

holiness and the direction this takes me.

My vocational journey has been truly life

transforming, and I am really thankful

to the people of St Mary Redcliffe for this

special gift.

Becky James

Families and Youth Minister and Ordinand

49
---
Discipleship

Feminist theology group

The Feminist Theology group has evolved

and adapted during the last year, seeing

our sessions take place in the evenings and

online. We negotiated the challenges of

trying to re-create the safe and constructive

discussion space we had for our in-person

sessions over Zoom, along with the

challenges of balancing engaging with new

texts and the demands of life in various

phases of lockdown.

The group has read or listened to a variety

of work on feminist theology, some texts

proving more conducive to discussion than

others. Our session on the Bible Society

podcast series #SheToo proved rich ground

for exploration, whilst our reading of

Nyasha Junior's Introduction to Womanist

Theology was challenging but offered

many different routes into the subject by

suggesting formative works of womanist

theology to explore.

arrived a little earlier than expected in

June 2021. Reflecting on the strengths of

the group, even if we have not managed

to complete the reading the discussion is

constructive and stimulating, and the space

(whether online or physical) is a supportive

and safe space to share experiences or voice

new ideas.

For future meetings, we might wish to

try a few gatherings with no reading prerequisite,

looking instead at select discussion

points or short passages.

Helena Hoyle King

Feminist theology group

Feminist Theology experienced a bit of

a sudden break mid-book as baby Ursula

50
---
Discipleship

Theology book group

The theology book club started up again in

the autumn. We have met (mostly) monthly,

under Stephen's expert and gentle guidance

and with John's splendid hospitality.

We looked in the autumn at Celia Deane-

Drummond's "A Primer in Ecotheology",

which we thought would fit well with

Creationtide. It was a stimulating read, and

Stephen got us to think about some good

questions, but ultimately several of us found

that we couldn't really get on with it. This

was, in part I think, because it was (perhaps

as the title suggests) in many ways a pointer

to others' writings (as well as to the author's

earlier work), but we also found that her

language was not always easy to follow.

After Christmas we began James Allison's

"Knowing Jesus". This was suggested

following discussion in the group about

what area we might explore next. The plan

was that it would take us up to Easter, but

Covid and other things got in the way and

at the time of writing we still have two

chapters to go. I think we are all enjoying

this one far more, and getting much out of

it. The edition we are using has discussion

questions at the end of each chapter, which

makes it ideal for our use.

We haven't yet decided what we will be

reading next. Suggestions are always

welcome, as are new members., We do

not read academic theses, but try to find

books that deal with theological issues in

an accessible and relevant way, or relevant

questions from a theological viewpoint. If

you would like to know more, do have a

word with me.

Revd Simon Goodman

Curate

51
---
Discipleship

Meditation group

We are part of the World Community

of Christian Meditation and meet every

Tuesday to meditate together. Over the last

2 years we have been unable to gather in

person so have been meeting using zoom,

which has proved to be a huge success.

We have 20 members who are based

throughout Bristol, Bath, other areas of the

UK, Australia and until recently the USA.

Many are members of the St Mary Redcliffe

congregation.

We have all found the group provided

us with huge support throughout the

pandemic.

Our numbers have increased during the last

year, with old members who had moved

from Bristol re-joining as we were online.

Plus, new members are finding us via the

SMR website and From the Vicars Desk.

Our meetings begin at 6.15pm, starting to

meditate at 6.30pm with a reading from

Silence & Stillness in Every Season by John

Main (Benedictine Monk who founded

the WCCM), and an opening prayer. We

meditate for 30mins, sitting upright with

lightly closed eyes, while silently repeating

the prayer phrase "Maranatha" (Come,

Lord Jesus) to help us focus. The meditation

ends with a closing prayer.

New members are always welcome.

We are hoping to start to meet in person in

the next few months but will continue to use

Zoom so that those unable to join us can

still meditate as part of a group.

Liz Hewitt

SMR Meditation Group Coordinator

52
---
53

Discipleship
---
Community outreach

Youth and community work

St Mary Redcliffe Church is committed to

being a 'church that makes a difference in

the parish'. Our aim is to create a community

where people living in Redcliffe believe that

they can shape the environment around

them. For us this means:

1. For people in Redcliffe to have a sense

of ownership, belonging and safety

2. A local culture of people connecting

with each other and having a sense of

connection to the area

3. SMR 'leading from the back',

encouraging and supporting local

people to create the environment they

want

Summary

Over 2021-2022 we have continued to

develop our vital community support

in response to COVID-19 as well as

coordinating activities for children and

young people. New groups and connections

have emerged as people have become more

engaged in the local area.

We have:

• Developed our community pop-up

into a hub for local activity including

training, computer access, food support

and advice

• Provided access to computers and other

technology within our community hub

to residents

• Distributed activity packs and improved

access to cultural attractions for local

families

• Run drop-in sessions three days per

week for people needing information

and advice

• Provided high quality one-to-one and

small group tuition to disadvantaged

children

• Supported the start-up of new groups

in the area such as Judo, sewing, ESOL,

driving theory and nutrition

• Organised holiday activities for local

families including free lunches for those

receiving Free School Meals

54
---
Community outreach

Community Hub

We have had over 500 visits to the hub

over the past year. We have showcased

local artists in our shop window display,

celebrating local talent in a prominent place

and helping develop confidence within

artists from non-traditional backgrounds.

We have a group of women studying for their

driving theory test with our Community

Development Worker helping to teach and

translate. We also have weekly nutrition

classes for families in the parish. A group

of women from these groups have come

together to start to organise activities such as

sewing classes, girls' basketball, swimming

as well as support each other to apply for

new jobs, applications for childcare etc.

Community Drop-In Advice Sessions

We have had over 200 people accessing

support and advice during our drop-in

sessions. Volunteers and staff support

residents respond to challenges around

housing, employment, finance, and

education during these sessions. We have

staff available two days per week who can

translate Arabic and Somali to ensure

that we are able to provide information to

residents whose English is not their first

language.

We have had over 100 laptop uses within

the centre during our drop-in sessions.

Examples of support we've offered has been

to restructure debts, apply for housing,

applying for identification, benefit help, job

searches, online interviews etc.

Youth Groups

We have nearly 100 local children and young

people involved in our groups each week,

a general youth support group, academic

tuition, and a weekly football session.

Our youth group has continued running

weekly at Faithspace providing invaluable

support for children aged 8-13 in periods

where they have often had little other

activity.

We provide around 40 children per week

with additional out-of-school tutoring.

55
---
Community outreach

These are all children in the parish that

have been identified as being educationally

disadvantaged. Tuition takes place in

small groups (from one to six) and is led

by a qualified teacher and supported by

volunteers.

Our football group runs each week at St

Mary Redcliffe School for teenagers. We

have a qualified coach lead a session on

the all-weather pitches. We run on a Friday

evening at the time where there is greatest

risk of young people being a victim or

perpetrator of crime.

Holiday Activity Programmes

We coordinate activities for children and

young people in the area during each of the

school holidays with a focus on providing

food for children on free school meals.

The hub was used as a base for weekly

activities through the summer holidays,

supporting nearly 100 local children and

families to access nearly 50 hours of positive

activities in their neighbourhood. We were

able to offer healthy cooking classes through

Travelling Kitchen CIC, arts and crafts,

personal fitness as well as around 200 free

lunches.

David Cousins

Community Youth Worker

56
---
57

Community outreach
---
Community outreach

St Mary Redcliffe Primary School

What has been going well and why?

2021 has been a challenging year to

support schools, as there have been such

strict restrictions on visitors. However, by

the power of MS Teams the Local Board

(governors) have continued to meet and the

year ended on a real high with an OFSTED

inspection that resulted in a "good" rating.

After a few challenging years this is a real

testament to the school leadership and staff,

who show such dedication to the flourishing

of the children in their care.

I have also managed to continue a regular

presence at Collective Worship, mostly by

Teams but I went into school for the Harvest

celebration and it was a real joy to be back

face-to-face with the children.

In the autumn we started welcoming groups

from the school back into church for RE

workshops led by Sarah Yates our Education

Officer and her team, however the surge

of the covid variant omicron led to some

cancellations in December.

What might you identify as an area of

development for the future?

For 2022 we have a new Foundation

Governor from SMR, Peter Morgan,

building closer links between church

and school. We still have vacancies for

Foundation Governors so do please get in

touch if you are interested!

As we currently have no Education Officer, I

am working with the RE leads in the school

to develop different ways for the school to

make use of our wonderful church building

for their RE, and to continue developing

that sense of the church being a place where

the children belong.

Rev Kat Campion-Spall

Associate Vicar

58
---
Community outreach

Bristol Churches Winter Night Shelter

Bristol Churches Winter Night Shelter

(BWCNS) is a partnership of 14 churches

in and around Bristol which work with

St Mungo's (a national charity that

supports homeless people) to provide

accommodation and support for people

during the coldest months of the year.

In 2021/2022 BCWNS operated out of a

Bed & Breakfast in Southville and so were

able to accommodate up to eight guests in

private rooms, providing the guests with

three meals a day and access to local housing

and support services.

St Mary Redcliffe was involved in phase

1 of the project and so, for each Friday in

November and December 2021, a team of

nine volunteers from SMR provided and

served lunch and cooked and served dinner

for the residents and volunteers.

Through this we were able to get to know the

residents; we shared laughter and our stories

and got to meet some truly remarkable

people. It was an honour and a blessing

to volunteer for this annual project

and I can highly recommend that

you put your name forward when the

opportunity arises.

Greca Warr

Winter Night Shelter Coordinator

59
---
Community outreach

60
---
61

Community outreach
---
Marketing and digital

Marketing, digital and design

During the early stages of Covid, in March

2020, we launched the church's new website,

which I had been designing, building and

readying for launch for a number of months

prior to the arrival of Covid.

The launch was precipitated by the onset of

the virus and the attendant need to be able

to livestream services to the site while the

church was closed.

Having researched a suitable platform to

support live-streaming, we settled on Vimeo

because this platform worked seamlessly

with the software package I used to build

the website. The combination of website

and embeddable video platform, in effect,

allows us to host our own online TV channel

- SMR Live - that's available to anyone with

access to a computer, smart phone or tablet.

This is a significant step forward, in terms of

our online presence, and the worship team

has done an excellent job in maximising

the potential of this set-up to engage online

audiences by managing the use of digital

technology during services.

During 2021 our Vimeo account recorded

10,000 views with the total time that SMR

video content was watched reaching 229

days, 18 hours, 32 minutes, 44 seconds.

These figures demonstrate that digital

streaming has been successful and is firmly

embedded in the life of St Mary Redcliffe as

an alternative way for people to experience

the the church and take part in worship,

whether or not they are able to visit the

church building.

Since the new site was launched there has

been a significant growth in website traffic,

due, in part, to the development of SMR

Live. During 2021 the website received

55,989 visits and 139,501 page views. A

significant proportion of this traffic has

been driven by the church's presence on the

various digital and social media platforms,

which have been developed during the

last nine years. In 2013 when I launched

the church's Twitter account, there was no

St Mary Redcliffe social media presence,

other than a Facebook account which had

yet to receive a post. We now have an active

presence on Facebook, Instagram, Twitter,

Tumblr, YouTube, Vimeo, Soundcloud,

Pinterest and Google My Business. Each

of these platforms allows us to present

the life of the church in different ways to

a variety of audiences. This has a knockon

effect in that it encourages members of

these audiences to visit and engage with the

life of the church, whether this is through

joining the congregation, attending events,

finding out about the church's rich heritage

or volunteering.

With respect to the three main platforms,

Facebook, Instagram and Twitter, the stats

for 2021 are as follows:

• Facebook page reach 112,327 (page

reach refers to the number of people

who saw content from our Facebook

page or about our Page, including posts,

stories, ads, social information)

• Facebook page visits 5507 (the number

of times our Facebook Page was visited)

• Instagram reach 6657 (Instagram reach

refers to the number of unique accounts

that saw any of our posts or stories at

least once)

62
---
Marketing and digital

• Instagram profile visits 950 (The

number of times our Instagram profile

was visited)

• Twitter impressions 219,400 (Twitter

impression total refers to the

total number of times people have seen

our tweets)

In terms of the number of people following

our main three social media accounts -

facebook, Twitter and Instagram - we have

the following numbers:

• Facebook 1593 followers

• Twitter 2162 followers

• Instagram 535 followers

It goes without saying that there is plenty

of room for growth here, and this will

come naturally as we increase activities

and develop the church's offer during the

coming years.

church's digital output and represent a solid

foundation for further expansion.

In order to use these platforms effectively,

digital content is needed, and a significant

portion of my time is spent researching

images and designing digital graphics to

help promote the church and its activities.

Following the reopening of the church I

developed a new graphic style for use on

the various digital platforms mentioned

above, the website, the digital screen in

church but also for the external signage to

the north and south of the church building.

This is a dry run for a planned rebrand of

the church, which will involve consultation

with all those involved in the church and

which I hope will take place next year.

Rhys Williams

Marketing, Digital and Web Officer

However, these numbers demonstrate

significant levels of engagement with the

63
---
64